Roof is all upper space that covers and / or protects a certain surface; its function is not only to hide other elements such as cables or pipes, but also to give a certain style to the home, depending on the material that is made or its design.
The wood is a material that has many advantages, one of them is the beauty of the material and according to the treatment that it has been given, it is of strong consistency and resistance, both features which are decisive in terms of the choice of a material for the roof and that is why most people choose wooden ceilings.
The wooden ceilings have accompanied the man throughout his history, to reach our days as one of the most popular architectural decorative elements, useful and versatile.
That is why today we want to offer you a few ideas for inspiration if you are considering installing a Wood ceiling on your home. No matter which room you want to give this touch, with these wood ceiling ideas you will surely make a hit with your design.
25 Wood Ceiling Ideas That Will Make Your Home Look Stunning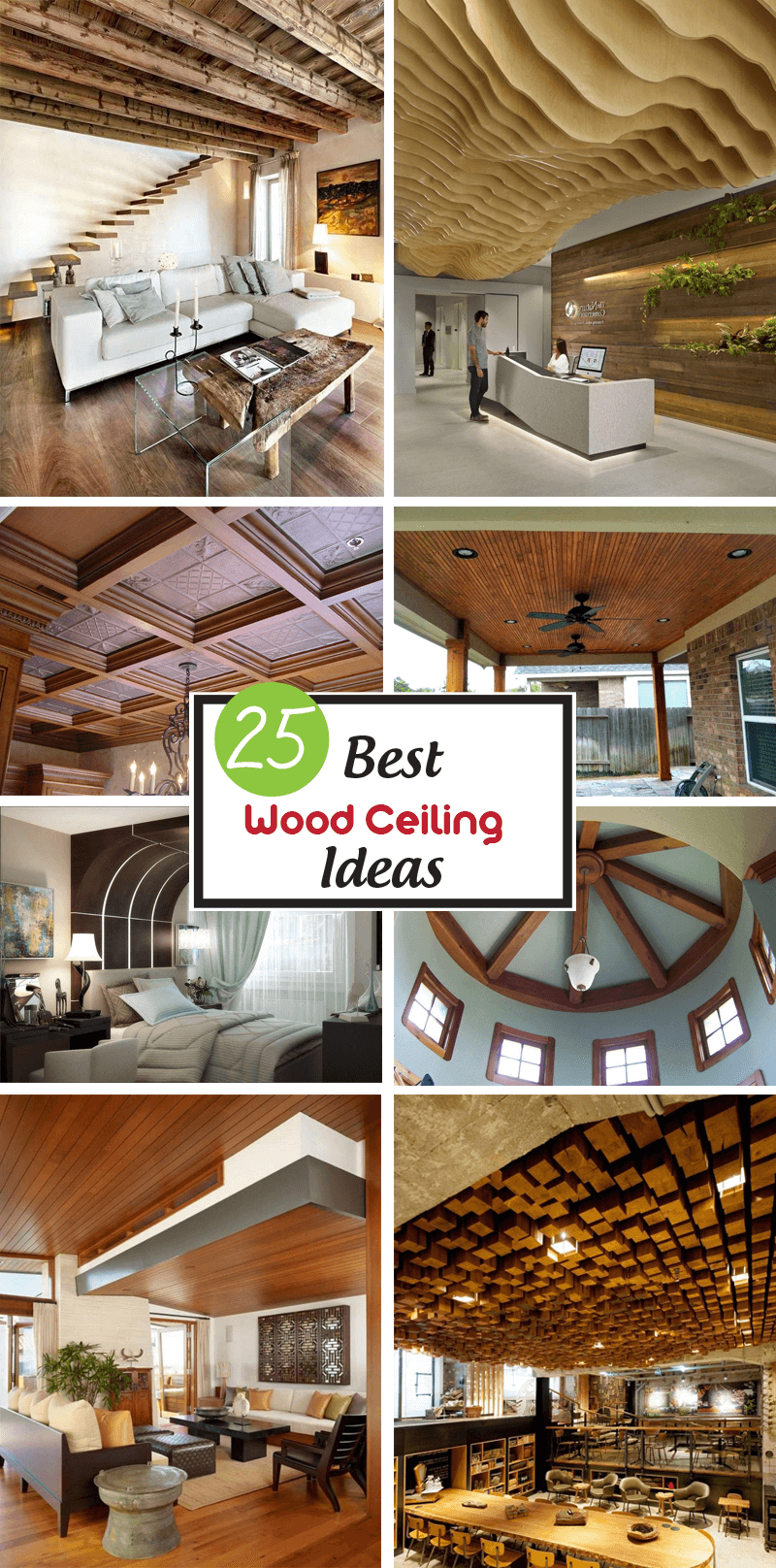 To achieve a warm and cozy appearance in a room, there is nothing better than a wooden roof. Although with some planks, this type of design is a nice detail that gives warmth and personality to the spaces as a great trend for interior decoration.
It is known that the most used wood for roofs was the Brazilian Pine, but nowadays it is in extinction, being replaced with the Paraná Pine, which has more knots and less resistance although it is more economical and used for reforestation. For the beams, hard woods and braces are used, such as Paradise, Elliotis Pine and Pine without knots. The knots are irregularities or defects that appear in the wood, are circular and can also be very decorative. The knots are formed from the remains of a branch that has been torn off and has remained in the trunk and we can see them in this design thanks to the fact that the wood remained in its most natural state, for a fresh and very natural design.
The wooden ceiling is undoubtedly an extra that will give your home a special extra in the decoration and a lot of elegance, but the wooden ceilings need special care and proper maintenance. The main beauty of a house is to use wood for ceilings, as well as on floors and furniture, to give a sense of distinction.
So we will give you 25 great Wood ceiling ideas for you to customize your house and enter this very hip trend.
1. Antique Wood Ceiling For A Living Room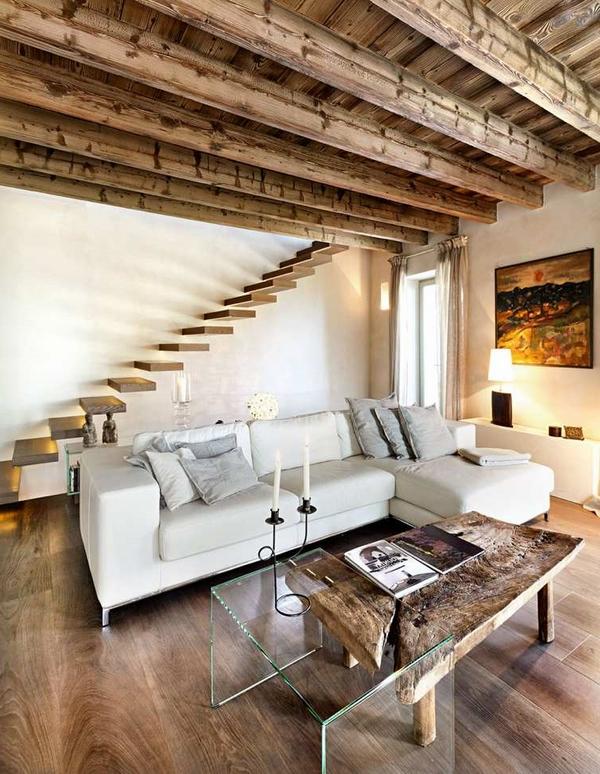 The hard wood is the one chosen for the construction of wooden ceilings due to its great resistance. In this case, the rings are always very close together, as you can see on this example. Wood is also, a material that has always been abundant in the world. That is why it is constantly used for different purposes. Wood is one of the building materials par excellence, mainly due to that combination of abundance and resistance. This antique ceiling is still very strong even it has been done long time ago. Wood is a great choice for endurance and long lasting.
2. A Rustic Ceiling You Can Install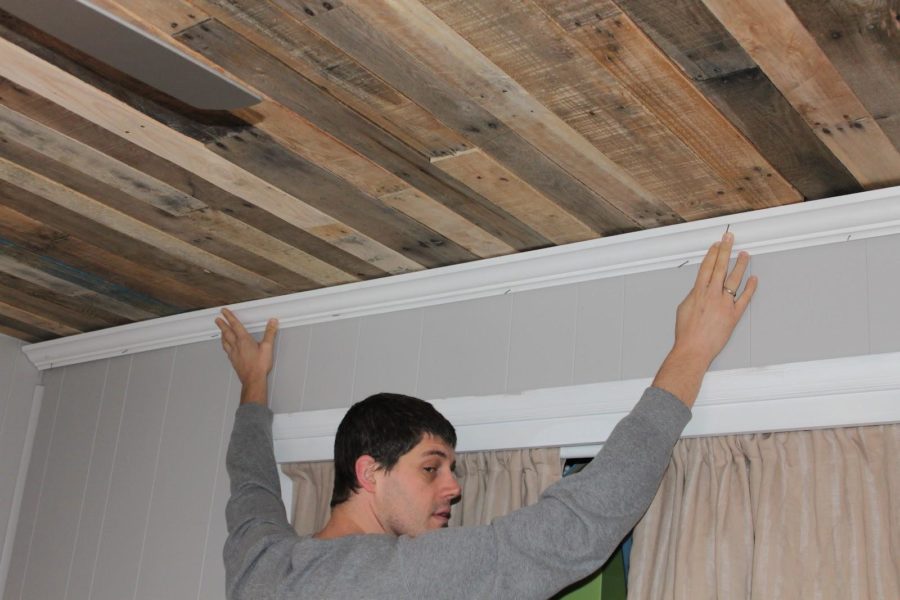 The wood ceilings are a luxury for many, however, today you can see that actually in some cases it is not so expensive to place a roof with a beautiful and warm wood finish, either polished and varnished or rustic and untreated. And in some cases, these ceilings can be installed by yourself, due to its construction that is similar to a puzzle, which matches perfectly to avoid accidents.
3. Wood Ceiling DIY Ideas Easy To Make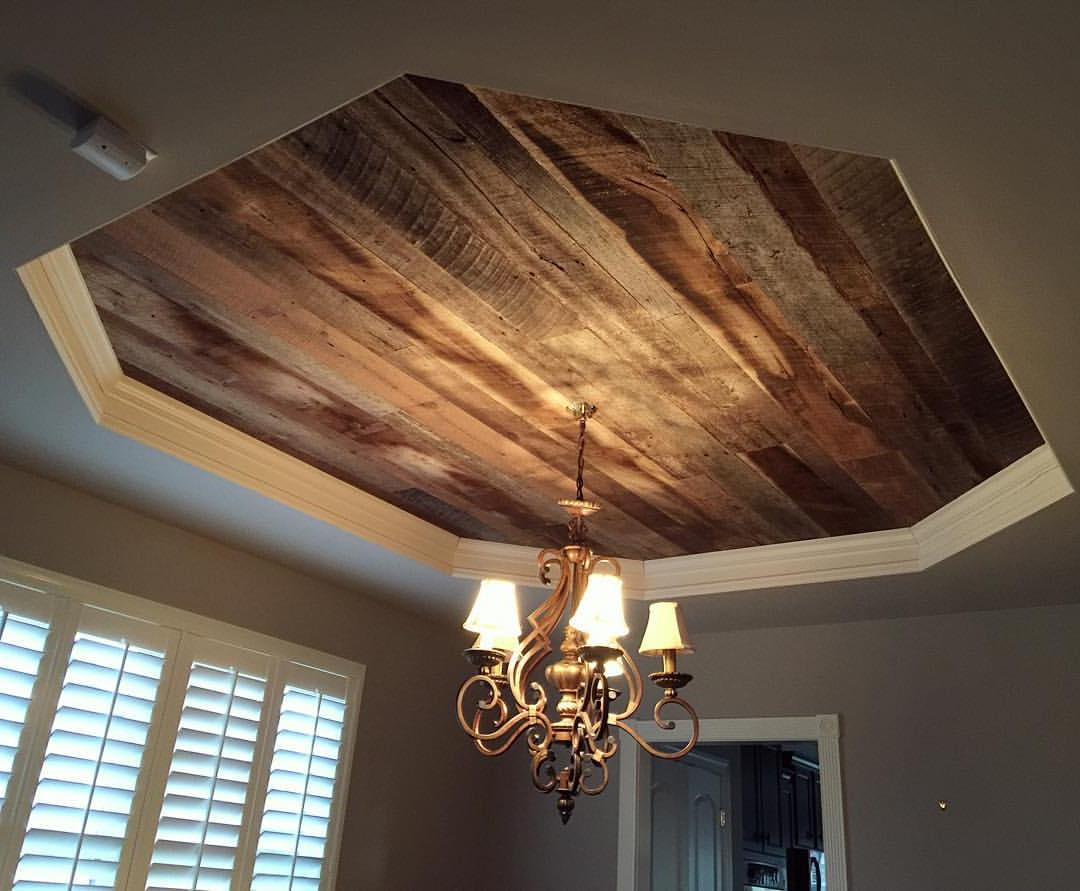 The truth is that when people speak about wood ceilings they inevitably imagine the ceiling of a house's outside area. This is a common mistake for people to associate wood ceilings only with the exterior. This is not necessarily like that, and today more and more people add details or complete ceilings made of wood to enhance spaces at home. In this example, the wood detail on the vaulted ceiling makes it look outstanding and unique.
4. Great Wood Ceiling Ideas To Make The Basement Look Less Close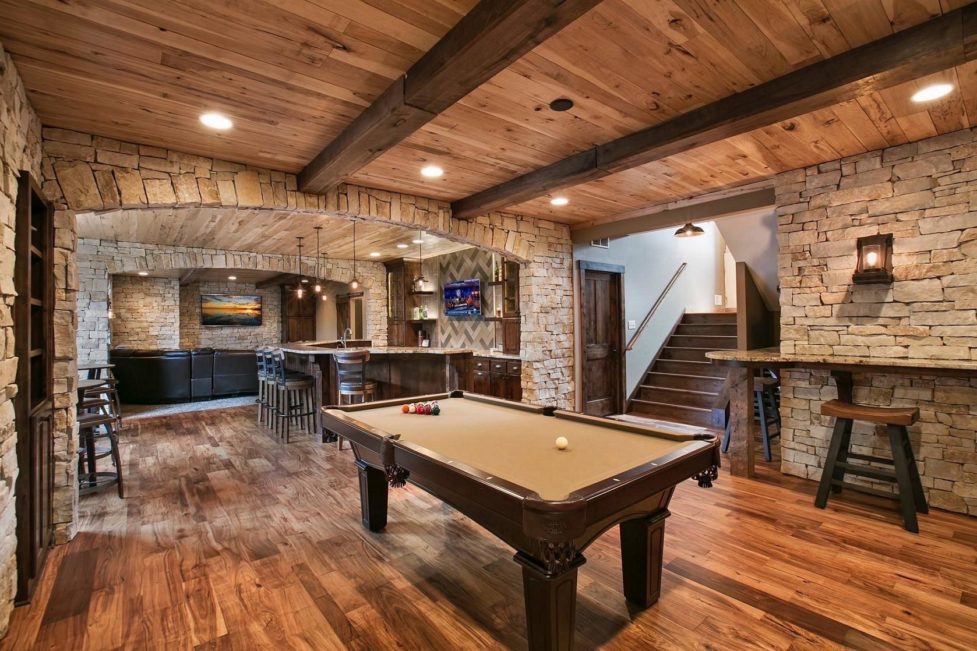 The use of wood gives a lot of elegance and style to the interior of the house as long as you know where to put it. By themselves the interior wooden ceilings are very original, and they give a sense of freedom and openness, no matter if it a living room or a basement like this one. To get a beautiful interior it is best to combine the color of the wood with the arrangement of this in other places in the room., just like it was done in here.
5. Wood Ceiling Ideas For When You Cannot Put Wood Ceilings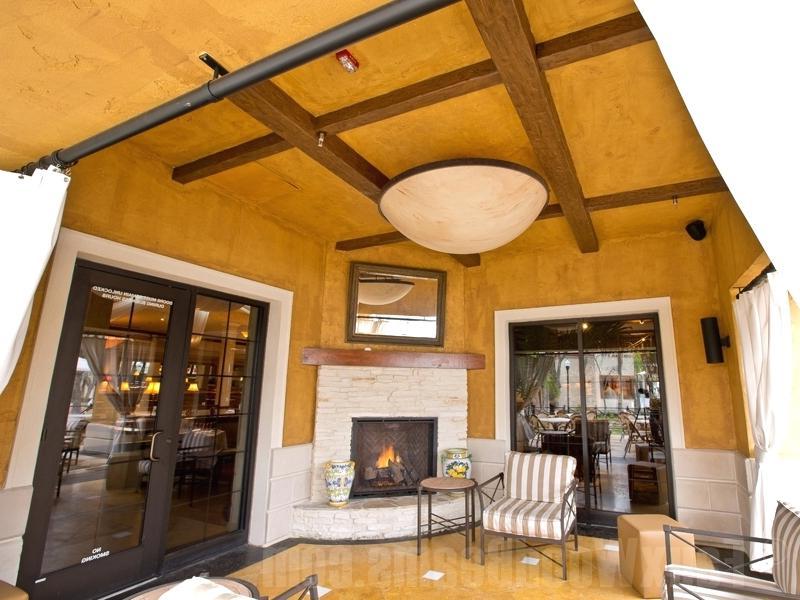 The wood also has a good use in certain styles such as Nordic and contemporary creating very warm and cozy environments. And of course it lends itself very well to helping to give depth to this forgotten part of the house. But when you are not building or renewing a house, and you still want to have this style in your home, you can choose choices like this fake wood ceiling made with wooden panels and decorative beams. Have the wonders of a wood ceiling for a fraction of the cost.
6. Get The Nature Inside Your House With Wood Ceiling Ideas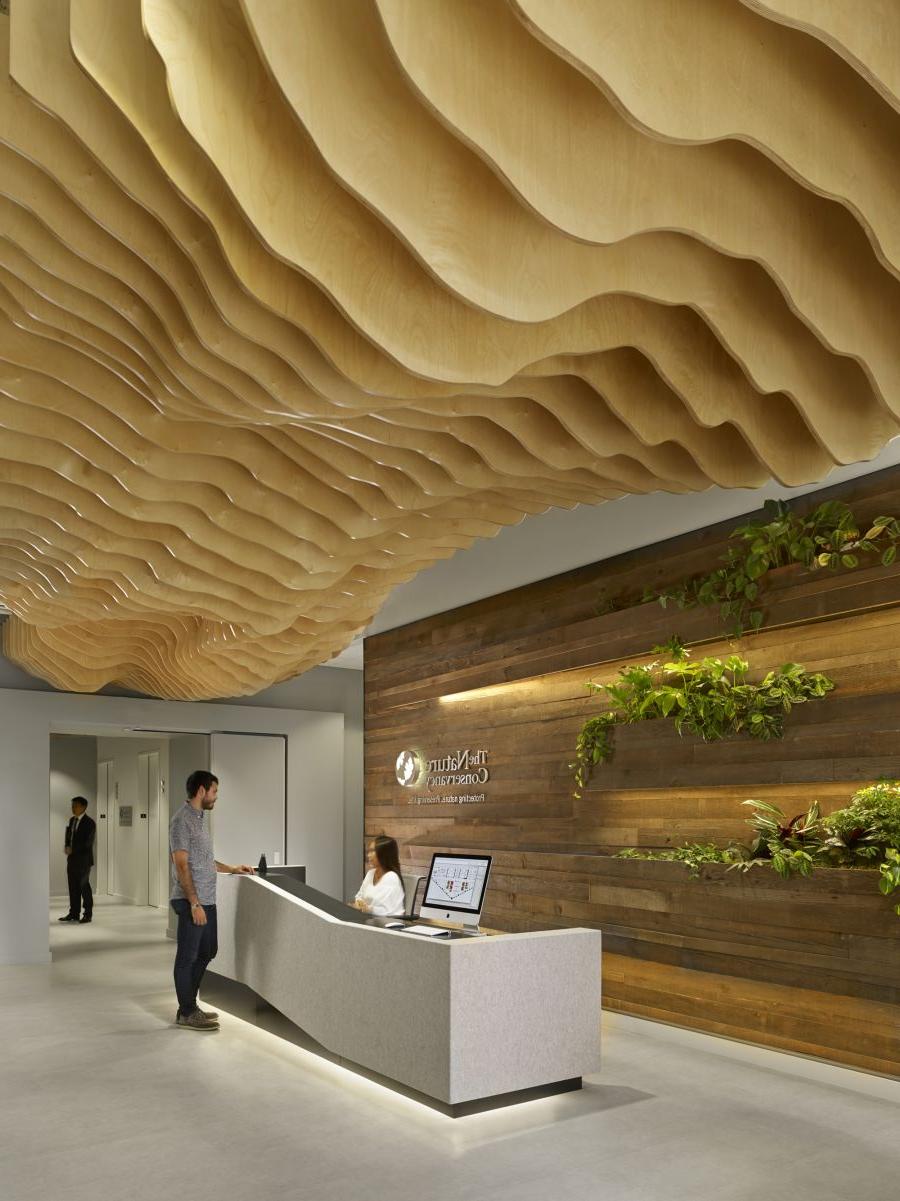 The wood ceilings seem to have become fashionable lately, for the interior of the houses as well as for the exterior, so if you are looking for inspiration or if you want to change the roof of your apartment or house, nothing like choosing this element that always brings a certain "rustic" style, even when you find a modern design like this one, that can make any room, from the bedroom to the living room, through the dining room. The bathroom and even the kitchen, look like a piece of art, with just a touch of coziness.
7. Old Stile Luxurious Wood Ceiling Idea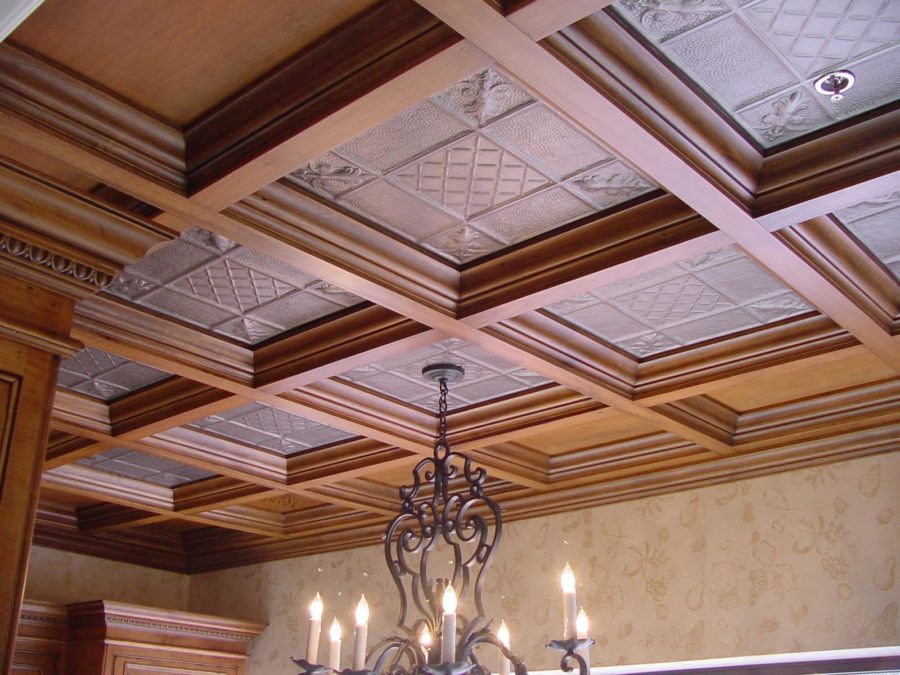 The coffered ceilings are a more elaborate form, often used in luxury buildings such as churches and palaces. You can also use this resource to create a contrast and make the roof a point of attention. It will be inevitable for people to look up when they enter this building that features vaulted dark wood ceilings that gives the place a huge character and soberness.
8. Wood Ceilings To Improve The Porch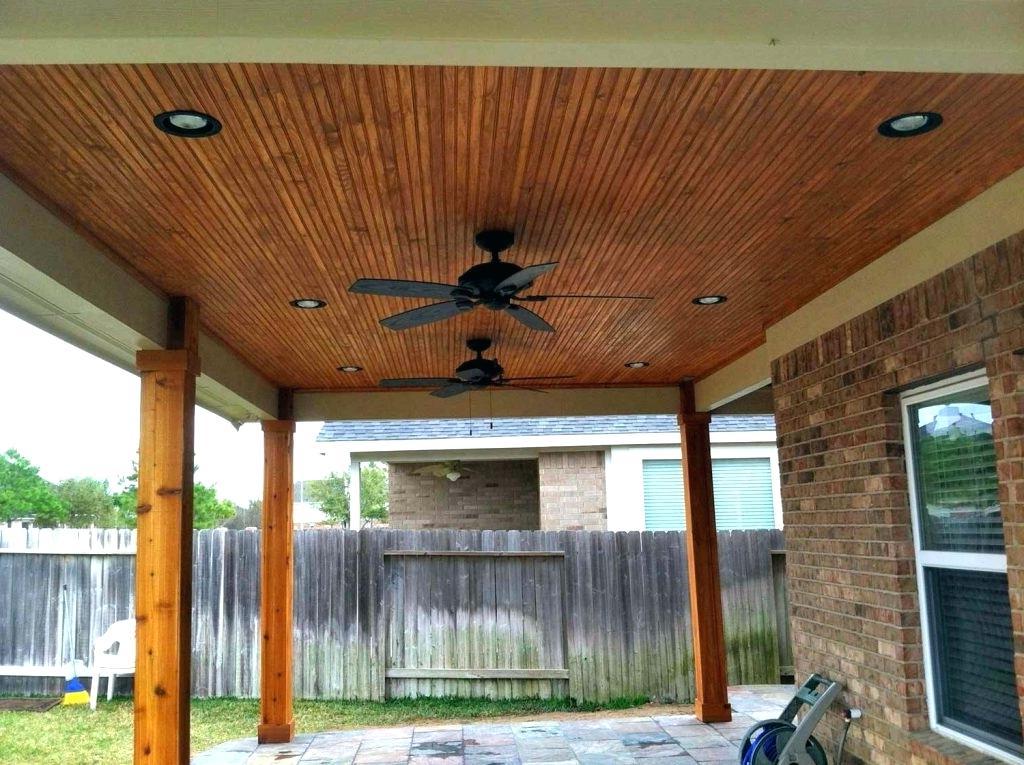 Normally used for the outside areas, wood ceilings are now becoming a trend for the inside spaces for the house. But that does not mean that they are not used for the outside anymore. In porches and entrances a wood ceiling is a very inviting feature to set in the house, it is traditional and of very good taste.
9. Ceiling Made Of Pine Panels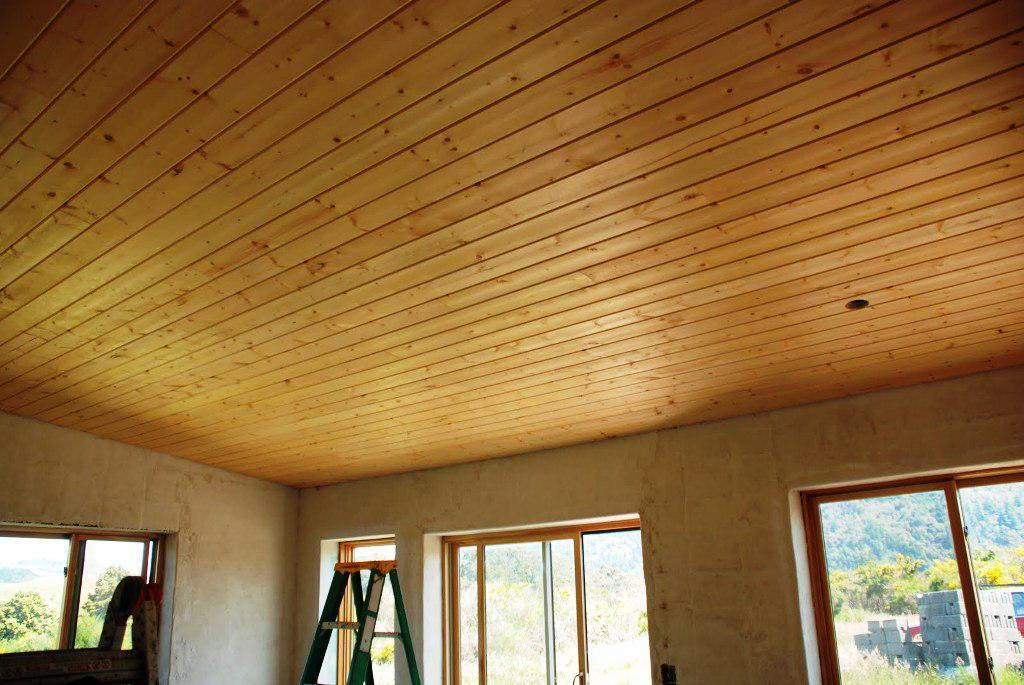 The wooden ceilings for interiors are currently very in style so you cannot ignore them if you want to be in tune with the latest trends. When you start to look at them in detail, you can realize that thanks to laminates, coatings and their finishes, wood ceilings can be a great idea in the living room, but also on any other room of the house.
10. Rustic Elegance For Your Home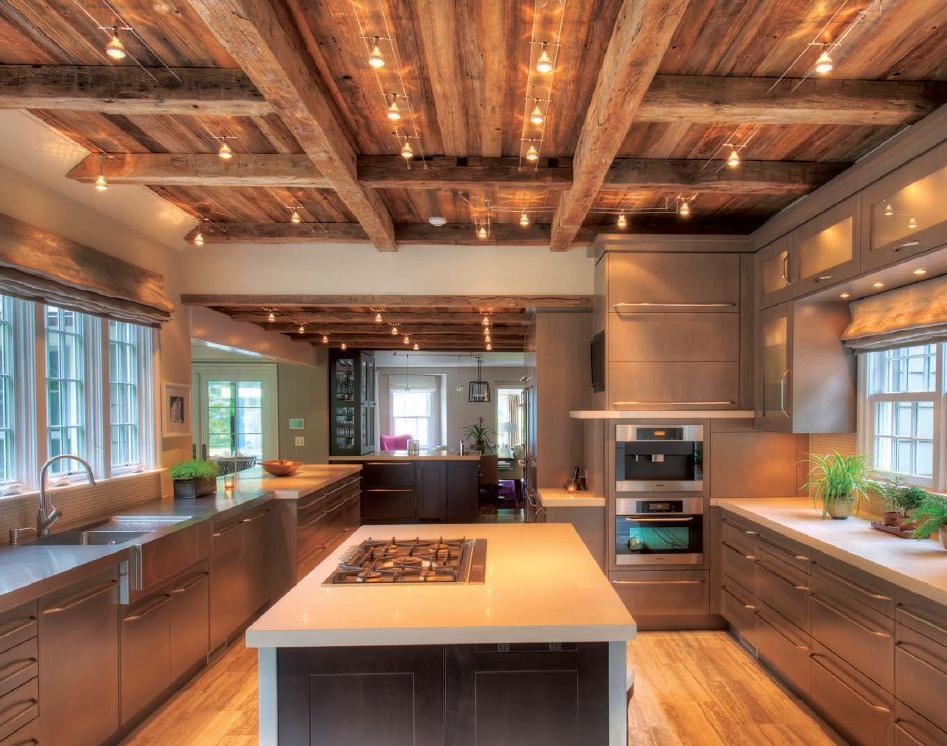 Wood ceilings, unlike plaster ceilings, are age resistant, they are not damp, their surface is rigid, they have a good stability and allow to fix ceiling lamps, diffusers, etc. It is recommended that they have a waterproof fiberglass sheet, since it protects it from the humidity of the roof. A great advantage of this coating is that it is rigid, it is very quick to place, and it also provides beauty and elegance to the home. All features that you can note in this wood ceiling design idea, which features beautiful lamps and beams, combining perfectly with the industrial look of this space.
11. Wood Ceiling Ideas For Small Spaces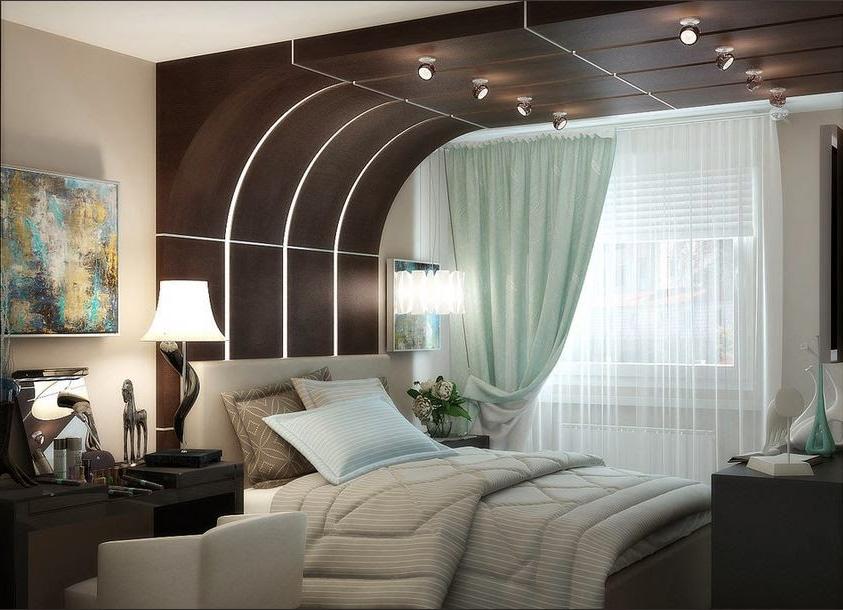 When you have small space and you want to add some wood details in the ceiling, you can choose a wall and ceiling panel like this one, which creates a marvelous effect on the bedroom, turning the bed as the center of the decoration. With the dark wood contrasting with the pale tones of the rest of the room, the elegance cannot be put in doubt.
12. Wood Beams: Strong Looks And Construction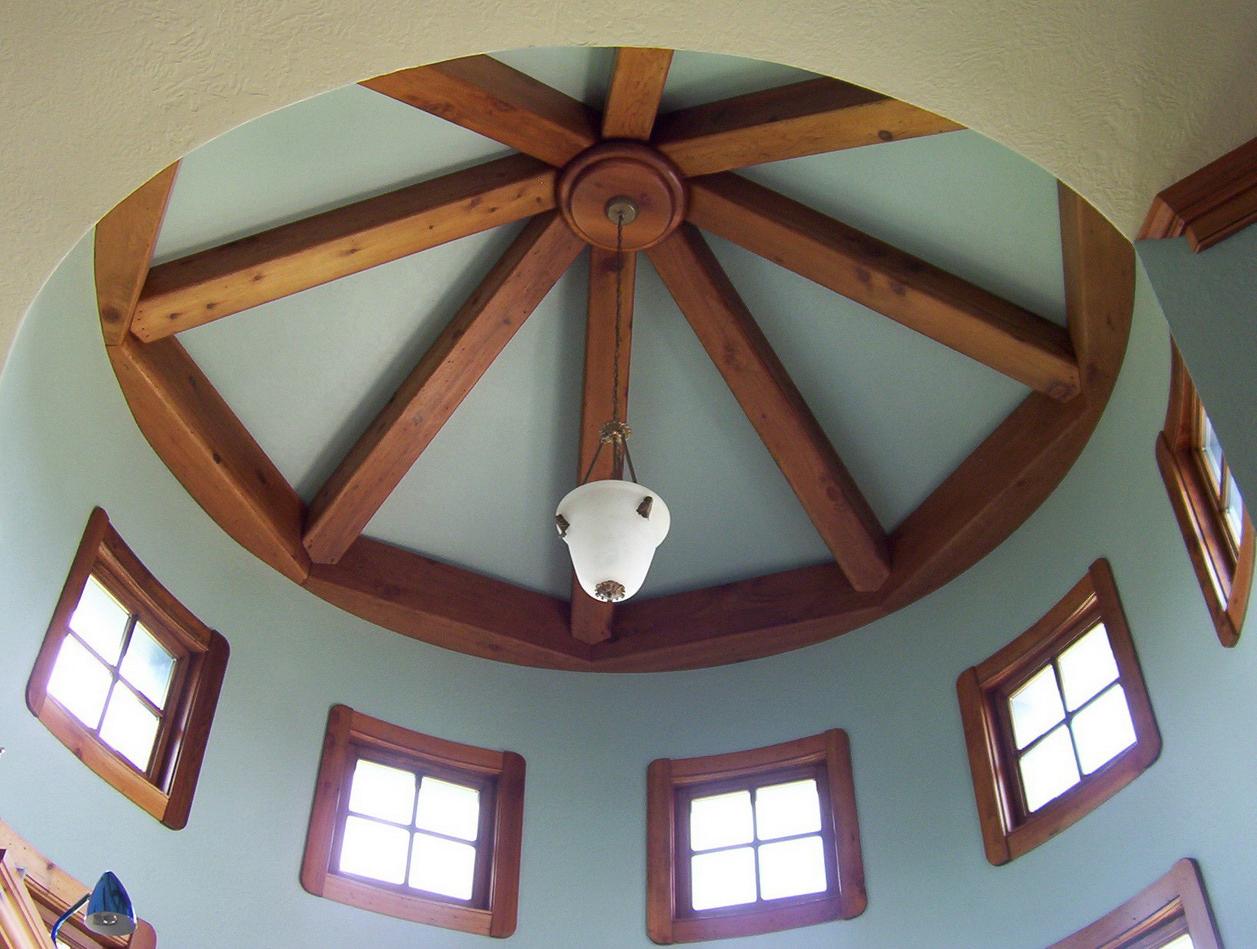 Wood is one of the materials that have been used since ancient times to build shelters and homes, nowadays it is also used not only as a structure, but to help as a constructive element used in floors and walls. With this material you can achieve a beneficial control of the climate inside the house. Its characteristics ensure thermal comfort, in addition to the image of warmth that it gives to construction, making houses and other buildings look their best.
13. Wooden Beams That Are Amazing And Creative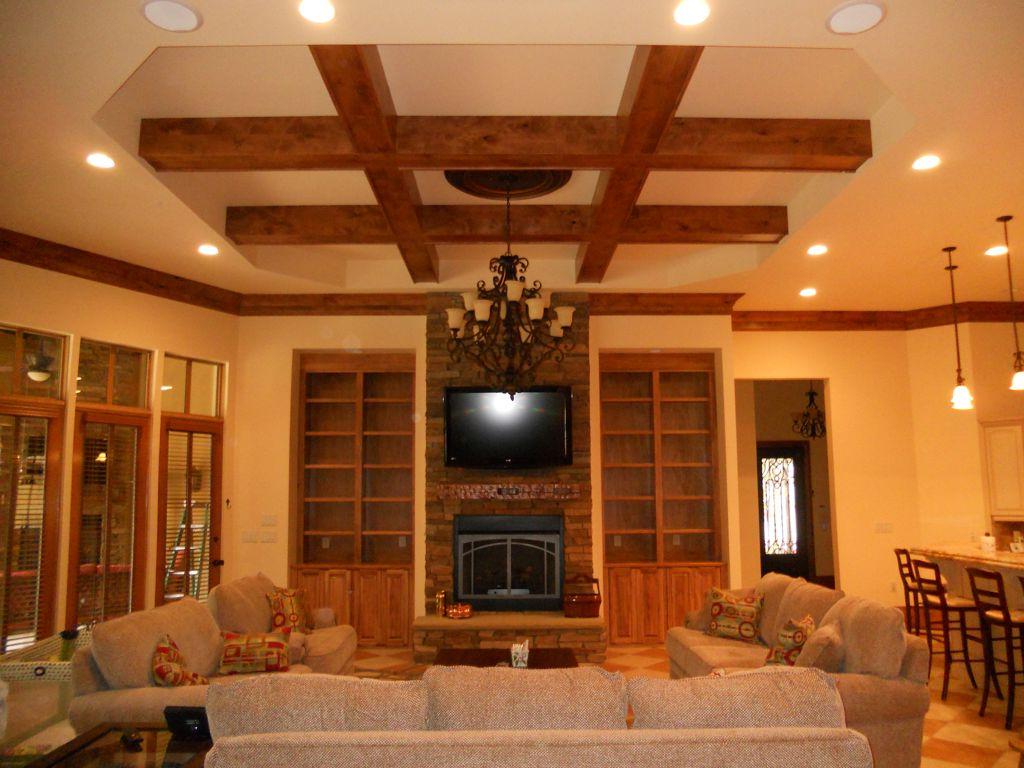 The wooden roofs can have beams or not, beams are a structural element, but they also have an ornamental side that is very important, and false beams can be placed when we are interested. They add strength and give a sense of security. In this example, the stunning extra large rustic dark wood create a simple # symbol that makes the room look completely different.
14. Simple And Thin For A Modern Look
The elegance and sophistication are not at all at odds with the wood, no matter if it new or recycled, you can never go wrong with wood. For a modern design in a living room, these home owners have chosen a cherry colored wood that bonds all together, making the room seem light and airy.
15. Vintage Combination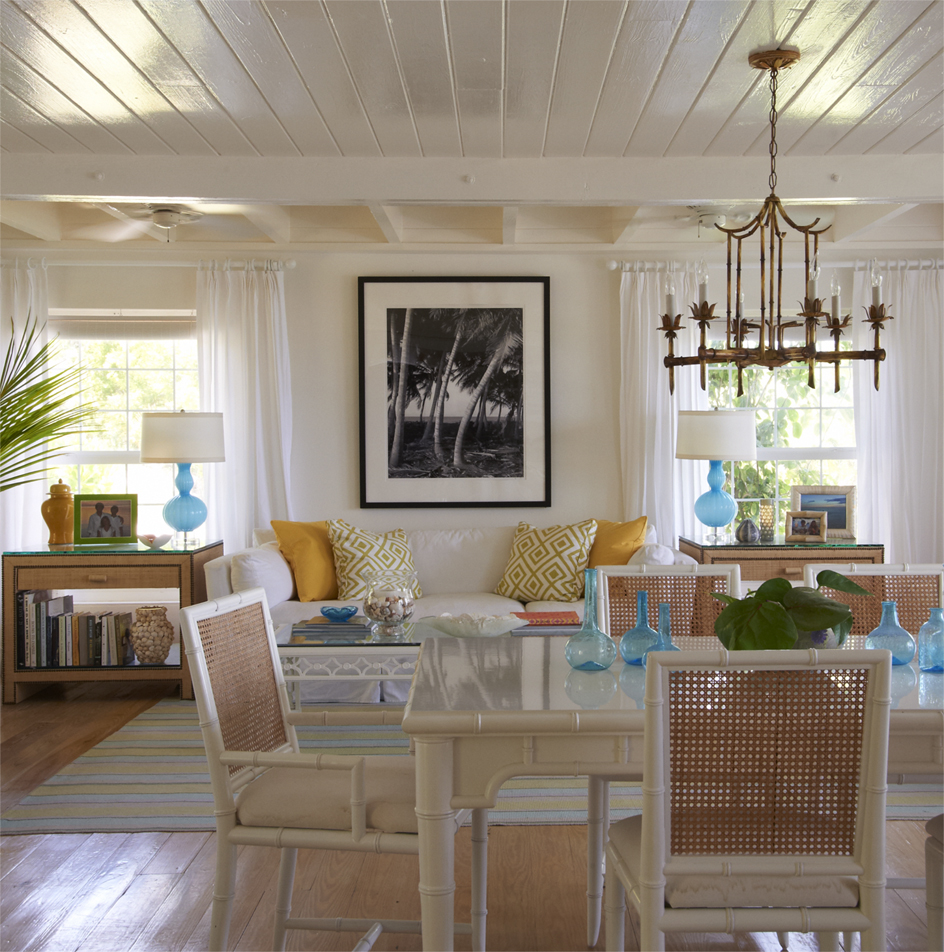 For a vintage look, combine light colors with details like the attractive roof chandelier and different details.
16. A Wood Of Art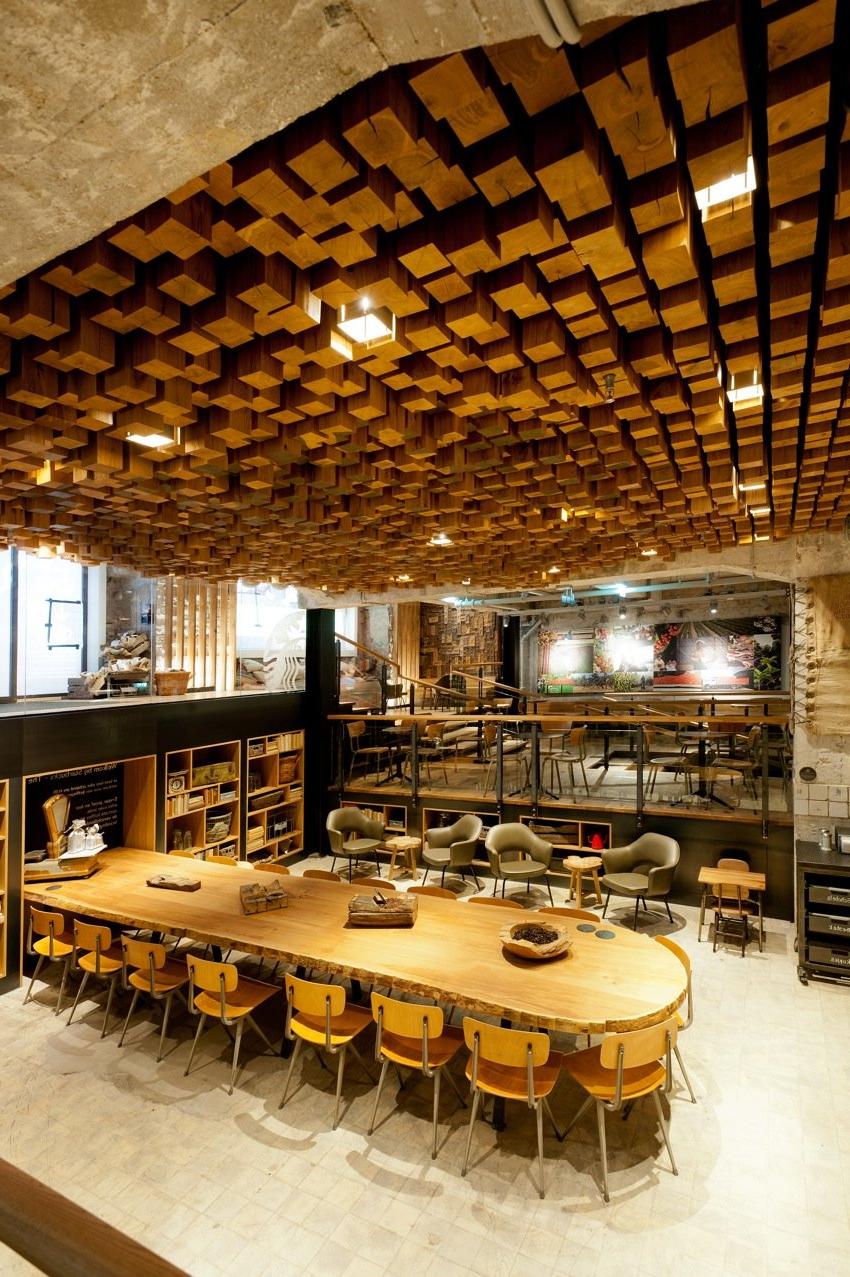 The beams in the wooden ceilings are also a good way to fill space when it comes to very high ceilings and thus create a particular aesthetic. In modern environments or industrial air we can combine wood with steel beams, it is a good combination. This is an elevate example of what happens when you use beams for creative decoration.
17. Wood Ceiling In Very Light Colors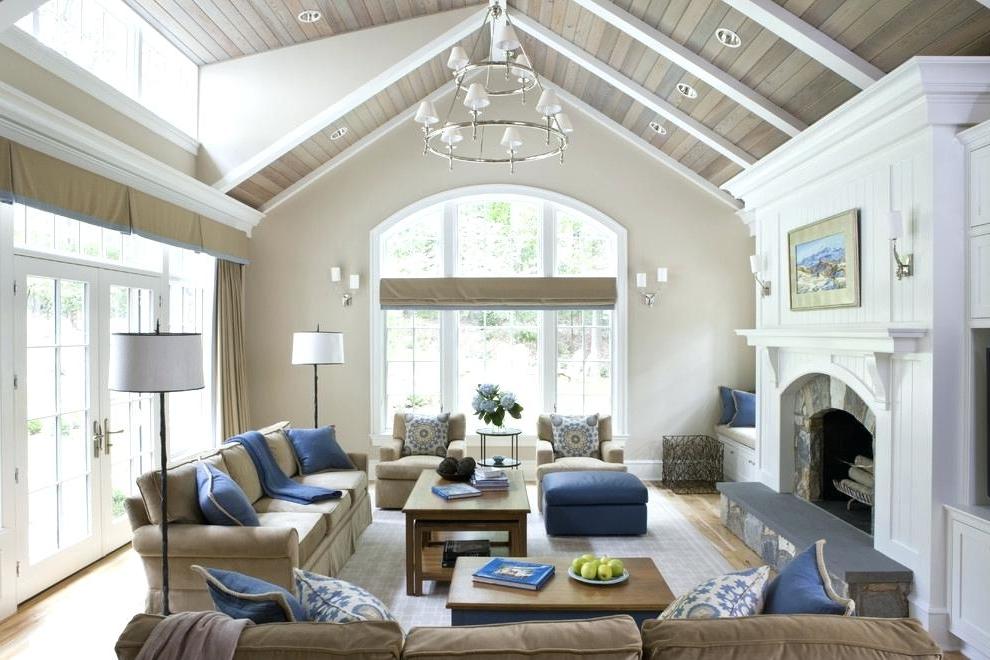 White Wood and brick combined with beige colors for the walls and furniture make this cathedral designed house look wider and brighter.
18. Wood Ceiling Design Ideas With An Asian Feel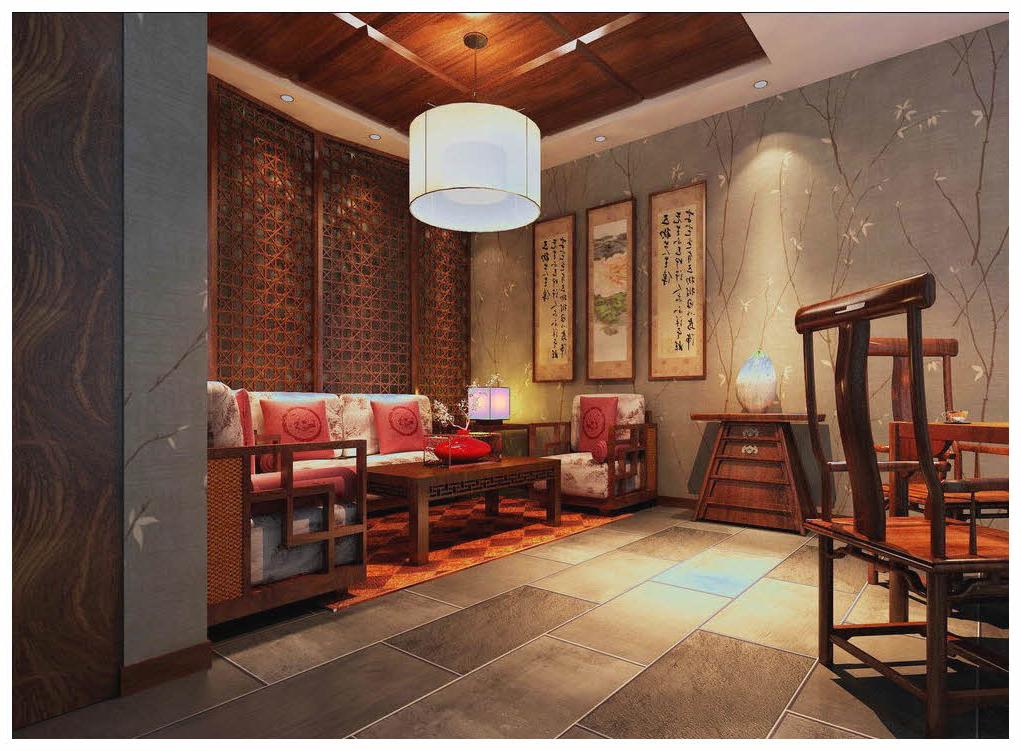 As you can see, oriental cultures also use Wood to create amazing ceilings. In almost any culture you will find great uses for Wood.
19. Wood For Small Kitchens
If you have a small kitchen and you do not want to resign the Wood ceiling ideas, use panels or tiles made of Wood for the ceiling and go for a very light color, white is always better. This will make the room look not only wider, but also higher. In this kitchen, they also matched the kitchen furniture as well.
20. Wood Ceiling For Modern Small Kitchens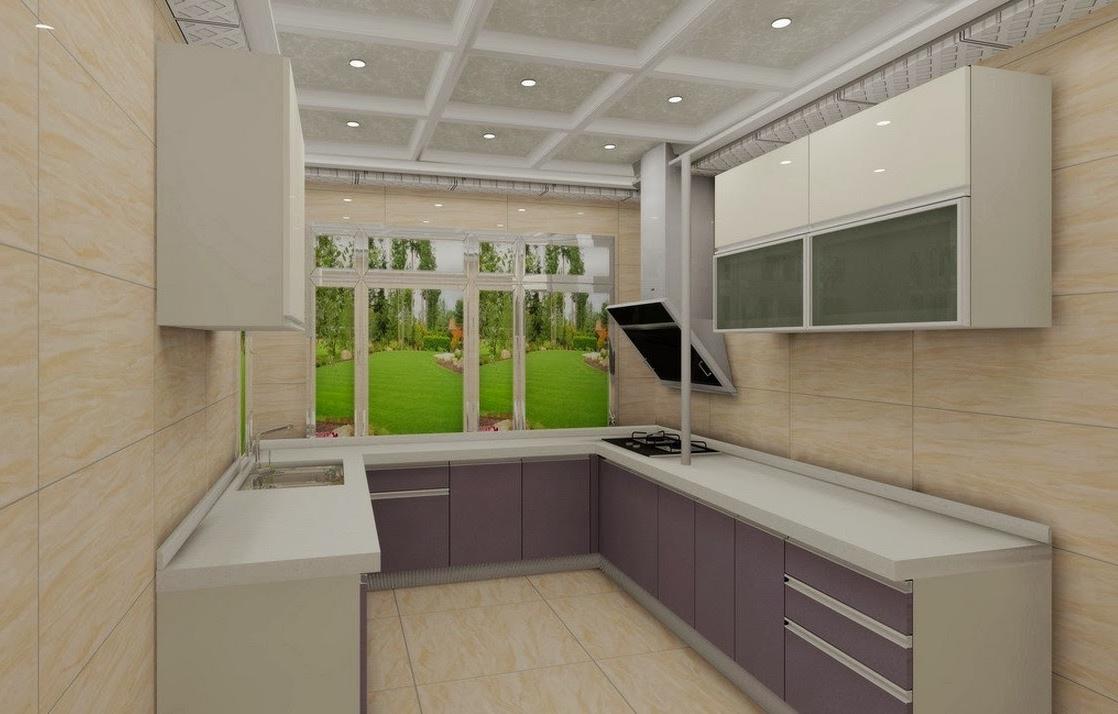 create a modern and rustic look combining modern top appliances and furniture and combining it with white paneled Wood ceilings. It will expand the space visually and combine perfectly.
21. A Church Design That Would Work Anywhere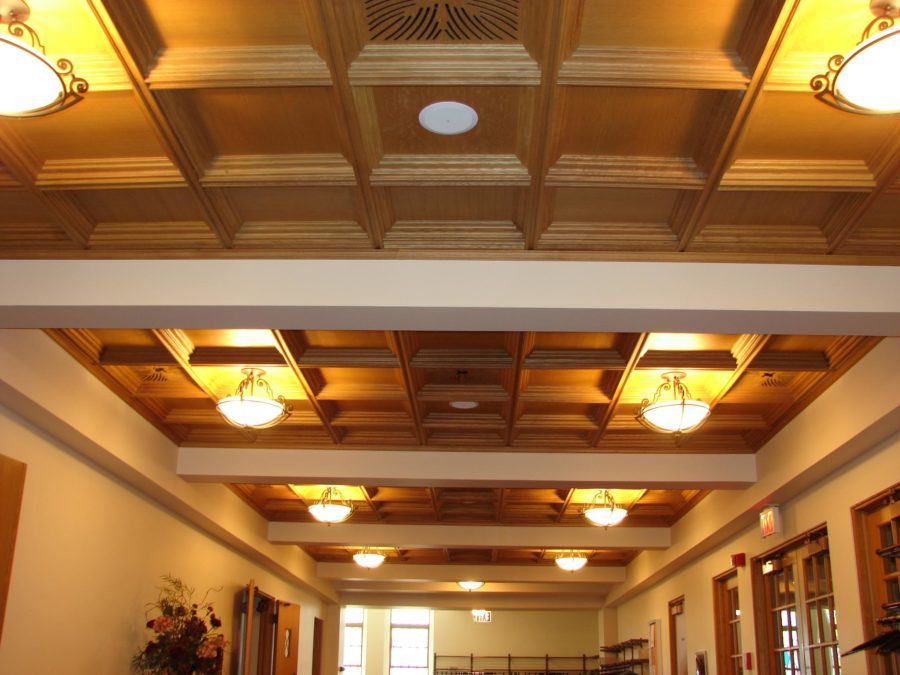 This church design would work just as well with any other type of building that you could think of. The vaulted Wood ceiling the iron lams gives it a rustic look that would go perfect with a country house.
22. Huge Panels To Garnish A Ceiling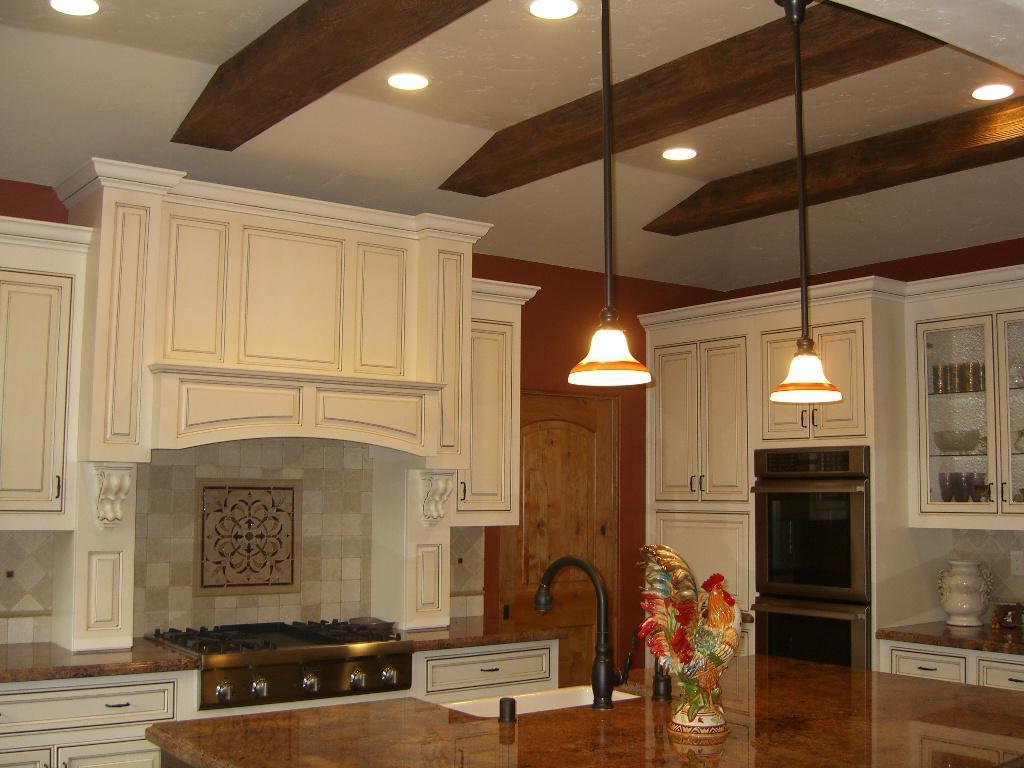 For the environments of industrial or contemporary tendencies, the roofs with wood that can be complemented with elements in cast iron, steel or concrete to make it look even more perfect. Just like in here where the wooden panels make the ceiling appear to have wood beams. And the combination of colors and styles in the furniture close the whole look that is simply stunning.
23. Wood Ceiling Ideas To Ornate The Roof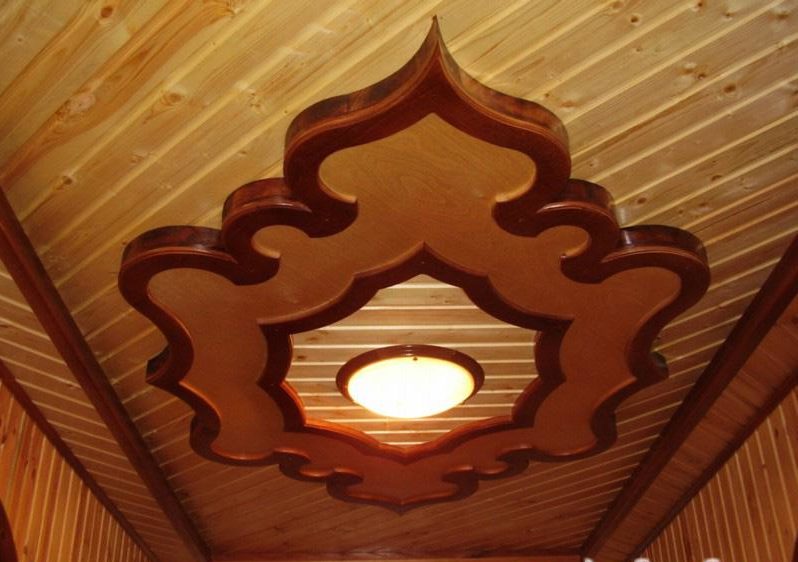 You can complement you Wood ceiling adding some ornaments in the same materials that enhance the overall design. The centerpiece of this ceiling makes it outstand and look important. A ceiling that definitively takes people's attention.
24. Modern Wood Ceiling Design Ideal For An Office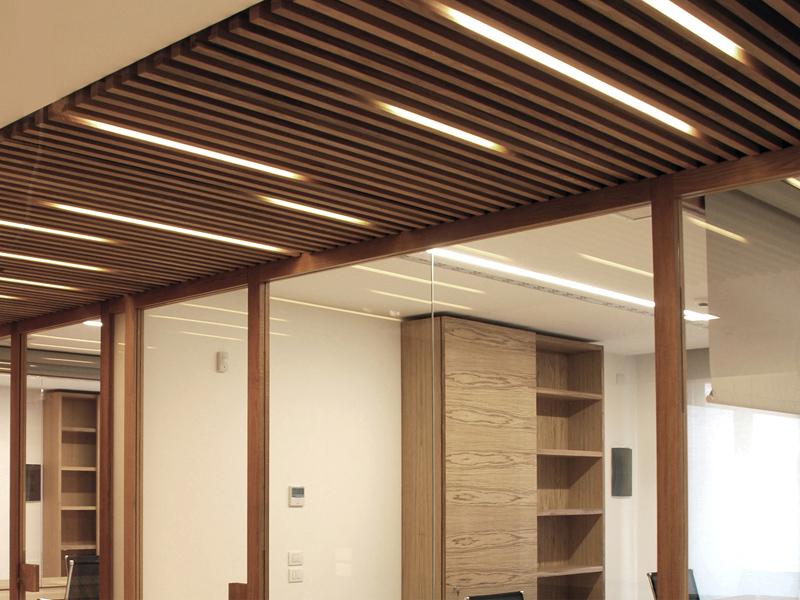 Any space can benefit from Wood ceiling wonders. That is especially true in this modern office where not only the furniture like desks, chairs and shelves are made of Wood, but also the window frames, as well as the ceiling are made with this magnificent material. Making it look modern, but with a very working vibe, this ceiling has spaces to set lights as well.
25. Elegant Comfort For Any Space With Wood Ceiling Design Ideas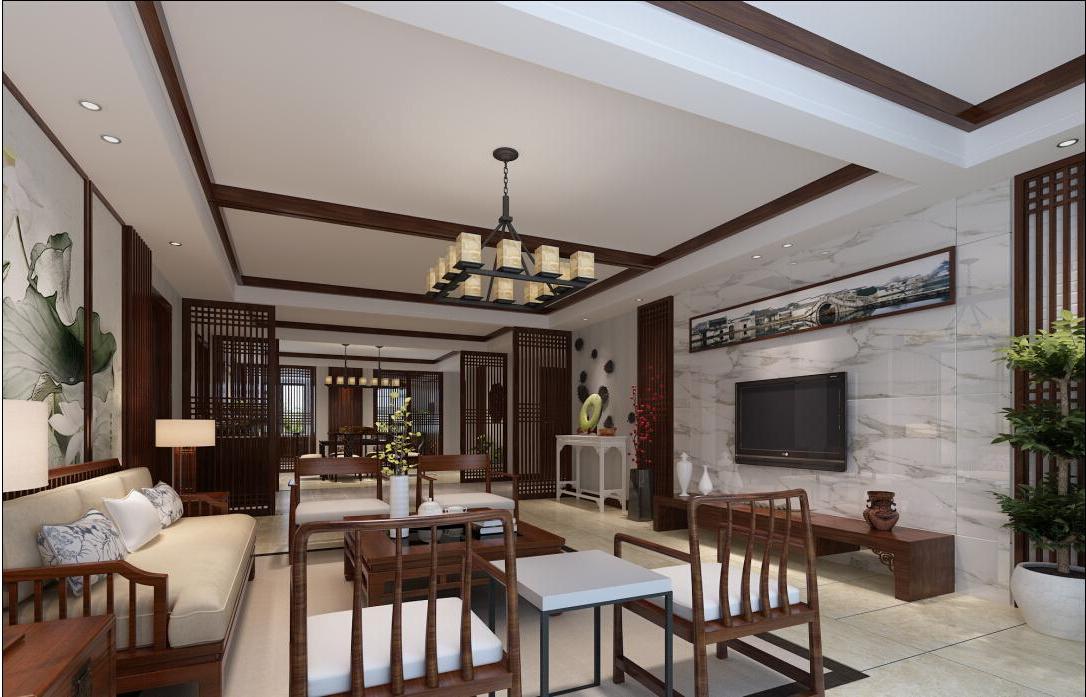 The character that Wood gives to any space where it is used cannot be topped by anything else. Wood offers sobriety combined with a warm feeling; character combined with the comfort, elegance combined with fun. In definitive, Wood ceilings are a perfect way to enhance any design. And if you go for a design like this one, that has vaulted ceilings with Wood beams; Wood doors; Wood furniture, Wood screens to separate spaces; Wood tables; Wood benches and more, you will end up with a space like this. A beautifully designed living room, that looks comfortable and inviting, without loosing the soberness and character.
Conclusion
Wood is a natural raw material that humanity has used since immemorial times to build shelters. It usually covers floors and walls but as you just saw, you can also use it for ceilings. Although this use was more usual in the past, it seems to be taking on new importance these days. Now you can see wooden ceilings for warm and cozy spaces because if something contributes the wood it is warmth and other qualities.
Believe it or not, the roof is one of the most important areas of the property. It is necessary that you give the necessary care to make it not damaged by leaks or moisture. When you are renovating or building your own house, you must attend to it and know what style you are looking for. It is basically about knowing the materials that you will use to make it support everything and at the same time, that it looks harmonic with the rest of the decoration. Remember that there are different types of style; it depends on you that you want in your rooms or throughout the house.
With this being such a versatile and noble material, it allows to design it in all the combinations and in all the styles, being able to be a true protagonist without overshadowing the set of decorative elements that accompany it.
Do not hesitate it any longer, choose wood ceiling ideas for your house!