The living room is usually the area in a home where the entire family gathers. It is also a venue where guests can be welcomed into the home. A properly decorated living room can be relaxing just for anyone who wishes to use this part of the home to take a break after a long day at work. Other than from being a relaxing room in the room, it can also be used as a room for the family to watch movies together or play video games.
Because there is much activity that can be done in the room, many typically think that in order to function well, a living room needs to be spacious enough. This, however, is not necessarily the case; especially in a household where there are only a few individuals living in it. Despite having a small living room, there are still a number of ways to design the room to make it look cozy enough. If you're in need of some ideas on how to design a small living room, here are a few tips:
1. 50 Shades of Gray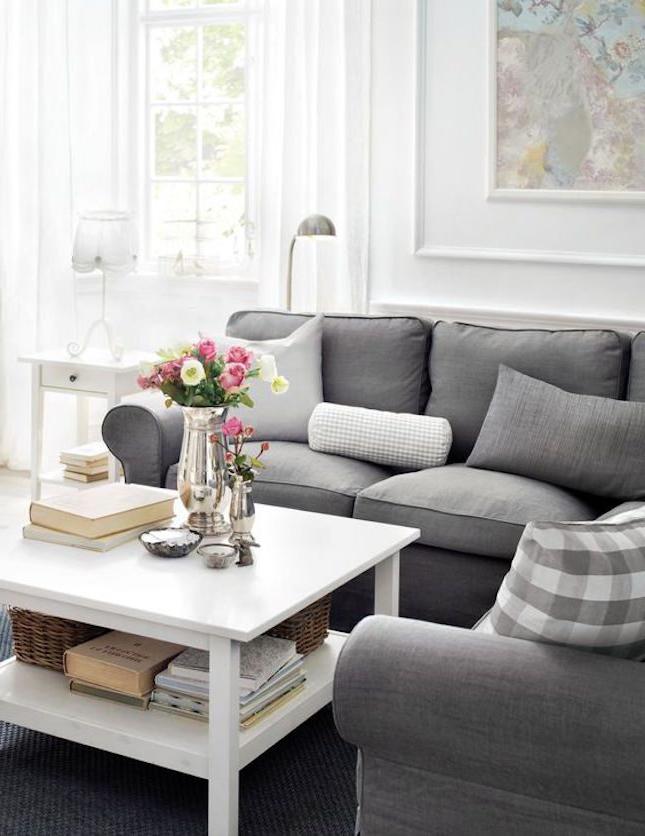 Usually, gray is a color associated with something depressing. Because of this, some interior designers opt to skip this color palette in lieu of a livelier bunch. This isn't always the case though since there are some designers who have been able to give living rooms a soft and gentle touch. By using hues of gray, you'll be able to create a relaxing and warm atmosphere in the room. Instead of using bold colors, you can opt for gray as it doesn't result to a palette that's a little blinding. Combined with neutral wooden accents, the gray color will work really well.
2. Use Accent Pieces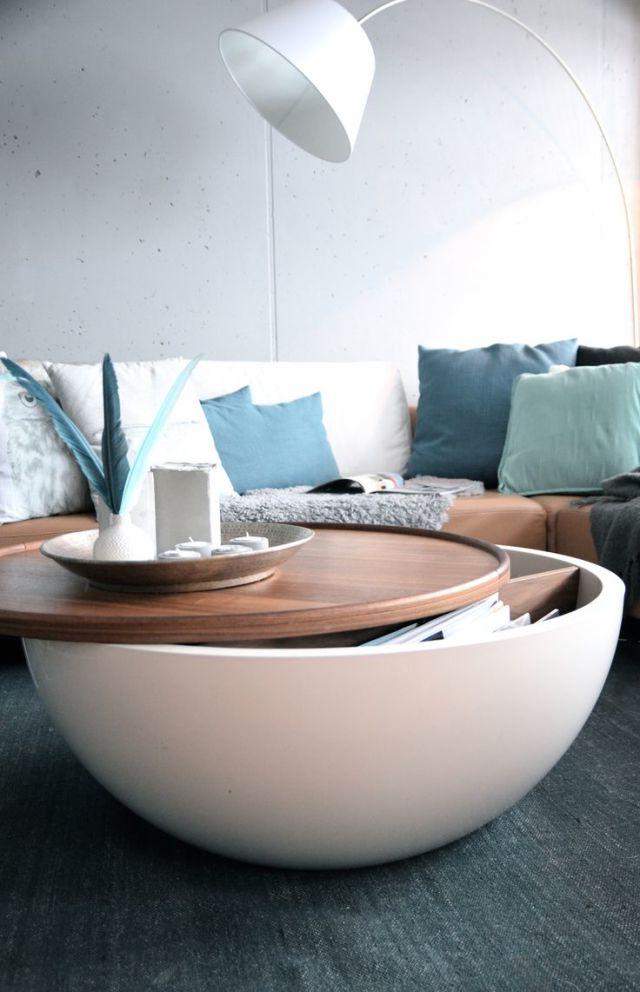 Another way you can spruce up a small living room is to stick with an accent piece. When working on a tight budget, it can be okay to stick with an accent piece in a room. This helps get rid of a boring, dull space as there is a visual oddity in the room. One good small living room design example here is to go with a signature piece like a rug or a center table that can attract an individual's eye before everything else. In doing so, you can ensure that the piece catches their attention before they turn to look at the other things in the room.
3. Mirror Illusion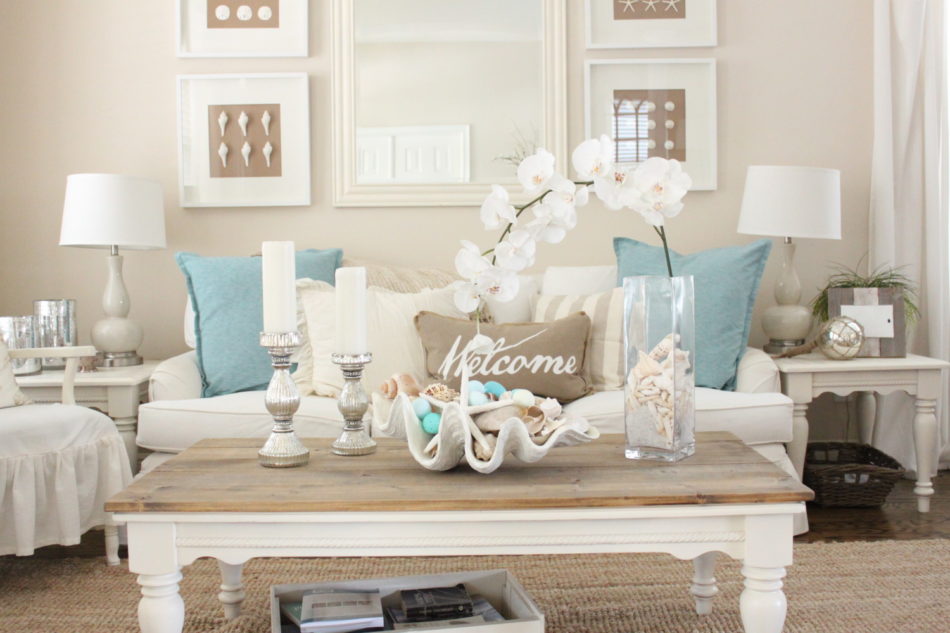 Mirrors work their magic best when placed in a small room. The reflection of the room on the mirror makes it look like the room is a lot bigger than it actually is. And even when working with a room that has an awkward shape, a mirror illusion can do its trick too. You can easily transform the look of a room by adding mirrors to it. Additionally, the room won't feel too cramped anymore.
4. Hit the Beach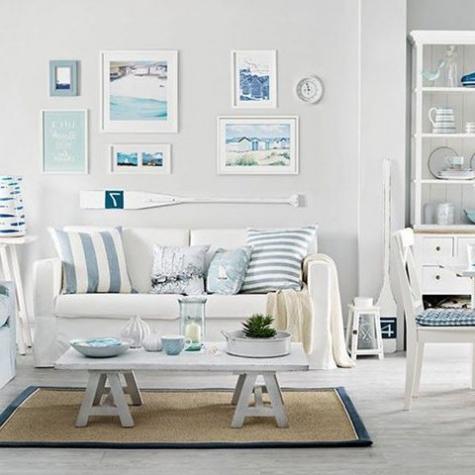 A number of small living rooms have been accustomed to look like they are on a beach. Many designers make use of signature pieces that are reminiscent of a vacation at Bora-Bora or The Maldives—the varying shades of blue and rustic wood can complete the entire look of a room. One way to incorporate the theme is by adorning one side of the wall with abstract white sculptures while decorating the other side with the key pieces. This completes the entire look of the room without spending too much money on it.
5. Defy Gravity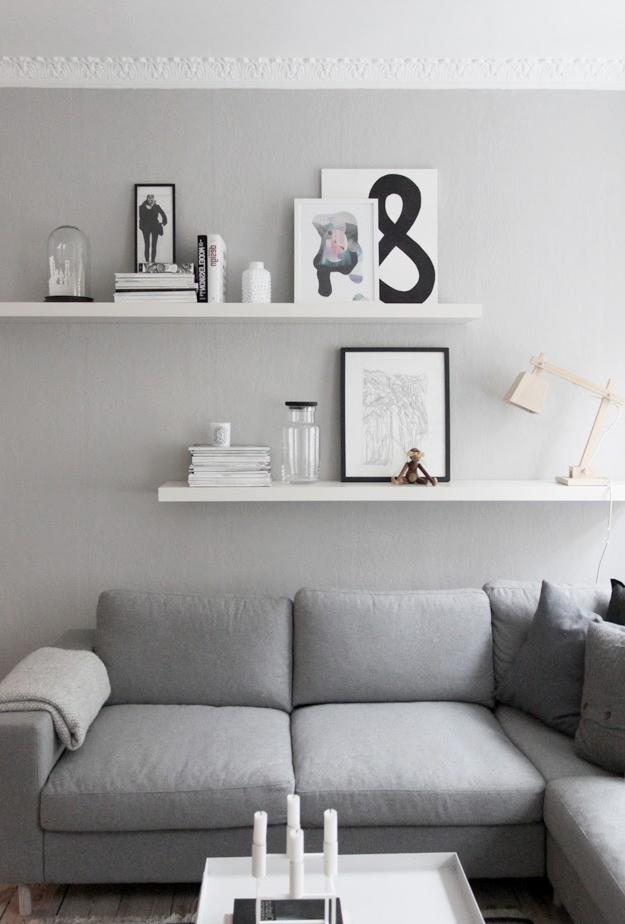 When working with a small living room, the trick is really to keep things off the ground. Instead of using shelves and storage desks, go for wall-mounted shelves. Not only does it give more space for other things, it also helps in making the room look bigger than it really is. By mounting furniture onto the wall, the unnecessary posts and furniture legs can be gotten rid of. At the same time, there'll be enough space to store items underneath the table.
6. Consider Texture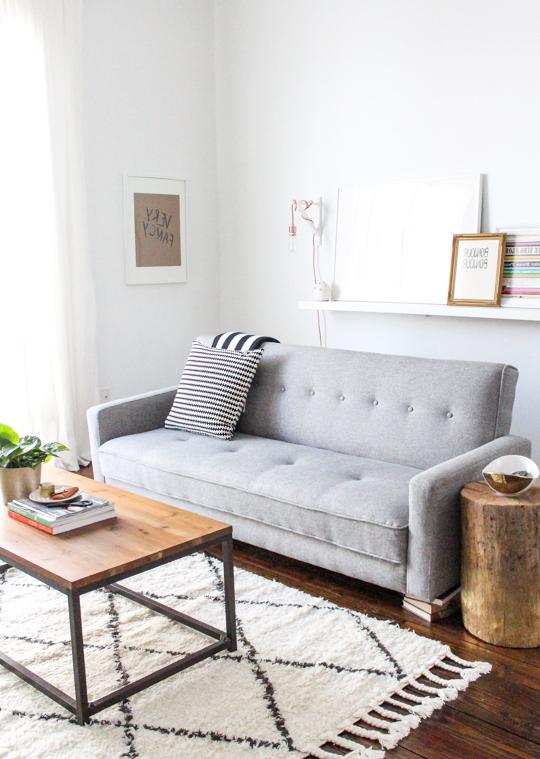 Apart from just picking out the right color scheme for your small living room design, you should also think about the furniture texture you pick out. One key piece of furniture you can go all out with on texture is a coffee table. You can pick out a coffee table made of a combination of rough hon wood legs and smooth glass on top. This creates a unique appeal in the room that will make it a stunning conversation starter, especially if you plan on hosting guests in your living room.
7. Contradict Shapes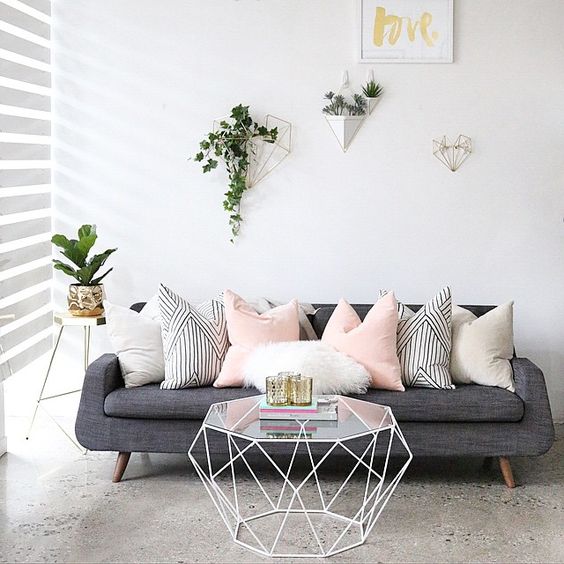 This is one of the those best small living room design which can easily be decorated by using different elements. The technique here is to balance and contrast one another. Instead of focusing on using furniture with the same shapes, try to experiment with polygonal and round items. The difference between these pieces may contradict one another but after looking at the room as a whole, you'll be able to create a balanced look that takes the attention away from how small the room is.
8. Use Space Saving Furniture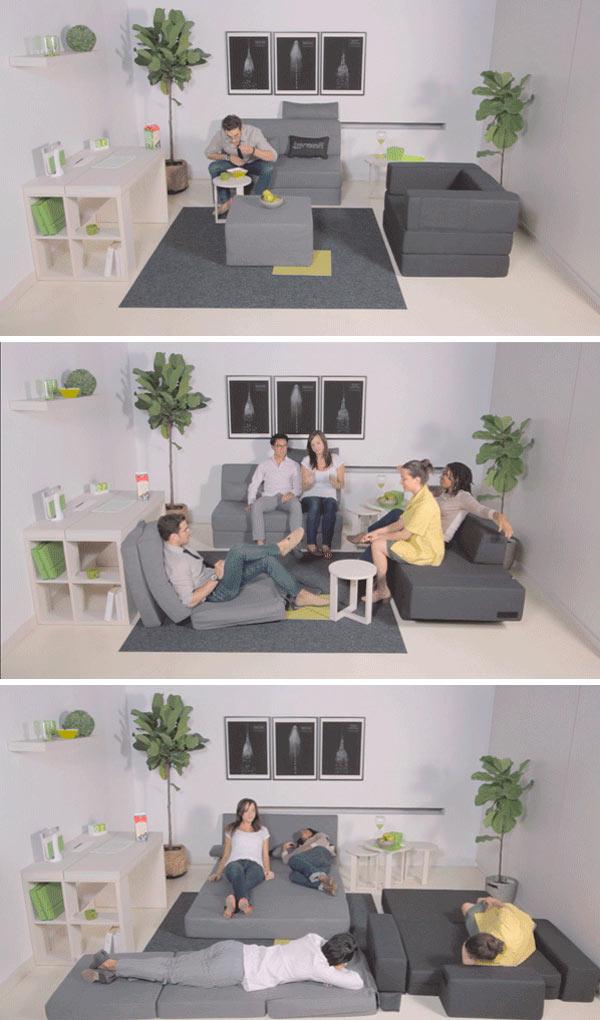 With the abundance of space saving furniture, you'll be sure to find pieces that will make you excited about your small living room. The use of these furniture can allow you to welcome guests into your home without being worried about where they'll sit. Along with space saving furniture, make sure to use shelving units that still give you enough space. The trick is to make sure you use space saving furniture you can easily arrange to accommodate a group.
9. Soft and Plush with Pastel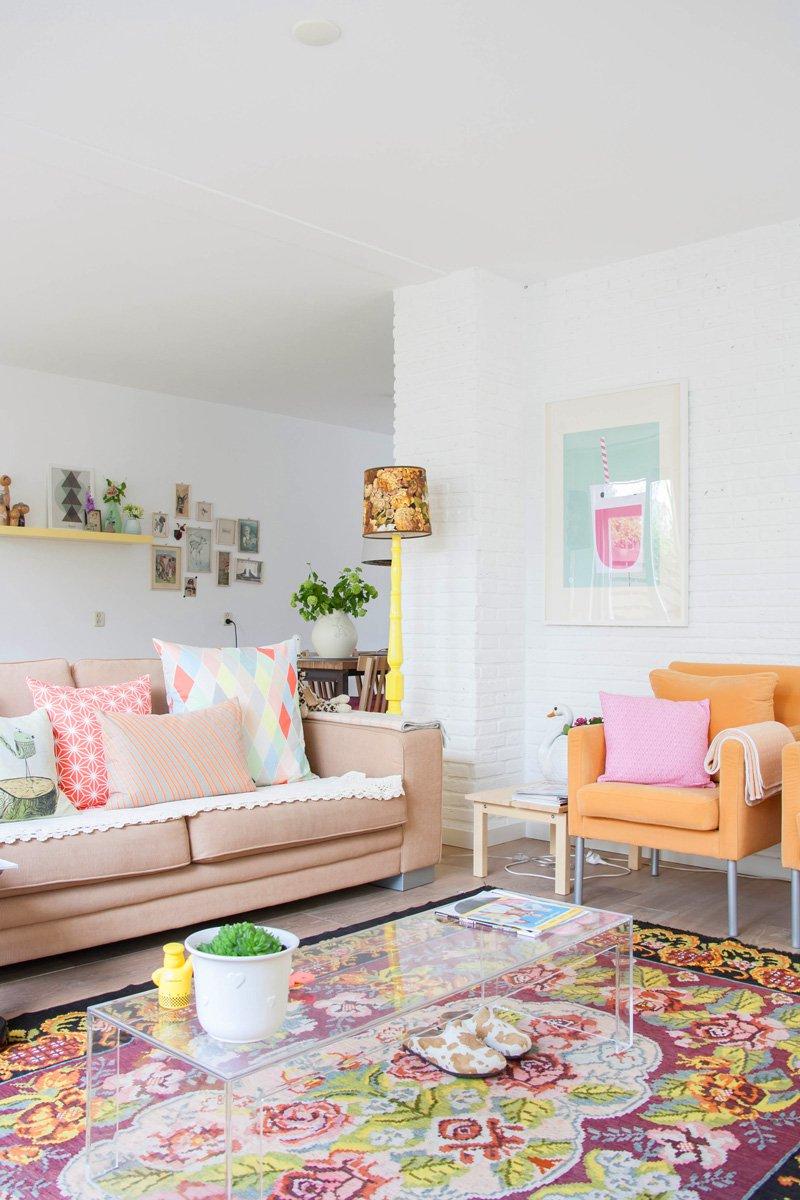 Considering the fact that living rooms are considered as a place in the home for relaxing, a pastel-themed room can do a lot of good to a home. Adorn the home with soft and plush items in pastel colors so you can create the cozy experience you are looking for. As for the coffee table, make sure that it comes in a neutral shade or go for a transparent piece so you can achieve a creative effect in the room. The pastels will be a refreshing color to the eyes that will never tire you out.
10. Gentleman's Room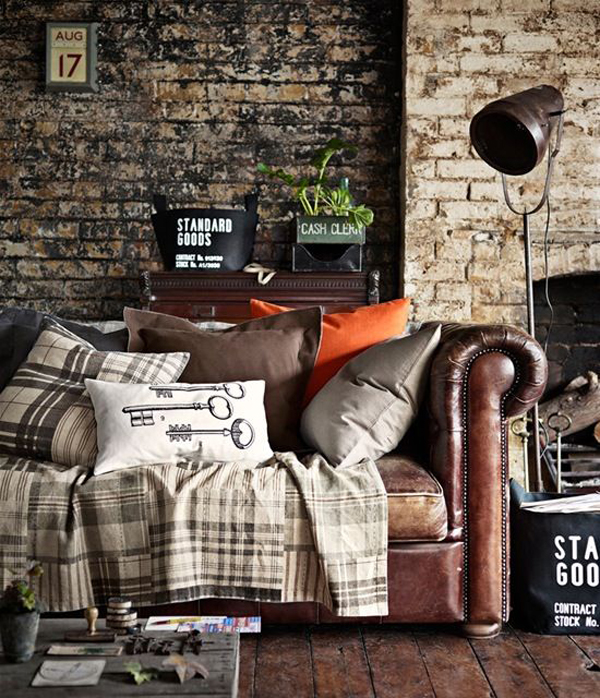 If you want to create an impression that the room belongs to a gentleman, the trick is to use pieces with black, red, white, and dark brown colors. The furniture should also be made from dark hardwood material to give an impression of an inviting gentleman with a sophisticated air to him. This creates a lasting effect that gives a manly feel to the room.
11. Contradict Simplicity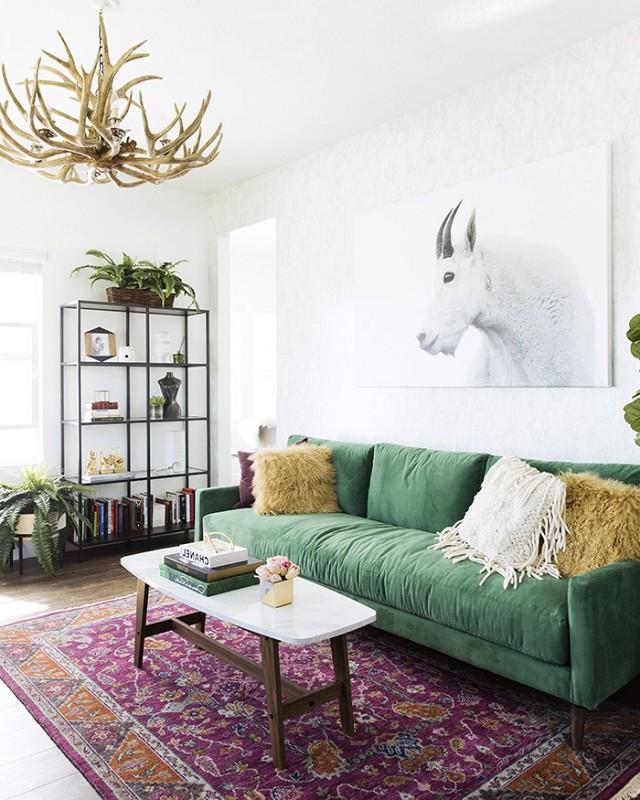 Decorating a small living room may be a struggle for some people, especially if there are already pre-existing pieces in the space that needs to be worked on. But even so, the important thing to remember is that you should not be afraid to take things a notch higher if you feel like it. Instead of sticking with a plain, solid wall, you can contrast it with colorful furniture or even go creative with an animal portrait on the wall or this horn chandelier.
12. Let the Pillows Do the Talking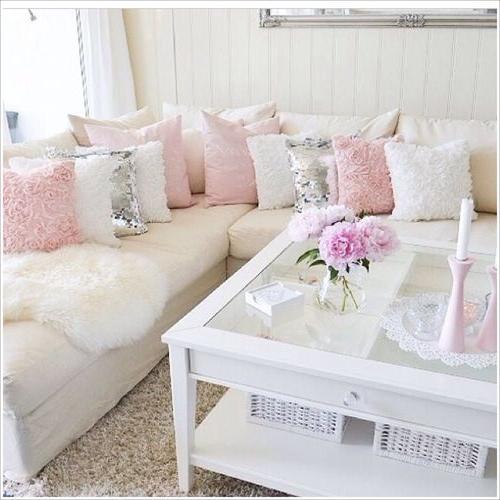 One of the easiest ways you can add color and creativity to a small living room is by equipping it with several throw pillows in hues that complement one another. You can mix and match various colors so you can contrast one another, thus creating a seasoned look. There's really no limit to your imagination when you design your living room with pillows. The best thing is that whenever you feel like changing the look of your room, you can easily do it by changing the pillowcases.
13. Hello Yellow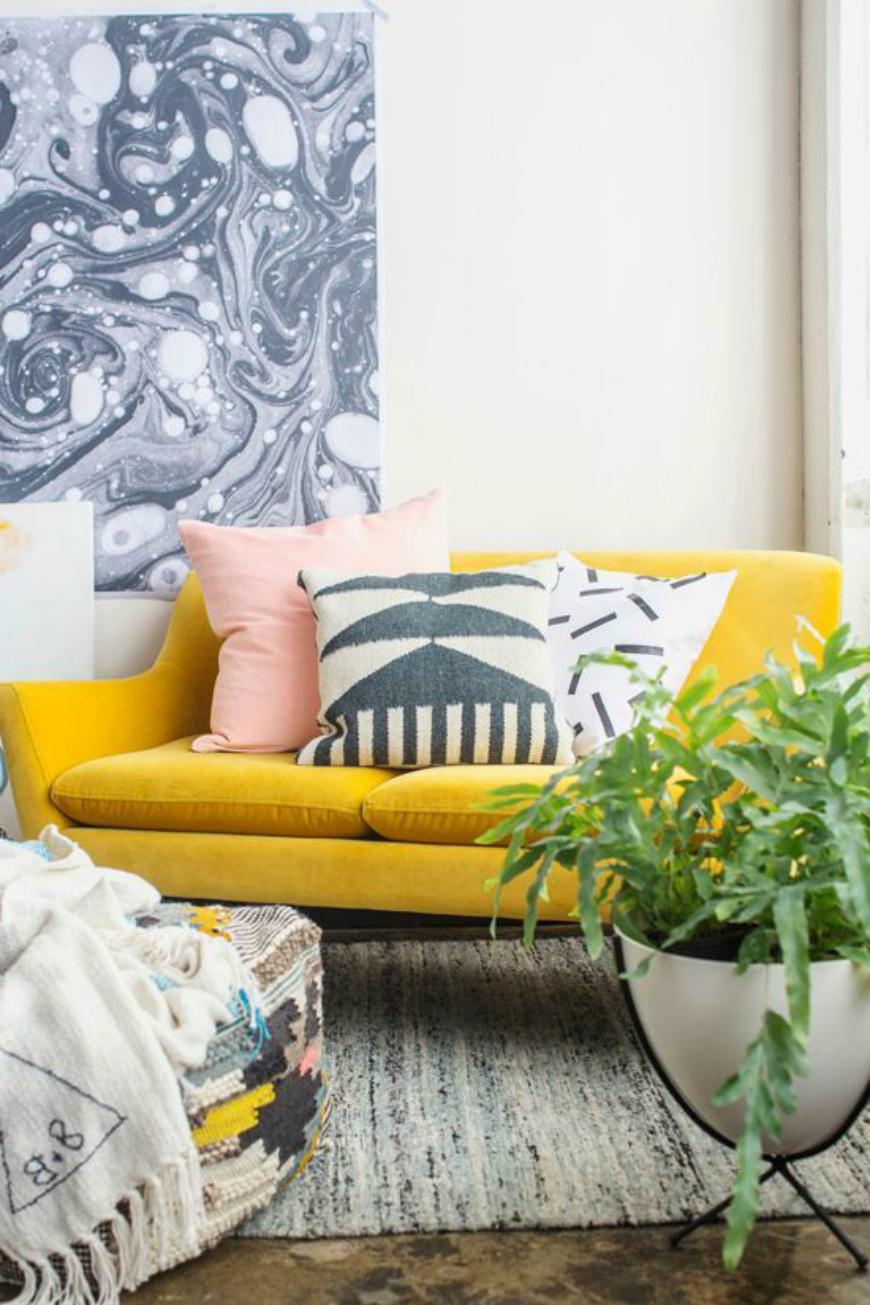 The trick in decorating a small living room is that you concentrate on a particular color scheme that you wish to work with. If you're a fan of yellow, it will work really well with limited space. This is because yellow brings out natural lighting that will be perfect for daytime reading. At night, you simply have to light the space with a simple light. The color is comforting and mellow, which gives you a sense of comfort that you can't get anywhere else. Just remember to keep the yellow color at a minimum and concentrate on a central piece.
14. Mix Various Patterns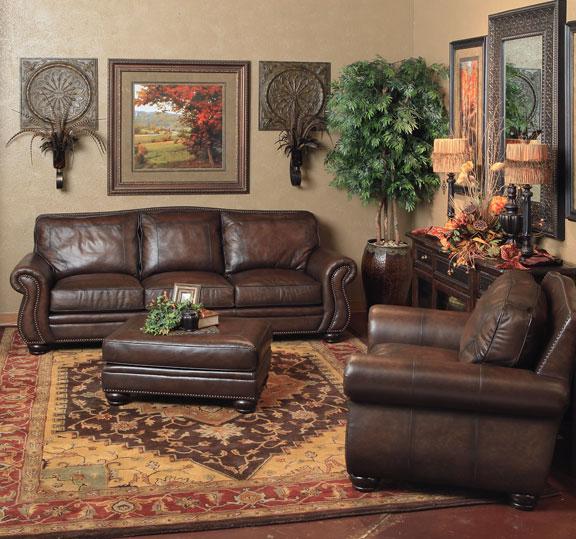 Usually, designers stick to using a consistent look so they can be safe when they are creating something. But even if this is the norm, there's always an option to mix and match different patterns. If you're the type of person who does not like to conform to rules and standards, you can take a risky adventure with the items you decorate in your small living room. Mix neutral tones with leather, wood, glass, metal, or even water. Or if you like, you can make use of geometrical shapes, zebra prints, or any other piece that speaks your style. There's really no limit to what you can experiment with– you simply have to be creative.
15. Use Curtains Wisely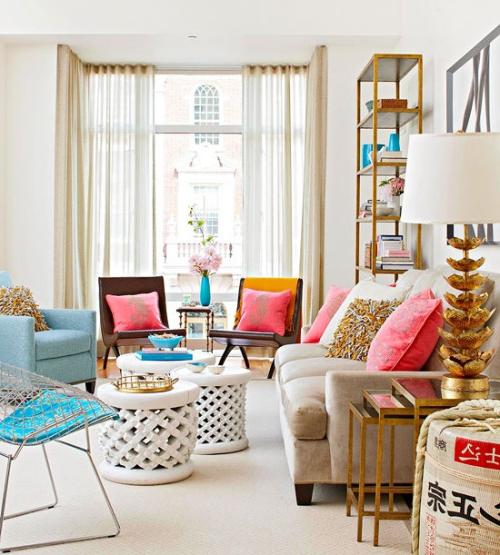 The main problem of a small living room is that there isn't too much space to work with. This is why there are a number of tricks you can use to make this room in your home look bigger than it actually is. One such tip you can follow is to make use of curtains properly. To give an illusion that your living room is bigger, make sure to place the curtain rods just below the ceiling. This is a trick that works all the time.
16. Don't Be Afraid to Personalize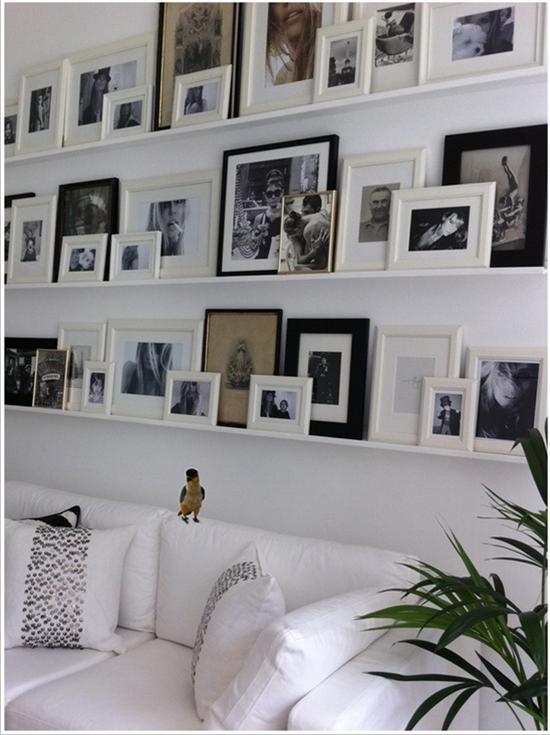 Most of the time, homeowners focus on how their home will look when they post a photo of it online. The problem here is that they often forget to personalize their space. They are afraid to include family pictures or add personal items on their shelves or walls. As a homeowner, this is something you should not be afraid of. Since your small living room design is part of your abode, you should not feel compelled to keep it blank or simple enough. Take time to discover the things that inspire you and include those pieces in your living room decoration. In doing so, you'll feel comfortable and happy whenever you step foot in your living room.
17. Achieve Symmetry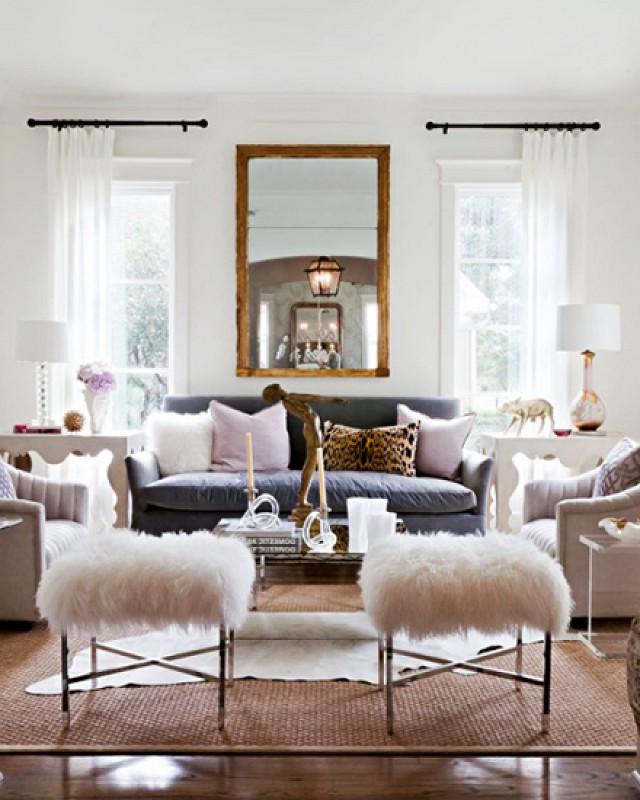 Another trick you can use to make your living room look bigger is to create symmetry among all the pieces in the room. Make sure to get pairs when you buy mirrors, lamps, and single-seater seats. The pillows you include in the living room should also be symmetrical with one another. In doing so, you can make it look like the room is actually bigger than it really is.
18. Give Purpose to Everything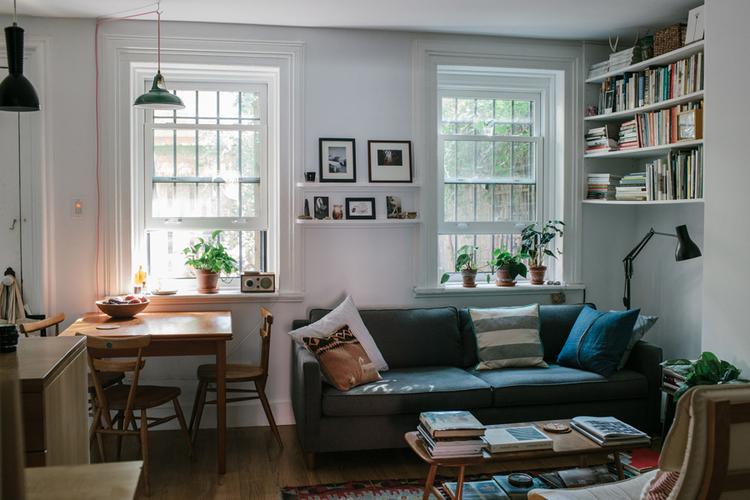 No matter how small your living room is, you will always get to find furniture that you can use for it. The trick is that you make sure every piece has a purpose. Instead of using bulky floor lamps, opt for track lighting in the ceiling. It still serves its purpose of giving enough light in the room, yet gets rid of the unnecessary space it takes up. You can use this space for something much more important. In addition, you can have an accent wall painted with vertical stripes as this gives the impression that the room is taller.
19. Seasonal Furniture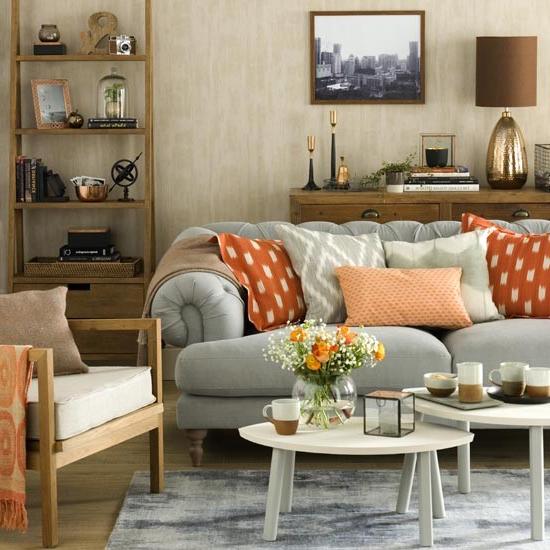 You can make your small living room design which look good and be comfortable enough when you customize this with your favorite season. A good example would be to decorate the room with hints of autumn using dark brown furniture and a neutral palette. You can then infuse this with bits of blue to hint the chill of winter. By drawing inspiration from your favorite season, you can achieve a sense of calm that you feel whenever your favorite season comes around.
20. Express Yourself With Colors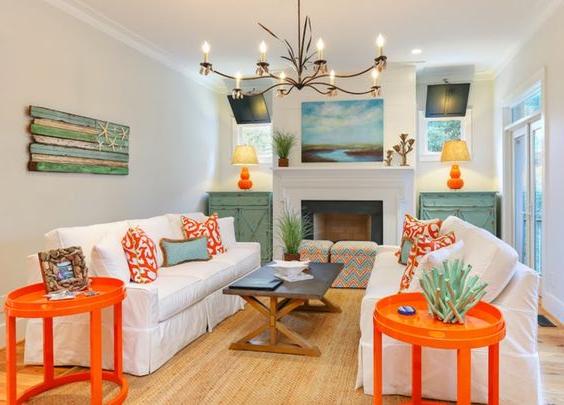 Colors speak a language that needs no words. Just one look at the color and you'll instantly get the message it delivers. Because of this, many home designers make sure to incorporate the colors that portray the personality of the homeowners. For those who have an intellectual personality, blue is the preferred color. Meanwhile, orange works best for those with an outgoing persona. Make sure to identify what your personality is so you can pick out the right colors you wish to convey in your living room.
21. Keep It Zen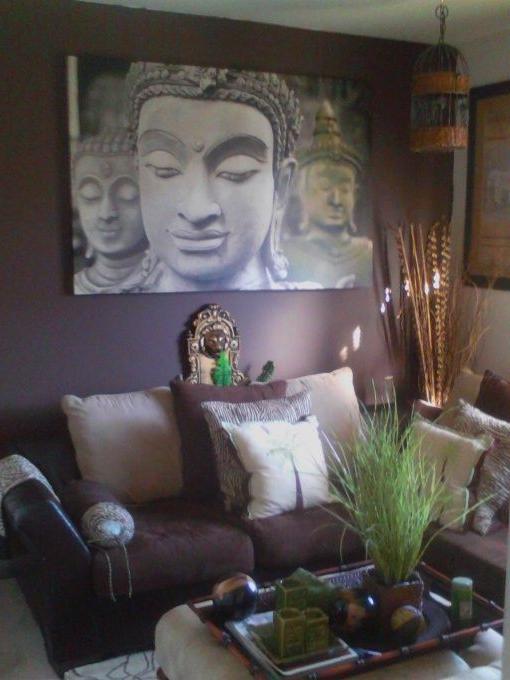 One of the best ways you can decorate a small living room is to make use of pieces that speak to you of your favorite culture. If you are fond of a Zen lifestyle and its influence on interior design, you can decorate your living room with hints of its elements. To keep the interior modern, you can throw in a few modern pieces instead of sticking with a traditional look.
22. Keep It Functional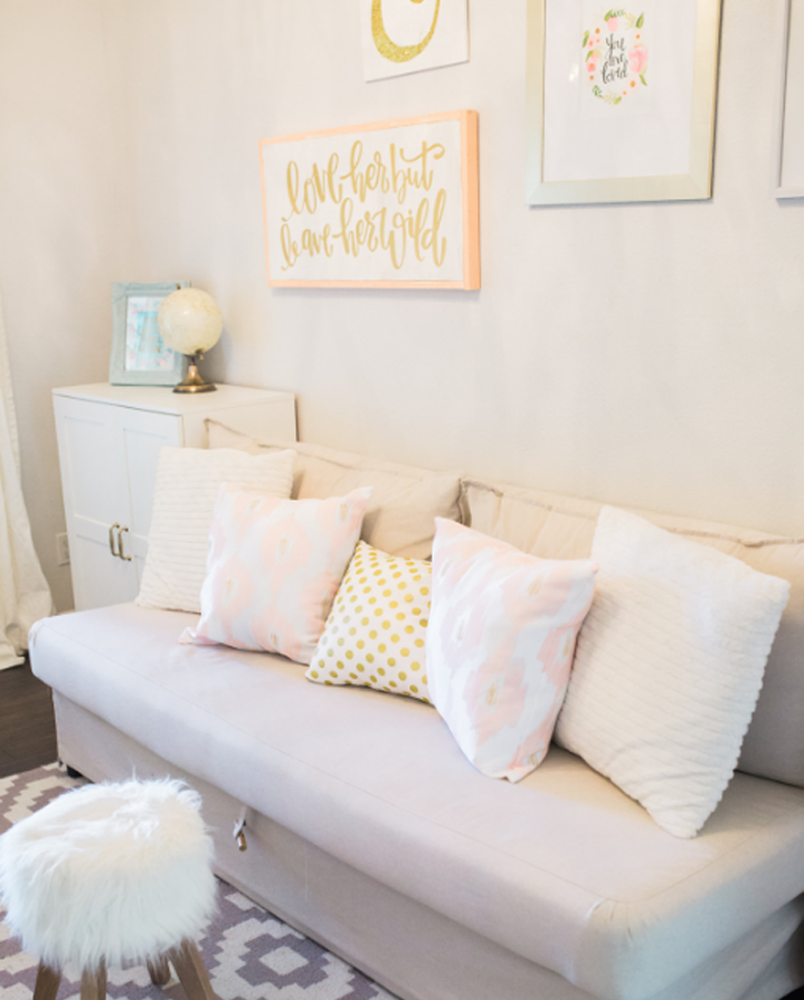 If you often invite guests over to your home, you can offer them a place to stay for the night in your small living room. In order to do this, you simply have to equip your living room with a stylish sofa bed that can double as a bed for your guests. Ever since sofa beds became popular, they have been widely available in a number of furniture stores throughout the world. Some of these even come in different shapes, styles and colors. So if you're looking forward to hosting some friends, you can easily use your small living room as a place for them to sleep.
23. Optimize Seating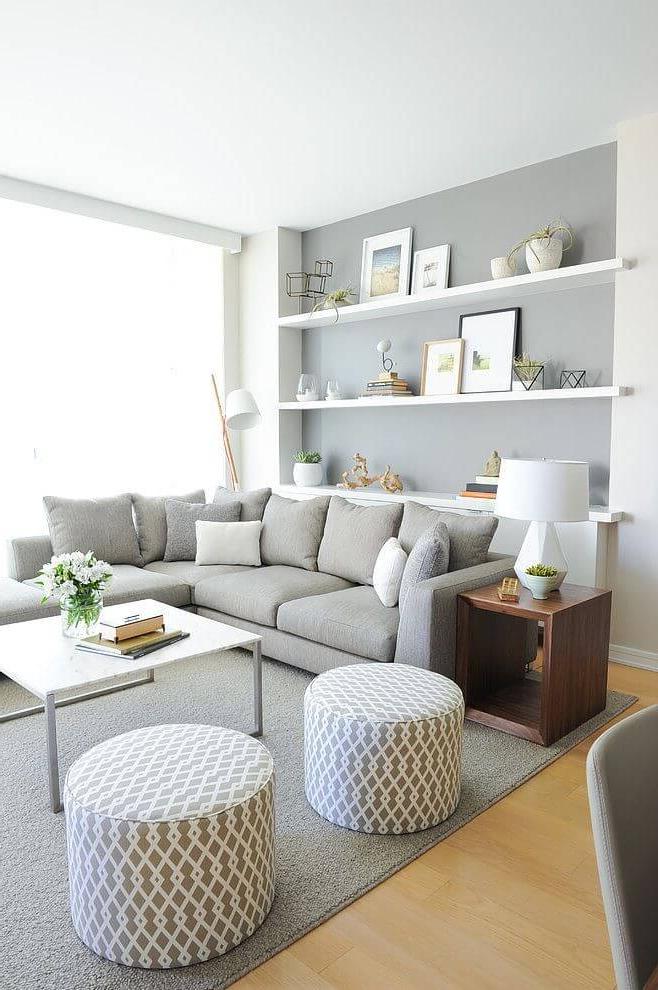 When you have a small living room to work with, you really have to make the most out of the space given to you. This is why it is so important to be mindful of the furniture you purchase. Considering the fact that a living room is a place for family and guests to gather, you need to have a lot of seating options available. One way you can achieve this is by looking for furniture that can double as a chair or a sofa. There are now a number of chairs that have storage areas inside them. By using one of these chairs, you'll be able to hit two birds with one stone. And in the process, keep your small living room design looking great.
24. Keep the Colors Balanced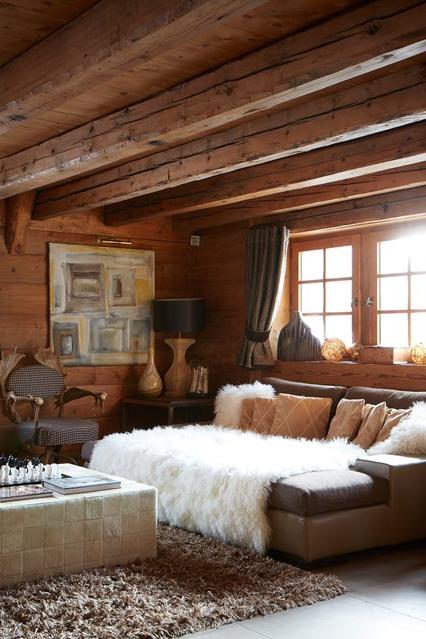 The best trick to follow when working with design is to keep everything balanced. If you have a wooden living room and you wish to keep the colors prevalent in the room, you have to remember to make the most out of earthy colors that will compliment it best. The result of the combination will be a symmetrical look that can't easily be replicated by expensive furniture.
25. Use Sandalwood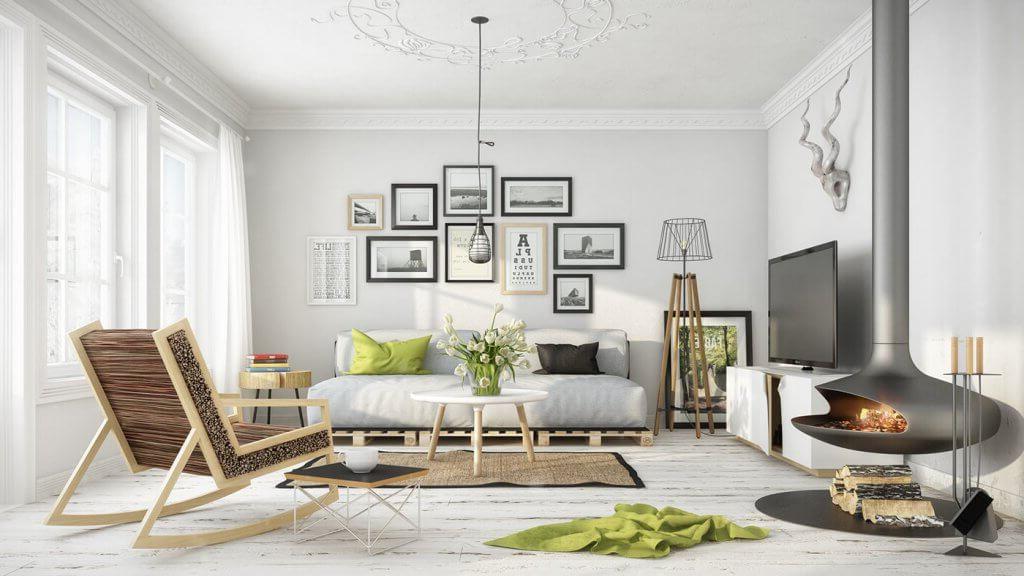 If you wish to keep a simple living room yet allow it to embody a natural charm, the best way you can do this is by keeping things neutral. You can make use of clean colors so that you can let the room breathe air into the space. The good thing about keeping a neutral tone in your living room is that it will look brighter instantly. Paired with the right furniture, your living room can look comfortable and inviting.
26. Show Your Eclectic Taste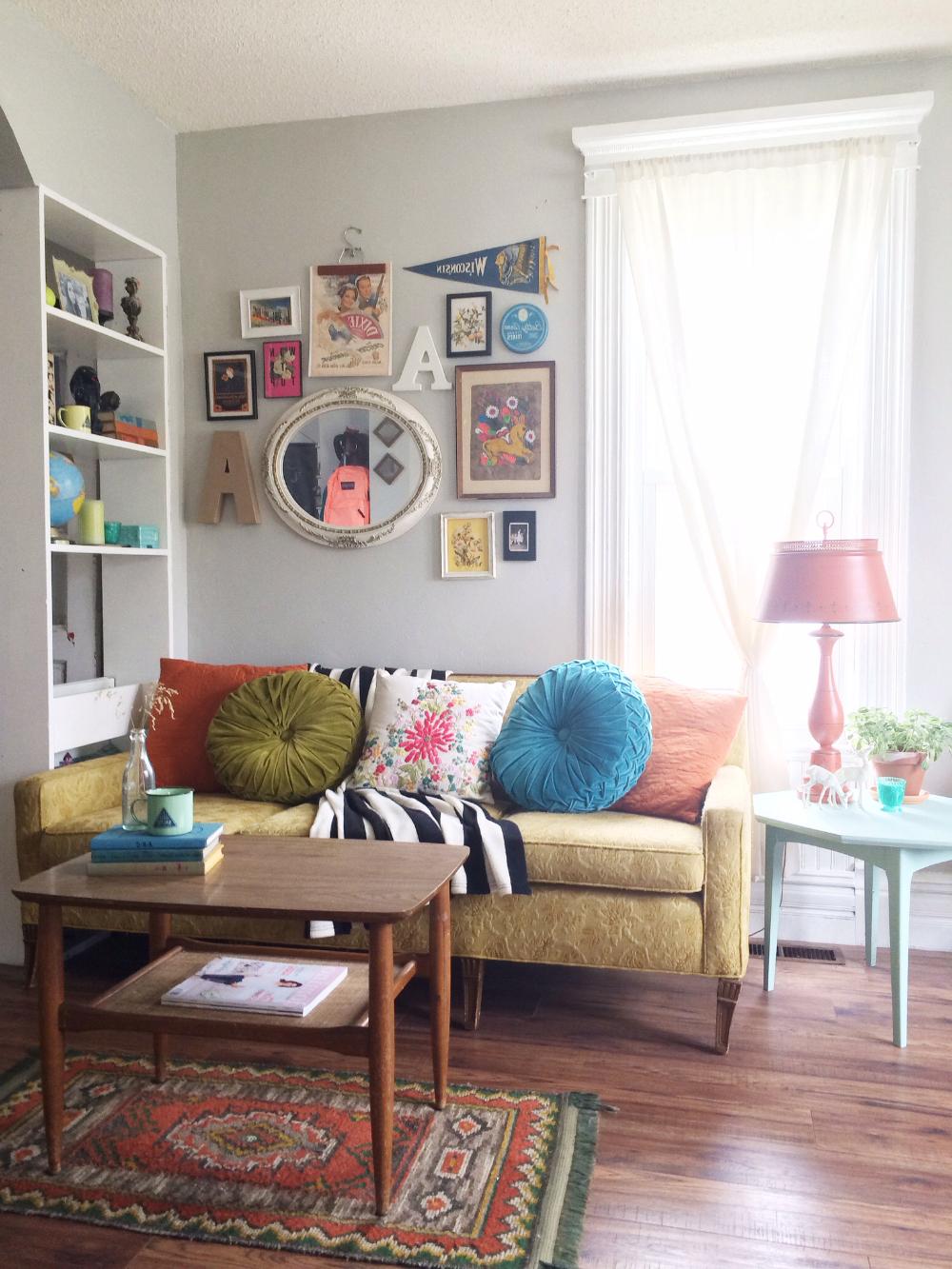 Another good idea to use in a small living room is to embody an eclectic design. This is usually depicted by using different styles together through means of using color, finish, shape, and texture. While the colors vary from one another, a few neutral hues are maintained to tie everything together. This harmonious effect creates a charm that works best in small spaces.
27. A Play on Colors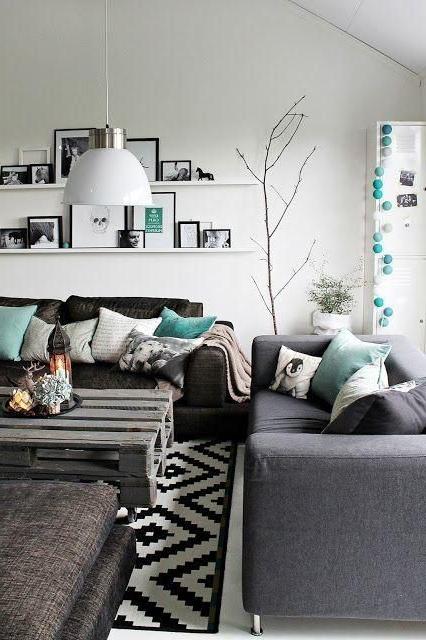 Sometimes, the best small living room design choices would be to go with something totally basic. And in its purest form, you can always rely on using black, white and gray as the primary colors for your small living room. This is a great palette to work with, especially if you're confused about picking the colors you want to use for your home. Once you have your canvas, you can then decide the color you would like to pop in the foreground. Just like this living room, teal was chosen as the color to stand out against the minimalist affair.
28. When All Else Fails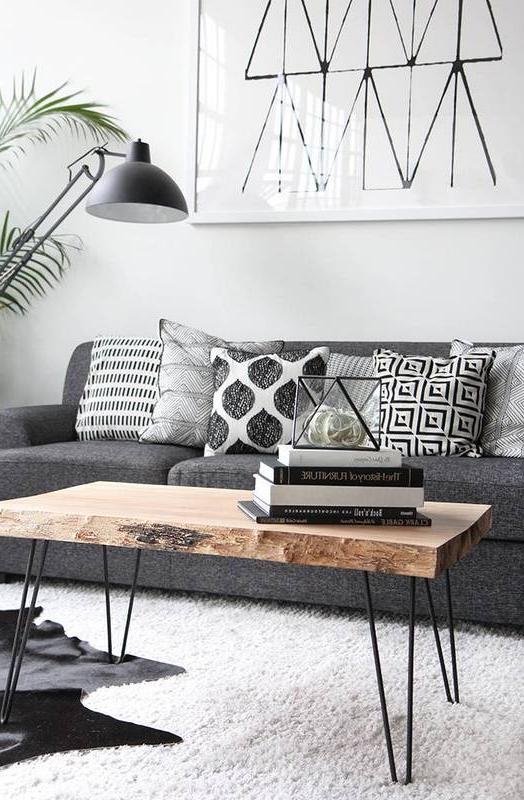 Source:
There are people who just can't seem to decide on a color they would like to use for their home interior design. And since you will be working on a room with limited space, you truly have to be careful when picking out the right colors you wish to use. This is because you would not want to combine colors that would make your room look too noisy. Instead of making your room look bigger than it really is, your living room will appear too crowded with all the colors trying to pop out for attention. As such, in certain circumstances, it's better to stick to a white and black theme.
29. The Minimalist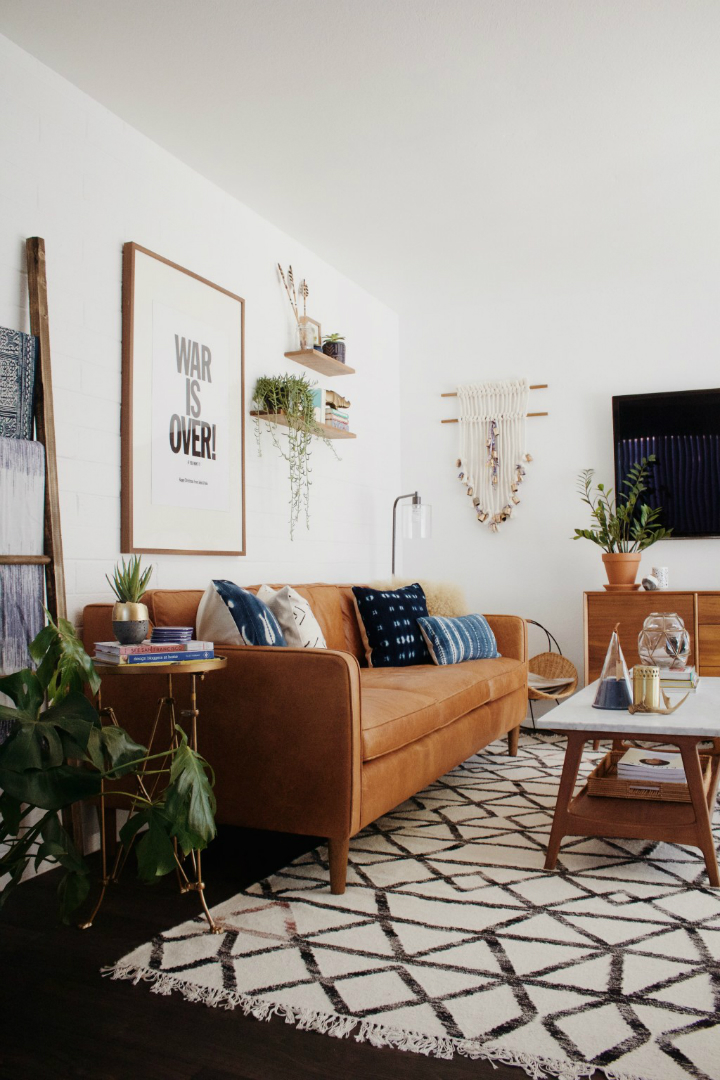 Some people associate minimalist design with black and white colors. However, this isn't the only option available to those who wish to be different with their choices. Instead of sticking with a black and white color palette, you can make use of other monochromatic options. Other than black and white, you can still opt to go for minimalist with the use of browns and white colors. You can make your living room stand out because of how these colors complement one another. Plus, if you add in some plants, you'll be able to turn your living room into a naturally stunning place without going over-the-top with your interior.
30. Light Up Your Life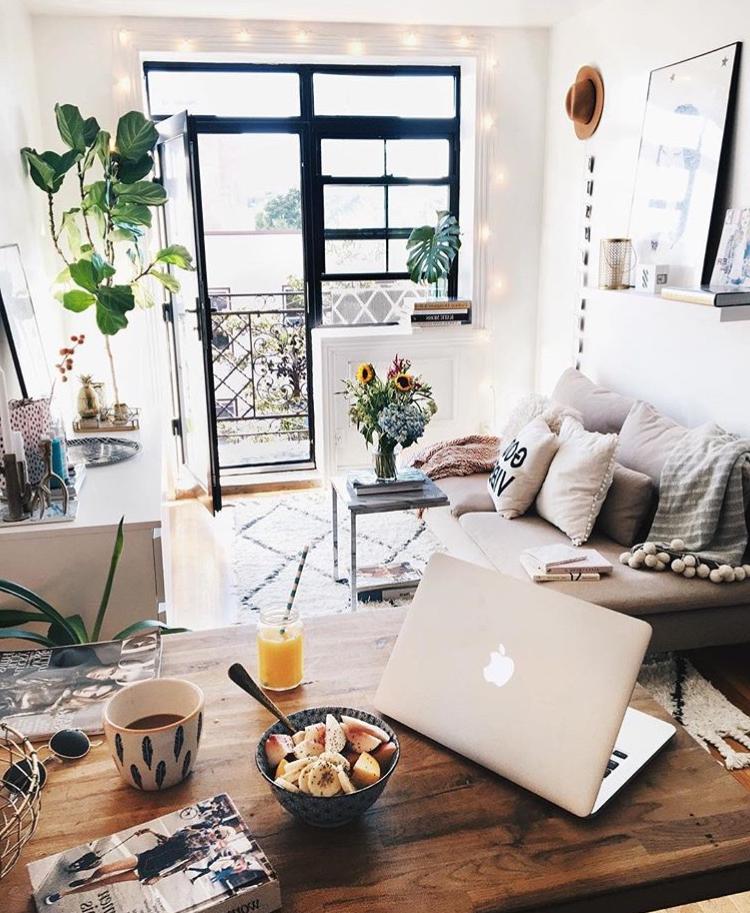 Out of all the different tips on how to design a small living room, lighting is the considered as the most important. This is because using the right lighting can create a beautiful effect in the room that no other design can accomplish. Alone, it turns an ordinary room into a breathable and comfortable space that would keep everything in sync with one another. Just like the living room on the photo, the use of light creates a drama that distracts from the everyday scenes of life.
31. Nontraditional Color Combinations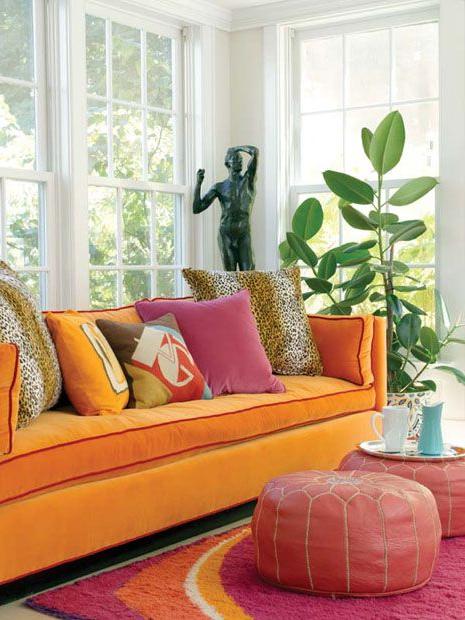 If you're daring enough to go bold with your color selection, you can experiment on using nontraditional color combinations to try and make it work with your living room. As seen on the above example, you can combine pinks and oranges together and see how they work well with one another. They don't usually give off a positive combination of colors but when played right, they do a terrific job. It also helps that you keep your windows and walls a plain white color to keep things balanced, bright, and happy.
 31. Mustard Walls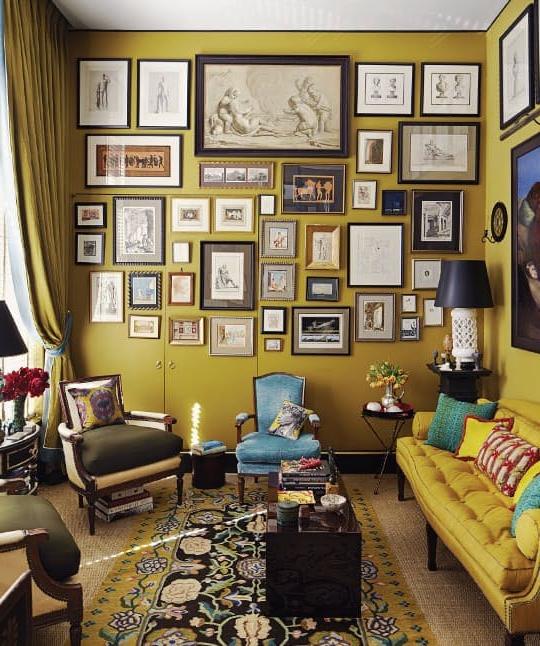 Show your love for yellow and its other variations with this small living room design style. Instead of sticking with a white wall, you can paint your walls with a color that you like just like this living room. Opt for a mustard seed color so you can keep things simple yet speak volumes with your personality. You can then adorn the wall with family photos to keep the décor personal. To complete the look of the room, equip it with bright, colorful pillows.
32. Balance the Colors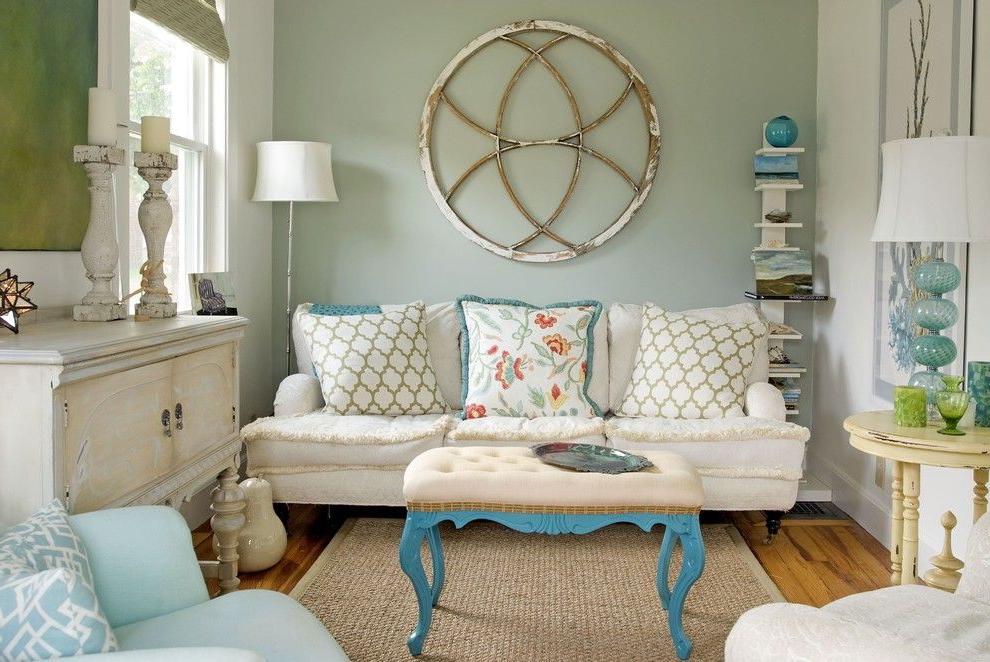 If you love the shabby chic design trend that has been going on for the past few years, you can keep the design in tune with your small living room. Apart from looking pretty, the design can easily be accomplished without spending too much money. In fact, you can look for thrift shop furniture that you can upcycle and redesign accordingly. You have to remember, however, to keep the colors balanced otherwise you can go overboard with the design. To do this, you can keep the walls a warm color and just pick a few items you wish to pop out.
 33. Choose Pretty Visual Pieces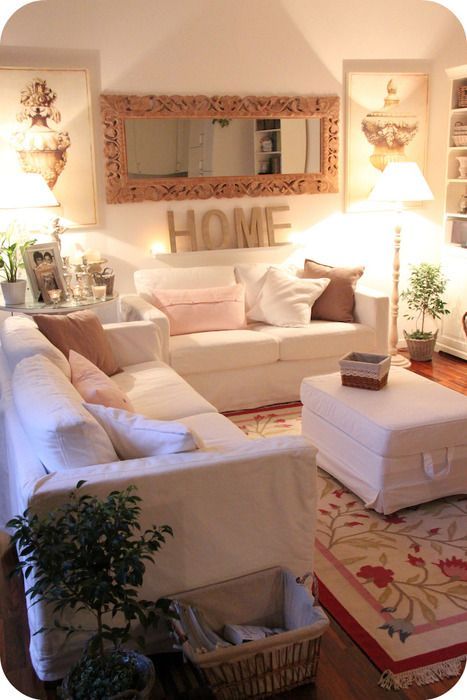 A living room is intended to be a place where you can be most comfortable apart from your own bedroom. This is why you have to remember to keep the room simple and good looking without going overboard with the decorations you install. Even if you have picked out one or two key elements, you can already achieve a lot with the decoration you choose. You have to remember to keep things simple otherwise everything will clash with one another and be too much for your room. When this happens, your living room will no longer look comfortable.
34. Paint One Wall Black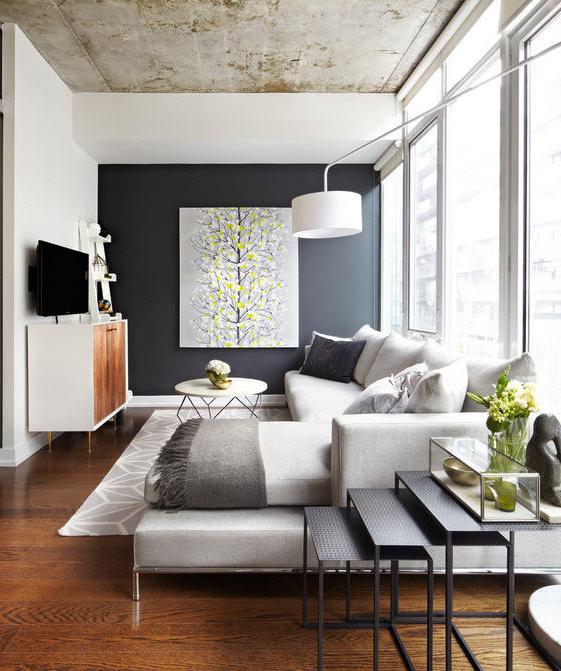 If you like the color black but do not want your living room to become too dark, one of the easiest ways you can do this is to paint just one wall black. Everything else should be painted white so that you can retain natural light in your living room. With the living room on the photo, the floors are left wooden while the ceiling is a bit rustic. Together, they create a sophisticated look that a black wall has given life to.
35. Go Bold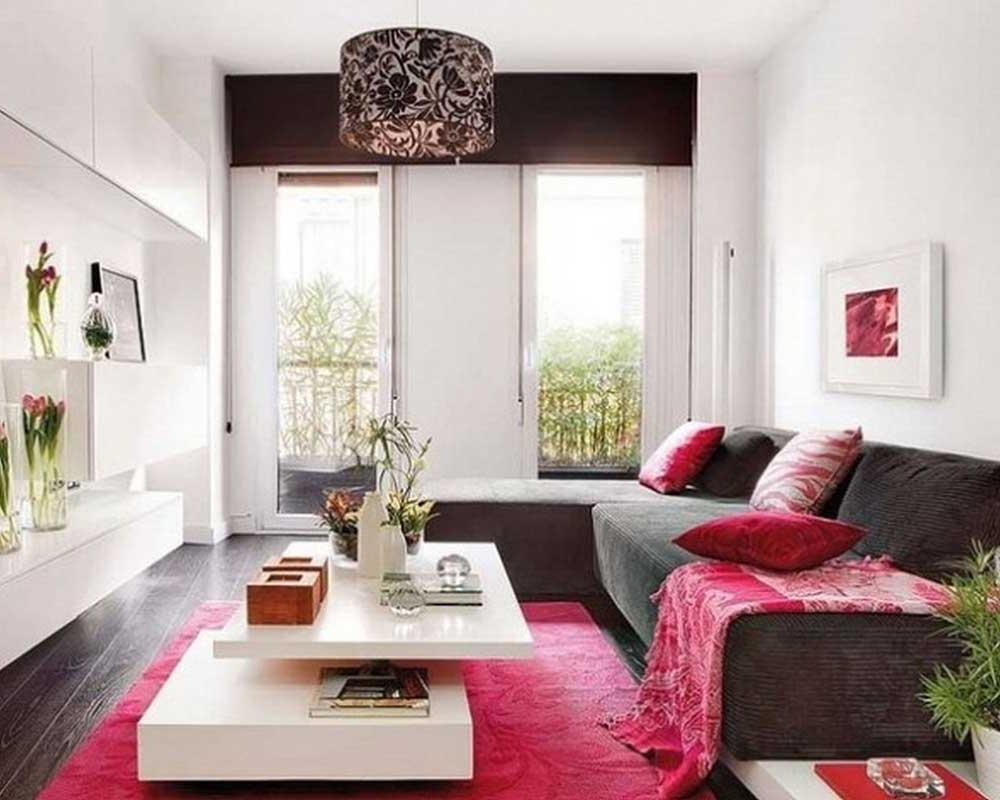 In any home, using an eclectic design can be very tricky. This is because it usually creates symmetry between random elements. If you want to keep a simple yet bold living room, the best way you can do it is by using minimalist colors with a splash of bright color like fuchsia. The way every color works in this living room harmonizes with the bold hue of the carpet, blankets, and pillows. The overhead lamp is an eclectic persona that goes well with the black colors of the room.
 36. Speak Volumes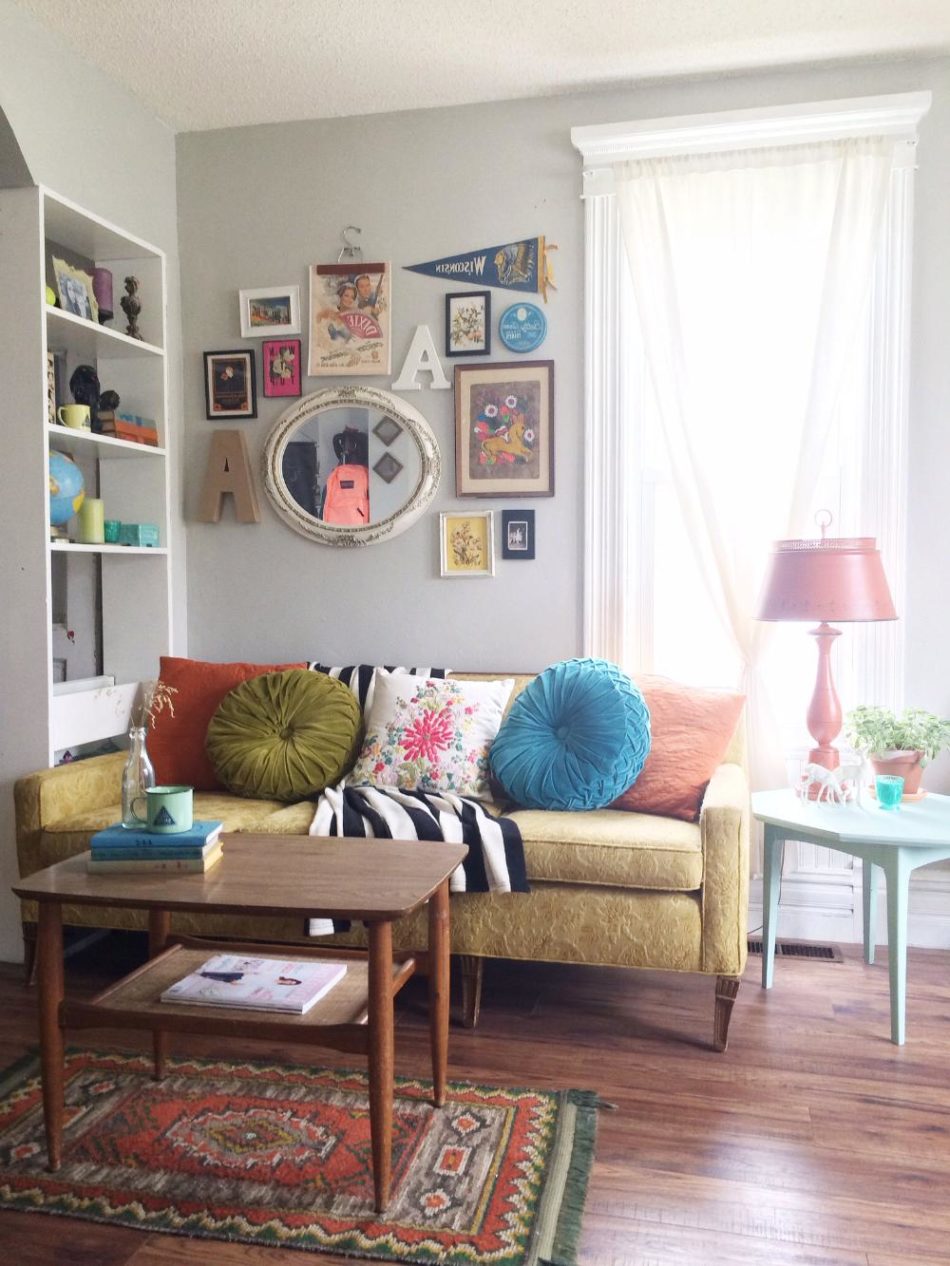 If you want your small living room designs to speak your character and do it in volumes, the best way you can do it is to give a touch of all your favorite things. You can throw in your favorite colors, university flag, some photos, and any other memorabilia you wish to display. Considering the wild use of color, it is best to paint your walls a solid hue so that it doesn't get too crowded and distracting to the eyes.
37. Luxurious Living Room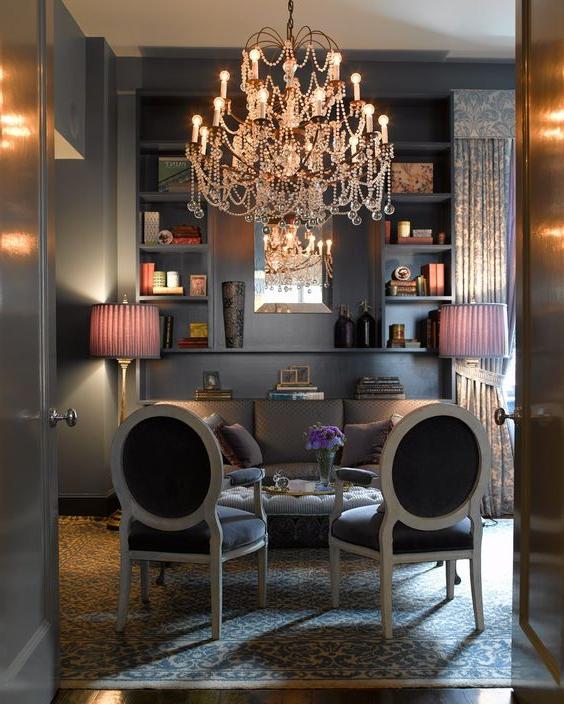 Sometimes, when people think of luxury, they immediately think that a room has to be big and grandiose. What they fail to realize is that you can still decorate your small living room in a luxurious manner. If you are keen on turning your living room into a posh arena for you to be with family and entertain friends, there are certain furniture pieces that will do the trick. The important thing is to recognize these furniture pieces and invest in quality items that could last a lifetime. A key piece in a luxurious living room is a glamorous chandelier to install smack in the middle of the living room. These things will essentially give you a posh living room no matter how big or small it is.
38. Simplicity is Key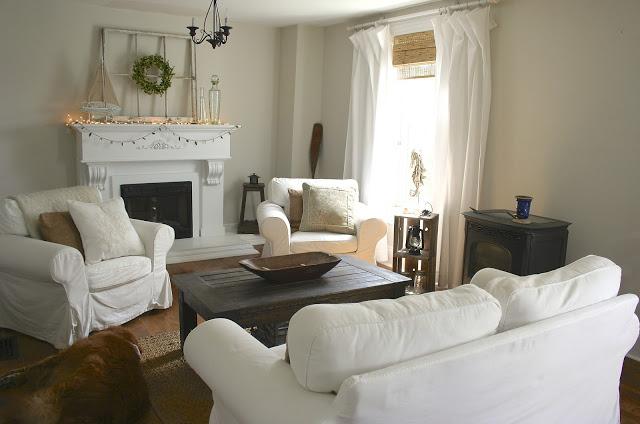 While there are homeowners who want to create a luxurious living room, there are also those who prefer to keep things sweet and simple. This homey living room is one of the best examples of how a low-key living room looks great. The room is decorated with neutral tones that set the mood for a relaxing environment. It stays true to the basics but does not limit itself with its possibilities.
39. Strategy Counts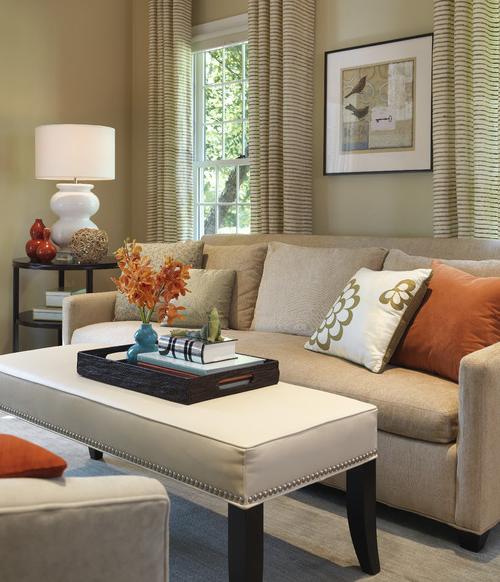 When trying to determine how you should design your small living room, it is important that you carefully think of how best to be strategic with the furniture you include. Make sure that the sofa and the chairs you use all face each other so that you can promote interaction with your guests. It is also recommended that you face seats towards the door instead of the other way so that it creates a safer feeling, particularly to those who have claustrophobia. By being able to see a way out of the room, this creates a comforting feeling that makes it easy to stay in the room for longer periods of time.
40. The Art of Compromise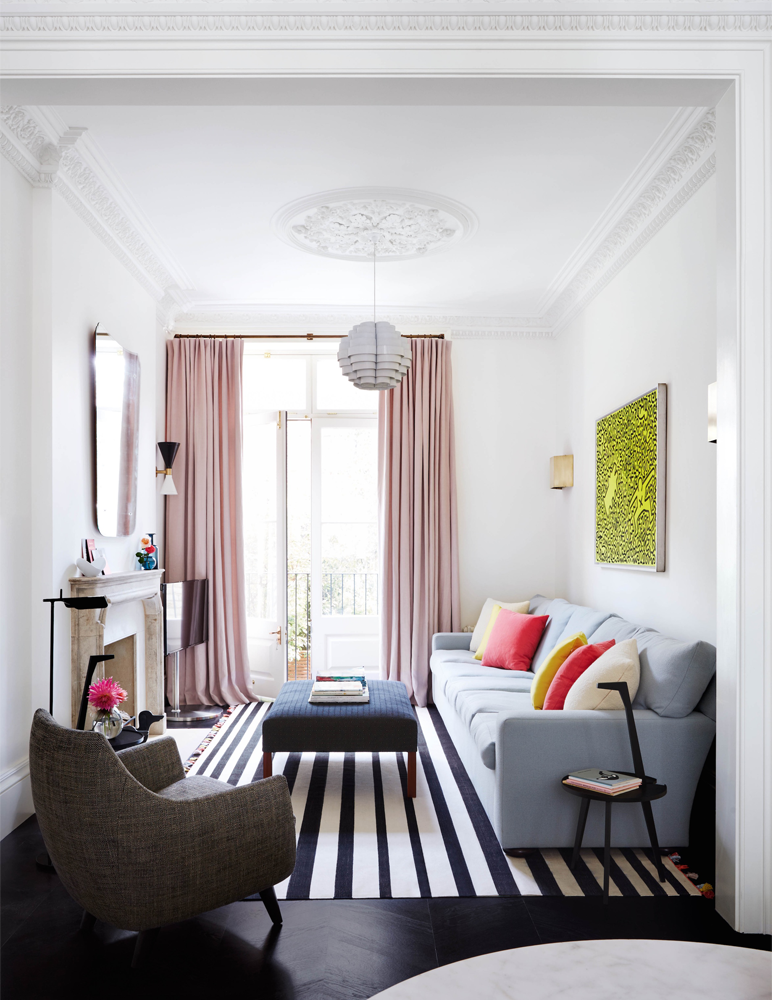 For married couples who wish to create unity in the living room they share, the best way to go about with it is to compromise with the styles in order to complete the look of the room. Instead of sticking with just one design, it's recommended to consider each other's personality and see how best to combine the two. This living room merges the soft feminine touches with masculine tones, creating a symmetry between the two that a couple can only understand.
41. Tribal Chic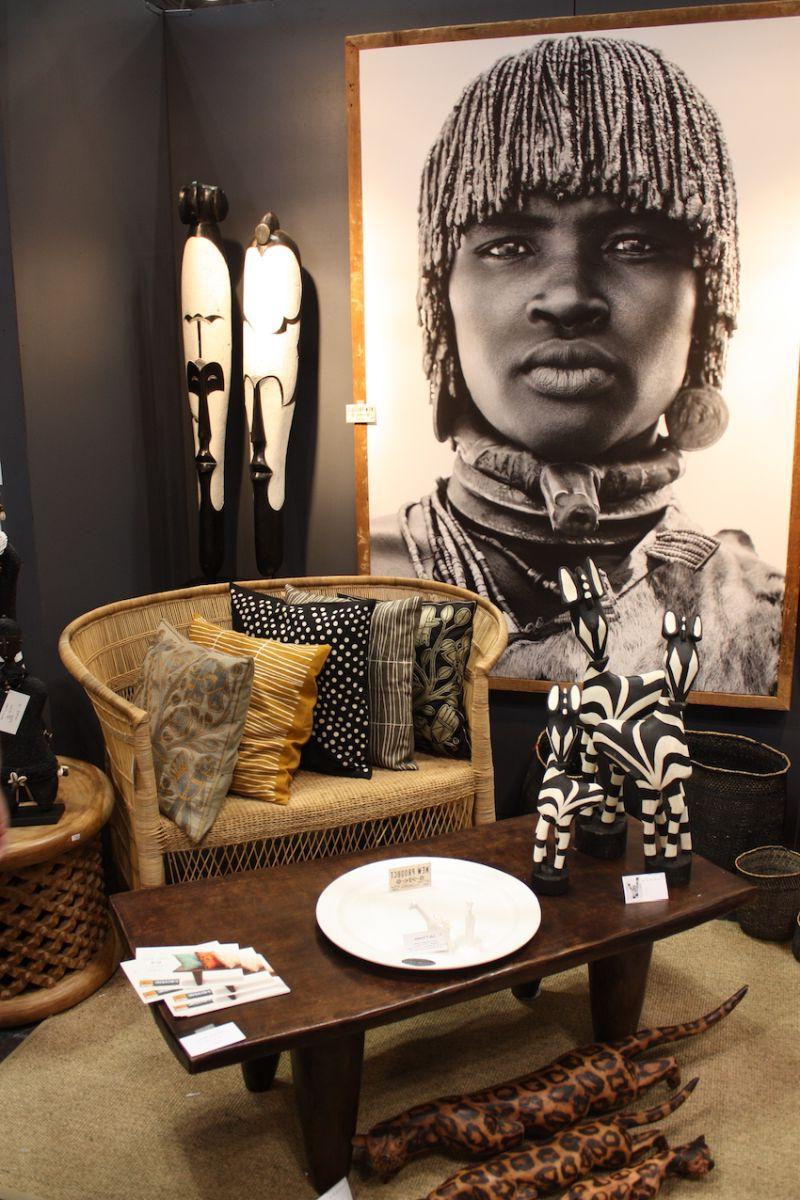 A tribal designed living room speaks a lot about culture and is always a conversation starter. There's no reason to go overboard with the design in a tribal inspired home as it does not need too much. The colors are mainly left with its earthy hues of browns from wood while the patterns used are inspired by the native animals found in the African jungles. Together, they create a story of a traveler in one with nature.
42. Distressed Furniture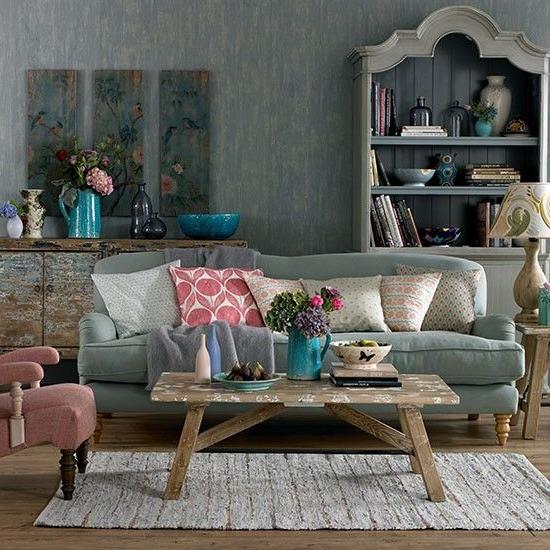 There's something charming about distressed furniture, especially the ones used in small living rooms. The good thing about using distressed furniture is that it does not necessarily have to be brand new furniture. In fact, a number of homeowners who make use of distressed furniture frequent thrift stores so they can find a treasure piece. They then make use of their skills to upcycle the furniture and turn it into a shabby chic piece that will go well with their distressed furniture living room style.
43. Coastal Charm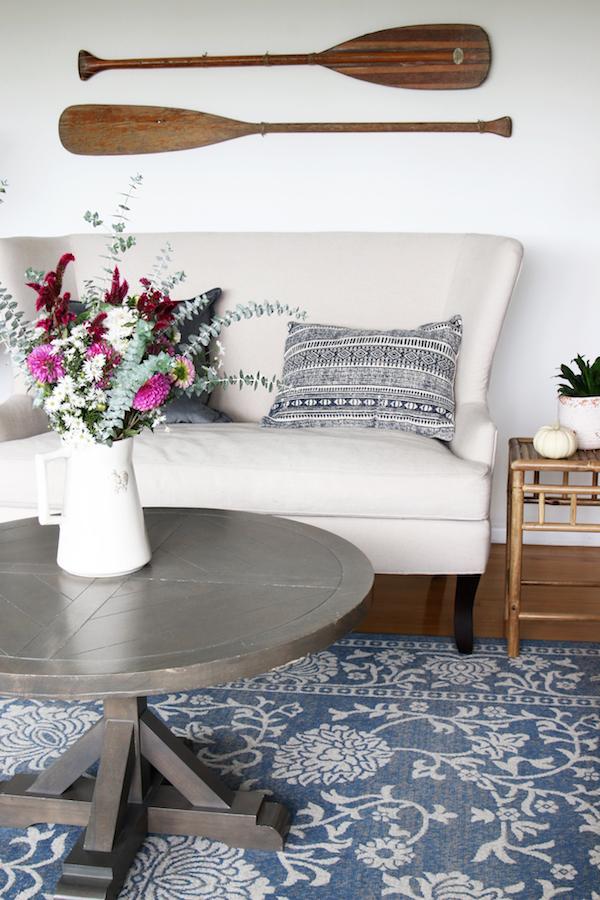 If you want to follow a calming theme in your living room, the best way to go about with it is to make use of coastal inspiration. The easiest way you can achieve this is by making use of teal, turquoise, navy blues, whites, and greens in your home design. These colors work together to create a tranquil sense when looking at them, similar to the effect of a calm ocean has on the eyes. As a bonus, you can decorate your home with a surfboard, a picture of the ocean, or even some oars.
44. Touch of Pink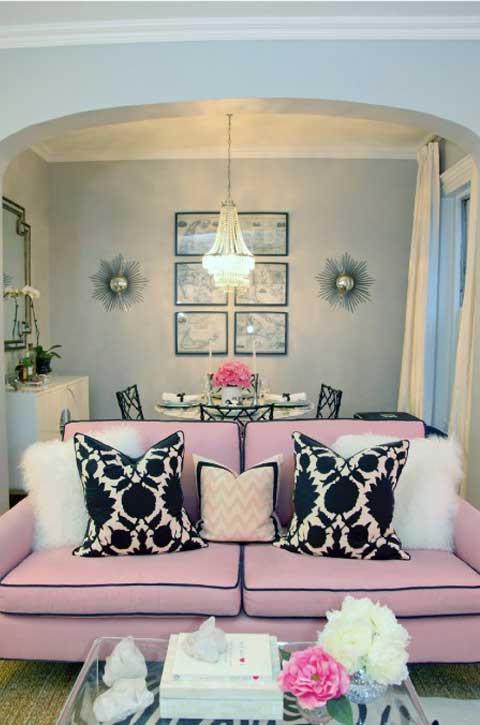 Pink is one of the prettiest colors around. It's perfect for a small living room for women who want to feel like they are princesses in their own homes. The trick in using pink in the living room is to use it in moderation and to balance it out with blacks and whites. In doing so, you'll be able to create a pretty room without going over the top with your choices.
45. Beating the Norm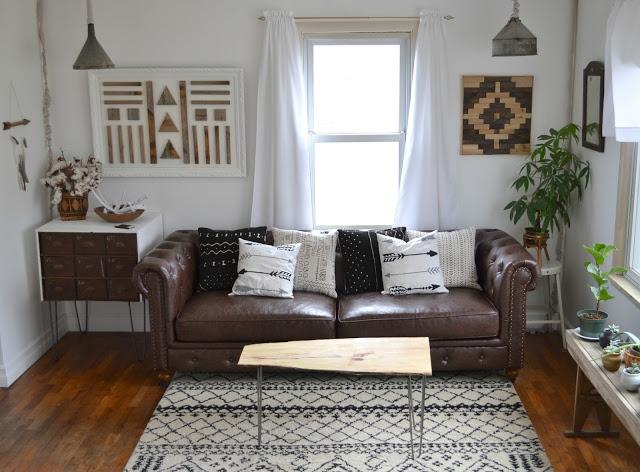 Whenever someone thinks of eclectic furniture, they immediately think of a small room filled to the brim with all sorts of furniture and collectibles. But as in the case of the living room on this photo, it is possible to embody an eclectic design in your small living room yet still have enough space to move around. Not everyone who likes eclectic design has a hoarder tendency. They simply want to adorn their home with different shapes, colors, and patterns they enjoy. And in this case, everything goes really well with one another.
46. Earth Tones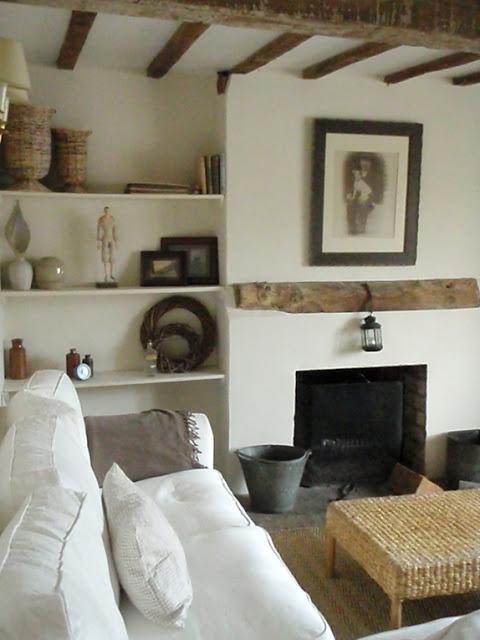 If you wish to embody simplicity in your small living room design, the best way you can do it is by using earthly tones like wood. Apart from the fact that it is easy to complete, you won't have to spend a lot of money trying to recreate an earthy-inspired living room. You can easily find reclaimed wood that you can use to decorate the walls and other parts of your home. The use of a white sofa completes the entire look of the room.
47. Pick a Color that Stands Out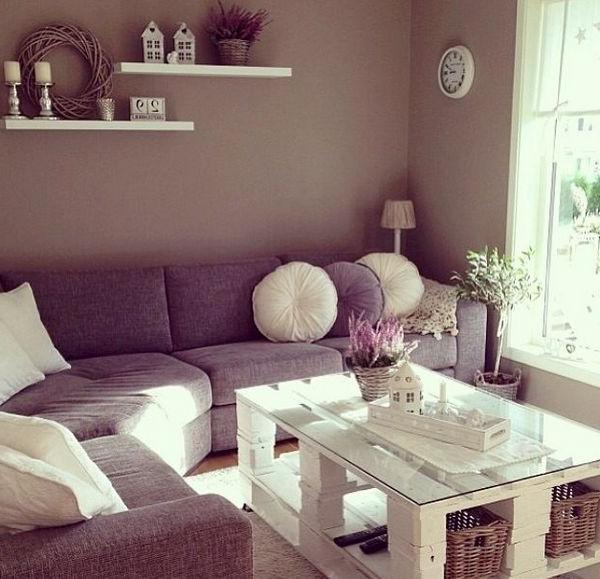 If you don't want to be limited to your use of color in your living room, you can always include your favorite color in the design you pick out. However, it can be so easy to go overboard with color in your living room, especially if you have a small room to work with. The trick here is to stick to the basics and use your chosen color as the standout piece in your room. After that, you can opt to use whites to balance everything out.
 48. Work with Someone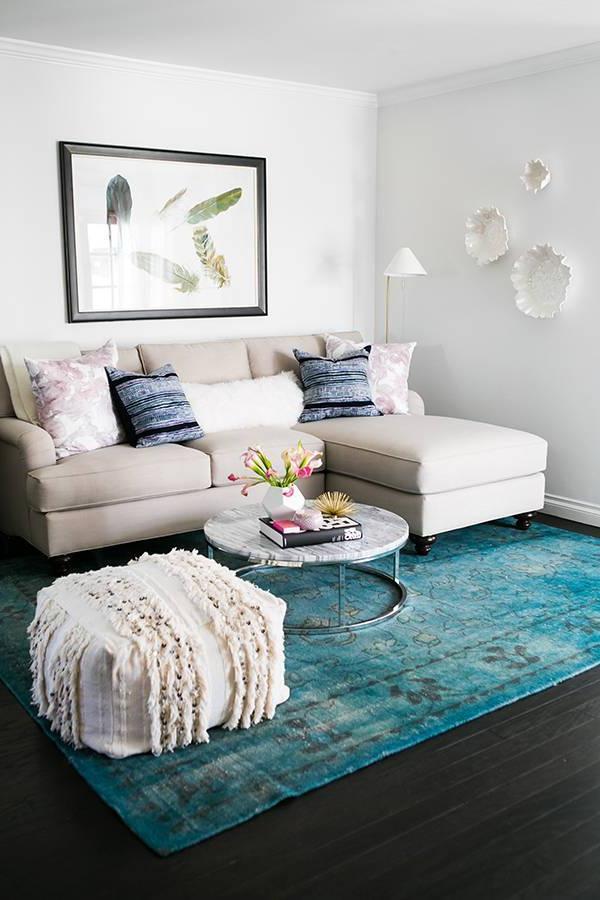 If you share your home with someone, it is good to get his input on what he would like to see in your living room. From his ideas, you can then mix them with your own choices in order to create something that will work best with your preferences. Not only will this create harmony in the home, it will also lead to a new design inspiration that works best for your household.
49. A Taste of the Familiar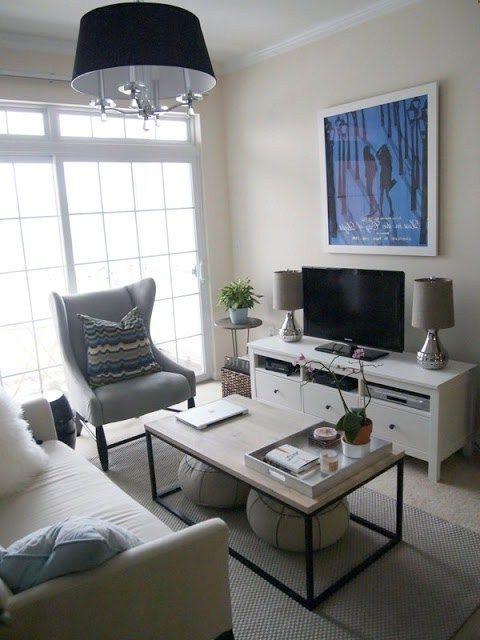 Trends come and go. And if there's one important lesson to follow when it comes to designing a small living room, it would be to trust your own style and get inspired by what truly feels good to you. Just like this living room, the pieces may not necessarily conform to a 'modern' setting nor a traditional living room. But despite this, it serves its purpose and keeps the home comfortable and well put together. If you like to play it on the safe side and go with a design that can last you forever, this is a fairly good option.
50. Get Inspired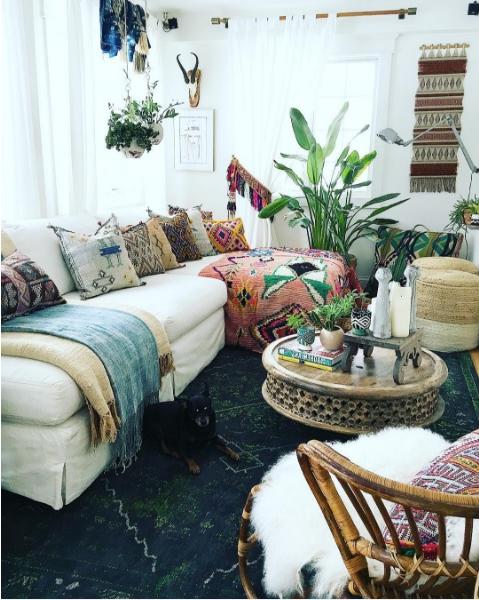 There are a number of websites where you can get ideas and inspiration on how to make your small living room look good and comfortable. Once you find the look that you are interested in, you can save the image on your computer or handheld device or even have it printed out. When you head to a furniture store, you can look for pieces that are similar to the ones you find on the image you have saved. You can even head to thrift stores so you can save on the costs of buying new furniture. Even though you may not be able to find the exact pieces, you would be able to somewhat follow the inspiration you found and be able to turn your small living room into a space in your home that you will love.
Whichever design you choose for your small living room, you have to remember that its purpose is to serve as a room for your family and friends to gather. By keeping this in mind, you'll be able to keep a close eye on the pieces and design that inspires you to follow in your own living room. These tips are only ideas to help inspire you on how to decorate a small living room. The important thing is that you stay true to yourself and pick out something that's truly you.