There's always something majestic about a well-thought out home. When everything is well put together and just looks perfect, there's something relaxing about it too. Of course, this requires the work of an architect and an interior designer to accomplish; but it also helps if the homeowner is able to take care of his home properly. He should be able to adjust the beauty of each room in his home and make it look modern and up to date.
The kitchen is one room in a house that needs to be put together carefully with the best ideas in mind. Not only does this help increase the market value of the property, it also helps inspire the homeowner to stay in his abode and make a home out of it. A beautiful modern kitchen design often comes from the influence of a well-planned TV set, movie, or even one seen on a website or a magazine. Because of this, there are already a number of homeowners who are keen on making their kitchen look its best.
50 Exceptional Modern Kitchen Design To Add Extra Charm In Your Home

If you're looking for a design idea on how you can make your kitchen look good, here are 50 best modern kitchen design ideas for 2021 that can help you make your home look presentable at all times. Whether you're building a home to resell or entertain guests, everyone will love how beautiful your kitchen is.
1. The Black Brick Wall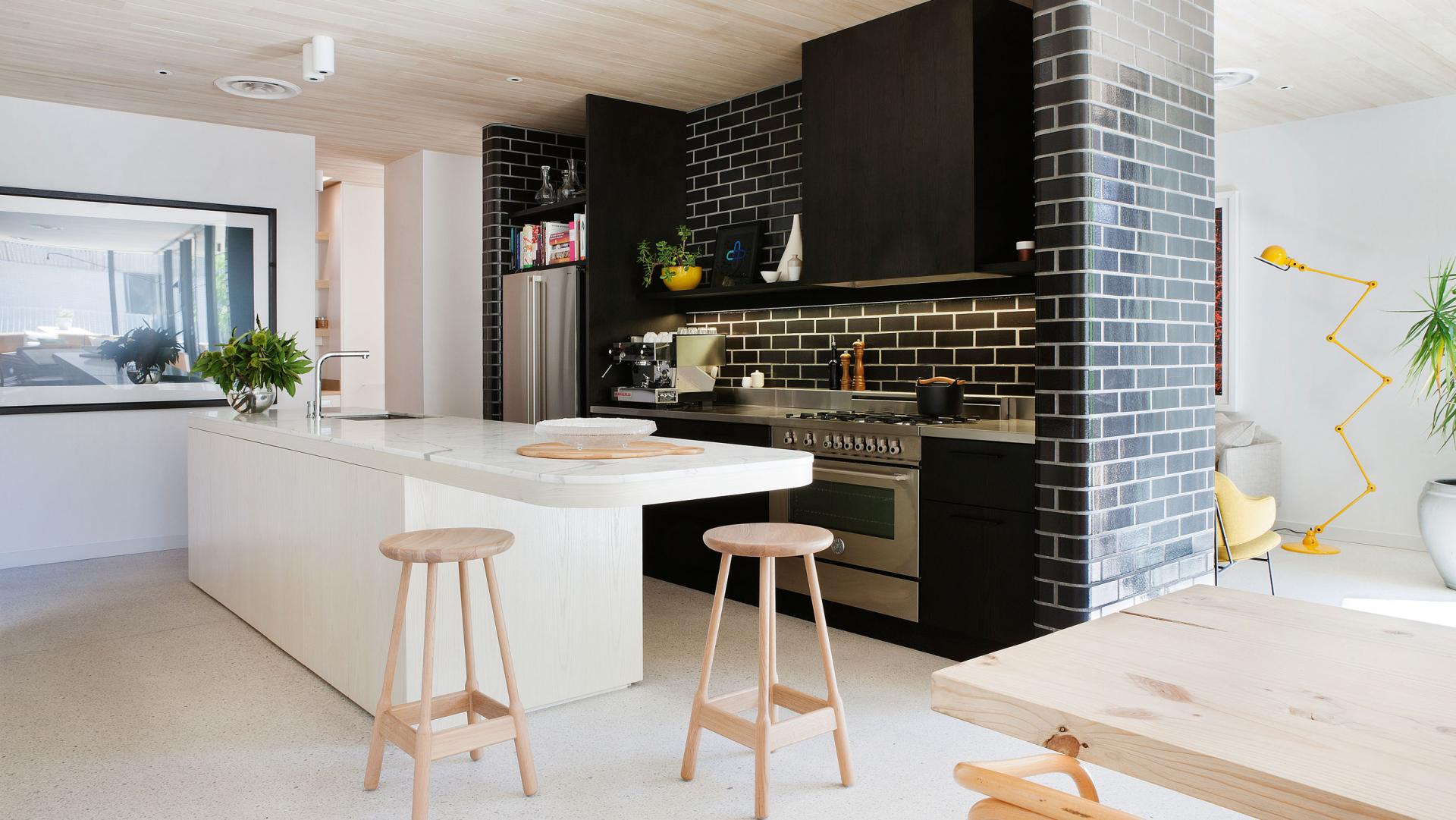 The black brick wall in this kitchen goes perfectly with the overall white and wood interior. There is a spacious marble countertop that makes for a perfect area to knead bread or pizza with a couple of wooden bar stools that can convert the countertop as a breakfast table. Against the black wall are some of the usual kitchen appliances adorned in a stainless steel finish that stand out with the black cabinets. The kitchen is spacious, clean, and sleek producing a minimalistic affair overall.
2. Small Modern Kitchen With Character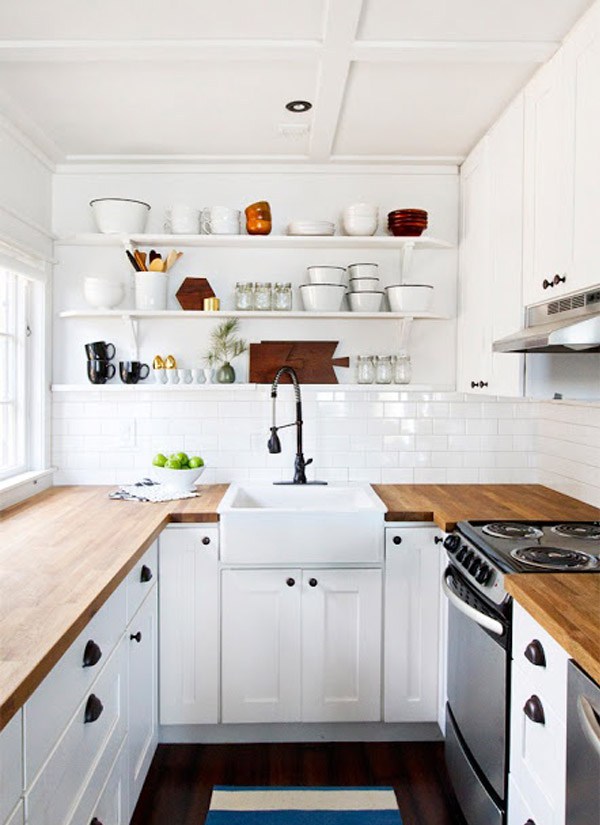 When it comes to creating a beautiful home, space is no issue as long as you have a creative team. Take this modern kitchen design as an example. Although cramped for space, it manages to highlight the area thanks to its white brick wall and the wooden tabletops that connect all areas of the kitchen. The cabinets are left open and visible to give a breath of fresh air to the small space of the room.
3. Chalkboard Kitchen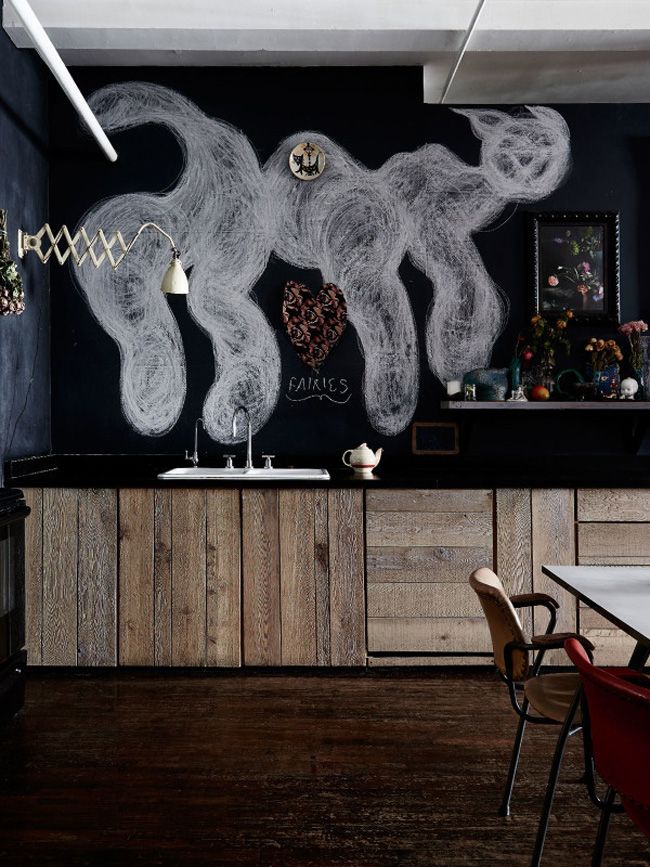 A modern twist to a regular kitchen is to have a wall built with chalkboard material so it can be used to write down some important things to remember. It can be used to write a new recipe being tested out or even to come up with the week's menu so it can easily be remembered. Or if there are kids at home, the chalkboard wall can be used for his art. Apart from the chalkboard wall, the unfinished wood used in the cabinets give contrast to the dark hardwood floors and the black countertop.
4. Subway Tiles on Walls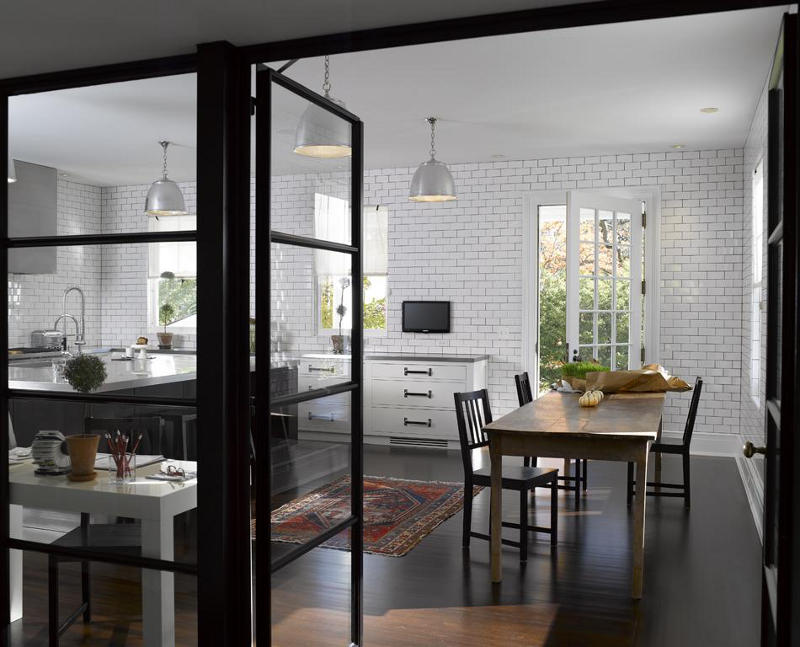 In 2020, backsplash walls were a huge hit among homeowners who wanted to remodel their kitchens and make them look up to date. For 2021, the trend has expanded and has taken things to a new level. Instead of just covering the backsplash wall, an entire wall can be covered in tiles as well as its adjacent walls. If the kitchen opens up to another room in the house, it can be covered in subway tiles to give a familiar feeling to the kitchen.
5. Natural Wood Kitchen Counter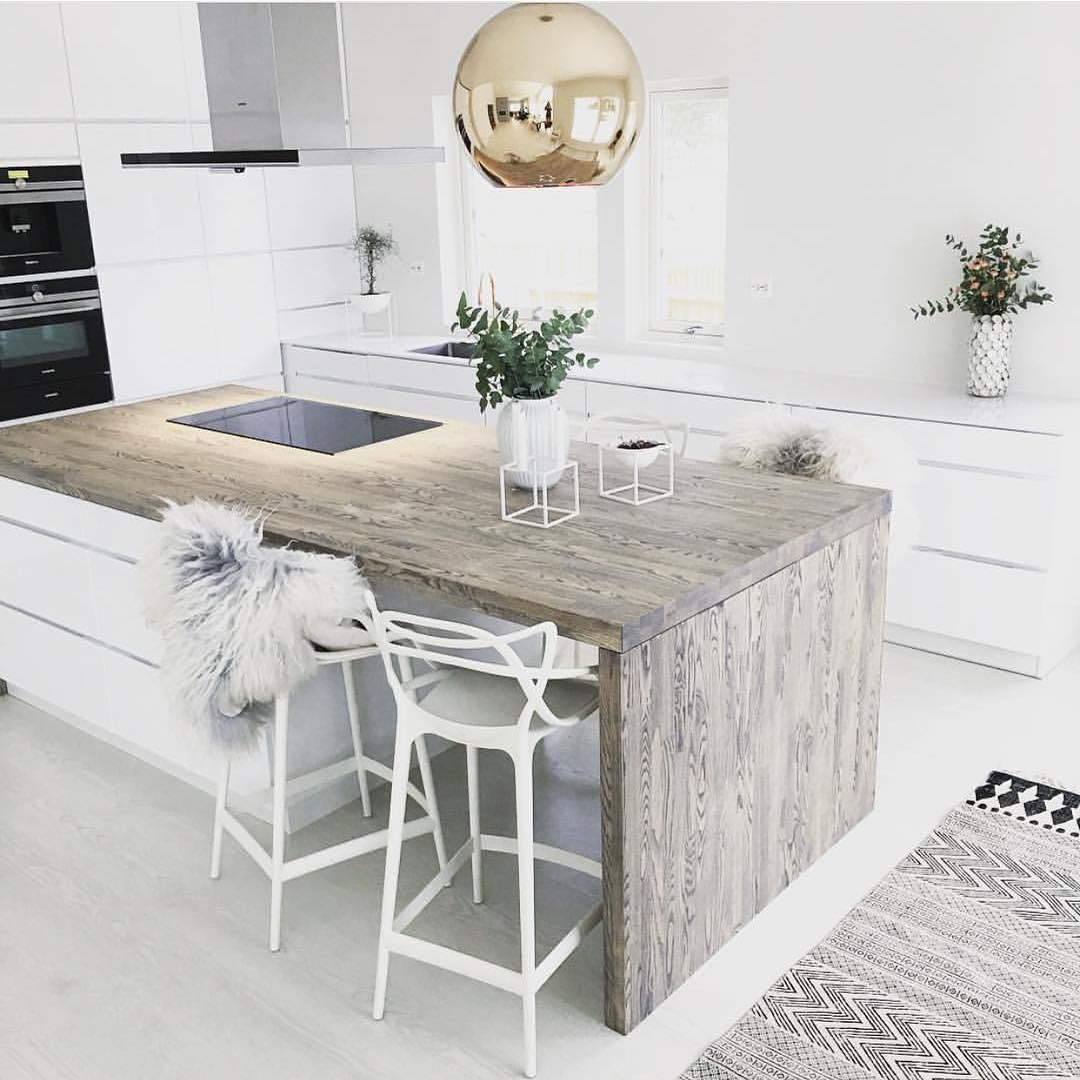 There are a number of modern kitchen designs that stay away from the usual marble or granite kitchen counter, just like what the owner of this kitchen did. Instead of the usual shiny surface used on a kitchen counter, a natural wood kitchen island was used to give the entire kitchen a different appeal. The natural wood is then paired off with all white cabinets, floors and walls. The orb-shaped light in the middle of the room is golden and goes perfectly well with the kitchen counter.
6. Unfinished Brick Wall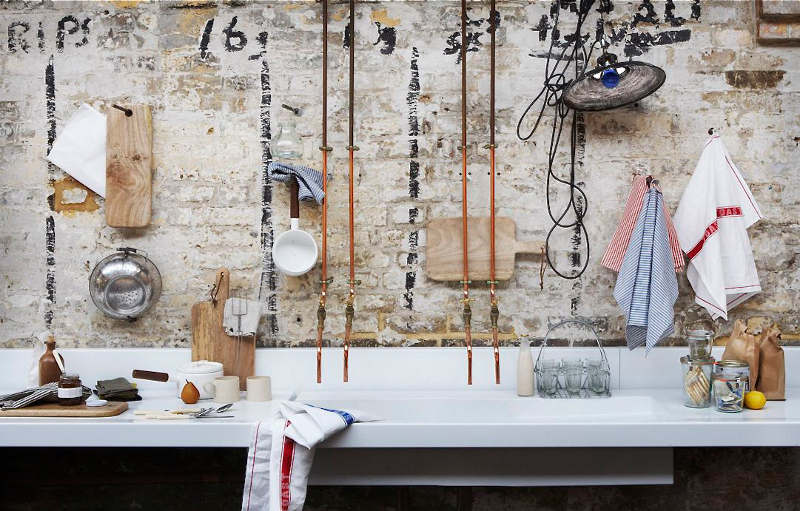 Sometimes, going messy can be a good thing; especially when it comes to design. Despite its imperfections and unfinished paint, the brick wall works to one's advantage. Instead of covering the wall, the backsplash displays the unique design of the bricks and even makes use of the area as a storage for all things needed in the kitchen.
7. Industrial Modern Kitchen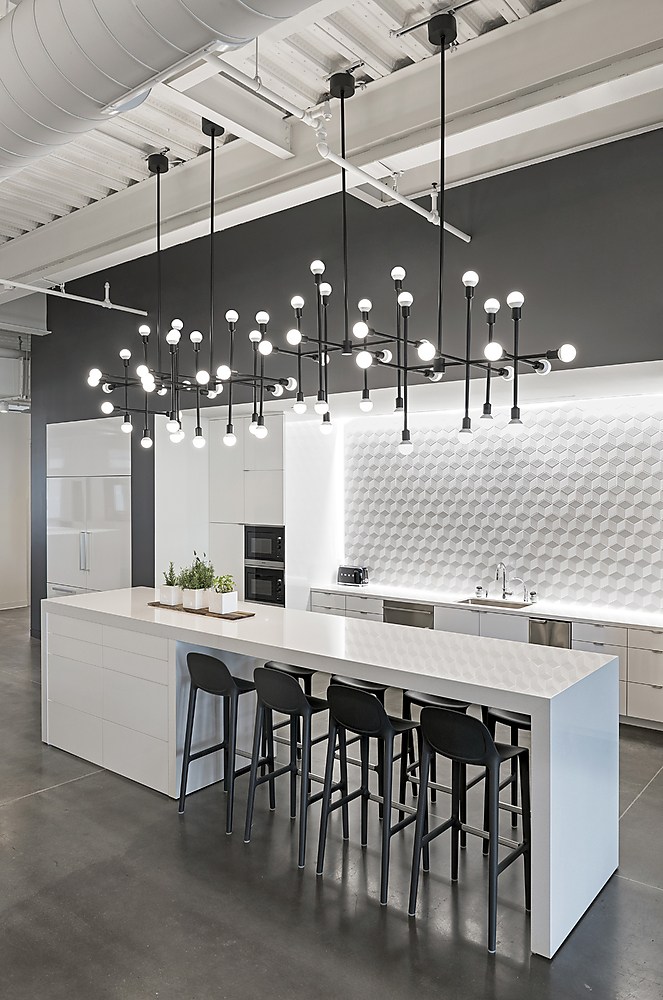 In 2016, industrial kitchens were such a big thing in many homes throughout the country. It paved the way for the industrial design to become adapted into many residential properties. As exhibited in this kitchen, the unorganized array of the overhead lights give the sense of an industrial kitchen without making it look too demanding. The kitchen counter is a sleek white surface that reflects the backsplash pattern on the other side of the wall.
8. Beehive Backsplash Wall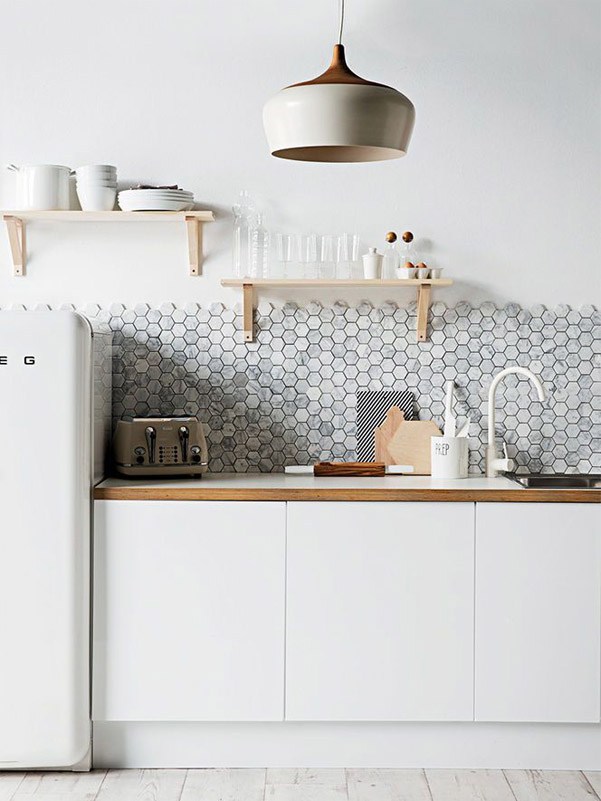 Speaking of backsplash walls, what better way to give them some texture and shape? This beautifully designed kitchen tells a unique story with the shapes used in the tiles for the backsplash wall. They feature a hexagon shape, almost similar to a beehive pattern with a gradient mishmosh of white, gray and black. Overhead the counter are a few open shelves made out of natural wood that give the wall a clean cut appeal. A voluminous lamp hangs in the middle of the room carrying the same treatment as the shelves.
9. Matte Black and Wood
Most kitchens are designed in clean tiles with evident lines intersecting between them. This particular kitchen sets itself apart from the norm as it features beautiful black walls and cabinets paired with a granite kitchen top counter and sink. The sides are the same material used as the ceiling– unvarnished natural wood panels smoothened together to create a seamless display of elegance without being overly dramatic.
More Modern Kitchen Design Ideas On The Next Page…