It is obvious that there are many ideas to decorate the walls, but when we have to decorate our house, it seems that we always repeat the same. Paint, wallpaper and little else. It should be borne in mind that there are two very effective resources to decorate a wall and at that time, we forget that there are many more ideas to use.
If you want to give your home an original touch, there are many ideas on how to decorate the walls. You should know that painting the wall is the safest and easiest way to give a new look to your room or any room in your house.
There are many ideas to decorate the walls of the house, today we want to show you a sample of them, the most effective with which you can get a new design on the walls and also achieve your goal that you want so much in a simple way but at the same time modern.
We are sure that if the walls spoke, they would shout for company. We get down to work with the difficult mission of making your home a personal, comfortable, functional and low-cost space. Are you interested on knowing how?
40 Wall Art Ideas To Make Your Walls Scream Art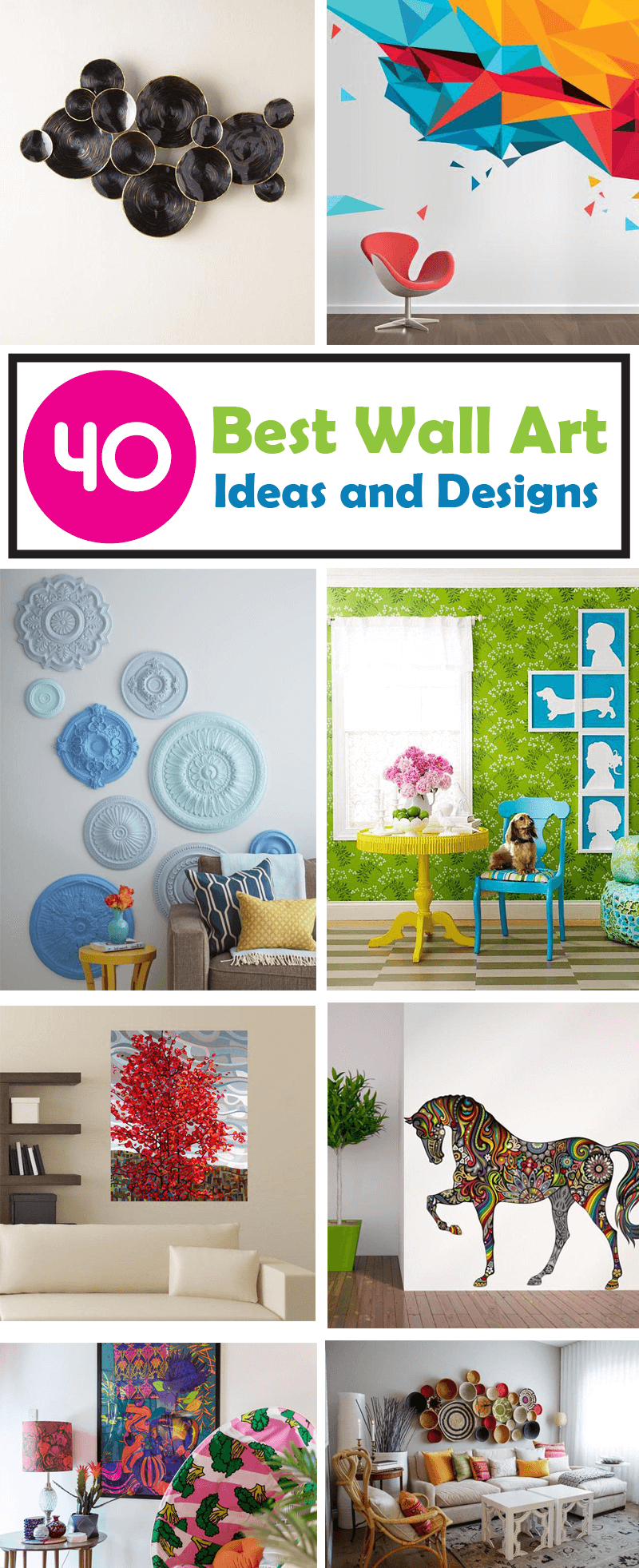 Decorate the house, change that wall that you do not like or that has been empty for years, finally discard that painting that has gone out of style and that does not tell you anything … they are tasks that we always have pending, but that people let go by lack of time or money.
Stop thinking that redecorating your house will get you broke, there are many options that will give you a renewed air and following the latest trends that will cost you less than it costs you a dinner. In addition, you can receive the necessary products at the door of your house.
Whether you need to change your bedroom, living room, children's room or any other room of your home, these options are valid for any place you can think of, give your personal touch and get impressive results
Do you need to decorate an empty wall of your house? You will not have to invest a lot of money to have a stylish decoration according to the latest trends. No matter the room you want to decorate, these 40 ideas are perfect for any environment and will give a fresh and chic air to your home.
Keep reading and be inspired by our suggestions.
1. 3d Art With Metal Plates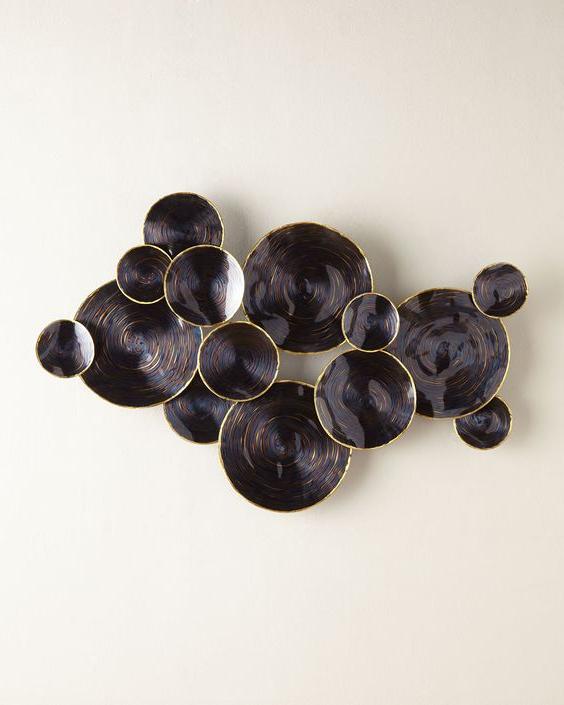 This work of art features plates with painting that gives the sensation of depth. The dark color of the plates, complemented with their bright gold borders makes it outstand even on dark walls, although as you can see, it works perfect on light colored walls.
2. Eclectic Wall Design With Different Size Framed Images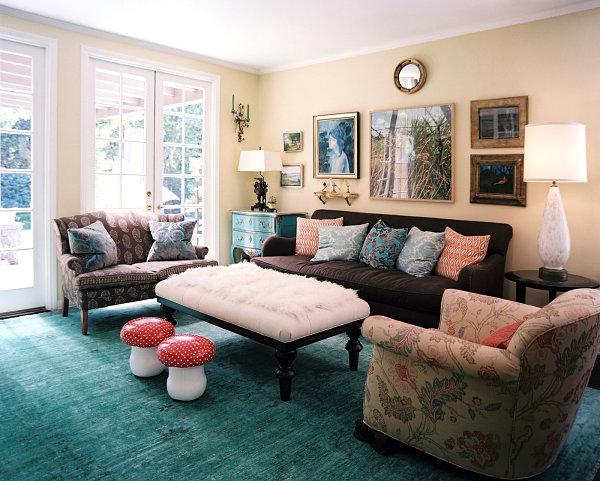 You do not need a big budget to create an amazing style on your home. With just a few framed images in different sizes you can create an artistic wall in no time. In this living room you can see how there is a big center piece, represented with the big framed photography, and by each side you can see an irregular set of frames: 2 medium ones at one side and one big one at the other side. There are also other interesting pieces, such as the mirror on top of everything, as well as a candlestick and a vintage shelf. The different tones of brown outstand on the beige wall.
3. Wall Paper Art With Abstract Geometric Figures In Various Colors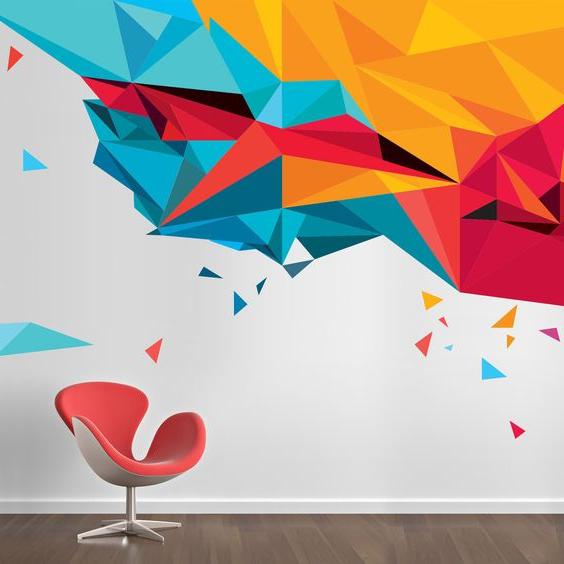 There are many options you can choose to give life to your walls and make them works of art. This example very well could be a vinyl sticker, wallpaper wrap or even a paint job. The dispersion of colorful elements all over the grey wall makes this wall be the center of attention, the focus point on this room. This wall art design is ideal for an office or a creative space, although it would look perfect on any modern, artistic styled room.
4. Easy And Affordable DIY Ideas For Your Walls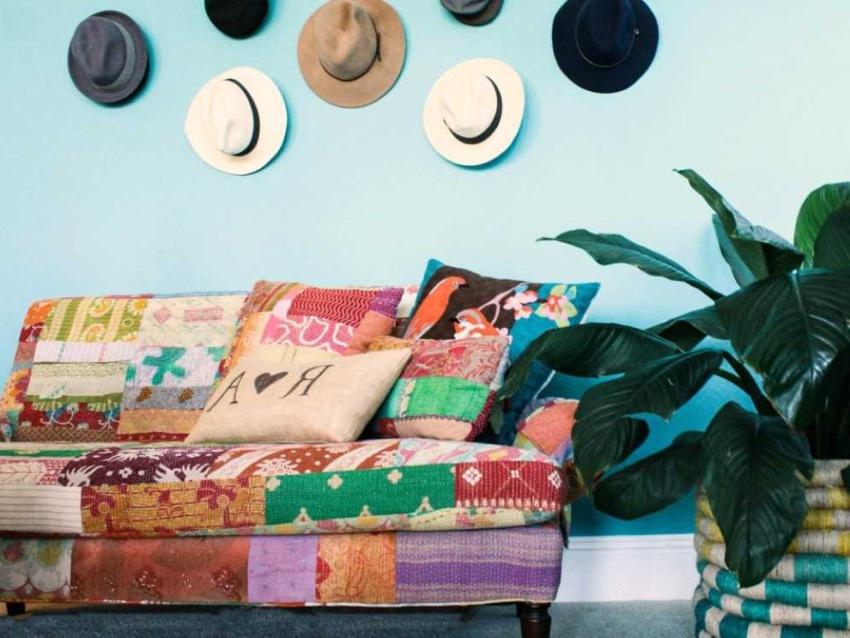 If you want to add a different touch of art to your walls, but you have no money to do so, you can consider going to yard sales or antique stores to buy hats. A few different hats with contrasting colors, some light, some dark, can help you create an amazing style like this one, which features very similar hats in different colors that contrast with the blue wall and the patchwork couch. This is a sample than you can create something with almost nothing.
5. Antique Style Wall Art Ideas With Contrasting Tones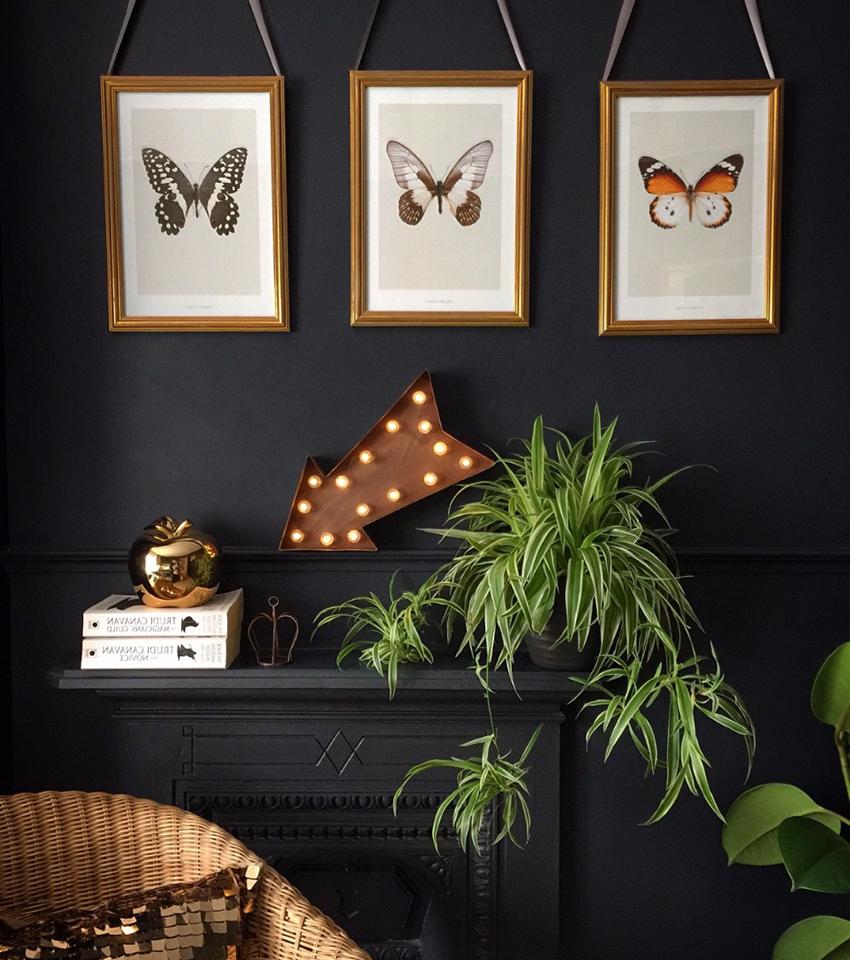 This wall art feature some antique items like the lamp arrow on the embedded shelf, in a brown tone that is the perfect contrast with the all black wall. It is true that black walls are not something you may be used to see, but as a focus point it can be a really smart decision. On the top of the wall, butterfly drawings framed in identical golden frames and perfectly aligned with also identical hangers, finish the vintage style that matches the rest of the room's décor.
6. Wall Art Ideas For The Bathroom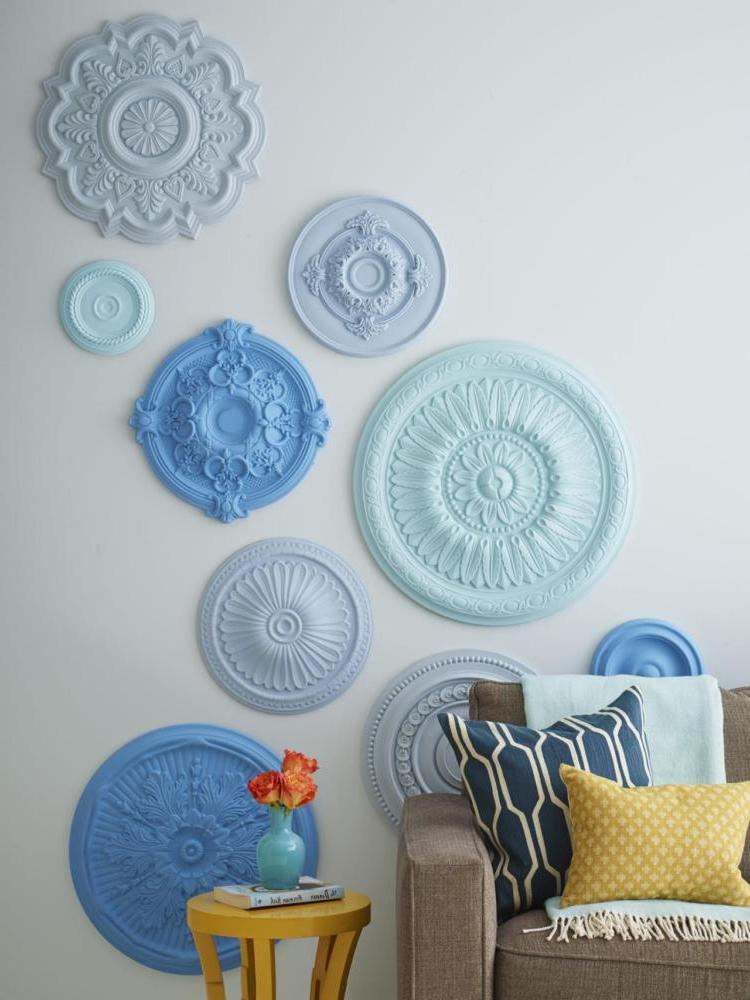 If you think that wall art is only for the big rooms, think again. In this small room, a few texturized rounded plates in different shades of blue are placed on the wall on what is seems a random design. But the truth is that these plates have a balance between shapes, sizes and colors to enhance the light grey wall and the brown couch. Notice how the plates also match with the blanket and one of the couch's cushions. This design is very subtle and soft, and takes us to summer breezed days.
7. Beautiful Wall Art With Seasons Designs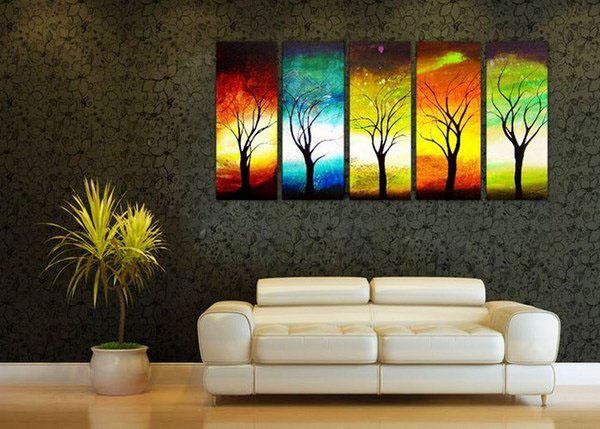 To have art on the walls does not have to be boring, traditional or soft. These are highly colored paintings that feature very bright and vivid colors that reflect different stages of a year. The neon like paint makes these paintings look like they are getting out of the wall, and they are very modern, complementing very well the dark wall paper with flowers patterns. These paintings are better to be used on modern designs, although they would certainly work very well on eclectic rooms.
8. Wall Art To Place On White Or Light Colors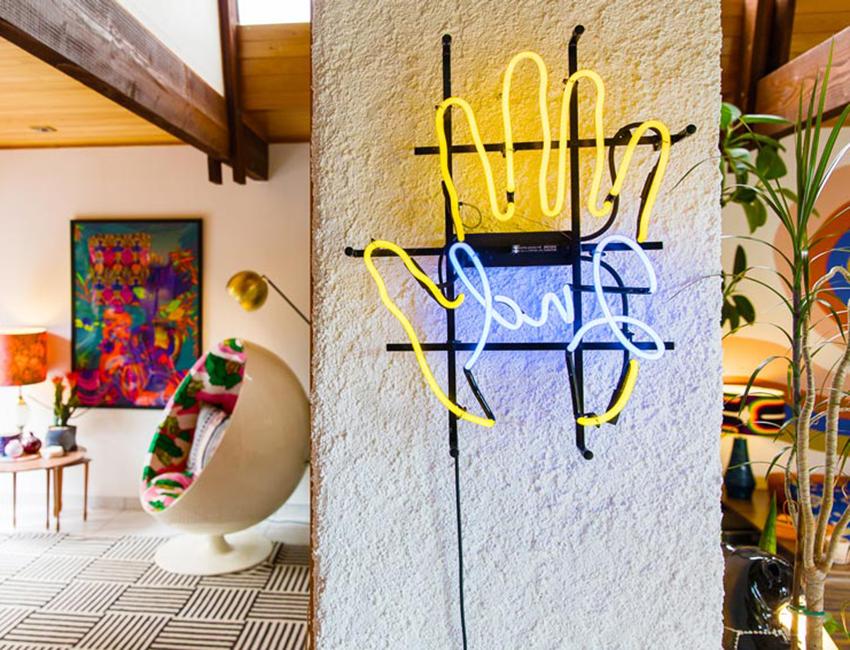 Neon lights are a never old option to decorate your walls. These art pieces say vintage from the first minute you see them, because even if they are not old, they takes us to the times of billboards and lighting signs. That is the case of this neon structure that is obviously new, but is one of the focus points on this vintage styled room. You can see that there is art everywhere, but they all meet the same characteristic: bright vibrant colors and retro aesthetic.
9. Cheap Stylish Wall Art Ideas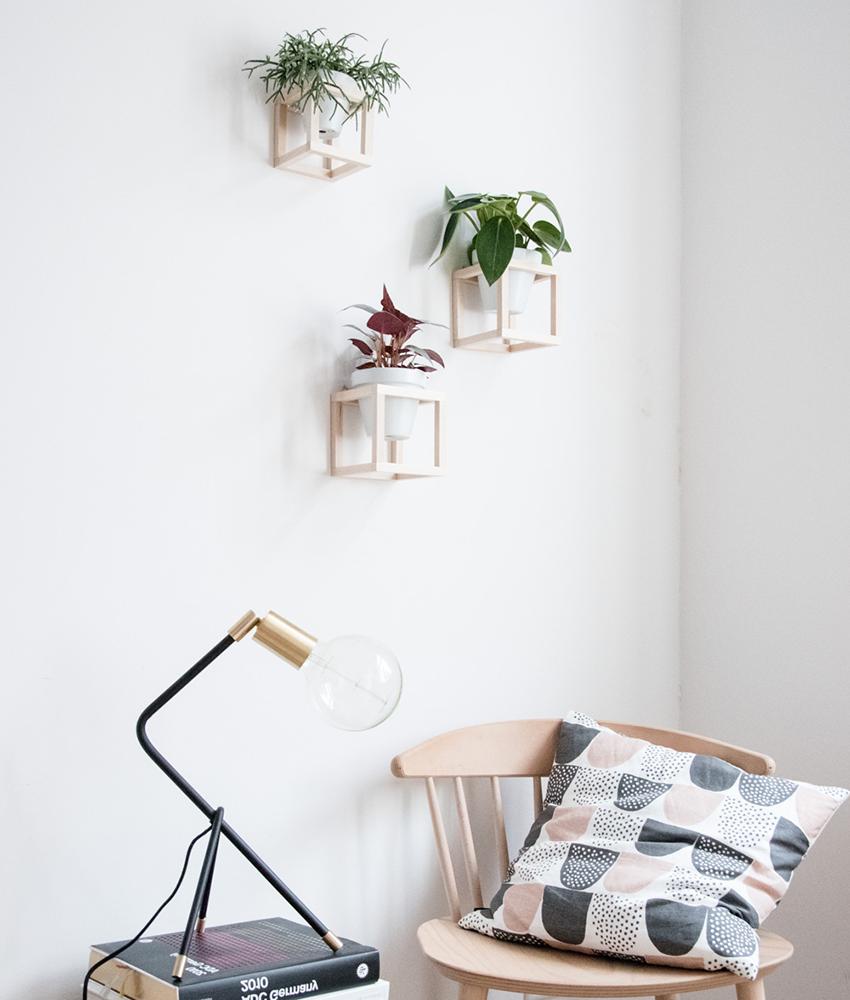 You do not need big amount of money to create a work of art on any of your walls. In this room, the home owners did not have to go through a lot to get this simple small transparent boxes that they used to place small planters to grow small ornamental plants that are perfect for this style because they do not need so much water to grow, so there will be no risk of water running down the walls. This minimalist look works great for small bedrooms, offices and more.
10. City Wall Art Design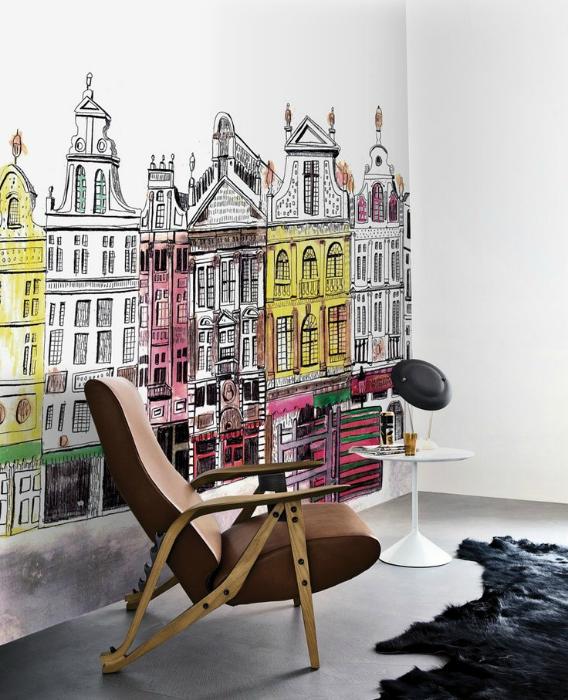 Sketch designs are also a great way to enhance spaces in rooms of any size. These building drawings are a vinyl sticker takes one complete wall. The design is simple yet very striking. Little splashes of yellow and pink here and there makes this piece outstand. Is the perfect decoration element to upgrade a modern office or den.
More Adorable Wall Art Ideas On The Next Page…