The concept of shoe storage is not as old as the history of cloth closets. In ancient times, you would have hardly found a person with possession of more than two pairs of shoes. Only the elite class used to have multiple options when it comes to footwear. With passing time, people started using different shoes for various purposes. In modern times, the fashion industry has been the driving force behind uncountable models and various designs of shoes specific to use for different walks of life. So you have formal footwear for your workplace, comfortable joggers for the morning workout, snickers for more casual activities and cozy slippers to move around conveniently inside your home.
Also, there are multiple designs for every kind of shoes available in the market. Even there is a variety of colors and prints on offer to match with the clothes you're wearing. So this results in an extensive collection of shoes at your disposal. This leads to the necessity of a place in your house where you can organize your footwear. Space should be large enough to store all your shoes, keeping them in a singular and central location to maintain the cleanliness and tidiness of your household. At the same time, they should be properly displayed so that you may find the pair of your choice at the hour of need conveniently without wasting any time. This requirement of organization intensifies when you have a large family as the collection tends to get out of your hands in most of the cases. If you don't have a proper shoe storage option, your house can be made to feel cluttered.
Another issue you can face while finding the footwear organizer is the limitation of space available for dedicated storage. You may not be willing to sacrifice a lot of space for proper display of your vast collection of shoes. This demands the storage ideas to be innovative and smart, as you would not want your moon boots, sneakers, wedges and running shoes to be stacked in the form of a pile in the corner of your house or at the bottom of your closet.
There are a variety of designs and ideas available on the internet from where you can select a shoe storage scheme for your collection. But the problem you can face is that the layout you have a crush on may not be possible to fit in the available space. This issue can be addressed by taking the measurements of the room you have at your disposal. On the contrary, you can let your imagination go wild to fabricate the design of your own. In this article, we present to you the wonderful world of shoe storage delights to choose from or get inspired.
1. Funky Shoe Boxes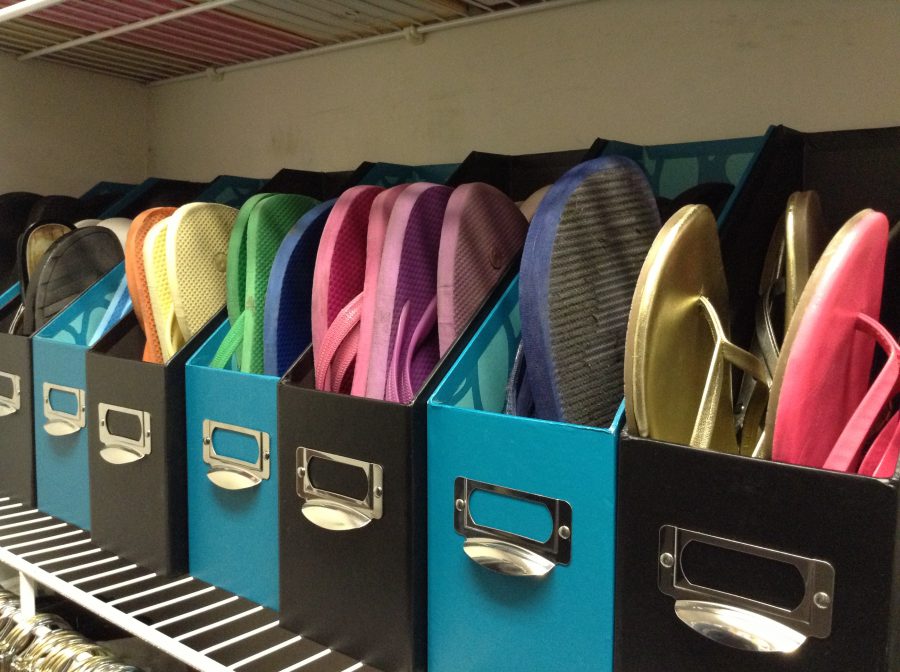 Sometimes it may not seem appropriate to store your sandals and flats in a showy and outrageously lavish closet. For such casual wear of yours, a simple storage strategy would be more suitable. These alternatingly colored storage boxes present an ideal solution to such footwear which is required mostly when you plan a trip to a beach or going shopping in a mall. Although they consist of same sized boxes, yet their utility enhances because they result in a convenient organization strategy.
2. The Dark Fantasy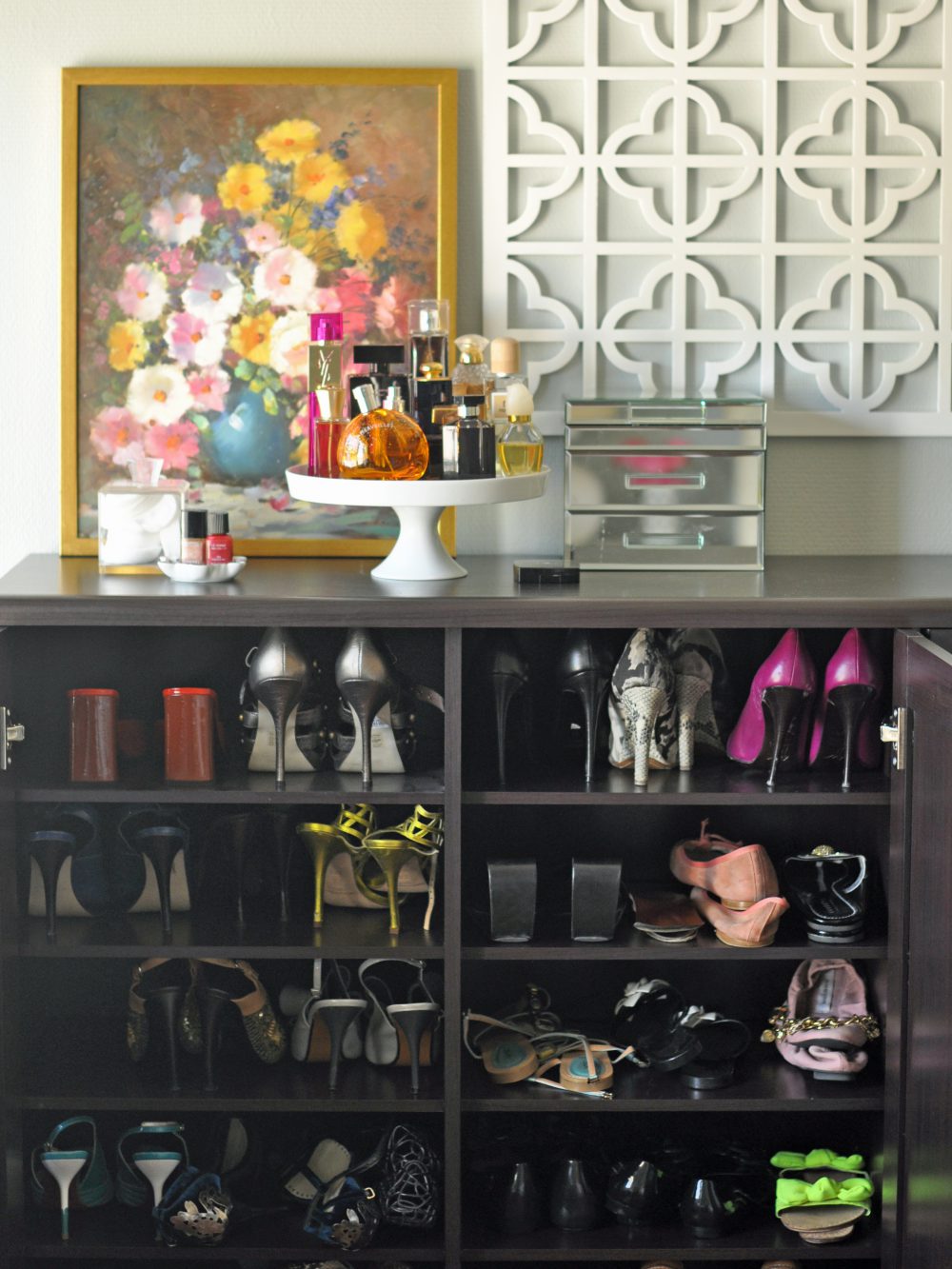 If you have a small floor and vertical space to spare for your shoe collection, then this design idea is the right choice for you. The depth of this cabinet is smartly set to make sure that all sizes of shoes can easily be accommodated. But at the same time, the area occupied by this sophisticated storage is reasonable for most of the smaller households. The dark colored paint of the cabinet gives a bold fashion statement along with the contrasting milky white color of the background. There is ample space on the top of the cabinet to place artwork and decorative pieces.
3.  A Proper Showcase Display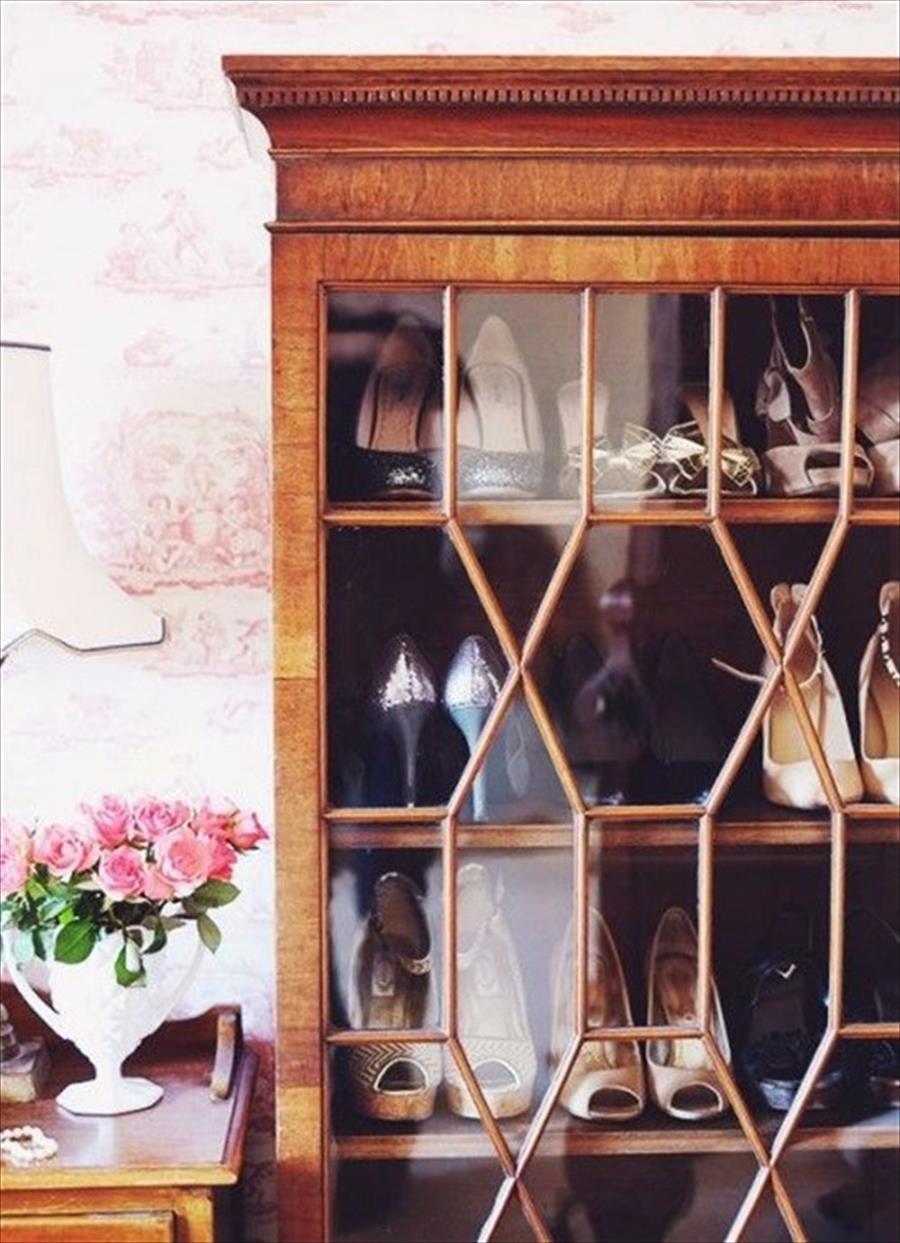 Conventionally, the showcase is used to display a collection of ornaments, precious cutlery and other precious belongings of yours as a home decor. This trend can be smartly employed for storage and display of your exquisite footwear, as done in this shoe storage design. You can increase the value of your precious Prada and high heels by giving them the royal treatment which is a secure and beautiful space. Although it is an expensive option with the by default inefficiency in the use of available space, yet the splendid sight of your favorite formal footwear behind the glass gives you an unprecedented joy.
4. Pink; The Shade of Feminism
A simplistic design layout for your shoe storage can make your life simple and straight forward. These adorable open shelves have different sizes in terms of height to cater for high heels and other medium sized shoes. Actually it is a simple open cabinet retrofitted with the pink wooden structure. You will find it easier to organize your shoes and at the same time, it gives a wonderful display to your closet. The pink color signifies the space to be owned by a female.
5. Racks Behind The Door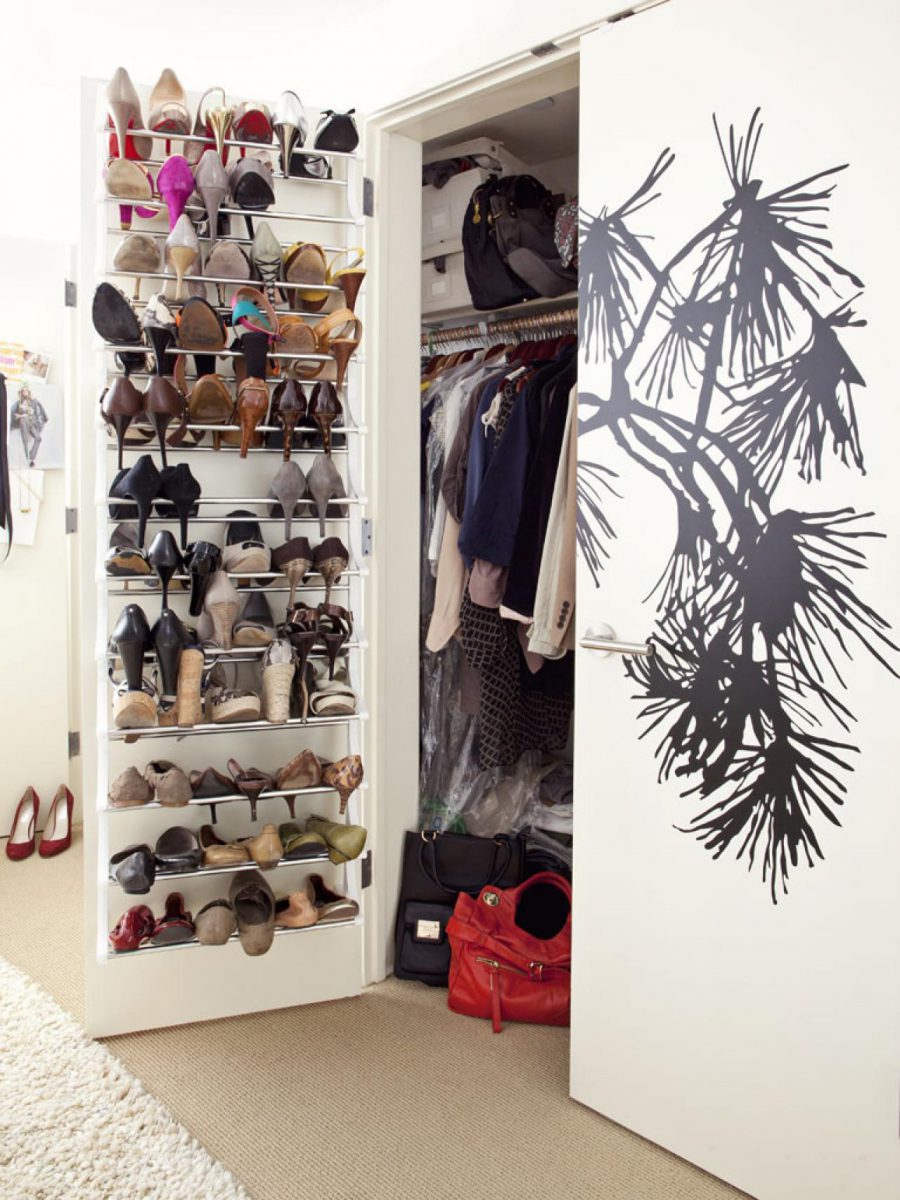 If your closet is already filled with your vast collection of clothes and other accessories and it is your only possible shoe storage, then this idea can make your life easier than before. The shoe holders are efficiently installed behind the door and can accommodate a large number of your footwear. The reason being the racks tightly placed without wasting any space. One issue can be the falling down of shoes on opening and closing the door. So this type of storage is more suitable for shoes with heels.
6. Conventional Cabinets for Shoe Display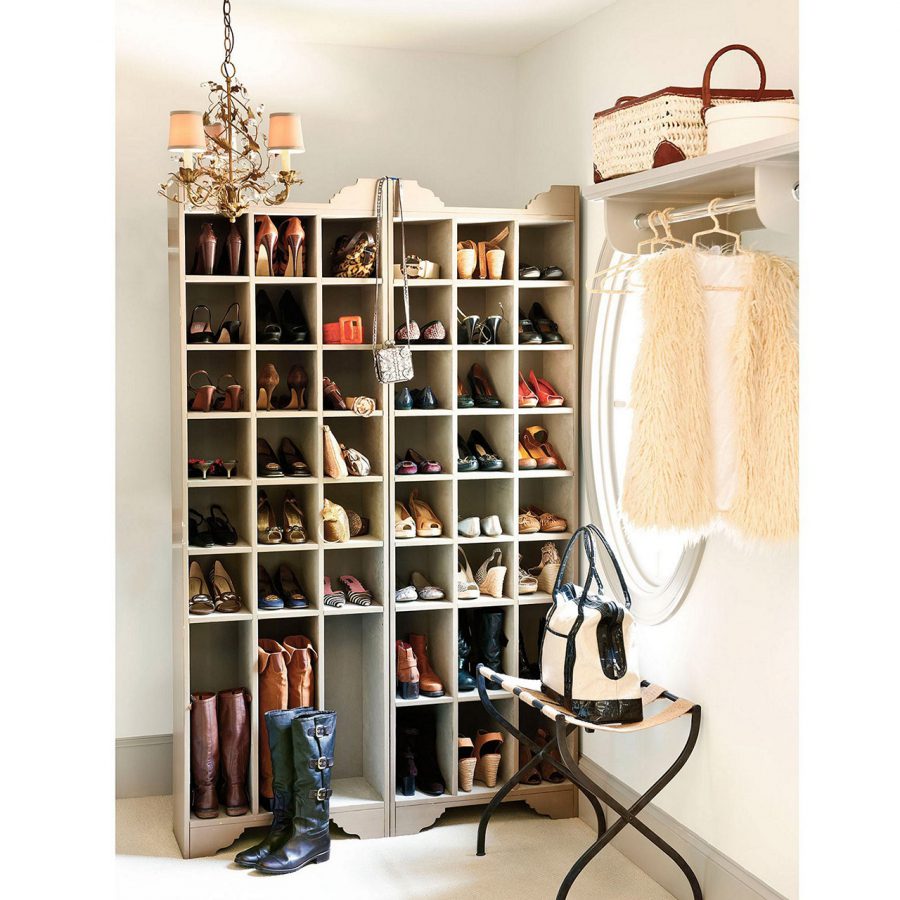 Sometimes going back to the roots can result in very effective and efficient designs which present perfect solutions along with the aesthetically pleasing outlook. Such is the case with this shoe storage design idea. For this model, you may need a larger space and a higher budget, but the results give you the full value of your money. This elegantly designed cupboard is well illuminated by natural light filtering past an adorable oval shaped window. A stylish bench placed alongside is for changing and trying your shoes.
7. A Separate Room for Footwear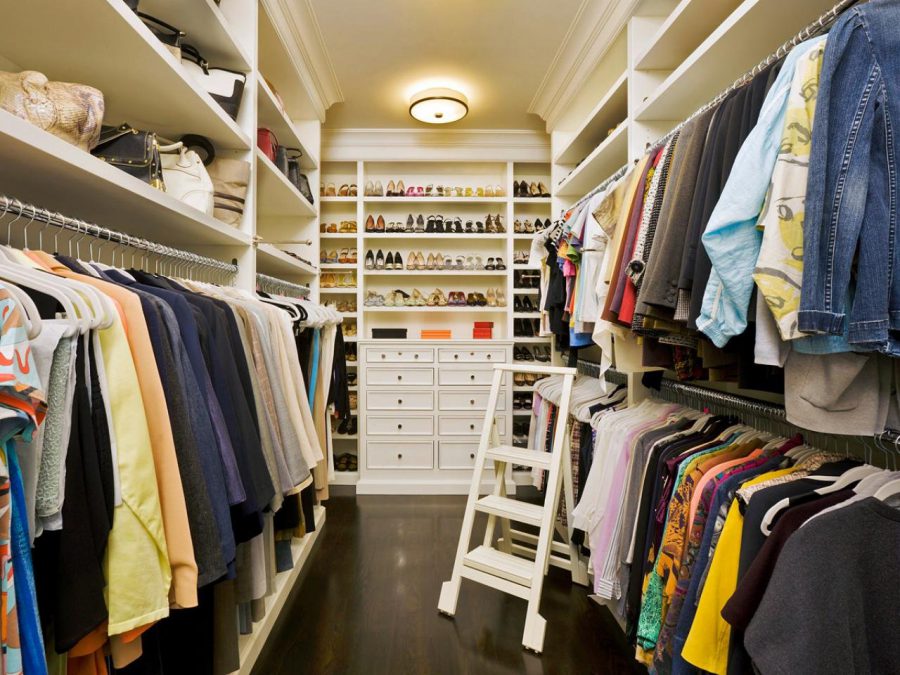 In most of the traditional wardrobe storages, you will find the stored items intermingled with each other in the same closet. So you may find your shoes, clothes, bags and other accessories ended up in the same cabinet. For better organization, the place for shoe storage could be built separately. This walk in closet looks well sorted out as there is a whole showcase specified for show display only. It looks aesthetically more pleasing as you can find symmetry in the view. At the same time, you would know where to find the desired footwear.
8. Adorable Ladder For Kid Shoes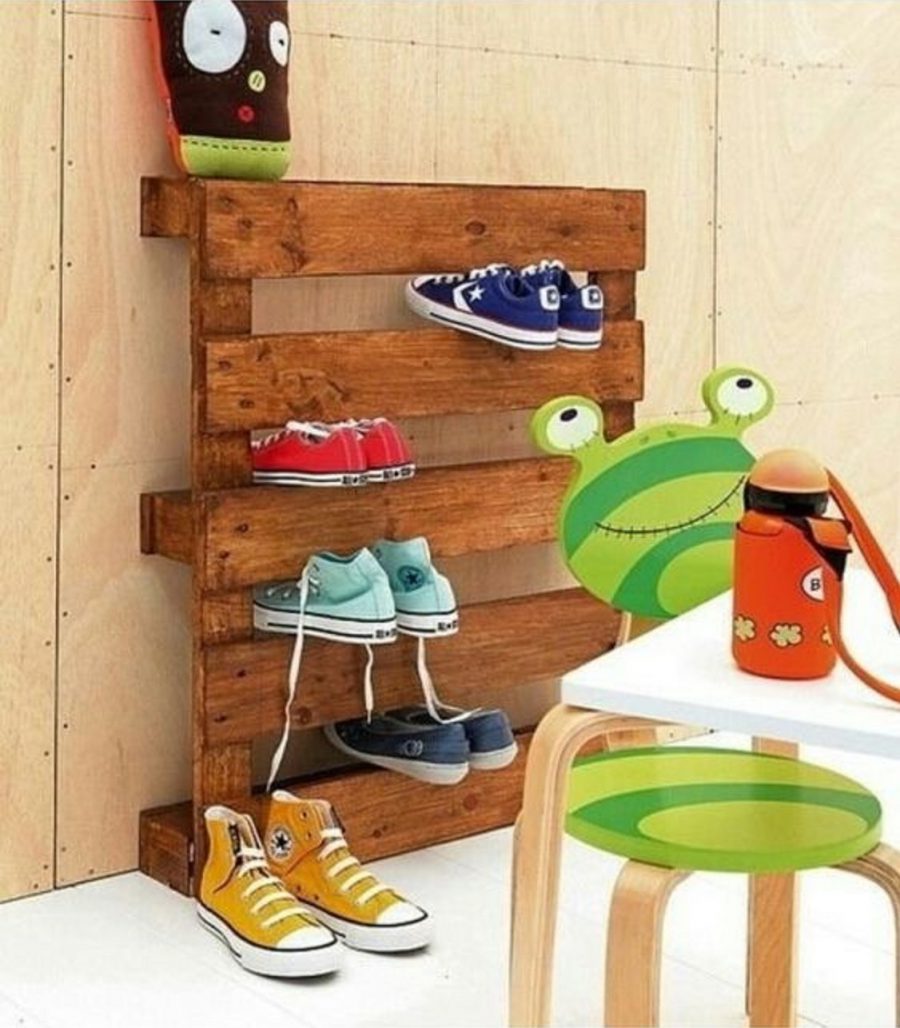 You cannot motivate your kids towards the organization of their storage spaces without adding the elements of playfulness and fun. This beautiful ladder for shoe storage for your children is a perfect item to add to their room. Your kids can conveniently place their casual footwear into the spaces and learn how to put their belongings in the right area. The addition of this functional space to your kid's room also adds the feeling of enhanced room décor.
9. A Footwear Library Inspiration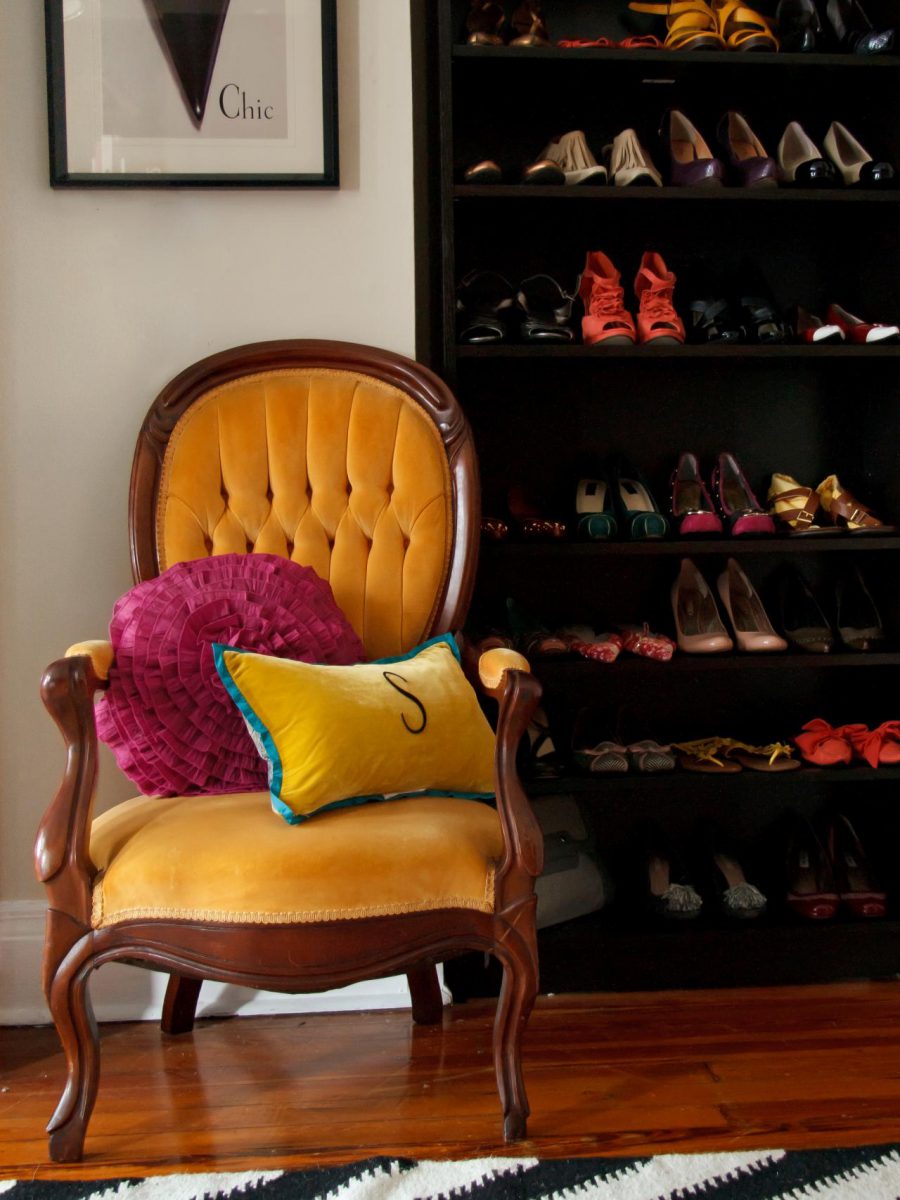 The inspiration for shoe storage can be taken from anywhere, be it your closet layout or your bedroom décor. This design idea is based on the mini library established by book loving people in their bedrooms. The shelf being placed in the bedroom gives you convenience of usage and saves your time from going especially to your closet. The sober sitting arrangement with a modern design outlook supplements the usability of the storage along with enhancing the beauty of the locale. Wooden flooring underneath and adorable cushions on the chair makes it a splendid sight.
10. Rotate Them In Tight Corners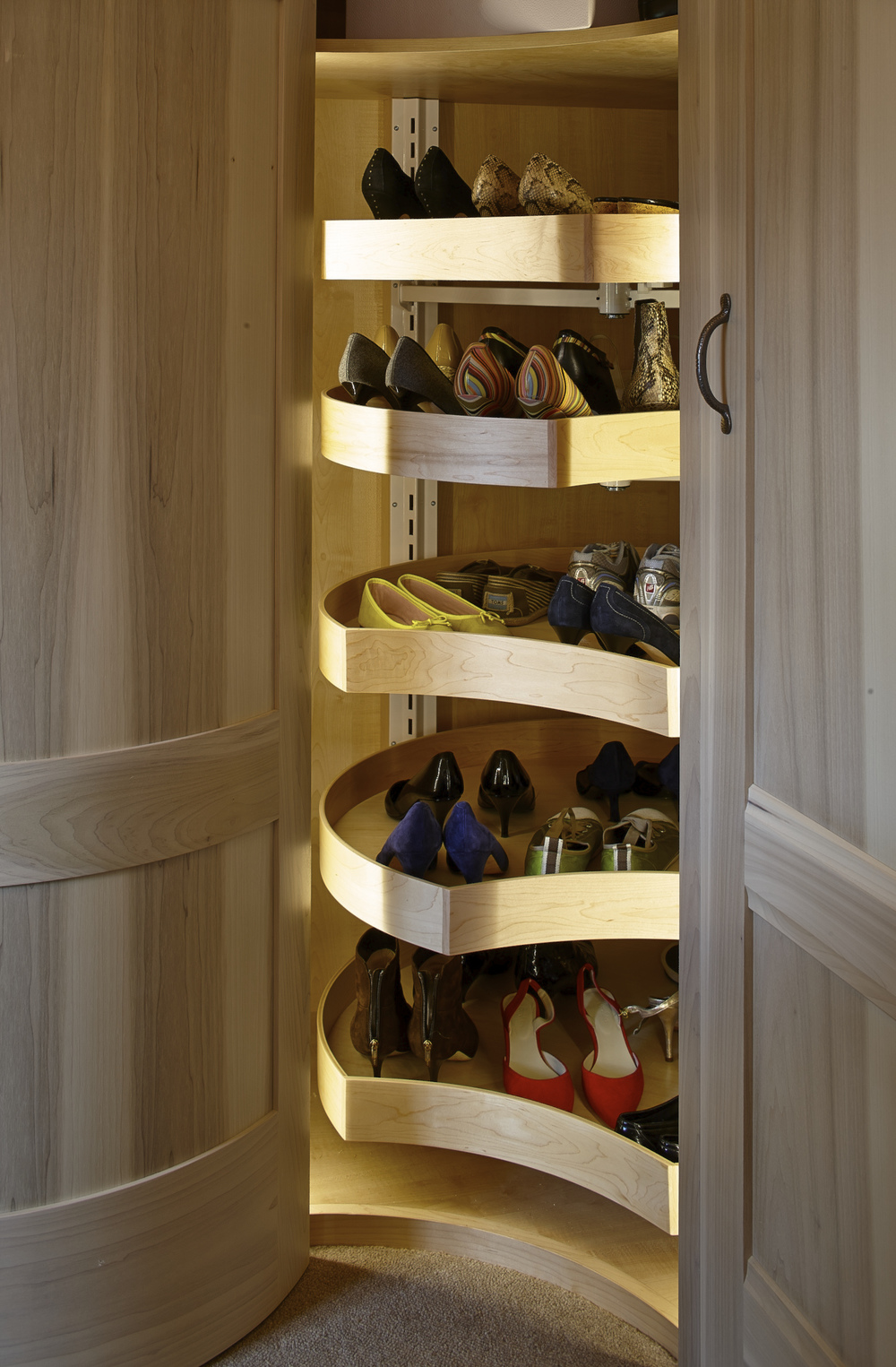 If you have a closet which is extended to two walls, then the space in the middle is difficult to make use of due to lack of accessibility and proper view. So such an issue can be addressed by using this smart shoe storage design idea. It gives you the full value of your precious space by allowing you a 360-degree view of your shoes by the revolving platform design. This multilevel storage is extended up to the ceiling and has ample space for the shoe collection.
11. Meshed Inside Your Washroom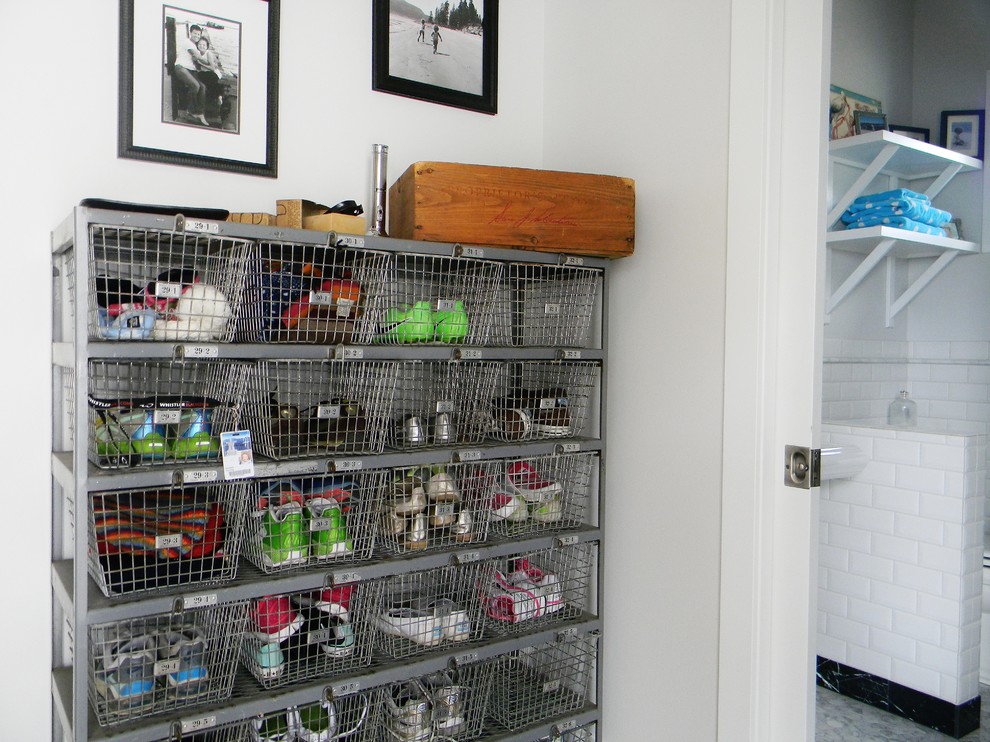 Generally, shoe organization is a standard issue difficult to tackle. But the things get worse when you are dealing with various workout shoes and joggers belonging to your family. To make it easy for you, these metallic mesh containers present a fantastic solution to the problem. It is not appropriate to place such shoes in wooden closets or fancy cabinets. Also, they can cause unbearable odors in your shoe storage. With this shoe storage idea, the shoes have ample space to breath.
12. A Contrasting Fashion Statement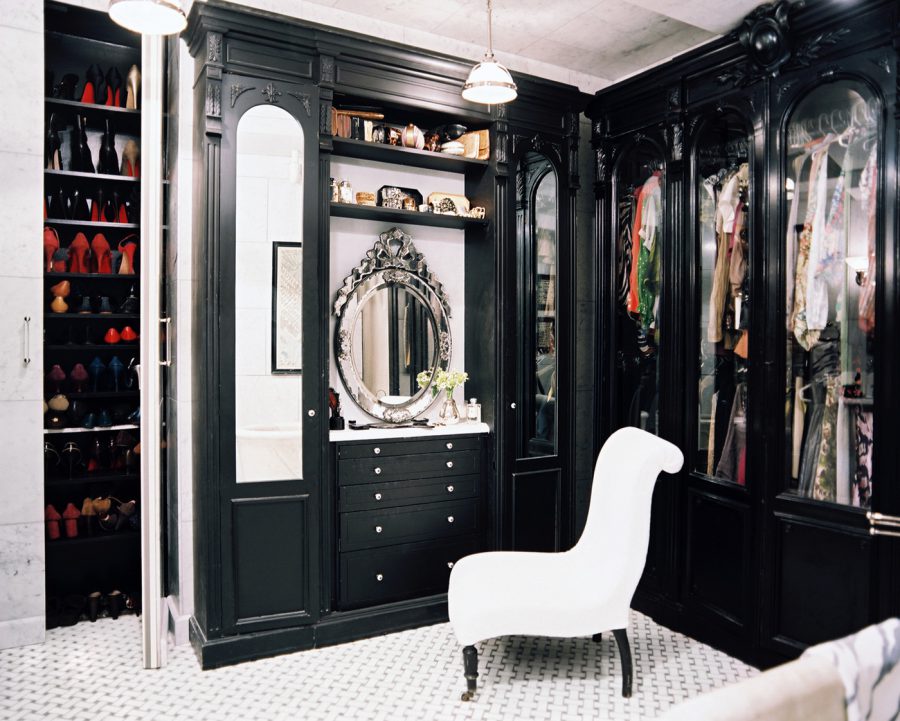 If you can find a dedicated space for your shoes organization in your closet, then most of your footwear storage problems would be solved. The large shoe collection is nicely accommodated in this walk in closet inside a towering cabinet extending up to the ceiling. This more than enough space for shoe storage offers comprehensive display for ease of choice when required. An eye catching contrast of dark furniture and white seat placed on beautifully patterned white flooring adds to this over whelming sight of interior design.
13. Identify Your Shoes With Pictures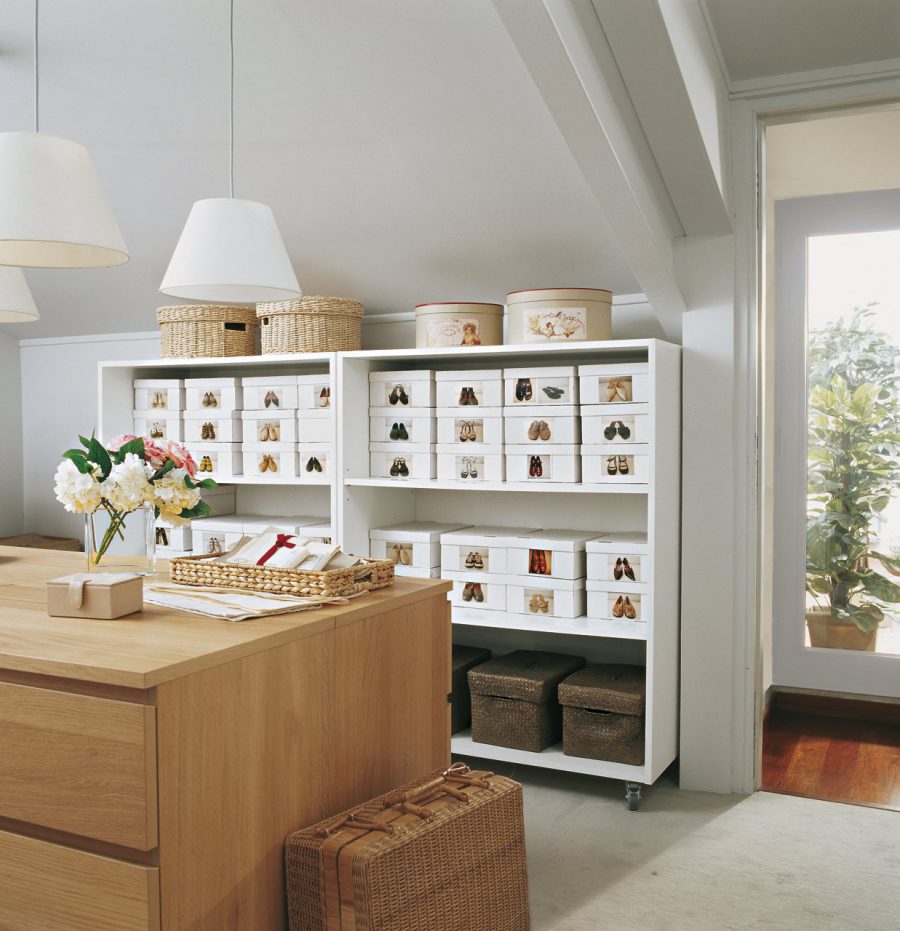 You must have experienced or at least have seen the storages with names of the items specified where they are stored. Also, it is a rare practice to mark the names of the owner on the cabinets and drawers where the belongings of that person are stored. But the idea of attaching the exact photographs on the drawers of the shoes placed inside is revolutionary in itself. It is the most time saving and convenient way to organize your shoes especially designed for those who are always short on time.
14. Adjusting them Vertically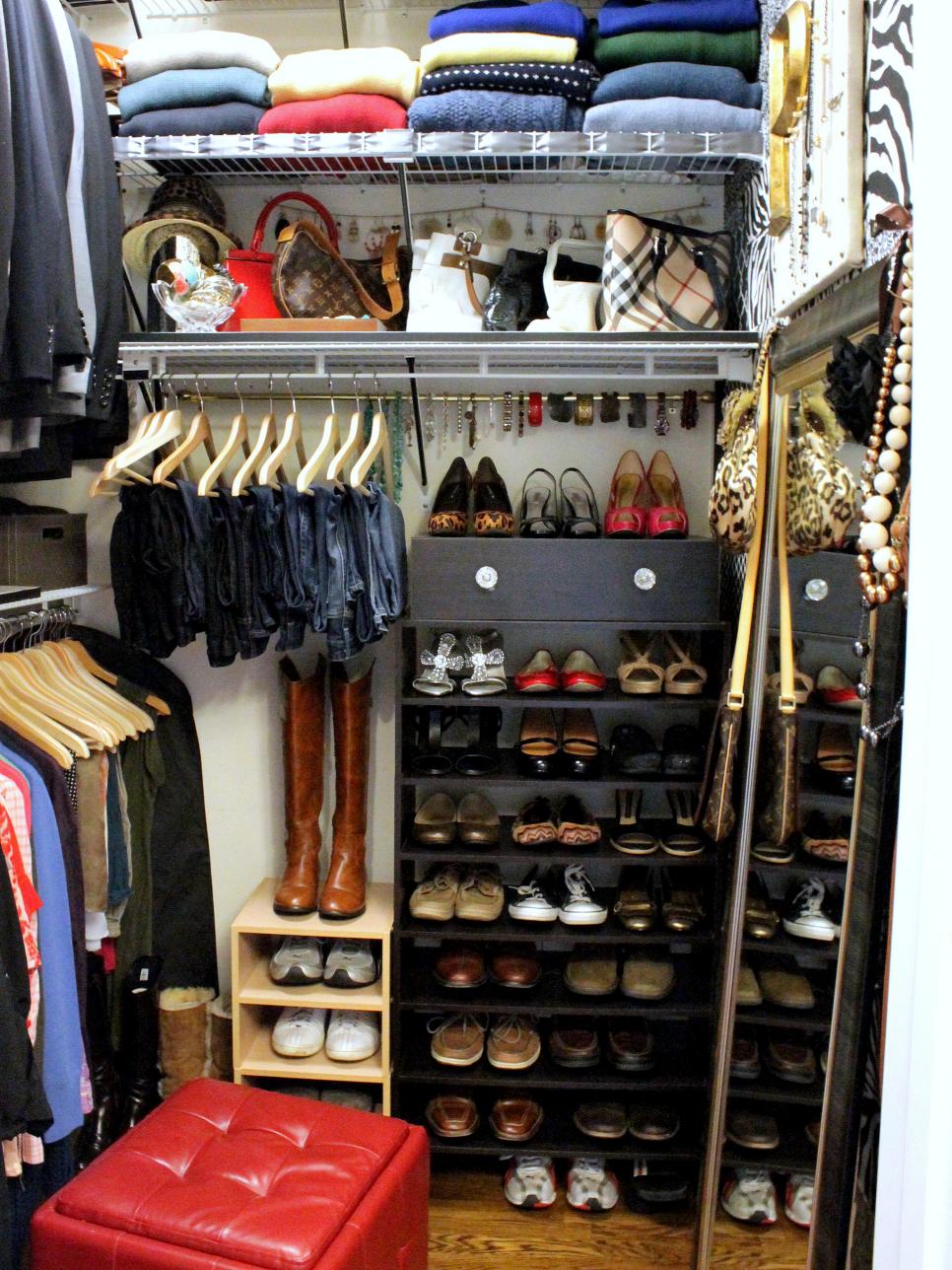 You may face a challenging situation while building shoe storage in your closet if the space available in the storage room is limited with respect to the size of your shoe collection. Going vertical in such situations can solve the problem quite efficiently. The vertical racks have a lot of space to hold on to a decently large footwear collection. At the same time, they add a new flavor to this congested area for a walk in closet. So the capacity for storing items multi folds while keeping the view of the locale aesthetically pleasing.
15. Stylish Metallic Shoe Rack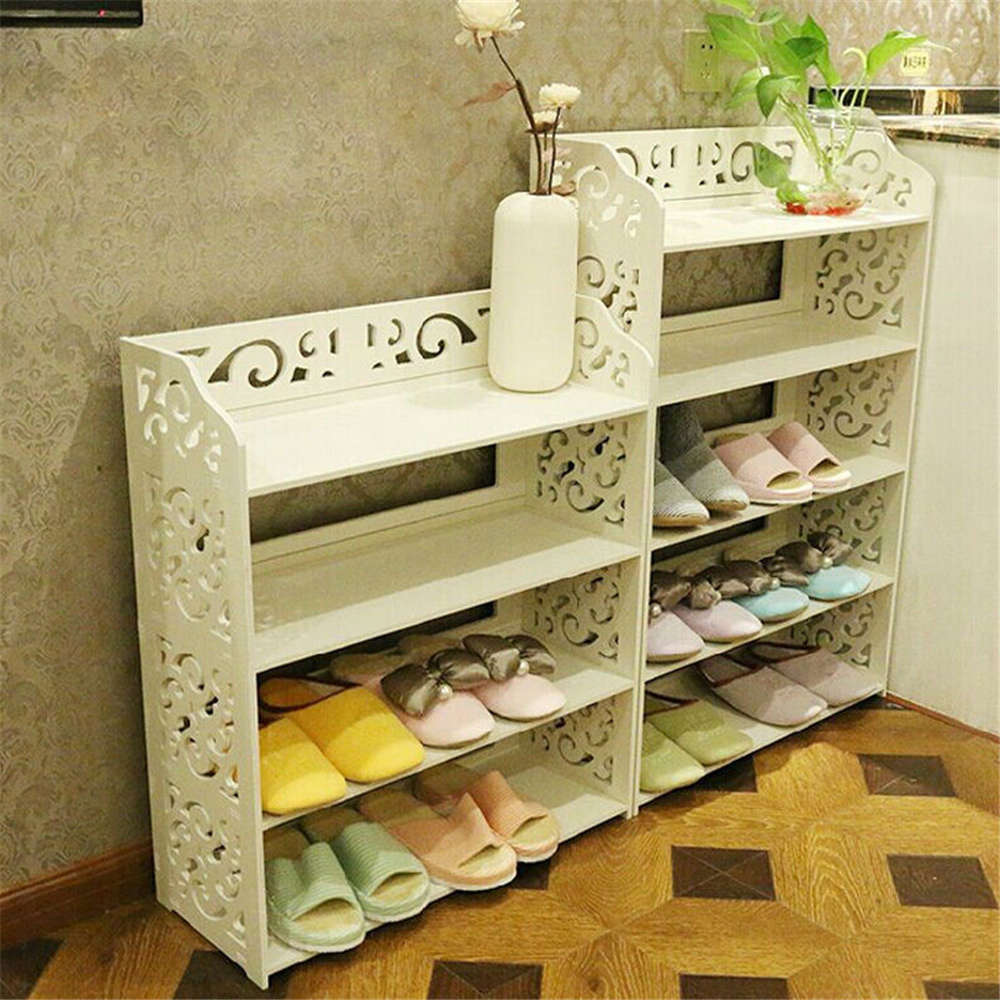 Winter is the time of the year when you are using slippers inside the house that calls for a shoe rack to hold them all. This will balance the beauty and functionality as it keeps a lot of space to put every kind of shoes. It can serve numerous purposes especially in a bathroom and can also hold hand towels.
16. Organize Behind the Room Door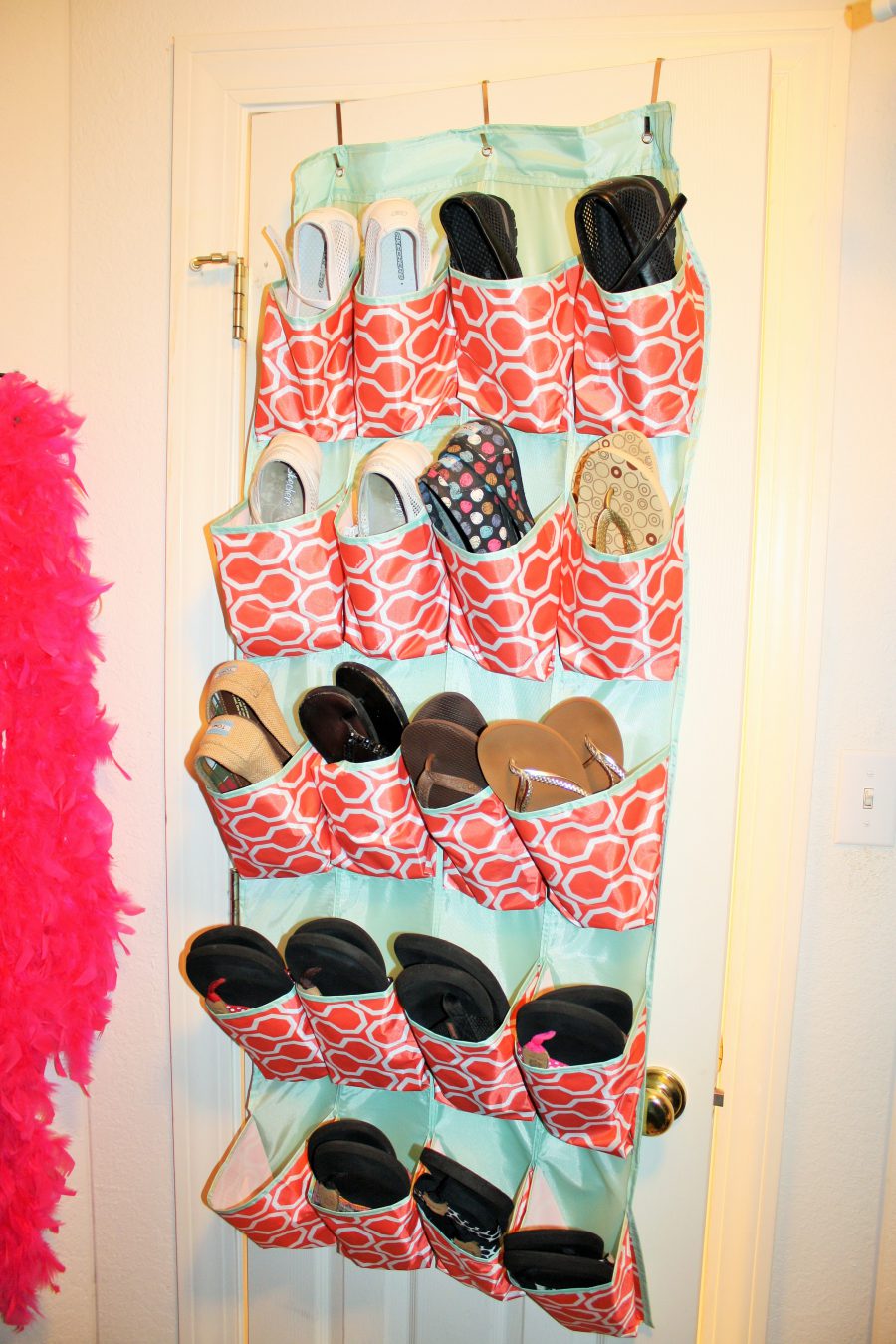 If you live in a cramped apartment and do not find enough space for yourself, then this door hanging organizer for shoes can help you a lot to deal with the mess. The biggest disadvantage could be that small space offered by each holder. A perfect place to hang this holder is at the door of your bathroom or another room where utilize much of indoor shoes like flip-flops or slippers. You will have to be careful while opening and closing the door to avoid shoes flying off onto the floor. To avoid swaying keep secure all sides onto doorframe.
17. The Lavish Display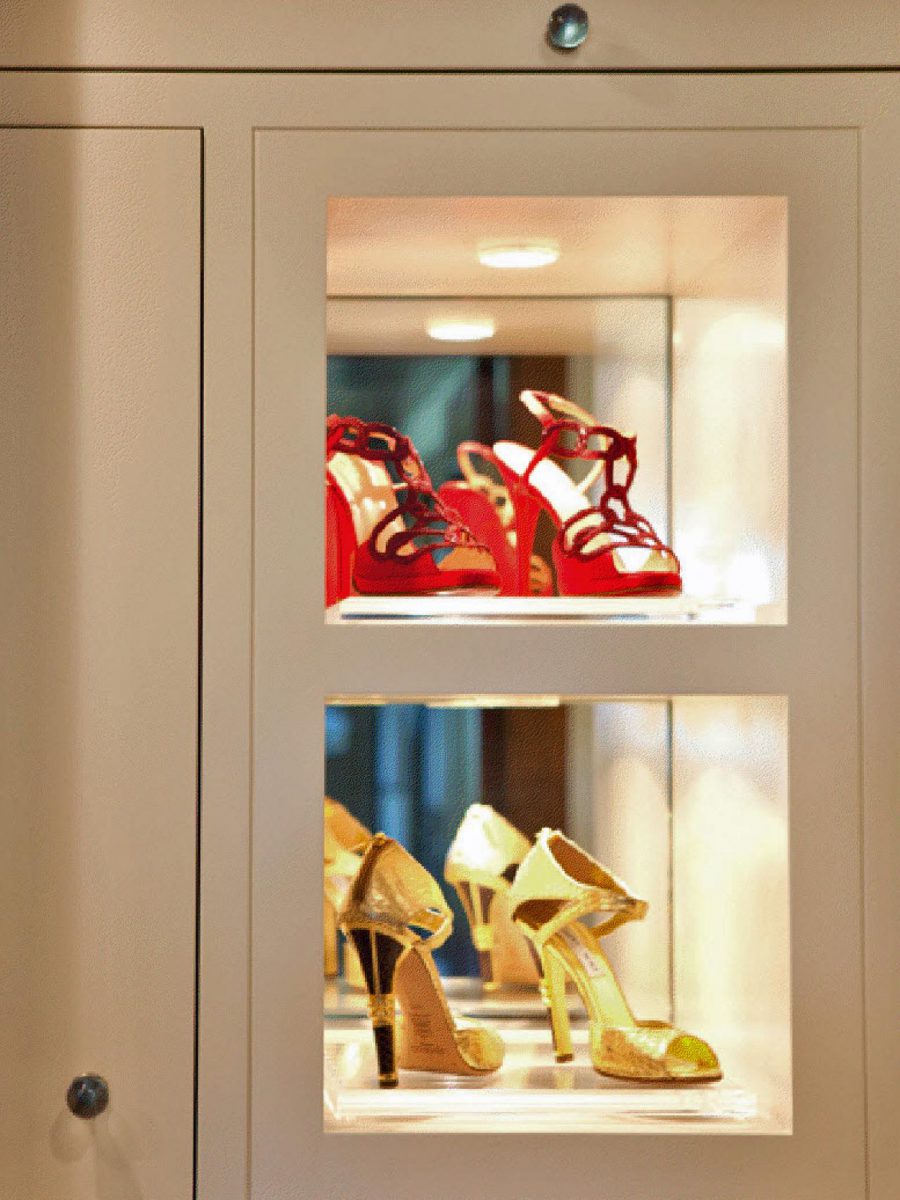 Sometimes you do not want your precious and expensive fancy shoes like high heels and Prada to be kept in cupboards alongside the casual shoe collection. You can place them in luxurious cabinets with glass fitted doors to keep them safe and sound. The other feature of this storage is more attractive; the shoes can be displayed as a decoration piece or an extravagant art work placed on a glass slab under a bright spot light. This enhances the visibility of the precious possession and adds to your home décor.
18. Randomly Sized Wooden Boxes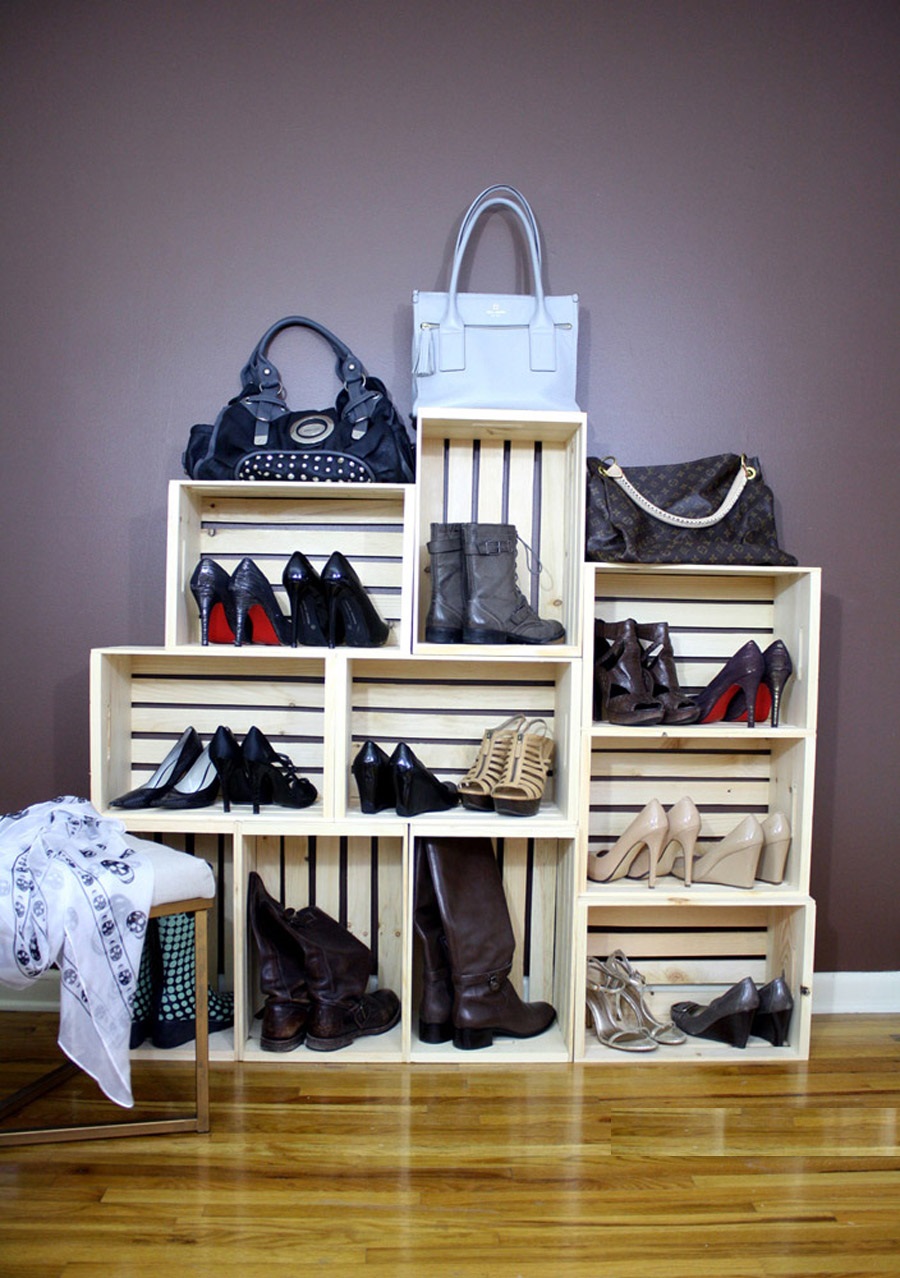 This is a standout shoe rack idea! You just need some old crates and paint to rearrange into a stylish and innovative shoe rack. The individual boxes having different lengths and heights give you the liberty to use it according to your needs. After setting up this one-of-a-kind storage space, you can use the top shelf for purses. This home décor idea will make your friends fall for it.
19. The Exquisite Reflections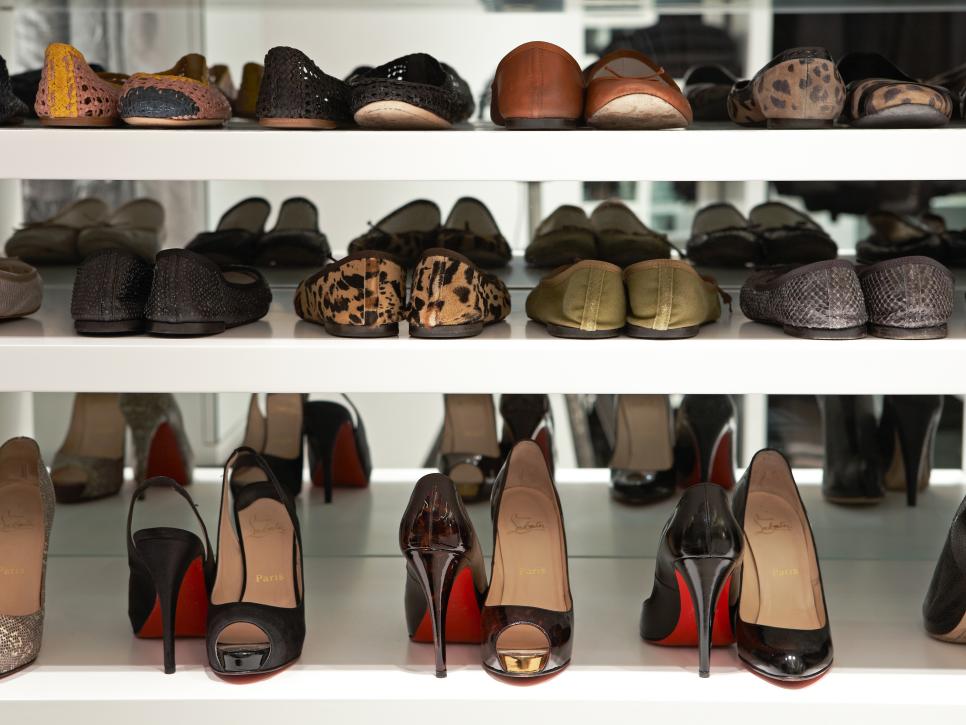 In close quarters and darker surroundings, the importance of proper lighting arrangement manifolds for a shoe storage area. A creative and stylish way to illuminate your shoe collection is by installing a mirror in the back ground of the shoe shelves. It not only serves the function of reflecting the surrounding light, but also gives a show room feeling to your shoe display area. The shelves are sized to different heights to accommodate all i.e. from high heels to flat casual wear. The overall simple setting is a perfect option for low budget endeavors.
20. Pyramid Shaped Shoe Rack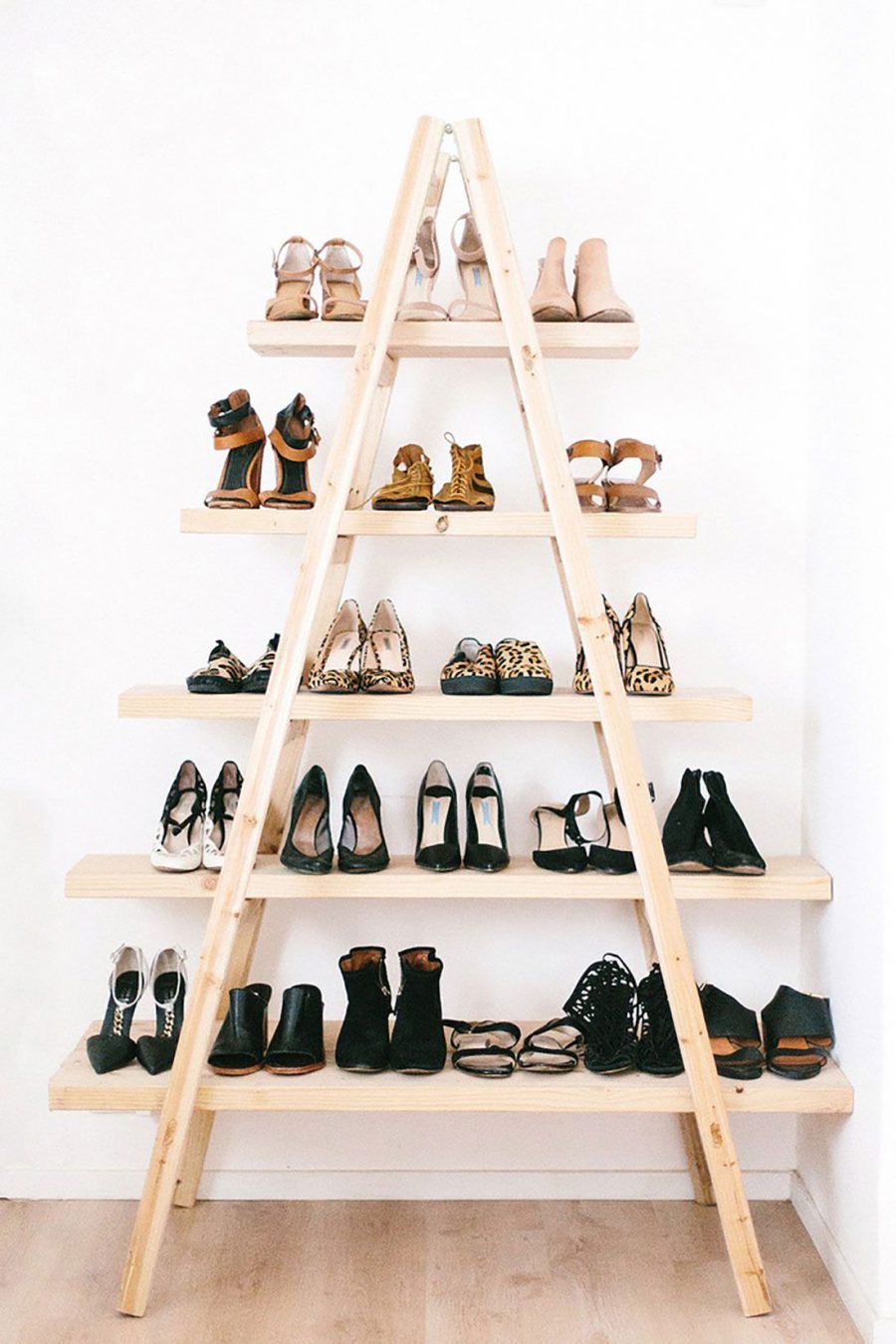 Simply artistic! The wooden racks meet up to shape a useful wooden shoe rack. These racks have a characteristic and natural finished look as compared to other models. This model is perfect for individuals who possess a lot of wooden furniture or a hardwood floor. If you get bored by placing shoes on this rack, you can always put other stuff there. This design is ideal for those who have a limited budget as this rack can be easily built rather than bought. While it is not the most space-effective model available, this style will leave your visitors envious.
21. Walk into The Royal Luxury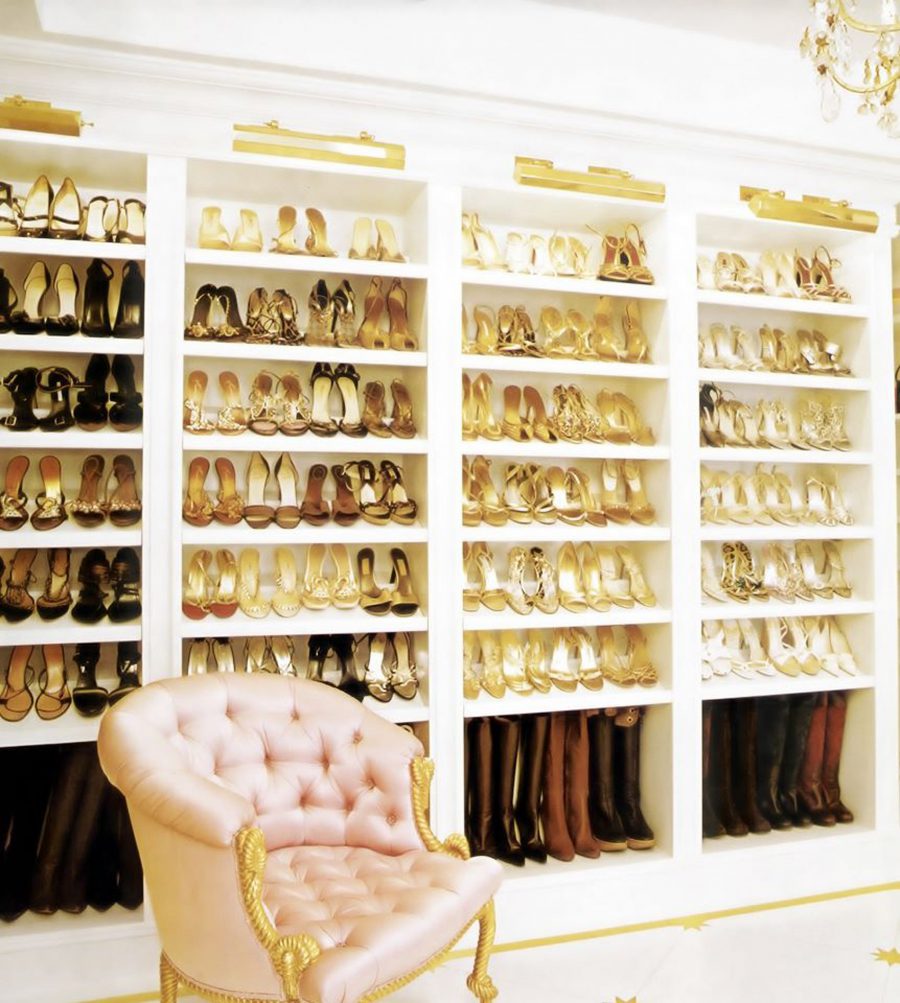 Simply classic! It is the dream of every girl to have an enormous walk-in closet that has plentiful space for every last bit of her shoes. If you have space, shows, and budget to actualize this design, you will be awed. The almost same dimensions of each of the racks will permit you to sort out your shoe collection in innovative ways. Lamentably, these shoe racks can achieve a gain lot of height, so you should get a stool to reach the upper levels. These painted wooden shelves are stunning, yet they accompany an obligation of continuous maintenance.
22. Dedicated Flank for Footwear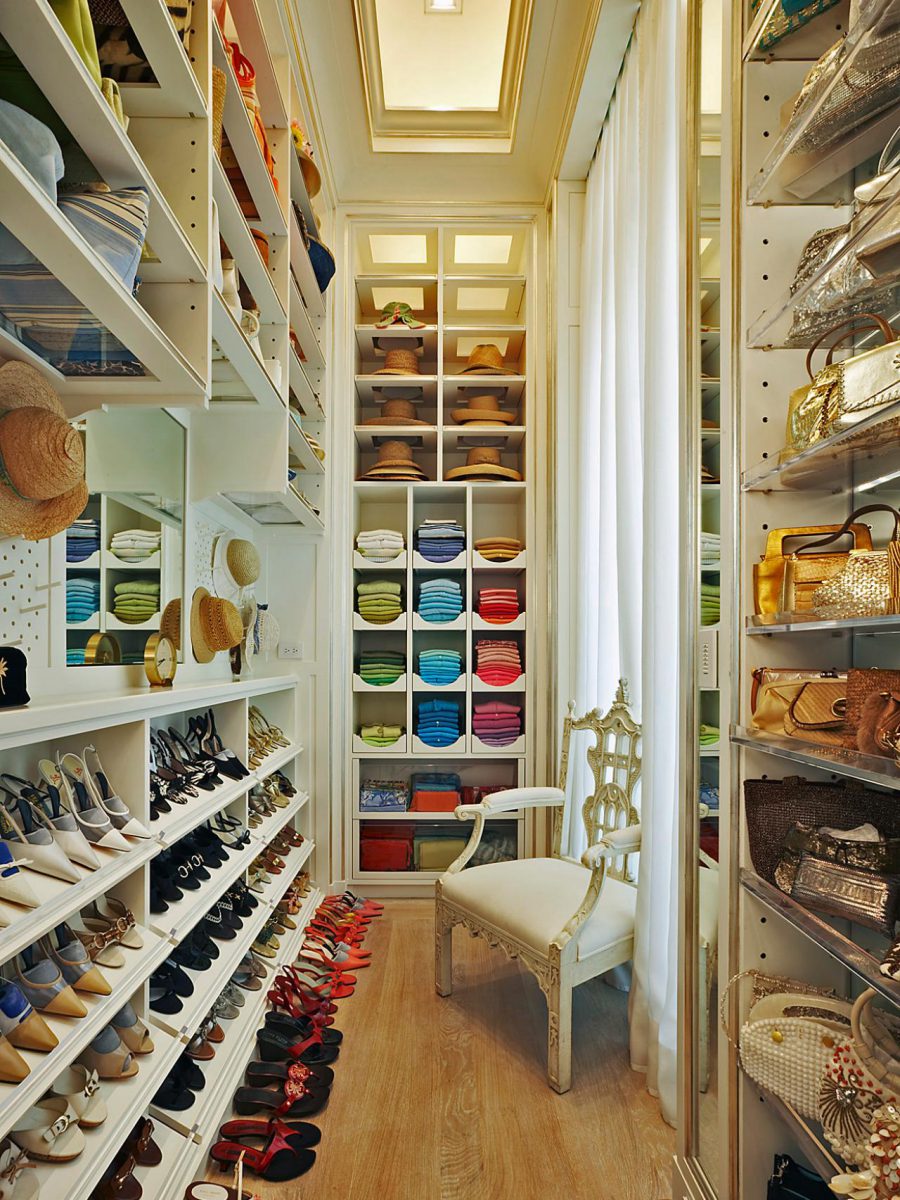 Conventionally, most of the shoe shelves in shoe storages are found to be levelled and straight. The idea of tilted or angled shelves is a refreshing innovation as it will allow more light to fall on the shoes. It enhances the visibility of your footwear especially in case of ceiling fitted lighting arrangements. Along with the technical and organizational advantages, this shoe storage idea gives a new dimension to your walk in closet as you can specify a wall or a part of it to display your beautiful shoe collection in a voguish manner.
23. Fashionable Display on Drawers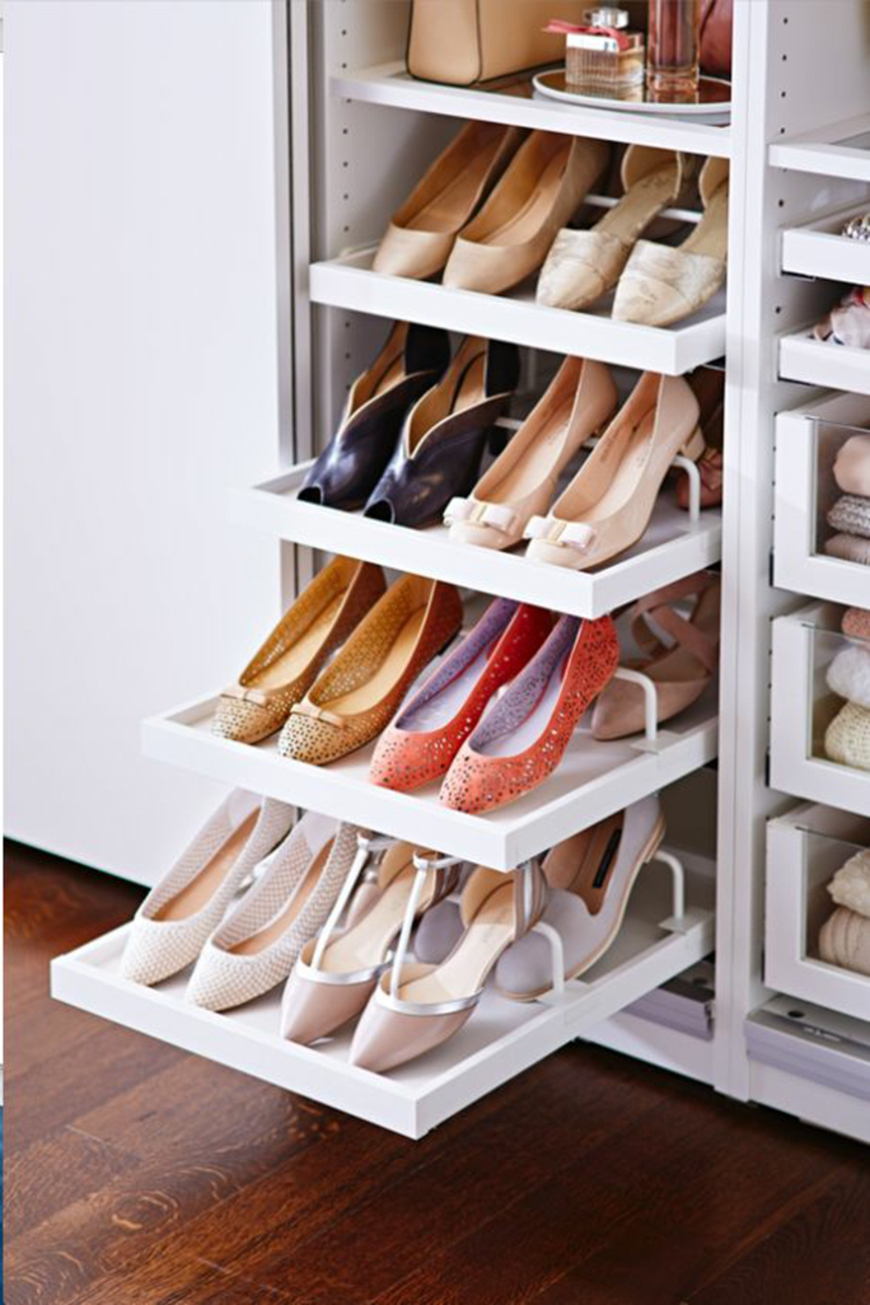 These wonderfully expandable shoe drawers permit you to store the greater part of your most prized stilettos and high heels in a secure and centralized location. The way that the drawers roll back into the cabinet implies that you will never need to stress over stumbling due to shoes on the ground. We have two metal bolster bars on each level that guarantee your stilettos remain in one place with no trace of indentation marks. Arranging the dress shoes in your removable storage room become another way to easily access the components of your closet. Put most frequently used shoes at the top.
24. Just Spin The Wheel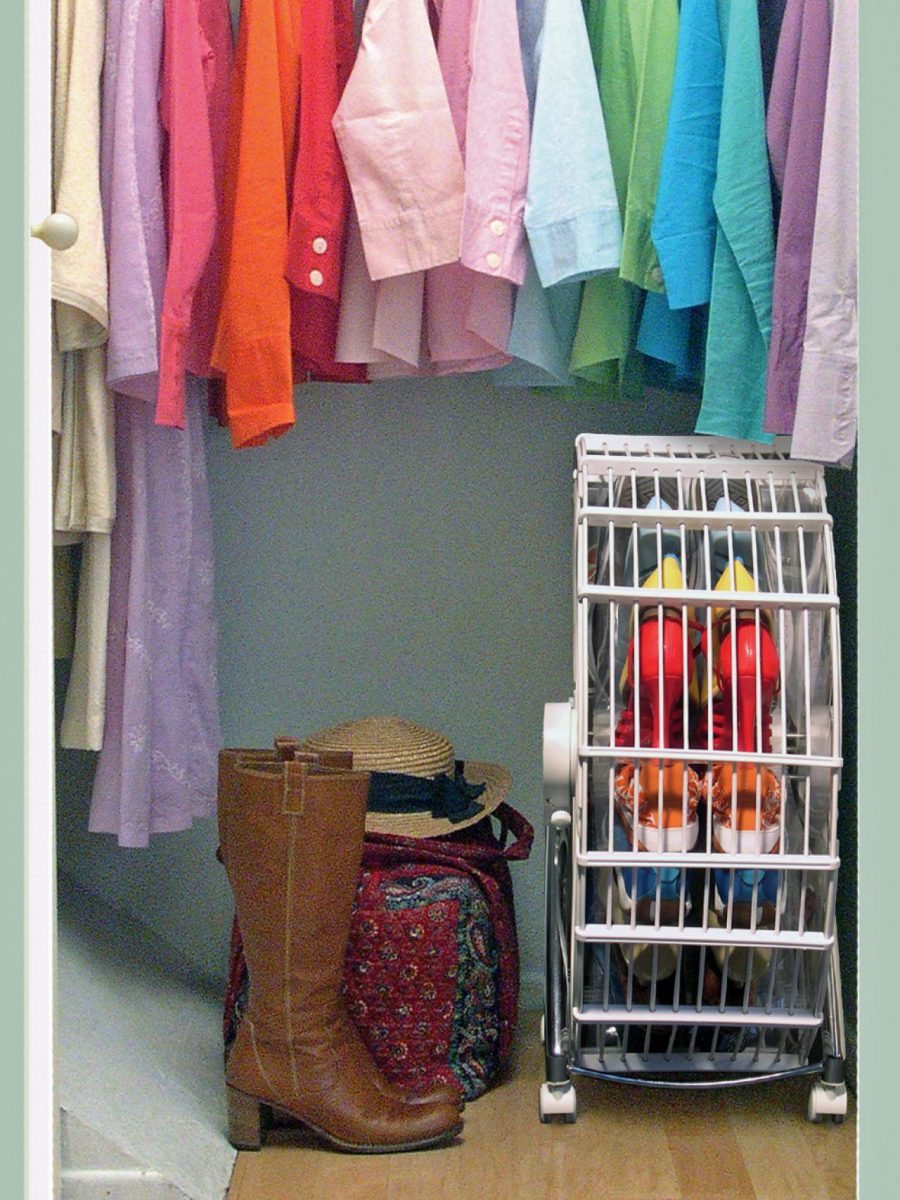 You can always try different shapes and formats as inspiration to your shoe collection storage. The spinning wheel cage is a funky and interesting idea for better organization of your footwear. The design layout based upon out of the box and unconventional thinking covers lesser space for the quantity of shoes it can accommodate. The reason is the inherent accessibility in the design. So you can just rotate the wheel and get your hands on your required pair. This idea is well suited for the congested spaces, especially the empty area under the hanging clothes cabinet.
25. Sliding Shoe Booth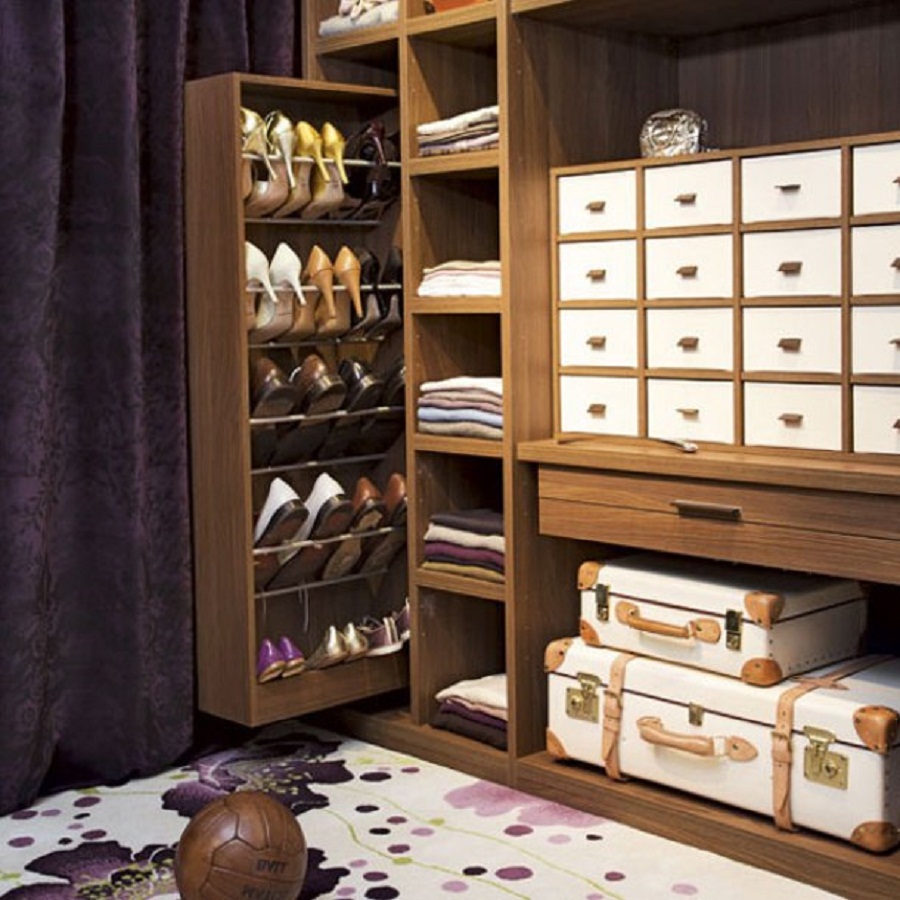 When you wish to organize shoes in the most proficient way imaginable, get a rolling shoe cabinet. If you possess a walk-in wardrobe but not enough space to fit the majority of shoes in a cubby, a rolling shoe cabinet is an excellent solution. At every level, we have metal bars to ensure that everything from women's heels to men's dress shoes is adequately supported. When you have picked up the right match, you should simply take this off the rack by pushing cabinet totally out of view.
26. Sit Over the Shoe Storage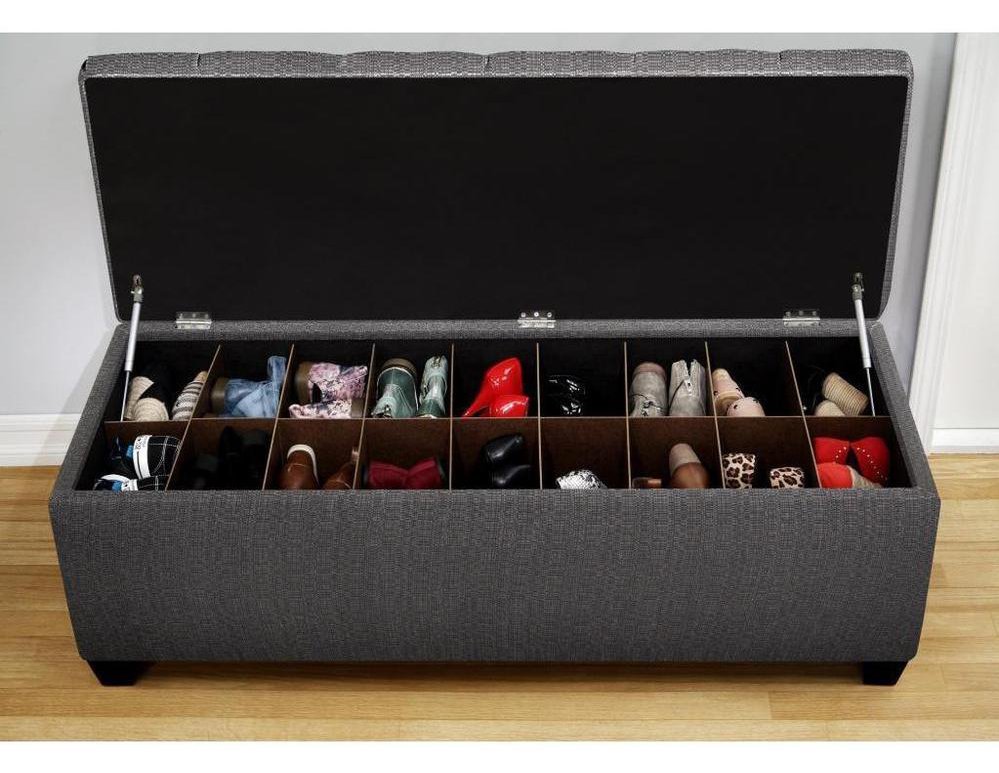 A tremendously creative and innovative design that is productive and efficient is a storage ottoman. It is practical and space saving. The trunk structure guarantees that you can undoubtedly put a recover shoes with no eyesore or a lot of floor space being taken up. When you pack in all your shoe treasure, close the cover to get an agreeable shoe-storing bench. The huge advantage of this design idea is that shoes are not visible but within access. This stylish piece of furniture is the best shoe storage ideas and a perfect complement to any home.
27. Underneath the Seating Arrangement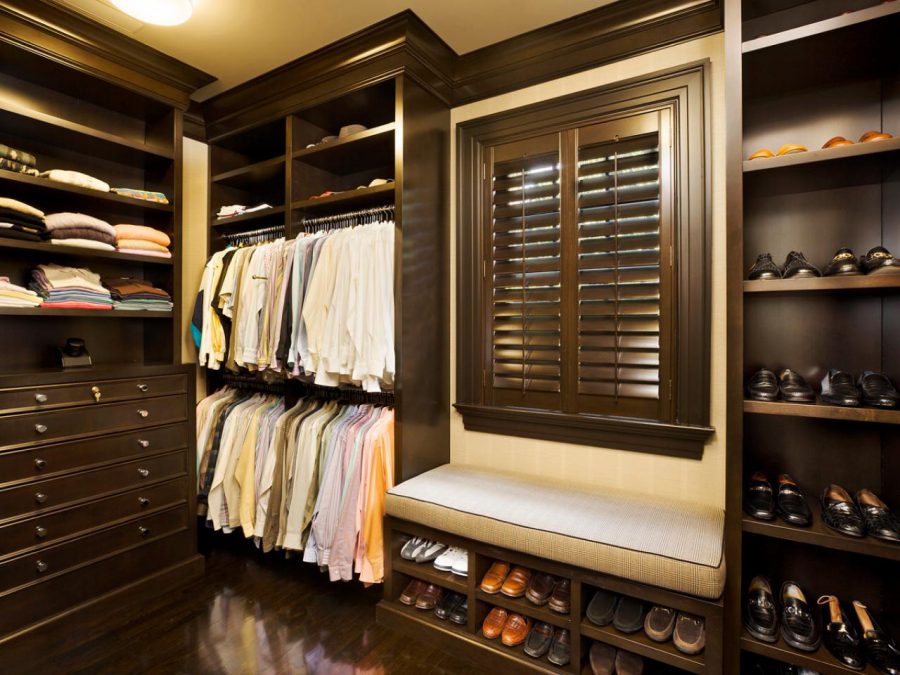 Effective utilization of the available space in the home interior design is one of the most important factors especially when it comes to a closet design. The space under the seating benches often hosts unused items and decreases the beauty of the view. The shelves built under the bench add to the existing space available for shoe storage. So you less expensive, casual or commonly used footwear can be placed in there. The window seat, which is already adding to the décor of the locale, has an added sense of symmetry and fullness with masculine shoes nicely displayed.
28. Sticking on the Wall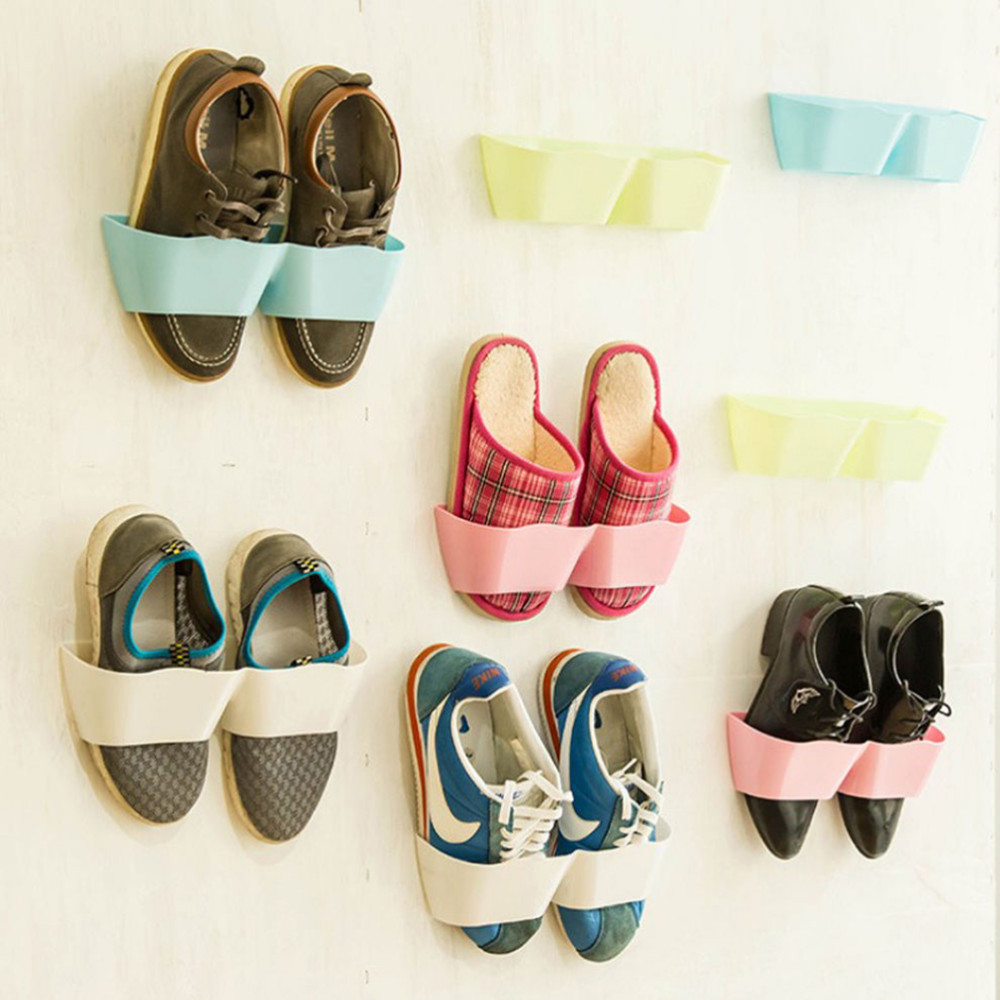 An innovative choice indeed! This solution makes you hang your shoes on a wall in an innovative fashion. Visitors to your home will comment on the fine art your shoes are displaying on your walls. The shoe holders are available in pink. Blue, green and white or you can customize it in your favorite shading. It is a lovely and space saving device that keeps your casuals and sports shoe high off the floor. Be extremely careful of the way you store shoes like this as any dirt left on the shoe sole can mark your wall. If you love aesthetics and easy access, this design is amongst the top one.
29. Consuming All the Spare inches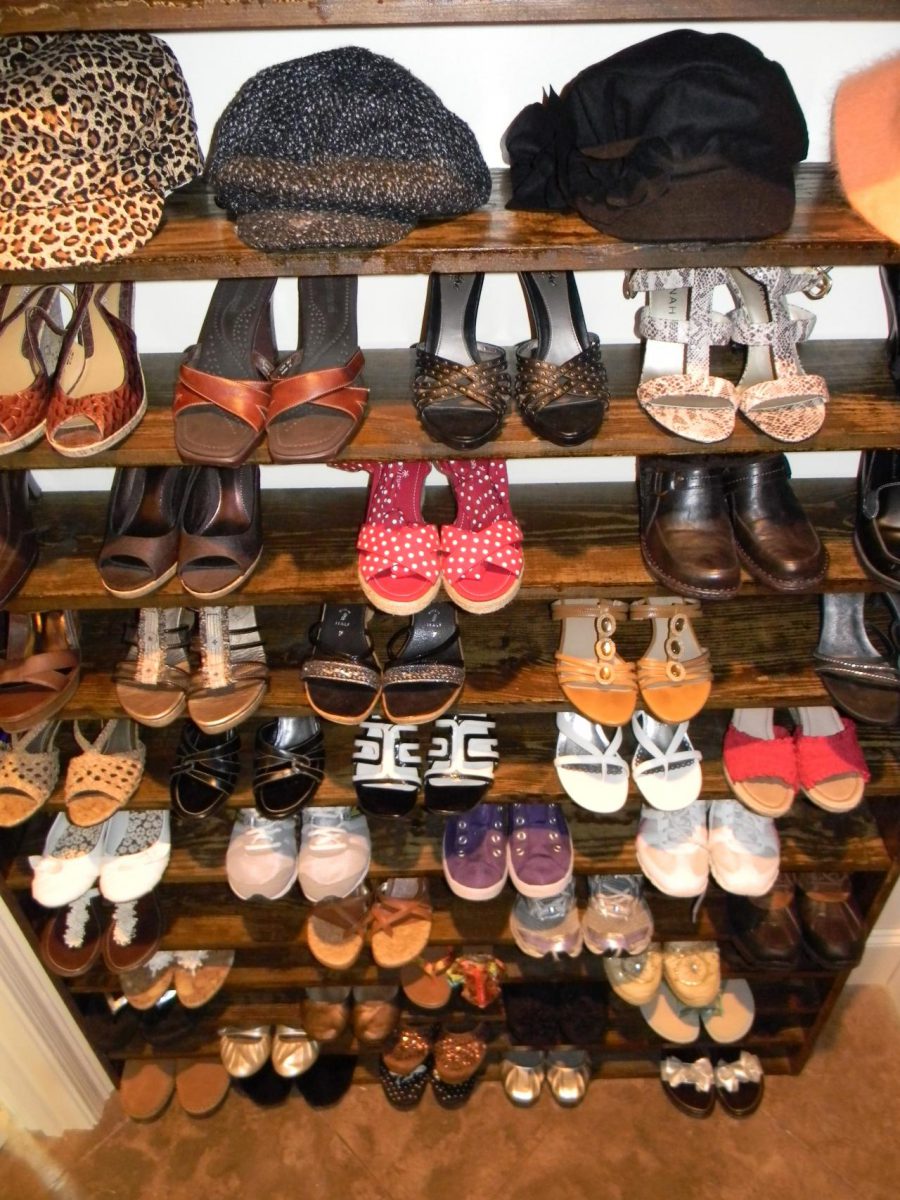 If you have a shoe collection sizing reasonably small, then there is no need of large sized closets for their organization covering a considerable area of your precious household. Similarly there would be occasions when you are a little short on space to spare. For such cases, a few inches of empty space alongside a wall is enough for the shoe display. The simple rack can be placed in many unused spaces such as a few inches between doorframe and wall. It can hold a considerable quantity of your footwear with decent display capability.
30. Store Beneath the Stairs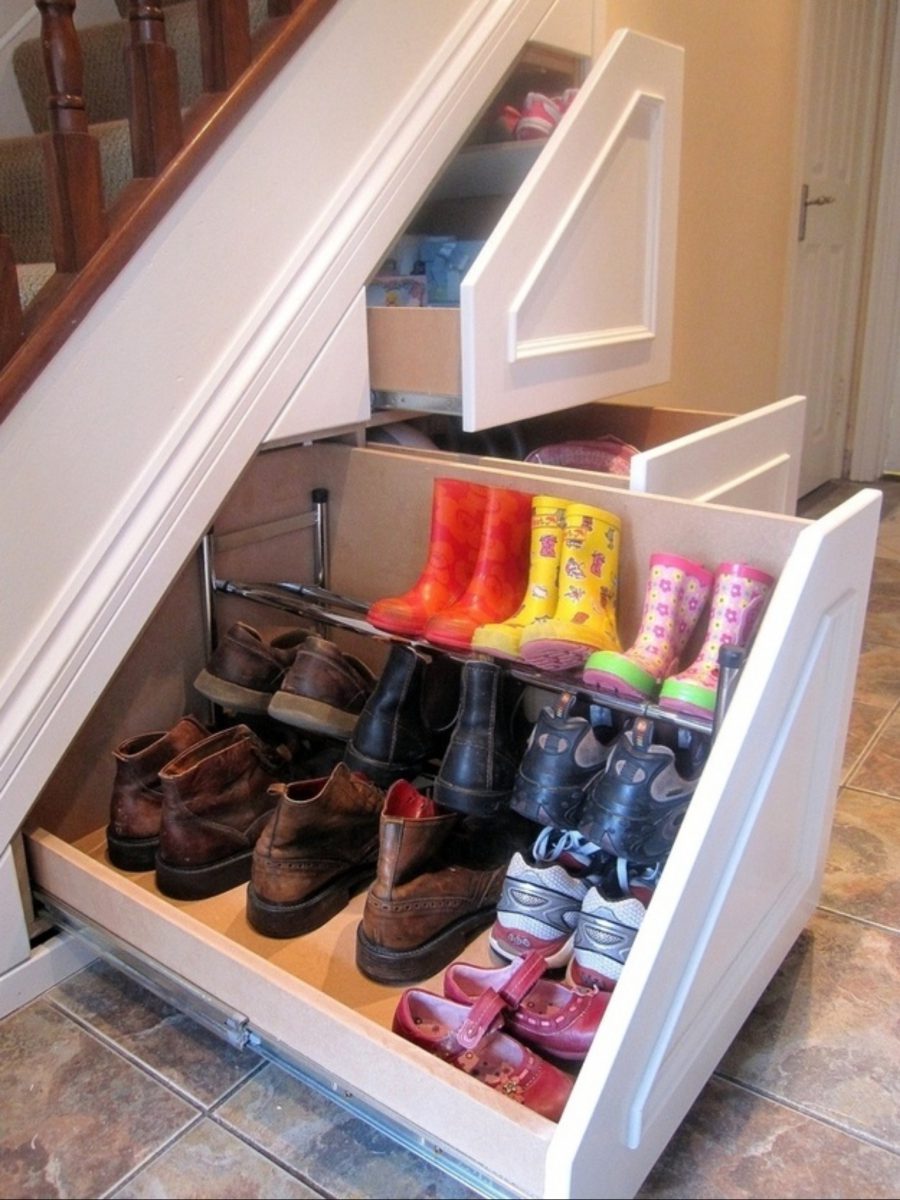 In spite of the fact that stairs are a pragmatic need in any multistory house, but it does not mean that space can't fill a multi-utilitarian need. This brilliant idea allows you to place all your shoes ideally by the front door. You will only see the shoes when you are putting them on and about to leave for outdoor. Contingent to the measure of space you have underneath your stairs you can accommodate as many shoes as possible. Store the shoes that you are regularly using or those that are in season.
31. The PVC Bird Holes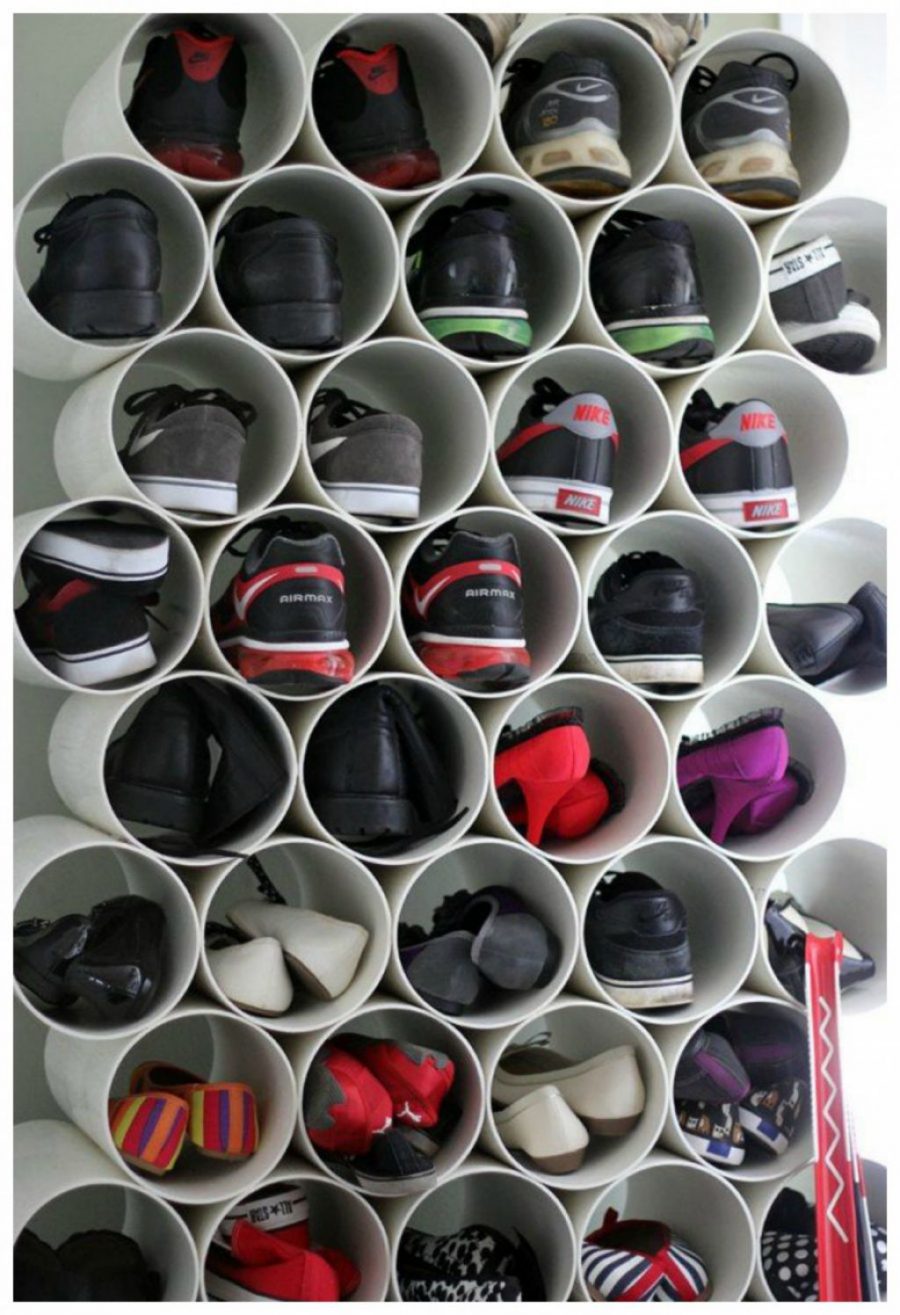 If you have a vertically extended space to store your collection of shoes without much depth available, then this funky and creative design can grace your shoes in a different way. This casual shoe storage space is an ideal match for casual footwear like sneakers and joggers. The best part is that this design occupies a very limited area and accommodates a lot of shoes as shown in the graphic. This economical and smart storage idea is easy to maintain and clean. Interestingly, you can design your own pigeon hole like shoe house by using PVC pipes of various sizes. Also in case your collection swells, you can always add up some more holders to the storage.
32. Explore The Depth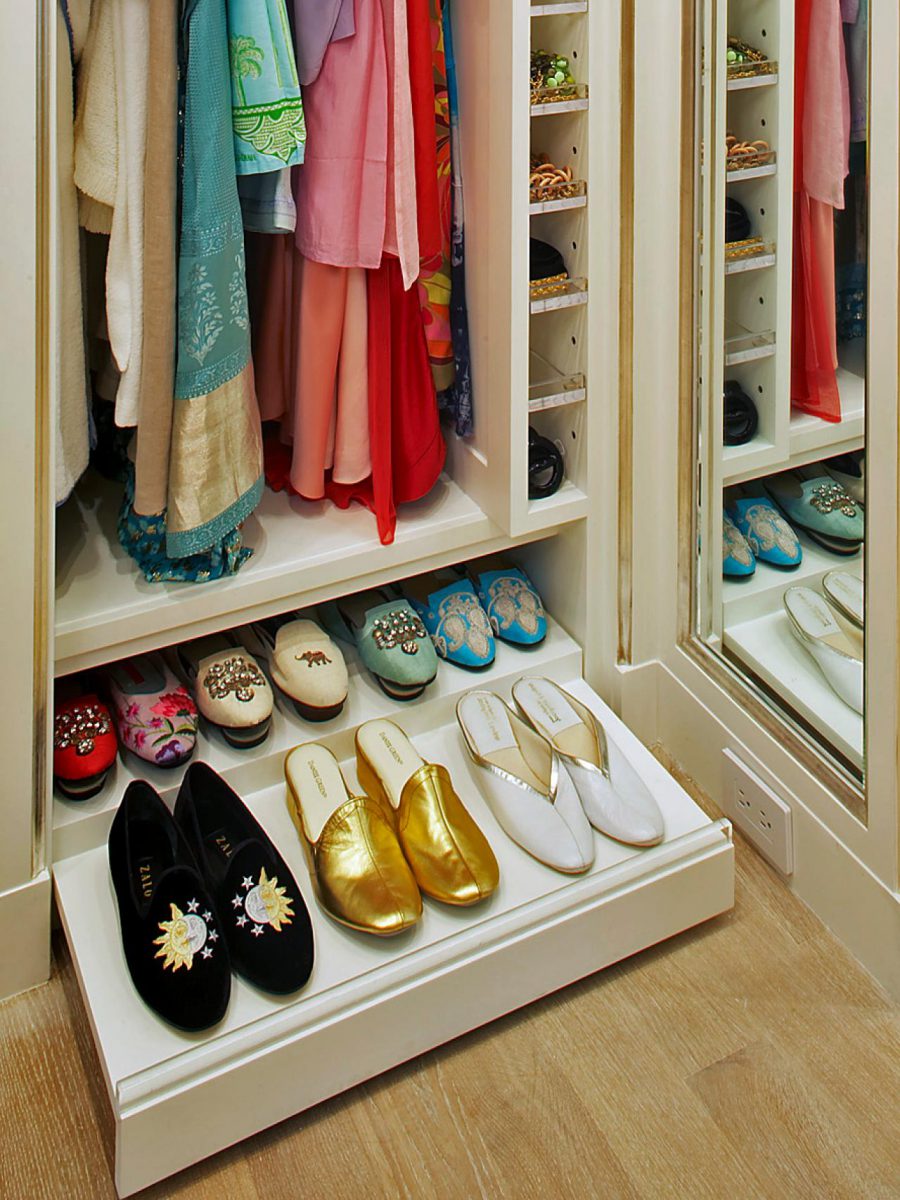 Sometimes you encounter a storage area with a sleek and reduced interface, but a lot of space on offer in terms of depth. To get the maximum out of such tricky spaces, you can employ a long drawer to store a large number of shoes on it. There is an example where the area underneath the hanging cloth cabinet is smartly consumed by using this approach. Along with the enhanced utility, this design adds to the aesthetics of the storage cabinet, where you can pull out the drawer and select your preferred footwear in a stylish manner.
33. Modish Display on Metal Rods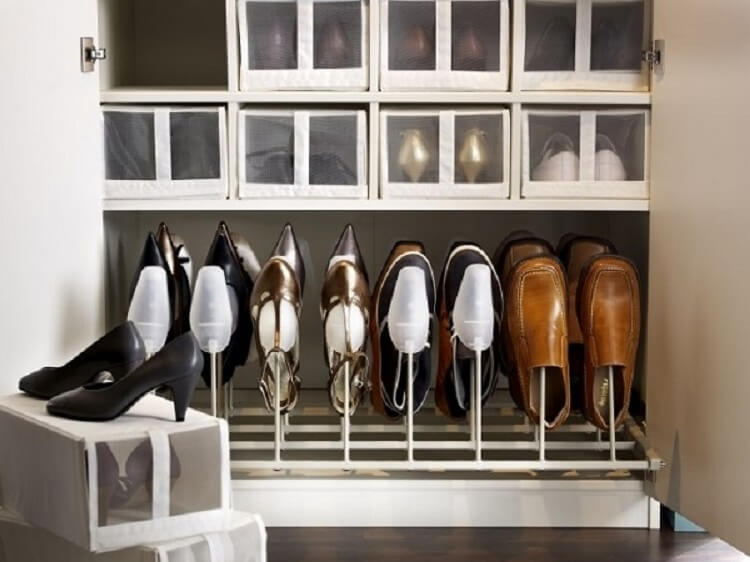 Proper display of your shoe wardrobe is one of the most important factors when it comes to the design of your shoe storage. It helps in conveniently finding the pair of shoes required at a particular point in time. This idea for shoe storage fulfills that requirement quite nicely. The shoe holders at the bottom of the shoe closet give you a feeling of visiting a lavish showroom for buying a pair of expensive branded footwear. You can place more expensive shoes in the closed shoe cupboards to keep them safe from dirt and dust.
34. Elegance in the Air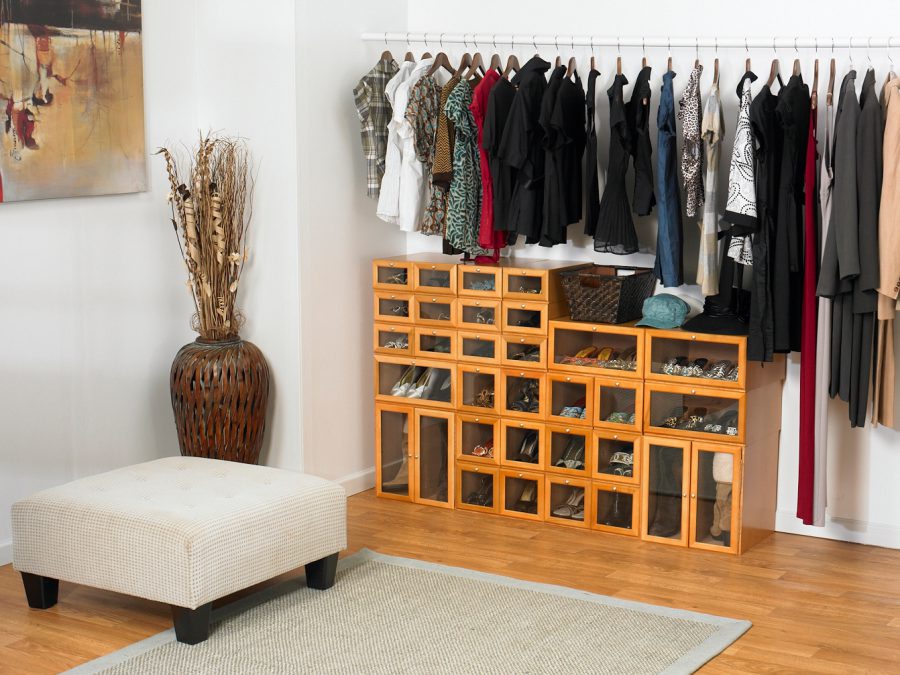 You cannot get many shoe storage design ideas with the extent of customization available in this design. The shoe collection is carefully placed inside wooden boxes with clear glass doors. You can vary the number of boxes in this closet according to the number of footwear in your possession. Similarly the size of the boxes can be varied according to the shape and size of shoes inside them. Along with the by default customization and efficiency traits, this design offers an elegant display of your shoe collection. The wooden flooring and a simple rug along with a stylish bench placed on it spreads the overall feeling of serenity.
35. Little Ones Held By Hooks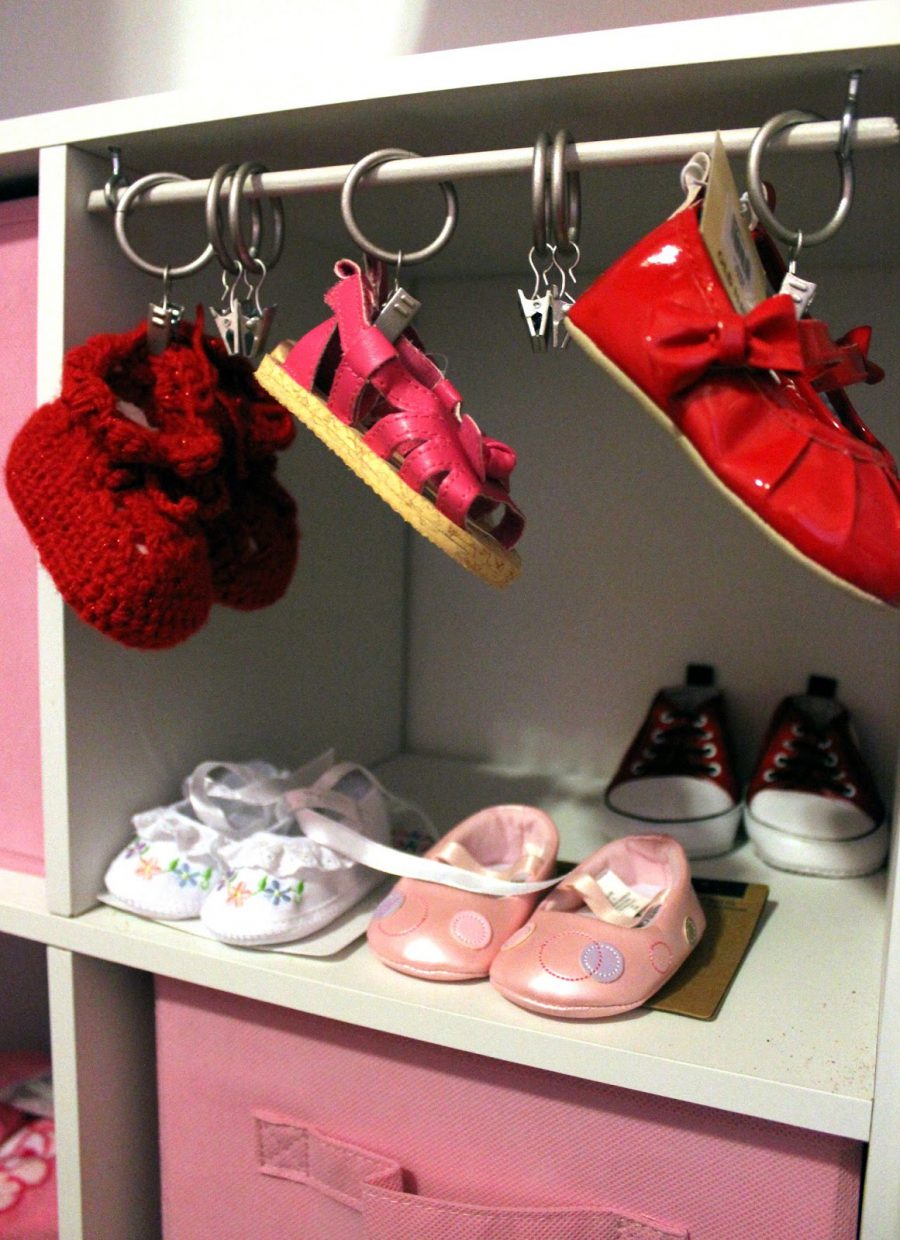 Baby shoes are difficult to organize as they are small sized and it is not feasible to place them in conventional shoe storage spaces. This innovative idea for the shoes of your kids solves the issue smartly. If you are just going to start a family and you have a lot of baby shoes to cope with, then this idea can inspire you. The hooks ensure the optimum use of the space above the average sized cupboard which usually remains spare due to the small size of shoes placed on them.
36. Innovative Shoe Hanger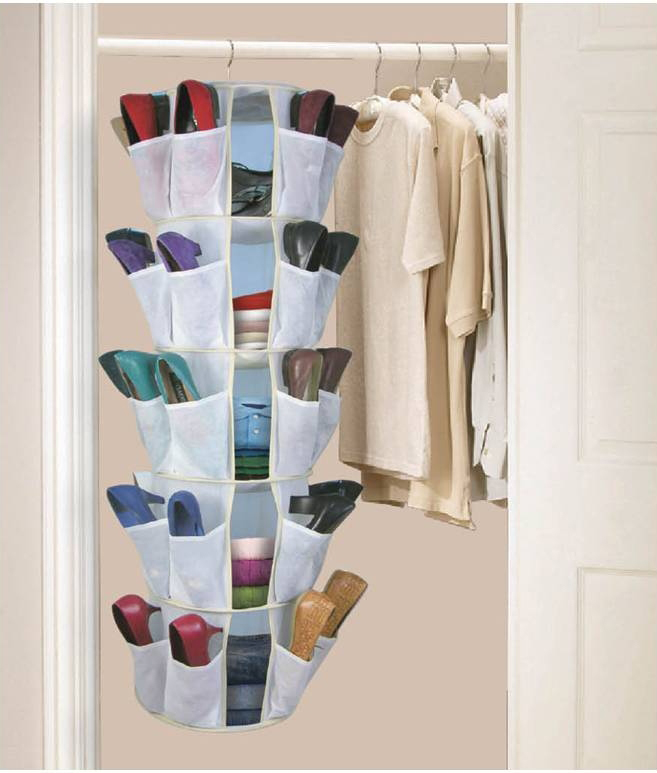 Sometimes when you run out of space in your shoe storage area, the empty space in your closet for hanging clothes can come to your rescue. This unorthodox shoe storage idea makes full use of the unused space available in the cloth hanging area. It also adds to the convenience as you can match and choose the perfect combination of clothes and footwear at the same time while searching into a single closet. The space in the middle for the folded clothes multifold the utility of this creative design idea for shoe storage.
37. Build your Very Own Boutique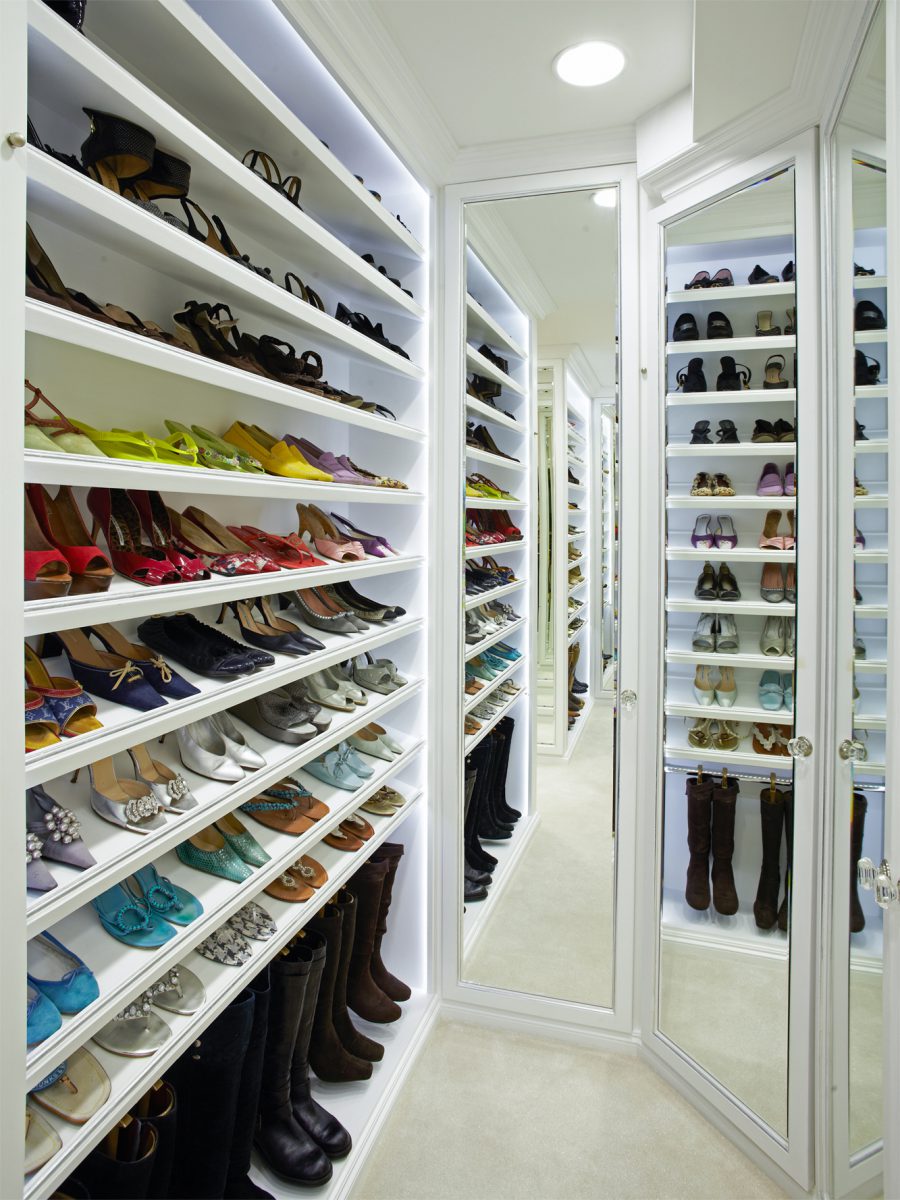 There can be many ways to build storage for your beloved shoe collection. One of them is to design a whole walk in closet for organizing your footwear. This shoe storage design has a class of its own. The expensive shelving with mirrors all around gives you a nice pampered feeling of being in a high end showroom. With plenty of space for your collection of footwear no matter how large it would be, this design emits the feeling of decency and calmness. The milky white color of the locale along with large mirrors from floor to ceiling inherits the vastness of this splendid sight.
38. Voguish Display Inside the Closet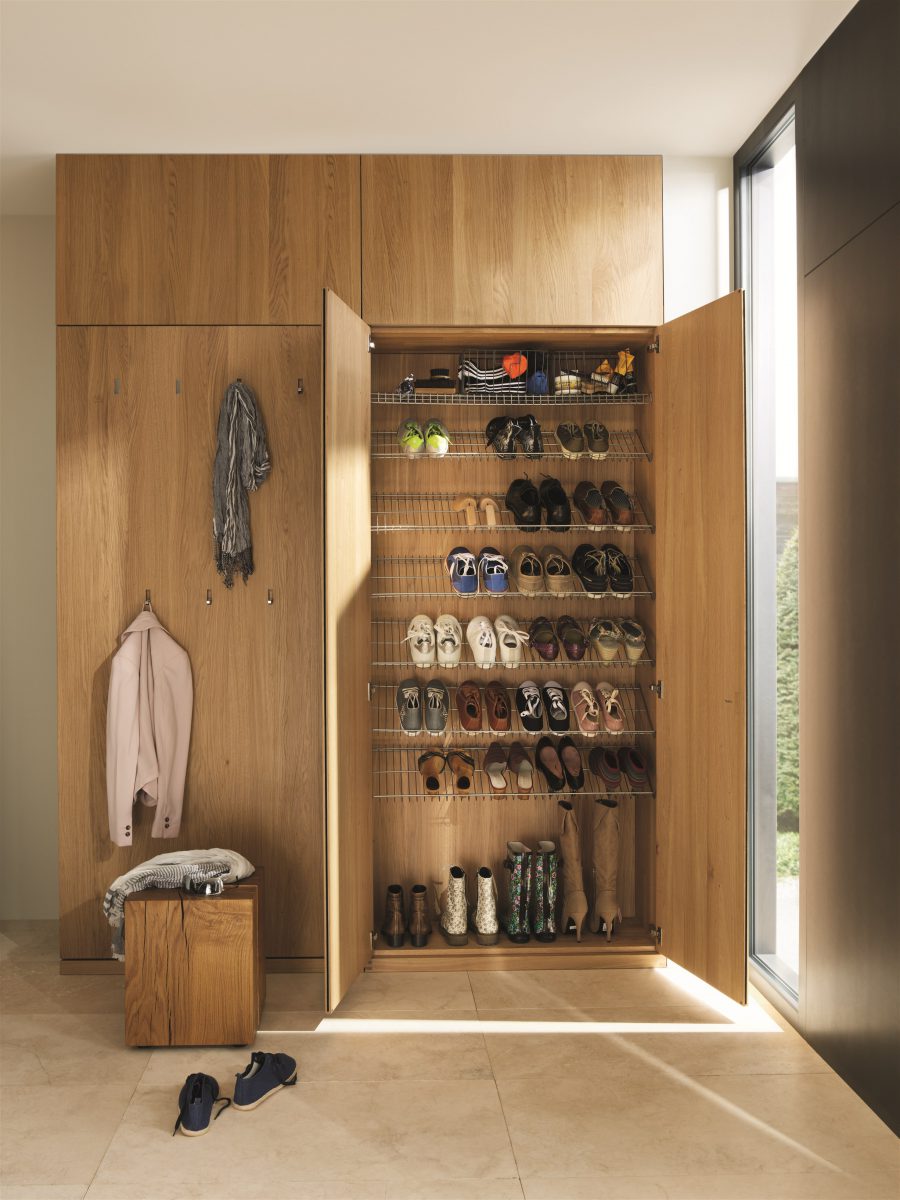 Sometimes you may find it irritating to have an encounter with your shoe collection every time you open your combined closet for clothes and footwear. This issue is comprehensively addressed in this closet design idea. There is a separate and dedicated closet to store and display a vast collection of shoes. With more than enough space available in the cabinet, you can stylishly arrange and display your wonderful collection. Another feature of this idea with a voguish display is that it allows you to customize the size of racks according to the shoe size.
39. Multilevel Storage Solutions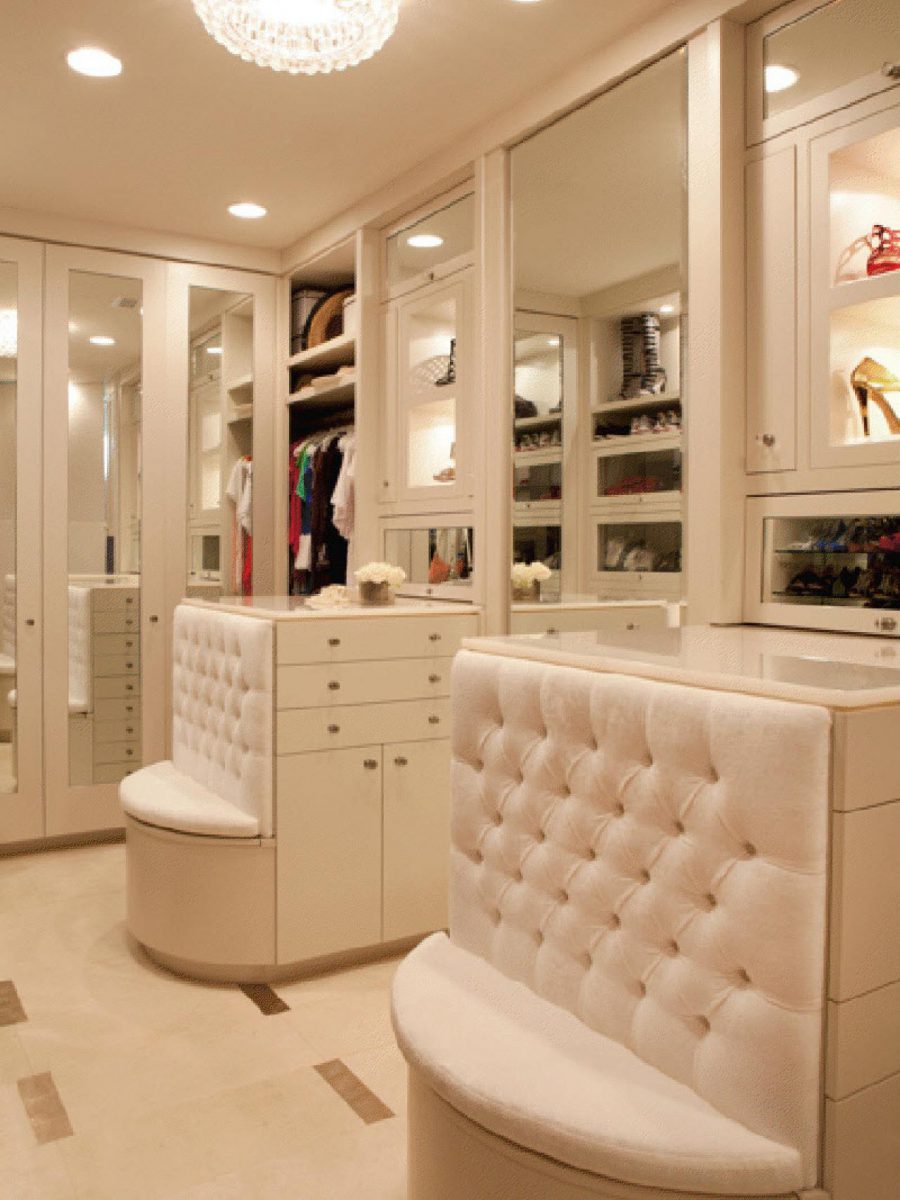 It is always nice to have a number of different storage options in a single design idea. You can place the most frequently used footwear in the open storage boxes or shelves. For more valuable and precious shoes which are worthier to show off, you can always opt for closed cabinets with glass doors. Moreover there are drawers serving as another storage solution for shoes and other allied accessories. The overall serene tone of this walk in closet is supplemented by wonderfully designed benches which are perfect for sitting down and putting up or removing shoes.
40. Small Storage with Mobility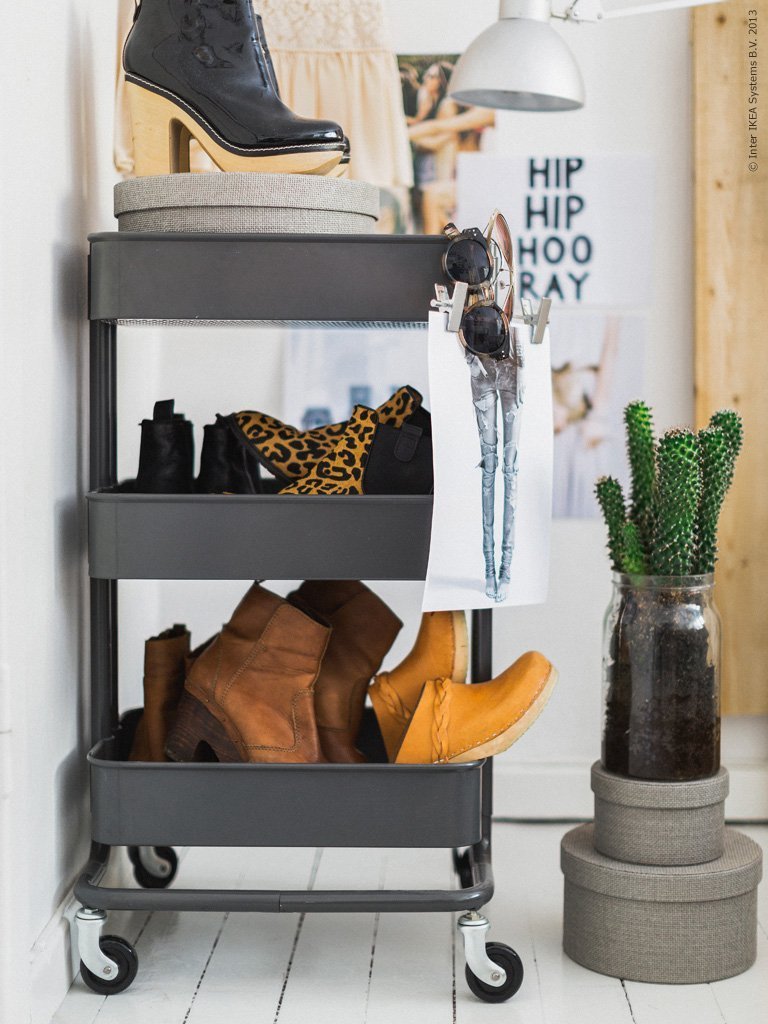 In a small house or an apartment with no enough space, you may find it hard to dedicate a specific floor area for storage of your shoes. In such circumstances, this multilevel and portable shoe storage caddy can come to your rescue. There is no need to build proper shoe storage and display area inside your home. Due to the feature of mobility in this design, you can place your shoe storage at any location inside your home even in the bathroom.
41. Multilevel Storage Table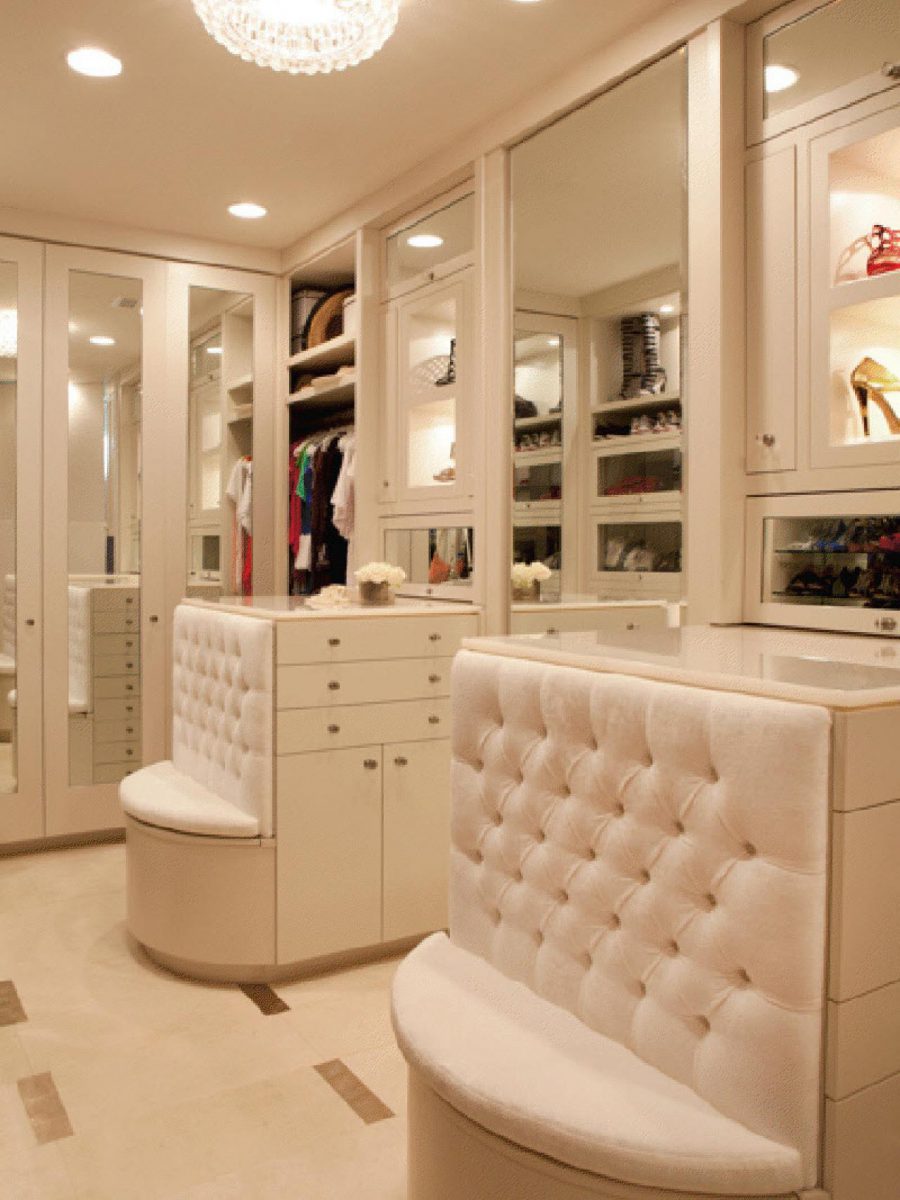 If you have already decided to keep your footwear behind a door or in a vacant corner of your house, then you might get a little short on space once your collection gets swelled. This will happen much faster if you have a large family. To maximize the storage area for a limited area, you can use this wonderful circular table with multiple levels of storage. Due to the round design, it is accessible from 360 degrees, and every pair of shoes is equally comfortable to grab.
42. Impermanent Yet Apodictic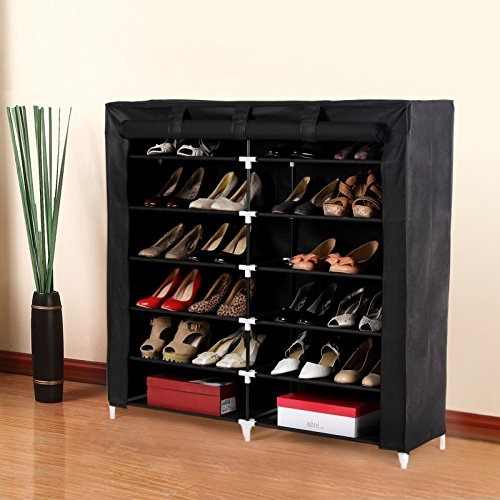 Sometimes, you may not be able to find a permanent spot for building a fixed shoe closet. Alternatively there might be occasions when a temporary place of living demands a temporary storage solution. A portable shoe rack, large enough to cater for about 40 pairs of footwear, can definitely cater for the needs of most of the people. At the same time, it is not all about the efficiency and effectiveness; the looks of this multilevel shoe cabinet are beautiful enough to add to the décor of the locale. The fabric cover gives it an option of hiding it all exhibiting a mysterious look.
43. Efficient Shoe Hangers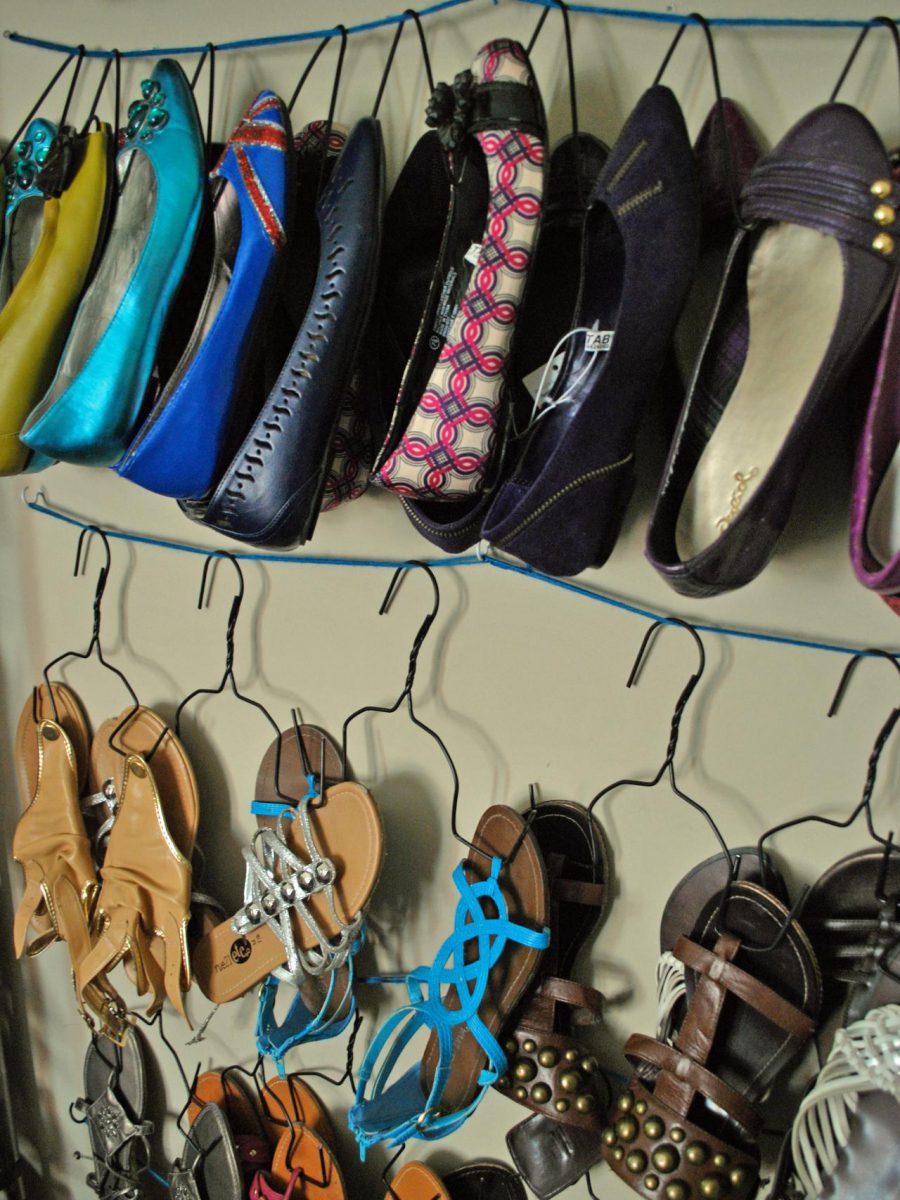 The concept of cloth hanging when implemented gives you an enhanced display and ease of selection in the times of hurry. Same advantages can be enjoyed when you hang your shoes on custom designed shoe hangers. In this shoe storage idea, there are different shapes of hooks designed separately for various types of shoes. Additionally, you don't need a proper storage area or a cabinet for this endeavor, just find a vacant wall and decorate it with your lovely collection of footwear.
44. Peg Them Low Behind The Door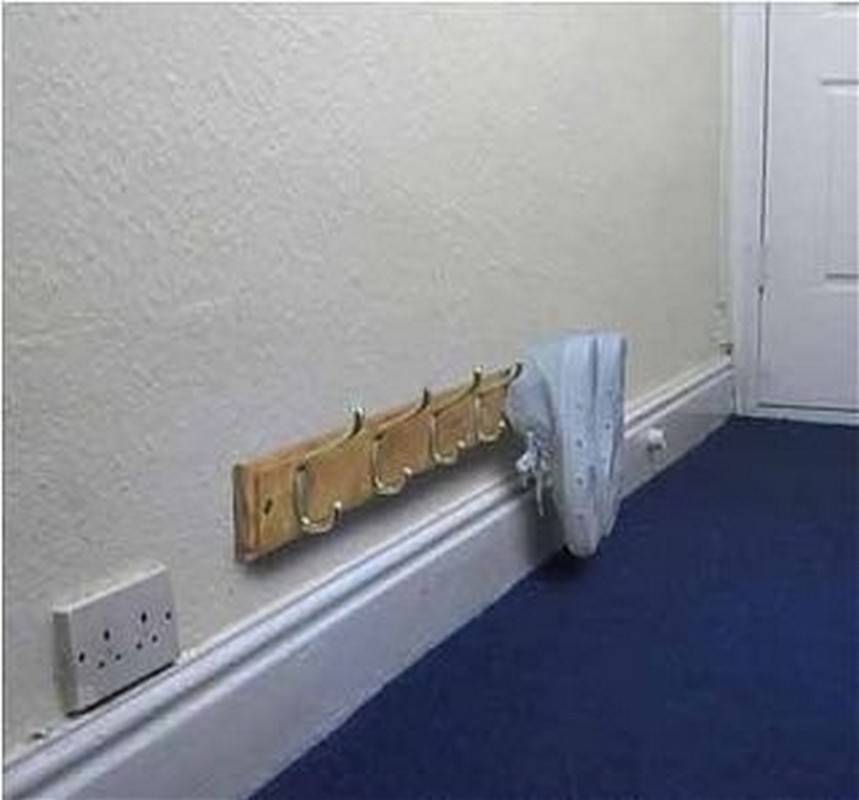 Most of your casual shoes are not meant for putting into the expensive closets, especially those used for sports or during rainy season. For such collection, a conventional peg fixed behind the door is a simple but effective storage solution. Rather than walking all over the house into your personal closet with your outdoor casual shoes on with mud underneath, you can just place them on the peg near your home entrance. So that the odor of the joggers and other related side effects have no effect on the inside cleanliness and environment of your home.
45. Adorable Shoe Drawers for Family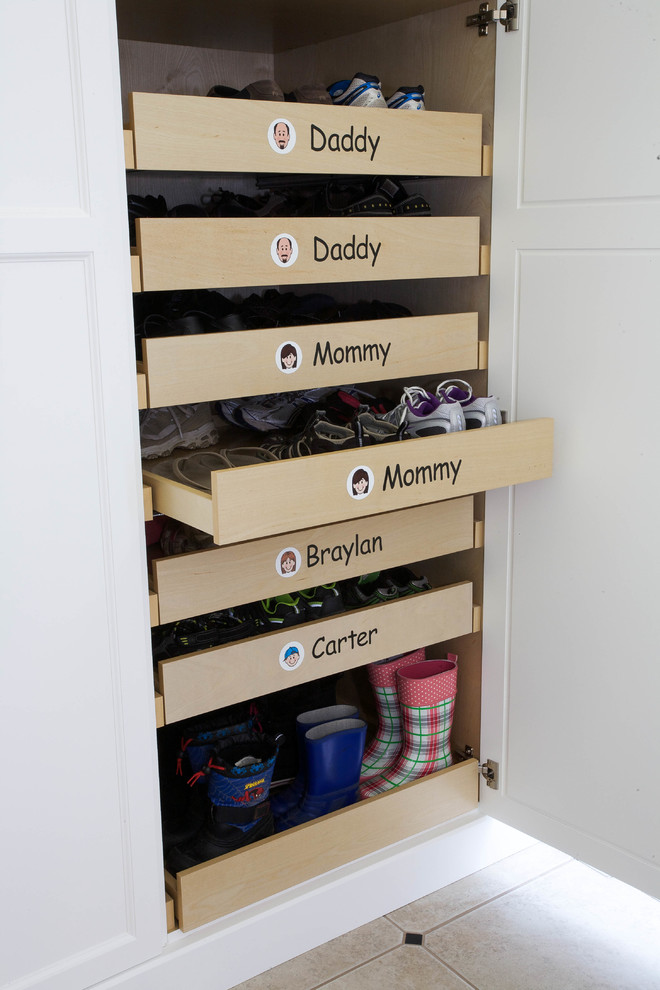 Application of the concept of tagging in the storage areas proves to be an excellent concept as it makes the organization easy and funky at the same time. The adorable tags on the shoe drawers make this storage a lovely sight while ensuring a convenient operation at the same time. This shoe storage hack is especially attractive for children and motivates them to learn how to organize their belongings. Another smart feature of this storage is the placement of the drawers; the children drawers are lowered to enhance access while daddy can easily organize the footwear in the top drawer.
46. Display on Sleek Metallic Mount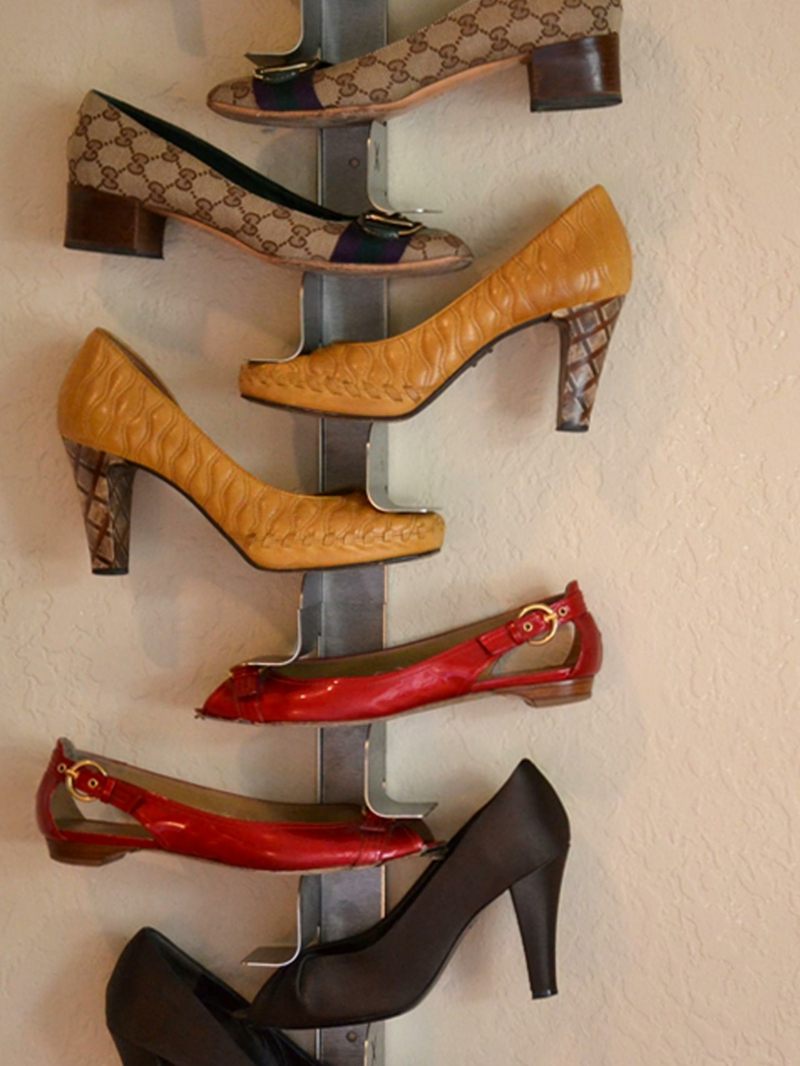 If you have a beautiful and aesthetically pleasing collection of fancy Prada and other such ladies footwear, then don't hesitate to use them in décor of your household. This straightforward and elegant metallic shoe rack is perfect to offer the full view of your lovely high heels and other exquisitely fashioned footwear. By employing this shoe storage idea, you can not only save the precious floor space of your house, but also your wardrobe is comprehensively displayed for convenience and time-saving.
47. Slide Them Out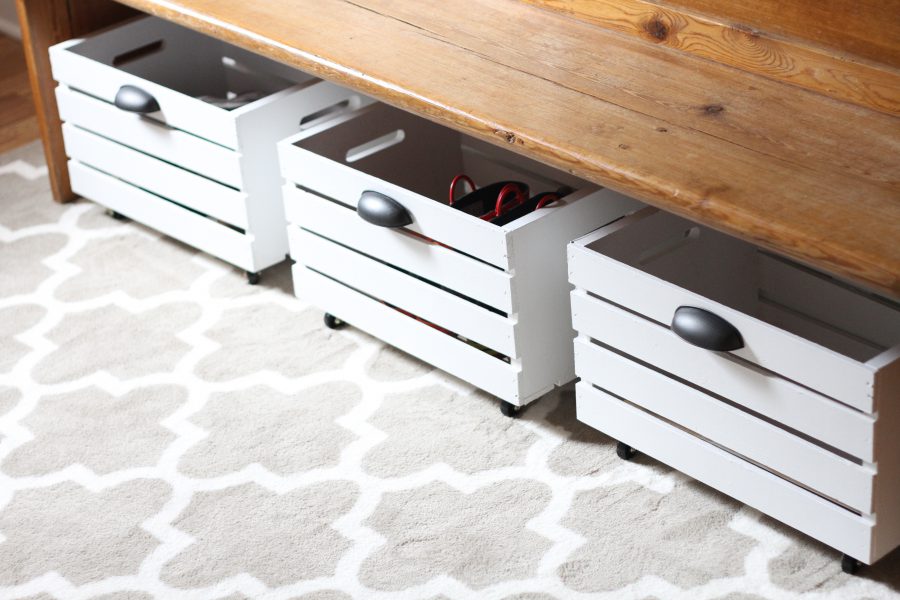 In most households, the space beneath the sleeping place is either empty or a mess. It is hard to place things under the bed and organize them for better display and storage due to lack of accessibility. For efficient utilization of such difficult corners and spaces, storage bins are an innovatively refreshing idea. If your bed's lower profile is high enough, you can place rolling wooden bins there to store a multitude of items. An upgrade on the slide tray design idea for shoe storage, this option gives you more depth for storage. Also the visual aspect is also enhanced with a plenty of options in terms of visual presentation.
48. Illuminate With Back Light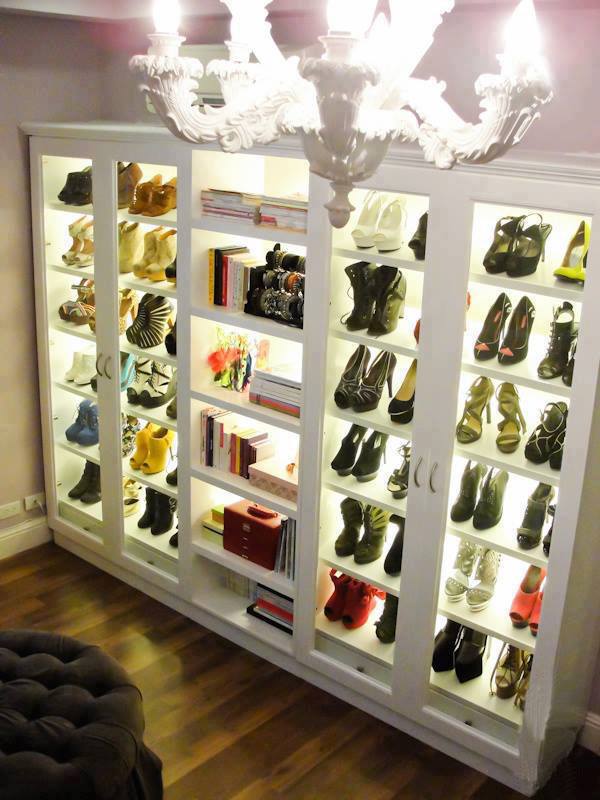 In case you have placed or build your shoe storage in a darker corner of your house, then you may find it quite difficult to select the right pair of shoes every time you go for it. So it is essential to have proper lighting arrangement in your wardrobe for meaningful display of your belongings. This shoe storage design idea is blessed with wonderful backlighting to magnify each and every detail of the articles placed behind the glass. This lavish shoe closet has a central space to put various items other than shoes
49. Organize in the "V"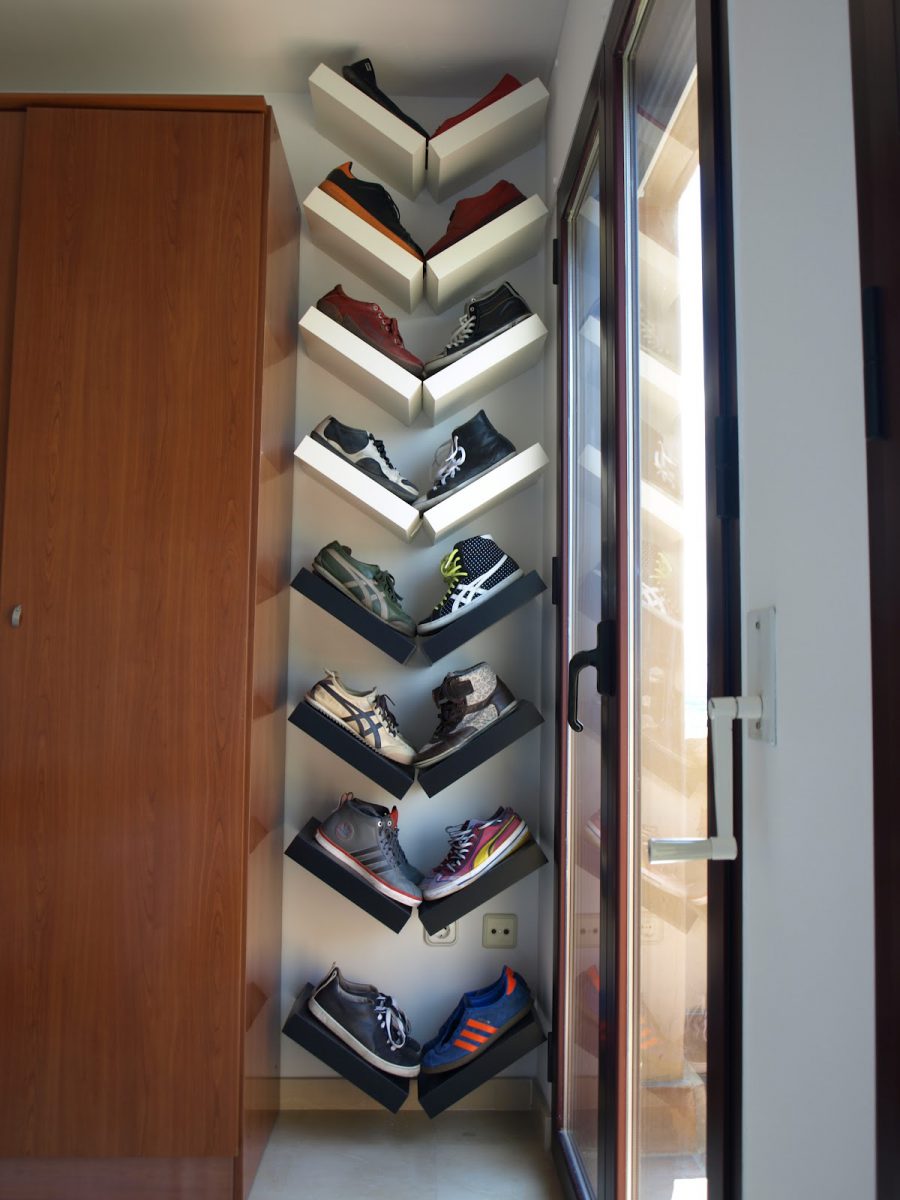 The empty and unused corners of your home are often a matter of concern when it comes to home décor. It is highly desirable to convert such odd spaces into organized storage solutions for your shoe collection. This oddly narrow but heighted space is smartly converted into a V-shaped shoe display wall. Along with an efficient storage for a large number of shoes in a small space, this design offers a complete display of the collection in an aesthetically pleasing way. Illuminated by abundant natural light, this funky and interesting shoe storage solution offers a splendid sight to add to your home décor.
50. A Style Statement With Shoes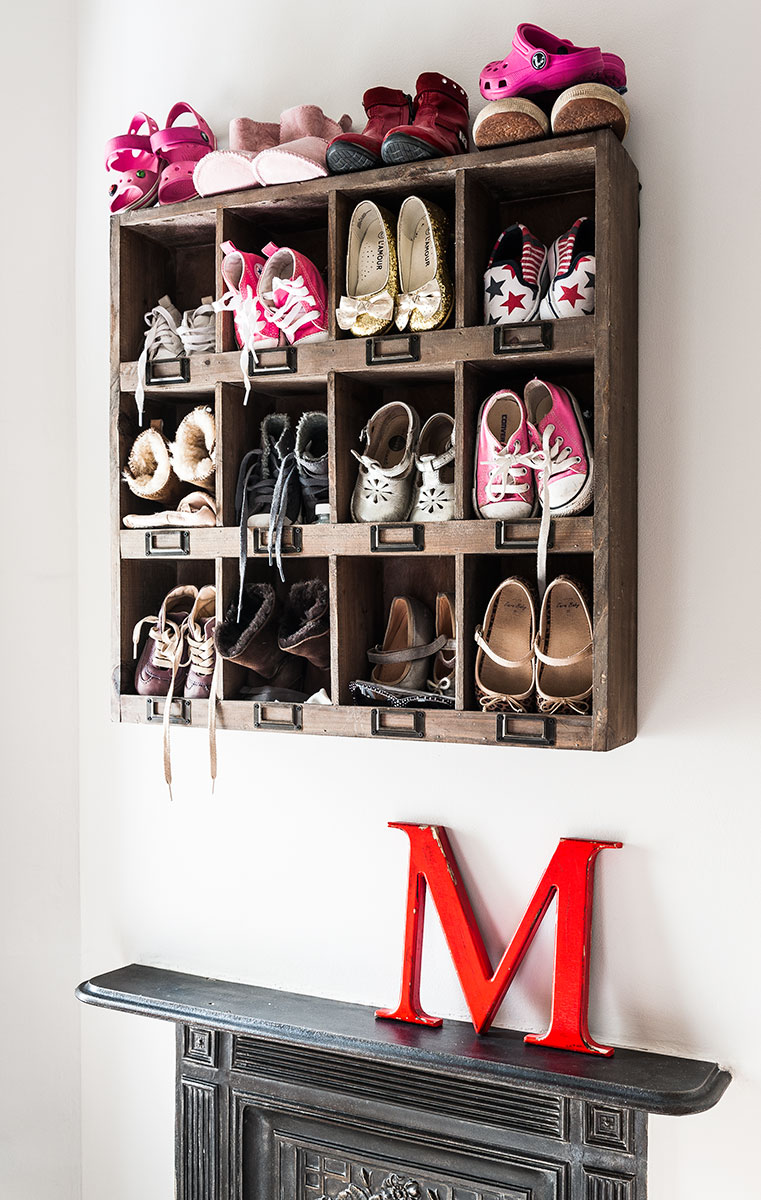 Displaying your shoes by making them a part of the home décor is not a new concept, but there are many creative and lovely depictions available in the home interior design market. You can have a detailed look on them to inspire your idea. One such representation is shown in the graphic where a shoe cabinet is hanging on a plain wall over the well-designed fire place. The cubbies are intelligently sized to accommodate yours and your children's shoes. It must be fixed firmly on the wall to avoid any fall out event.
Check Out The Video Portrait of Best Shoe Storage Ideas