Gaming now a day is a multi-billion dollar industry and a major shareholder in the entertainment sector all over the world. This huge business in driven by the religiously dedicated video gaming enthusiasts, who spend lavishly to satisfy their cravings for an excellent video gaming experience. Similarly, the market for board games, which is much smaller than its electronic contemporary, has its charm and following. If you are one of such hobbyists and pleasure seekers, having a dedicated room for playing games must be a heaven on earth for you. You can set up a special video game room for this ever indulging experience, or transform your bedroom or living room into a place for a comfortable and enjoyable gaming experience. You must have the craving to design each and every bit of your own gaming cafe so that it may reflect the world of games inside you and you would get the feeling of being in your zone while enjoying your favorite games.
50 Fabulous Video Game Room Decoration Ideas To Decorate Inside Your House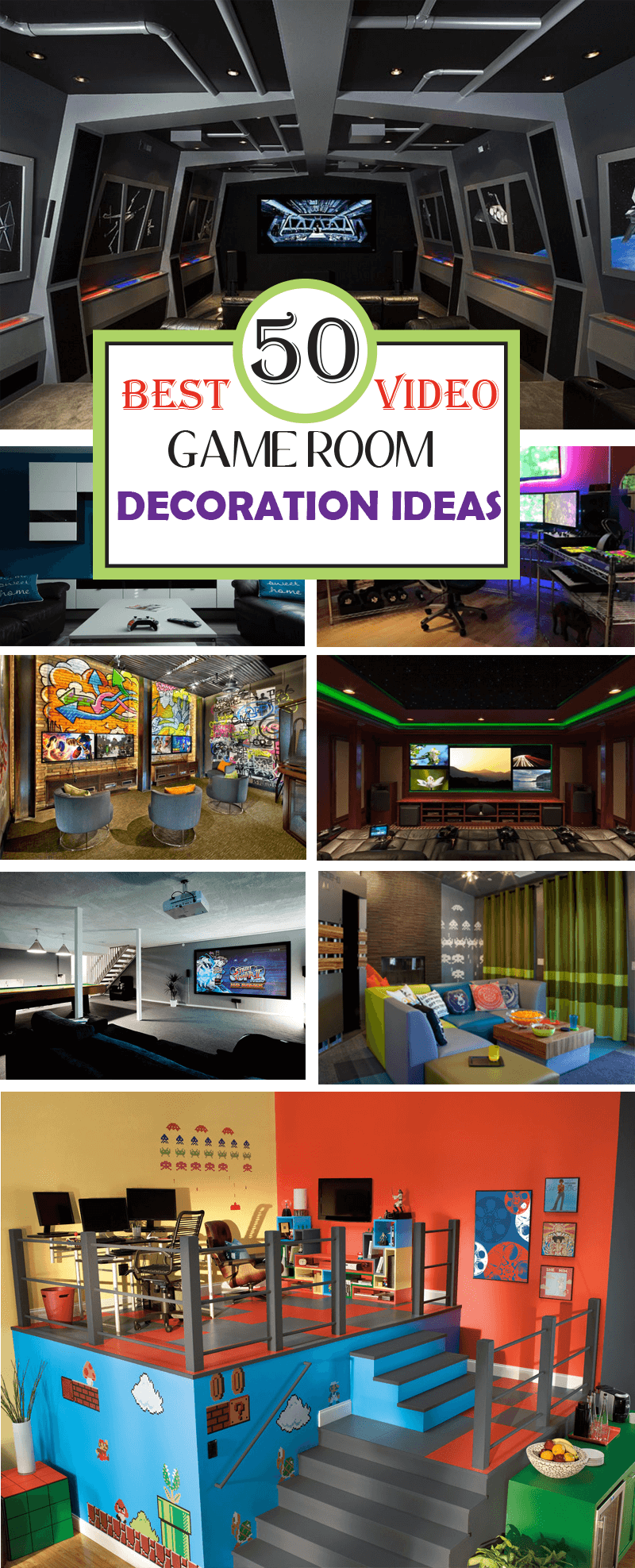 Video game-themed rooms are mostly associated with children and youth, who are more expected to be into gaming and are more enthusiastic about it. But believe me; adults are also getting into the clutches of this genre of entertainment. Many aged people are in love with modern video games and thoroughly enjoy this youthful experience. Also, girls are more and more inclined towards video games as there are many games available on the market specifically designed for females. So extending this hobby into the visible outlook of your gaming spot will add a level of seriousness and playfulness.
Another way to exhibit your inclination towards the video games is to design your home interior using decoration items inspired by the theme of a game. It can be a bookshelf or a chair designed or painted based on video game content, or only hanging a banner or lying down a rug with a video game character on it. Also, you can draw your favorite characters on the wall using bright colored paints.
So video games can provide some new themes and fresh decoration ideas for home interior design. It is not necessary to leave imprints of your love of games in your bedroom and gaming room only. You can decorate your bathrooms, kitchens and other parts of your home with funky and delightful themes and interesting collectibles.
We have compiled some of the best decoration ideas for video game rooms and other places inside your house.
1. Gaming Since The Classical Era

For those people who are in love with video games for decades, they must have played or at least be familiar with pac man. This legendary video game of classical era is nicely implemented as a theme in this bedroom, adding energy, fun and cuteness to the place. The overall white painted room makes it more spacious and well lit, while the yellow and red colors from pac man theme are wonderful to watch. Beautifully crafted characters on the wall and adorable drawer and shelving knobs are well supplemented with a stylish rug, making it a perfect treat for a pac man lover.
2. Expanding it Visually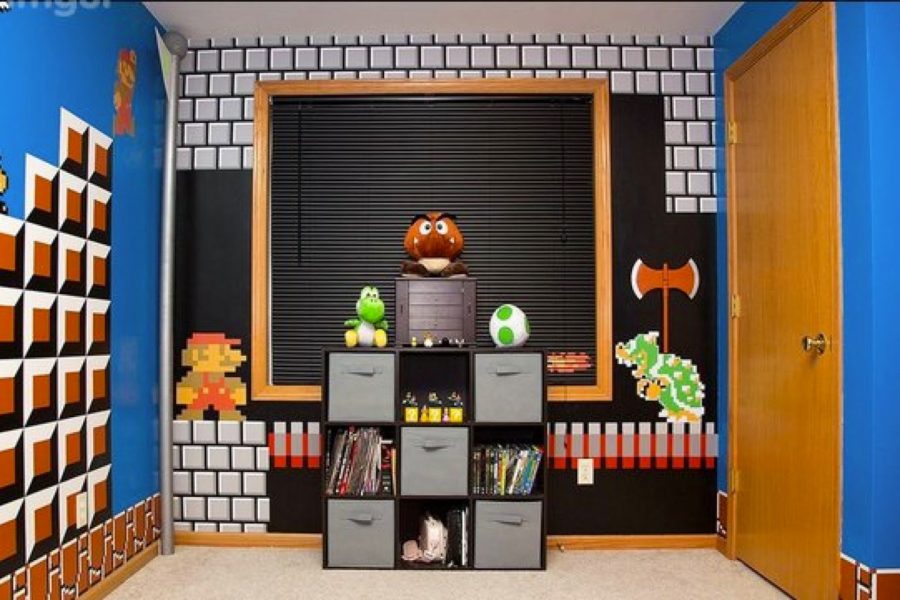 This smartly designed corner can be a part of your bedroom, gaming room, living room or study room. The catch is in the intelligently used color scheme inspired by the classic video game, which makes this small place look like having a tremendous depth. Both walls are painted with visuals of Mario in the gameplay, complemented nicely with the stuffed toys belonging from the same scenario placed on a simple but sophisticated and creatively designed drawer. Even the shades on the window in the background painted in continuation of the gameplay scene gets in nicely with the overall theme.
3. Inside a Spaceship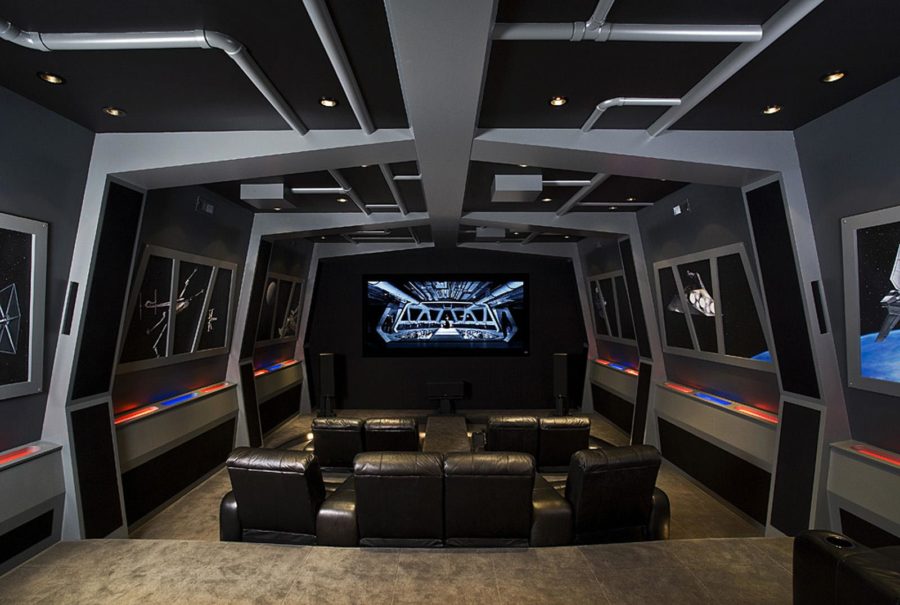 This horizontal space is creatively transformed into a look-alike of the interior of a space ship. Such settings can be seen in many sci-fi movies and video games. You can have an out of this world experience with this decoration idea. On the side walls, nicely printed frames are used to simulate windows from where you can view the virtual outer space. The design of roof themed in black and dark gray colors reinforces the feeling of being in the tunnel of a space ship. The place is excellent for movie watching along with playing video games.
4. Daylight Incorporated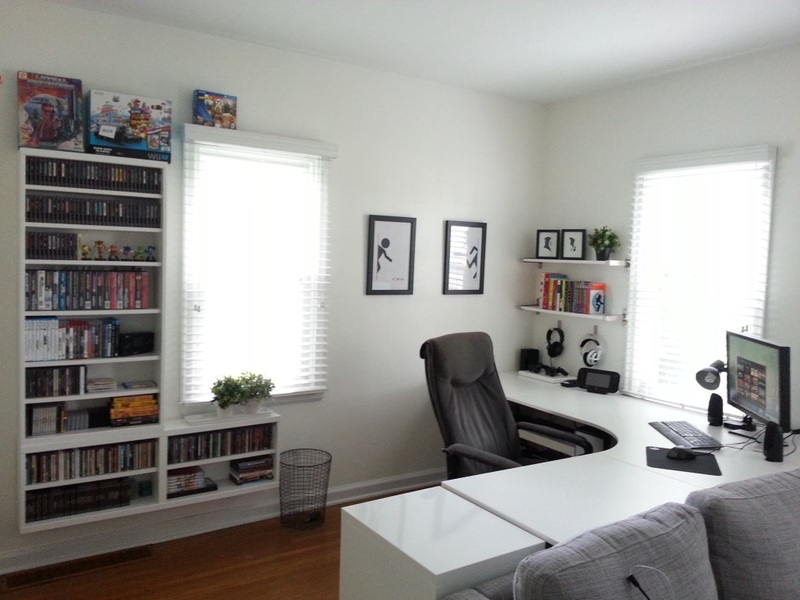 Some people like to enjoy their gaming experience in a more illuminated place rather than sitting in the dark. For those enthusiasts, this setting is a perfect choice. With lots of natural light peeping in through the windows, this milky white place looks more bright and clean. This spacious and airy room is simplistically decorated with sophisticated shelves where you can store your board games and video gaming consoles and CDs. The simple and large desk has enough space to hold your gaming equipment and accessories, which is complemented nicely with a cozy revolving chair.
5. Reinforce the Visual Tool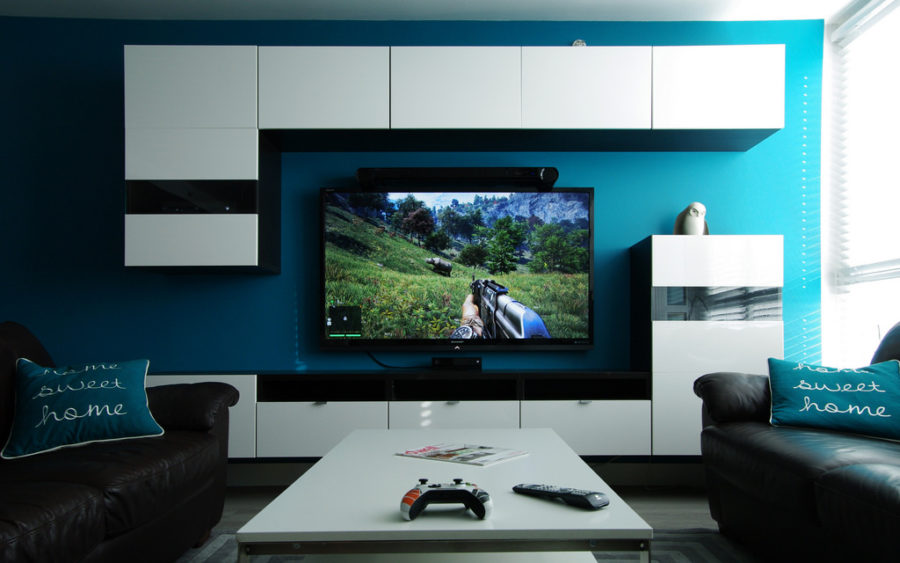 The main feature by virtue of which this design stands out is the intelligent use of framing for an enhanced focal effect on the large screen. This setting has an elegant theme for a gaming place which is more suitable for your multi-purpose living room where you can also watch movies and television while spending quality time with your family. The Dark blue color of the back wall sets in nicely with the black screen, while the milky white cabinets present a pleasant visual contrast. Some matching pillows on a great seating arrangement supplement this decent room for gaming purposes.
6. Illusionistic Flooring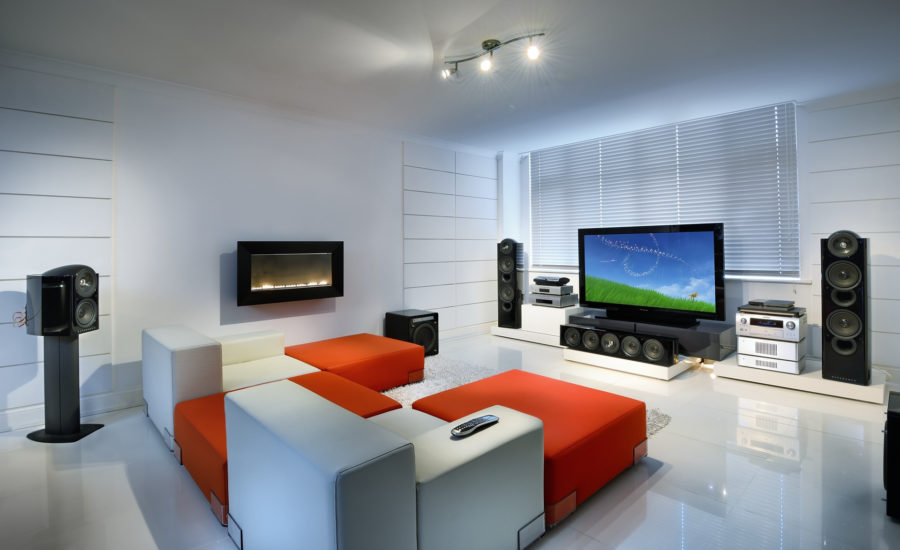 The highlight of this gracefully designed gaming room is the shiny reflective flooring. It creates an illusion of an enhanced depth of the room. The reason being it works the same way as a large mirror does in a relatively smaller place. The overall white color of the walls, ceiling, and furniture not only increases the grace and exhibits cleanliness but also adds to the visual expansion of the space by supplementing the mirror like floor. You can enjoy your perfect gaming experience by sitting comfortably on futuristically designed modular sofas.
7. Beauty Simplified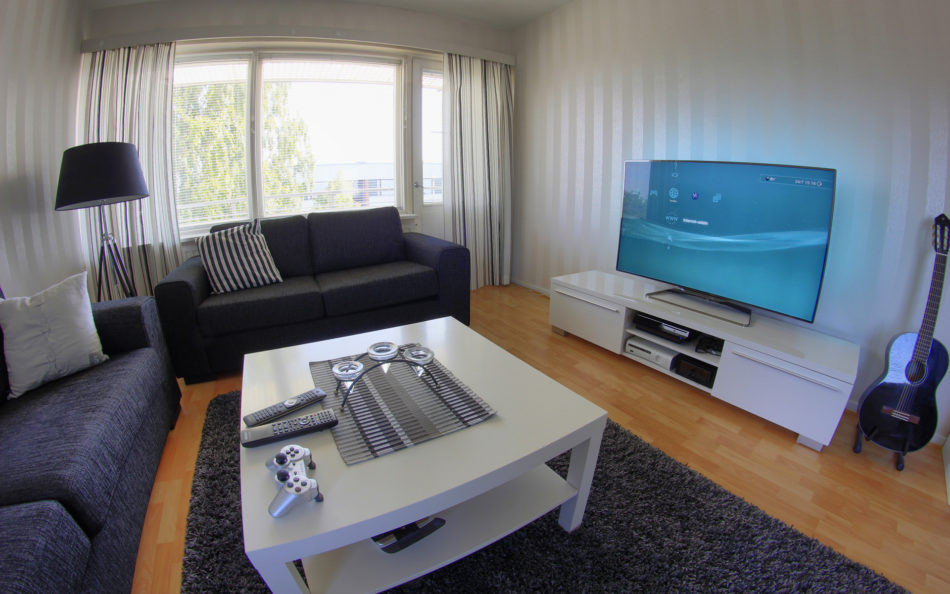 When it comes to the interior design of a gaming room, it is not necessary to load it up with bright colors and outrageous decoration. Sometimes a simple setting can exhibit a lovely sight. Such is the case with this simple design. Elegant wooden flooring with overall white themed room gels in nicely with dark color rug and seats placed on it. The simple white table can be used to put a cup of coffee and other accessories while enjoying a video game or a movie.
More Video Game Room Decoration Ideas on the next page…