30. Store Beneath the Stairs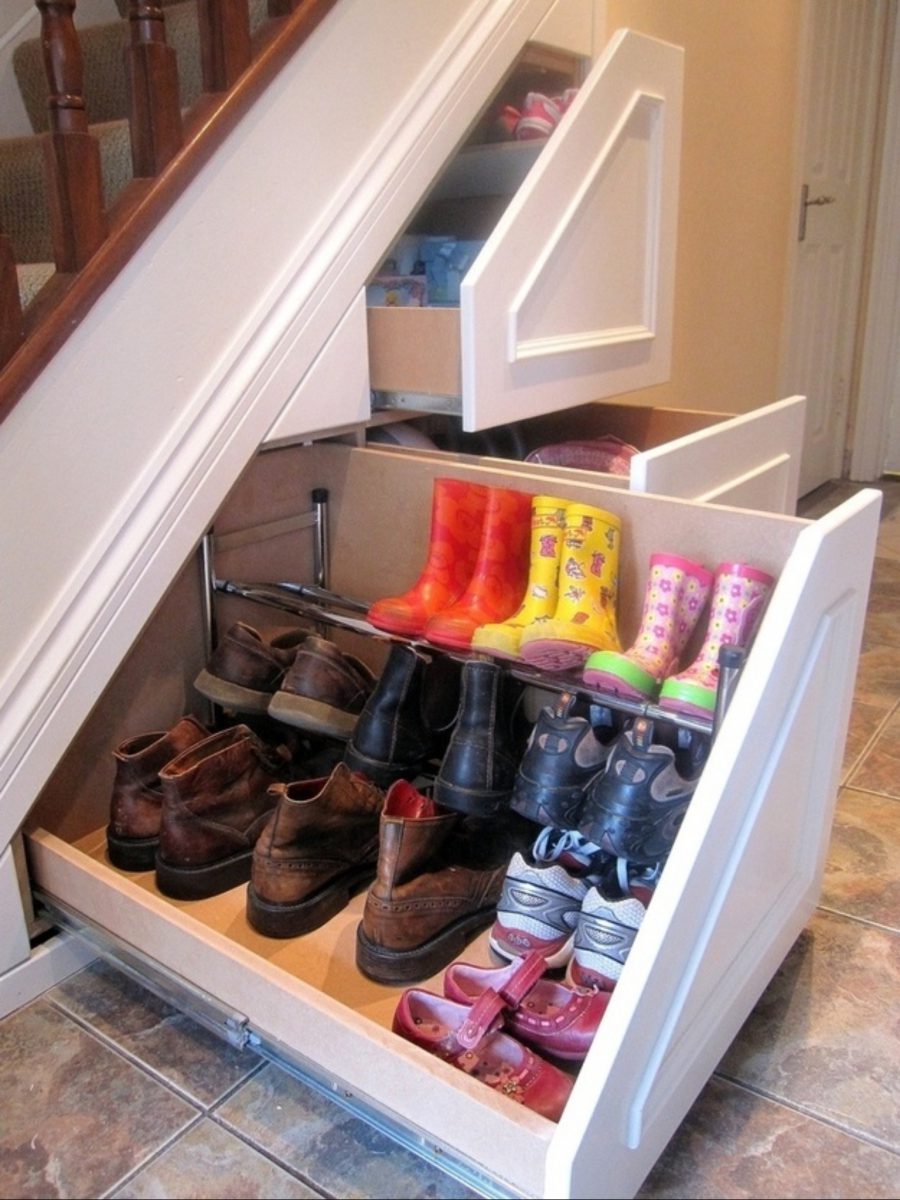 In spite of the fact that stairs are a pragmatic need in any multistory house, but it does not mean that space can't fill a multi-utilitarian need. This brilliant idea allows you to place all your shoes ideally by the front door. You will only see the shoes when you are putting them on and about to leave for outdoor. Contingent to the measure of space you have underneath your stairs you can accommodate as many shoes as possible. Store the shoes that you are regularly using or those that are in season.
31. The PVC Bird Holes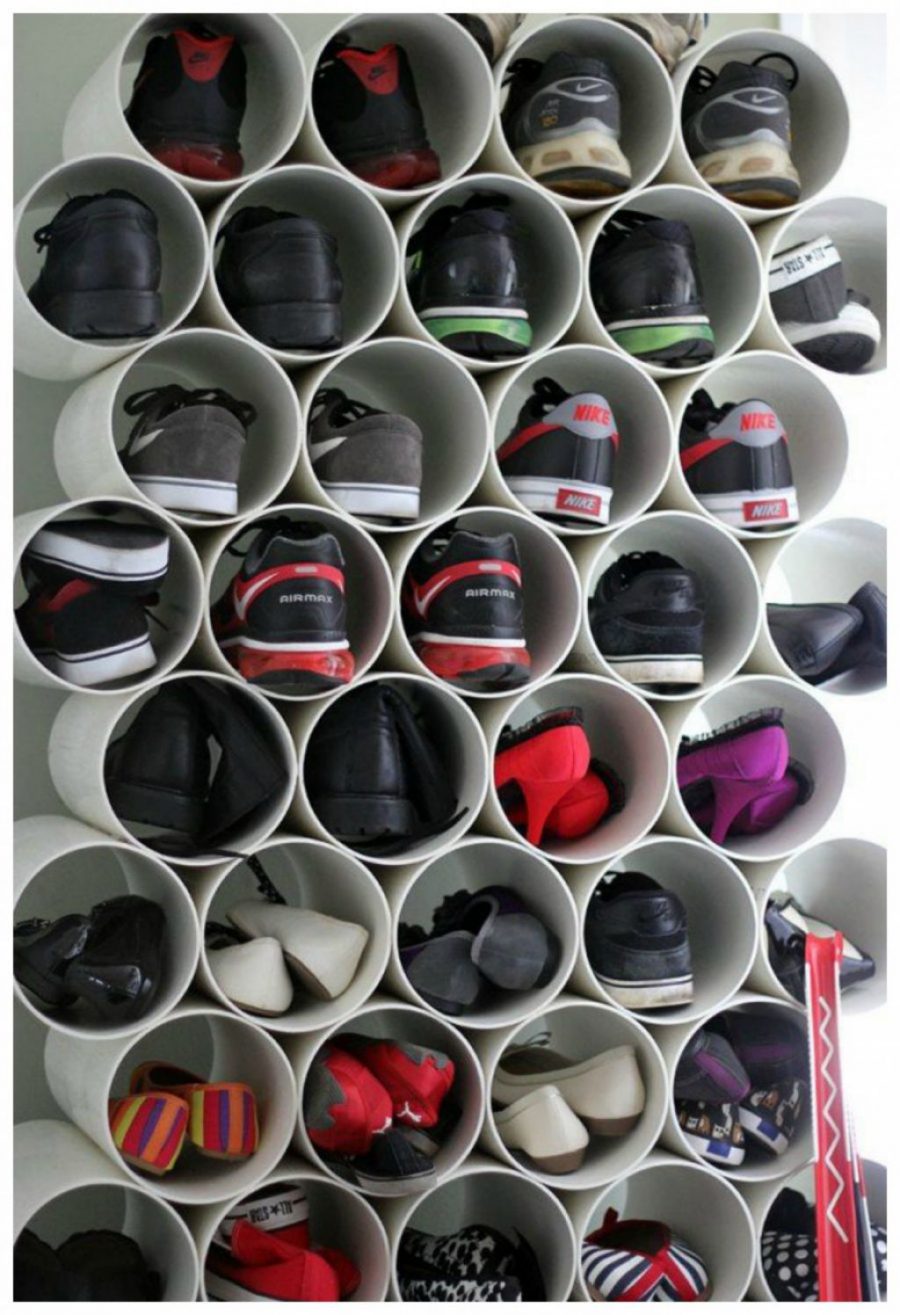 If you have a vertically extended space to store your collection of shoes without much depth available, then this funky and creative design can grace your shoes in a different way. This casual shoe storage space is an ideal match for casual footwear like sneakers and joggers. The best part is that this design occupies a very limited area and accommodates a lot of shoes as shown in the graphic. This economical and smart storage idea is easy to maintain and clean. Interestingly, you can design your own pigeon hole like shoe house by using PVC pipes of various sizes. Also in case your collection swells, you can always add up some more holders to the storage.
32. Explore The Depth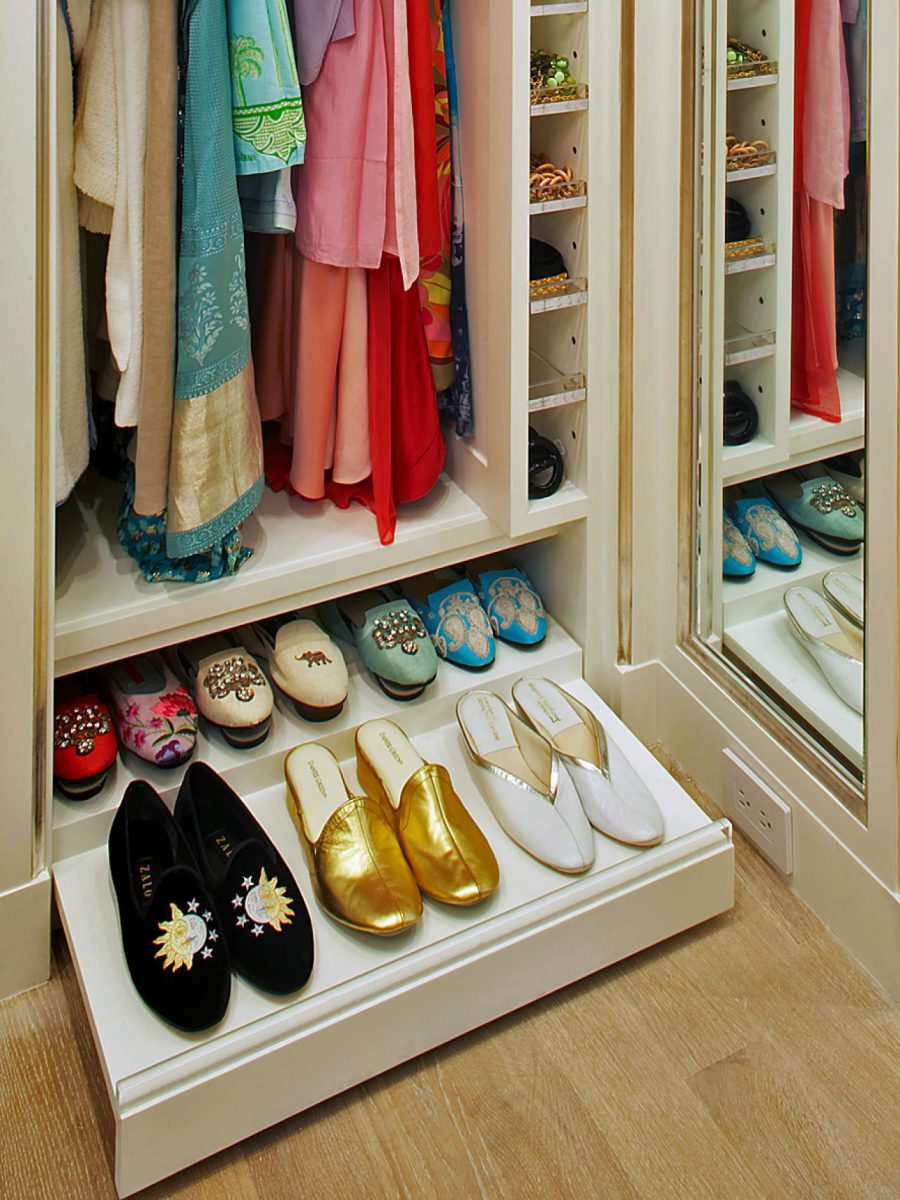 Sometimes you encounter a storage area with a sleek and reduced interface, but a lot of space on offer in terms of depth. To get the maximum out of such tricky spaces, you can employ a long drawer to store a large number of shoes on it. There is an example where the area underneath the hanging cloth cabinet is smartly consumed by using this approach. Along with the enhanced utility, this design adds to the aesthetics of the storage cabinet, where you can pull out the drawer and select your preferred footwear in a stylish manner.
33. Modish Display on Metal Rods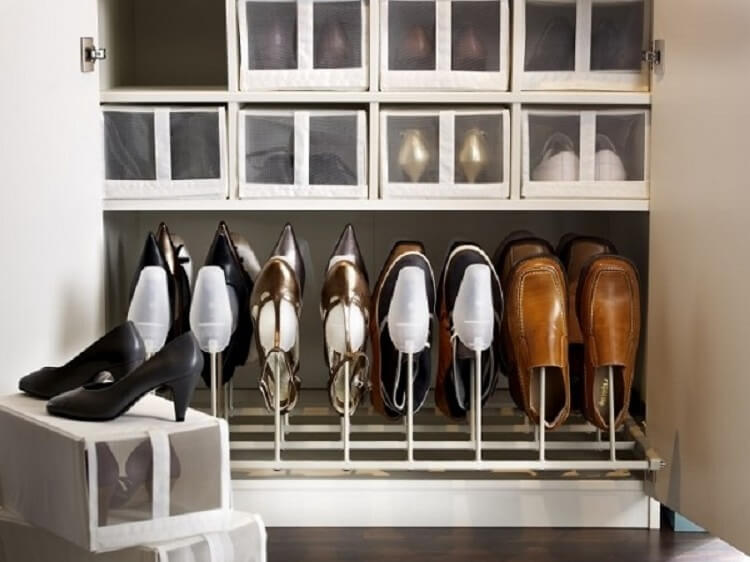 Proper display of your shoe wardrobe is one of the most important factors when it comes to the design of your shoe storage. It helps in conveniently finding the pair of shoes required at a particular point in time. This idea for shoe storage fulfills that requirement quite nicely. The shoe holders at the bottom of the shoe closet give you a feeling of visiting a lavish showroom for buying a pair of expensive branded footwear. You can place more expensive shoes in the closed shoe cupboards to keep them safe from dirt and dust.
34. Elegance in the Air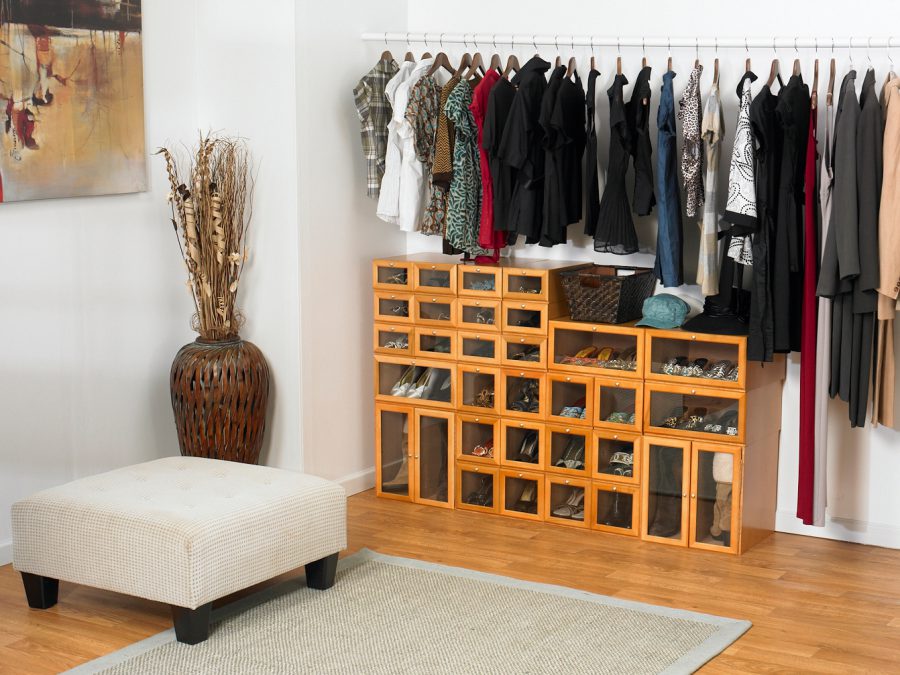 You cannot get many shoe storage design ideas with the extent of customization available in this design. The shoe collection is carefully placed inside wooden boxes with clear glass doors. You can vary the number of boxes in this closet according to the number of footwear in your possession. Similarly the size of the boxes can be varied according to the shape and size of shoes inside them. Along with the by default customization and efficiency traits, this design offers an elegant display of your shoe collection. The wooden flooring and a simple rug along with a stylish bench placed on it spreads the overall feeling of serenity.
35. Little Ones Held By Hooks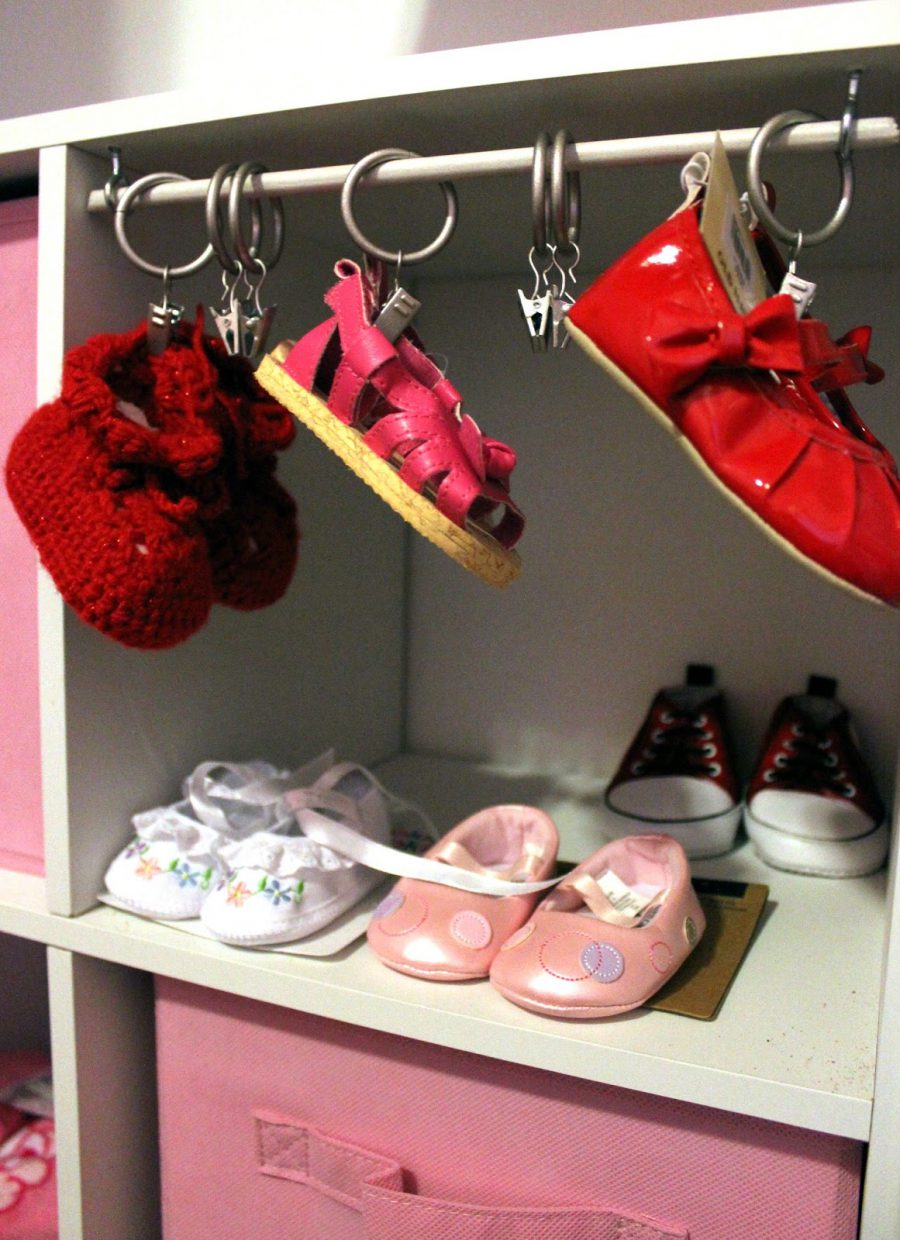 Baby shoes are difficult to organize as they are small sized and it is not feasible to place them in conventional shoe storage spaces. This innovative idea for the shoes of your kids solves the issue smartly. If you are just going to start a family and you have a lot of baby shoes to cope with, then this idea can inspire you. The hooks ensure the optimum use of the space above the average sized cupboard which usually remains spare due to the small size of shoes placed on them.
36. Innovative Shoe Hanger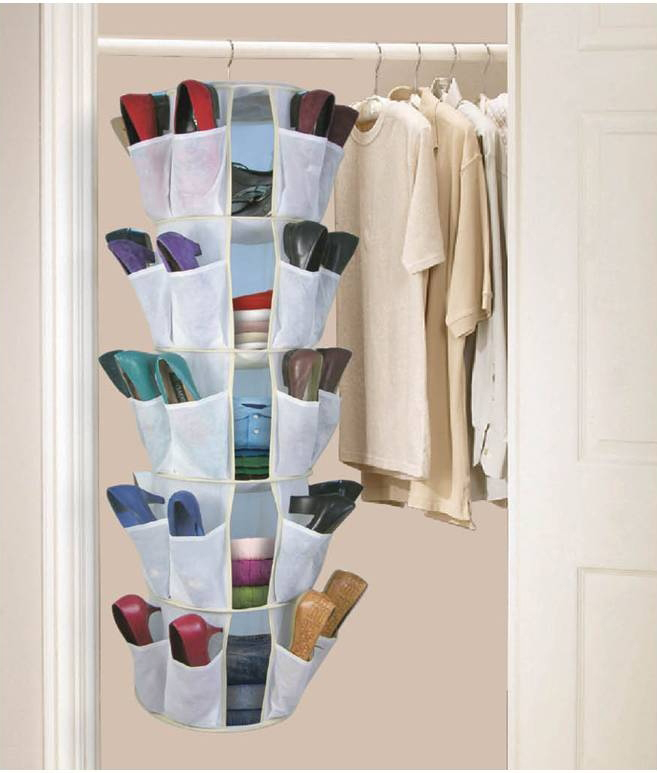 Sometimes when you run out of space in your shoe storage area, the empty space in your closet for hanging clothes can come to your rescue. This unorthodox shoe storage idea makes full use of the unused space available in the cloth hanging area. It also adds to the convenience as you can match and choose the perfect combination of clothes and footwear at the same time while searching into a single closet. The space in the middle for the folded clothes multifold the utility of this creative design idea for shoe storage.
37. Build your Very Own Boutique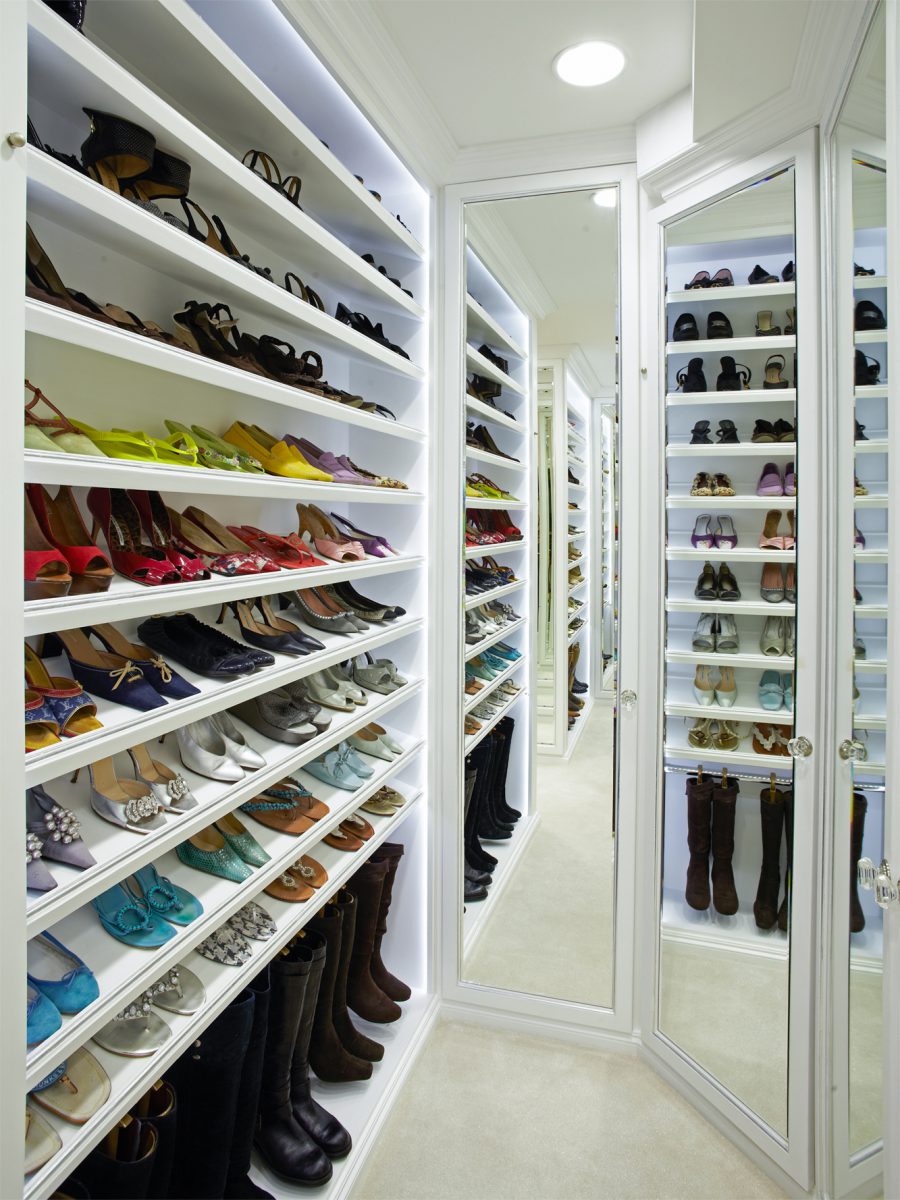 There can be many ways to build storage for your beloved shoe collection. One of them is to design a whole walk in closet for organizing your footwear. This shoe storage design has a class of its own. The expensive shelving with mirrors all around gives you a nice pampered feeling of being in a high end showroom. With plenty of space for your collection of footwear no matter how large it would be, this design emits the feeling of decency and calmness. The milky white color of the locale along with large mirrors from floor to ceiling inherits the vastness of this splendid sight.
38. Voguish Display Inside the Closet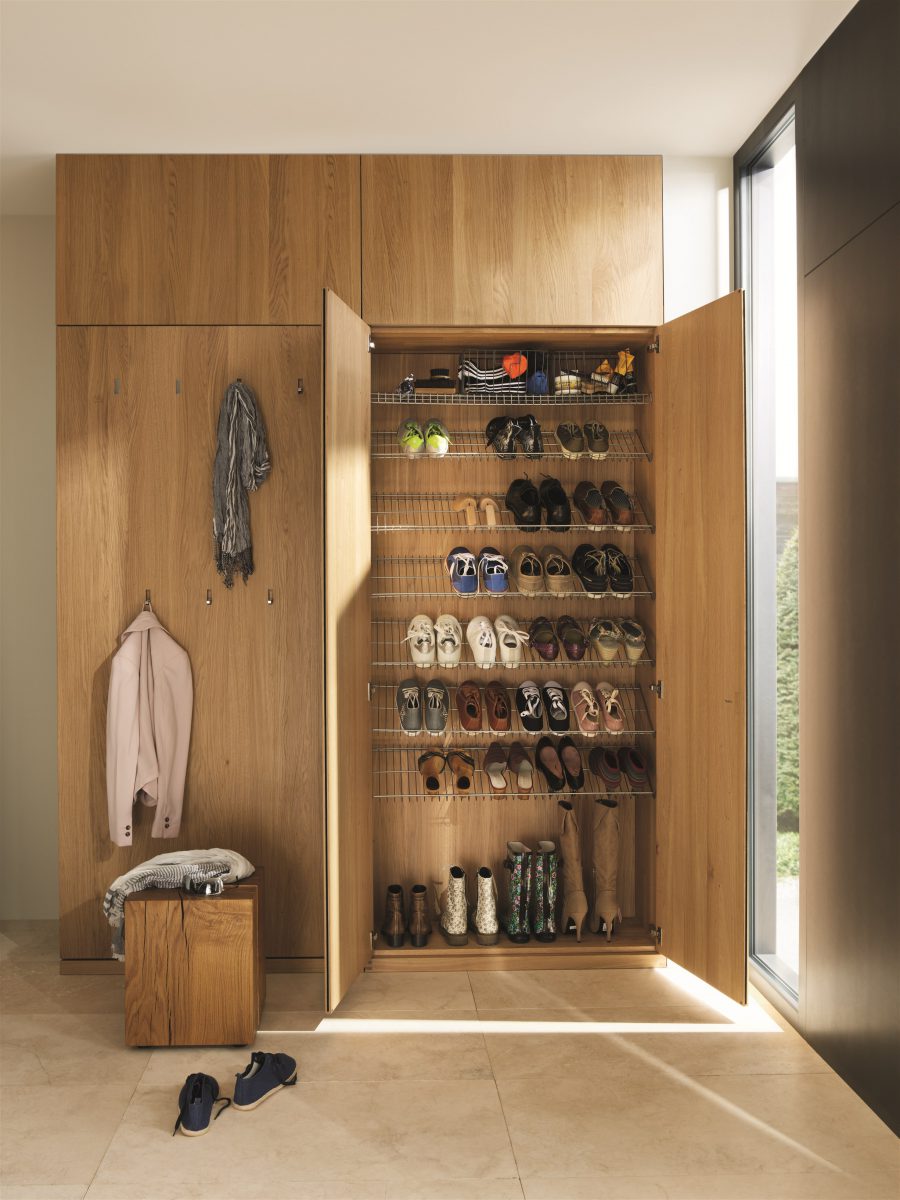 Sometimes you may find it irritating to have an encounter with your shoe collection every time you open your combined closet for clothes and footwear. This issue is comprehensively addressed in this closet design idea. There is a separate and dedicated closet to store and display a vast collection of shoes. With more than enough space available in the cabinet, you can stylishly arrange and display your wonderful collection. Another feature of this idea with a voguish display is that it allows you to customize the size of racks according to the shoe size.
39. Multilevel Storage Solutions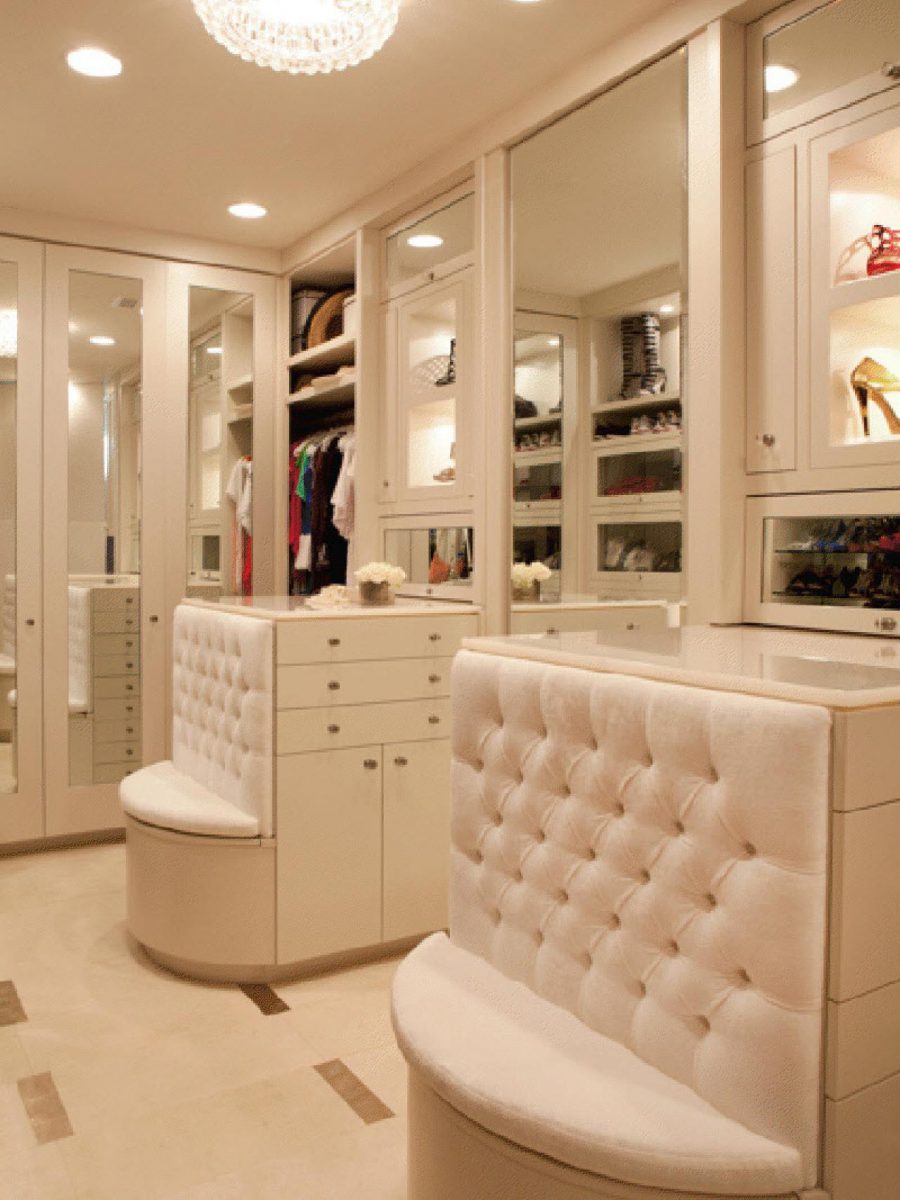 It is always nice to have a number of different storage options in a single design idea. You can place the most frequently used footwear in the open storage boxes or shelves. For more valuable and precious shoes which are worthier to show off, you can always opt for closed cabinets with glass doors. Moreover there are drawers serving as another storage solution for shoes and other allied accessories. The overall serene tone of this walk in closet is supplemented by wonderfully designed benches which are perfect for sitting down and putting up or removing shoes.
More Decorative Shoes Storage Ideas On The Next Page…