Have you ever wanted a stone or marble sink for you kitchen or bathroom only to look at the price and drop the idea like a hot coal? Well acrylic stone are here to save the day!
Acrylic stone is a composite material made out of acrylic resin and coloured pigments that forms a solid surface. This material comes in a wide variety of solid colours, patterns and imitation marble or stone finishes so you can fit the sink that fit with your style. The benefits of this stone alternative are endless. It is really durable, non porous and water resistant which makes it easy to clean and very hygienic. The colour, whether you pick a solid colour or a stone like finish, is also fade resistant and lasts longer than the real deal in the long run. This material is also a fraction of the price of solid stone so you have all the benefits of stone but for far less money.
26 Acrylic Stone Sinks for All the Style with More Flexibility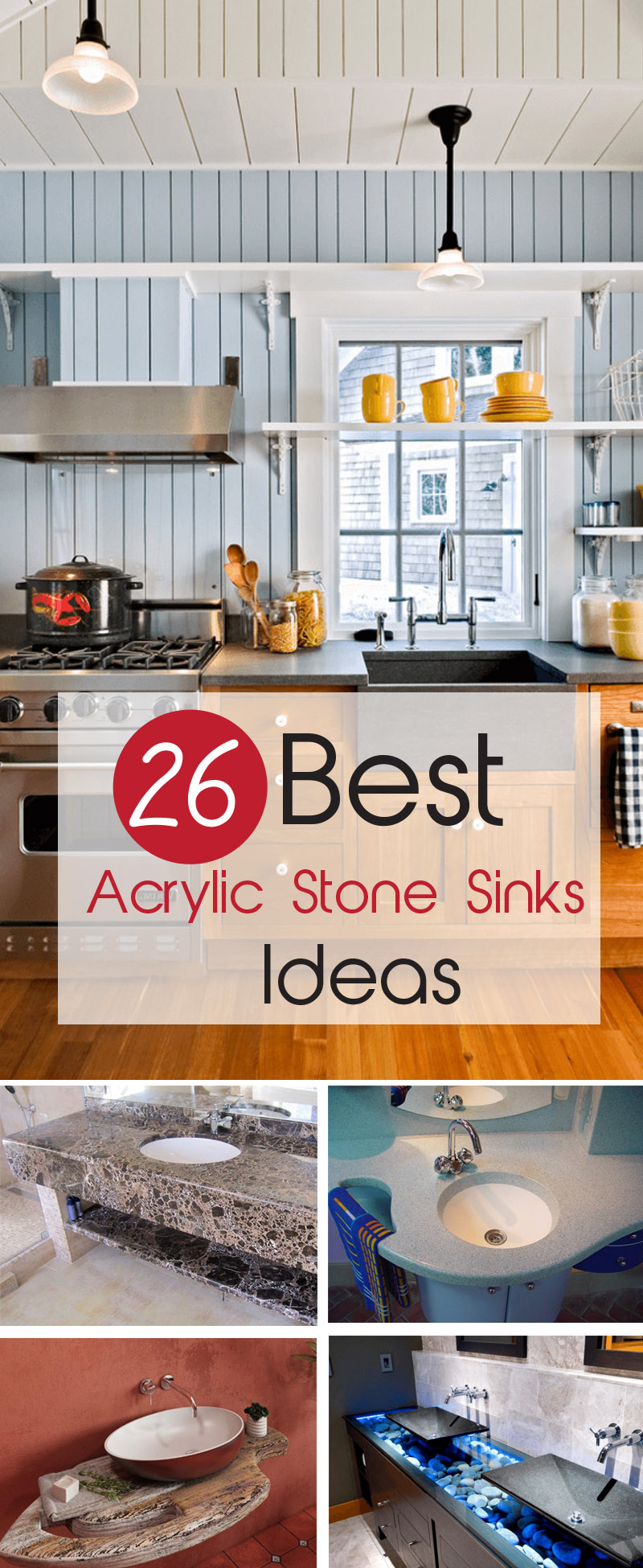 If all that wasn't enough acrylic stone, when heated to the perfect temperature, becomes flexible so it can be moulded into any shape you need and even blend from one element to another, for example a countertop, into a sink, into a splash back, with no visible joins in sight. This also means that the materials can bend seamlessly around corners or form curved natural shapes that look convincingly real.
So if you want to delve into the wonderful world of this incredible material here are:
1. Highly Textured Marble Affect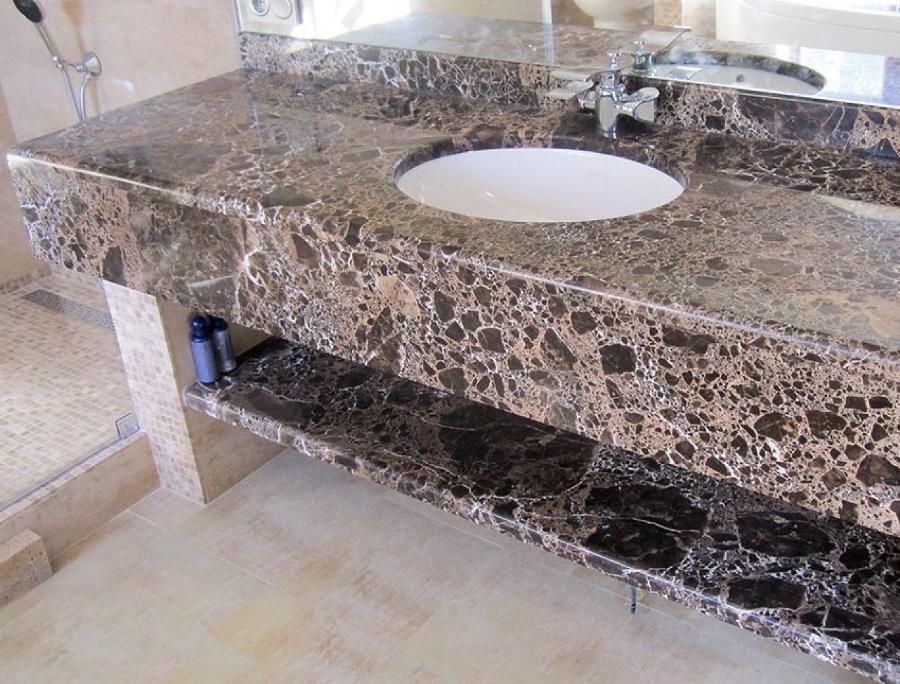 This minimal bathroom has used the dramatic marble effect sink and bathroom counter as the statement feature. The actual bowl is a simple small, white bowl in the middle of a large countertop with a matching shelf underneath for added storage. Acrylic is being shown at its best here as it drapes down front and curves up at the back to form a splash back with no seams whatsoever. This is the perfect example of how to use acrylic to achieve the texture and colour of marble with more flexibility and none of the added cost.
2. Wacky Twisting Sink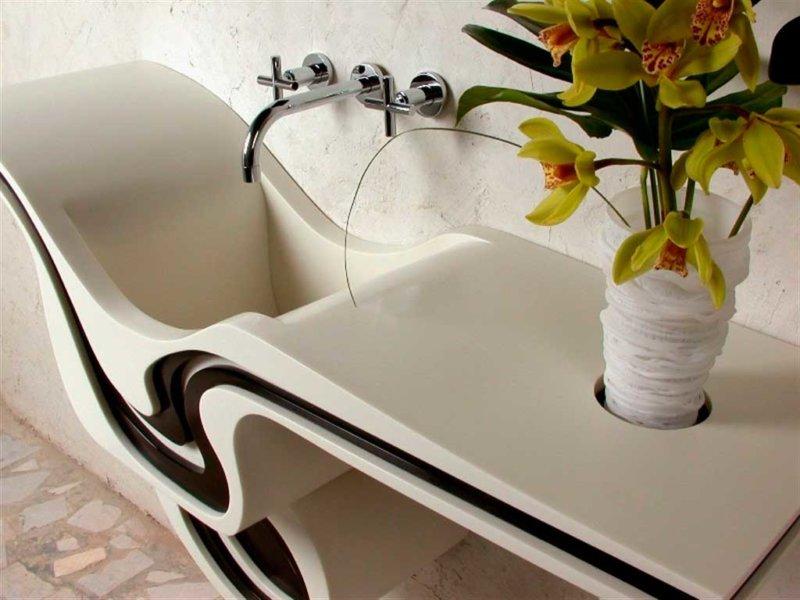 This gorgeous wacky sink takes full advantage of the flexibility of the material to create this stunning twisting design. This all in one piece is an asymmetrical design sitting on a round base rendered in a rich cream tone accented with a dark chocolate shade in the recesses. It begins at one end at the height of a curves and dips sharply into the deep sink and flows right back out again to form a small counter with a built in pot plant holder.
3. Grey Speckled Finish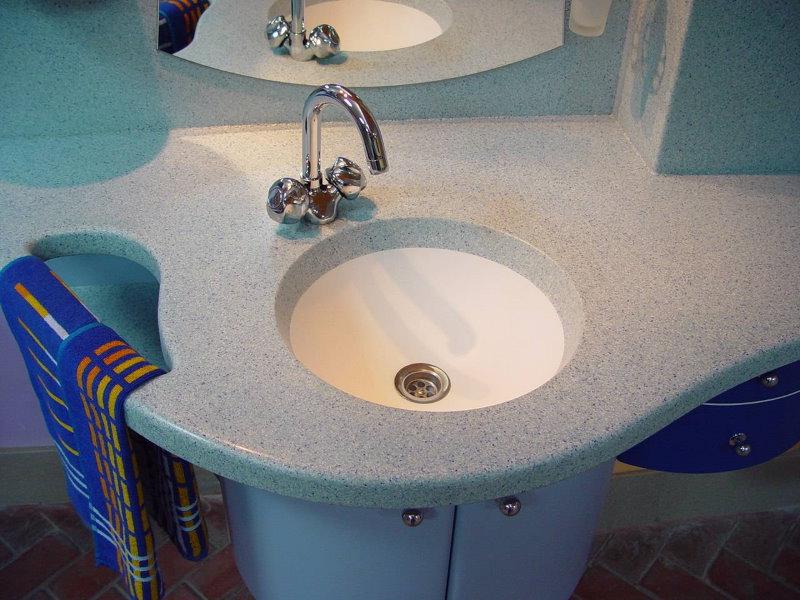 This little grey sink unit is a subtle twist on a classic sink design with a beautiful speckled stone-like finish that incorporates a clever hand towel rail right into the design. The small sink bowl is white with a thick rim of grey that curves effortlessly into the sink bowl, around the built in towel rail and up the walls as an alternative to wall tiles with no seam at any junction. The grey finish has a slight blue tint to it, which is a shade that been used throughout the rest of the bathroom so the whole space feels cohesive.
4. Hollowed Out Pebble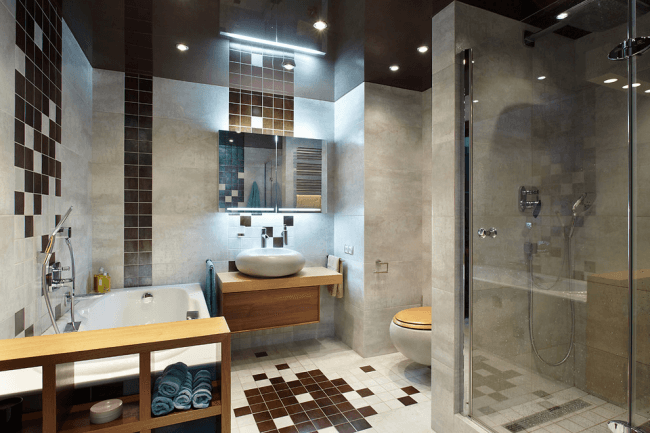 This very eclectic bathroom uses a lot of different materials, textures and patterns to achieve this sophisticated look. The sink itself sits on a wooden corner shelf mounted to the wall and resembles a large polished pebble that has been worn away by water overtime to form the bowl. This is a case where acrylic really shows off its versatility as it convincingly imitates nature.
5. Asymmetrical Sink with Built in Towel Rail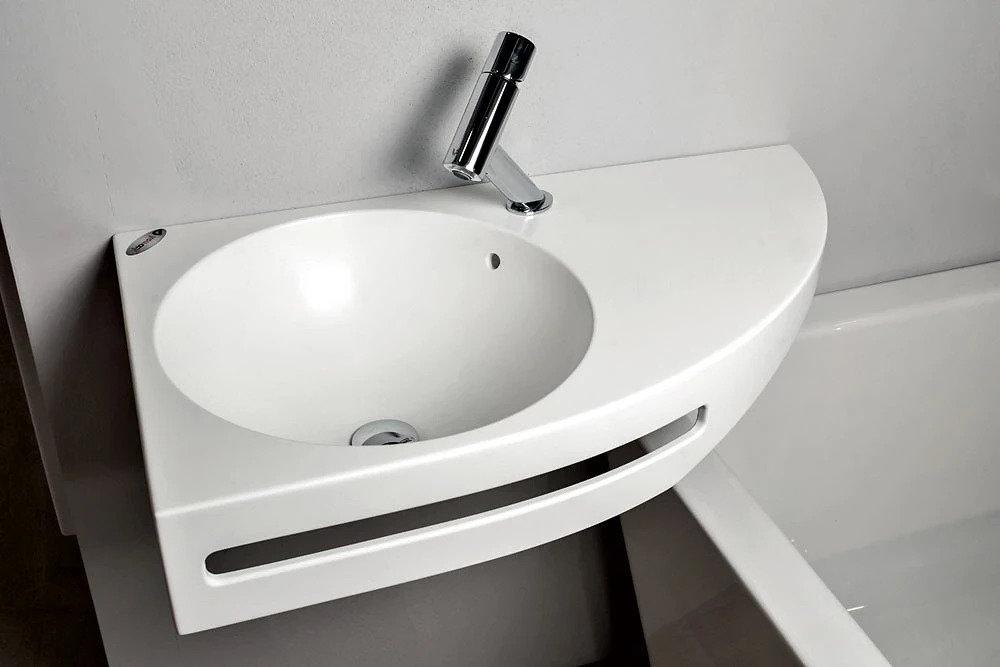 In this modern bathroom acrylic has been used to create a seamless all in one unit that is light enough to be mounted to the wall. A wide, deep bowl has been recessed into a thin walled wedge shaped unit that maximizes on the sink space even in close quarters. This is ideal for small bathrooms since it takes up very little space and it even comes with a round edged slot cut into the side of the sink to create a built in hand towel rail.
6. Royal Blue Countertop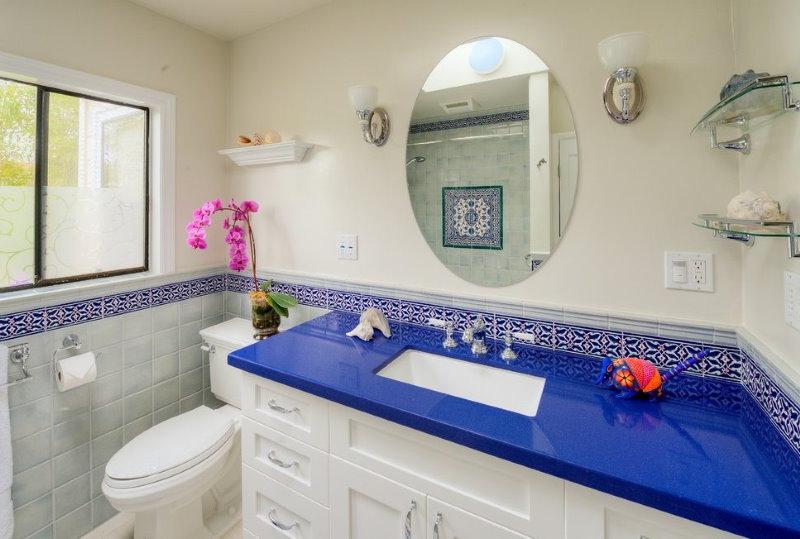 This classic bathroom has used a predominantly white colour scheme so that the one bold pop of blue in the countertop really takes centre stage. The thick acrylic countertop has a thin lip that runs into the tapering rectangular bowl that has been left a classic bright white. The colourful, reflective surface takes this space from pedestrian to eye catching in the blink of an eye as well as coordinating with the dado rail of white and blue ceramic tile and rings the bathroom as a whole.
7. Huge Acrylic Stone Kitchen Sink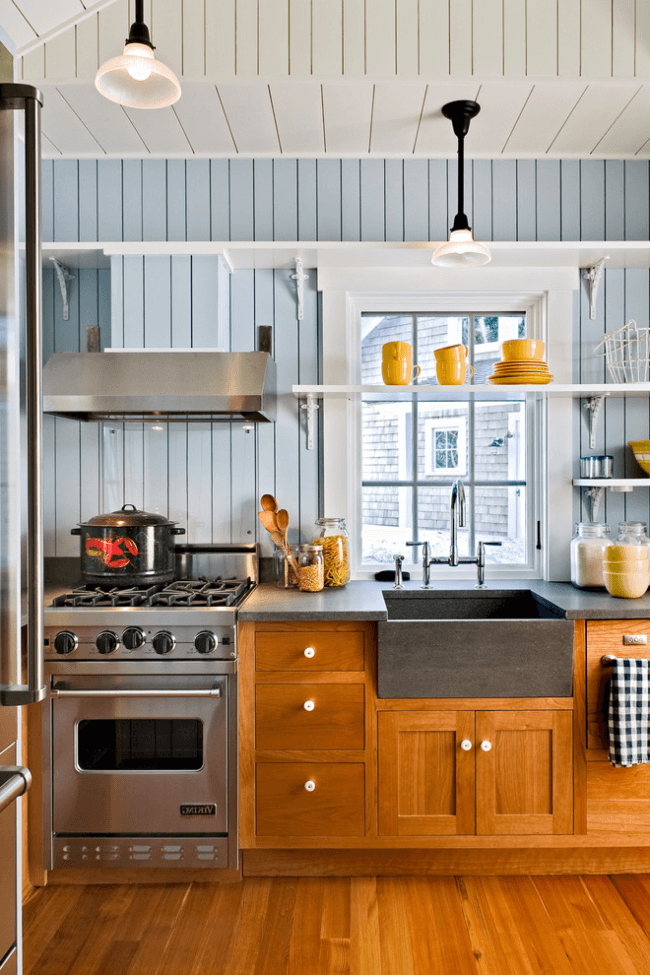 Stone countertops are a really coveted kitchen material that is beautiful but not kind on your wallet. Now acrylic stone is here to solve all your problems. Here the counters and sinks have become one with slate grey finish running down into the sink itself. The sink is really large and deep that provides plenty of space for dishes or prepping. This style is a great use of a small space without making the kitchen feel cramped and the shade works well with painted wood paneling and stained timber floorboards and kitchen units of this quintessentially rustic kitchen.
8. Mock Roughly Carved Sink Bowl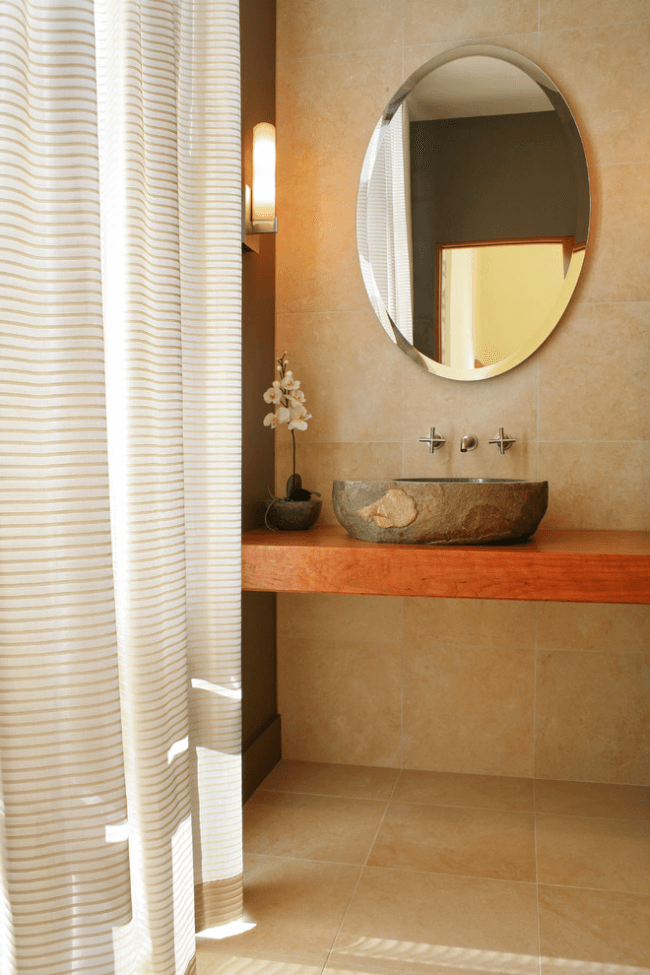 This sneaky acrylic sink, rendered in a natural grey stone hue, looks like it has actually been carved from stone with its exterior left rough and rugged with a smooth finish inside. It sits on top of a thick wooden countertop beside some beautiful orchids so nature represented has been represented in different forms in one small space. This beautiful sink manages to bring some flavour into a very neutral bathroom.
9. Slate Grey Countertops and Sink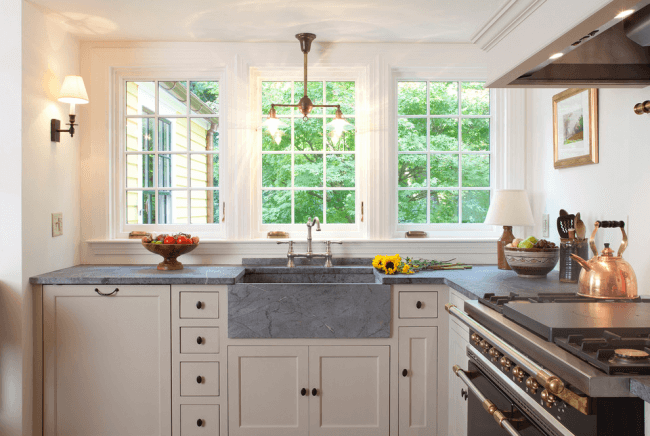 In a similar technique to example 7, these countertops and large deep rectangular sink have been made of the same mock marble acrylic stone. The finish is convincingly marbled with multiple hues of grey to create a stunning texture throughout the contemporary kitchen that works cohesively with the cream kitchen units and white walls. The sink itself is deep and spacious and keeps dirty dishes out of sight.
10. Abstract Acrylic Countertop and Sink Bowl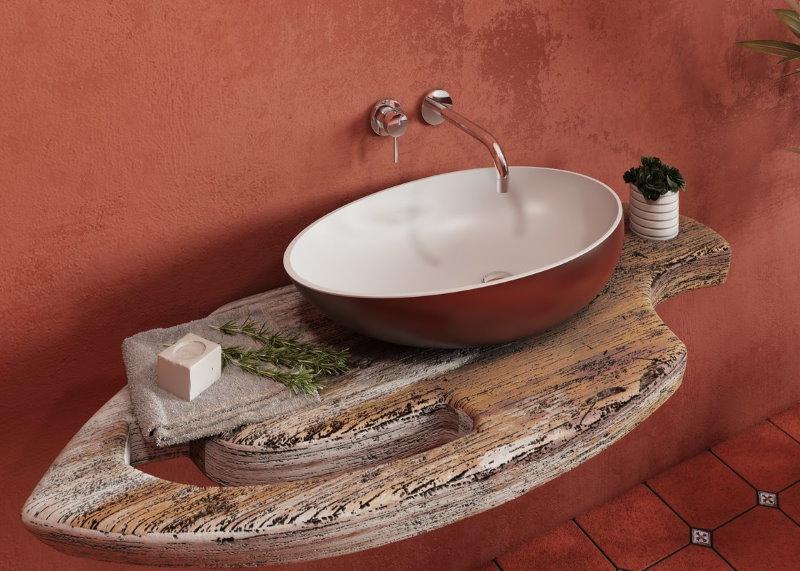 This rustic crimson bathroom has used two different acrylic pieces to form this unique hand washing station. A small arrowhead shaped counter projects away from the wall in a mock timber finish with a curving slot cut into it for the hand towel. This shelf holds up an egg shaped hemisphere with is pristine matte white in the centre with a red outer shell to match completely red hued interior. The bowl is sleek, thin and seamless which lets the acrylic really show off its skills.
11. Modern Abstract Double Sink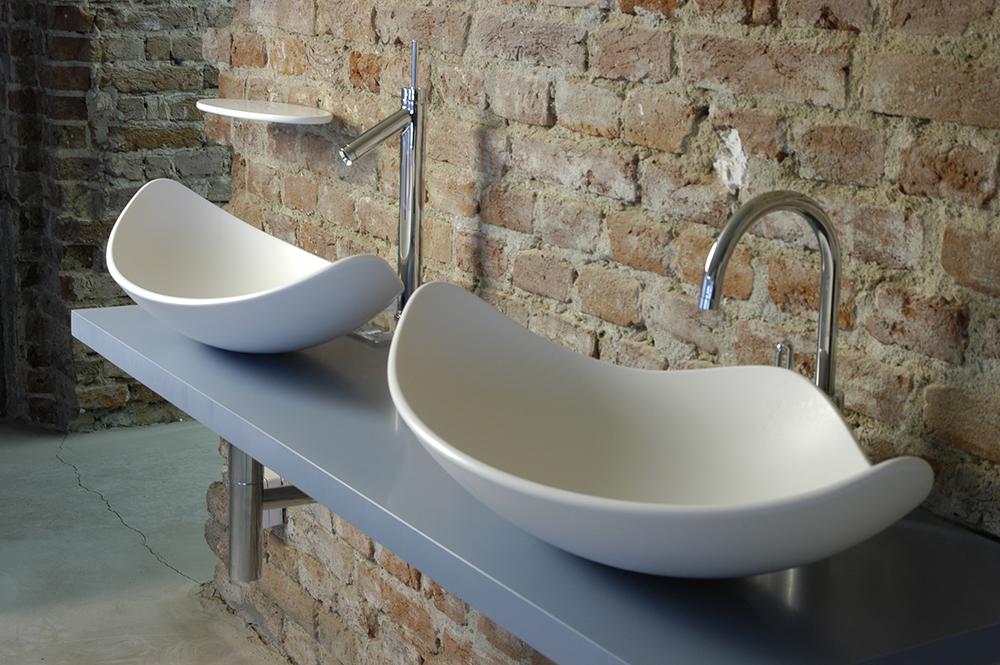 This stunning eclectic bathroom plays with texture, colour and coordination to create this elegant look. A long acrylic, muted blue countertop is smooth and seamless with two coordinated sinks that don't match sitting on top of it in the same material but a totally different shape and finish. The curved sink bowls, in a smooth matte white, almost resembles giant broken eggshells that have been combined with mismatched modern stainless steel taps. This super sleek sink configuration works very well against the texture of the exposed brick wall behind it.
12. Timber and Marble…or is it?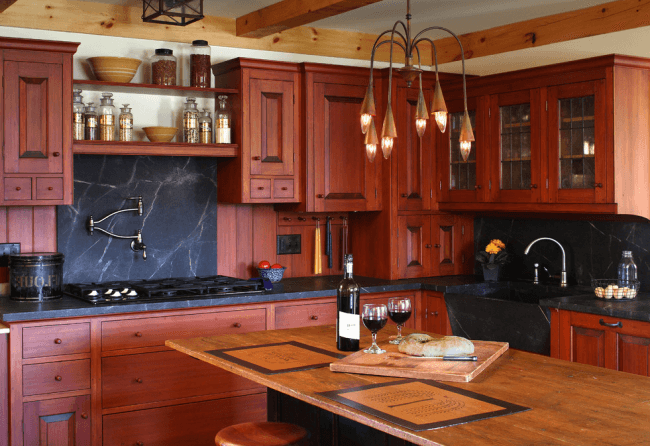 This whole kitchen is a rustic combination of red timber kitchen cabinets and exposed wooden beams with acrylic stone countertops that is very cohesive and homely. The versatile acrylic mimics black marble perfectly without the cost and fragility. The sink itself is another deep rectangular kitchen sink that keeps the kitchen looking neat and gives you plenty of space to work in.
13. Undulating Onyx Sink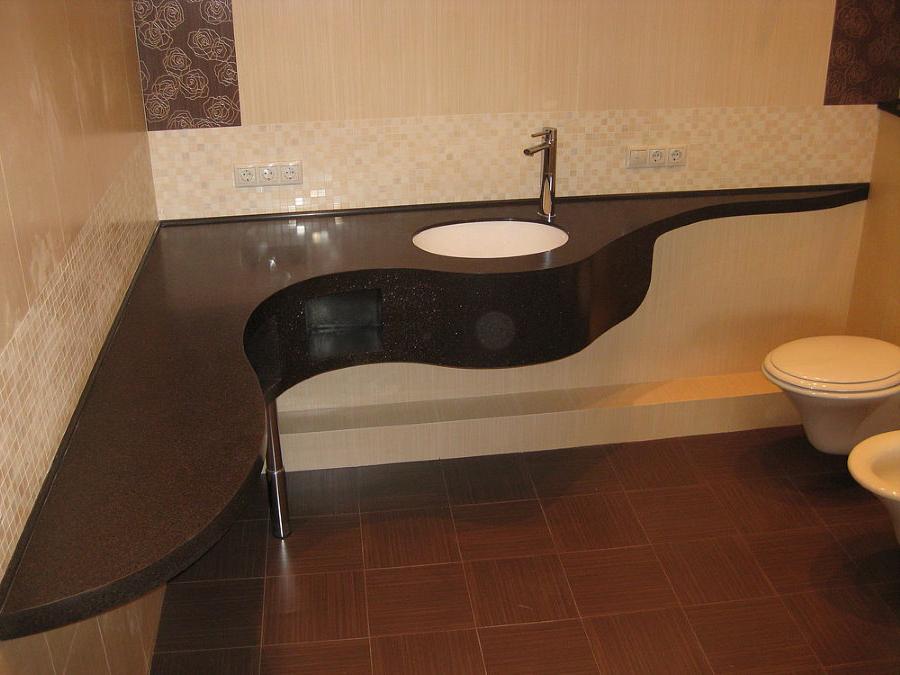 To show off the flexibility of acrylic this speckled counter black with a highly reflective surface undulates around the corner with a lip that is thin on either end but drapes towards the floor below the sink itself. The curve of counter has been carefully placed in the most convenient spot to stand and use the sink to subtley improve the ergonomic use of the sink. The white acrylic bowl sits in stark contrast to the onyx surface in both colour and simplicity.
14. Luxurious Monochrome Double Sinks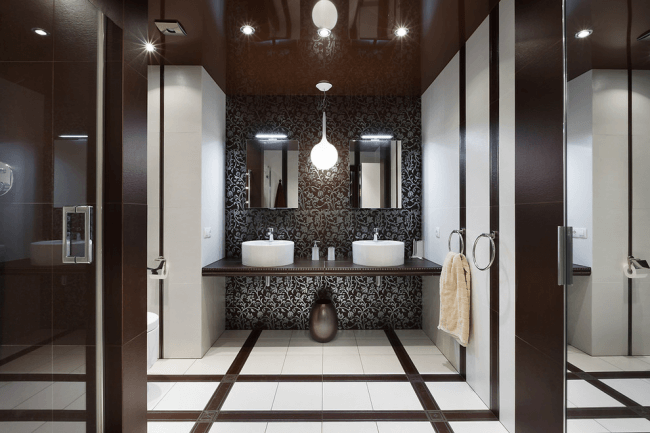 This entire glamorous bathroom has a statement monochromatic design including the matching acrylic stone sinks. The thin black countertop supports two freestanding white sinks with high sides in a pure white, which stands out against the black and white flocked wallpaper.
15. Futuristic Stone Sinks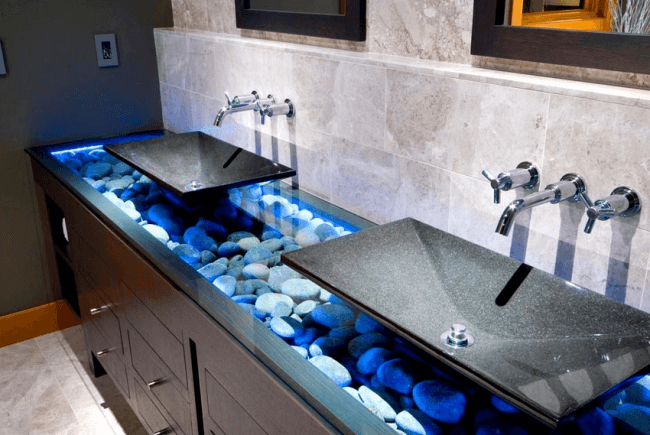 This pair of speckled realistically textured acrylic stone sinks has been sculpted into a tapering geometric polygon that sit on a transparent acrylic countertop. The sinks appear to be floating over the large river rocks underneath the surface that have been lit by blue LED lights that are concealed in the rim to create this science fiction aesthetic. This out of this world acrylic display is a clear focal point against the marble tiles and plain bathroom cabinets.
16. Long Shallow Kitchen Sink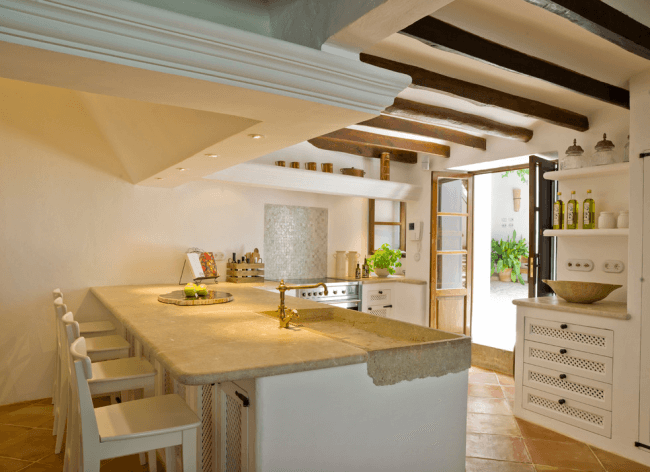 This rustic yet neutral interior has been put together using only natural tones and textures. The whole kitchen counter with rounded edges and built in sink is made of the same smooth, matte acrylic completely seamlessly. The sink itself is unusual because of its unique long, rectangular and really shallow with tapered edges. It is paired with a vintage inspired gold tap to seal off this contemporary rustic design.
17. Retro Red and Black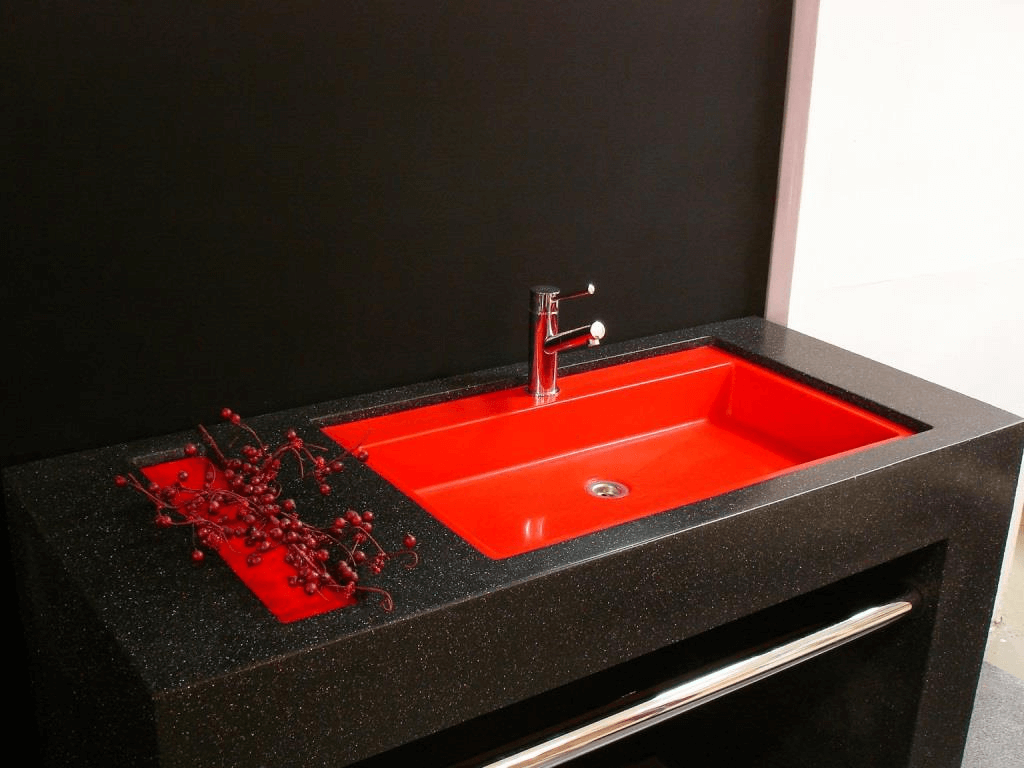 In opposition to many of the more nature inspired examples we've seen so far this sink has used a really statement colour combination to achieve this retro look. It is made of a combination of a large speckled black frame and a completely smooth red bowl and decorative recess on the left. The black shell runs up onto the wall as a splash back and down to the floor to form the legs. A silver rail has been built in just under the countertop for a hand towel and ties in with the modern silver tap.
18. Rectangular Tub Sink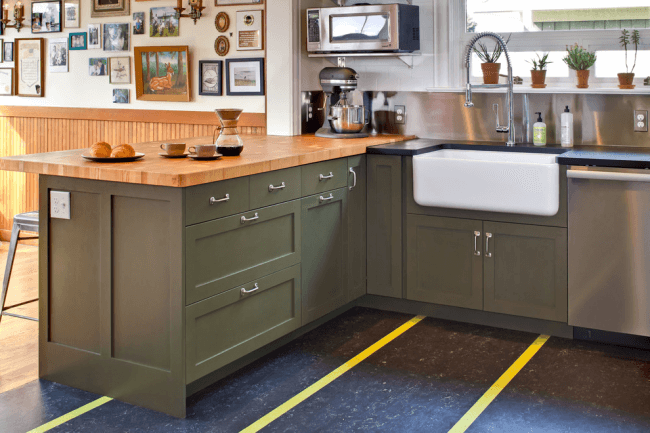 This rustic kitchen in an olive green with warm wood countertops has contrasted the rich colour with a deep white acrylic kitchen sink. The tub style sink has tall, sides and rounded edges with an arching commercial style tap hovering above it. Sitting just under the countertop black acrylic countertop it provides plenty of space for dishes, which stops the kitchen looking messy before you get to the dishes.
19. Ranch Style Rustic Kitchen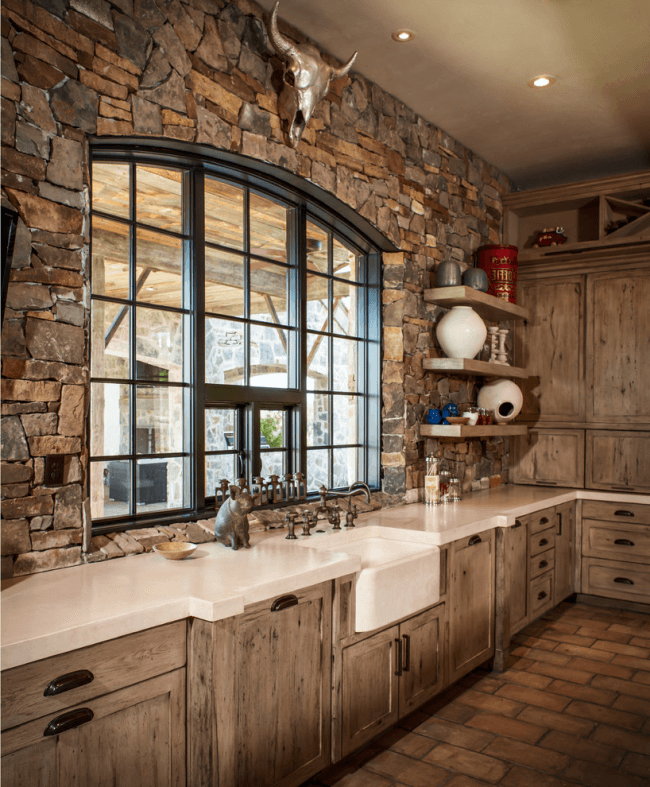 Pristine white acrylic countertops with a matching sink have been used as a moment of piece within this rustic kitchen with large brick pavers, exposed stone wall and timber under counter kitchen cabinets. The sink itself is a deep rectangular tub that we have seen in a few previous examples nut lit by a huge windows so you can wash the dishes with a view. The taps are vintage inspired and neutral in tone that fits in perfectly with the textures around them.
20. Ample Country Kitchen Sink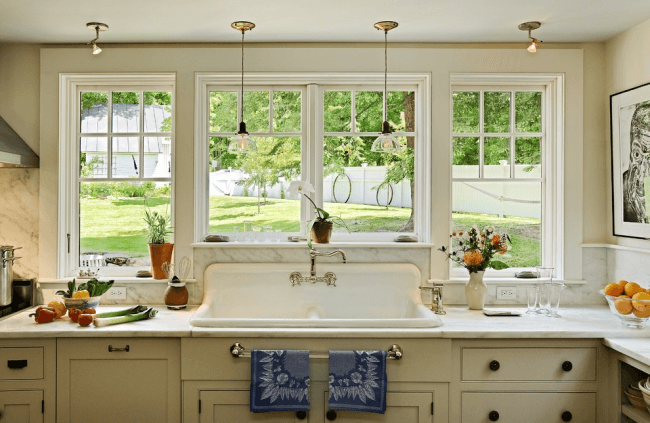 Like the example above this huge kitchen sink is positioned in front of the picture window so you can watch your children play outside while you wash dishes or prep in the kitchen. The large sink is one moulded two sided unit with a built in splash back with a mounted vintage style tap. The towel rail hanging just underneath the sink is the cherry on top of this all in one cleaning station.
21. Mirrored Double Sided Sink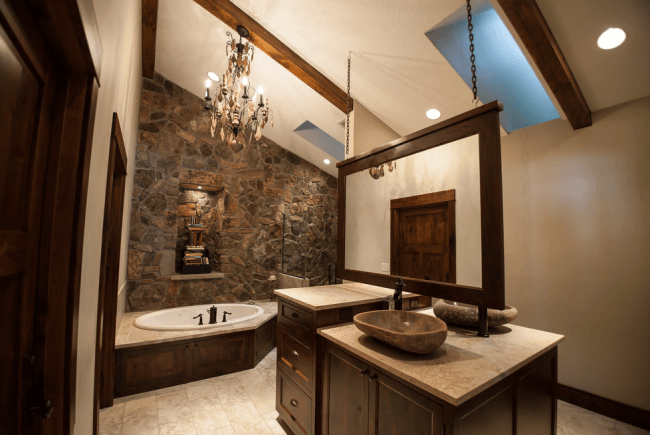 This luxurious bathroom has been decorated in a neutral colour palette of cream and deep brown with a pitched exposed rock feature wall. A matching pair of acrylic stone sinks that look like they've been carved out of the same stone as the walls sit on top of the acrylic marble countertops with double sided mirror hanging from above between the two. The combination of all these unusual elements makes this rustic bathroom uniquely beautiful.
22. Huge Family Kitchen With Grey Acrylic Sink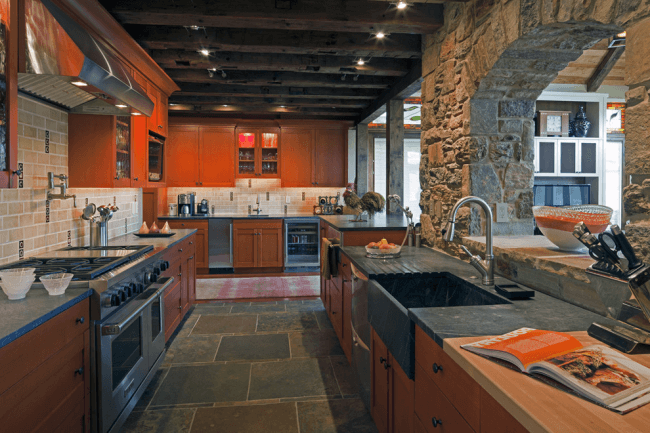 This huge country style kitchen has used grey acrylic stone for its countertops with a sunken sink of the same material. The cool grey of the counter tops contrasts beautifully against the warm timber kitchen counters above head and under the counters themselves. The sink is a generous that helps keep the kitchen clean that even comes with a view from the sink looking through the stone archway into the living space so you can socialize while you cook.
23. Modern Rectangular Sink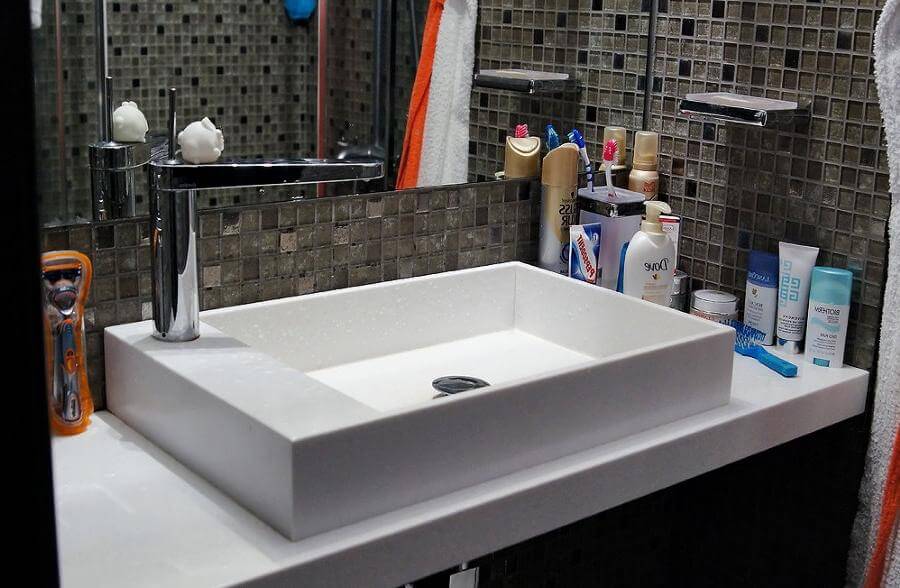 This modern bathroom makes use of a small space with a white acrylic stone countertop with a matching sink emerging from its centre. The wide rectangular bowl has tall square sides and a modern tap that makes this simple design feel a little more lux. This design utilizes the little nook that has been recessed for the sink with space on either side for everyday items but not enough space to allow it to get too cluttered.
24. Modern Kitchen Island Sink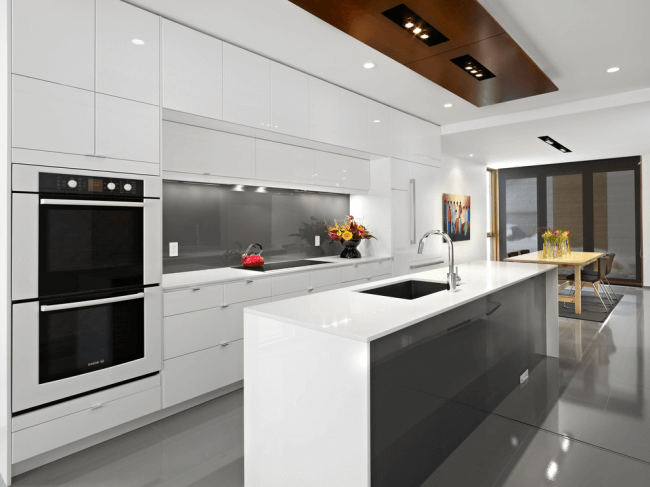 This ultra modern, almost futuristic, kitchen has really glossy finishes from top to bottom entirely made of acrylic. The countertops are a flawless white acrylic stone with a sink recessed flush with the countertop but in a glossy black to match the sides of the luxurious kitchen island.
25. Futuristic Alien Sink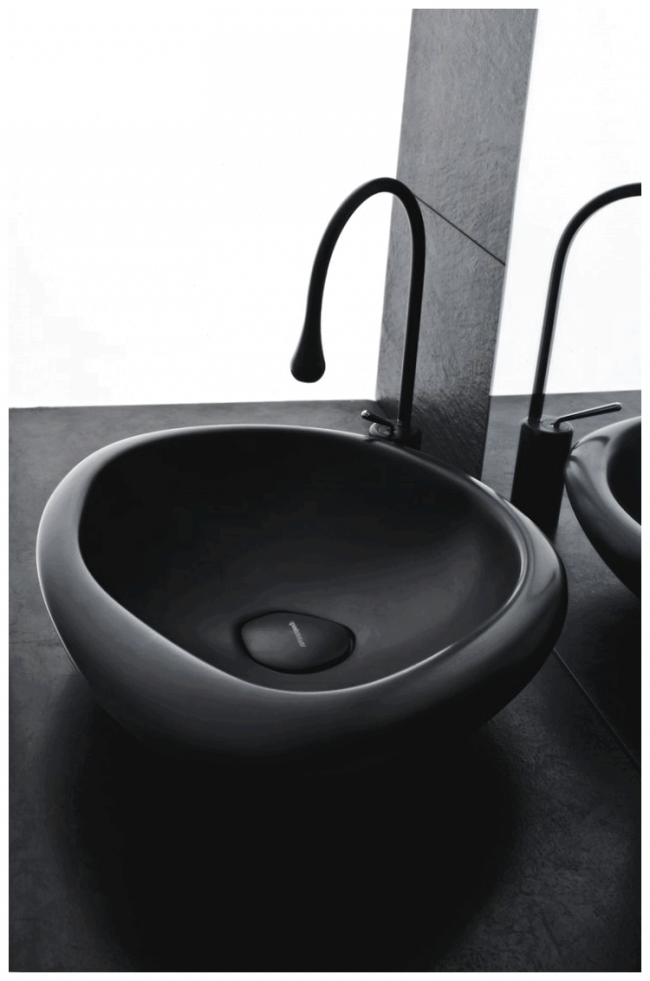 Here acrylic s really showing off with this really unique design that looks almost organic and alien at the same time. The matte black pairing features a curved, natural bowl like design with smooth edges and a tap built in that looks like a droplet of dew hanging onto a flower. The countertops has been sculpted from the same material as the sink with black matte tile behind the mirror tying this whole strange look together.
26. Coordinated Carved 'Stone' Sinks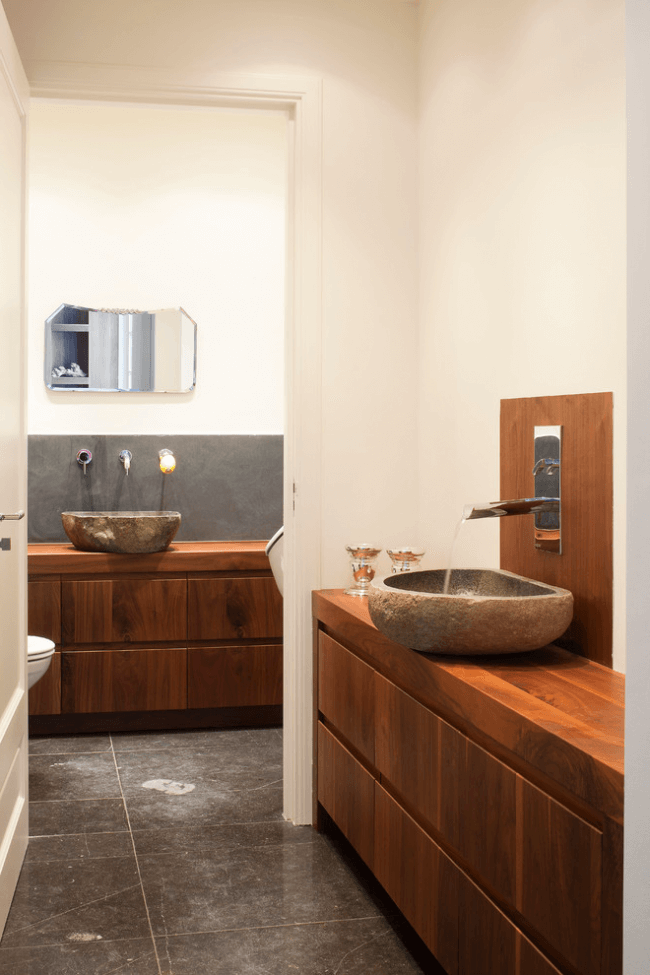 This pair of acrylic stone sinks trick the mind into thinking that two beautiful natural features that have found their way indoors. The matching sinks look like they've been carved out of stone with the outside remaining rough and the inside polished smooth as if by the water itself. The rest of the really large bathroom is brought together by marble tiles, white walls and timber bathroom cabinetry that celebrates the beauty of natural textures throughout the space.
Conclusion
As you can see, from rustic kitchen sinks to sleek modern bathroom basins, acrylic stone is the ideal material for your interior design needs. It is beautiful, affordable, hygienic and highly flexible, what's not to love?
They can help you bring colour into a bland room or bring an element of nature into a modern space, creating layers that make your home look well thought out and chic. The limits to using this material are almost nonexistent so the next time you need to give your bathroom or kitchen a little once over consider letting acrylic stone lend you a helping hand.