Freestanding bathtubs are very much in vogue right now. Gone are the days when a basic built in fiberglass tub is your bog standard option; bathing has become more than just cleaning your body, it's an exercise in relaxation and self care. It's time to treat yourself.
Choosing to use a freestanding bathtub gives you a great deal of freedom. From placement in the room to materials and style; you can find a bathtub that suits your needs and enhances your bathroom's interior design. When you choose freestanding your bathtubs aren't even reserved for the bathroom anymore. They can be found in the bedroom, studio living space or even outside for a soak in the elements with a view.
Freestanding Bathtubs For Making Your  Leisure Time A Priority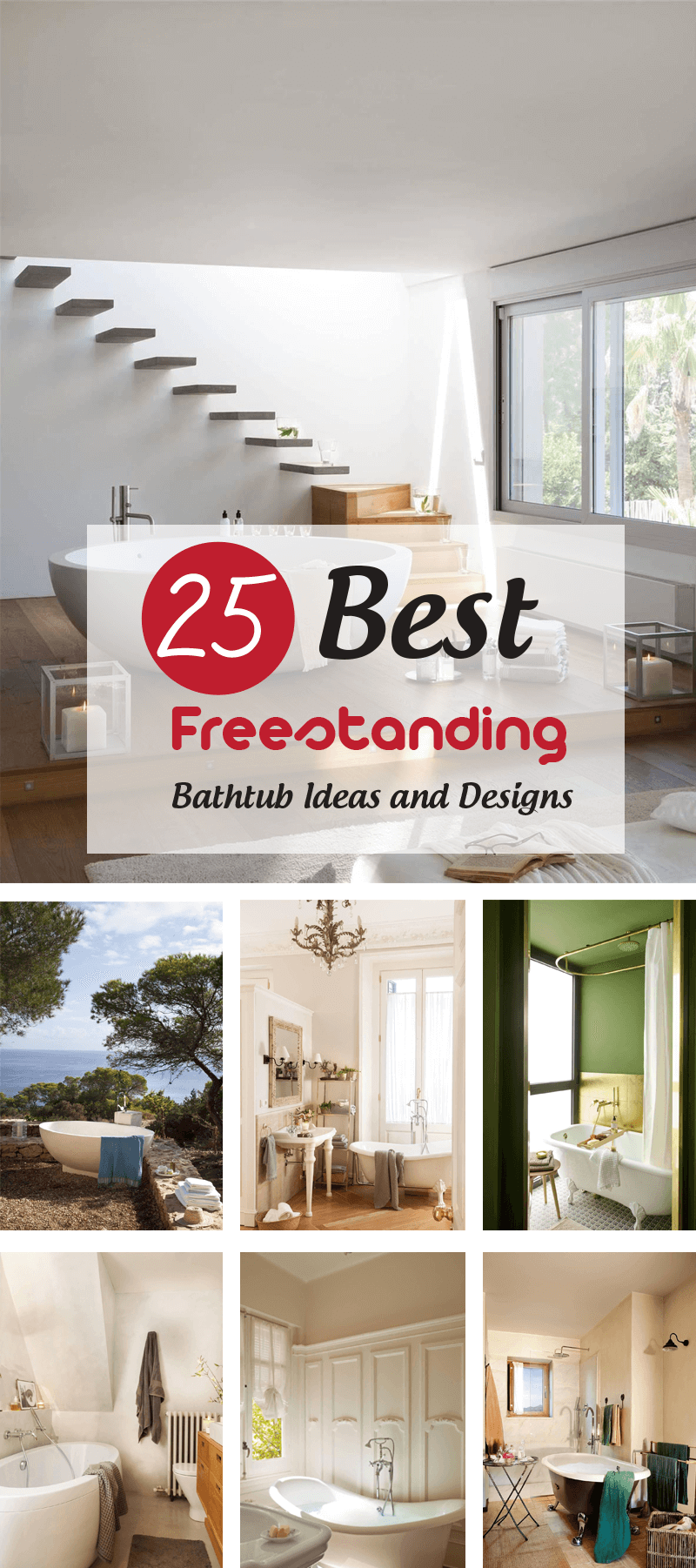 The design of freestanding bathtubs ranges drastically from a traditional claw foot tub (and variations on this idea) to sleek modern bowls and unusual materials. This flexibility allows you to get creative with your interior decor and maybe try something a little different.
So if you're in need of some inspiration for your own bath time endeavors here are:
1. Old Timely Glamorous Bathroom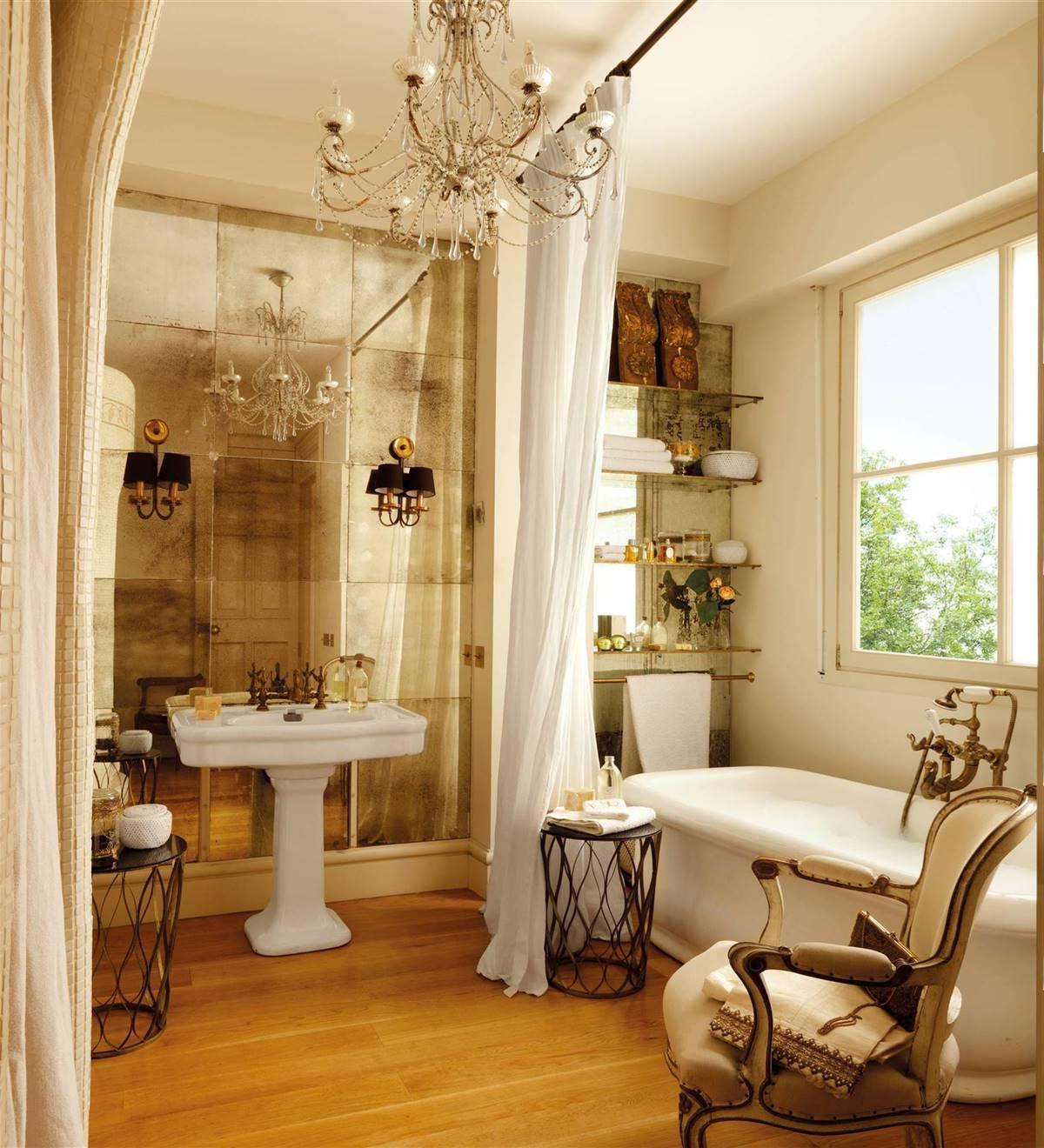 A bathroom with level of austerity belongs in a villa in the south of France. The luxuriously deep freestanding tub is accented with classic vintage style copper taps and shower-head that coordinate with the other bathroom decor such as the chair and side tables. The bathtub is deep and luxurious so it fits in perfectly with the glamorous interior that even features an elaborate chandelier. This design screams indulgence.
2. Freestanding Bathtubs In The Living Room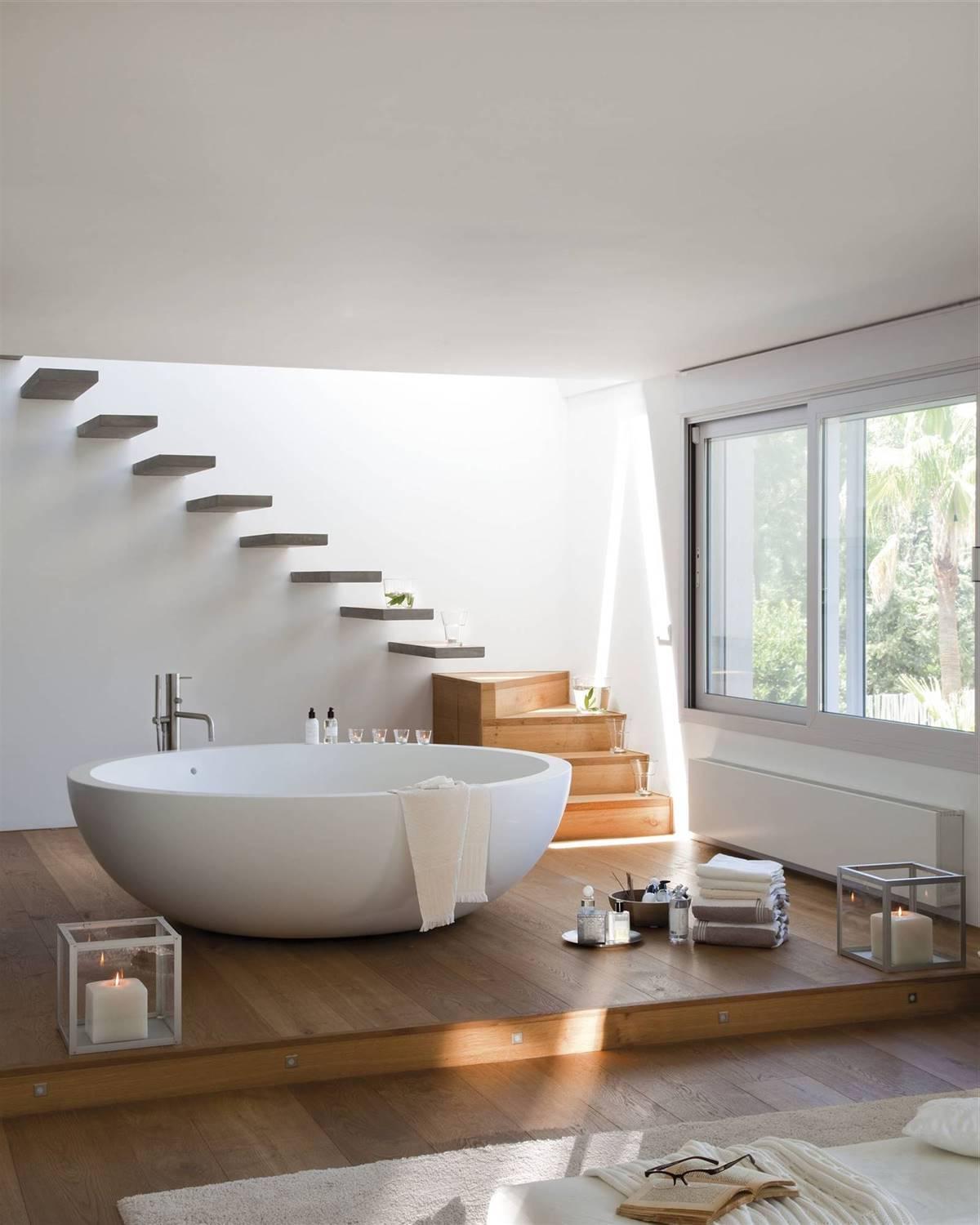 Freestanding bathtubs give you the freedom to place them just about anywhere. This large stone bowl stands on wooden floorboards in the living room right next to an open window and cantilevered stairs. Bathtubs aren't something you expect to see alongside any of these features, which makes it all the more novel and fun. Since this room is on the first floor you can soak without the fear of being seen and get a view of the trees into the bargain.
3. Rustic Attic Bathroom With Stone Tub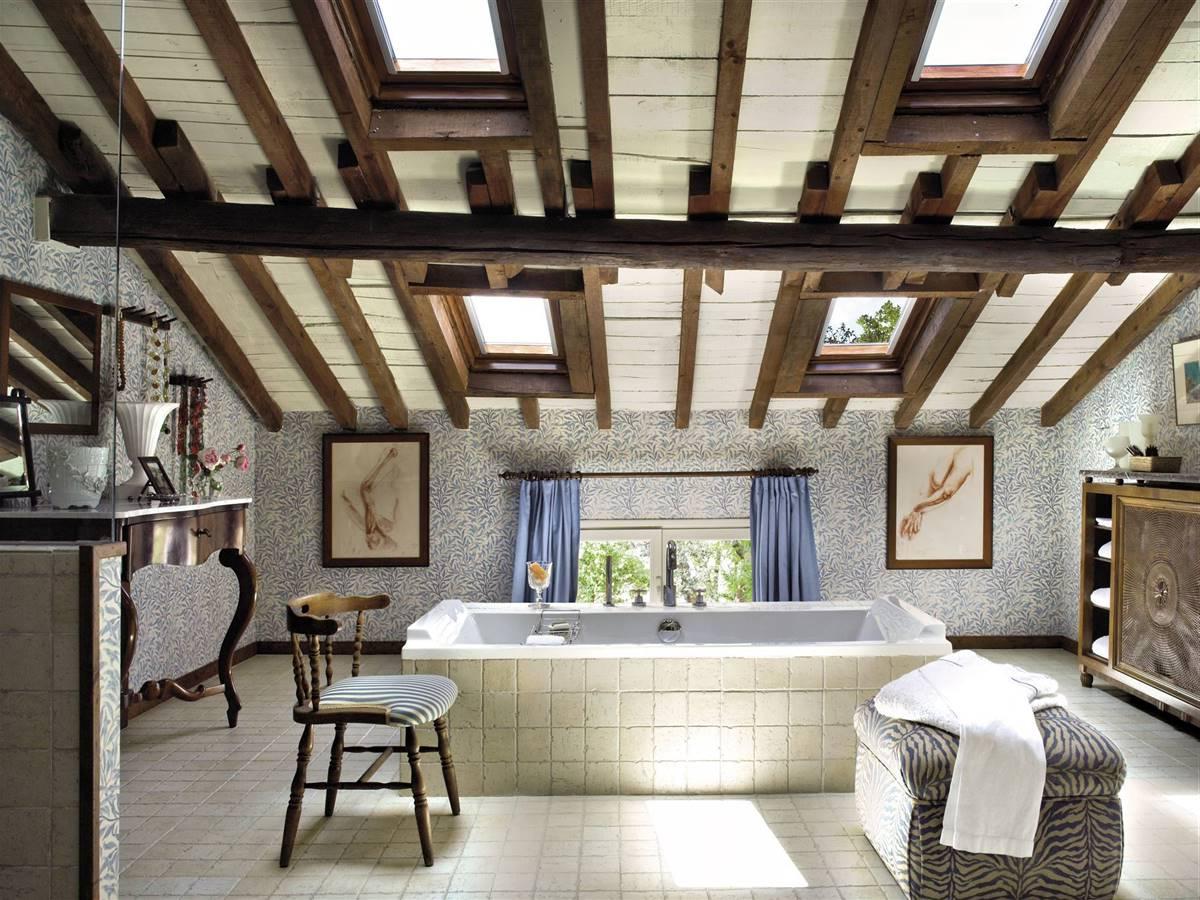 This stone bathtub has been placed front and center in this attic room, turning an under utilized space into an extravagantly large bathroom. The square tub is covered in stone tiles that spread seamlessly down the sides and across the floor. This pale tile acts as a backdrop to the pale blue accents that are repeated throughout the room from inside of bathtub to wallpaper and curtains. Dark exposed beams with rustic white wooden ceiling boards and skylights take it a step further to make this a place you would be happy to spend hours in, soaking in the bathtub looking up at the sky.
4. Outdoor Tub With A Sea View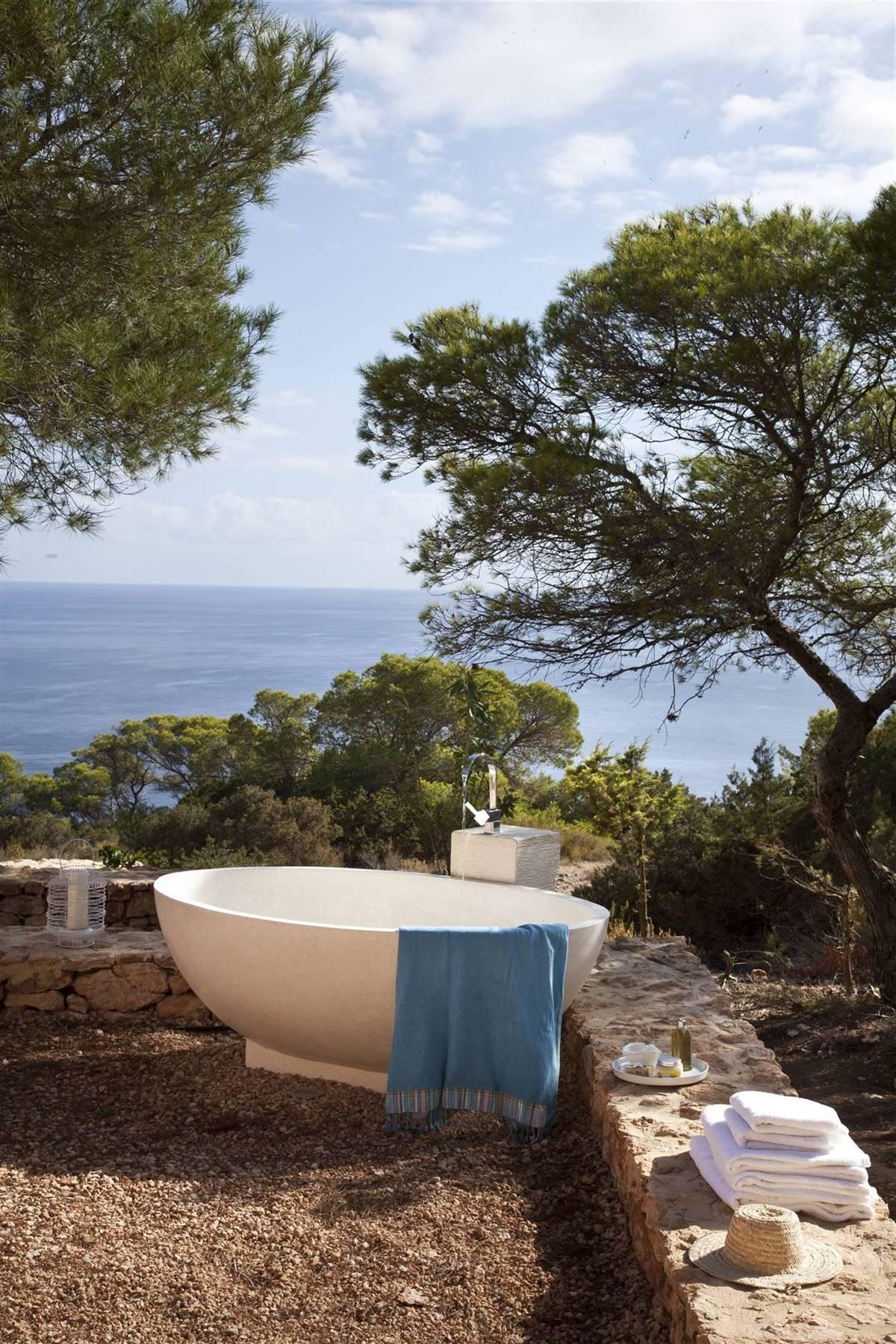 If you had a view like this wouldn't you want to be looking at it all day? Even in the bath maybe? A deep, wide oval basin style bathtub that provides ample space for one, or even two, to soak in comfort is the ultimate indulgence to take full advantage of your natural surroundings. Far from people, atop a hill you can soak in nature with the most beautiful view anyone could ask for. Don't be shy being naked in nature is only natural!
5. Classic Claw Foot Bath Tub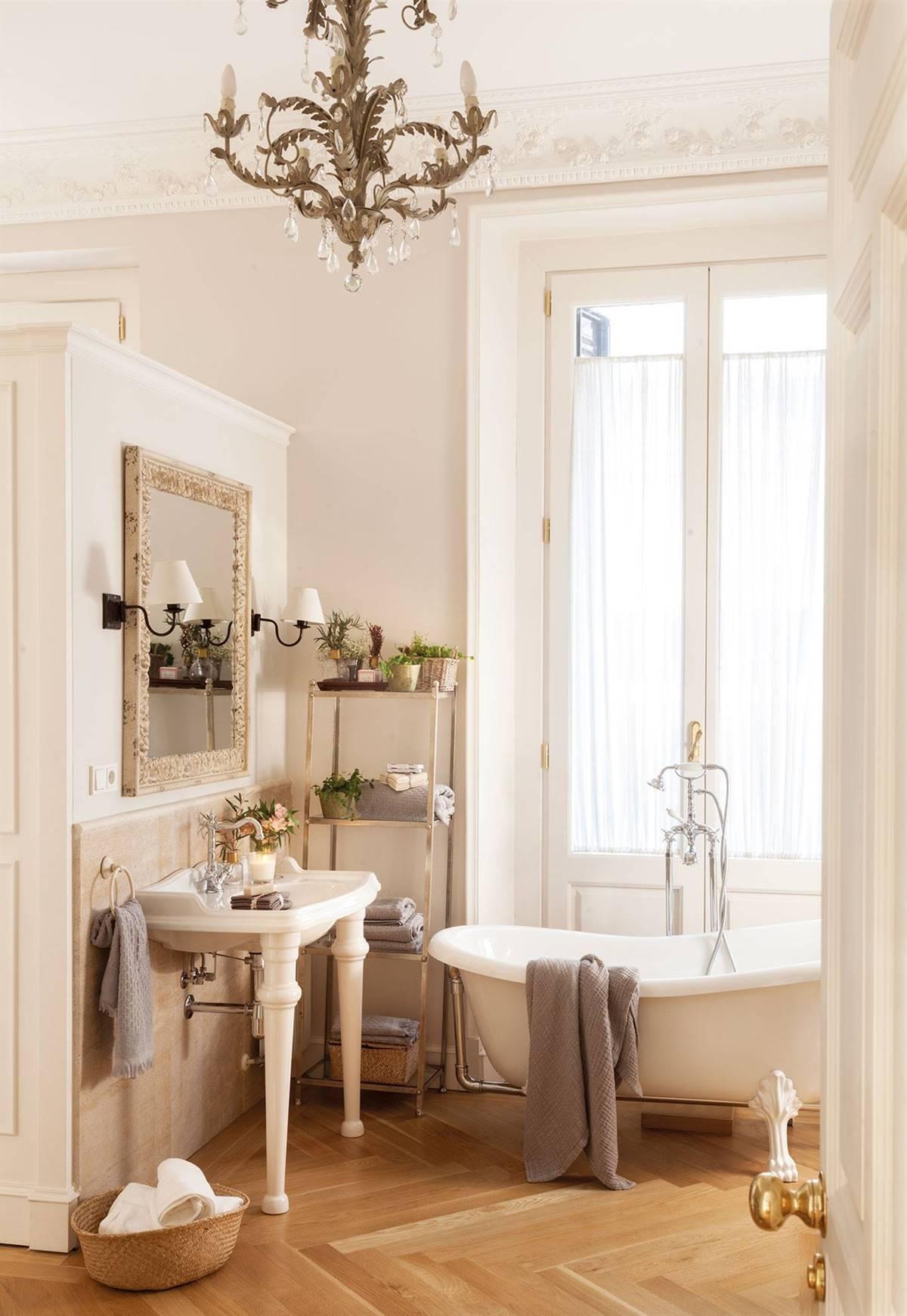 Claw foot bathtubs are the first style that comes to mind when you think of a freestanding tub. In this vintage inspired white bathroom the chic claw foot bathtub sits right next to the French doors so you are bathed in sunlight while you bathe in a tub full of bubbles. A nature inspired dripping bathroom chandelier adds an extra element of elegance into this already sumptuous bathing experience. The white detailing of the cornicing is echoed in the detailed white clawed feet of the bathtub to tie in a subtle texture in a masterful way.
6. Statement Colour With White Claw Foot Tub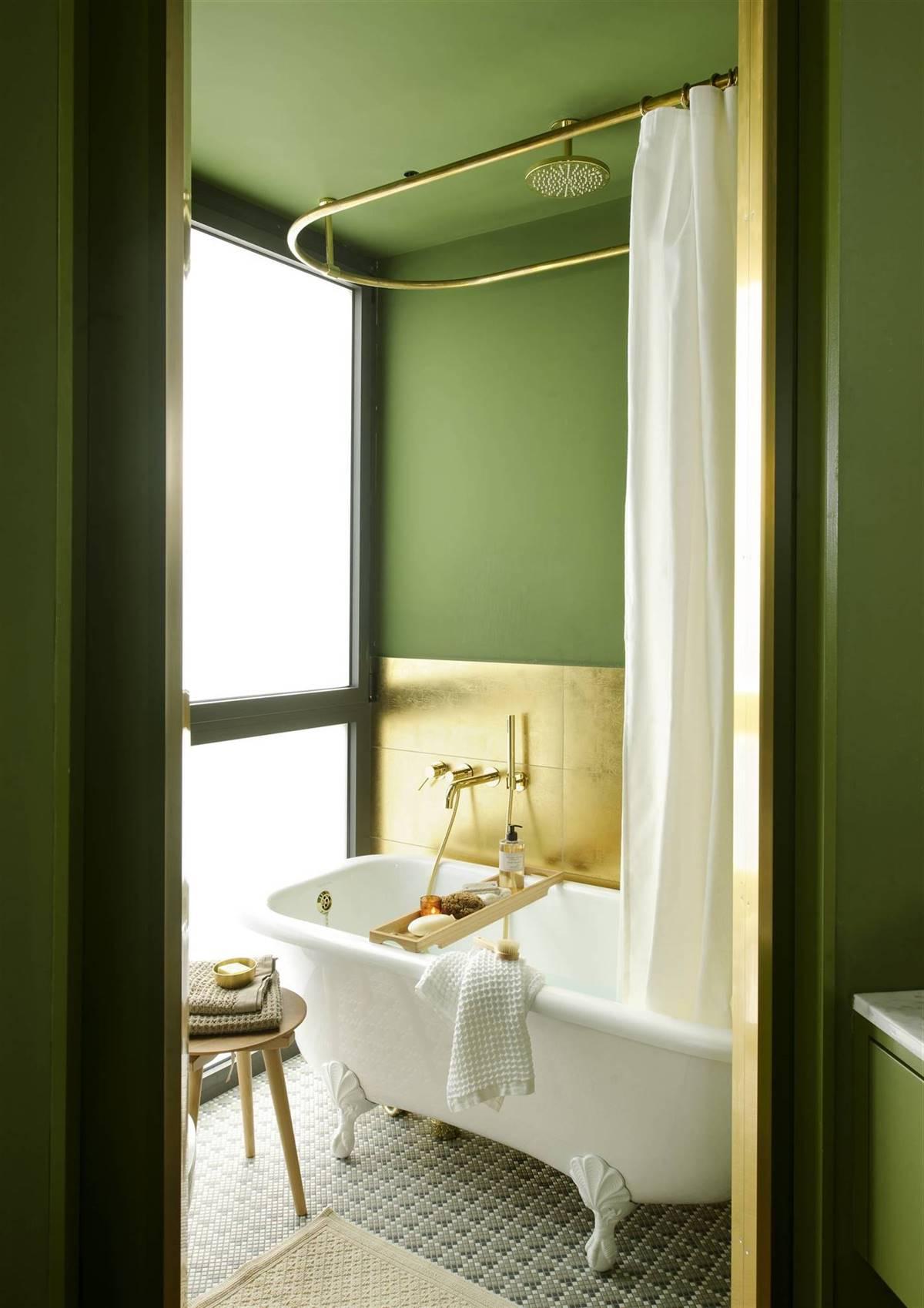 When we think of bathrooms we often picture them as being white. This bathroom design flips that on its head and has instead chosen to go with a forest green from wall to ceiling. This deep solid colour allows the white tub to stand out and highlights the detailed tile design it sits upon. The gold piping, rainwater shower-head and unique brushed gold splash back shine brightly against its lush walls lit by the floor to ceiling frosted glass window that allows you to be bathed in a soft light while in complete privacy.
7. Bedroom Bathtub With Exposed Beams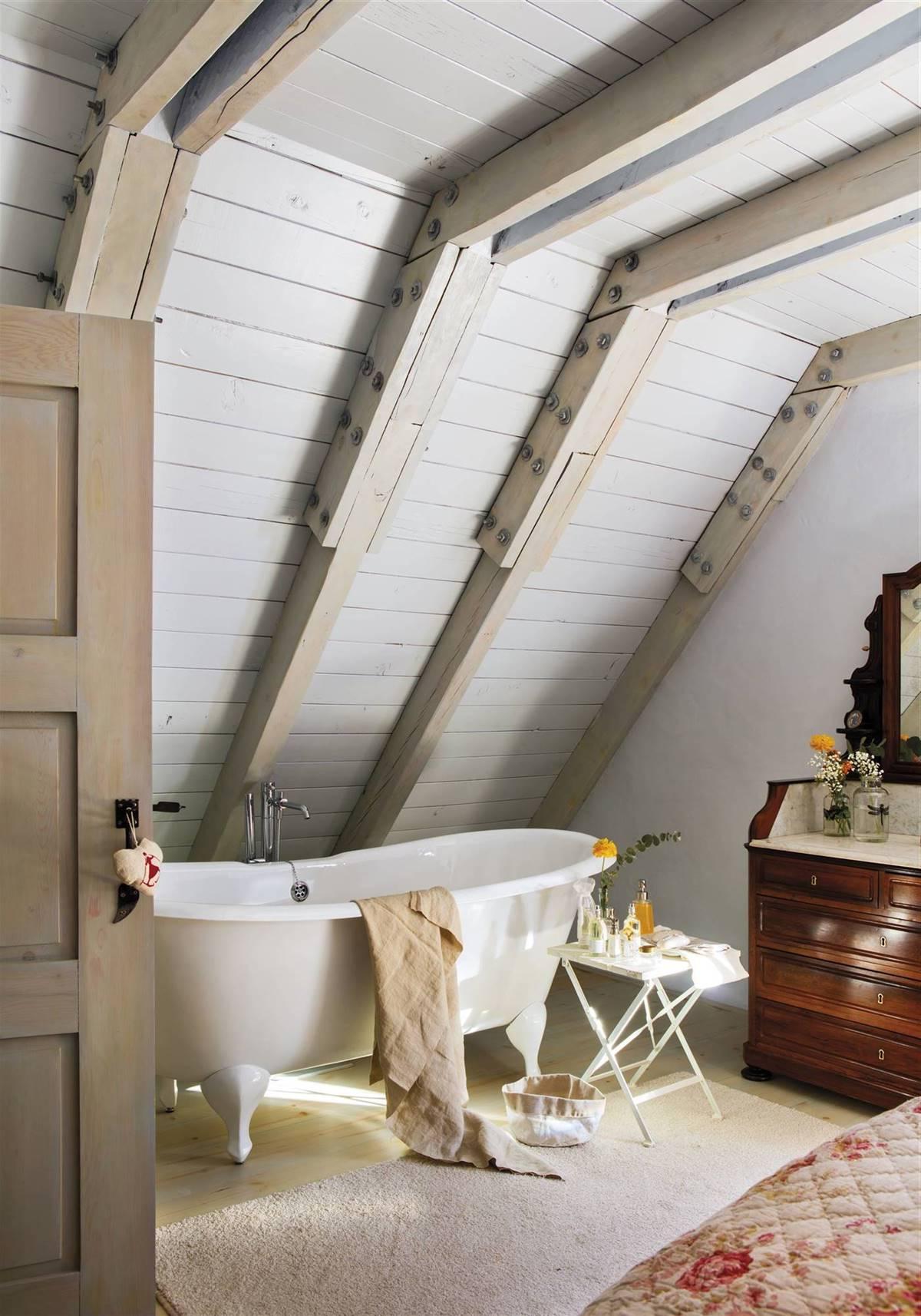 Bathtubs don't always live in the bathroom, sometimes they like to go visit the bedroom. This white tub has delicate legs that look like they're standing on their tiptoes and stands on even more unexpected hardwood floors. A small fold out table stands beside it to elegantly display bath accouterments and can be neatly stored away afterwards. The industrial wooden exposed beams and white washed wooden paneling that form the sloping walls frame this unusual but quirky bedroom accessory impeccably.
8. Mock Cast Iron Bathtub with Mesh Shutters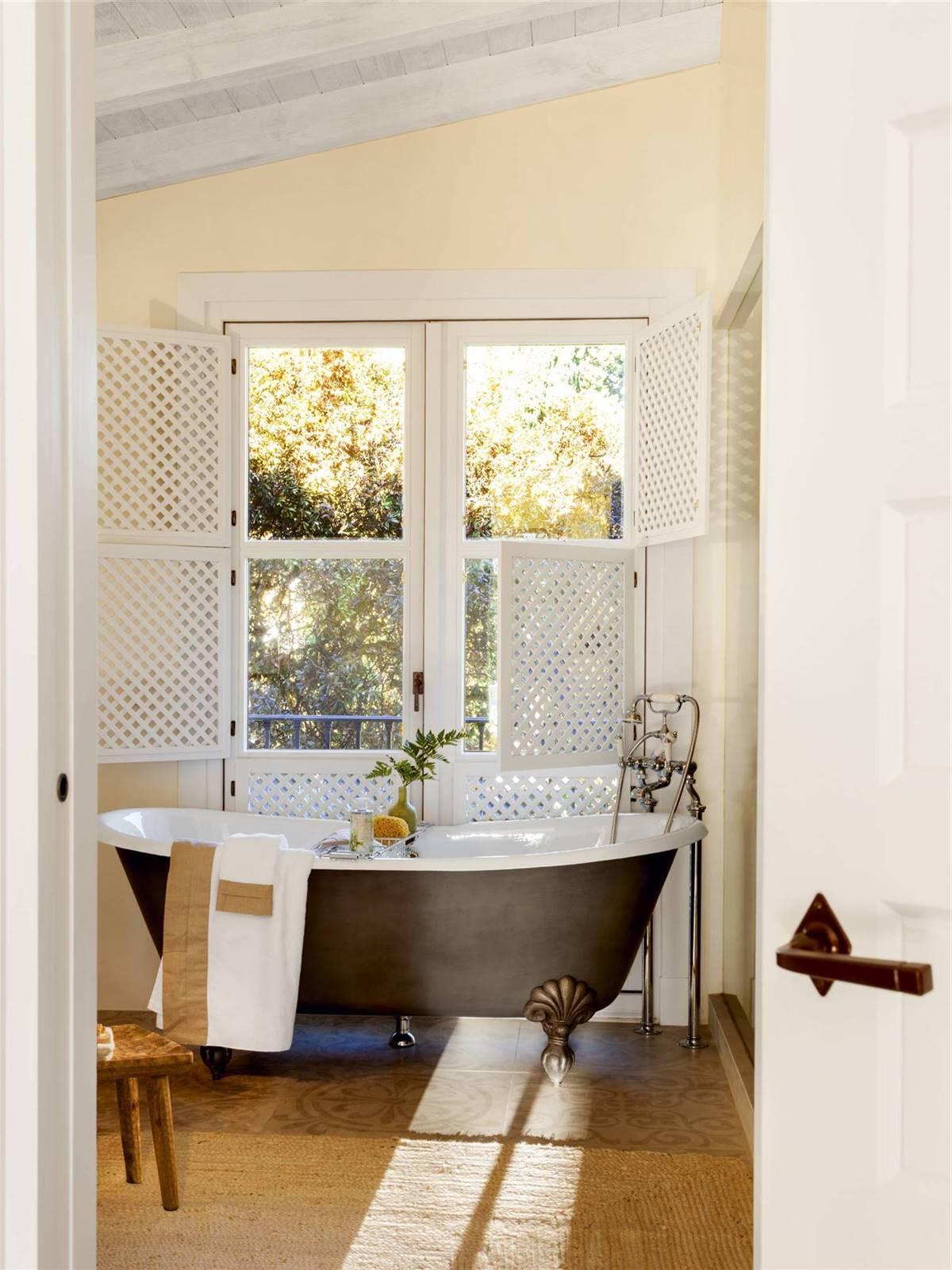 Changing up the colour of your bathtub is a fun way to diversify your bathroom's appearance. The deep brown mock cast iron bathtub with brushed metal claw feet works with the earthy brown patterned tile and natural textured bathmat to give the bathroom an all around rustic tone. This tub also features freestanding taps made of a material that resembles that of the tub's feet. Placing the bathtub next to these modular mesh shutters means you can have a bath with a view with your choice depending on how many you want to open making it feel like you are almost taking a bath outside.
9. Modern Slim Bedroom Bath Tub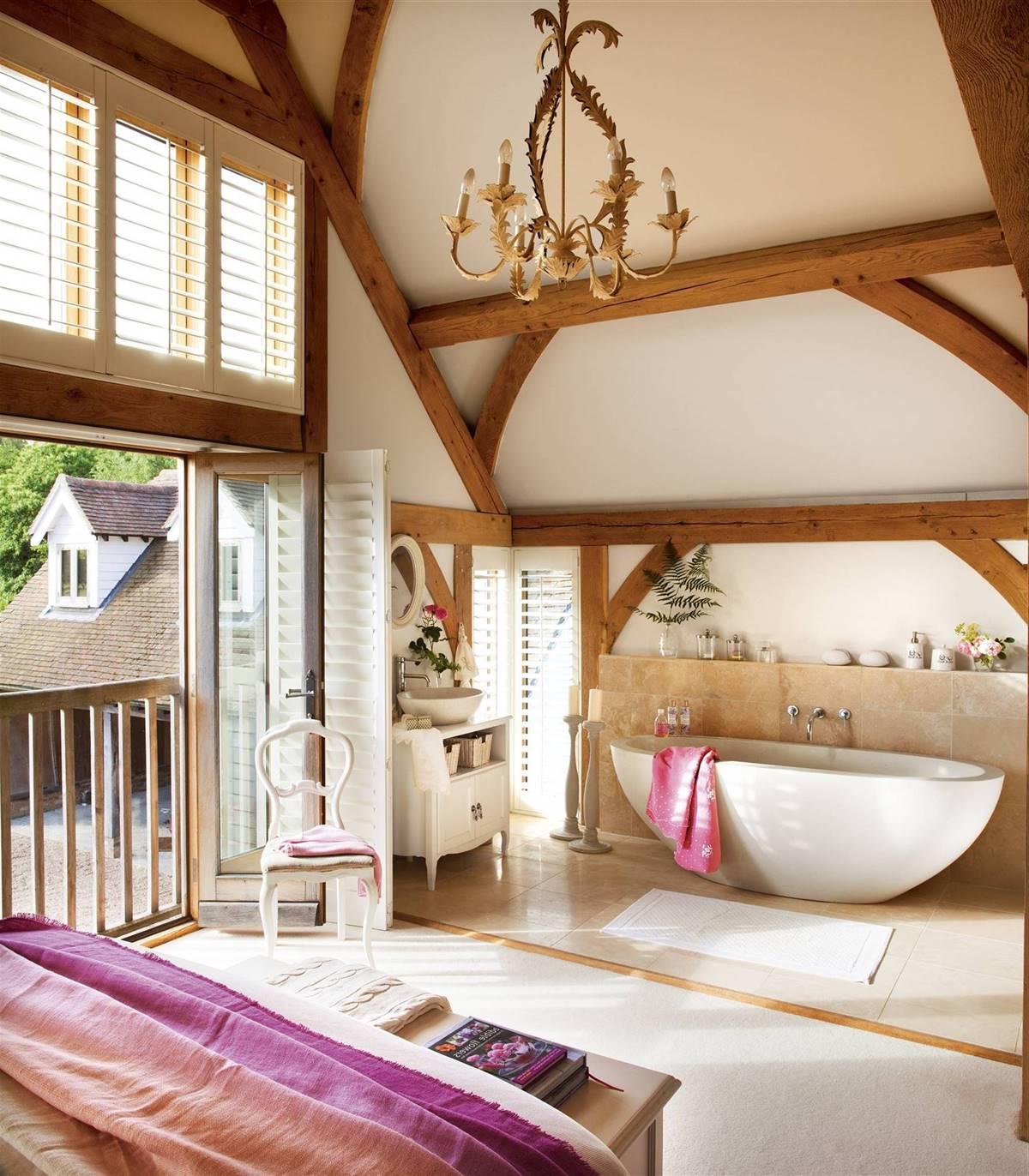 In a similar fashion to example 7 the bathroom has snuck it's way into the bedroom, this time in its entirety. This very modern oblong bathtub contrasts with a very rustic interior of exposed beams, shutters and French balcony. A thin wooden transition strip separates the bathroom and bedroom areas with tile on the bathroom side and carpet in the bedroom side. This is a design choice that exudes very movie style version of luxury.
10. Contemporary Stylish Bathroom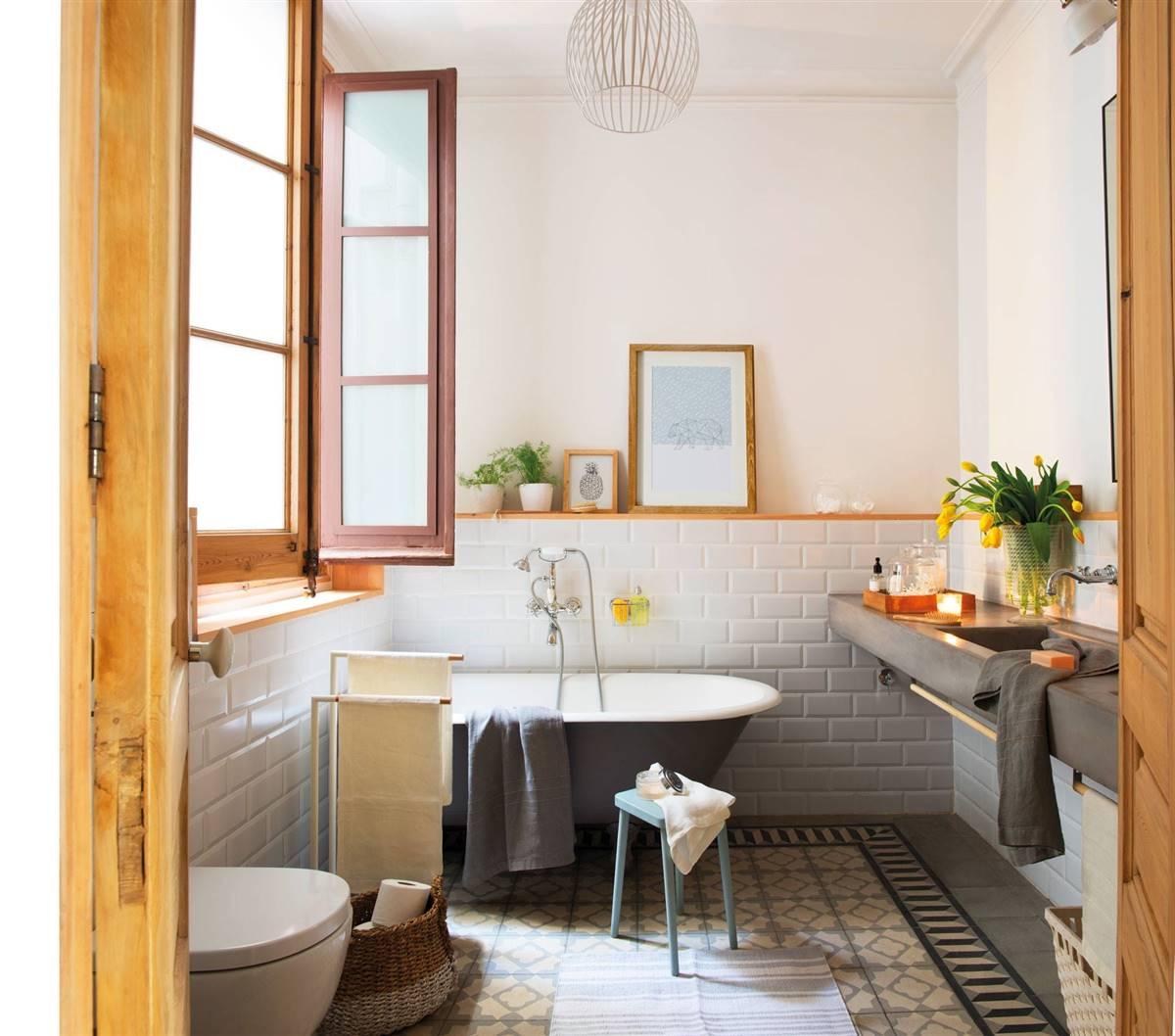 In the same vein as example 8 this tub in an unexpected but elegant black. This provides a statement starting point for an eclectic bathroom. Raw stained window frames and Tuscan style tiles are both traditional elements but when paired with the concrete rounded edge bathroom counter and sink the room acquires a distinctly eclectic air.
11. Black and White Tub With a View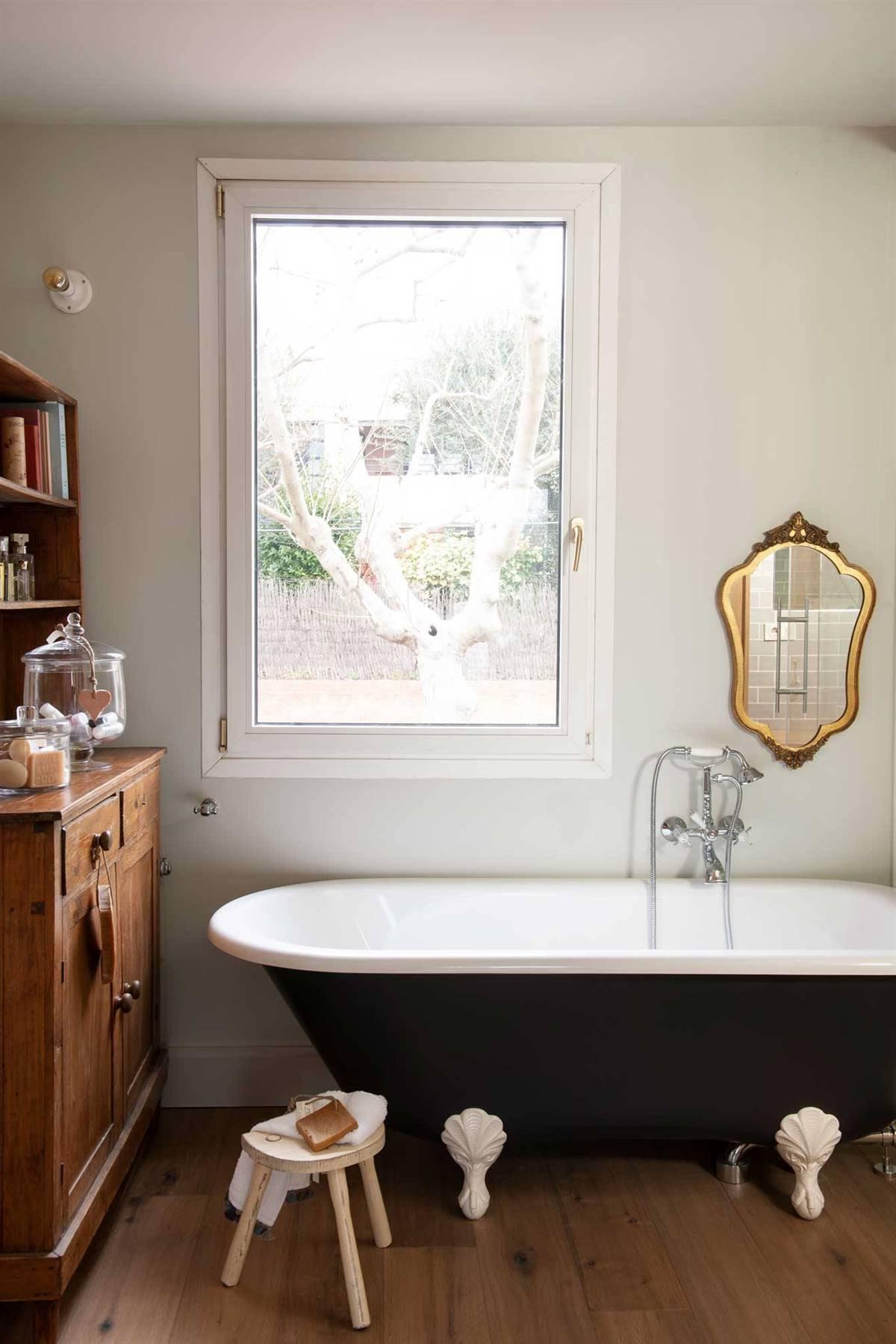 This retro black and white bathtub takes centre stage in this rustic sunlit white bathroom. Its sleek art deco style contrasts against rich brown wood grains of the floor and cabinet in a very aesthetically pleasing manner. The large single pane window looks out at a beautifully gnarled tree for a little view of nature while you bathe.
12. Modern Deep Shiny Freestanding Bathtubs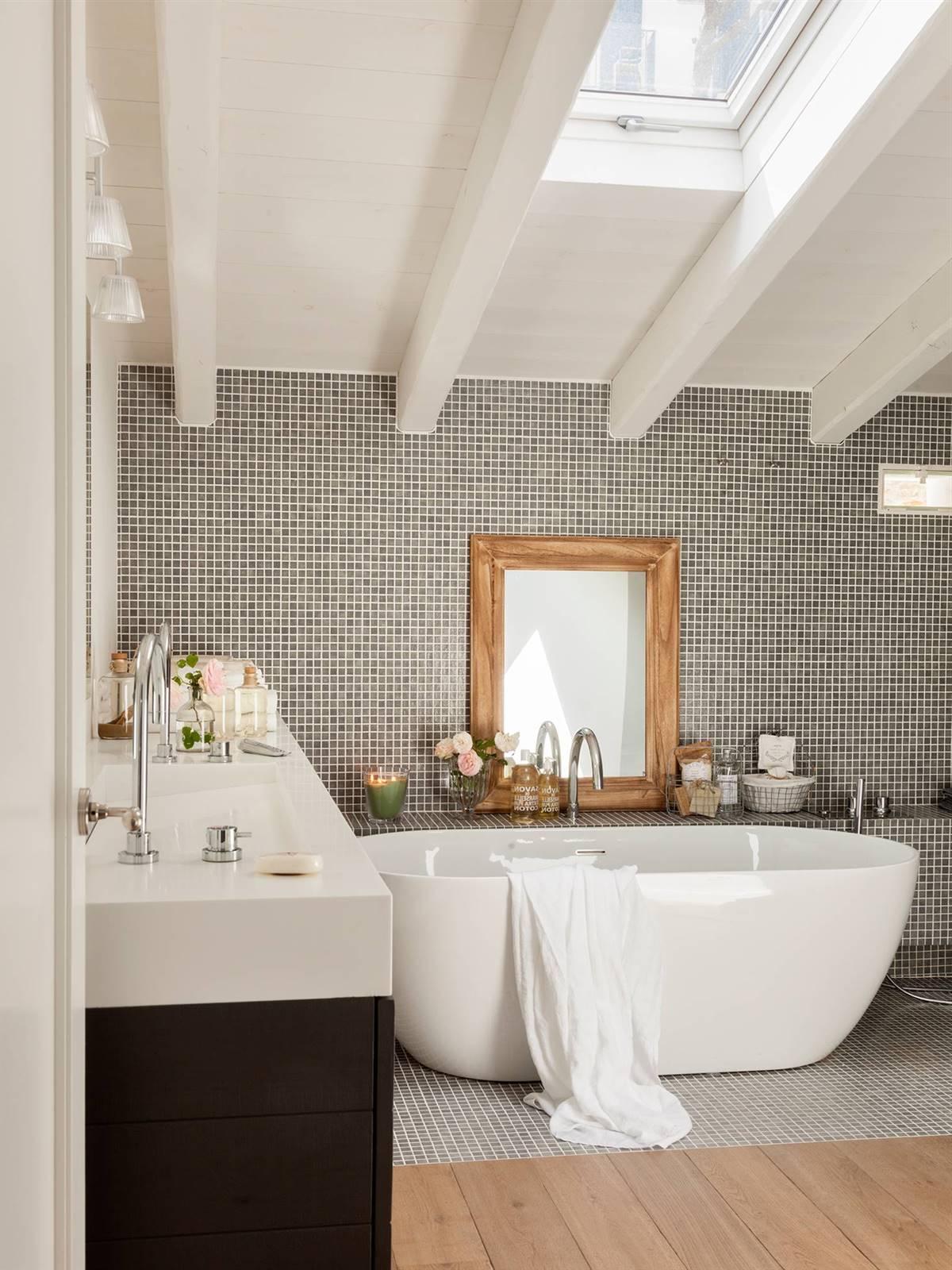 This shining white soaker tub with such a thin rim and significant depth is a modern and beautiful indulgence. The combination of the rounded rectangular white tub, crisp edged white sinks and white washed exposed beams with the mosaic tile and wooden hues of the floors culminates in a modern but comfortable bathroom lit from above by a glowing skylight. The small scale tiled mosaic incorporates a small shelf that the elegant swan neck tap rises out of and provides space for a little bit of decoration and storage space without cluttering this sleek design.
13. Bampton Bathtub with Standing Floor Taps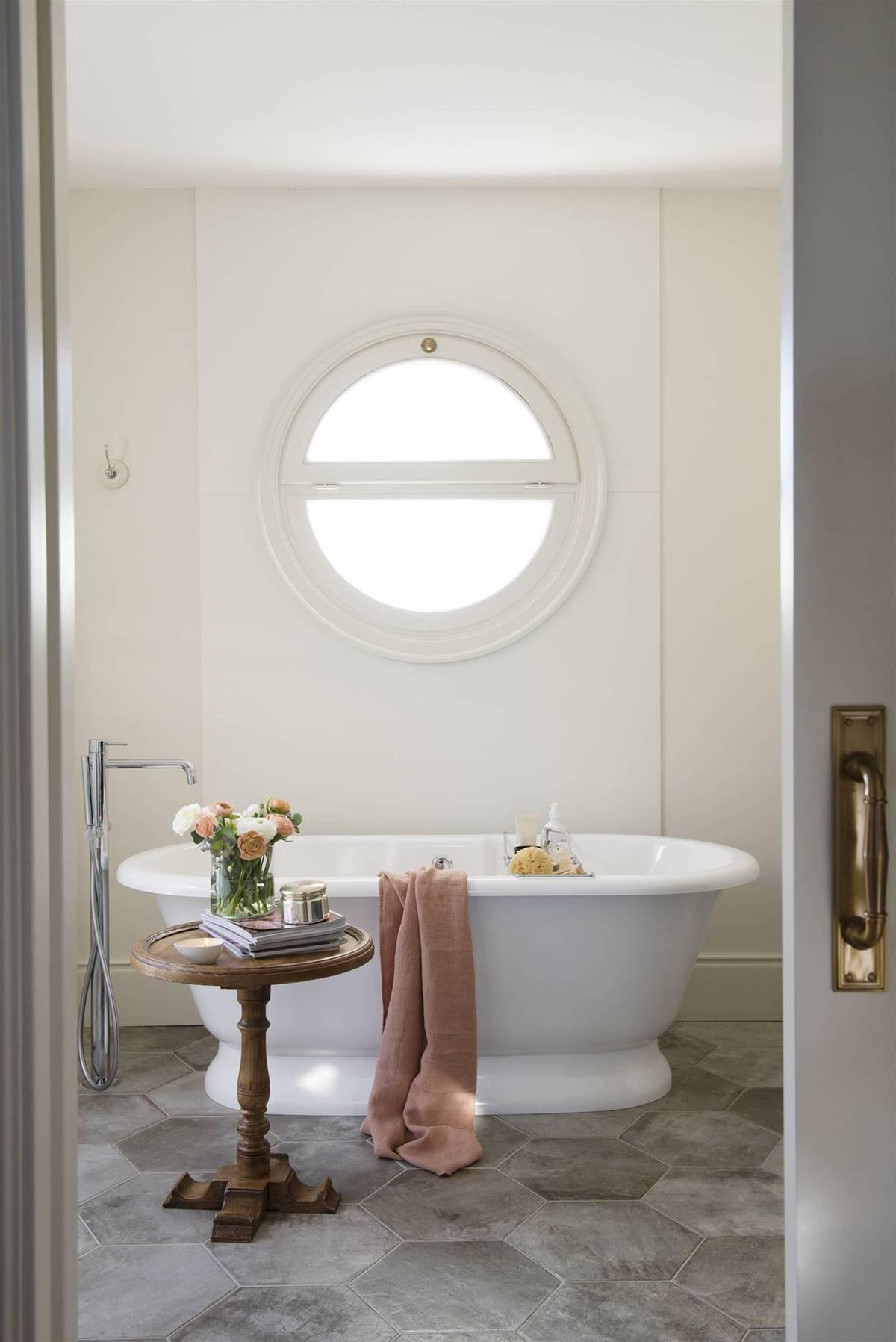 This Bampton roll top bathtub design is a classic style updated with its unusual tall freestanding tap in a tall silver column. A porthole window and grey hexagonal tiles add a subtle hint of uncommon beauty while still allowing the bathtub to be the focal point.
14. Bath and Shower Wet Room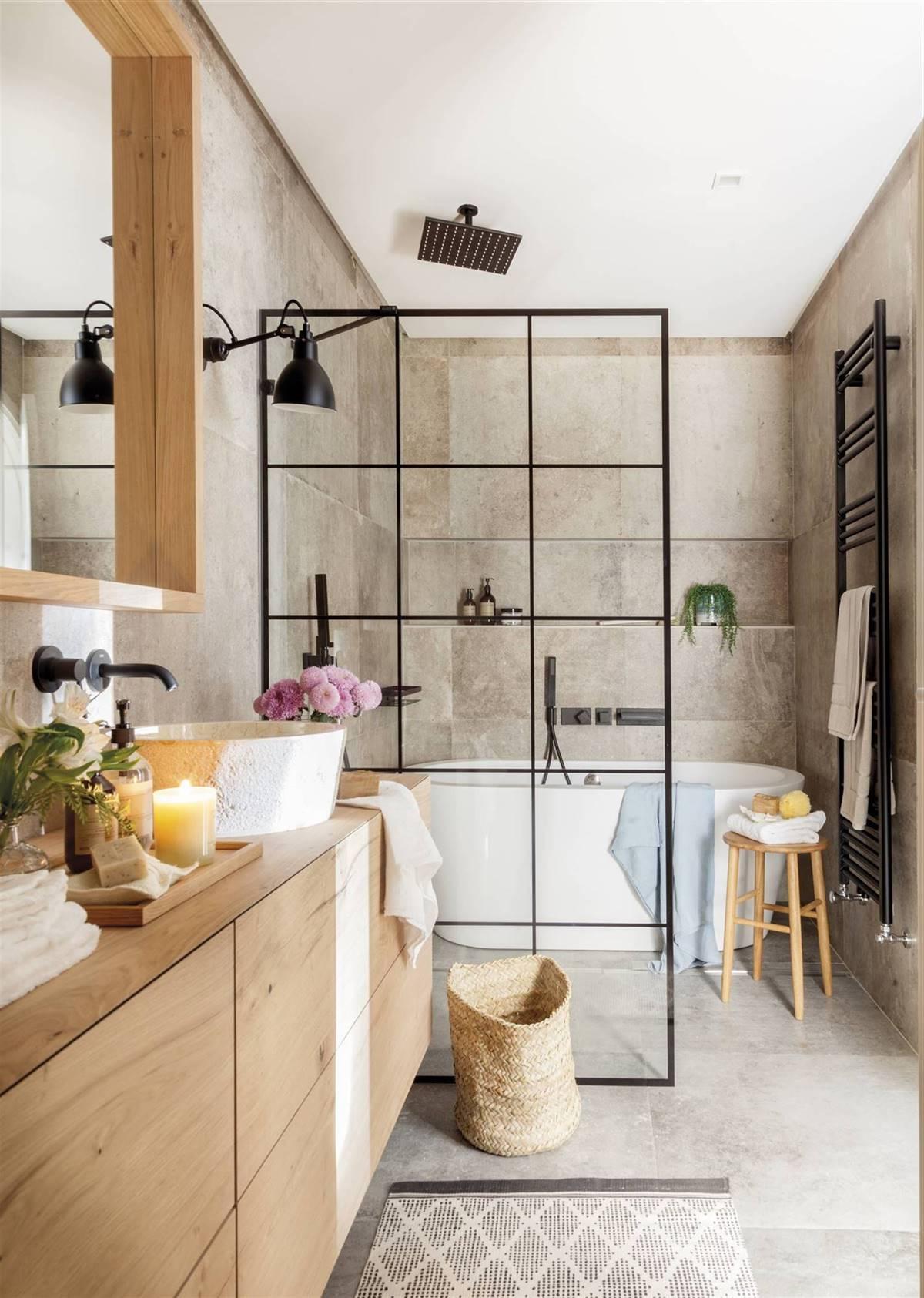 Wet rooms are a bathroom style that is very common in Asia that is gradually making its way across the world. An almost invisible screen shields the rest of the bathroom from the wet room, which consists of a black rainwater shower-head and large modern freestanding bathtub. Carefully chosen grey marbles tiles, natural wood finishes and thin black details make this design effortlessly chic.
15. Rectangular Micro Cement Bedroom Bathtub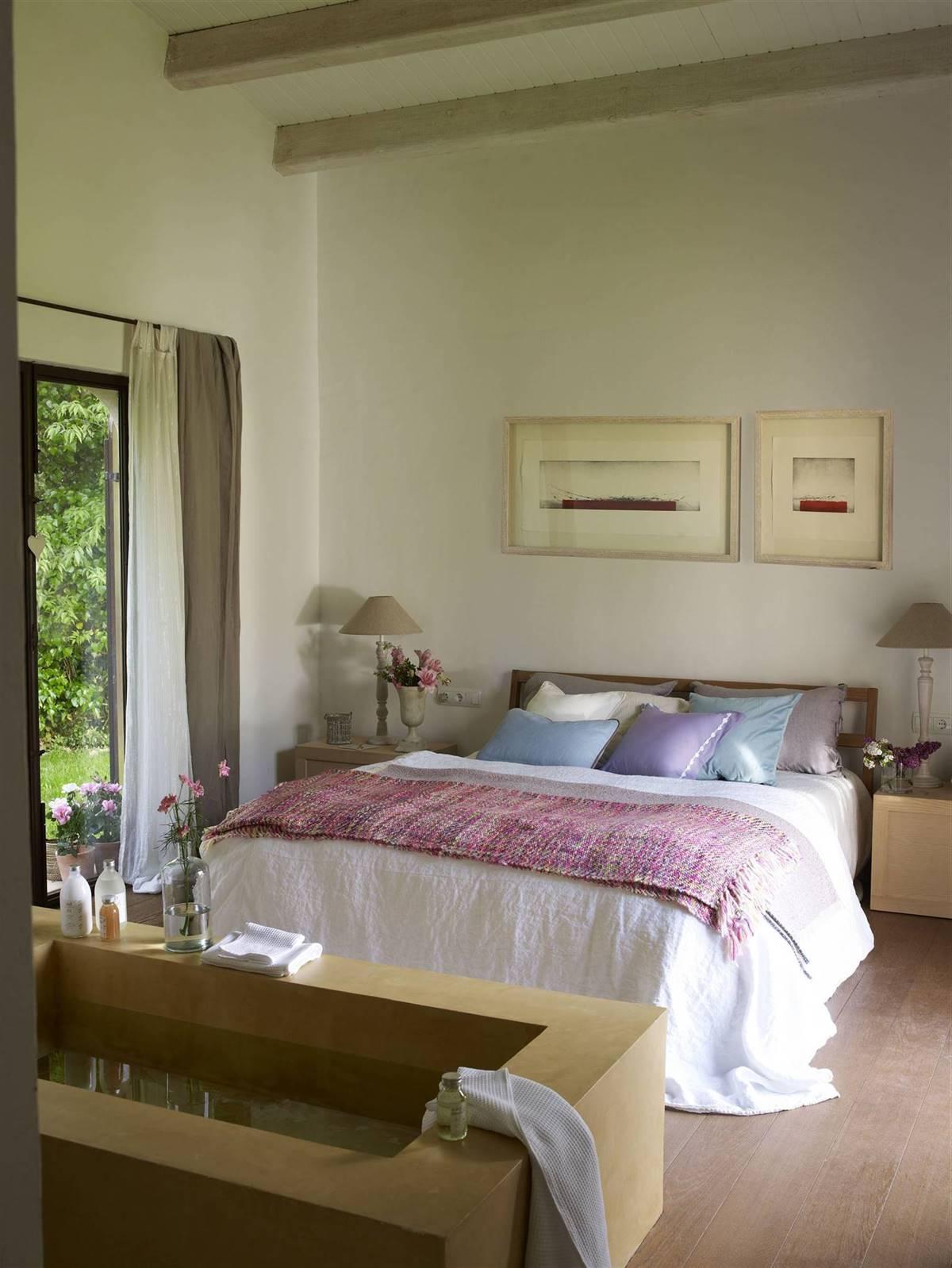 Micro cement is an ideal material for bathtubs as the coating is extremely moisture resistant. It can also be cast into many shapes like this crisp edged rectangular shape that wouldn't look out of place in a Roman bathhouse. The cement can be easily coloured with chemicals to produce this warms stone hue that goes well with this bedrooms hardwood floors.
16. Modern Basin Bathtub With Skylight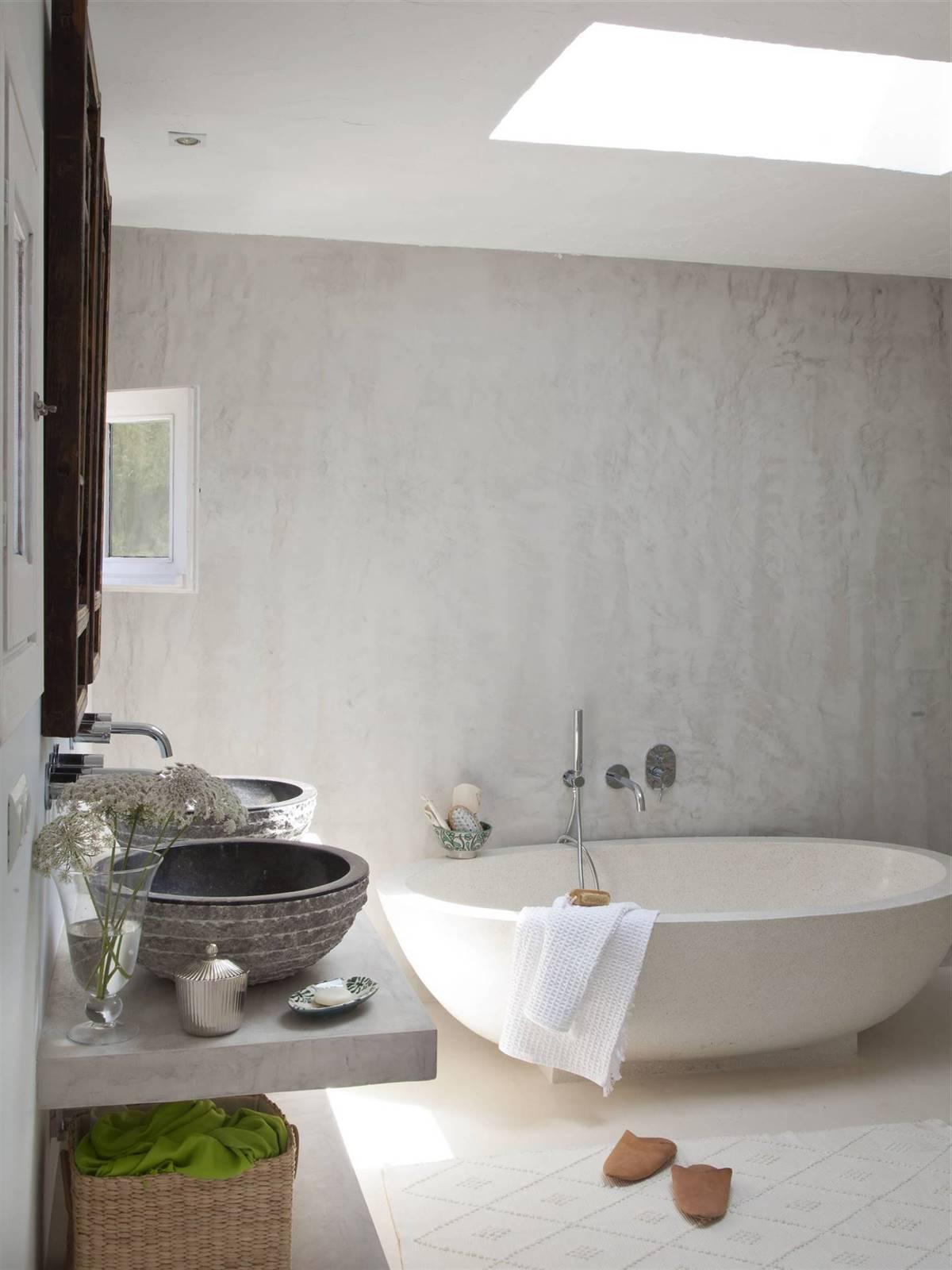 This immense, deep basin to lounge in is an incredibly modern luxurious tub. The smaller square base make wide bowl appear to be floating over the reflective white flooring. The rest of the materials that make up the room have been left raw from the grey concrete walls to the stone bowl sinks; so bathtub becomes the focal point. The whole combination promotes a calming ambiance which is enhanced by the light cast by the glowing skylight.
17. Spa Tub With A Desert View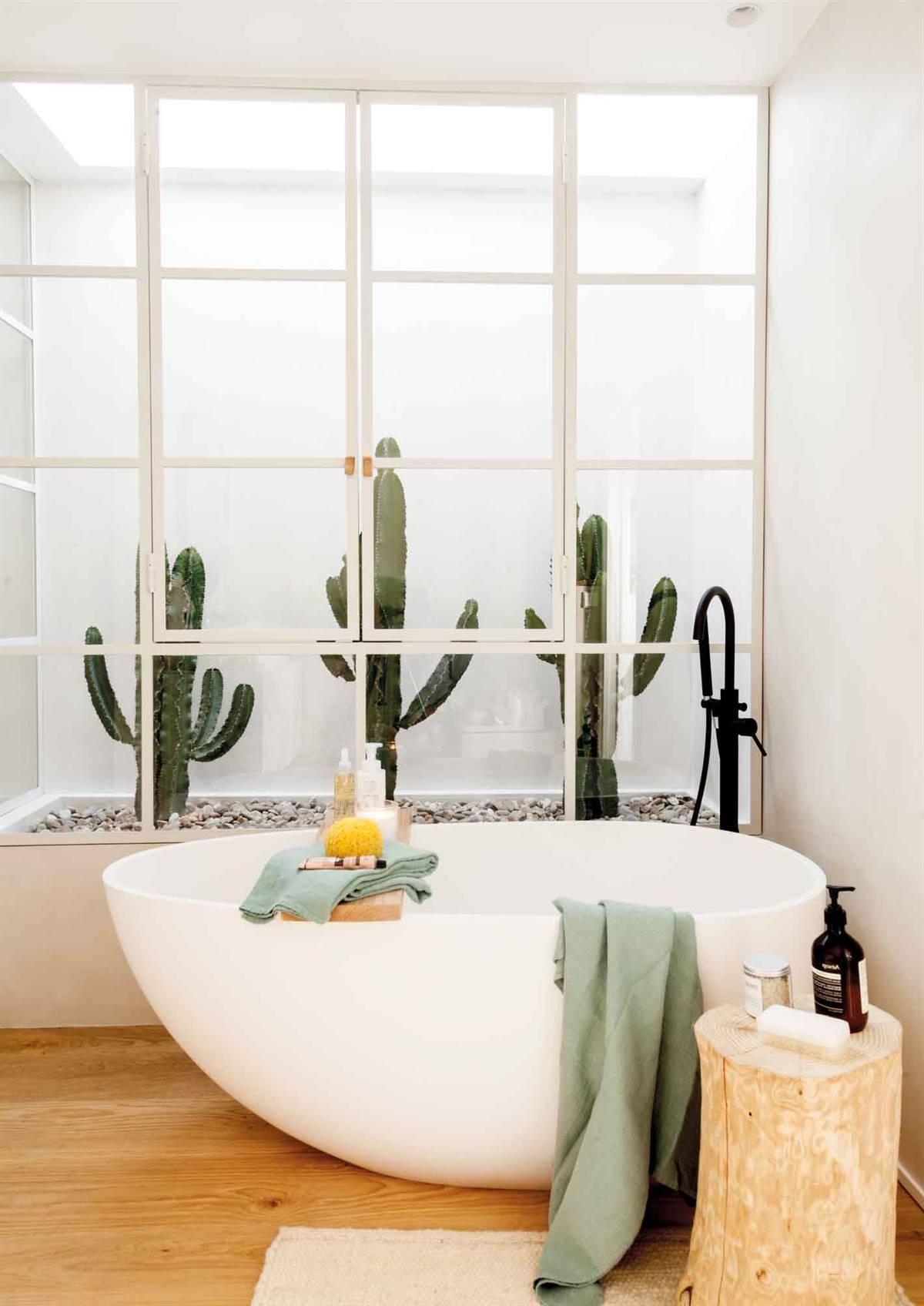 This hemispherical bathtub with ludicrously thin edges almost resembles half an egg shell perched on the hardwood floors. Black matte freestanding taps just serve to add to this sleekly stylized scene. To make this even more special the bathtub has a quirky cactus view exclusively for the bathroom; you can lie in the bath with a view of nature through floor to ceiling windows without being exposed to anyone. The plant life outside is brought into the interior decor with a tree stump table that holds your bath products.
18. Small Bathroom, Big Bathtub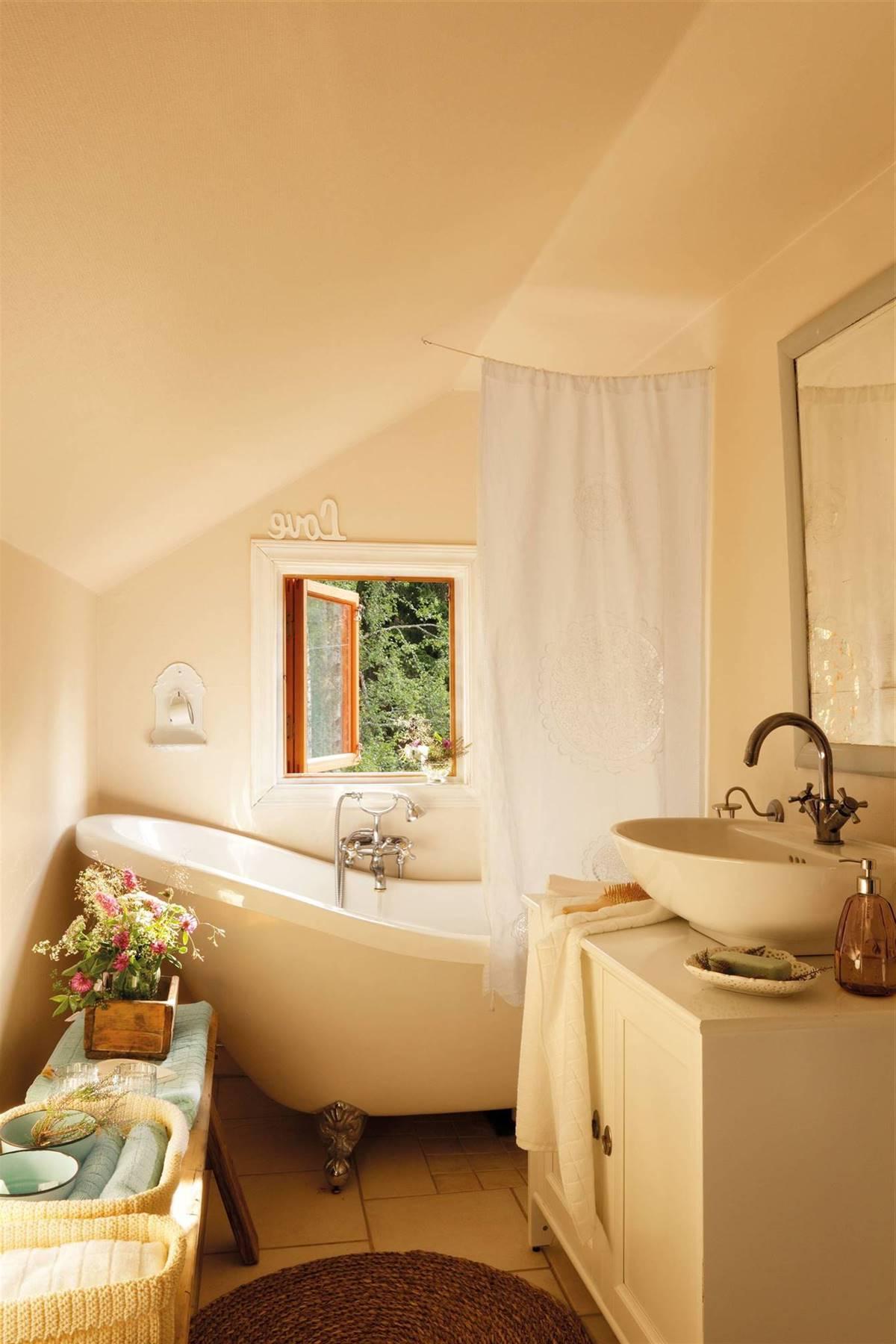 This small bathroom has made the choice to make whole room about the huge claw foot slip tub. A small shower curtain has been added more for the decor than privacy but its little details like this and the wooden bench holding towels and a charming flower box that contributes to this room's charm. A comically small window has been placed in the perfect position to look out while you bath so you can feel like you're communing with nature. The overall feeling is homey and cozy, a place that is perfect for you to unwind.
19. Claw Footed Slipper Tub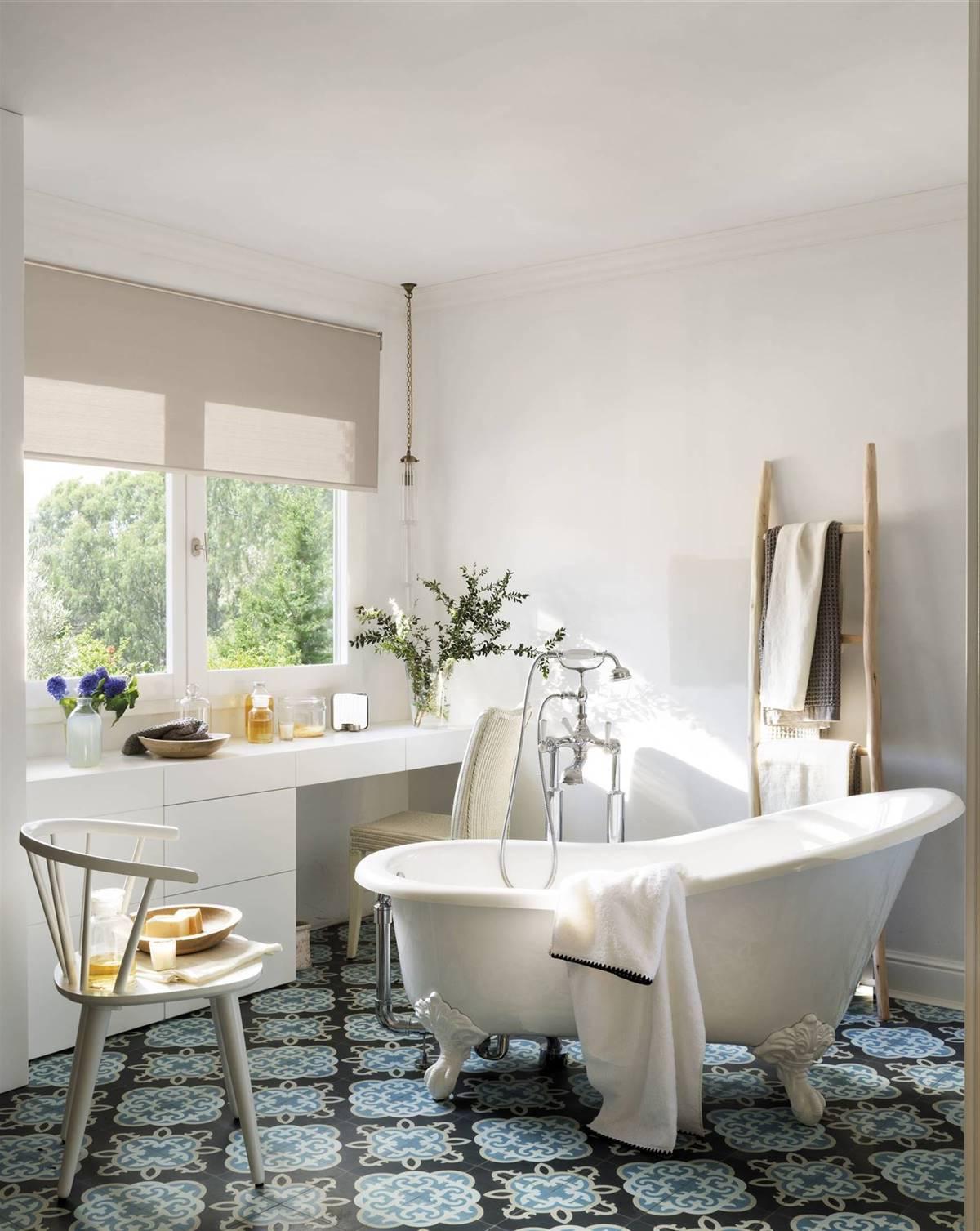 This classic white claw foot slipper tub is perfectly positioned in front of a large treetop window so you can have a view while you relax in a sumptuous bubble bath. The predominant white of the bathtub has also been used on the walls, ceiling, vanity, chair and even the towels. However the graphic blue patterned tile makes all these items stand out rather than blending into one another and this and brings the design into together a very singular aesthetic.
20. Thick Rimmed Tub with Tray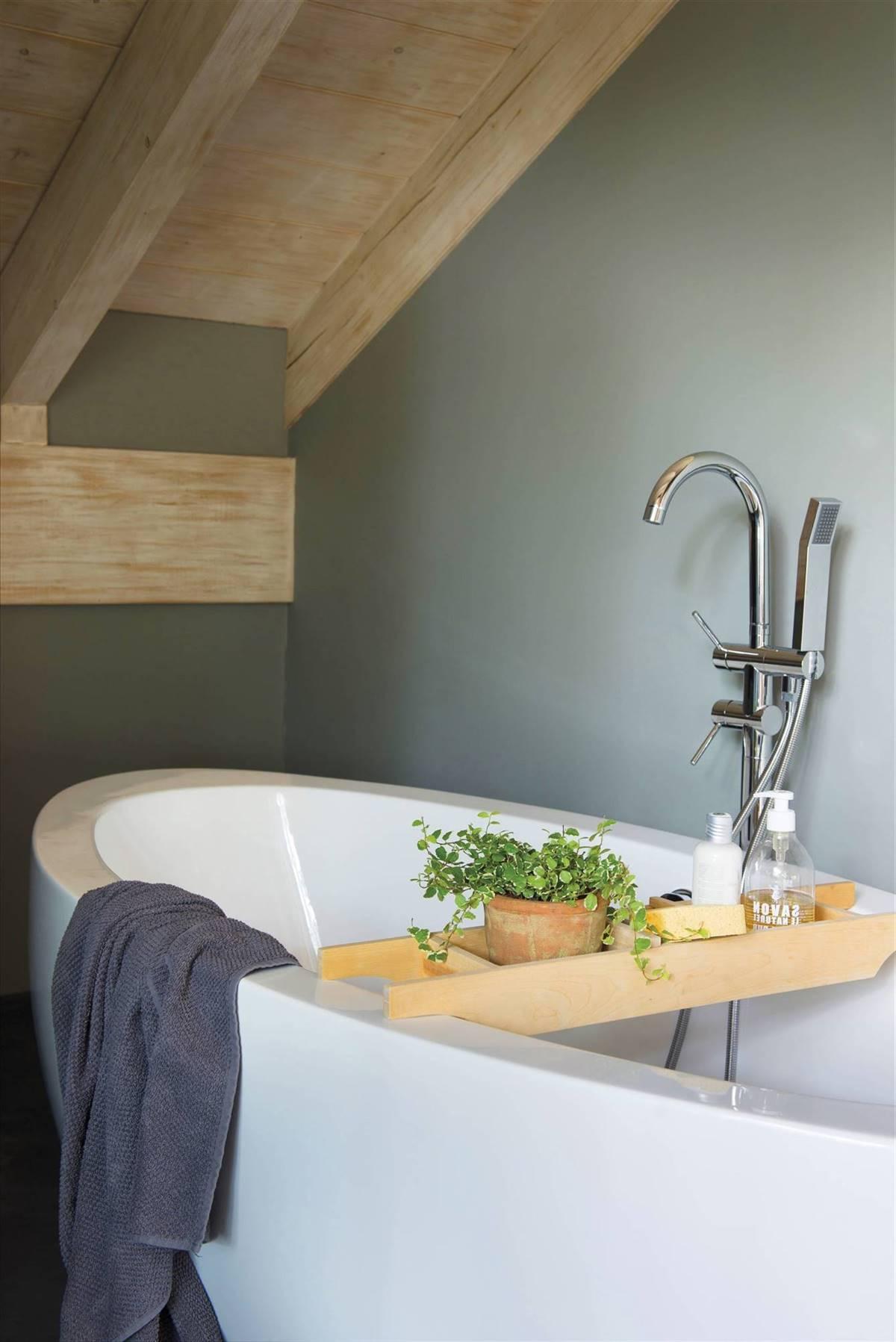 Bath trays have been around for a long time, mostly in a slightly unattractive utilitarian form. This thick rimmed contemporary slip tub is perfect to hook a tray onto. However this is a bath tray done right. The simple wooden design is both decorative and useful. The sleek simple wooden design gives you plenty of space for bath essentials and a few treat yourself items like book or a scented candle.
21. Home Spa Experience With A View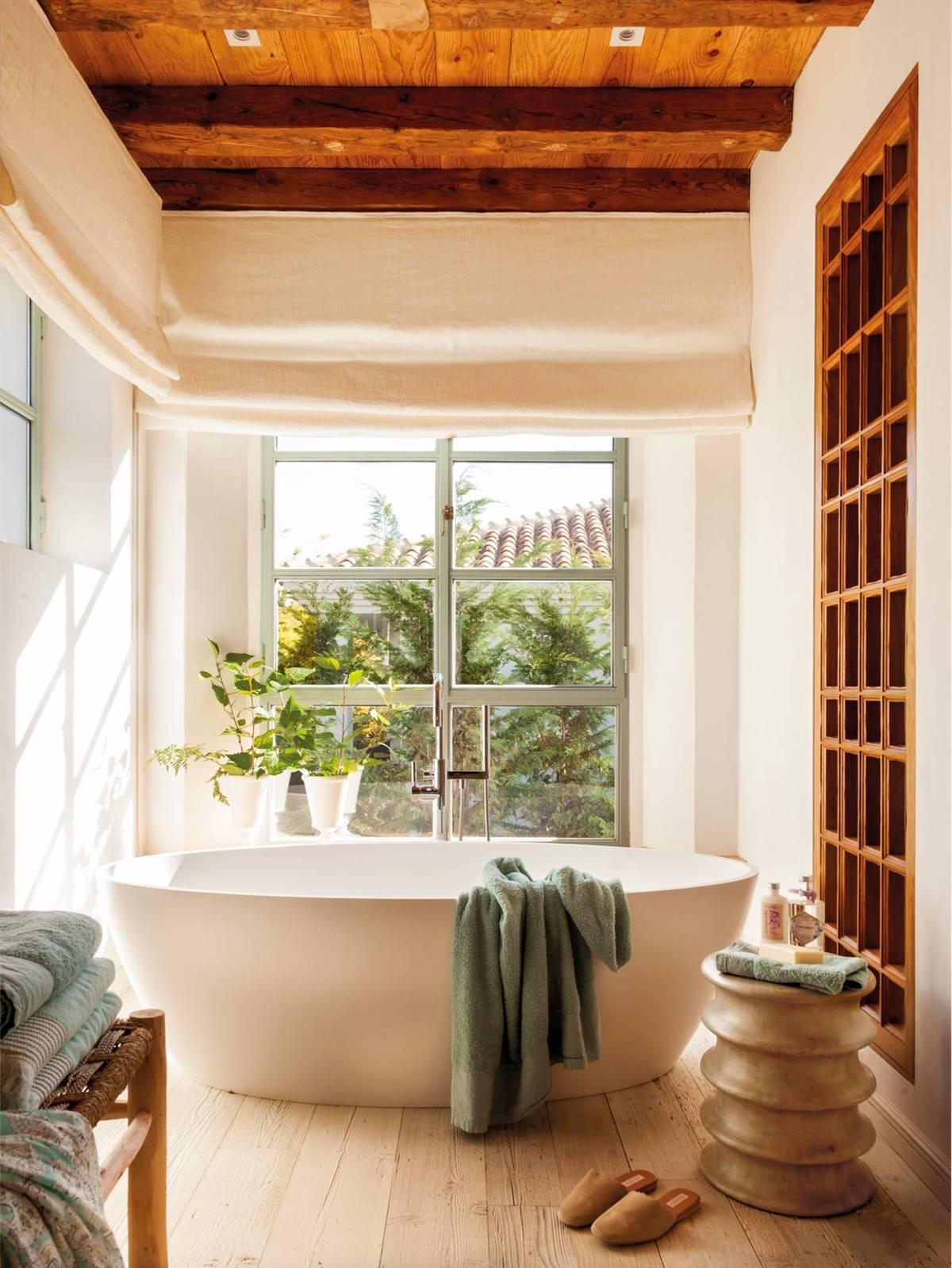 Every detail about this big and luxurious bathroom speaks of relaxation. This wide soaking tub has room for two to relax in complete comfort while taking in the beautiful view. The wooden details carried throughout the room from the shelving unit, quirky table, floorboards and exposed wooden beams that make you feel like you might be out of the hubbub of the city in a rural getaway.
22. Claw Foot Slipper Tub In Blue Bathroom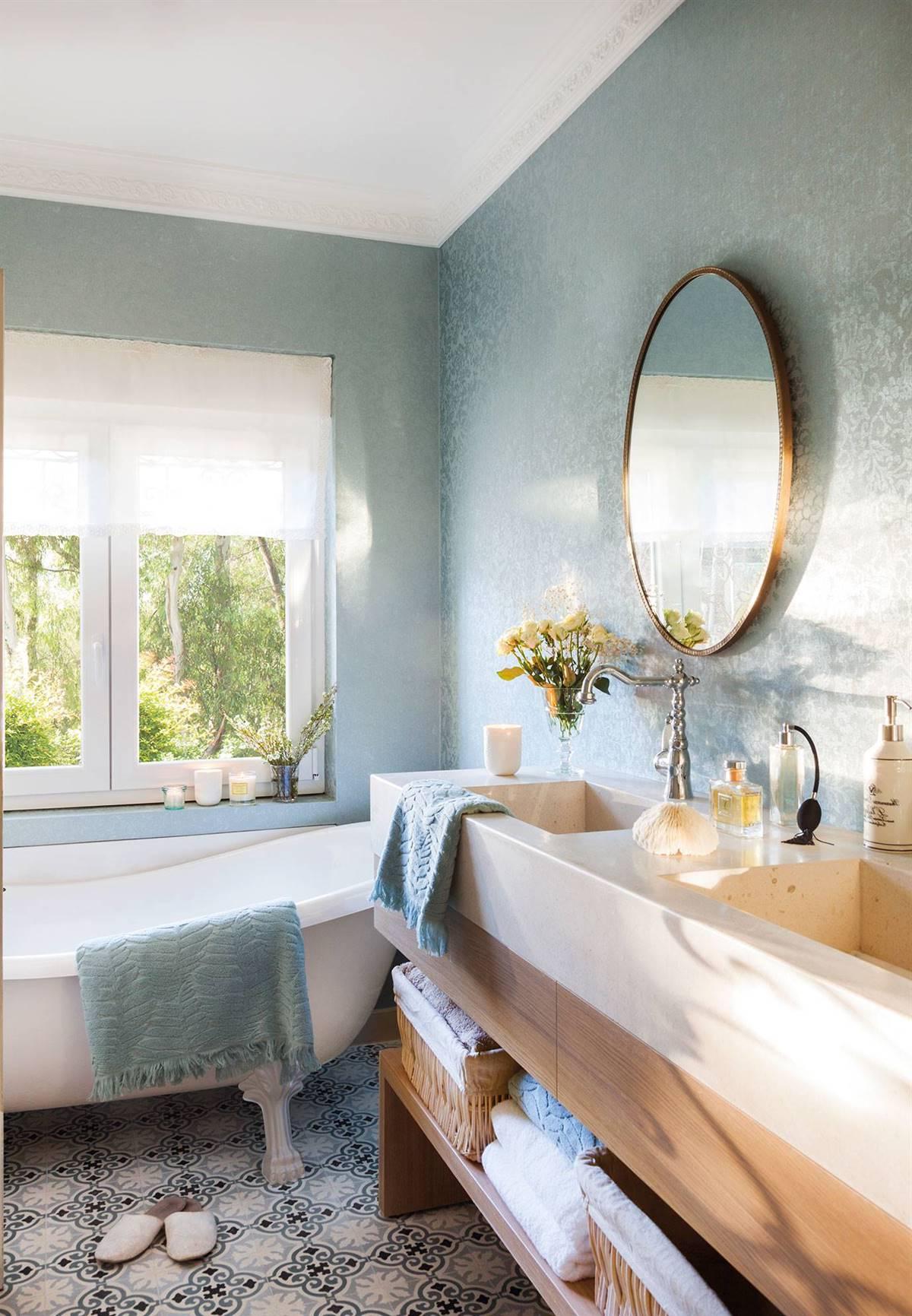 The white claw foot bathtub, ceiling and window frames in this bathroom have been designed to act as the accents whereas it is usually the most prevalent colour in other bathrooms. In its' place shades of blue are carried throughout the design as the majority colour. This, along with the subtle textures from the wood and stone sinks, richly patterned tiles and flocked wall paper result in a room that is inordinately calming and the perfect place to unwind in after a long day.
23. Oval Modern Tapered Bathtub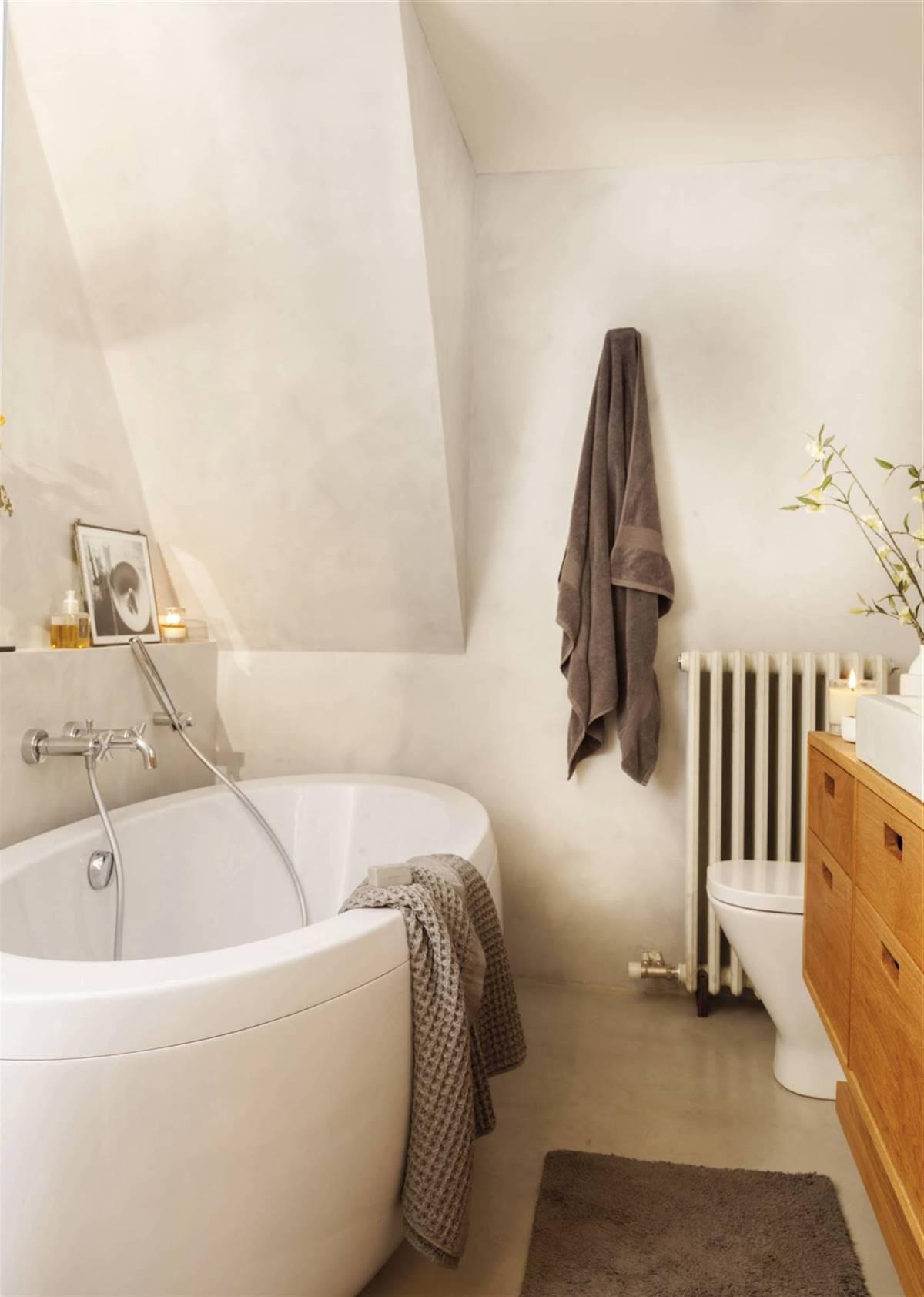 The large white oval tub takes up most the room and is obviously a high priority. The tapered interior makes the tub more comfortable as well as giving it a more solid presence. Very subtley textured off white walls and floor makes the stark white of the bathtub stand out even further. The rich colour from the bathroom cabinet warms up the room's overall feel and makes the space cozy and relaxing.
24. Bampton Roll Top Tub With Wall Mouldings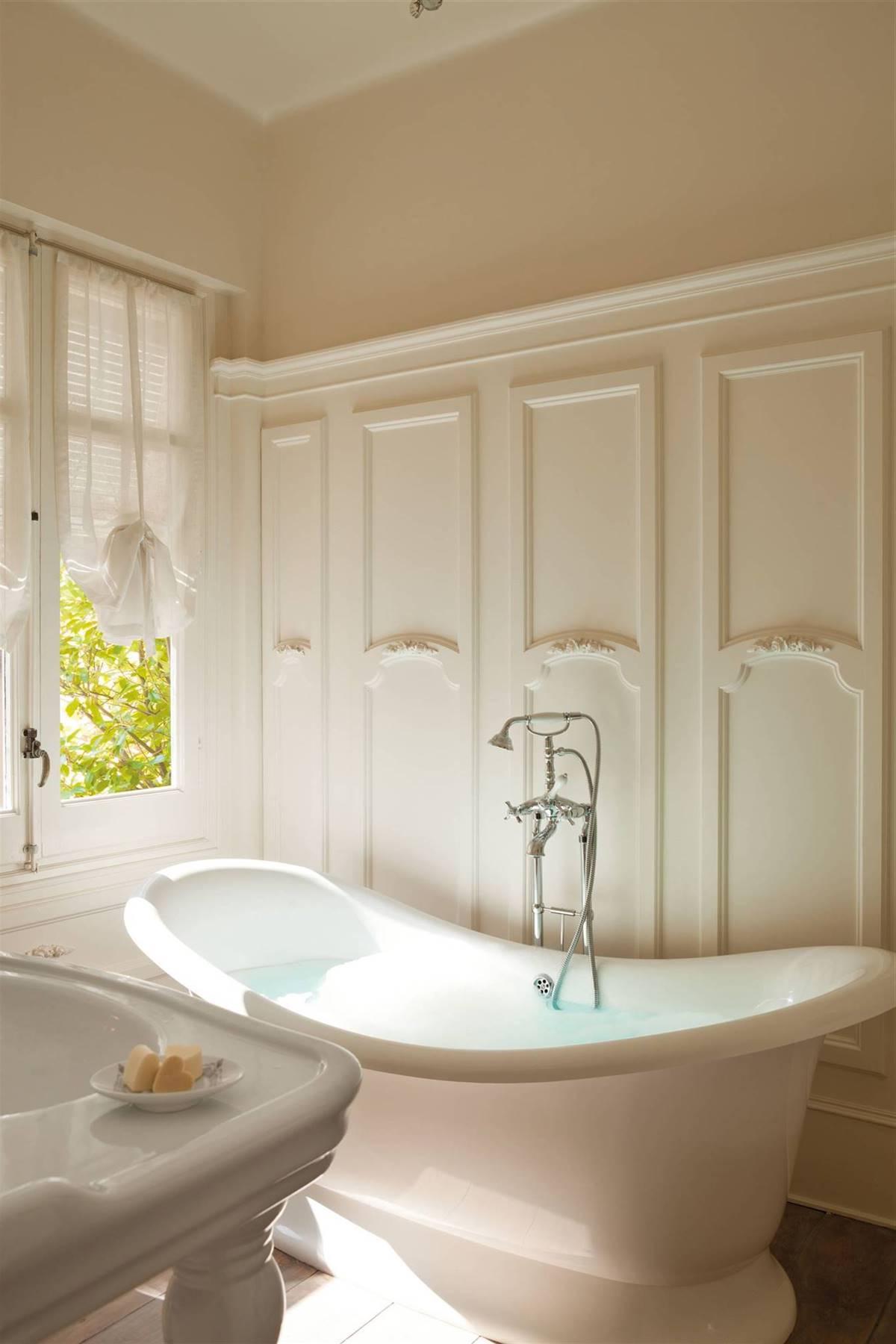 This large roll topped tub with a pronounced curved rim is the one doing the talking in this space. Its exaggerated shape and size and wide sturdy base fills up the majority of the room with only a few subtle details added to heighten the design. Those details include the wholey ceramic basin and minimal white on white wall mouldings that add detail and bring together the Victorian inspired room décor with a flourish.
25. Dark Classic Bathtub with Shiny Metal Feet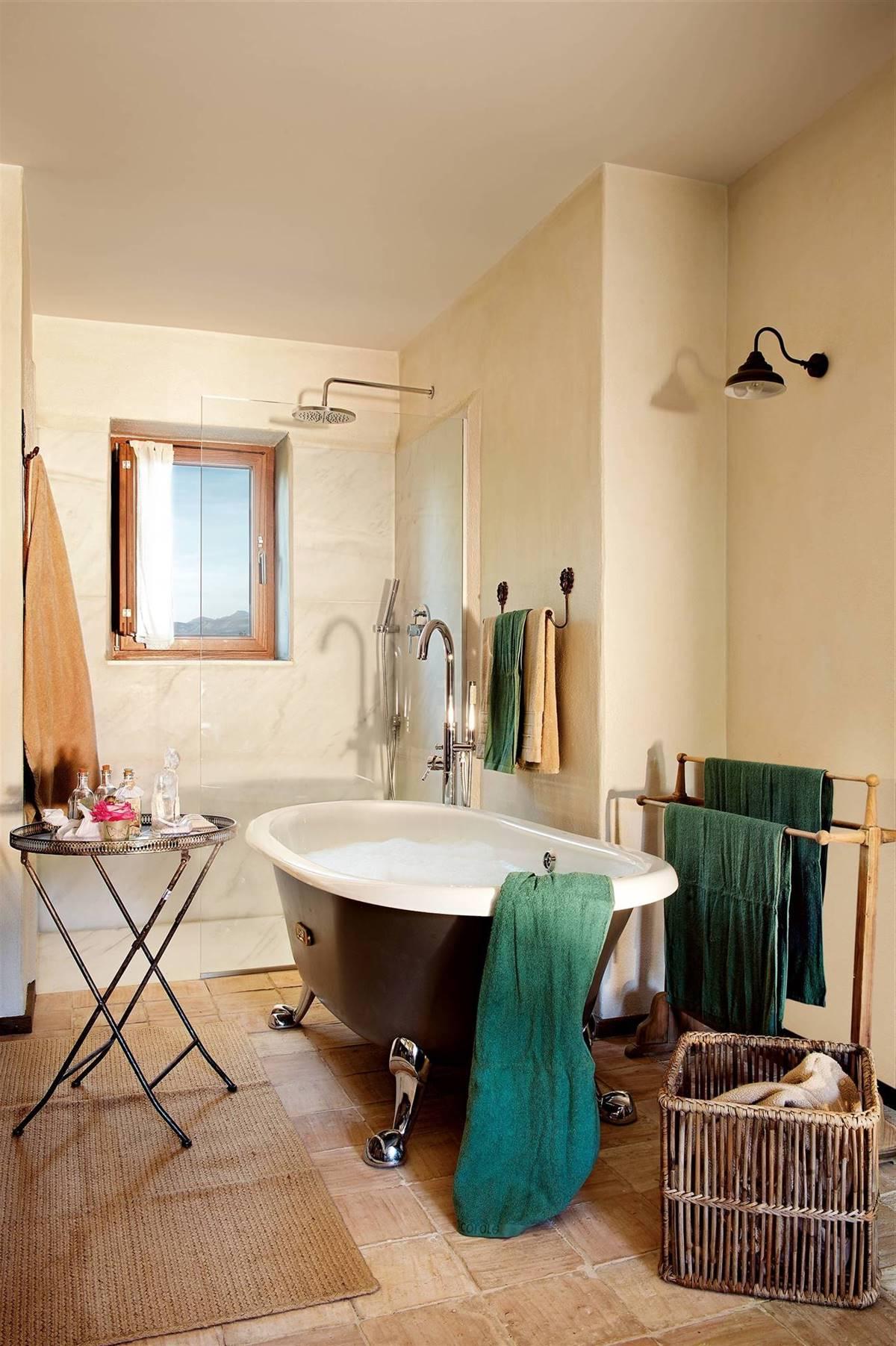 This black tub with highly reflective chrome feet is almost futuristic in appearance. Rough wooden tiles create a stark contrast between the natural matte textures of the rest of the decor and the stylized feet, which make the bathtub the main feature. A fold away table provides temporary storage for bath essentials next to the bath to save space so there was no need to choose between a big bathtub or a big shower in this narrow bathroom.
Conclusion
As this list has shown, when it comes to freestanding bathtubs the possibilities are endless. The materials, colour and even the taps can be chosen to highlight your bathroom decor and make the often overlooked, utilitarian room something special.
Putting more thought into such a large fitting shows that it has been intentionally considered and makes it feel more impactful within the room. In today's non-stop world moments of pause have become few and far between. By thoughtfully designing your bathroom around a freestanding bathtub you put your comfort and self care at the forefront and gives you a space that you can go to relax and reconnect with yourself.
So why not try investing a little bit in yourself and your bathroom decor with a gorgeous freestanding bathtub.