The use of mirrors as decoration elements comes from very far away. In fact, they were once a luxury item and being able to put a large mirror in a room was a sign of great economic power that is still typical today. That is why it is interesting to know different ways of decorating with mirrors.
The mirrors are a good decorative element that can better distribute the light of the room, provides an effect of greater space and also provide a striking decorative touch.
They are also an element linked to good vibes if you follow certain recommendations on some Feng Shui techniques.
At home we can use them in many spaces and in different ways, we can even complement them with more pieces that enhance the decoration.
If you want to know how to maximize your mirrors and get that magazine stay that you like, these are some suggestions to decorate with mirrors the walls of the different rooms of the house and get the most beautiful effects, more trend or, simply, more amazing spaces.
30 Mirror Ideas That Will Make Your Home Look Amazing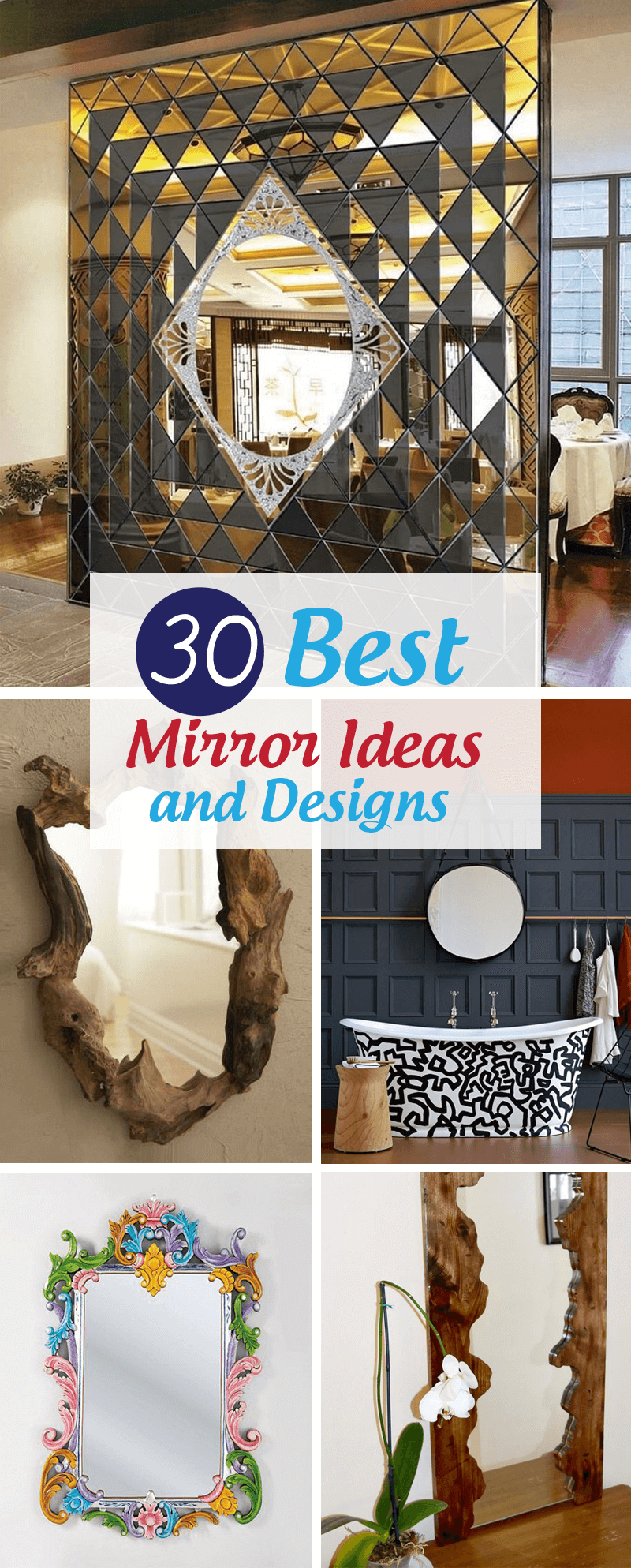 Decorative Mirrors are one of the best alternatives to decorate any room of your home, office or business premises.
No professional of decoration can deny the need for a good Decorative Mirror when developing a project.
These days, mirrors are still an important part of the decoration of the different rooms of the house, not only for its decorating capacity but also for the multiple benefits that its use entails. With them you can play to get more light or for a small room to look bigger. But you can also enjoy its ornamental function without having to go further.
Deciding among hundreds of types, models, styles, sizes and prices is not usually an easy task. Look at these options for mirror ideas we offer you.
1. Antique Standing Mirror For The Entrance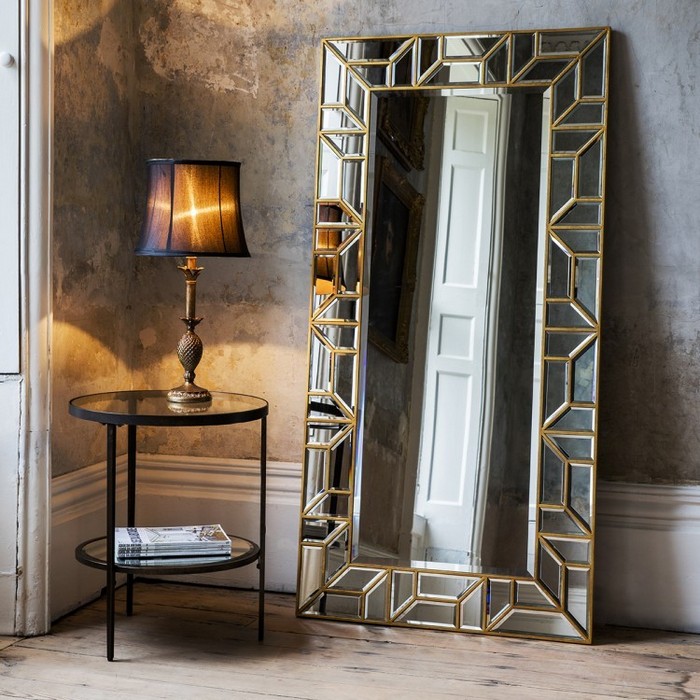 Decorating with large mirrors is one of the most recurrent resources in decoration, not only for its spectacular and visual impact, but also because they help us expand the space and duplicate the light.
But although this trend of using large mirrors likes a lot, they are not always used correctly. Depending on the mirror, where and how you put it can help or on the contrary it can ruin a decoration completely.
It is very common to combine styles such as classic framed mirrors in modern spaces, frameless mirrors on rustic woods, and retro style mirrors like this one that stands in the hallway and makes it look bigger.
2. Mirror Ideas For An Apartment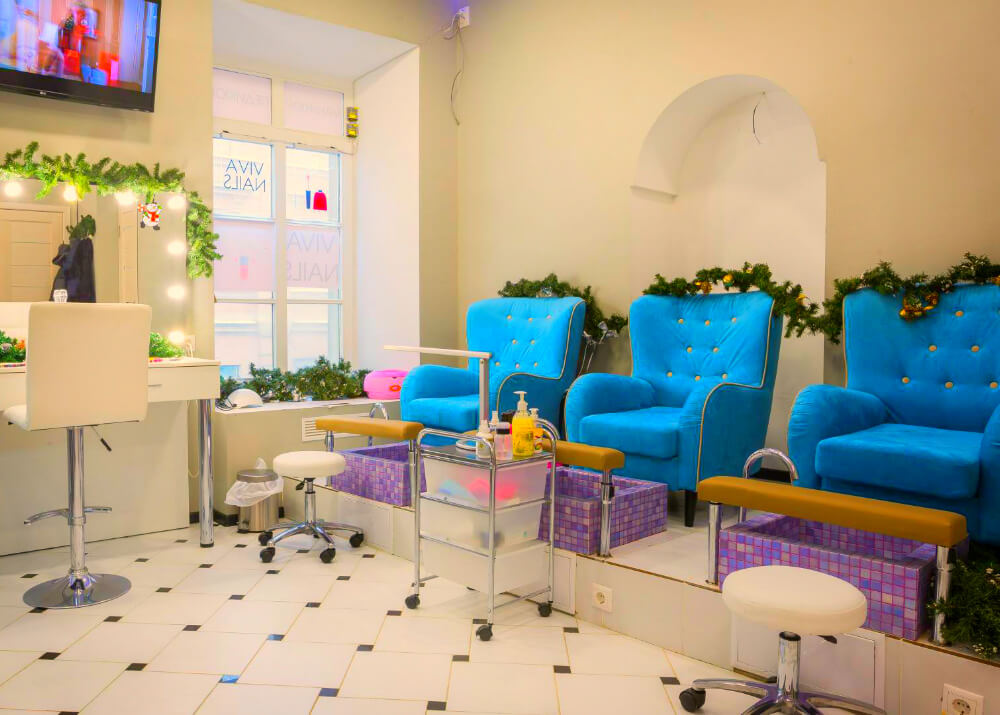 In vintage-style room walls the combinations of photographs and mirrors framed all in the same style, but with frames of different shapes work very well. Wood and metal can be two materials to take into account to achieve that effect of another era that is sought at the same time to combine with the latest trends. And if you also add light bulbs like in this mirror, the style will be even greater.
3. Bedroom Style Large Mirror For Any Space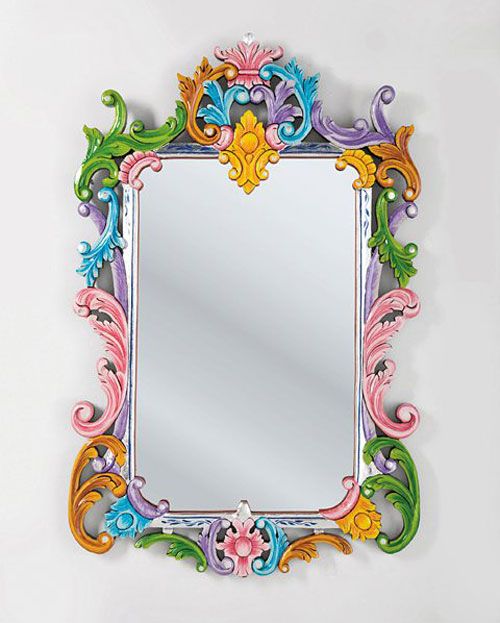 Large mirrors are ideal for putting into practice that phrase that says "less is more". You can use them to cover an entire wall and give the room an effect of greater proportions. In addition this will help you to redistribute better both solar and artificial light. This dresser style mirror will help you to achieve the style.
4. Mirror Ideas For Bedrooms And Their Walls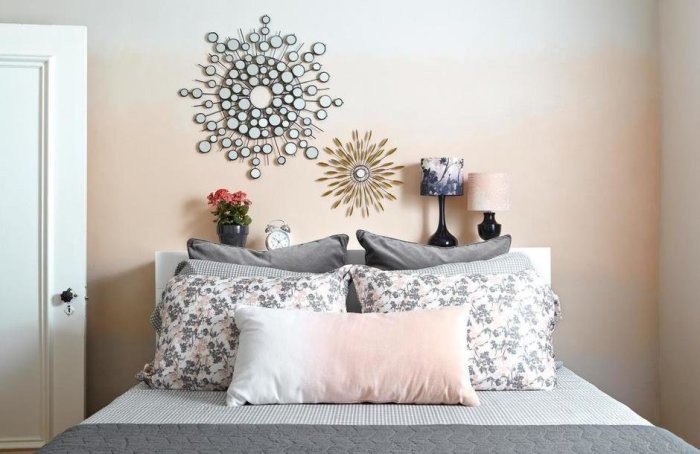 Placing the sun mirrors on the headboard of the bed has become one of the main trends. For this style, there are people who bet on a combination of different sizes and shapes mirrors to enhance the whole decoration.
5. Bohemian Retro Mirror To Decorate In A Big Way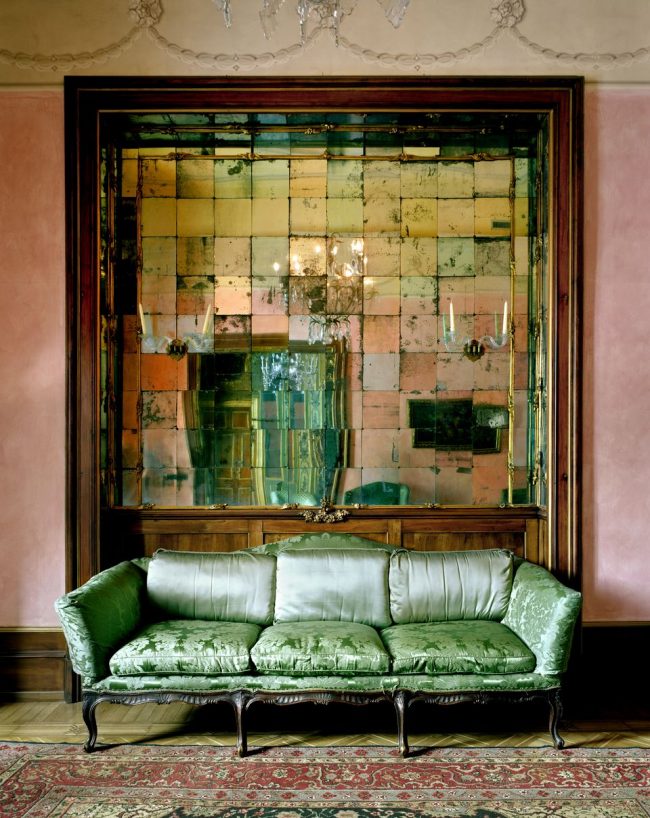 Large mirrors are ideal when you need to expand a room. They can cover a complete wall or just be large enough to make it the predominant one within a room.
If you are going to decorate with colossal mirrors, you can look for some that are divided into sections, forming geometric patterns. It is a very original and sophisticated detail, which will break with the imposition of the reflection on the wall. And if you choose a bohemian style like this gigantic sectioned mirror to go with your decoration, the results will be stunning.
6. Creating A Mirror Wall For Your Living Room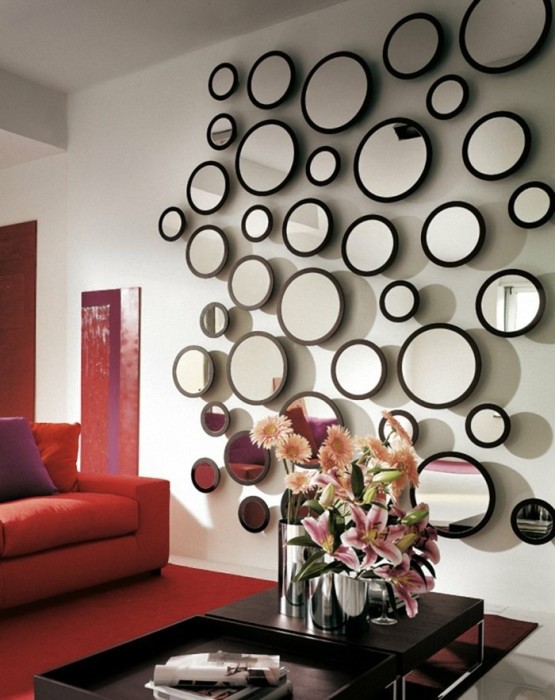 The compositions with small mirrors are back in fashion and look good everywhere. The same is used for the entrance of the house as for a corner of the living room, or for a column in the dining room. They even look good in the bedroom, being able to try to be placed in original and different areas as on one of the bedside tables, thus breaking the symmetry that these spaces usually have. In this example, a whole wall of mirrors was created not only to give a great style to the room, but also to make the best of the light and space available.
7. Mirror Idea With Diamond Sectional Patterns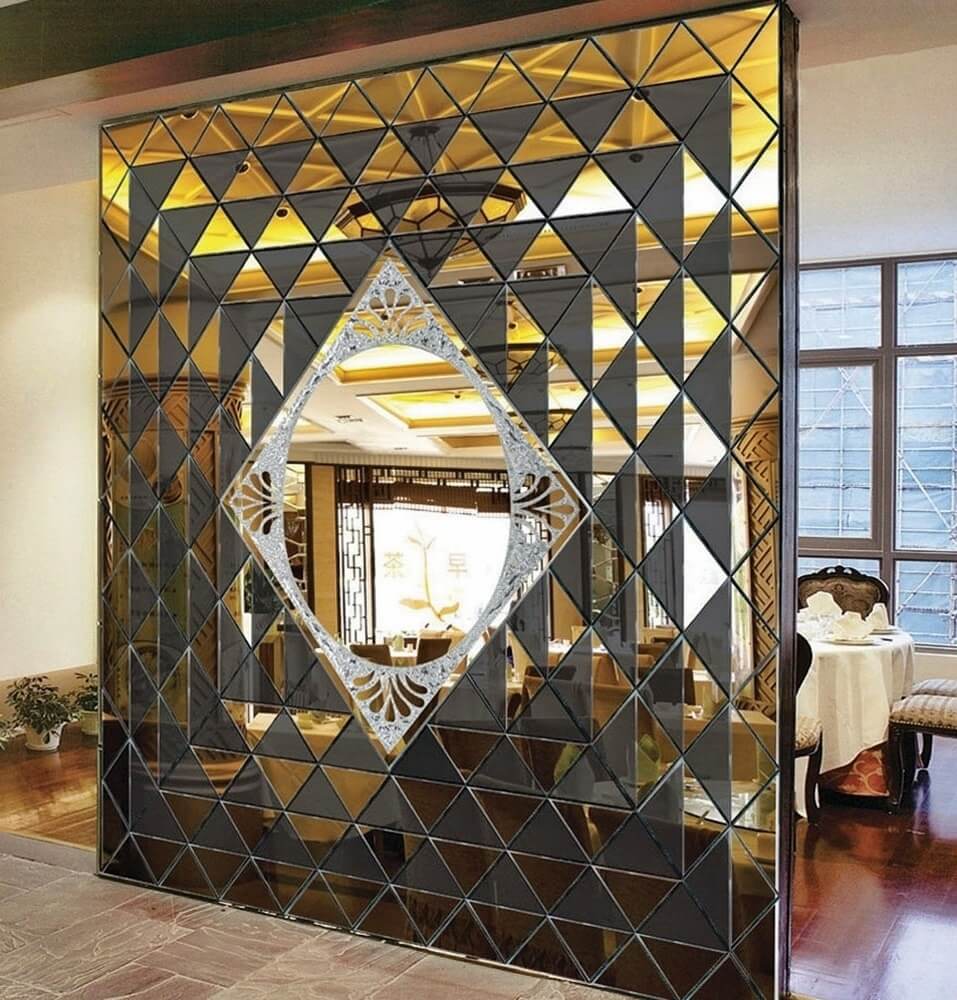 If you are going to use a single mirror and you want to give it the prominence it deserves, it is advisable to opt for eye-catching and interesting design that manage to capture all eyes. The idea is to choose a model that goes with the style of the house and that adds personality. Design pieces, vintage mirrors or baroque airs can be key in your decoration and give that distinctive touch that you look for in a quality decoration.
8. Wall Mirror For The Dining Room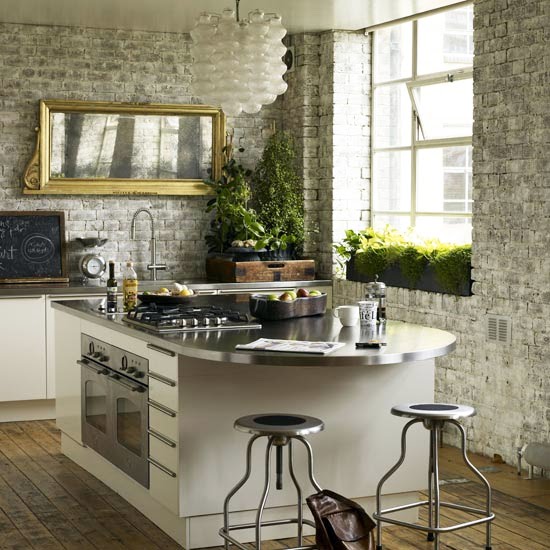 Do not underestimate the power of a mirror, since its purely decorative function adds a functional facet, capable of expanding the square meters of a room or putting light into a dark corner. They show reflections of your deco personality, and they can also end, according to feng shui, with bad energies. Of course, their material, shape and dimensions have a lot to say. This dining room mirror helps to complete the room's decoration and the gold color adds an extra bling that definitively helps to bring up the room.
9. DIY Ideas For Beautiful Mirrors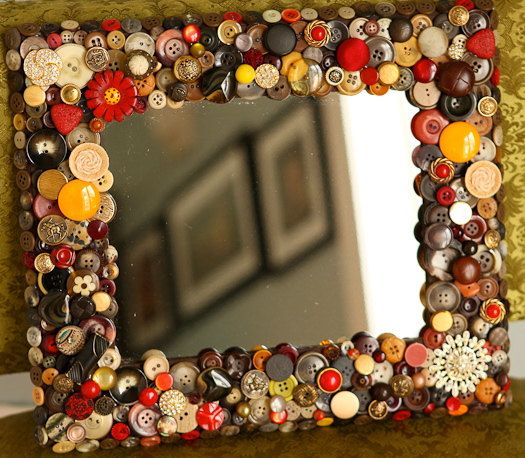 Placing one mirror in the center of your room will always be a safe option with which to highlight and / or accentuate the design of the other decorative pieces. It is also a way to give a better view to the armchairs.
If you only will have one, it must have a striking frame or a design that is original and attractive. In department stores and decoration stores it is very easy to find a great variety and at a great price. But you can also take an old mirror with no frame or an ugly frame and come up with great ideas like this one that used buttons to create a beautiful frame.
10. Big Standing Mirror Ideas For The Entrance Halls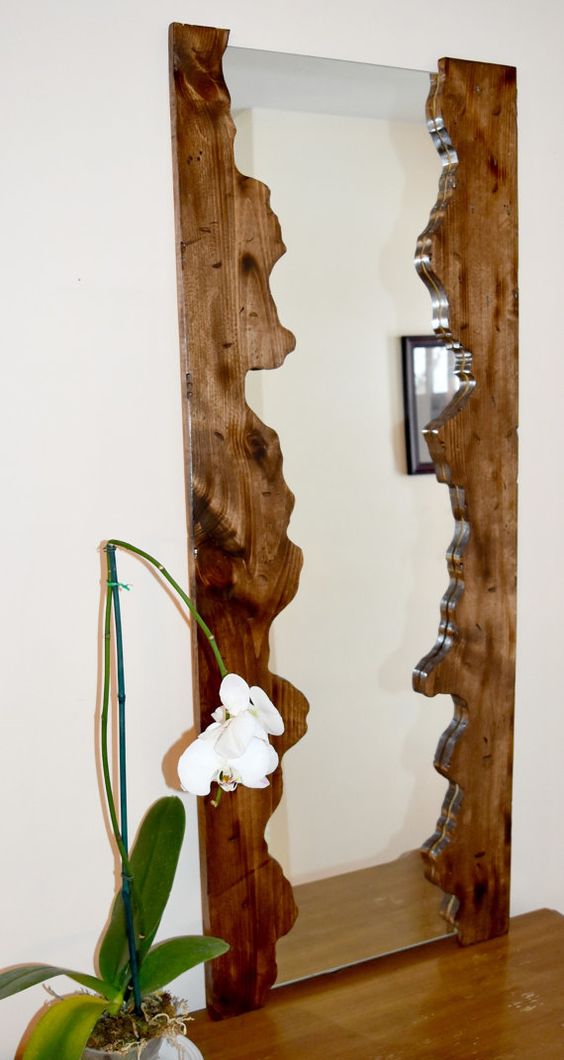 Combining the mirrors with materials such as wood is another trend that you can love if you are into rustic touches. Apply these ideas in reception rooms, living rooms or dining rooms so that your home becomes a modern and elegant place.
11. Mirror Ideas For The Entry Way: Big Standing Mirror With Wood Frame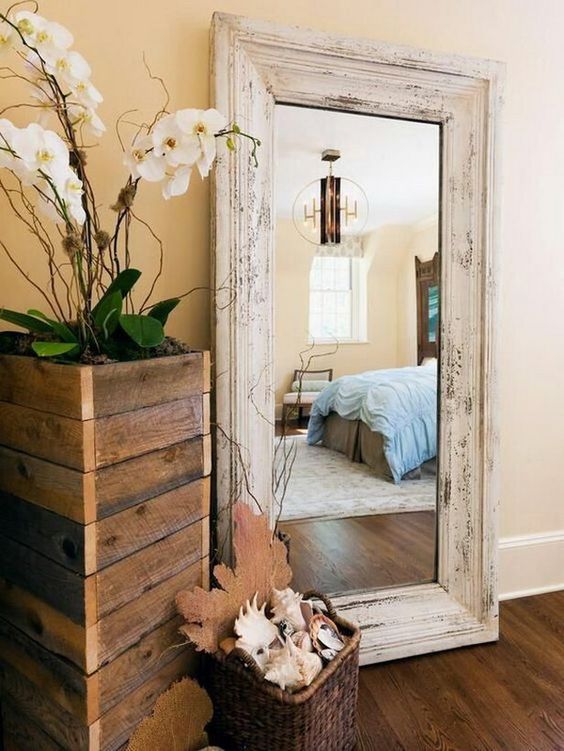 The large-format mirrors are not only characterized by being very practical but also provide elegance and presence at any room. The bedroom, the hall or the living room can be good candidates for hosting and will undoubtedly become the center of attention. Decorate with large mirrors and give a more current touch, instead of hanging it on the wall the effect will be much more striking and trend.
12. Mirror Ideas For A Farmhouse Bathroom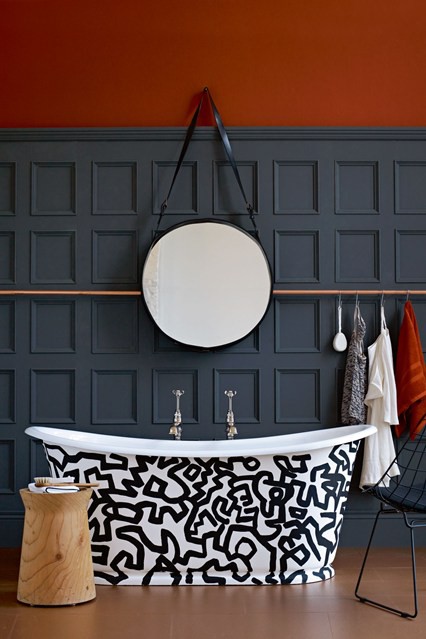 If there is a room in which the mirror, in addition to decorative, is tremendously useful, this is the bathroom. For that reason, the original mirrors for the bathroom, begin to be new trend although with designs very different from those of yesteryear, inspired by the simplicity of forms more to the taste of the current fashions. This round mirror definitively makes this farmhouse bathroom look better.
13. Rectangular Framed Mirror Decorating A Fireplace In A Living Room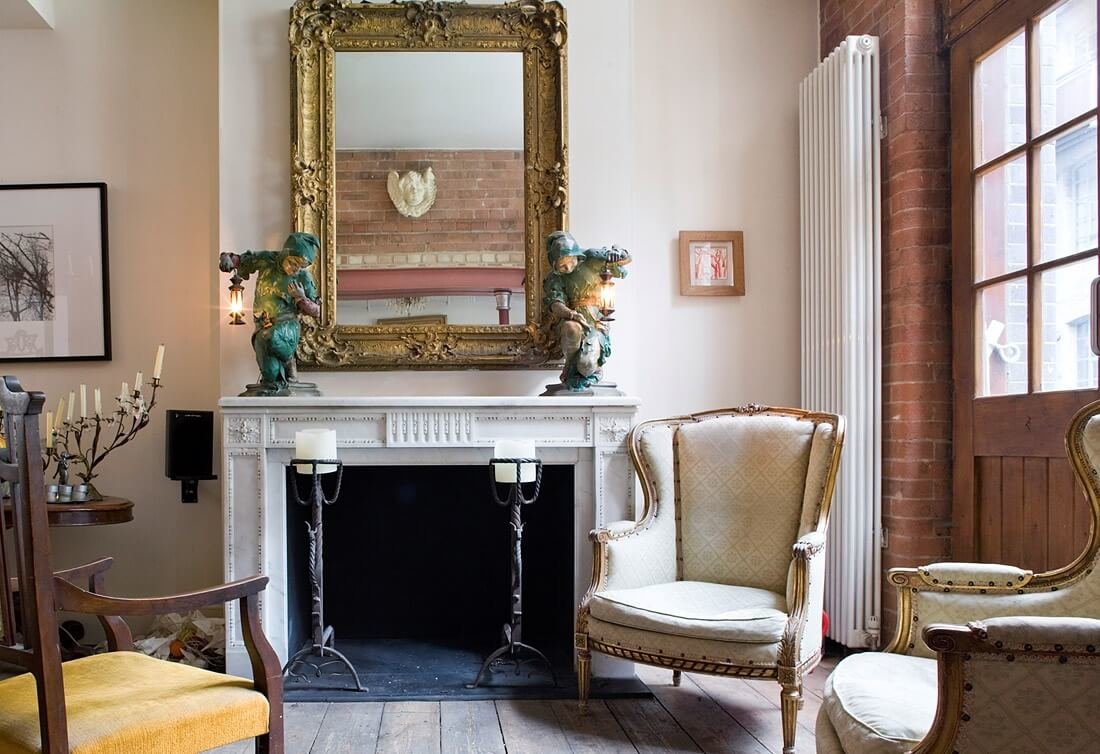 Mirror wall decoration is not only one of the most effective ways to add elegance to a space, but can also make a living room look larger than its actual size. This large mirror goes perfectly with the vintage style of the room, and is the perfect addition to put on top of the fireplace.
14. A Big Beautiful Frameless Mirror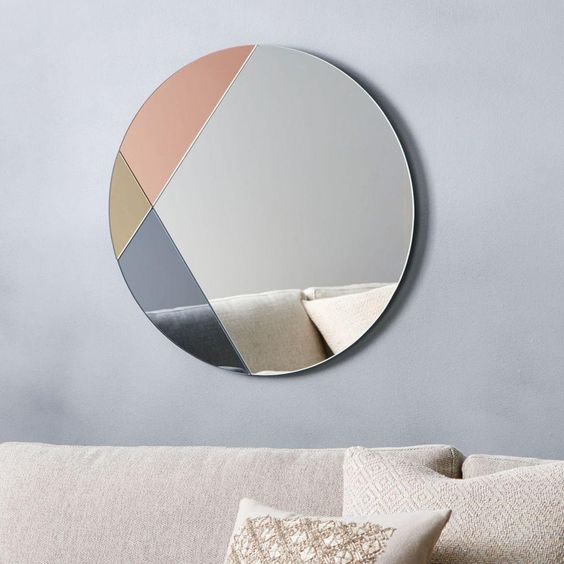 We are used to seeing rectangular mirrors everywhere, but the truth is that they do not necessarily need to have this shape. With one or several circular mirrors, the walls will look wonderful.
They are great for areas like the hall, which you need to decorate discreetly and where, at the same time, you can take a last look before leaving. They will also look great in corridors or walls that need a special touch. This mirror with no frame also features 3 colored pieces that makes it look very modern.
15. Dark Diamond Mirrors For The Living Room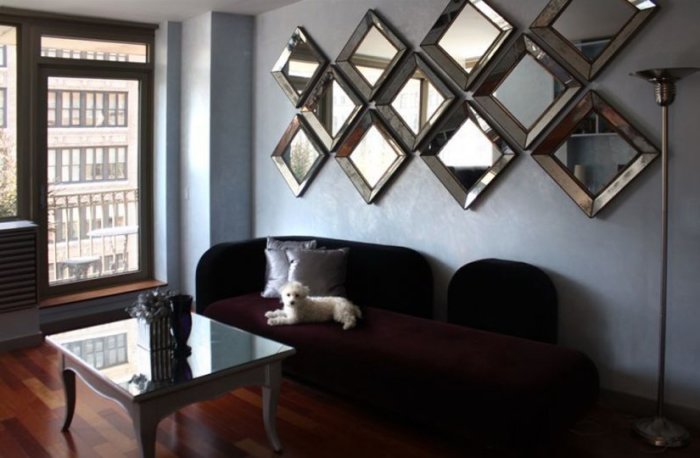 If you really love mirrors, dedicate a wall to collect them. The result can be very chic if you choose models that follow some common characteristic although other characteristics vary. That is, we can choose a common link such as for example that all are gold, square or sun type but play with the sizes so that there is that game of contrasts that we look for in a composition. In this case, the house owner decided to choose all alike mirrors, but the effect is equally impressive.
16. Beautiful Gold Hexagon Mirrors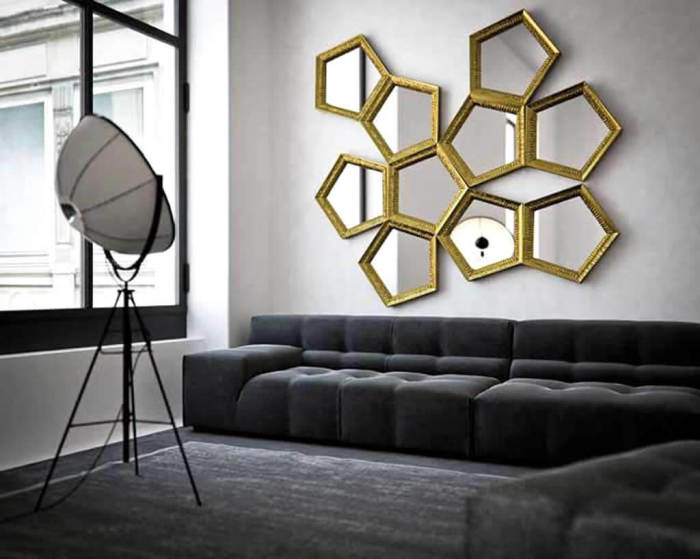 The work that exists today around mirrors, is really fantastic; designs, shapes, sizes. Optical illusions, among many other things, make everyone have something special.
They can be placed where they make a difference; one of them is the living room, where, placing several mirrors, will generate a fantastic feeling, like in this room, where the several gold hexagon mirrors make a work of art in the wall.
17. Round Mirrors For The Living Room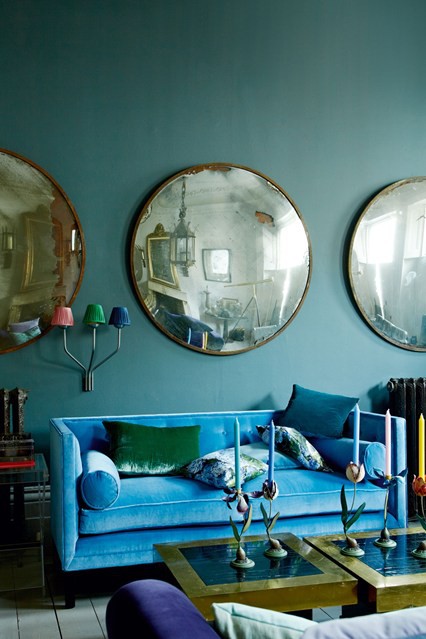 When choosing a mirror for any room, consider what is reflected in it and try to locate it in a space where the reflection is interesting or attractive, for example, a window that shows us the landscape and enhances the light or on a wall in the one that enhances the amplitude of space. Or in this case, on top of the couch in the living room, reflecting the most varied shapes and items.
18. Wall Inserted With Mirrors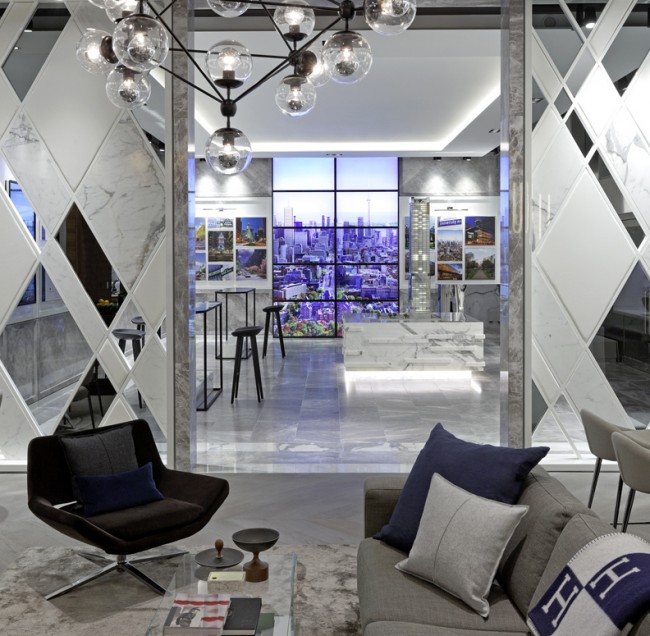 The mirrors are a timeless, practical, decorative element that helps us to increase the sensation of depth and luminosity in the environments. Choosing a suitable design and a good location we will get very different effects within the decoration. So if you want to get out of the ordinary and discover some tricks in trend to learn how to decorate with mirrors like in this example where the mirrors make a significant part of the walls of this room.
19. Different Shapes And Sizes Mirrors For The Bedroom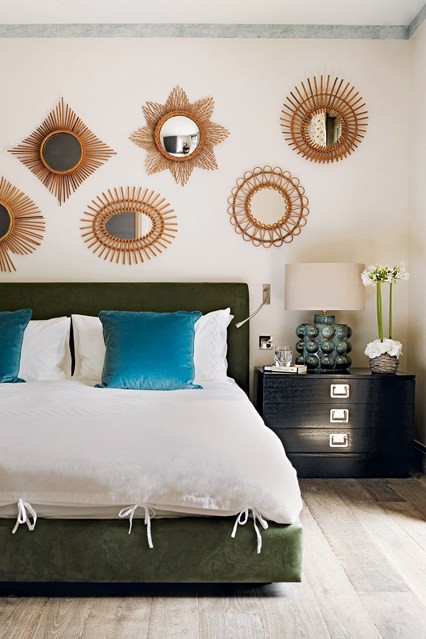 Another good decorative technique is to place several mirrors of different sizes. This will help to form a more creative pattern and reflect the light in different areas. They can be of different shapes and colors, but always respecting a certain combination.
One way to complement the use of several mirrors is with pictures, plants, photographs, etc., in this way you can also create a space that is more personal and related to your tastes and style.
If you want to renovate any room of your home, mirrors are a good option with which you will not spend too much.
20. Mirrors For A Master Bedroom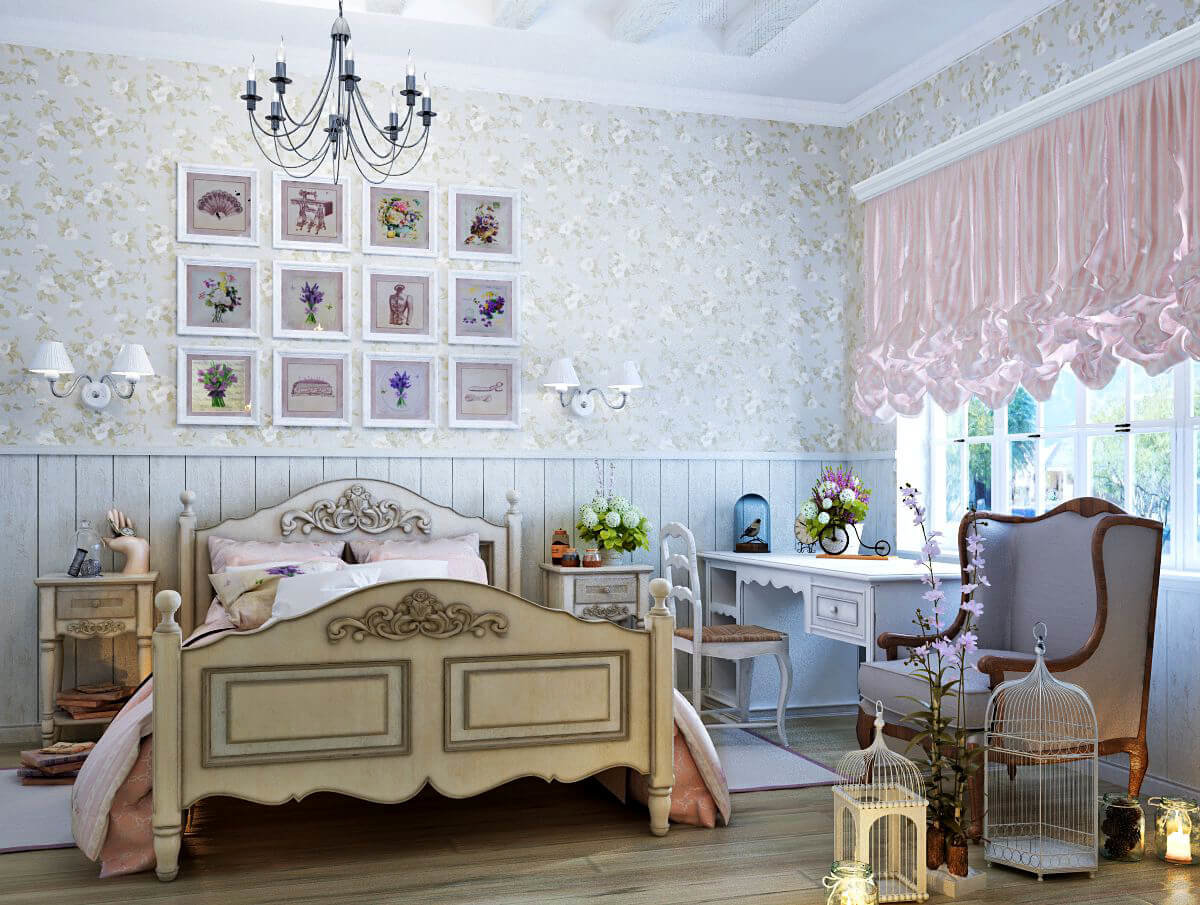 Integrating mirrors in the decoration is an option that allows creating attractive environments, but also functional. These pieces help to increase the luminosity in the space and to visually maximize the size of an environment.
It is possible to play with mirrors of different shapes, such as oval, round or hexagonal, even without frames, to create a high impact income. They can be particularly beneficial in the master bedroom when you are getting ready to leave your home.
21. Beautiful And Impressive Dresser Style Mirror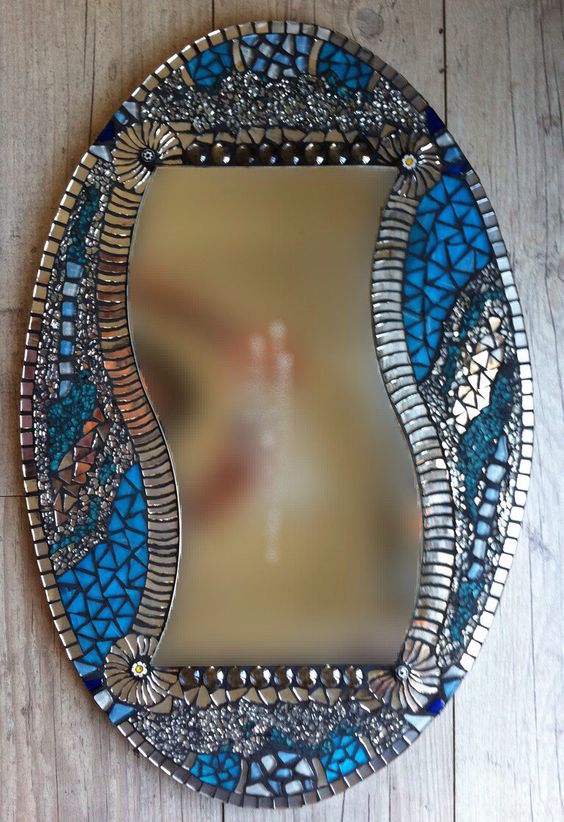 Any room can be decorated with mirrors. In small kitchens, for example, they can give more luminosity. In bathrooms are essential when hiding storage cabinets and to give a greater sense of spaciousness. A mirror in the dining room will make the natural light softer and reflected in all corners. This stylish mirror would look great in any of these rooms.
22. Huge Tiles Mirror With Patina Effect For The Dining Room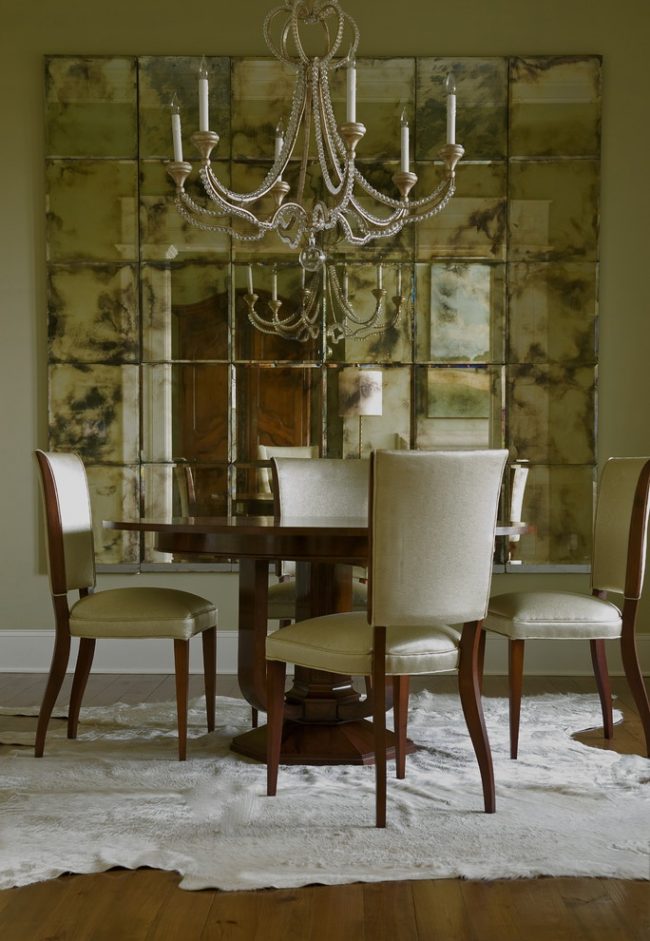 The dining room is the most usual place where mirrors are used. Probably because it is a distribution usually used in apartments, where the dining room is located parallel to the window. In that sense, the mirror works perfectly to reflect the exterior landscape and bring it inwards. This extra large mirror with patina effect magnifies this room.
23. Rustic Mirror With Wood Frame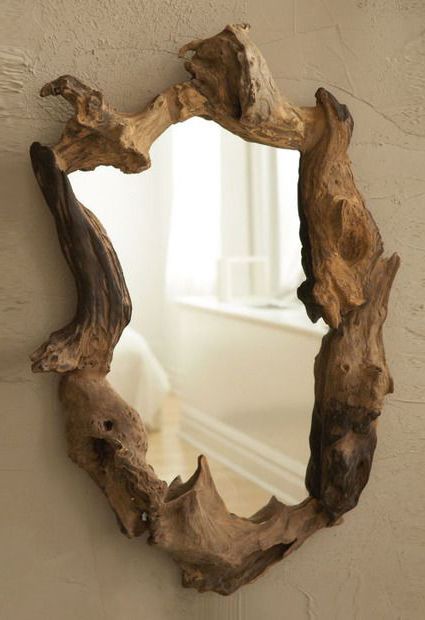 The mirrors are very recurrent decorative elements also in the corridors and entrances of a house, because they allow to extend them or to enlarge them according to the needs. At the same time, you must avoid mirrors reflecting parts of our house that we do not want to be too visible. This wood framed mirror is perfect for the bathroom or any other room.
24. Mirror Tiles Combined With Colored Tiles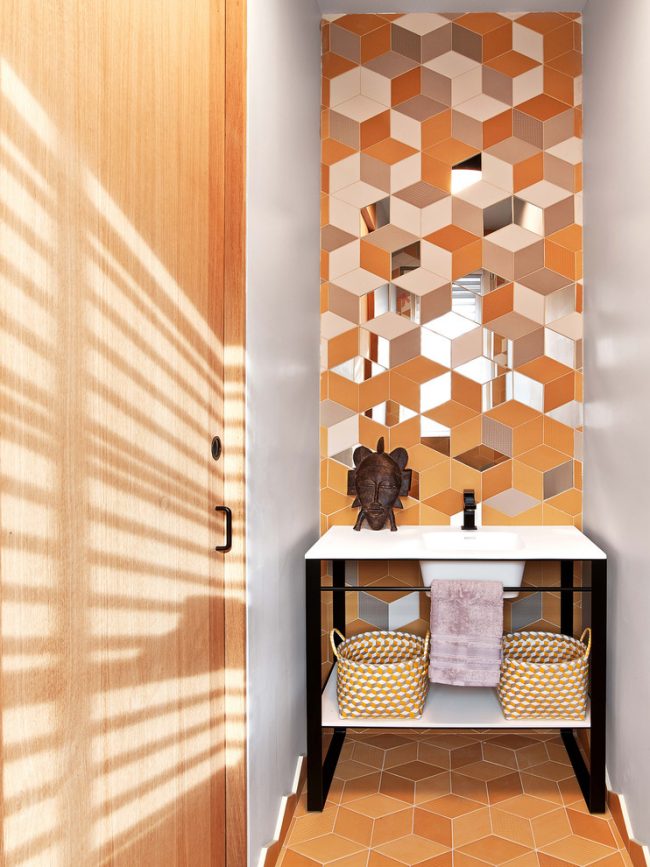 Decorate a wall almost complete with mirrors of different models and sizes, multiply the space and are very decorative, and if you combine it with normal tiles, the effect will be even better.
25. Simple Mirrors For A Traditional Bathroom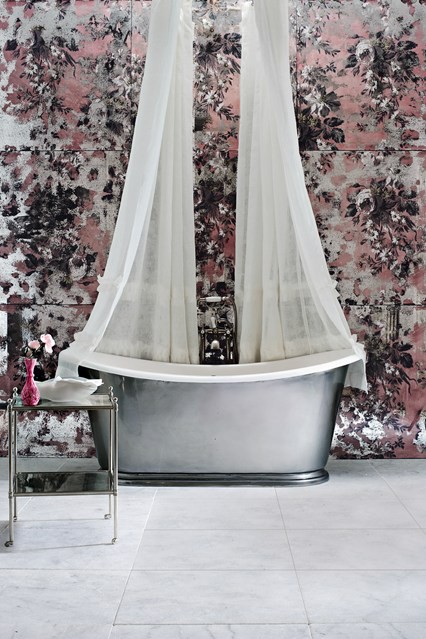 If you really love mirrors and look for another way to apply the reflection effect beyond a traditional mirror, you can opt for mirror furniture that comes without a doubt, stomping.
Coffee tables, receivers or chests of drawers can be the ideal element to add a plus of glamor to any corner. Although it is very striking pieces, if you know how to combine well within the environment you can achieve very interesting results and full of elegance. This traditional bathroom is enhanced by the mirrored table that is also vintage.
26. Unique And DIY Mirror For Any Space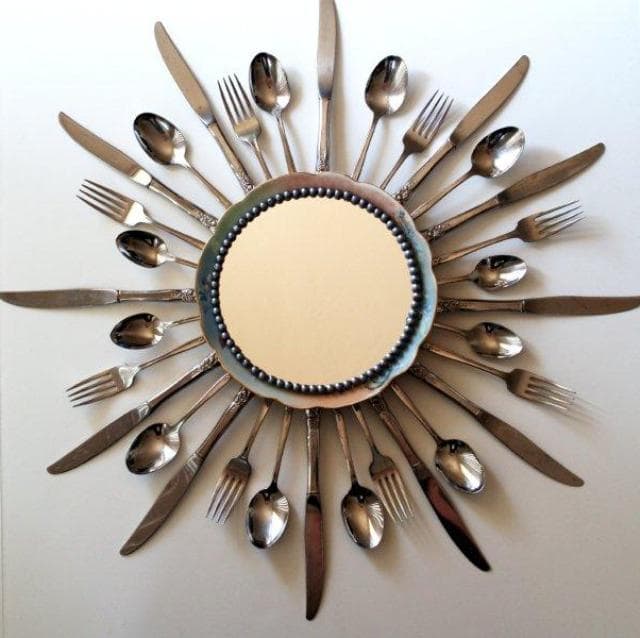 No matter what decorative style you have in your home, surely somewhere you have a mirror. And not only because they are practical to see the face, enlarge the rooms or reflect the light, is that, in addition to practical, the mirrors are very decorative. And to get an original mirror is not necessary to make a large investment, starting from a small mirror we can transform it with wood, paper, cardboard, branches, or in this case, old silver wear.
27. Victorian Mirror For The Wash Room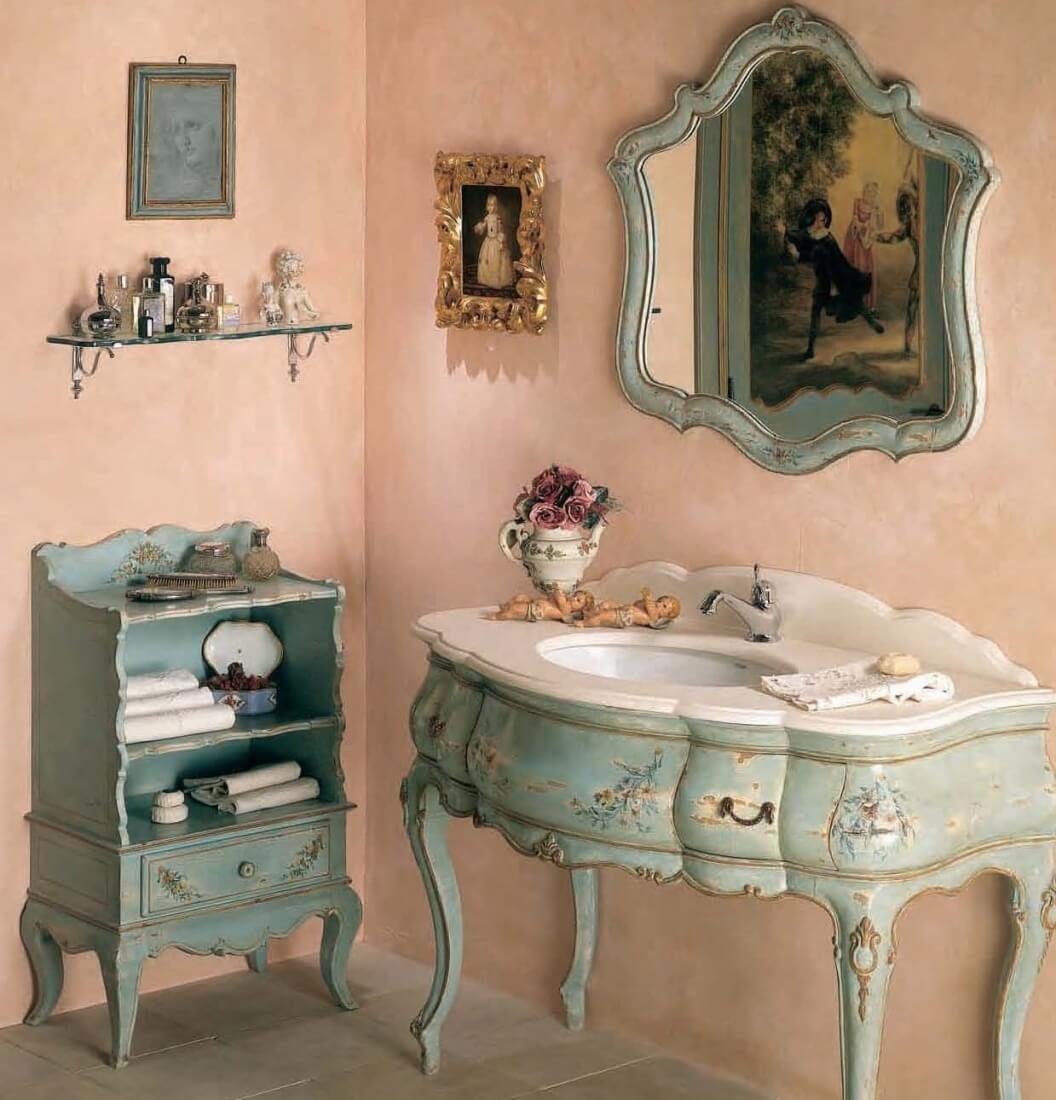 Decorating with mirrors is one of the most classic resources in the world of interior design, and its potential to visually expand spaces is well known. In addition, it is something that you undoubtedly can always use in any space, and the powder room is no exception to the rule.
28. Mintage Mirrors For Vintage Rooms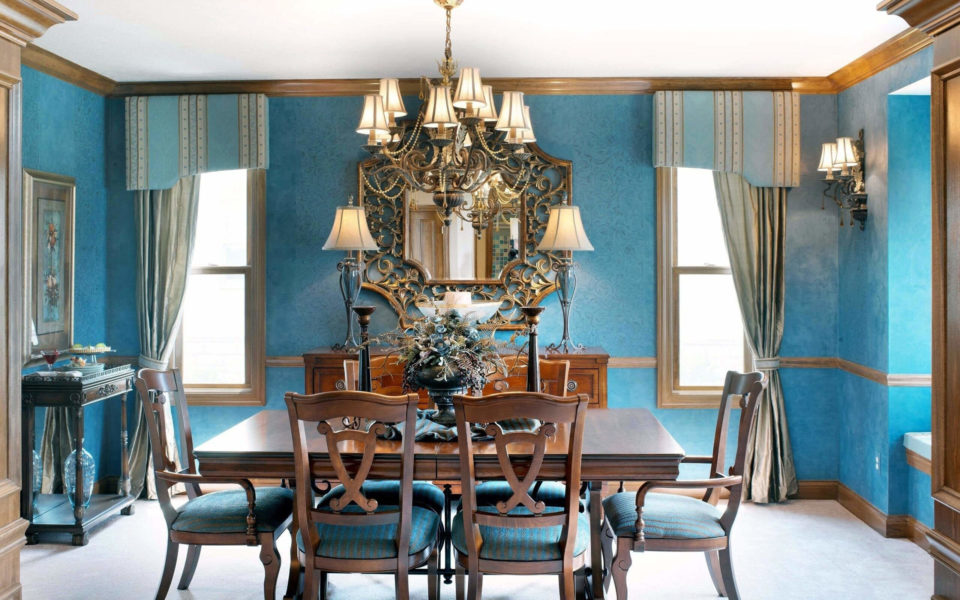 The mirrors can achieve a greater luminosity for one simple reason: they make the light reflect directly on them and thus illuminate the space more. They scatter light and with them create sensations, one of them the luminosity. This room is bright, but this does not mean it cannot benefit for the use of mirrors.
29. A Wall Of Mirrors For A Waiting Room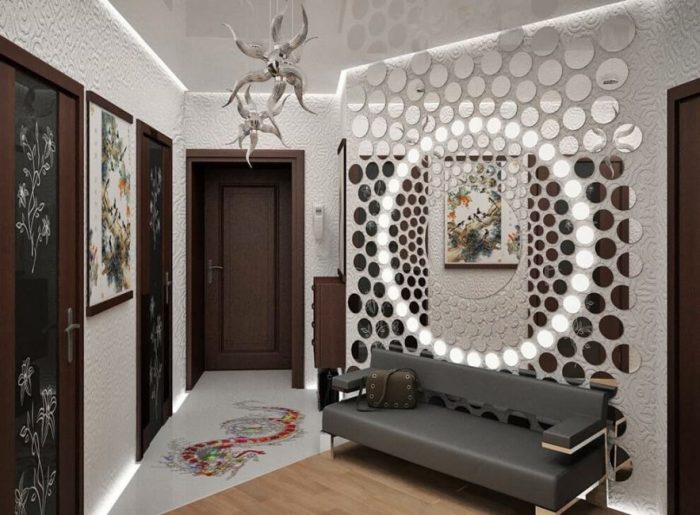 The mirrors have the capacity to expand a space. Small rooms can even visually double its space if you place the mirror properly. To do this, it must go on a wall that reflects a door or something wide, to simulate that the stay is greater. Thus, they are almost essential for small stays, like this waiting room that not only looks bigger, but also very stylish.
30. Mirrored Windows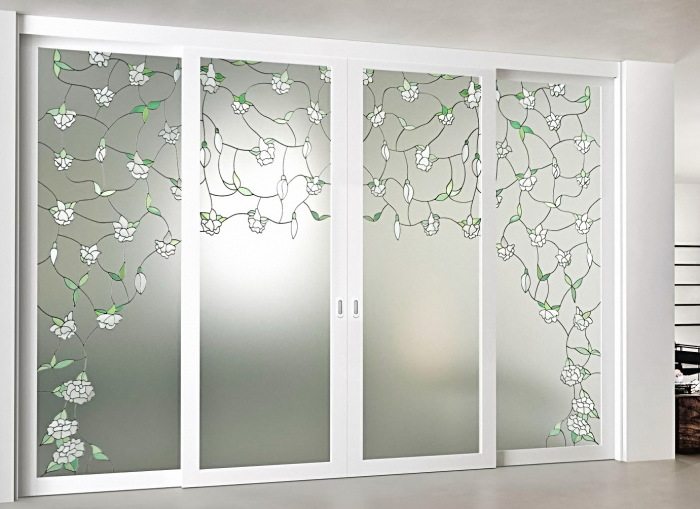 The hall is the first impression you generate when entering your house, and therefore it is a space that needs special attention. In most of the current houses these spaces are quite small, so including a mirror is a good option to make it look wider. In addition, you can always use them since they serve to look at each other before leaving the house.
Mirrors are key pieces in the decoration, because they can offer different sensations according to our purpose. Thus, they serve to give a sense of spaciousness, luminosity, depth or continuity.
Models, shapes, sizes … there are many types of mirrors and the choice depends only on our tastes. Although the most advisable is to use both wall and floor mirrors, as they are very practical. The choice of the frame is also something to consider.