There are many types of bathroom decoration, but there is a style that has managed to stay with the passage of time, becoming the favorite of many homes that want to give a different touch to that particular space. We are talking about the rustic style in the bathrooms, which of course over time has added new elements to its composition but always maintaining the natural essence that the rustic decoration transmits.
Rustic bathrooms generate a feeling of warmth and relaxation thanks to wood, natural stone and even the elegance of the wrought iron that can be included in its decoration.
These bathrooms stand out for using materials from nature, for inspiring us to be in a special place thanks to the use of the colors of the earth combined with elements such as plants, flowers or even cereals.
As for the decoration, the rustic style is one of the most versatile since any old wooden furniture can be used to decorate a rustic bathroom.
The best way to know if you have managed to create a rustic bathroom is if it gives you that feeling of being in a cabin in the country or in a town house, where rural and wood are the two most powerful elements.
How to decorate rustic bathrooms? The 2021 trends give us new clues on how to combine wood and nature in an interior space, so if you would like being able to have this bathroom style in your home, today we give you a few ideas, and we show you more than 20 examples with decoration ideas for rustic bathrooms.
24 Rustic Bathrooms That Will Give Personality To Your Home

If you want to create a rustic bathroom in your home you have to consider that all the elements of that space are decisive in achieving the style.
The walls, the floor, the furniture and the decoration have an important role in creating harmony and a rustic feeling.
A rustic bathroom is characterized by the use of smooth and rounded lines, and the abundance of details and textures.
Everything that recreates a country, garden environment in terms of colors, materials or decoration, will fit well in the rustic style.
The main characteristic of this style of decoration is the way it manages to combine different natural elements in perfect harmony, creating a cozy atmosphere in a space as private as the home bathroom.
To give that rustic appearance that provokes the feeling of being in the countryside, the main thing is the bathroom furniture. The style of rustic bathroom furniture moves between vintage and natural. Here, the wood must have a fairly pure appearance, no lacquered or overly treated finishes, the more natural the appearance of the wood the better it will be for the composition that you want to achieve.
With the rise of the vintage or cottage style to decorate homes it is very easy to get rustic bathroom furniture, with an aged or poorly treated look. Normally this type of furniture is only treated with a layer of varnish to protect the wood and those that are painted usually have a crackle or matte finish in very soft and subdued colors.
The color and texture of the tiles also play an important role. If you are looking for a rustic yet delicate look, smooth mosaic tiles are the ideal choice. This style of tile creates a very beautiful appearance when combined with monochrome tiles also with a smooth texture; the important thing is that both the colors of the mosaic tiles and the monochrome tile complement each other.
The most daring and lovers of rustic style can go one step further and lay stone tiles. With reliefs, cracks, limestone, or porous texture, the brick is very popular and some people also put wood on the walls. Everything will depend on whether you are looking for a more romantic or rudimentary style.
Small decorative elements such as embroidered curtains, farm flowers, vintage-looking faucets in ocher or gold, etc. will go a long way in decorating your rustic bathroom.
Of course, a very important detail in this style of bathroom is to place a bathtub instead of a shower tray, although of course it can be modernized by placing a shower where the bathtub should be.
If this style is what you want for your new bathroom, we invite you to see the following examples, where we give you 24 ideas that you can use to inspire you to create your own rustic bathroom.
1. Cheap And Rustic With Style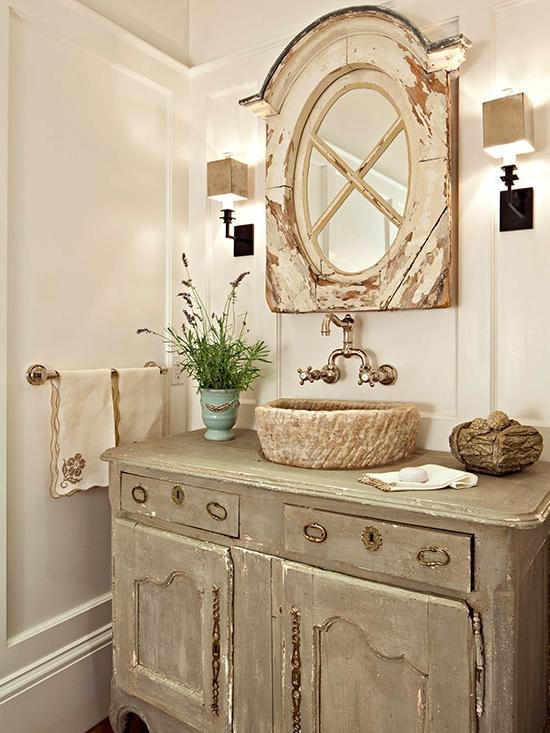 Be original and take advantage of old furniture that you have at home, you can always do a bit of DIY and get a unique piece of furniture, with a rustic effect and that is sensational as a built-in or storage vanity. It will also make your costs much cheaper, as in this example.
2. Relaxing And Cozy Rustic Effect
The furniture that characterizes the rustic bathrooms are usually made of wood or have the wood effect on the outside, normally they are the same tone of wood: oak, beech, mahogany, wenge, pine, walnut or light wood colors such as ash, birch. This gives them a very comfortable and cozy air that makes you feel in the country.
3. Rustic And Modern Dark Bathroom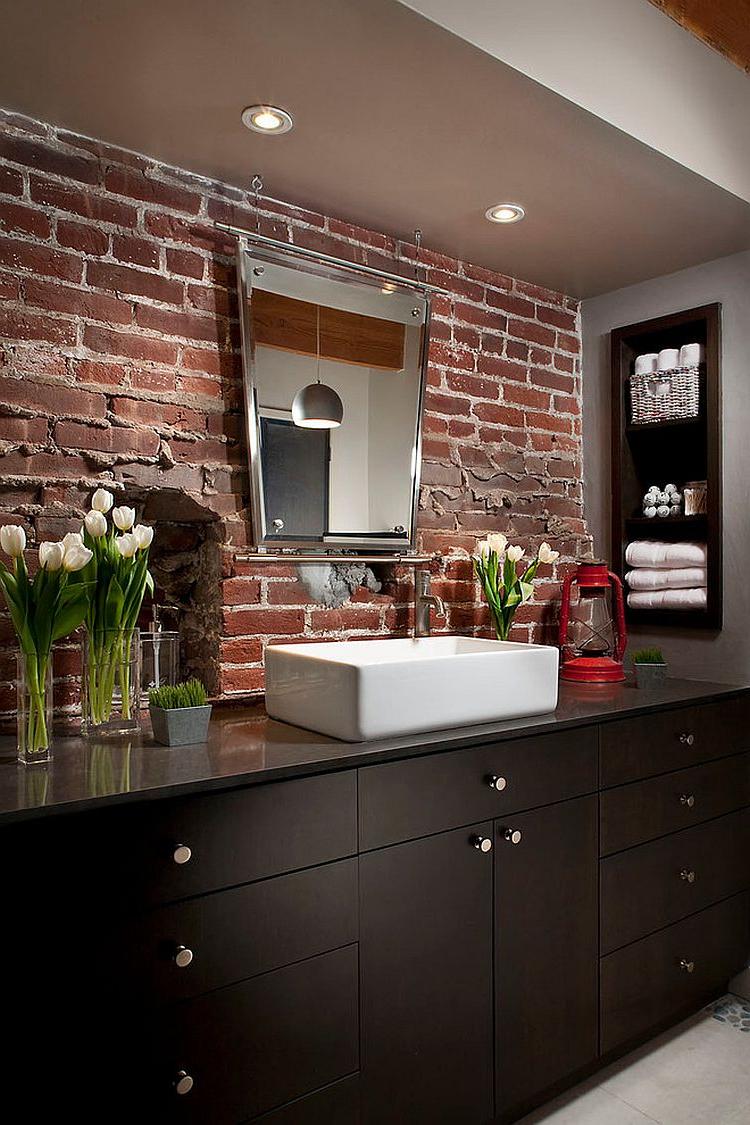 The decoration of rustic bathrooms is usually quite basic considering that many times, wood, stone, rock, or brick is what should stand out in this type of bathroom. Anyway, we can find some ideas that will allow you to make your rustic bathroom the most stylish of all. In this case, the dark colors and the exposed brick on the wall give the style.
4. Wood DIY Projects For Your Rustic Bathroom
If you already have the house but it is not made of wood and you feel like it, you can use wood or wood effect panels that are cheaper. With this you will achieve the desired effect, and you can also save some money, since they usually have low prices. These wood-type sheets are sensational and you will find them in different shades, so that you can easily combine them with the rest of the wooden furniture. You can also create your own wooden elements by gathering some branches and arranging them artistically like in this example.
5. DIY Wooden Rustic Bathroom Vanity With Dark Colors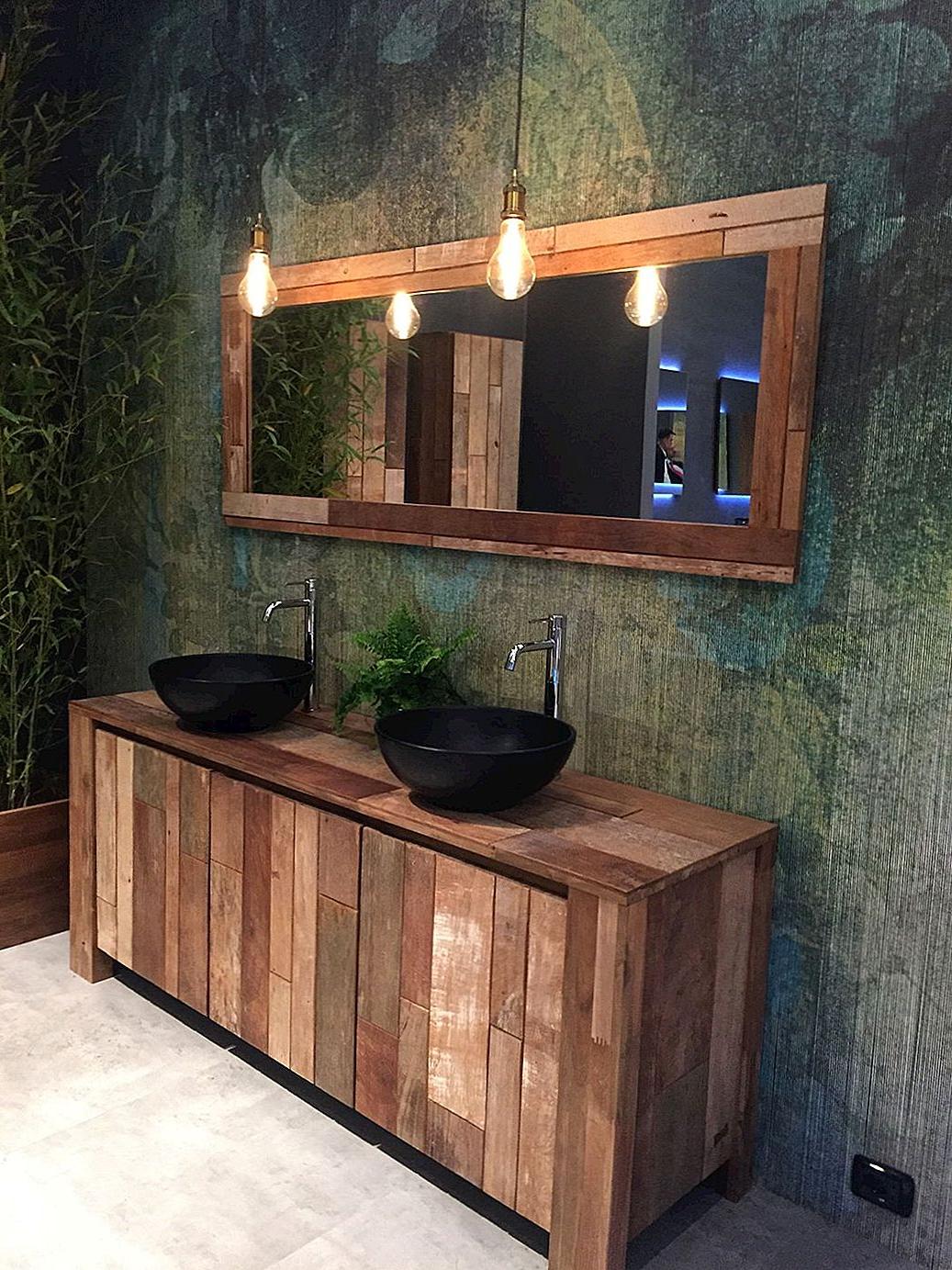 The rustic style gives you the opportunity to combine styles and ideas, and even create your own DIY projects, like this sink that is very easy to do with some talent and lots of wooden planks. The dark color of the wood is perfect with the dark and very natural green of the wall.
6. Rustic Elegant Bathroom Vanity With Double Sink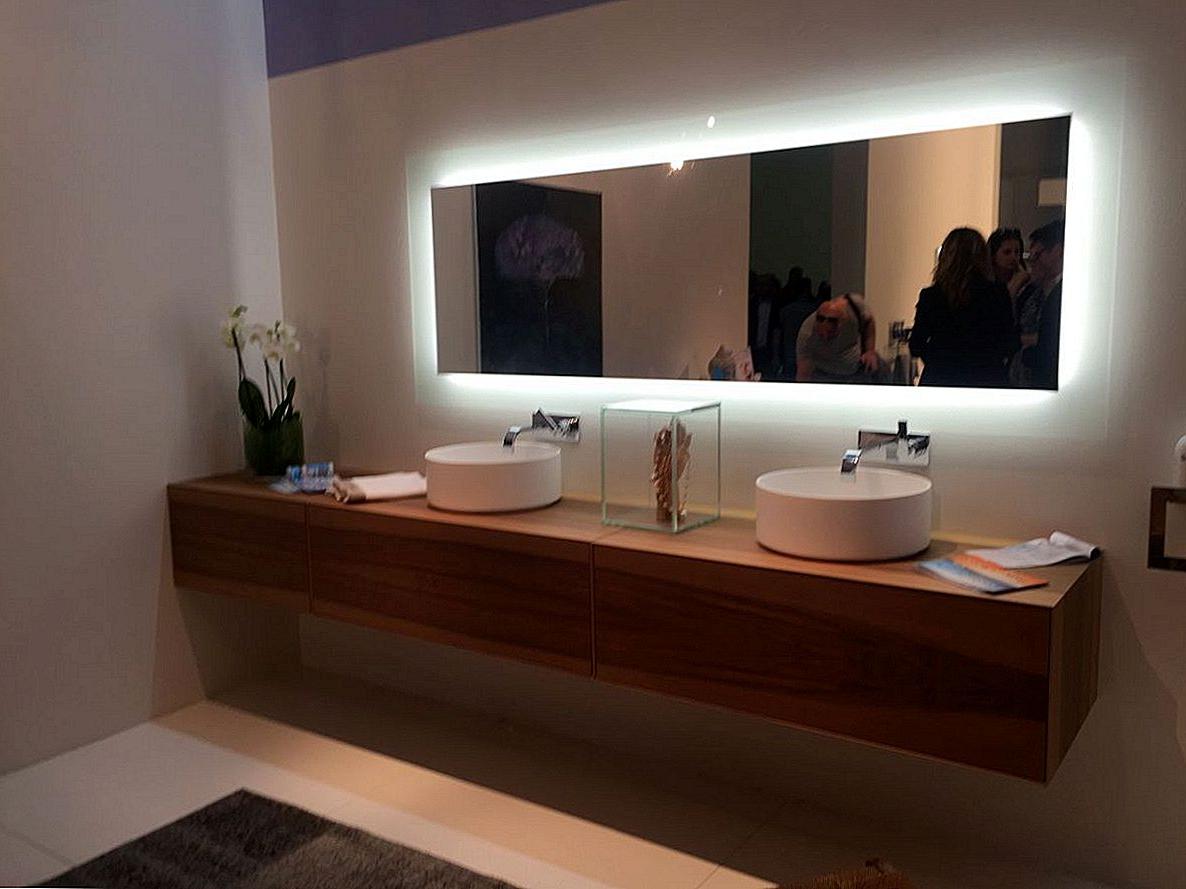 Having a rustic bathroom does not mean that it cannot be modern or elegant. With the new trends you can create rustic bathrooms like this one that has the favorite rustic style elements such as wood, ceramic and light colors, but takes a turn by elevating the style making it very elegant. The double sink makes it ideal for sharing the bathroom without problems.
7. Farmhouse Style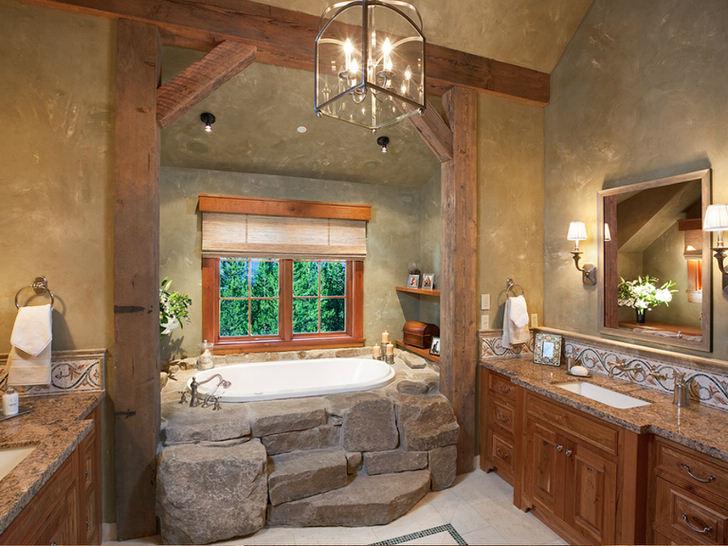 One of the most beautiful elements that you can have in a house that wants to show rustic hues, especially those in a farmhouse style, are the wooden ceilings or with exposed wooden beams. It is not an economic option but the result is impressive and very cozy. When choosing this type of roof it is important to consider the location of the house and speak to a specialized professional to use natural wood that is well treated for the climatic conditions of the place, possible insects and external agents that may damage it.
8. Hybrid Rustic Bathroom Vanity In Gray Scale Colors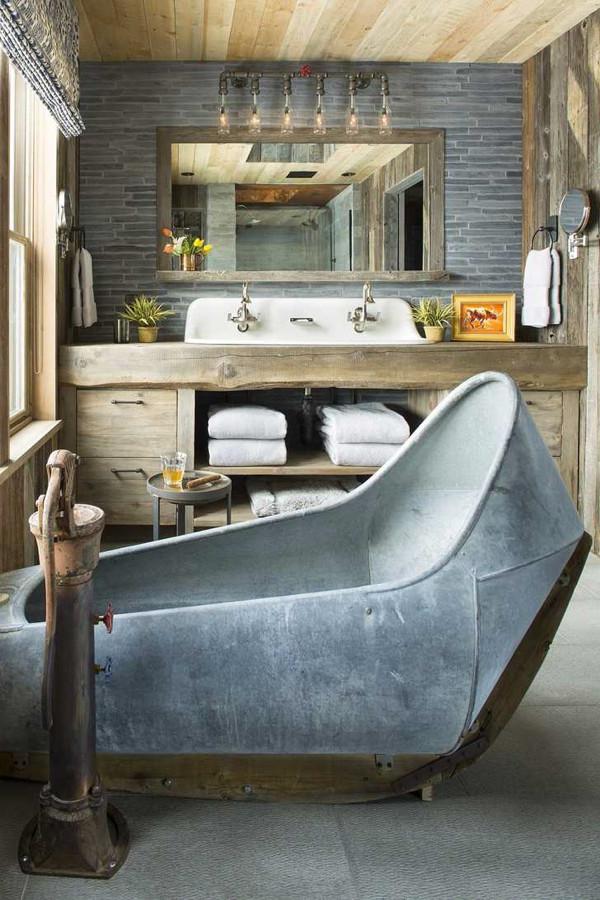 Any bathroom furniture, of any style, will be suitable for your rustic bathroom if you consider the trend of combining furniture. In this way, we can find a completely rustic bathroom, but with a modern bathtub or the opposite, a rustic bathtub but with more current furniture. The same goes for colors. With the right materials you can choose a gray color like this without losing the rustic style of your bathroom.
9. Industrial Style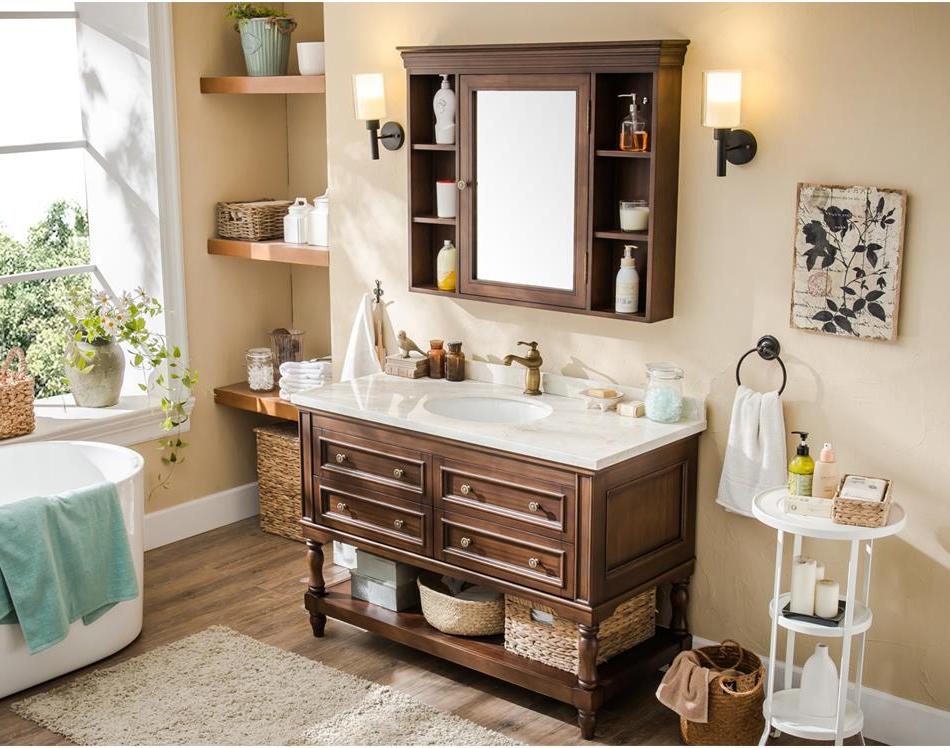 Rustic bathrooms boast a great combination of elements, and this rustic industrial-style bathroom displays many of them. The wooden floor, the natural light, the ceramic bathtub, the wicker baskets and especially the dark wood sink that is also a cabinet to store multiple things. It is a nice and functional bathroom.
10. Beautiful And Inexpensive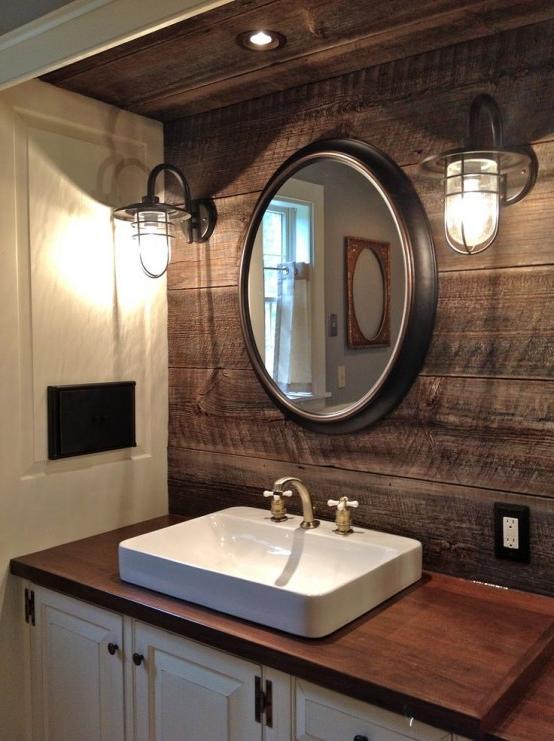 Designing and decorating your bathroom does not have to be expensive. In this example, all the elements of this bathroom can be obtained very cheaply in various stores, so if you think that redecorating your bathroom in a rustic style will take away a lot of money, you can think again.
11. Large Rustic Bathroom Vanity Featuring A Dresser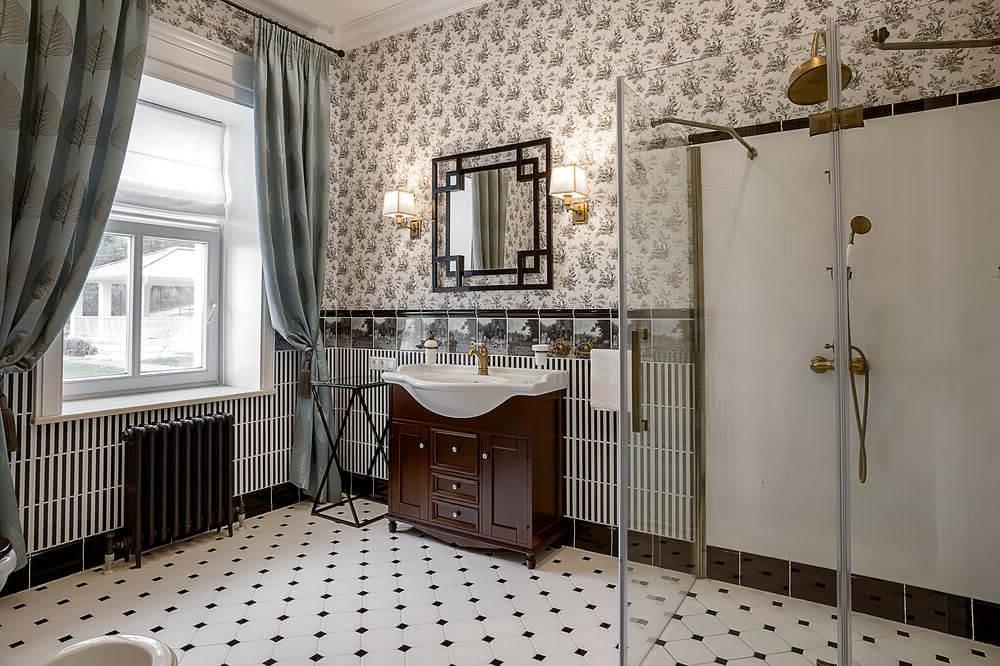 Regardless of the size of your bathroom, they can all be decorated in a rustic style. It is just a matter of locating the distinctive elements of this style in the right way. In this large bathroom that even has a dressing room, the floor tiles and walls make you think of the rustic style, while the bathroom furniture is typical of this trend.
12. Rustic Yet Modern Bathroom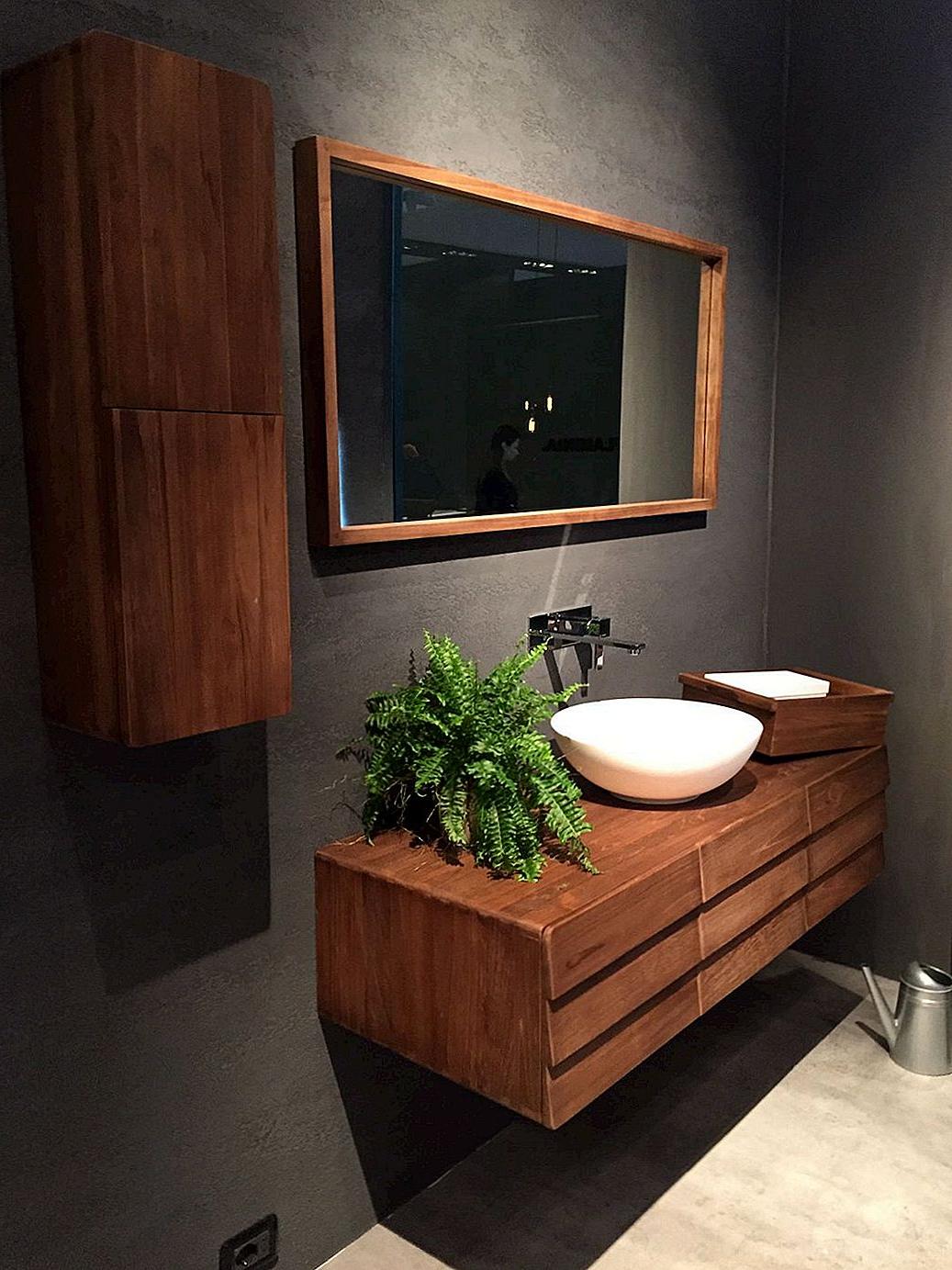 Although rustic bathrooms are usually related to a vintage style, this does not always have to be the case. In this modern style bathroom it can be read very clearly that the decoration trend is rustic. The cabinets made of lightly treated natural wood, the textured wall, the colors and the presence of plants are fundamental elements of the rustic style.
13. Mosaic With Bath Tub And Shower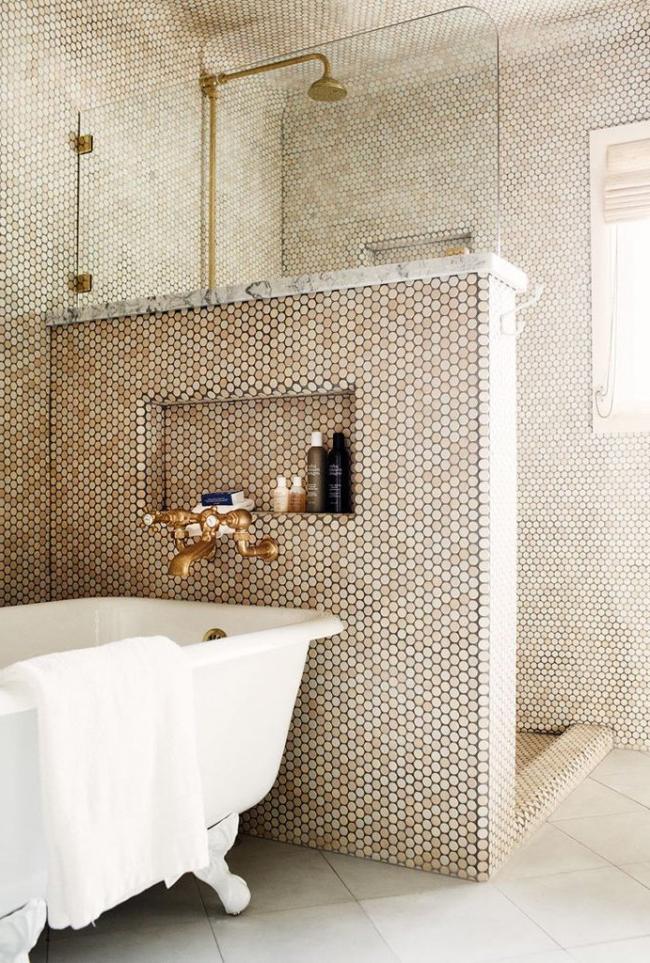 Rustic bathrooms usually have a bathtub in most cases, as they are typical of this style. But another option is the shower trays, which can also be included in a rustic bathroom. To continue with the natural effect and to leave an impressive bathroom, you have to choose mosaic tiles for the floor of the shower tray and that you can find in DIY stores. In any case, it is always better that you opt for a bathtub, and if you can, do as here, that there are both things to choose from.
14. Rustic, Farmhouse Style Bathroom With Old Fashioned Wood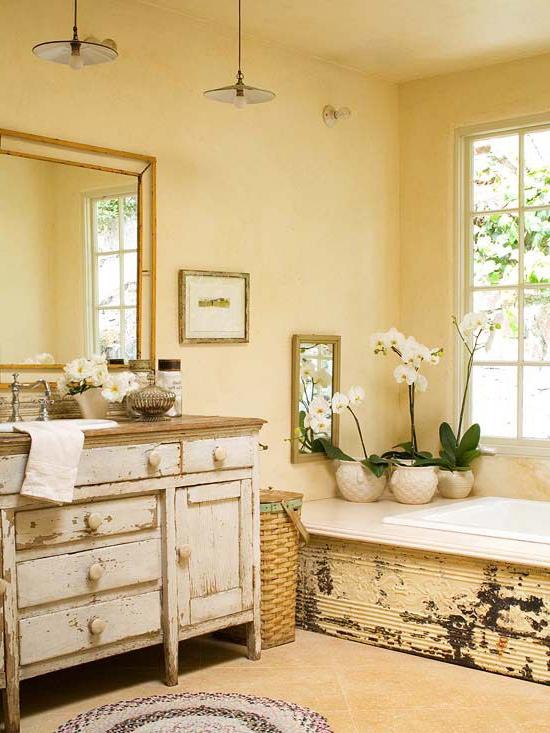 The most spectacular thing that we can include in a rustic bathroom is an old-style bathtub, with its metal legs and illuminated by natural light. Sometimes it is not possible for many reasons, such as space or money, but you can find ceramic, wooden or metal bathtubs. This sounds a bit vintage style and the effect is authentic and sensational, just like in this bathroom where a classic bathtub became totally rustic and country-style by recessing it and giving it an old wood look. The style is completed by the worn style sink.
15. Rustic Decoration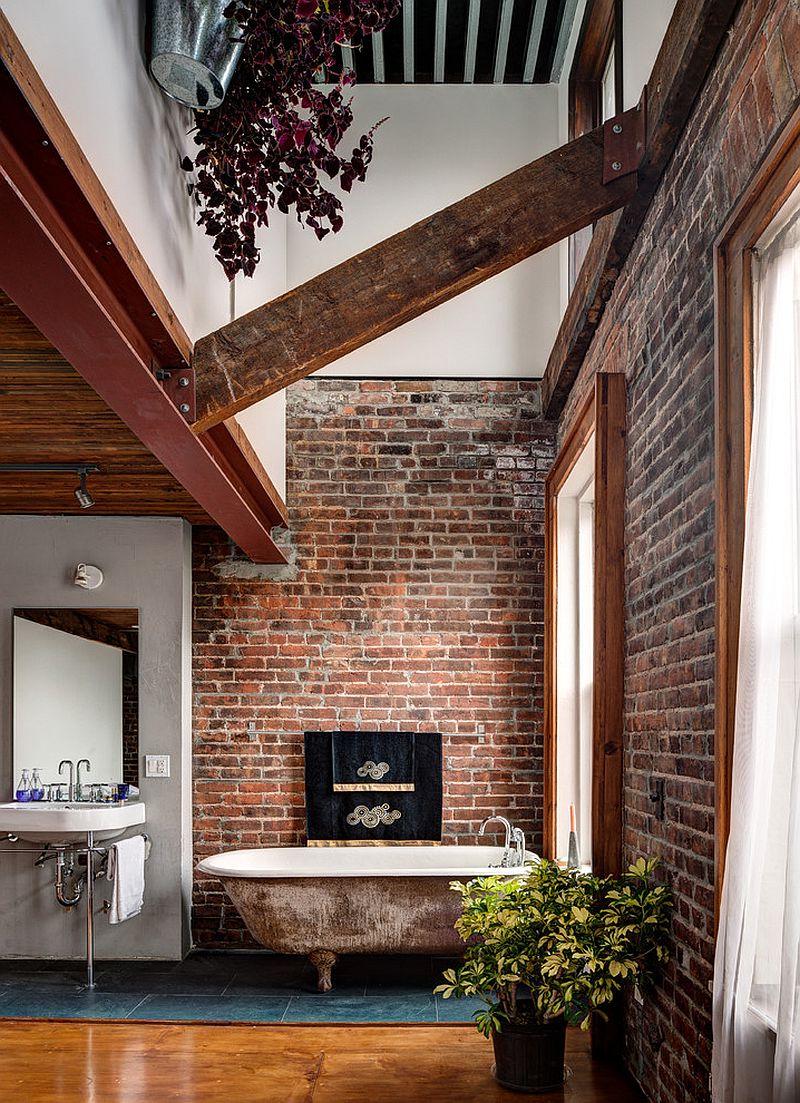 The carpentry is another essential element in everything that is rustic bathrooms and in details such as doors where the beauty of wood is appreciated. We can also add those details of carpentry in the wooden windows are perfect complements in rustic bathrooms. Here you can see the rustic decoration style on the windows and exposed beams.
16. Rustic Bathroom Vanity With Modern Style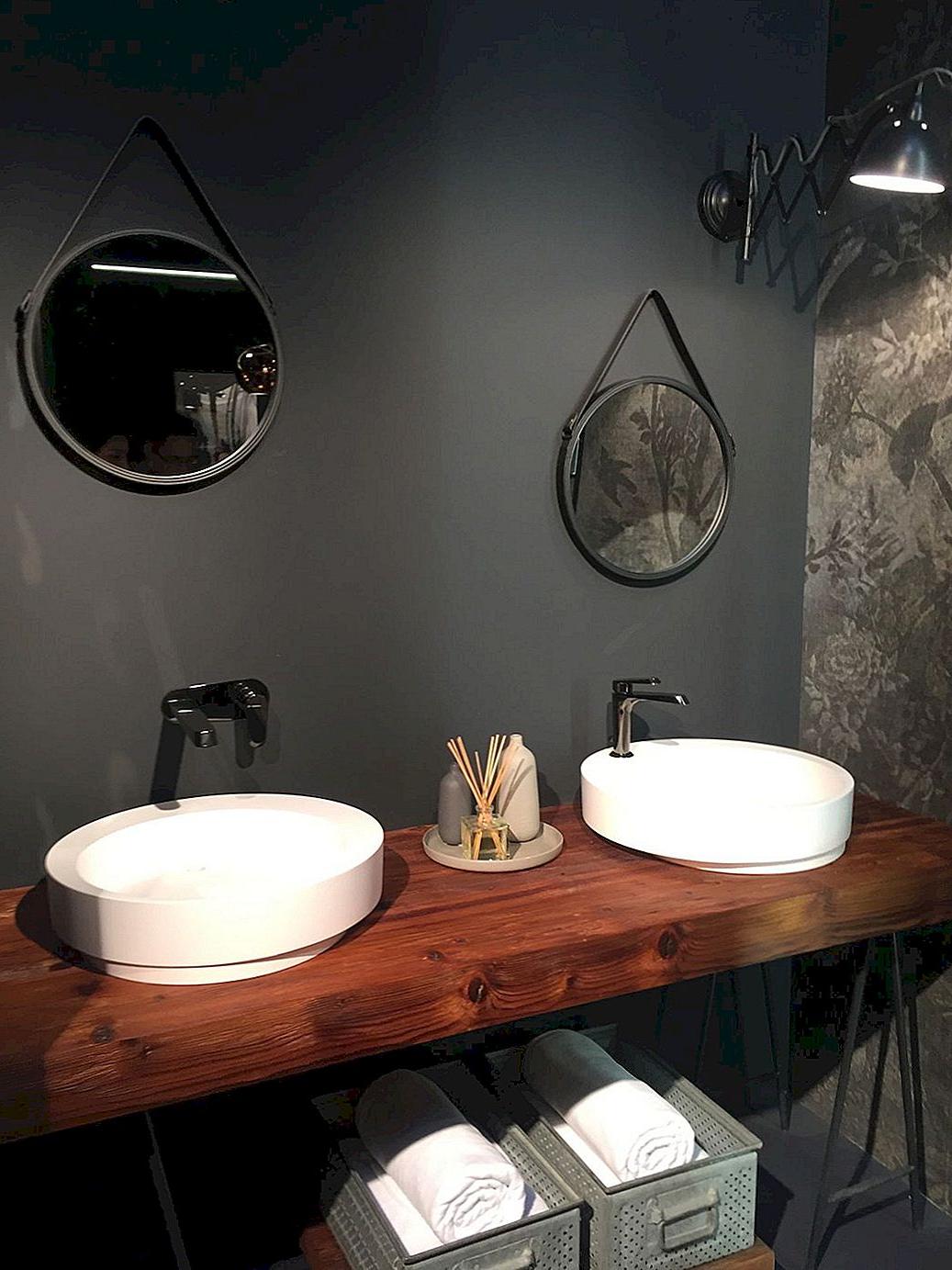 This rustic sink is also very modern. The use of the very thick natural style wooden table, as well as the dark colors and the flowery wallpaper perfectly accompany the ultra modern styled duo vanity.
17. Rustic Bathroom In A Corner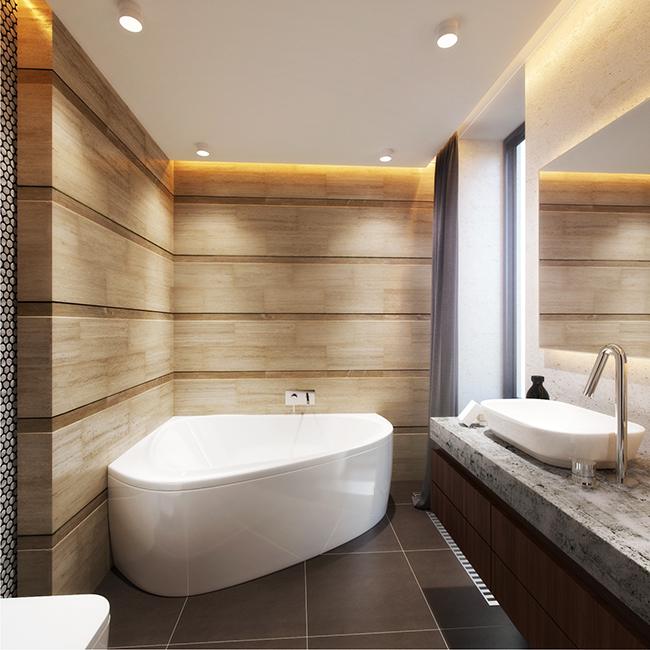 Even the corner bathrooms can use the rustic style. In this case, dark wood tiles flooring, natural-style wall tiles, and granite and wood wash help to design a bathroom that is rustic but also very elegant.
18. Oak Wood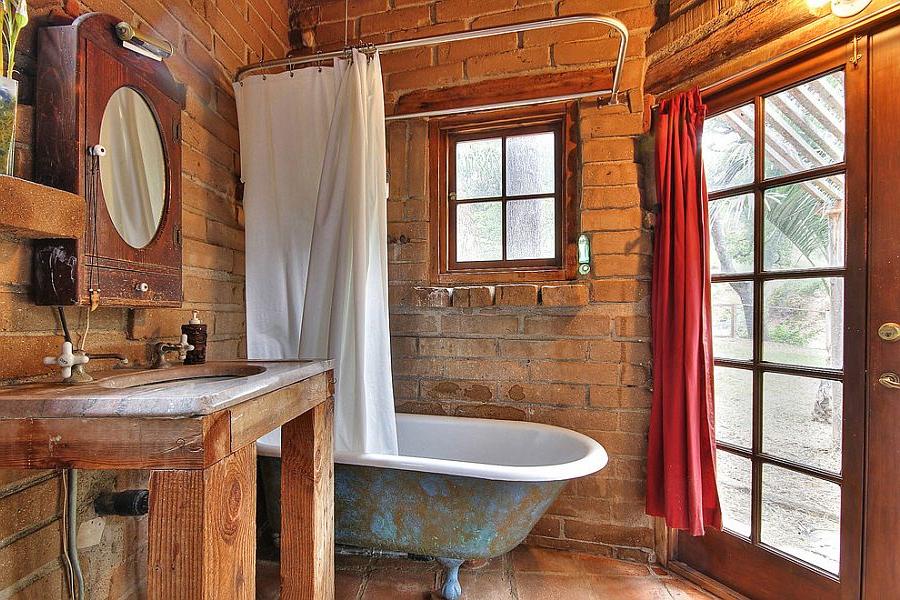 The floor of a rustic bathroom is one of the areas that allows the most variety, although the wood effect that can be achieved in many ways is usually interesting, such as in this bathroom where oak wood reigns throughout the space.
19. Small Bathroom With Rustic Style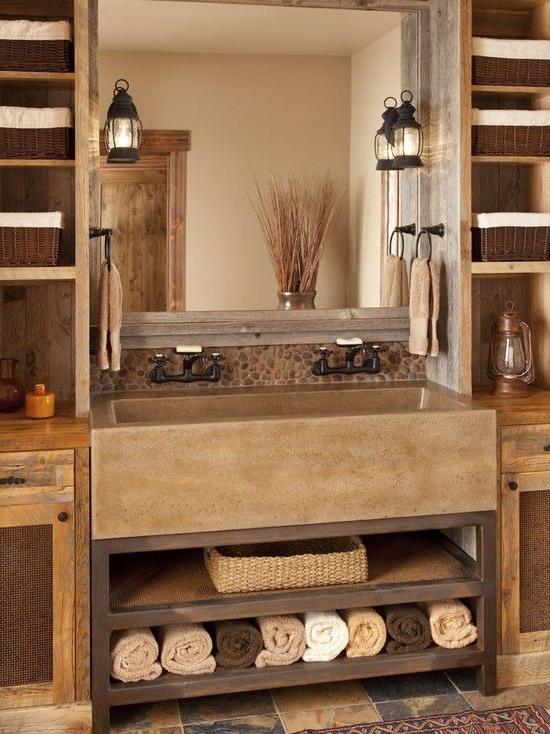 Small bathrooms can also enjoy the rustic style, the most important thing is to know how to use the space, as in this bathroom where every inch is used to give maximum use to the space.
20. Rustic Bathroom Vanity With Stylized Finishes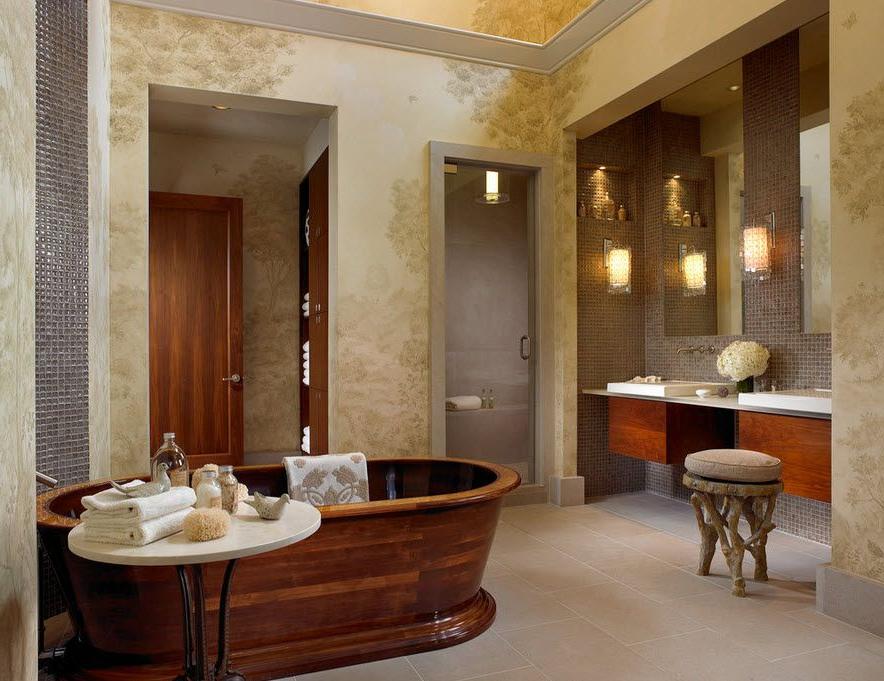 This is a bathroom with all the elements of the rustic style but which maintains a lot of elegance. This bathroom features a bathtub covered in polished and varnished wood; a wooden and ceramic vanity, and light color walls decorated with floral prints, plus small mosaic tiles and wooden doors.
21. Ultra Modern Bathroom In Dark Colors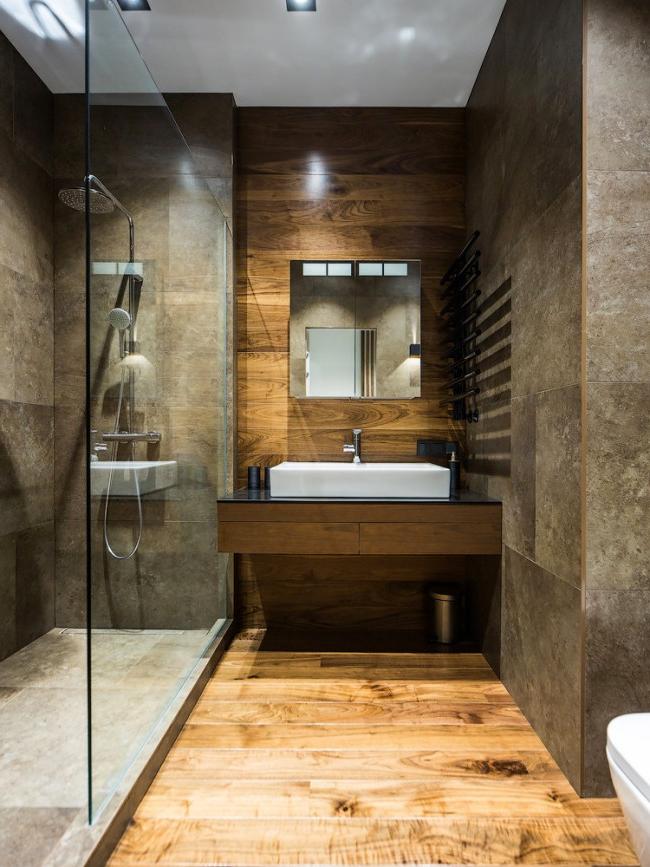 The rustic decoration can also be modern, like in this bathroom with bright and dark granite finishes in the shower and walls and a wooden wall that blends perfectly with the floor.
22. Unique Rustic Bathroom Vanity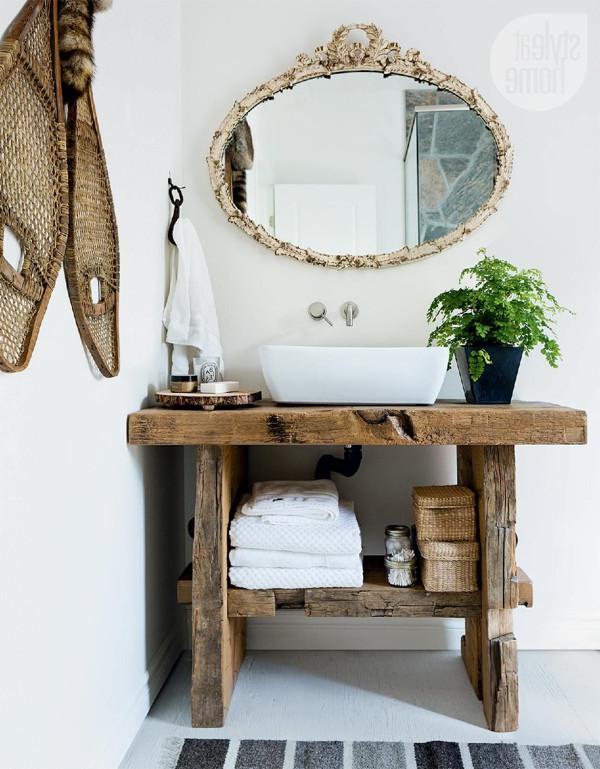 Give a special and unique touch to your rustic bathroom with the furniture, such as this rustic wooden vanity, barely treated to avoid humidity, but which preserves all natural forms.
23. Vintage Rustic Bathroom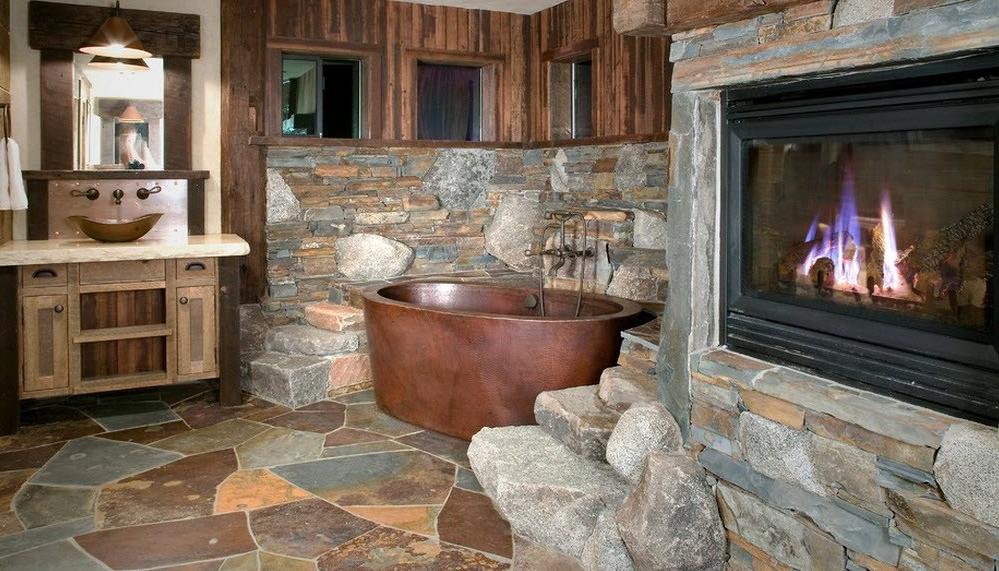 Advances in decoration allow us to now find window frames with wood effect, so we further enhance that feeling of being in a natural place. The cost is higher than traditional window frames, but it is also something to be valued. So we can achieve a vintage style like this with ease.
24. Rustic Bathroom With Wood And Ceramic Tiles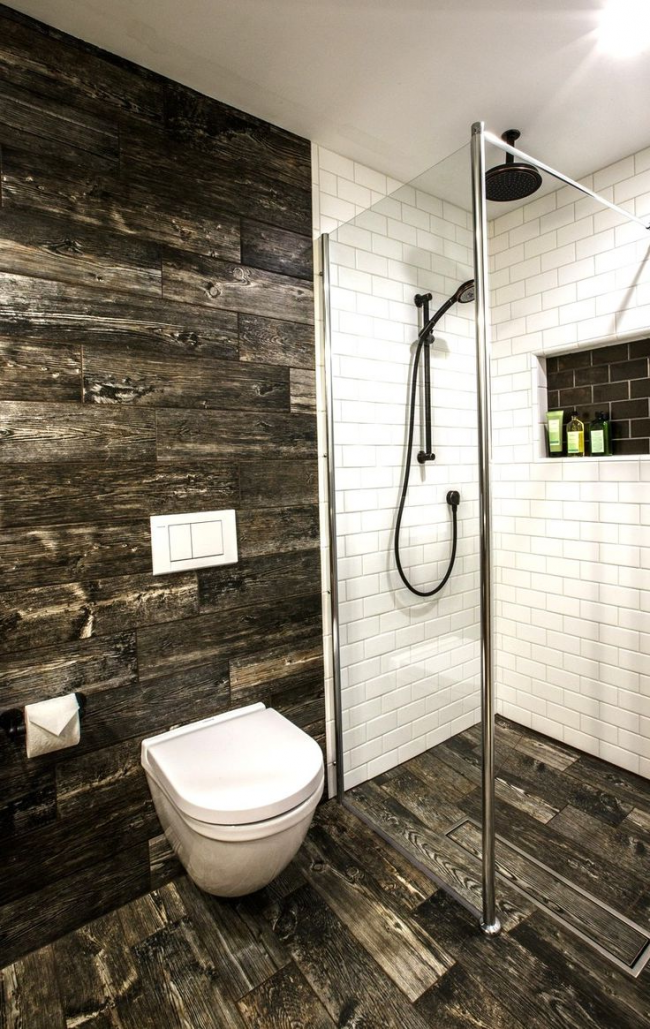 If decorating the floor with a rustic tint is what you need and you don't have wood or anything like it, take a look at ceramic and wood effect porcelain tiles. They are more expensive than traditional floorings, but if we consider that it is a very long-term change, one can afford that investment, and look how good it looks.
Conclusion
Many times we do not know how to decorate our bathroom, what style will be appropriate. One of the most used style is the rustic decoration. The feeling of being in a rural, country setting where wood and the elements of nature cannot be missed. They turn a bathroom into a charming rustic bathroom.
As you saw in this article, rustic bathrooms do not have to be old, they can have a modern touch, that is, use materials from nature but at the same time the latest elements or modern furniture, in this way we will have a modern rustic bathroom.
Following these tips, and taking as inspiration the examples that we showed you today, we are sure that you will achieve a rustic but dreamy bathroom in your home.