Every interior requires a special touch, worthy of our style and the best decoration products. In this case, our bathrooms are perhaps, in addition to the bedrooms, the most intimate part of our home. It is also, in turn, one of the spaces that has the most aesthetic and elegant appearance in our home. When we open that door, we stumble upon an enchanted bathroom with mirrors, toilets, and sinks, where we prepare for our daily activities.
The mirror in which we see ourselves every day, the shower we use to clean and relax on occasions, all these important and homey elements, must always be connected by a magnificent door that gives us access to such space. Even for showers, a good door can make a difference.
In this situation, it is time to choose a door that goes well with our bathroom, that fits our authentic decoration and that offers comfort, in that area of our house where only elegance abounds.
A shower gains in comfort and quality when it has attached custom glass doors. Custom shower screens replace the traditional curtain and prevent water from splashing and falling outside. In addition, it brings privacy and relaxation to our daily bath. With shower screens we have a feeling of greater spaciousness and comfort. Ideally, these partitions are strong and durable. For this, the choice of a material with guarantees is elementary.
There are different types of shower screens with different designs, that is why today we will talk about sliding doors for bathrooms, a highly qualified option to take into account, which will surely offer only the best appearance and taste to our bathroom.
24 Glass Shower Door Ideas To Fill Your Bathroom With Style And Design

To choose the right shower glass door, you have to confirm the shape of the shower tray. If the tray has an angular shape, then the shower screen must be angular, and if it is square, then it will be square. It is very important to take the measurements of our tray well, as it will condition the entire installation later. In another order, when the tray is rectangular we have three possibilities to choose from. The first and most obvious: place a rectangular screen with the same dimensions. A second option would be to place a shower panel or open space. And a third option could be to place a front partition with a fixed side panel.
For the installation of custom shower glass doors, a prior and recommended action is to pass a metal detector through the walls of our bathroom to avoid the perforation of pipes or electrical cables that are essential in our home. Once we make sure that there is no danger, we can already drill for the installation of the partition, verifying, yes, the level of poise of the walls.
Be careful when handling glass or acrylic when unpacking. It is recommended not to hit the glass hard or with hard objects. We must take extreme precautions when installing and handling the screen, trying not to damage the surface or the edges. Keeping the edges intact is very important for custom bathroom screens because if a crack is opened it can lead to subsequent breaks.
The quality of the glass is very important when choosing. There is a wide range of possibilities for our bath or shower: tempered, laminated, watertight, colored glass, mirror type, safety glass, etc. What kind of glass makes us feel better when we shower or bathe? We must reflect on this matter before deciding.
It should also be noted that there are many types of glass doors:
Sliding doors: It is a good alternative to open the doors without taking up more space in the bathroom. One of these doors is fixed and the other (or the other two) are sliding. They usually have a beautiful aesthetic and are also easy to clean. More advantages: the water in the glass always falls to the side of the shower tray. In addition, bearings are a very resistant technology that provides security and stability. Of course, they must be reviewed from time to time.
Mirrored shower doors: It is the latest trend in decoration. Placing a mirror on one of the fixed panels of the screen. It is a widely used option today to gain space and introduce a mirror in the bathroom taking advantage of the shower. They are somewhat more expensive partitions, but they are worth it.
Doors for bathroom customized: there are many, the fixed bathtub, the folding leaves, the sliding doors, the leaves with a fixed segment or the swing doors, the semicircular, the walk in, among others. The ideal is to seek the opinion of experts who tell us what type of door best suits our bathroom. There is an ideal one for each bathroom suitable for its characteristics.
Personalized bathroom screens: they have also been in high demand in recent times. We are talking about partitions with a personalized design. A drawing is chosen and then captured (either on vinyl, acrylic or another screen printing method) on the screen that gives our bathroom a beautiful and elegant appearance. There are a wide variety of models, finishes and shapes.
Here we show you some examples you can copy or get inspired by for your home:
1. Customized Glass Door For A Dark Bathroom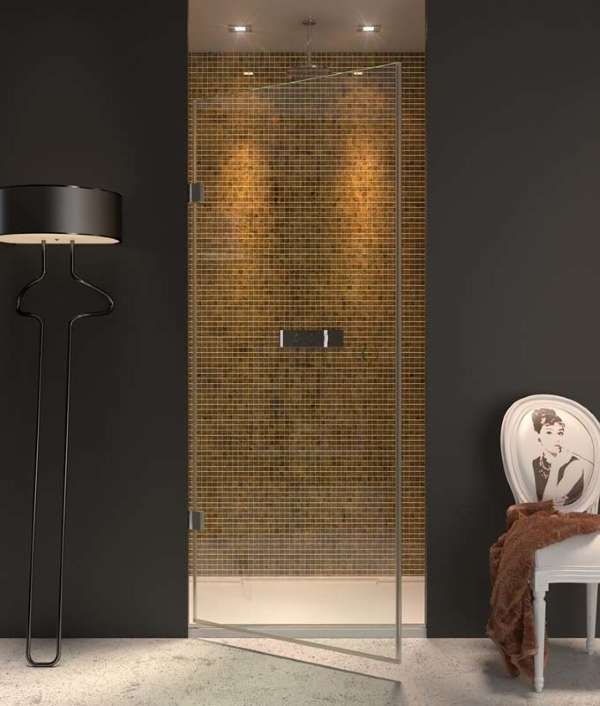 All the markets where these doors can be obtained are highly trusted, recognized in most places, so it will not be difficult for you to find a glass door for the shower that suits your needs. This sober door greatly improves the appearance of this bathroom.
2. Decorated Glass Door With Blocks For A Partition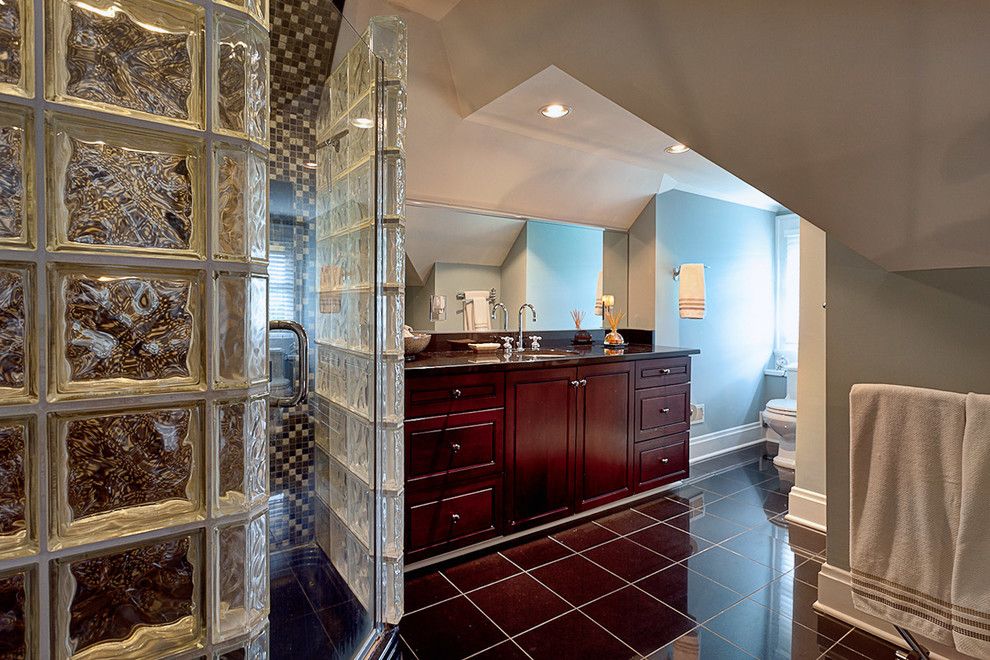 The glass shower doors have a great appearance and aesthetic value that improves the style of any bathroom. for example in this one where the door is made of massive glass blocks that make this bathroom look spectacular and helps to separate spaces.
3. Glass Door That Easily Fits On Any Bathroom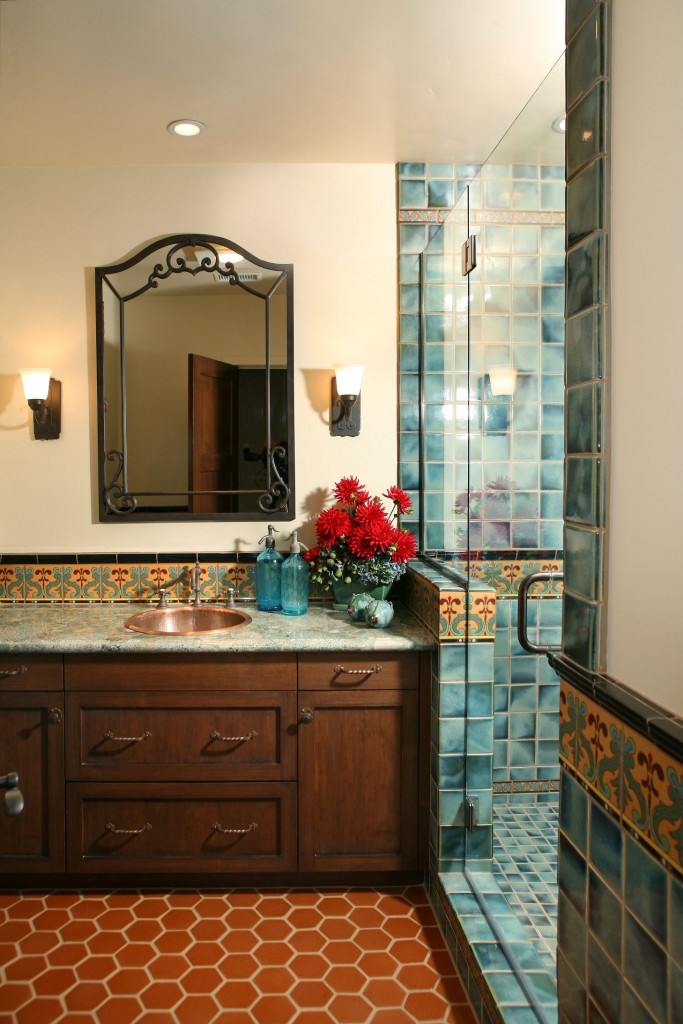 There is a lot of variety in glass bathroom doors, and there is also a great demand for accessories and complements. no matter what you are looking for you will get something that looks great in your bathroom, like this design that fits in any bathroom.
4. A Glass Door That Opens Inward Or Outward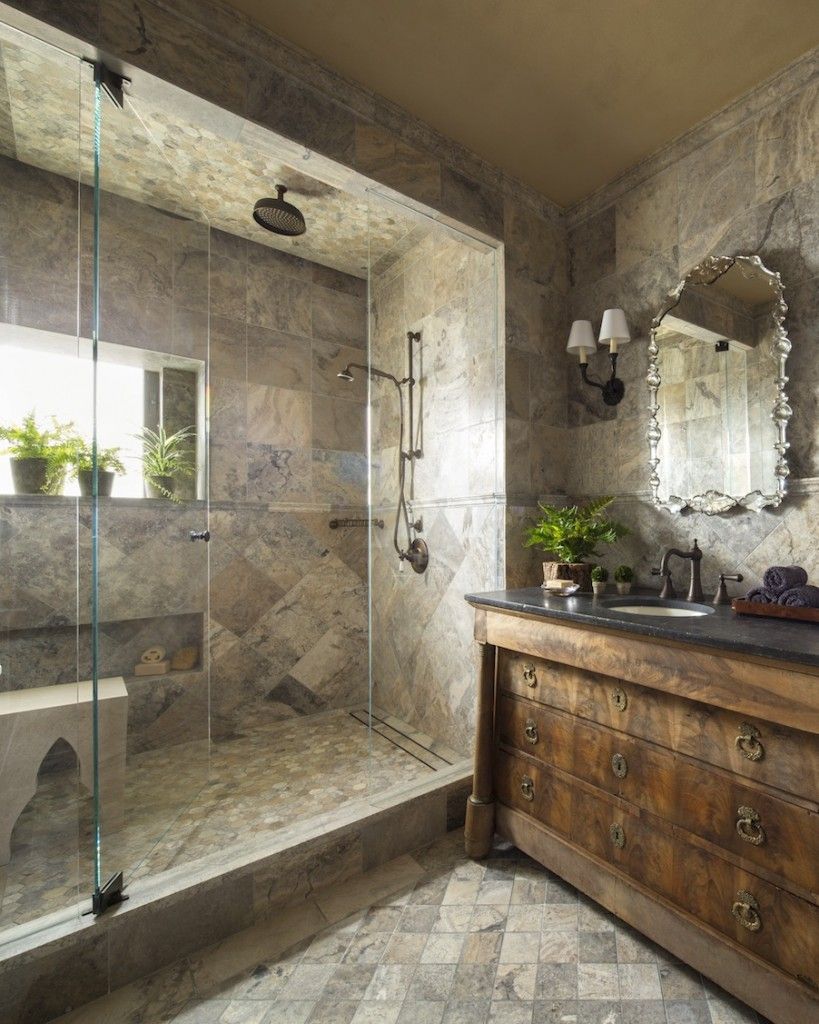 These products come from companies dedicated to the business of interior decoration, so you will find models like this that adapt to this style of decoration. This one is even better because you can open it inward or outward for more comfort.
5. Designed Glass Door For A Shower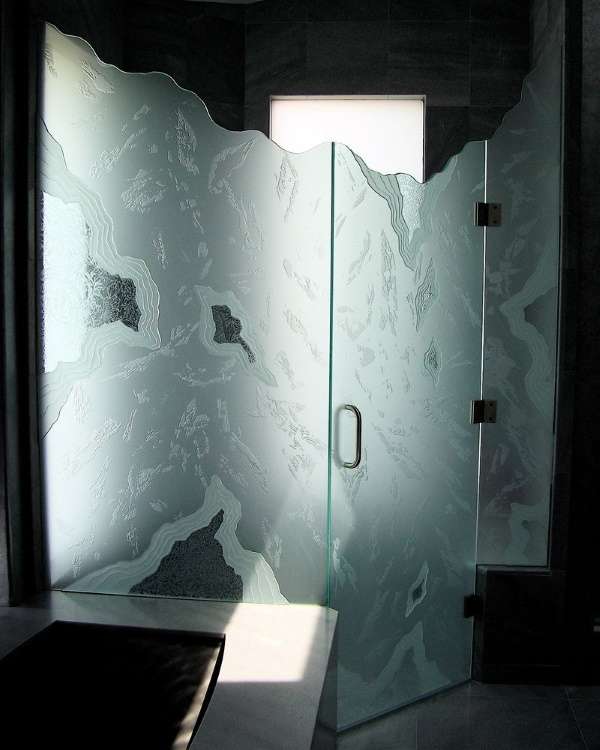 Some materials of these doors can be very fragile, however tempered glass will end your concerns about this problem. This tempered glass door is beautiful and very resistant, with a very attractive design
6. Decorative Glass Doors For A Shower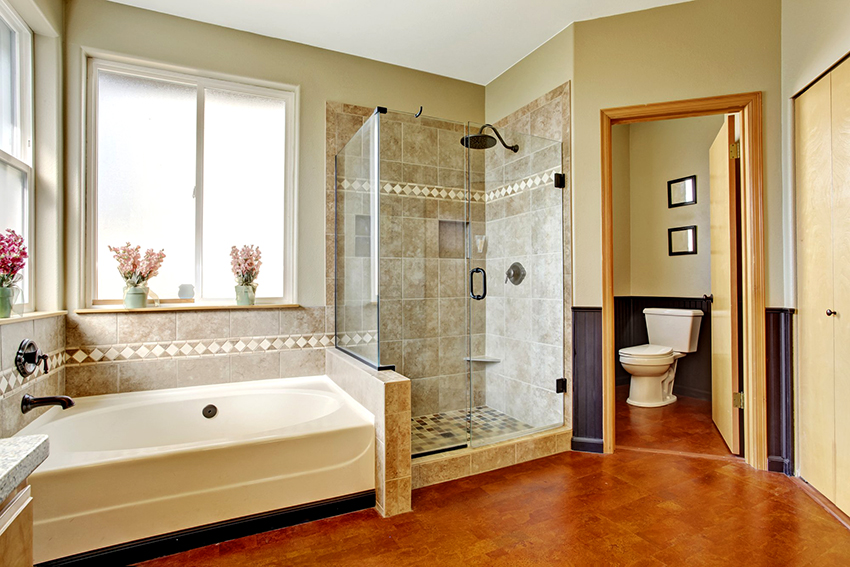 The style of these doors is indisputable; they also make your bathroom look bigger. See how the transparency of these doors makes this bathroom look very impressive, as well as very decorated. Glass doors for shower are highly decorative for any style of bathroom.
7. A Glass Door That Enhances Mirrors And Cabinets In The Bathroom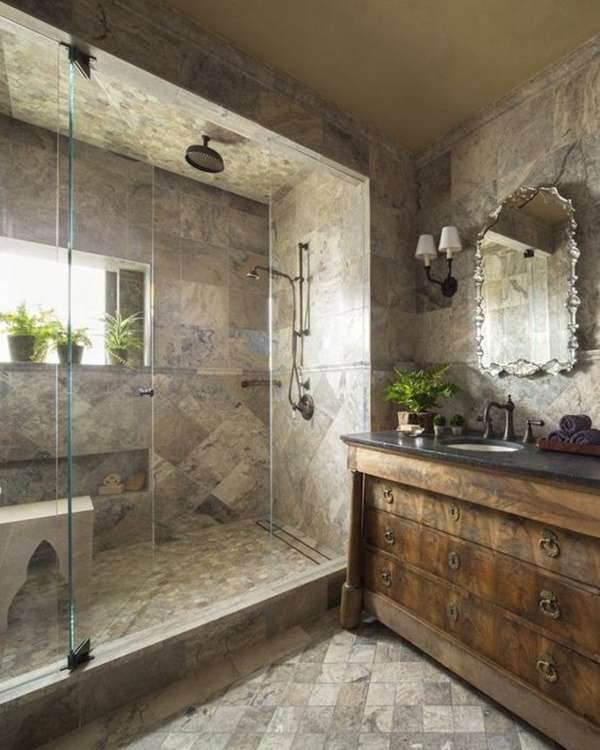 Keeping the glass doors of the bathroom clean is one of the things that we have to control inside our home to avoid possible diseases, since the humidity and soap residues that remain after showering not only leave the windows fogged, they can also cause mold in the bathroom. So try to wash them regularly so they can help us enhance out bathroom decoration like in this photo
8. Glass Door With Frames For A Shower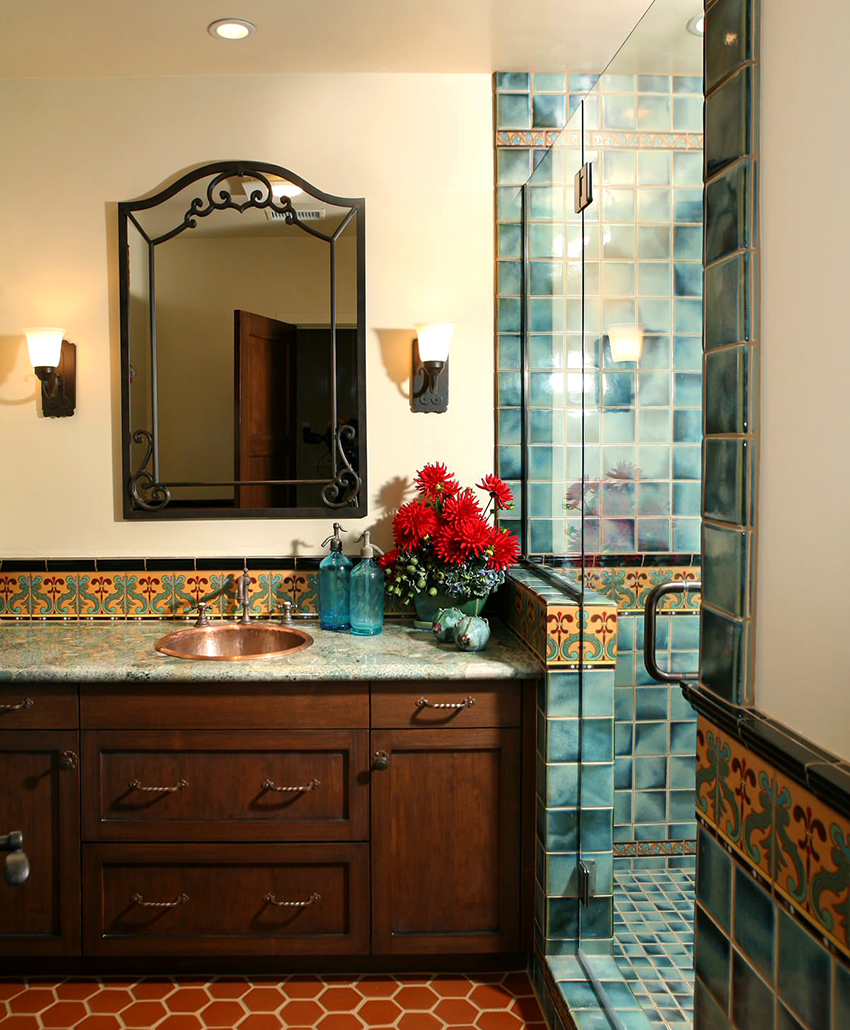 The glass doors for the shower can be without a frame or like this one that has several frames that give it a very small and casual style that makes any bathroom look amazing. The combination of black and white is a classic.
9. Glass Door For A Shower With A Bathtub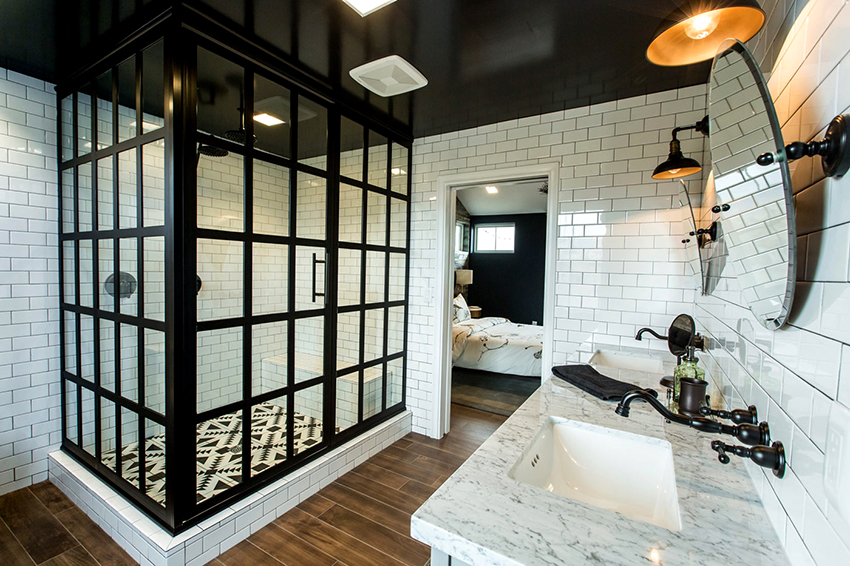 Glass also makes your bathroom look much brighter, making it the ideal companion for brightly colored decorations, such as this bright yellow bathroom that invites you to feel in a ray of sunlight when you step into the bathtub
10. Small Glass Door For A Corner Shower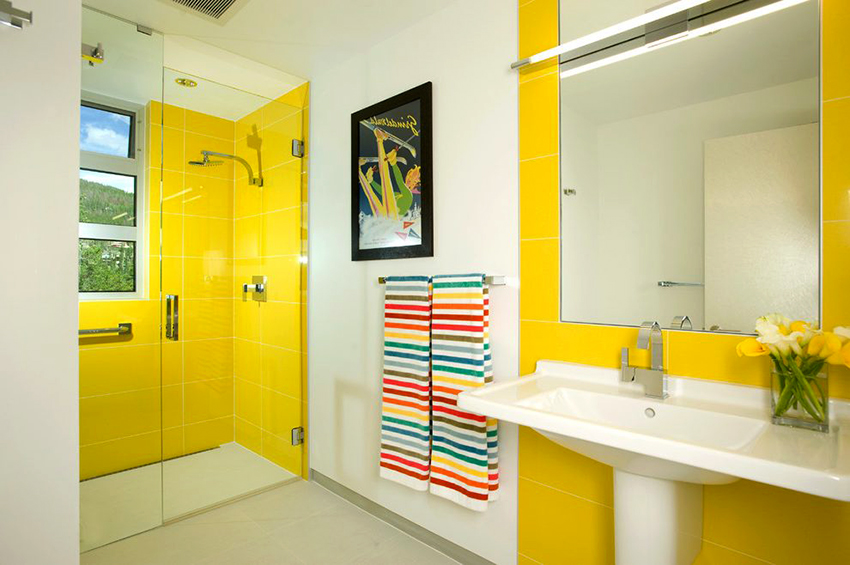 If your shower is very small and cornered as in this case, it is best to opt for a glass door that will allow you to visually enlarge the space. Also, in combination with bright and clear colors like white and gold, the space will maximize its size.
11. Spectacular Glass Door For The Shower Of A Small Bathroom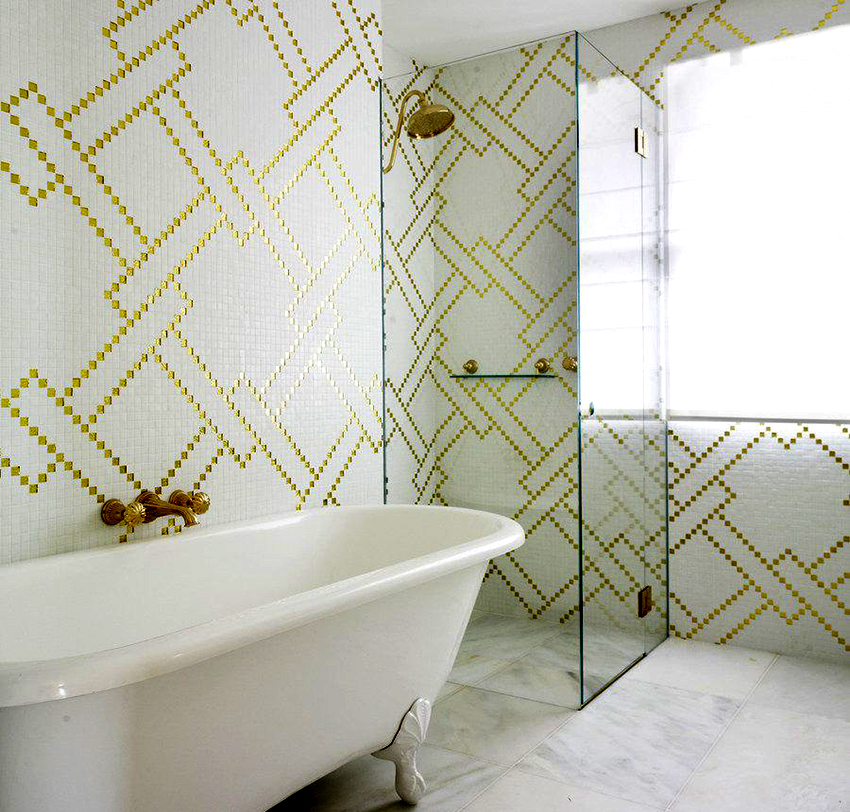 Glass shower doors add elegance and style. In this dark bathroom the glass doors make the bathroom look much more elegant. Also, they help the bathroom seem larger, making it spectacular.
12. Glass Door To Enhance A Steam Shower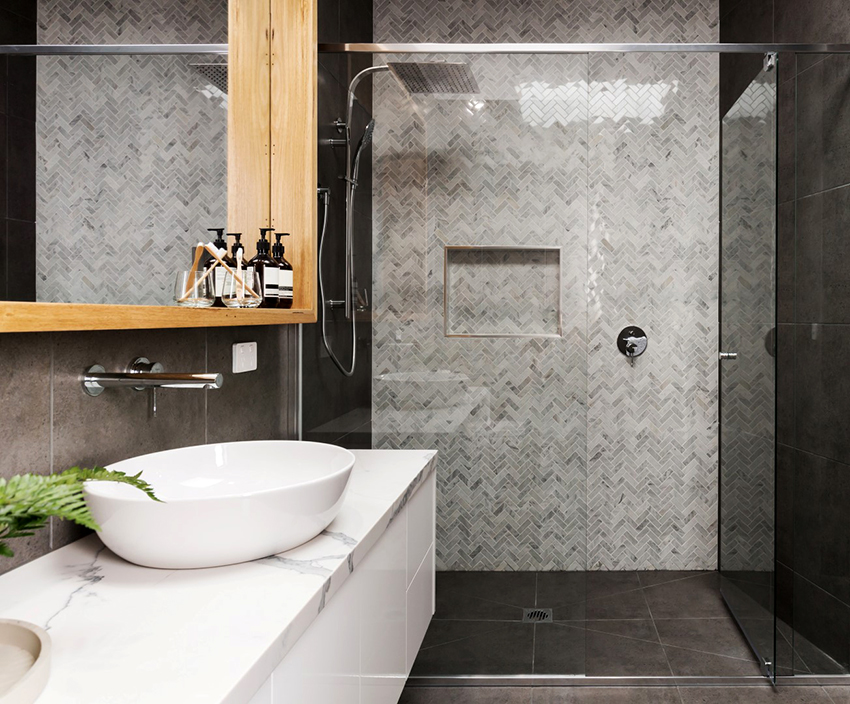 If you have beautiful accessories in your bathroom and a steam fan, the best thing to make them stand out is to install glass doors in your shower; they will look great and will be easy to clean after.
13. Glass Door For A Shower To Avoid Curtains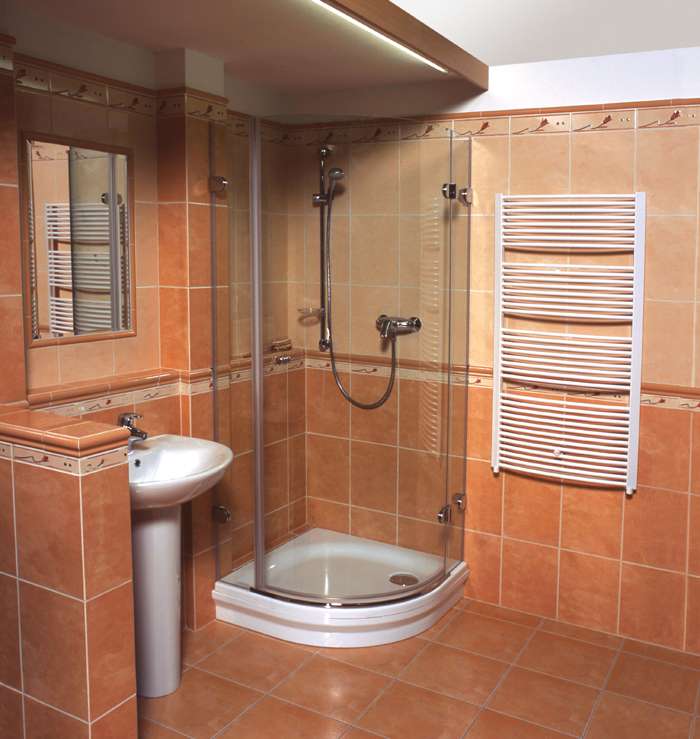 In this retro design, the glass shower door is framed in a thick black frame that matches perfectly with the tiles. Much better option than the traditional shower curtains.
14. Accordion Style Glass Door For The Shower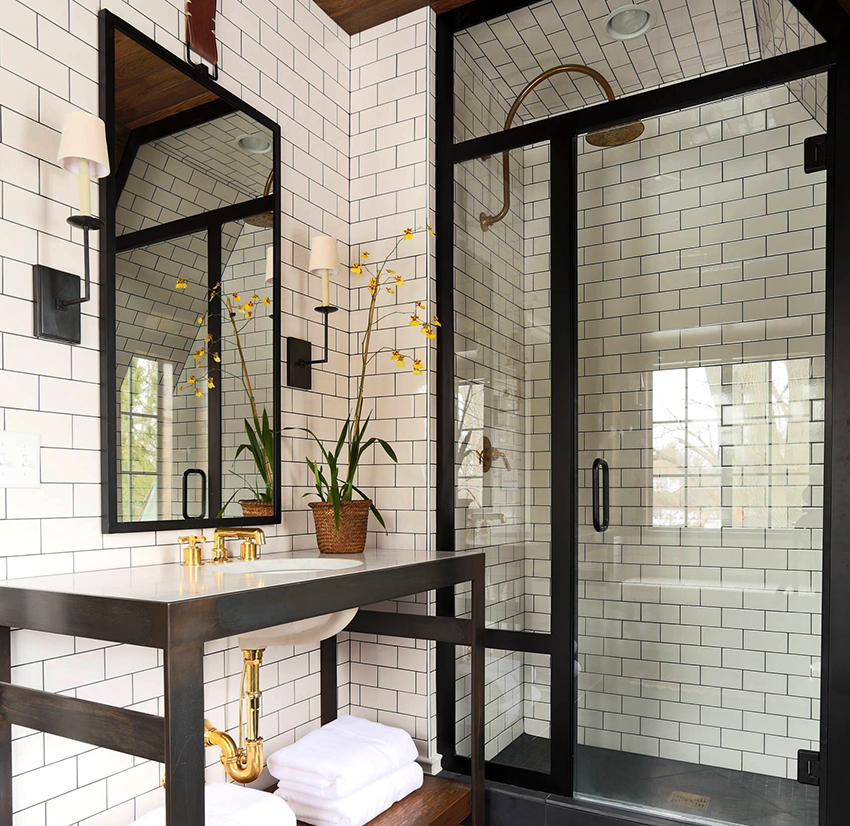 Take a look how this blue glass makes this bathroom look great where green and wood predominate. The accordion design is great to make the best of the available space.
15. Glass Shower Door For A Bathroom With No Frames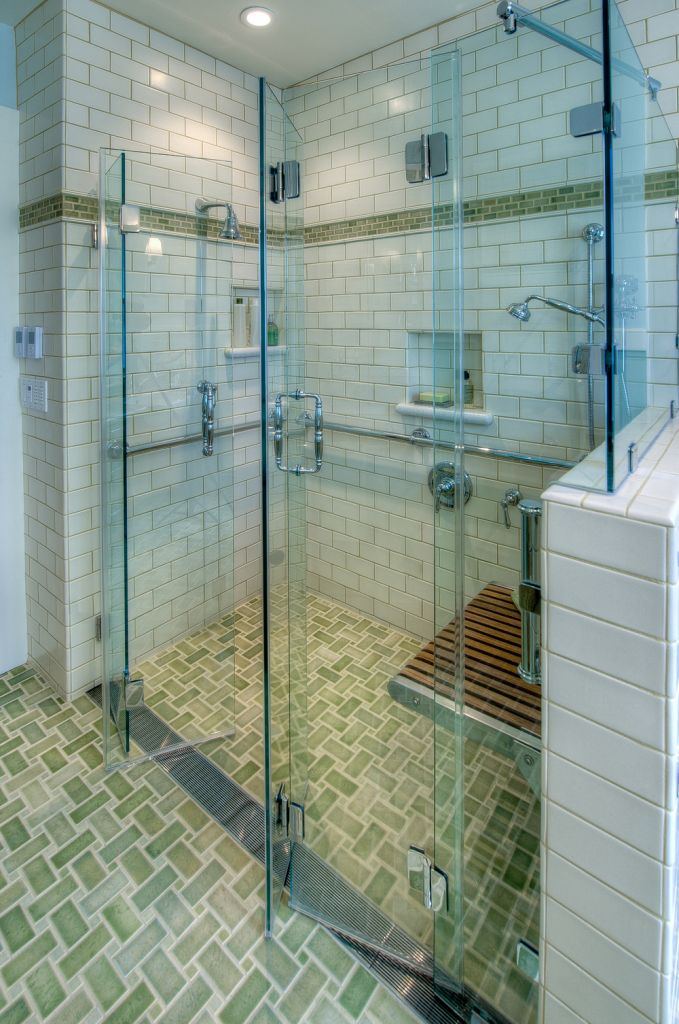 This small bathroom looks much bigger thanks to the frameless glass door that gives it the aesthetics of size. It also combines perfectly with the colors of this bathroom.
16. Frameless Glass Doors For A Large Bathroom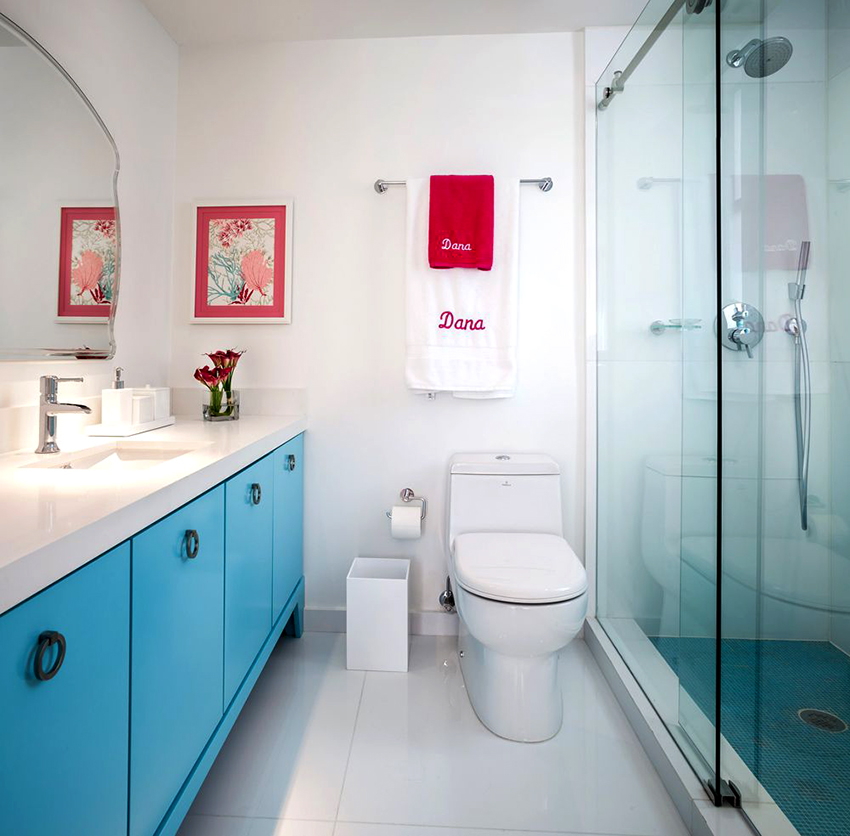 Glass bathroom doors go perfectly with designs that use stone tiles like this one, making it look luxurious and light. The elegance and luxury makes anyone want to take a long shower or bath in this room.
17. Glass Door For The Shower Of A Modern Bathroom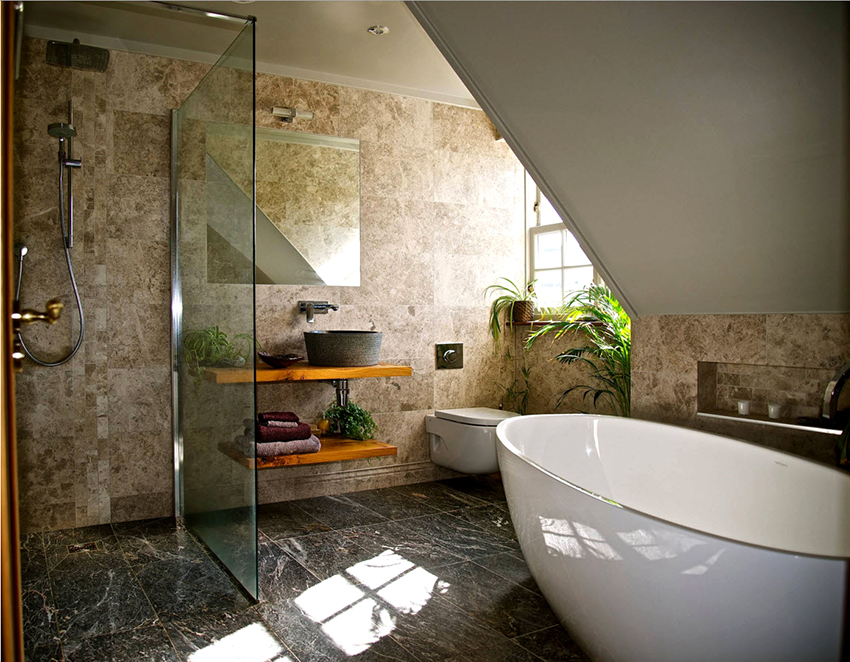 Whether it is a vintage style bathroom or a modern one like this, glass doors are perfect in bathrooms, in addition to making them look bigger.
18. Intimacy And Design With A Glass Door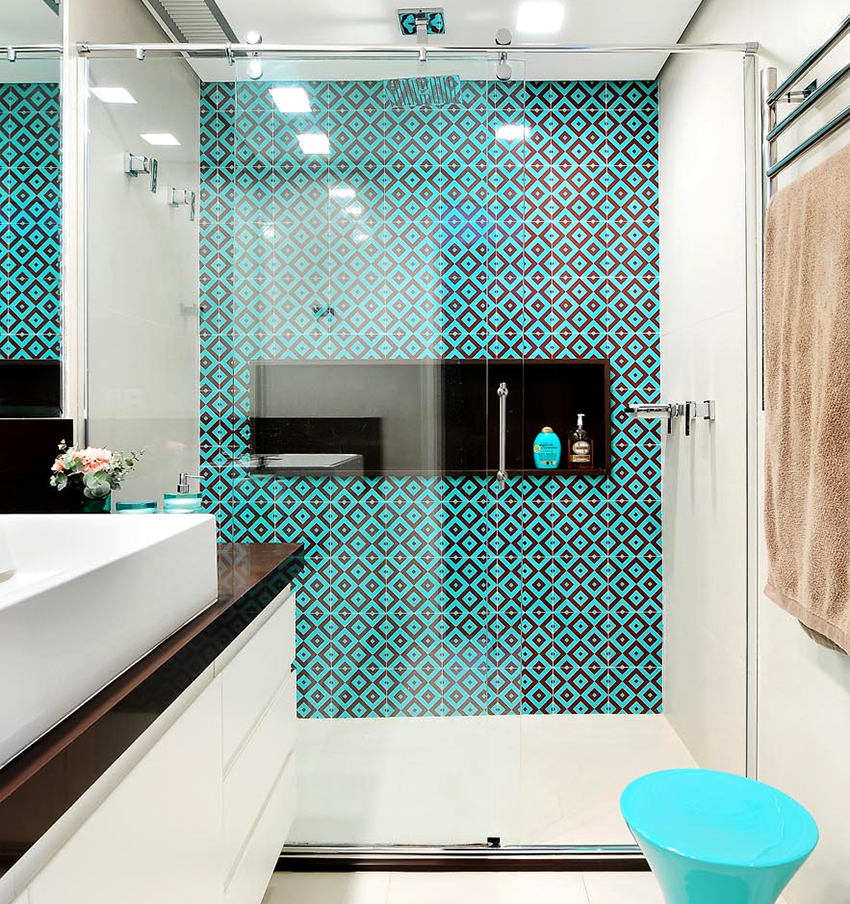 The combination of glass and wood is widely used by fans of interior design, as they are both natural materials that get along very well, as you can see in this bathroom design that is also very private.
19. Sliding Glass Door For A Shower In An Elegant Bathroom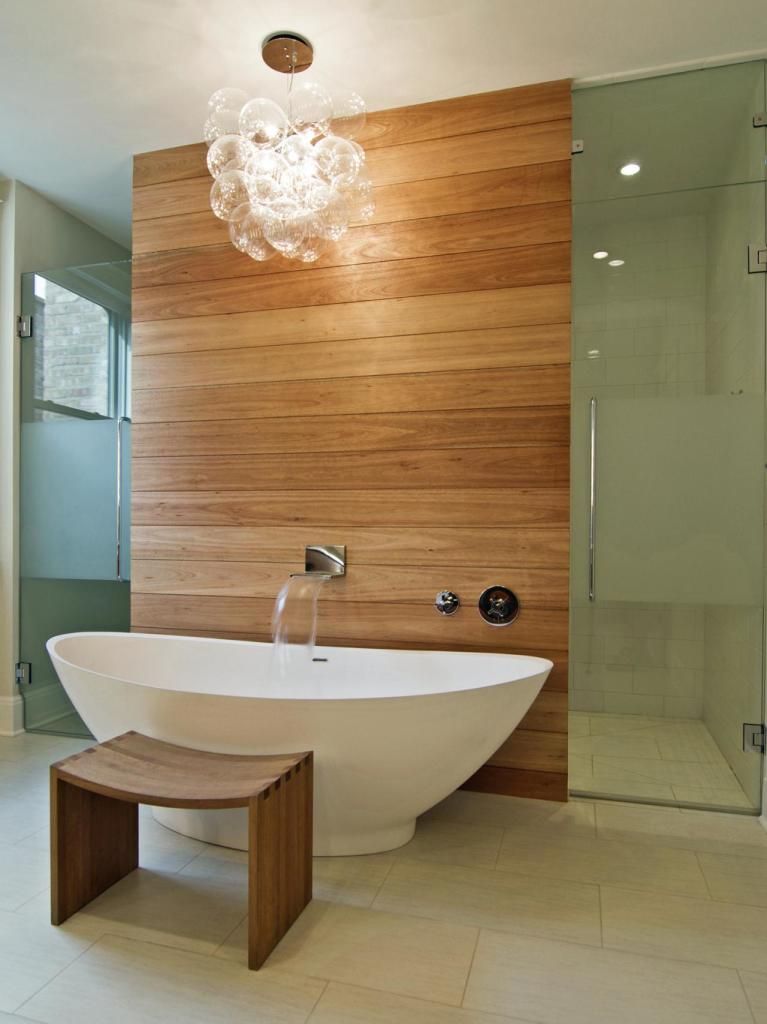 When you have a beautiful shower, it is best to show it, that's why the glass shower doors are so used, see how this shower is a beauty with its accessories and design and the sliding doors let it be seen.
20. Charming Bathroom With Glass Doors For The Shower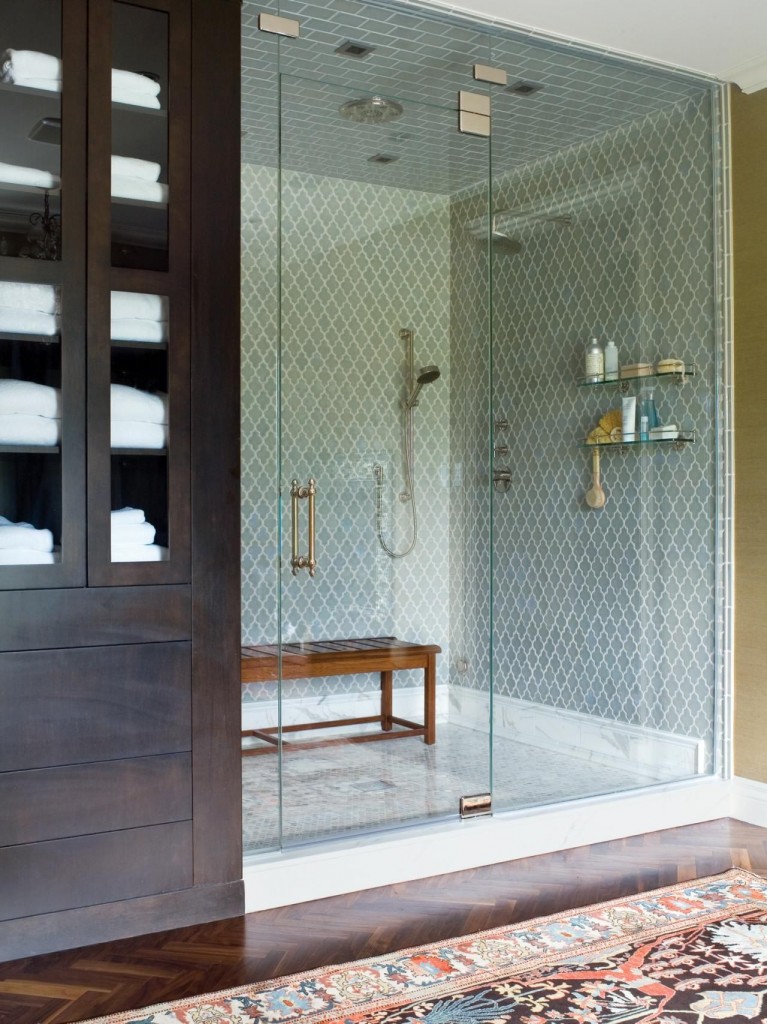 Glass shower doors do not necessarily have to be transparent. This textured pattern prevents vision into the interior, maintaining the style and charm of the glass
21. Work Of Art Shower Doors Made Of Glass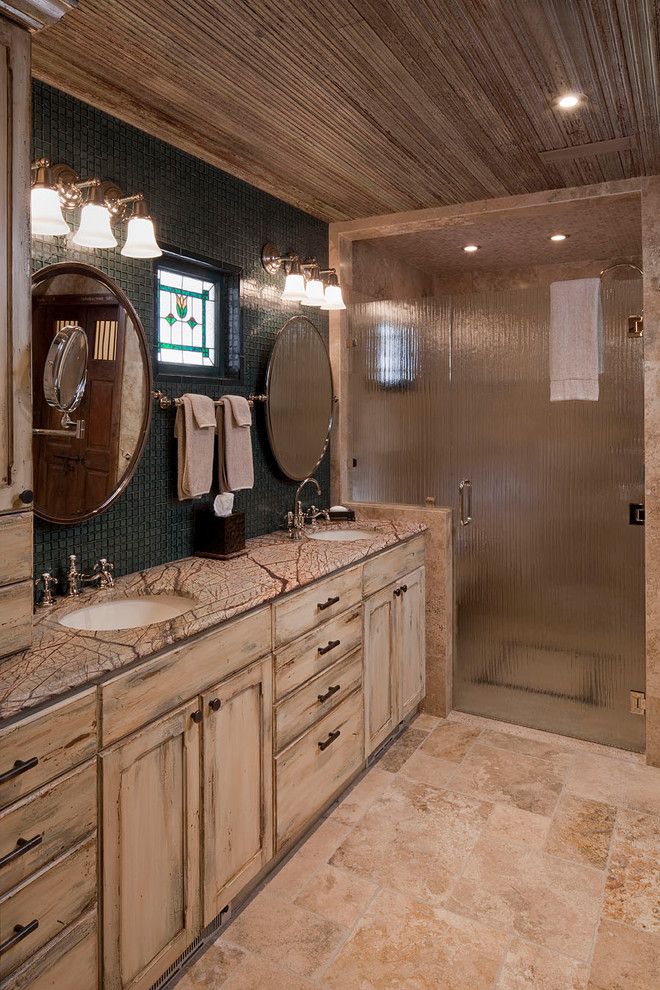 Custom glass shower doors have a great aesthetic value that adds a unique touch to your bathroom. In this design, the polarized doors have a leaf design that perfectly matches the general style of the bathroom and make it look artistic.
22. Shower With Walk In Glass Doors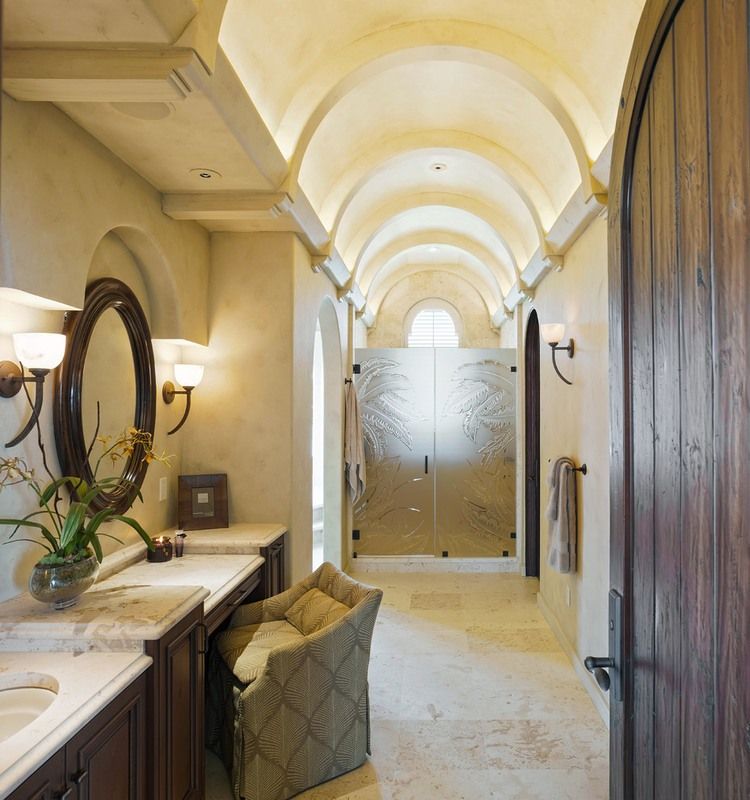 With glass bathroom doors you can never go wrong, they are beautiful, resistant and very stylish, it is just a matter of deciding if you want them to be sliding, or normal like this walk in design that incorporates metal elements.
23. Glass Door For A Bathroom With Windows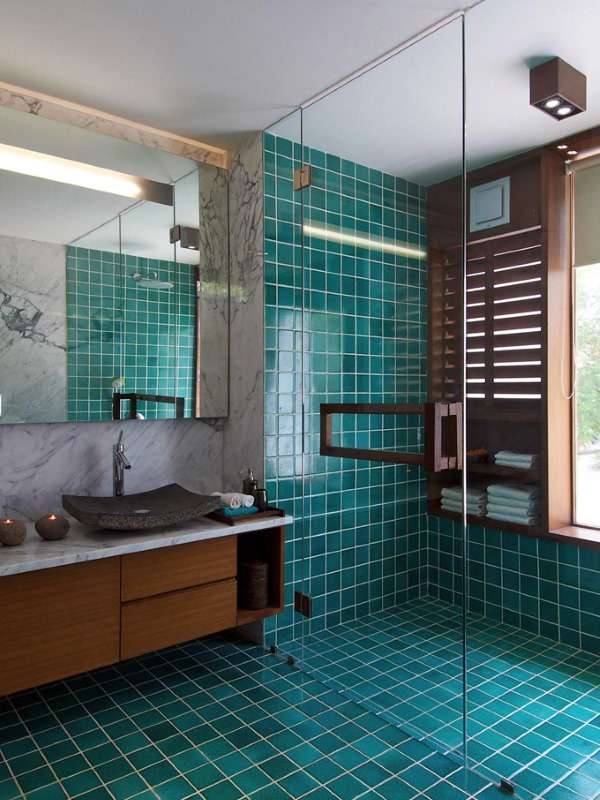 This design is great as it combines clear glass doors with mirrored glass walls. Ideal for making a bathroom look intimate and great, even having windows.
24. Rustic Bathroom With Glass Door For The Shower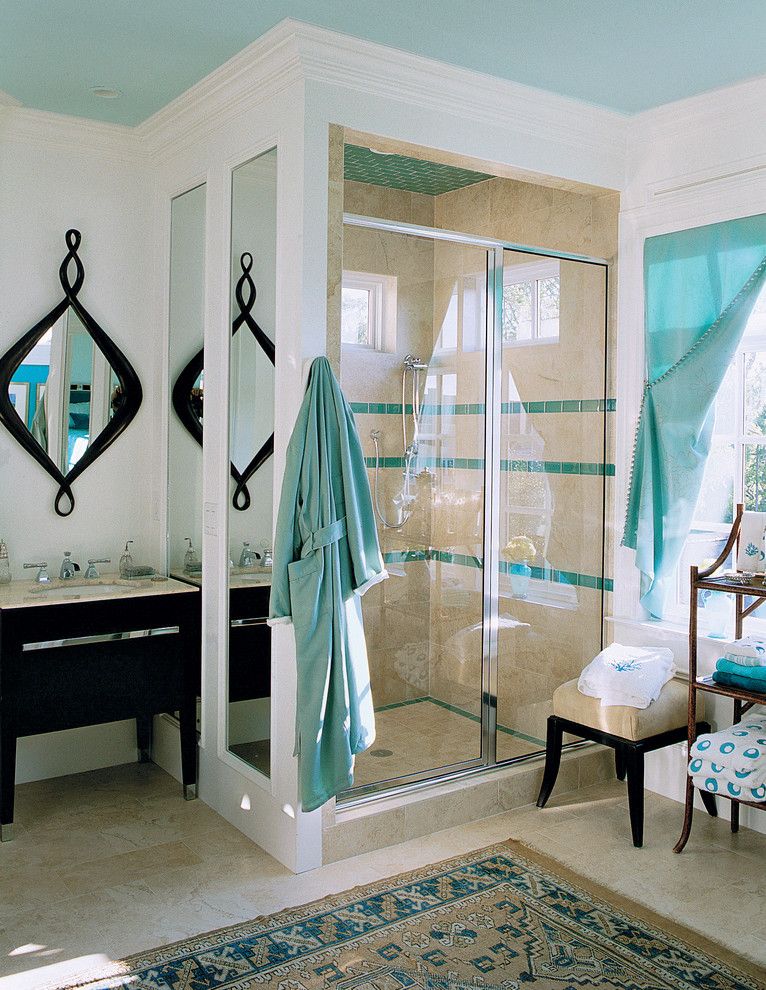 Regardless your decoration taste, you will always be able to find a glass door for the shower that suits your needs. This is mostly because the glass' transparence can easily adapt to any decoration style.
Conclusion
We have reviewed everything we need to know about this important part of the interior of our home, and what our bathroom especially needs. Sliding doors and accordion doors are not positioned to such a high standard for nothing, their comfortable and silent sliding has always been something that has made them stand out as great products in the internal decoration of homes.
Although these products abound in interiors such as living rooms or kitchens, these products also have excellent potential for decorating bathrooms. Both as an entrance to it, as for showers, Glass bathroom doors are made of materials suitable for the environment and resistant to the most common component that can be found in any bathroom: water and humidity. Its most used materials for such manufacturing are glass and PVC (incredibly strong and durable plastic).
But glass is usually the favorite and that's why we give you these final tips:
It is important to keep in mind what best suits your bathroom. While a sliding glass door is what you want, they offer a more delicate and elegant look. A tempered glass door is also an option to consider, as its material is impressively resistant to impact, fire and moisture. So do not worry, because in this area, the materials are the most capable of withstanding the water and humidity of a bathroom.
Whether in glass or crystal, designs and colors abound, from many different brands that have been dedicated to the manufacture of doors for many years, among these companies there is a special part of design only for glass doors for bathroom showers. So when you see a design that catches your attention, do not hesitate that there will be more than one color and size that adapts to the dimensions of your bathroom.
The prices are typical of a market with great supply and demand, where each brand competes with the others to offer you the best in these products.
Today we reviewed products worthy of your attention, brands, markets and other aspects, which were very useful for the purchase of your next sliding bathroom door; you can start your design project now!