Bedside table lamps are a part of your bedroom decor that serve a purpose; to light up your bed in a soft light before you go to sleep; and can form a key element in your bedroom design. A set of matching beside table lamps on matching bedside drawers can frame your bed in a pleasingly symmetrical way, or you can mix it up with some mismatched or one-sided design. Table lamps come in an extensive number of styles and colours so whatever look you're going for in your bedroom, you can find the perfect one for you.
25 Bedside Table Lamps To Brighten Up Your Life

However, traditional beside table lamps are not your only options. Lighting has become an area of fast growing design innovations and this has created a few more interesting options like wall mounted and hanging bedside lamps; both of which are styles we associate with other areas in the home other than the bedroom.
Moving your lighting from the bedside table to the walls or ceiling frees up the surface area of said table for other useful items, charging points and decorative elements. This can also help you save on space by shrinking the size of the bedside table to fit in a smaller space or do away with them all together. You have so many options to work with.
If you need some great ideas on how you can upgrade your bedside lighting here are:
1. Matching Black And Chrome Beside Table Lamps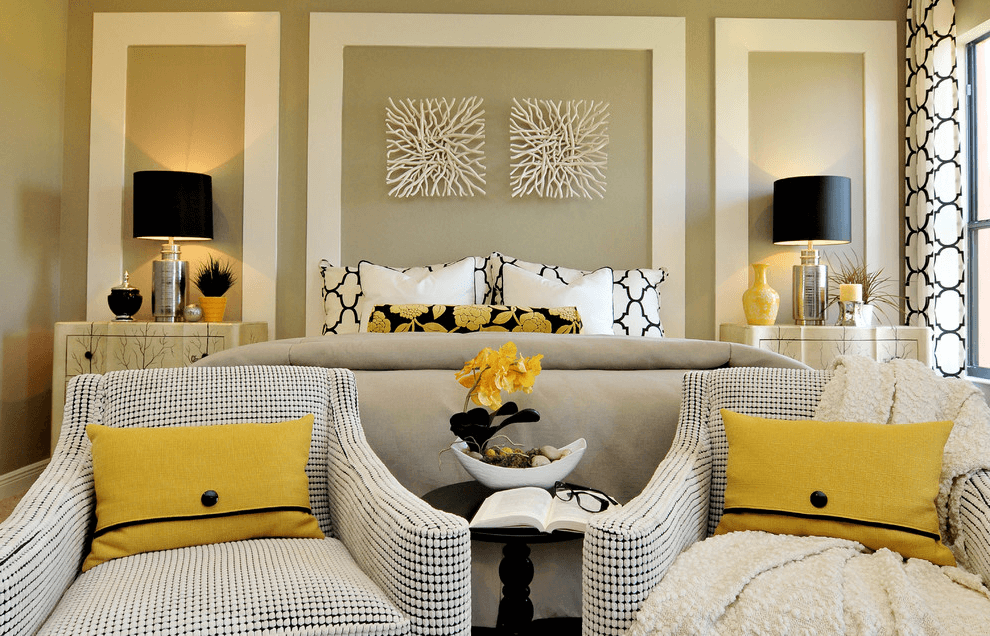 This strictly symmetrical interior has a carefully considered interior design in order to achieve this contemporary bedroom. The room is full of varied textures in a limited colour palate of beige, pops of yellow with black accents. One of these black elements are the round shades of the matching bedside lamps. The wide shade reflects light up onto the walls and down onto the bed, providing a comfortable light to read by. The chrome bases holding the light aloft also helps reflect the light cast upon it to give the room a little extra sparkle.
2. Bendable Wall Mounted Lamps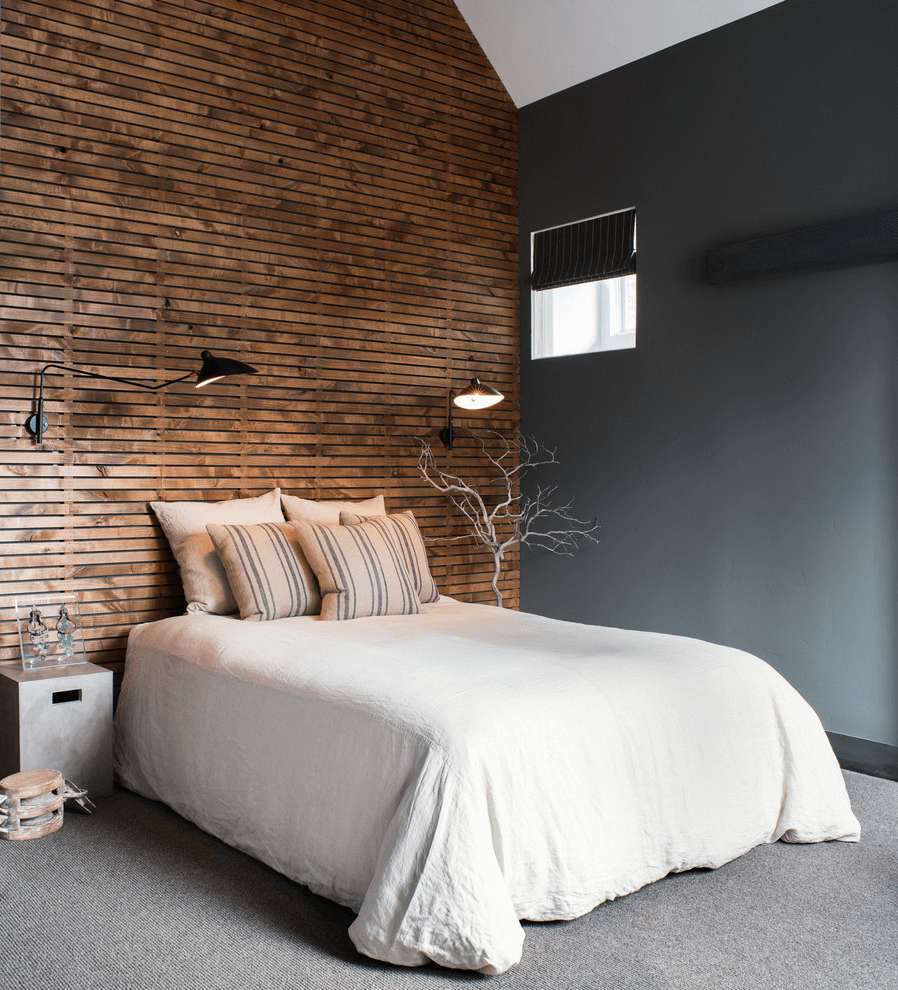 This pair of black wall mounted lamps is made of a bendable material that makes them easily adjustable to suit your illumination needs. Moving the lighting up onto the walls allows you to have smaller bedside tables like these contemporary blocks of mock concrete. However the main focus in this room is, without a doubt, the timber feature wall that fills the tall pitched space from floor to ceiling. The thin twining arms of the light fixtures are barely perceptible against the thin stained slats so the wall treatment can run uninterrupted while the invisible lamps pleasingly illuminate its texture.
3. Adjustable Industrial Wall Lamp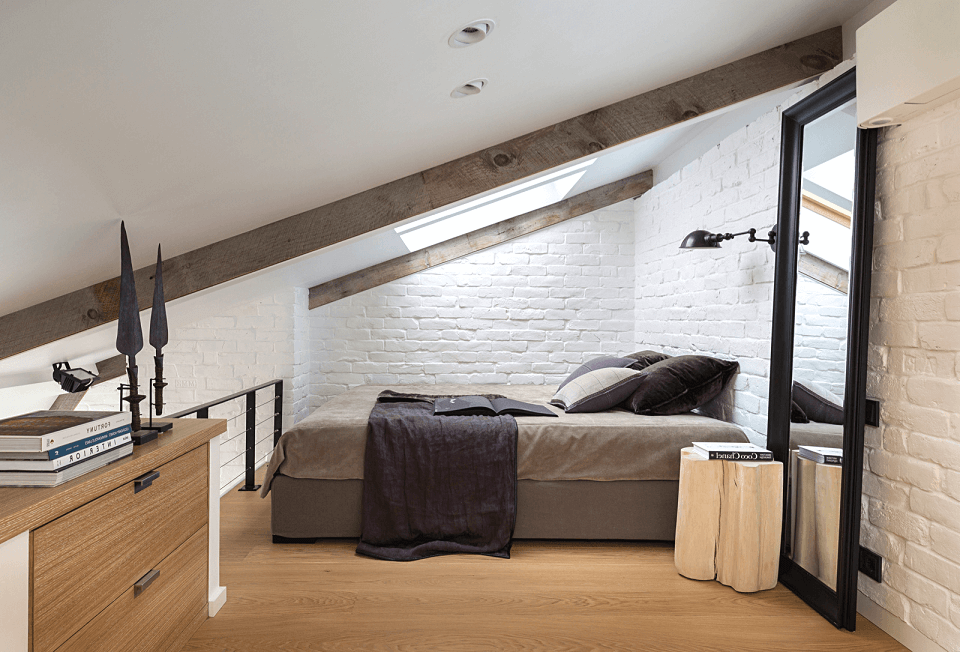 This contemporary bedroom with pitched ceiling and skylight is a unique loft space whose design is predominately led by a juxtaposition of both manmade and natural textures. An industrial style has been brought to the party through wall mounted light can be adjusted as needed with an extendable arm. Its light is helped along by the white washed brick walls which reflect its directional light to create a soft oasis of light.
4. Golden Hanging Orb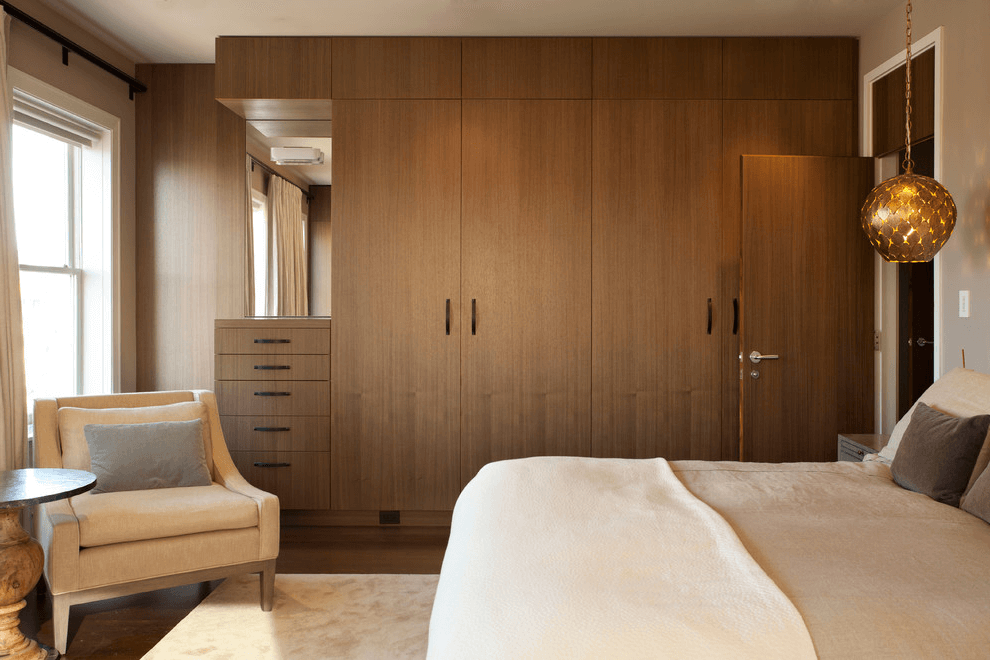 A pair of statement hanging gold orbs takes this neutral, understated interior into a far more interesting realm. A gold cord snakes down from the ceiling, culminating in a perforated globe with an opening at the bottom. The perforations cast glittering specks of light on its surroundings while the opening at the base casts a useful, directional light for the perfect juxtaposition of functionality and beauty. Hanging the lamps from the ceiling means the bedside tables can be simpler and more pared back.
5. Futuristic Hanging Bedside Unit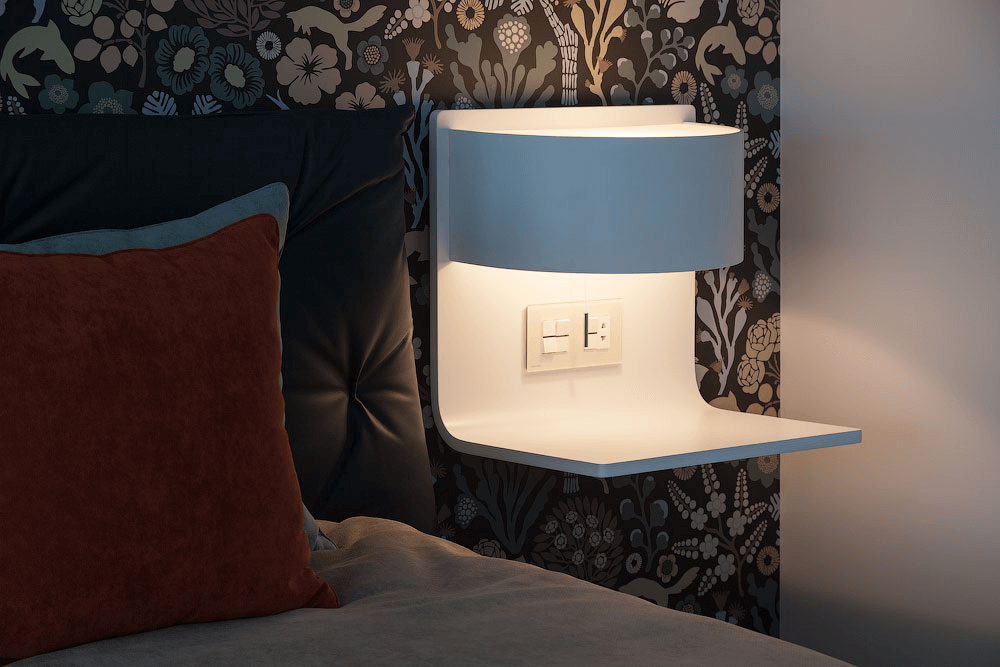 Futurism is a style that isn't just reserved for minimalistic, modern spaces. This white, all in one wall mounted unit has been contrasted against a dark vintage style wallpaper that makes this look far more approachable. The unit is a combined light, bedside table and plug point in one compact package. The arching hemisphere lampshade is topped by frosted plastic that helps to direct the light down onto the white tabletop, which in turn reflects it onto the bed in a wash of gentle light.
6. Pixar Style Desk Lamp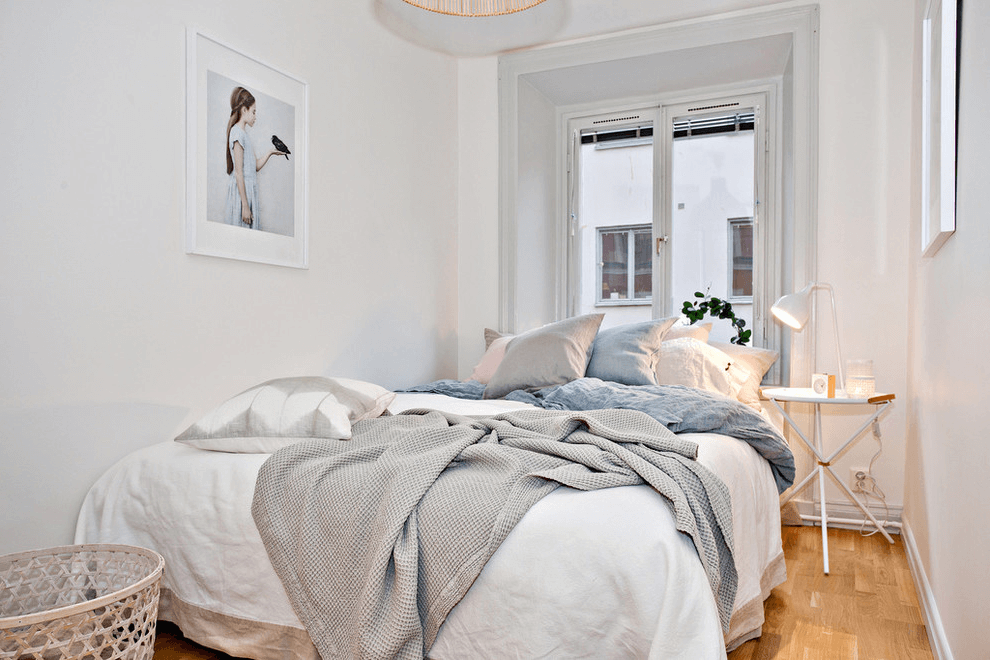 If you have a small bedroom but can't live without the indulgence of a nice big bed, this style is a great way to get the best of both worlds. We all know that painting a room white can make it appear bigger than it is, well this room has taken this idea and applied it to the large bed and its accompanying bedside table and lamp. The small tripod table takes up very little space and provides a simple table top for a bedside lamp. This Pixar style white desk lamp lights up the bright white room and can be adjusted as needed.
7. Blue Blown Glass Lamps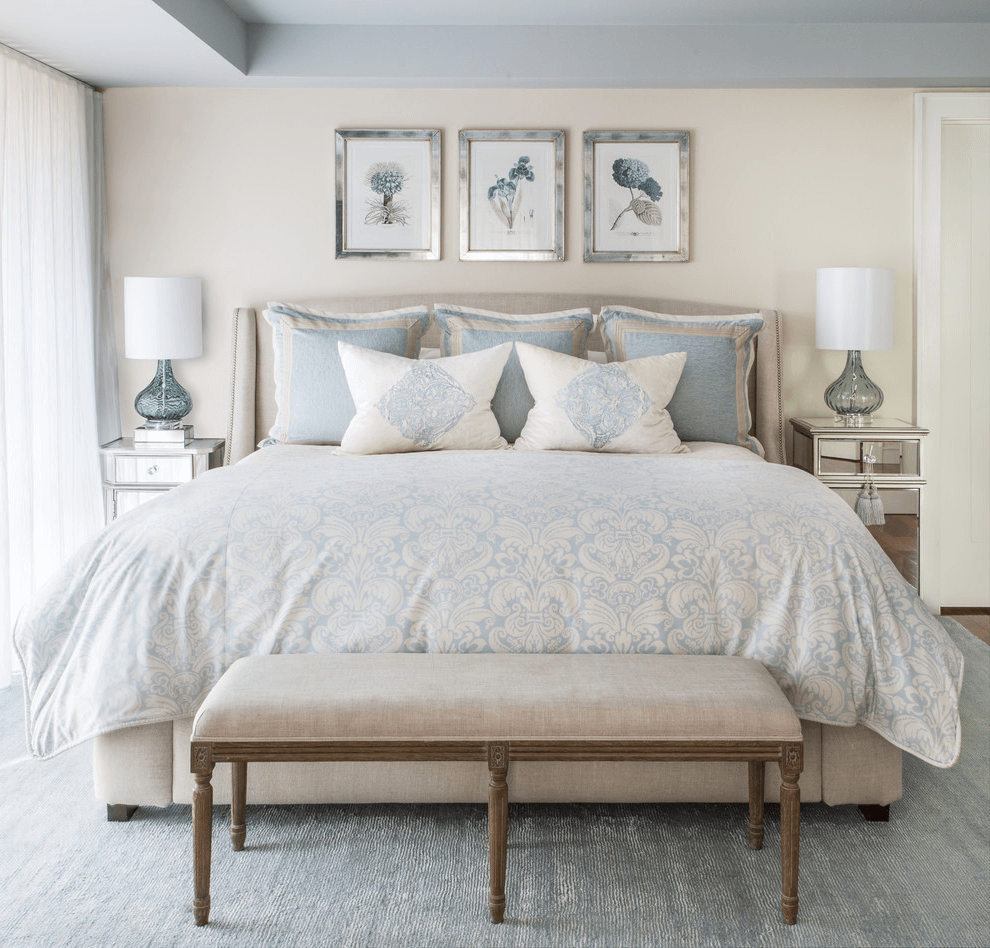 This spacious bedroom provides plenty of space for matching bedside lamps sitting upon matching mirrored bedside tables. The bulbous bases are made of a subtle blue blown glass topped by a traditional shade in a shiny white. These colours coordinate perfectly with the blue and white room for a wholly cohesive style across the entire room. The mirrored tables work in tandem with the lights sitting on top of them to reflect the light cast down onto them to light the room in uneven and unexpected ways.
8. Dual Purpose Bedside Lamp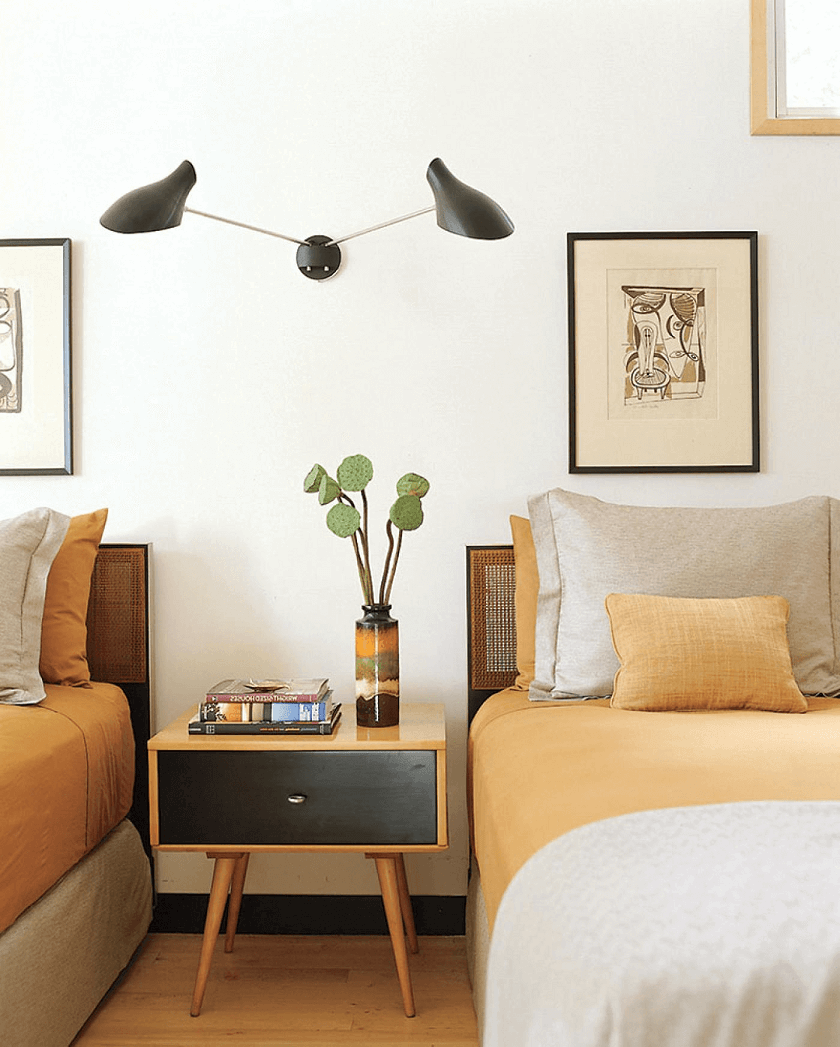 By mounting this two headed lamp on the wall between these twin beds saves space and allows more than one person to use a directional light at the same time. The contemporary design features two funnels of light on thin rods anchored by a circular black wall mount. This leaves space on the small table for decorative elements and a cup of coffee or two that is useful for both of the room's occupants.
9. Hanging Grey Hemispheres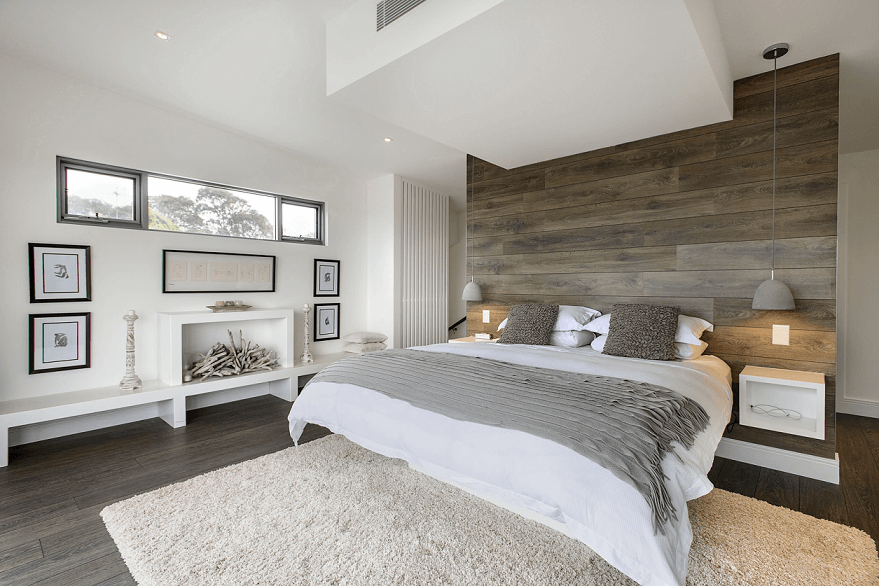 This spacious grey and white bedroom doesn't require any of the space saving factors often associated with hanging lamps so these suspended grey hemispheres are present solely for their interesting and elegant appearance. The pair of lights are hung on the thinnest cable possible so it disappears almost completely into the cool grey headboards. They are efficient, attractive and unobtrusive against the wood paneled, freestanding feature wall and tie in flawlessly with the other grey design elements that litter this alabaster space.
10. Twisting Pair Of Wall Sconces
This Bali inspired bedroom has cleverly wall mounted both the bedside table and its light fixture to free up some space around the bed and provide space for a little bedside footstool. The beautifully twisted wall sconce with simple white shades fit in exquisitely with the intricate wooden screens and headboard that speak to the distinct Asian style that this room ahs been influenced by.
11. Dripping Chandeliers in Quirky Bedroom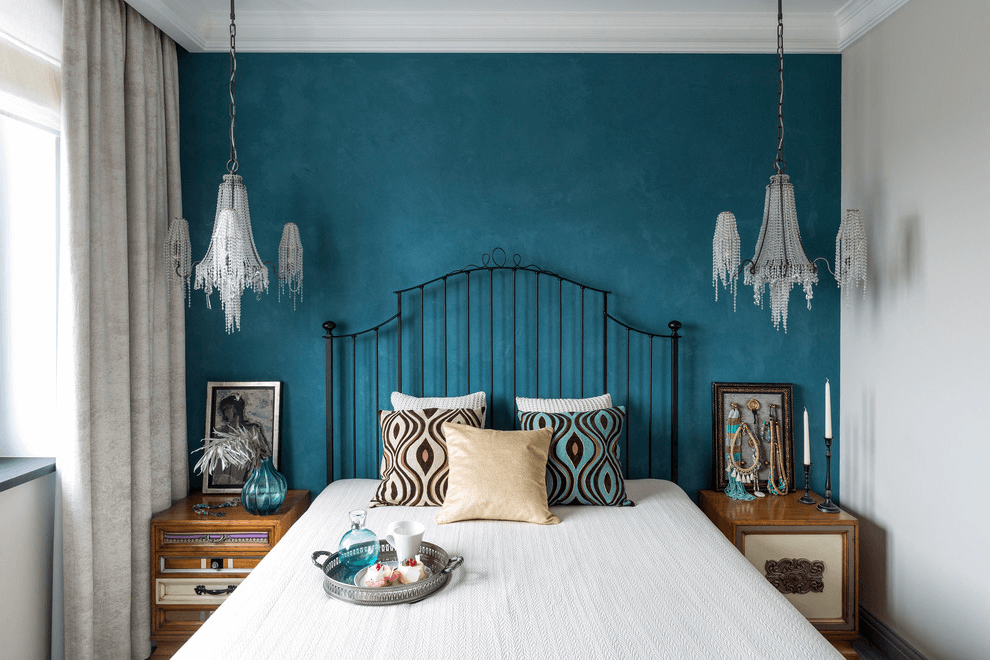 Bedside hanging lamps? Please, lets have some hanging bedside chandeliers! The ostentatious draping crystal is seen in a quirkier in this eclectic setting alongside a collection of textures and colours. The deep blue feature wall, painted in a patchy style, acts as the ideal dark backdrop to allow the dripping crystals to be seen to their best advantage. When switched on each of the tiny droplets each refract the light cast by the quartet of bulbs to light up the entire room in a magical sparkling light.
12. Industrial Wall Mounted Lamp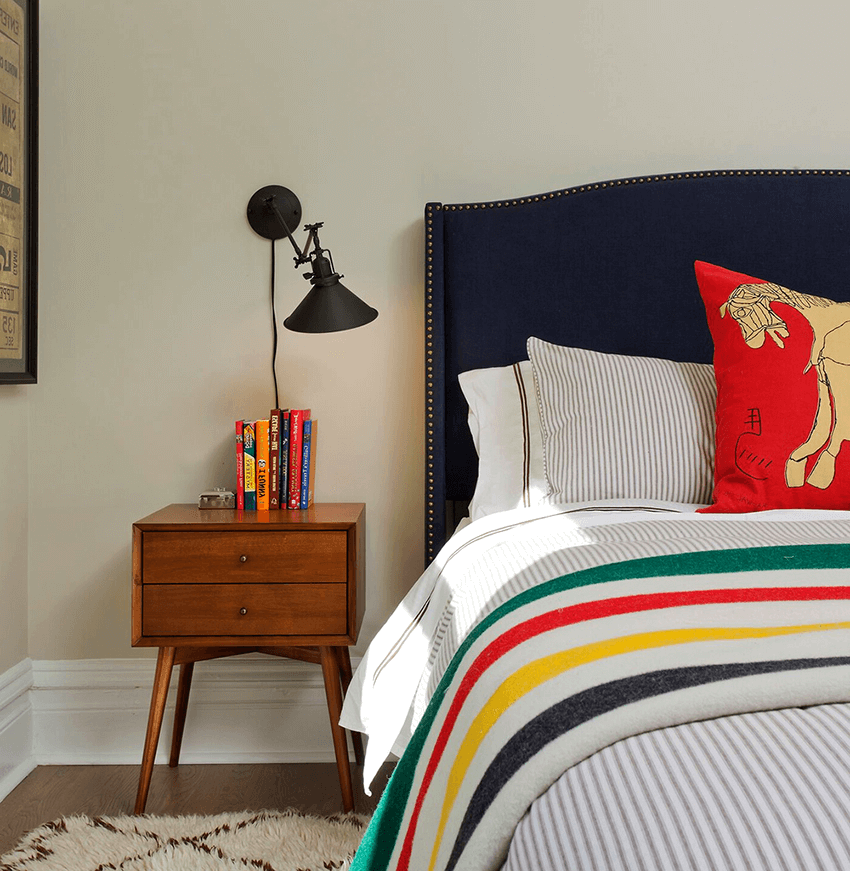 This matte black conical lamp is yet another example of a wall mounted adjustable light being used to bring a hint of industrial style into a contemporary space. The design is compact but still useful and aesthetically pleasing with a wide shade for naturally wide arc of light. Pairing this with a carefully styled interior imbues space with a little extra character in a way that is simple and effective.
13. Glowing Rings Of Light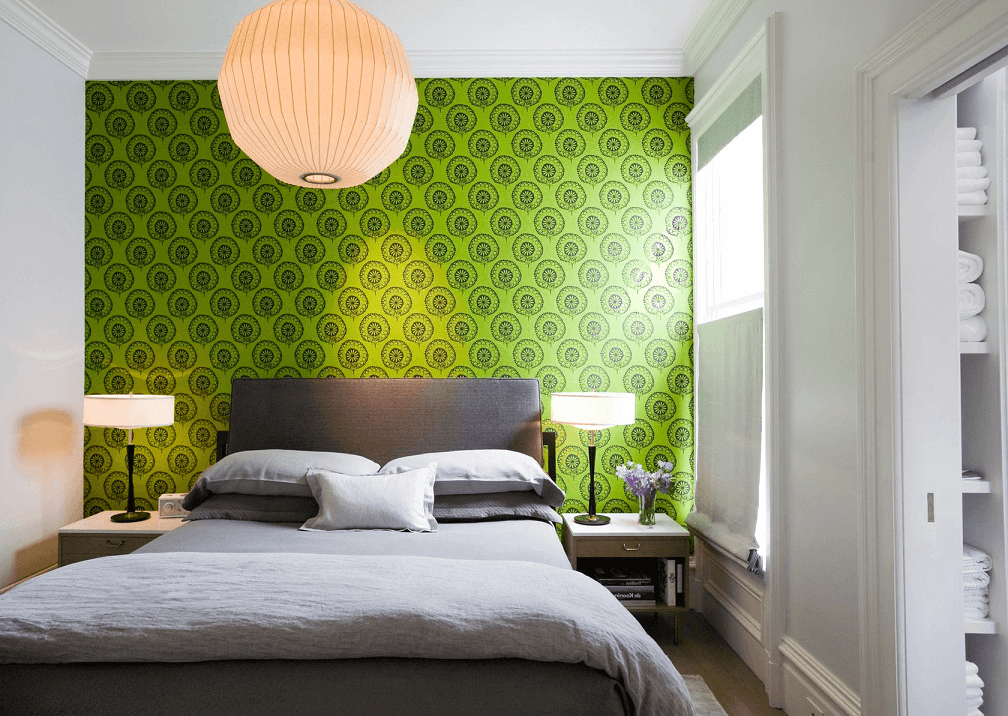 The translucent materials that make up these thin shades create a glow rather than a directional light. This quality of light will be softer and calming, which is ideal for a bedroom setting. The base is thin and dark, allowing them to blend into the wallpaper. This creates the illusion of two hovering contemporary rings of light against the green patterned backdrop.
14. Hanging Bulbs With Glass Lampshades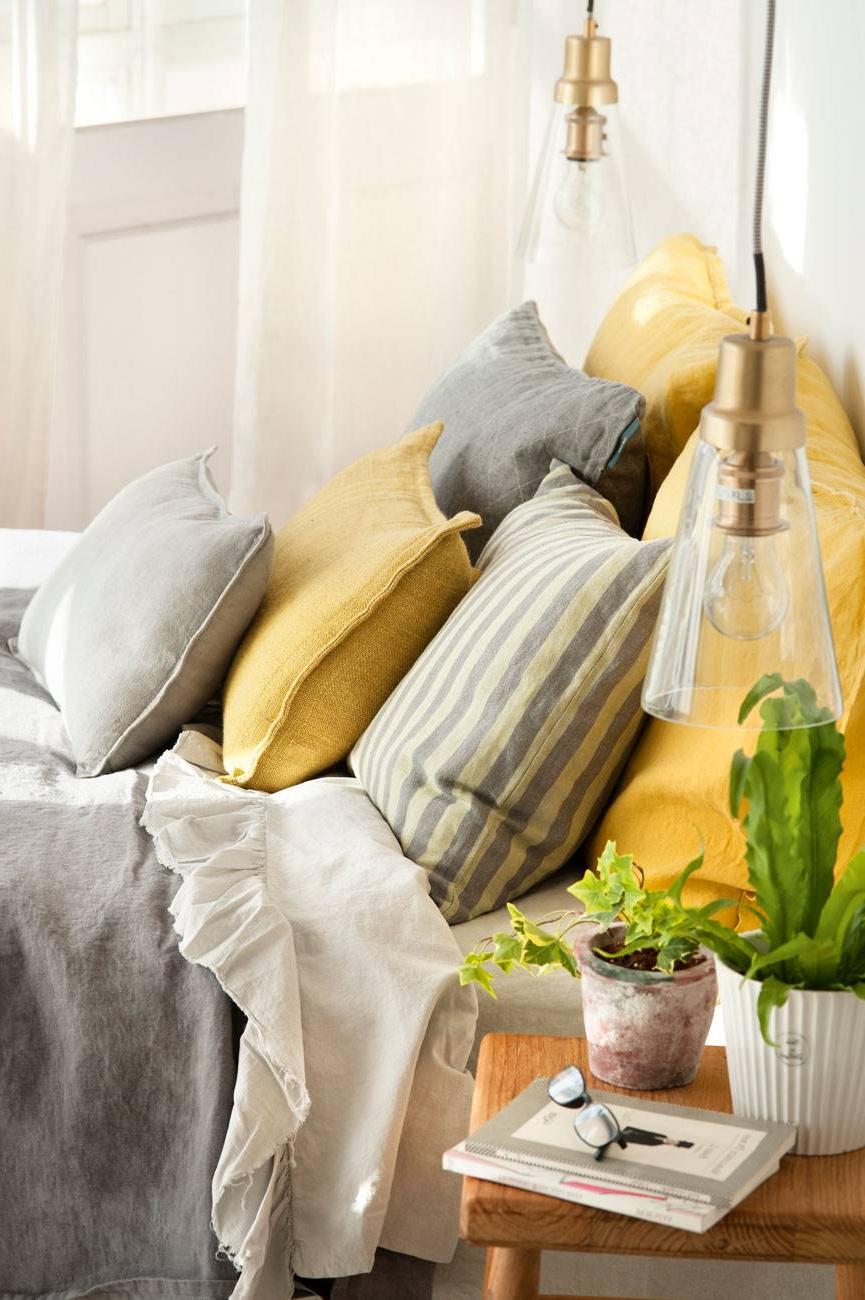 This comfortable hygge bedroom is being lit by a new take on the contemporary hanging exposed bulb. Instead of the usual cord and decorative bulb this hanging bedside lamp has been enrobed in a glass classically shaped shade. The shade itself doesn't have any effect on the light quality but its traditional inspiration allows it to fit right into place in this Scanadinavian setting.
15. Tinted Glass Hanging Lamps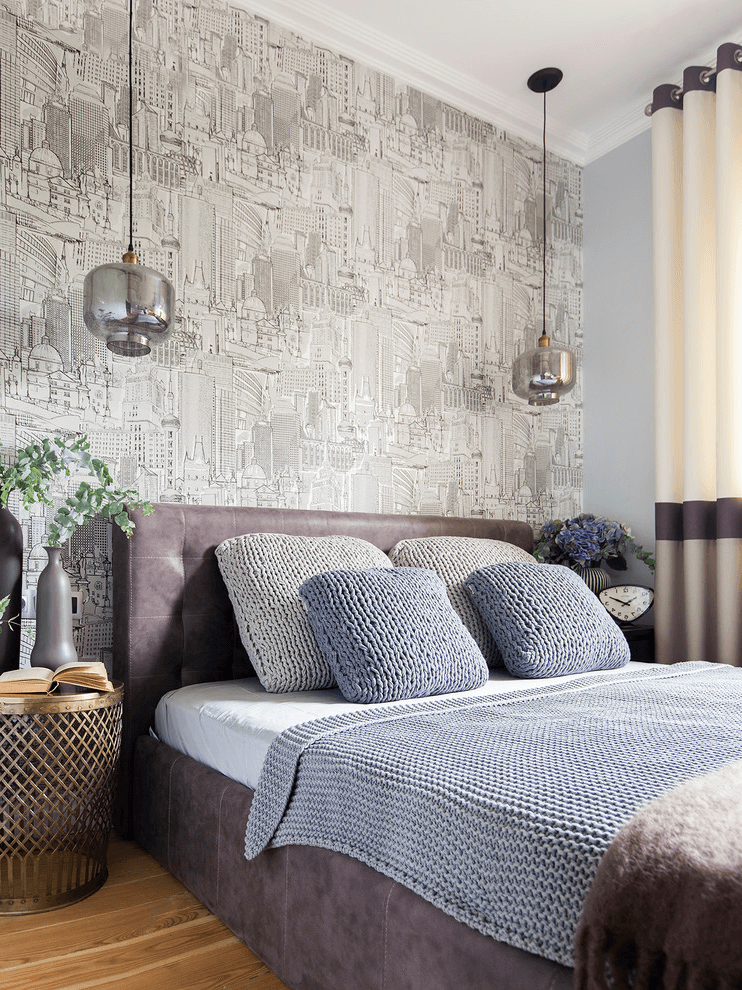 These hanging tinted glass lamps have a crackled tinted surface that is the cherry on top of a room that is an amalgamation of texture and colour. The elegant rounded shape with lip at the centre directs a beam of light onto each side of the bed while the light escaping the tinted crackled glass body casts an uneven beautiful light across the plethora of surface textures adorning the room. The lamps manage to not take up any space but still add a crucial layer to the richness of the interior.
16. Curving Wood Desk Lamp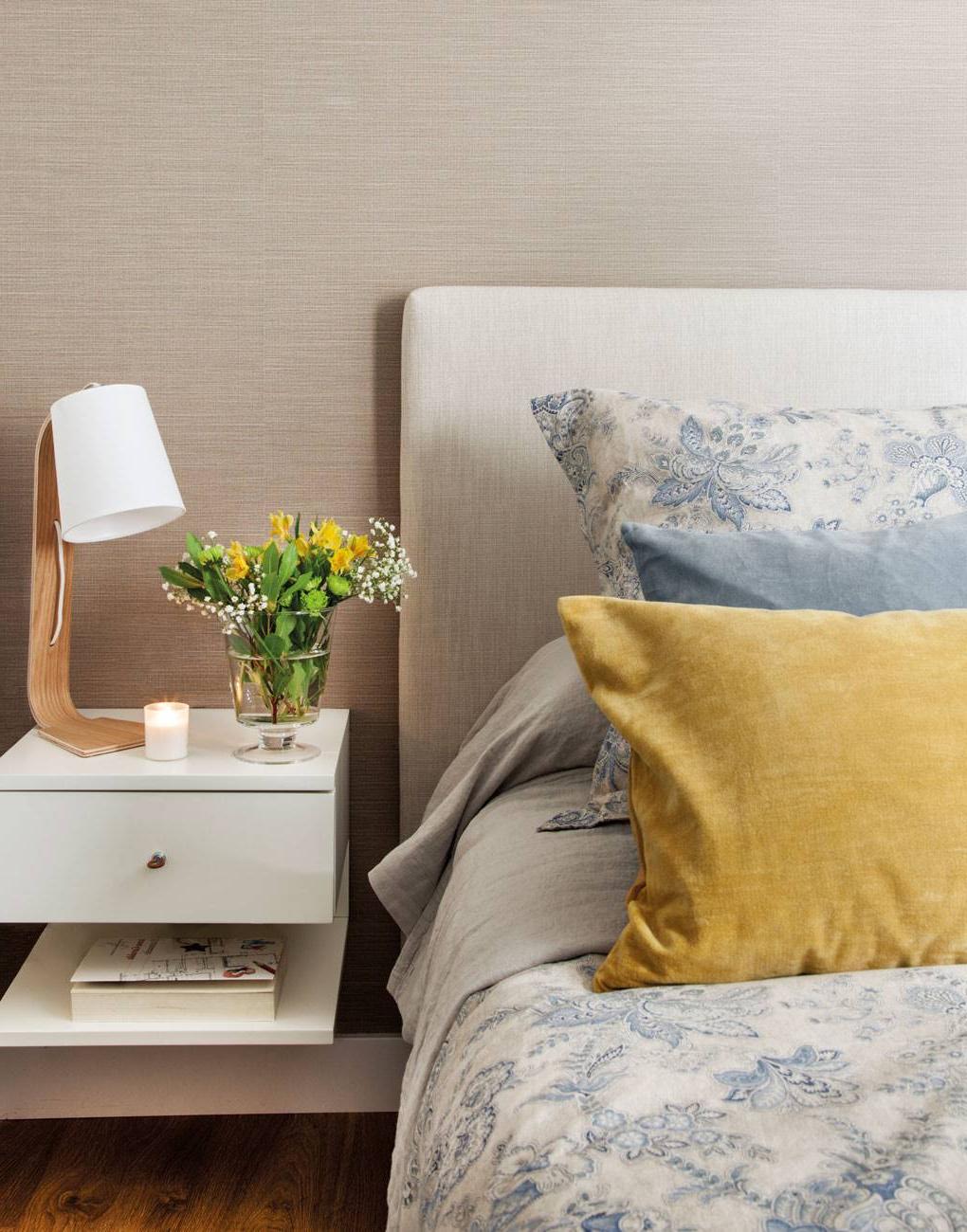 This wall mounted bedside table seems to be a cousin of the light we saw in example 5. This version, instead of incorporating lighting, provides a drawer and shelf. The light fixture sitting on top of the smooth alabaster surface is an innovative curved timber design with a foot and hanging white lampshade. The clean modernity of the table and light team contrasts pleasingly against the fabric wallpaper and patterned fabrics of the bed itself.
17. Scandinavian Tripod Table Lamp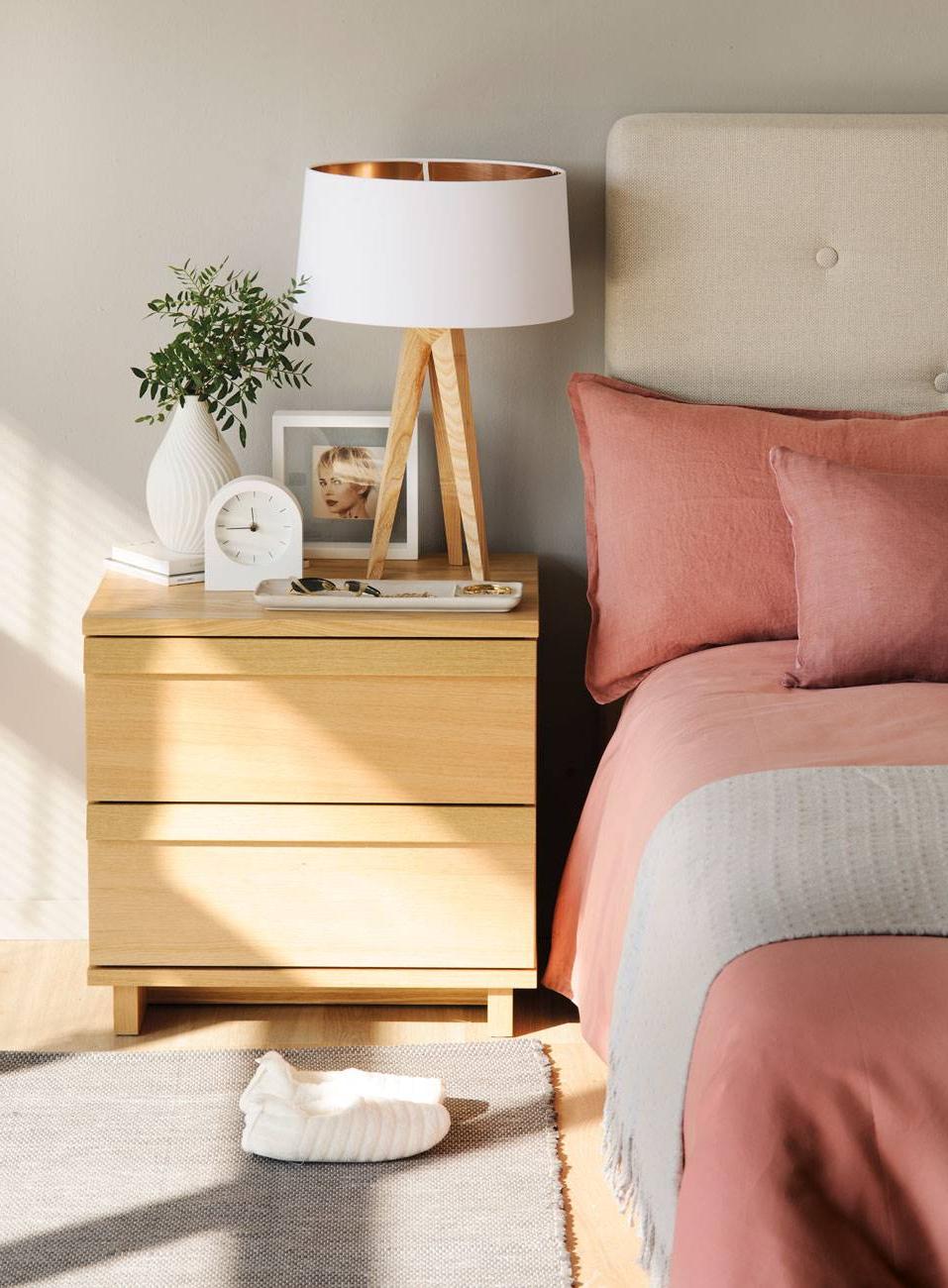 This Scandinavian design makes use of light timber, a pale, restful colour palette and white accent that are quintessential elements is in the design of this region. This design inspiration has been replicated in the three legged table lamp with its simple white shade. Its hidden treasure is its reflective copper interior that both refracts the light in different directions and colours it a warm, comforting amber.
18. Simple Black Desk Lamps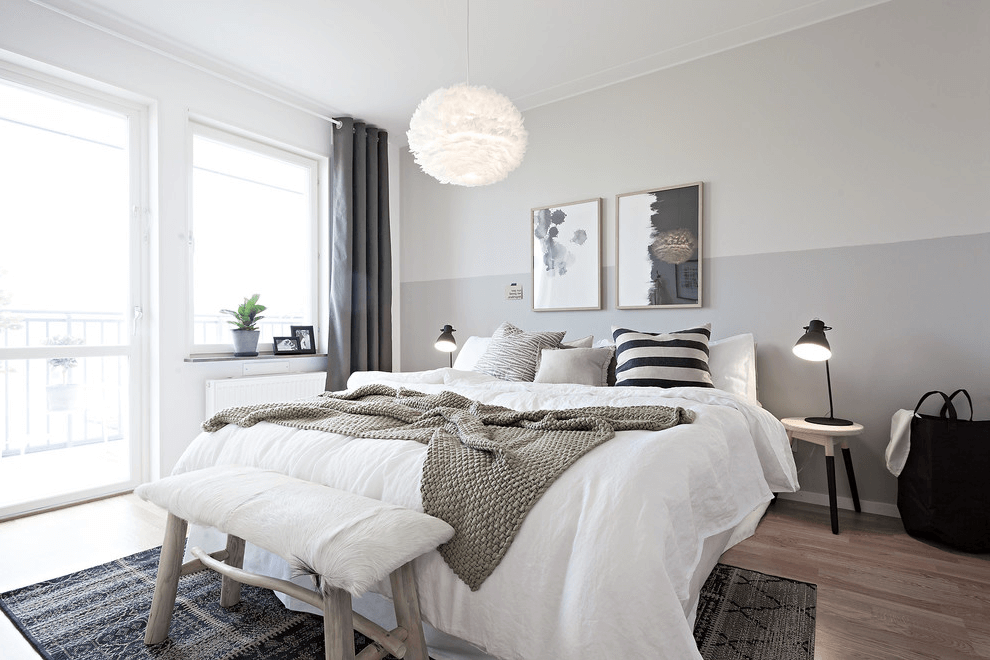 This sizeable pared back, monochrome bedroom has repurposed a desk lamp style as bedside lamps for a quality of light that is both directional and useful. The round white surface of the bedside table is just big enough to hold the black lamp (and maybe a cup of coffee), which coordinates with black table legs in a very intentional manner. The look achieved is so elegant, so simple and so beautiful.
19. Green Carved Stone Beside Table Lamps
It is clear that this interior design has been coordinated meticulously with the lamps being carefully considered in the entire ambiance and design of the room. The carved stone bases are a deep green hue that is echoed across the room in the drawers and soft furnishings. The beige shades, however, clash with the pure white of the other finishes in an almost pleasing manner that has to be intentional.
20. Golden Crisscrossed Table Lamp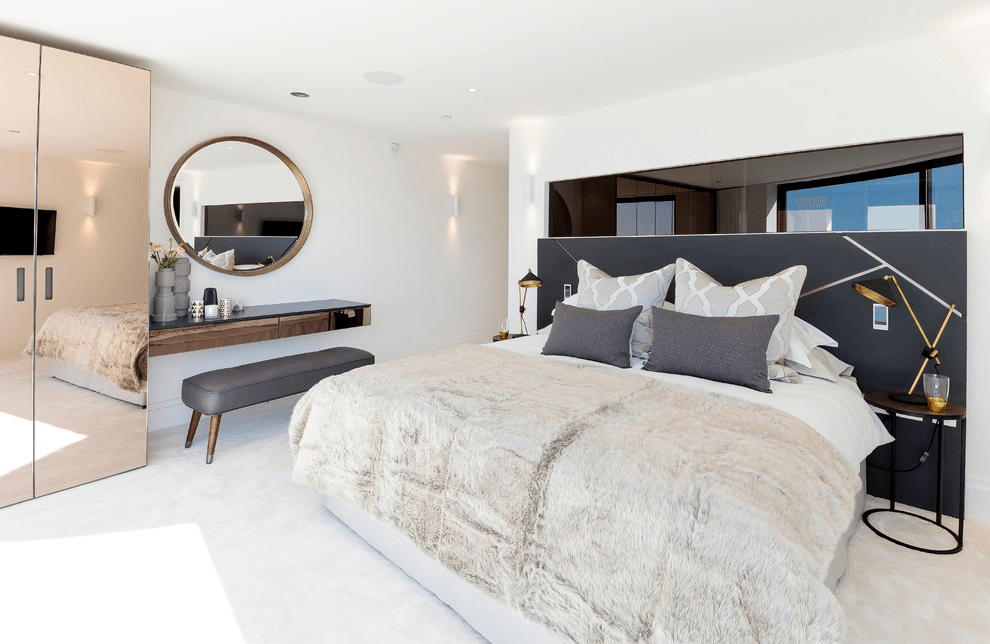 The classic drafting light has undergone a makeover resulting in this crisscrossed golden rods holding up a black shade with a gold interior. The statement black and gold smoothly flows from the lamps to the bedside tables to the vanity table and mirror for design cohesion across the whole home. The dark headboard makes the bedside table legs almost disappear, which makes the lamp appear to hover at your bedside.
21. Vintage Table Lamp on Carved Vintage Table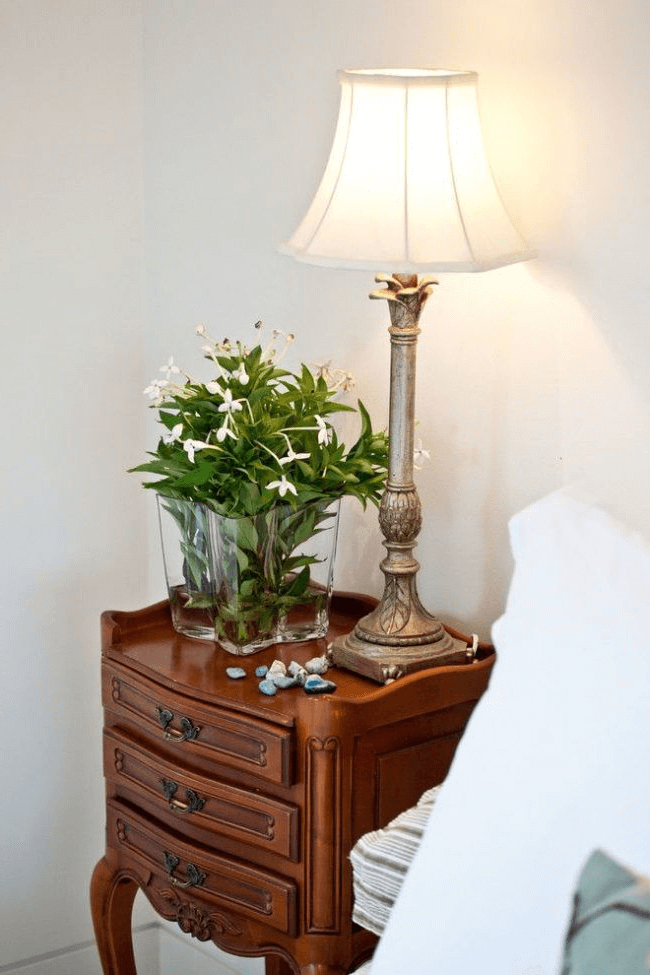 Tucked away in a little corner; this tall vintage lamp sits on top of a carved table with rich polished finish from the same period. Styles like this, or any period for that matter, can be found in any antique store. The petticoat style flared shade widens the lights reach and emphasizes the carved floral details of the metal base. The clear vase of jasmine is a far more contemporary decoration for contrast.
22. Super Luxurious Room With Golden Hanging Lamps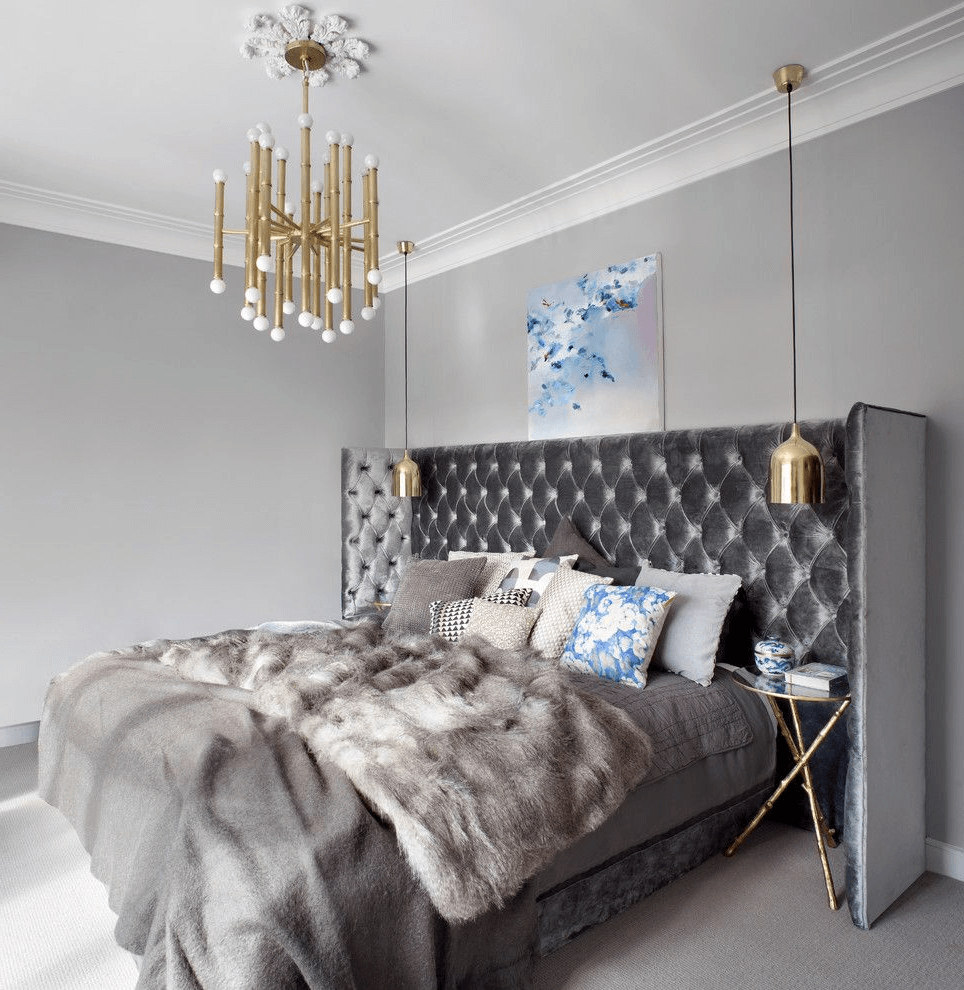 Opulence and indulgence are the first words that come to mind when bedroom with its gilded details and layered soft furnishings. The velvet, buttoned headboard wraps around the bed and creates little nooks to hold the golden, tripod bedside tables and gold hanging lamps. The goblets of light hang on a thin cord that sets them just above head as you lie surrounded by fluffy pillows. Their golden finish is echoed in the tubular bedroom chandelier and bedside table legs to finish off this grey and gold look.
23. Retro Black And Yellow Lamps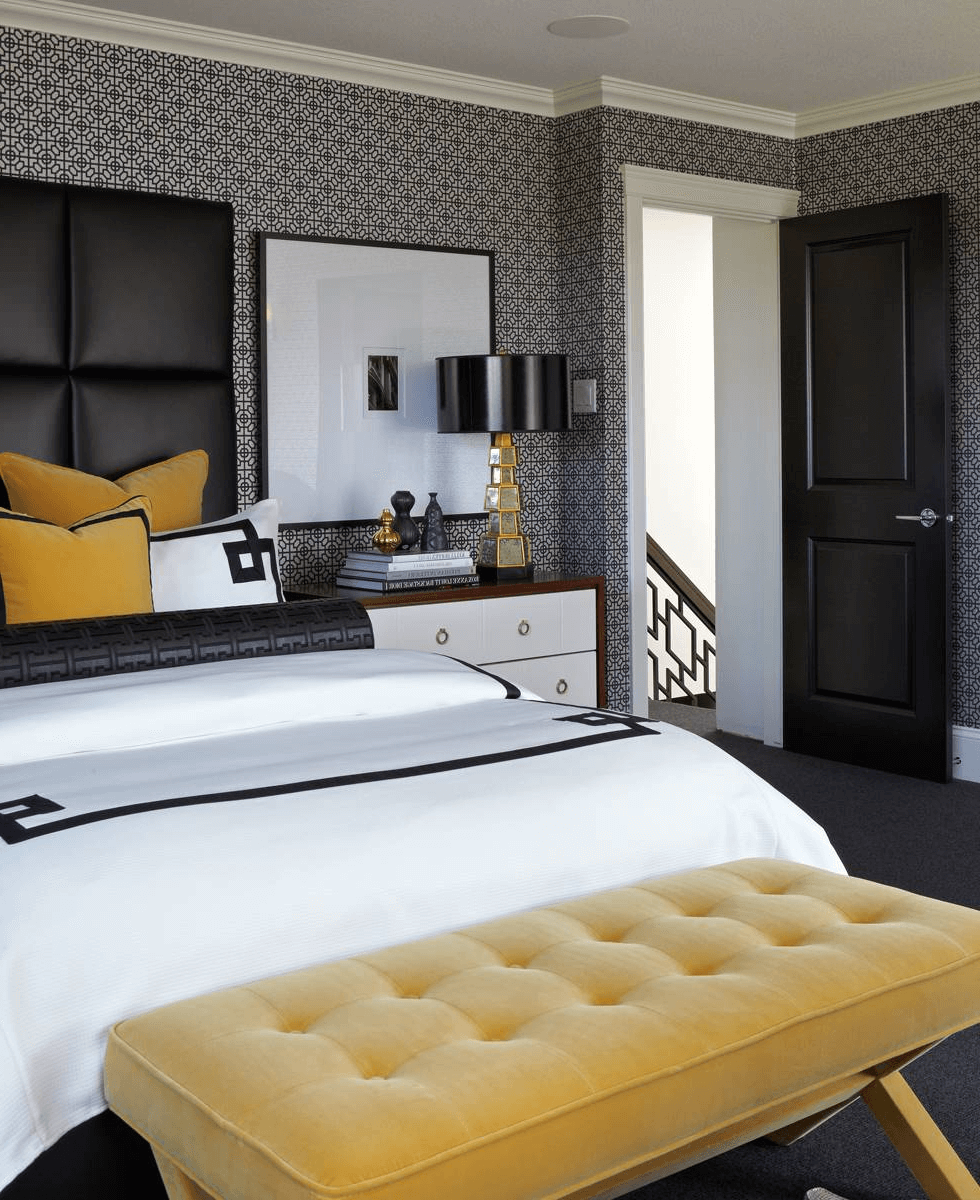 This bedroom is a super modern and highly stylized interior with a graphic monochrome colour scheme with pops of yellow. This very spacious room allows for a sizeable chest of drawers to be used as a bedside table, which is where these oversized table lamps reside. The pops of yellow act as the junctions in the bulbous stacked glass base with vinyl reflective lampshade so it blends into its surroundings seamlessly.
24. Suspended Black Tube Light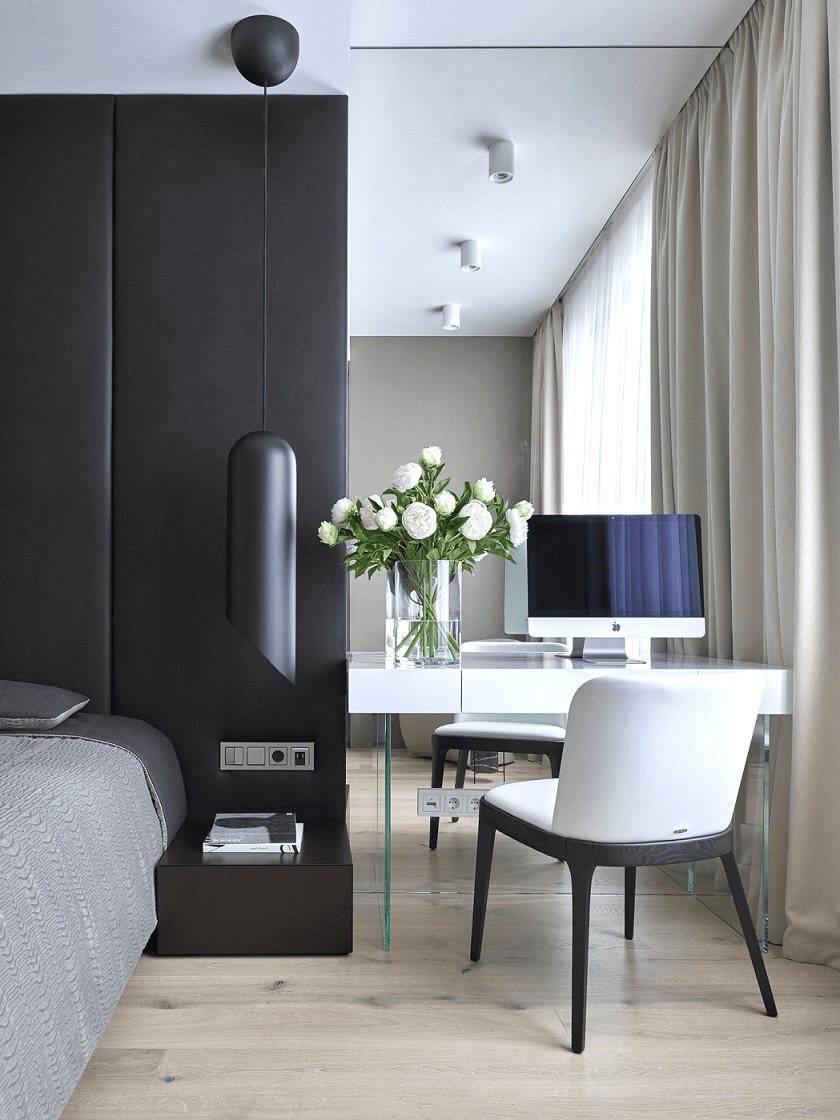 This is another modern monochrome design that sets itself apart with a well placed mirror, floor to ceiling headboard and a dramatic tubular bedside lamp. The matte black tubing hides against the matte black headboard as it descends to your bedside. The end is cut at a 45 degree angle to direct the light towards the bed so it can be used to its greatest advantage. The two hanging lights on either sides of the bed are both cut to face the bed, so together they cast a collaborative beam of light across the bed causing it to glow warmly.
25. Twisting Hanging Bulbs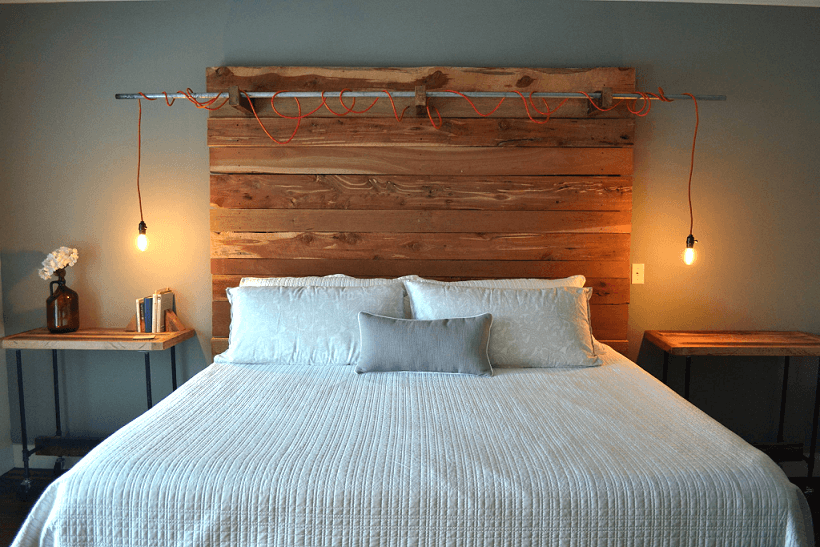 This bedroom feels very rustic at first glance due to its coordinated timber headboard and bedside tables. However the fabulously scruffy lighting brings this rustic appearance into the contemporary realm. Small round hanging bulbs on a cable are wrapped over the headboard on a thin metal rod and drape down over the bedside tables. The red cable is a bold, unexpected style choice that adds a twist and a pop of colour in rather the simple room.
Conclusion
From large spaces to small, modern and simplistic to eclectic and quirky; you can find the bedroom lighting solution for you. We've shown you options from the simple tabletop lamp to wall mounted lamps that are adjustable to suit your needs from day to day. Turning off your main light fixture and switching on bedside lamps creates an atmosphere change that shouldn't be under estimated; whether that helps you prepare for a peaceful sleep or helps to set the mood for a cozy, romantic ambiance. Lighting has the power to change the mood at the flick of a switch.
So why not bring a little extra life, and style, into your life using some innovative and beautiful bedside lamps.