Ceilings are often an area that we neglect when it comes to interior design. More often than not they are your average plain white expanse with the room below it providing the opportunity for personalization and styling. However, that is not your only option.
How to Use Painted Ceilings To Make Your Space Special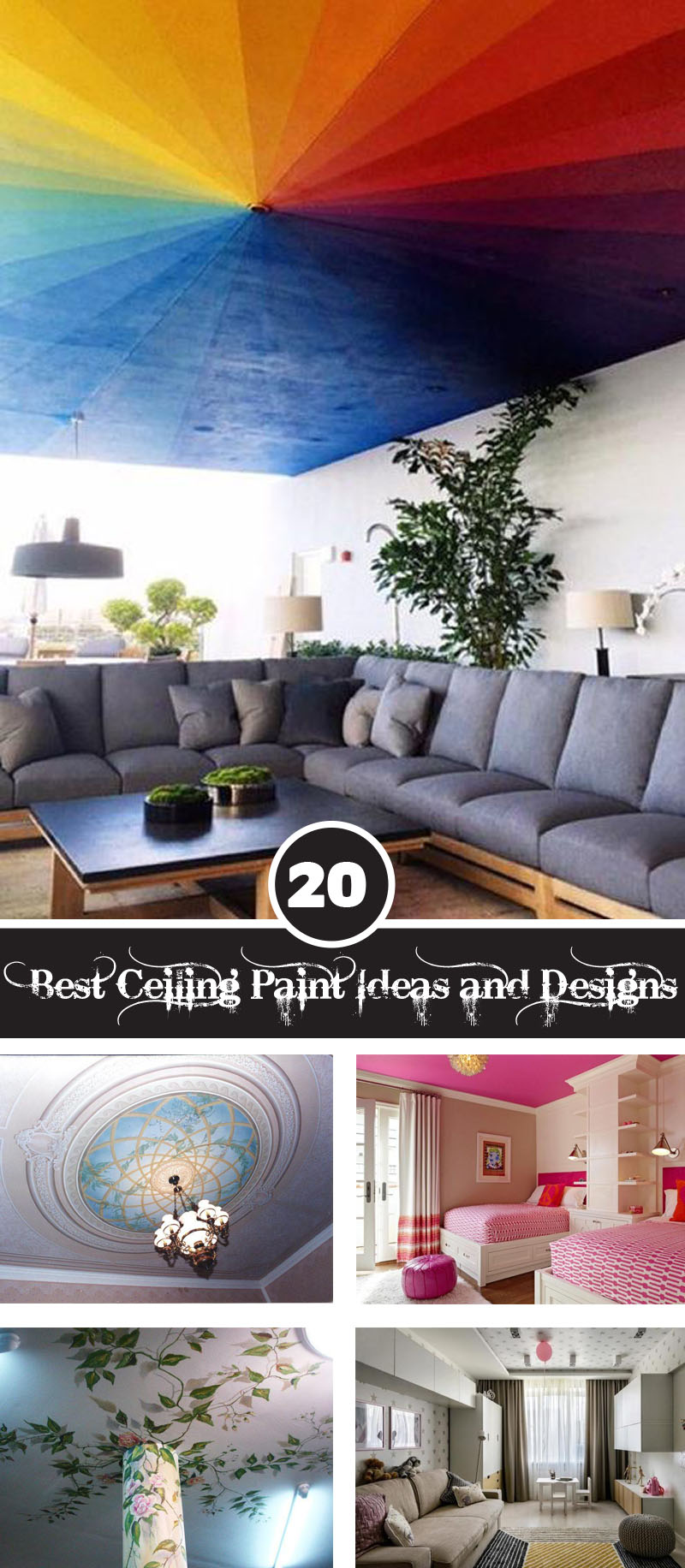 Painted ceilings are an relatively cheap and easy way to mix it up when it comes to your room design that can even be DIYed, making it even more affordable. There are so many options you can go with; one solid statement colour, patterns, various surface textures and even graphic wallpaper. All of these serve to breathe some new life into an often neglected area and make your room design cohesive from top to bottom.
So if you're ready to transform your home through your ceilings and are in need of some inspiration, here are:
1. Solid Soft Pink Ceiling Paint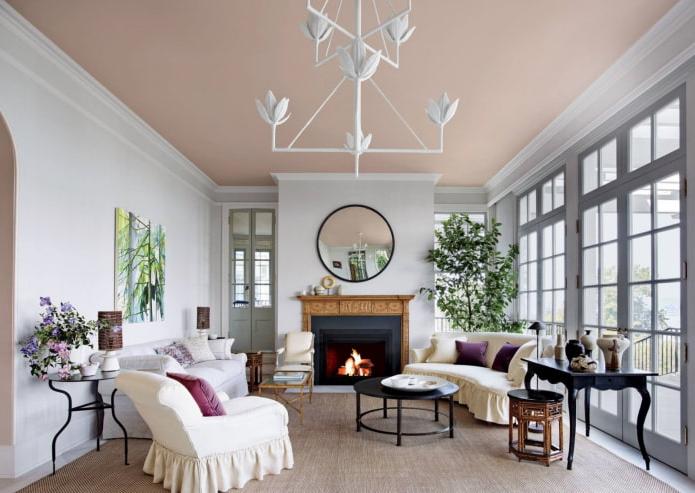 This pale pink ceiling switches up the expected white expanse of your average ceiling. This simple technique adds colour from above and distinguishes it from walls where so often the walls and ceiling blend into one homogeneous mass. The white walls open up the room and take advantage of the large windows while the peachy pink ceiling brings colour into a relatively plain space to prevent it looking stark.
2. Nature Inspired Painted Ceiling Rose With Moulded Frame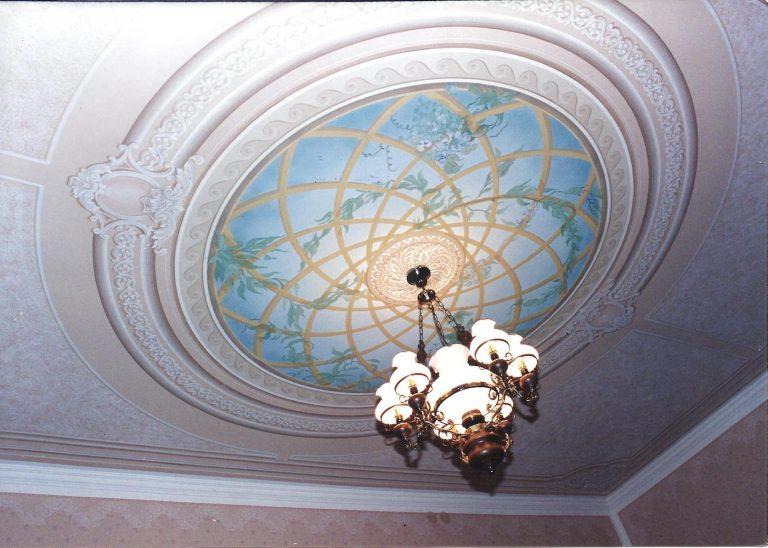 Typically ceiling roses are made of plaster mouldings but in this case the moulding and paint work hand in hand, forming a frame around the circular artwork while a small moulded anchor encircles the hanging light. The painted portion resembles a skylight to the blue sky outside that has been overgrown by foliage. The mandala of gold patterning adds an element of glamour to the design that ties in perfectly with the opulent room.
3. Sky Blue Bedroom Ceiling Paint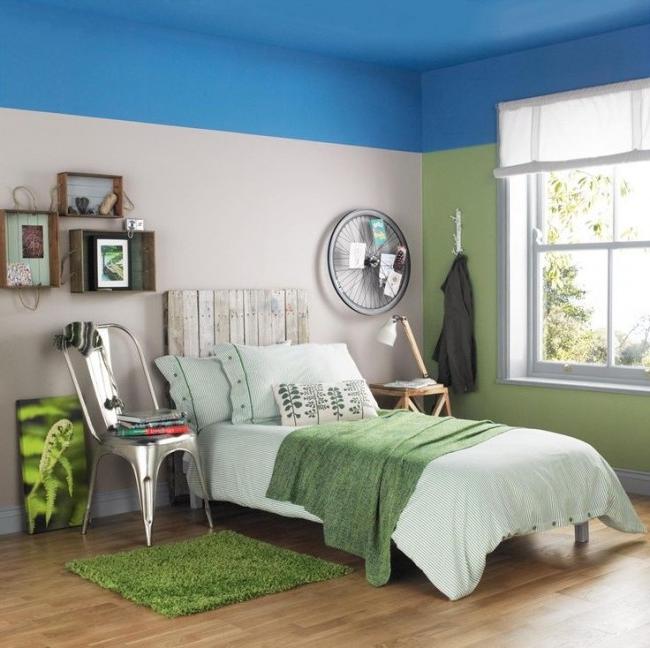 This bedroom is already eclectic and fun with its metal chair as bedside table and AstroTurf floor rug. However the bright and fun look has been kicked up a notch by the wall and ceiling colours. The sky blue ceiling has encroached on the mint green and beige as it drapes itself down the walls, creating a beautiful patchwork of colour. This colour blocking creates a solid backdrop to adorn with some fun textures and colours to create a bedroom that feels uniquely you.
4. Retro Black And White Stripes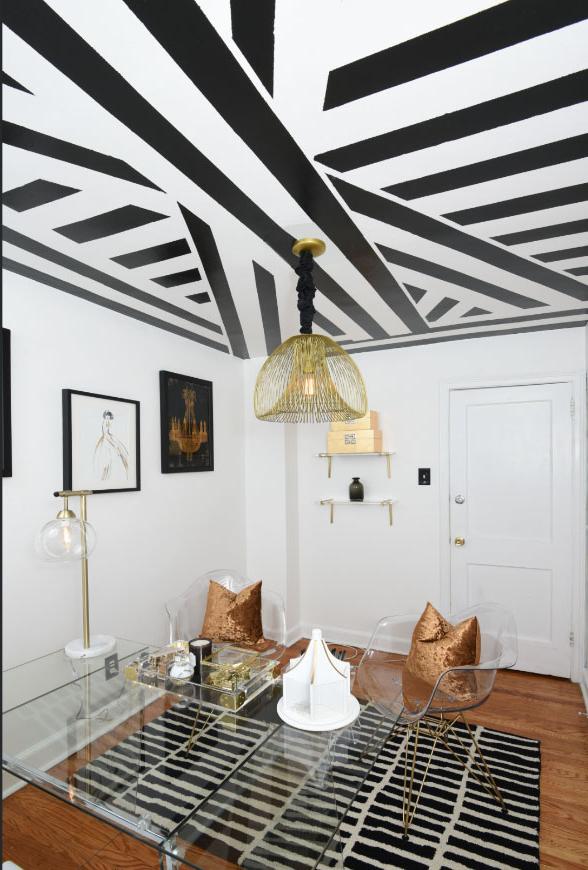 A bold graphic black and white retro ceiling creates a moment of pause this modern office, a chance to take in this dizzying design feature. To balance out the drama the glass table and transparent plastic chairs disappear into their environment especially against the stark white walls, this lets the patterned ceiling really do the talking. A striped black and white patterned rug can be seen through the furniture which has been added to unite the floor and ceiling designs in one glorious monochrome moment.
5. Starry Children's Bedroom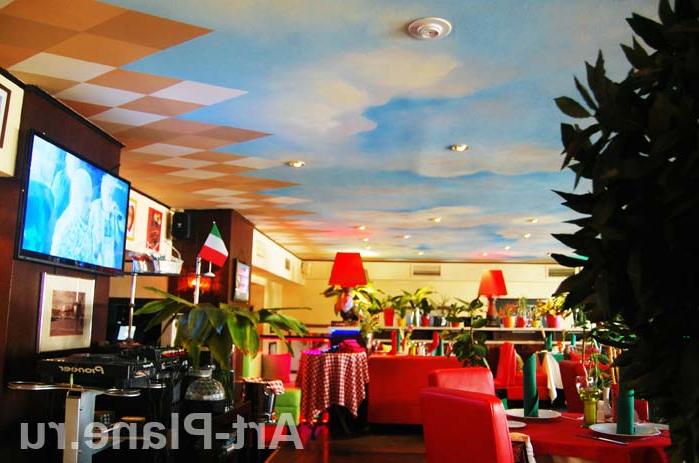 Stars are a classic when it comes to children's spaces. This starry wallpaper, like the bright paintwork in example 3, runs from the ceiling down onto the walls, which results in a very cohesive design that is almost chic, even in a child's bedroom. The beige on white colour palette fits with the neutral toned room and brings in a whimsical element that kids will love without having to be too bright and garish if that doesn't fit your personal style. This shows that you can be cute and fun without an explosion of colour overwhelming the entire space
6. Brightly Striped Children's Bedroom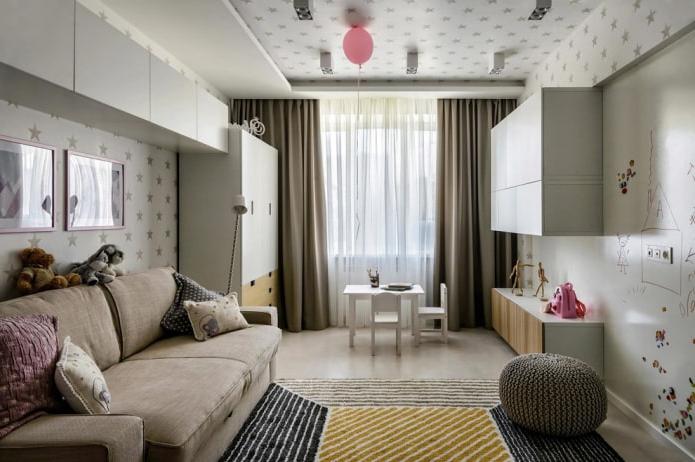 If you prefer something a bit brighter to delight your little ones with then this blue and yellow striped wallpaper ceiling might be more your speed. Colour and texture are both great contributors to making child's bedroom fun and different and this room does that with ease. The polka dotted blinds in the same colours as the ceiling add speckles of colour into the main body of the room, which is largely neutral in tone. In order to add a tactile richness to this room, without taking away from the gorgeous ceiling, pattern has been employed in the woven and bubbled black and white wallpapered walls that sit beside each other. This varied array of visual stimuli is finished off by the weird radiating series of light bulbs that are the nebula like chandelier.
7. Sleeping Under A Hot Pink Sky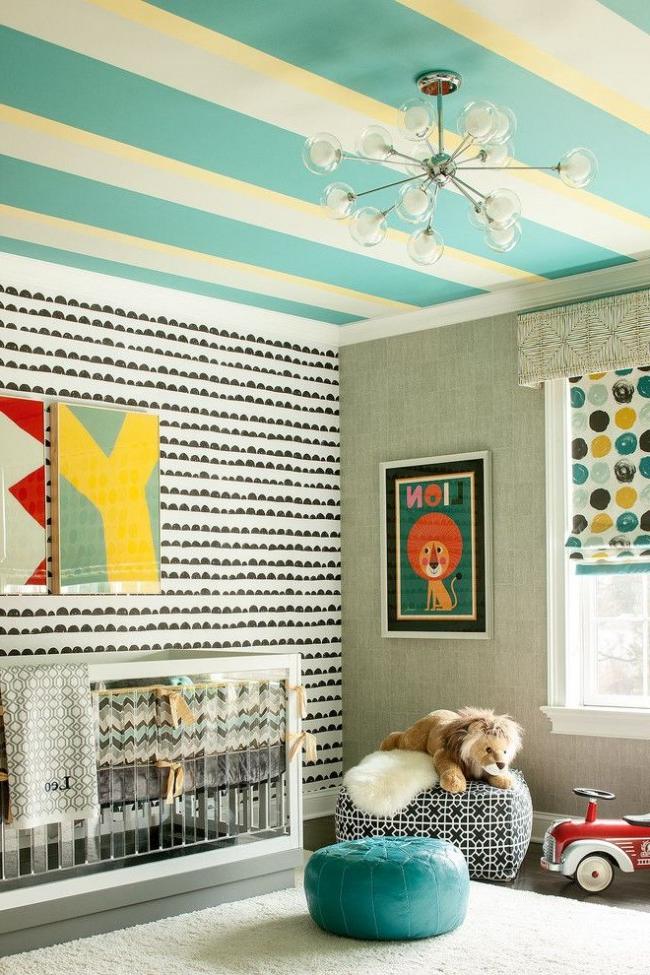 This spacious guesthouse bedroom has skillfully used a bright colour and neutrals together in a much less expected way. Hot pink appears to be the accent colour within a neutral room, until you look up. The dramatic fuchsia painted ceiling ties all the pink elements throughout the room together and envelops you in a bright bubble. The dramatic shade is contrasted against off the white mouldings and bedframes that let the pink really shine without making you feel like you're covered in candyfloss.
8. High Shine Gloss Ceiling
This is an example of how a different ceiling finish can change up your whole room. The high shine white ceiling incorporates down lighters to light up the abstract feature wall and shine off its reflective surface. The glossy surface is almost mirror-like and reflects the feature wall and the light cast by the hanging light fixture. The cumulative appearance is really modern and chic with the shiny ceiling as its centerpiece.
9. Geometry And Realism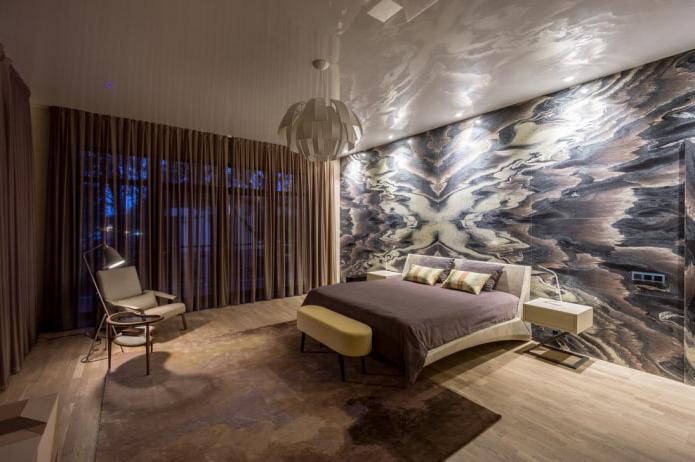 This statement ceiling makes this restaurant something to talk about. A pattern of multi hued warm squares rim a realistic blue, clouded sky that covers the vast ceiling space overhead. This is a really big space which can be difficult to design so that it feel interesting and comfortable, but by removing the boring white ceiling the space is transformed. Suddenly you are under the illusion that you are dining outdoors under a summer sky and who could object to that?
10. Modern Kitchen With A Pop Of Colour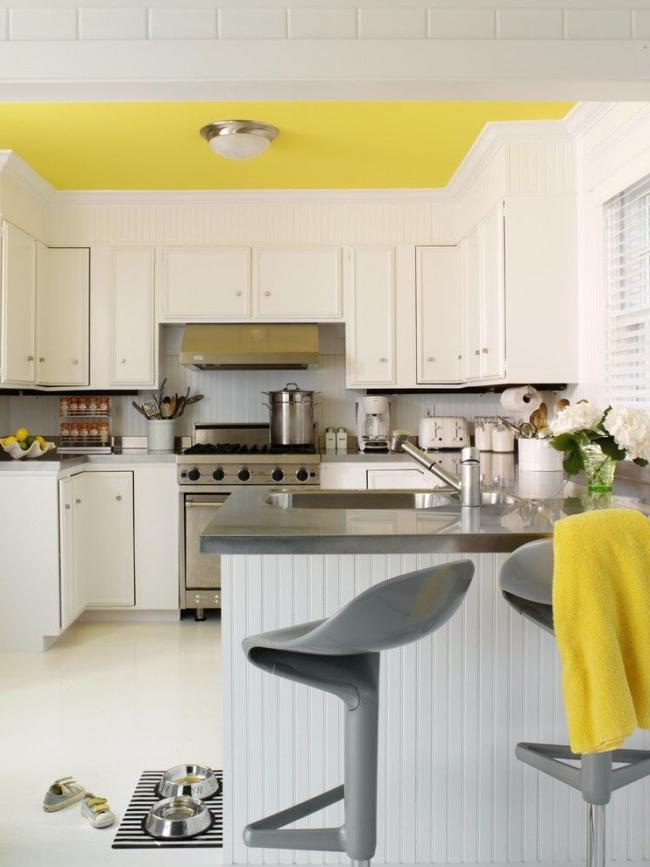 This sleek, clean white kitchen ticks all the boxes for a modern design with its white floors and cabinetry and cool grey counter-tops, chairs and appliances. And then you look up! The sunshine yellow ceiling is unexpected, in the best way, and adds an element of warmth in a style that can feel very sterile.
11. Mustard Yellow Nursery Ceiling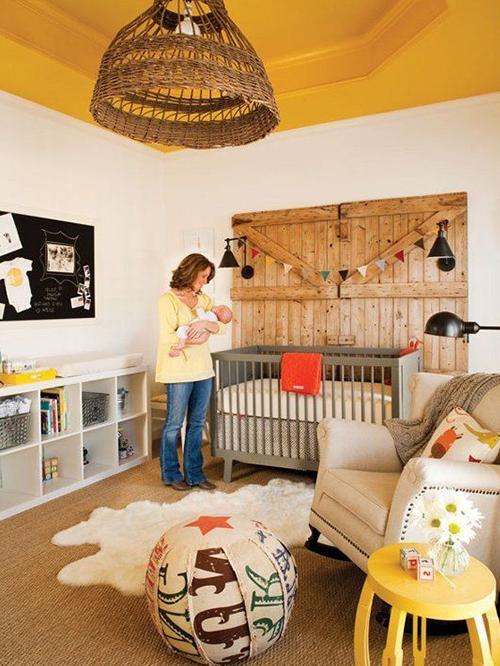 This moulded ceiling in an earthy yellow ochre is the ideal topper to this rustic nursery. The room is full to the brim with natural colours and textures from the woven rug, hanging light and wooden headboard for the crib; which makes it feel rustic and homey, exactly what you need in a nursery. Pops of yellow are littered throughout the room, which all tied together by the unique ceiling.
12. Painted Wooden Panelling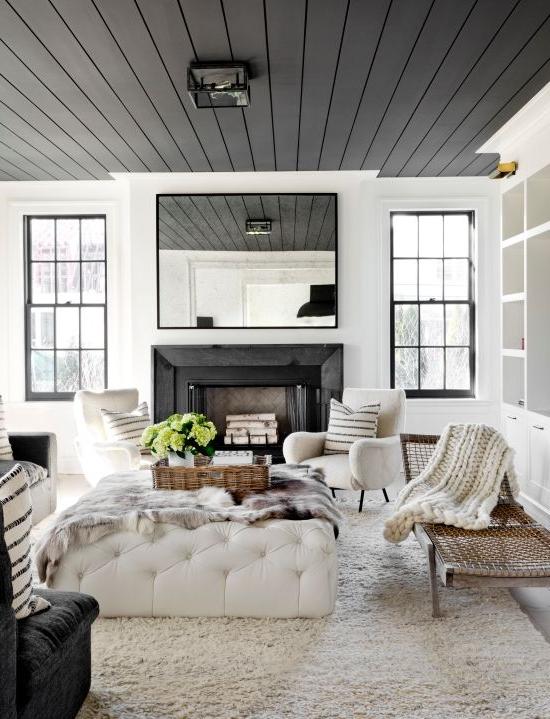 This monochromatic living room space is a predominantly white design with black accents like the black chair, window frames, mirror and fireplace. All these elements tie into the ceiling; which is made of wooden paneling that has been painted black. The light walls with a dark ceiling above keeps the space feeling light and spacious while still providing some visual intrigue.
13. Ash Grey Pitched Ceiling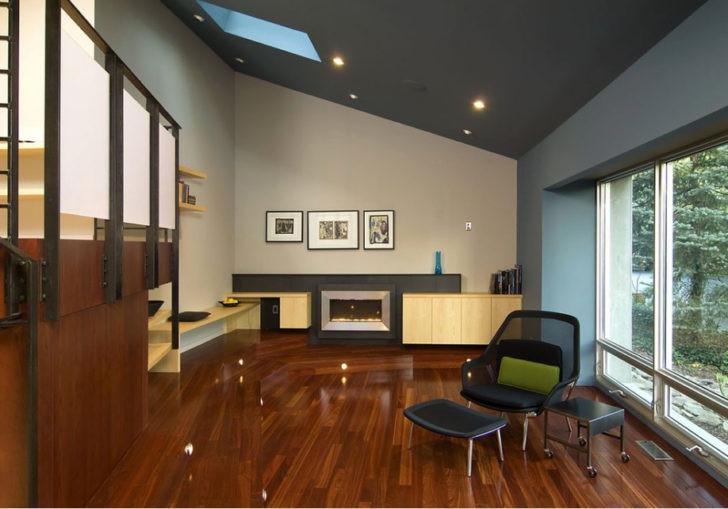 In this elegantly pitched living space cool grey paint flows from the ceiling, down onto the feature wall with paler grey walls flanking it. This strategic paint choice emphasizes the interesting shape of the space. The rich warm floors contrasted against the cool solid grey results in a really contemporary living space.
14. Classic White Ceiling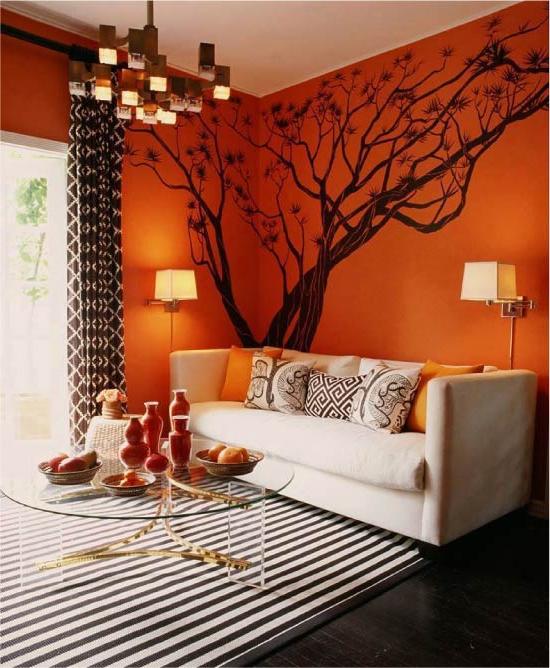 This whole living room is overflowing with graphics and textures; a striped carpet rests on black wooden floors while a unique, blocky light feature hangs from above. The walls are a deep rusty orange with a painted tree wrapping around two walls. The clean classic white ceiling serves to both emphasize the complexity of the room itself and provide a place to rest the eyes.
15. Colour Wheel Ceiling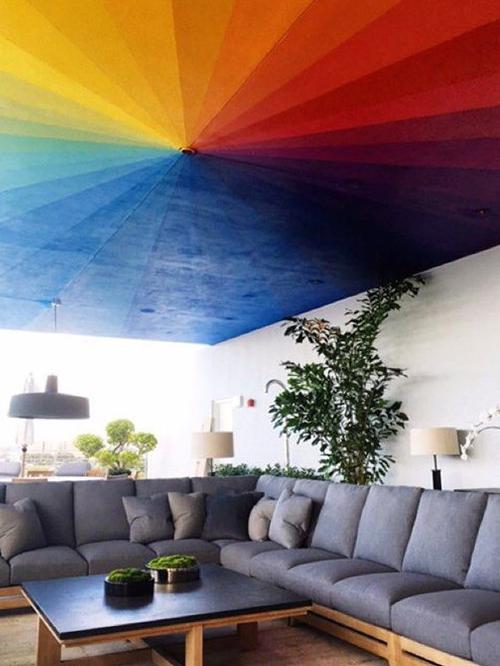 The ambiance of purely contemporary living is palpable in this large living room complete with neutral soft furnishings, wood finishes and plants. The white walls too, are very expected and then bam! The ceiling comes into view; a radiating colour wheel that takes your breath away. Choosing a design as colourful and dramatic as this is very bold therefore becomes the focal point from every angle.
16. Grey Ceiling Paint With Exposed Beams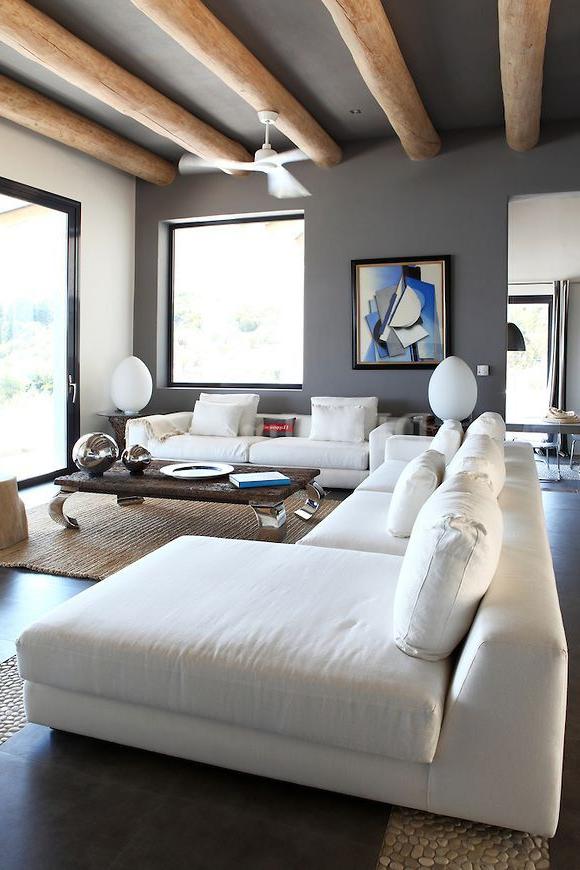 Flipping expectations on its head, this design takes the white you expect to see on the ceiling and walls and puts it on the couch. The cool grey walls, ceiling and dark floors highlight the enormous couch, which is very important when choosing to work with such dark colours because it prevents the space feeling smaller. The exposed log beams that are the stand out feature of the ceiling would usually feel rustic but, against the grey ceiling, it manages to pull off a more contemporary Look.
17. Iconic Floral Ceiling Design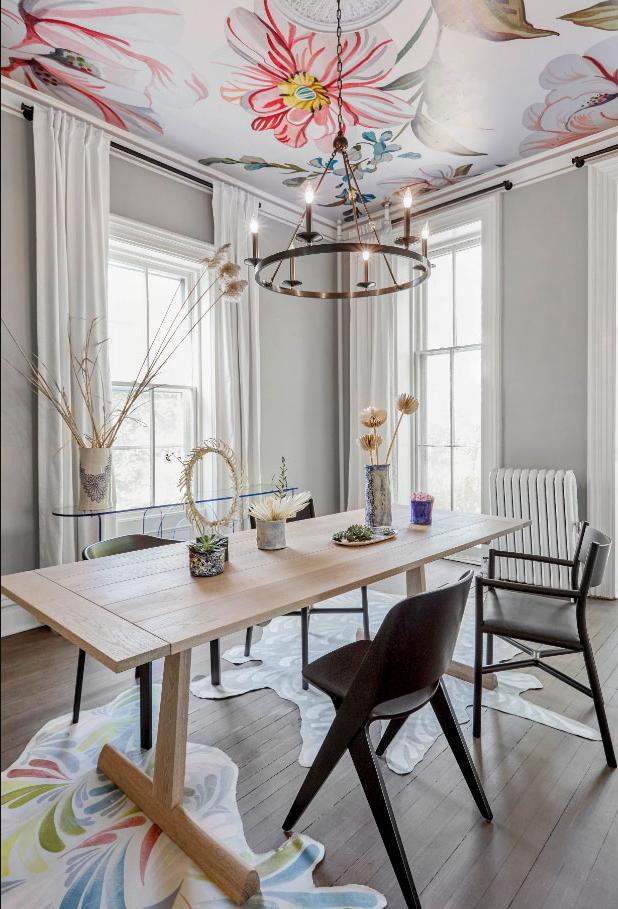 This is yet another example of how to take a clean contemporary room in soft neutral tones and switch it up into something colourful and whimsical. The high ceilings have been wall papered in huge pink orchids and greenery against a white backdrop; a sweeping artwork hovering overhead as you eat. Amorphous floral rugs dotted throughout the room provide a needed link between the floor and ceiling. The modern version of a chandelier hanging above the dining table is simple and elegant but doesn't take away from the ceiling due to its delicacy.
18. Blue Corrugated Iron Ceiling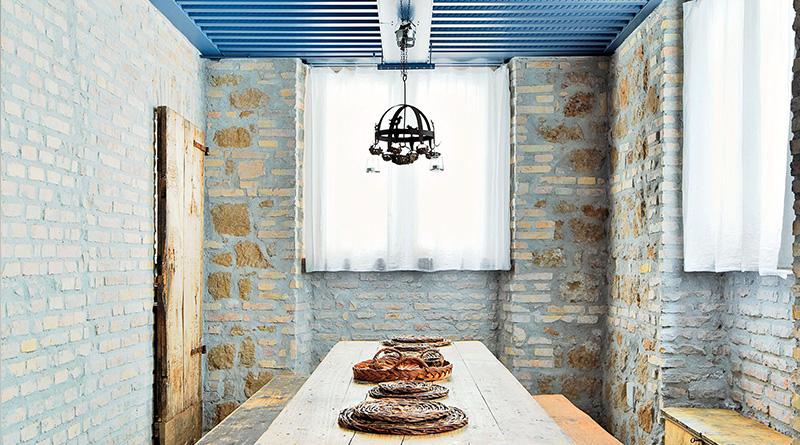 A rustic dining room such as this would usually feature a white ceiling to provide contrast against all the rich textures, however, this room has gone in the opposite direction and chosen a royal blue corrugated ceiling to top it all off. Its rippled surface is visually appealing and clashes with the rough interior in the most pleasing way. Blue is brought down into the room through the teal hue of the mortar between, and washing over, the exposed brick walls. The furnishings add to the smorgasbord of colour and texture with a rough wooden table and woven decor. Since the ceiling has become such a feature, the large windows with translucent white curtains do the job of making the rustic space feel more approachable.
19. Creeping Vines Ceiling Paint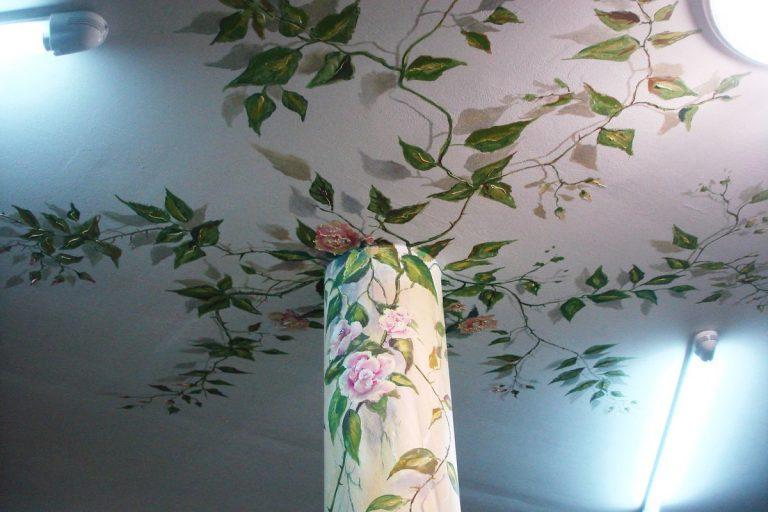 Hiring a professional mural artist would be the perfect way to decorate your ceiling with something completely personalized and natural looking. In this case the creeping vines have been used to bring the natural design into the room as they wind around the column and down to the floor. The vines that radiate from the column across the ceiling appear so realistic painted due to the artfully rendered shadows that make them appear three-dimensional. This style of ceiling paint design is a simple way to make a blank space more special and bring nature inside in a form you can't kill by accident!
20. Watercolor Blue Ceiling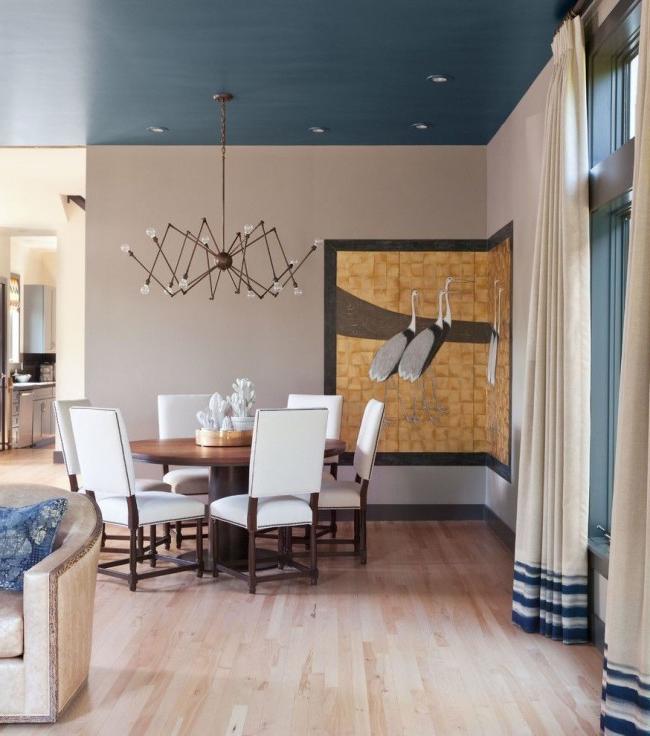 This is another striking example of enhancing a contemporary design by using colourful painted ceiling. Instead of a solid dusty blue, a watercolour effect has been used, resulting in a slightly streaked and uneven look, which is far more visually interesting and unique. Hints of blue have been dotted throughout the interior design through the curtains, pillows and windows frame have been strategically placed to ties in with the ceiling. The deep colour is balanced out by white walls and soft furnishings as well as pale timber floors to keep the room from feeling dark like an underwater cave.
Conclusion
This list of stunning ceiling paint art is all you really need to get your creative juices flowing. From using your ceiling as a source of colour in a monochromatic room to littering them with oversized orchids; the choices at your disposal are only limited by your preferred style and imagination.
If you want to spruce up your home on a budget, look no further than the humble painted ceiling.