A rustic bedroom is the perfect blend of beauty and comfort. While minimalism and hotel like style is glamorous and chic they can also feel clinical and uncomfortable, making you scared to relax in it just in case you mess up the pristine bed sheets.
Rustic interiors are all about comfort and relaxation; they're defined by their artful mix of materials, colours and textures that come together in a room that is tranquil and soothing. The natural materials are often left exposed to lend their natural colour and texture to the space. Wooden furniture, soft voluminous duvets, thick knitted blankets, rugs and plants are all common features in rustic interiors to create its signature unpolished, comforting ambiance. Exposed wooden beams are a very popular rustic feature that brings nature into the space while being breath taking to look at.
Gorgeous Rustic Bedroom Ideas That Make Everyday Feel Like Sweater Weather
24 Gorgeous Rustic Bedroom Ideas That Make Everyday Feel Like Sweater Weather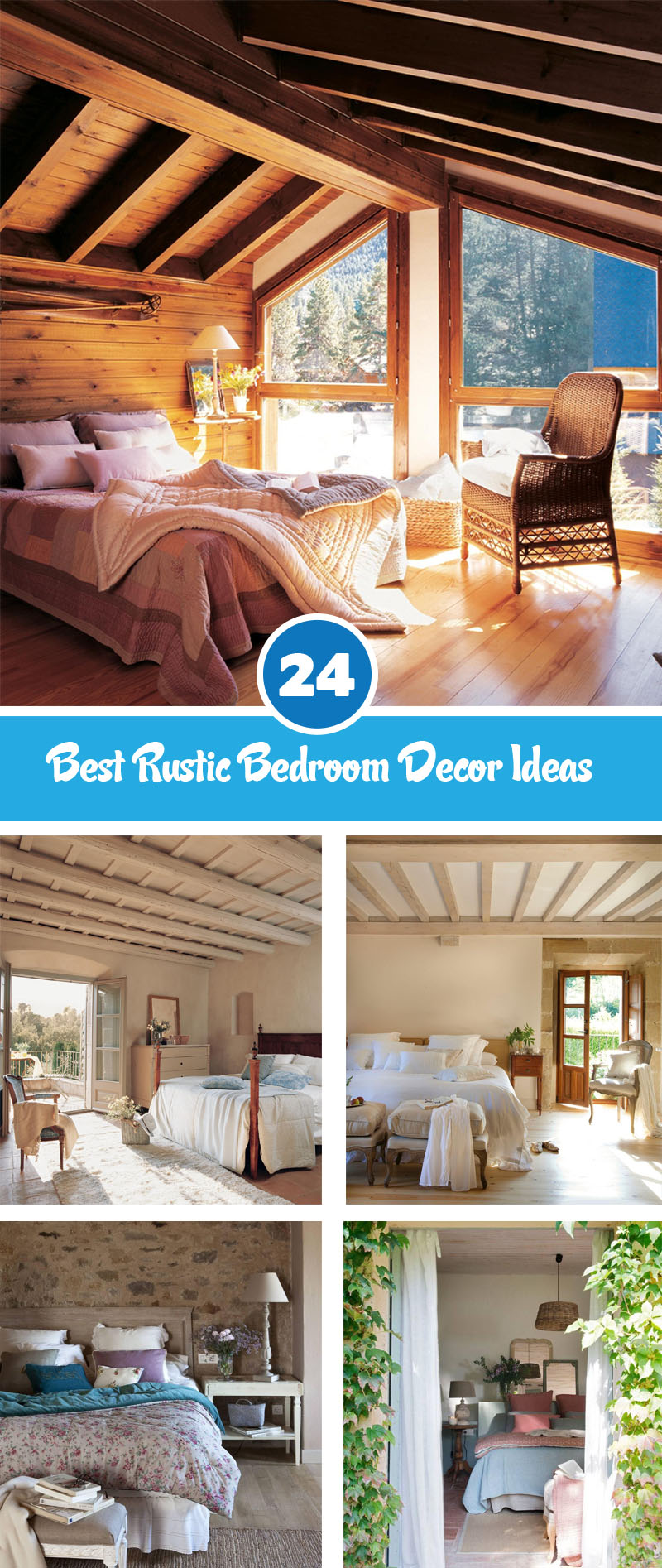 This style is strongly influenced by a connection to nature. If you have the luxury of living somewhere with views of nature and access to the outdoors from your bedroom this bedroom style is the perfect way to flaunt that and let nature and all its healing beauty make its way into your home.
If you think this style is for you here are:
1. Exposed Beams And Personal Balcony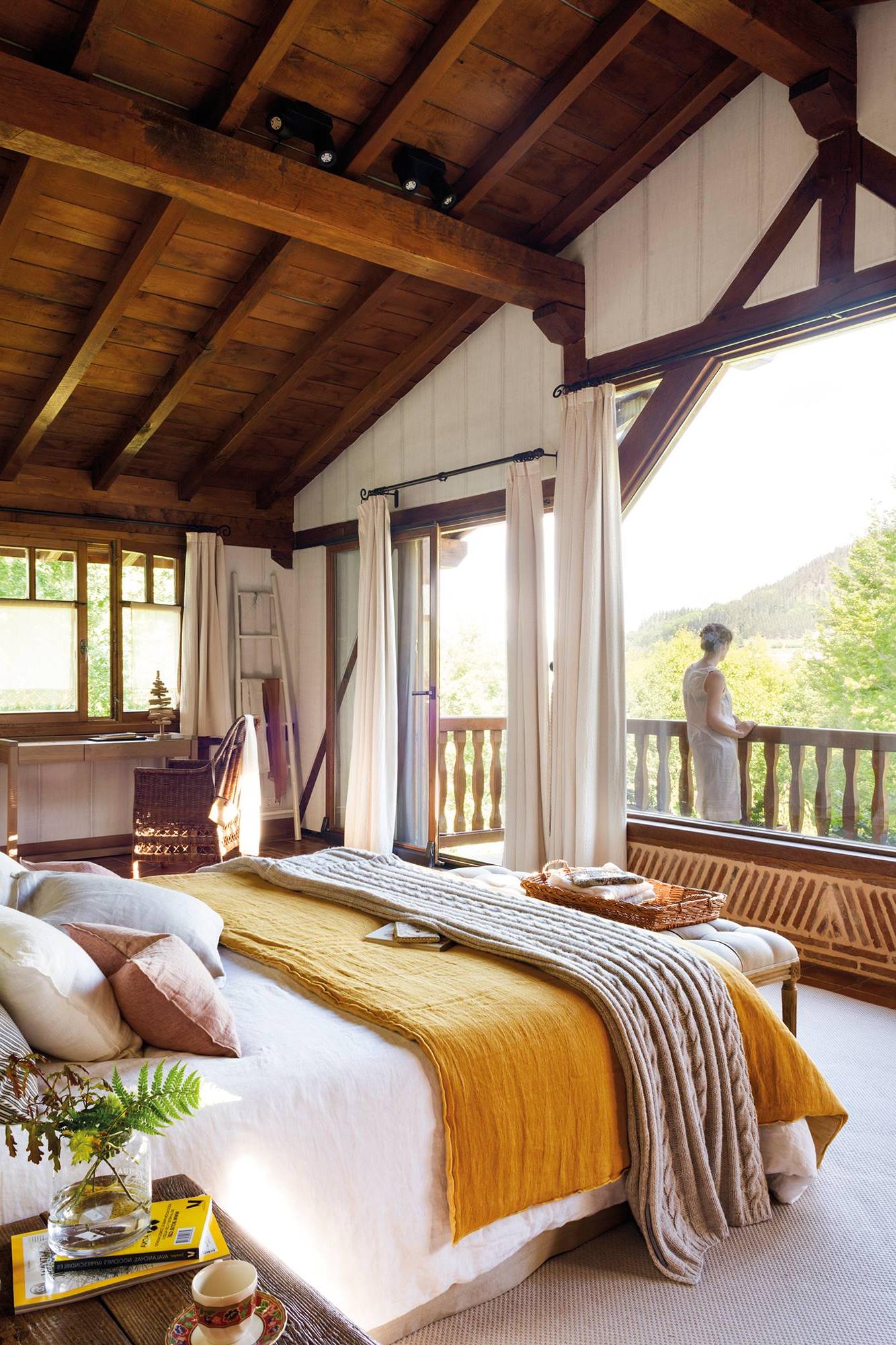 Rich brown exposed beams pitched over a luxuriously large bed covered in pillows and layers of thick blankets are the epitome of rustic decor. White walls, sheets and a rug beneath the bed brighten the dark wood ceiling and furniture while soft accessories provide bright pops of colour. The huge windows look out over the treetops, a gorgeous view that can be enjoyed while still in bed, bringing nature in. A private balcony allows you to access the fresh air straight from your bedroom.
2. Wooden Fan Vault in Mountain Top Location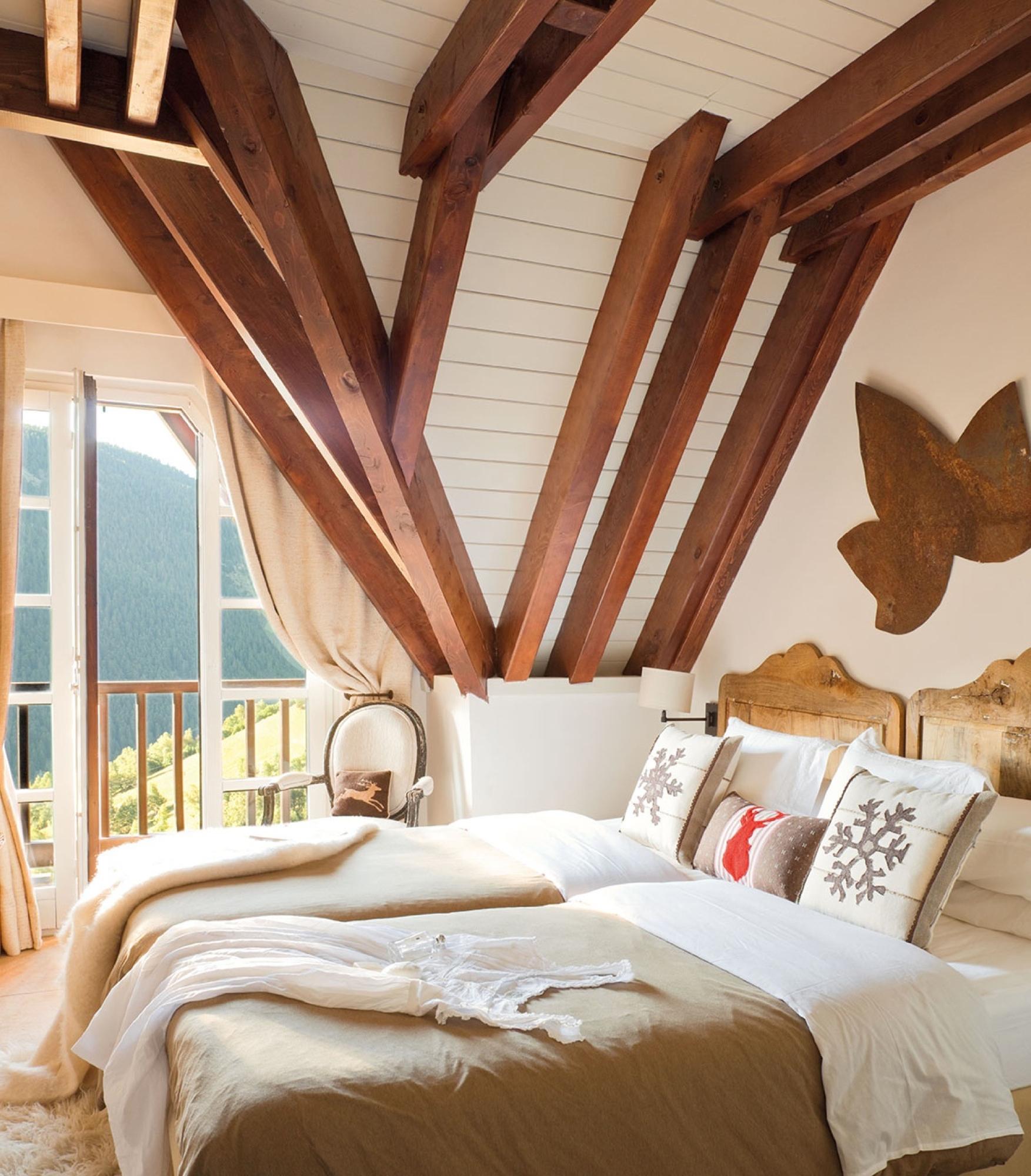 The bold tree-like beams of the fan vault that leans over the bed dominate this exquisite mountaintop bedroom. The forest location is very literally referenced in the room in a stylized form as well as being viewed easily from the small personal balcony with French doors. Cute graphic pillows and soft earthy bed sheets cap off this cozy design perfectly.
3. Tree House Bedroom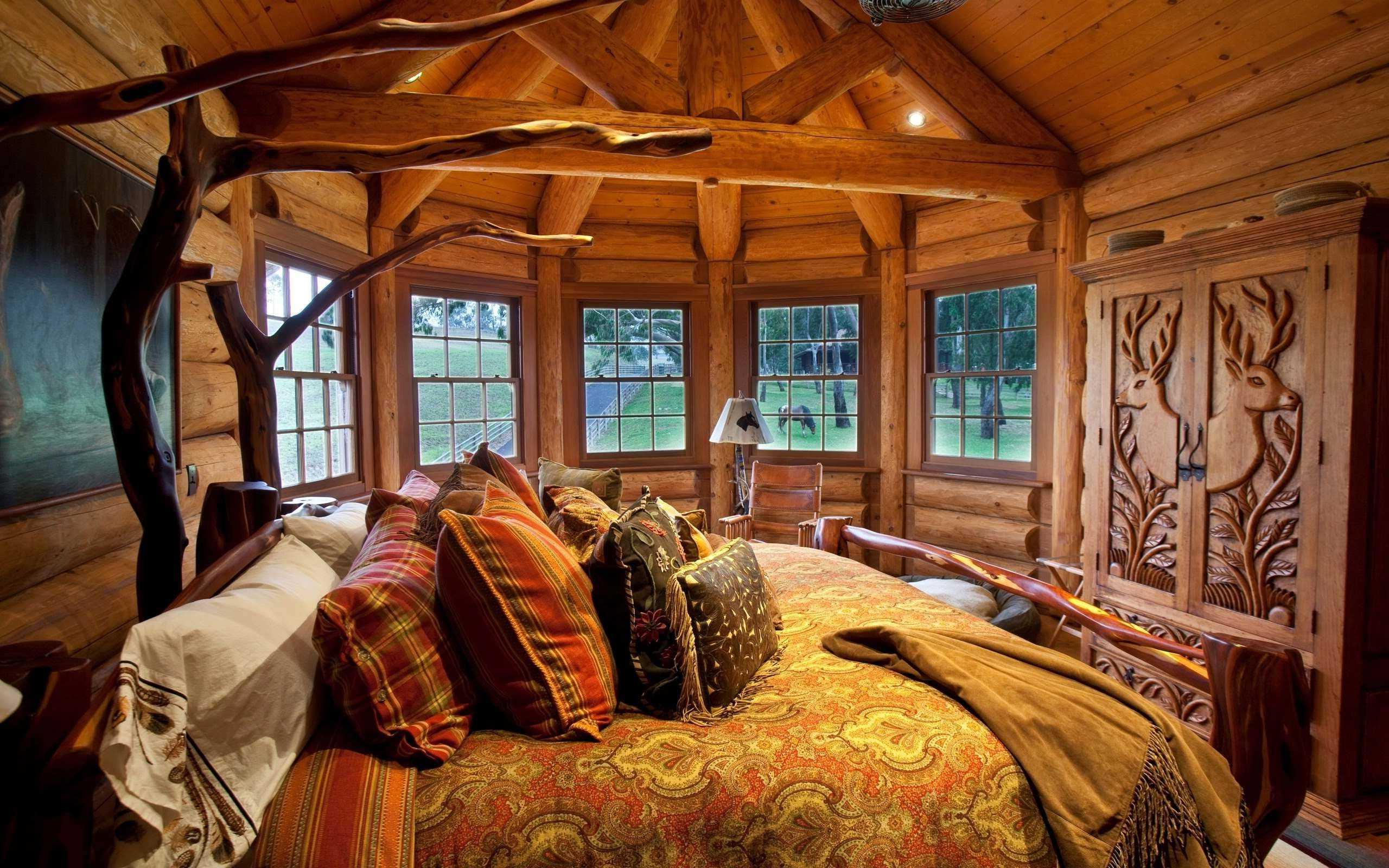 This tree house is the adult version of your childhood dreams. True to tradition the room has an entirely stained wood interior including the furniture. The wooden sleigh bed even has natural looking branches that reach overhead with a deer carved wooden cabinet at its foot. The rich textures and warm colours of the voluminous duvet and pillows compliments the warm wood interior while also providing the sole area of softness in the room, an inviting spot to curl up in and get cozy.
4. Pitched Ceiling Over A Bed With A View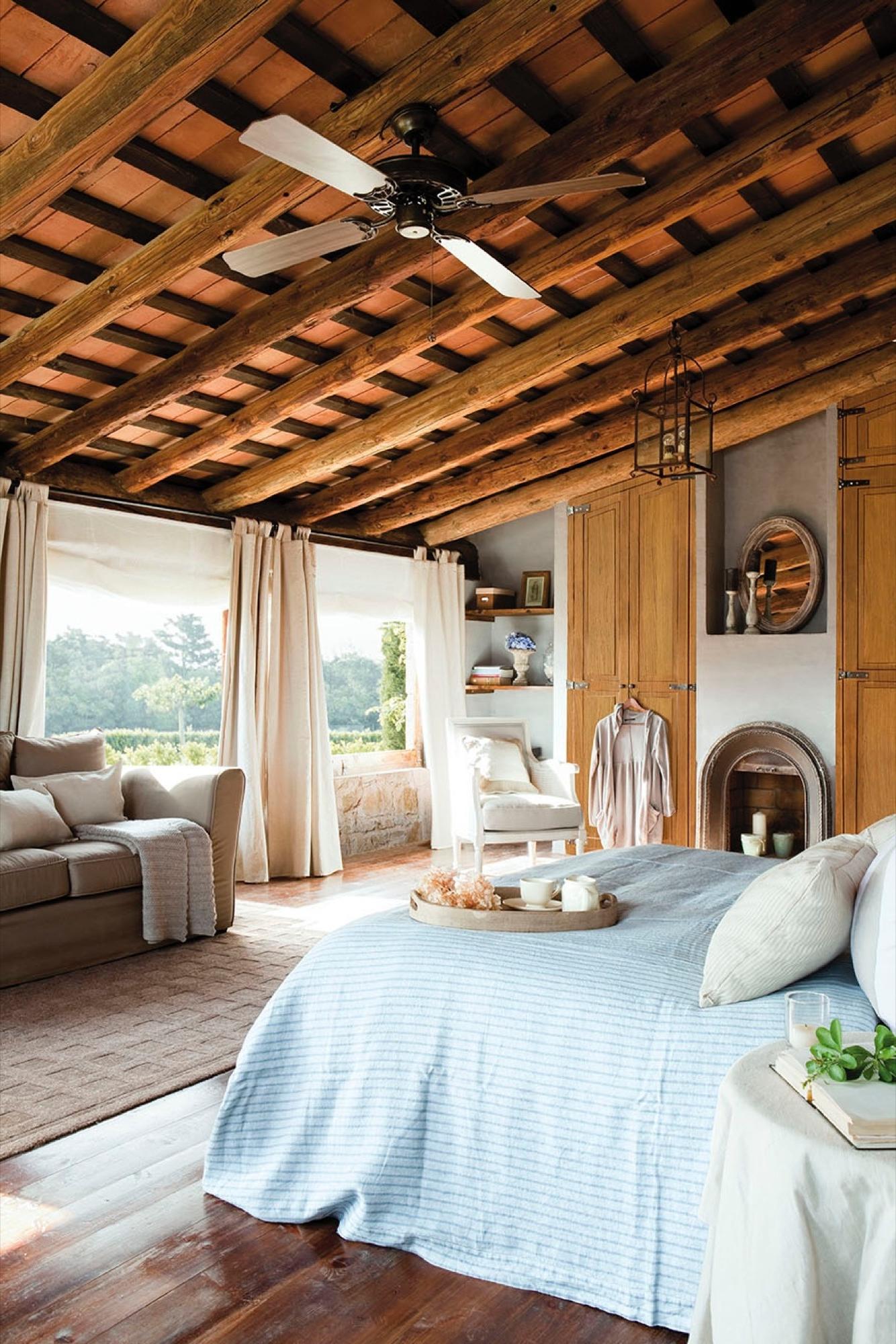 Yet again we can see how exposed beams and wood textures can make a room rustic right away. The logs that are used as beams are a slightly different stain to the cabinets, which are a slightly different stain to the floorboards creating a gorgeous patchwork. Pale, calming bedroom furniture and curtains provide the lightness this room needs to be a peaceful little bolthole. Sneakily the cozy aesthetic of the fireplace has been achieved without the expense by filling a little wall alcove with candles. The gorgeous view of the surroundings can be appreciated from the comfort of your own bed through the large windows.
5. When The Textures Do The Talking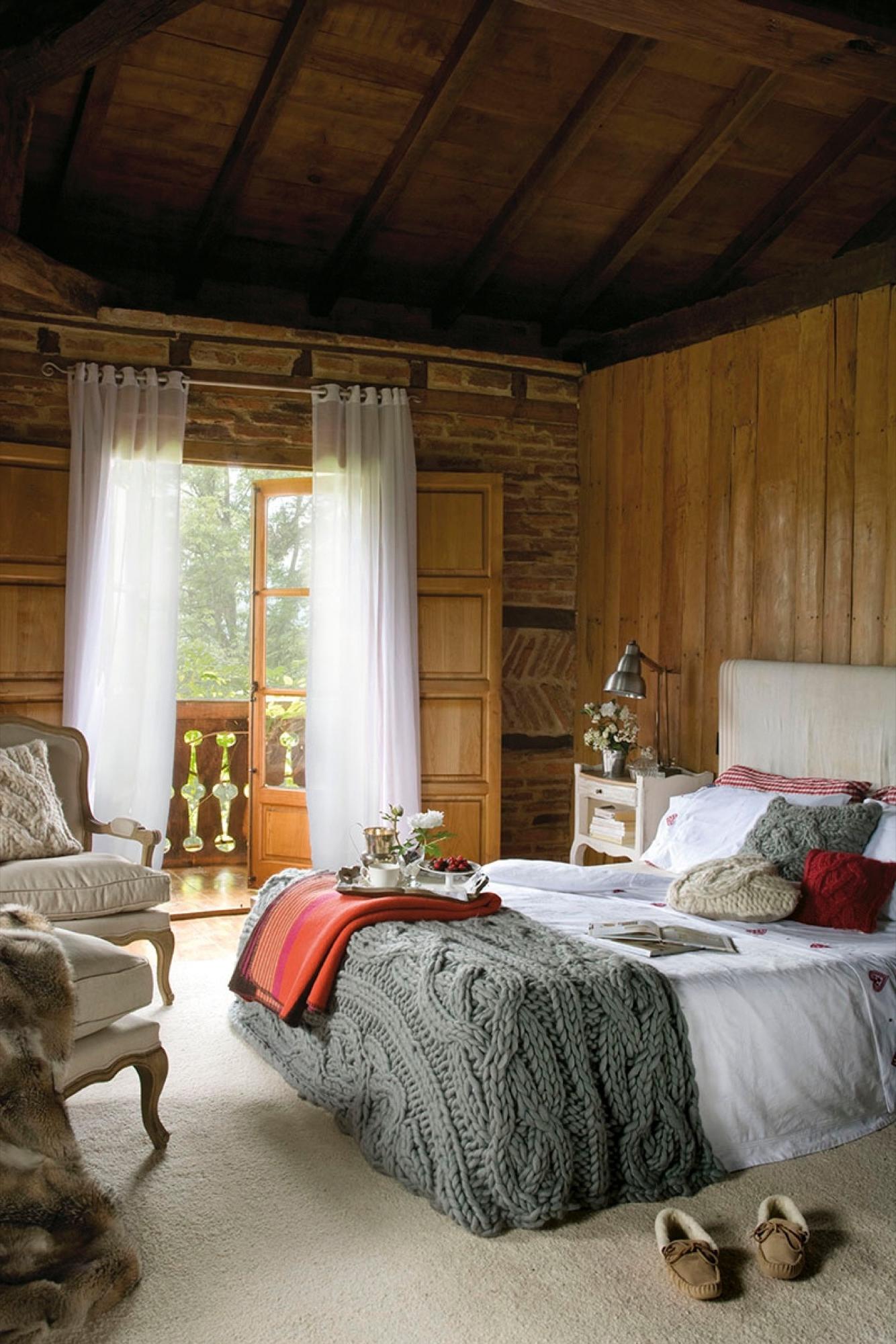 The rustic nature of this bedroom is achieved purely by the textures being so rich and layered. A thick knitted blanket, dense carpet, wood grain all over, exposed brick and diaphanous curtains harmonize with one another in perfect pitch. A small personal balcony with French doors has been used to take advantage of the natural setting once again.
6. Rustic Bedroom Ideas With Log Bed In Log Cabin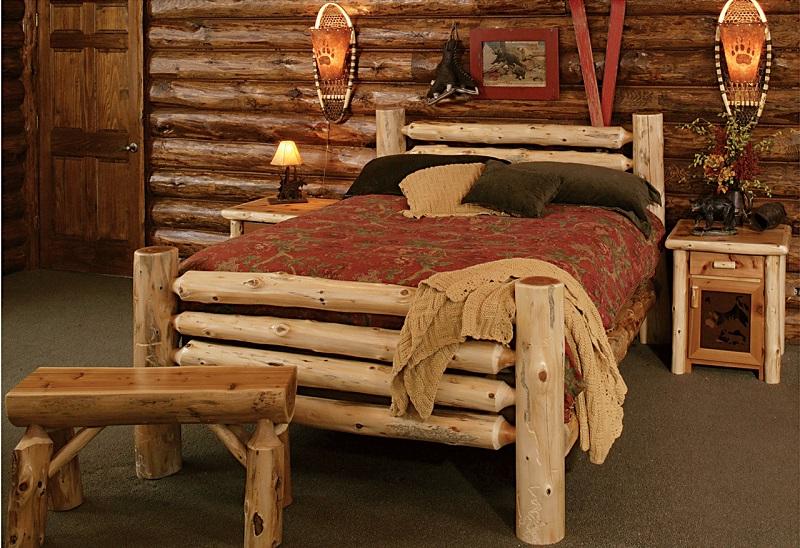 This log cabin and its interior have gone all out to take full advantage of its forest setting. The whole place feels of the forest as every piece of furniture has been made of logs in their natural form. The logs of the bed stand out as unique from the walls by being stripped of their bark and left in its pale raw form. A little nod to a creature of the forest in the bedside uplighters ties together this forest dwelling nicely.
7. Rustic Bedroom Ideas In All White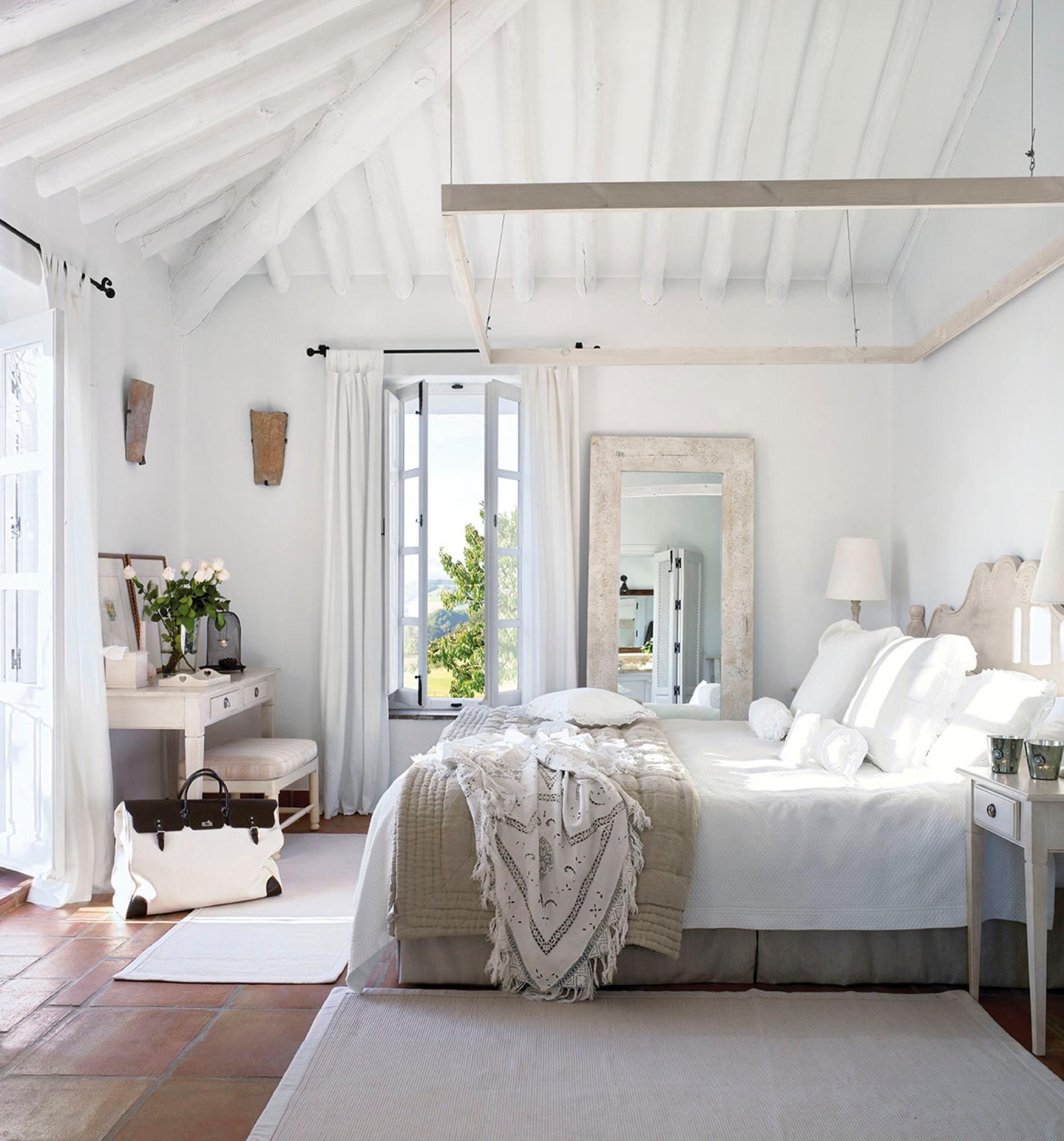 A room doesn't need to be dark and moody to be rustic. This room adopts the same style elements we've seen before: a large comfy bed, pitched exposed beams, windows with a view and layered blankets but rendered in ivory. The only element of colour is the large terracotta pavers that make up the floor.
8. Can't See The Wood For The Trees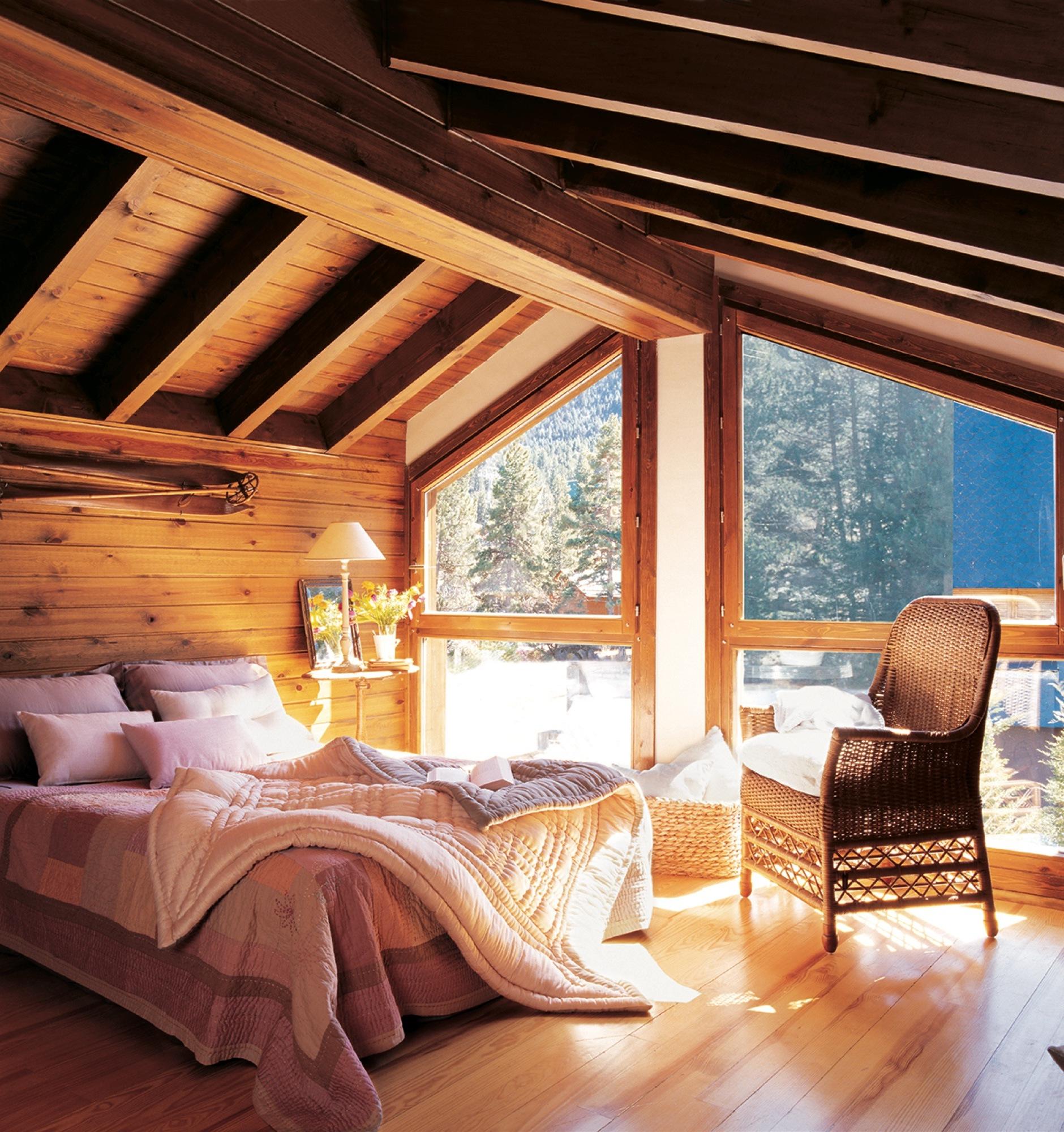 Yet again this room features dark wooden paneling, exposed beams and floors encapsulating the space almost entirely. A full of wall of windows showing the tree line makes you feel nestled in nature surrounded by their living and structural counterparts. A room like this requires simple decoration because the interior is so rich in detail. A dusty purple quilted bedspread and rustic rattan chair bring comfort and ease to this sunny space.
9. Exposed Brick Accent Wall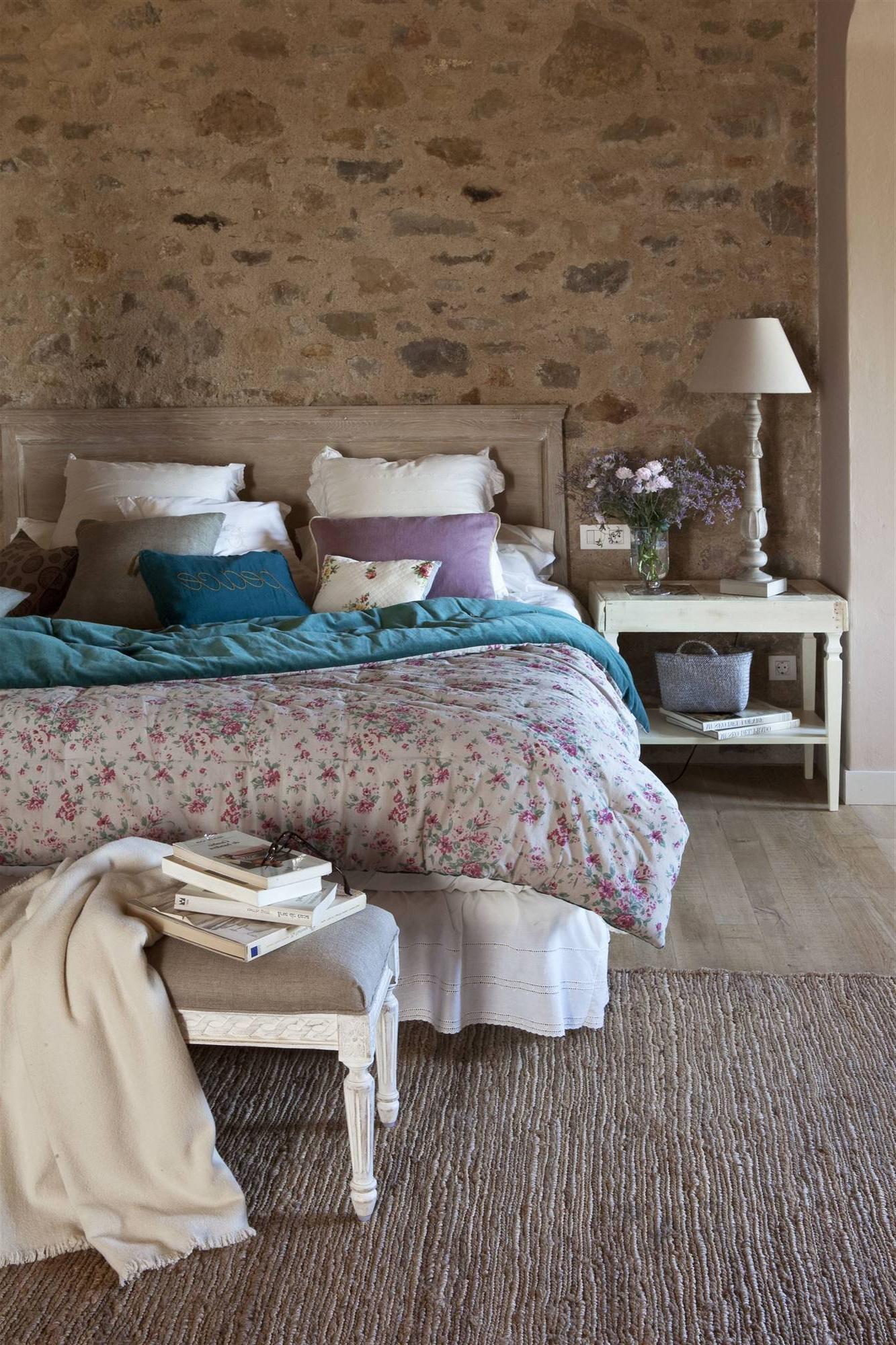 Wood isn't the only material that can make a room feel rustic. This accent wall of exposed uneven stone does the job just as effectively. This floral duvet with layered throw pillows and wooden wild flowers next to the bed create an idyllic country cottage aesthetic. The footstool at the end of the bed on a woven rug is ideal accents to finish off this cool toned but cozy rustic bedroom.
10. Wood Paneled Bedroom With Window And Skylight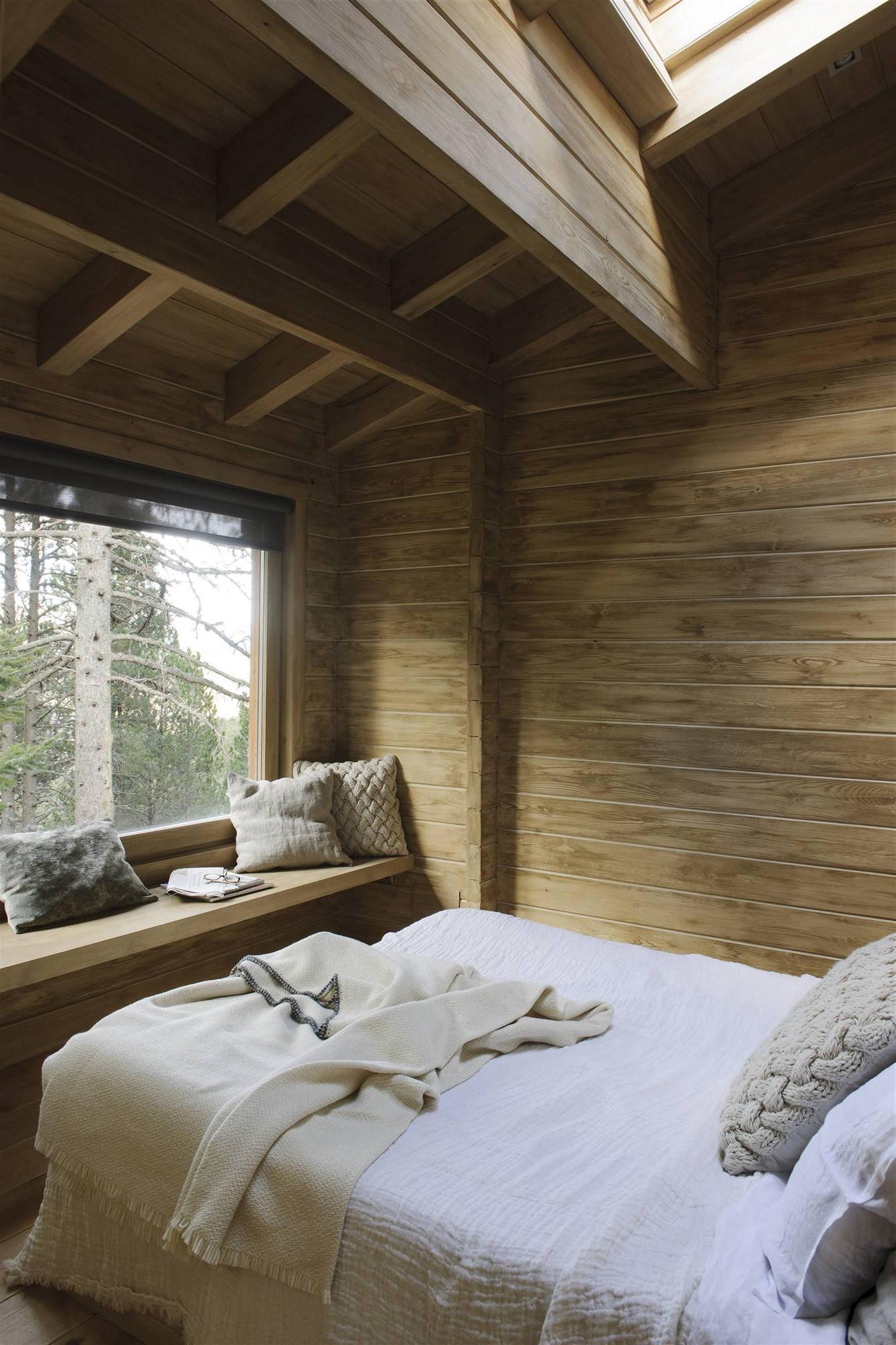 This bedroom may be small but it is just as impactful as large rustic bedrooms. The entirety of the room is constructed out of a pale timber with strategically placed windows to take full advantage of their surrounding. By sitting up in bed you can look out at the trees while by lying in bed you can have a view of the sky through the timber framed skylight. The majority of the room is made up of one big bed covered in blankets and knitted cushions making this tiny bedroom a intimate escape.
11. Rustic Bedroom Ideas With Ivy Lined French Doors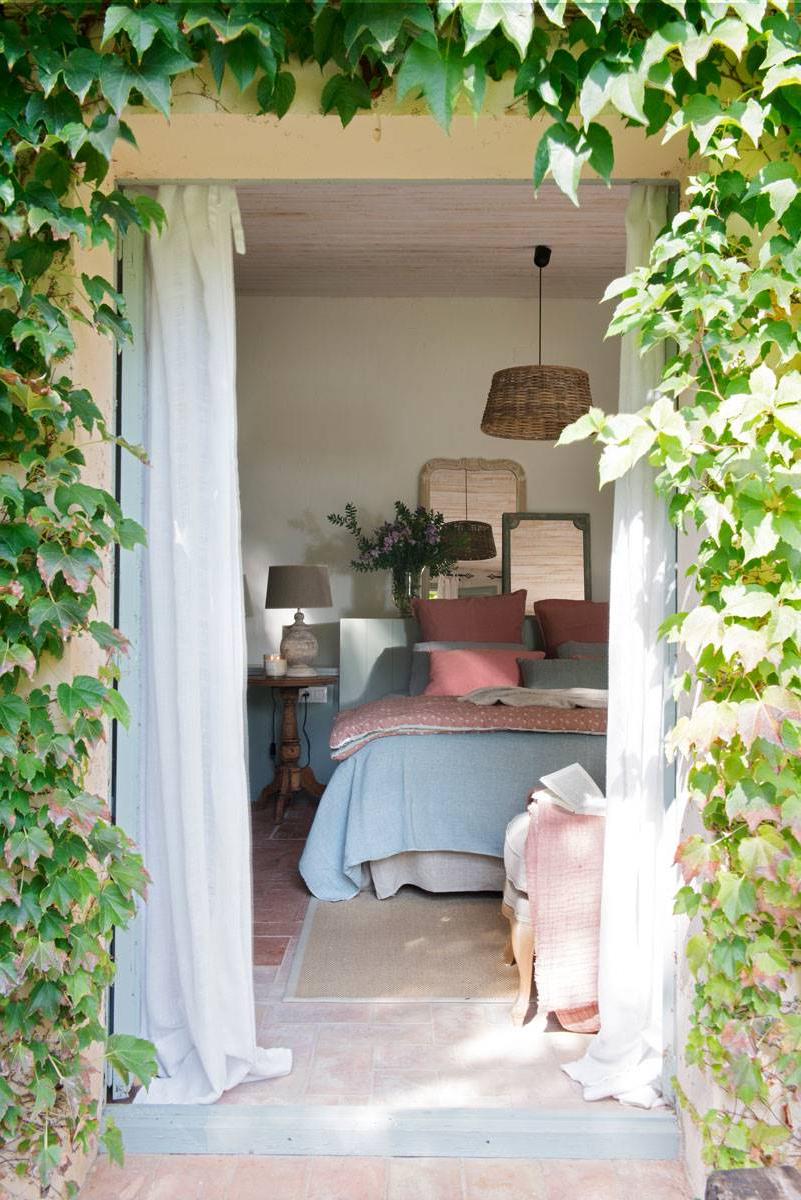 The French doors framed by creeping ivy makes this feel like a secret garden bedroom. The room is itself, it true rustic fashion, has used dusty pinks and blues for pops of floral colour in an interior with rich in natural textures and the layering of multiple mirrors.
12. Double Volume Pitched Ceiling With Denim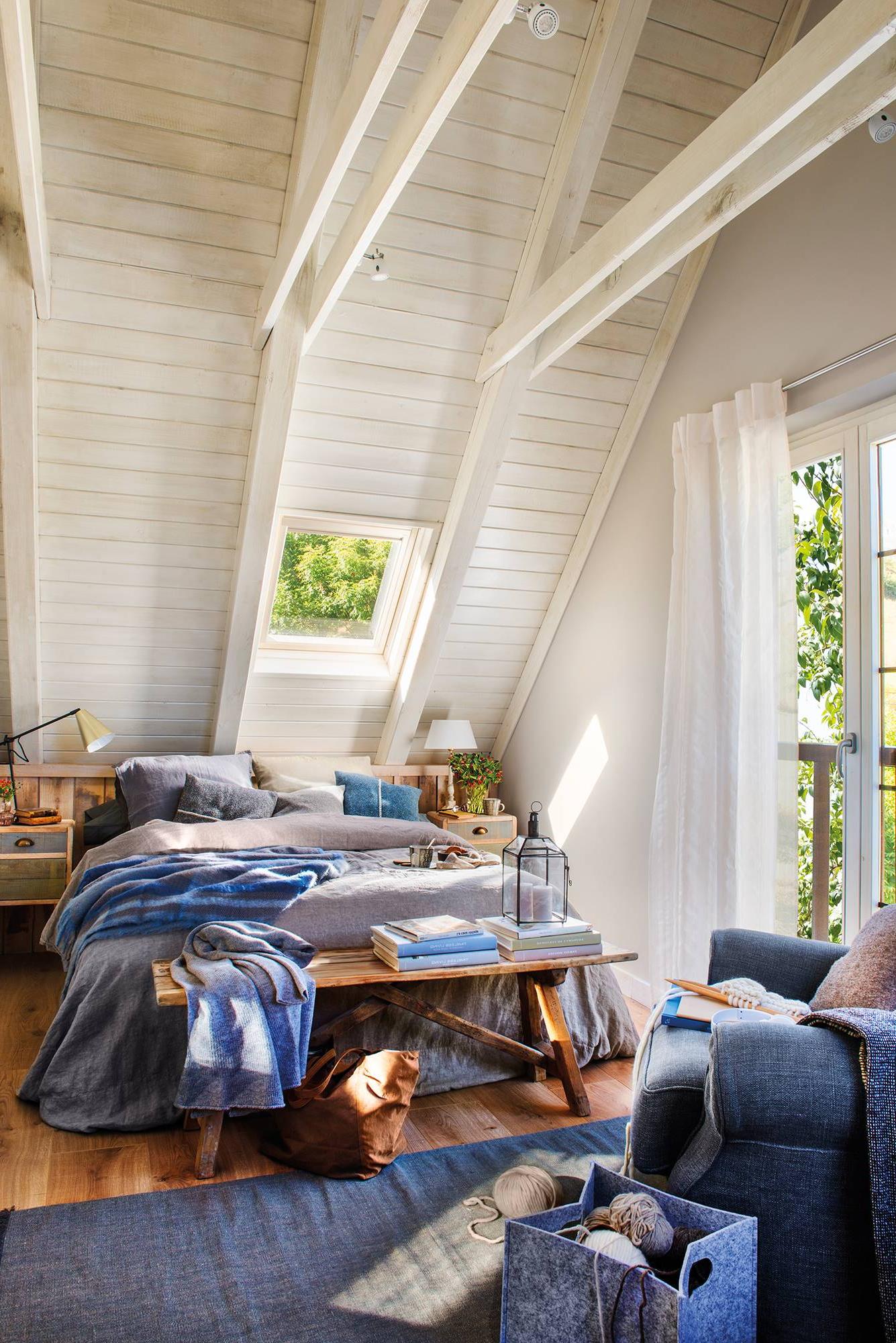 White washed exposed beams high above the bed with beautiful hardwood floors is a classic rustic backdrop to build this décor around. Denim is unexpected but effectively material that is used throughout the soft furnishings contributing both texture and colour to the room. Its familiarity as a textile immediately makes this room more comforting and nostalgic. A French balcony and little skylight above the bed complete the design by imbibing it with a little sprinkle of the outdoors.
13. Shuttered Cottage Windows Under Pitched Ceiling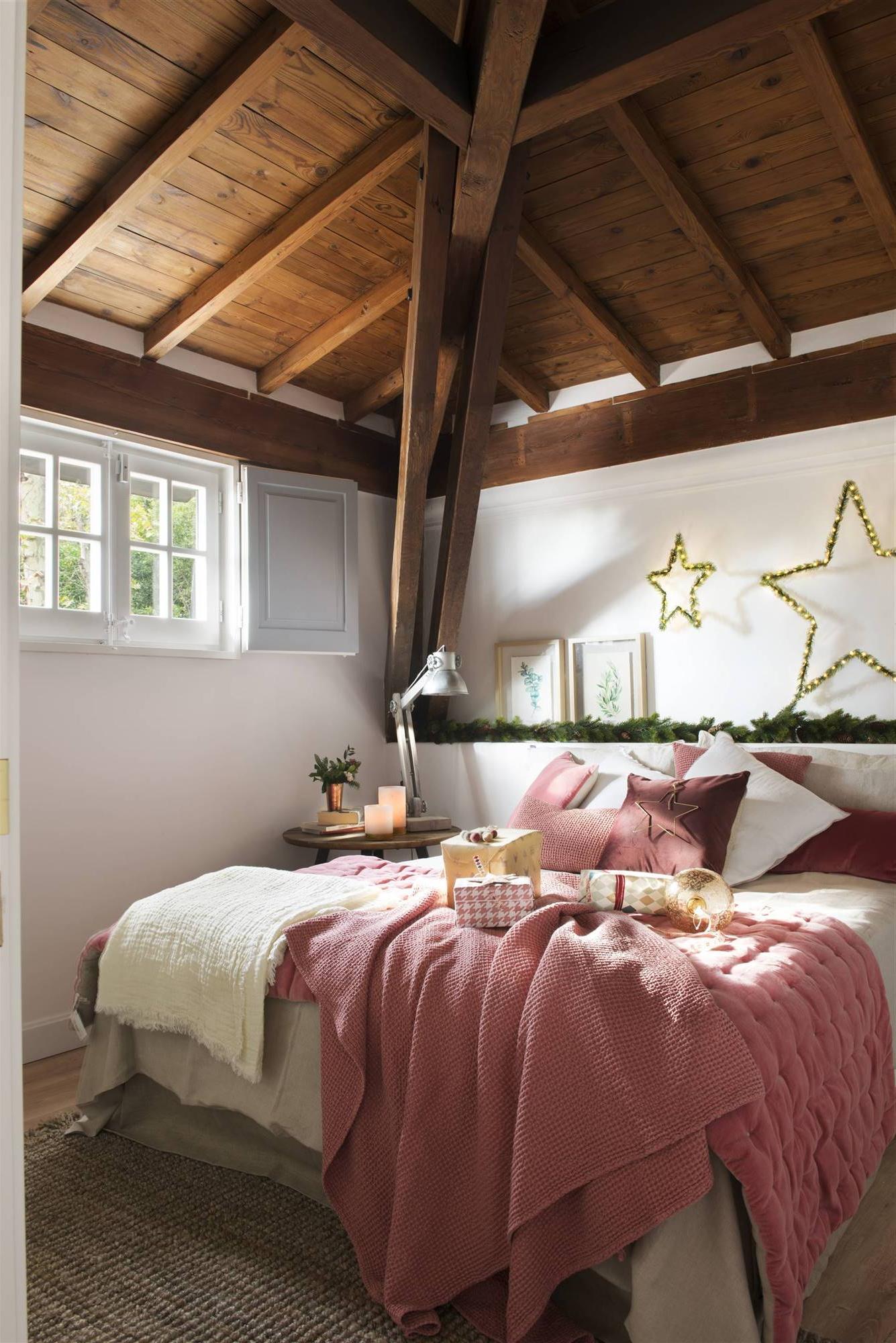 This timber vaulted little bedroom shows rustic in a more cutesy light. The grass growing from the headboard and dusty pink layered bedding are watched over by multi sized stars. These accents against the white walls and dinky square style shuttered windows make the space fun and whimsical while still feeling authentically rustic. The lighter hues prevent this small room from feeling cramped and make it feel like your own cozy hideaway.
14. Chunky Beams And Terracotta Tiles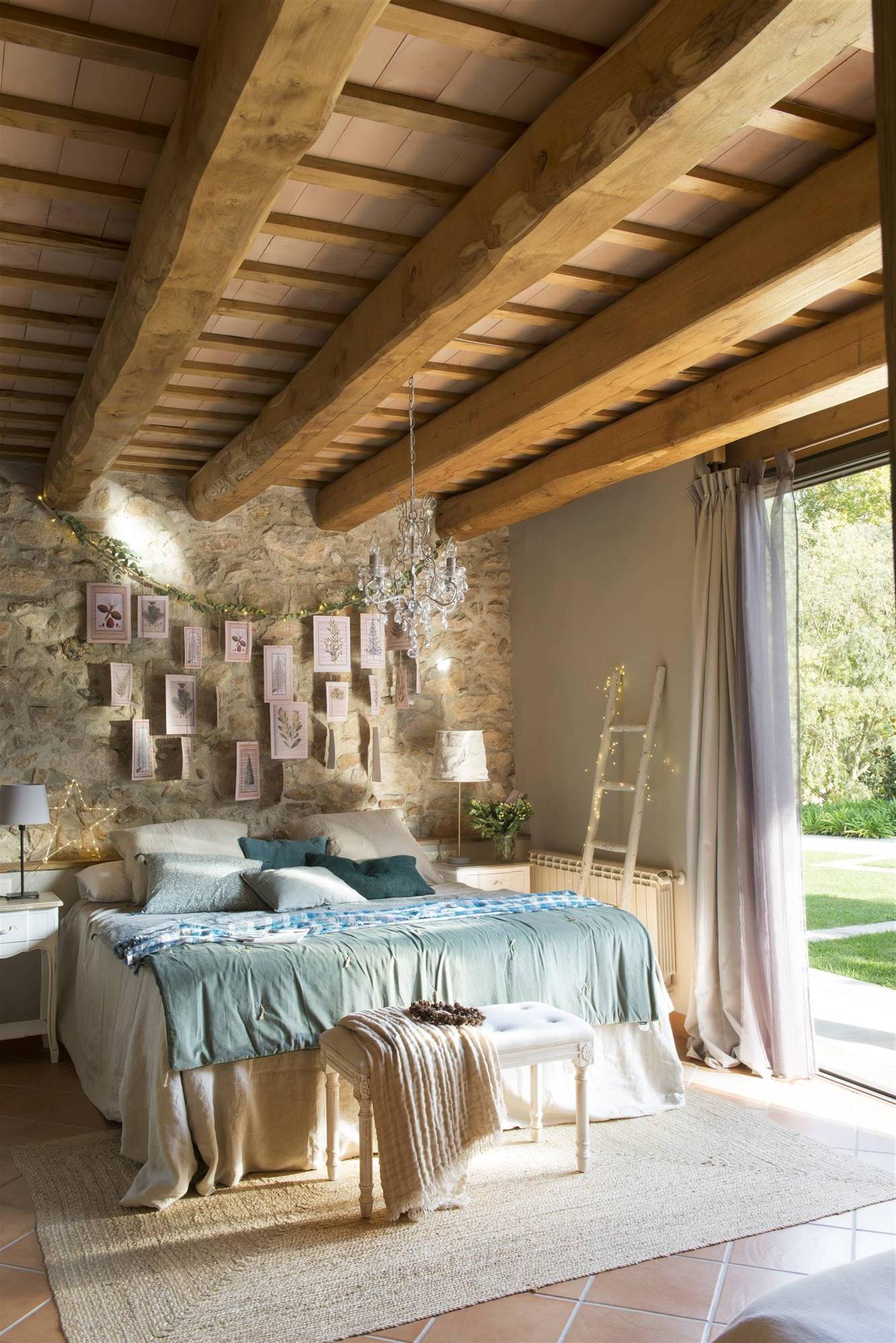 These are chunkiest beams we've seen yet! The exposed beams of the ceiling and rough stone wall show natural materials at their finest. This quality continues through the warm terracotta floor tiles that lead you into the garden through the sliding door. The hanging nature prints over the bed and multi hued teal linen add a hint of colour and personality to this little rustic grotto.
15. Wooden Wall Panelling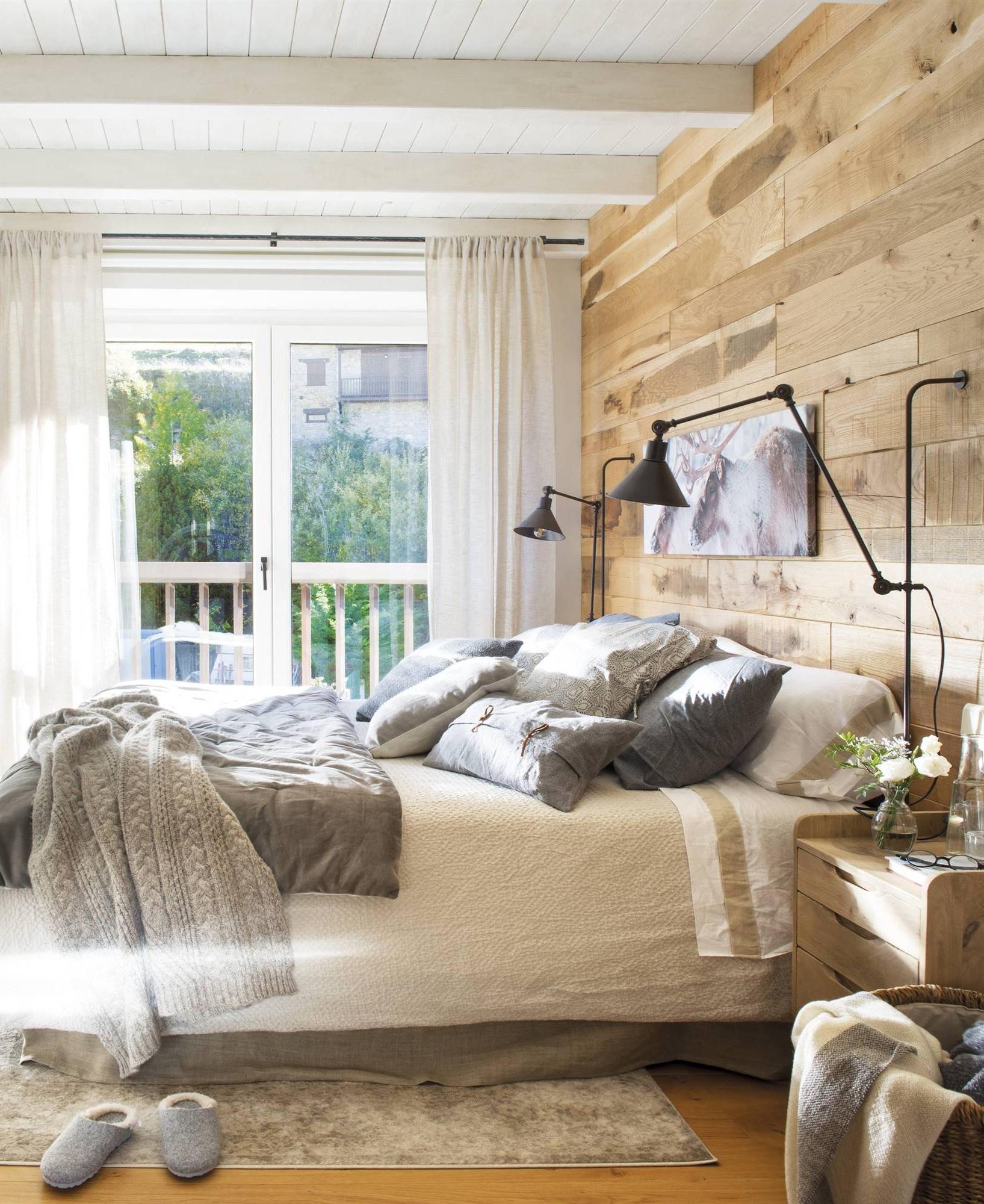 If you're a more neutral toned person this is an example of how a grey and beige colour scheme can easily become rustic. This room also features the glass doors to the trees and personal balcony that seems to be the go to for rustic bedrooms. The rough wooden wall paneling is the main rustic element along with the popular whitewashed exposed beams. The tones are bright and fresh while still feeling comforting and soothing.
16. Exposed Brick Vault Ceiling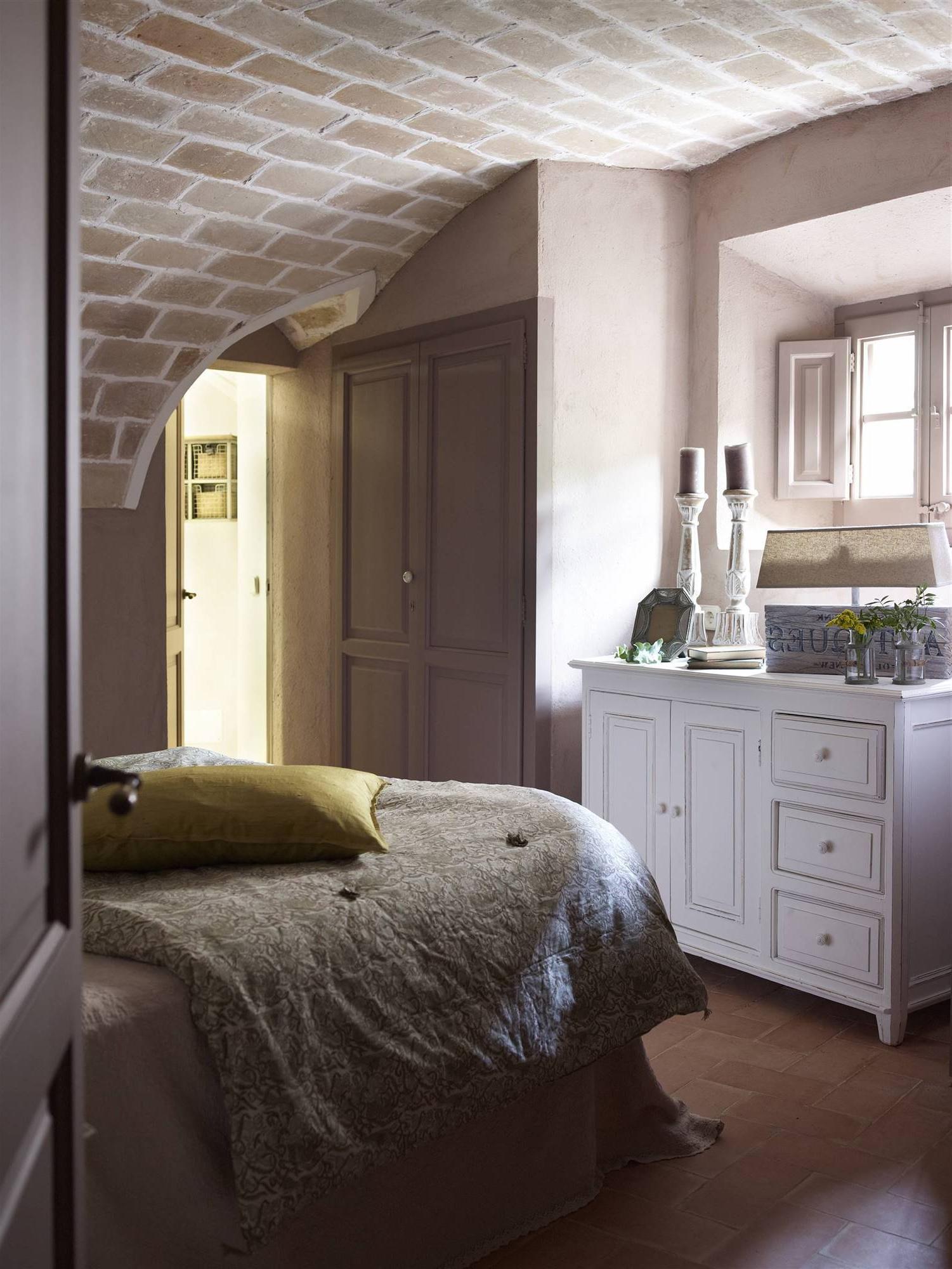 This unexpected and breathtaking exposed brick vault over the bedroom is all that's really needed to make this room a rustic icon. The brick mortar are pale which makes this bedroom feel cozy and comfortable rather than cramped and cave-like. The dainty little windows cast a soft light over the bed and vault in a magic way. The classic cabinetry and neutral walls allows the bed and ceiling to be the focus, the room is a unique place for rest and relaxation.
17. Dramatic Pitched Roof Structure
Just as we saw in the previous example all the focus of this room is on the almost overly detailed pitched exposed beams. This room is bigger so it can handle an enormous indulgent bed and grey wall. This cool toned room has a wood lined little sunroom attached that is conversely full of warmth with a huge window and comfortable cushioned armchairs to relax on the sun and feel like you're part of the natural surroundings.
18. Loft Bedroom Amongst The Beams
Loft bedrooms are pretty rustic as it is but this one screams it from the rooftops. Nestled into the high pitched ceiling the luxuriant bed looks over onto double volume pitched windows surrounded by timber framing. The fluffy stool and rich red blankets add depth and a quirky personal style to the open room. The incredible tree lined mountain view makes the elevation of the room the perfect position to admire it from.
19. The Essential Log Cabin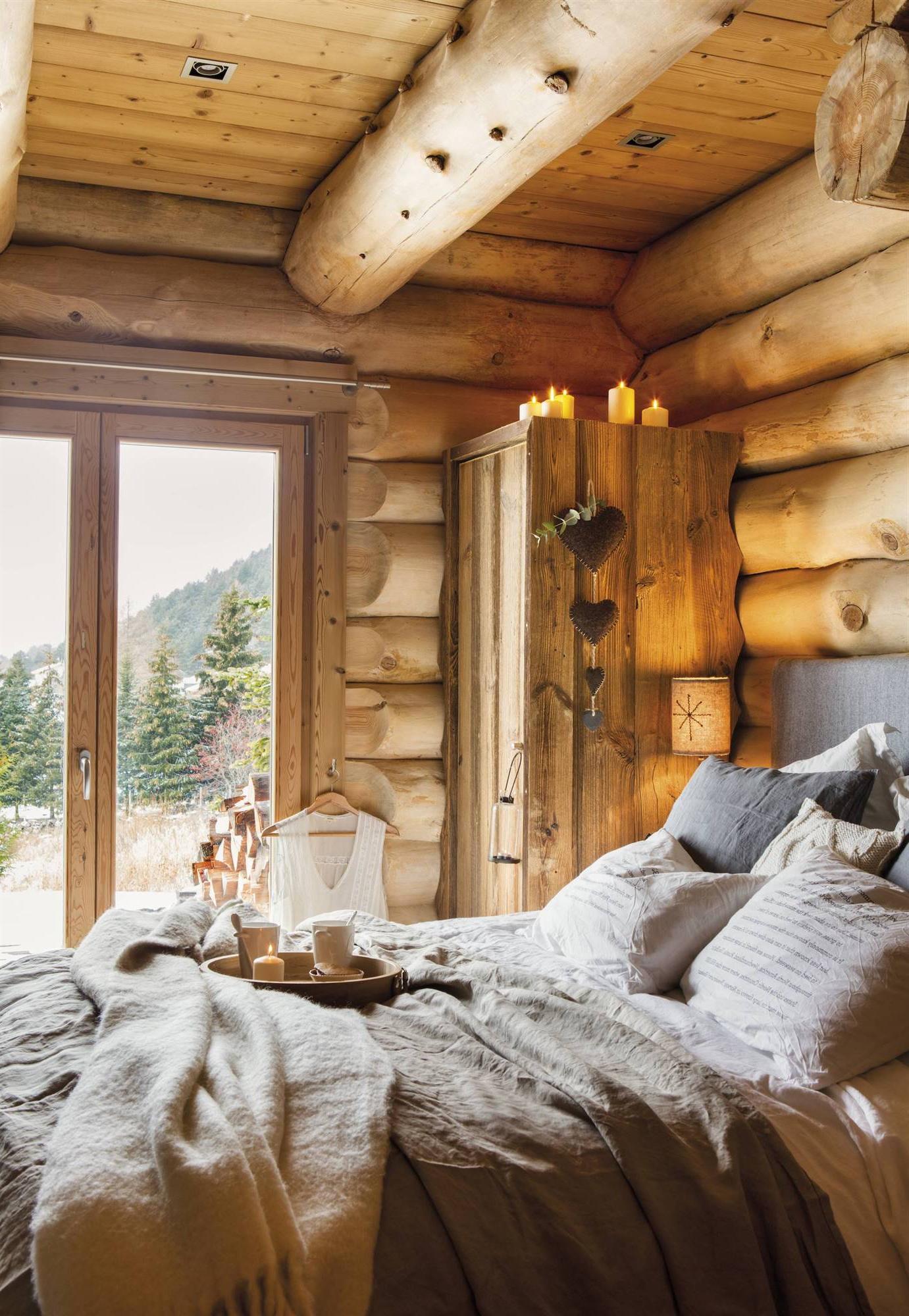 Like in example 6 this bedroom is taking full advantage of the log cabin aesthetic. This one takes a lighter hand (literally) with the logs colour which retains the rustic aesthetic and gaining a lighter more contemporary version of the log cabin. The furniture is made from the same timber as the walls and manage to disguise themselves into log walls. The view of nature and multi textured fabrics tick even more boxes on the rustic interiors list.
20. Flat Timber Ceilings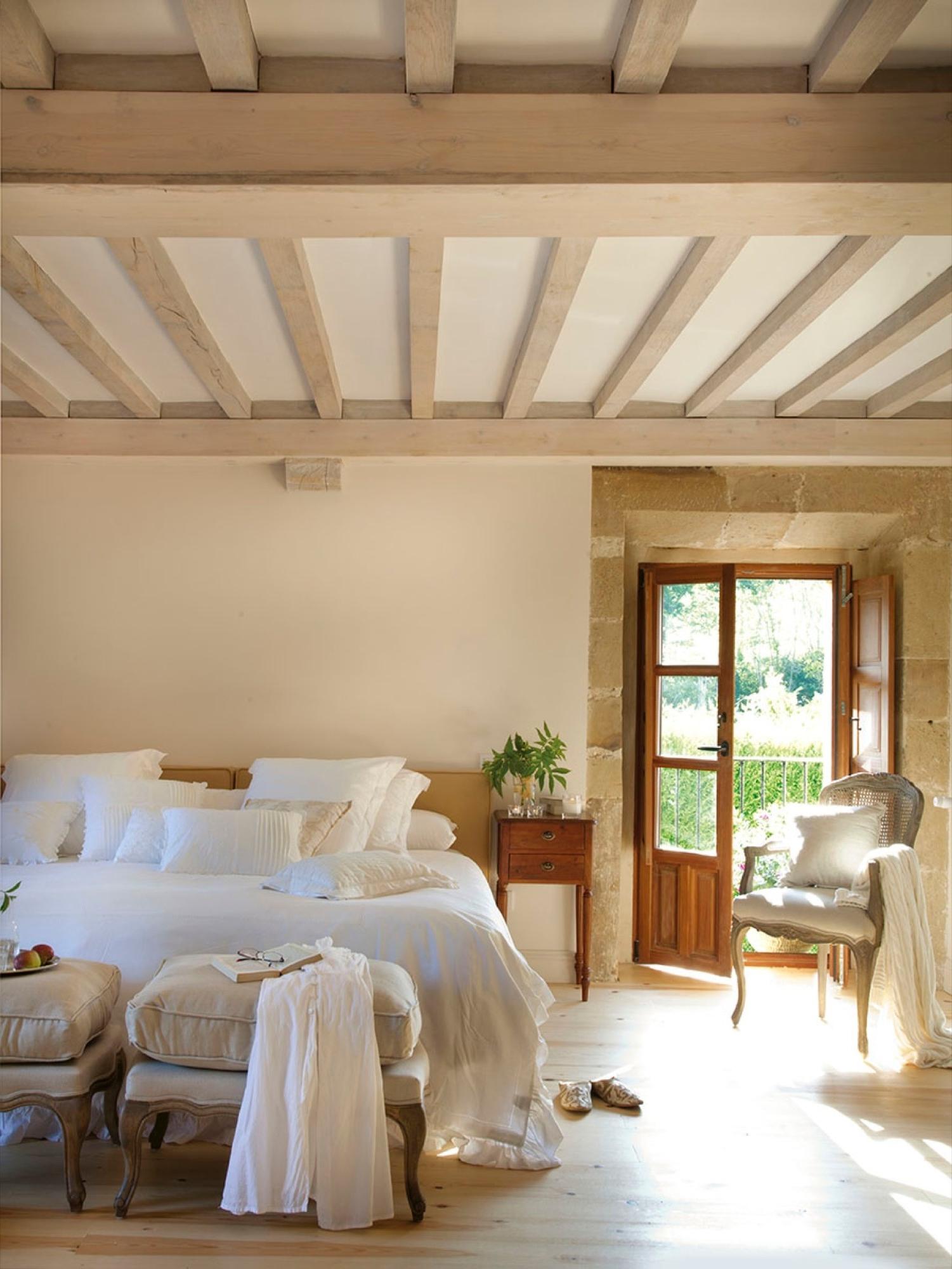 We have seen many pitched exposed beams so far but this light rustic bedroom shows how this can be done just as effectively with flat ceilings. The timber is pale with white ceiling boards; which ties in with the super pale interior, including light hardwood floors and enormous luxurious white bed. The darker wooden doors that open onto nature, in contrast, draws the eye to it and into the garden beyond.
21. All White Contemporary Rustic Bedroom Ideas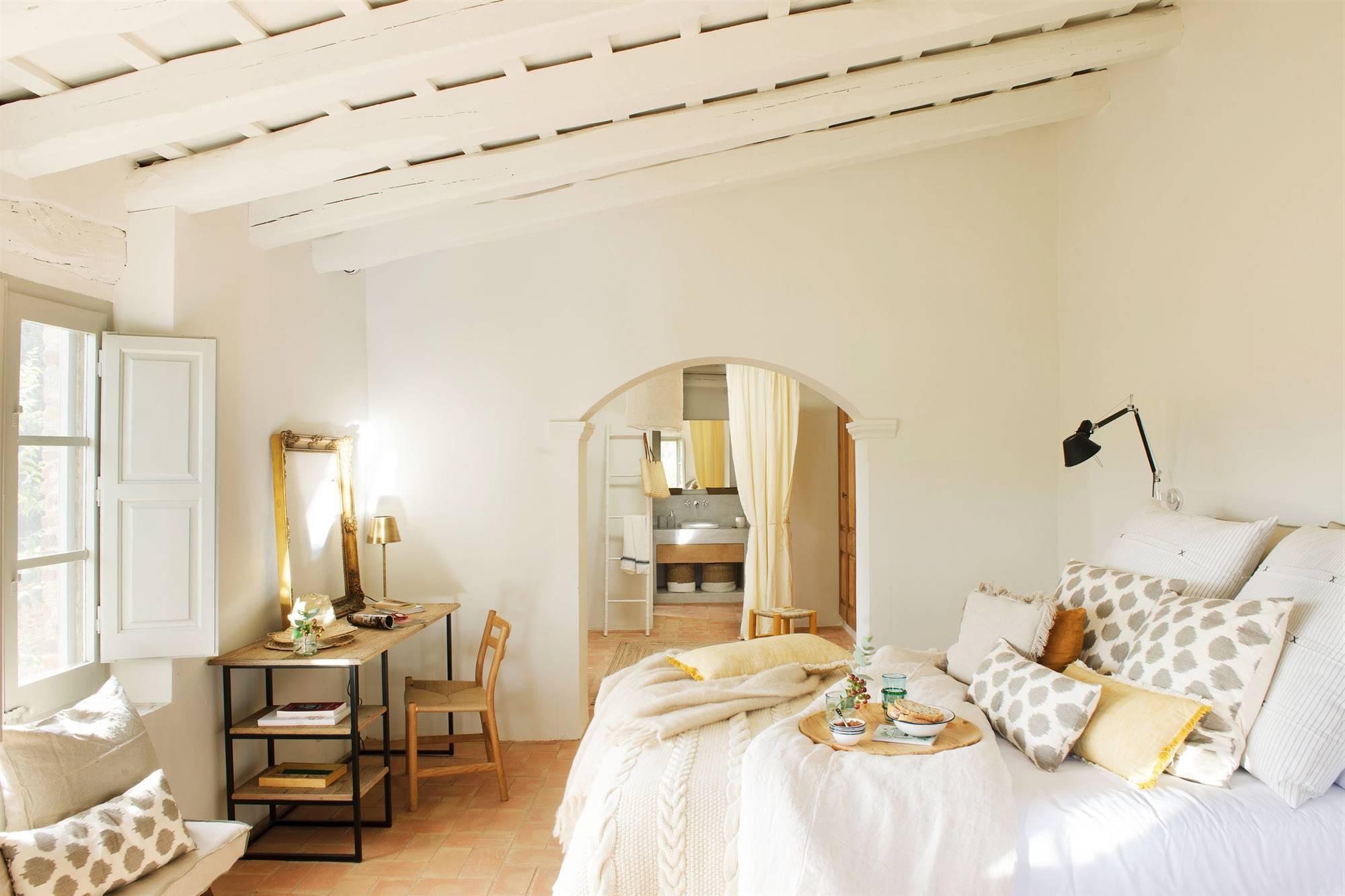 Ivory rusticity is just as comfortable and cozy as their darker counterparts while remaining airy and light. The richness in this design comes from the décor details like the little vanity table, quaint shutters and arched mirror. The two main rustic elements however are the exposed white beams at a very gentle pitch and the unexpected red brick flooring.
22. Matching Clean Wood Ceiling and Floorboards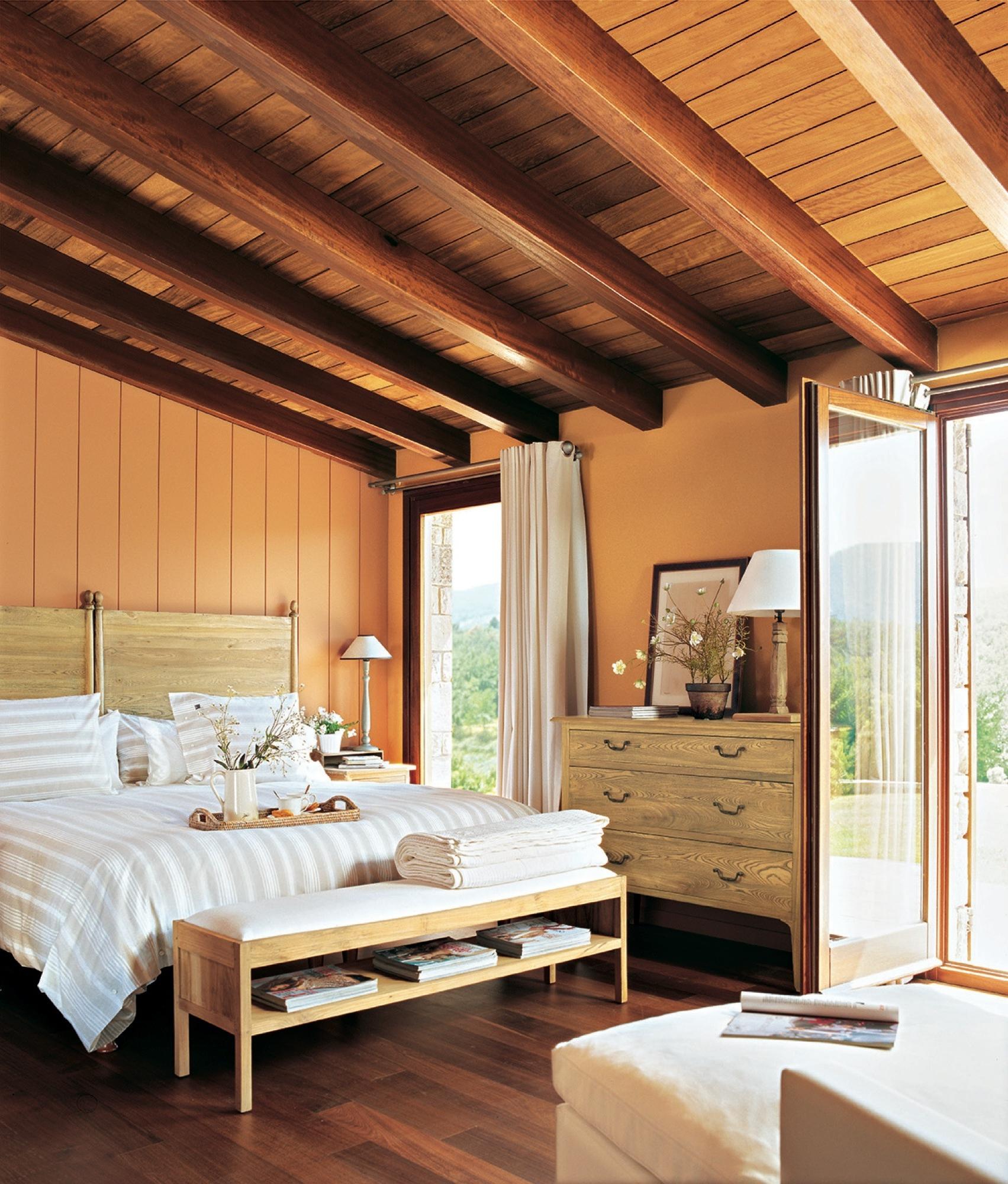 This bright rustic room painted in a pale terracotta is sandwiched between dark polished exposed beams and matching floor. This much dark wood can make your room feel smaller but this design counters that by using light wood furniture and pale bed linen. Elegant timber framed doors lead to the balcony and its view over lush treetops. An extra window next to the bed allows you to get a glimpse of nature from your bed at all times and what's more rustic than that?
23. White Washed Wood With Four Poster Bed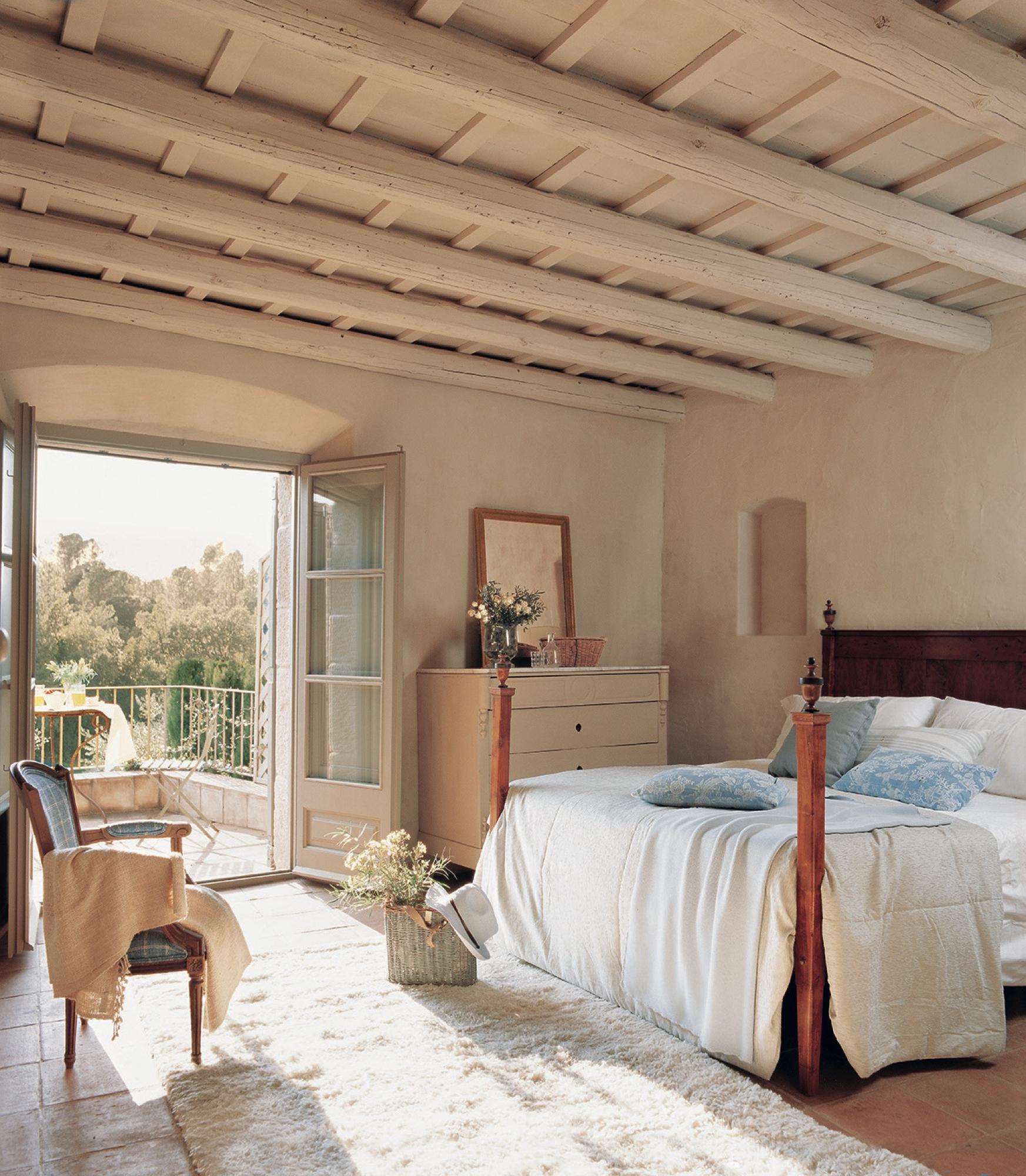 This example takes many elements we've already seen and winds them artfully together. A neutral colour palette is used throughout as well as a richness of texture in the soft furnishings and mottled walls. The flat exposed beams reside over a classic four-poster bed and soft rug and terracotta floor tiles. Another private balcony overlooking a beautiful tree-lined view makes the room very sunny and bright.
24. Steep Pitched Ceiling With Sloped Window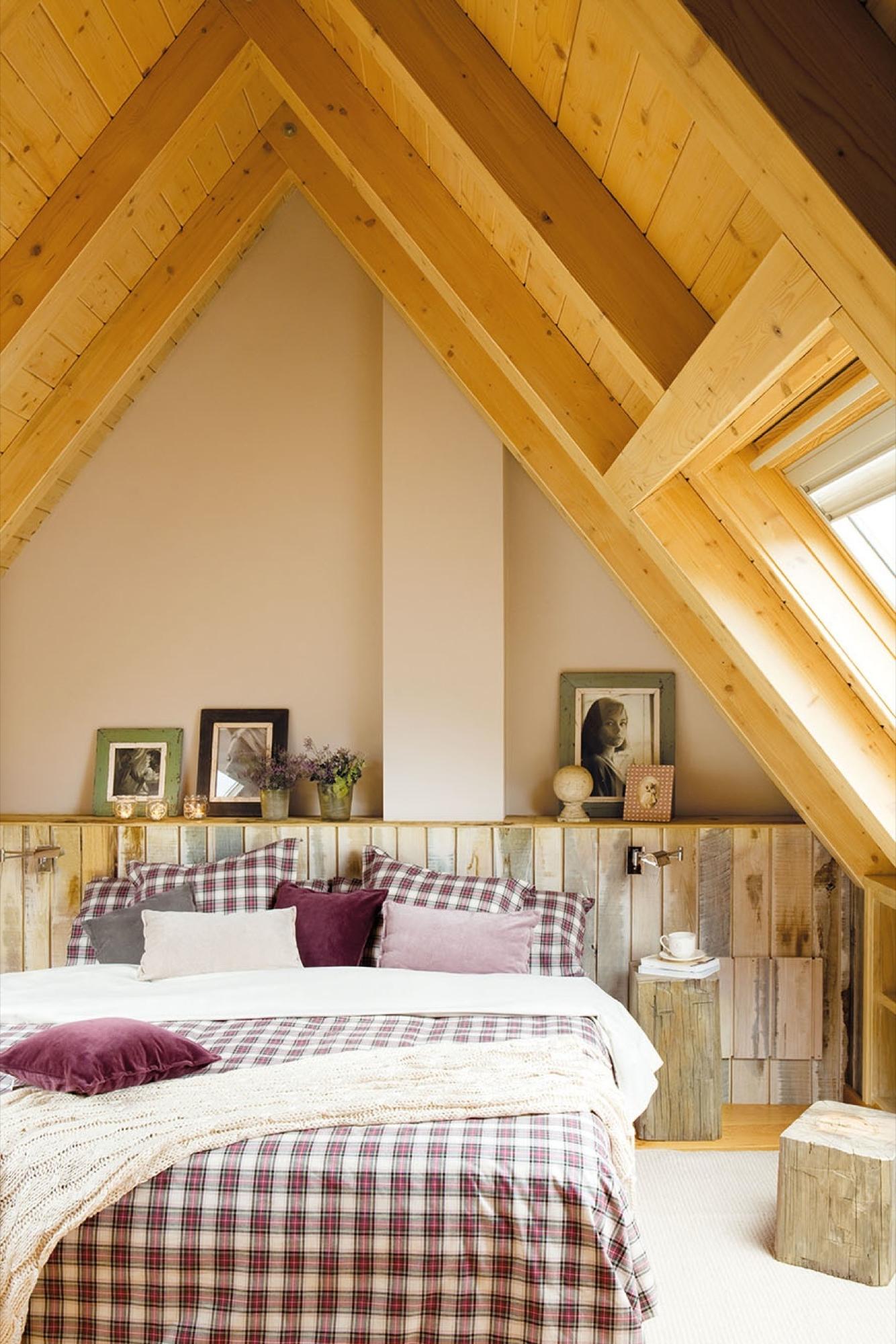 What pattern could be homier than tartan bedding? This rich red pattern is just the starting point in this bright rustic room. The cool toned wood paneled headboard that doubles as a shelf are coordinated with the wooden block side tables that lets the wood's raw beauty shine. The cooler toned wood items clash in the most beautiful way with the very warm wood of the sharply pitched ceiling and beams. A large with large window set into the pitch that casts a soft light across this beautiful room. The framed photos and knickknacks adorning the shelf of the headboard create an extra personal touch and layer of texture.
Conclusion
I think its obvious from this list that a rustic style works so well when it comes to bedroom design. The rich texture, fabrics and warm colour palette envelope you in a virtual hug from your first step inside.
There are so many elements that have been utilized over and over in different ways to make this style possible. The exposed beams we've seen used in so many of these examples means that you can remove the ceiling boards and have much higher ceilings which makes your room so much bigger. Fireplaces are homey in appearance while providing physical warmth and a crackling soundscape to your cuddling time. Soft furnishings and the layering of blankets and multi coloured throw pillows is a vital part of a rustic aesthetic as its what gives rustic bedrooms their feeling of warmth and comfort.
All in all rustic bedroom ideas are a timeless style that you can easily incorporate into your own bedroom in simple ways to make your space soothing and cozy.