Cupboards are one of those necessities found in just about every home to serve all our storage needs. This common piece of furniture doesn't have to be reserved for pure functionality however. They can be found in so many sizes, materials and used in different locations, which makes them an underestimated but effective design factor.
In choosing your cupboard storage you are confronted by a series of choices: What type of doors do I like? Do I need cupboards, drawers or both? Is freestanding or built in better for me? Where is it going to go? What finishes do I want?
This barrage of questions may seem overwhelming, but with how much innovation and care is going into furniture nowadays you're sure to find something that fits your every need.
25 Best Cabinets and Cupboards To Spruce Up Your Storage Game

Keeping your goal aesthetic in mind will help you figure out if you want something sleek and modern or homey and rustic as well as what finish will best suit that. The amount of space you have to work with is also a factor that can help influence your decision; in this list we will show you how to take previously dead spaces and use them to solve your storage woes, even in the smallest spaces.
So if you need a hand in answering some of the questions we've posed here are:
1. Built In Bedroom Cupboards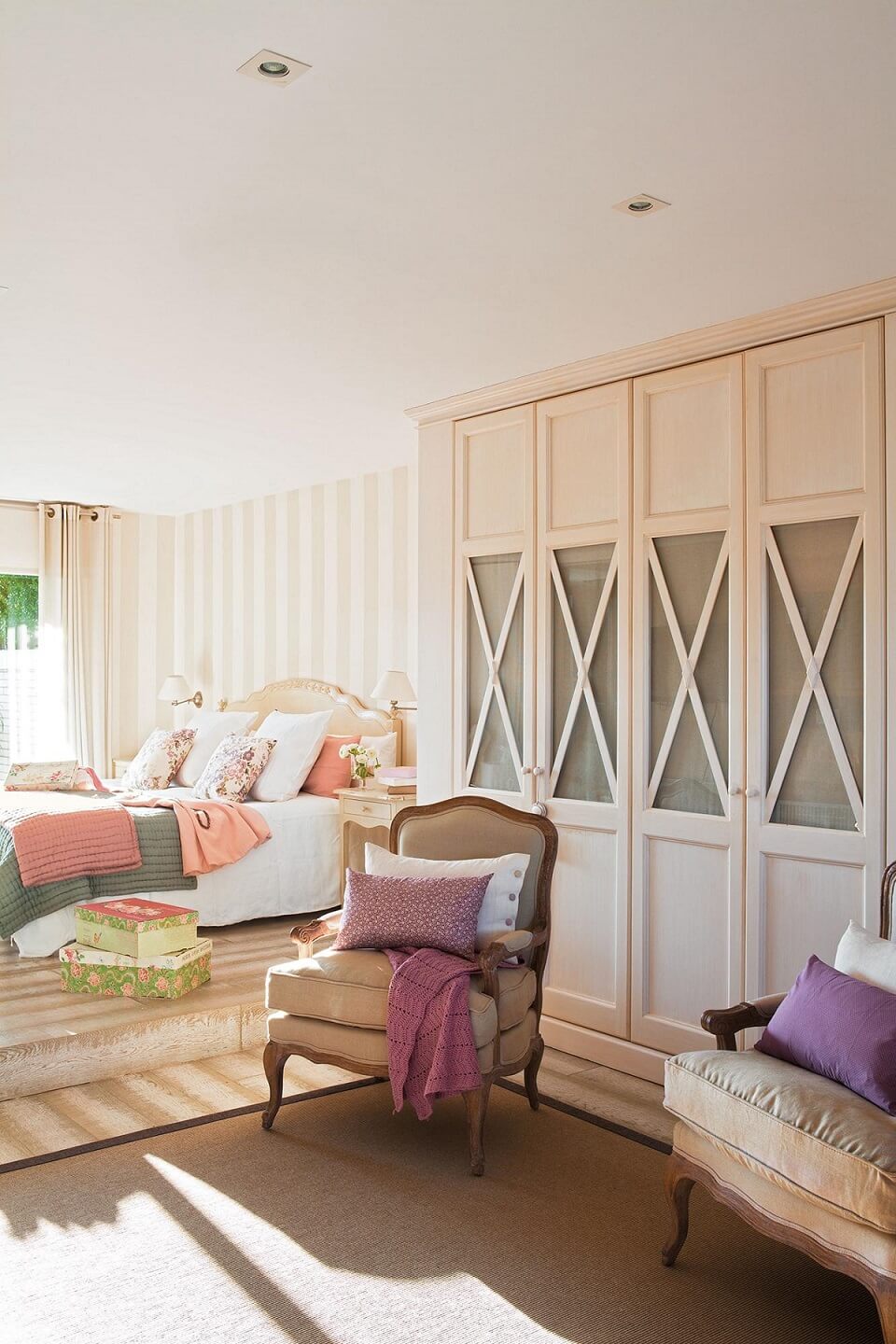 This spacious bedroom suite provides plenty of space for a large built in cupboard. A single step separates it from the main bedroom and creates a walk in closet and dressing room without the need of a separate space. The cream, paneled cupboards fit in with cream striped walls and neutral tone of the room to keep the design style balanced throughout. The cream panels are broken up by glass inserts that break the monotony while still keeping the room looking tidy as your clutter hides behind its frosted finish.
2. Cupboard Under The Stairs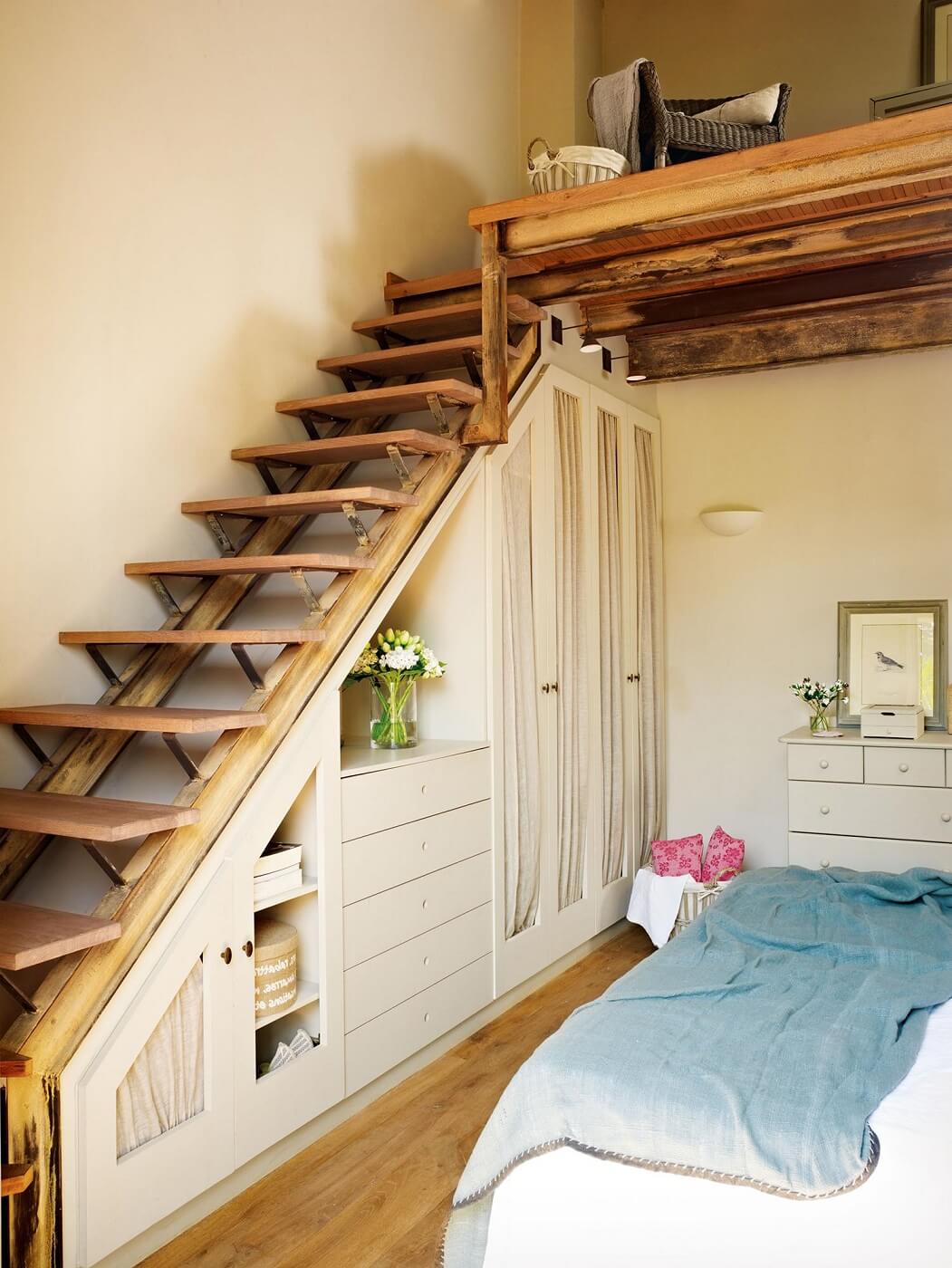 A compact apartment like this shows how to utilize very bit of space at your disposal without feeling cramped. The cupboard unit is nestled the under rough wooden stairs, adopting its sloping shape with the hanging space sitting under the loft living space. The cupboard blends in with the white bedroom, helping to open up the space. The multi use unit includes a hanging space; with fabric inserts in the same shade; a chest of drawers and shelving.
3. Floor To Ceiling Cupboards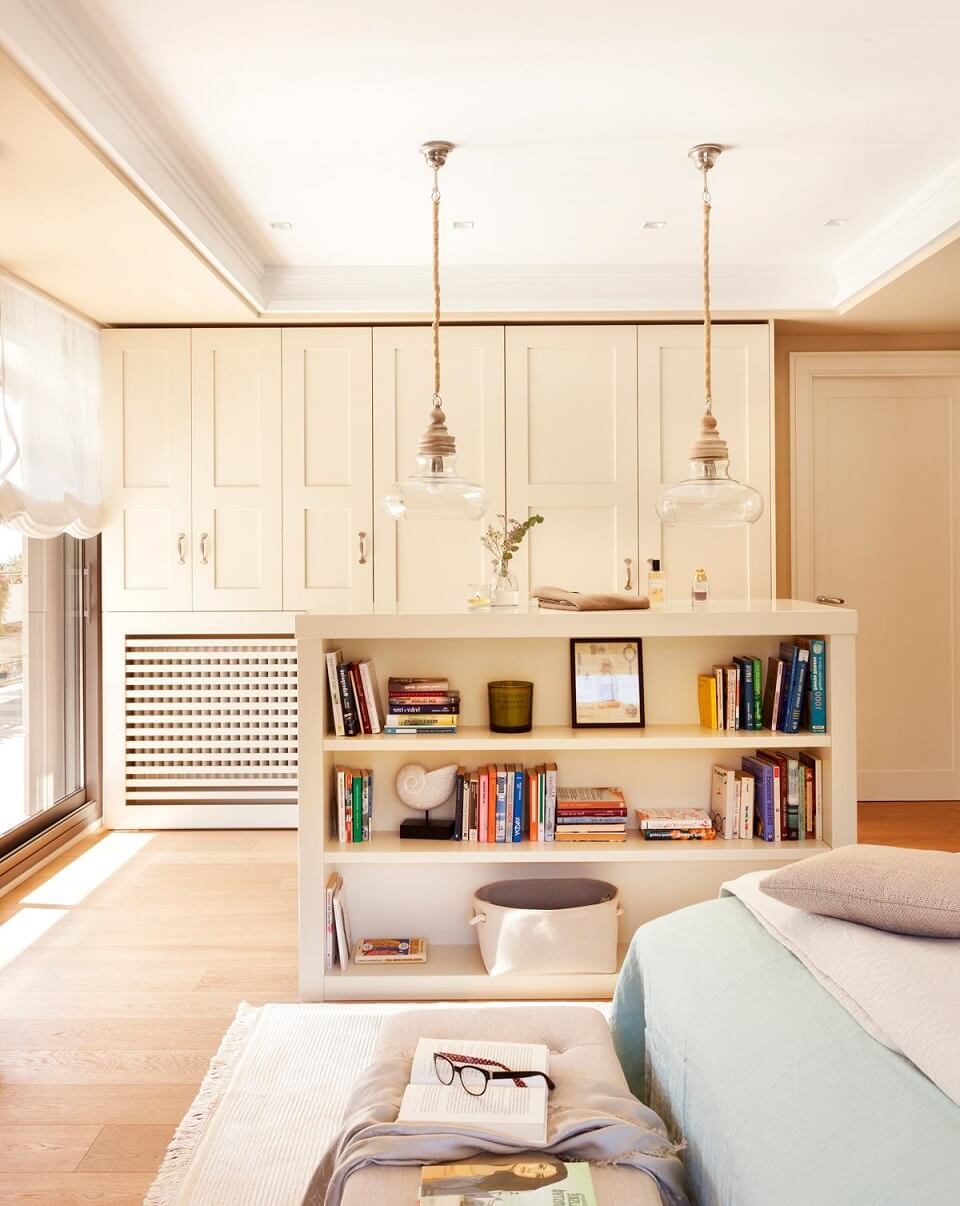 This is another cream built in units that blends in with the walls and suspended ceiling to keep this spacious lounge cohesive. The unobtrusive design provides you with loads of space for storage with your living space that is still easy on the eye. A timber mesh base and vintage doors give this monolithic unit a bit more character.
4. White Cupboards In Rustic Bedroom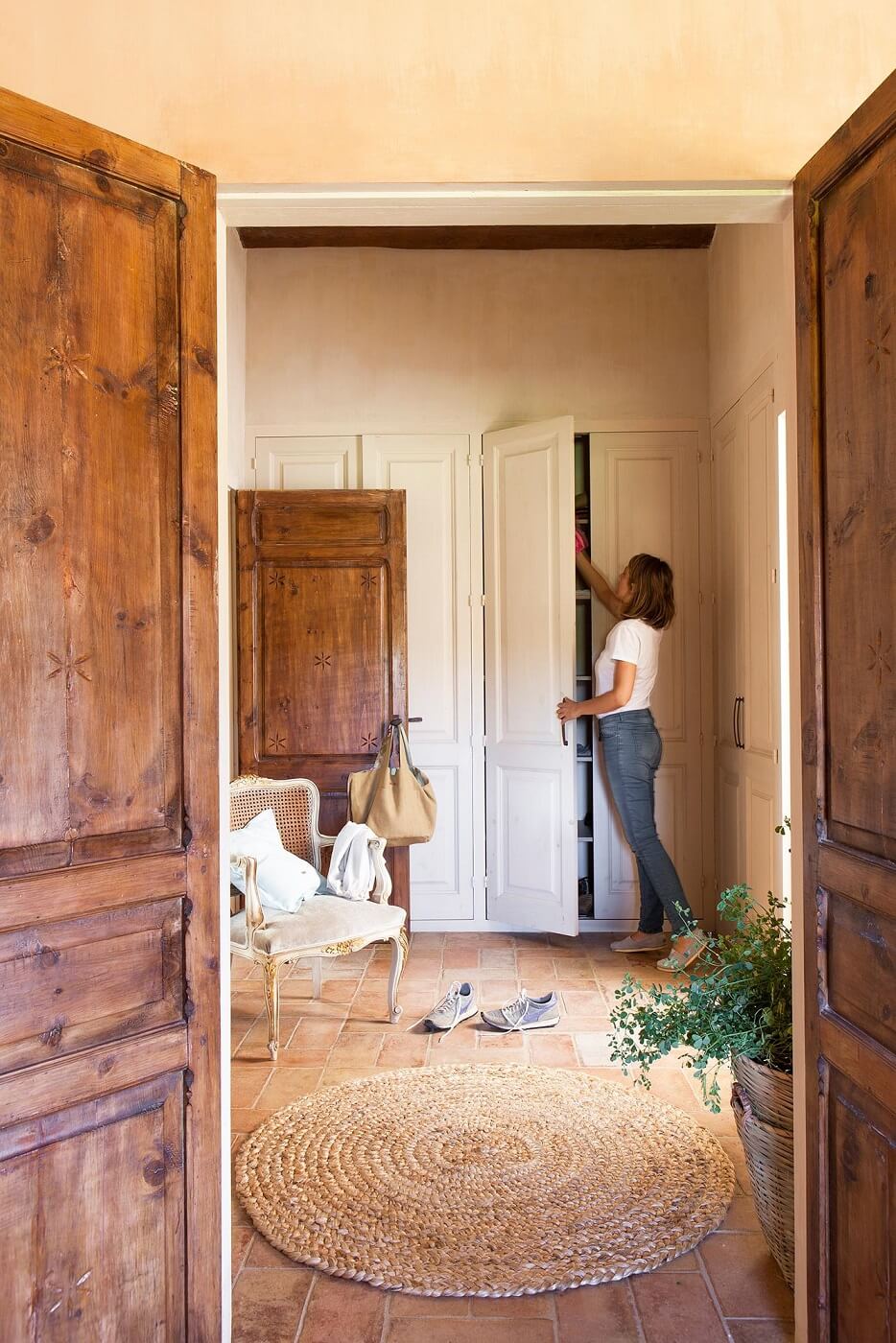 This rustic interior is full of dark natural textures: a woven circular rug, terracotta flagstone floors and deep timber doors. The wall of white cupboards is unusually the only white element in the room in an aesthetically pleasing switch up.
5. Hallway Cupboards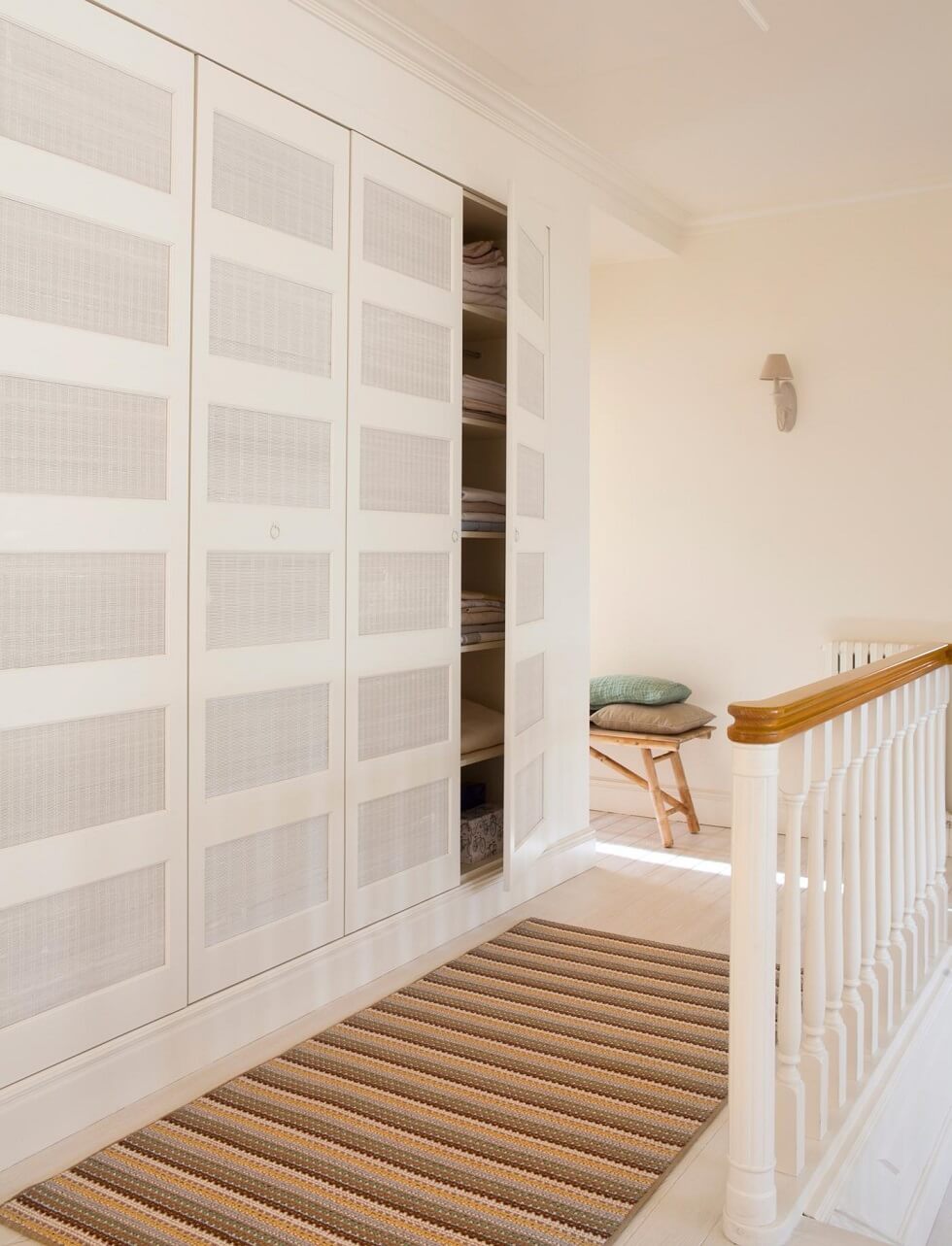 This is a great example of how to use dead zones, such as a hallway, to gain extra storage space. This particular hallway unit features white frames with white wicker paneling to bring some texture and visual interest to a blank hallway. The space has suddenly becomes useful and more attractive without making the space feel cramped by the using white finishes and feels pale laminate flooring.
6. Headboard Cupboard Combo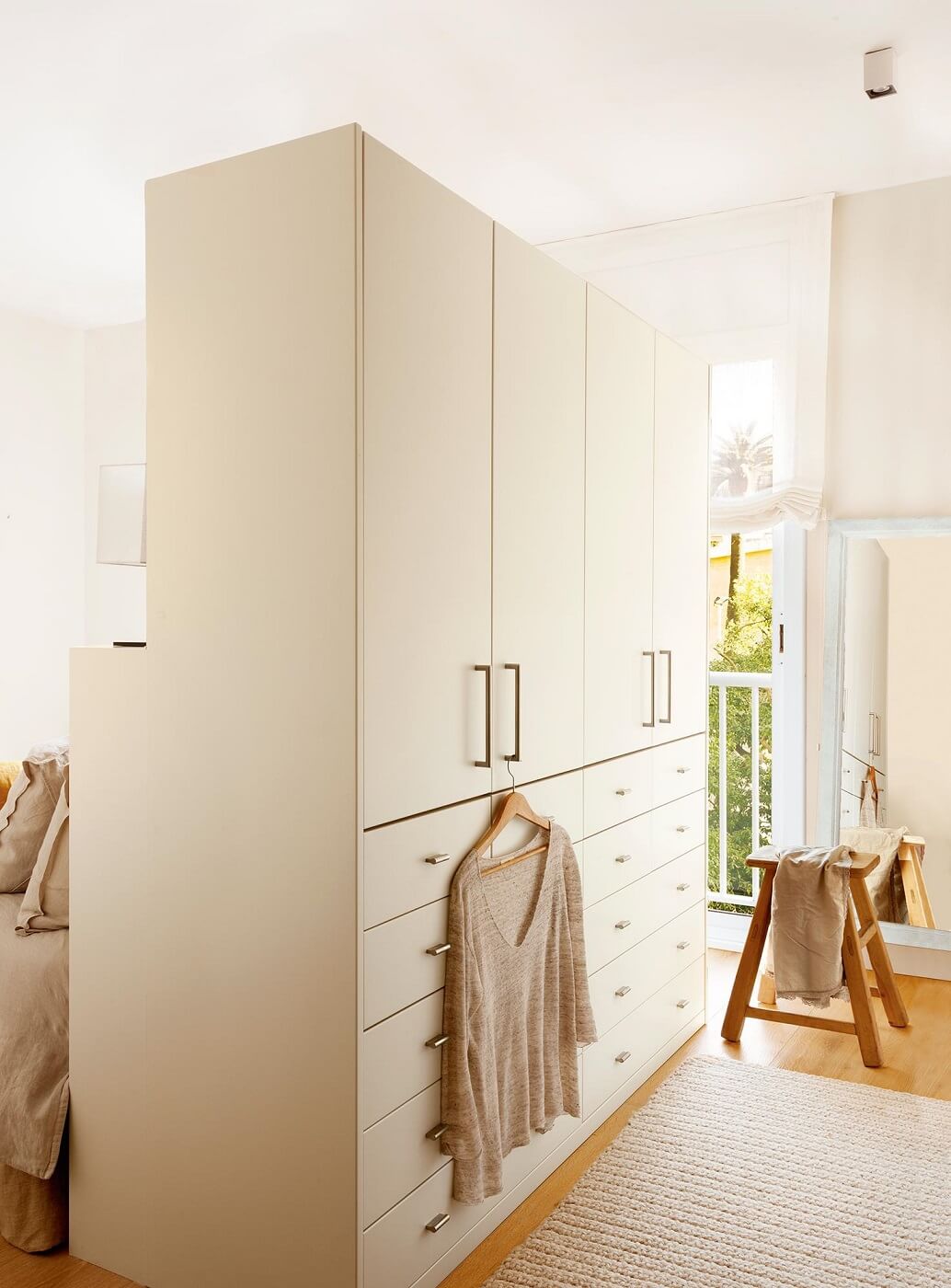 Cupboards that serve a dual purpose are an easy way to save space; this one however, is a triple threat. This freestanding cream monolith divides the room into two: a bedroom side and a dressing room side. On the bedroom side the unit forms the headboard while in the dressing room it features two sets of cupboards and a set of drawers for each partner. The cupboard also helps shields you from the window so you can change in peace. Overall this design is convenient, innovative and smart.
7. Rustic Freestanding Cupboard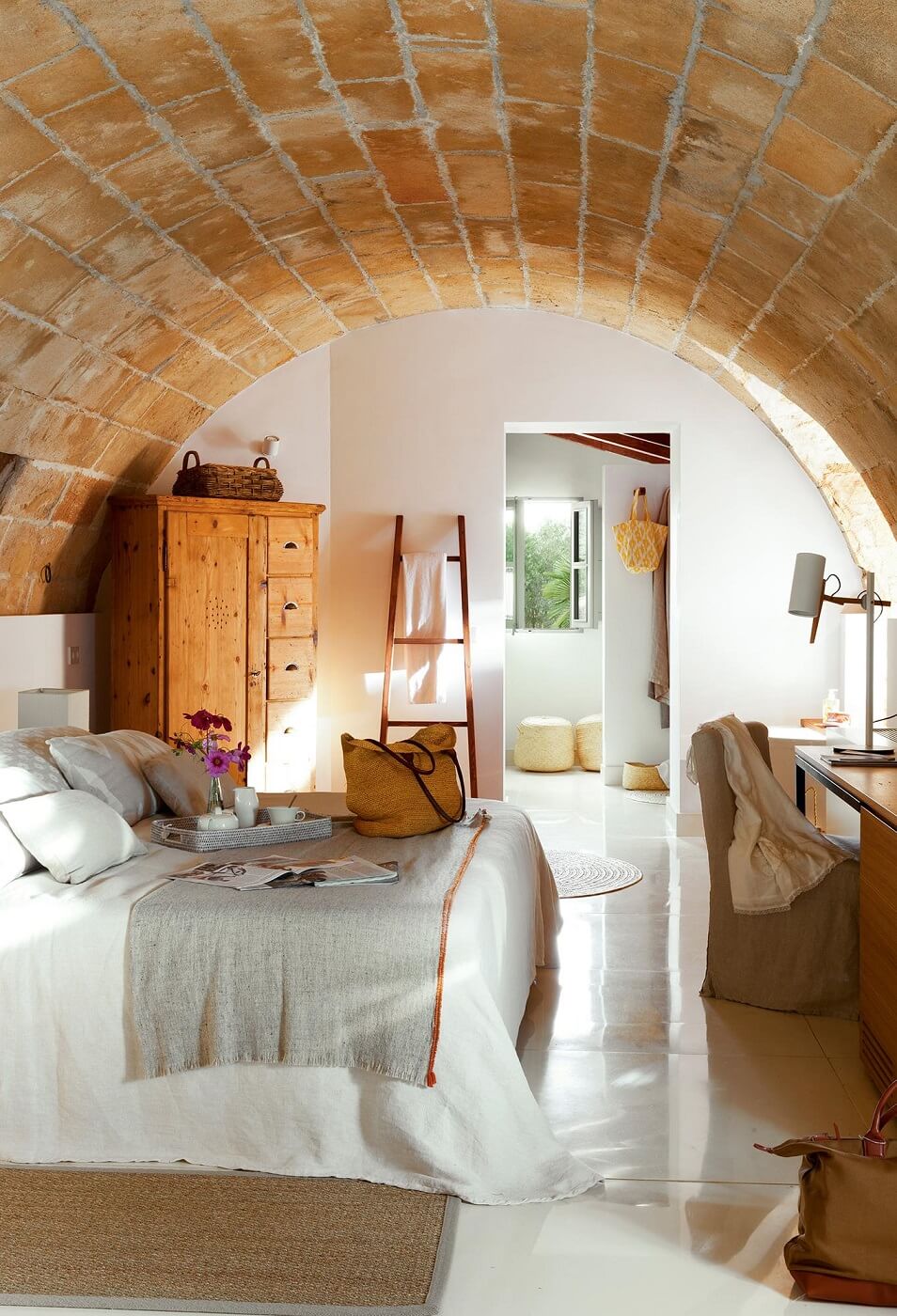 This gorgeous rustic bedroom is filled with varied textures that are classic to this design style but the showstopper is dramatic exposed brick vault over the bed. Due to the unusual shape of the bedroom a freestanding cupboard is a great storage solution. This wooden cupboard has the added bonus of contributing another element of colour and texture. It has a clever but unusual design, which features two columns; one for hanging space and the other made up of stacked square drawers.
8. Two Toned Cupboards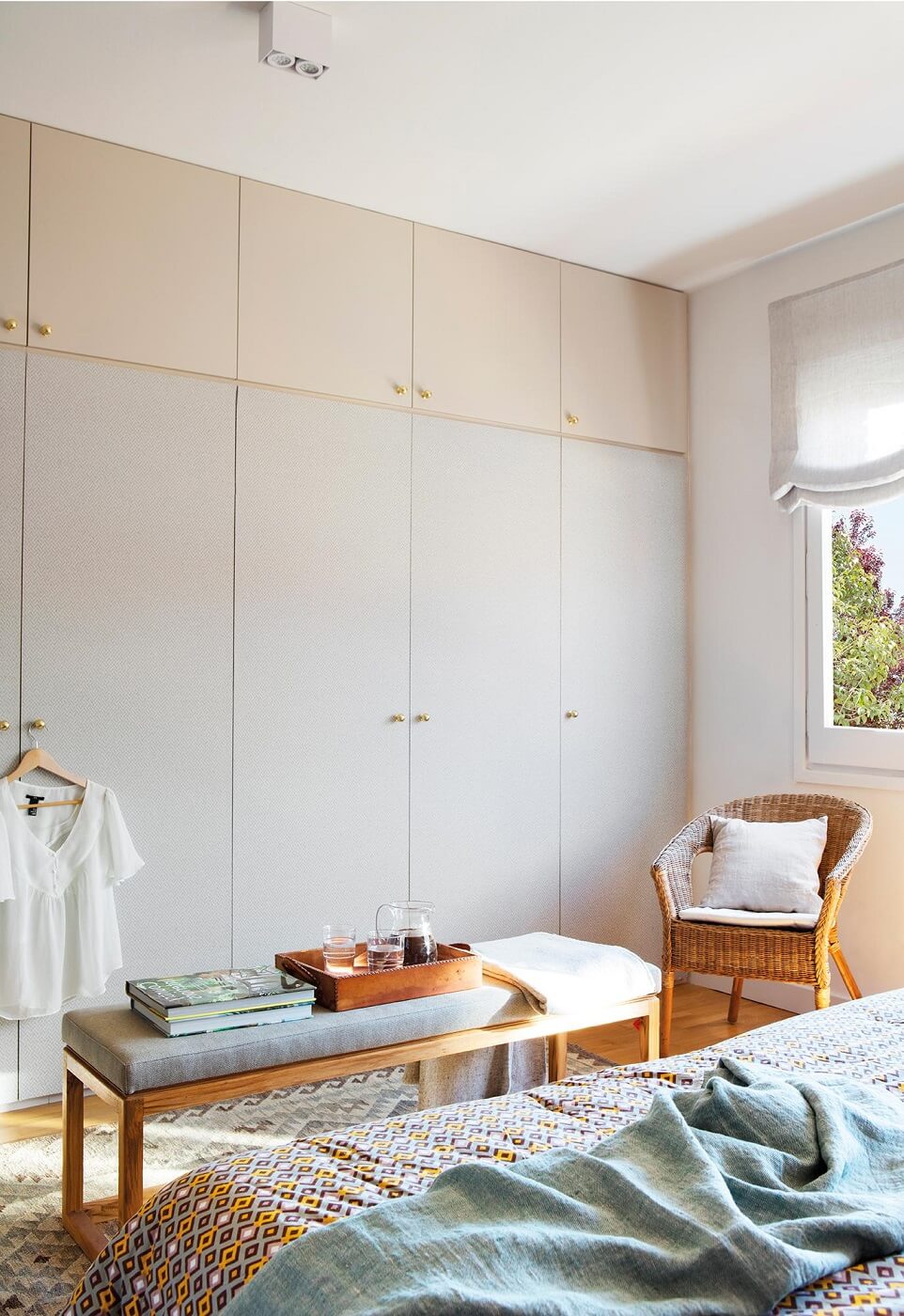 These floor to ceiling built in cupboards acts as the backdrop to a room full of colours and patterns. The smooth expanse is broken up by two-toned doors with a warm grey at the bottom and beige at the top with some simple little gold handles. The top cupboards are not as easily accessible so they can be used can store things you don't use on an everyday basis or for storing winter wardrobe in the summer and vice versa.
9. White Handle Free Cupboards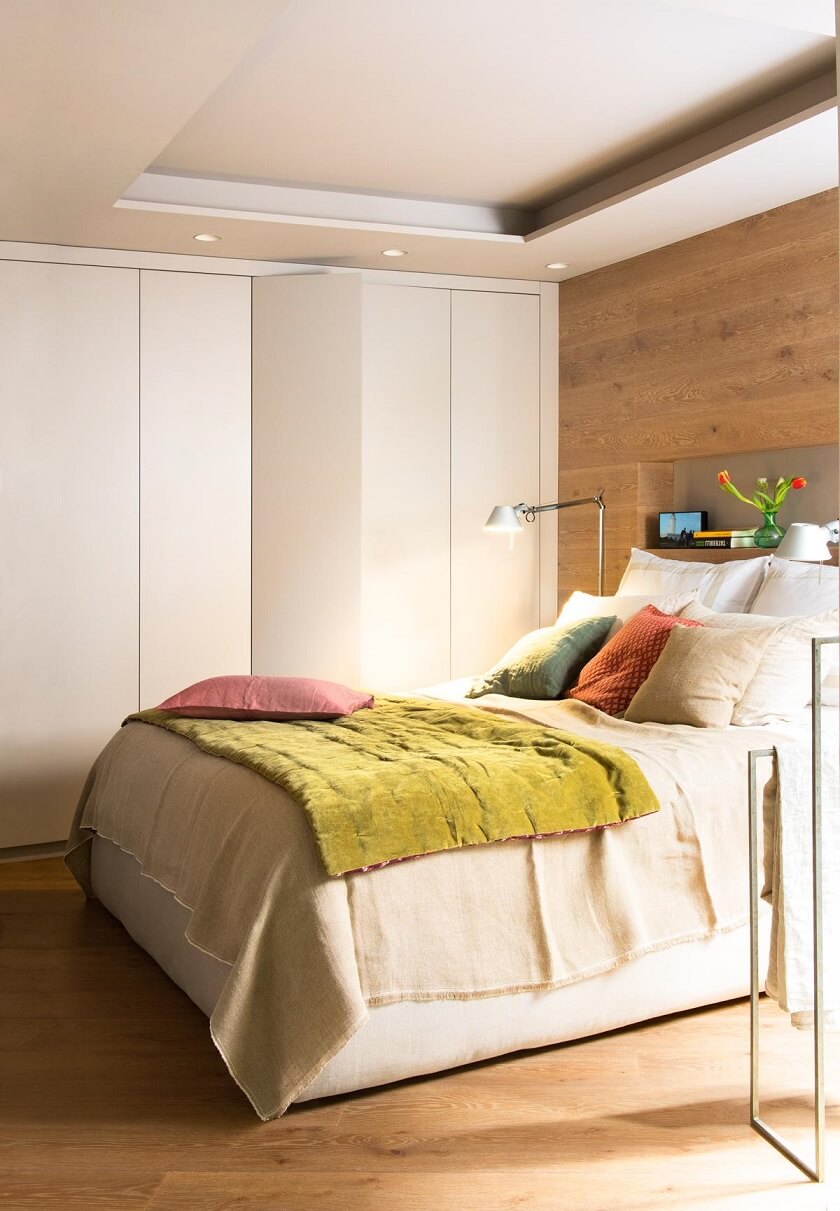 Like our previous example the smooth, uninterrupted surface of these handle free cupboards acts as the background for the pops of colour and wood paneling in the foreground. These sleek cupboards have a push to open mechanism, which allows you to go handle free. The culmination of the foreground and background results in a room that is modern but comfortable.
10. Stained Rustic Cupboards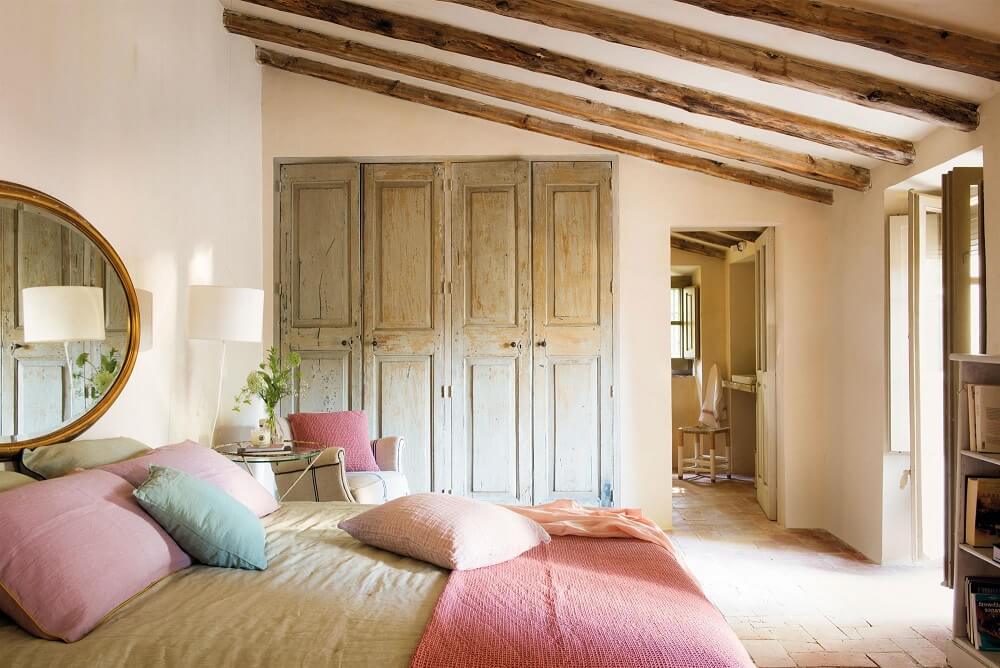 The roughly washed teal wooden cupboards feel right at home in this sensuously rustic bedroom. The pitched space has been painted white to allow the textural and colourful elements like these spacious built in cupboards to stand out. These blue beauties work in perfect harmony with the exposed beams, red brick paving floor and sumptuous bed.
11. Mirrored Sliding Doors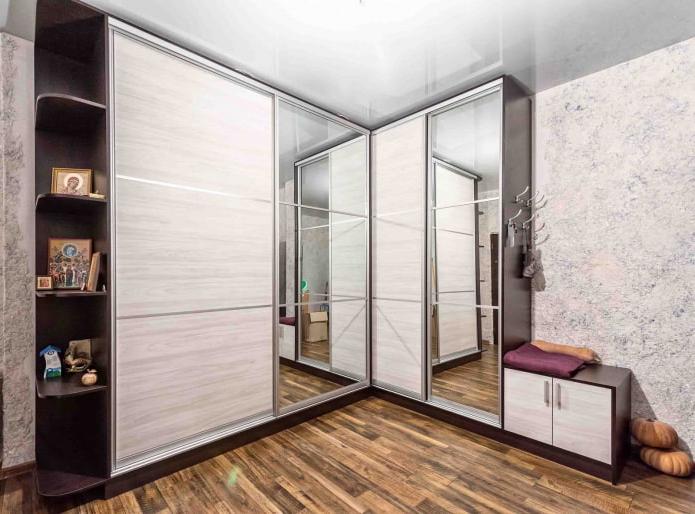 This is dramatic example of modernity without the minimalism. The cupboard wraps around the corner and is constructed of half mirrors and half pale laminate paneling. The mirroring makes the corner of the room disappear and reflects the dark wooden floors, marble effect walls and high shine ceiling in a dizzying optical illusion.
12. Hidden Timber Cupboard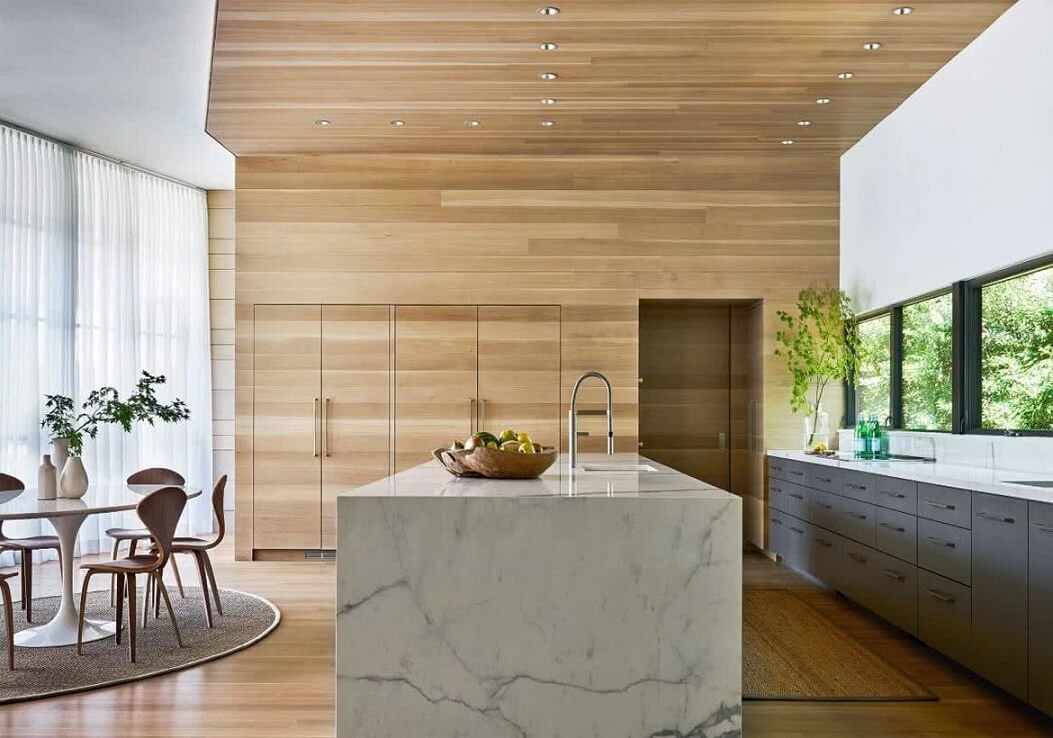 This innovative modern design wraps wooden laminate paneling around the whole room; from the floor, up the walls, around the doorway and onto the ceiling. The wall paneling hides a recessed doorway and built in invisible cupboards. Living spaces rarely feature storage, especially inconspicuous storage, however in this design even the cupboard handles are made of the same material so they blend away into the background with the cupboard doors themselves. Using materials in this way is distinctly visual appealing and a smart way to create an optical illusion.
13. Smooth Sliding Doors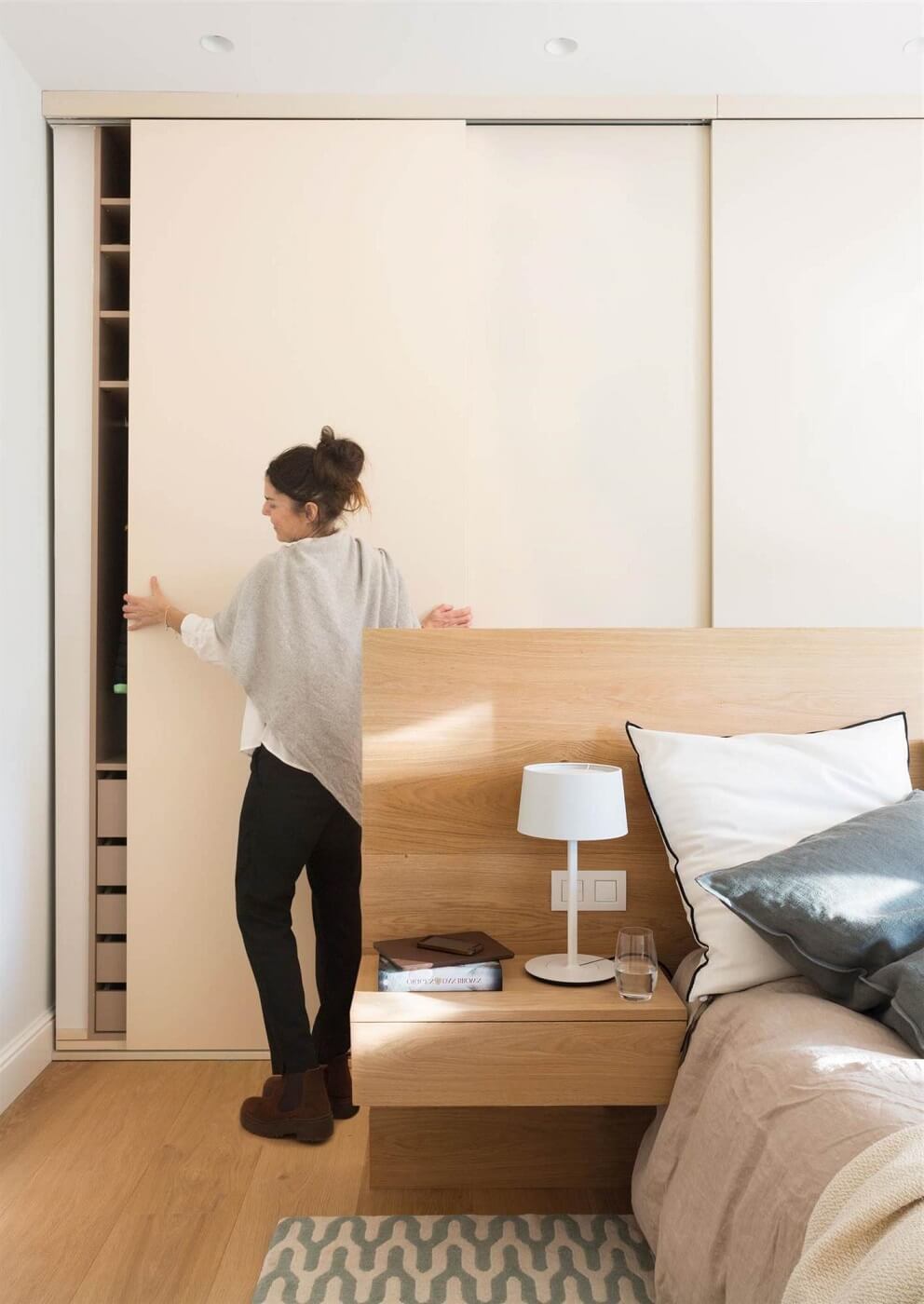 This unusual bedroom layout takes advantage of every bit of available space by bringing the bed away from the wall and building in cupboards behind it. The sliding doors don't need any space to swing open so they are efficient and space saving when you're working with a small space. This configuration makes the bedroom look different and interesting while being thrifty and smart at the same time. The headboard anchors your bed in place and stops you feeling like you're sleeping in the middle of nowhere.
14. Retro Kitchen Cupboards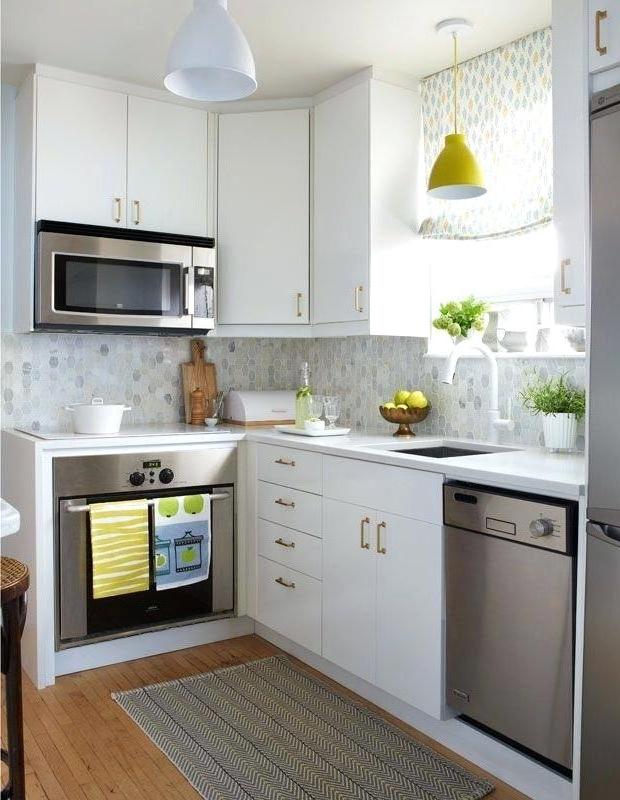 This retro inspired kitchen has been outfitted with white, vinyl cabinets above and below the counter; which have been updated with gold handles. The cabinetry is a bright white rather than cream of the 70s, which helps this layout feel a bit more fresh and new. The cupboards and drawers are varied in shapes and sizes to fit all your kitchen accessories, cutlery and crockery. The dishwasher, microwave and dishwasher have also been carefully built into the cabinetry for a more cohesive look.
15. Reclaimed Shuttered Doors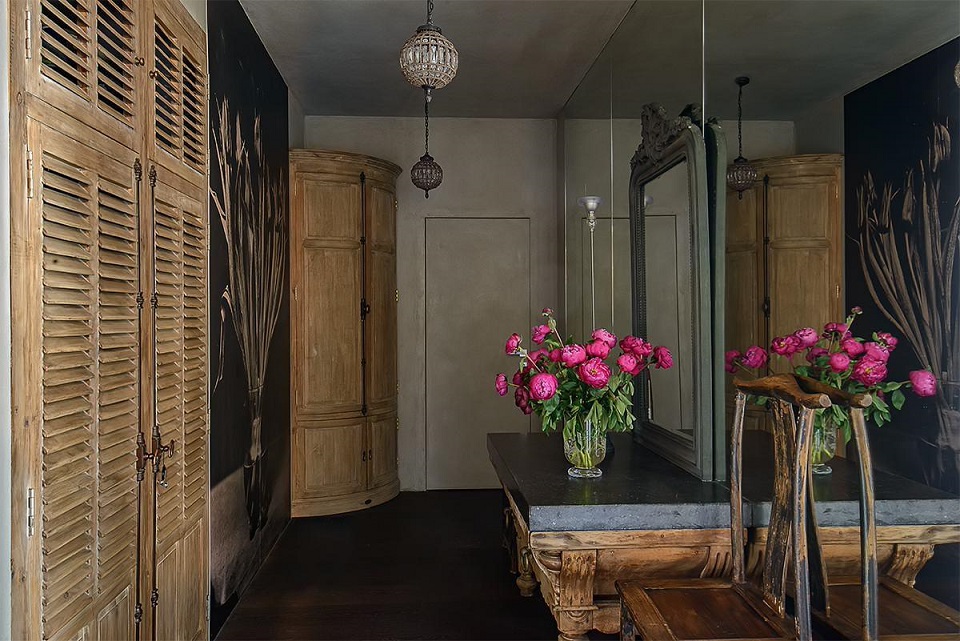 These built in cupboards make use of an under utilized hallway that are also eco friendly due to the fact that they're made out of reclaimed timber shutters. A secondary wedge shaped timber cupboard uses up the wasted space next to the hallway door and creates a point of interest. The dark shutters, floor and wall mural could close off the space but this has been combatted using one full mirrored wall with yet another mirrored leant against it. This reflects back the beautiful cupboards for double the fun!
16. Simple Kitchen Cabinet Layout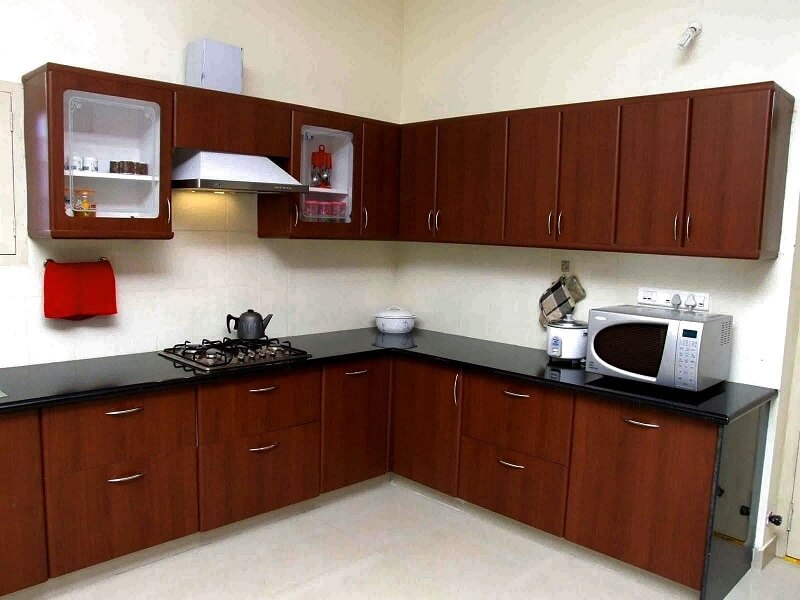 This kitchen cabinetry is a traditional style with equally tried and true red brown vinyl doors and a built in extract hood. The storage runs both under the black stone countertop as well as above head. The drawers and cupboards come in so many shapes and sizes to fit all your kitchen storage needs so they are as useful and efficient as possible. One element that sets this design apart are the two cupboards with windows set into them, letting you peek inside. You can either store items in these cupboards in cute containers that you want to show off or use them for decorative items to give your kitchen a personal touch.
17. Wrap Around Kitchen Cabinets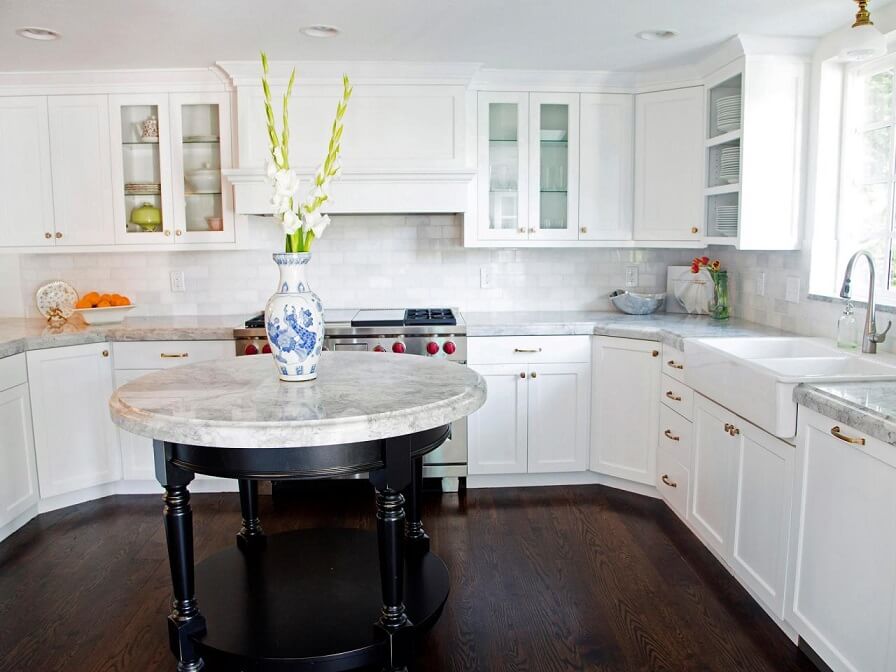 This glamorous kitchen cabinetry has been, yet again, rendered in all white and topped with a marble countertop that wraps all the way around the kitchen. The marble has been echoed in the small round kitchen island whose black base contrasts against the white cupboards. The spacious design has sleekly incorporated slots to fit the window, sink and gas stove. The glass cupboard doors can be functional or decorative, which is possible because you already have plenty of space for practical storage.
18. Generous Dressing Room Unit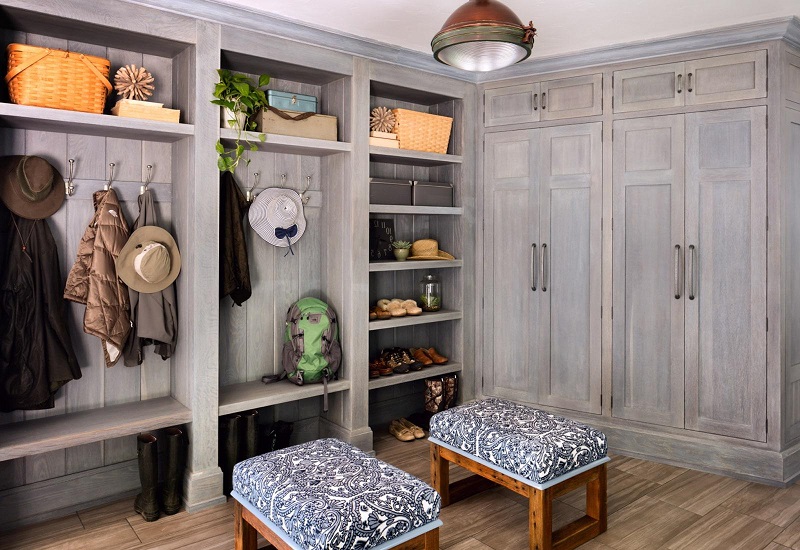 This rustic but expansive dressing room features a cool stained timber unit, which wraps around two walls with different pockets for different uses. It manages to make the space both useful and attractive all at once. The dressing room set up merges a big hanging space with micro cupboards above head, a shelving unit for shoes, coat and hat hooks as well as space for bags with more shoe space underneath. All of this still allows for enough floor space for a pair of little upholstered seats to use while you get dressed.
19. Cupboards Disguised As Windows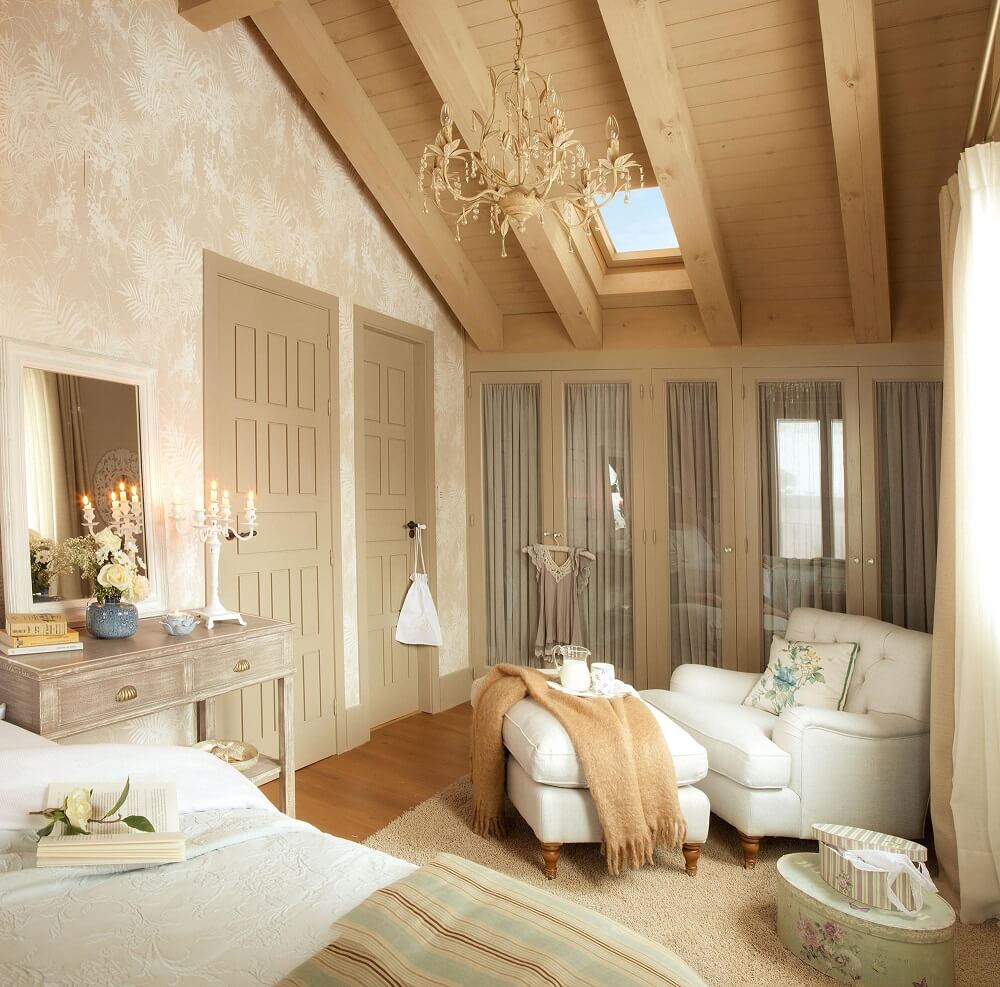 This comfortable bedroom features a floor to ceiling wall of cupboards with frames that match the colour and finish of the doors, which are both rendered in neutral beige tones. The cupboard doors, however, are something a little more unique. The glass cupboard doors have grey curtains hung behind them that fool you into thinking there is a wall full of windows beneath the exposed timber beams.
20. Contemporary Marble Kitchen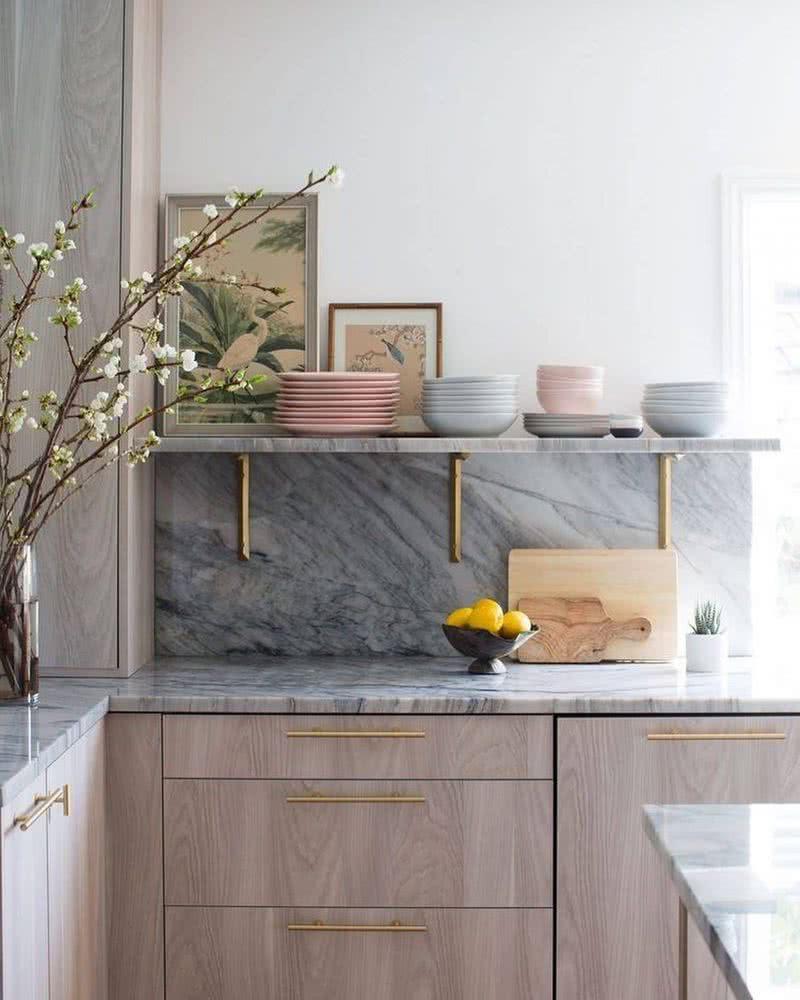 This contemporary kitchen has been designed around three main colours: pinky brown, grey and gold. The grey marble countertops and matching shelf sits on top of the elegant pink brown cabinets beneath. Like we've seen in other well-designed kitchen cabinets, this kitchen has cupboards and drawers of various sizes to serve your every need. The slim horizontal handles tie in with the gold L shaped brackets holding up the shelf that stores your crockery. This amalgamation results in a beautiful and very cohesive look.
21. Built In Wardrobe With Matching Interior Shutter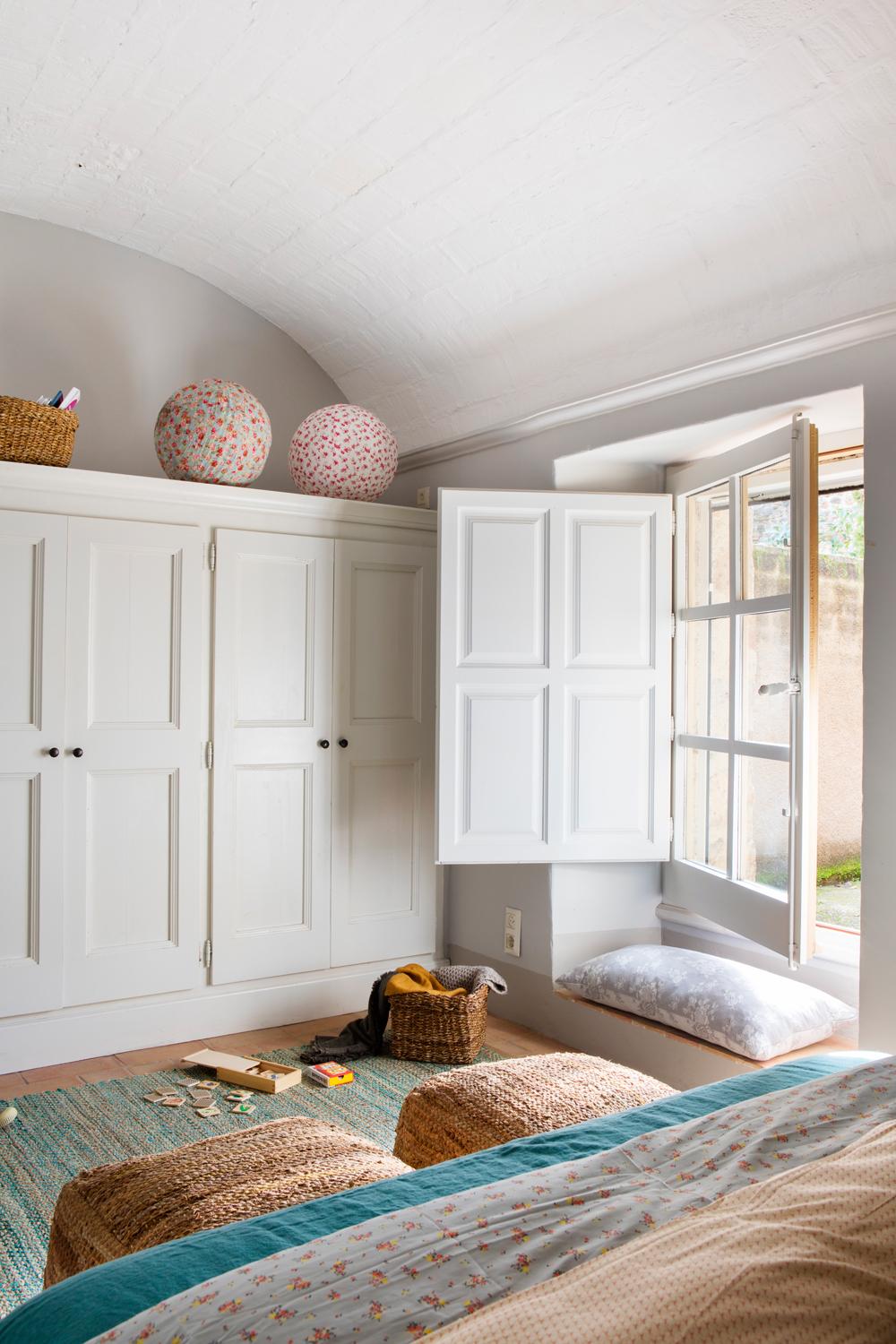 This set of deep white cupboards sits at the bottom of a beautiful white vault with vintage inspired paneled doors. The unit is both classically attractive and economical since its depth provides you with so much storage space. The paneling style of the cupboards has also been used in the internal shutter on the sizable dormer window with cozy window seat that makes the design flow seamlessly together. The colours, soft furnishings and painted brick vault that make up this room creates a cozy place to spend your time in.
22. Oak On Oak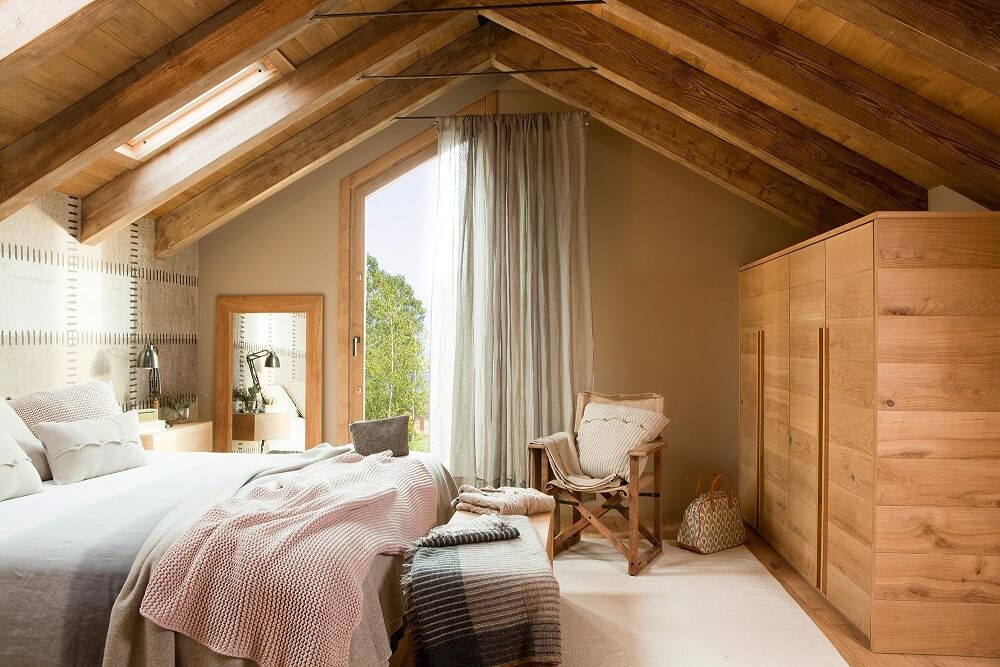 The main star of this bedroom is the pitched exposed beams made of oak. This gorgeous timber has been used throughout the room in the window and mirror frames as well at the spacious cupboard, which has been made of a smoother iteration of the material. The chunky, statement piece would not be able to fit in just any space but this room can get away with because of the tall pitched roof that opens up the whole space.
23. Art Deco Corner Cabinet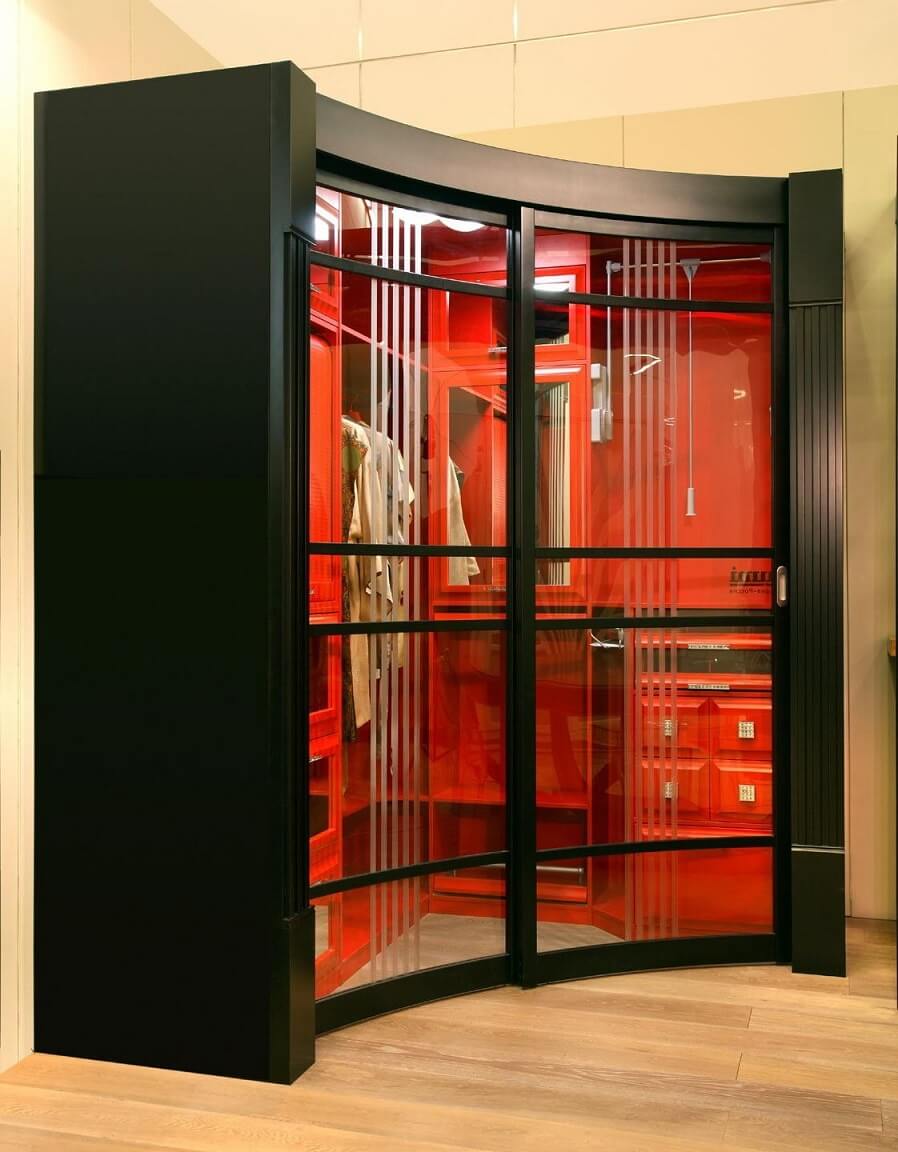 This unique Asian inspired glazed corner cabinet changes up what is expected when it comes to cupboard design. The bright red interior with gold details is encased in a matte black shell that lets you peek in through the curved, glass sliding door. This bulky unit softens the corner of the room and makes a feature of a functional piece of furniture. The interior provides plenty of storage space in different forms: hanging space, mirrored cupboards, gilded square drawers and shelving. Storage like this is the perfect example of how to make an everyday item a key part of your interior design.
24. Full Wall Built In Cupboards
This alabaster bedroom has made use of a full wall of cupboards that blends into the walls of the same colour. The design is simple with some subtle piping to highlight the shapes of each door with one elegantly sloping end for some visual interest. The taller cupboards have smaller high level cupboards for less frequently used items while one of the sloped doors hides a full height tiered shoe cupboard behind it. This keeps your shoes organized and far less cluttered than storing them on the cupboard floors. The whole unit is unobtrusive but endlessly functional.
25. Luxury Corner Unit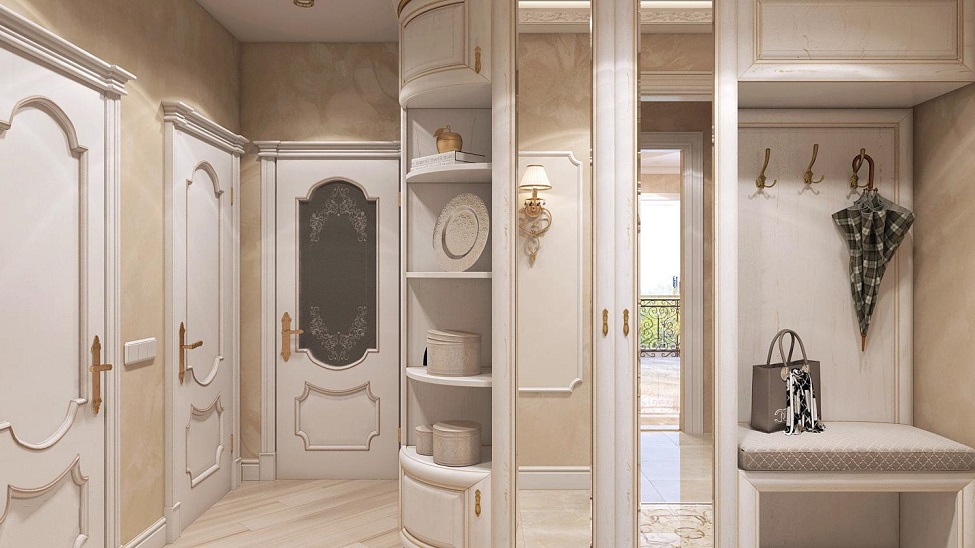 We have seen corner cupboard units previously in this list but this luxury set up flips the switch and wraps around the corner rather than sitting within the corner of a room. The multi use cupboard curves around from the doorway to the mirrored cupboard doors on the opposite side. It also includes wedge shaped decorative shelves and a recessed space for coat hooks and bag storage. Its moulded frame has been designed to match the elaborately moulded entrance doors that it faces with small gold details throughout. The whole design is drawn together by the patterned wallpaper, which oozes vintage glamour.
Conclusion
Hopefully this comprehensive list has proved to you that cupboards are a fun and creative side to your interior design experience.
They can be innovative multi use objects like cupboards that double as headboards and room dividers or, as the last example shows, serve multiple functions within one cohesive unit. From timber and vinyl to more unexpected glass and mirrors; cupboards can be made of any materials you desire to flow with your room design and function. They can revive dead hallways and make them something pretty and useful or fit into some unusual spaces that would otherwise go unused and unloved.
So, armed with your newfound inspiration, you can go flex your creative muscles and solve your storage problems with style.