Fireplaces are a beautiful feature frames by a mantelpiece that automatically infuses your space with a sense of comfort and warmth. These mantelpieces can get expensive however due to the fact they they need to be appropriate to be in close contact with intense heat for extended periods of time. But never fear, there are solutions to fit every budget without compromising on aesthetics.
25 Cheap Fireplace Mantel Designs to Frame the Hearth of Your Home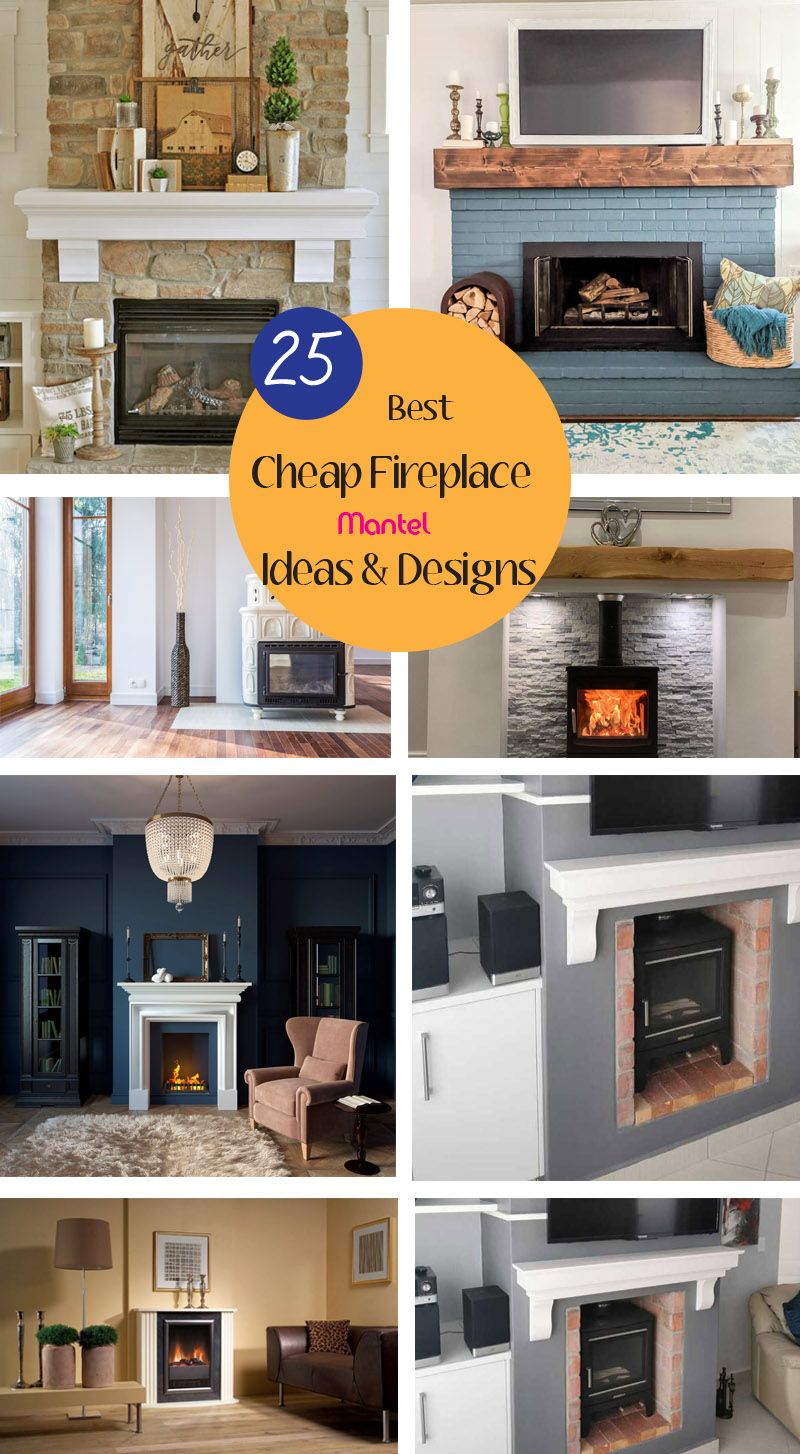 Due to the fact that fireplaces are expensive to maintain and not very eco friendly it is quite common for them to be blocked off. This actually opens your space up for some really interesting decoration opportunities that maintains the rustic beauty of the fireplace without the heat or mess. The lack of heat also means that you can use materials previously unavailable to you for mantelpieces such as plasterboard or untreated wood, which are both cheaper options that look just as beautiful as the real deal.
So if you feel your fireplace, whether it be useful or decorative, needs a little upgrade here are:
1. Thick Golden Lintol Mantelpiece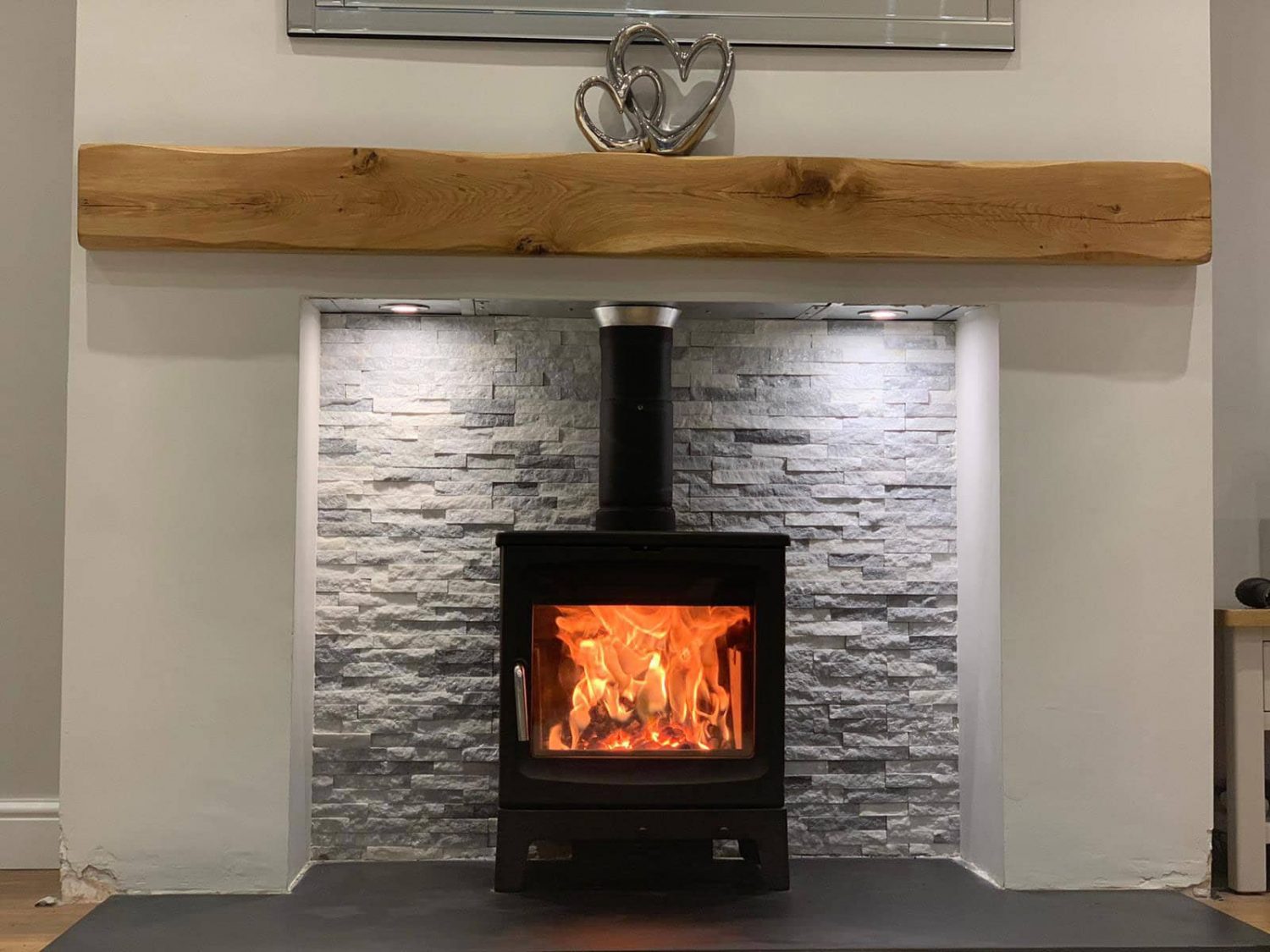 This little freestanding fireplace with a built in flue has nestled in the recess that the original fireplace resided. This style of fireplace doesn't need a mantel but it is a beautiful luxury that provides space for décor over the flames. The mantel is one thick timber log with uneven rounded edges mounted to the wall and topped with a delicate twisting sculpture. This is a style that you could DIY at home simply to save you money.
2. Beautiful Log Mantel Over Faux Fireplace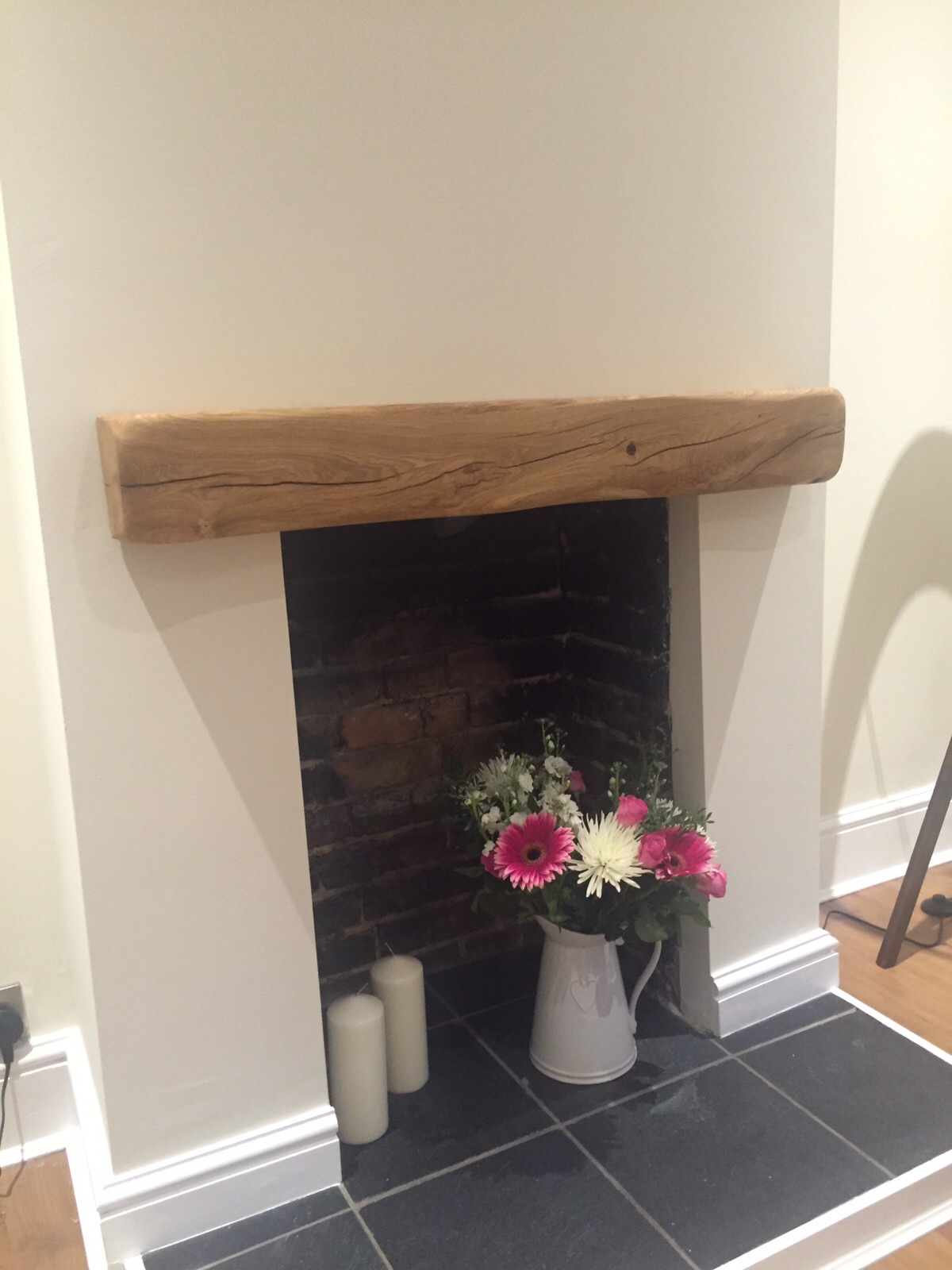 Fireplaces require a lot of maintenance so some people choose to seal over the chimney but leave bricked recess in place as a novel piece of room decor. This fire licked brick recess as a similar mantelpiece to the above example but this time not over a fireplace, freestanding or otherwise. The chunky squared log has rounded edges that have been sanded smooth to bring out the natural beauty of the woodgrain amplified by the white wall it is mounted on. The recess is now available for you to decorate with tall pillar candles and a watering can of flowers to create this beautiful rustic scene.
3. Simple Moulded Mantelpiece Around Original Red Brick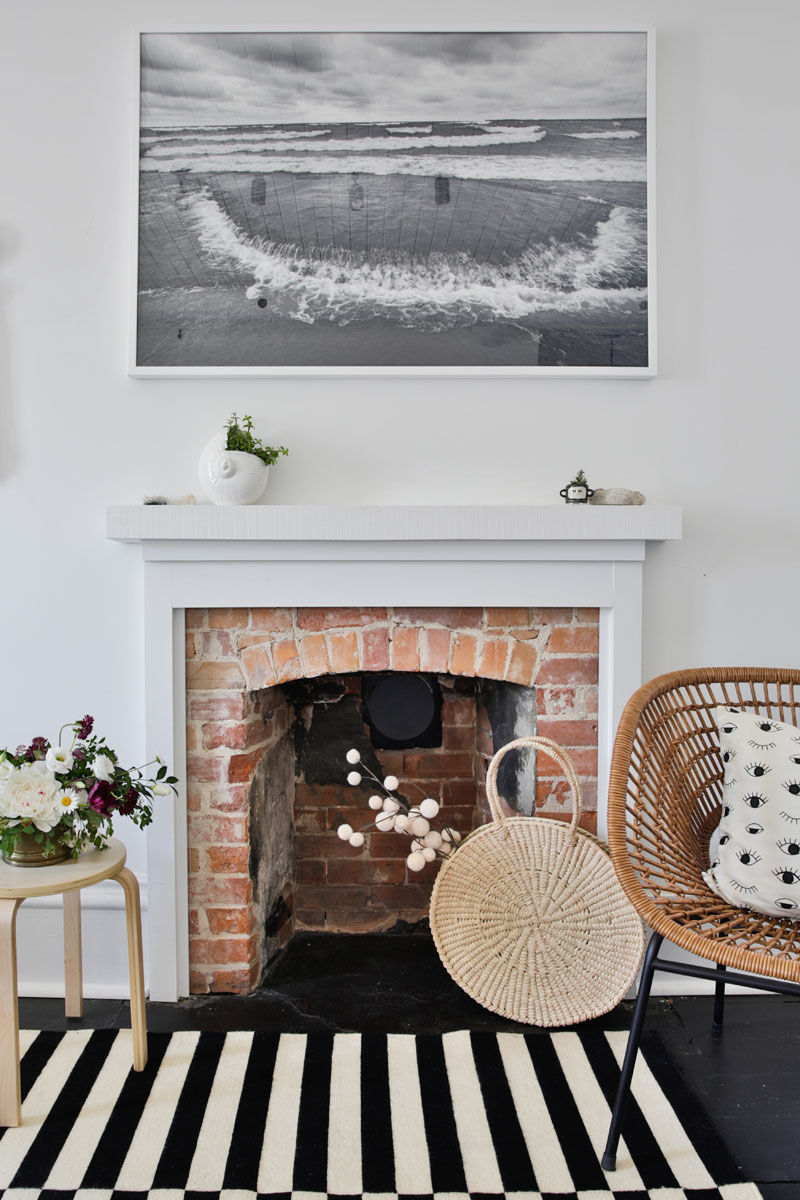 Like the example above, this original fireplace has been blocked but the original red brick recess remains. The beauty of this old brick is emphasized using this cheap mantel made from simple painted timber frame with a chunky shelf on top. This white mantel fades into the white walls so the recess and the decorative elements on top are the main focus point.
4. Black Wall Mounted Mantel on Stone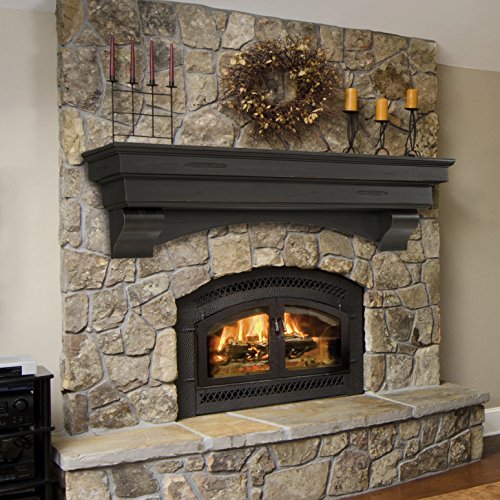 This large stone fireplace has been raised above the ground with stone facing surrounding the chimney. The small fire is nestled in a matte black steel, arched fireplace that ties in with the huge oversized moulded mantel also painted matte black. The moulded timber can be mounted to the stone yourself at home with the stone acting as the solid base.
5. Ivory Timber Mantel on Exposed Stone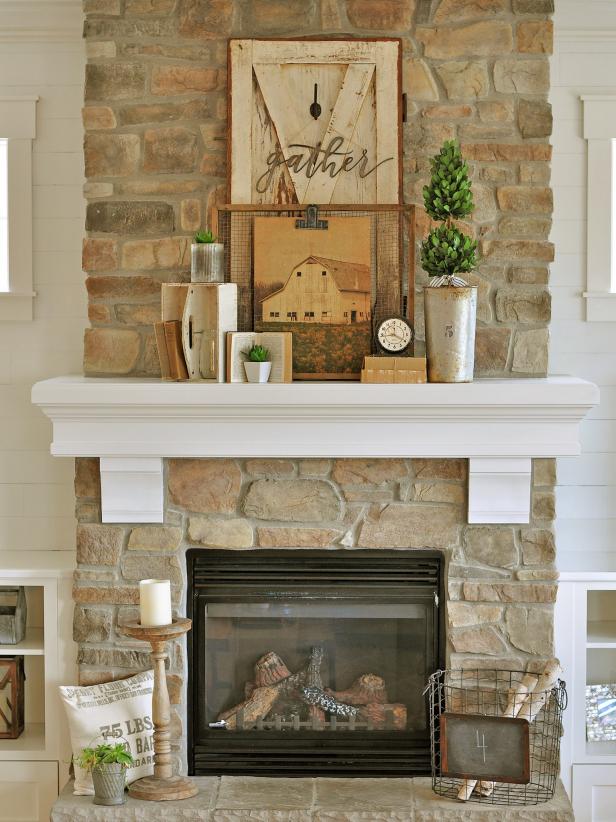 In a similar technique to the example above but with more modest proportions, this mantel is built from white painted timber with a flat shelf that wraps around the stone chimney. The simple moulded shelf is supported on two curving braces, which is a something you could execute yourself at home. The bright white timber is contrasted by the exposed stone that runs up the length of the chimney, which combine to create plenty of space for layered décor over the modest fire.
6. Built in Recessed Concrete Fireplace and Mantel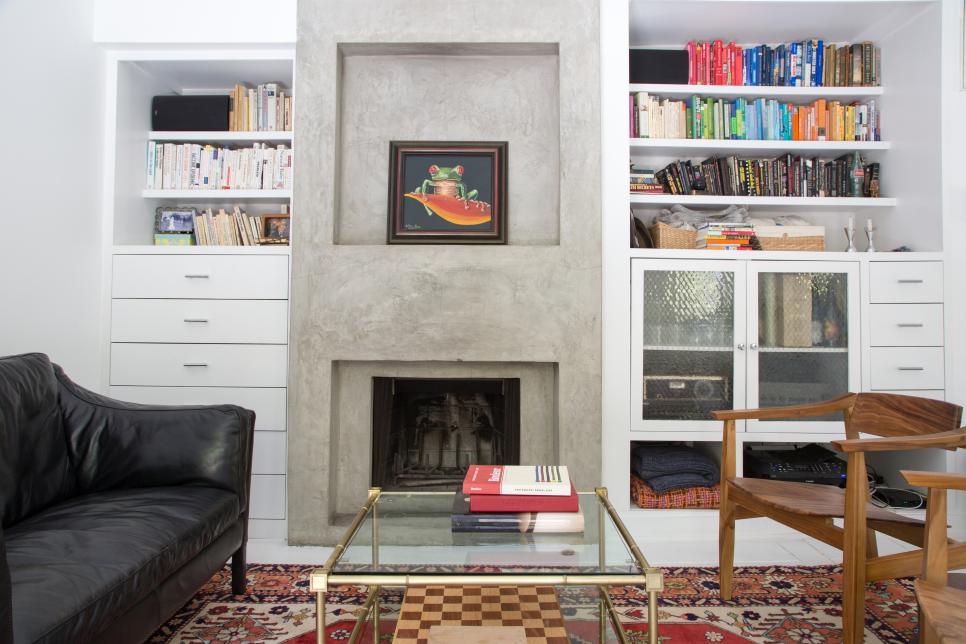 Instead of having an additional mantelpiece separate to the fireplace this modern design has cast the fireplace, chimney surround and mantel all in one go at no extra cost. The smooth concrete column is flanked on either side by white bookcases and shelving that make it stand out beautfully. The bottom recess is rectangular and houses the fire while the top recess is square and forms the tall mantelpiece. The grey concrete acts as a modern neutral backdrop where you can hang or prop colourful decorations.
7. Cute Faux Bedside Fireplace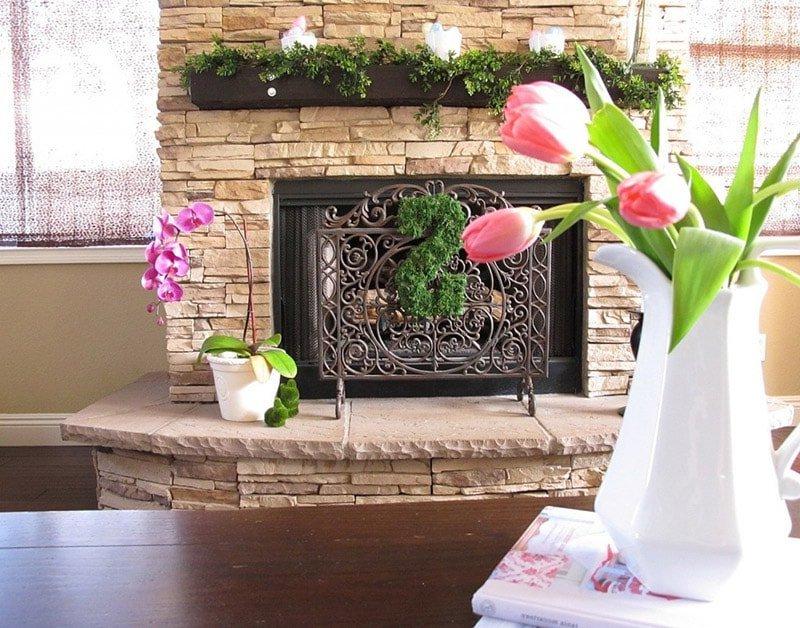 In a completely unexpected placement, this faux fireplace sits at your bedside. This little scene is constructed from light timber and plaster that have been crafted to look like stone with a stylized cardboard fire inside. Since this fireplace is fake it has no chimney so the mantelpiece is large and free to use everyday as a bedside table or decorate seasonally as seen above.
8. Powder Blue Fireplace with Thick Timber Mantel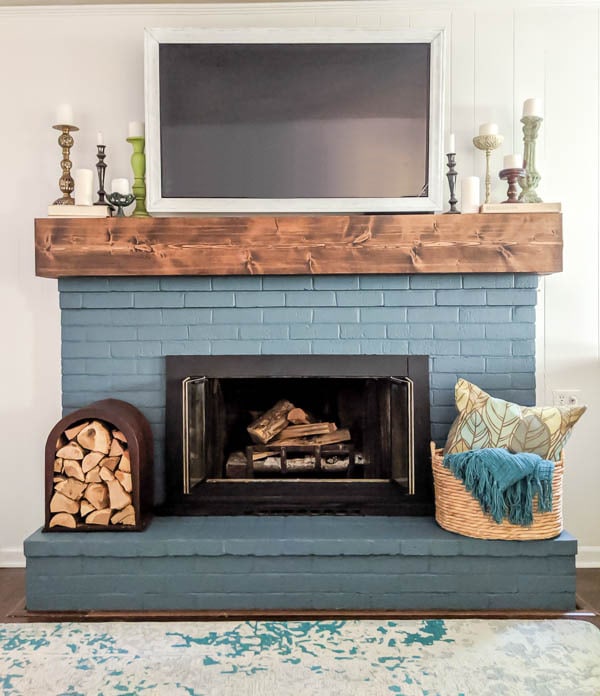 The raised brick fireplace in this contemporary lounge has been painted a beautiful powder blue that contrasts beautifully with the dark timber mantelpiece. Brick is a good insulator so that will prevent too much heat from getting to the thick timber slab resting on it, stained a deep shade. This chunky shelf holds the flat screen TV and a collection of eclectic candlesticks. A curved timber log kennel and a wicker basket of blankets and pillows sit beside the stainless steel black fireplace to accompany these pieces of décor and create this rustic contemporary aesthetic.
9. Terracotta Tile Corner Fireplace Mantel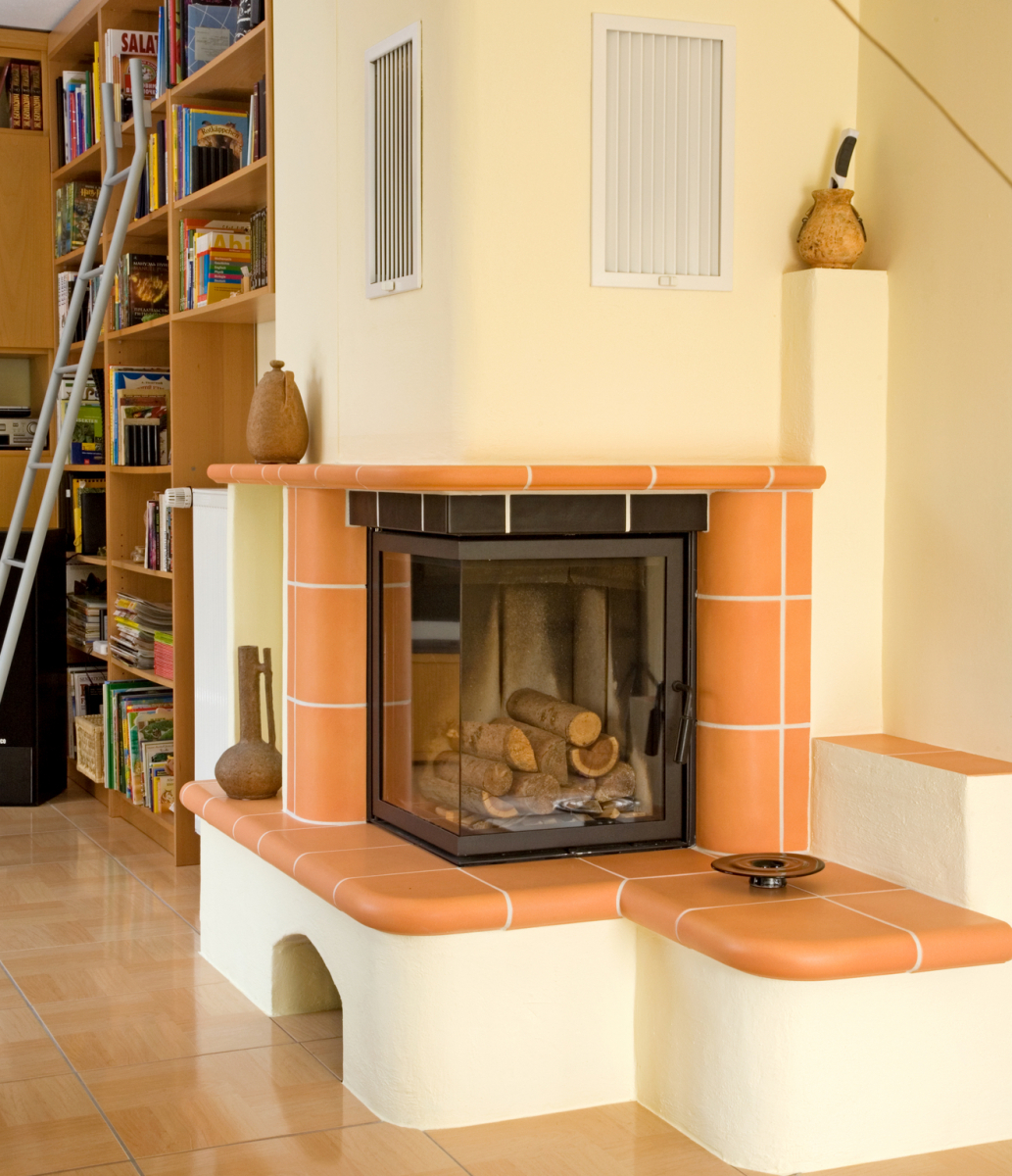 This beautiful corner glass fronted fireplace has been raised above the ground and incorporated into the curving pale yellow walls. The hearth and the mantelpiece have been emphasized by rounded terracotta tile that is cheap, especially when used sparingly like this but it is beautiful nonetheless. The mantelpiece curves pleasingly around the corner with the shape of the fireplace so you can decorate it from mutiple angles.
10. Built in Ceramic Mantel Around Bio Fire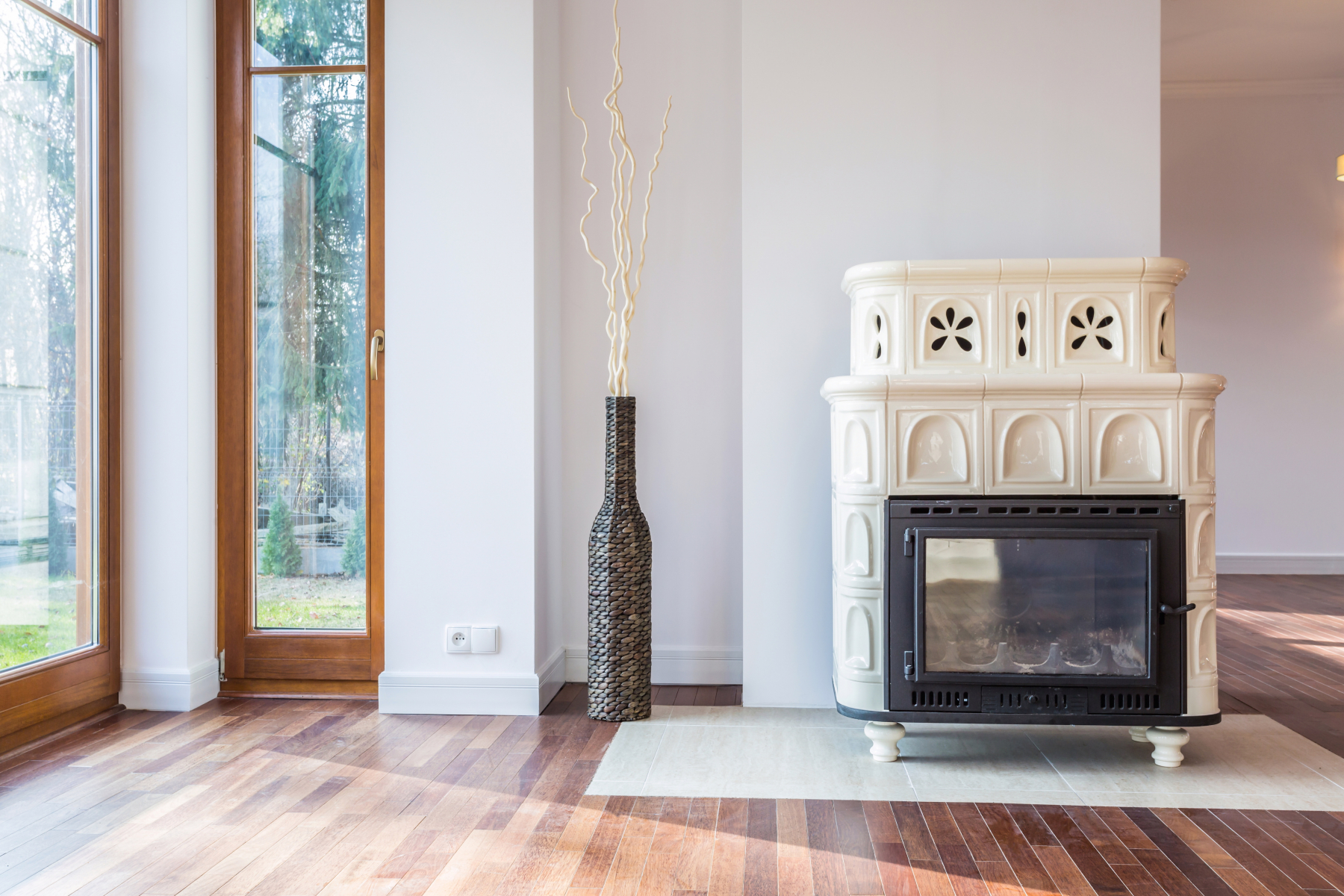 This open living room features a gorgeous freestanding fireplace sitting beside the tall floor to ceiling windows. The black matte rectangular steel fireplace has no chimney and is instead encased in a ceramic faced housing that incorporates two layers of mantels in its design. The recessed tiers of white tiles have two layers of panels that are decorative all on their own without the need to add additional ornamentation.
11. Thin Timber Wrap Around Mantelpiece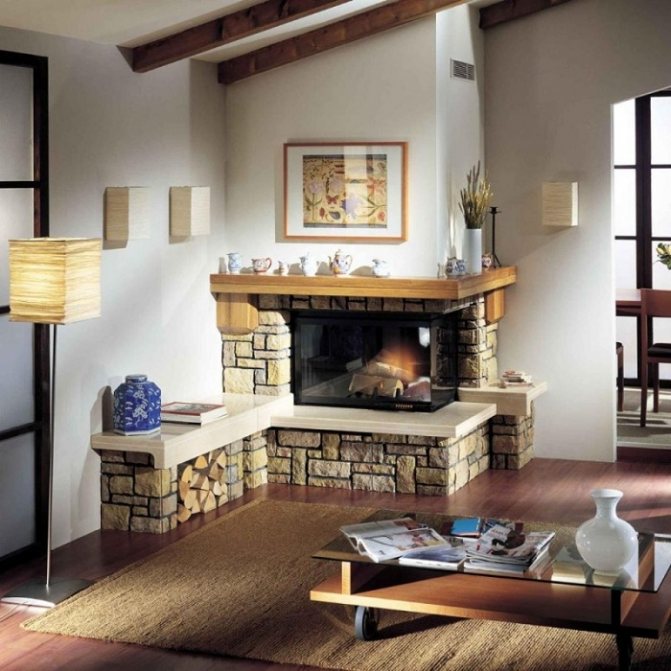 Here we have another corner fireplace with a glass front that has been raised above the ground on stone-faced platform. This stone continues up around the fire and supports the thin timber mantelpiece above. The slender golden timber mantel wraps around the corner with curving support brackets on either side with just enough space for little decorations all the way around.
12. Simple White Timber Mantelpiece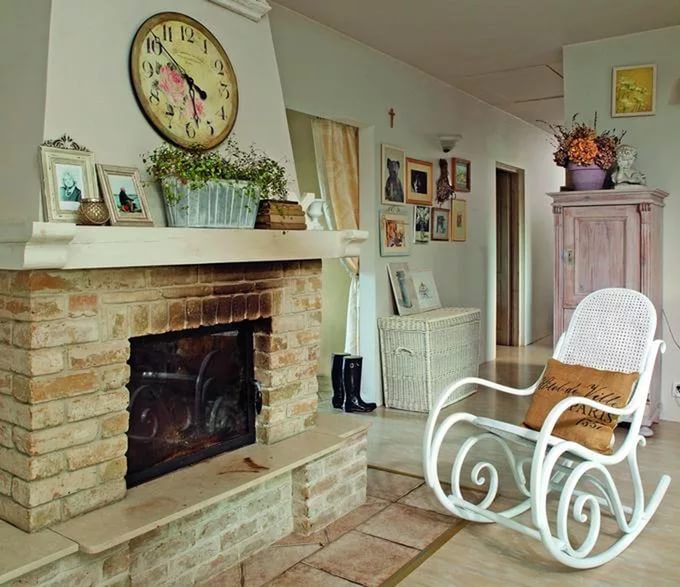 This original fireplace and mantel of this old house as implied by the accidental flame licked area across the right hand side. This shows that cheap mantelpiece solutions have been around a while and they can be just as resilient as their more expensive counterparts. The fireplace has been raised above the ground on a brick platform that runs up to support the cream painted and treated timber mantelpiece. The thin shelf has carved rounded edges on either side and runs around both sides. This design is very simple yet elegant and provides plenty of space for a variety of décor against tapering chimney on three different sides.
13. Peaceful White Fake Fireside Scene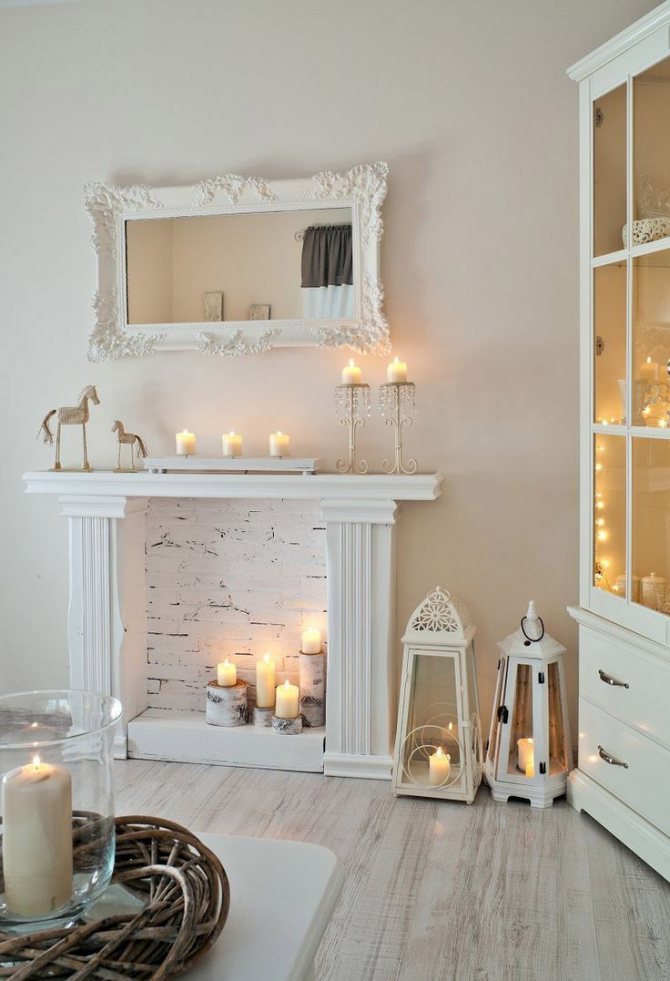 Here we have another sealed fireplace with the bricked recess painted white to assimilate it with the all white interior. The mantelpiece is supported on fluted columns with a thin timber shelf that doesn't need to be specially treated because there is no actual fire present The peaceful little scene is decorated above and below with candles in various forms that glow against the white surfaces in an ethereal way.
14. White Concrete Mantel Sitting on Painted Brick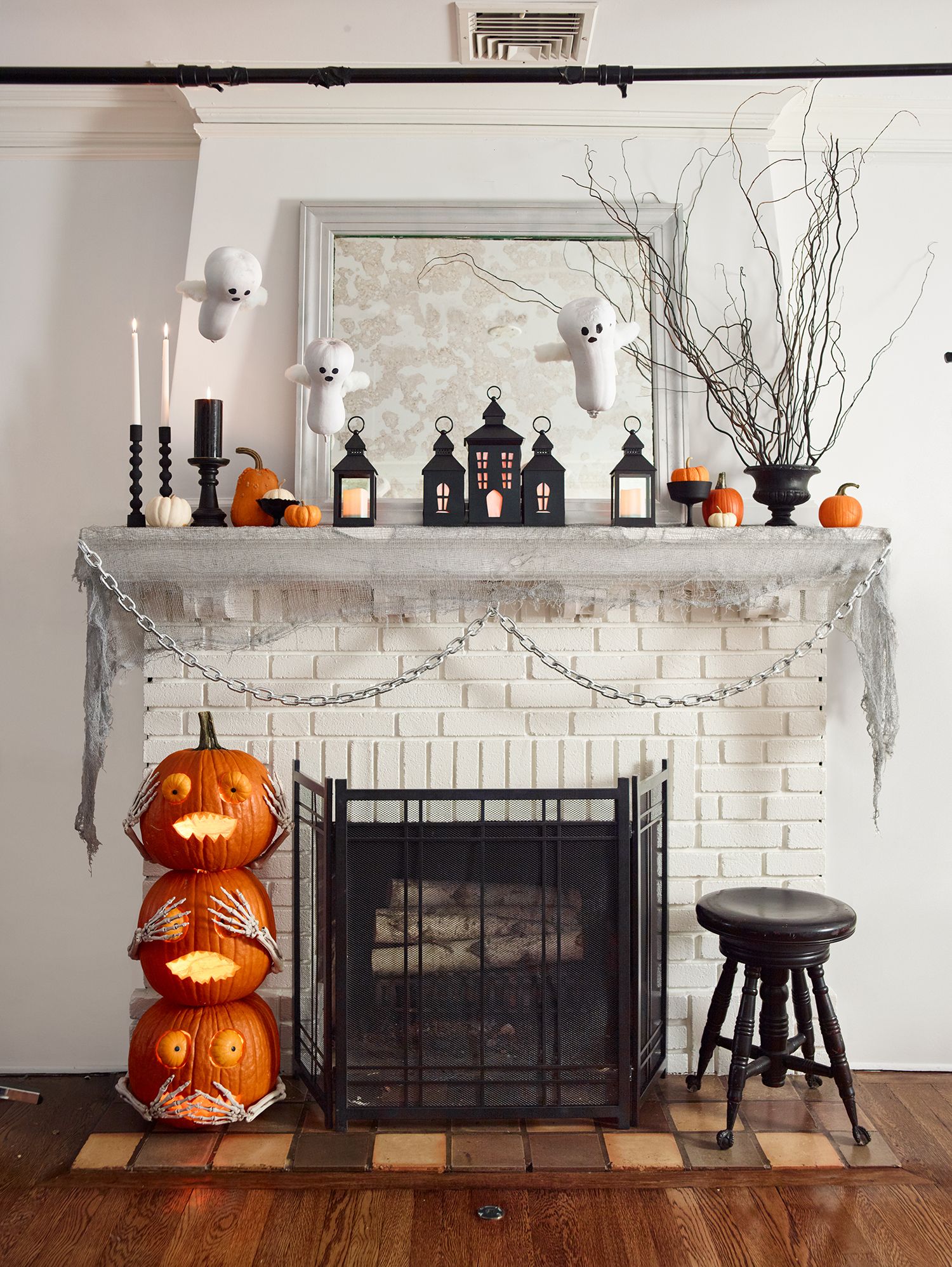 A simple mantelpiece is perfect for creating a blank canvas for decorating it seasonally depending on the time of year without the styles clashing. The white concrete has been cast in one piece with a quartet of little brackets supporting its protruding shelf. Concrete is both strong and relatively cheap as well as being simple to paint to coordinate with the white chimney, walls and white brick surround. All of this white is contrasted against the black fireplace recess and black steel grate in front of it.
15. Unique Bathroom Fireplace With White Mantel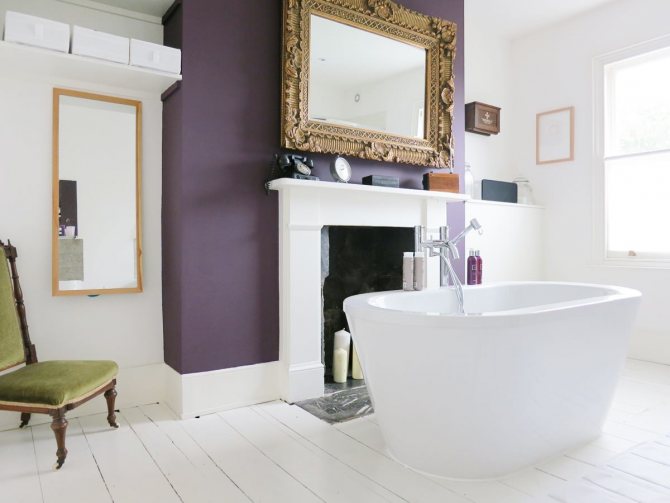 In an unexpected twist this faux fireplace finds itself in a modern renovated bathroom beside a luxuriously deep bathtub. The white timber mantel is contrasted against a plum feature wall while coordinating with the white tub, floorboards, walls and skirting boards. The glossy black recess it frames is filled with tall white pillar candles while the mantelpiece's shelf holds small decorative pieces with a massive gilded mirror above it.
16. Wall Mounted Timber Mantel Over Brick Recess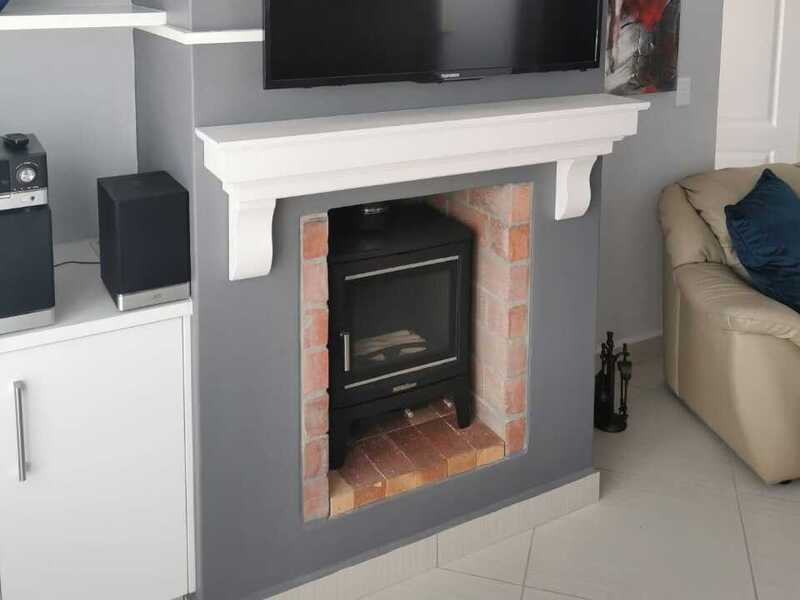 The little freestanding, matte black fireplace in this little contemporary lounge has been hidden in the bricked recess of the original fireplace. The grey chimneystack that the flue disappears into acts as the backdrop to the white moulded plaster or timber mantelpiece. This is lightweight and simple so you could install it yourself at home. The shelf acts as the base for wall mounted TV and provides an open space for decoration all in one neat package.
17. Installing an MDF Mantel Around Marble Fireplace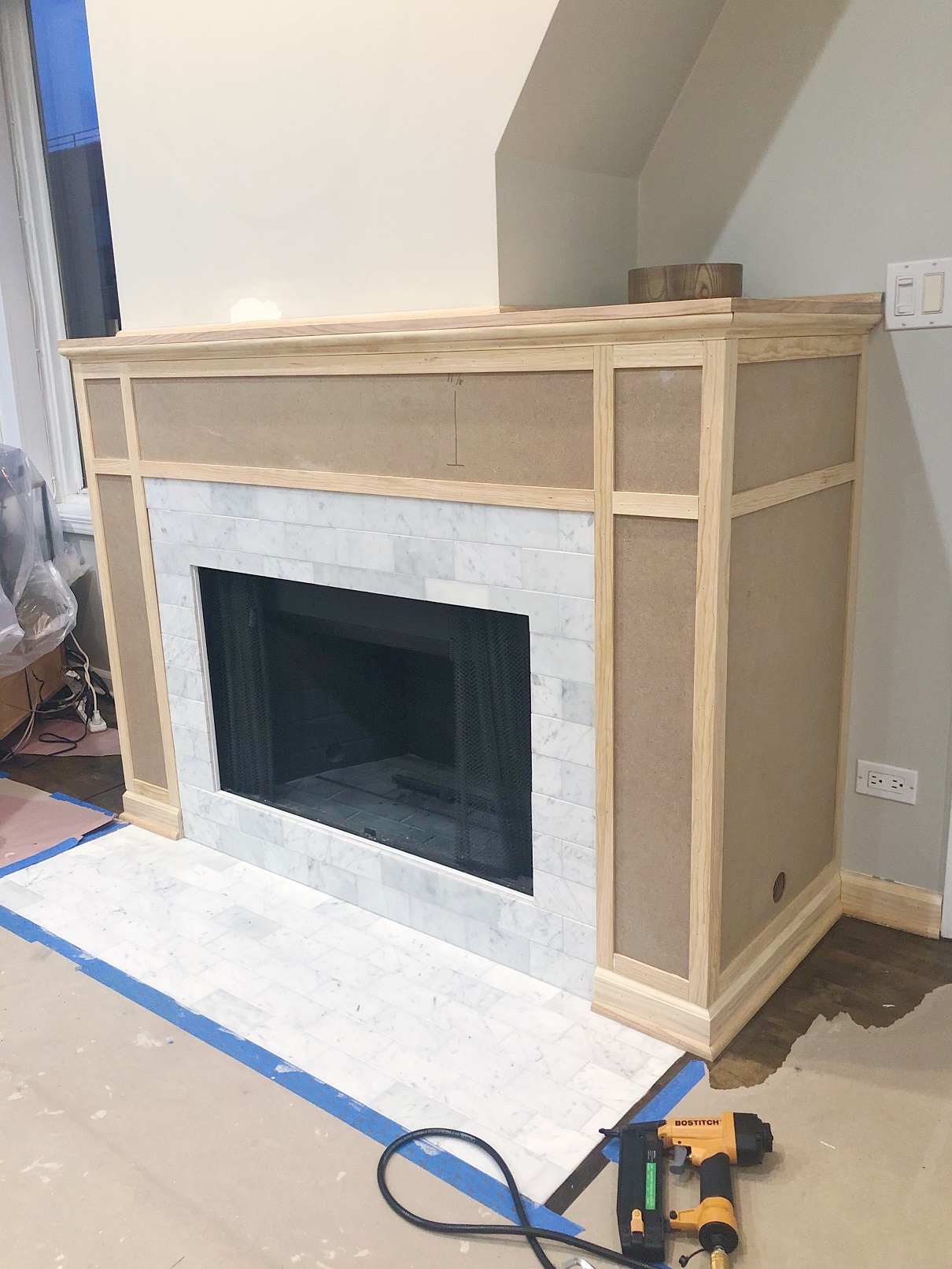 This custom built mantelpiece is made from MDF, which is particleboard and therefore cheaper than solid timber with only the trimming made from exposed timber. This allows you to put most of your budget into the marble tile surround and hearth with a black modern fireplace in the centre. The MDF mantel wraps around the corner to provide plenty of display space that can be cheaply painted to fit the aesthetic of the room.
18. Deep Moody Room with Bright White Mantelpiece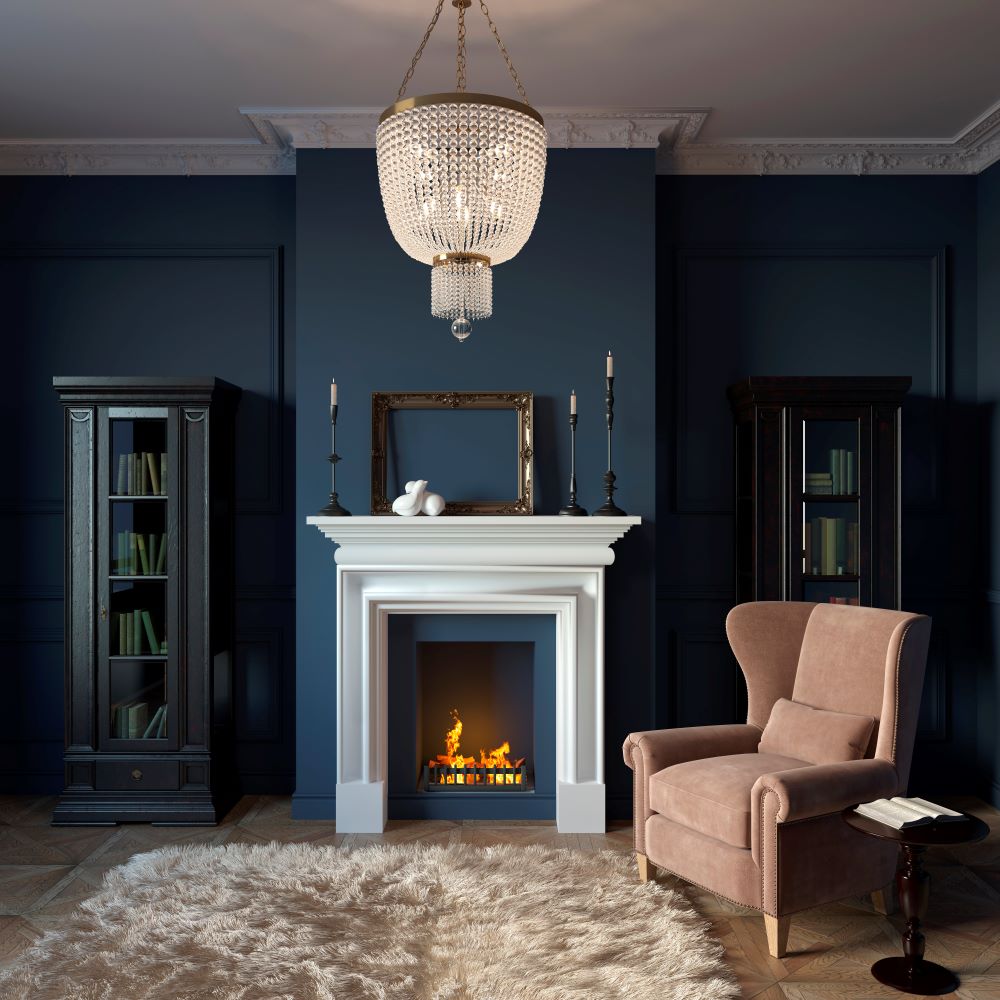 In this beautifully atmospheric lounge a moulded plaster or timber mantelpiece has been painted in bright white to contrast with the deep blue of the walls. Its stunning sculptural quality and stark contrast allows it to becomes a piece of decoration in its own right as opposed to just a vessel for other decorative pieces. This frame around the small fire is offset to create a thin blue frame within the white to create this beautiful scene. This, along with the fur rug and comfortable velvet armchair, creates a gorgeous, warm place to spend a cold winter's day in cozy comfort.
19. Rustic Vintage Timber Mantelpiece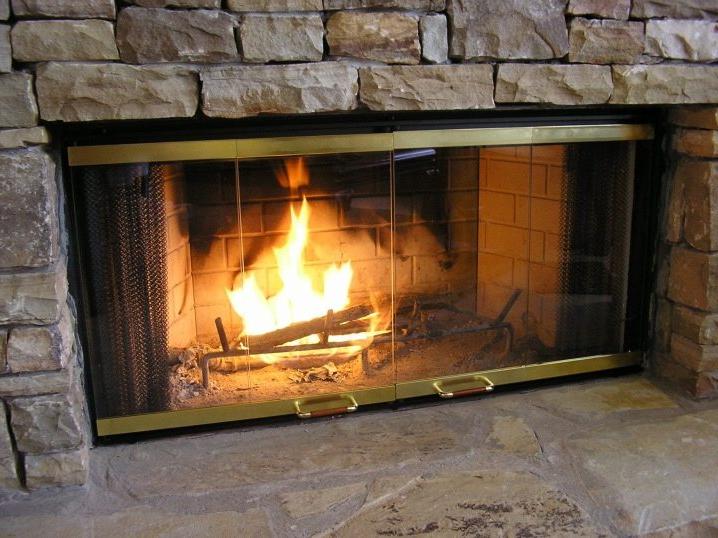 The imposing stone fireplace in this rustic living room has been raised above the ground on a stone platform that surrounds the glass fronted fireplace and chimney above. The mantel is a chunky timber piece with carved details that could be salvaged and renovated potentially from the original fireplace to upcycle rather than waste. The wrap around timber is stained a deep brown in layers that flare out to create a deepe shelf topped with trio of shining metal plates.
20. Premade Slender Timber Mantelpiece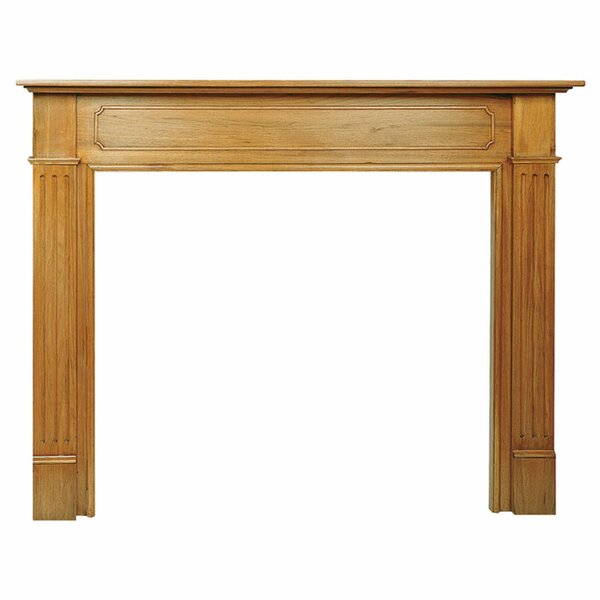 Mantelpieces can also be bought premade that includes the fluted legs supporting the top shelf. This warm timber mantel has small elegant details making the piece less plain with a thin shallow shelf above it where you can decorate more profusely. These can be ordered online and get it delivered to your door. Then you need to simply mount it to the wall and fix it in place with heatproof adhesive or sometimes built in fixings. These are lightweight and easy to work with as well as being easy on the wallet.
21. Thin Floating Timber Shelf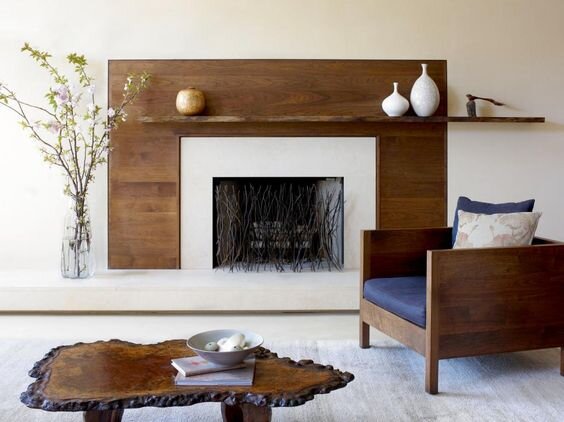 This modern fireplace has been raised off the ground on a white shelf that fuses with the white frame around the fire with a thick timber frame around that. The modern take on a mantelpiece takes the form of a thin timber, floating shelf that you can easily install yourself. The wood of the shelf blends into the timber frame and projects off one end in a sleek manner. It has been simply decorated with chic vases to pull this minimal design together.
22. Decorative Plasterboard Faux Fireplace Mantel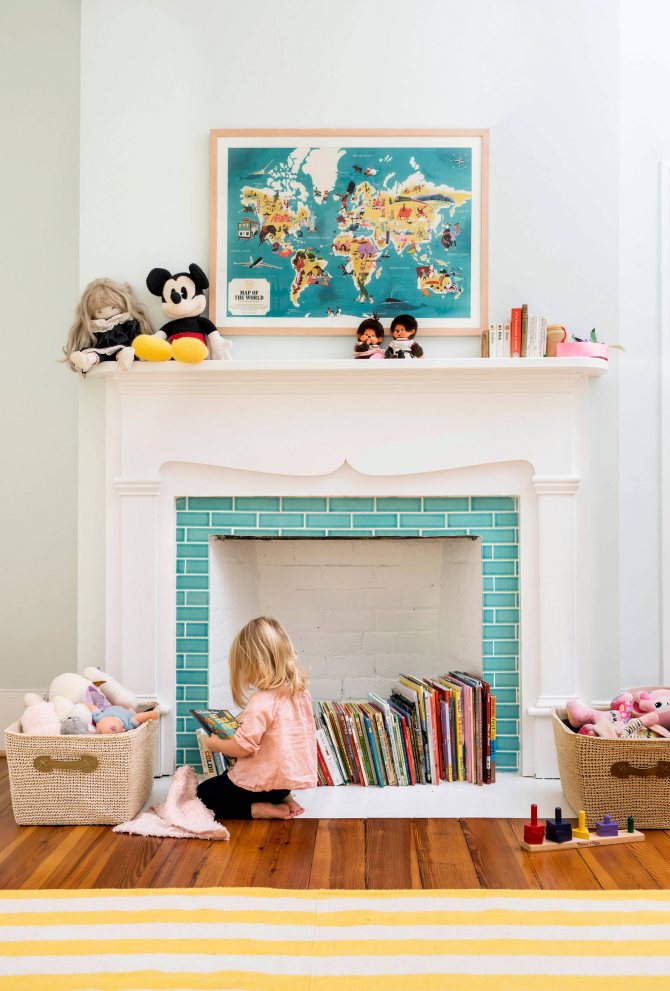 A peaceful but fun little scene has been created in a child's bedroom where the original fireplace has been removed. Since it doesn't need to resist any heat the mantel can be constructed from white moulded plaster with delicate white on white details set against white walls to keep it subtle. To bring in a spark of fun teal subway tiles encircle the white brick recess and add a pop of colour. This creates a stunning blank canvas for the colourful toys sitting on top of the shelf and picture frame hung above it.
23. Modern Monochrome Faux Fireplace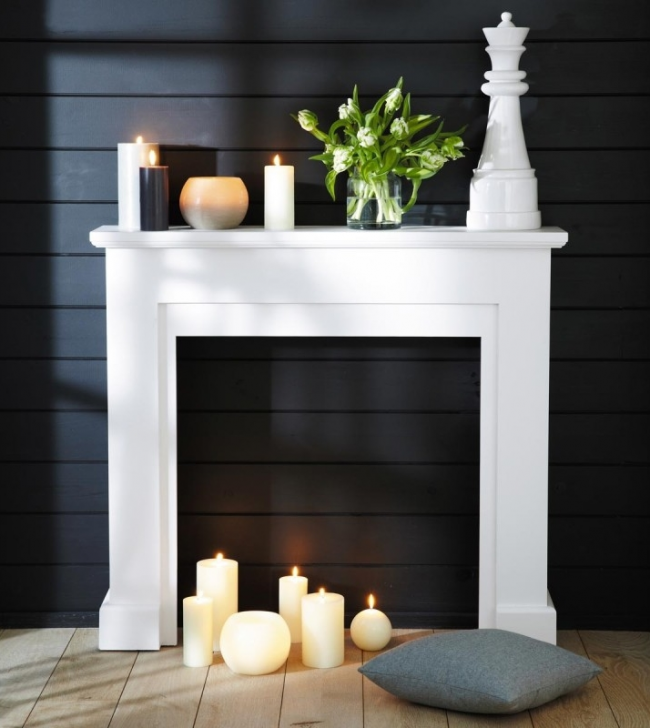 If your home has no fireplace, especially in a modern build, but you still want the homely aesthetic is brings then this lone mantel is perfect. Since there is no fire the mantelpiece can be built from lightweight plasterboard that is cheap and easy to install. It has been painted bright white and set against muted black wood paneled walls to create this stunning monochrome tableau. The void has been filled with candles sitting on the floorboards in the place of an actual fire. The shelf on top is decorated with more candles on top with large white chess piece to finish off this black and white scene.
24. Black and White Columned Mantelpiece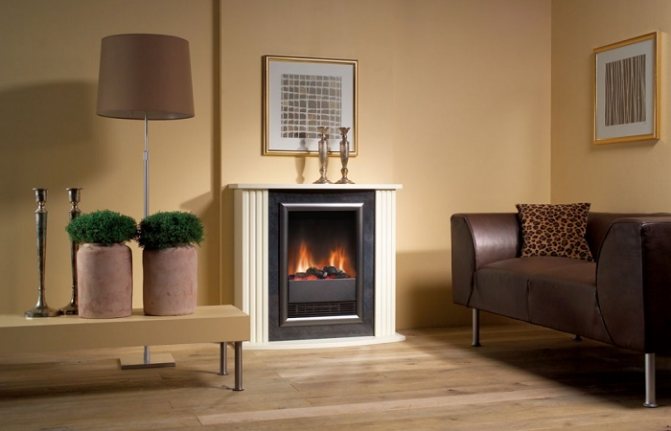 Cast against chic pale ochre walls this black and white bio fireplace sits comfortably within this modern room. The mantel has two white fluted columns on either side of the tall black, rectangular fireplace running between with a thin timber shelf on top holding a simple set of candlesticks. This look is really minimal but effective within this elegant space without having to spend money on an eleborate design.
25. Reclaimed Timber on Black Brackets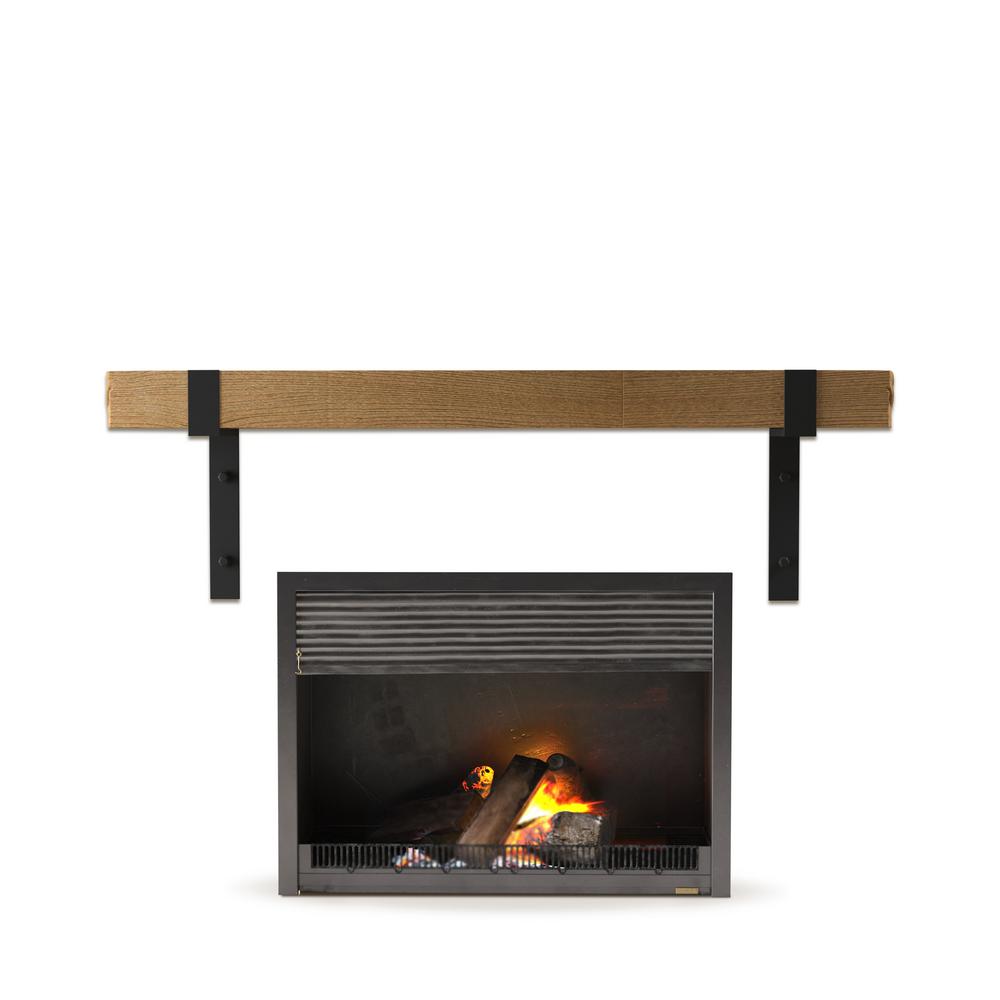 This chic mantelpiece is another simple style that you could execute yourself at home. Sitting above a small recessed real or bio fire this mantelpiece has been created using a plank of reclaimed timber that has been stained and sealed to handle heat exposure. They have also cleverly made the right angled support brackets an essential part of the minimal design that wrap around the edge of the timber in a chic contemporary way.
Conclusion
Well there you have it, a plethora of cheap but beautiful fireplace mantels that enrich your space and provides you with plenty of decoration space over the fire, or lack thereof.
Some of these ideas could even be executed yourself at home if you have the tools at your disposal to mount the mantelpieces to your wall yourself, which saves even more money in installation fees. So let your creativity run wild and try out some of these solutions to decorate your home in a cheap but stunning manner.