The porches, gardens and terraces are spaces that, although they are not essential in the house, make it a more pleasant place and generally give us more happiness. As for the porch, this is a space attached to the house, with a roof and generally totally free on its vertical sides, making it ideal for creating ventilation in the house and protecting it from the rain. The porch is also the preamble to your house and as such can become more important.
There are many possibilities when decorating a small porch, from more sober and elegant ideas, to designs of true visual delight. In addition, the decision of how to set the porch will also depend on several factors such as size, the function you want to give or the design of the house itself.
In any case, taking good care of the outdoor space will make enjoyment multiply and make meetings with friends and guests a real success. Therefore, having the porch well maintained and ideally furnished is a key aspect of the exterior.
Today we show you 25 examples of small front porch ideas and designs for you to get inspired and design yours.
25 Small Front Porch Ideas That Will Beautify Your Outdoor Space

More than a place to shelter, a house must have certain characteristics that give it that homely and familiar aspect. Although they are not extremely necessary, they are a comfortable and visibly beautiful whim. This is the case of the porches, which can easily revitalize the image of a house, however simple it may be.
A porch is a space attached to the house, open on its sides but closed at the top. That is, it must be free of walls but protected by a roof or cover. The porches protect you from the rain in the access of your house, they provide a preamble to your entrance (here kisses of farewell and conversations with neighbors occur), it is also a place to rest, get fresh air, and enjoy nature without leaving home.
There's nothing more romantic than sipping lemonade on the front porch of your home on a summer afternoon. Originally designed as areas to cool off in the heat, porches today are designated areas for relaxation and entertainment. Today we have prepared a great selection of images of houses with porches, do not miss this tour and take note of some practical ideas.
The most common way to build porches is by using columns that support the roof in the furthest part of the facade. Although in certain models of modern construction modern porches with cantilevered roofs are achieved.
Advantages Of Small House Porches
The main advantages that these spaces bring to small houses are the following:
Gives visitors a first glimpse of the home, allowing the perception of a cozy and calm environment.
Allow you to protect yourself from weather variations, because it is covered by a roof.
It is in contact with both the interior and the exterior of the house, thus allowing permanent furniture to be placed.
It allows a wide use and enjoyment despite its cost.
Can be closed at the sides.
Here are some ideas that we find very interesting:
A hammock between two trees, attached to a gazebo or between two walls, with colors that match the rest of the decoration, will give a special touch and, in addition, allow you to take long naps on days when the temperature invites you to sleep outside.
The white color in the decoration is always a success and the white colors used in the curtains and upholstery of the sofas on this porch makes the green surrounding it stand out even more.
The use of traditional Materials to decorate exteriors of houses, such as stone and wood, accompanied by brightly colored textiles or using the palette of natural tones, give a very special touch to your small porch.
If you have access to the outside in summer, you can open the doors, making it easier to keep the house cool due to the ease of air circulation, creating spaces connected to each other and open to the garden.
The fiber furniture as protagonists and the colors in blue tones define the personality of the porches. The natural fiber gives warmth to the space and the blue details remind us of the proximity of the sea.
You can use natural fiber rugs, since they give warmth to the floor and also serve as limits to place the coffee table in the area on the porch if you decide to place one.
To make the space wider, you can make custom furniture, for example a bench, which also serves as a seat to share the living area with a central table for lunch or dinner, on long summer nights.
Large cushions are also heavily used. They are accompanied by other smaller ones in front to increase comfort; they fill the porch with a fresh, cozy and modern air…
Do you have a porch and don't know how to take advantage of its full potential? You are in the right place. Pergolas are your best allies to make this space a place to enjoy to the fullest. Its ability to create charming areas a few steps from the interior of your home makes them a perfect resource to incorporate into the decorative project of your outdoor spaces.
Do you want your porch to stay fresh all day? Surround its walls with climbing plants. Bougainvillea, night lady and jasmine need a location in full sun, while ficus, dipladenia and snowdrop prefer a half shade.
Types Of Porches
Corner
It is the extension of the roof of the house without walls, which when located at the main entrance becomes a comfortable porch ideal for family moments and meetings with neighbors.
Large wooden-covered steps
It is covered by the extension of the roof lined with tiles, and its space is defined by the large steps of the entrance.
With lattices
It is the one whose main characteristic is the construction based on ventilation blocks that also allow light to enter.
Narrow
It allows two functions, corridor and stay, especially convenient if there is more than one entrance on the main facade.
Independent of the house
As its name says it is one that is not linked to the house, therefore the construction is autonomous and can serve to protect or cover a vehicle.
Small and robust
It allows defining access to the house and delimiting access, providing character and personality to the home.
Colorful and vegetated
It is a porch that is decorated with plants and painted in bright colors, giving a cheerful perspective to the home and providing a pleasant welcome.
Let us remember that the porch is the home area that is in charge of the invitation to pass, so if it is well arranged it can give you the hospitable vision of home that we are looking for so much.
Although the home is simple, the porch allows a homey perception that simply turns even the smallest house into a comforting place, that's why we will show you some options or types of small porches.
1. Small Porch In The Back Of A House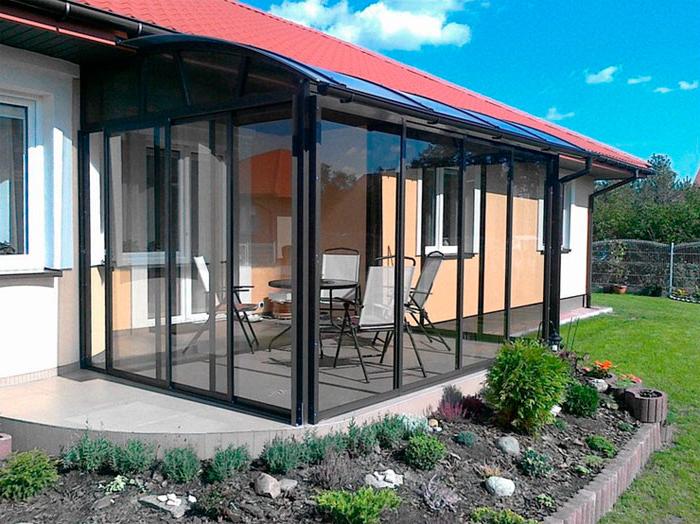 A small porch at the back of the house is always a good idea to have coffee in the morning while enjoying the view without having to be disturbed by the neighbors. In this property it has been decided to completely close the porch, but with transparent walls that allow maximum visibility.
2. Balcony Front Porch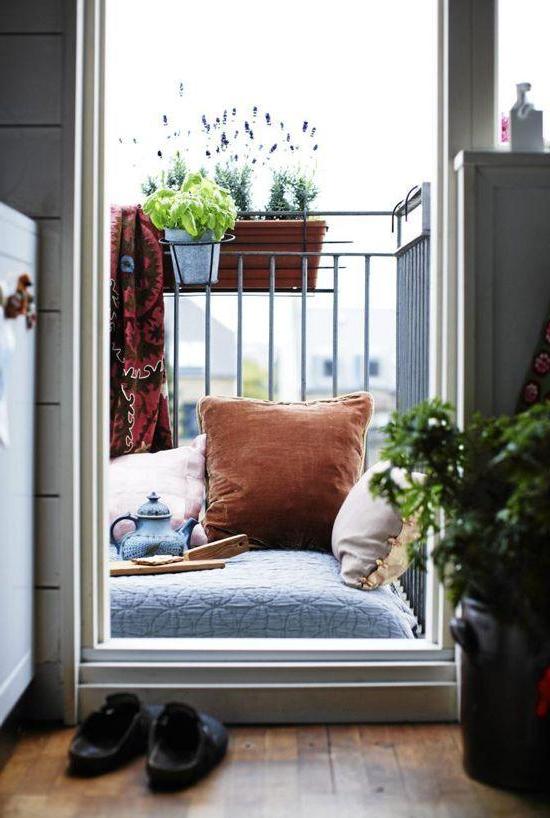 Whether you live in an apartment, on the second floor of a house, or want to upgrade your room upstairs, a small porch will give you the freedom to get up in the morning and enjoy the view while still wearing your pajamas. A small balcony can also be transformed into a porch.
3. Back Porch With Closed Transparent Walls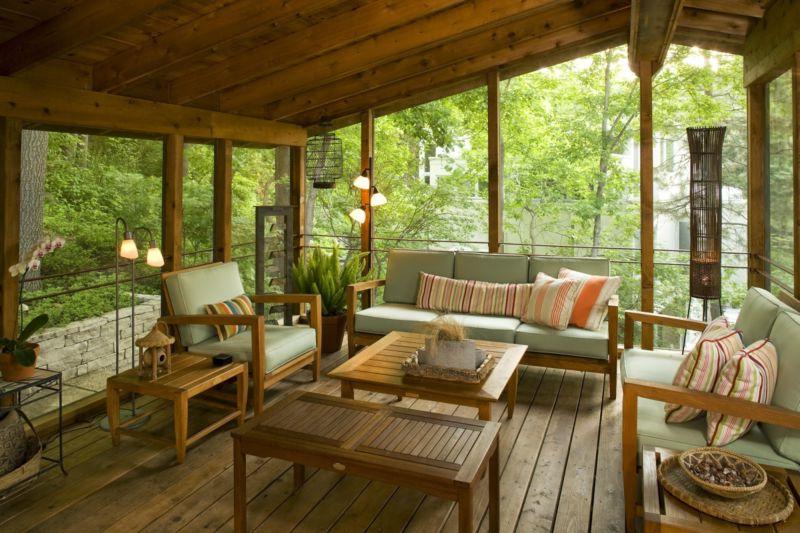 This back porch in a cabin is the ideal place to have visits, have a cup of coffee or share a snack. The closed but transparent walls allow you to enjoy the view without the hassle of insects and also maintain the temperature throughout the year.
4. Decorated Porch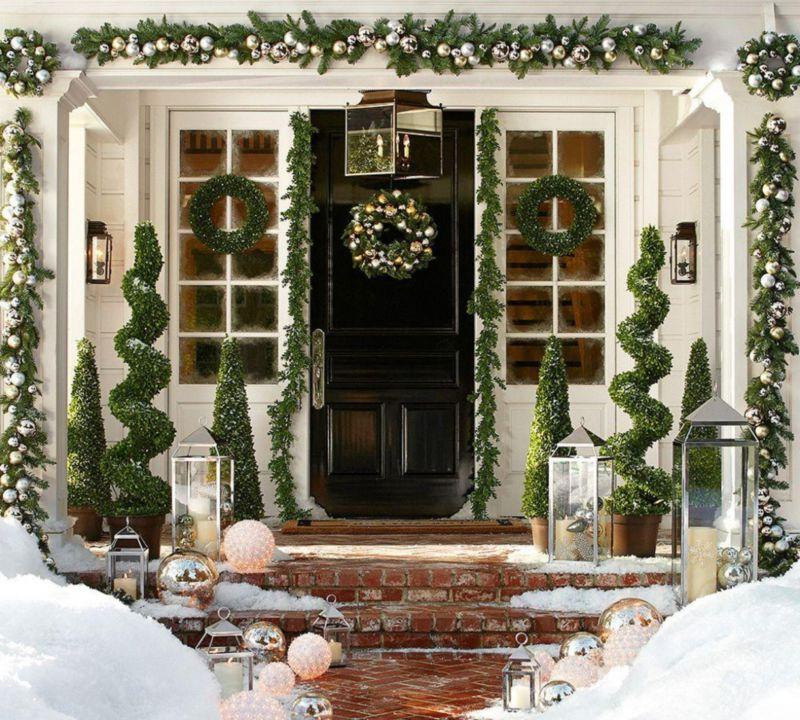 The porch is the welcome side of your home because after the facade, is the first thing people see before entering your home. for this reason, decorating it according to the season is very important, even if you are not a very colorful person. Check out how great this Christmas design look.
5. Little Decoration Details For The Porch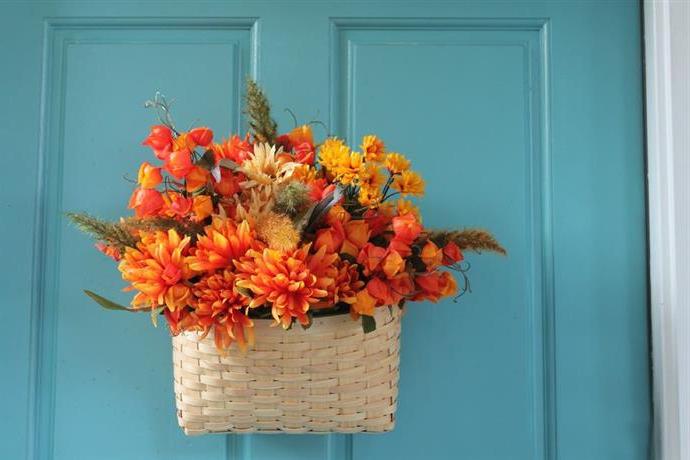 Make sure your porch has little hints of decoration that makes it feel homier. a basket with fresh flowers hanged in the door is a welcome detail in any porch.
6. Decoration DIY For Your Porch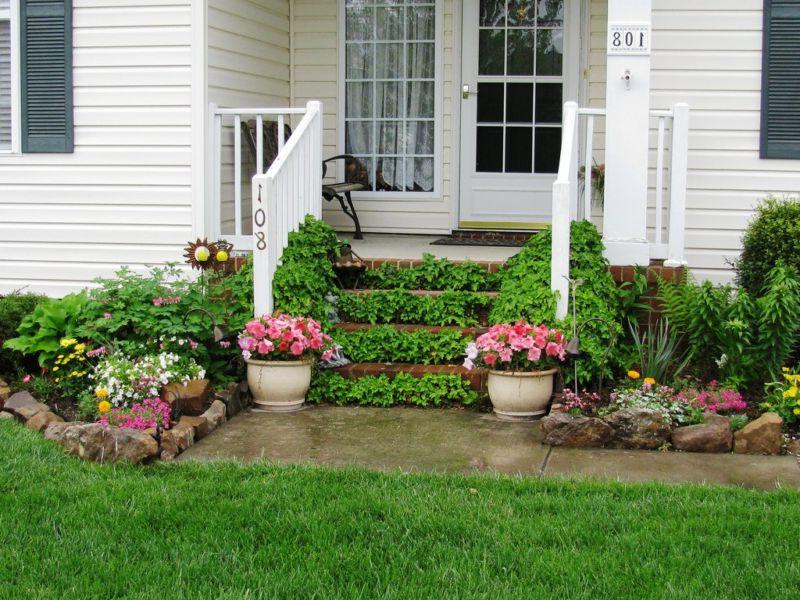 You do not need an interior design professional to help you set your porch and make it look amazing. With a little imagination and some elements you can achieve examples like this one that only needed some flowers, plants, and rocks to make the front porch look perfect.
7. Easy Porch To Set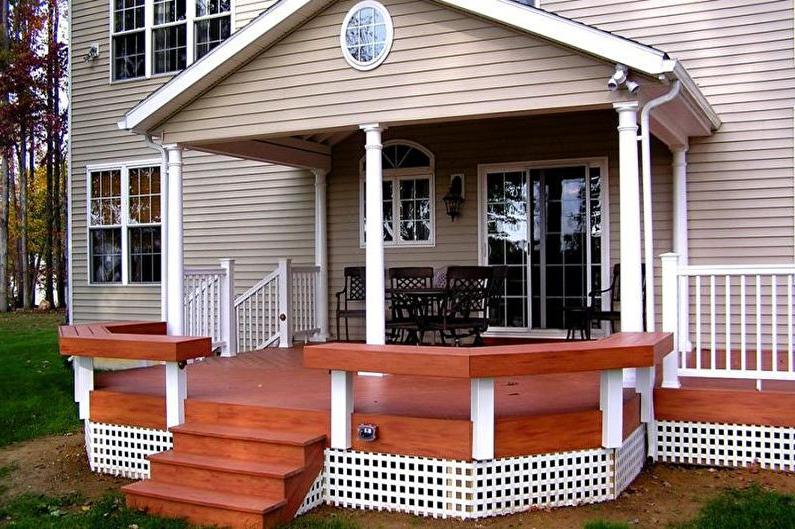 Sometimes simpler is better, like in this example. This porch does not really have anything fancy, it only features a little eating table and a couple of extra chair. Nevertheless, the impressive hardwood cherry flooring makes it look stunning.
8. Elegant Country Small Front Porch Ideas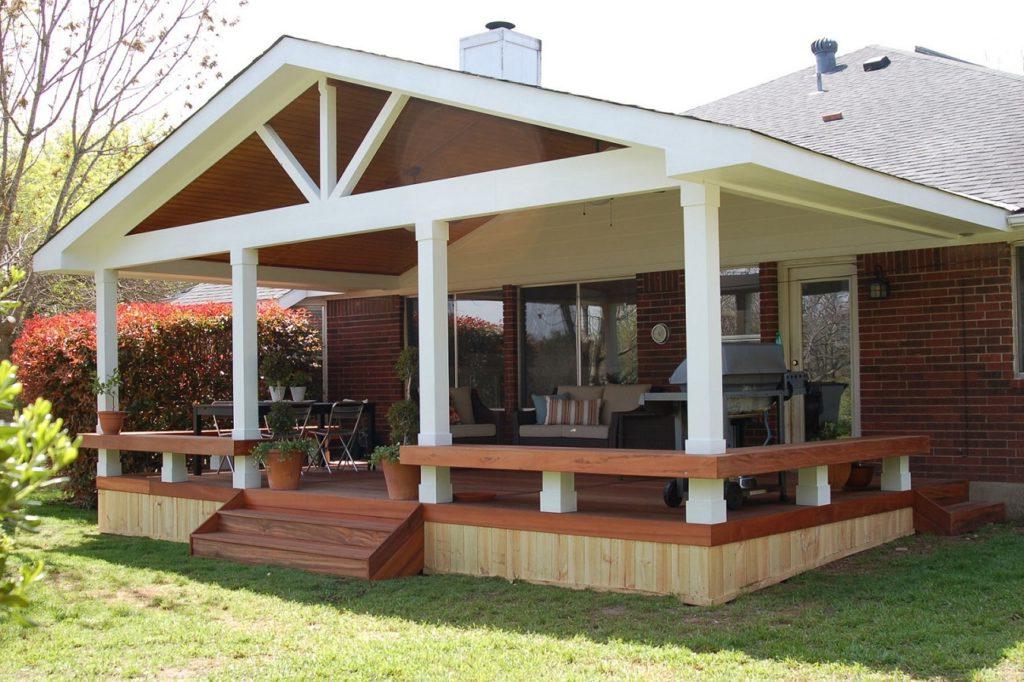 This porch has it all for a good time of fun. a grill, dinning table, and couple of couches are matching with the space decoration that relies on lots of Woods as construction materials and plants as beauty elements.
9. Beautiful Front Porch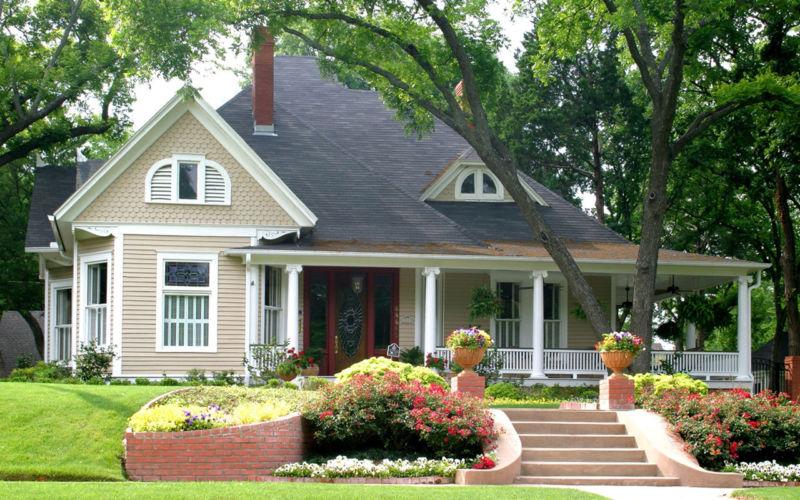 The entrance of this home is beautiful, and what makes it even more special is the porch at the end of the stairway. When your home is as beautiful as this one, probably all you need to make the porch look great is to keep it tidy.
10. Modern Home's Front Porch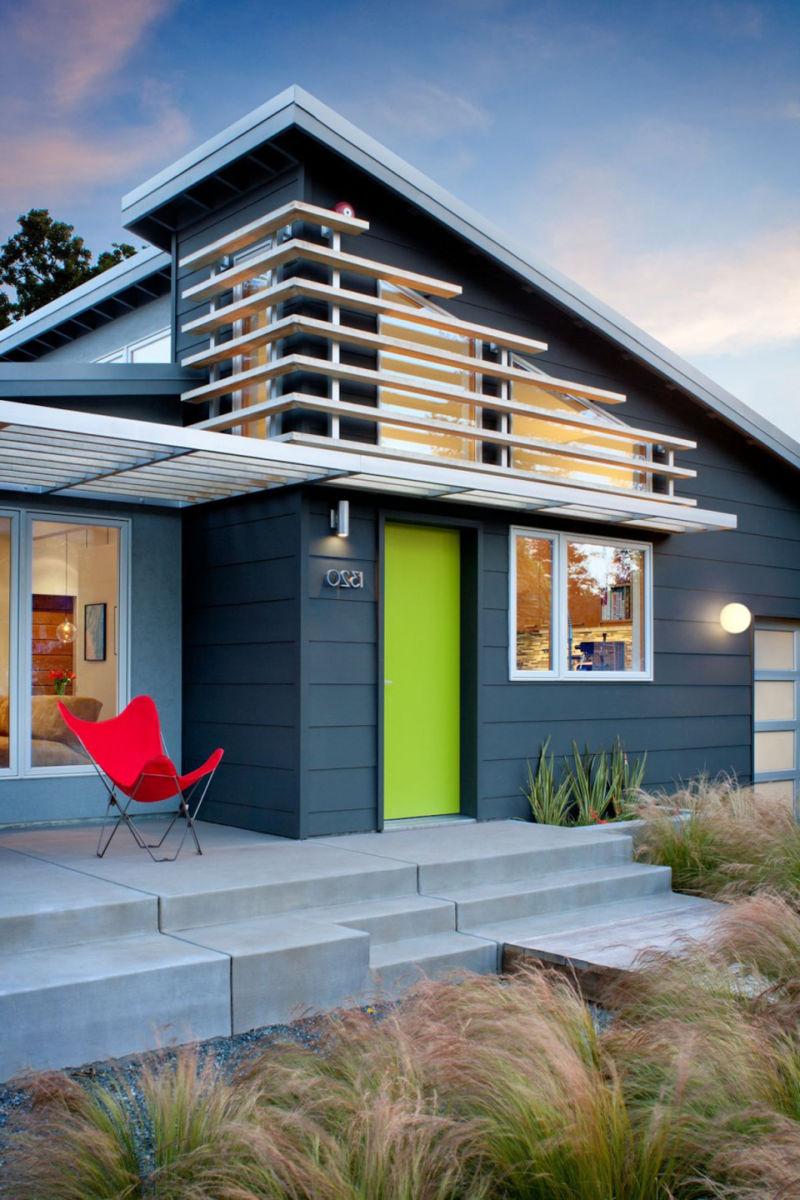 In this ultra modern home, the porch is very small, but the owners still make the best from it. Since the front wall is a very large window, the space seems bigger, and is the perfect place to locate a bright and colorful red chair. Ideal to take a look around.
11. Small Brick Front Porch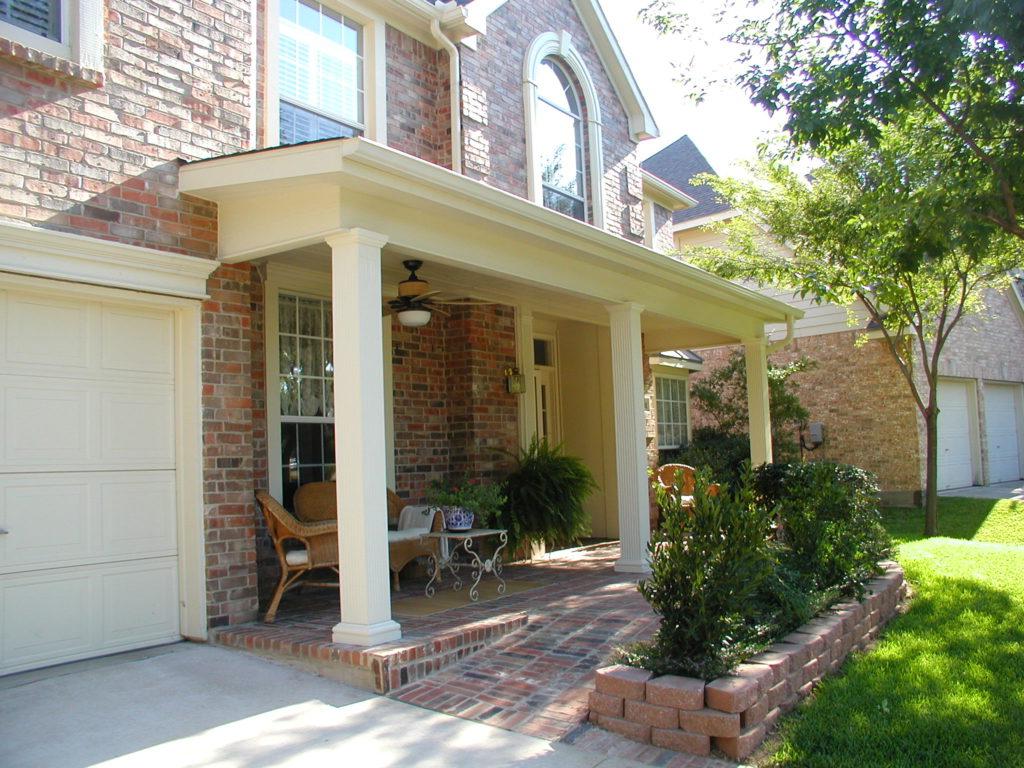 Even the tiniest space can be seized and beautified. This narrow and small front porch is still cozy and beautiful, featuring a very comfortable chair and a coffee table.
12. Front Porch On A Concrete Home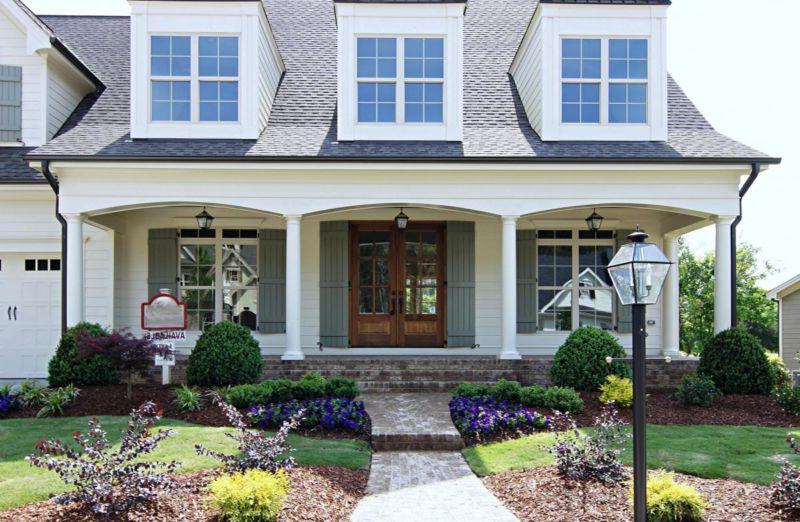 Concrete homes may seem a little colder than traditional wood based homes, but the truth is that you can make it feel a lot warmer if you use a porch, because these spaces are great to create that feeling of love and community.
13. Small Front Porch With Plastic Roof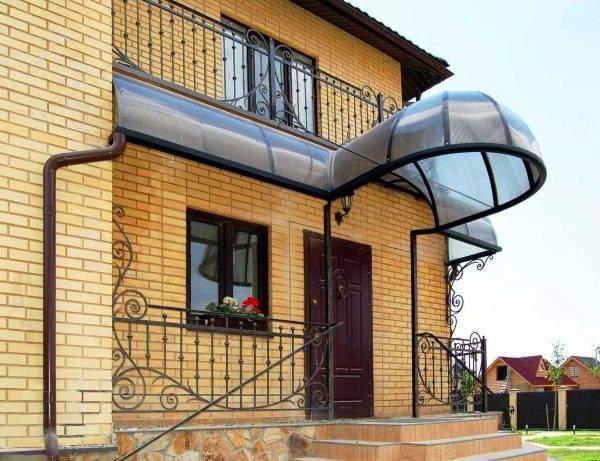 This definitively is a porch thought out of the box. It is small and narrow, but it still has a lot of personality and it allows you to have a few moments in the exterior without fearing for the elements like rain.
14. Small Front Porch Decorated With Flowers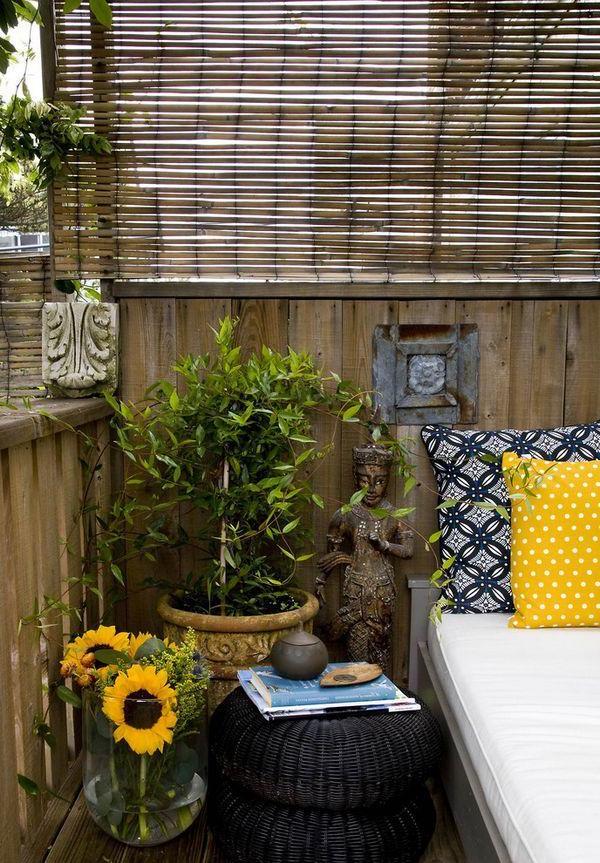 Make your small a real retreat experience. It is all about the decoration and the elements you place. A comfortable couch, some fresh plants and flowers, and maybe something energetic like a statue o Buddha may turn the place into your personal oasis.
15. Small Front Porch With Furniture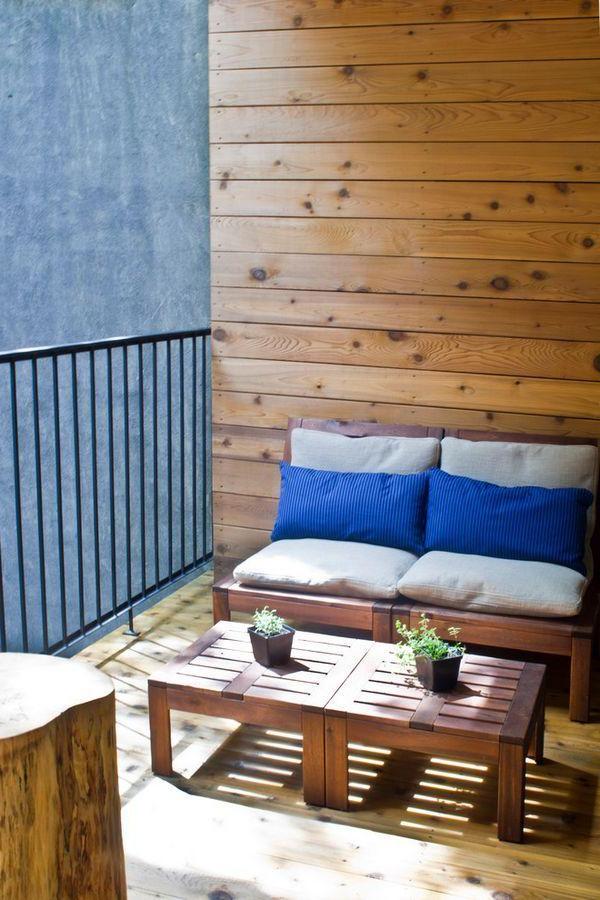 When it comes to furniture less in more, especially in small porches. But small does not mean uncomfortable, as you can see in this example that uses small yet comfortable furniture like chairs and tables in tiny size.
16. Small Front Porch In A House With Garden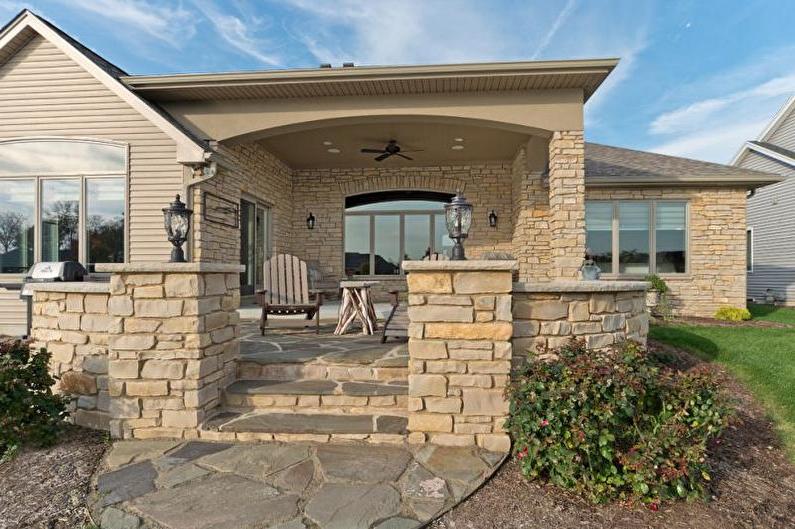 When you have a garden the porch become more important because it will be the transition between your home and your garden. For that reason, make sure to design it with that function. This porch allows you enjoy the view, to take a breath after coming from outside or to talk to your neighbors.
17. Small Front Porch With Wooden Roof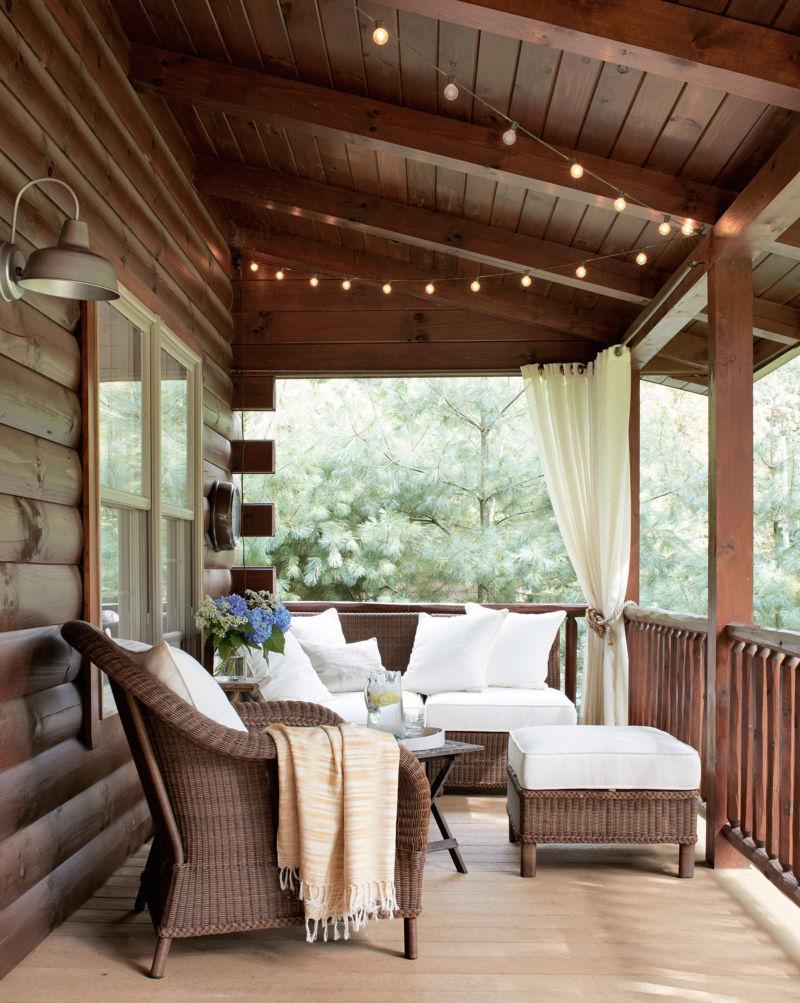 A great style to apply to your small porch is the cabin style, regardless if you live in the woods or in the city. And the best to mimic that style is with wood, that brings a nature and cozy feel to any home. In this case you can see how the walls and the ceiling use this style, as well as the rails. The wicker chairs complete the style.
18. Front Porch With Sitting Area
The porch can be that space where you take a rest before leaving or coming back. It can be the place where you chitchat with your neighbors, and of course the place to receive or say good bye to your visitors. But it can also be a social area like in this example where the porch has been designed to spend fun times at any moment of the day.
19. Small Yet Cozy Front Porch
If your porch is really, really small, do not worry, you can also make something great with it, like in this example where the porch is expanded to the front garden by adding a sitting area. Then, inside you can have another couple of chairs to rest if hot sun or rain is in the way.
20. Small Front Porch In An Outdoor Home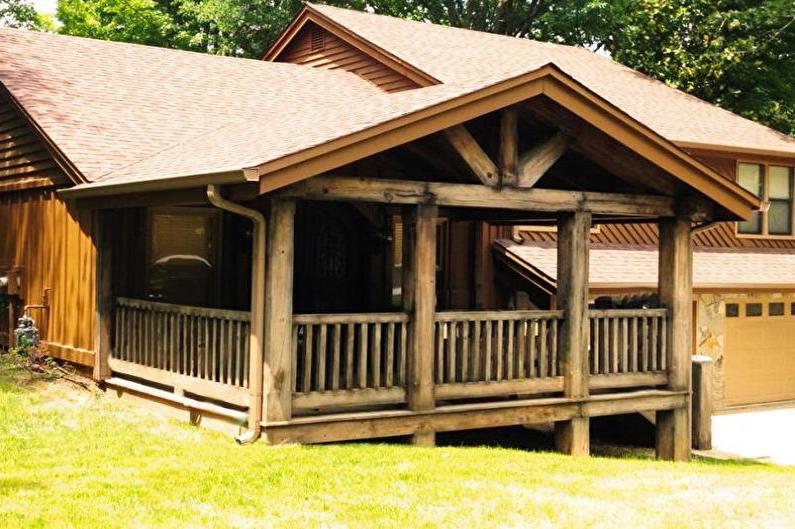 Nothing says outdoor like a cabin in the woods, and a porch in the woods is the perfect extension to this concept. For this, make sure that your cabin porch is very rustic, with natural wood everywhere, including the furniture. A porch with camping style.
21. Decorated Porch With A Fancy Look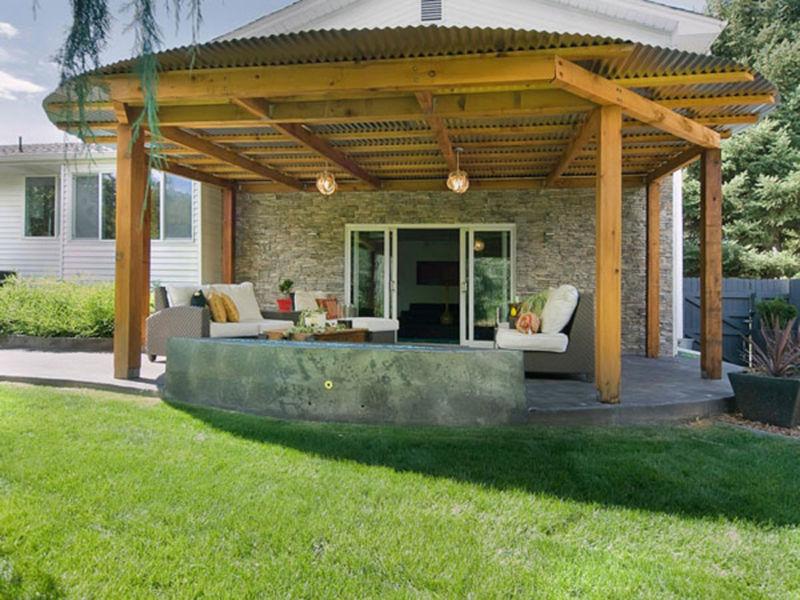 A porch can be the perfect place to enjoy breakfast, have a cup of coffee or have a chat with friends. It is just about how you design it. In this example, the porch was arranged to use it a social area.
22. Wooden Entrance Small Porch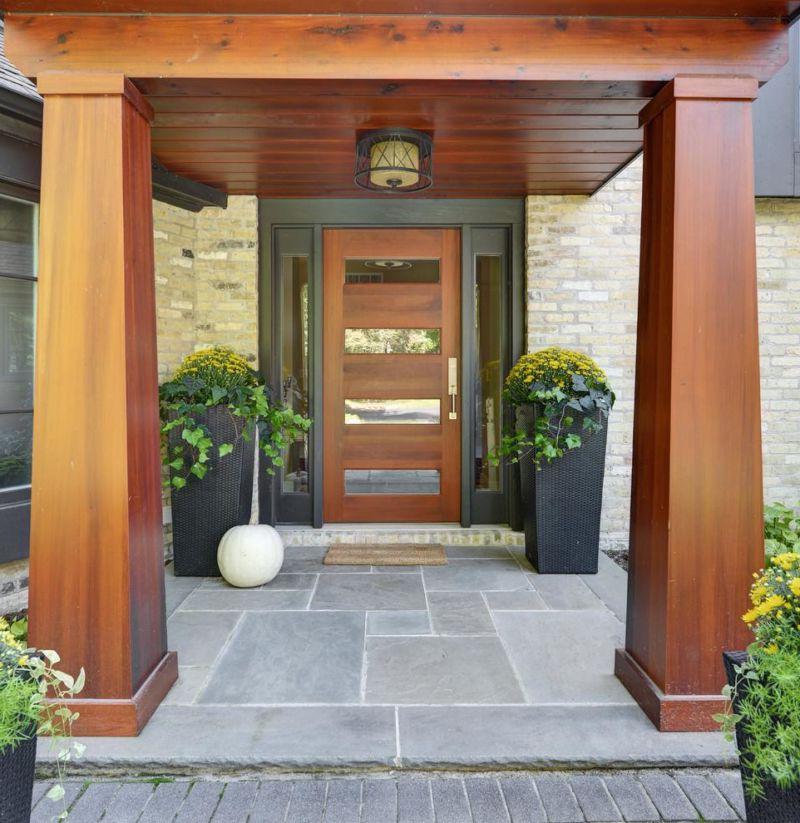 This small front porch is designed to be used as a very attractive entrance. The impressive wooden beams create an ach that looks magnificent very elegant. You can see how this magnificent style is established throughout the whole porch.
23. Small Front Porch Traditionally Styled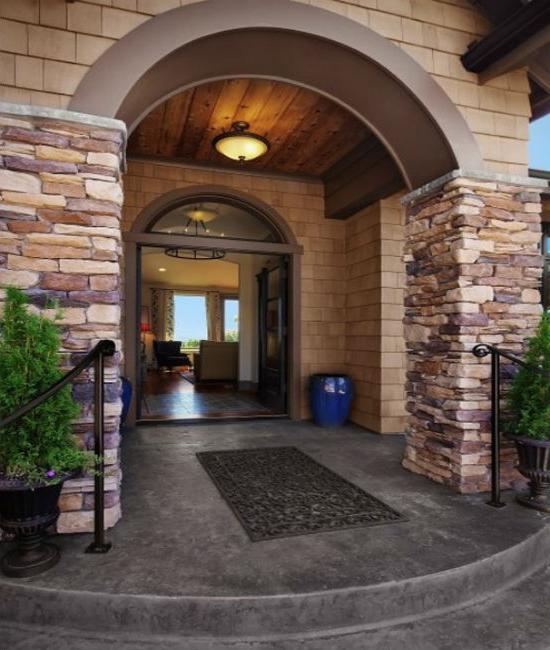 This porch is very traditional in its design featuring a clean entrance to the house and a few decorative elements to complete the look. This is a very sober and elegant porch used mainly as an entrance.
24. Wonderful Small Front Porch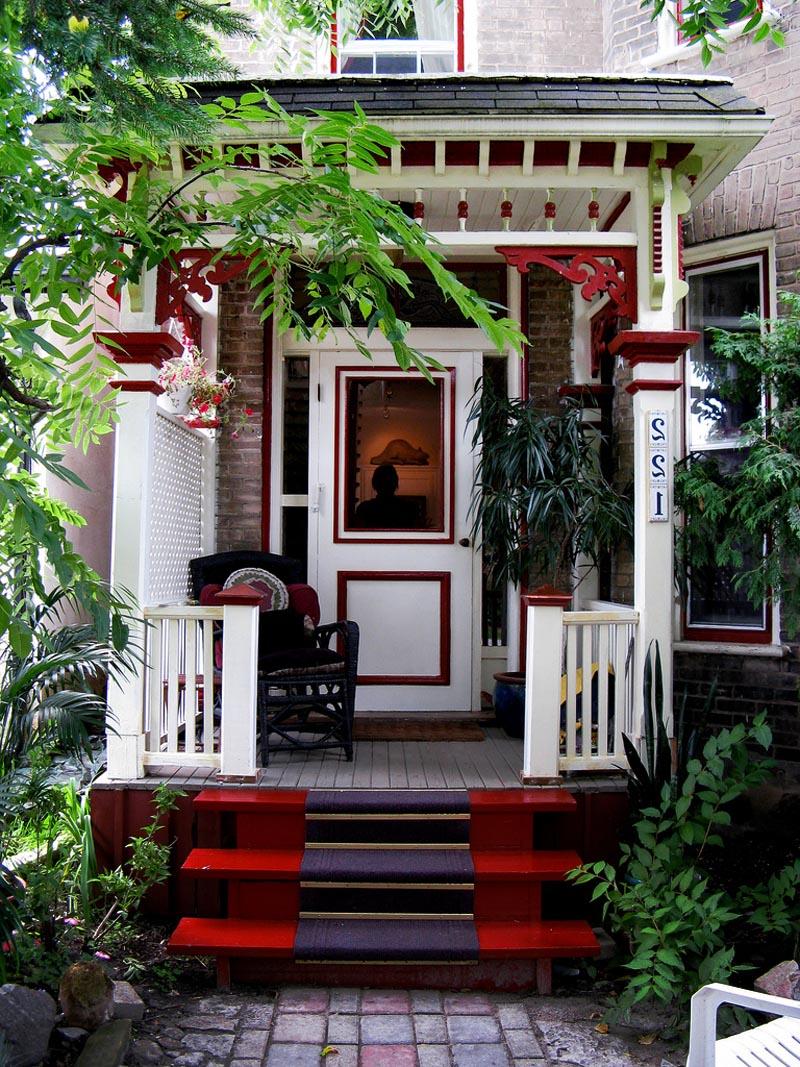 This is an example on how you can turn a tiny porch into something magnificent. This porch is a very small space in a town house but it has everything you would expect on a traditional porch: is has a chair so you can sit an take a look of the view, and even a plant to give it a natural look.
25. Front Porch Built In Wood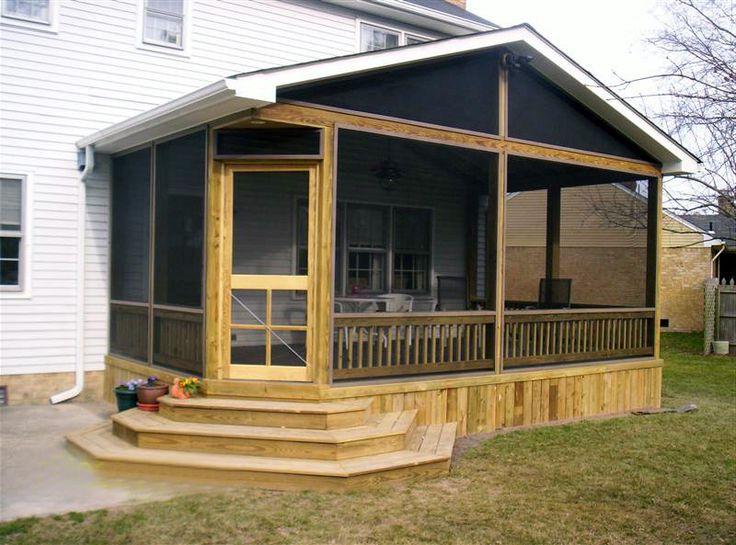 We finish this small front porch ideas gallery with this front porch design that is very private without losing any sight of the exterior. This front porch is completely closed with glass walls and in the inside it has an eating area to enjoy the view while having breakfast, lunch, dinner, or a snack.
Conclusion
Having a beautiful porch at home is priceless. Those few square meters that we add to the house may be few but they contribute a lot. The porches (like the patios, gardens and terraces) make us enjoy our home more and be happier.
Not all houses have porches on the facade, but if we have the possibility of including one in our design, we will soon see that it was a wise decision, since its advantages are many.