41. Old Vintage Bike Painted in Your Favorite Color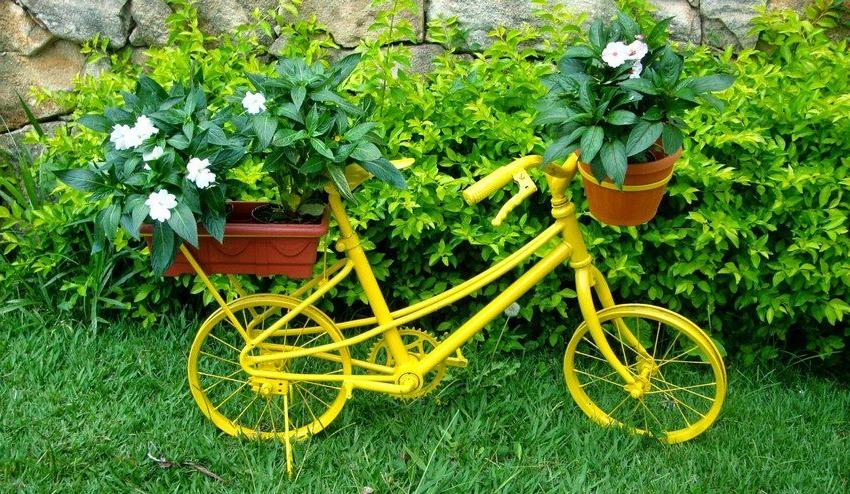 Do you own an old vintage bike you were willing to throw away? Stop!  We've come up with the creative idea into turning your old bike into a planter in your favorite color. Just paint the bike in your favorite color or some bright one and fill up its front and back baskets with your favorite flowers. You'll get a vintage ornament that will embellish your front yard with its harmful and appealing appearance.
42. Outstanding Front Yard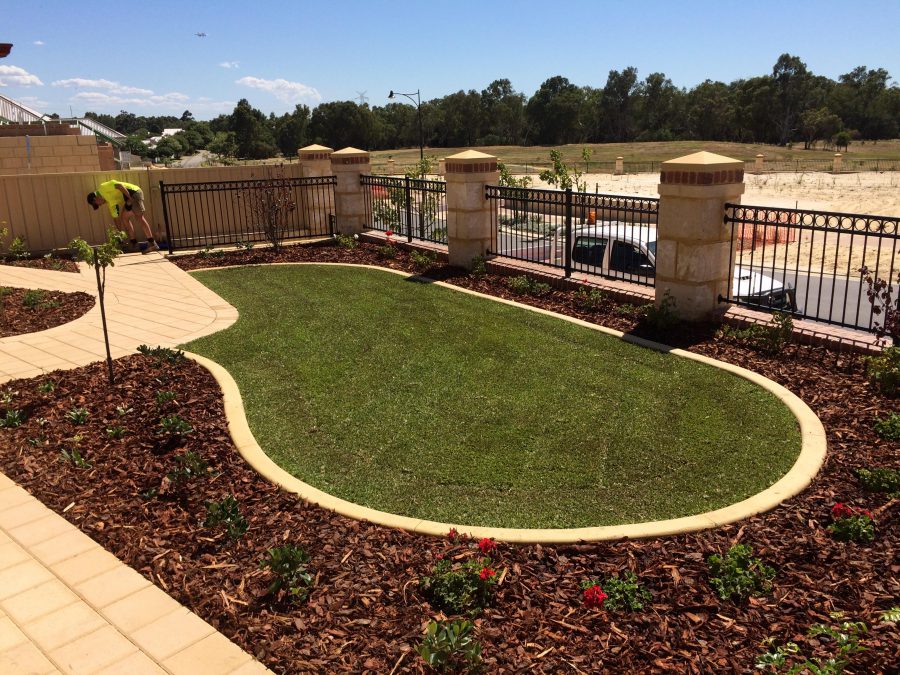 'Outstanding' is definitely the right word to describe this beautiful front yard because it's really something special that's perfect for a big house. Its striking appearance will make every passerby turn his head and admire your front yard if you decide to decorate and arrange your yard by using this idea. You'll have plenty of space for cultivating your small garden, plants, flowers and also put a table in the center of the lawn where you can relax and enjoy the sunny days. Turning that lawn into a swimming pool is also a good idea you can use if you want to create something even more extraordinary and appealing.
43. Pallet Front Yard Landscaping Idea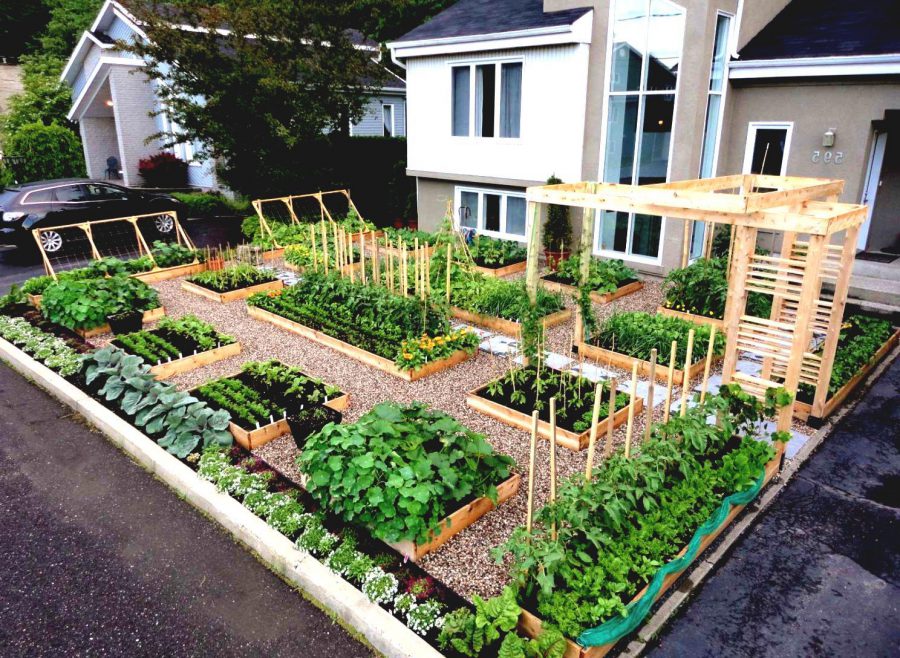 A front yard like this one is perfect for those who want to cultivate vegetables, fruits or some plants in their home. A pallet with different kind of plants, flowers, vegetables, and fruits will not only provide you food but also embellish your space in a unique and practical manner. However, if you chose this landscaping idea, be careful with your pallet and consider protecting it with a wooden fence in future.
44. Plasticizers as a Substitute for Cement Figures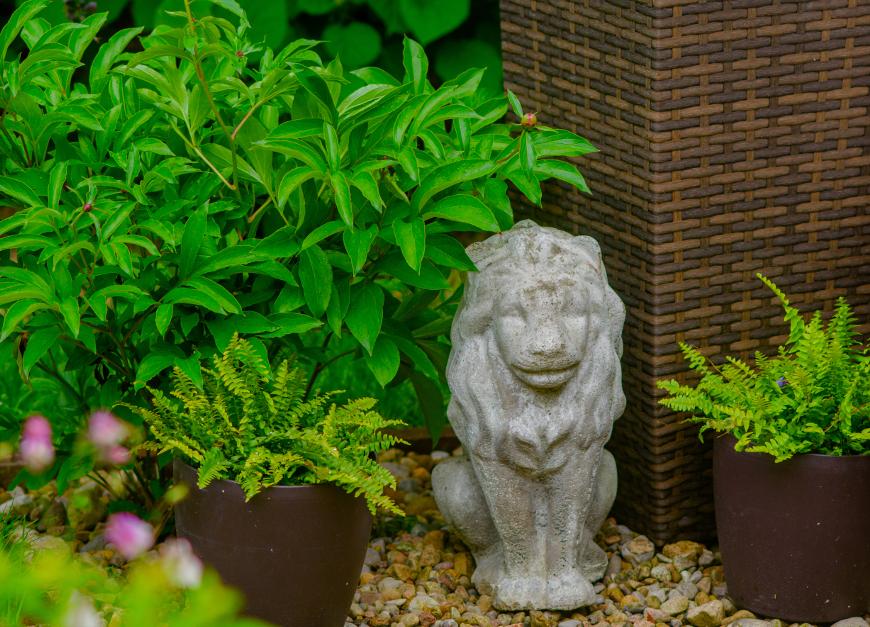 If you wish to decorate your front yard with something beautiful and elegant but stay on a budget, try using the plasticizers that became a popular substitution for cement figures recently. Although many believe that the difference is obvious, once you place the figures in your front yard, you'll see that it's not. Embellish your space in a unique manner and keep the money in your pocket for adding some other decorations and ornaments, such as dwarfs, fountains or something else that meets your taste.
45. Pretty Front Yard Filled with Flowers and Grass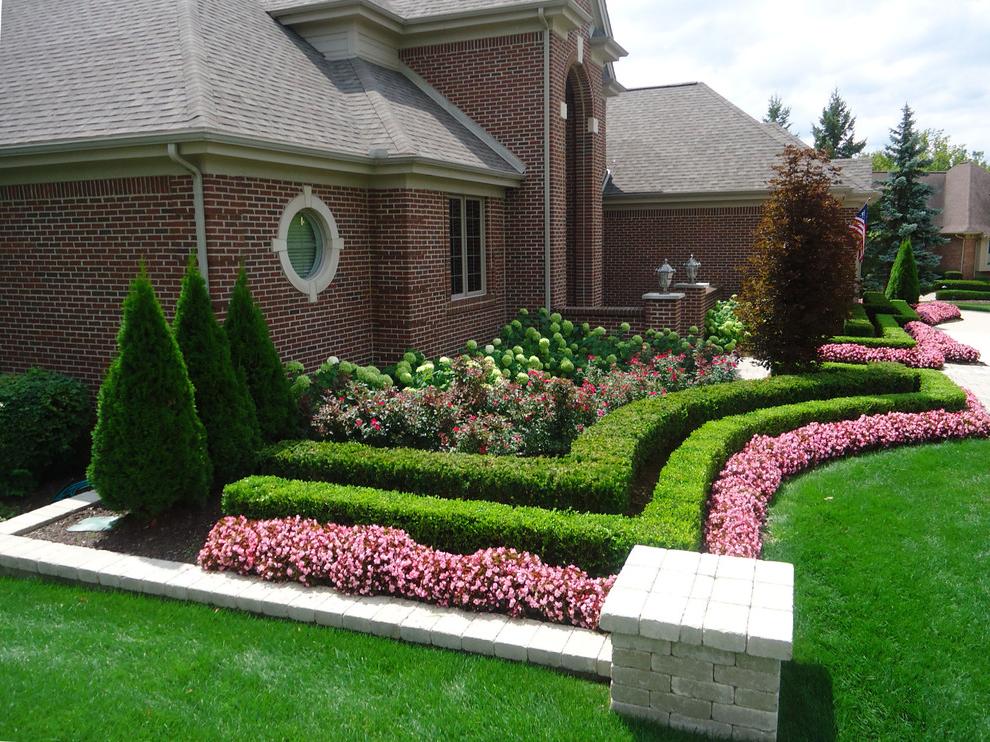 Who doesn't want the pretty front yard filled with flowers in their favorite color and perfectly maintained grass? If you want it too, just take a look at our landscaping idea and start decorating your yard in your own way. Plant some flowers and grass, however, don't forget to maintain them in order to keep your new pretty appearance of your front yard and make your neighbors envy your decoration and devotion.
46. Small Front Yard with Creative and Simple Decoration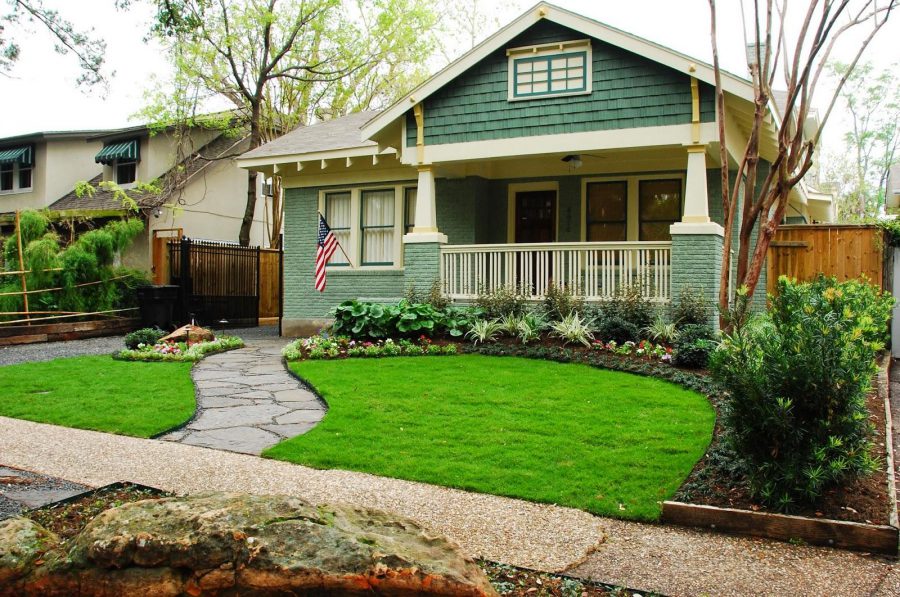 Another cute grassy front yard arranged with a simple and creative decoration that will embellish your house and leave a striking appearance. Don't hesitate on decorating your yard in this simple yet unique manner and keep your lawn green and well-maintained. The cobblestones will only add a more sophisticated look to your yard expressing your creativity and simple lifestyle.
47. Small Garden with Wooden Platform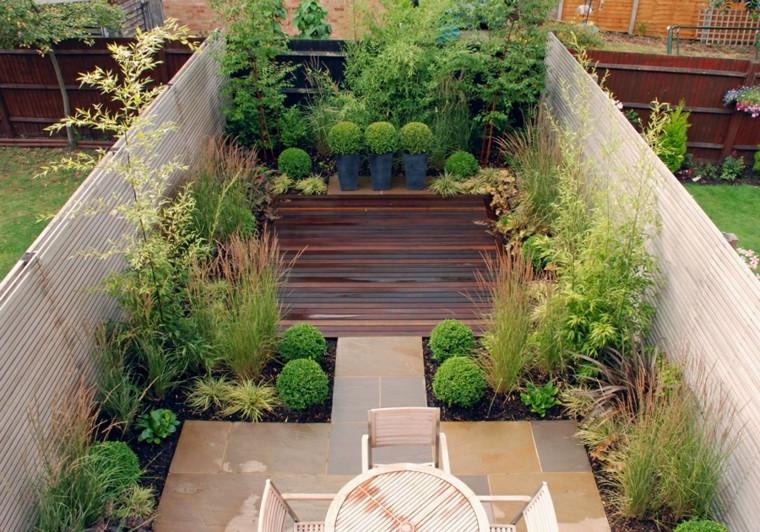 If you own a smaller house and have a small yard turned into a garden, why not add the wooden platform and give your yard a more sophisticated and warm look? This way you can always place a wooden table and chairs and relax in your tiny and beautiful yard. The high wooden fences will keep your neighbors and passersby intrigued and you can enjoy your privacy without someone bothering you or constantly observing your activities in the garden.
48. Small Modern Landscaping Idea for Closed Front Yard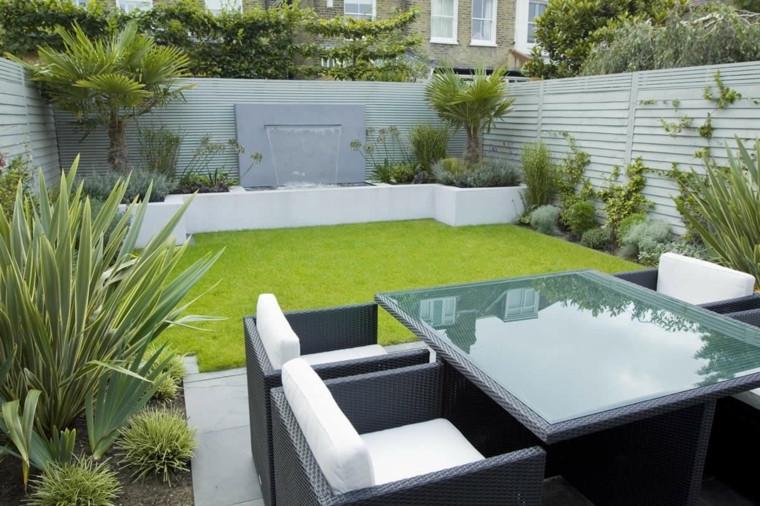 Another closed front yard with modern tall fences that provide privacy. However, these fences will suit a larger yard and turn it into a private relaxing spot decorated with comfortable chairs and table matching the entire space. Surrounded by trees and plants, this type of front yard is the perfect place where you can organize a family gathering or invite some friends over and relax.
49. Smooth Inexpensive Landscaping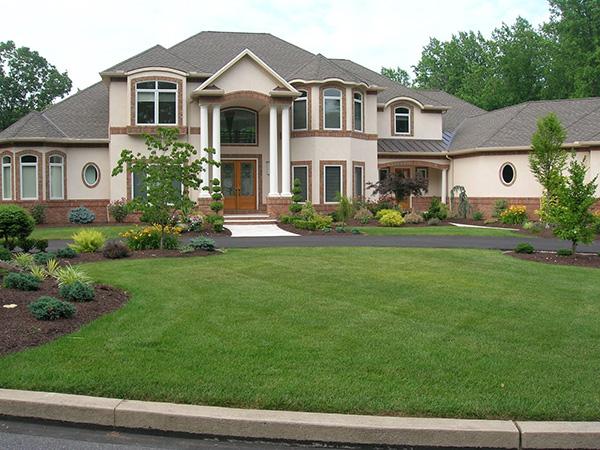 A large smooth landscaping for your front yard that will cost you little. You can have it by only planting grass and turn it into a lawn where you can place your table, chairs and big sun umbrella and enjoy the sunny days. Planting some flowers and small trees will only embellish the space and keep the natural warm tone of your house. Don't hesitate on choosing this simple and inexpensive landscaping idea and turn your yard into the perfect relaxing spot with a striking appearance.
50. Unique Front Yard decorated with Chessboard and Chess Figures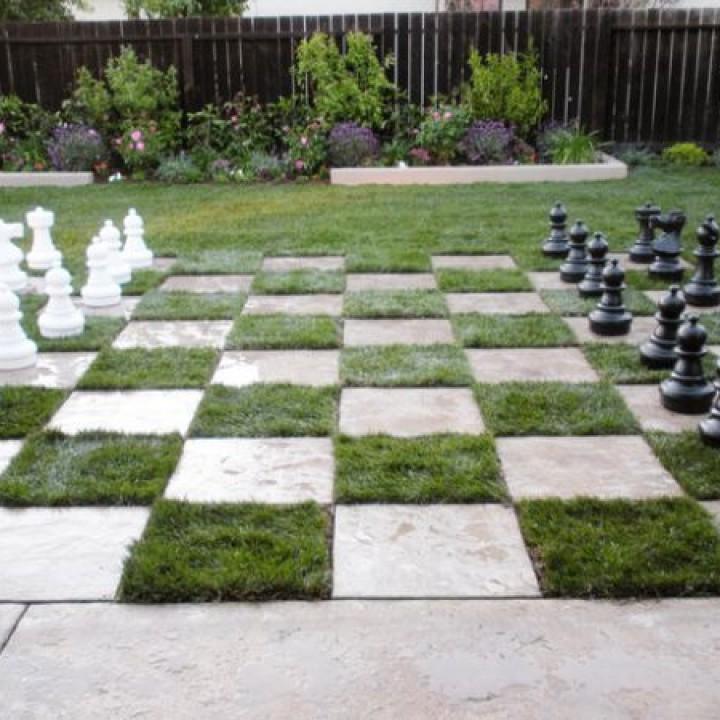 Unusual and unique, this yard decorated with chessboard and chess figures will definitely draw your attention. If you want something other than the usual landscaping, try decorating your front yard like this by only planting the grass and cutting it in the way of the chessboard table. After, add the plastic figures and enjoy your new yard decorate in a unique manner that will definitely impress the passersby and keep your neighbors wondered by your creativity.
51. Unused Wood Turned Into a Creative Pot for Your Favorite Flower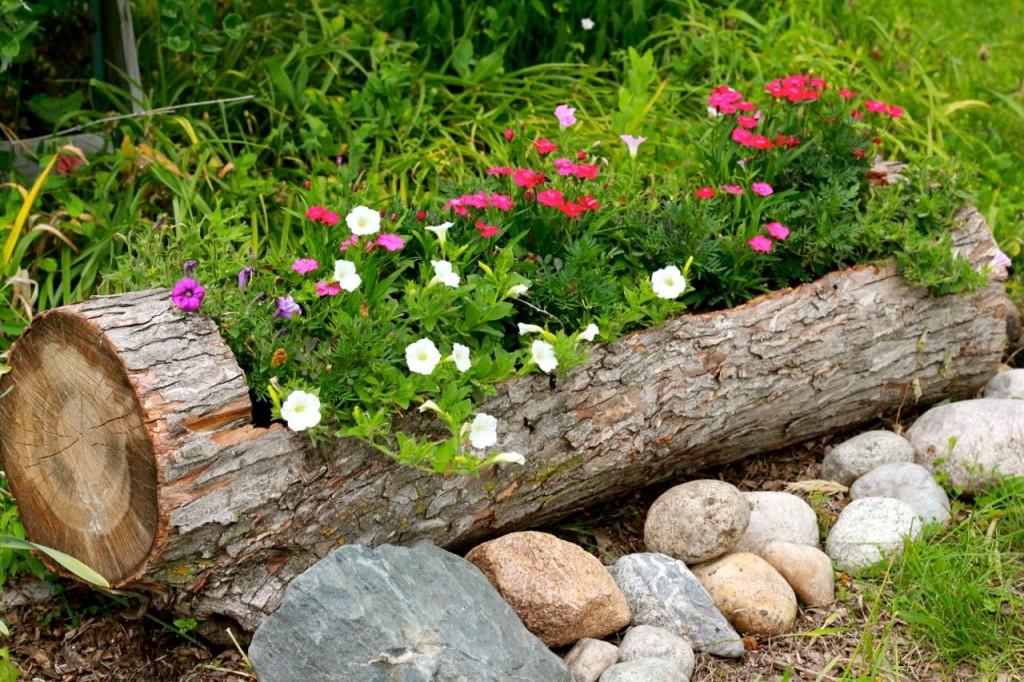 Creative DIY flower pots are one of the most common decorations for every yard, however, not all of the people come up with something unique and out of the ordinary cans turned into planters. If you were seeking for the most beautiful and unique flowerpot, this is the one – an unused tree turned into a creative flowerpot where you can plant your favorite flowers and plants. Don't hesitate on choosing this type of decoration for your front yard and 'steal' this idea right now. We're sure you won't regret your choice once you see the outcome.
52. Urban Front Yard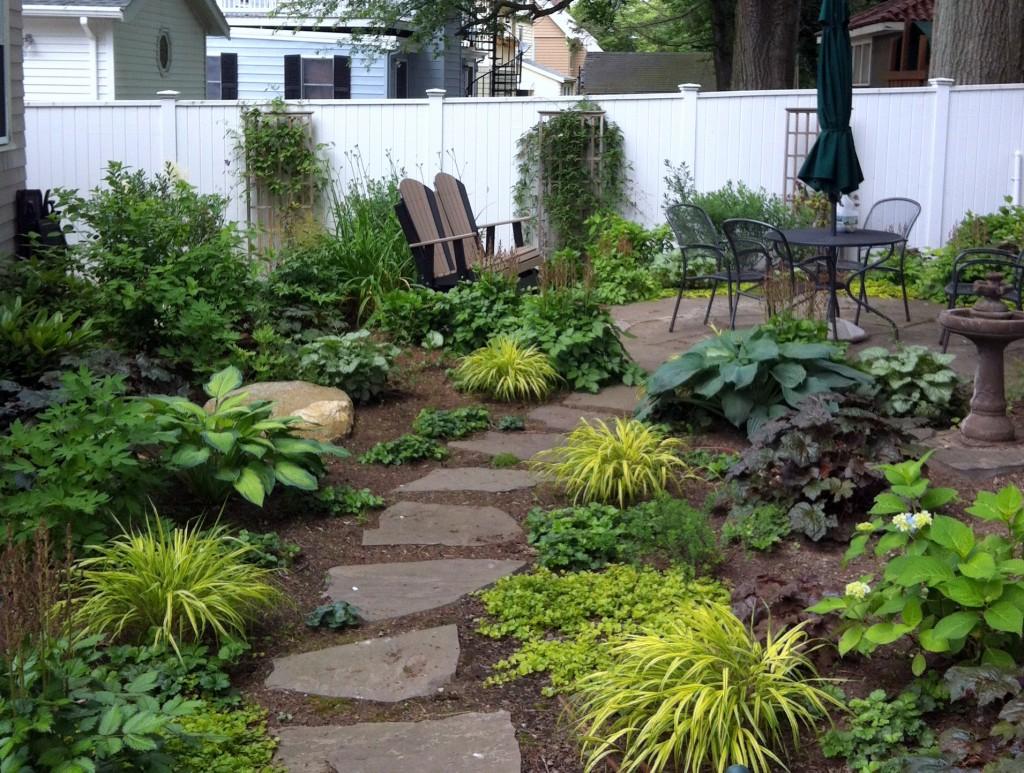 This chilling urban ground is just one more of our creative ideas on how to create an appealing front yard where you can spend some quality time with your family and friends. A yard like this one is easy to create. You just have to plant low-growing plants and built a simple stone path that will link your house entrance with your lovely yard. Add a table, chairs and big sun umbrella in the center of the yard and spend your spare time, enjoying the sun.You can also consider enclosing your space with a modern fence that matches the entire space and saves your privacy.
53. Veg Garden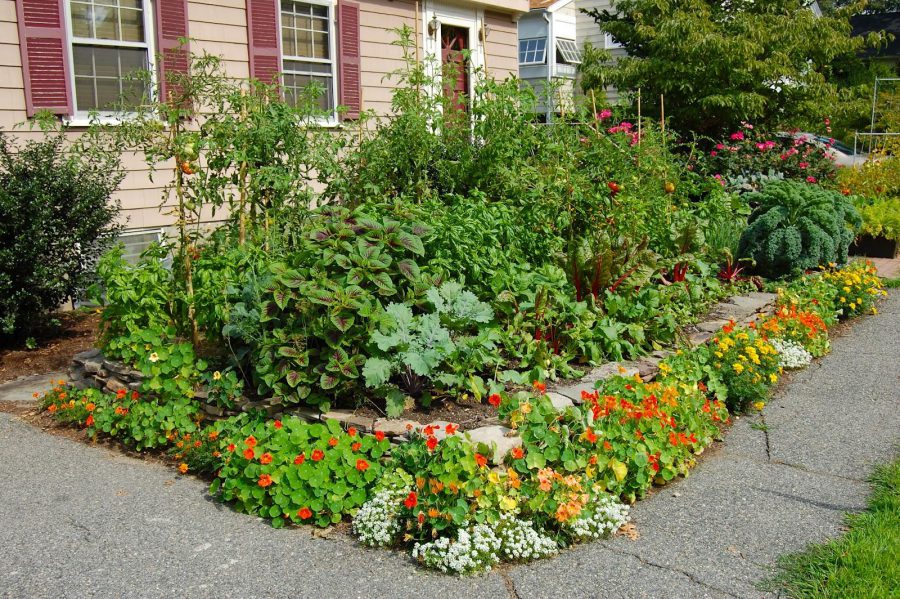 Definitely not your typical garden or landscaping idea for your front yard – veg garden. For those of you who love vegetables and want to cultivate them alone, this is the perfect idea on how to turn your usual garden or yard into something more useful and practical. Just pick a wide spot where you can plant your veggies and enclose the area with decorative stones and low-growing flowers resembling as guardian to your new veg garden you'll absolutely adore. Although it needs to be maintained more often, having a garden like this at home is always a good idea.
54. Adorable Wooden Cart Planter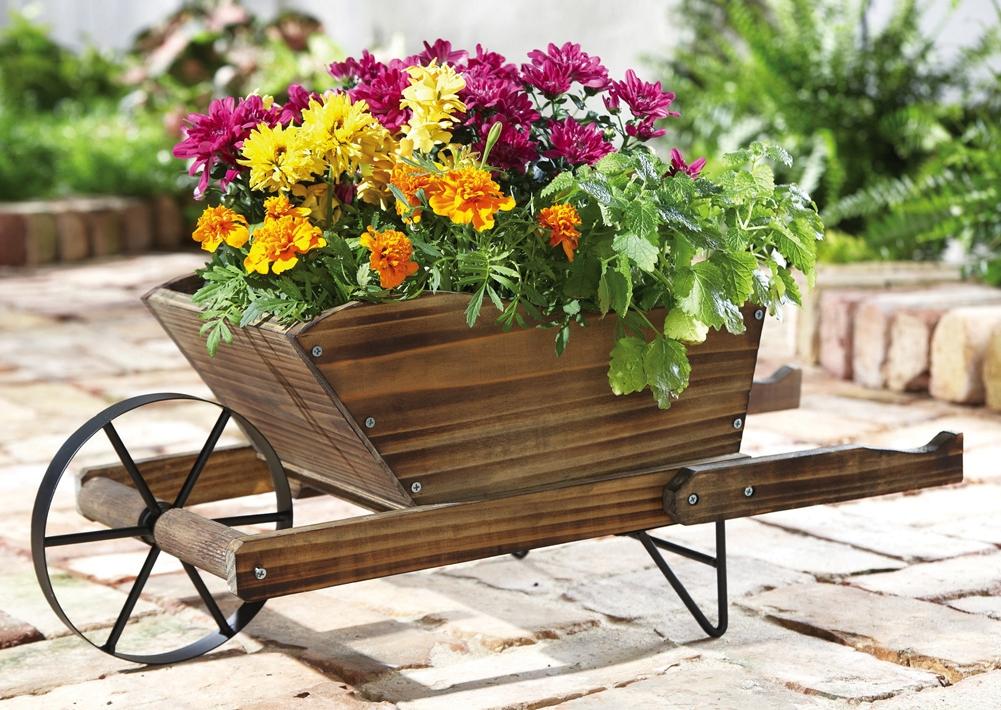 We saved the best for last or better said, the most cut for last – a tiny wooden cart that can serve you as a planter. Adorable at first sight, the cart can be a very useful decoration in your front yard. You can plant your favorite flowers inside and place it near a fountain or at some other available place near your home entrance. One of these will embellish your space but a few of them will definitely turn it into a ferry garden or front yard and impress the passersby. Don't hesitate on choosing this idea and combine it with some of the previous we suggested. We promise you won't be disappointed with the outcome. No matter which one you 'steal', you won't regret the choice because each of one them is unique in its own manner.
Page 5/5