Glass is one of the favorite materials to be used, in decoration accessories, pieces of tableware, all we know in windows, doors and ceilings. One of the last uses that it has been given to this versatile material, one with a lot of publicity, are the floors of this material, so that those who step on it feel that there is nothing between the person and the world at their feet.
And lately, glass railings are one of the uses that has become very popular, in modern buildings, which have gone to the beautiful transparency, simplicity, and modernity of a glass railing.
Glass railings are better when they are very modern. They will be made of flat glass or curved glass, according to the shape of the staircase. Glasses can be laminated or tempered, and go from 8 mm to 10 mm thick. The colors may vary in clear blue, pink or transparent tones. Stands of these glasses are normally made of stainless steel, but iron, wood or even concrete are common choices.
25 Glass Railings Designs Ideas To Enhance Any Stair Or House Division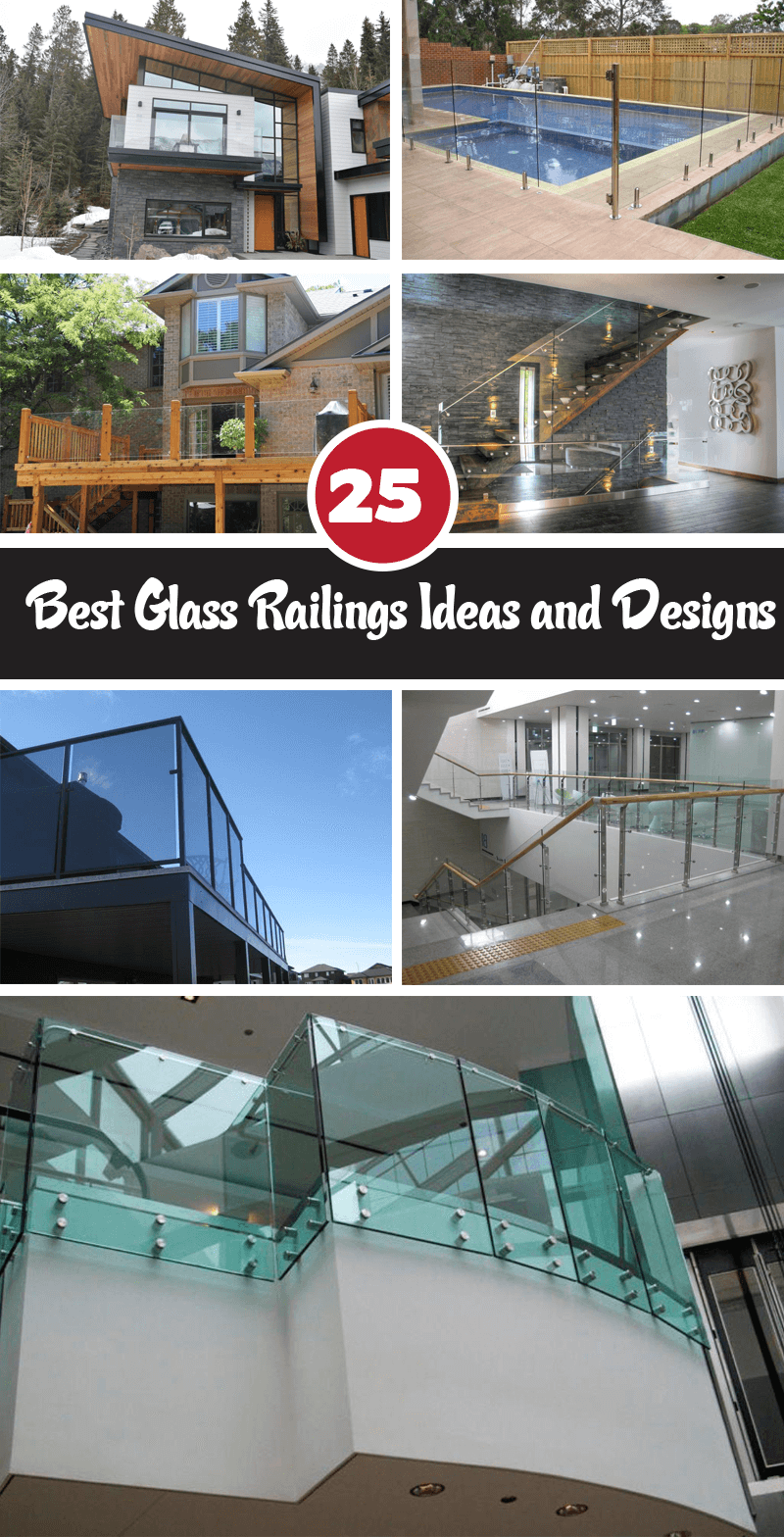 Glass rails designs can be applied both indoors and outdoors offering security in all kinds of places where it is necessary to protect people to provide a safe space. They are applied in public and private spaces to protect the people who live and transit these spaces, they also serve to be used in areas where there are large differences in levels and the limits are not well defined, giving an aesthetic contribution to the space and a great visual amplitude.
The use of glass rails allows to generate more spacious, luminous and sophisticated spaces. The thickness these rails can be 10, 12 and 16 mm. The glass can be colorless, satin, colored or with screen-printing of 10, 12, 16 and 19 mm.
We have brought for you diverse models of glass rails if you are looking for inspiration and examples.
1. Modern And Industrial Made Of Aluminum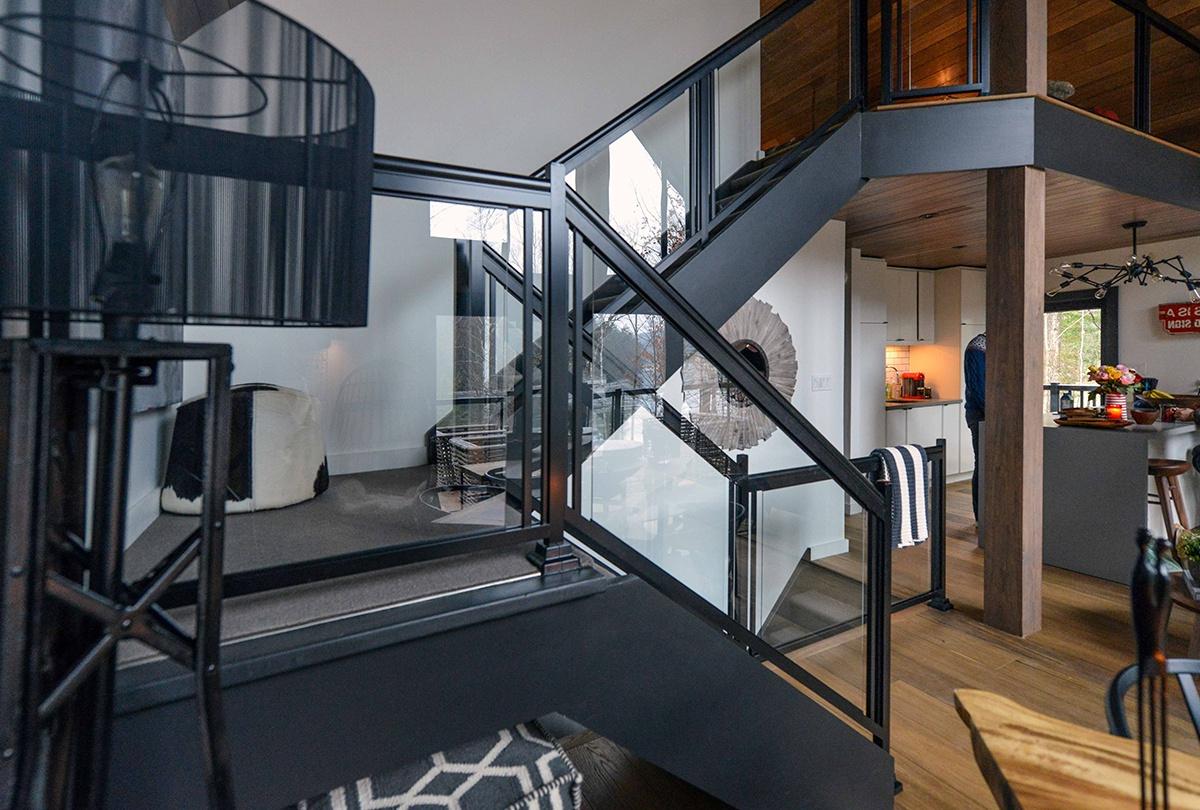 Glass rails are made of tempered safety glass, as they must provide protection and shock resistance. They can be frameless, or like in this example, with an aluminum frame that goes perfectly with the modern and open concept of the house. Glass railing designs ideas, for indoors or outdoors, are key elements in the resolution of details and the final appearance of a design, like in here, where they help to make the space look bigger.
2. Modern And Architectural In A Glass House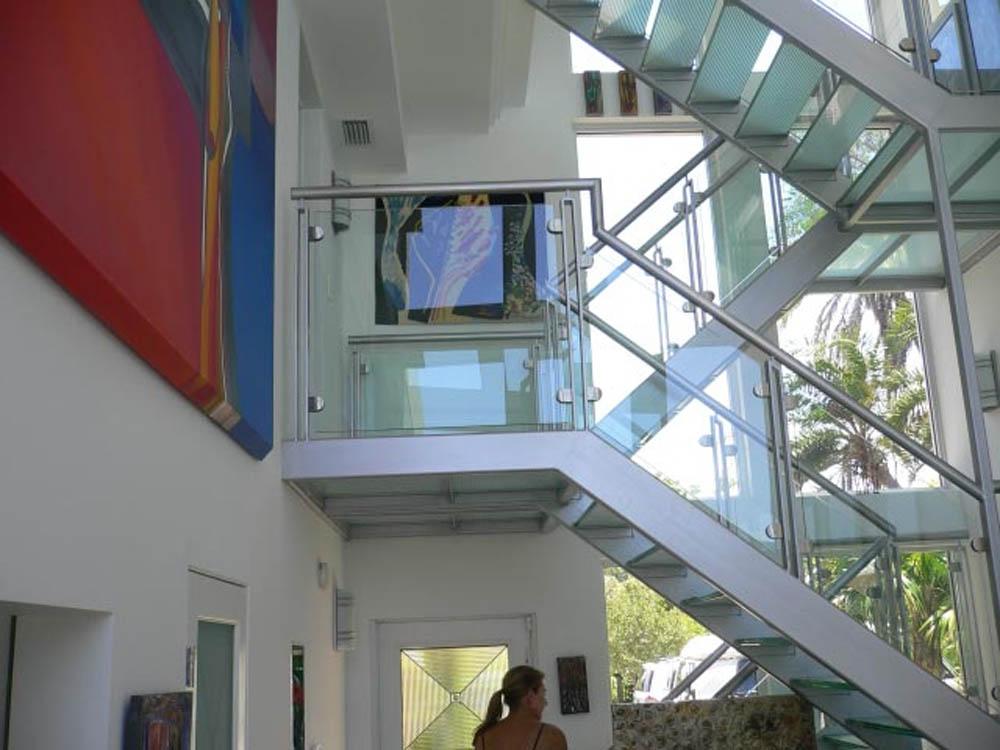 Railings are one of the most vital accessories on the staircase in general. They are a line that not only influences the appearance of the staircase in general, but also the security it offers to the people to use it. Glass railing designs like this focus on both aesthetic and reliable aspects of the staircase, creating a very attractive design that is also very safe and well constructed. The lightness of the glass and painting are contrasted with the colorful work of art.
3. Strong Glass Railings Perfect And Safe For Home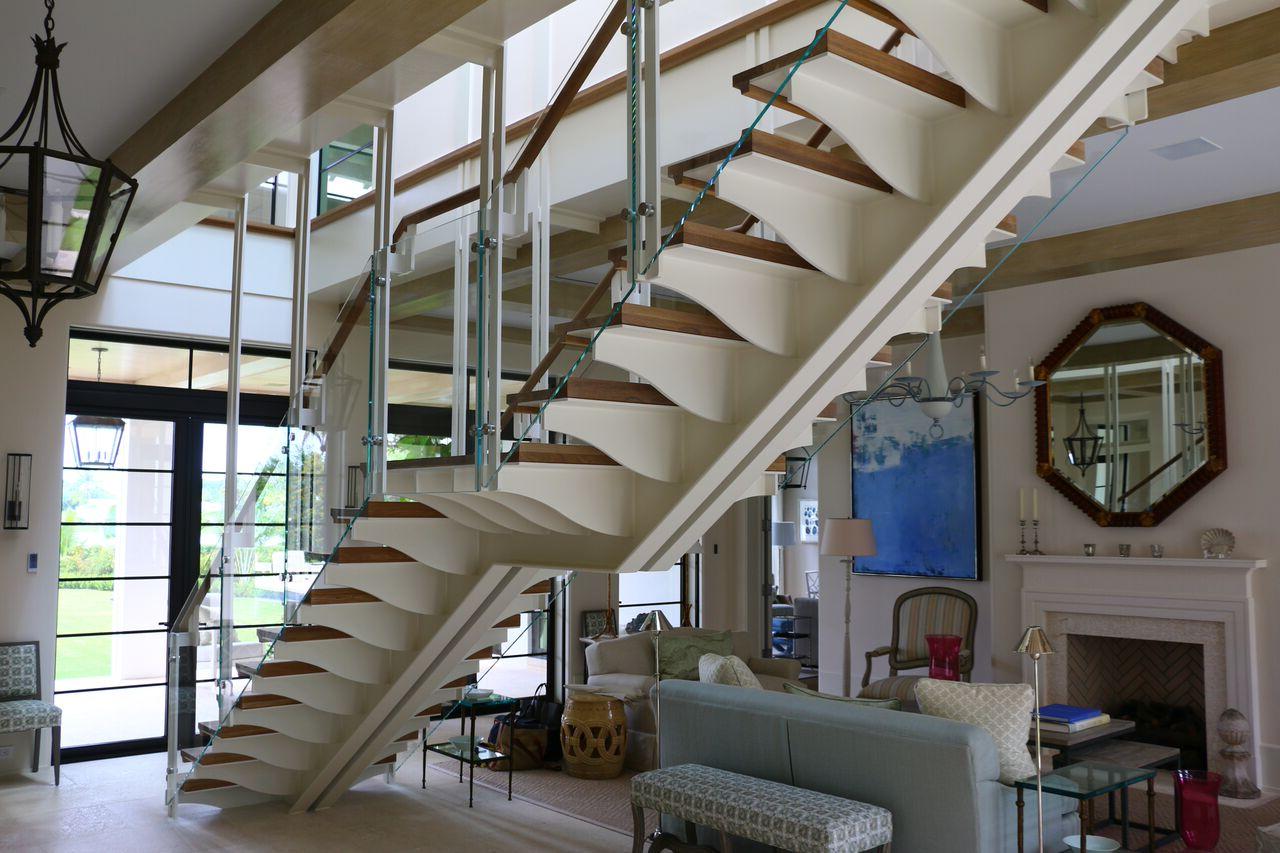 Glass railings are more in trend than ever for the modern style designs. This is because there is a mental association with glass: minimalism, prestige and sobriety. The translucent and smooth presentation of this material can grace any staircase instantly. For instance in this house, were even the staircase is right in the middle of the living room, it does not look awkward or intrusive, thanks to the glass railing with the with color of the stair.
4. Beautiful Glass Railings For A Fraction Of The Cost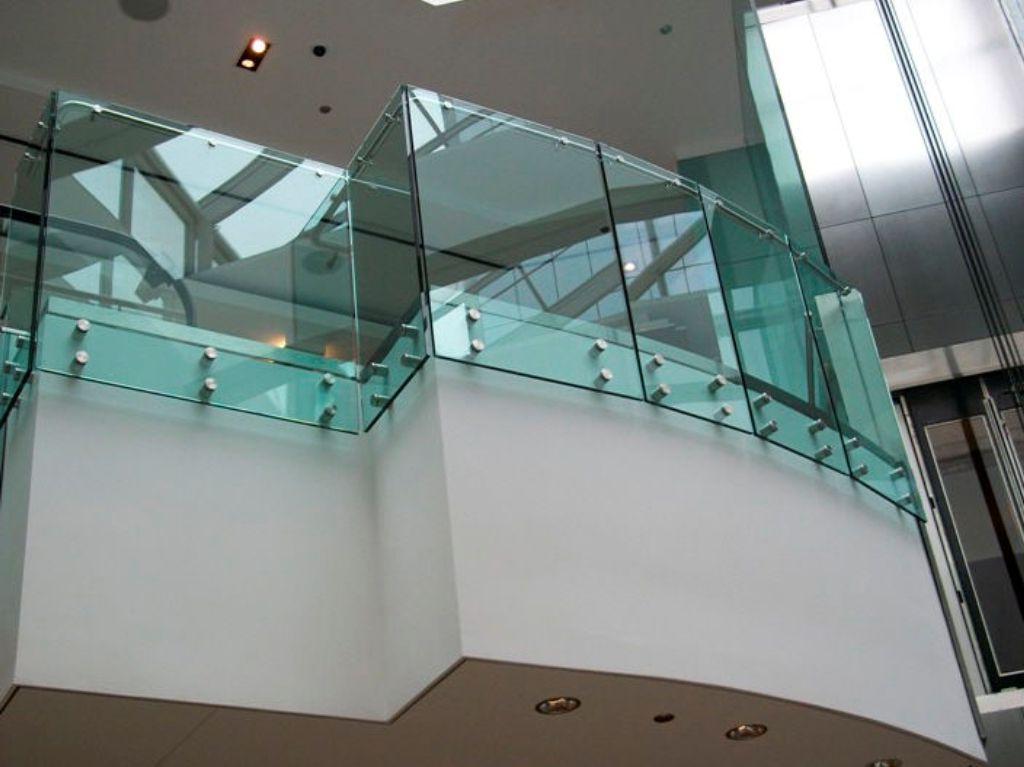 The glass railings are a safe, durable and transparent alternative, applicable to balconies, terraces and interiors providing amplitude and luminosity. There are different alternatives applicable to all types of needs. Using a panel like this is one of the trendiest glass railings design ideas due to its elegance and low cost in comparison with other models.
5. Modern And Clean Railings Perfect For Commercial Use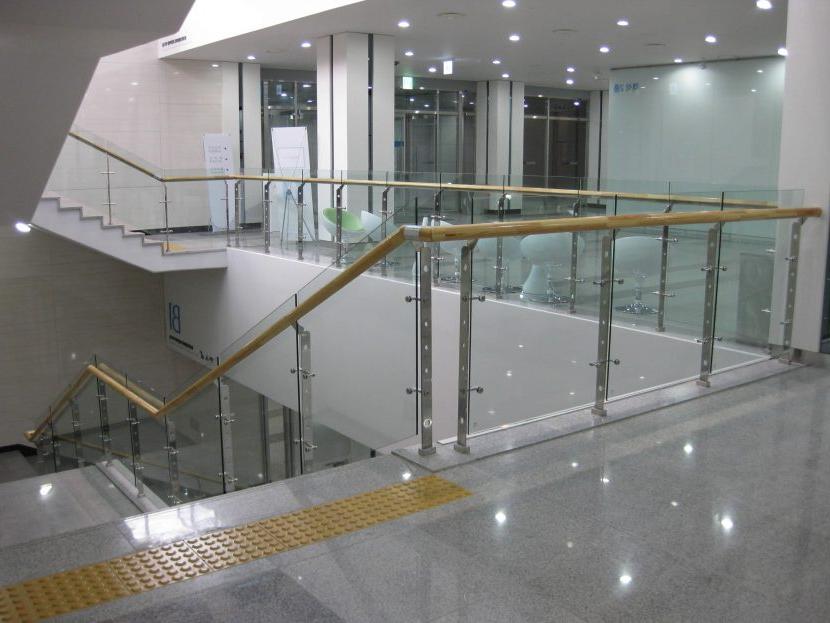 One of the most attractive features of glass railings is their cleanness and the modern elegance that give to any space. This is something very wanted especially in commercial buildings, where the style pursued is also something that evokes openness and lightness. In this offices building, the doors and wall are mostly made of glass, which is enhanced by the strong lightning and topped with the glass and aluminum railings that use just the right amount of color to lift the whole design.
6. Custom Made Circular Railing With Stainless Steel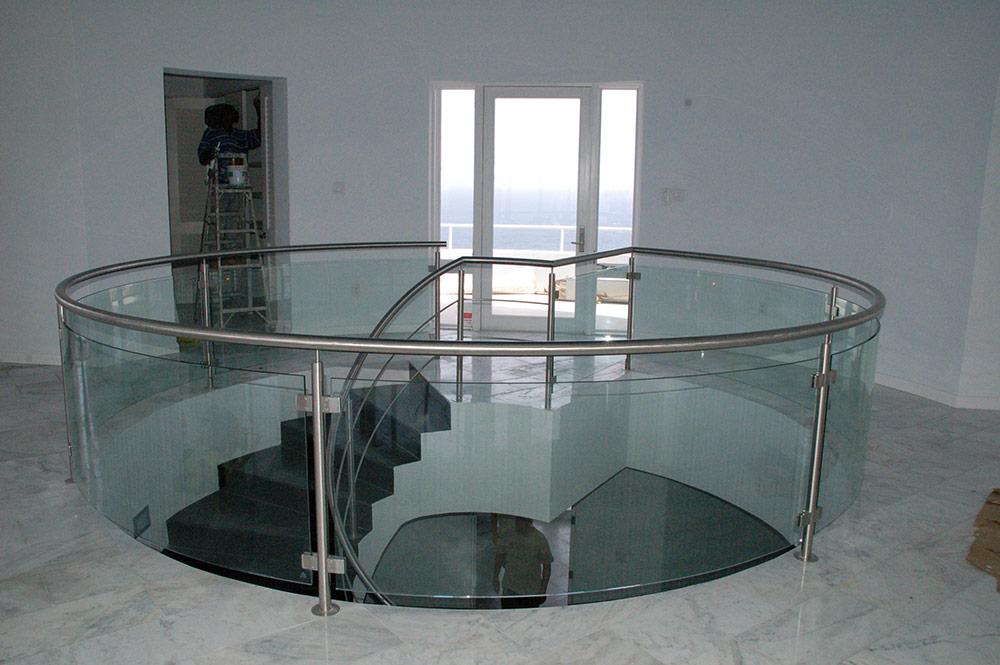 Due to glass' flexibility, the railings made of this material can easily fit any kind of staircase you have. Glass railings are normally custom made for each house so they adapt perfectly to the shape of the space. In this design, the glass railing combined with stainless steel fits to perfection to the circled shape of the staircase. Even this house is still under construction, is evident that this glass railing design will enhance the style of this room.
7. Modern And Flawless Custom Made Railings For A House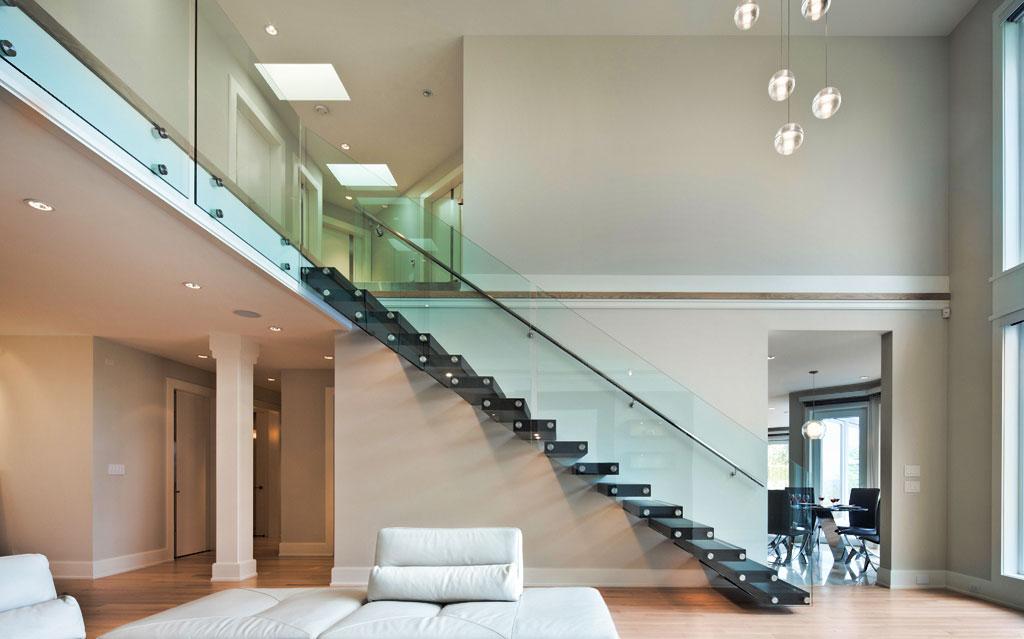 When we choose a modern style for our home, we want every detail to show it, and this includes an object as central and important as the staircase. The staircase can be our great ally when choosing a trend, because to put a consistent design with the rest will be an avant-garde and unique detail. This room is a perfect example of how a trend can set the tone for a whole design. Floating wooden steps on the staircase that has glass railing as well as the second floor's panels are definitively the central focus of this house that is living example of great glass railing designs.
8. Outdoor Railings With Tarnished Glass Panels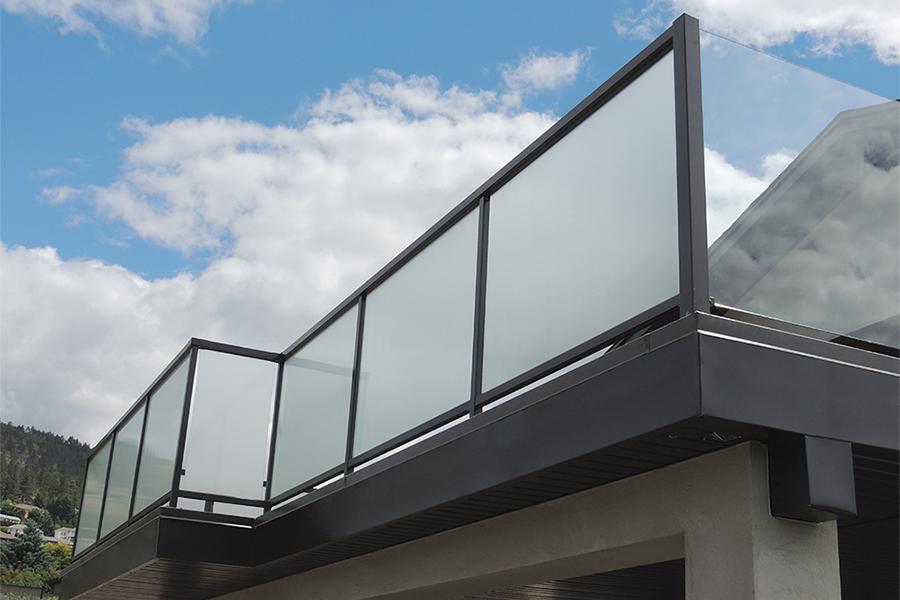 Glass give the sense of freedom due to its transparency. This feature can set limits anywhere while at the same time giving the sense of having no barriers. In exterior locations, glass panels can be a beautiful feature that makes a place attractive to spend time there, but sometimes you do not want to have a sheer vision or what is behind your walls. For cases like that, a of the greatest glass railings design ideas is the use of tarnished glass panels, that have the beauty and clarity of glass with a bit more privacy. There is a version of these kinds of glasses that reacts to light, for a more customizable effect.
9. Invisibility Feeling With A Frameless Glass Rail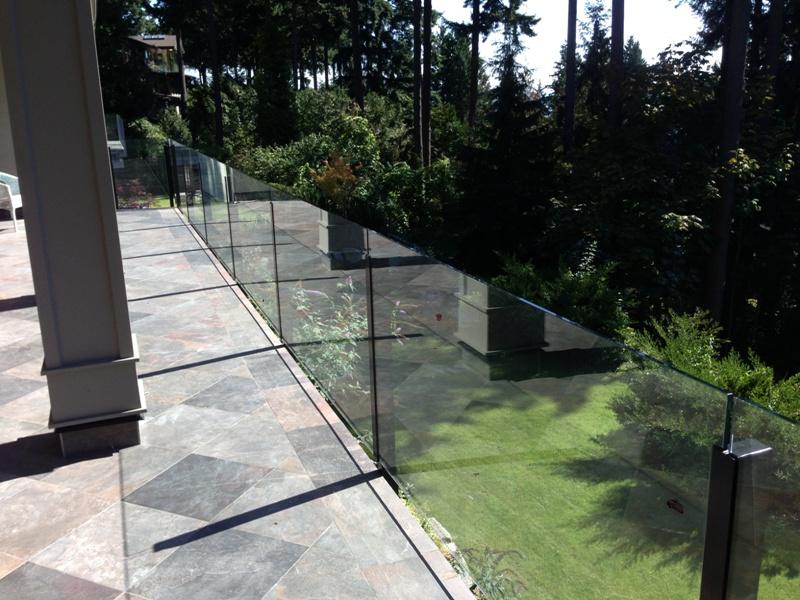 It is been said that glass can separate spaces without making feel like there are any barriers, one of the reasons why this material is so appreciated for design purposes. That effect of freedom and openness is easy to feel in spaces like the one on this picture, where the panel rail of second floor balcony is completely transparent and with no frames, which creates the sensation of being able to walk on the sky. This could cause vertigo in some people, but, is not it a very original approach to glass railing?
10. Glass Baluster Railing To Enhance A Cabana Design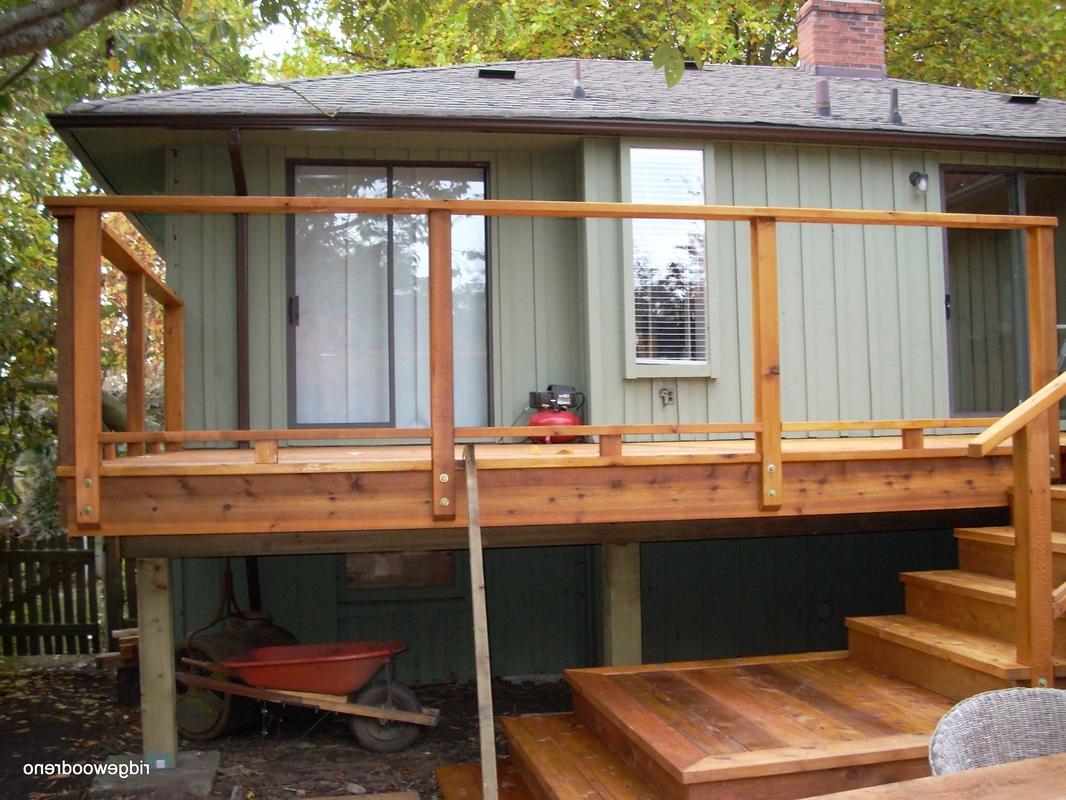 Glass railings can also create a very nice look in any cabana, like in this one where the glass was framed by rustic light wood to enhance even more the rustic aspect of the cabana. With staircase also made of wood, this is a perfect style for a cabana inside the woods.
11. Transparent Space Definition With Glass Panels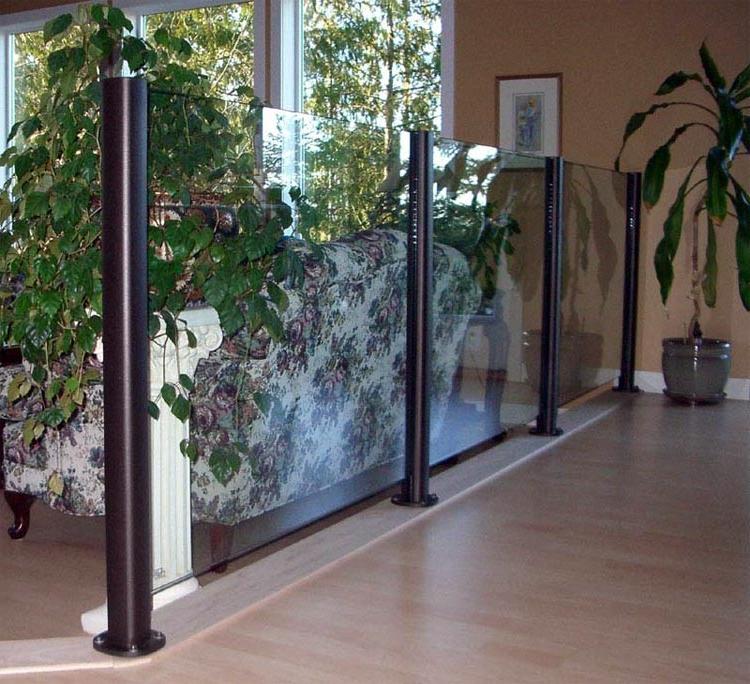 When you want to separate spaces but you do not want the separation to be too obvious, glass is the best way to go. It will help you to create the area definition that you are looking for while saving the wideness sensation of an open concept. Here, you can see how a glass panel very simple separates the sitting area from a different part of the living room; the kids play area, for example.
12. Elegant, Simple And Clean Rail For Stairs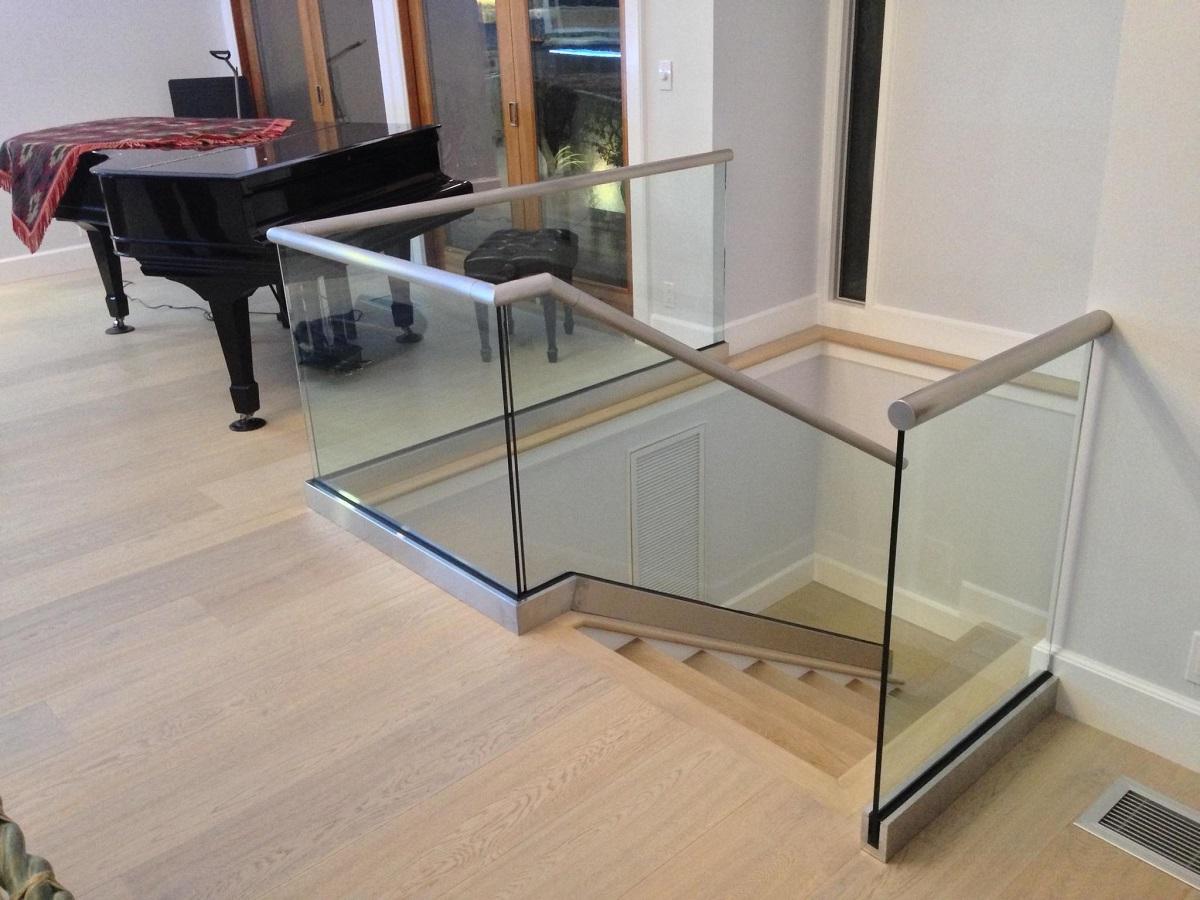 For a clean, minimalist preference, nothing like glass railing design ideas. In here, instead of installing a half of wall to define this room and separate the stairs area, the owners went for something more modern and simple at the same time: glass panels to define the room and glass railings to accompany the very light wood stairs. The railings have just a touch of aluminum and the panels are made in one piece, making the design even cleaner.
13. Wood Combined Glass: A Decor Idea For A Vintage House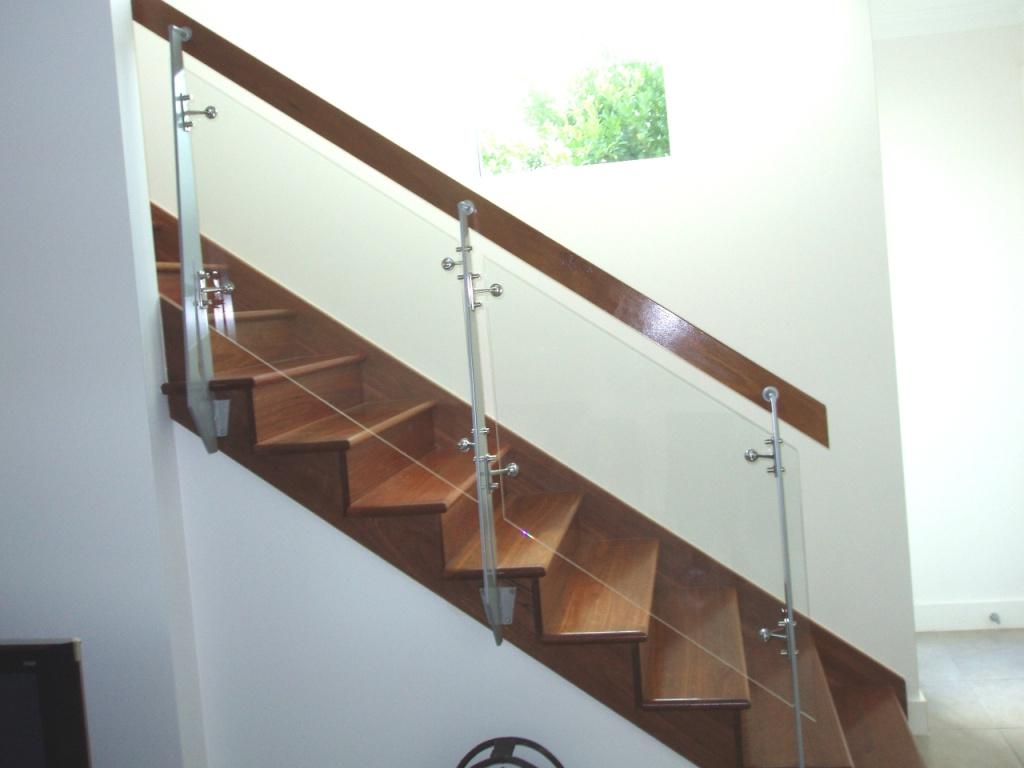 Glass is a very current design trend these days but, what if you have a vintage or old style house? You may still want to have some glass but do not pretend to change your whole home style. Then think about examples like this, where you can see how the vintage wood staircases flow greatly with the glass railings that are installed by stainless steel pieces. This design adds a little modernity to a vintage house, making it more appealing.
14. Modern And Chic Interior Design For Glass Rails In An Open Concept House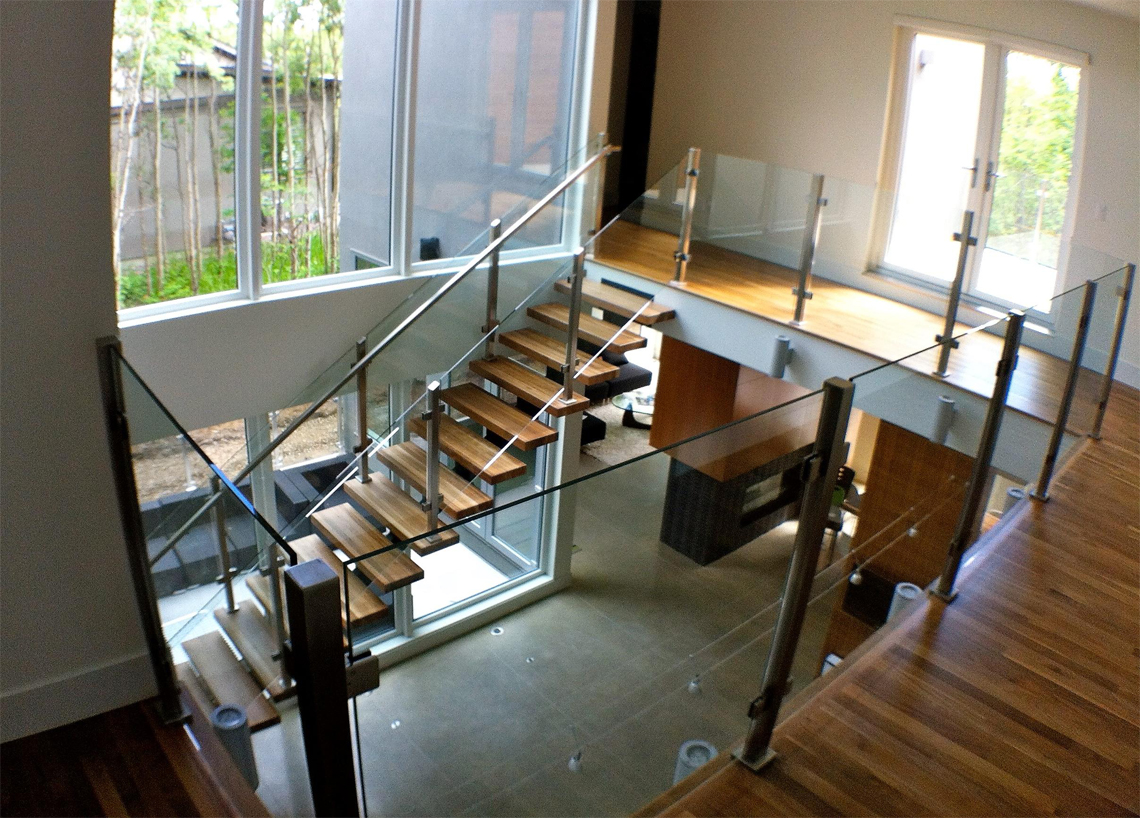 When the staircase is an object central and important, it is vital to make it stand out without being invasive or too loud. What you want in these cases is to put a consistent glass railing design idea with the rest of the room. In this house, the staircase turns out to be a great ally to the design, by unifying the style. The floating thick and dark wood stair steps and the glass railings and panels unifies from the roof to the floor, from the left to the right, all this structure's designs, making the space feel like an avant-garde and unique design.
15. Rustic And Elegant Interior Design To Combine With Glass Railings With Metal Details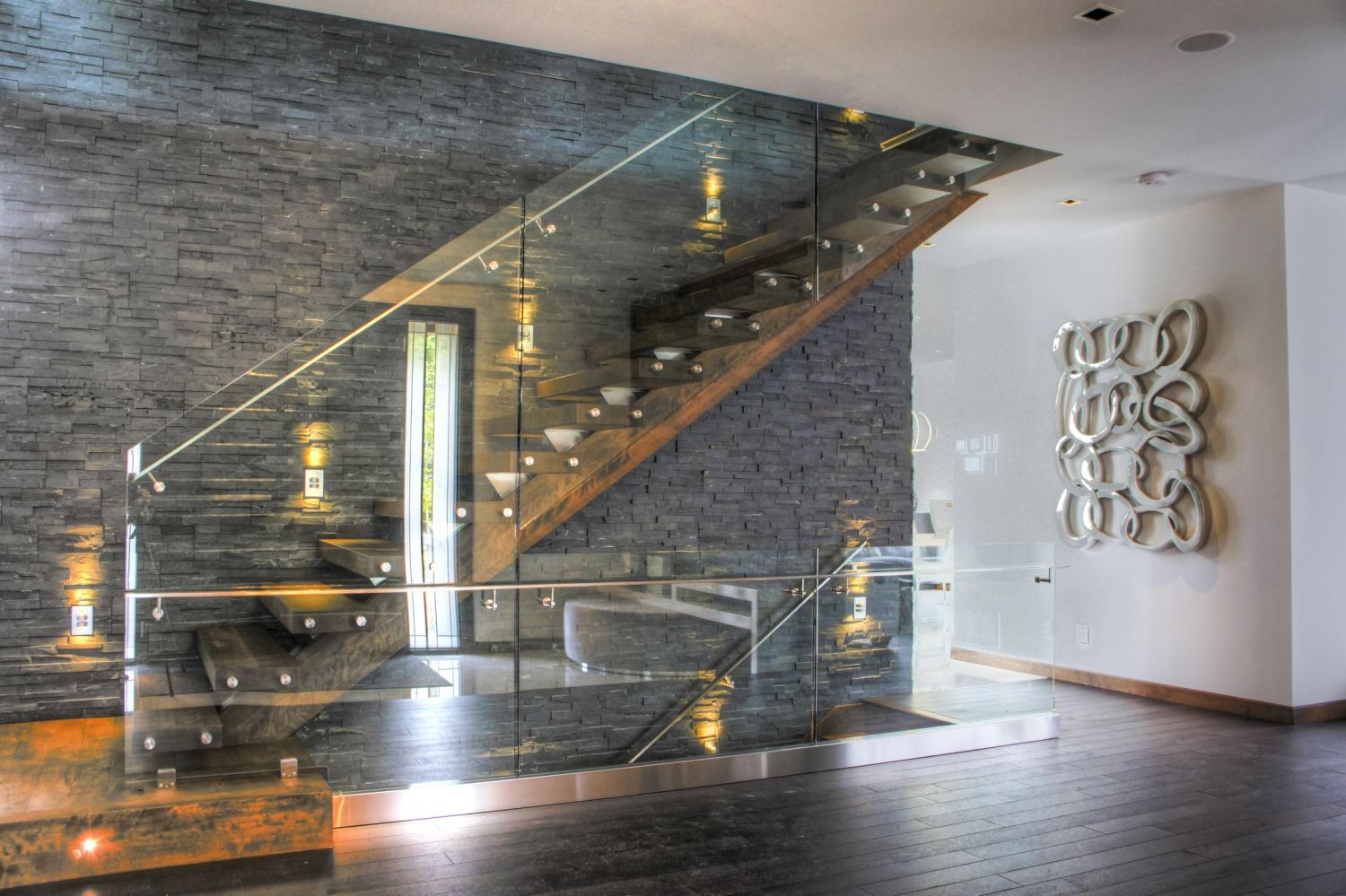 When choosing glass, every detail counts in the design of an environment, project or element. This modern style has its own parameters and also very marked lines that denote elegance, contemporaneity and simplicity, and when you combine it with luxury materials you can create top quality finishes. Like in this room, where the glass railing combine magnificently with the elegant and luxurious details like the black stone wall, the dark wooden floors and even the works of art.
16. Glass Railings To Enhance Your Deck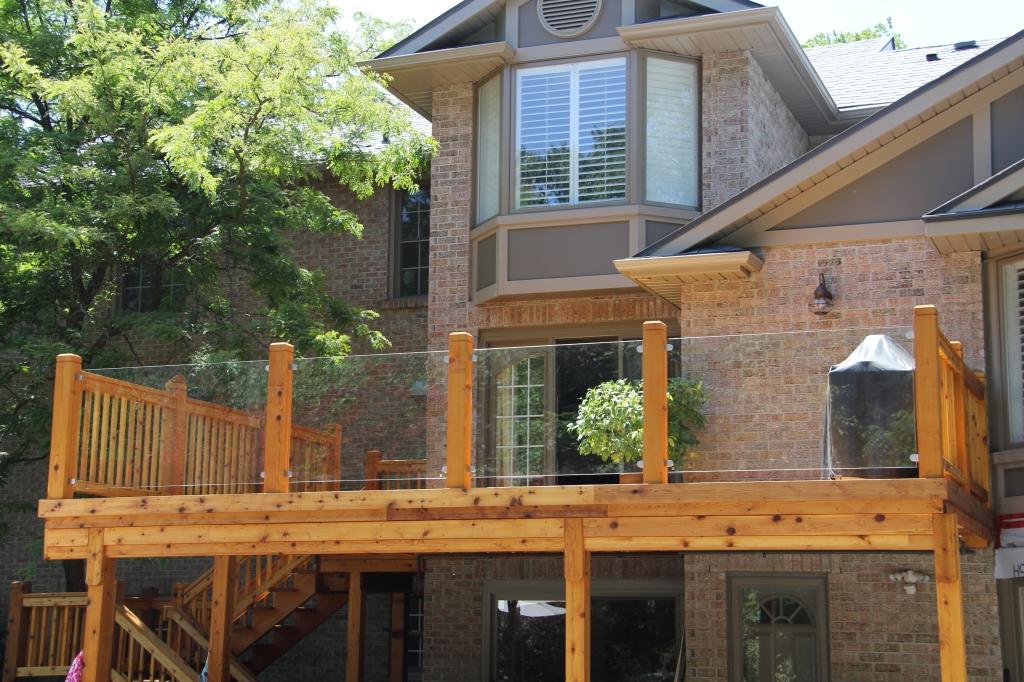 Second floors' decks are being very used these days. They are the perfect match between a balcony and a terrace for a master bedroom, a space where a person can expand without even leaving the room. For this reason, styling the second floor deck is more and more a trend lately. We offer you some glass railing design ideas for your deck, like this one: a perfect deck for a little terrace or master bedroom that features glass panels in the front of the deck and regular wooden railings in the rest of the deck. A mix and match style that definitively will make you stand.
17. Completely See – Thru Glass Rails For Stairs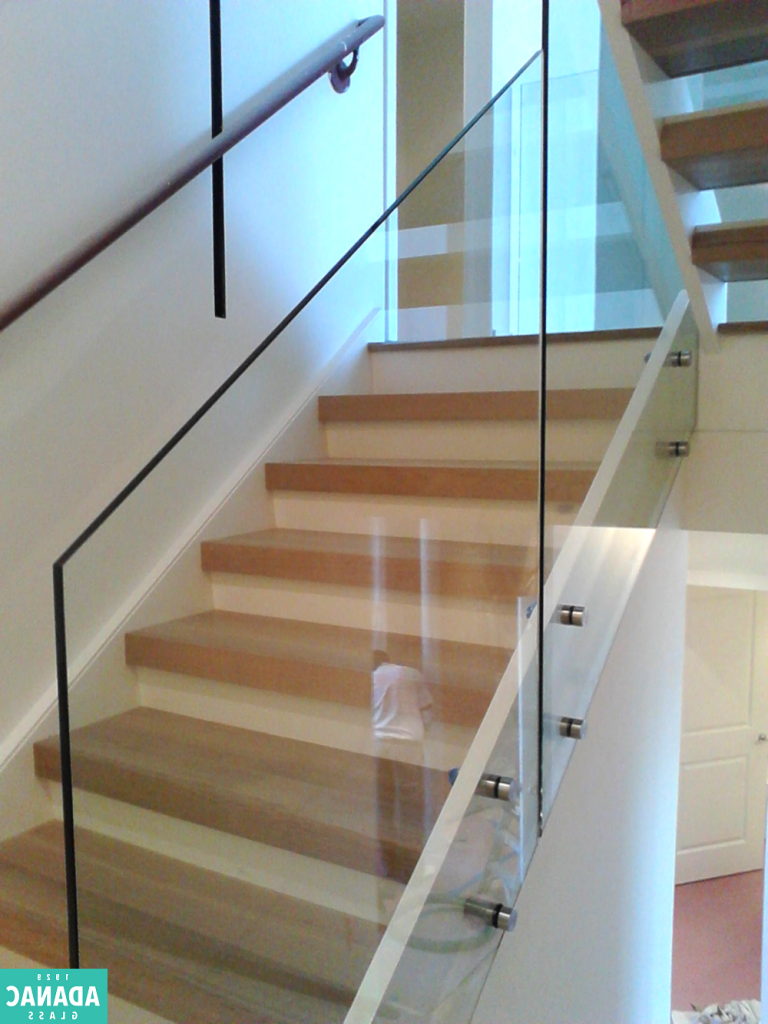 Another nice characteristic of glass railings is that they can be a entire piece just like with walls, so the installation can be really easy. In this case, the railings are 2 solid pieces of glass that are secured to the stair with ornamental screws. The frameless structure looks very in tone with the white stairs and the wood steps.
18. Easy To Install Glass Railings To Define And Protect The Narrow Stairs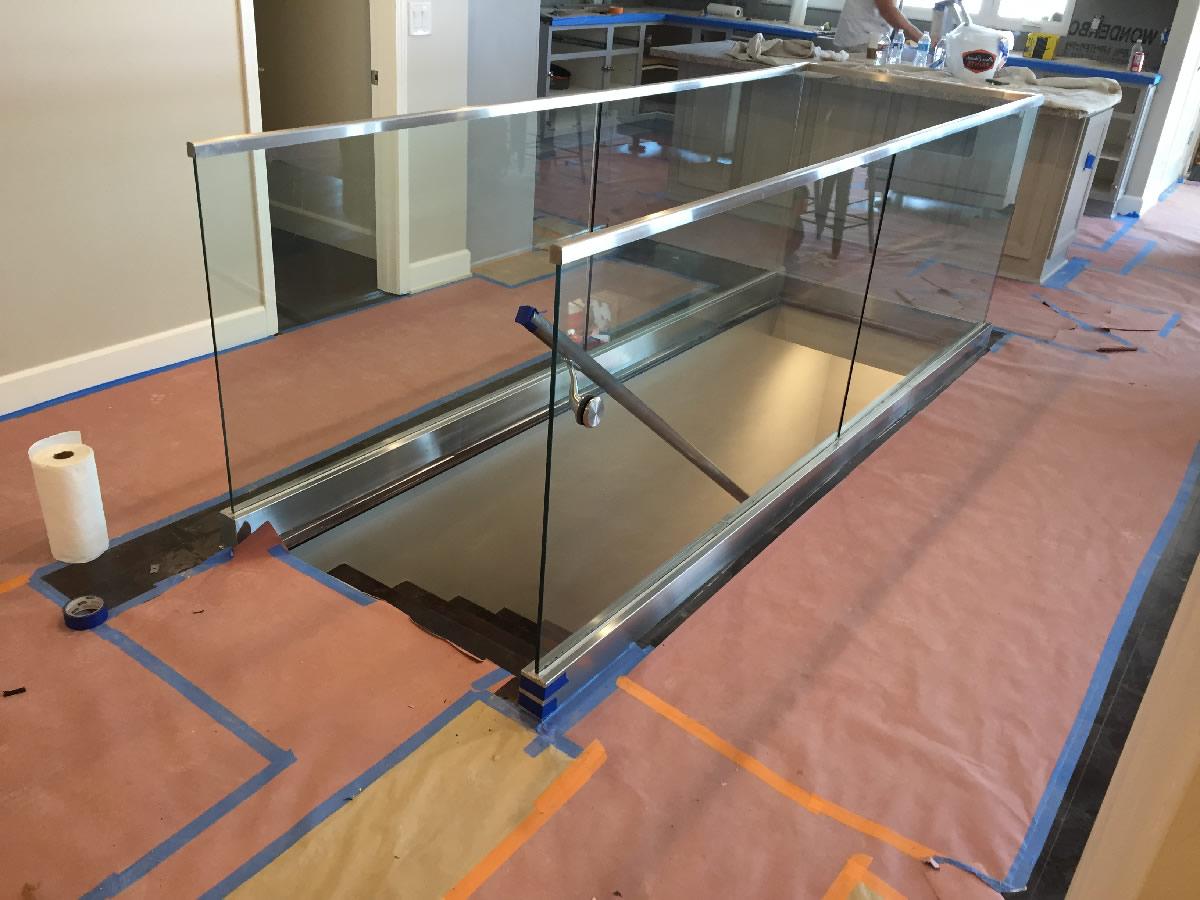 If you have a narrow staircase to go to higher floors of your home or office, step away from walls, drywalls or colored panels to close and protect the stairs area. Instead, choose something like glass railings to separate the spaces while eliminating the enclosure sensation. This will also make the floor look wider and more open than if you had used any other material.
19. Transparent Perfection With A Touch Of Wood As A Protective Cap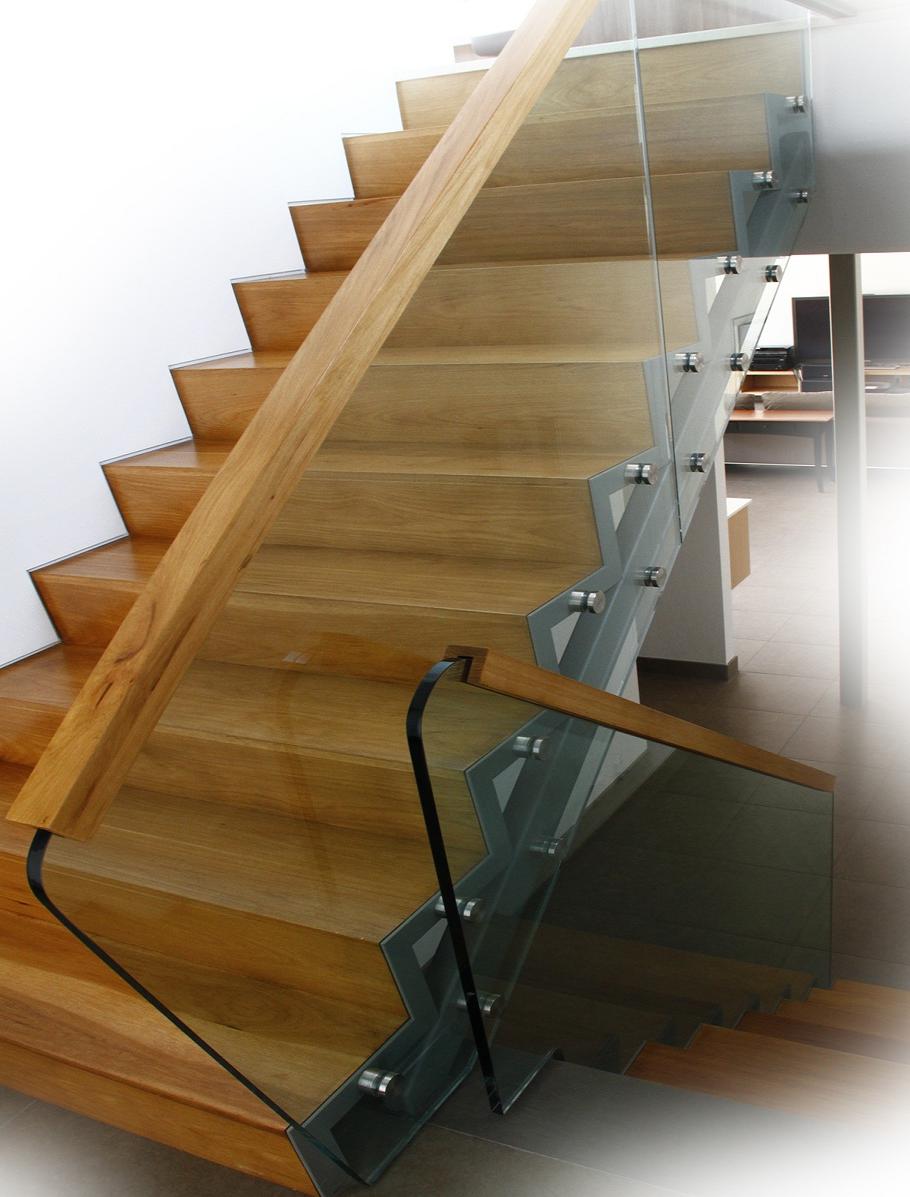 Wood, metal and glass are icons of the industrial look, a style so trendy today that most apartments use it in their designs. You can use one of these materials or better yet combine them all in something as interesting and chic as this staircase that certainly looks industrial but also very modern and chic. The wooden steps, the metal to define the lines and the glass rails make this original structure stay on people's minds.
20. Contemporary Simplicity And Luxury With Glass And Metal Railings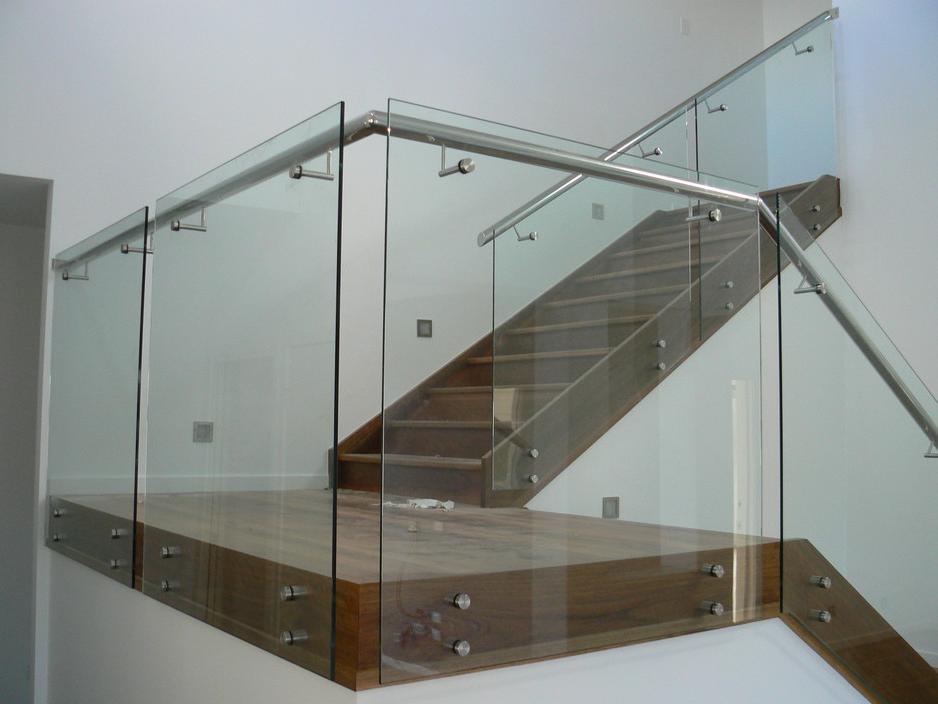 Whether you are considering it for private homes or in public buildings, glass stairs always look amazing, regardless of the environment. Although they are particularly interesting when combined with materials such as wood or concrete. It creates a perfect balance between rustic and soft, giving the house or building a strong character too, would not you think?
21. Attractive And Modern Glass Railing Panel To Beautify A Residential Balcony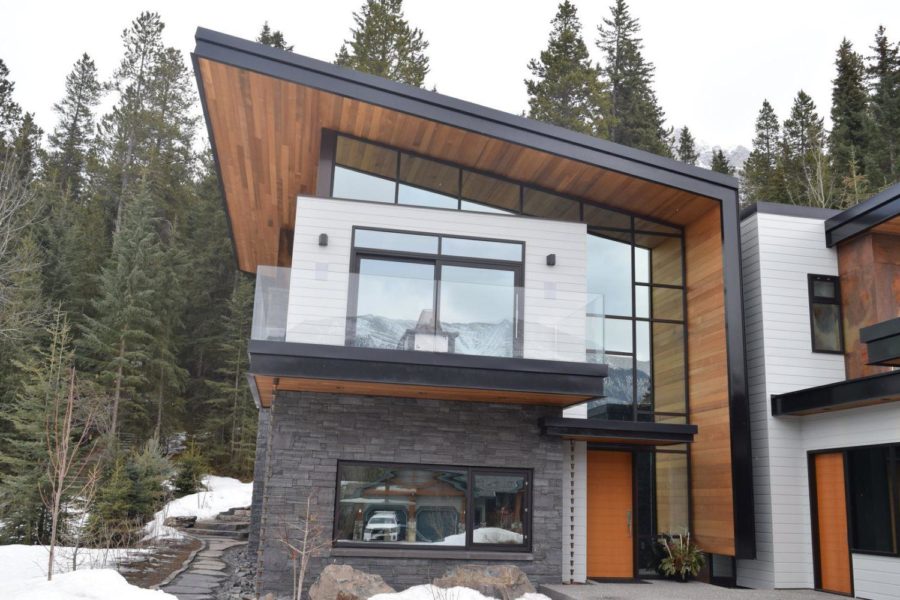 Structures with bold architecture also show bold designs. This modern cabana in the woods has an impressive out of the box design that features a mirrored glass wall in the front of the house, and in the master bedroom the star is the balcony with glass railings as panels to unify the idea. Wood, stone and even iron completes the Avant-Garde arde design.
22. Security Of Stainless Steel And Glass For Pool Protective Railings
Beautiful protection is how we should refer to glass railings when we talk about them. After all, that is exactly what they give us when they protect us from falling in different level areas while looking stunning in their sheerness combined with natural or industrial materials. Like in this pool that protects anyone from falling and looks gorgeous with the frameless panels and the stainless steel details.
23. Topless Simplicity And Good Taste In Transparent Rails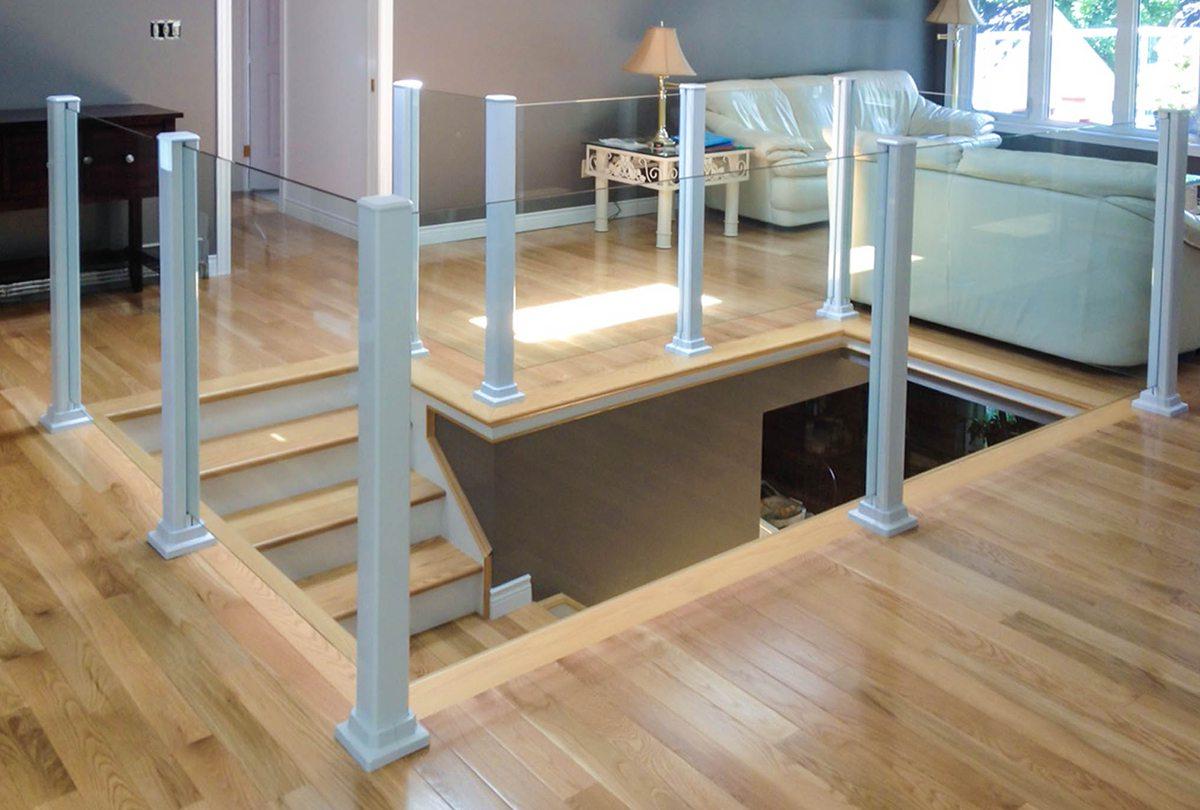 Glass and interior railings are a combination that undoubtedly creates magical environments. The use of glass in different spaces of the house has a special effect that immediately catches the eye. Like in this rooms where the glass combined with the white railings create a marvelous effect of openness and light.
24. Design The Perfect Railing To Make A Balcony Perfect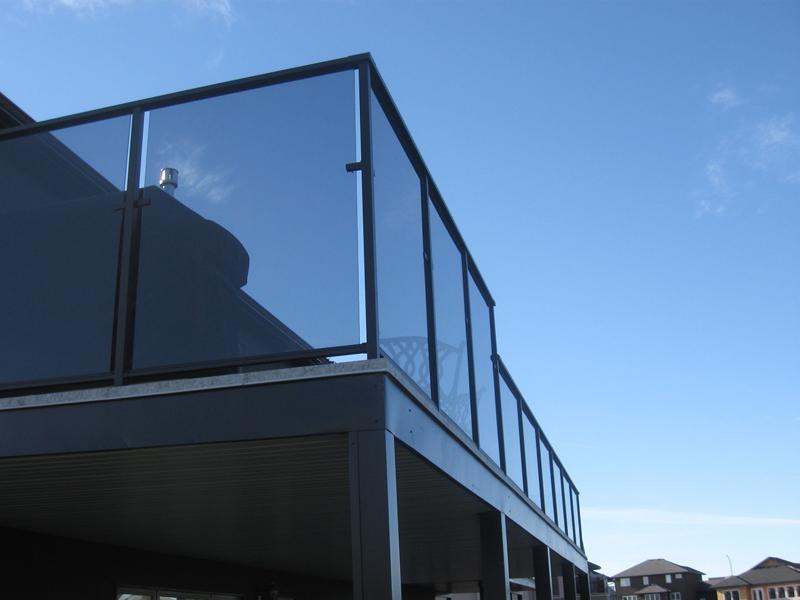 Whether in the bathroom, lounges or some division, glass is a lovely material. In a balcony like this, with this amazing view, the glass panels makes the space look bigger, and feel bigger. This particular railing is also very safe with reinforced metal structure to keep it in place and secure.
25. Glass All The Way In A Deluxe And Modern Design For Rails And Treads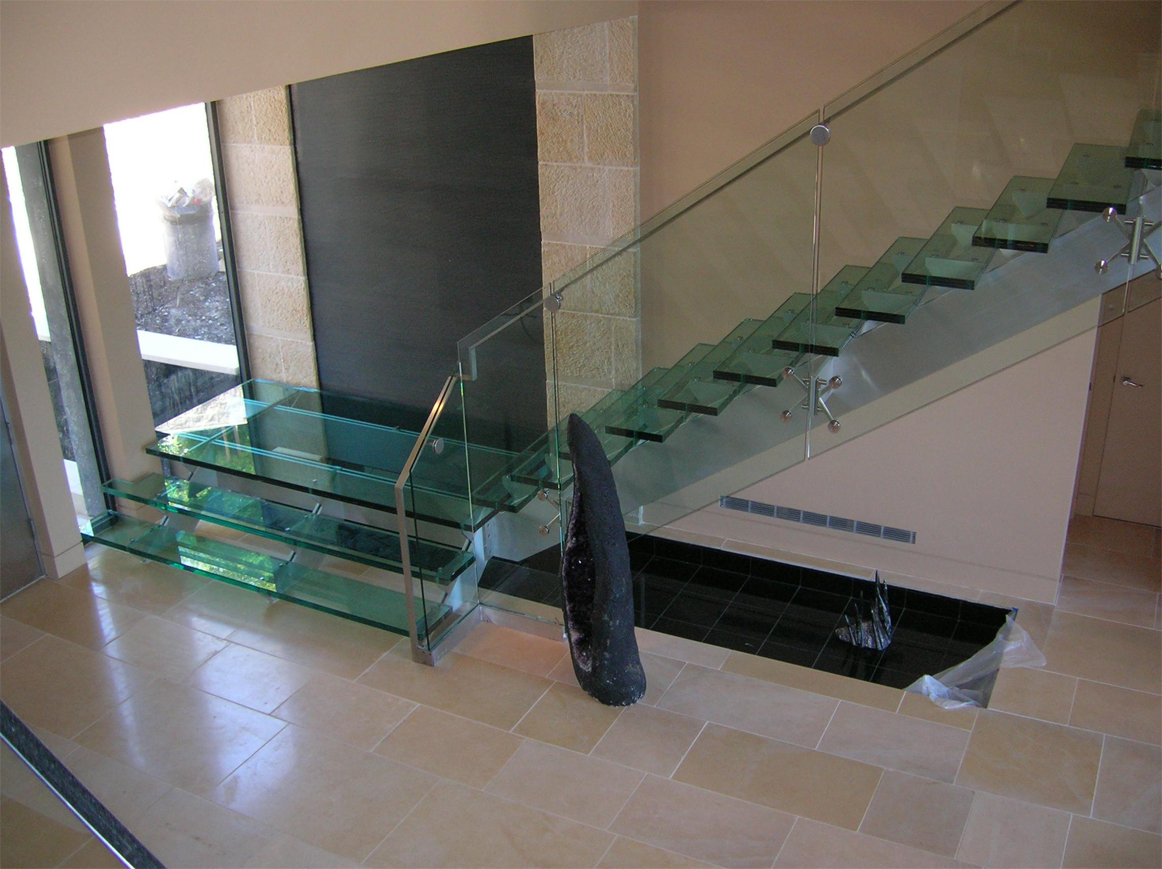 Among other materials, glass has been highlighted in modern interior designs. Its pleasant optical effect reinforces the aesthetics of interiors. The top or the glass railing design ideas we have for you today is to create a completely glass staircase. Nothing says elegance and luxury like a crystal clear solid tempered glass staircase and railings. This design is perfect for an open, lightened house with a minimalist aspect.
Conclusion
The design is increasingly relevant in the overall design of the building, which is why every day greater dedication is applied in matching the quality and style of the balconies and staircases, with the overall design of the building.
Rails are a simple detail that can make your core vertical circulation the masterpiece in your architectural proposal.
In this article we have shown you stairs and panels with this type of railing, so you could see the possibilities of working with this material. You have seen the aspects about this type of railings that make them so beautiful, modern, and in trend today.