Plants bring well-being and wield wonderful power over us. They have gone from being forgotten in a corner of the room to take on real prominence. And the latest in deco are the hanging plants. See what great ideas we have found for you
You have a dull and boring space and you don't know how to change it? Would you like to get out of the ordinary? If so, today you are in luck because we bring a post dedicated to the decoration of gardens and interior rooms.
With our stars of today you will not only fill a space that was previously boring with color, you will also get an area full of life and originality.
We are talking about hanging plants, those whose stems are not upright; therefore, the plant cannot support itself and tends to grow at ground level or develop different shapes, such as rootlets, that allow it to climb a vertical surface, such as the bark of trees, in search of light.
There are indoor or outdoor hanging plants. All of them are perfect for decoration; however, there are varieties that are used much more than others.
These plants are ideal to decorate your house and that is why in this article we tell you some of the best decoration options with hanging plants to give a natural and green air to your house. Surely you will find one that convinces you!
25 Best Hanging Plants Ideas That Will Enhance The Look Of Your Home Greatly

They clean our air, reduce stress and bring us well being. Definitely, plants are living their best moment in decoration.
But before you go straight to the plants store looking for three or four more pots to add to your particular garden, what we want to suggest is that you simply hang them. Yes, nature offers fascinating hanging species that will definitely give a different look to your living room, kitchen or bedroom; or even to your bathroom if you hang them by the window. Where to start? Well, depending on the area of the house you choose to hang them, if they receive a lot of natural light, medium or low, you should choose your hanging plants accordingly. From the ceiling, on the top of a bookshelf, on a side table, on a window sill … Its lush branches and leaves will fall gracefully from any support and will make you perceive your space more vibrant and special than ever.
So, do you want to learn a little more about hanging plants? You just have to keep reading.
Hanging plants are species that do not have an upright stem or, in other words, do not stand on their own. When they grow, they do so by climbing (climbing plants) or at ground level (creeping plants). Some examples of these plants are ivy and poto, among other plants that germinate in the original habitat in the shadows of the forests and in order to survive they climb the trees to the crown, where they find the vital light.
Climbers begin to develop in the ground and as they grow, then, they climb on the surfaces. These surfaces (walls, walls, fences, etc.) are the ones that act as "guides".
Although the maintenance and cultivation of hanging plants varies according to the species, there are some basic aspects that are common in all of them. What you should know about this type of vegetation is the following:
Light
In general, because most are plants that germinate under dense forests, hanging plants can live in low light conditions. However, in low light they survive, but do not show their full splendor and tend to lose old leaves very easily. Placed in well-lit places in the house or on the porch, and avoiding direct sunlight, we ensure that the hanging plants stop losing their leaves and that the new ones are getting bigger and more spectacular.
Irrigation
Most hanging plants don't like to be over-watered. It is recommended to water them when it is detected that the soil has already begun to dry, but without letting the substrate dry completely.
If we water excessively, its lower leaves turn yellow and fall, tarnishing its size and the density of the foliage.
For a correct development, it is advisable to spray the leaves with warm water once or twice a week. In addition to providing shine, the leaves are able to grow in size and healthier.
Temperature
They are not demanding plants when it comes to temperature, as they adapt perfectly. The ideal is a warm temperature, except for the ivies that prefer a rather cool temperature. Like most houseplants, they do not tolerate drafts, especially cold ones.
Plagues And Diseases
Pest attacks are not frequent. The main problem come from excess watering and waterlogging of the roots, which favor the appearance of fungi that can rot the plant.
In general, all hanging plants are very strong and easy to grow, and take an interesting role in the decoration of shelves, planted in hanging baskets or at the foot of another larger plant.
Now that you know much more about these fascinating plants that would perfectly decorate your home, we leave you with the best ideas to inspire you and place some if you want to incorporate them into your life, and turn your house into a true green oasis.
1. Give Aroma And Style With Jasmine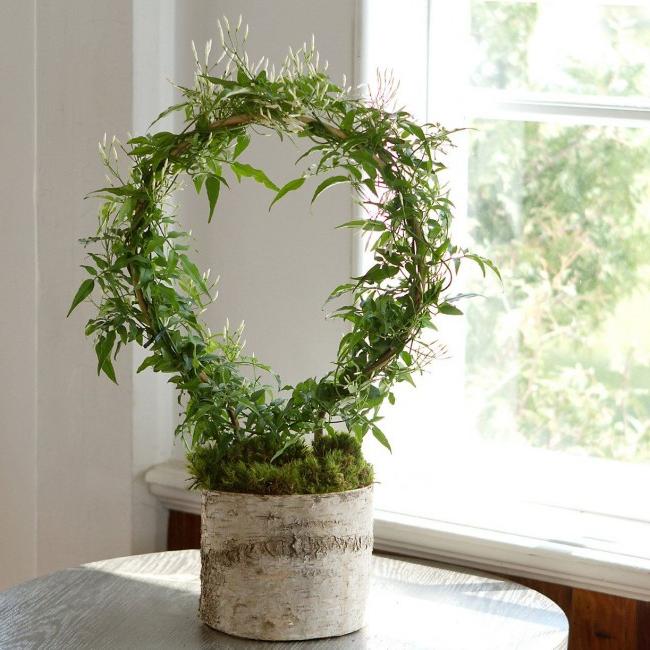 This jasmine uses a structure to hang from it and climb. You can use a piece of cord or a piece of wire and create a beautiful style by placing it on a pot in a round or curved position to then allow the plant to climb on it, creating this great stile that looks like a mini tunnel. The moss plant on the base of the plant pot allows hiding the wire's end to make it even more beautiful. This design is ideal to place in a shelf, on the window or to use it a centerpiece.
2. Create Your Own Attractive Composition With Tubes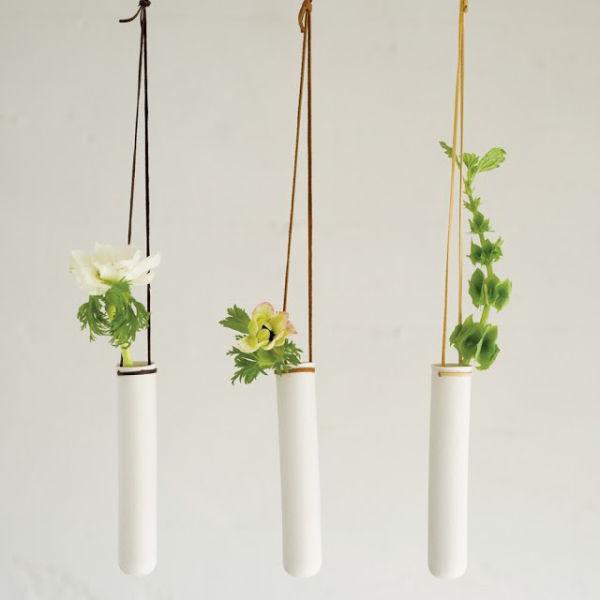 You can make attractive hanging plants compositions with recycled material, like these tubes that all they took to turn them into this was open a few holes on them and then use cord to put around their necks. Then length will depend on where you want to place them.
3. A Bicolor Large Cisus Hanged Arrangement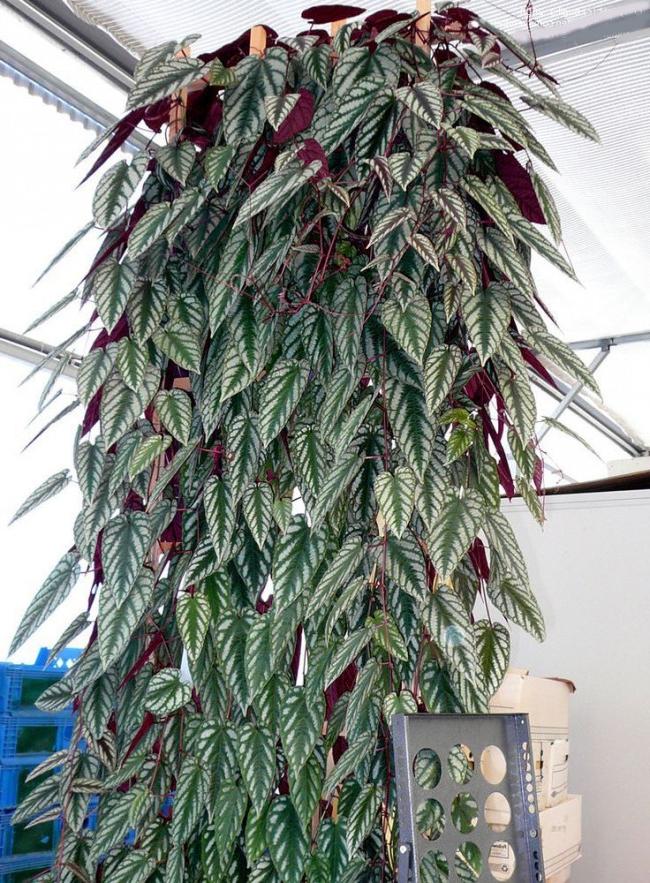 This awesome design is great if you want to create a plant wall. Use a medium to large size plant like cissus that will grow fast and take a lot of space when growing. Make sure to use thick cord, sticks, or any other material to hang them, so they do not fall due to weight.
4. Spectacular Climbing Plants For Any Room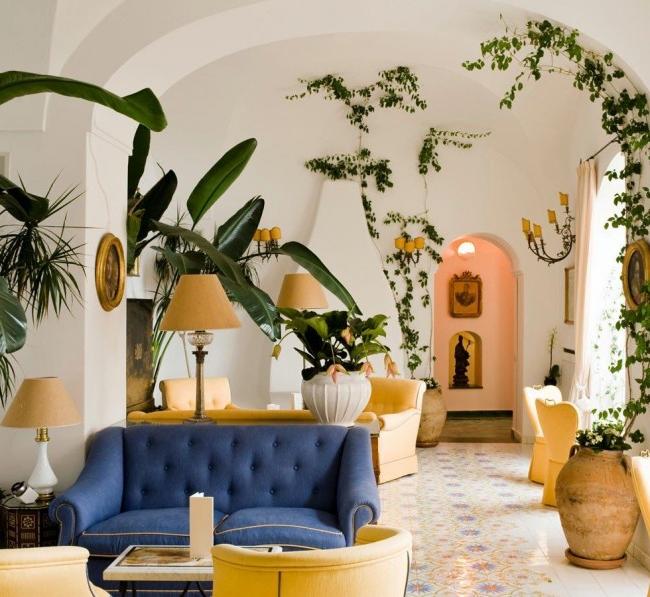 There are many indoor plants that you can use to hang, and some that are not to hang but to climb. In this house, they have many types of plants and they all look magnificent, making this room appear to be outside. A great feeling that is.
5. Cool Plants For A Different Look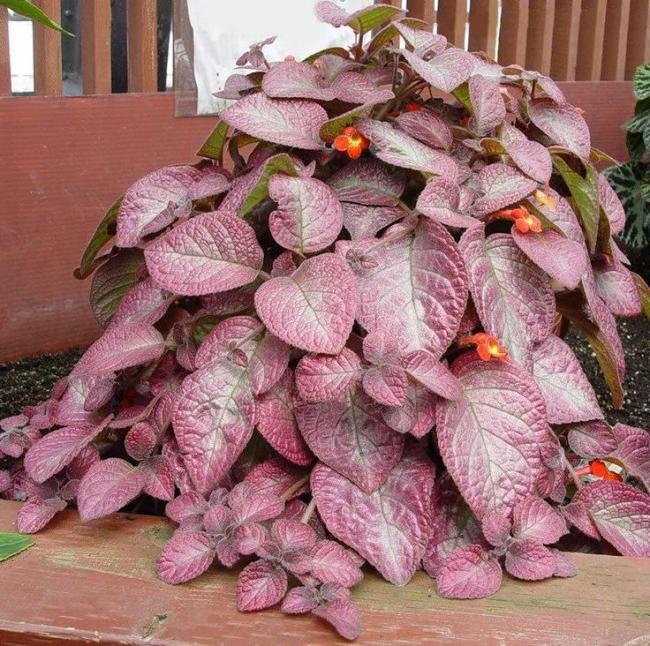 Plants are not always green, examples like this pink plant that adds elegance, nature and style to any room. The leaves grow down on the ground on the nature, so it is ideal to hang on any space, or to use a tutor to help them grow in verticality.
6. Delightful Plants For Your Home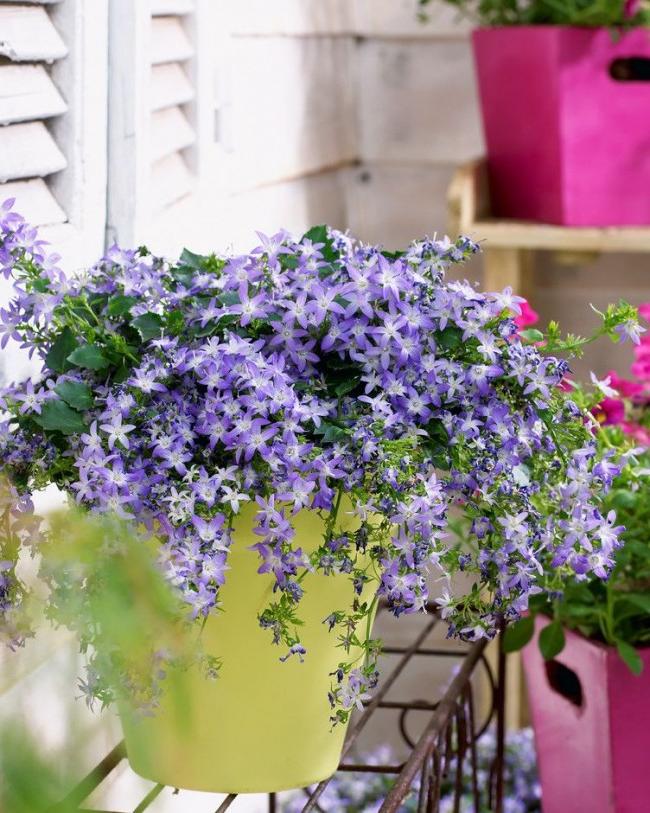 Hanging plants do not have to be necessarily hanging from the ceiling. You can place a vase on a shelf and let them grow and hang from there. They will add a touch of life to any place where you have them, whether is inside or outside.
7. Combination Of Dark And Bright For A Plant Arrangement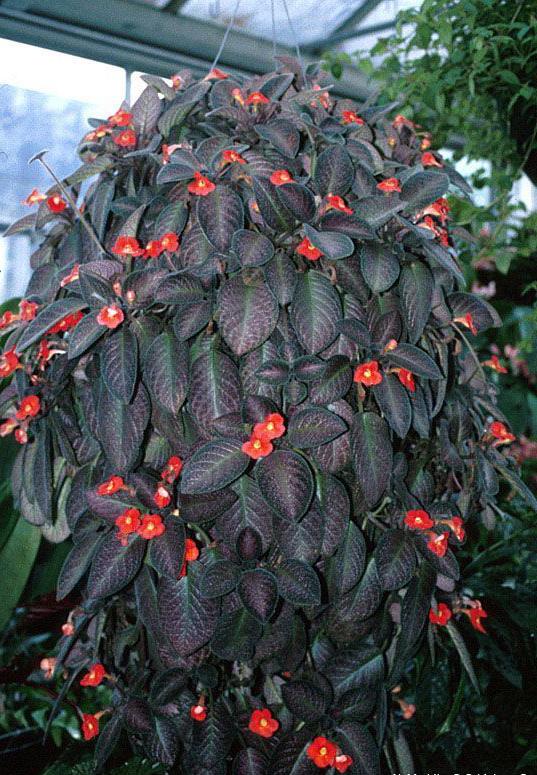 This plant has a dark green color with some purple on the leaves, and the bright red flowers seem to make this plant sparkle in a great way. When you hang your plants you give them the chance to grow larger. They can even reach the floor.
8. Hanging Baskets For Growing Plants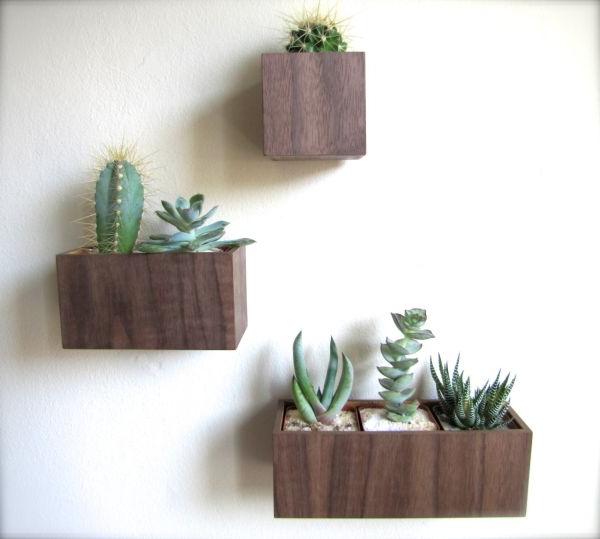 Your hanging plants can also be plants that do not hang. All you have to do is place some planters in your walls with the help of nails and start growing your plants there. this idea is better for plants that do not need so much water, like cactuses for example.
9. Small Hanging Plants On Holders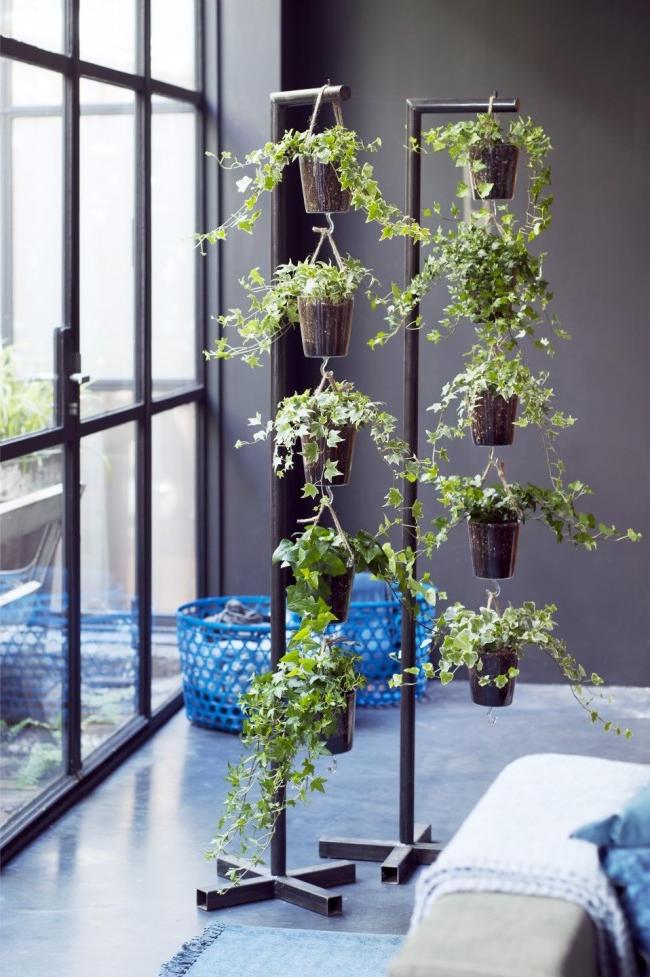 These mini planters are great to grow little hanging plants like this ones that add a touch of relaxation, nature and style. The hanging structure can be recycled or you can have one specially created for them.
10. Decorating Your Spaces With Hanging Plants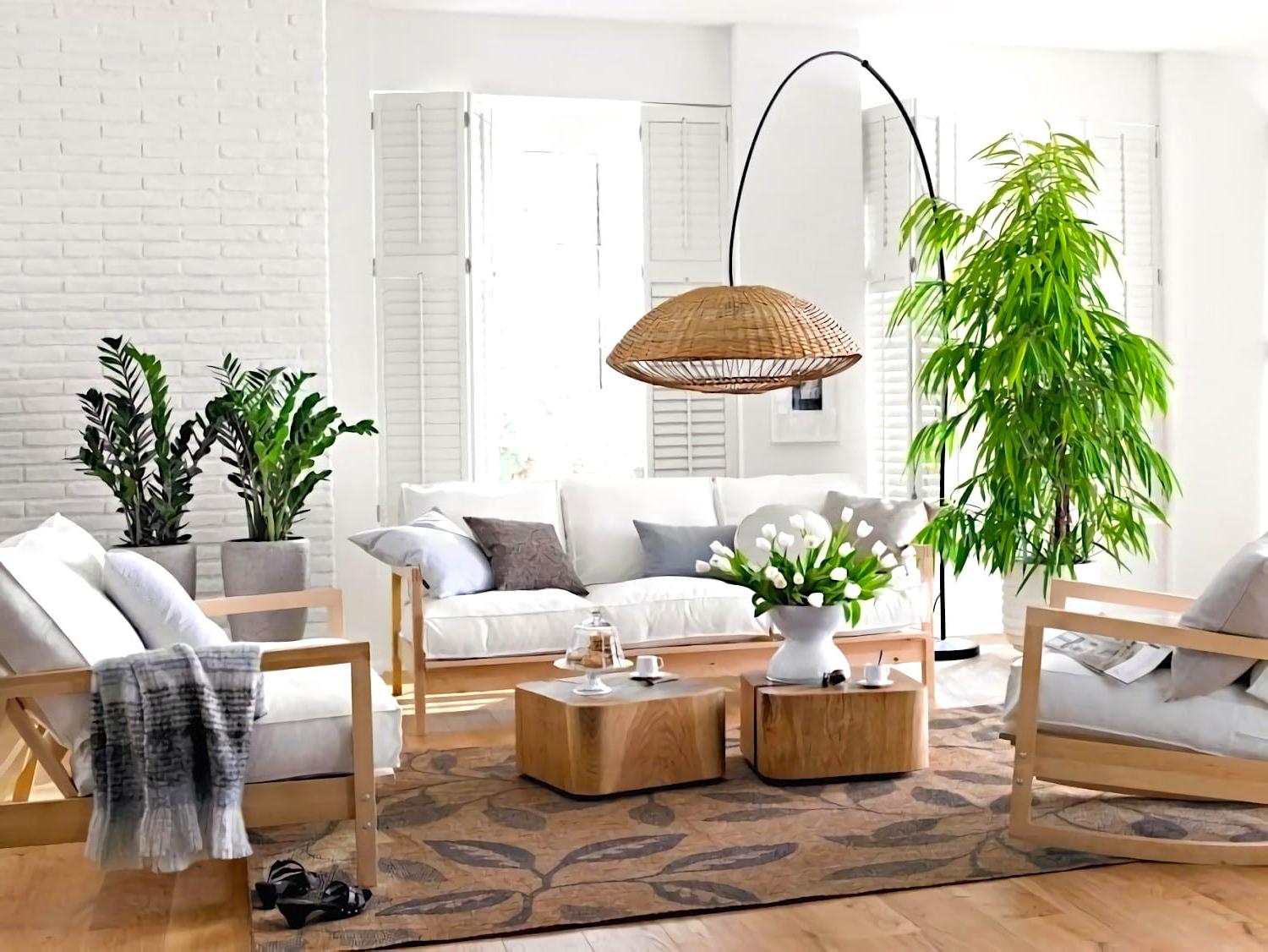 In this room, the hanging plant creates a perfect style by combining its Green color and white vases with the natural materials in the decoration elements. Fibers, wood and wicker work to finish the style.
11. Arrangement Of Hanging Plants For Living Room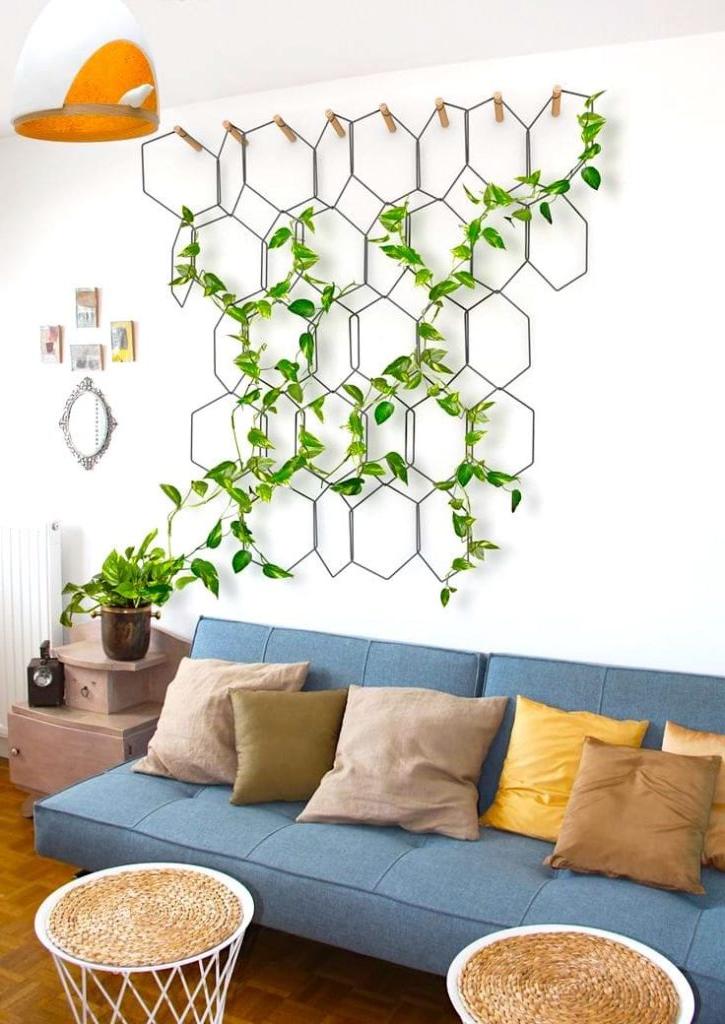 What about creating a honeycomb in wire and placing a plant potter at the beginning of it? This project is just starting but can have an idea of how it will look after a few weeks.
12. A Center Arrangement Of Hanging Plants And House Plants That Look Incredible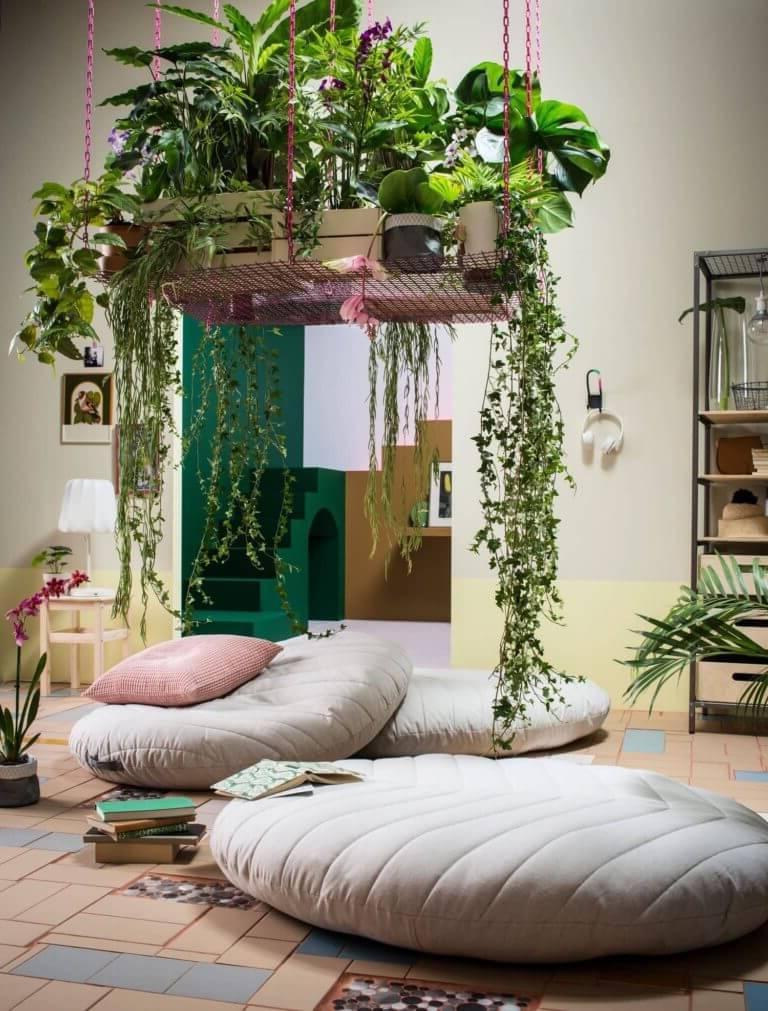 This is a DIY idea to create a master-hanging centerpiece. A large structure that holds different size planters that hang in the center of the indoor patio make this place look a very stylish jungle.
13. A Small Topiary For Tables And Shelves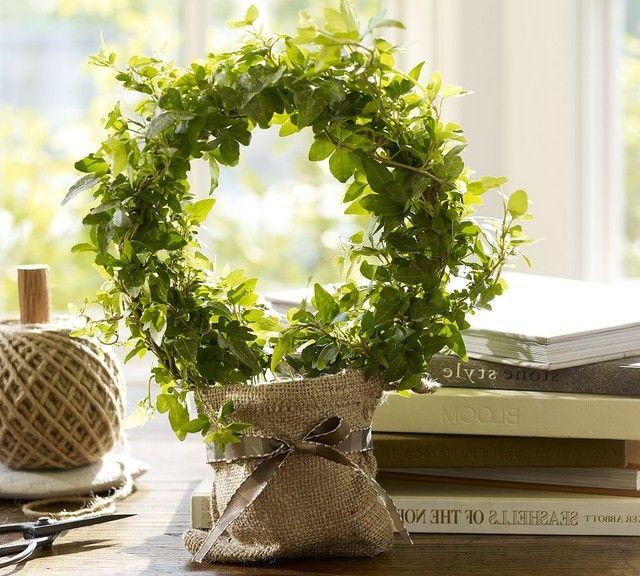 A small hanging plant idea that you can place on top of any desk. The vase is inside a little hemp bag to make it look even greener. Perfect for a gift of to place in your office desk.
14. A Magnificent Plants Wall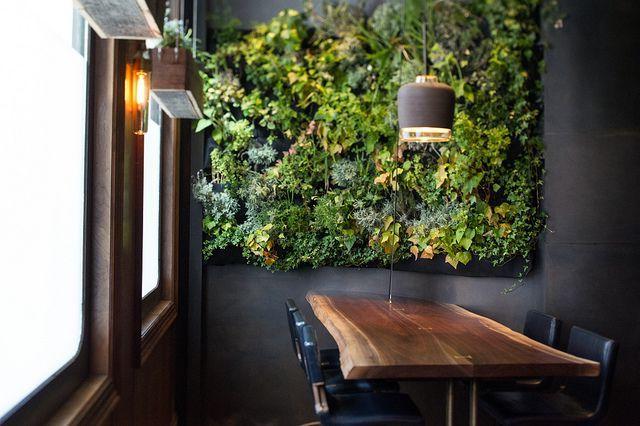 Hanging plants love tutors to climb on them. Just create a frame with a few lines of cord or wire and see them start their path. Watching them grow is magic, specially if you can create a wall like this.
15. Give Life With Lovely Jasmine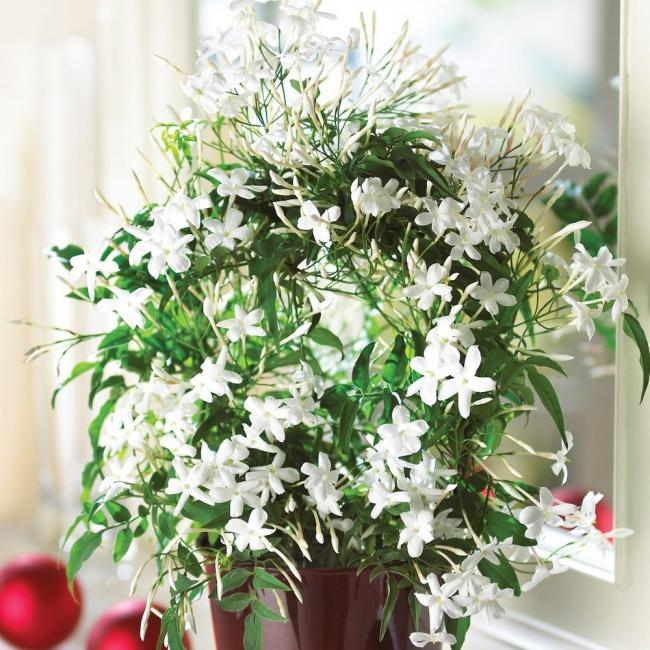 Hanging plants give life to your home without taking too much space. That is why they are favorites for many people. Choose plants with flowers like this jasmine because they look better.
16. Money Pool Plant That Grows In Water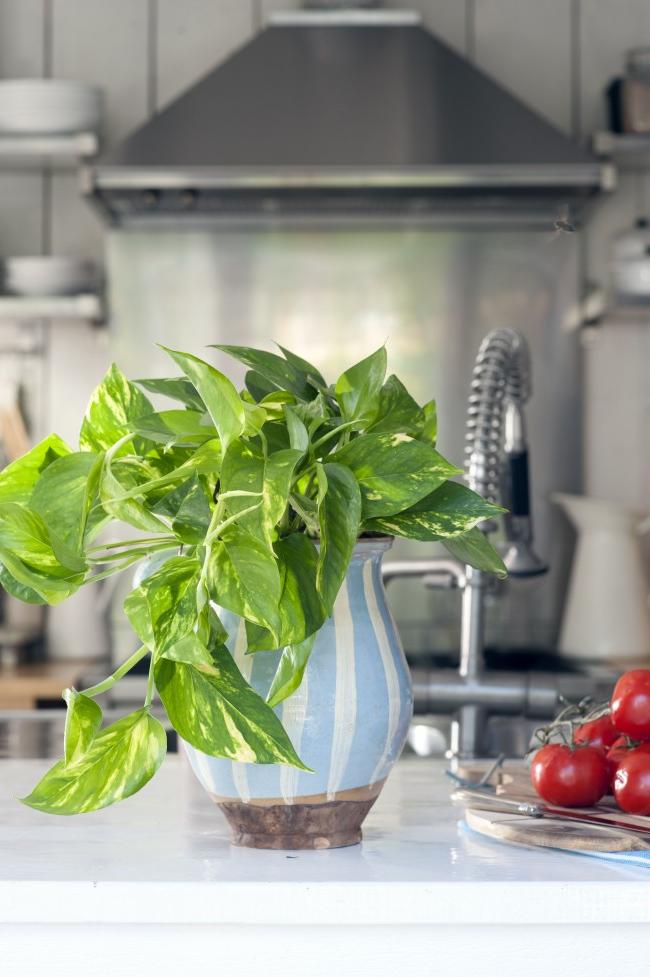 Some hanging plants do not even need soil to grow. You can only find a vase, pour a little water on it and set your plant. You will see it grow beautiful.
17. Mystical Looking Hanging Plants And Holders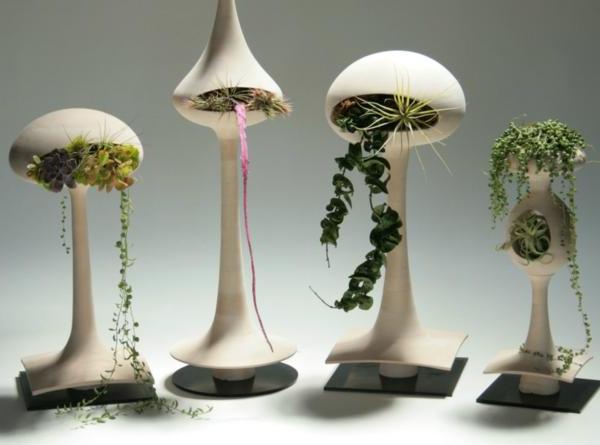 Take a look of these modern and mystical vases for small hanging plants. They are ideal for a desk, shelf or little table.
18. Hanging Plants Ideas For Any Room, Even The Office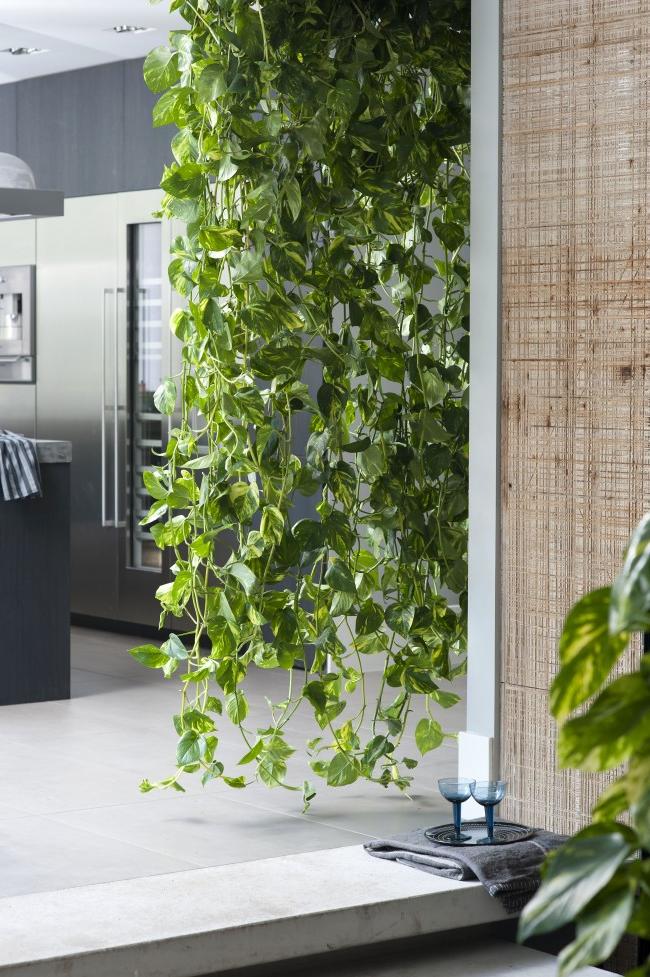 The best part of hanging plants is that are ideal for any indoor room because they do not need so much sun or water. Because of that you can place beautiful exemplary like this one in your office.
19. Cool And Original Composition Of Cactuses On Shelves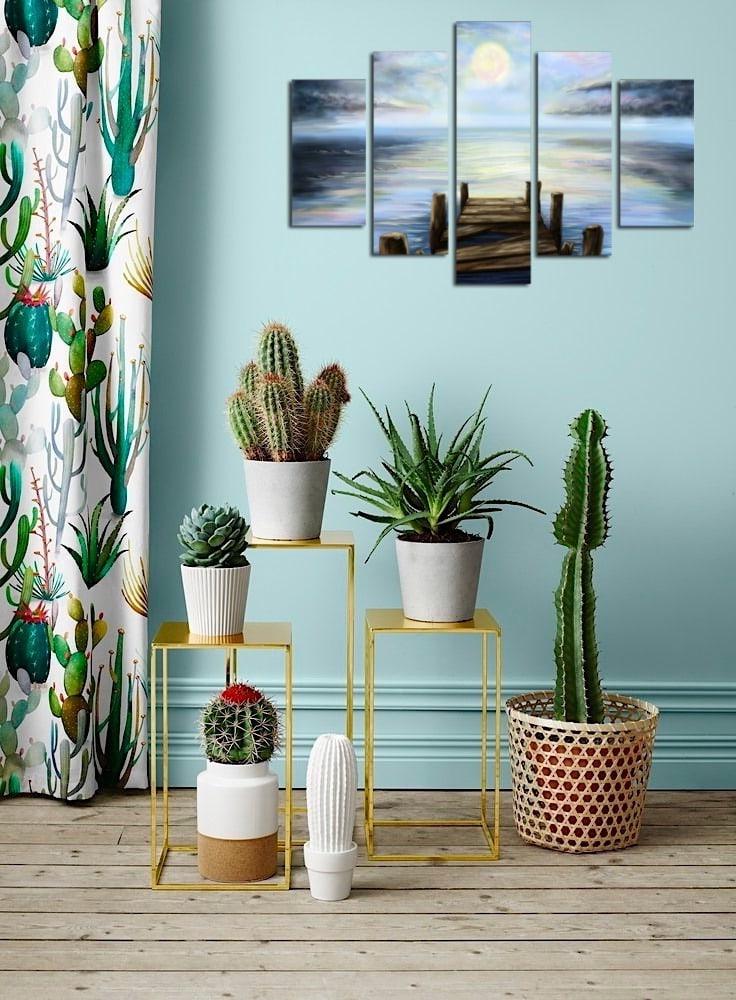 You can create an illusion of hanging by placing your plants high on shelves like in this example where a variety of cactuses and other desert plants garnish the pretty living room.
20. Ornament Hanging Plants Ideas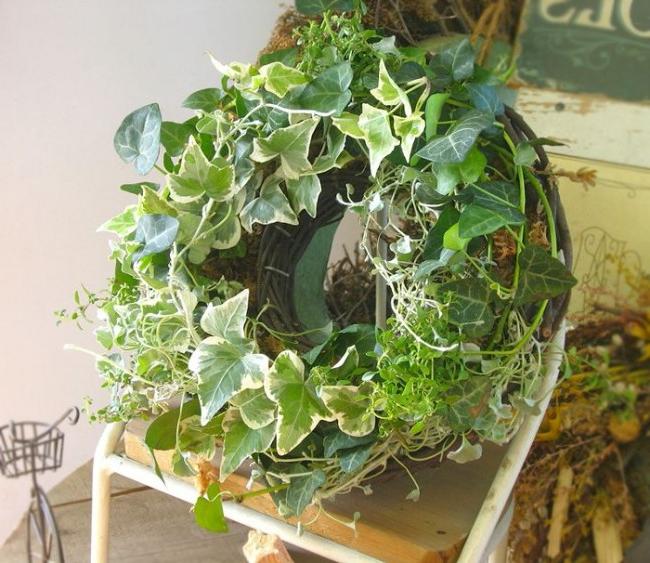 Make your own ornaments by using a hanging plant, placing it on a wicker basket and guide it so it grows in circles. When it has grown a little bit, you can hang it or leave it in a shelf.
21. Green And Grey: Always A Great Combination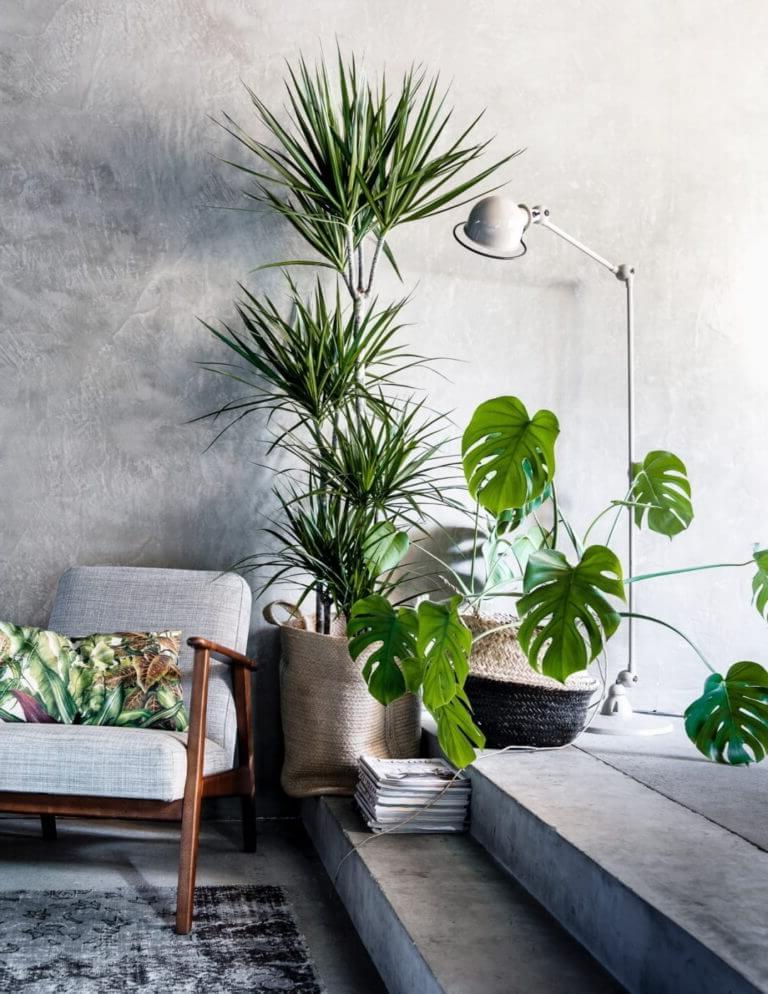 Some plants hang because of the size of their leaves. Take a look of this plants with giant leaves that start to hang as the plant gets older. The wicker basket completes the nature style that matches perfectly with natural grey color of the cement floor and decorations.
22. Creative Ceramic Hanging Vases For Hanging Plants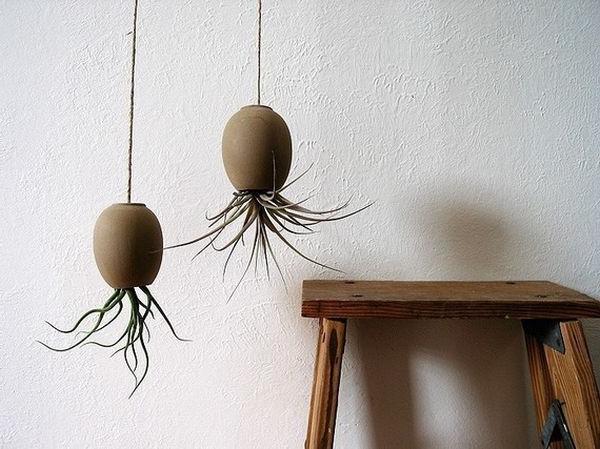 This is a very creative and attractive way to hang plants, they almost look like lamps hanged from the ceiling. The vases are made of rough ceramics.
23. Tillandsia Plant In Cool And Original Hanging Pots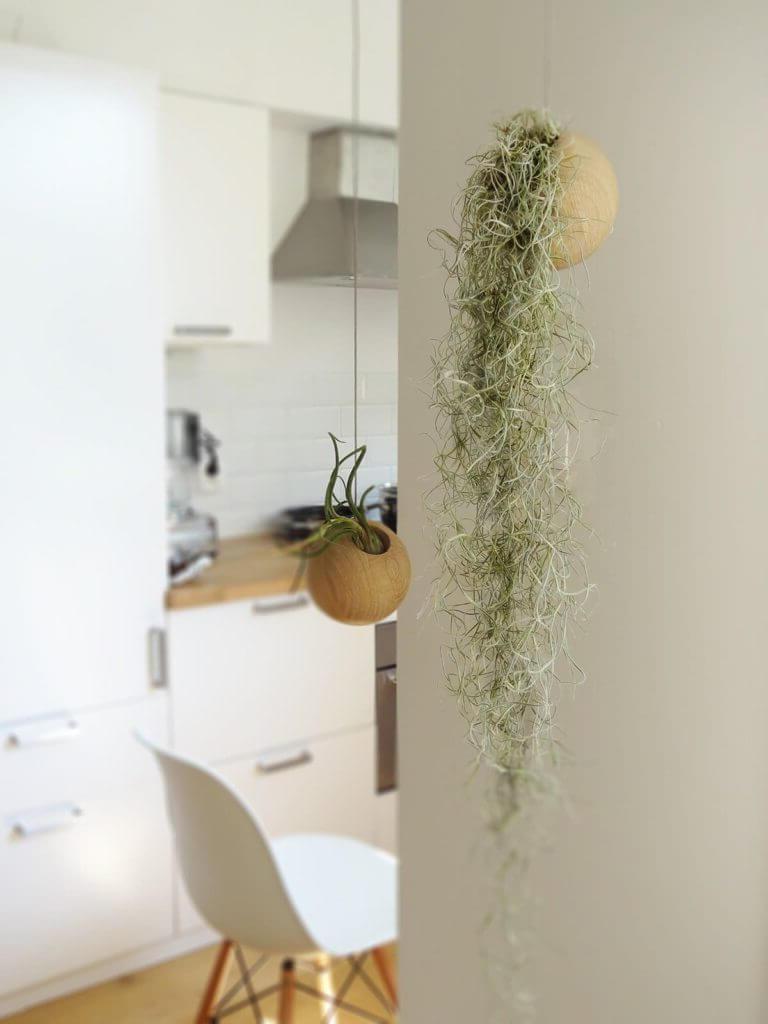 In this example, the hanging plants are an original DIY project using recycled ornaments and cord. This idea is perfect for small plants.
24. Hanging Plants Ideas For The Wall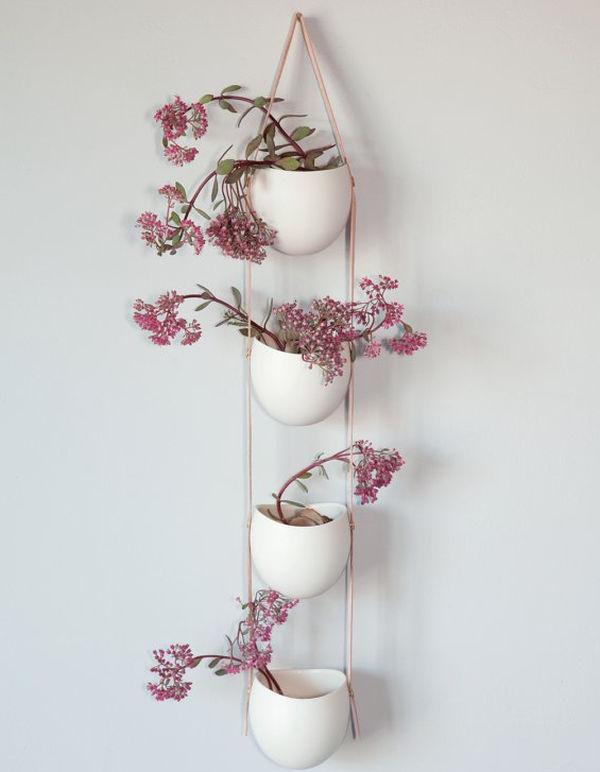 Why not making your own hanging plant project? all you need to do is find some vases, put them together and hang them with the help of jute cord. Then, you can place them on the wall.
25. Young Scindapsus Plant On A Dark Potter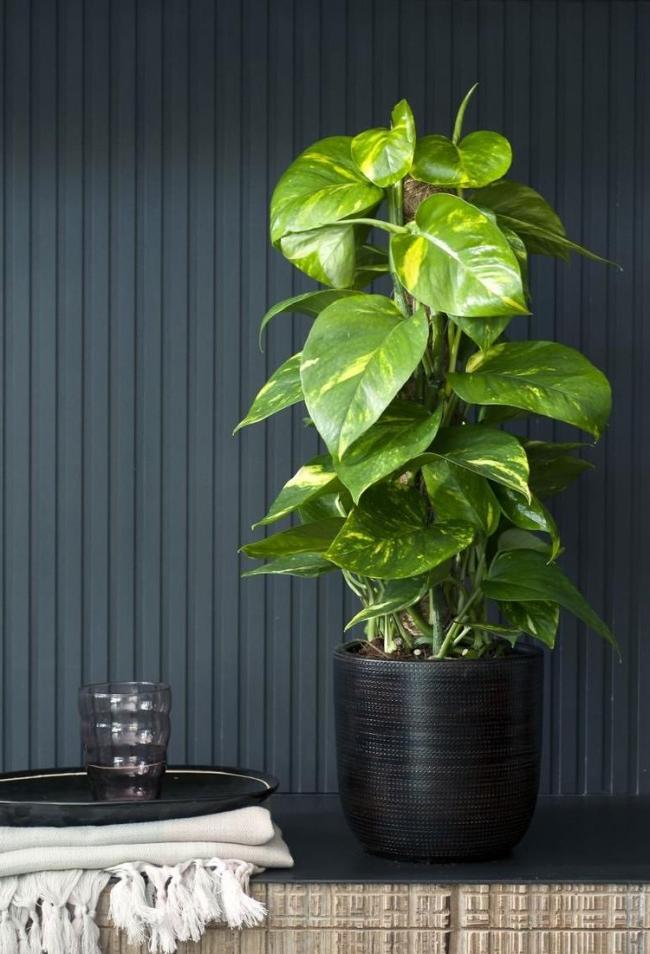 With the help of a stick you can have a hanging plant grow up. These young scindapsus plant like to grow with the help of a tutor that lead them in the right direction, so they will love this help and you will love the aspect they give to your rooms. no matter the color scheme you have in your home, with the right decisions you can come up with wonders for your home.
Conclusion
It is always a good time to rethink giving a green touch to our home. The plants are lovely to locate in every corner of the house. But if you have little space a great solution may be to use hanging plants.
In this gardening article we taught you what this type of vegetation is and what are the most common species used in ornamentation, as well as giving you very interesting ideas for you to use at home. Now we leave you with some tips to have them:
Place them in a humid environment, but avoid the excess of humidity
Avoid heat and dryness. Both conditions harm the leaves.
Do not go overboard watering the plants.
Avoid strong currents for good air circulation
Use a large container to plant them so that they grow more freely
Remember to consider if it is easy to access them, in that case you will not mind choosing a plant that requires weekly watering
You should also keep in mind your dog or cat, if you have them
Self-watering hanging baskets are an interesting alternative to traditional hanging plants on shelves or at the foot of other larger plants. You only need a good substrate, which will make it easier for the soil to settle around the roots when you water the plants. It is advisable to place the basket hanging from the ceiling and near a window. The effect is interesting, it is very decorative.
The plants help to make the air in the house more pure, they make you happier and to top it off, they enhance the decoration of any corner, how could you not want to place more cute plants in your home?
Today we told you some of the best decoration options with hanging plants to give a natural and green air to your home. Surely you will find the one that convinces you!