20. Home Theater With Leather Armchairs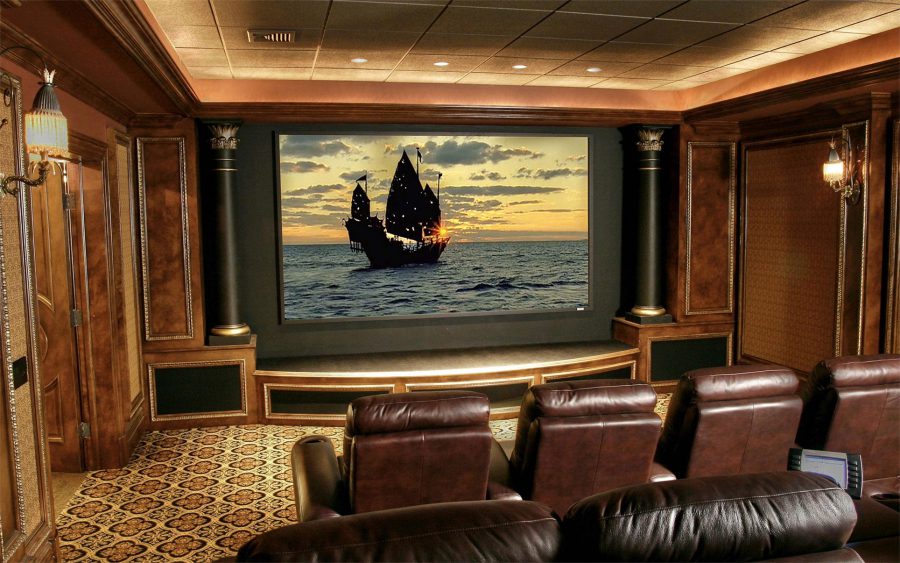 Choosing a comfortable furniture, perfect lighting that provides a cozy atmosphere and a flat that fits the entire space is crucial for creating a perfect home theater. You can never go wrong with brown leather armchairs, creamy or dark walls and a carpet matching the minimal decoration. For those who want a home theater resembling a home design, can follow this idea and turn their basement or some free larger room into the most comfortable place for relaxing and watching movies.
21. Home Theater Design With Red Sofa And Curtains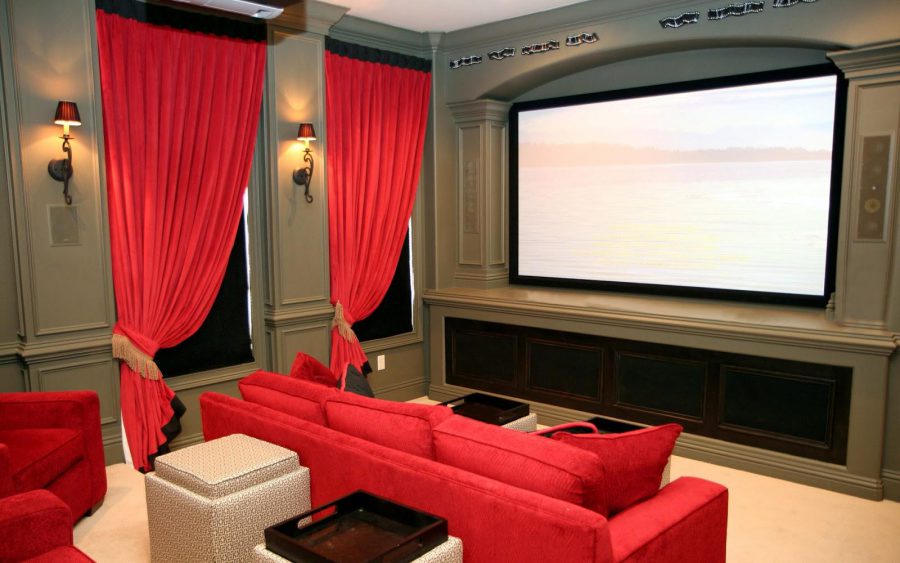 If you want to create a theater that will deliver some movie magic, this home theater design with red curtains and a sofa matching their color is the perfect choice for you. A Pleasant environment where you can relax and watch your favorite movies with a couple of friends or with your family. The creamy walls, minimal lighting, and properly chosen carpet wrap the home cinema in elegance and coziness.
22. Home Theater With Cool Furniture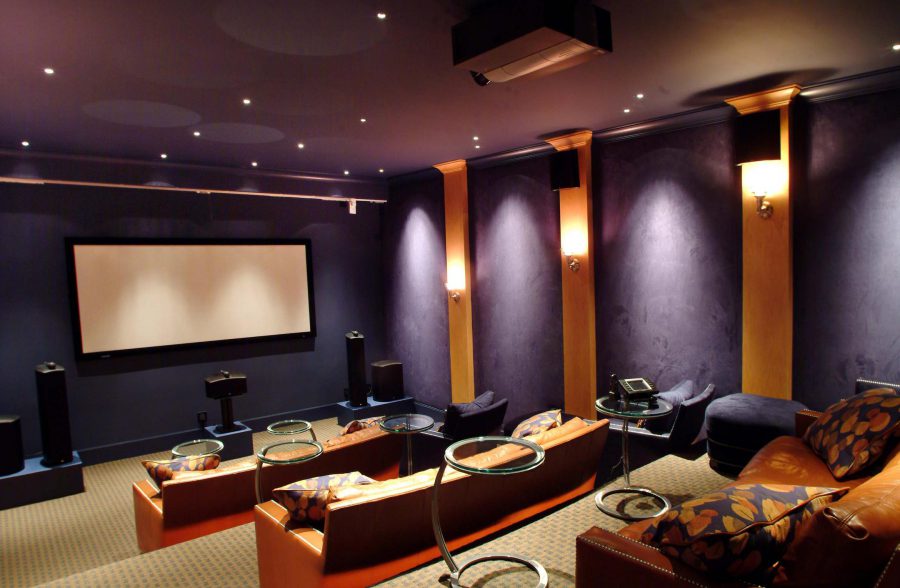 Those who want to impress their guests or family with an extraordinary home theater design idea should go for the landscaping with this cool furniture. Consisted of brown comfortable sofas and small glass tables, this type of landscaping will turn your home cinema into the most pleasant place for relaxing with your friends or family. Feel free to steal this idea and realize it today by giving your home theater a brand-new striking appearance and wrap it in coziness.
23. Luminous Bright Tray Ceiling Academy Theater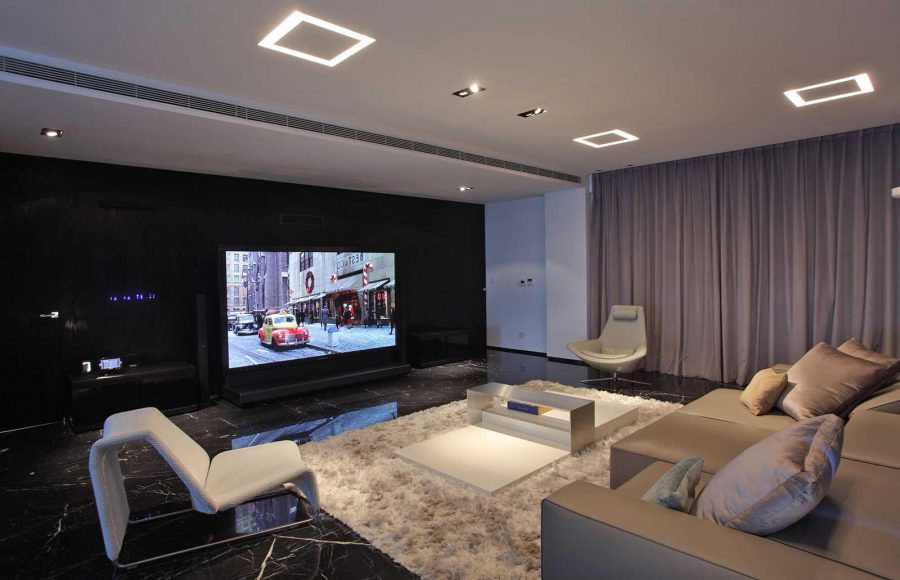 Although homeowners prefer darker landscaping for their home theaters in order to reach the 'real theater' appearance, those who want to own a luminous Academy theater can choose this idea. Although the background of the flat TV remains dark, this proper white carpet, creamy furniture, and minimal landscaping give the entire space a bright appearance and wrap the whole theater in simple elegance.
24. Luxury Home Theater Design
With this type of luxury cinema, you may never go back to the multiplex again because this home theater resembles a real theater with its grandeur. Traditional red armchairs arranged in rows, walls matching their striking color and a creamy floor that gives the entire space a smooth finishing touch and wraps the cinema in coziness. If you were looking for something classy and charming that will deliver some movie magic – the luxury home theater design will perfectly meet your imagination.
25. Mario Style Theater Room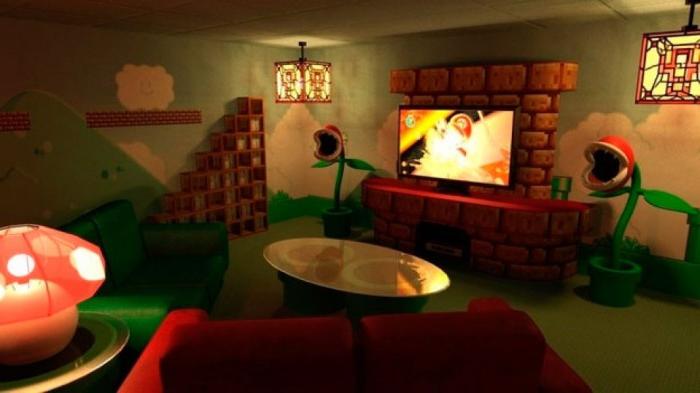 There is no man on the planet who has not played the famous game 'Super Mario'. Are you a former player who's still a fan of the game? If yes, why not arrange your future home theater in Mario style and teach your kids about Super Mario's legacy. We promise they will fall in love with the design at first place and you will enjoy watching movies in your new home cinema while remembering good old days.
26. Media Room Design Idea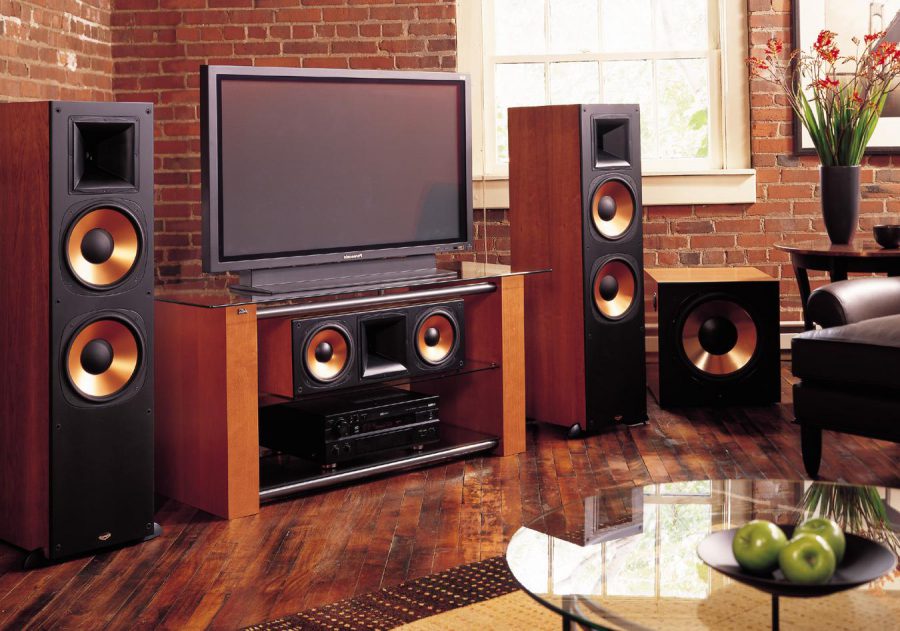 Those who want to arrange their living room in a modern manner and install a small private cinema can use the idea we provided on the photo and embellish their home in a classy manner. The wooden floor and the dark wooden furniture will wrap your living room in warmness and create a comfortable place where you can enjoy watching your favorite movies. Feel free to use this idea and turn your living room into a modern media room starting today.
27. Living Room Cinema With Library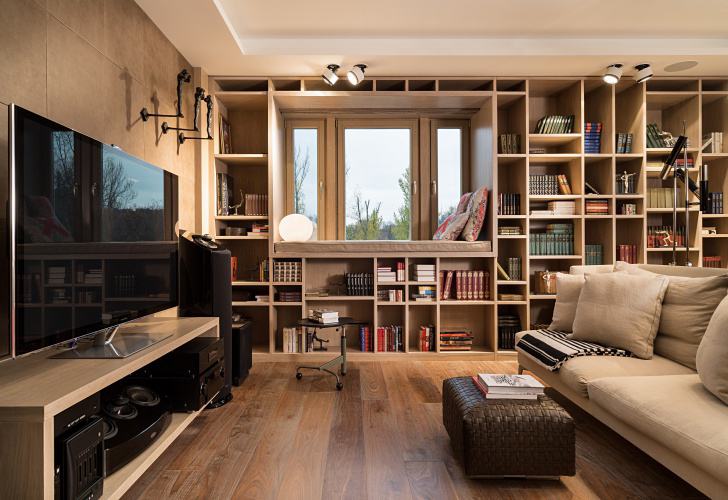 Want to transform your ordinary living room into a 2in1 place for watching your favorite movies and a cozy place where you can read your favorite books? Feel free to use our idea and turn your space into a private cinema including a small practical library build inside your walls. Arranging your space with a minimal lighting, white furniture, and a wooden floor will turn your living room in a bright comfortable place where you can spend some quality time watching movies with your friends and family or read a book near the window.
28. Modern Media Room TV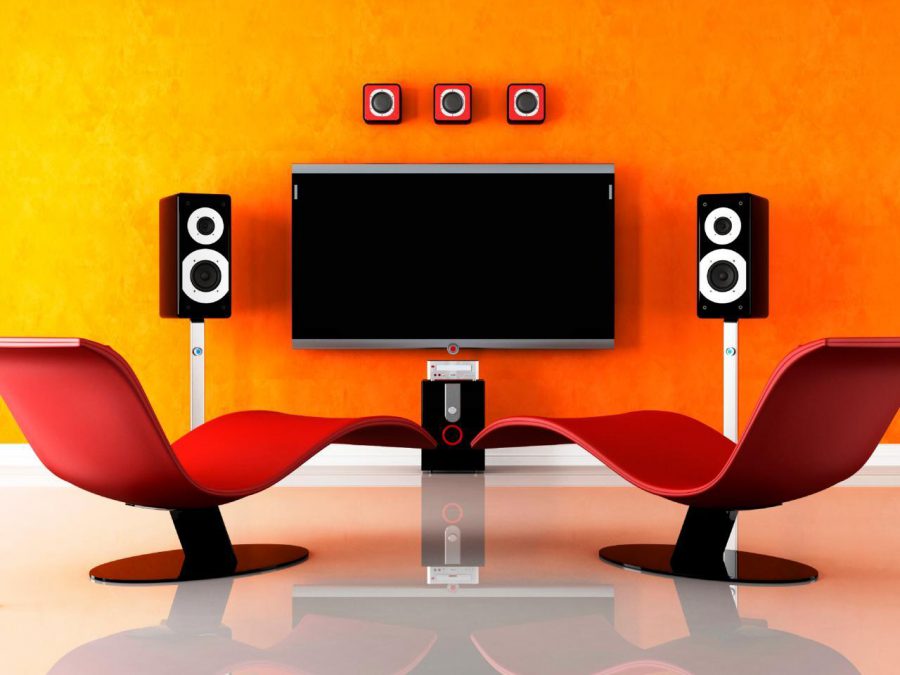 Another startup idea for creating a modern media room that screams "elegance". The orange walls, striking red chairs, and the clear white floor will turn your ordinary living room into the perfect cozy private cinema for two. You can always add extra chairs and invite some friends over We promise you won't regret your choice and will be happy with the outcome at the end of the day.
29. Oak Wood Media Room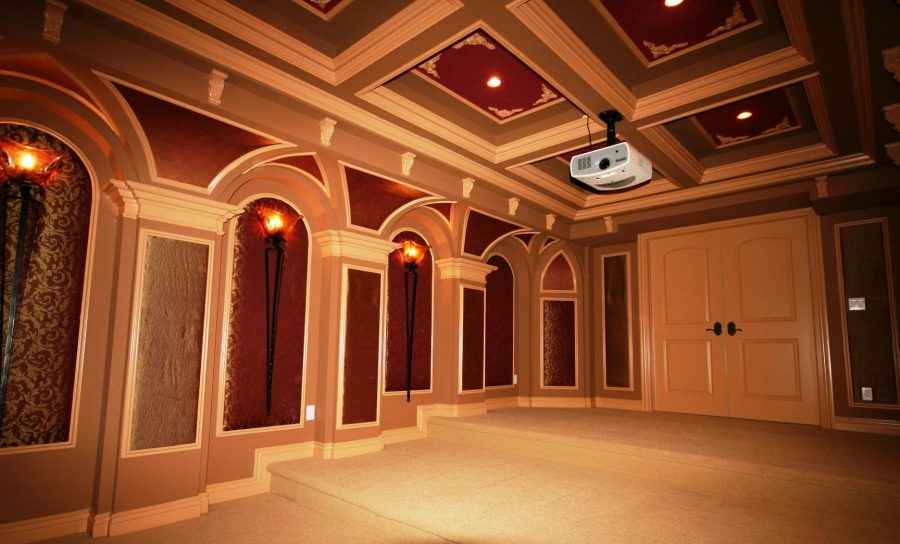 For those who wish to create a large private cinema that screams "comfort" can use the oak wood media room idea as a startup. The example we provided on the photo shows an empty oak wood media room space with creamy floor and walls matching its color you can arrange according to your wishes and imagination. You can never go wrong with choosing the oak wood design. Just add a few rows with traditional red or brown leather armchairs, a big flat screen, and minimal decoration and you will get your new favorite place for watching movies and hanging out.
More Elegant Home Theater Design Ideas On the Next Page…