30. Perfect Living Room With Theater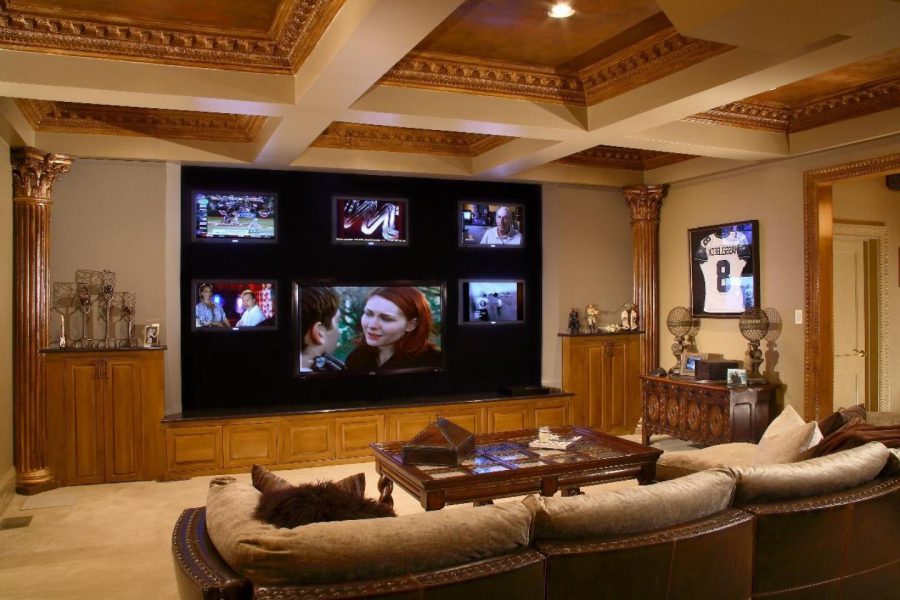 Owning a slice of the farmhouse landscaping, this living room with a few screens will become your family's favorite hanging out spot. Consider turning your ordinary living room into the perfect home theater where you can enjoy watching movies together with your friends or family. Simple yet elegant, this seating arrangement will definitely meet your taste if you are looking for a classy design for your new home cinema. Feel free to steal this home theater design idea and realize it starting today.
31. Pirates Of The Carribean Inspired Home Theatre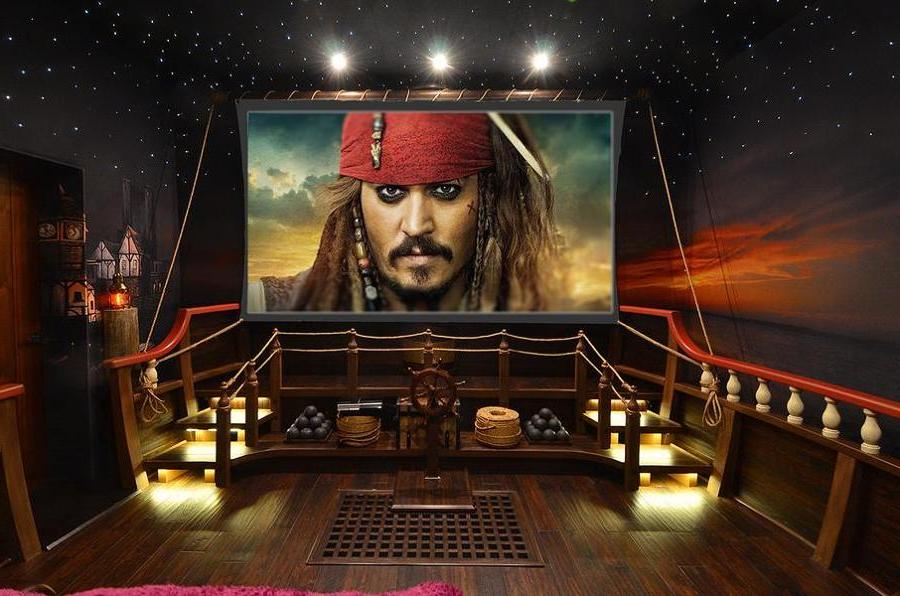 Are you a fan of the movie "Pirates of the Carribean"? If yes, why not arrange your home theater in the Caribbean style and watch the eponymous film in your new comfortable home cinema? Your guests will be impressed by your creativity. Not mentioning that your kids will love it. Like what you're seeing? Follow the example we provided on the photo and use this idea as a startup for creating your private cinema.
32. Purple And Gold Art Deco Entertainment Room
Are you a fan or art deco landscaping with mixing some purple and gold touches in your living room? Why not create your own entertainment room that resembles a movie theater and embellishes your home in a creative manner? Just add a flat screen across your table, turn the light off and let's get the movies started. Your living room will become your family's favorite hanging spot.
33. Retro Home Cinema Room Design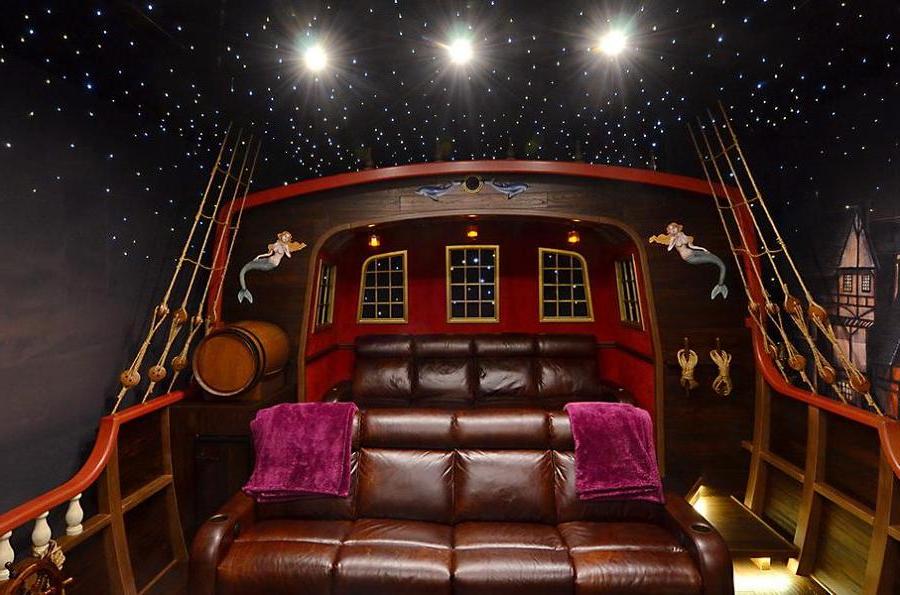 Retro design has always been a popular theme when it comes to home theater design ideas. With using the retro theme as a startup for your private theater, you will create a viewing experience that's truly special. A retro home cinema like the one on the photo is a blending mix of old-fashioned and modern style resembling a ship that will definitely become your favorite relaxation spot for watching movies.
34. Retro Style Home Theatre For An Apartment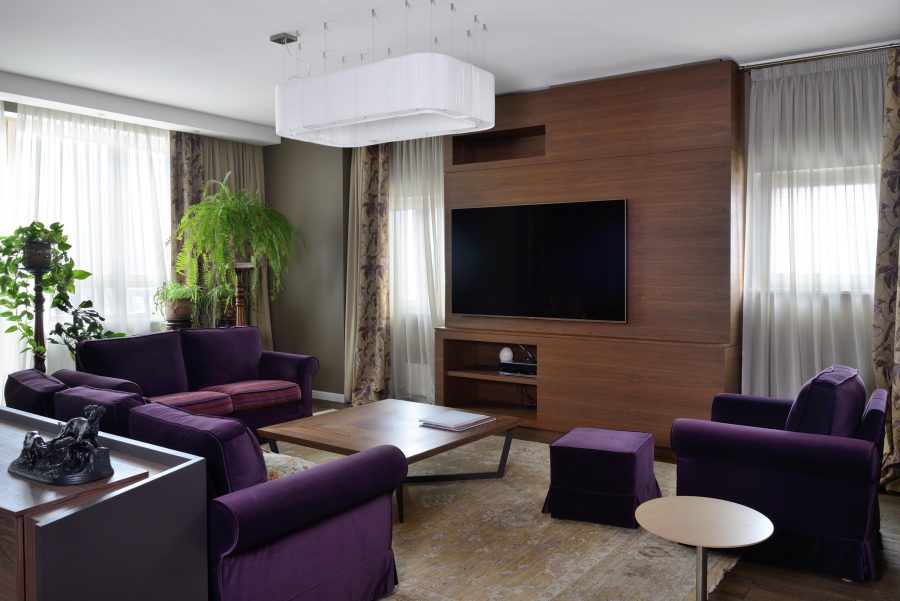 Completely different from the previous retro design, this one is perfect for those who own an apartment and don't have a basement they can turn into a home cinema. Just add a big flat screen in your living room and arrange the space with violet old-fashioned furniture and you will get the perfect spot for hanging out and watching movies together with your friends or family.
35. Romanticism And Provence Entertainment Room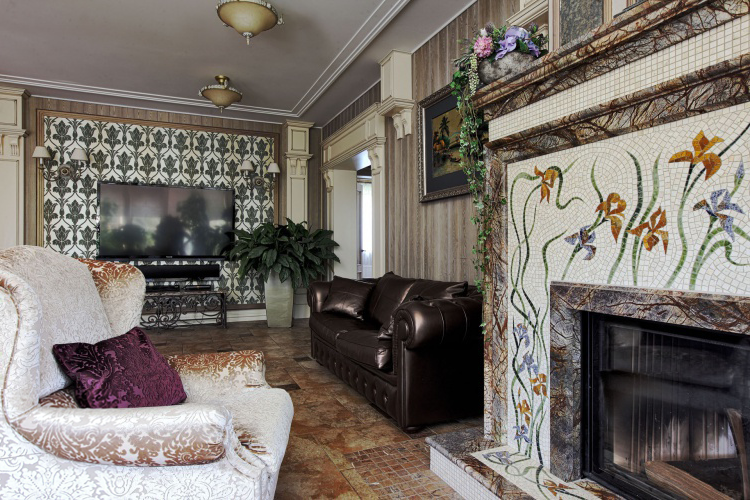 If you're a fan of the romanticism landscaping that emphasizes inspiration and subjectivity, try arranging your living room into this style and turn it into your favorite entertainment room. Consider adding a flat screen, elegant armchairs and mosaic details like the ones on the photo and enjoy your new romanticism and province entertainment room.
36. Simple Home Theater Design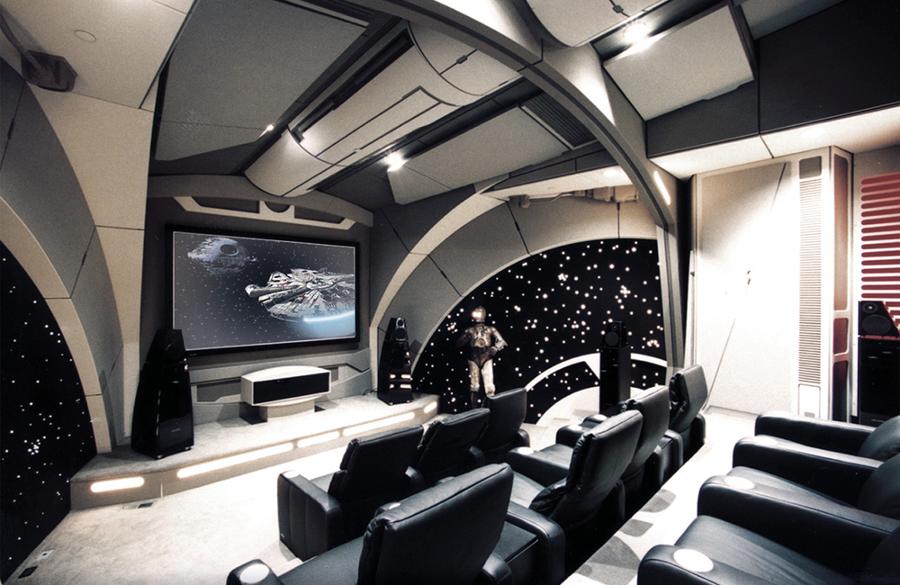 Are you looking for an idea of arranging a small home theater in a simple manner? If yes, the example we provide on the photo will perfectly meet your needs and imagination and will definitely save you some money. Chose the location of your new home cinema, place simple armchairs and a larger couch, a large TV and you've got yourself a brand-new movie theater. Consider painting the walls in darker colors and create a cozy place where you can spend your spare time watching movies with your family or friends.
37. Simple Home Theatre Room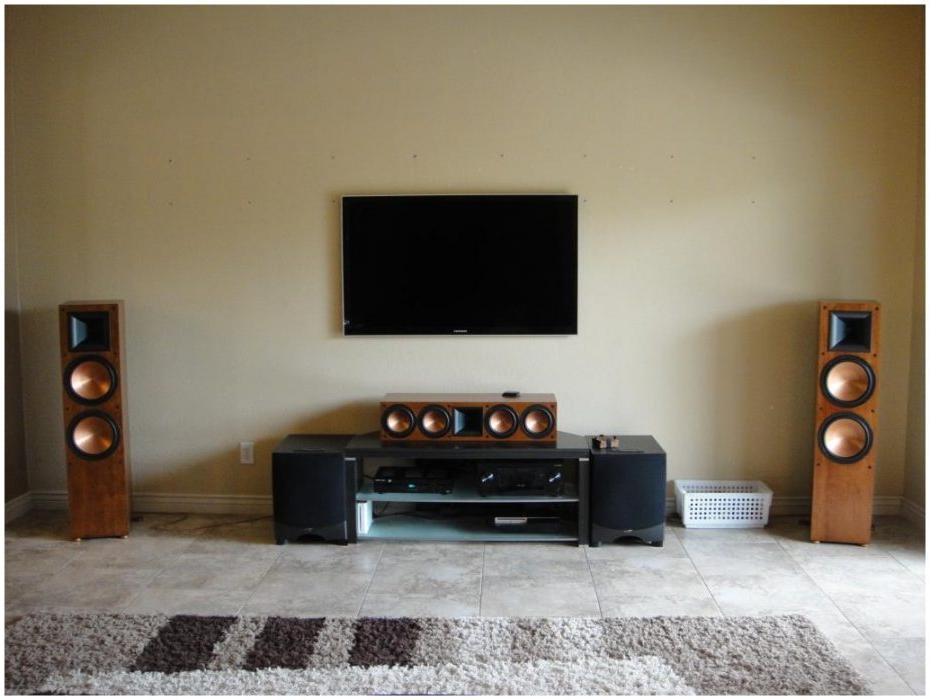 Another inexpensive theater room idea that will meet the taste of minimalists. Turn your living room or some other available room in your house or apartment in your own cinema in a simple manner. Add a flat screen with modern speakers and enjoy your effortless yet beautiful home theater.
38. Small Home Theater With Large Screen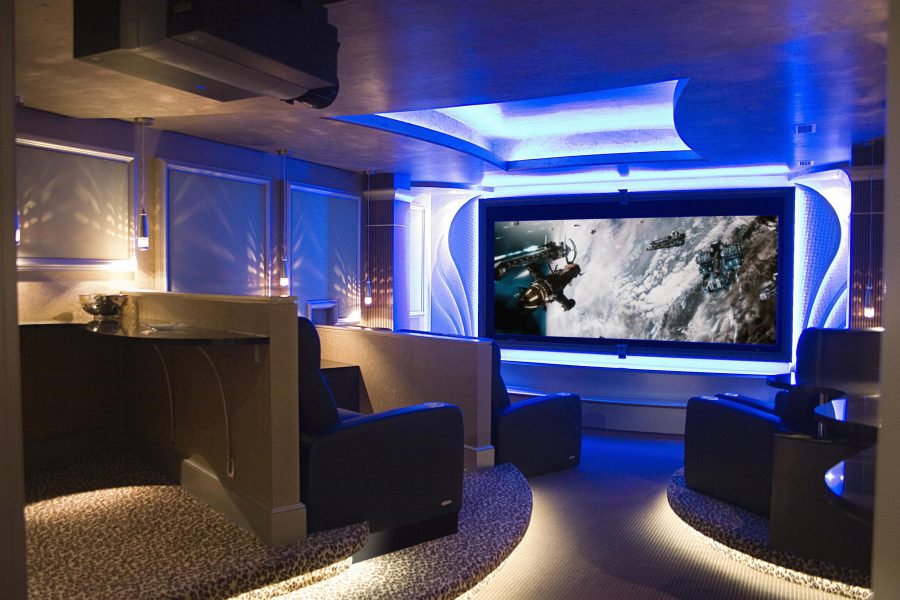 For those who own a small home but wish to place a large screen and make a private cinema, consider using your small basement and arrange it in the particular style you see in the photo. Sometimes smaller spaces can be better organized than the larger ones. Adding blue lights will definitely embellish every home theater, so you might consider stealing this idea and turn your basement into a more sophisticated place where you can enjoy watching movies with your family or friends.
39. Spectacular Home Theater Room

Oversized furniture, elegant dark walls lightened with spectacular yellow lamps – we just described the perfect home theater you can own if you chose this idea and realize it starting today. Perfect choice for basement cinema or medium-sized one installed in one of the free rooms in your house. A minimal home theater decoration will embellish the design of this entertainment room, so consider adding some ornaments.
More Ideas For Home Theater On The Next Page…