40. Sporty Home Theater Room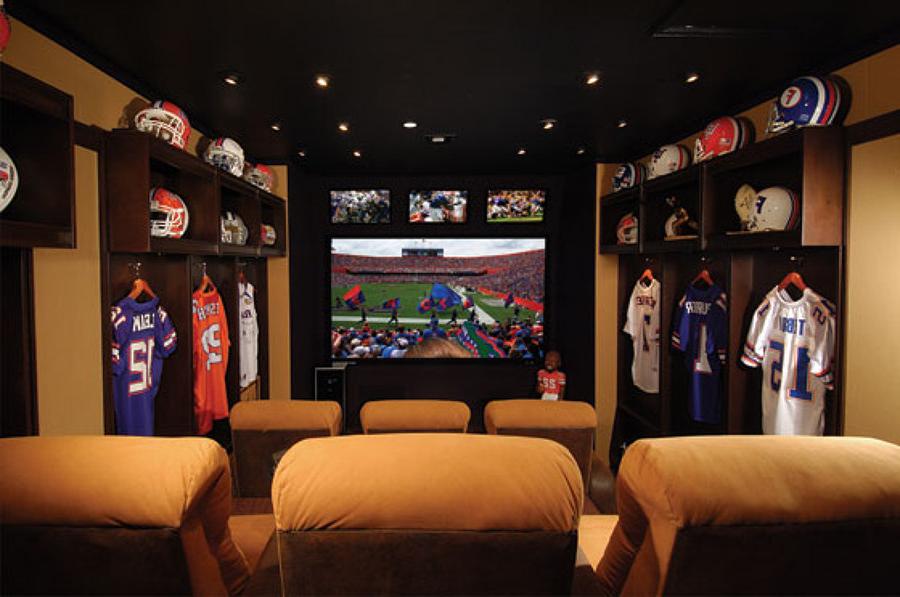 Sport theater rooms are more loved by men than women, however, no one denies that an expansive home theater as a part of a man's cave looks pretty cool. Males, looking for the perfect spot where you can relax with your friends by watching a good movie and sharing a beer? The example we provided on the photo is just perfect for you. Feel free to steal this idea and realize it starting today. You can also add a few sports details, such as football jerseys and mark the space in a sports manner.
41. Stars Wars Media Room Design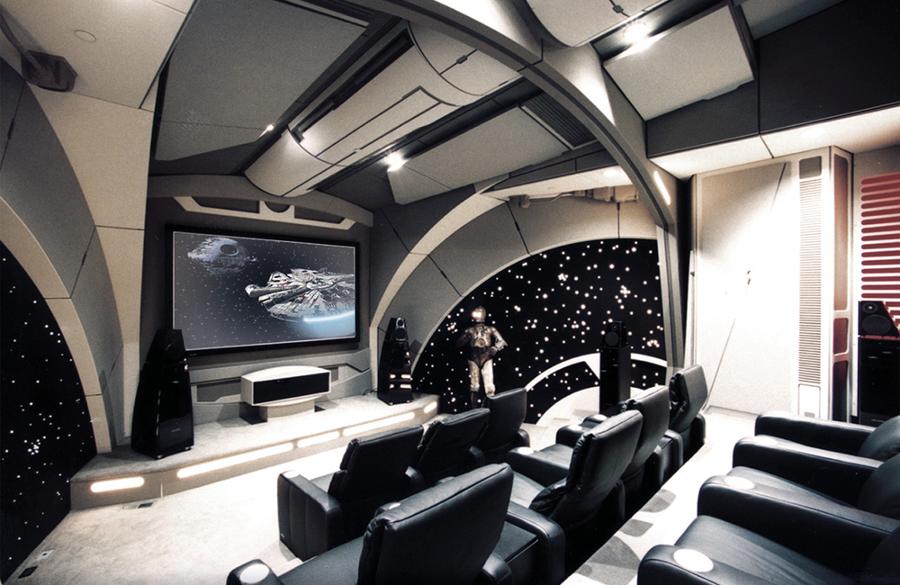 Are you dreaming of a place where you can turn yourself off from the world and get lost in the movie magic while sitting in a comfortable armchair? We can make your dreams come true with this Star Wars media room design and turn your boring basement into the most modern home theater. Perfect mixture of black and white details that give the entire space a space ship appearance. If you like what you're seeing, feel free to use this idea and create your favorite hanging out spot starting today.
42. Stunning Modern Home Theater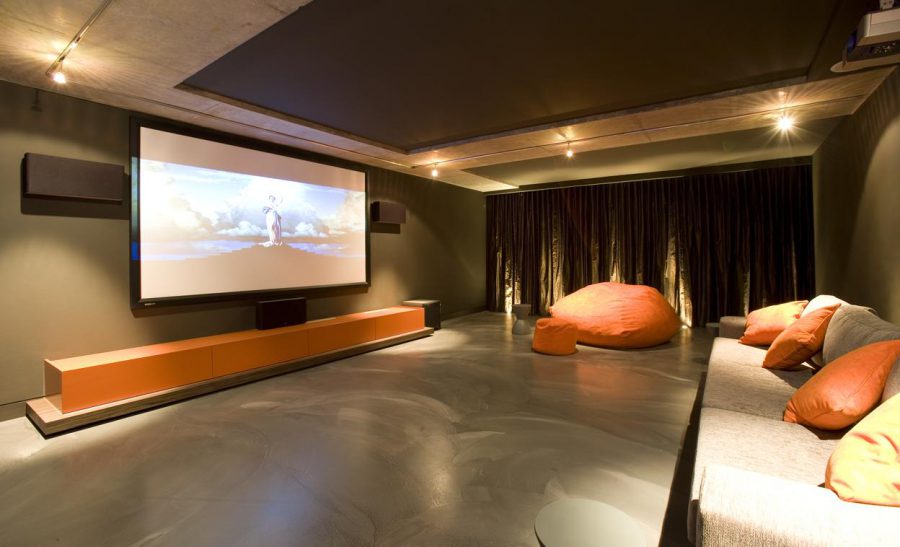 Another modern idea for a home theater you can easily realize. This design is simple yet elegant and keeps you on a budget. The oversized bed, orange details, and walls painted in earthy colors give the theater a warm tone and will definitely make your stay at home instead of going out on weekends.
43. Stylish Home Theater Design with Wooden Wall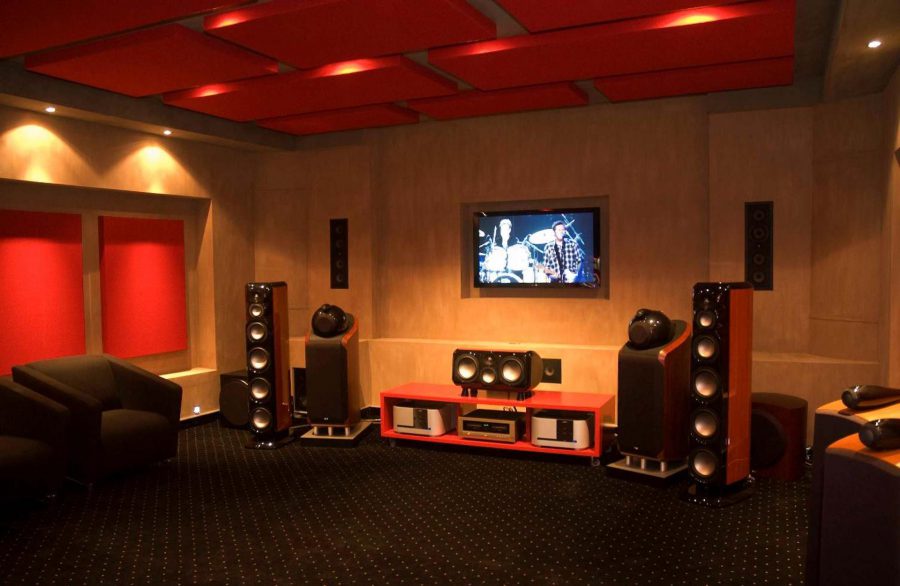 You can never go wrong with choosing a wooden wall for your movie theater at home. Not only that it wraps the space in coziness can be more easy to decorate than the regular walls. The idea we provided on the photo that includes wooden walls can be used for basement transformation into a home cinema. All you need to do is place a big flat screen, simple dark furniture, add minimal lighting and enjoy your new private movie theater. We promise you will be satisfied with the outcome at the end of the day.
44. Submarine Theater Room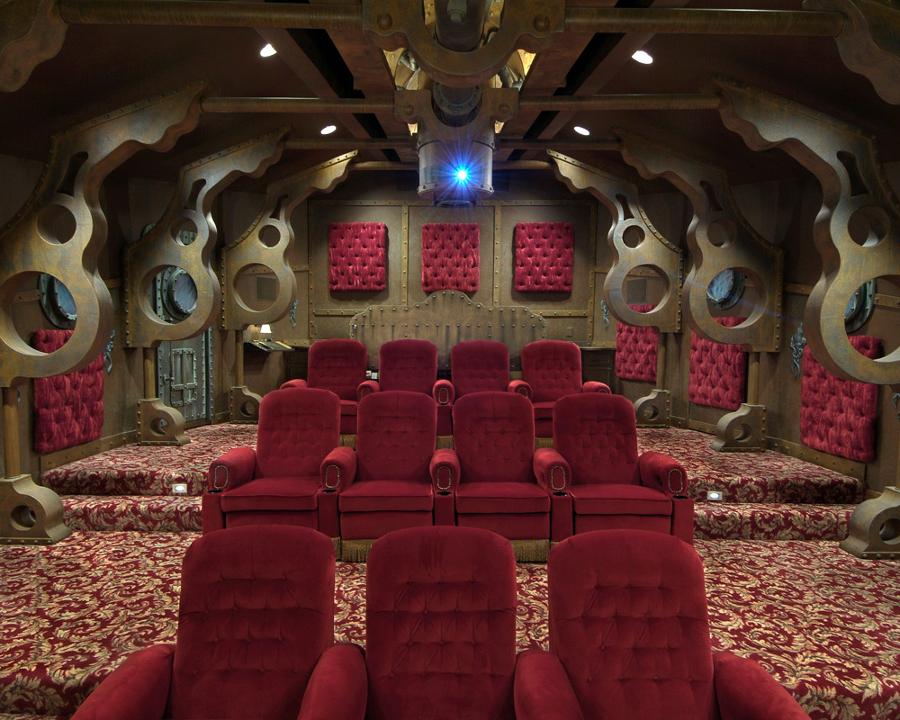 Anyone who has the funds in creating a submarine theater room for his home should definitely get it. A submarine themed room is just the perfect inspiration for a crazy decorating experience in one's own home. Like the outlook of this private cinema that's starting to float inside your imagination? Feel free to steal the idea and realize it inside your basement or other larger room you can use from your house.
45. Teak Wood Home Theatre Room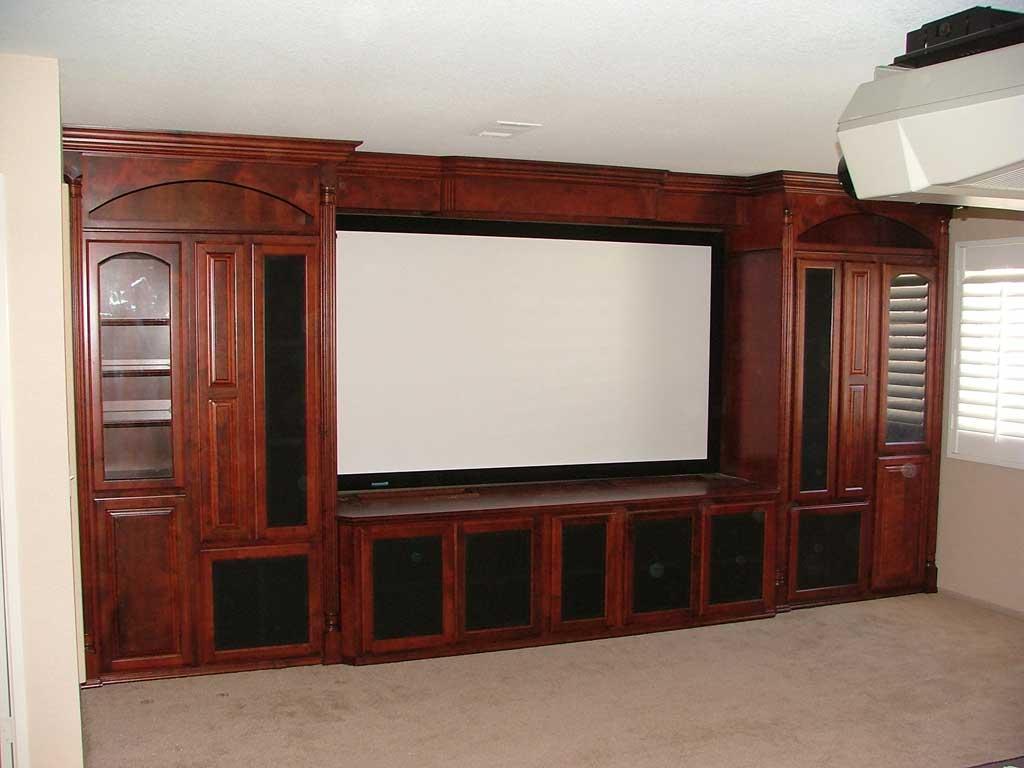 If you want to remodel your theater room or start it from scratch without spending much money, using a teak wood will definitely save you money and besides, it will give your private cinema a more sophisticated look. Simple yet elegant, this design will perfectly meet the taste of the minimalists or those who don't have much time to dedicate on landscaping. Adding a few leather chairs in the same color as the teak wood would wrap the entire space in coziness and turn your basement into your favorite spot for hanging out.
46. Modern Functional Entertainment Room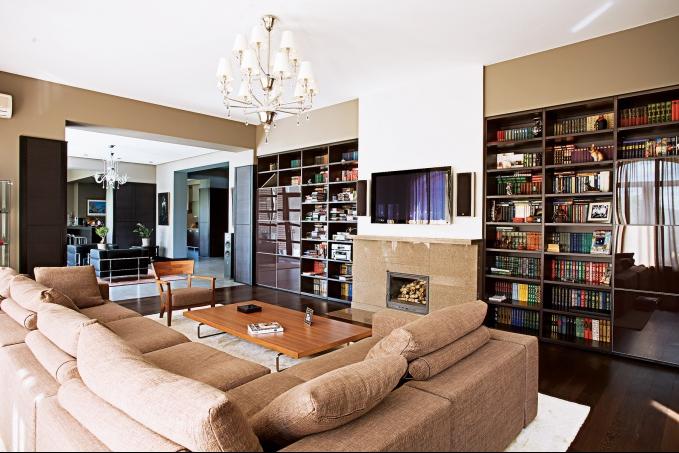 While some of us dream of owning a small and cozy living room, others wish for a large one that's functional and designed in modern style. However, if you own a larger one, feel free to place a big TV somewhere available and turn it into the perfect place for watching a movie with your family or friends. The example we provided on the photo can serve you as a startup idea. Feel free to realize it today.
47. Ultra Modern Media Room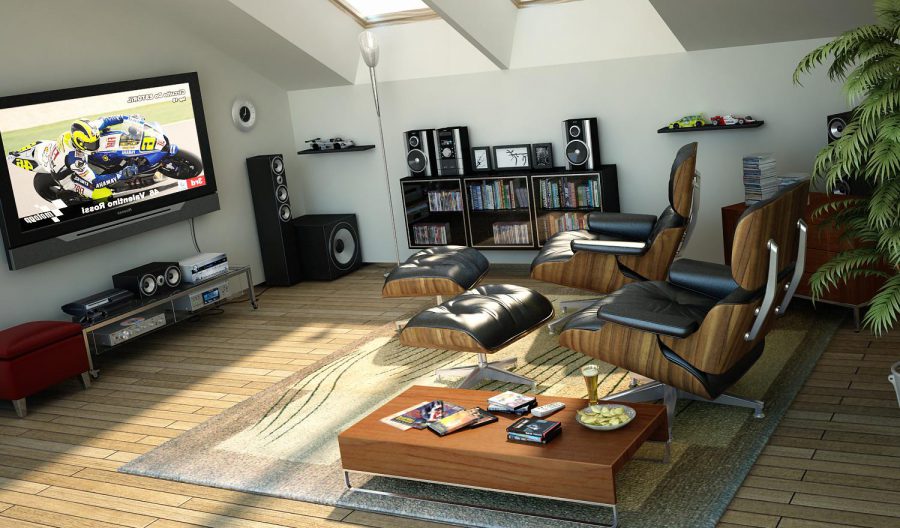 An ultra-modern design for your media room or better said living room turned into your private cinema. Consisted of flat TV screen on the wall, two spectacular armchairs with extra pillow chairs for stretching your feet and a small table nearby where you can place your beer and snacks while you watch your favorite movie. Although it's small, a media room like this will definitely embellish your home in a modern manner. It's perfect for those who don't own a large basement or live in an apartment.
48. Unique Home Theater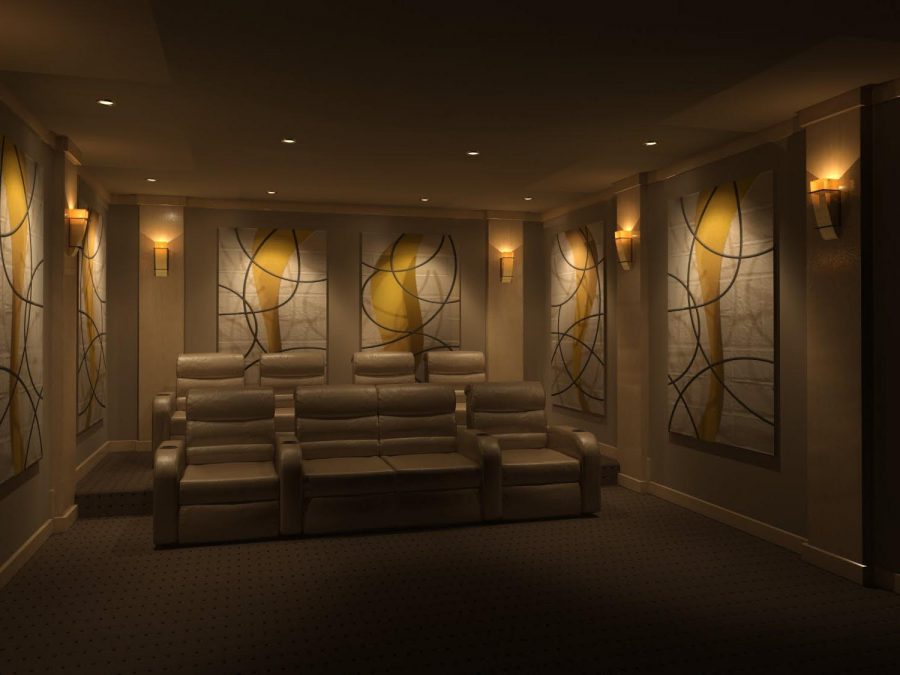 Creamy colored walls are common when it comes to the home movie theater because they give the entire space a cozy outlook. Aside from this, a minimal lighting and a simple decoration can turn a creamy place like this into a unique and practical home theater. Adding a few rows of creamy leather armchairs will complete the stylish transformation of your basement or other larger free room of your house into the most comfortable place for hanging out with your friends and family. The extra space in front of the armchairs allows you to expand your theater in future by adding a few more rows.
49. Vintage Home Theater Room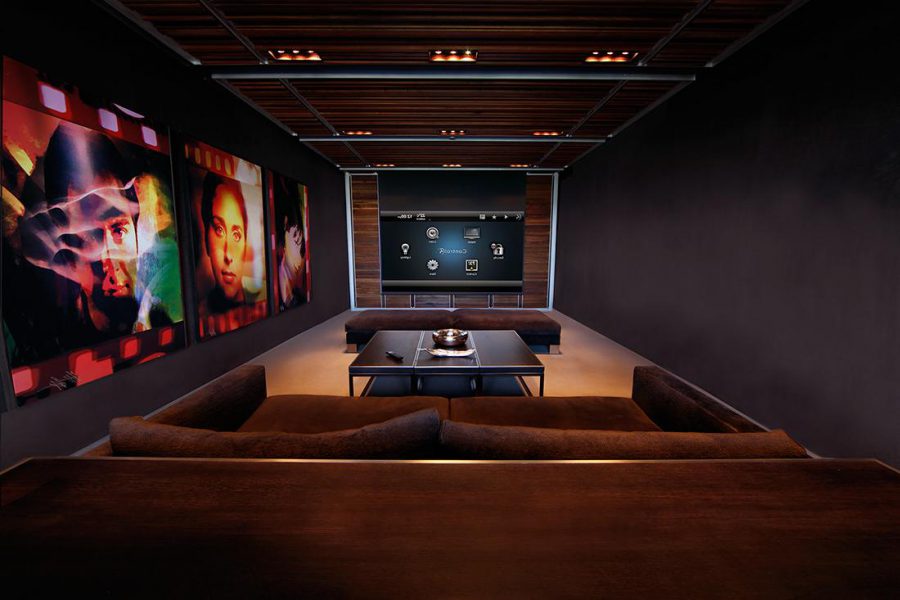 You can't escape the vintage style when it comes to landscaping, not even for landscaping your home movie theater room. However, we can't deny that choosing this style recognized for its earthy colors and warm tone, will turn every space in a pleasant clear place. By choosing the vintage style for a transformation of your large basement into a wide home cinema, you will get a blending mix of old-fashioned and modern style. Vintage style will wrap your home theater in coziness and mark it in a traditional manner. Feel free to use this idea and realize it starting today with our example as a startup.
50. Wooden Theater Room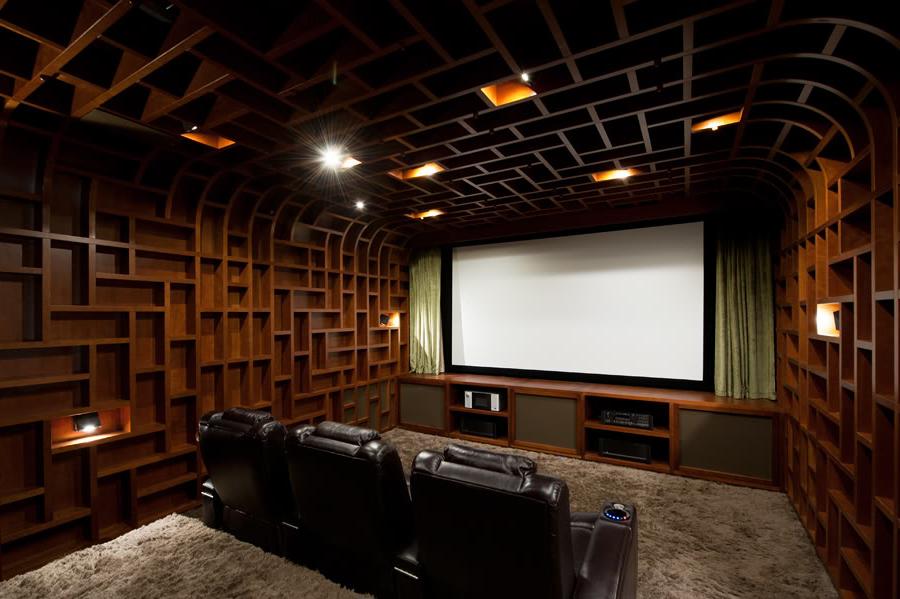 Last but not less appealing is the wooden theater room that's perfect for those who own a medium-sized basement they want to turn into their private cinema. Once you install it, make sure to choose the right lighting, a proper carpet and a simple decoration, such as the short pale green curtains that embellish the space. Simple yet beautiful, this seating arrangement will definitely meet your taste if you are looking for a classy design for your new home cinema. You can always add a few extra leather armchairs and enjoy watching movies with a larger company.
We hope we've helped you chose the idea that perfectly meets your needs and desires for creating a private theater. Once you realize one of these home theater design ideas at your home, you will not only increase the value of your house but also experience the movie magic without having to leave your cozy home. No matter which one you chose, we promise you will be satisfied with the outcome at the end of the day.