Kitchen islands and breakfast bars are a design feature than have become more and more popular in recent years. Now that we've switched from separate rooms to open plan living the kitchen has become the heart of the home more than ever before. Sitting at a kitchen island to eat allows for more casual dining and lets the cook actually participate in conversation, instilling a feeling of comfort and camaraderie around the act of breaking bread together.
However, unlike traditional dining tables, kitchen islands and breakfast bars are higher so they can still be used for prepping food comfortably and so the seating must be adjusted too. High stools are the perfect solution and, lucky for us, their design has evolved over the years from the hard, backache inducing bar stools to stylish comfortable places to perch.
25 Kitchen Stools To Invigorate Your Kitchen Design

Low stools too, have their benefits. They can be perfect for small children, adding another seat around a social space or even as tables. This humble backless chair presents you with so many options!
If you have a cute kitchen crying out for some comfy seating here are some cool ideas to get you started.
1. Black Wicker Stools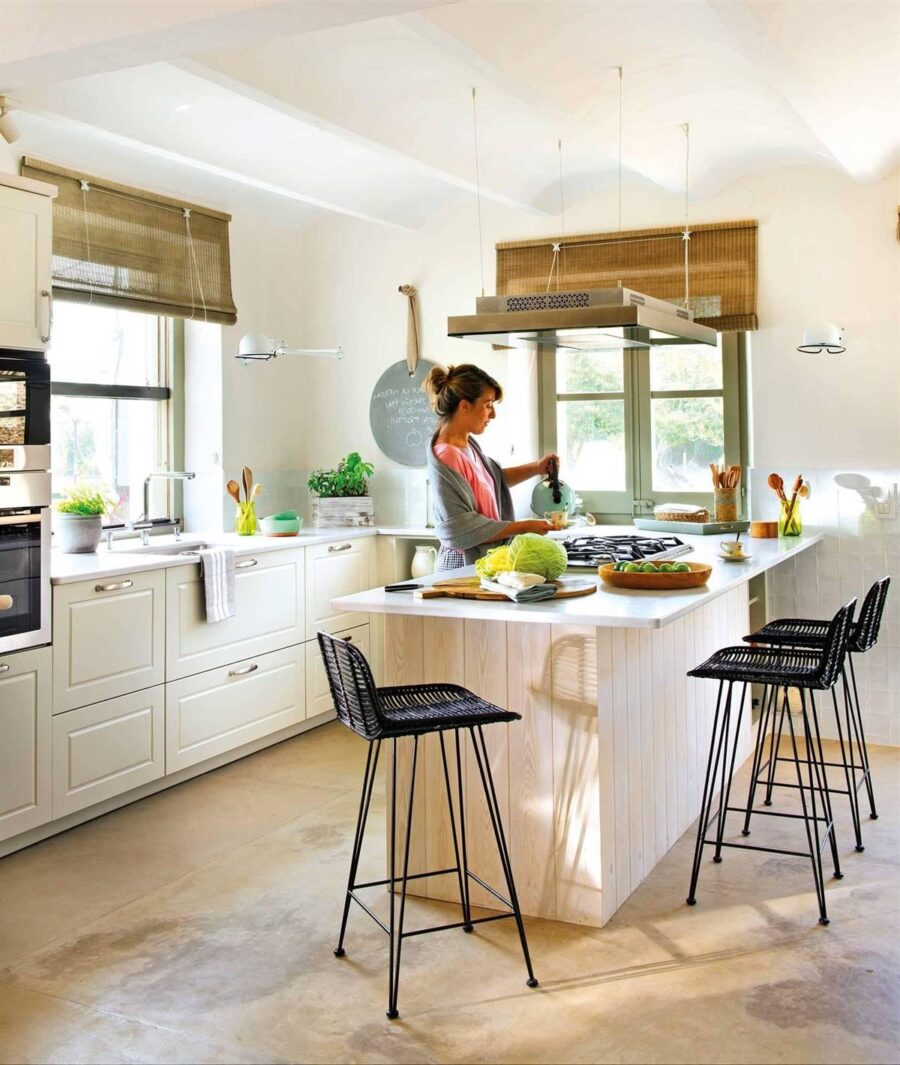 Woven wicker chairs have been around for decades, often triggering memories of your grandparent's houses when you wee a child. These stools take a traditional material and update it by painting it black; this allows you to take advantage of the strong, durable material without the out of date appearance. The seats feature a little back support to make these stools as comfortable as possible. The element that really brings these into the contemporary realm are the delicate triangular black legs that add some character.
2. Wooden Stool Style Table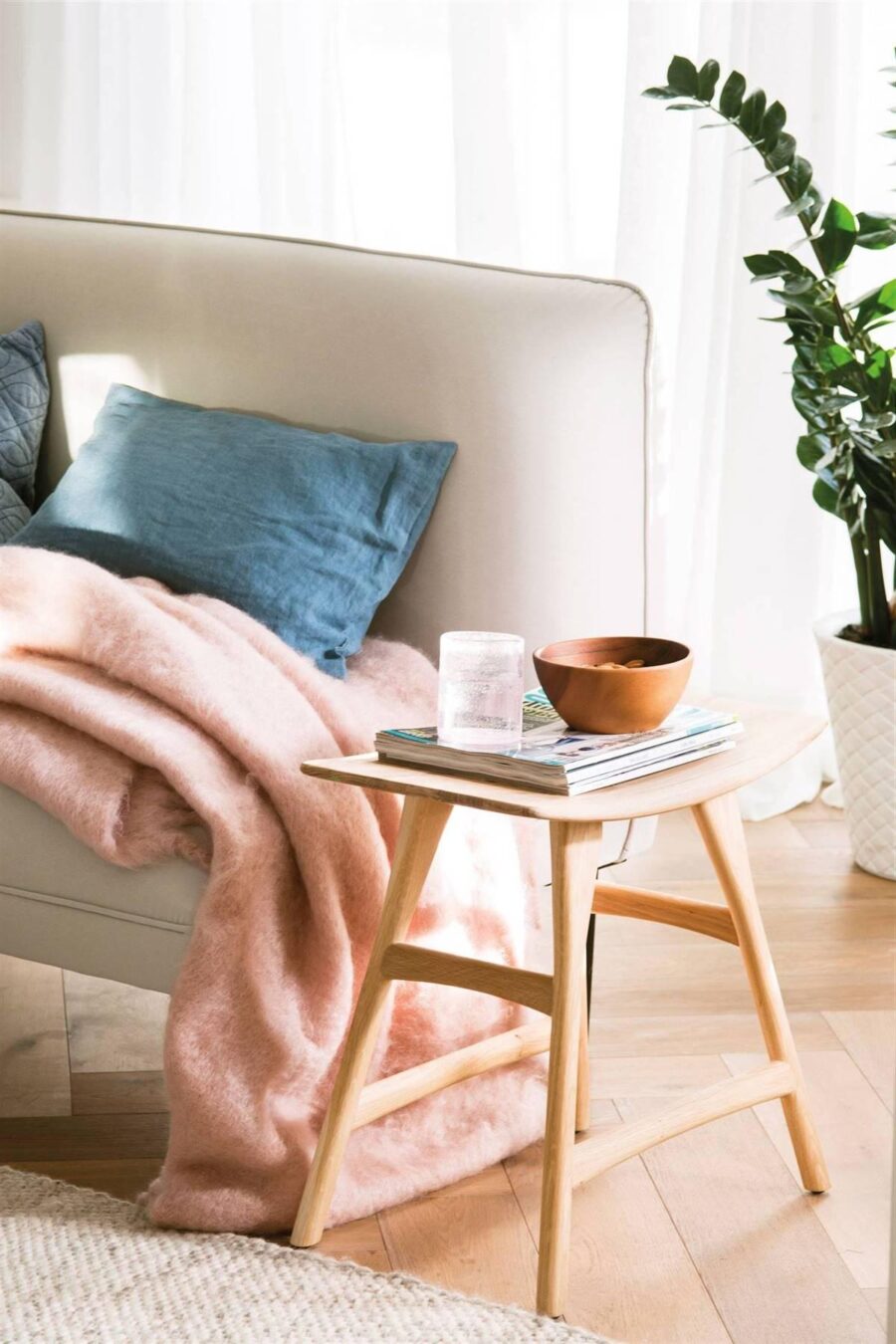 This Scandinavian inspired interior has used a low wooden stool as a piece of pure functional beauty. The design has been carved out of bare wood with rounded edges that is true to its materials and very natural looking. As a living room table it provides just enough space to store a book and some snacks as you relax on the couch. Due to the fact that stools are so adaptable this table's use can be switched up as required, whether that be as a table or low stool to sit on.
3. Contemporary Wooden Legged Stool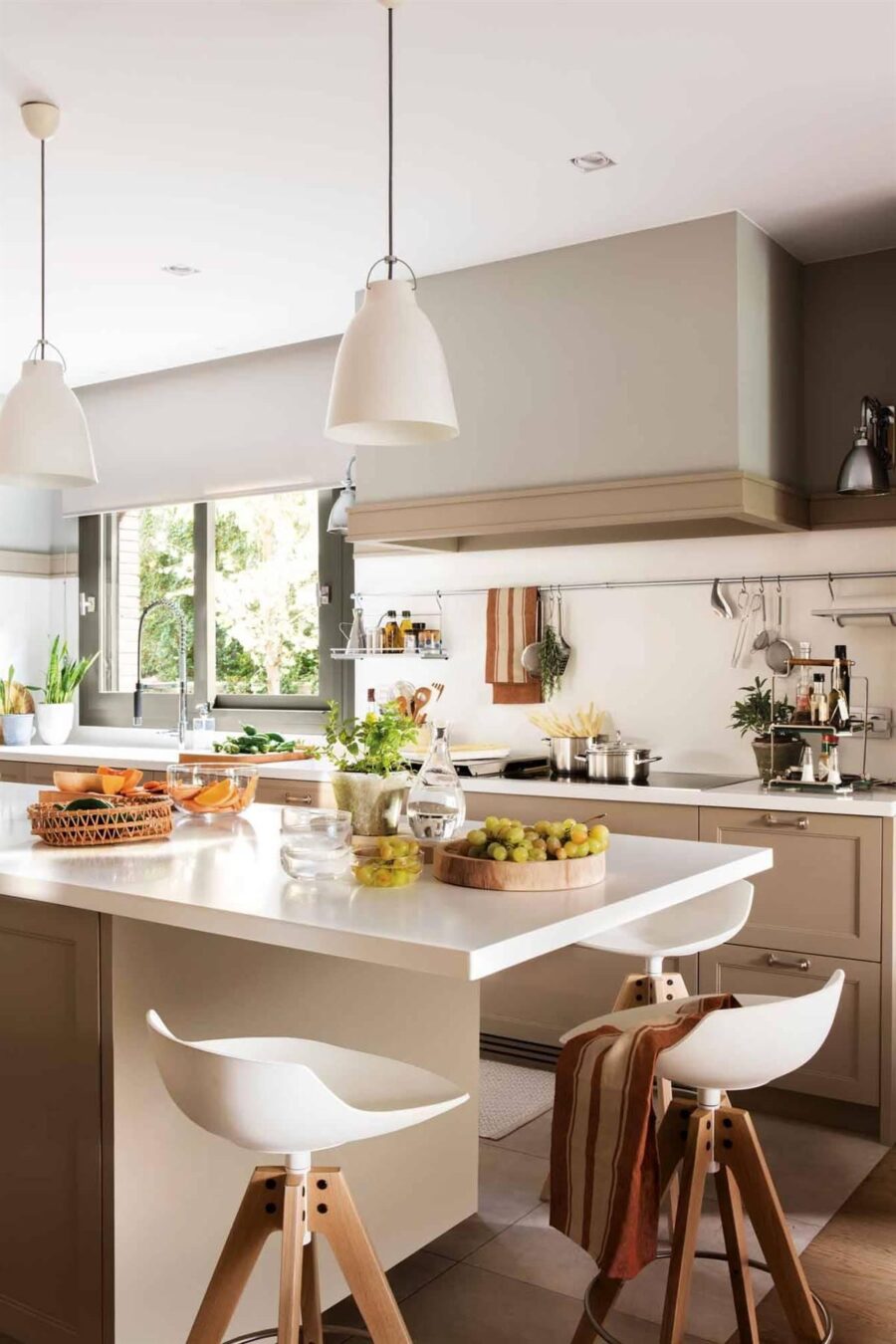 This gorgeous cantilevered white kitchen table has been accessorized with some trendy timber and plastic high stool. The white cup like seat has a small back that holds you gently in place in comfort. This seat is set atop a single white leg that the four splaying wooden legs attach to. Visible black bolts emphasize the junction between the seat and legs; which gives it an almost industrial feel. Their design works perfectly alongside the hanging white light fixture and polished white countertop. These are more than just a chair, they're a design piece.
4. Reclaimed Wood Stool Table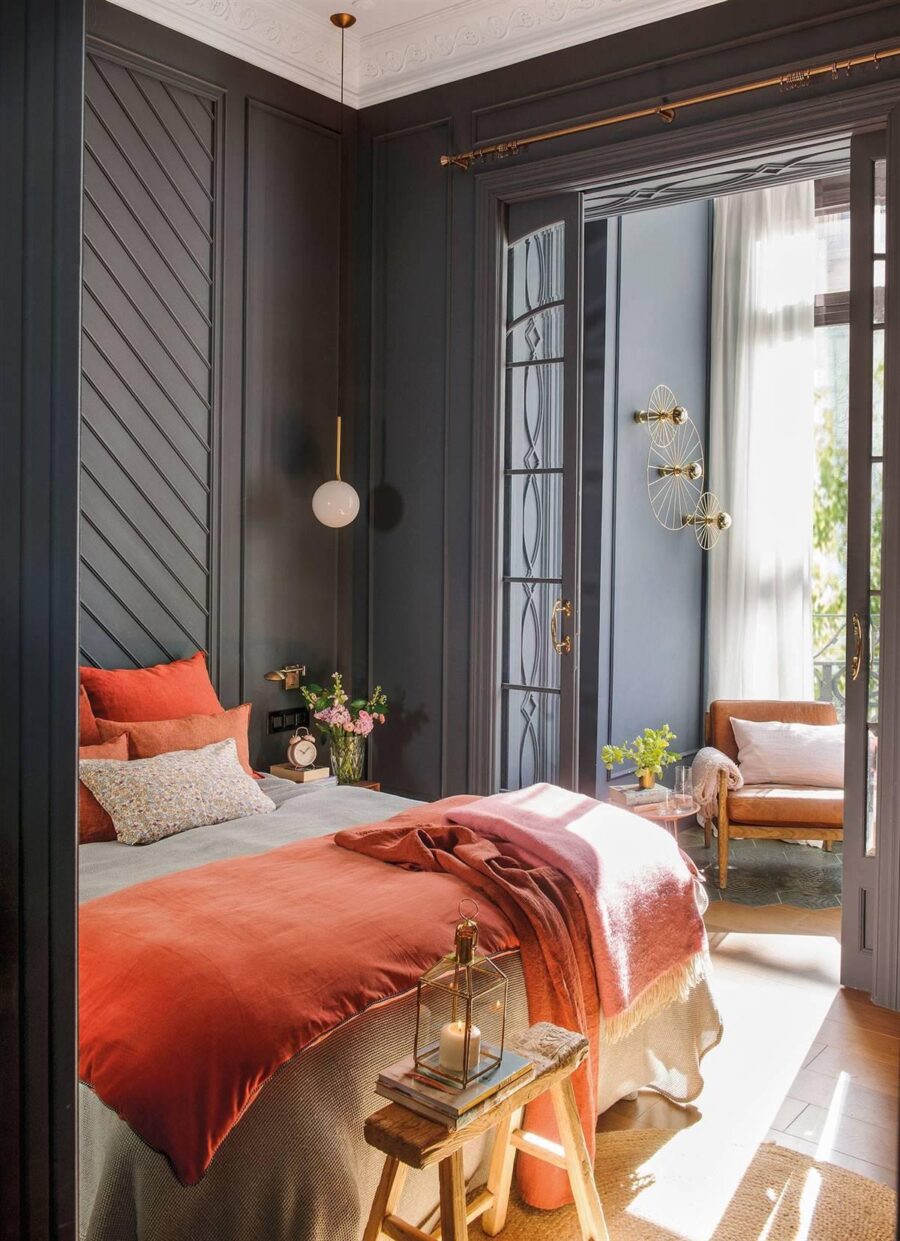 This slim line reclaimed timber bedside stool is eco friendly design because it is made of upcycled materials. Its simple, thin design is perfect to fit into a small bedroom for storage and decoration in its own right. The rustic beauty continues through the room in the warm colour scheme and layered soft furnishings. All these bright colours and the timber texture stand out against a rare slate grey room.
5. Simple Matching Set Of Stools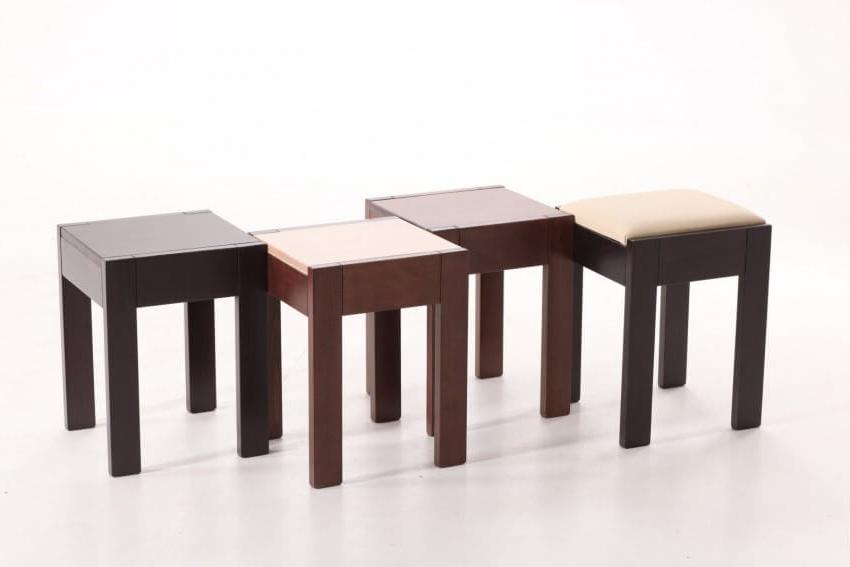 This set of low stools features a simple square design in four different shades of wood with one standing out from the rest with an upholstered seat. Designs like this can appear basic but it's the little details like the thin rectangular legs set into the seat that help set them apart. These little guys are light and easy to move around and use throughout the house for multiple different applications. The benefit of purchasing a matching set means that no matter what their use, the appearance will can always be coordinated.
6. Rustic Carved Wooden Stools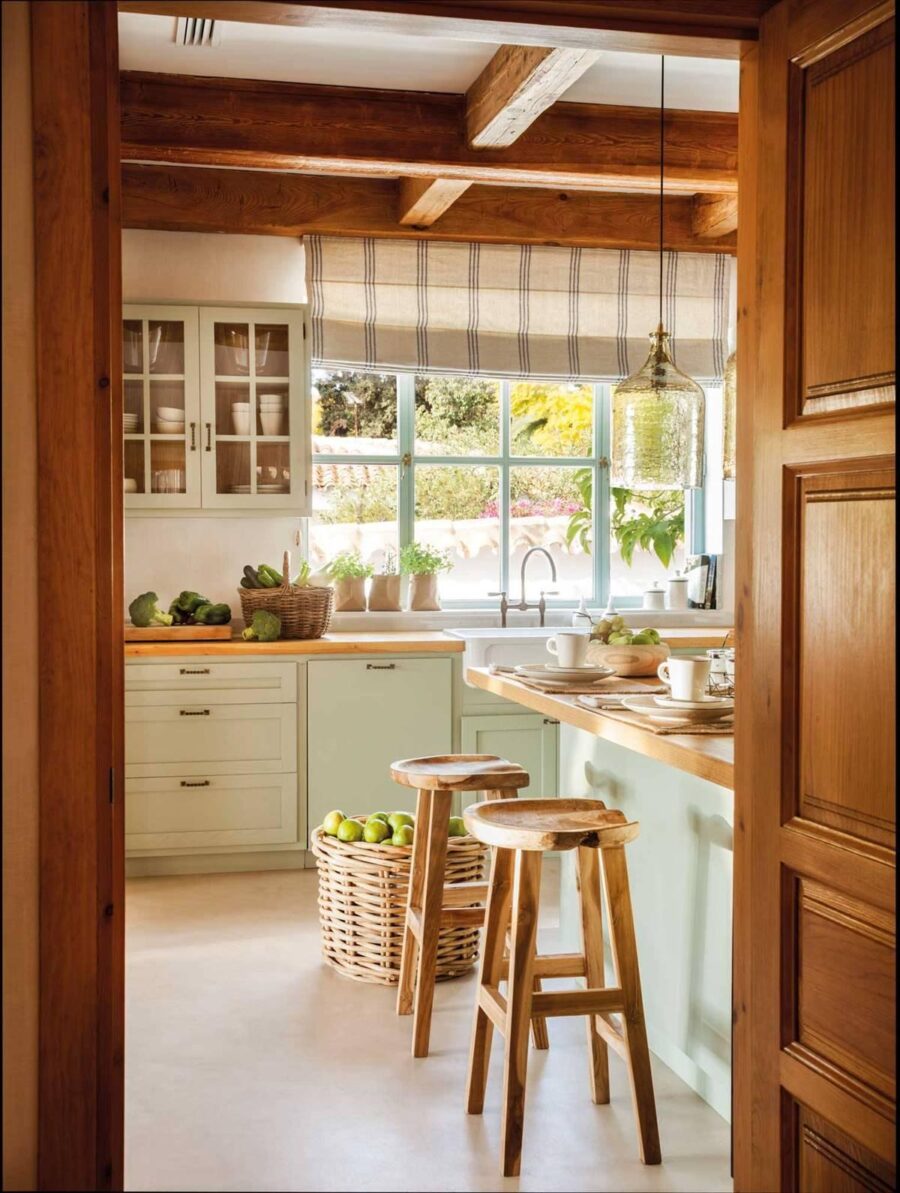 This mint hued kitchen is the epitome of a homey, rustic style and the high stools only serve to highlight this aura. The timber countertop is cantilevered out to provide legroom and space to store the stools when they aren't being used. The seat has been carved to both allow the rich wood grain to shine and to maximize on the comfort factor as the smooth seat contours to your gluteus maximus.
7. White Wicker And Bamboo Kitchen Stools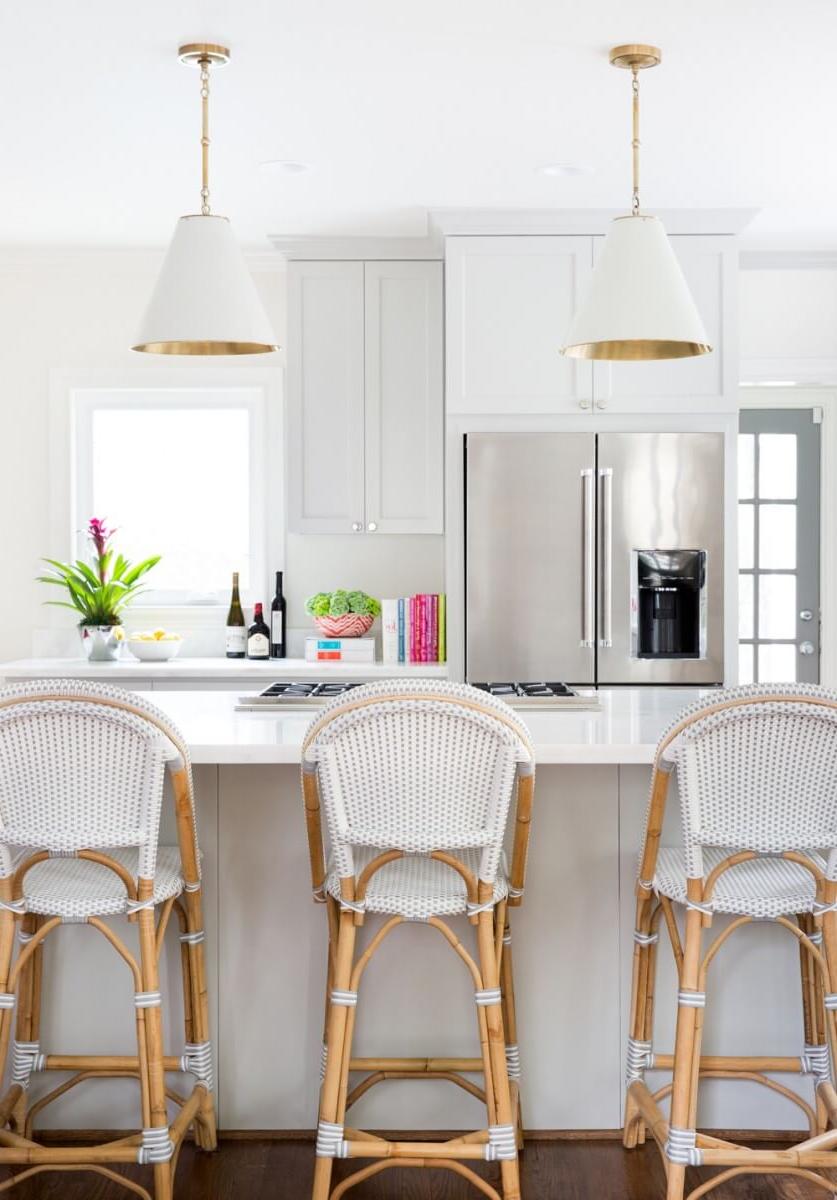 As we saw in our first example, taking an outdated design and revamping it for the contemporary era can result in a gorgeous effect. These bamboo and wicker high stools have done this to great effect. The bamboo has been left exposed with thicker pieces making up the main body and thin reinforcing tying them together and strengthening it at places of weakness. Where this design has been updated is through the wicker backrest and seat that have been painted a bright white to tie in with the rest of the modern kitchen. The junctions between the supportive bamboo elements have been reinforced with white grass bonds to make the connections a feature.
8. Chair To Step Stool Transformer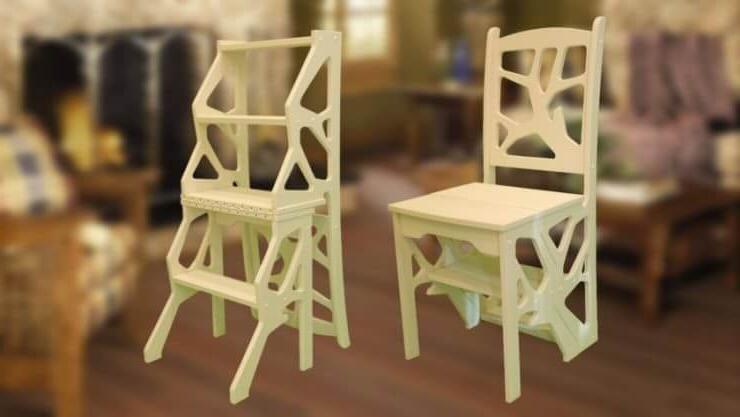 At first glance this appears to be a beautiful organic chair with a simple white finish, however there is more than meets the eye. This is a secret transformer whose backrest flips down to form a five-legged, step stool with a decorative backing. The organic pattern decorating the chair legs doubles as a cloaking device that hides the stool's steps in amongst its design. In both forms this design is not recognizable as something that can be transformative which adds to this design's ingenuity.
9. Upholstered High Stools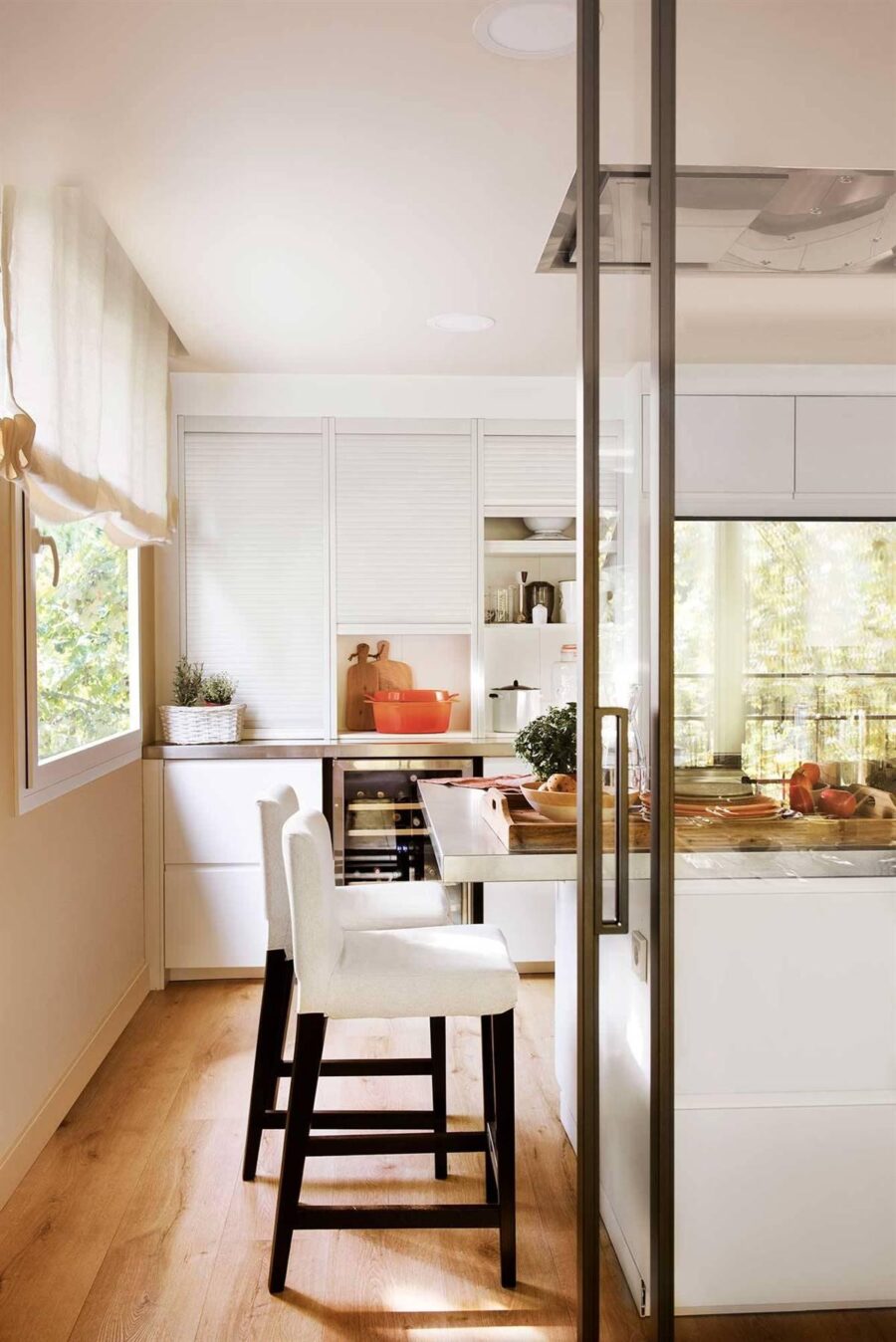 These upholstered stools are modeled off an average dining chair but with elongated legs that allow you to sit up at the marble kitchen island. The seat has a generous back support, all upholstered in cushioned white so you can eat in comfort. The colour scheme fits into the rest of the kitchen design with ease for a really connected design.
10. Crimson Traditional High Stools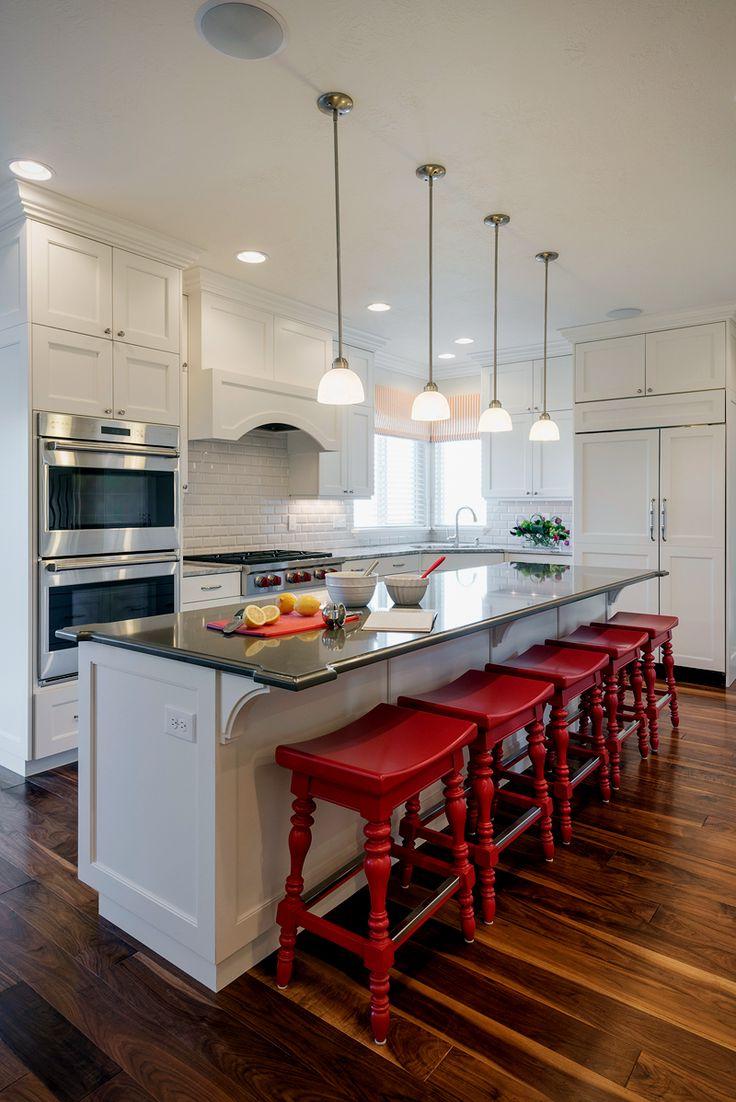 This modern kitchen has used the trick we've seen previously of taking a traditional style and switching it up to bring it into the now. These retro chair legs have been turned on a lathe, a technique that has been around for centuries, and they have been updated by painting them a striking crimson. This is a cheap and easy approach that also adds a pop of colour in the monochromatic kitchen.
11. Adjustable Round Stools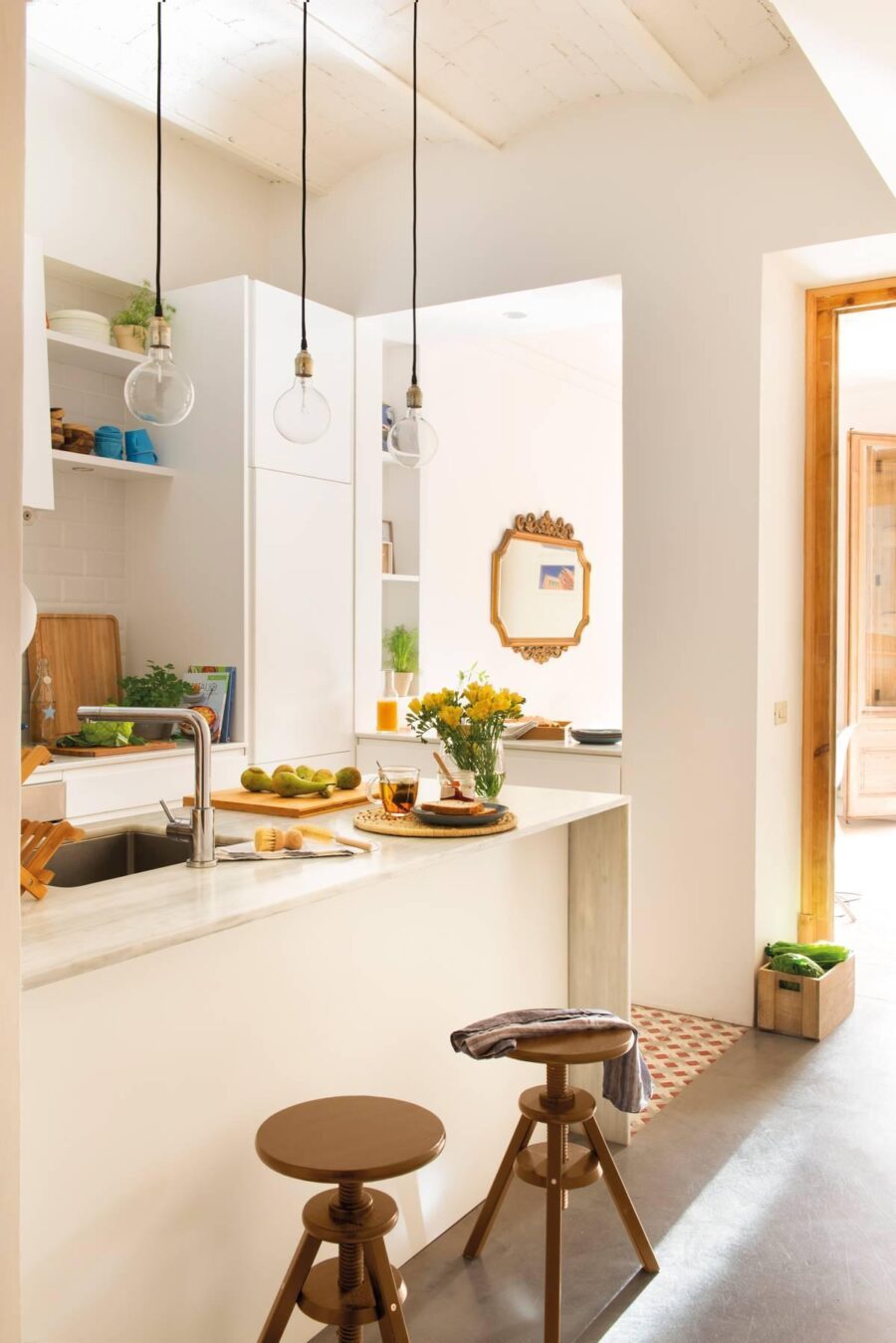 These tripod kitchen stools are made up of a series of three circles of varying sizes with a rod in between that forms the adjusting mechanism. This allows the stools to be adapted to fit the height of the person or the counter for the most relaxing dining experience. The elegant industrial style has been made of high gloss timber that feels right at home when set against the polished screed flooring and shining marble kitchen counter draping over the edge of the island.
12. Laminated Timber Kitchen Stools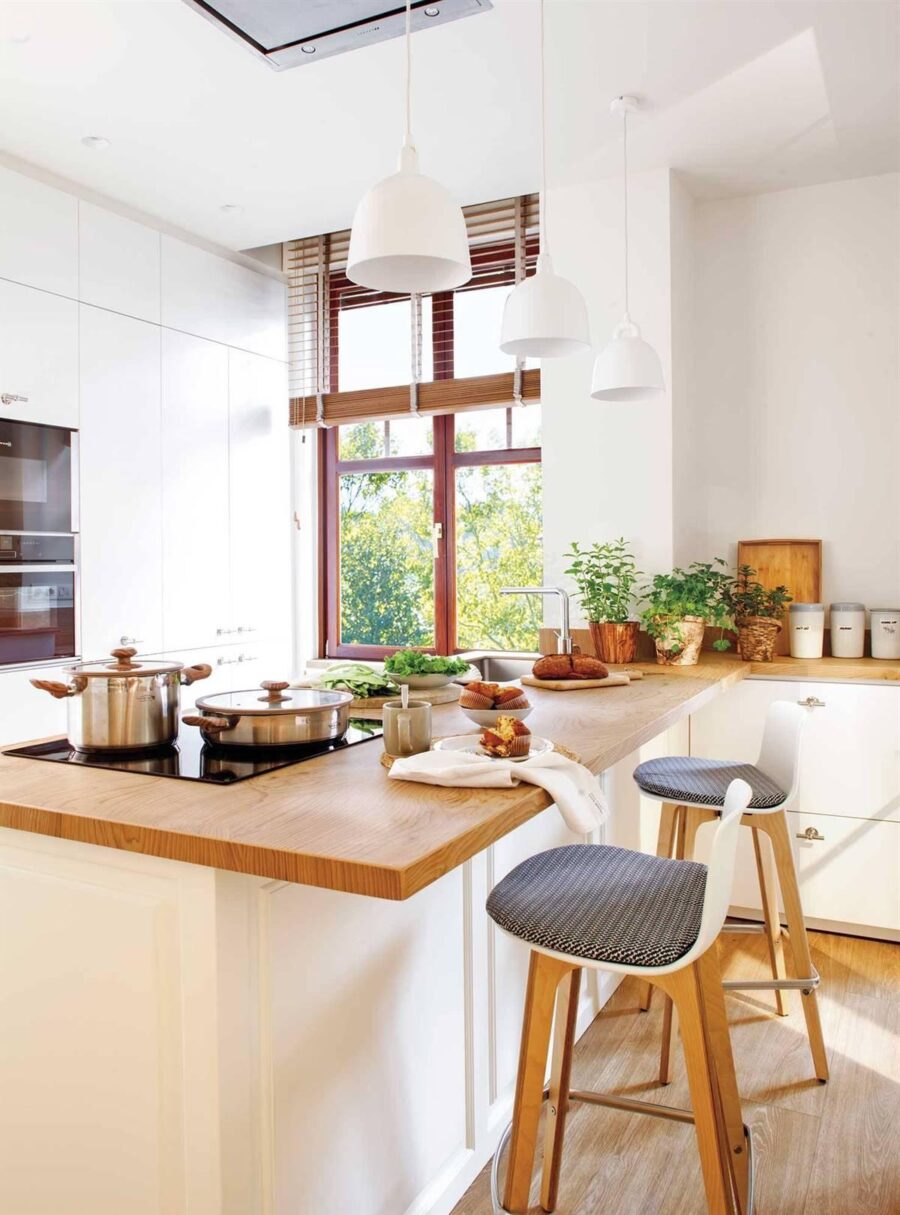 Layers of thin timber are glued together in sheets to produce very strong wooden boards known as laminated timber. The wooden legs of these kitchen stools take advantage of this strength as well as the beauty of the manmade wood grain exposed on the cut edges. The flat legs curve at the top and come together to support the ergonomically shaped seat. A metal lasso wraps around the legs to keep them from splaying out while doubling as a footrest. An upholstered blue seat cushion has been added for optimum comfort.
13. Wide Wood Grained Stools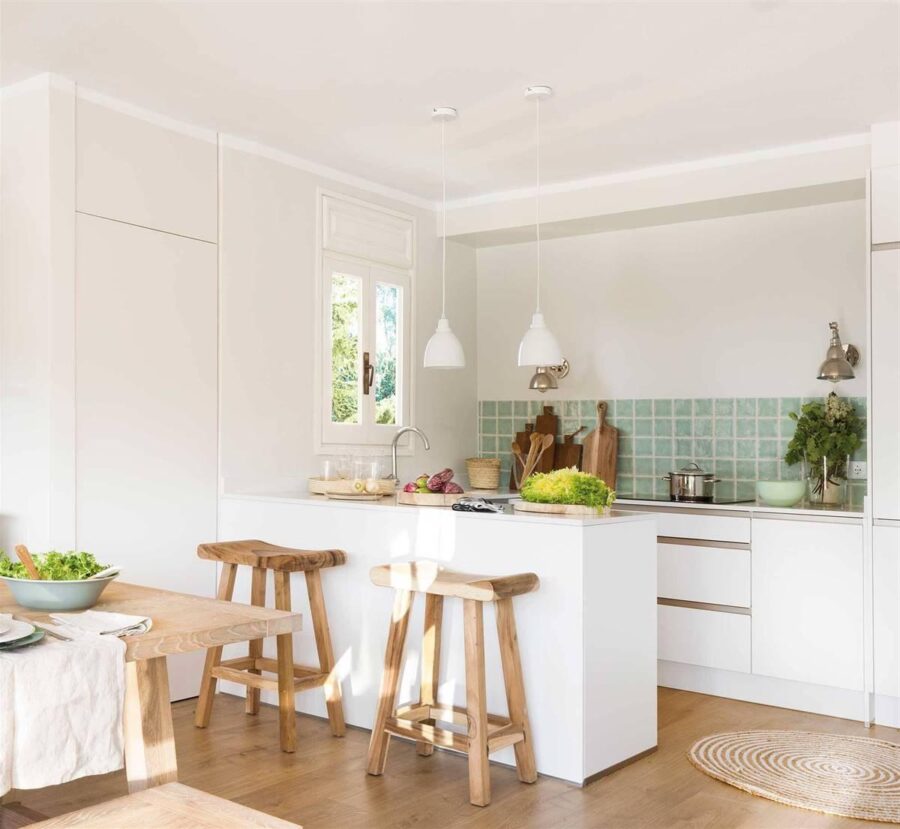 These wooden stools are a similar design to the one we saw in example 6 but this time in a more modern setting. The wide rectangular base holds up a gently drooping seat that allows you to sit at the stark white kitchen island in relative comfort. The choice of wood in its raw form allows the stools to display the natural grain to its full advantage.
14. Thin Timber Stool With Backs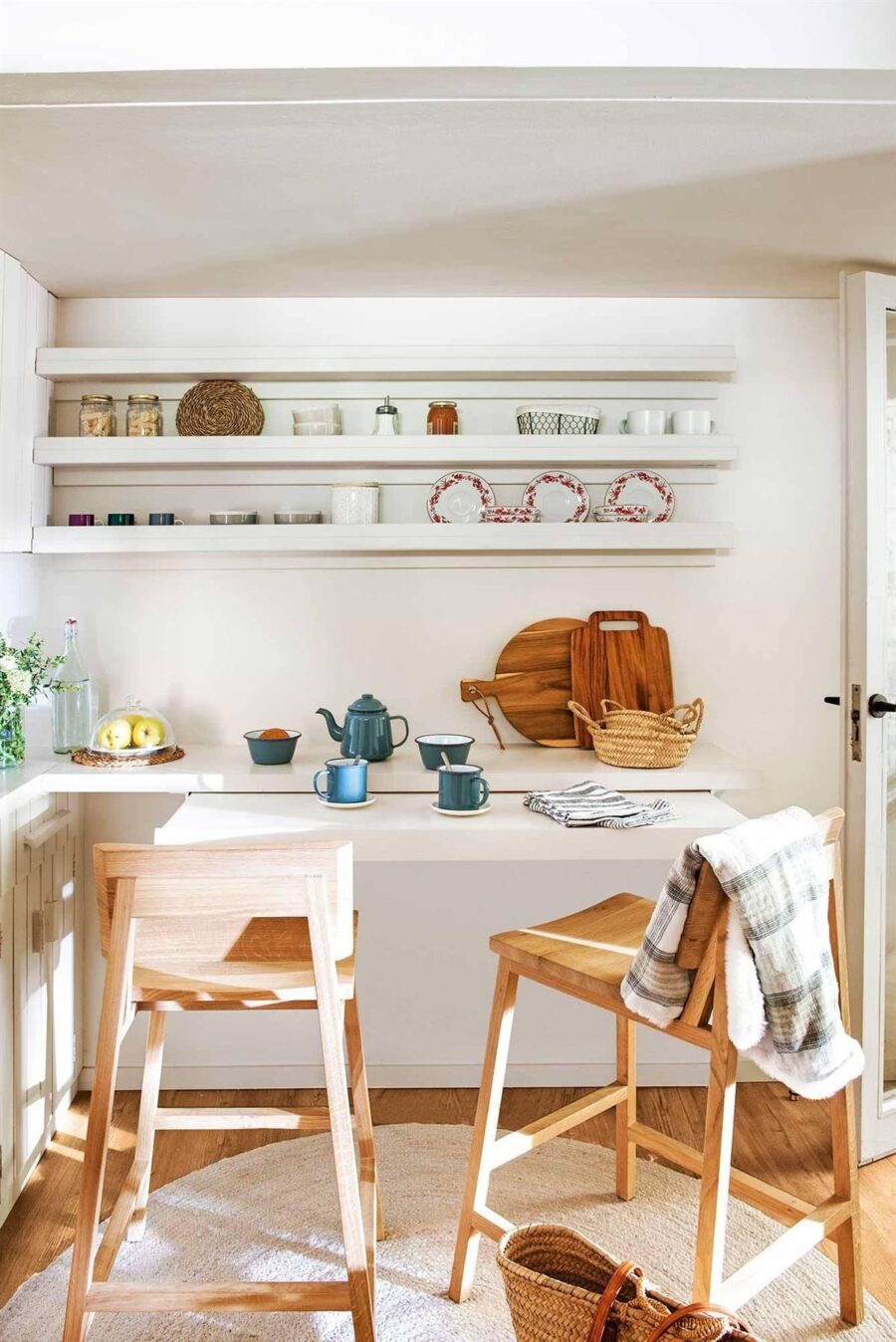 This little dining nook is a Scandinavian dream with its white walls, decorated shelves and L shaped table. The warm wooden chairs fit this aesthetic perfectly with their relatively thin wooden elements to it appears very delicate and minimal. The gently curving ergonomic seat and lower back support make them comfortable to sit in for longer periods to enjoy your meals in a leisurely manner.
15. Simple Square Breakfast Bar Stools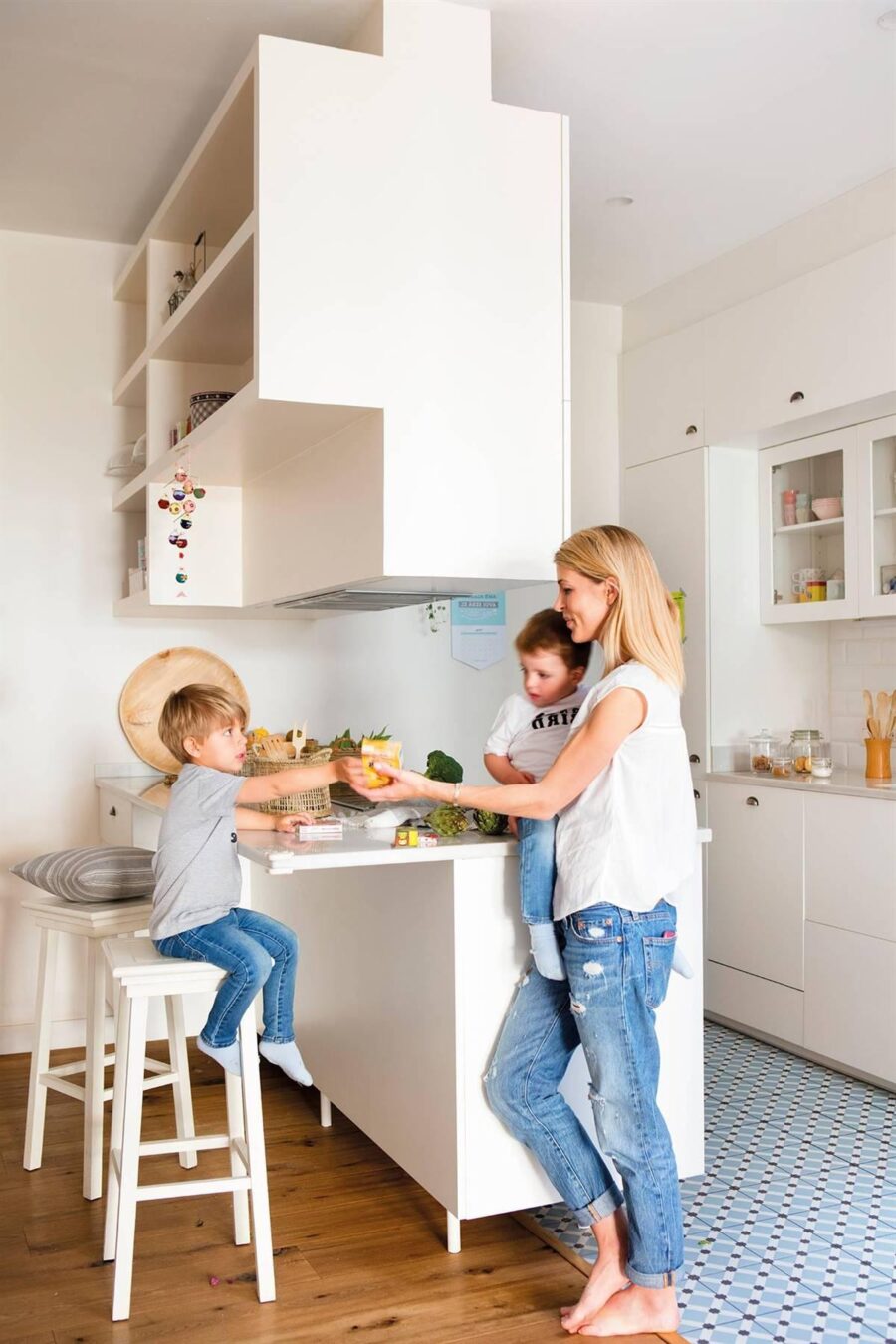 The simple square kitchen stools are set against the backdrop of an innovative kitchen design. They are a luminous white to work with the white island, cabinetry and walls and breakfast bar. This all white aesthetic is contrasted by a double-sided floor design with wooden floors on one side and blue patterned tiles area on the other. The basic design can be changed up by adding cushions to make them more comfortable and bring a pop of colour into the room.
16. Industrial Circular Stools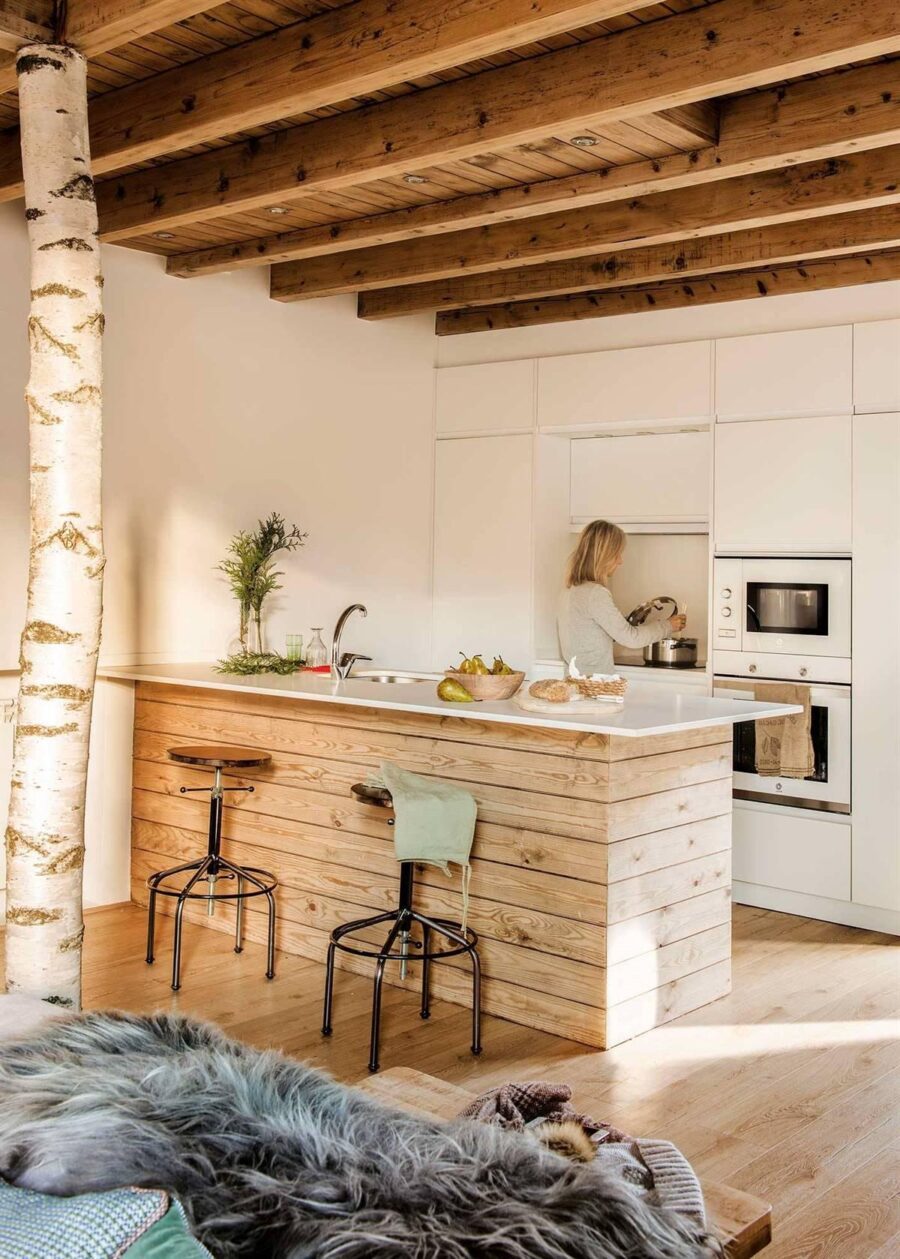 These adjustable industrial metal stools and the seamless floor to ceiling kitchen are the sole modern elements in an almost completely wooden environment. The wooden floors, paneled island base and exposed joists play second fiddle to the actual living tree winding sits way through the space. In contrast the stools look really alien but in the best way. The four legs are set around a circular base with a round seat that can be raised and lowered with the horizontal arm that sits under the seat.
17. Metal Café Style Stools
This contemporary kitchen features two classic café style metal stools that make you feels like you're dining in a café while at your kitchen island. Neutral cushions have been tied so you don't have to sit on cold metal; which is not comfortable for long periods of time. The chunky stone counter top cantilevers off the island and over the edge to provide comfortable legroom. These trendy stools fit snugly in a kitchen whose design aesthetic that is based on adding a twist on classic materials.
18. Dinky Carved Wooden Stool Tables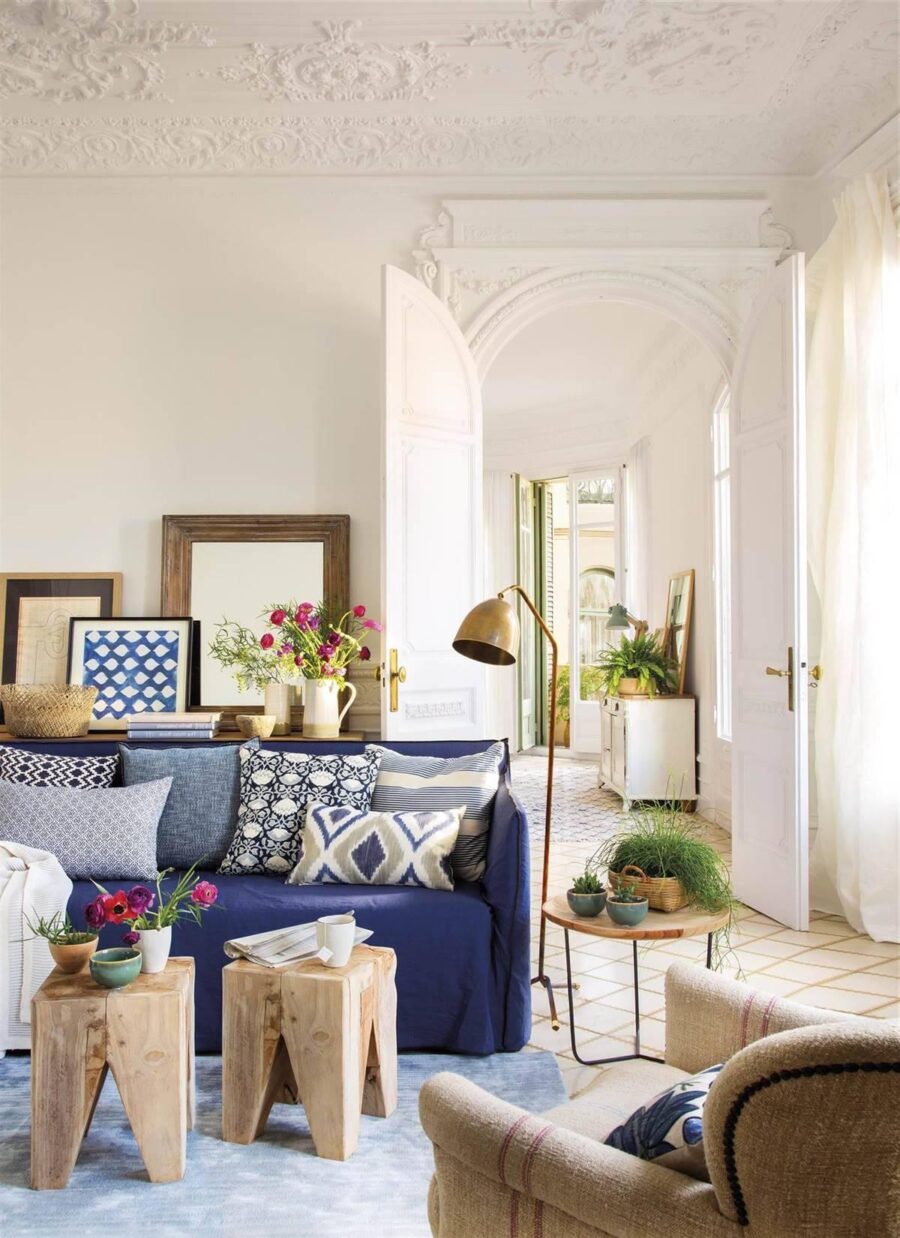 This spacious living room has made use of two dinky little stool tables in place of a coffee table that resemble roughly hewn stumps of wood. Although this room is surrounded by vintage style mouldings entered through dramatic arched doorway, the actual furnishing is very rustic which makes the tables feel right at home. The table legs have been created by cutting out a triangular wedge on all four sides of the cube; which converge to form the square tabletop. These two have been paired together to serve different purposes; one for decoration and one for everyday use for coffee and a book.
19. Low Bamboo Stools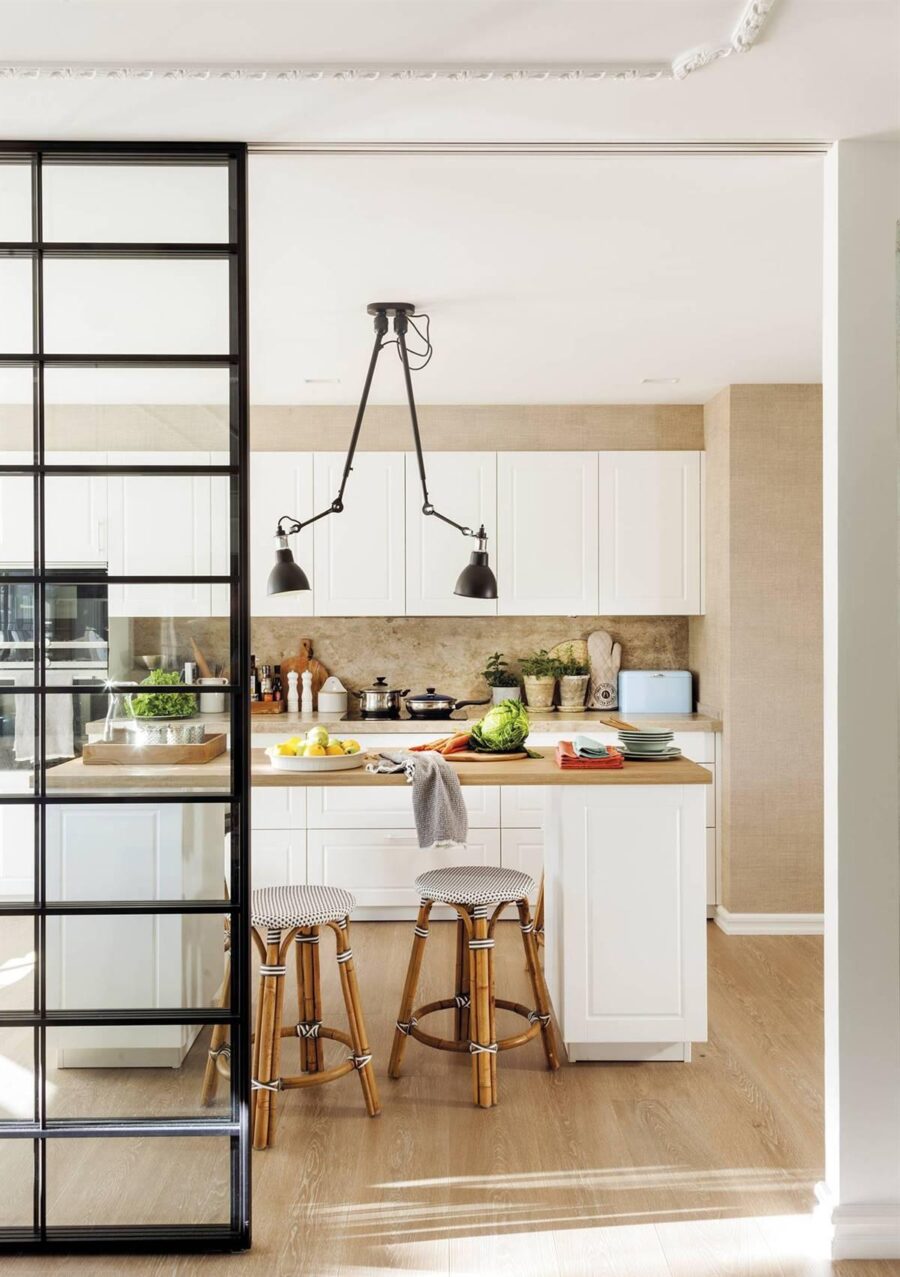 Low bamboo stools, such as these, are made of the same bamboo construction to the high stools in example 7. These stools have updated the dated style by staining the bamboo a deeper shade, tying the pieces together with stripy fabric and topping them with round upholstered seats. The bridge style island provides legroom and space to tuck away the stools when they aren't being used.
20. Abstract Metal Framed Stools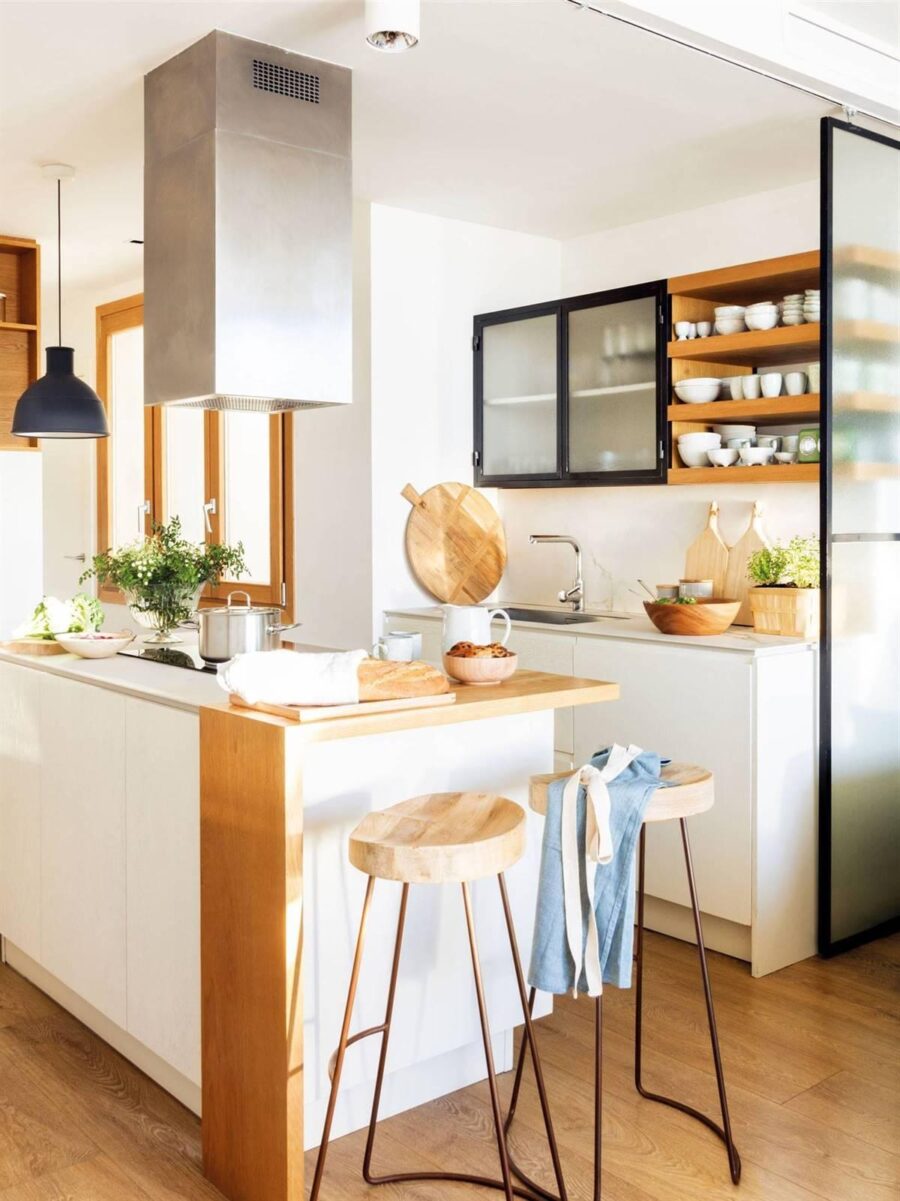 Innovation is the aura given off by this modern kitchen accented by wood throughout and the copper-legged kitchen stools fit that feeling completely. The round wooden seat has been carved into an ergonomic shape for ultimate comfort. Two metal frames that seem too thin to possibly support a human's weight hold up this seat. The legs flare out and curve to mimic the circumference of small seat. A curved, horizontal bar links the two legs and acts as a foot rest while you sit at the breakfast bar.
21. Plastic And Timber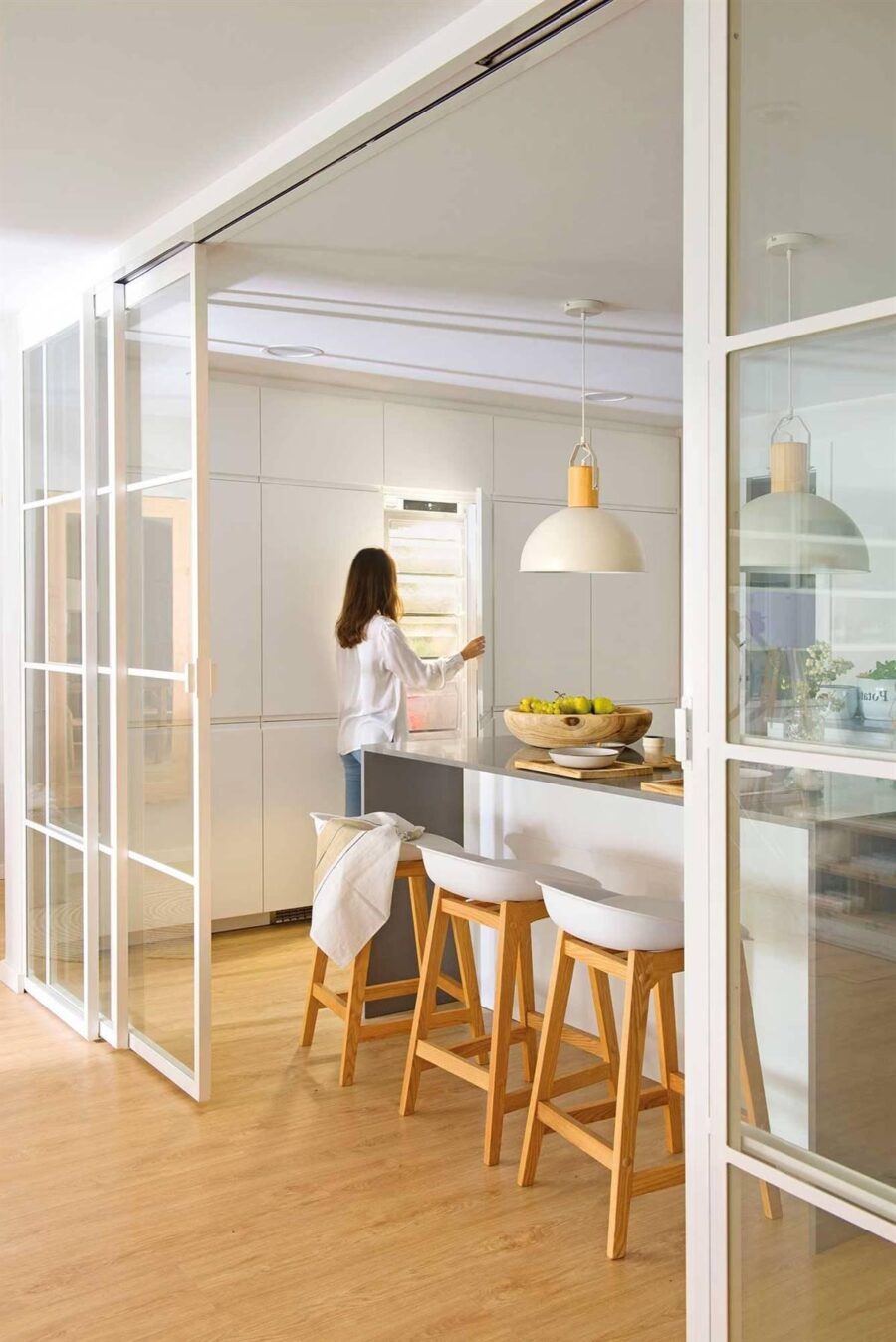 This unique kitchen dining area can go from inside to outside dining with one slide of the thin glass doors. Its design utilizes the combination of timber in white spaces that is a favourite of the contemporary style. The moulded plastic seat curves into a small lip at the back to keep you in place comfortably and it is held up by sturdy square frame of warm timber.
22. Futuristic Conical Stools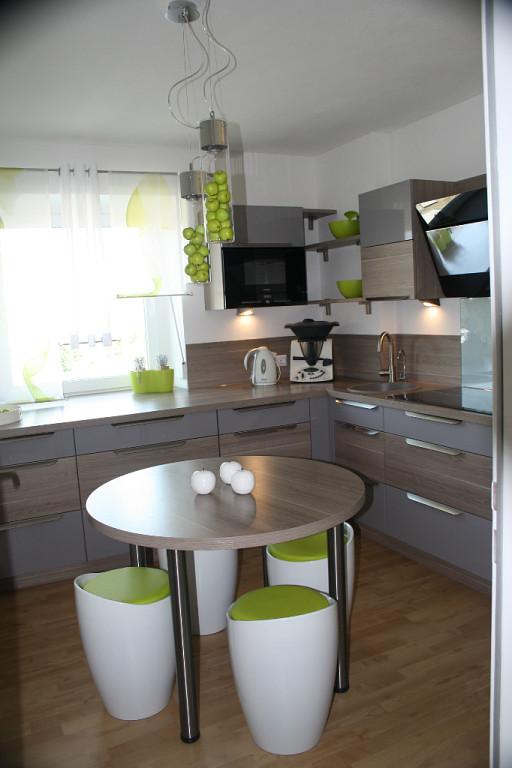 These futuristic little pods are a keystone of this unique kitchen design that takes it from modern to futuristic in one step. The smooth conical pods have an elegant lip at the back that gives a nod to a backrest without actually serving a function besides the aesthetic. The round seat has been upholstered for optimum comfort in a lime green that is repeated throughout the rest of the kitchen. The short stools are best suited for a low table like this for an intimate kitchen dining experience.
23. Fold Away Step Stool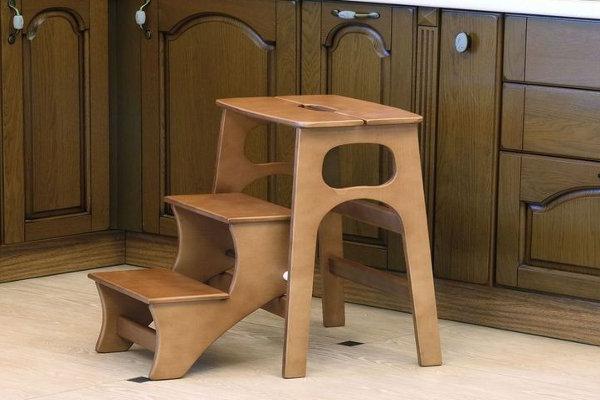 This little Masonite foldaway stool is a useful item to have around the house because it can be adjusted depending on what you need it for. Two little steps can be folded out to create a step stool or they can be folded away and used as a make shift chair. This is a neat and convenient design that is easy to store away and takes up very little space when you fold the two stairs up inside the third step.
24. Breakfast Booth Stools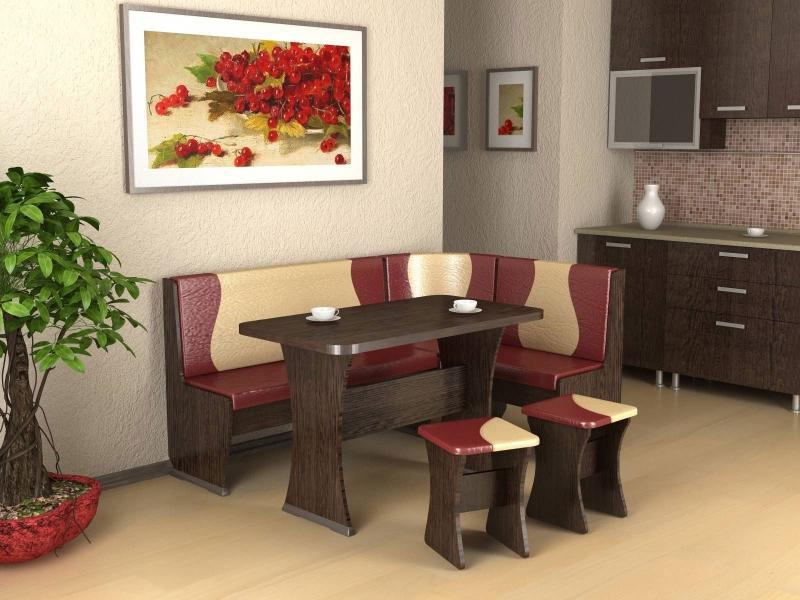 Adding extra seating around a breakfast booth is easy with this set of coordinated stools. The entire booth structure has been constructed from the same faux leather upholstery and dark vinyl chipboard structure for cohesion in the most literal way. The square stools are low and small which makes them easy to tuck under the table when you don't need them.
25. Retro Inspired Kitchen Stool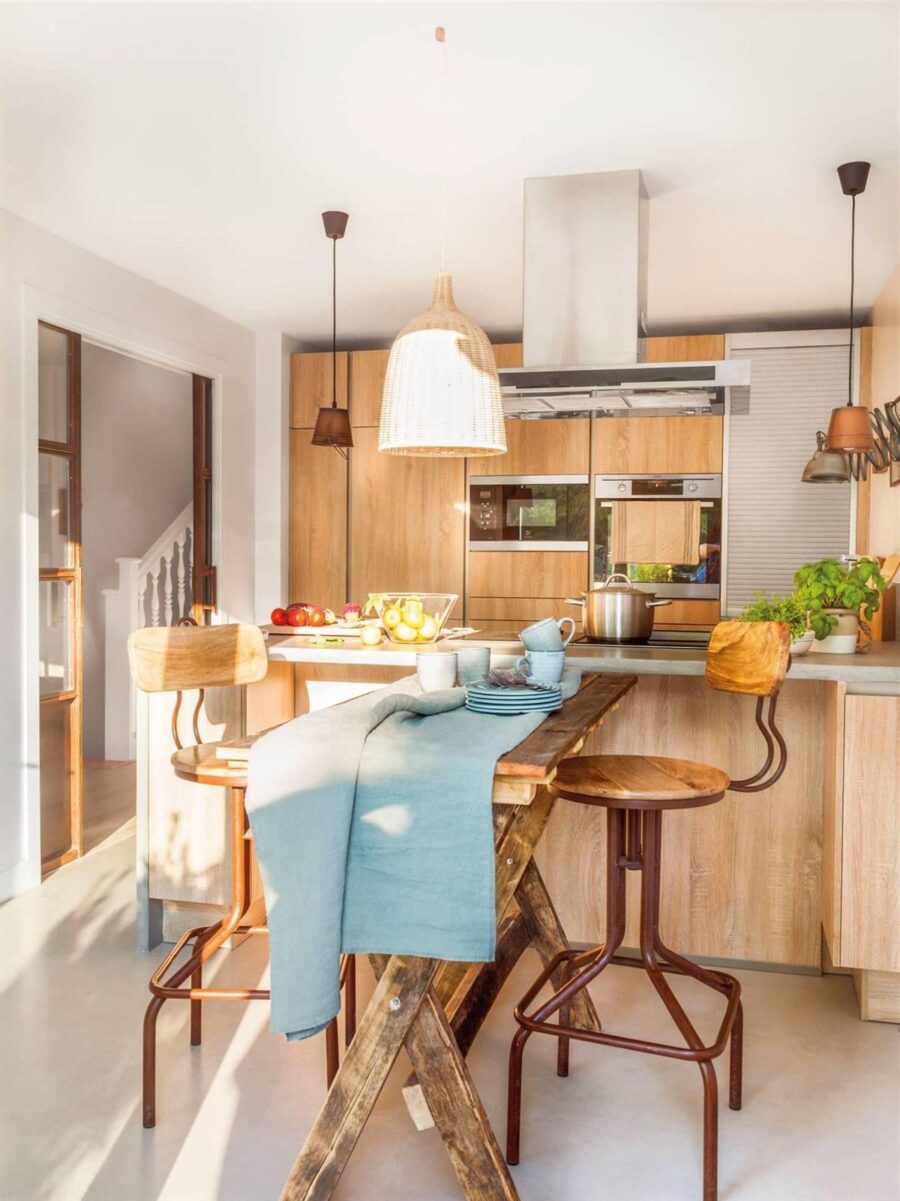 These tall kitchen stool have been designed to mimics a retro desk chair with a tubular, metal structure with wooden round seat and curved back support. However, the design still feels in place because of the rough wooden dining table and the rusty red painted metal which fits in with the rustic aesthetic and natural tones of the interior.
Conclusion
The humble stool has proven itself to be a piece of furniture with a unique array of design styles and uses. From a little wooden footstool to an elegant designer bar stool, they've got you covered.
The inspirations we've shared with you show how many ways you can use this seating style to suit any design style or colour story that you want to express in your kitchen. They can be adjustable to suit any counter or person and even transformable, sleekly adapting from your average chair to a useful step stool. Low stools can even be repurposed as little tables.
By choosing to this chair style in your kitchen design, the world is your oyster so go, be free and explore the design world of kitchen stools.