Open kitchen shelves are the latest trend in kitchen decoration. You already have the perfect excuse to renew all your objects and have them in sight!
The kitchen is one of the most difficult room in the house to decorate since they are spaces where functionality prevails over decoration.
In addition, having hidden furniture is the most common thing in the design of contemporary and modern kitchens, because this allows creating more stylish spaces.
However, the kitchen is full of utensils that require a lot of use: Pots, pans, cutlery, dishes, cups … etc., and open shelves are the perfect solution to have everything at hand.
More and more people are choosing to have open shelving kitchens instead of cabinet kitchens, in order to show the utensils and have them contributing to the decoration of the walls.
Open shelves in kitchens are essential pieces, but their design and the way they are located count a lot. Today we are going to show you some modern and luxurious kitchen designs that will give you inspiration and ideas on how to choose and locate open kitchen shelves. Some prestigious designers have created functional and really impressive spaces, see them all below.
24 Open Shelving Kitchen Ideas to Make Your Home More Stylish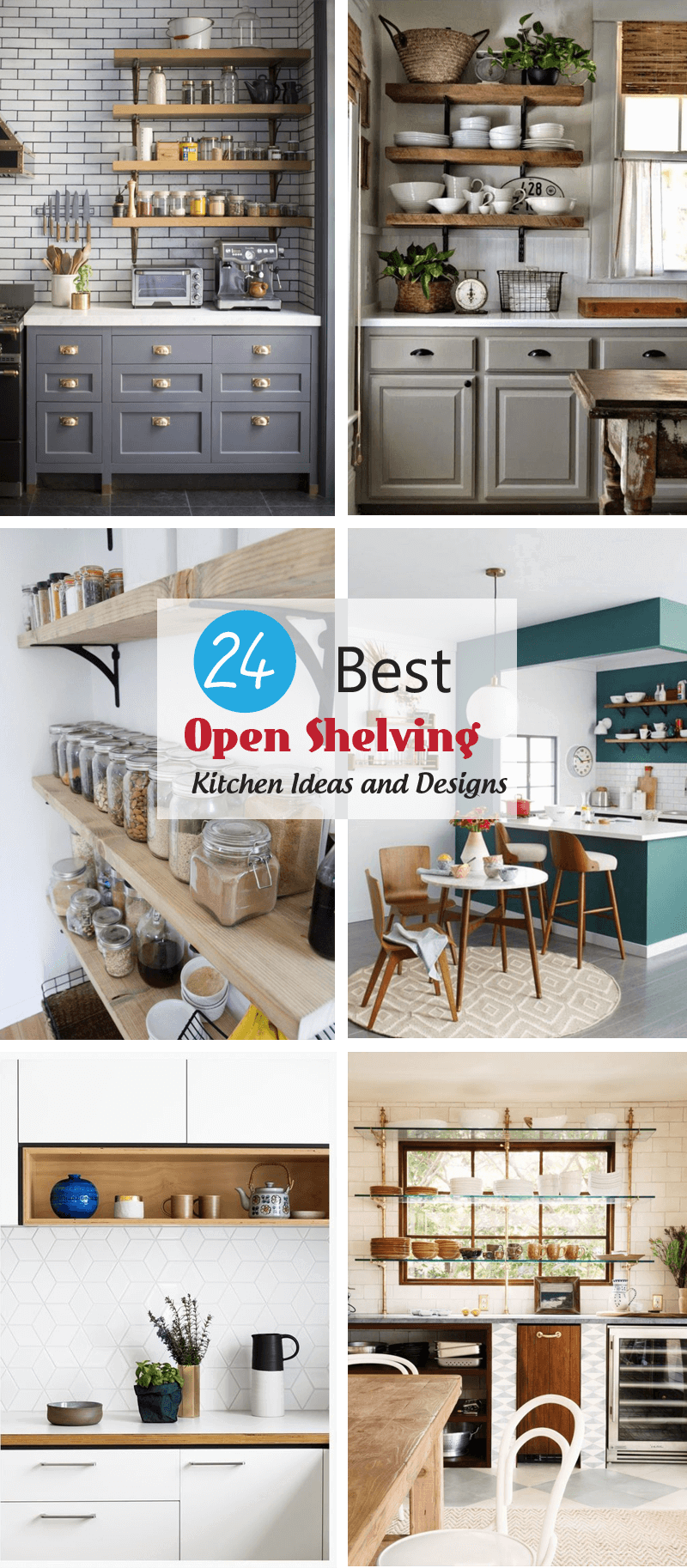 Decorating a kitchen is never an easy task, especially when space is tight. However, there is no need to despair. Today, the market offers a variety of functional furniture models optimized for all types of environments.
A kitchen can transform any space into a cozy environment equipped with everything you need. The best option is to invest in planned furniture, in addition, it is also worth counting on the installation of shelves and little spaces that help organize and decorate the kitchen.
After all, the kitchen is no longer that place just for preparing meals or having afternoon coffee, it is now a social and open area for interaction.
Open shelving is replacing wall cabinets in the kitchen. It is a very strong trend and we must have some very clear ideas when we are going to use them. Their greatest advantage, showing the objects they hold, is also their greatest disadvantage. It forces us to be very careful with what we put on the shelves to help us improve the decoration of our kitchen and not the opposite.
There are usually two main ways to use shelves in a kitchen: we can place two or three loose shelves on one wall, or we can substitute part of kitchen cabinets for shelves. This last idea is a good way to combine the best of each: the objects in view help to lighten the space and enrich the decoration, but we still have closed doors to hide what we don't want to be seen. The perfect way to strike a balance between modern and traditional.
If you feel like choosing loose shelves, remember the magic touch: choose what you expose carefully so that the result is visually harmonious and does not give you a feeling of disorder. If you do this right, placing open shelves on a strategic wall displaying dishes, glassware, recipe books, antique scales, or a vase is one of the easiest ways to add modernity to your kitchen.
if we choose well, a kitchen with open shelves can look great as long as you don't forget that one of the key points when decorating your kitchen is deciding what will be in view and how and where you will do it.
There are 3 ways to complement the kitchen with open shelves, and they are the same for modern kitchens, vintage or rustic kitchens, minimalist kitchens, etc. You can give the style with the type of material, the color and the design of the shelves.
A very simple and easy to understand strategy is to look at the colors of the objects that we put on the shelves. In a white kitchen, especially if we reduce the number of colors of the objects placed on the shelves to two, we are going to save many headaches. For example, if we reduce colors to white and yellow, it will be much easier to use open shelves in the kitchen.
However, you can dare to give joy to your corner of open shelves with a full-color tableware for all to see. If the shelf is made of white wood, the colors will stand out even more and you will have a little corner full of life. If intense colors suit you, you can have a colorful set of dishes or vases on your shelves.
Another important factor is to use shelves the simpler the better. The idea is that they do not compete visually with the objects placed on them. For example, some white shelves on a white wall that will go almost unnoticed.
Even if we use shelves in colors other than white, we must continue trying to make their design as simple as possible. The more minimalist the better, even if they are already finished in white, wood or any color that does not stand out too much from the wall on which they are installed.
And of course, the shelves must be consistent with the decorative style of the kitchen. If our kitchen is of minimalist design, so must the shelves be. On the other hand, if our kitchen is rustic, shabby chic or any other similar variant, we must be consistent and use shelves of the same style.
Advantages and disadvantages of open shelving in the kitchen
The advantages of open shelves are:
Shelves are much cheaper than cabinets and door furniture.
They are infinitely more practical, since they allow us to have everything at hand.
The only downside to open shelving is that we have to be more tidy and they force us to be much more careful when choosing what we are going to show.
And if you do not believe it, here are some ideas for very stylish kitchens; we have selected 24 models of shelves so you can make your kitchen in a gourmet environment.
1. Open Wooden Shelves In A Brick Wall Kitchen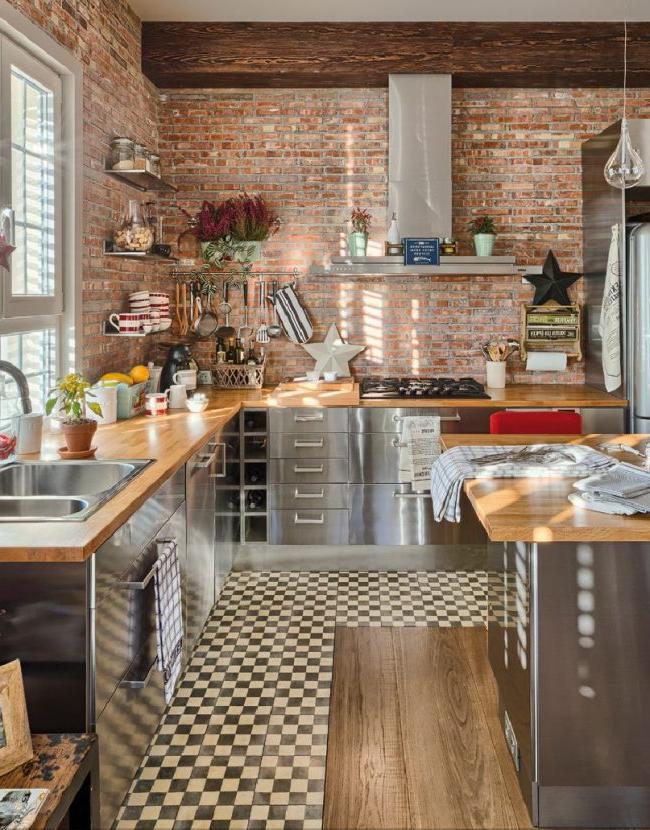 Wooden shelves look great in any kitchen regardless of whether they are closed or open. in this case it is a 4-level shelf completely open and located in the corner. The natural color of the wood contrasts the gray of the wall and the closed shelf.
2. White Open Shelving Kitchen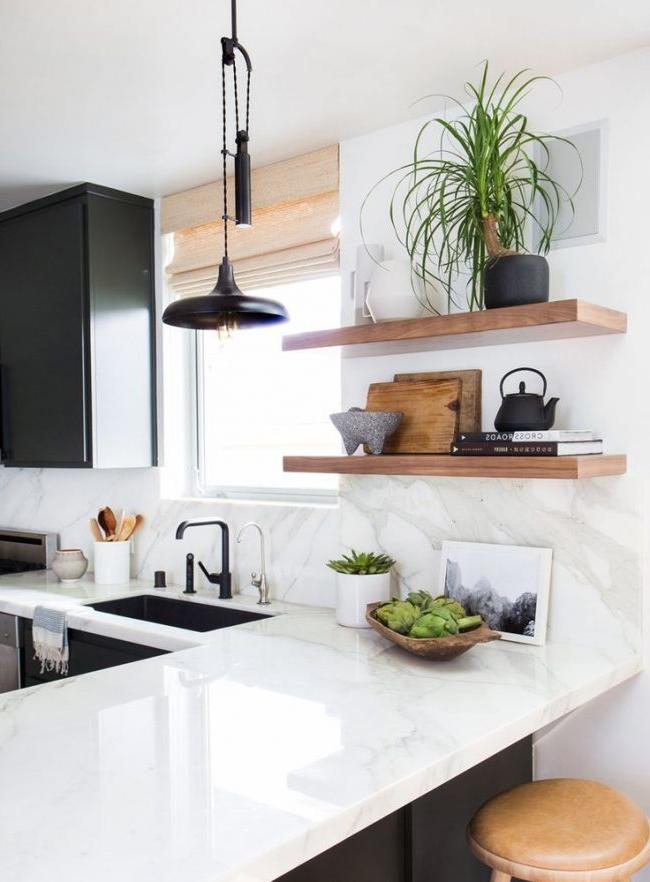 The use of light colors when installing open kitchen shelves is beautiful for any kitchen. They make your kitchen look bigger and give it a beautiful and elegant look. In this kitchen the white open shelves take up a large part of the wall and combine perfectly with the totally white kitchen. Wooden and stainless steel accents bring the room to life.
3. Open Shelves For A Modern Kitchen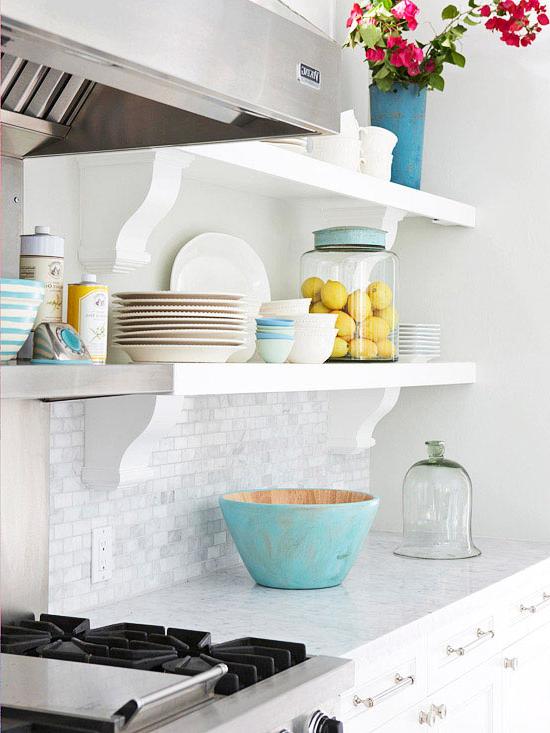 If you have colorful items they will look great on the open shelves for a modern kitchen. In this example, some colorful ceramic pots and teapots make this modern all-white kitchen come alive.
4. A Wooden Pantry With Drawers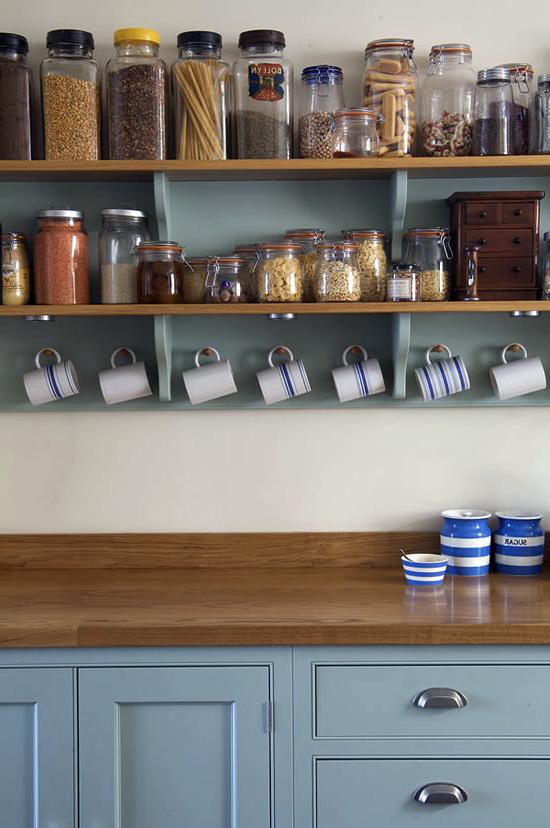 Open kitchen shelves don't just have to be installed on the wall. There are independent options that allow you to transform and make your kitchen much more functional. This shelf has drawers where you can store things without being noticed, but also a topside to place objects in full view. The metal-wheeled shelf is also open and reveals some utensils.
5. Wooden Storage In An Open Shelving Kitchen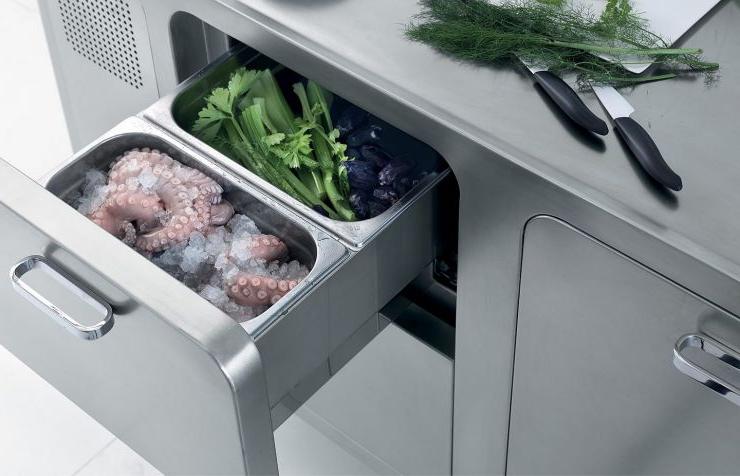 There are many materials that you can use for your open kitchen shelves. you can choose metal, formic, wood and some others, and you can even combine various materials in your kitchen as in this case where wood and metal combine to show the best of your kitchen. Even the dish drainer comes as a cute bare metal detail on the dishwasher.
6. Stylish and Colorful Design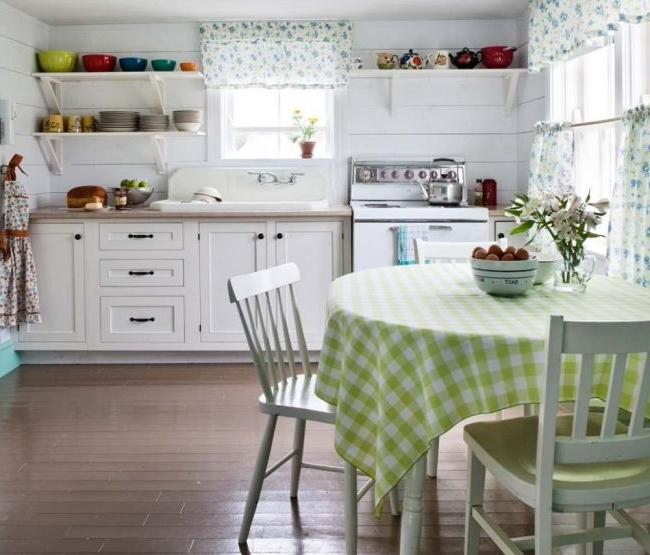 Using open shelves in the kitchen can be as luxurious as using closed cabinets. If you don't believe it, take a look at this example where the open kitchen shelf is beautiful and bright and blends seamlessly with the stainless steel elements of the kitchen. The wonderful order in which the items were placed on the shelves helps a lot with the aesthetics.
7. Small Open Shelving Kitchen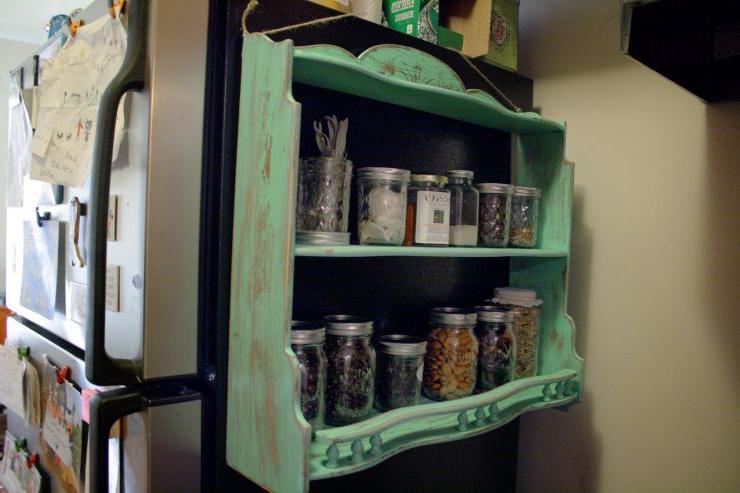 This example of open shelving in the kitchen proves that these items are good to use both inside the kitchen and in the dining area. in the small kitchen they are used to have items such as cups, plates, and ingredients on hand. On the other hand, in the dining area it can be used to have items such as oil, vinegar, and others used at dinner nearby.
8. Cheap Open Shelving Kitchen In Light Colors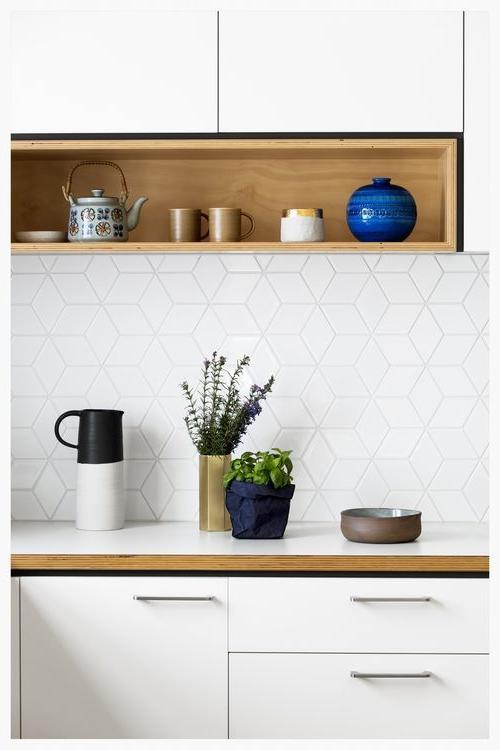 In this kitchen where light colors predominate we can see a beautiful white open shelving unit built in wood. The holders have a very particular and beautiful style that make this shelf not only something utilitarian but also a design piece that can also be found at very good prices.
9. Symmetric Open Shelving Kitchen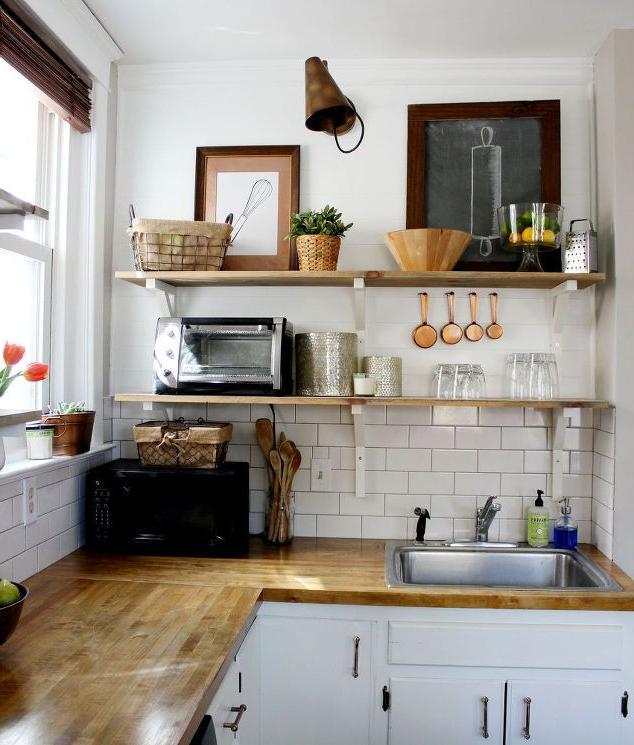 In this kitchen the open shelves are reserved to place beautiful and designer objects like these elegant bowls of different sizes. It is important that you take into account what objects you are going to place on the open shelves so that the kitchen does not look cluttered.
10. Open Shelving In A Unique Style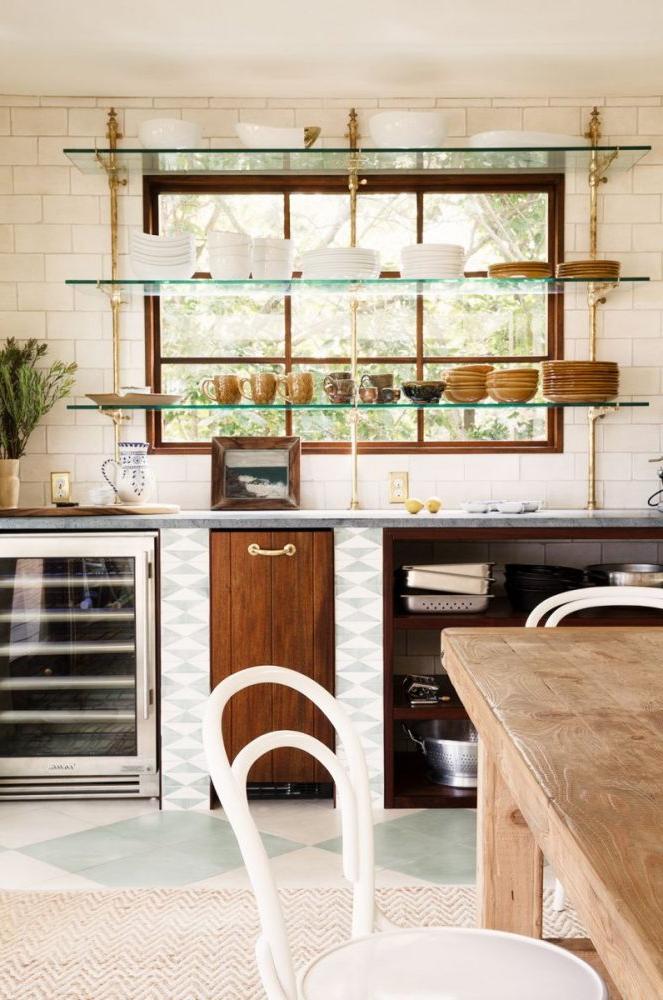 There are many types of open shelving for the kitchen. This is a unique mixed shelf that does not have to be installed on the Wall, is part of a beautiful wooden cabinet that has drawers, doors and open spaces. it is a very modern piece of furniture.
11. Small Open Shelf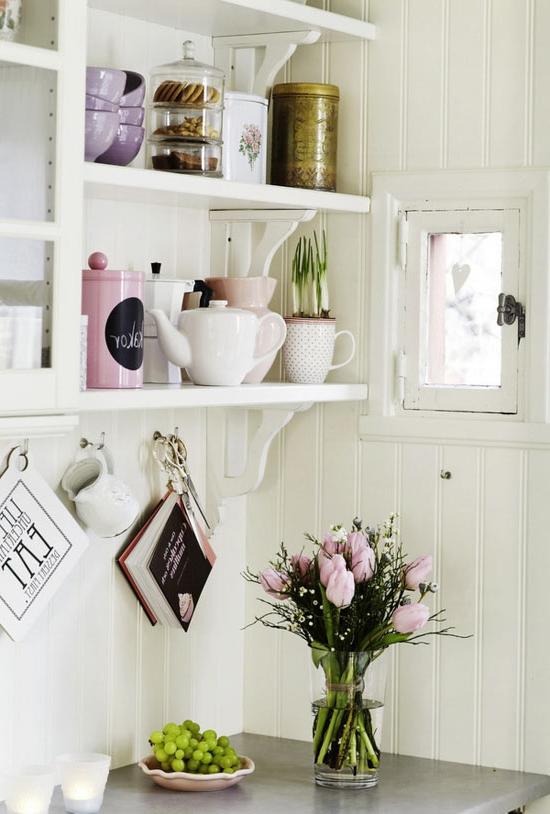 Rustic styles benefit greatly from open shelving for kitchens. In this case, simple wooden planks in their natural color and texture serve to locate a wide variety of jars and some containers. Wrought iron holders finish the look.
12. Open Shelving With Decoration Purposes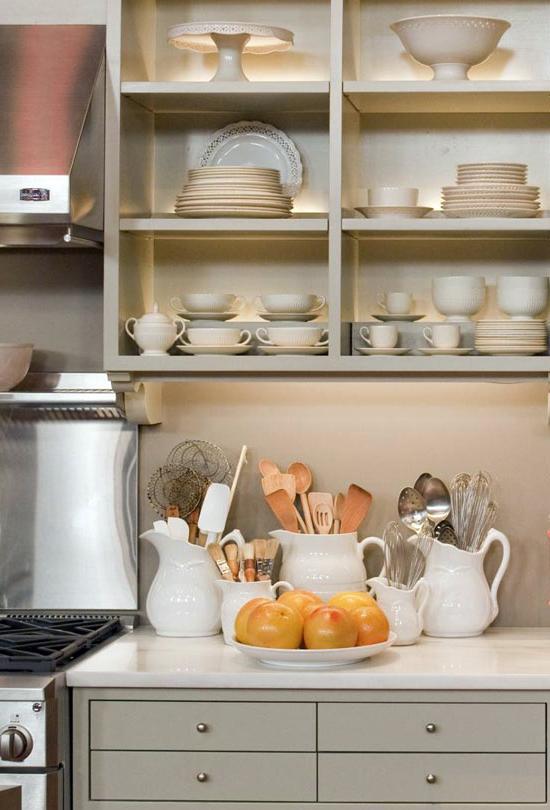 Even the most romantic styles can make use of the trend of open kitchen shelves. What do you think of this kitchen with pink details and small open white wooden shelves with cute decorative supports? Reserved for tea and coffee implements, they look great.
13. Vintage Style Design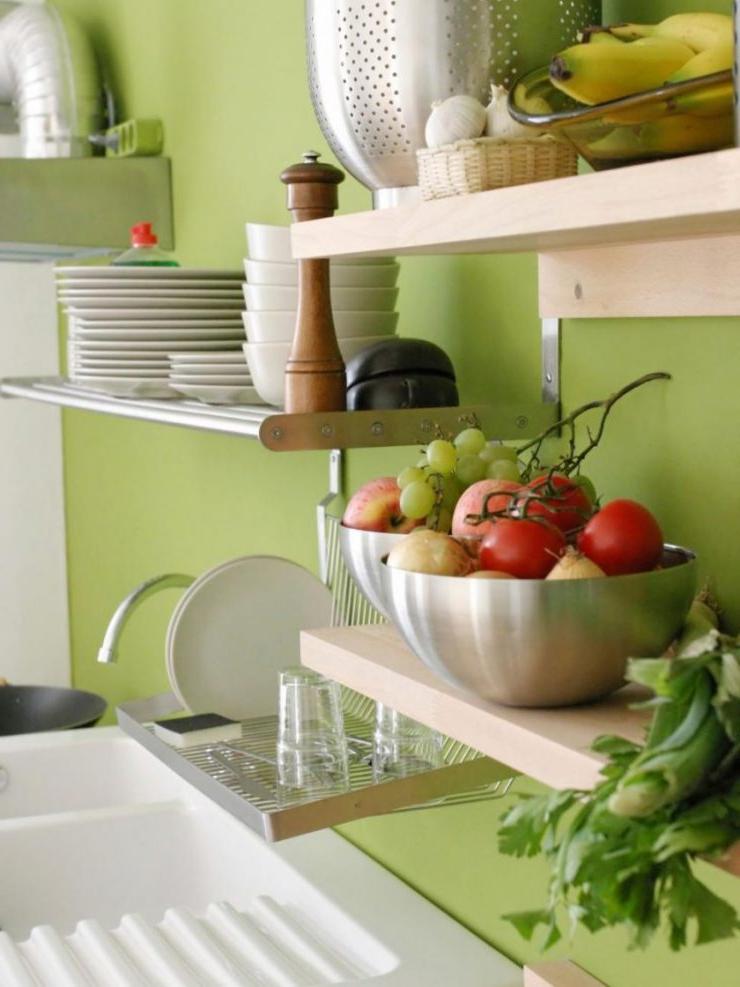 Small open shelves like this can be found at flea markets or used goods stores. The vintage style is based on old and even worn pieces like these that give an irreverent touch to any kitchen.
14. The Commonly Chosen Wooden Open Shelf For A Kitchen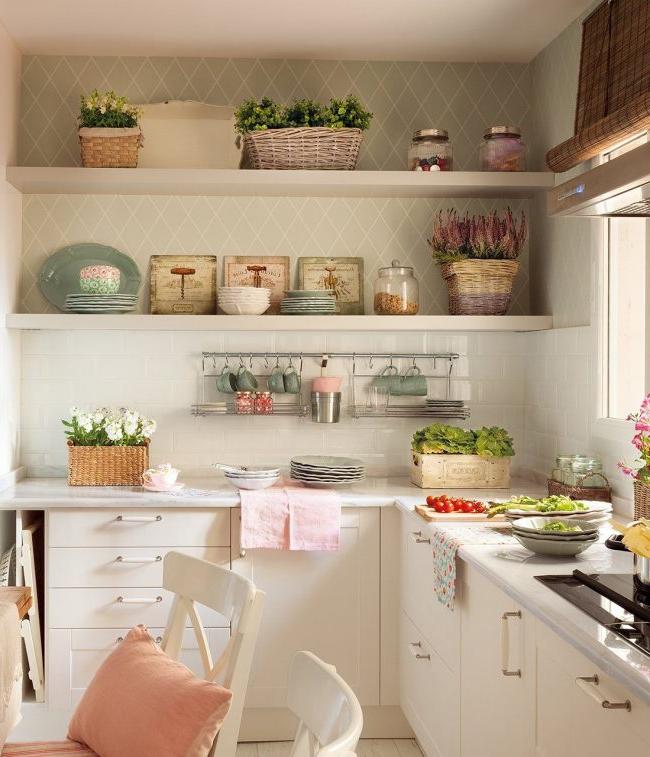 Very thick and rustic wood and forged iron supports make this open kitchen shelf that harmonizes and complements the kitchen in eclectic styles. On the one hand the clean and modern cabinets and on the other the rustic dining table make a beautiful combination where everything is also made of wood.
15. Scandinavian Style For A Modern Kitchen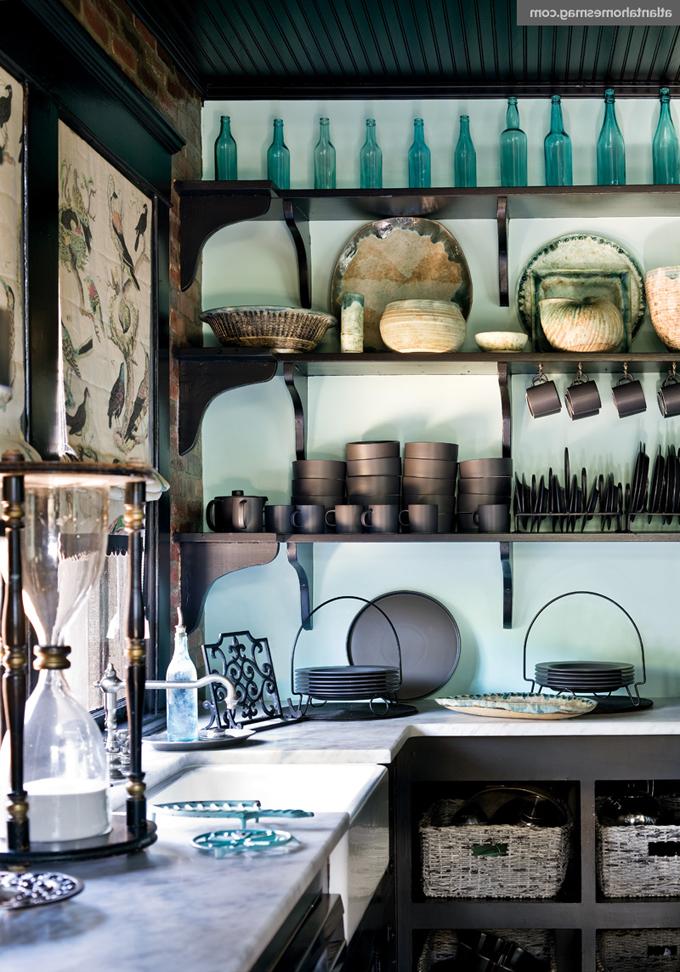 This modern and very clean Scandinavian kitchen has beautiful granite countertops, which although polished lead us to think about natural elements, so it is logical that it complements the open natural wood shelf, which although polished, preserves almost all its natural characteristics.
16. Small Open Shelf In A Rustic Kitchen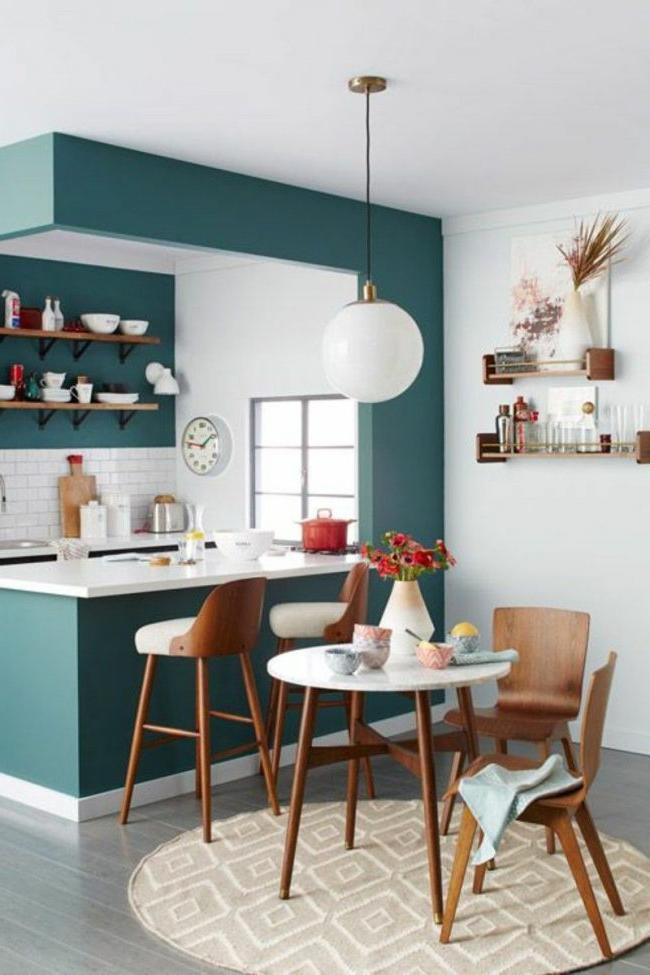 This is a vintage and rustic kitchen with exposed brick that presents a beautiful open wooden shelf that also includes hooks to make it much more functional. Plates and containers on shelves and cups on hooks make this a very usable shelf.
17. Open Wooden Shelves For Small Kitchens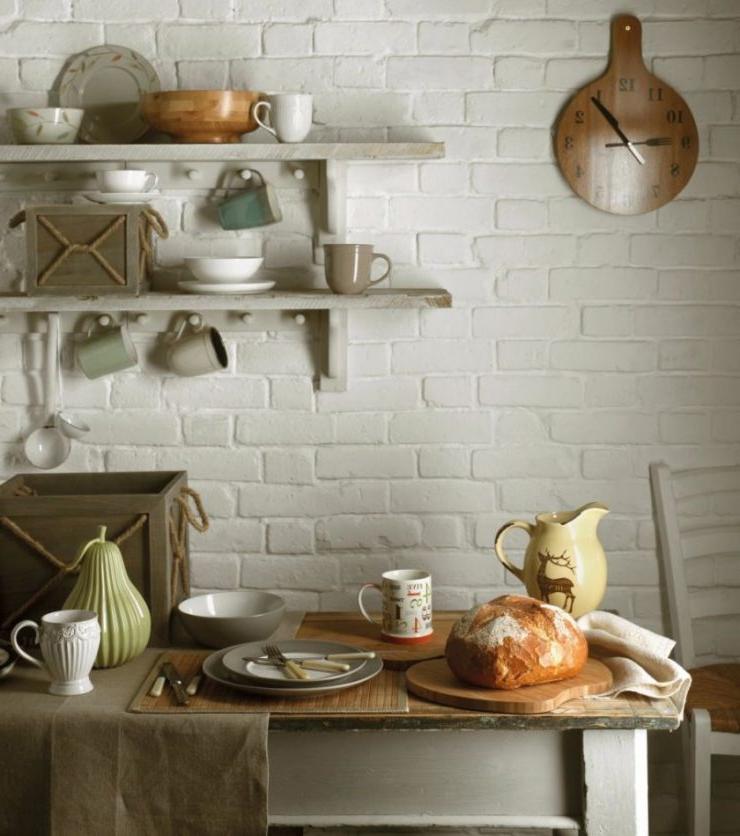 Especially if you have a small kitchen you will benefit from the open shelves for the kitchen since they will give you much more space to place your things and the fact that they are open will make your kitchen look bigger. Notice how many things are stored on the shelves and yet the kitchen looks spacious.
18. Rustic Kitchen Ideas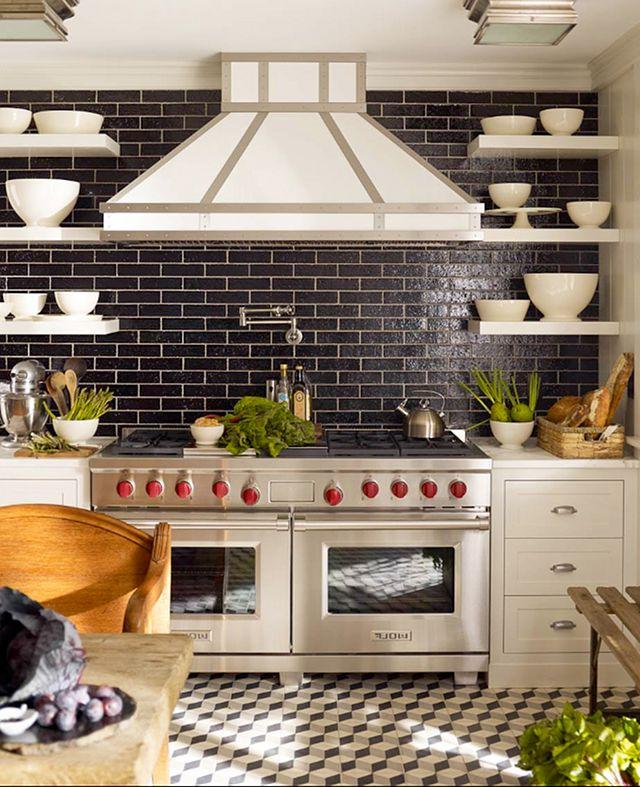 You can even make your kitchen a whole open shelving space, creating a special and contemporary style. In this case, it is very dark wooden shelves where everything is perfectly organized to have an opening without any clutter. Blue bottles and coral baskets add a pop of color in this rustic styled kitchen.
19. Cabinet In Stainless Steel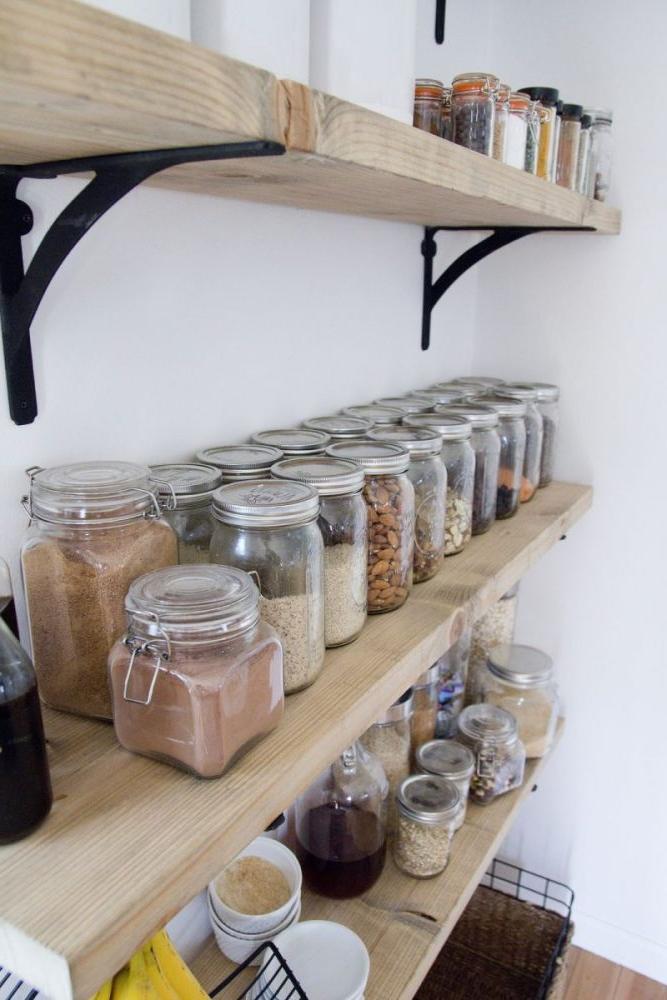 No matter what style you prefer in the kitchen, you can always opt for this type of decoration that goes very well with wood, cement, formic, and even stainless steel.
20. Open Shelving Kitchen As A DIY Project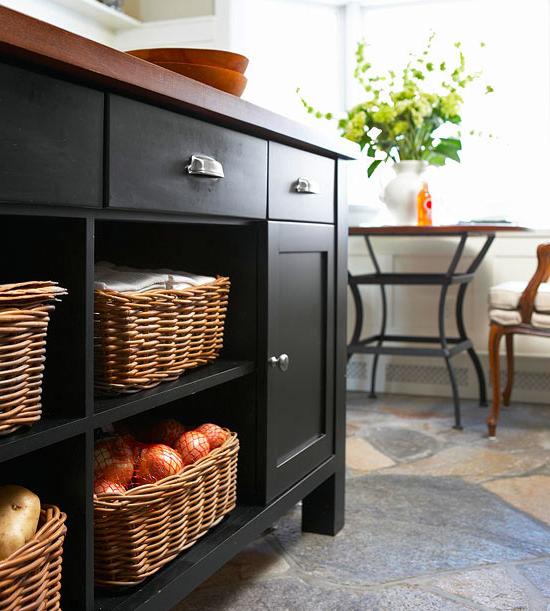 The preferred place to set up open kitchen shelves is at the top of the walls as they greatly lighten the space. Closed shelves on top of walls can make them look a bit heavy and dense, while open shelves give a feeling of more air, space, lightness and spaciousness. This DIY example shows how the closed shelves below and the open shelves complement each other very well.
21. Lighted Color Kitchen With Superior Open Shelves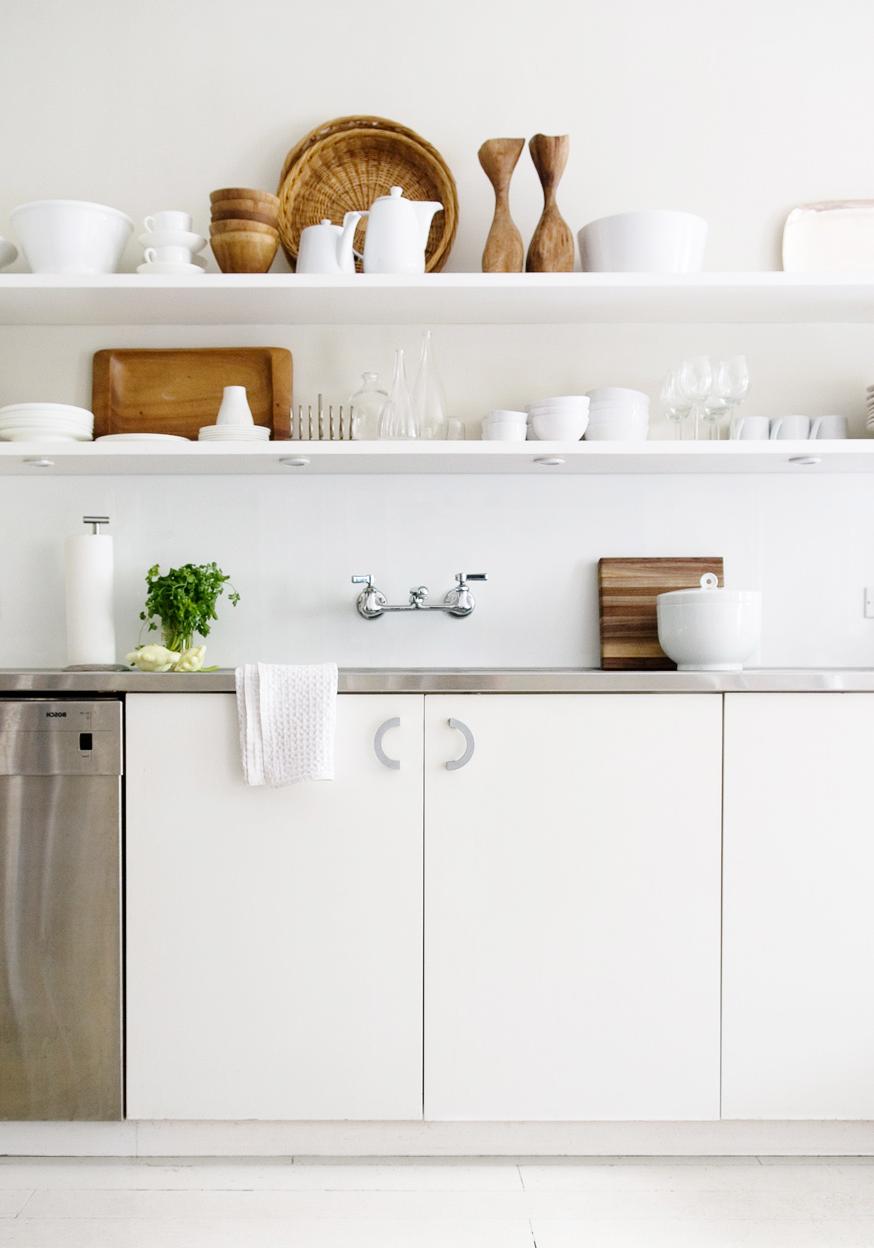 Another example illustrating the great combination of closed cabinets at the bottom and open kitchen shelves at the top. The feeling of openness makes the kitchen much more beautiful. The cup and plate rack completes the design in light colors.
22. An American Style Kitchen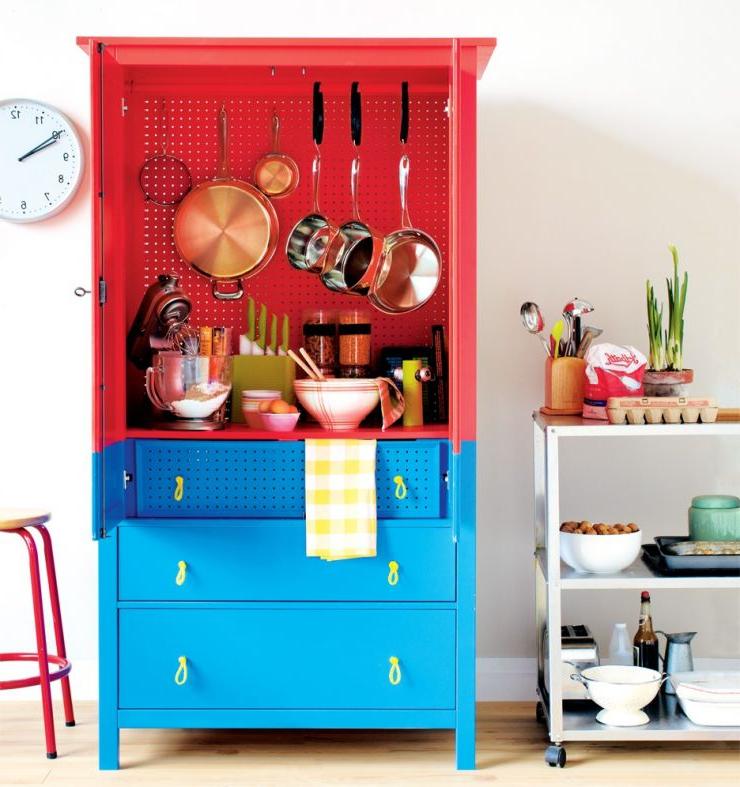 The rustic style relies heavily on the open shelves for the kitchen because they help a lot to visualize the rustic elements. In this kitchen, the open shelves at the top of the wall allow exposed brickwork to be seen on the walls and contribute to the overall design style.
23. Built In Wood Open Shelving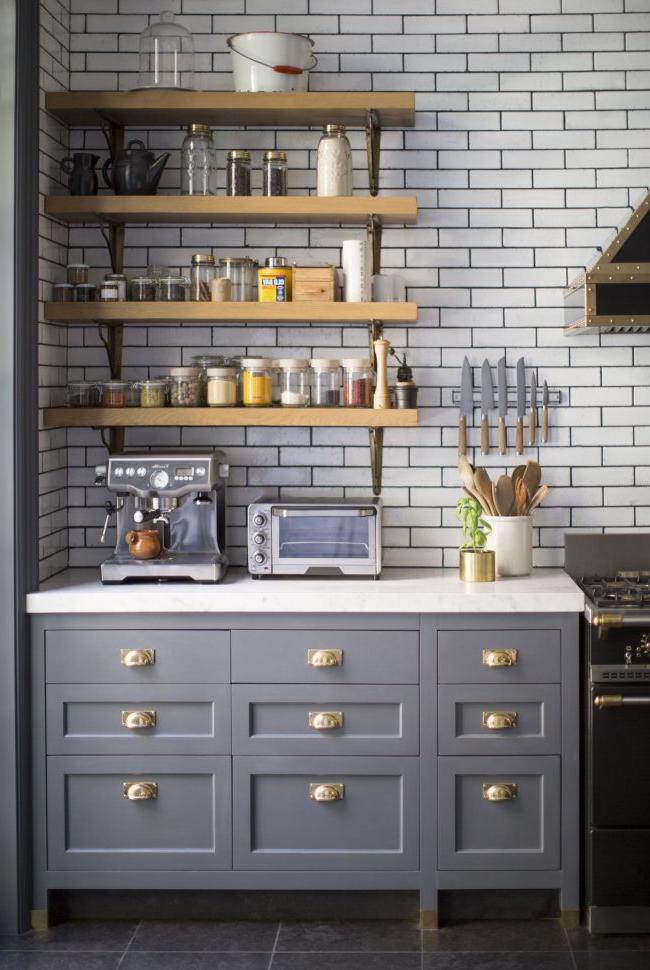 You can also install minimalist open-shelf options like this one that combines design and functionality.
24. Glass Near Your Windows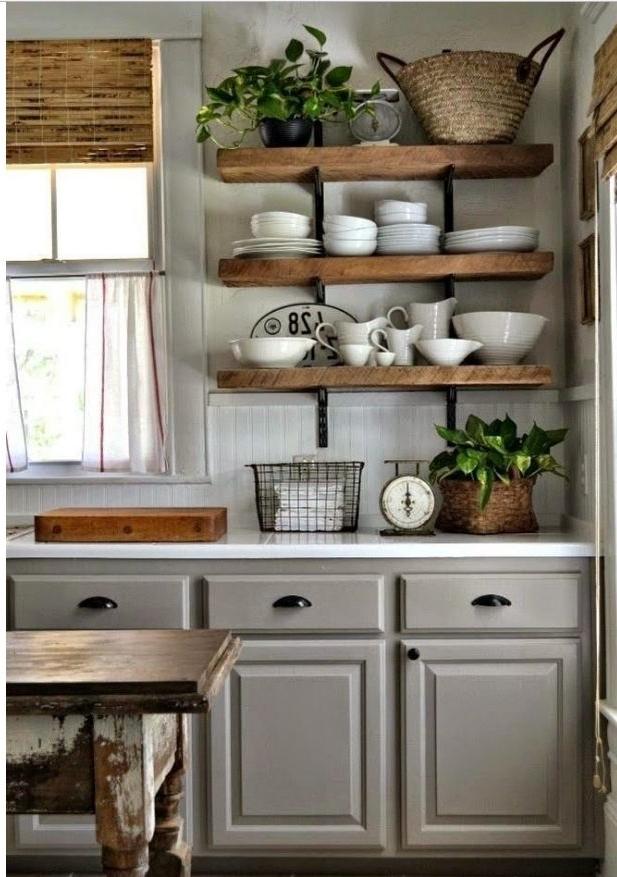 Give glass a chance on your open shelves, they will make your kitchen look beautiful and very stylish, as well as adding a sense of spaciousness. Be careful: they are fragile and can get dirty easily.
Conclusion
There are two types of people, those who believe that open shelves in the kitchen are practical for storing and using utensils, as well as beautiful and decorative; and those who think that utensils, plates and glasses should not be left in sight.
Open shelves kept tidy can look great, because the kitchen looks bigger and more spacious, everything is close at hand and it is very attractive to decorate.
More and more people are discarding traditional furniture in kitchens and choosing open shelves to leave objects in sight and making them contribute to the decoration. And it is not rare because this is a growing trend in kitchen's design.
The advantages are numerous: from the start, the shelves are much cheaper than the furniture with doors, and they are also very practical because they allow us to have the kitchen objects we use the most on hand. As a third plus point, open shelves help create lighter, more open spaces that appear larger.
The only downside is that they force us to be much more clean and tidy, and to choose very precisely what we want to let be seen. But if we manage that well, the appearance of open shelving kitchens are usually spectacular, and the ideas that we showed you today were proof of this.
What do you think of these ideas for decorating the kitchen with open shelves? If you dare to put any of them into practice, do not hesitate to show us how it looks!