The kitchen is the beating heart of the home, and this is essential to remember when planning and conceiving its distribution and storage. It is an area that offers much more than simply storing products or cutting and preparing food; for many, it is the center of a house where we unravel, relax, talk and relax. It is an area full of potential and should be designed in a simple and uncomplicated manner.
Most people would like to have a larger kitchen, in which to place cabinets, appliances and utensils without juggling or magic tricks. In addition, with the passage of time we are accumulating things that cost us to get rid of.
Pots, pans, spices, pasta, bottles … The kitchen is full of things that require a lot of movement: take out the necessary tools to cook, wash them, dry them and store them again. That's why a good order methodology is necessary in this space of the house with so much work.
If you want to get the most out of your kitchen, without having to get rid of half of your utensils, the trick is to be creative, take advantage of spaces, doors, shelves … and above all, try to maintain order.
That is why today we have a set of ideas that you may like for your kitchen.
45 Creative Small Kitchen Storage Ideas To Maximize Your Kitchen Space

The kitchens are characterized by that fusion between aesthetics and functionality. Together they create a cozy atmosphere that is perfect to enjoy a tasty meal either with family or friends. Even the smallest kitchen can be a comfortable, practical and pleasant space if we know how to decorate it properly, so we must be inspired to create ingenious and versatile ideas. The union of design, decoration and technology gives rise to practical and aesthetic solutions, creating sublime rooms with their own identity.
To cook at home or at least make us want to cook in a small kitchen, it must be perfectly designed to move without limits and not looking for things like crazy. A good small kitchen storage ideas and design is vital, as is a work area.
Many times we do not really know how to take advantage of our spaces, and what we would like to see fit ends up being a disaster. Making our home look orderly depends not only on its construction, but on multiple organizers that are now a reality and in some countries are available for sale, but can also be manufactured from common and relatively inexpensive products.
On this occasion, we have gathered for you great and smart ideas on how to store food, spices and tableware. Practical ideas, some economical and easy to make in any kitchenette. If you are looking for tricks to expand the square meters of your kitchen without juggling or throwing half of the things, take note and make the most of your kitchen space!
1. Crochet Hooks To Take Advantage Of The Side Counter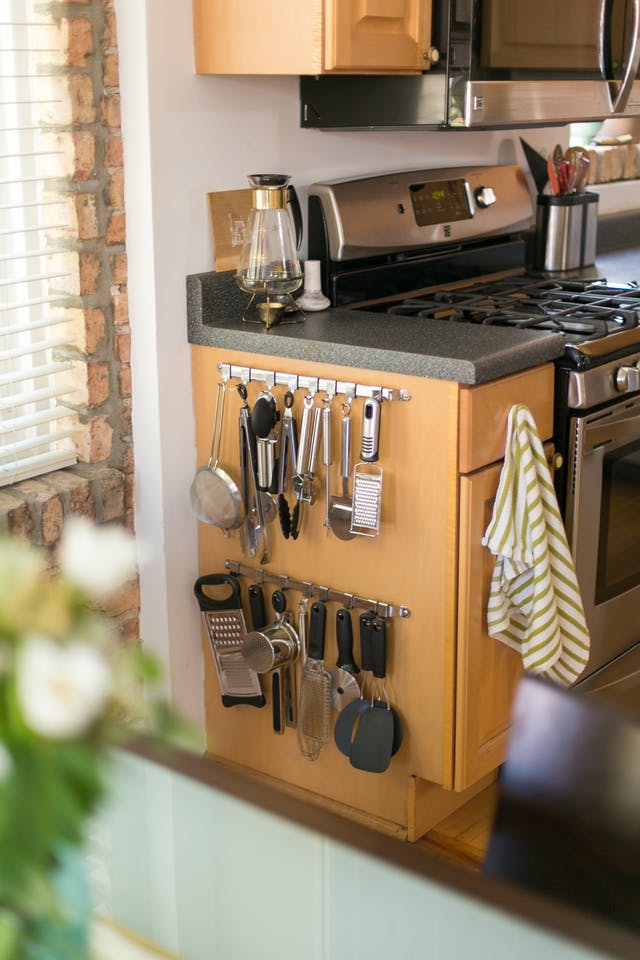 The kitchen is a room that is an essential part of our daily life and it is essential to have a pleasant and functional space. But what should we do if we do not have enough space? Nail some hooks to the sides of the counters and get extra space in no time!
2. Work Surface In The Kitchen With Cabinets On Top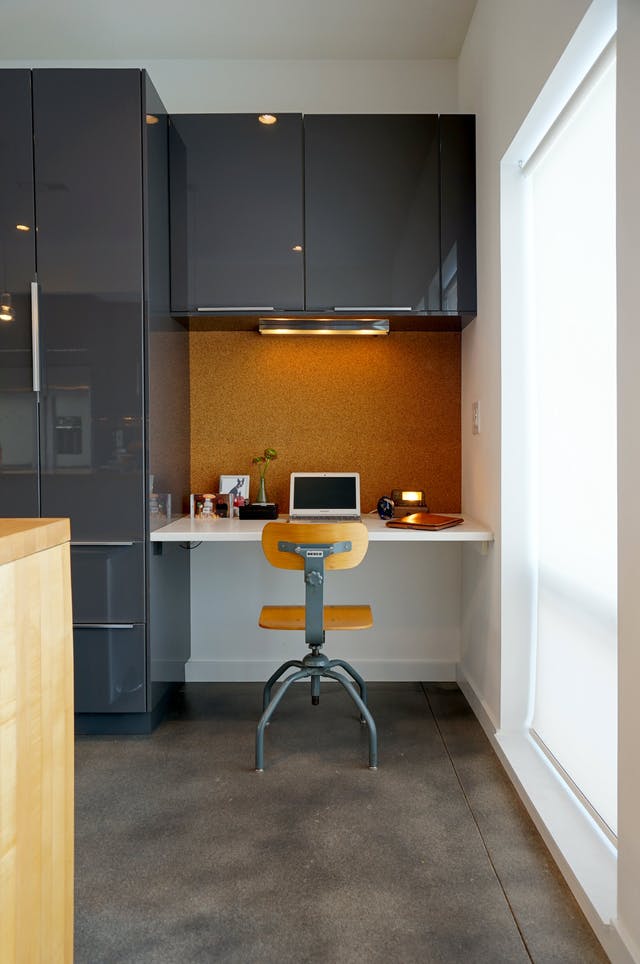 Even when the meters are not left over, it is possible to make the most of a kitchen, either in storage or in perfect solutions to create an office corner or a small pantry. This picture shows it perfectly.
3. Under The Sink Boxes To Storage Cleaning Supplies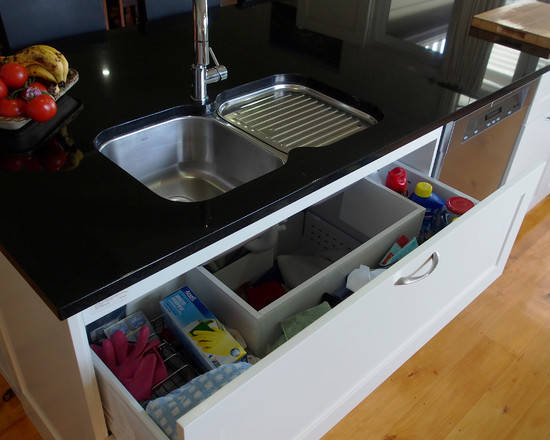 Drawers and dark elements are always an allied element in kitchens with little space, since dark colors create a visual effect of small spaces. That's why by choosing light colors on the walls with dark-toned elements like this black sink, you can create an exquisite contrast that gives the feeling of more space.
4. Storage And Drainage For Wet Dishes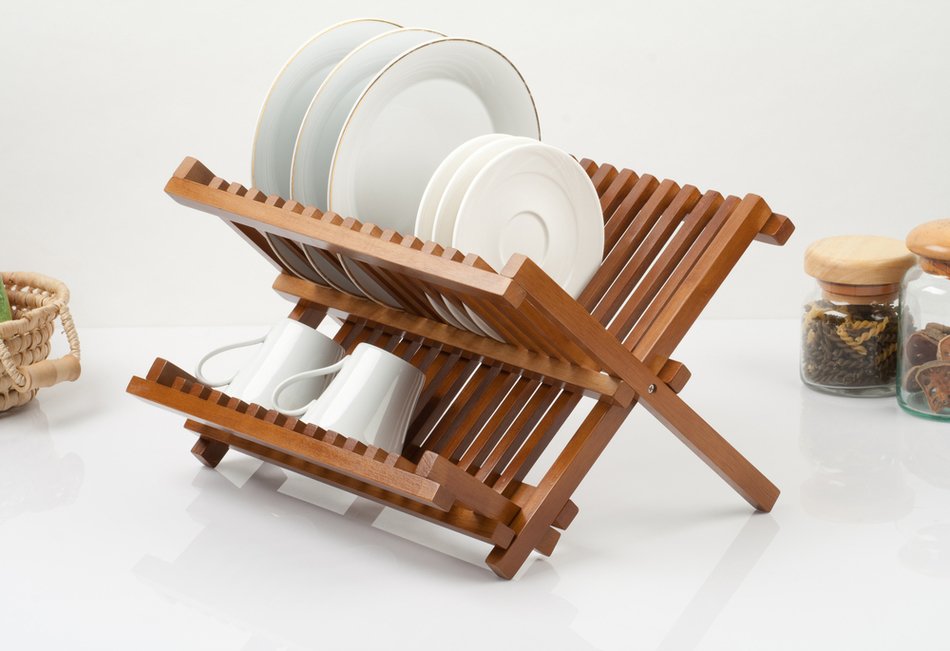 The kitchen can become a real mess in the blink of an eye, especially if it is not very spacious. You can spend a lot of hours sorting the kitchen and dying in the attempt.
Saving space can make your kitchen a better place. It is convenient to use tricks to make the space bigger than it really is. This is a multi purpose item since it lets you store your dishes while they drain from the dishwasher.
5. A Drawer Turned Into A Retractable Shelf For Dishes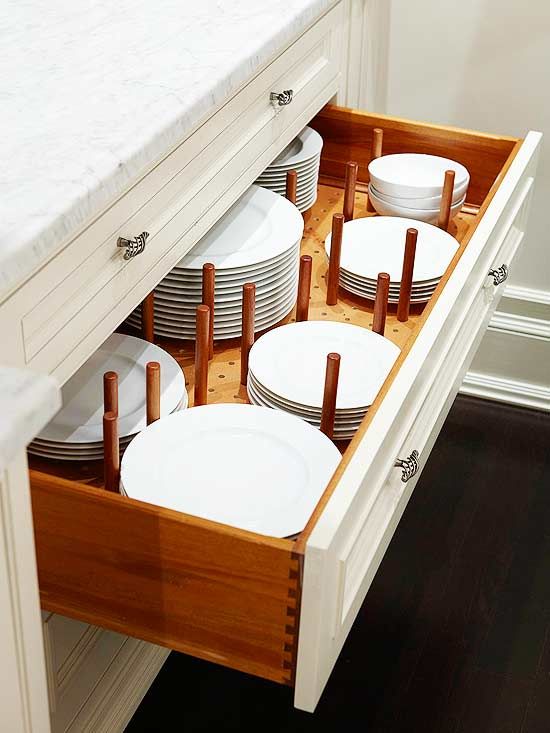 There are different tips and elements to maximize space in your kitchen. Storage systems are always allied when we have little space. Organizing a drawer this way will help you keep the order at home.
6. Small Kitchen Storage Ideas For Spices And More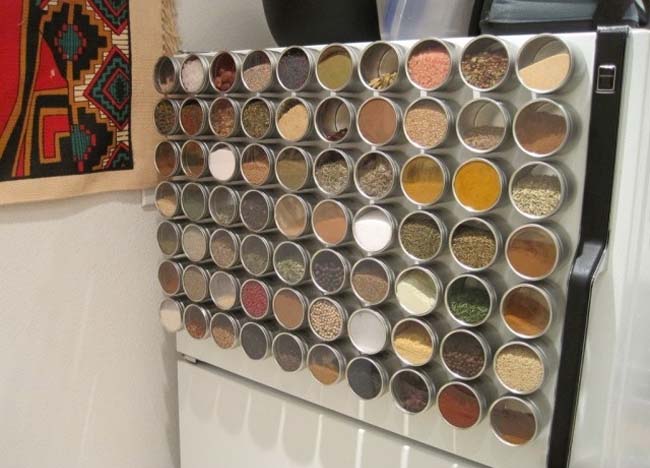 Although it is not necessary to have the spices arranged in alphabetical order, would it not be a dream to know that saffron is always between basil and cinnamon?
Open storage like this one is a great solution for your food reserves, it allows you to quickly know what you have available and it is easy to access when cooking.
7.Smart Way To Store Pans And Pots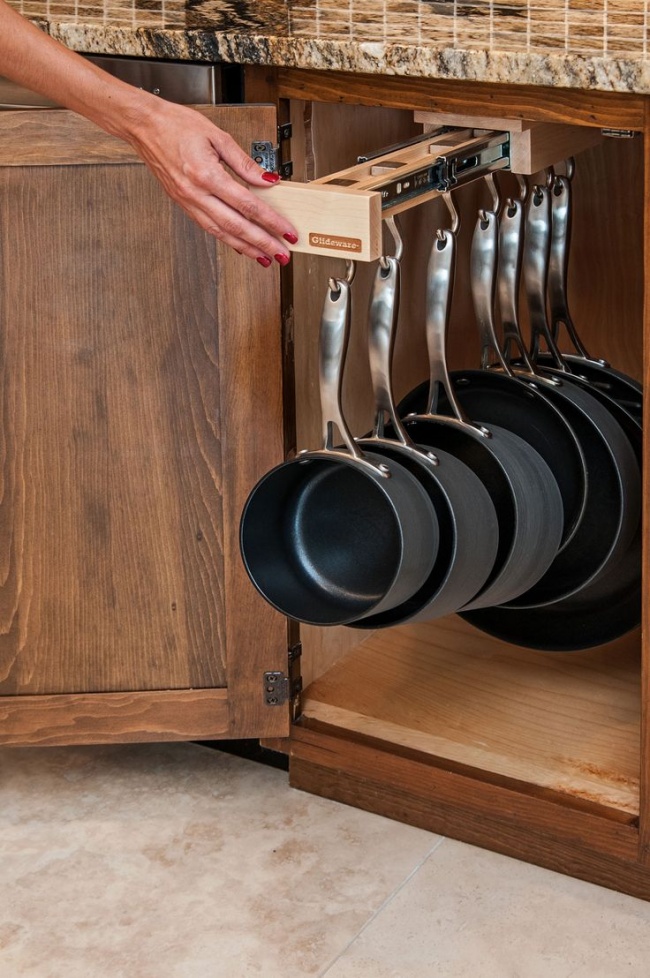 To have your kitchen always in order start by thinking about the things you have and where you want to have them placed, because that way everything will be easier to find. Look for an intelligent storage inside the drawers, like this example to store pans and pots, and your kitchen will be as practical as it is beautiful.
8. Storage With Corner Retractable Shelving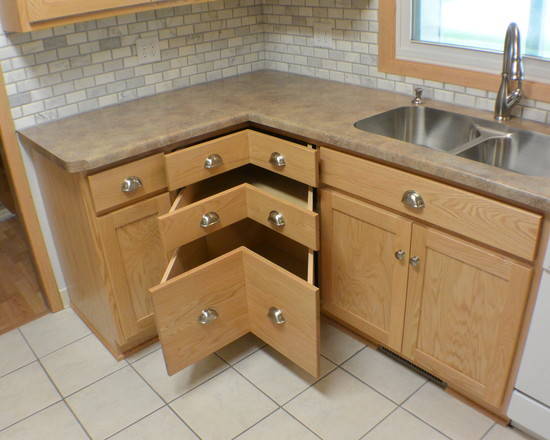 The removable storage solutions are very practical, because you can see at a glance all your available pans. Remember that the inside of your furniture is as important as the outside: if everything is organized, setting the table and washing the dishes can be a Zen activity. In a beautiful kitchen like this, it will be easy to feel good.
9. Take Advantage Of Drawers With Baskets For Fruits And Vegetables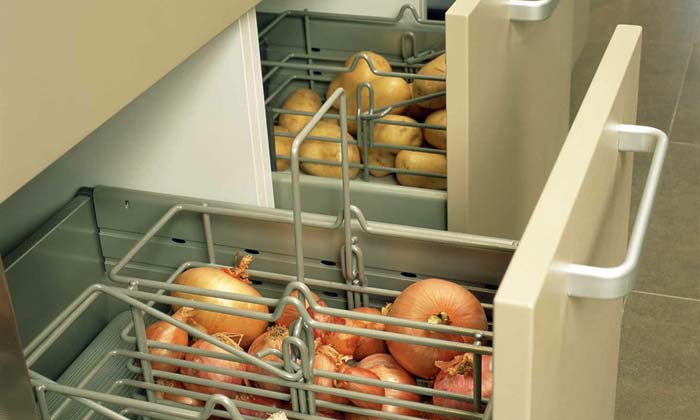 To optimize the spaces of the kitchen there is nothing like imagination. You can make the most of any corner by making small changes or adjustments to traditional elements, like these drawers that were adapted with baskets to keep some food.
10. Small DIY Storage Ideal For Kitchens Any Size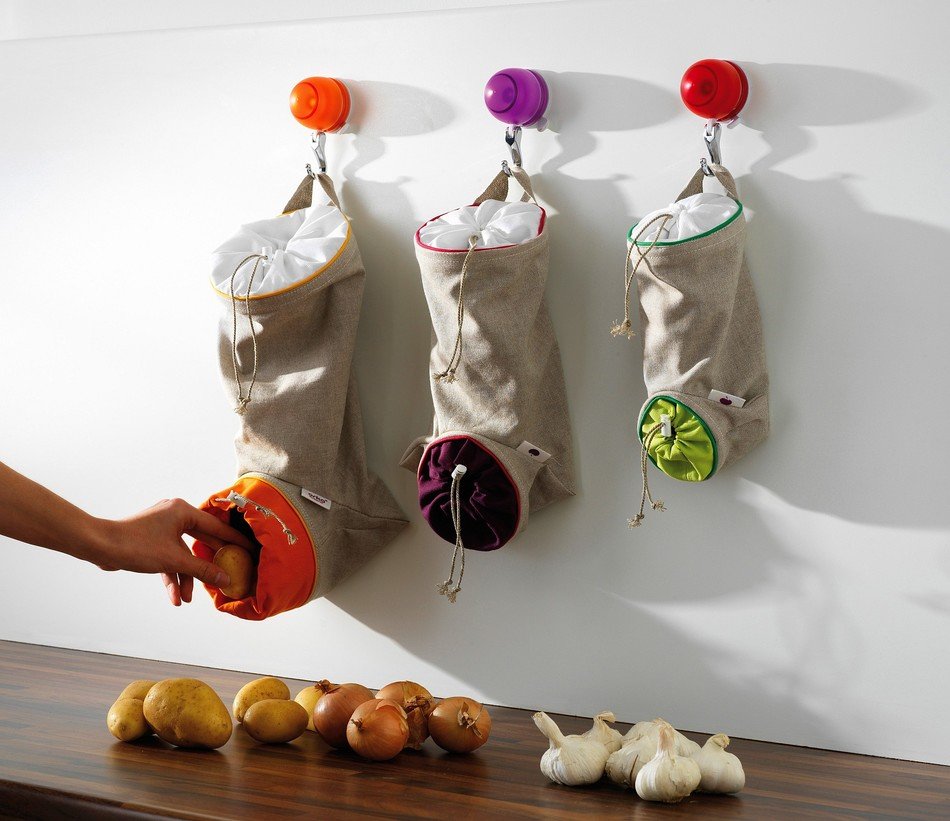 Some storage ideas are simpler, others require a small DIY job, but all of them are excellent storage and organization ideas for small kitchens, which you can implement in your kitchen and expand the storage space to feel more comfortable in it. These sacks are perfect to optimize space and keep the kitchen clean.
11. Towel Cabinet To Place On Counter Side Or Doors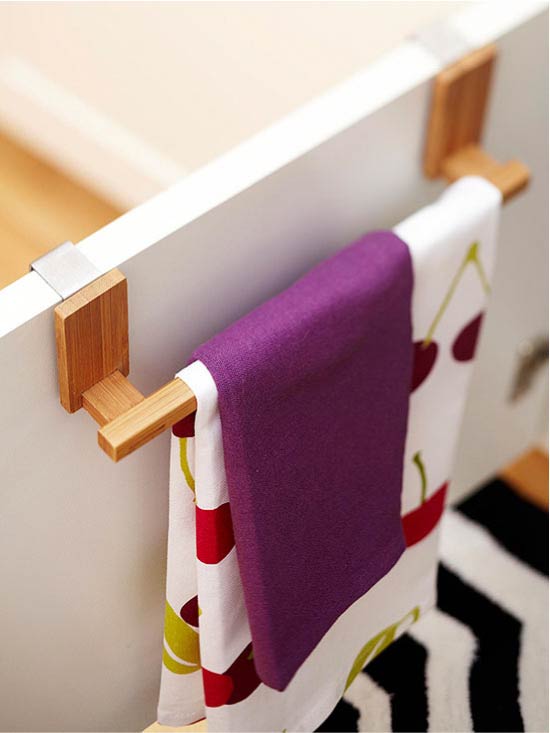 Leaving aside luxuries and styles, one of the big problems that most of us face is dealing with small spaces because it can be tricky to imagine where to put anything. But with ideas like this towel hanger that you can place in so many spaces, you can work things out with your kitchen.
12. Narrow Pull Out Cabinets To Take Advantage Of Even The Tinniest Space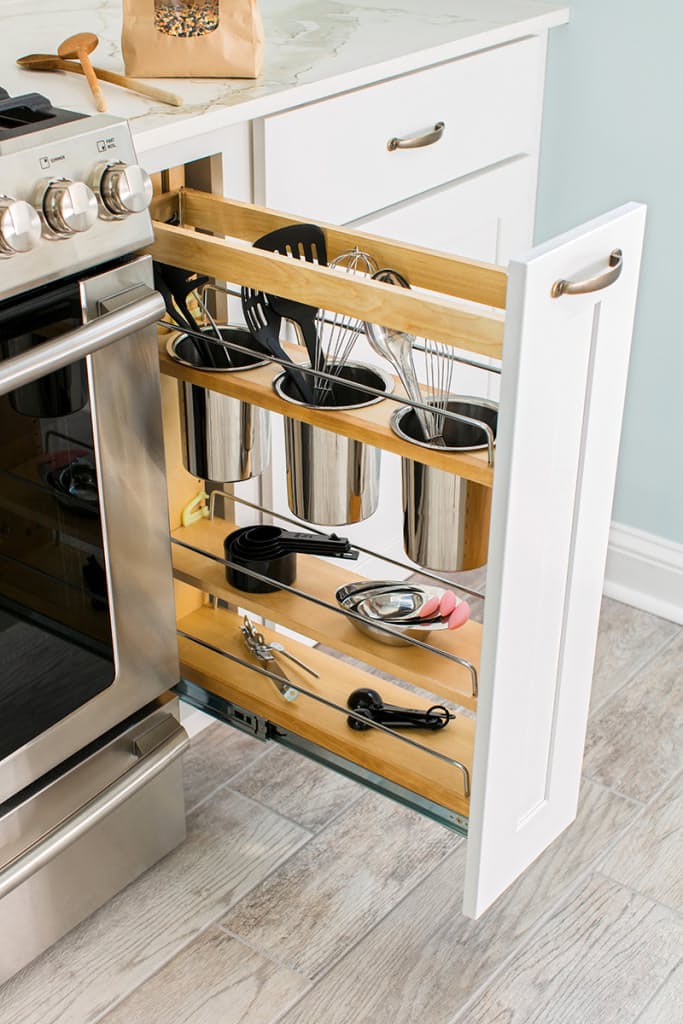 If you have little time each day to tinker in the kitchen, there are tricks that help you to speed up the time of cooking, such as grouping the elements you use frequently: knives with cutting boards, spices near the cooking plate and the waste under the sink. And to do so, you will need solutions like this cabinet, which uses perfectly the tiny space left between the stove and a cabinet.
13. Open Shelves In The Walls To Stack Anything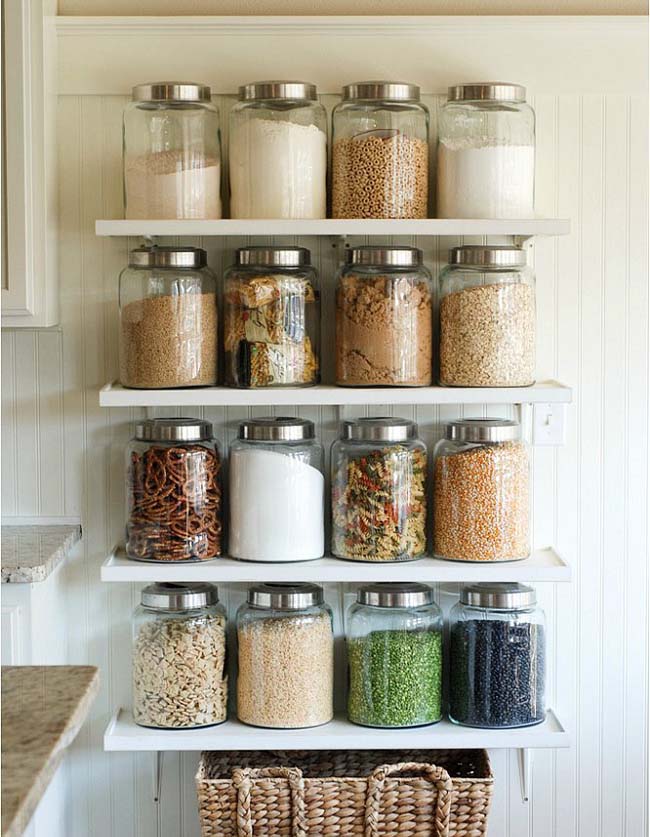 Food packages do not usually give a uniform appearance to your kitchen, but if you put food such as pasta or rice, sugar or salt in cans or jars, they will look much nicer and you can fill them up as you finish (it is also more practical and avoid the breaks of bags that fill the floor with grains).
14. Practical Small Storage Ideas To Increase Space In The Kitchen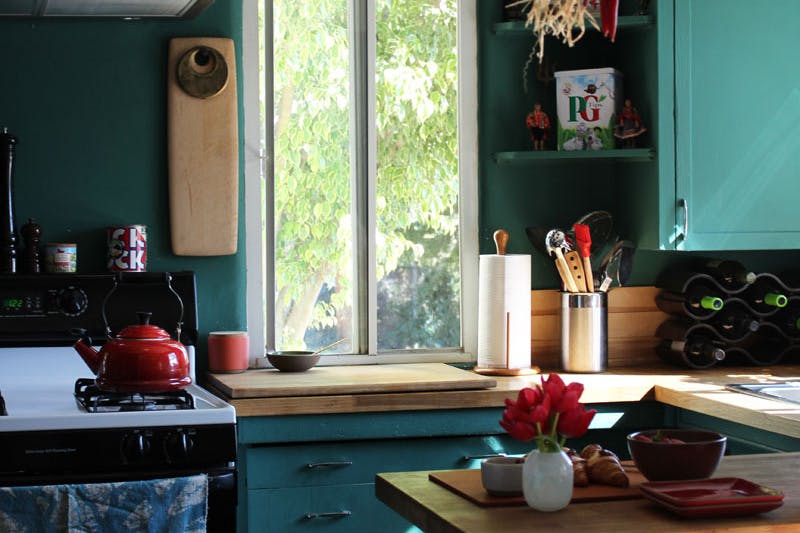 In a small kitchen you have to squeeze every last millimeter to optimize your storage space and organization, and be able to work and make life in it comfortably, regardless of the meters you have. With that in mind, vases, wine holders and more can be place on counter tops to add storage space.
15. A Pull Out Chopping Block With Easy Throw Away System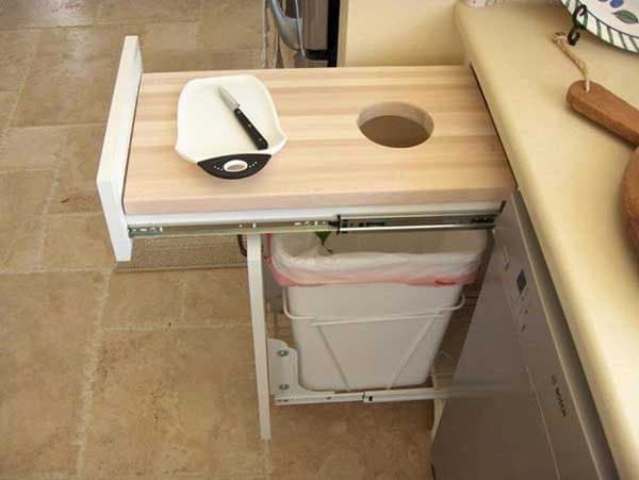 With a little creativity and time, we can put into practice a series of tricks that help us optimize the space to give it a more clear and comfortable look. Like this great idea that allows you to do all your chopping and throw the waste in no time.
16. Rails In The Kitchen To Add Vertical Storage Space

You may have a large or small house, modern or traditional, new or old … But in every home there is a kitchen, and it is always good to take advantage of your space a little better. In this small kitchen, rails have been used in order to widen the storage space.
17. Storing Rationally In The Kitchen Drawers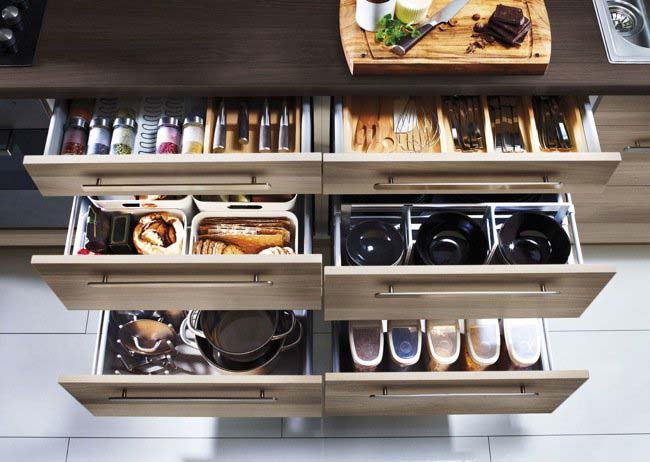 Organizing the interiors of your drawers is an investment in order in the long term: if you want to maximize the depth and height of all, add accessories such as trays for cutlery, dividers or separators for boats and cutting boards. In a kitchen the most important thing is the maintenance of daily order.
18. Small Boxes Self Made To Keep Things Organized In The Kitchen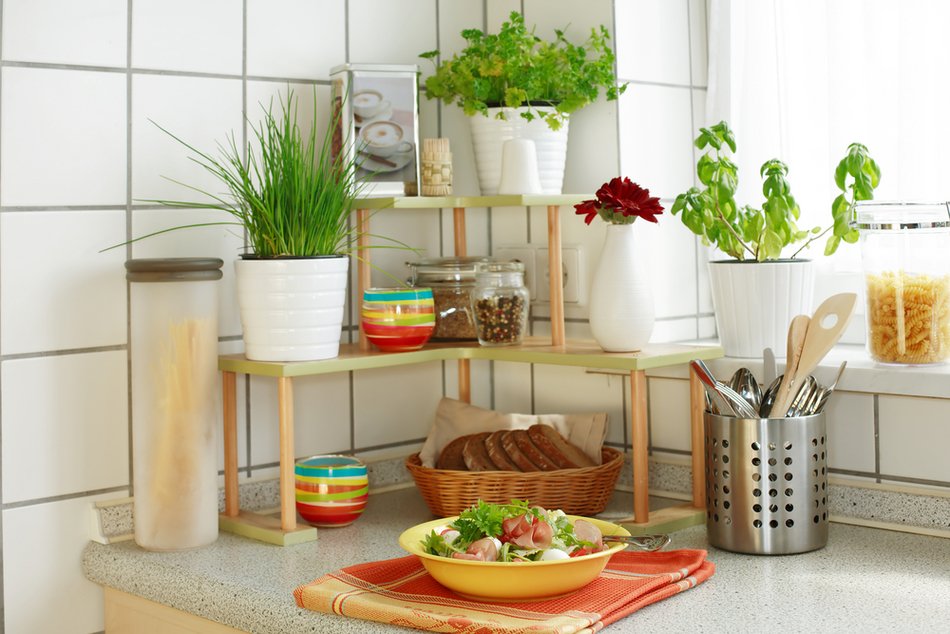 As a rule, most people live in apartments with a limited amount of space. In large cities, especially, it is the case that the spaces are even more limited and this affects all the rooms of the property. And evidently, the kitchen is not different. If you want to increase your space you can set small shelves like these ones, especially created to increase the counter top space.
19. Open Shelves In The Side Of Regular Shelves To Get More Storage Space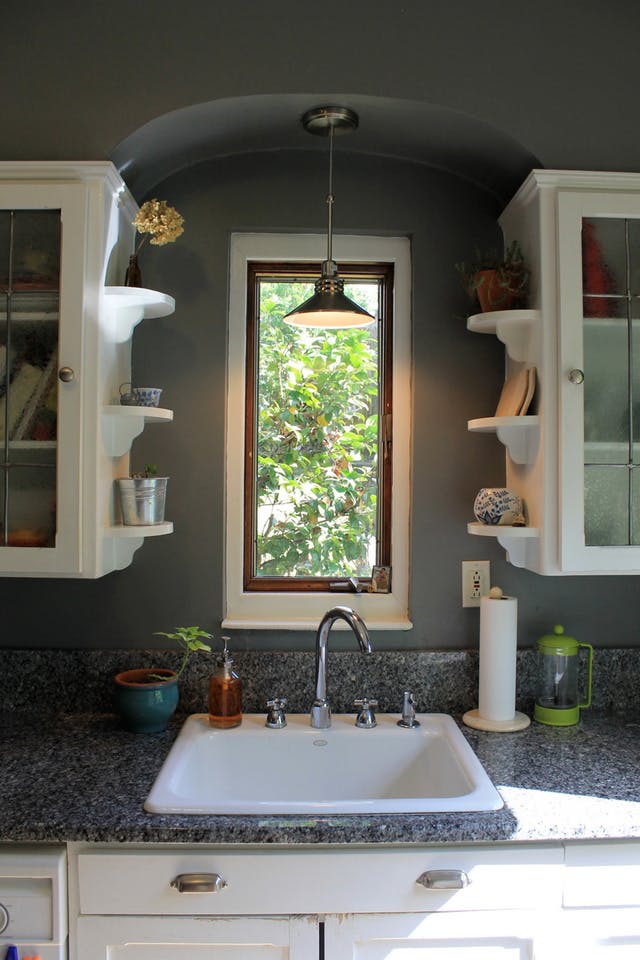 Taking advantage of the side of the cabinets, as long as it is visible, is another very valuable resource for you to gain space and be able to store different elements. Those that you use the most, for example, you will always have them at hand.
20. Big Cabinet To Store Utensils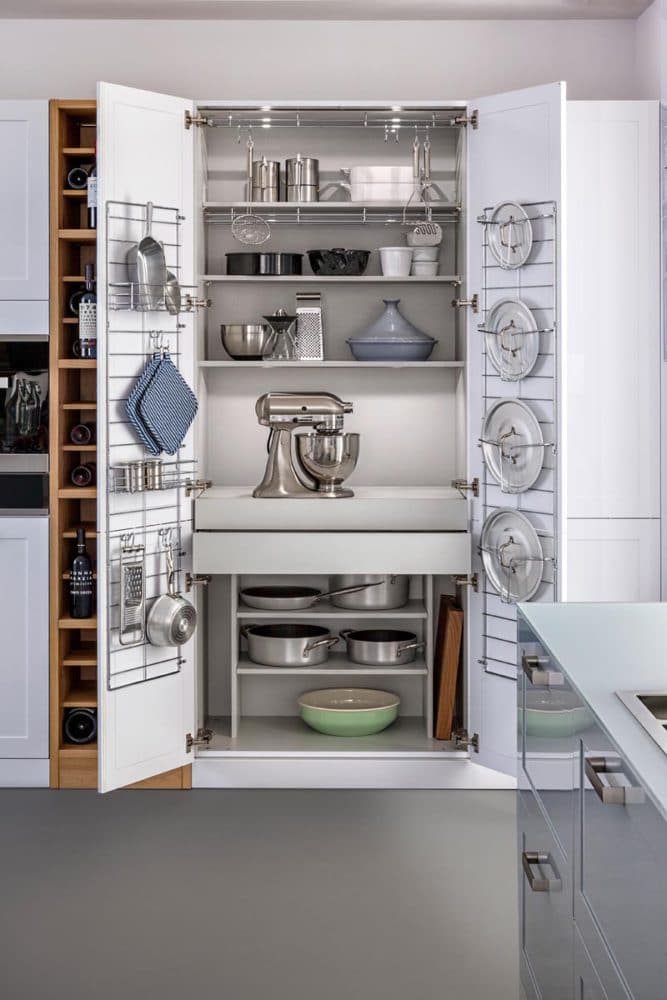 It is important to take advantage of any part to gain space. The doors of this cabinet, for example, are very useful to store cans, lids, cleaning items and anything else.
21. A Sliding Compartment To Store Cleaning Supplies And Others Under The Sink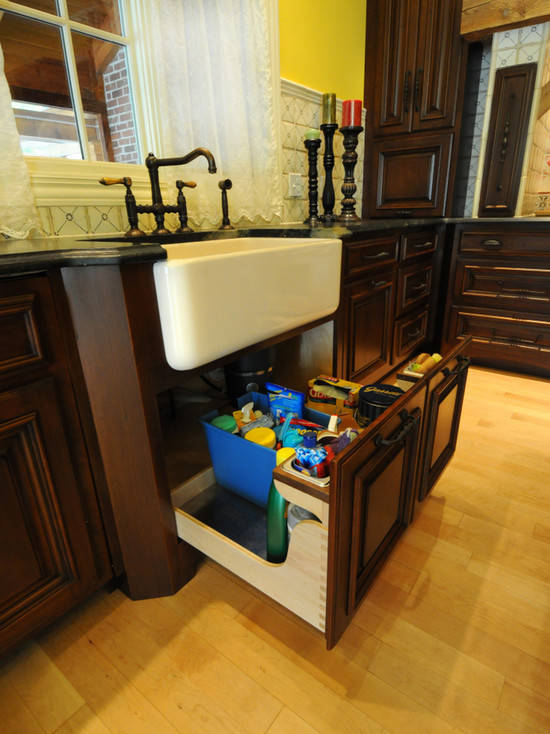 What to do with all those things that are too small to keep in boats or that you do not want to remove from their packaging? One solution is to group them in boxes, so you'll have everything at your fingertips but out of your sight. Like in this example where the cleaning items are stored in boxes under the sink.
22. Small Drawer To Store Smaller Things In A Small Kitchen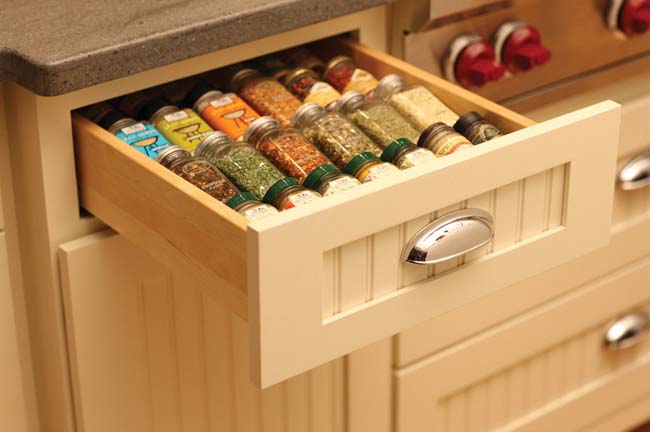 Having a small kitchen is sometimes a limitation to do everything you would like, to store everything you need or to have all the appliances that you would like. But with a few tricks you can maximize the space. In this photo, a small drawer turned into the spices drawer.
23. Wall Storage Useful For Kitchens Any Size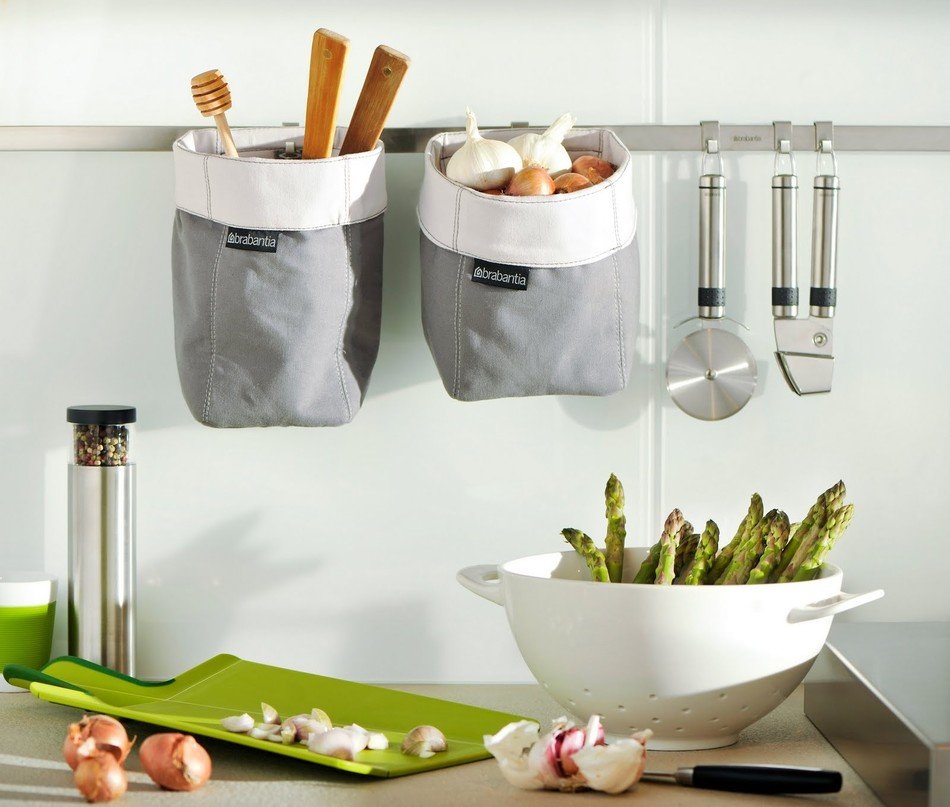 The kitchen is one of the most important rooms in the house. In it you not only cook, but you also store your food and more. To help you to gain space, you can use bags like these. Things will be handy and looking good.
24. Small Cabinet To Add Extra Storage Space To The Kitchen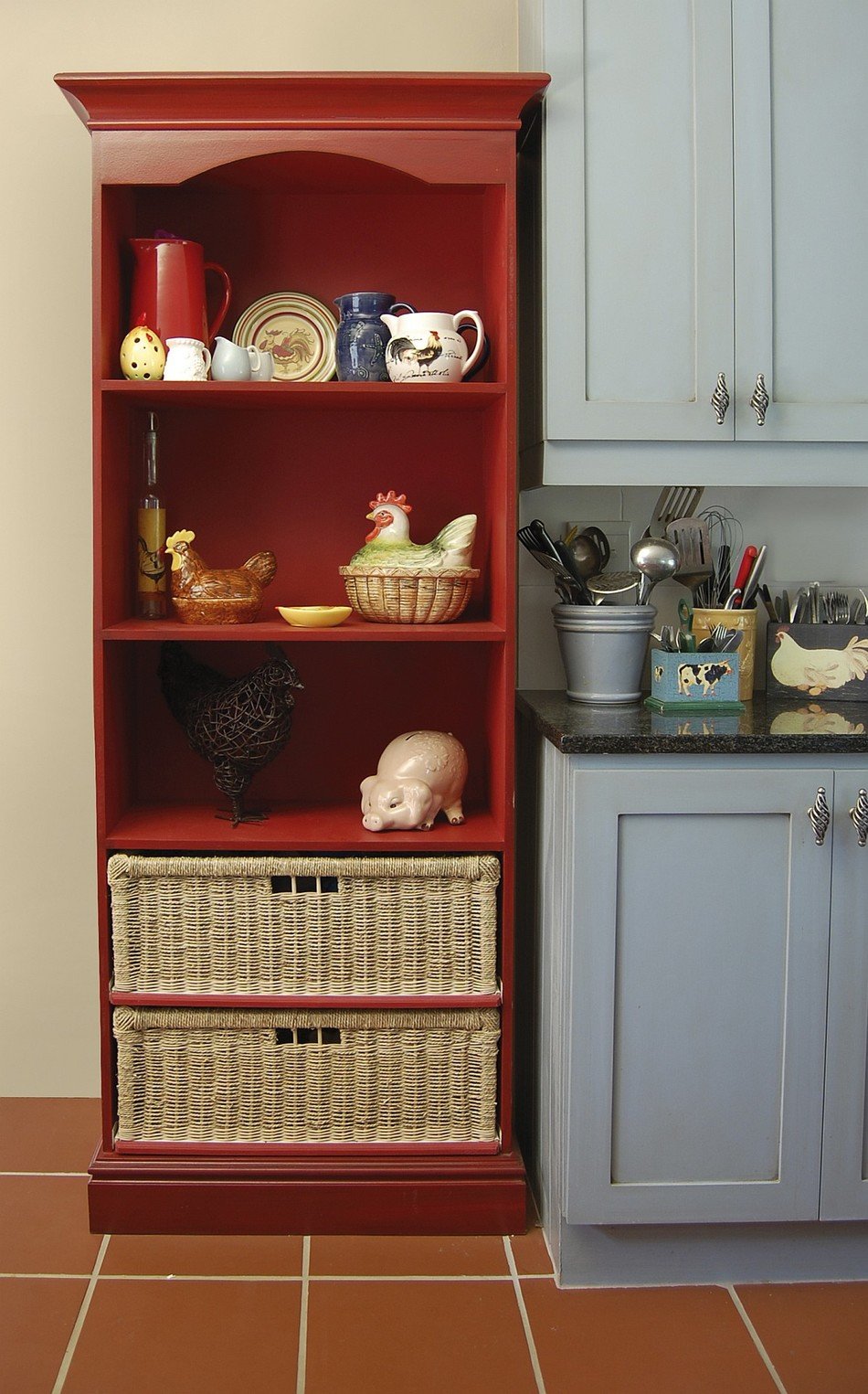 A kitchen is never perfect at all. It's as sad as it is true: no matter how clean, tidy or decorated it may be, there are always improvements to be made. With space being one of them, you need to find ideas to increase your space. Adding cabinets like this, is always a good idea.
25. Super Small Kitchen Storage Ideas For Dishes, Lids And More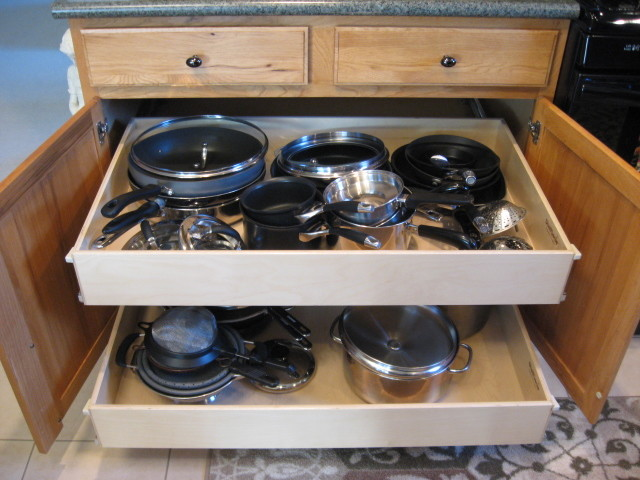 It only takes a wooden box to store a few items that you always need in hand such as the cutting board, salt, pepper, oil, and others. When you store with organization and good taste, the results are excellent.
26. Cereals Drawer Organized With Divisors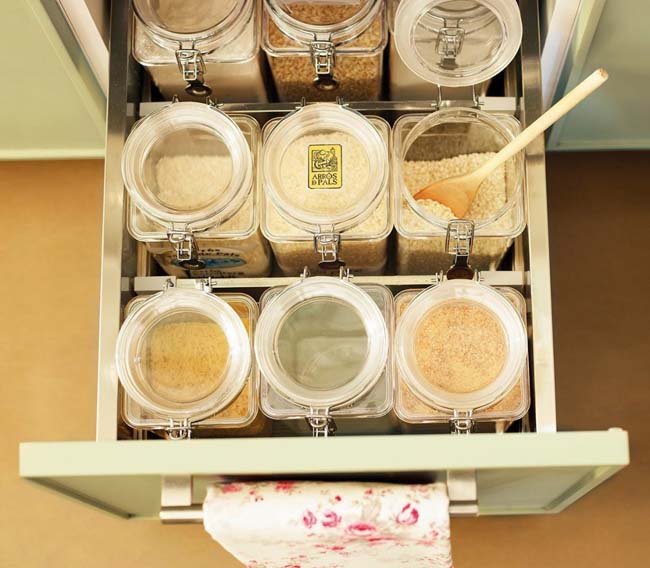 Organizing your drawer interiors is a long-term investment: If you want to make the most of everyone's depth and height, add accessories like cutlery trays, dividers or dividers for jars and cutting boards. In a kitchen the most important thing is maintaining the daily order.
27. Cheap Storage Trick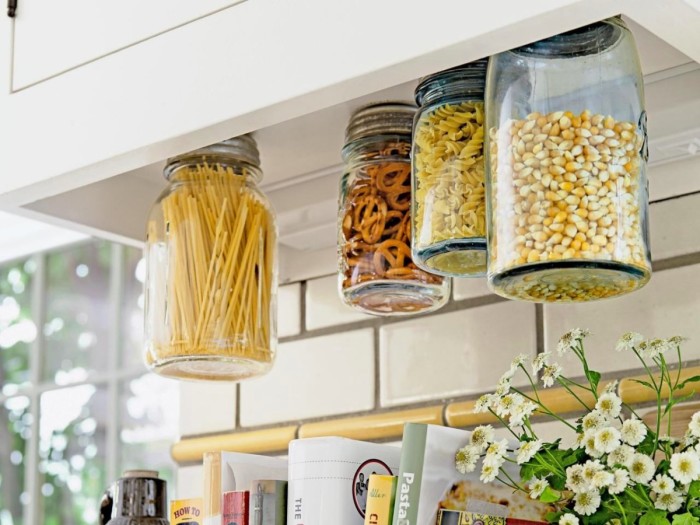 Installing metal supports in the lower part of the upper cabinets, to then hang and store in jars with a magnetic lid, which benefit you greatly. Especially spices. This is a great way to take advantage of the underside of the tall kitchen cabinets.
28. Cheap Wall Storage Trick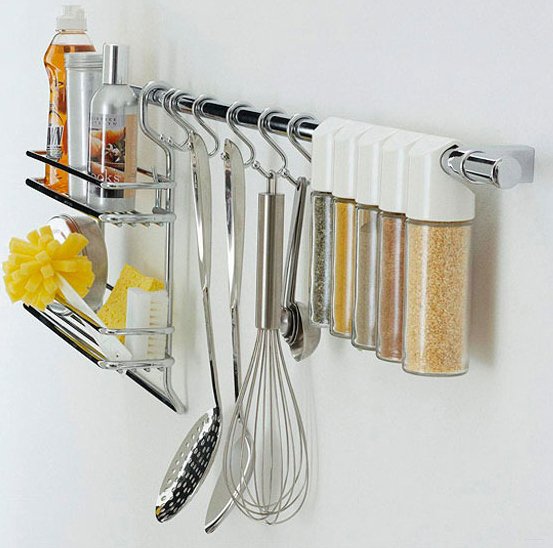 A kitchen rack offers you as many possibilities as you want to hang from it: cups, cutlery, and dish drainer, a string of garlic or glasses. It is a versatile product and very combinable with all your kitchen accessories. You can see how great they are in this example.
29. Clever Pegboard Storage Idea For The Kitchen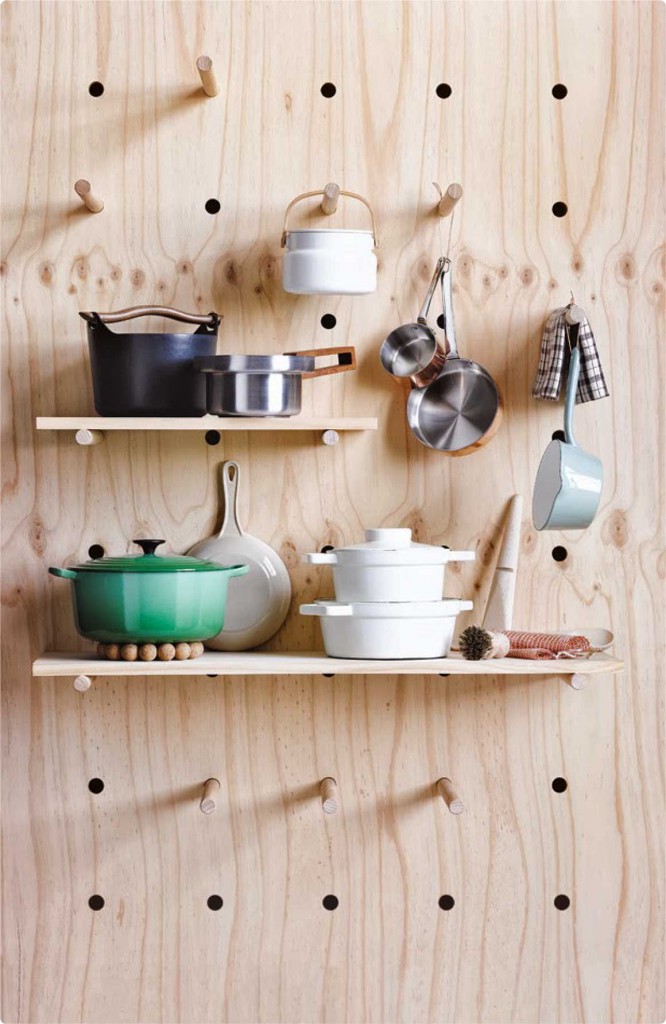 A perforated board, also know as pegboard, can also help us a lot, to increase the storage space and organization in our small kitchen. These boards are inexpensive, can be found anywhere, and have great practical potential.
30. A Creative And Clever Way To Use The Wall To Store Your Knifes And Other Metallic Utensils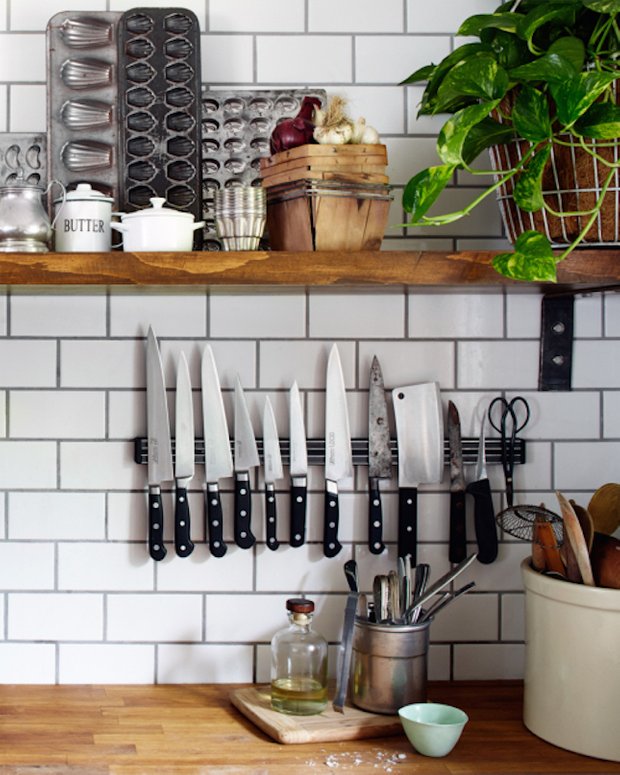 You can also Use the walls to install a magnetic support like this and have the tools you want always at hand and the most loose drawers. Is particularly great for keeping knives and deep spoons.
31. A DIY Storage Trick Using Containers Made Of Plastic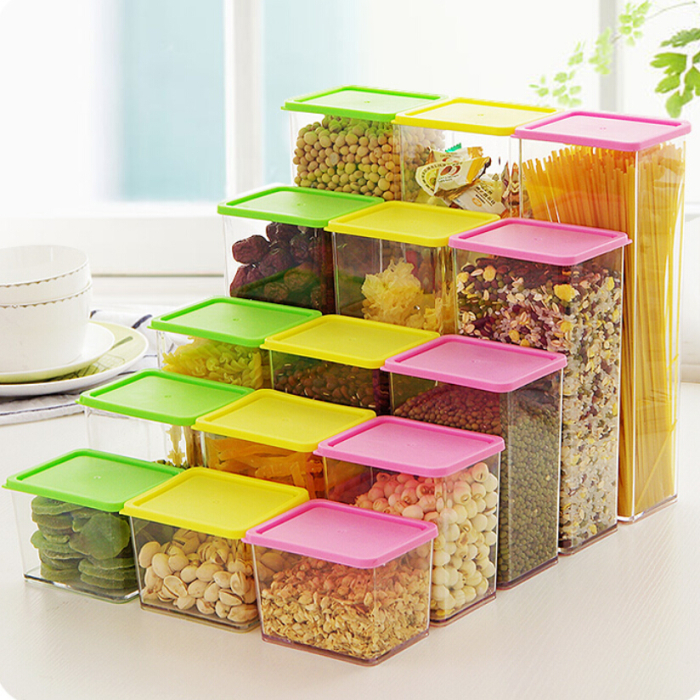 Open storage is a great solution for your food stocks, it lets you quickly know what you have and it is easily accessible when cooking. But if you are going to have storage in sight, we give you a couple of tips so that your food also decorates.
For example, food packages do not usually give a uniform look to your kitchen if you put foods such as pasta or rice, sugar or salt in cans or containers, they will look much more beautiful and you can fill them as they finish. (It is also more practical and you avoid the breaks of bags that fill the soil with grain). Choose glass jars that allow you to see everything and you can choose the one that best suits your kitchen.
32. Small Kitchen Storage Ideas For Narrow And Tall Spaces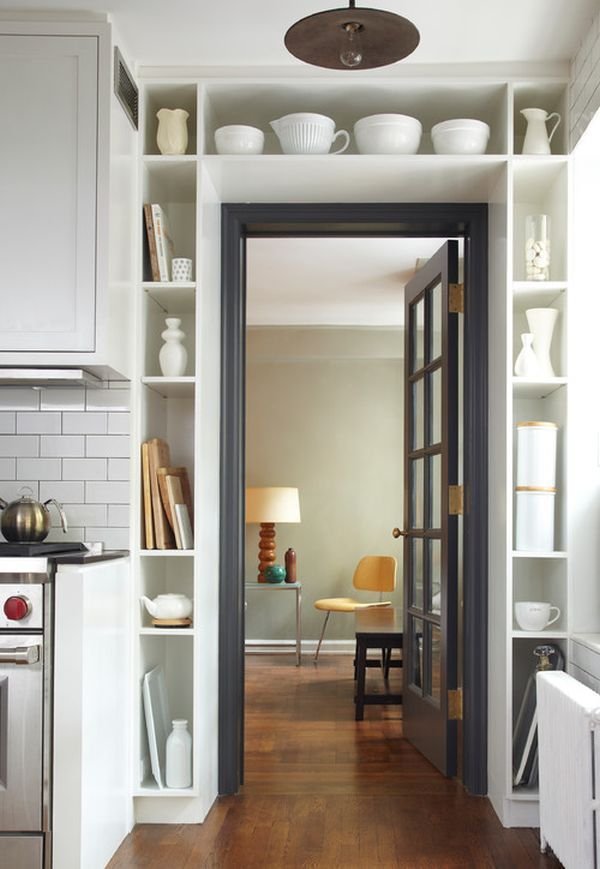 When the kitchen is small, it is important to take advantage of the available space wherever it is. Even if what you have is a gap that is very narrow, there are certain solutions today, such as narrow shelves or even custom-made ones.
At first, unless you have very high ceilings, you should not allow anyone to design a kitchen that does not reach the ceiling, but if you already have it installed because it is old, or because you have moved and it is the one there is, A structure can be implemented to take advantage of that space like the one in this example.
33. Inexpensive And Easy To Set Storage Space For The Wall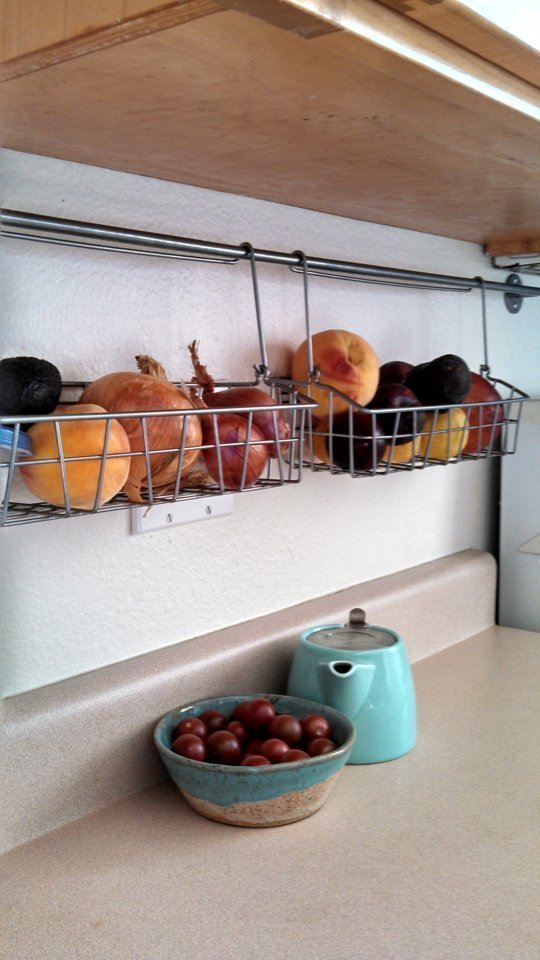 In the space that is left under the lowest shelf you have, you can place inexpensive and easy to install storage solutions like these baskets that hang under the shelves. All you need is to install a couple of bars that will allow you to place great and cheap solutions like this.
34. Kitchen Drawer Organization For Under The Sink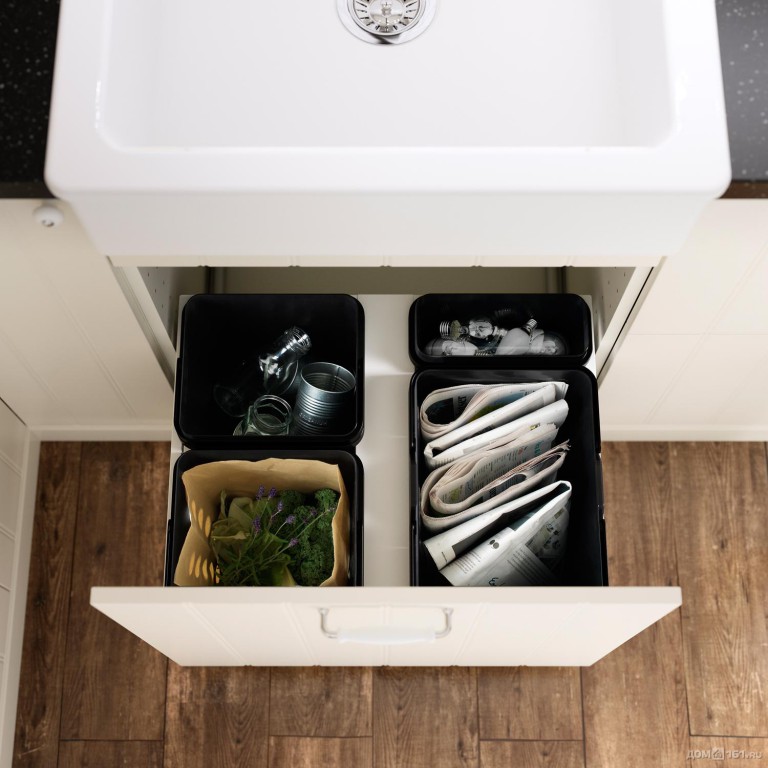 Inside the sink cabinets, where we have all the cans of bleach, clean floors, etc., we can install two supports to keep garbage bags close at hand, without taking up space in any drawer. Other things the can share space with the trash bin are old newspapers, kitchen tools, and more.
35. Furniture For Kitchen Storage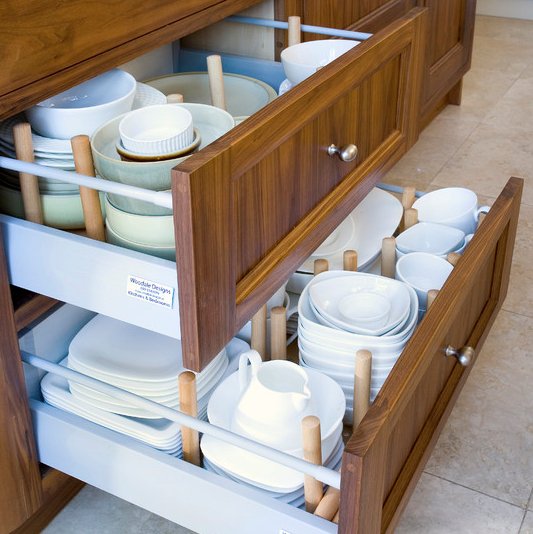 Dishes can take a lot of space, especially when the kitchen is small. Organizers like this will help you to divide the drawers so you can fit more stuff in less space, something that every small kitchen needs.
36. Levels For Taking Advantage Of Clear Spaces In The Small Kitchen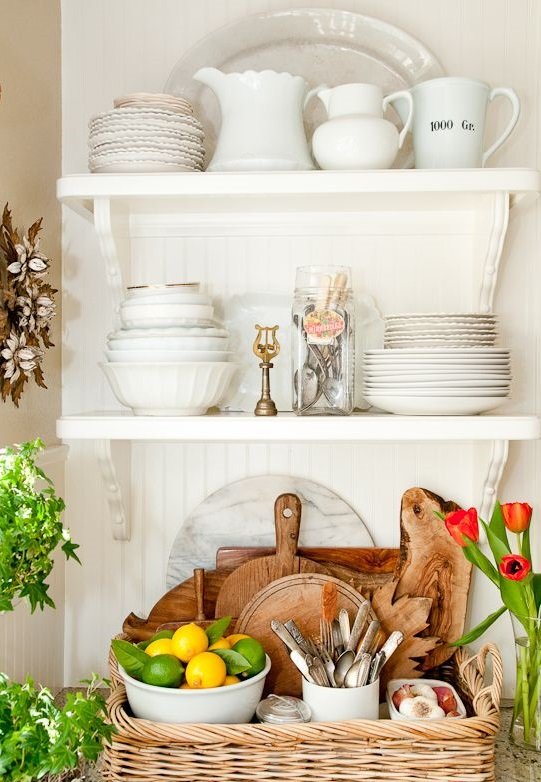 If we have a hole in any of the kitchen walls and it is not being used, it would be convenient to add shelves in the walls, regardless of the hole we have, to increase and optimize the storage space. If you put shelves to put your food, you will have more workspace to cook.
37. Seize Even The Smallest Space In The Kitchen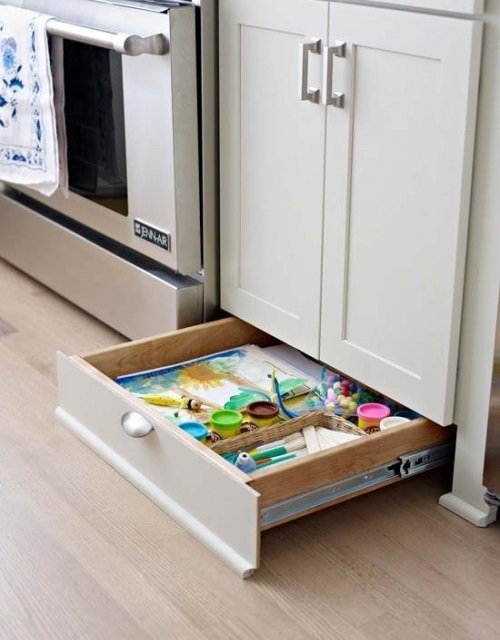 In all kitchens, there is always a gap under the cabinets, due to ergonomics, so that we can put our feet a few centimeters more than the body and work at ease. Well, that hole can be used to fit an extra drawer, made to measure, and increase the storage space of the kitchen.
Furthermore, how to manage each one of those things that are too small store in jars or cans that you would prefer not to expel from their bundling? One arrangement is to put them in boxes, so you will have everything readily available and out of your sight. Furthermore, that low cabinet is perfect for that reason.
38. Small Kitchen Storage Ideas For Wall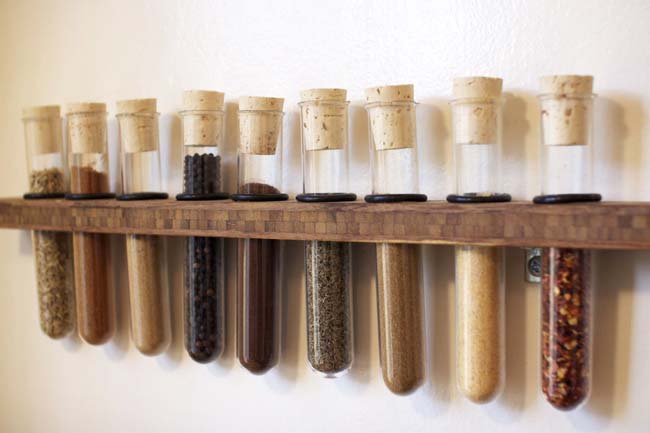 This is a very easy, inexpensive and clever way to create storage in your kitchen. This small spices rack uses a stick of cork nailed into the Wall and has holes to place the small tubes that contain the spices. You can DIY a project like this yourself or you can find similar options in stores.
39. Modern And Cute Kitchen Storage Hanging Rack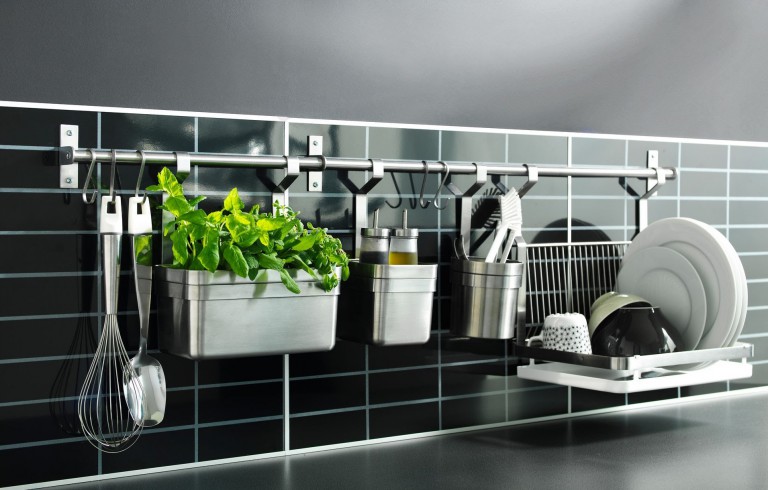 If the counter top is small, and the sink does not have a draining area, we can install one on the wall, to leave the counter top free and optimize space. A simple grid installed on the kitchen wall can help us a lot to organize and to always have different utensils on hand.
40. Beautiful Palette Storage Cart For Vegetables In A Small Kitchen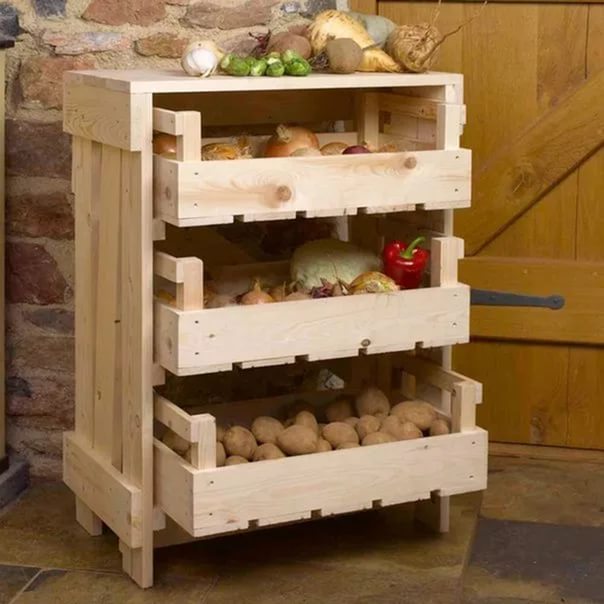 This is a very green, yet modern and good-looking storage idea for any kitchen, but that do wonders for a small kitchen. The small car let you store things in a vertical way, which maximizes your kitchen space, it is ideal for placing vegetables, but you can also use it to store pans, dishes or anything else.
41. Storage Idea With Trays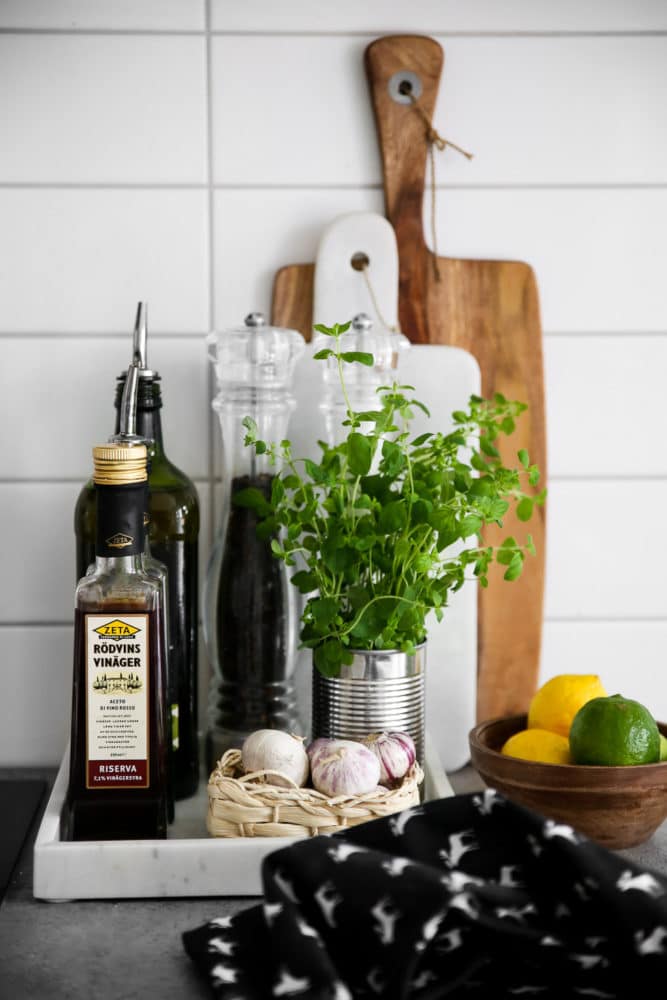 Trays are a cute and easy way to organize things while leaving them to plain sight. In this tray the dressings are well organized so when eating time comes, you will just have to pick up the tray and place i ton the table.
42. Hanging Storage Ideas For A Small Kitchen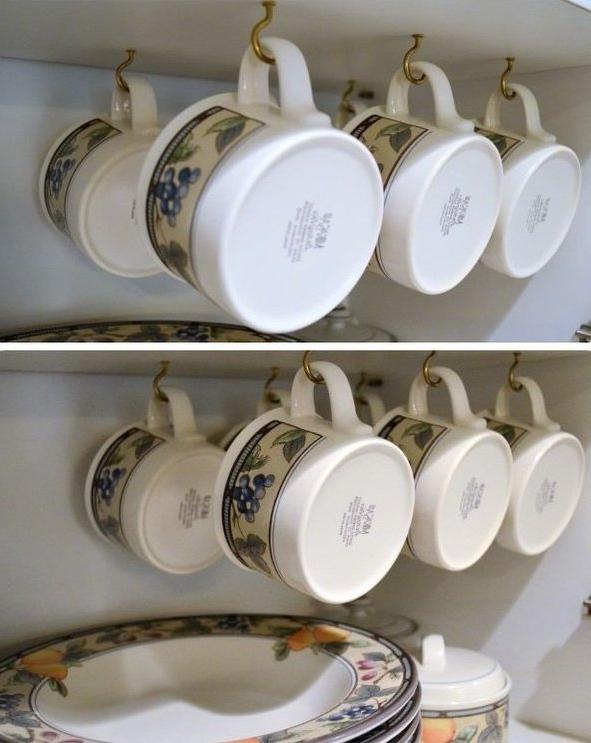 You can maximize the storage in your cabinets by placing hangers under each level to, for example, hang cups like in this example. All the tea set in one small cabinet that also looks very good.
43. Cabinet For Storing Pans And Lids In A Small Kitchen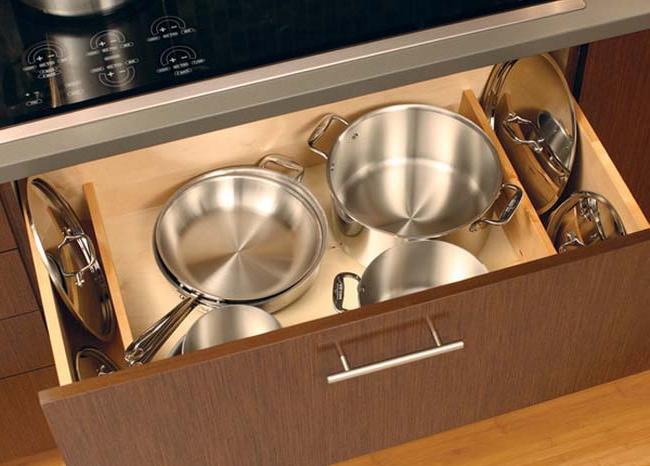 This drawer is organized to fit all the pans with their lids without making a mess. it is amazing the wonders a few well located tables can make with a little imagination.
44. Budget Friendly Small Kitchen Storage Ideas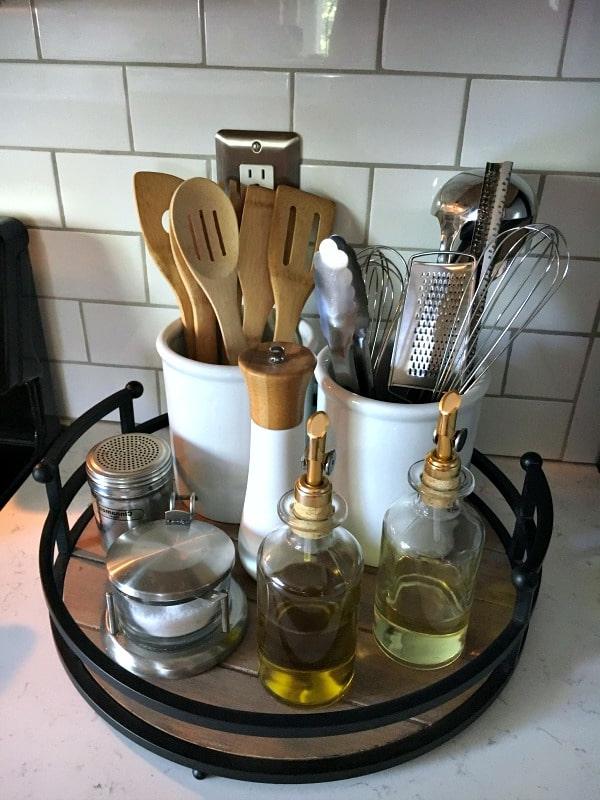 This is another example on how trays can help you maximize the organization and storage in your kitchen. This tray works for storage, organization and even decoration for the kitchen.
45. Storage Box For Cutting Boards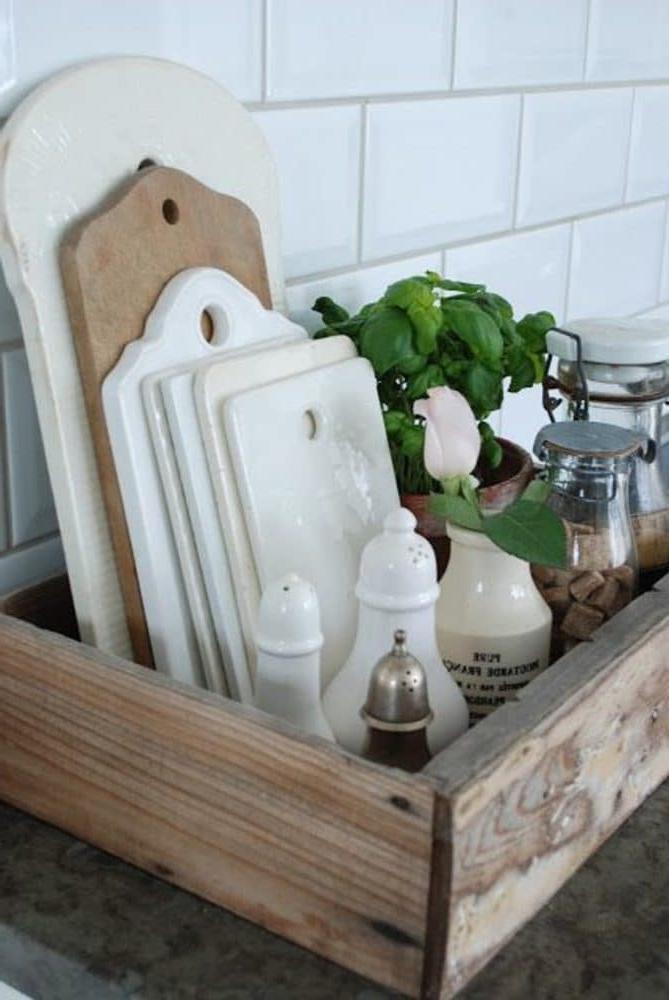 When you have a small kitchen, it is important not only to maximize the storage space. Clever small kitchen storage ideas are not hard that we are thinking. Organization and order are also very important to be able to really make the bet of every inch. Also, not to forget that just because your kitchen is small, that does not mean it should lack of style. On the contrary, you need to choose carefully each item that you will use because other wise your kitchen will easily look like a mess. Chose pretty items for your kitchen, with colors and materials that combine, like in this example the wicker basket drawers help a lot with the style.
If there is a room in the house in which the question of storage becomes crucial, that is the kitchen. Normally you do not have the luck to have a room with meters to give and give, so the imagination must be imposed on the design of this space more than any other. Use ideas like this to improve your space.
In the last decades we have experienced a revolution in the way of designing and conceiving the kitchen as a space. The kitchen opens to the rest of the house, interconnects and proposes new features such as the new social space of our homes.
The lack of space has become a problem in these times, so we must take advantage of every inch of our house. The ideal is that everything and any place is well taken advantage of. It is known that small kitchens cause many headaches; the main problem is that we need a lot of space to store in a small space. The organization of the kitchen is one of the most tricky things, simply because there are many small things that you should pay attention to. So check out the small kitchen storage ideas that we have compiled on behalf of you
When designing your kitchen, it is very important to take into account our priorities and daily needs. The distribution of spaces and furniture will depend on the location and available meters. For example, if you want to create an office-style zone, a breakfast bar or kitchen island is an essential element, around which the general distribution of the kitchen will revolve.
It is also important to consider the quantity and size of the appliances that we want to install. The main actors being the refrigerator and the kitchen. Do you want a gas or electric stove? Four or five grills? And how about a refrigerator that makes ice? These and other issues are important elements to consider.
To all the ingredients of your recipes you should always add one more: the organization. Sometimes it can sting a bit, but we assure you that cooking without it will slow cooking times. Before putting your hands to the dough, make sure you have all the things at hand, the prepared pots and spices in place.
We hope you have found these ideas interesting and that you apply them at your home!