Wrought iron is a material that has been used for centuries. It can be forged into almost any shape so it's incredibly adaptable as well as being rust proof and really durable. This makes it ideal for outdoor uses because its strong and won't be harmed by the elements
24 Wrought Iron Fences And Gates For Safety and Decor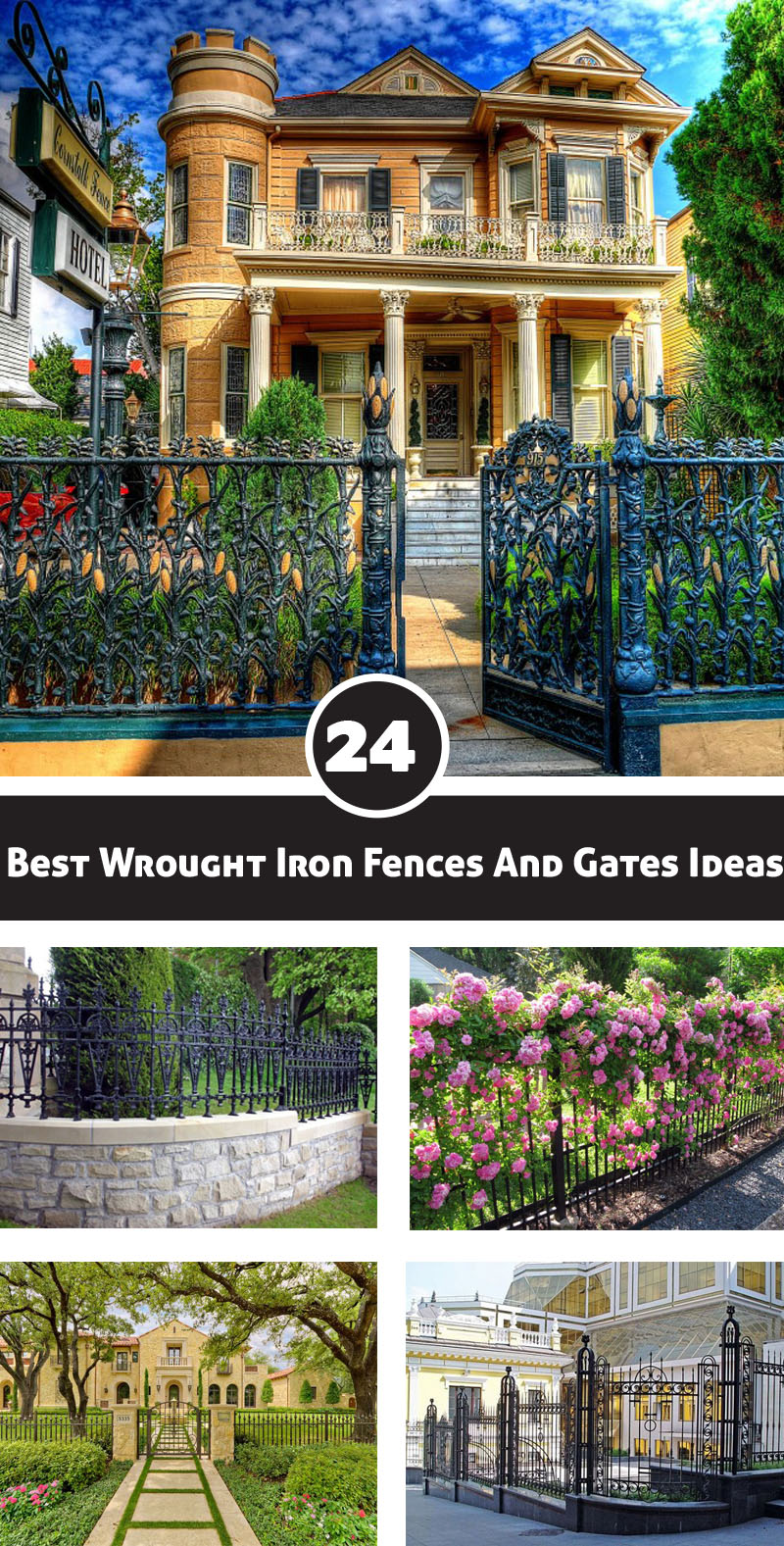 Wrought iron fences and gates is a traditional style that can be updated to suit the aesthetic of your home while keeping your property safe. It can be painted or treated to change up the surface texture, for example a rust effect, and colour so even your houses exterior can be tailored specifically for you. Fences and gates may appear to be utilitarian and boring but with a little imagination they're anything but dull.
To show you how many ways wrought iron can be used here are:
1. Waving Red Gate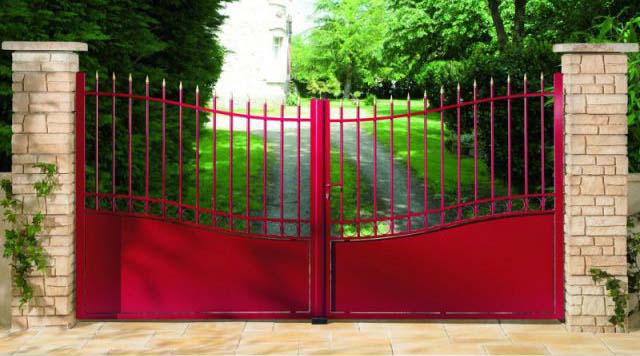 This primary introduction to your home is an easy way to make a statement. The stone effect fence posts old up a crimson wave with golden spikes at the top for security. All these components hint at its medieval inspiration; which is the perfect way to begin the rustic journey up the stone path between the trees.
2. Classic Black Fencing With A Floral Twist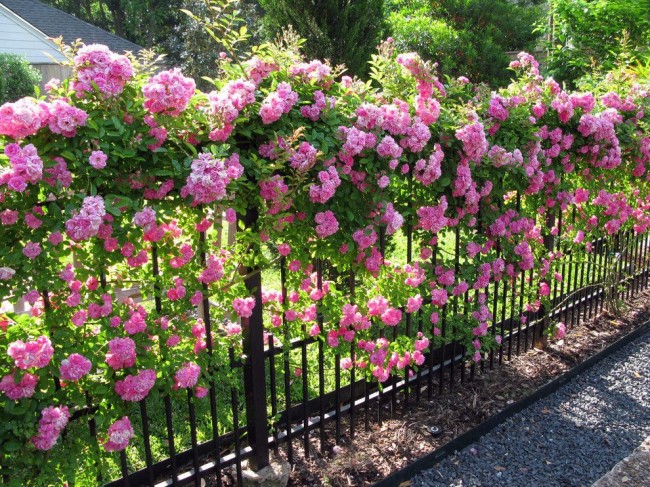 This country home is surrounded by a traditional London style black wrought iron fence but with a rural twist. The classic style has been imbibed with a homey vibe by growing creeping plants up its structure with a riot of colourful blooms. The floral décor makes the perimeter of your home something for whimsical and pretty for yourself and passersby.
3. Stylized Patterned Fence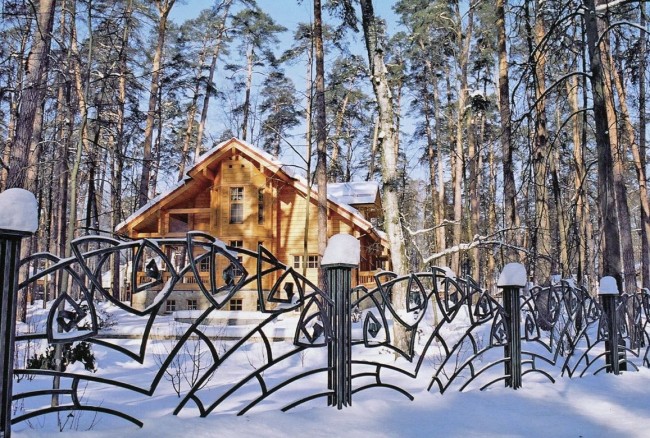 Wrought iron is a great material for snowy areas as it is rust resistance and durable. This gorgeous abstract pattern supported by chunky cylindrical fence posts adds to the romantic, almost fantasy woodland setting. The remote location in the forest removes the immediate need for a security fence so the pattern has the freedom of being purely decorative with stylized flowers on top of splaying arcs of wrought iron.
4. Curlicued Wrought Iron Pool Fence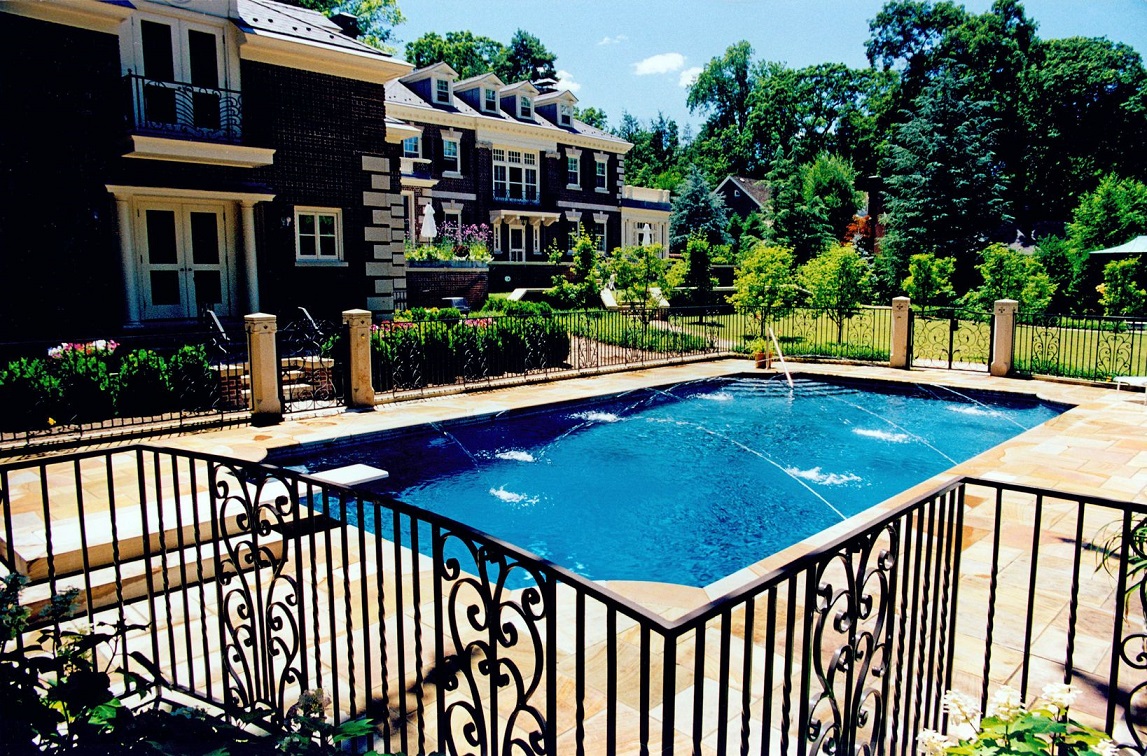 This essential pool fencing shows you how to do safety in style. Instead of sticking with a simple, but unattractive, mesh fence this palatial house has used wrought iron to become part of the garden design. It is made up of thin horizontal bars, alternating between straight and twisted bars with elaborate curlicued panels spaced at regular intervals. The gates feature an even more delicate design that ties in neatly with the elaborate panels in the fencing. Chunky fence posts that match the sandy coloured paving support them makes the whole pool area feel cohesive.
5. Golden Spiked Fence

This wrought iron with its tall stone clad fence posts exudes a very imposing presence on this narrow lane. The design consists of vertical bars with a symmetrical curlicued design at its centre, these repeated panels are interrupted by the chunky stone like fence posts. The gold tipped spikes are the cherry on top on a dramatic design; which also adds a layer of security.
6. Inconspicuous Patio Balustrade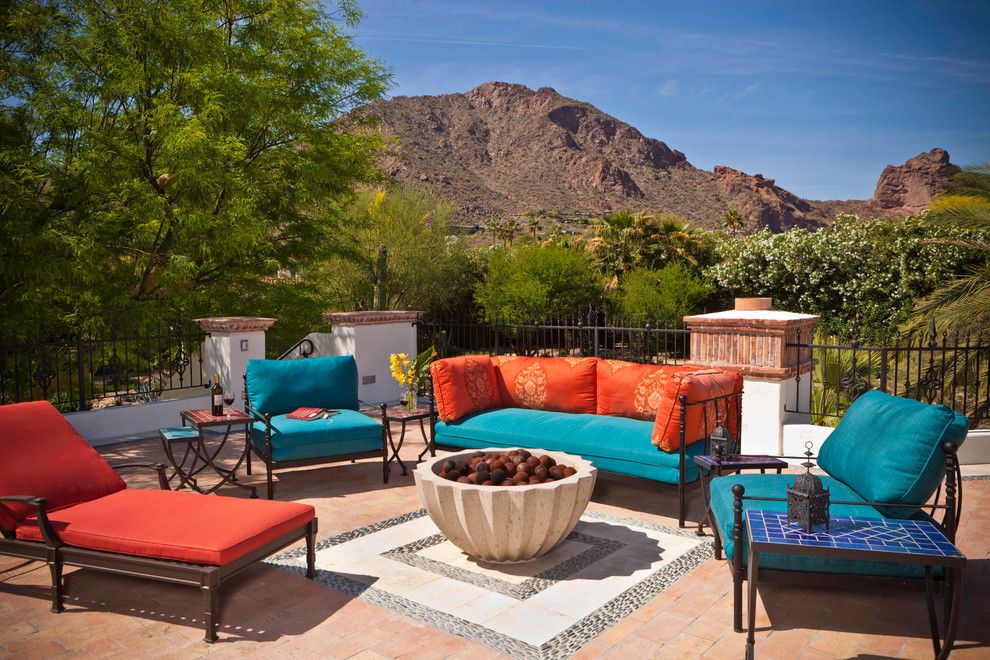 This spacious rural patio is raised over a rocky hillside with a gorgeous view that it would be a pity to spoil. The thin wrought iron spiked balustrade blends into the dappled tree line and provides a necessary safety element that doesn't take away from the surroundings. The wrought iron of the simple, inconspicuous fence is tied in with the patio furniture of the same material; which makes this design feel natural and cohesive.
7. Vintage Iron Railing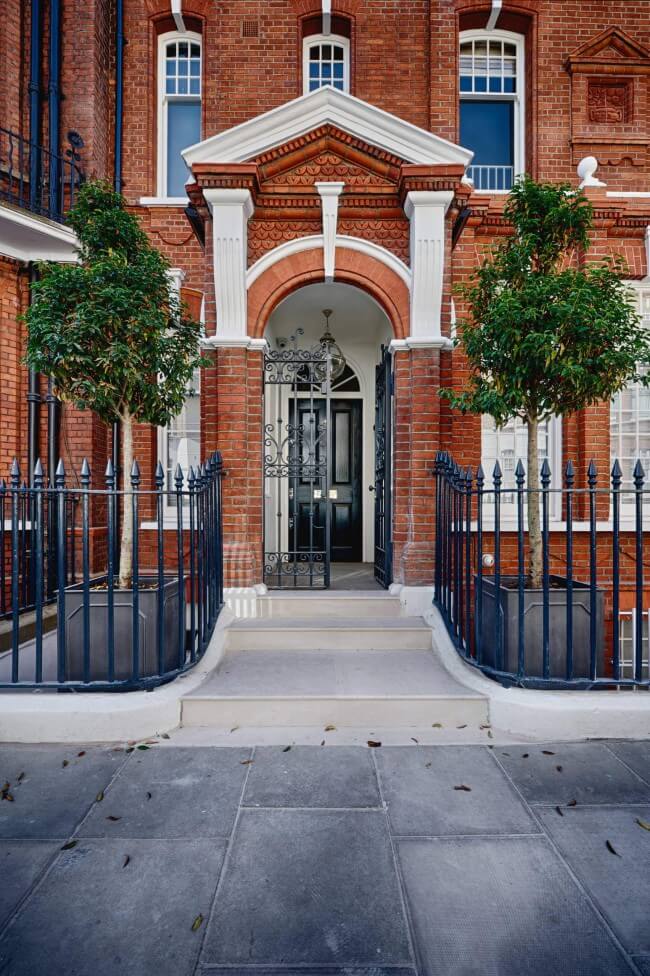 This elegant spike topped black fence is typically seen in old cities like London or New York. Older buildings in cities like these often have basement apartments so, to allow for access and light to these apartments, there have to be stairs to lead down to that level from the street. To keep people from accidentally falling into one of these stairwells the sidewalks are lined by durable wrought iron railings. Wrought iron is ideal for public railings, as they won't need to be replaced. The look that is achieved feels powerful and nostalgic, a feeling that has been emphasized by this particular building with a matching delicate wrought iron gate in the portico.
8. Intricate Patterned Fence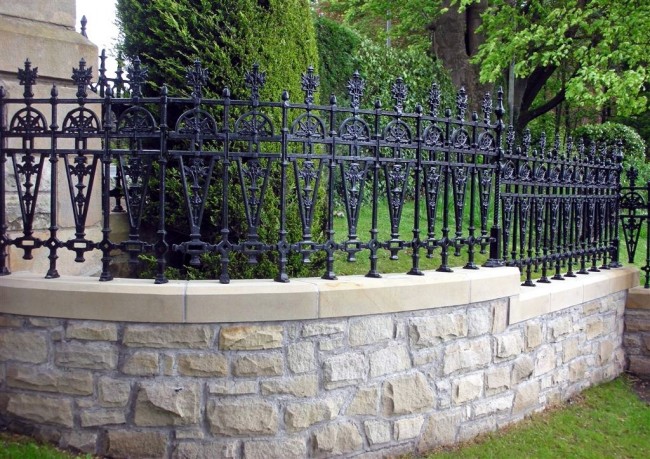 This gorgeously intricate wrought iron fence is certainly an effect way to make an entrance, literally. Sitting on a sturdy stone base, the fence curves around the corner to the entry gate in a manner that is elegant but imposing all at once. The vertical pattern has been repeated over and over to dramatic effect and really shows off the level of detail that can be achieved with this material.
9. Symmetrical Wrought Iron Fences and Gates for Entryway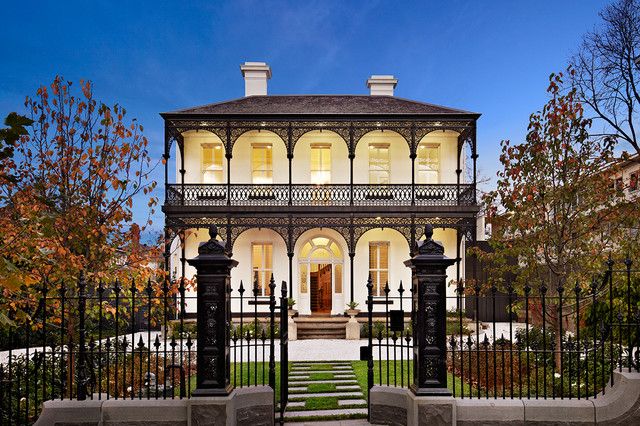 The facade of this large house artfully displays black wrought iron lacework and detailed balustrade against a bright white backdrop. The coordinated wrought iron fence is, in contrast, a simple spiked design that lets the house's frontispiece shine. The small pedestrian gate is distinguished by two chunky wrought iron fence posts with black on black forged details.
10. Delicately Detailed Fencing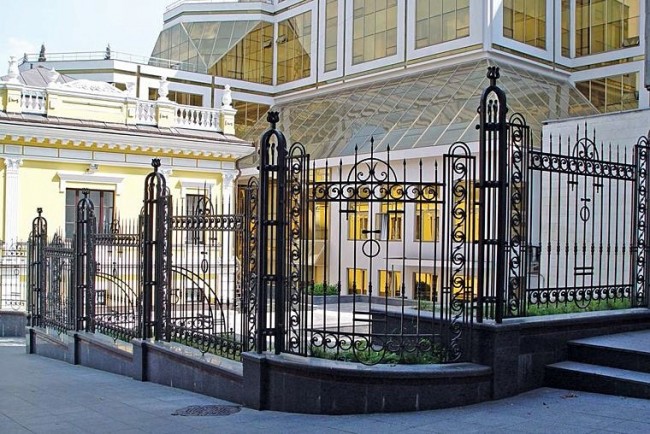 Wrought iron has been used in its most intricate form in front of this unusual glass building. Set on an onyx stone base the black fence forms a dark entrance to a golden glazed facade with buttercup yellow walls in a synchronized juxtaposition. The design is a combination of many patterned panels running vertically and horizontally that sit between permeable and detailed fence posts. The merger between the dark and light, the solid and the delicate, creates a breathtaking first impression.
11. Wrought Iron Garden Doorway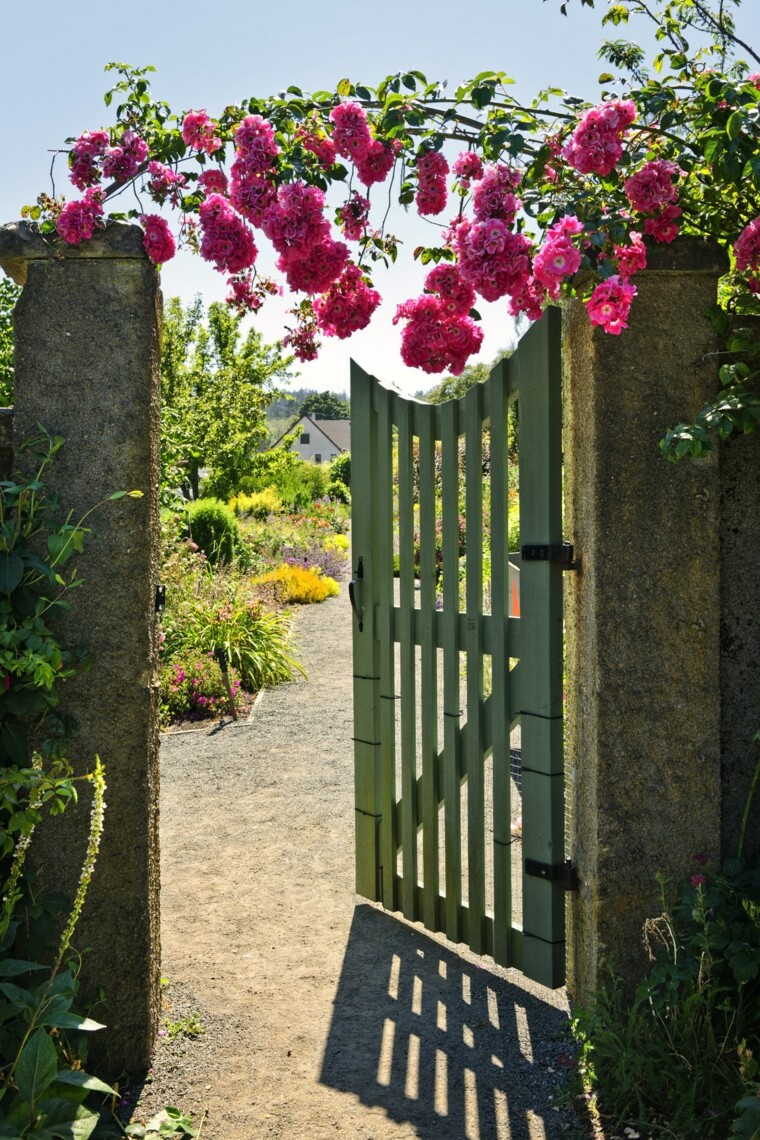 Made to resemble a traditional wooden garden door, this wrought iron door manages to fit the quaint garden style while being superior in durability and longevity to its timber counterpart. Supported by sturdy stone fence posts, the unusual concaved top to the gate perfectly frames the creeping vines dripping in flowers that hang from an arched frame above head.
12. Corrugated Iron Gate With Wrought Iron Details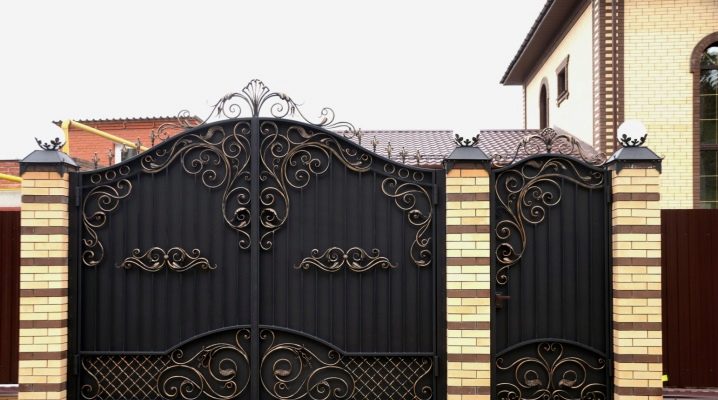 Wrought iron is not the cheapest material so its hard to justify when you need a gate with a smaller budget. By combined wrought iron with other materials you can create a cheaper version of a wrought iron gate that with just as visually effective. The matte black car and pedestrian gates are made of painted corrugated iron sheeting that has been adorned with dusty gilded wrought iron curlicues in beautiful patterns with a golden mesh at the base. The appearance is stunning and imposing while being far easier on your wallet.
13. Fantasy Inspired Wrought Iron Fences And Gates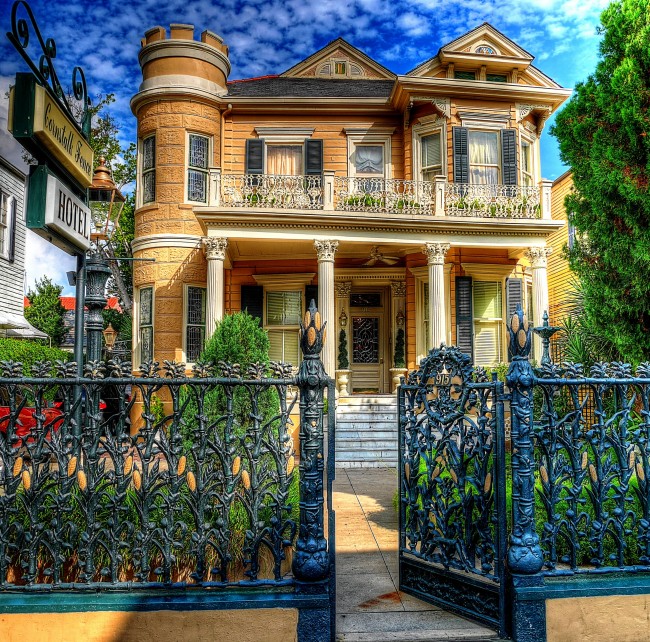 This castle inspired hotel is an attraction all on its own, which is further emphasized by the wrought iron perimeter fence that resembles a thorny hedge surrounding a fantasy dwelling. The effect is reminiscent of a Scene from Beauty And The Beast. The multi dimensional blue fence with small pedestrian gate uses organic shapes that are repeated to create a stylized version of nature that encircles the perimeter. The fence posts are set apart from the rest by gilded flowers at their apex, the cherry on top of this nature inspired fence design.
14. Dramatic Sculptural Fence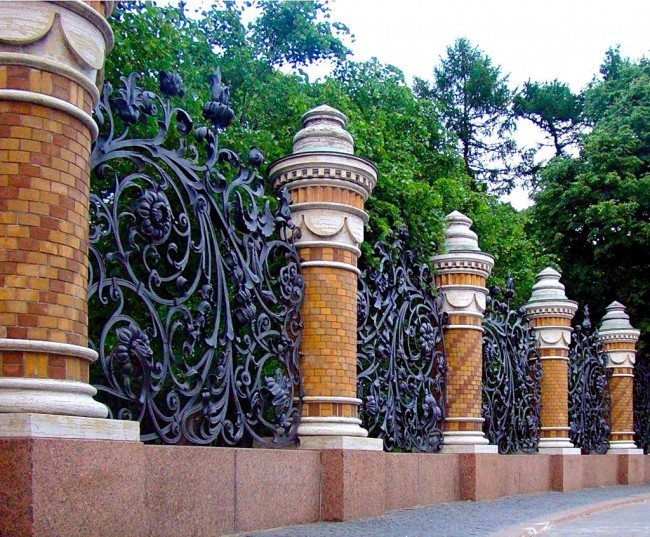 This fence design shows that this house really means business. The colossal fence posts rendered in a multi hued brick with layered turret sits on a thick red stone base, which is a dramatic look all on its own, but the real show stopper is the wrought iron fencing that they frame. The wild, twisting curlicues of different sizes and shapes incorporate floral elements into the design like a dense thicket of metal foliage. All these elements combine to form a composition that is intensely beautiful and slightly intimidating in one foul swoop.
15. Brown Mirrored Automatic Gate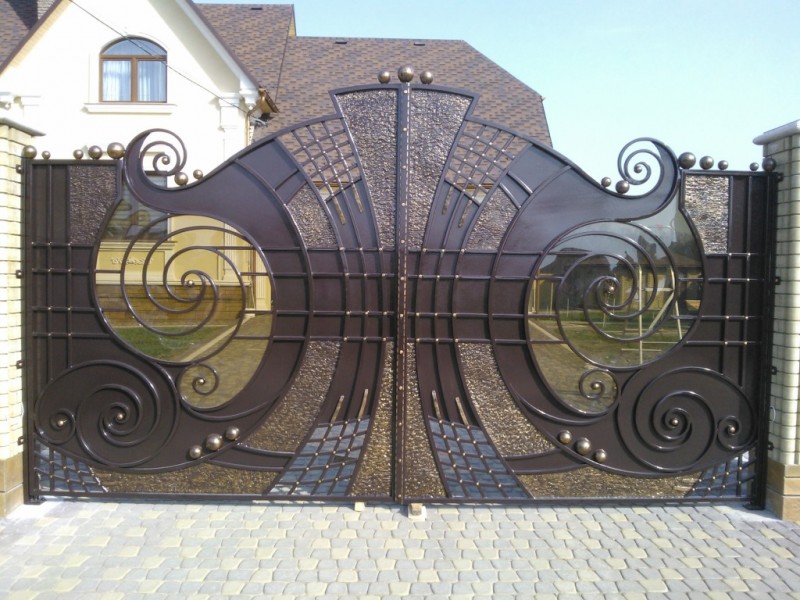 This automatic gate has deftly united colours, materials and surface textures to produce this complicated, statement swinging gate design. The swooping iron framework has been filled with smooth iron panels, textured iron panels and gold tinted windows to create a symmetrical piece of art with both opacity and transparency. The beautiful, swirling windows let you get a glimpse into the property while maintaining privacy for the residents within. The textured panels show off how surface treatments, such as this hammered technique, can imbibe a design with a richness by manipulating materials.
16. Rusted Rectangular Spiral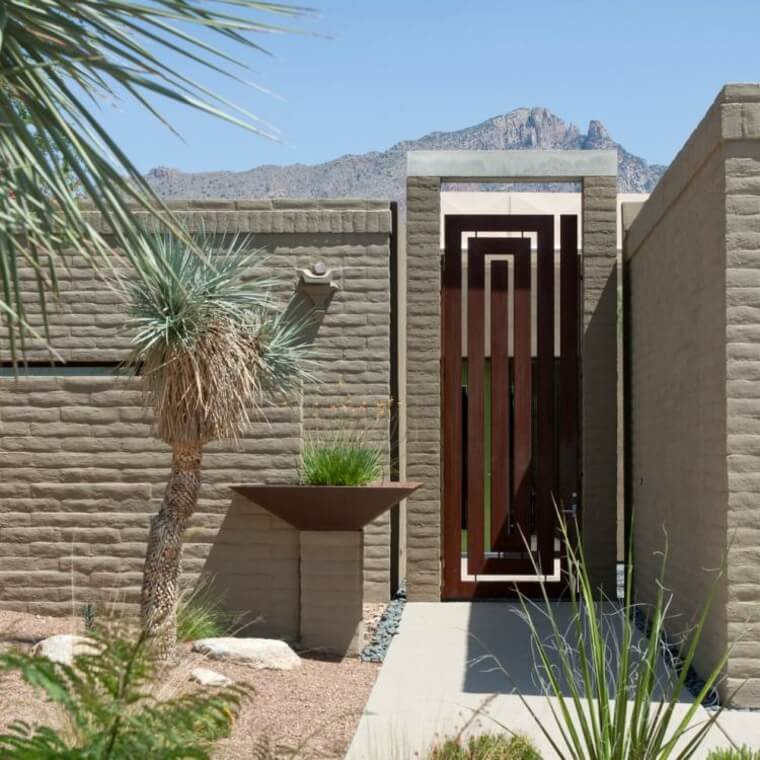 This house has been designed with the earthy desert surroundings in mind. A pebble lined walkway flanked by water wise plants leads you up to slim line pedestrian gate within a stone clad wall that fits in seamlessly against the rocky mountainside. The vertical wrought iron spiral has been treated to look rusted to blend into the natural colours surrounding it too. The spaces between the bars allow a glance into the home that maintains privacy. The entrance way has been accented by a wrought iron planter that is rusted to match the door.
17. Rusted Vertical Swing Gate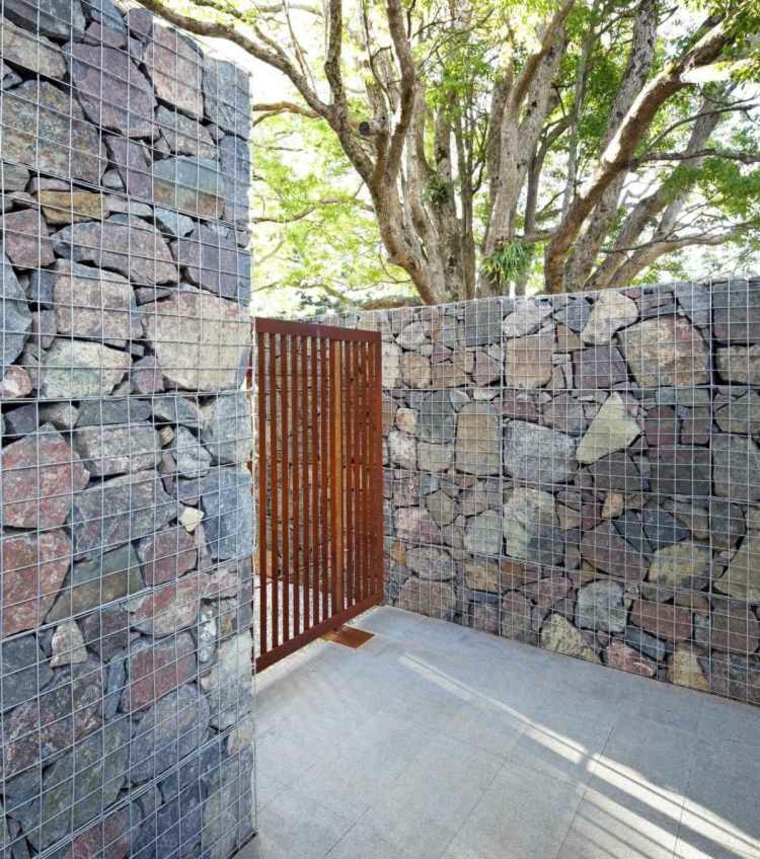 Like the door in the above example this swing gate has been treated to appear rusted to fit in with its a richly textured surroundings. The rust gate is a very minimal design made up of vertical bars in a rectangular housing to the materials in the entrance way take centre stage. The gate alongside the concrete driveway, mesh cages of blue toned rocks against the twisting trees creates an amalgamation of textures and natural materials that synchronize with one another flawlessly.
18. Luxurious Mansion Pool Fencing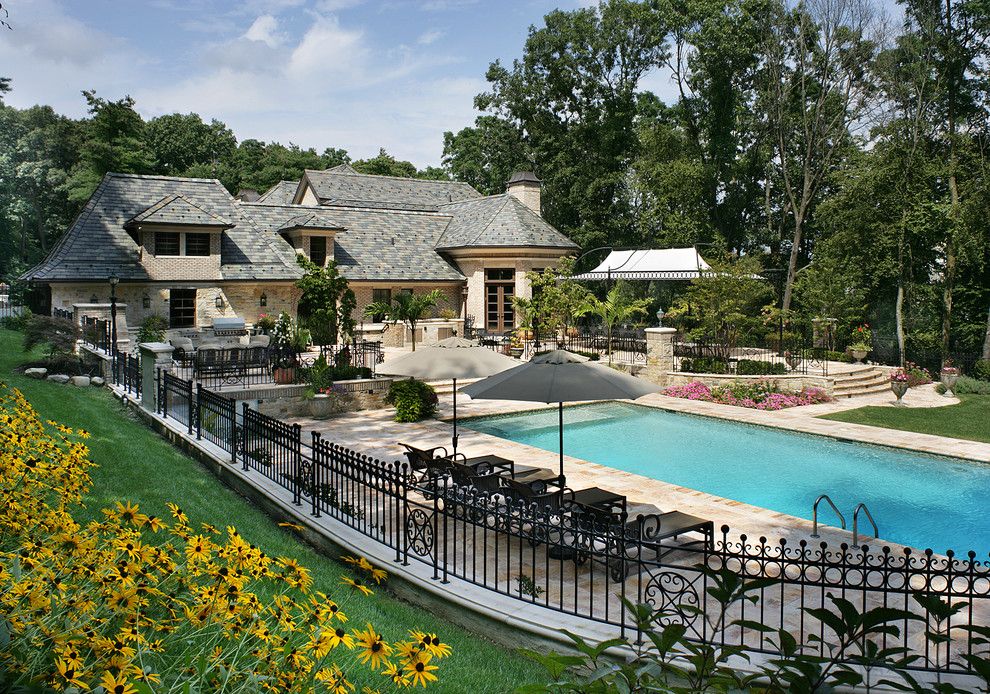 This grandiose house has chosen to use the low fence needed for safety as an opportunity to make it a design feature. The massive pool with rows of sun loungers is surrounded by sandy covered paving, which provides a neutral backdrop for the fence's black details to stand out against. Simple black vertical elements are alternated with circular curlicued panels and topped with by fleur de lis style posts. This is an austere fence for a equally opulent home.
19. Elegant Low Fence And Pedestrian Gates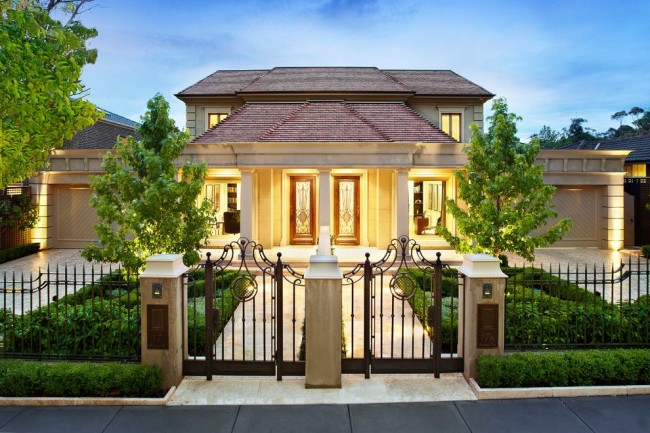 This home displays a really slim fence design, not the chunky thick bars we expect to see in wrought iron. A set of twin pedestrian gates forms a waving design with a detailed headdress in front of the large symmetrical house. This is more of a defined boundary than a safety feature, which allows it to be really more intricate. A triplet of three stone fence posts makes the fence feel that little bit more delicate and enhances the mirrored design that this house relies upon.
20. Portcullis Inspired Wrought Iron Fences and Gates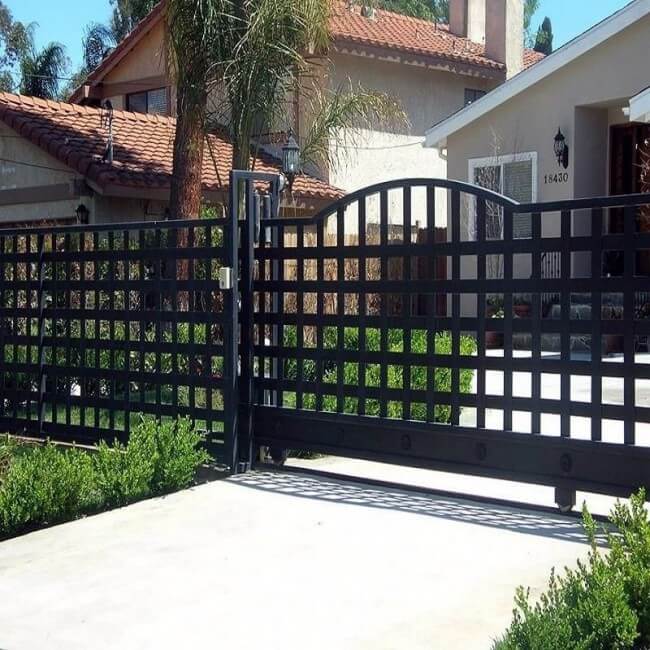 This black checkered ironwork is reminiscent of a medieval portcullis protecting a castle from which it clearly takes it inspiration. The black fence and gate pairing keeps the perimeter of your property coordinated and allows visual permeability into the well kept garden beyond. When the gate is open it blends into the fence and disappears in a very satisfactory manner. This design is simple but more interesting than your average vertical fencing that is so often seen.
21. Gold Tinted Fantasy Gate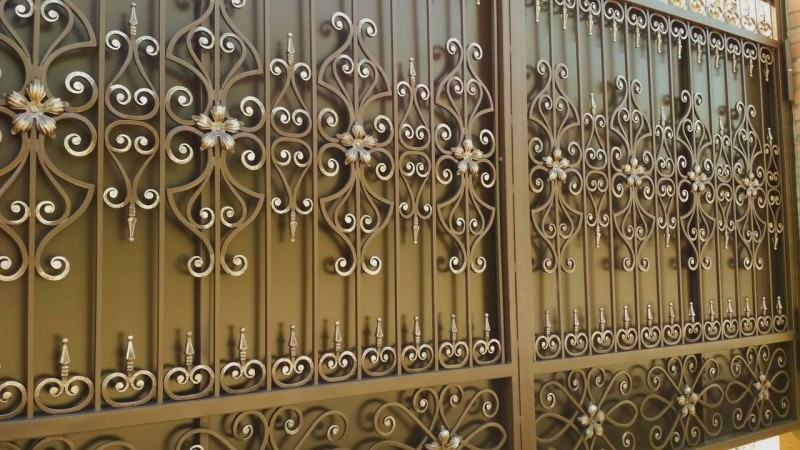 This fantasy inspired delicate design consists of two layers of wrought iron with forged patterns in the foreground backed by with sheeting both of which reflect a gold sheen. This is a very high sliding gate that keeps the interior of the property entirely obscured from the outside for those who prefer their privacy; due to its size it could easily very monolithic and boring. The whimsical design decorated with paler floral details at their centre solves this issue through the art of wrought iron. The design is layered to add even more visual interest with the top panel consisting of a vertical curlicued design with a horizontal iteration of the same pattern
22. Wrought Iron Fences and Gates That Blends In With Nature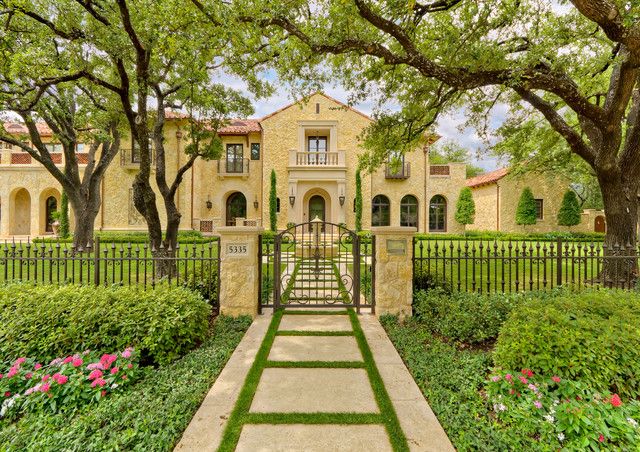 Large pavers outlined by a thin grid of grass lead you up a garden path surrounded by shrubbery and flowers to a brown hued low gate and fence made up of thin, spiked panels with a curlicued thin gate. The design is beautiful but it works hard to let the lawns beyond shine through. The stone fence posts are the same pale, natural stone as palatial house beyond. The surrounds are lush and green with multiple trees of different forms varieties; which makes this entrance way something magical.
23. Thin Horizontal Fencing In The City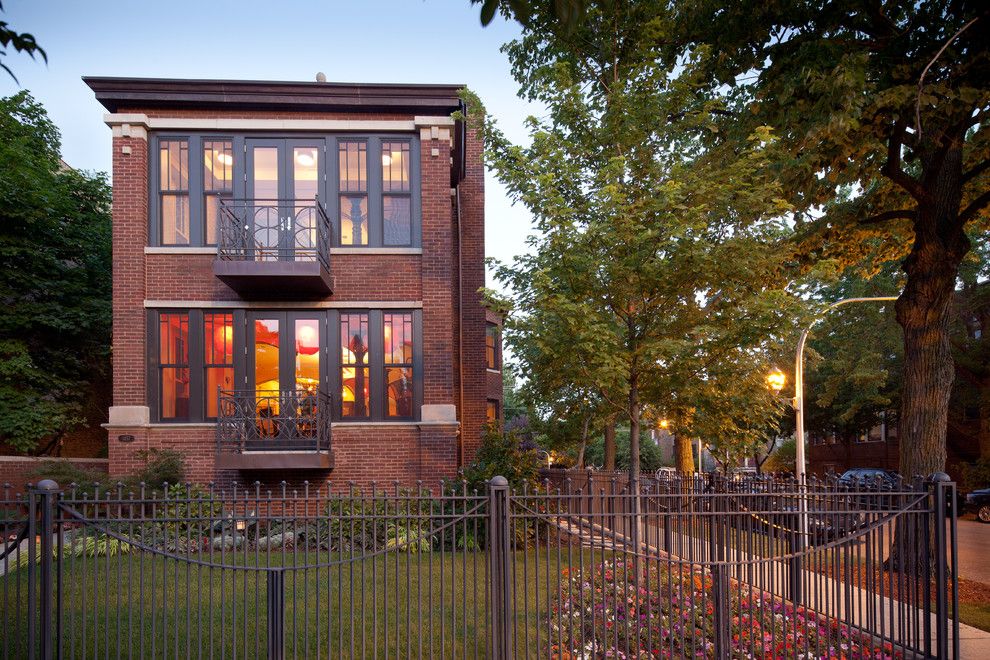 This beautiful brownstone inspired house has huge contemporary windows with small balconies at their centre on both levels with wrought iron balustrades. The fence at the boundary of this city house mirrors the balustrade's material in a simpler design of thin, closely spaced bars with square framed fence posts with small domes on their heads. The thin elements create a link between the garden full of colour-strewn flowerbeds and little garden lawn and the sidewalk beyond it. This provides you with a peaceful place to relax outside and watch the world go by.
24. Wacky Spiraling Garden Gate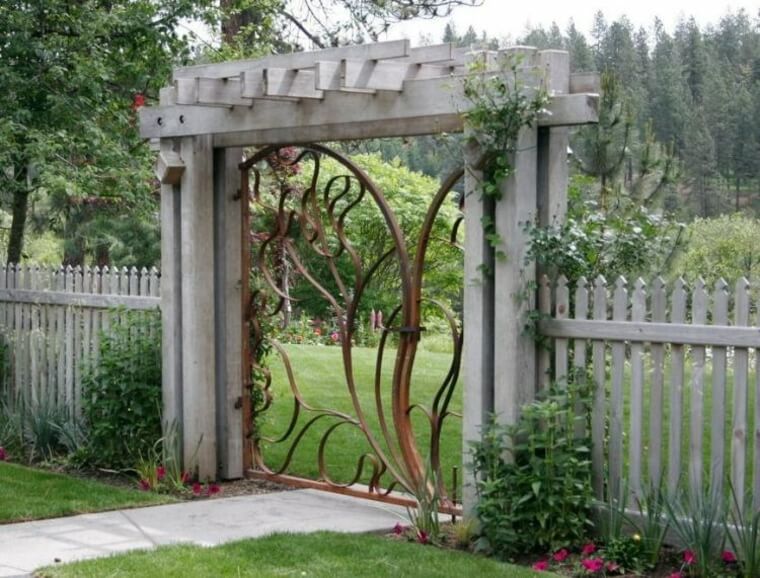 This unusual curling garden gate is purely for appearance because the huge holes left but its dips and curves that allow people to climb through. This is not an issue, however as this gate is merely the portal between one half of a generous garden and another. A garden of this magnitude could appear ostentatious and intimidating but the way it has been split up makes it approachable and makes you want to explore past its bound. By combining this rust effect gate that looks like so many ribbons blowing in the wind with weathered timber fencing adorned with plants it adds to the whimsy and feeling of fun in the garden. This is a Secret Garden lovers dream.
Conclusion
As you can see this decade old material is your one stop shop for all your fencing and gate needs. From your classic horizontal bars to twisted and curled decorative features, it can be adapted to suit all kinds of styles. There is no other material that keeps your home safe from and looks beautiful or imposing or elegant, depending on what impression you wish to express with your home.
So the next time you need a new fence or gate why not give wrought iron a whirl and see what you can achieve with it.