Mini gardens are a budding trend in the society of today – be it indoor, or outdoor, the suburbia has taken it upon itself to make the best of their small green spaces, and convert them into something more, something beautiful, and something better, than what they have been provided to begin with. A small garden can not only be ornamental, but it can become a place of adventure, or rest, depending on how the design scheme is approached by the person of interest. There are a lot of facets to be considered, when it comes to designing your very own small garden – small ways to enhance the quality of the space; make it a better experience for the user, and in this article we would be discussing some perfect mini garden ideas, that would definitely make your house more beautiful.
21 Mini Garden Ideas That Will Make Your House More Beautiful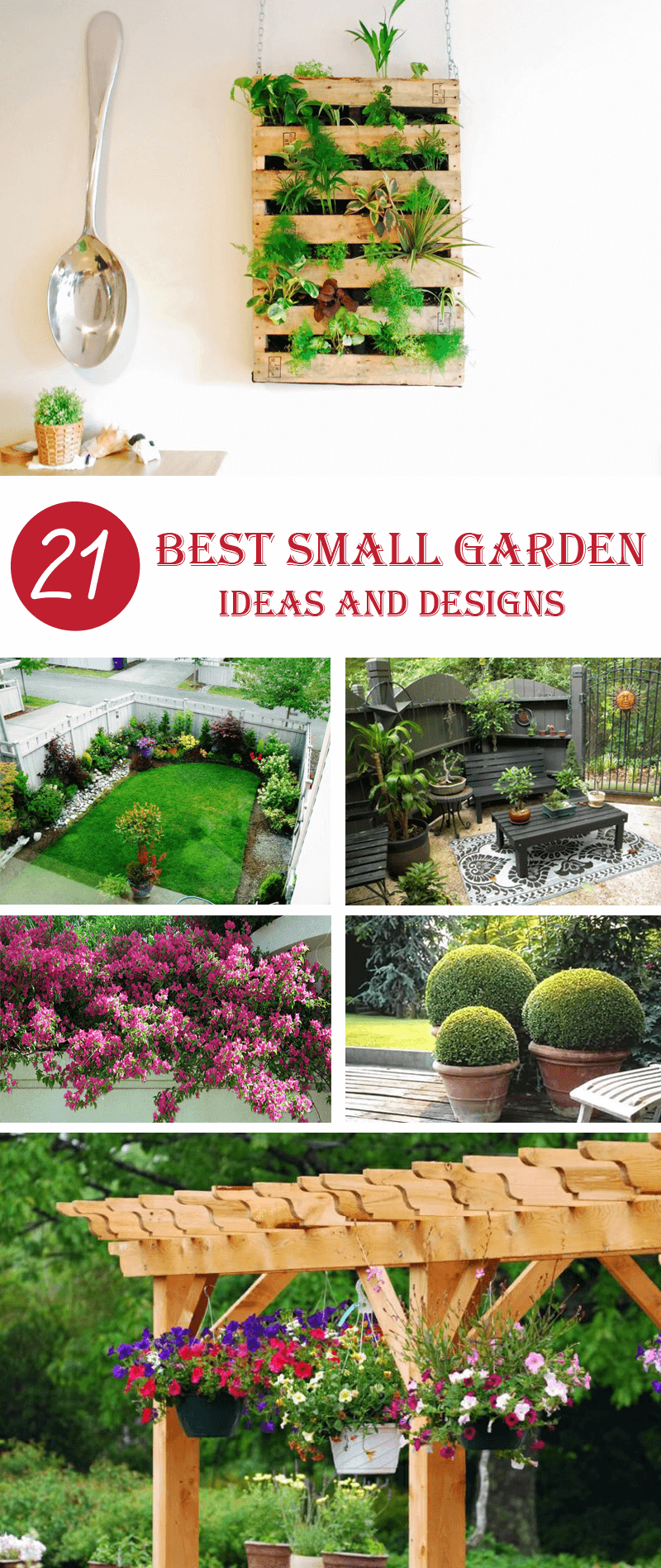 1. Vertical Garden
Small gardens are 'small' because there is very little space to be molded when it comes to actually allot it to the greenery – people would rather have another covered room, rather than an open space. So while designing a mini garden, it is essential to focus on the openness of the space. An ideal way to do that would be by using vertical gardens. There are a number of ways you could achieve that from – either by DIY wooden pallet planters, or by expensive hydroponic architecture walls, but the effect is always the same – enchanting, with a touch of magical.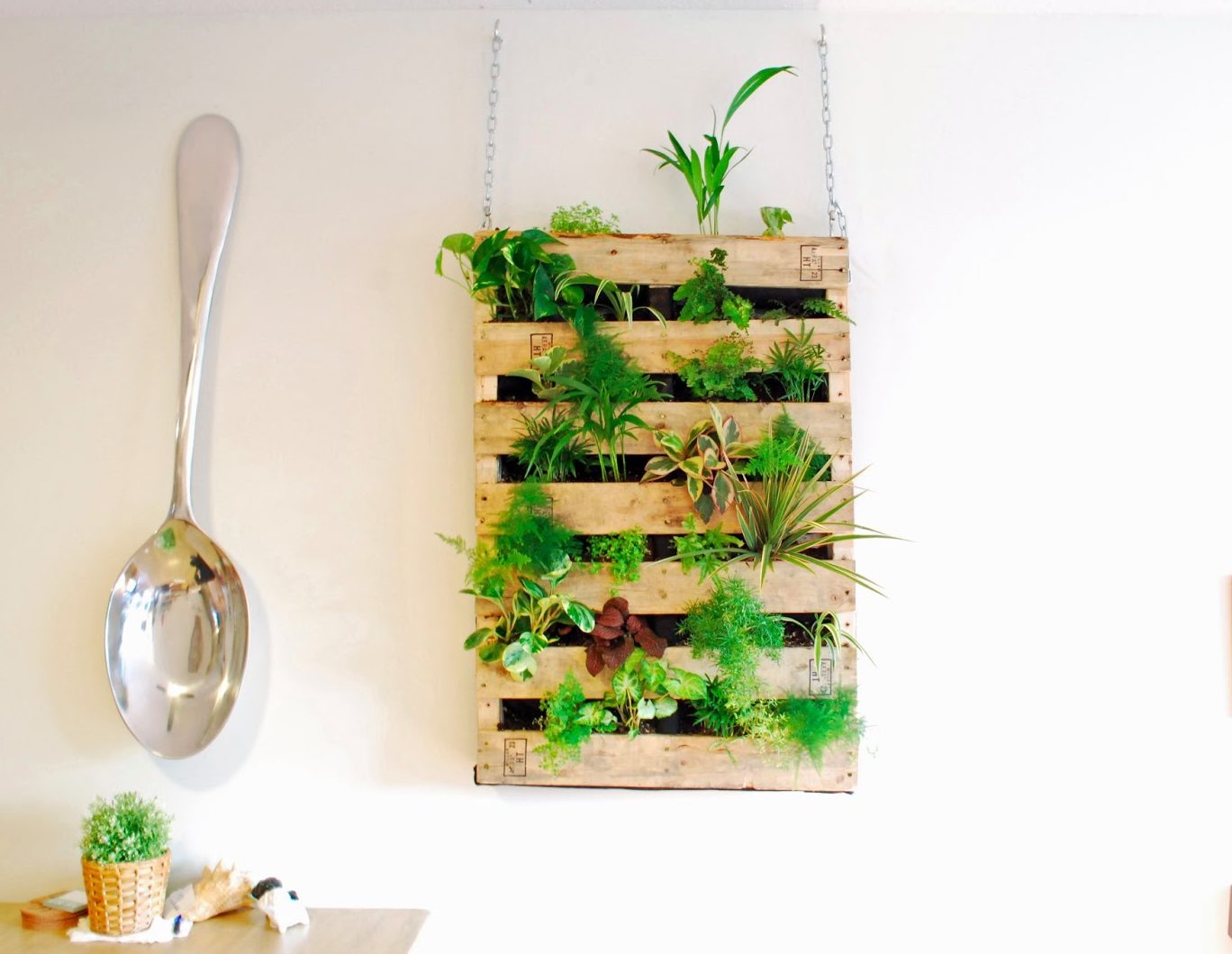 2. Crate Levels
Creating levels inside a small space can enhance the visual, and aesthetic qualities of an area, so when designing a mini garden, you could always split your space into various levels, divide it into quadrants, and use the levels to highlight the flora, fauna, and the hardscaping to make the space look playful, and energetic. You could allocate one level for seating, and the others for planting, and pavers, and create a dissimilarity through the use of materials.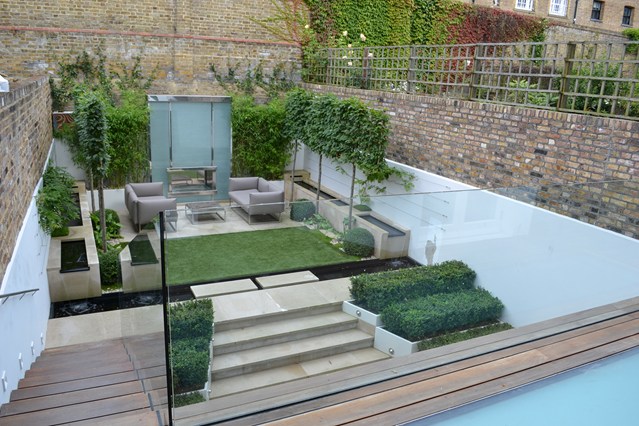 3. Repurpose Furniture
You could use old furniture that is of no use on the inside of your home, as patio furniture for your mini garden. It could be of any variety, from wicker to retro, to vintage – the older it is, the more it would integrate with the natural environ of the entire setting, of your garden. This repurposed furniture could also be acquired from garage sale, or could be constructed by recyclable material such as wooden pallets, or discarded tree branches.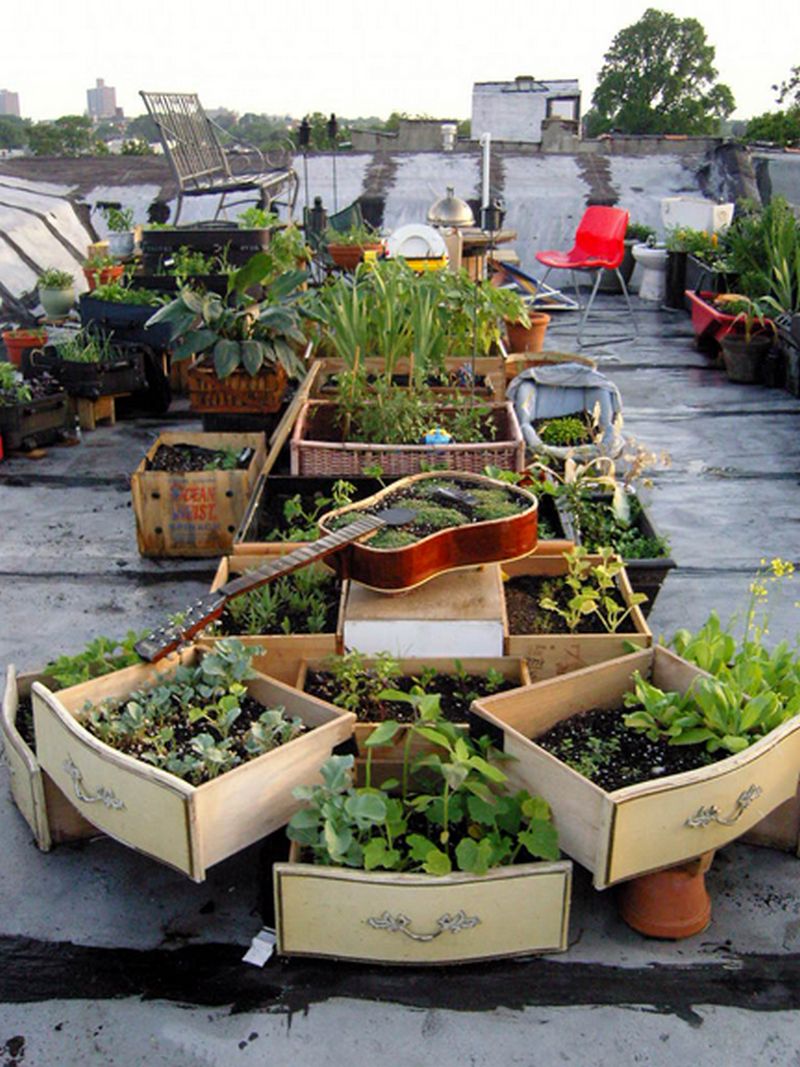 4. Ladder Garden
The ladder garden is a nice way to go vertical, without amping up the cost, and going for an authentic vertical garden. You can use small pots, and planters of your choosing, plant beautiful perennials in them, and set them up on a tall ladder to be displayed as a feature for your mini garden. Not only would it become a highlight of your garden, it would also make for an interesting way to feature a cluster of small planters.
5. White It Up
Mini gardens are already low on space, and using dark colors all over the fencing could make for a rather claustrophobic effect. What you can do to chase off that effect is, use white paint on your garden wall, decking, and pergola's so it creates an atmosphere of open breeziness. The while would not only give the illusion of wideness to your yard, but also be a beautiful backdrop for all the greenery and flowers, within.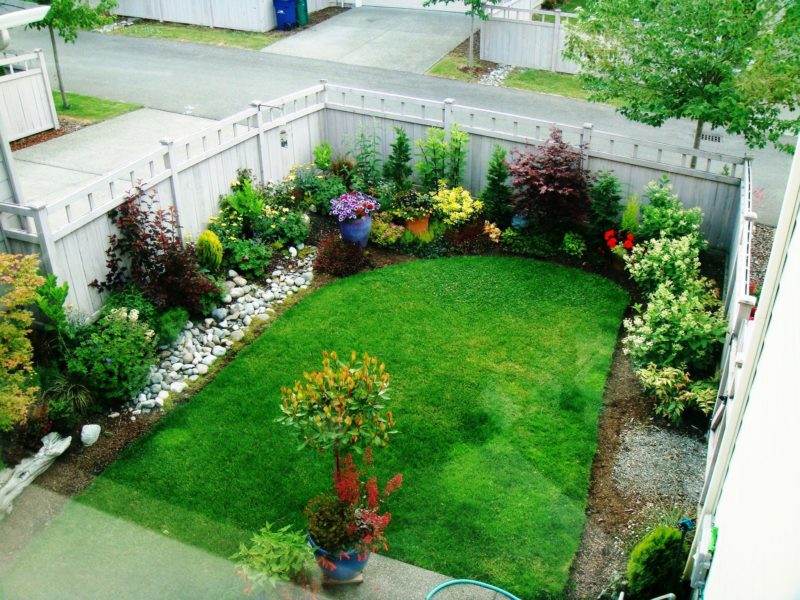 7. Wooden Pallet Garden
Wooden pallets make for interesting recyclables – you can easily combine, and disjoin them to create beautiful pieces of furniture, and swing sets. These are especially ideal for a garden set, because wooden pallets have a certain earthy, timbered tone, which is set off against the natural atmosphere of an outdoor garden. It is also cheap, and gives you a lot of variety to choose your furniture, decking, or swing sets from.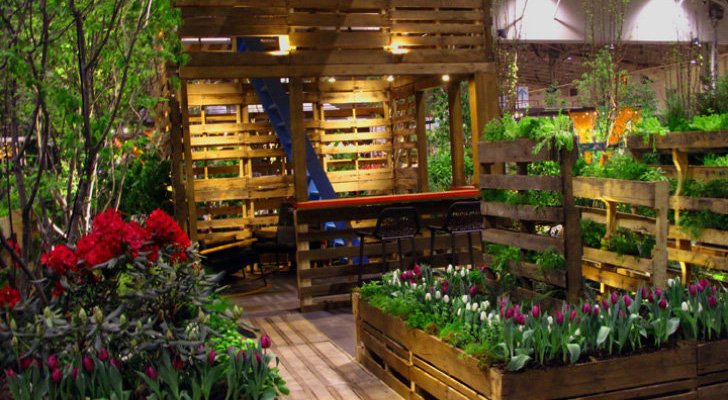 7. Create Contrast In Materials
There is a lot of dissimilarity between all the materials being used in any garden, or lawn format, and how one tries to arrange that contrast is what defines the ultimate image of your garden. In a garden where there are a lot of space constraints, using a lot of green could become an overstatement, and has to be moderately mixed up with appropriate amounts of wood, pavers, planters, and other painted elements, to create an authentic, natural experience.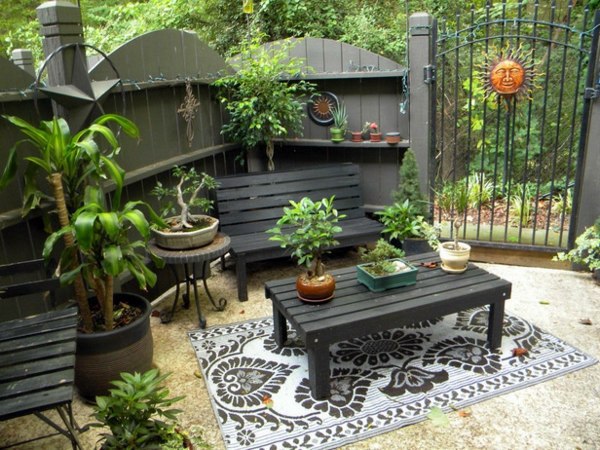 8. Fix Up a Patio
Since a pavilion is majorly used for large scale gardens, a small, open patio is the best way to go in a mini garden. Use ground cover, or an elevated level to set it apart from the rest of your garden, and make use of pergolas to add an elevation, a shade, and concept for creepers, and vines.
9. Portable Containers In Gardening
A fun, and easy way, that would make your garden a lively place to be, would be the use of portable containers that could be fixed up as DIY planter sets. All you have to do is take some buckets, coat them up with several layers of paint of your favorite color, and fix the up with plants. Basically they are planters, in their own right, just without the added hassle of a difficult, and expensive choice. The color would pop, against the otherwise monotonous outlook of your garden, and you can make painting the surface, a family activity.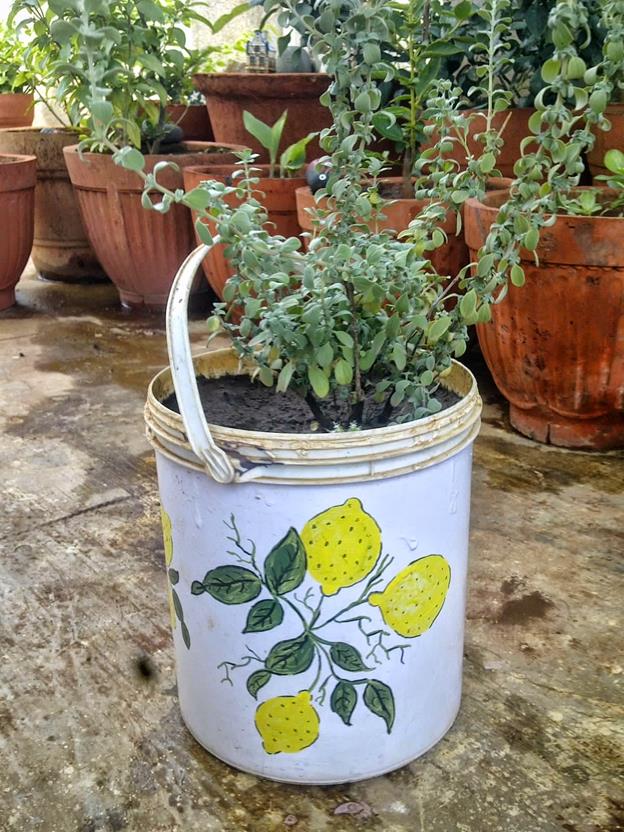 10. Pinwheel Layouts With Stone
Using pebble stones as decorative garden features is not a new trend – it has been continually in use, over the advent of landscape design. The sudden contrast of material and texture is an alluring mix, and you can use them to create patterns, and layouts that could either be permanent, or temporary. Pinwheels are stylish, and give the illusion of a fixed sort of hardscape material.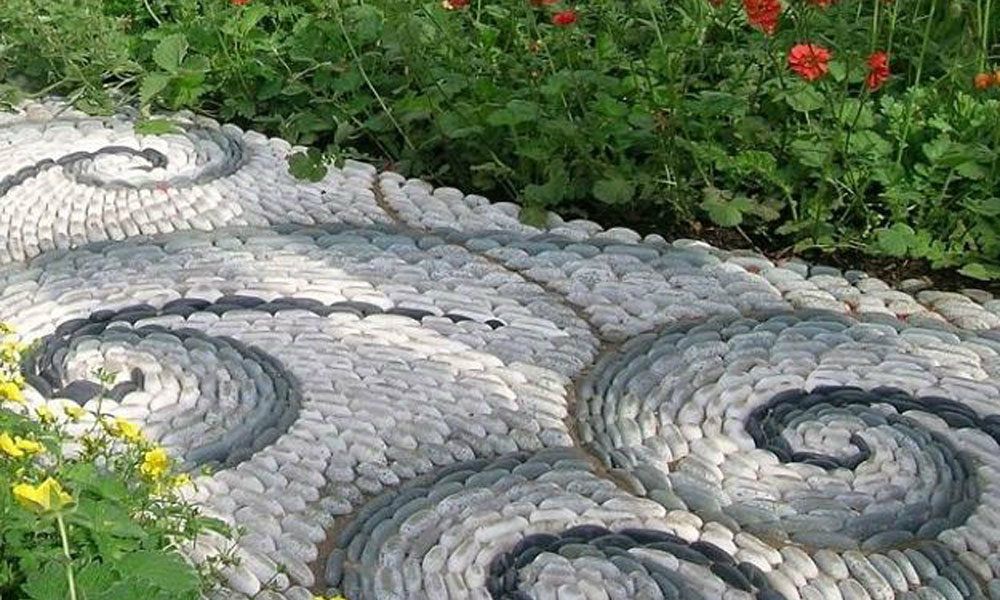 11. Geometry With Pavers
Pavers make for interesting ground cover, and also come in a sizeable variety that could be appropriately applied to any given concept – whether it is square, or diagonal, natural, or edgy; these overlarge mosaics can come together to create interesting and clever patterns that could be customized to suit any and all aesthetics.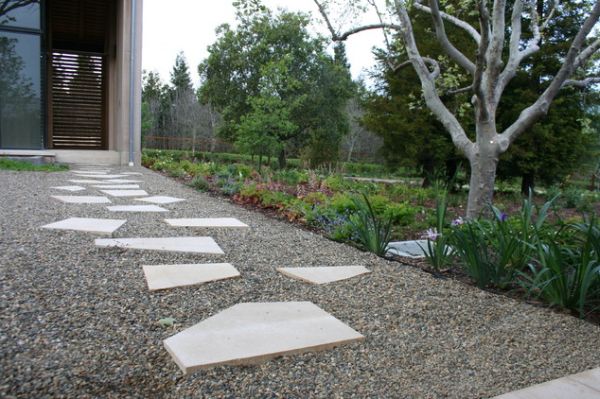 12. Planter Tiers
Planter tiers are a new style in the landscape design genre, and are a prime DIY opportunity. Since they come in all shapes and sizes, you can use a couple of variations to choose which one is the best fit for your aesthetic, and environ, then choose accordingly.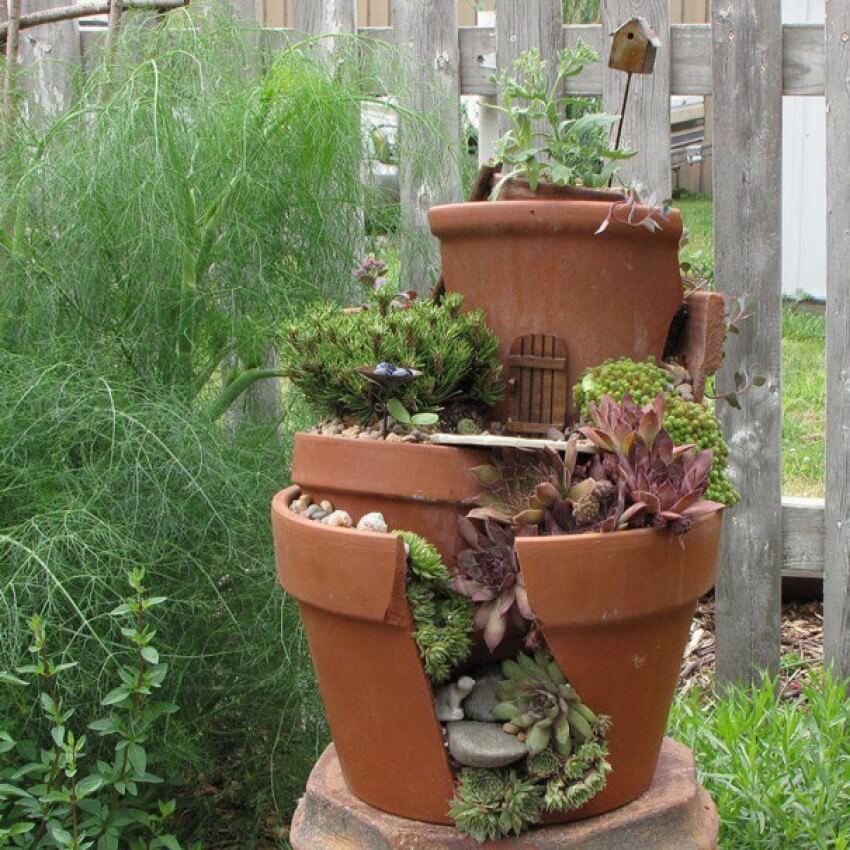 13. Terra Cotta Mini Garden Ideas
Terra cotta is one of the most overused tropes in the garden design genre – all over the world, terra cotta planters have become a time honored convention. The brown of their bodies is a place holder in many famous gardens, and green houses around the world. Available in a variety of shapes, sizes, and textures, the terracotta garden pieces could be grouped together to form enchanting formations, which, with the help of the right foliage, would enhance the quality of your space, and add a bit of timeless panache to the mix.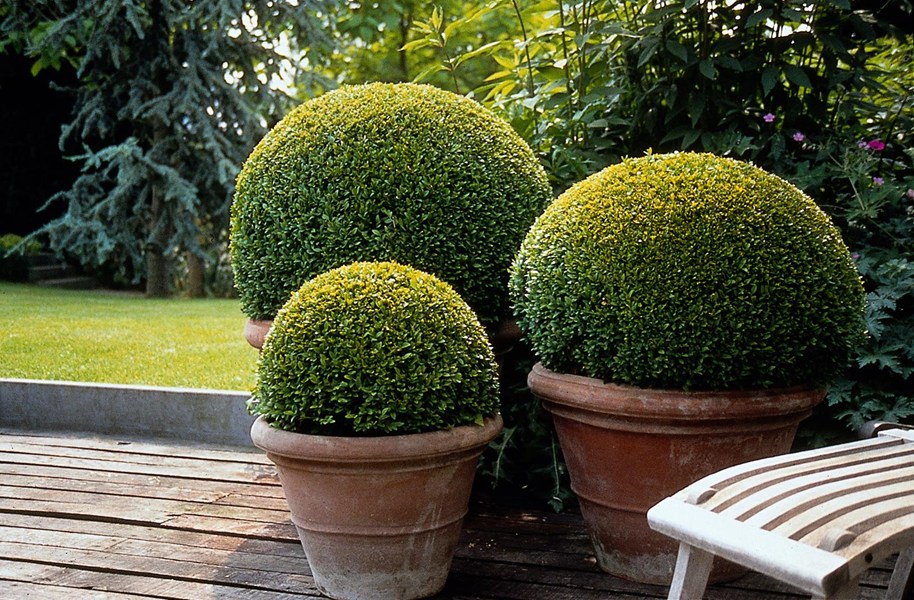 14. Right Amount of Planters
Planters are not only an individual feature of a garden, or lawn, but they are parts of a whole, which, if grouped together in the right way, could make the best aesthetical formation that might just set your garden apart from most. You could put them one on top of the other, or you can play with height, size, and carved texture, and the end result could end up a stunning convergence of varieties, that alone would have looked, just normal.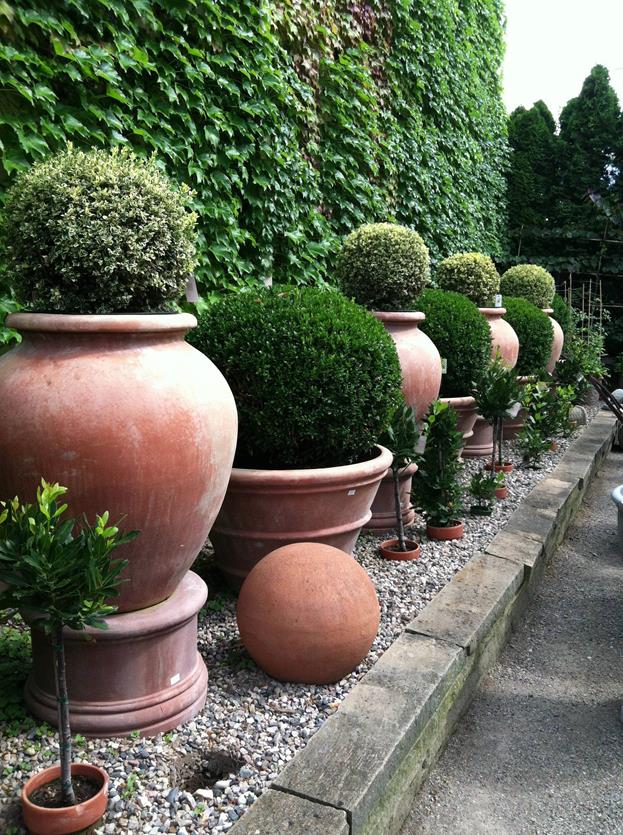 15. Bougainvillea
Crabapple trees have a bright, blooming foliage in the image of flowers, which far overwhelms the green parts of the shrubbery. While most gardens work with the green of ornamental grasses, and earthy tones of hardscaping, Bougainvillea add that much needed contrast in the color scheme that is natural, and integrates well with the overall design scheme. You could use the flowers as a beautiful hanging sprawl over your backyard fence, and design a sitting underneath, to make it a feature in your garden.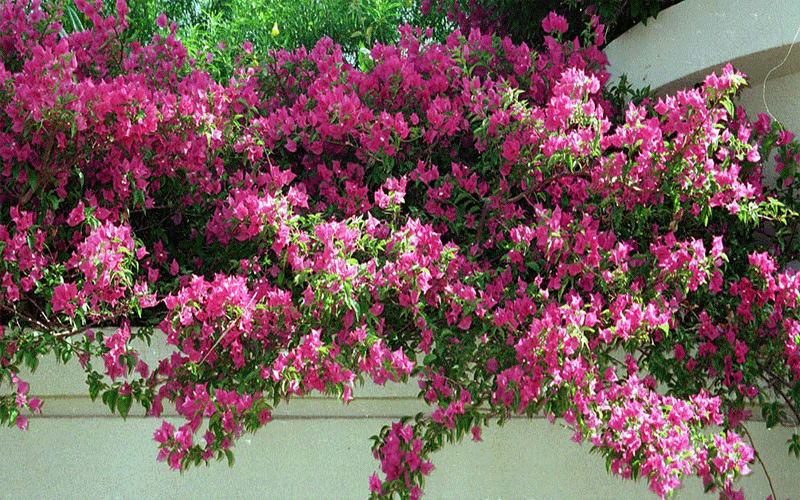 16. Pergolas
Pergolas add a sense of enclosure in an otherwise empty space. In mini gardens pergolas could be used as design elements to enhance an open seating space – a patio – and give it an overall outlook of a breezy pavilion. Pergolas could also be used to highlight pathways, but that only works when your lawn is huge, and sprawling. For mini gardens, pergolas could be used to highlight windows, and doors, overlaid with creepers, ivy, and other indigenous plant species that would wind around its formation.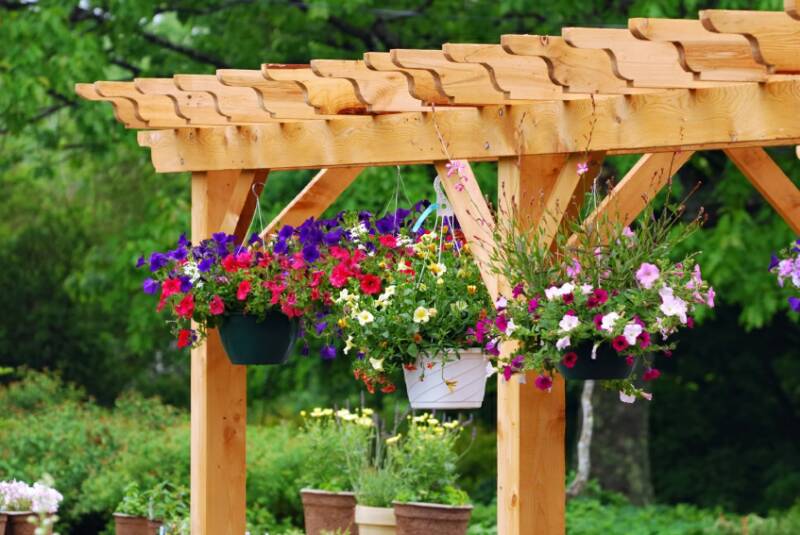 17. Split Level Design
Another thing you can do, to make a mini garden seem a little large than it actually is, to use levels to split the design in parts. It completely depends on the nature of your space, the ideology of the design, and the dimensions of the area, on how many levels could be achieved without seeming overboard and tacky. Most mini gardens are designed in two levels – one for seating, and therefore hardscaped, while the other in greens, and fauna. You can add one more without making it seem too conspicuous, by adding a semi split seam for a small water body, e.g., a corner, or feature fountain.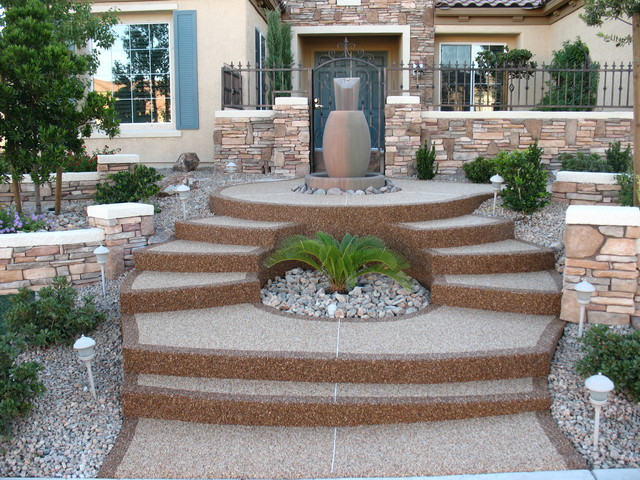 18. Unique and Stylish Mini Ideas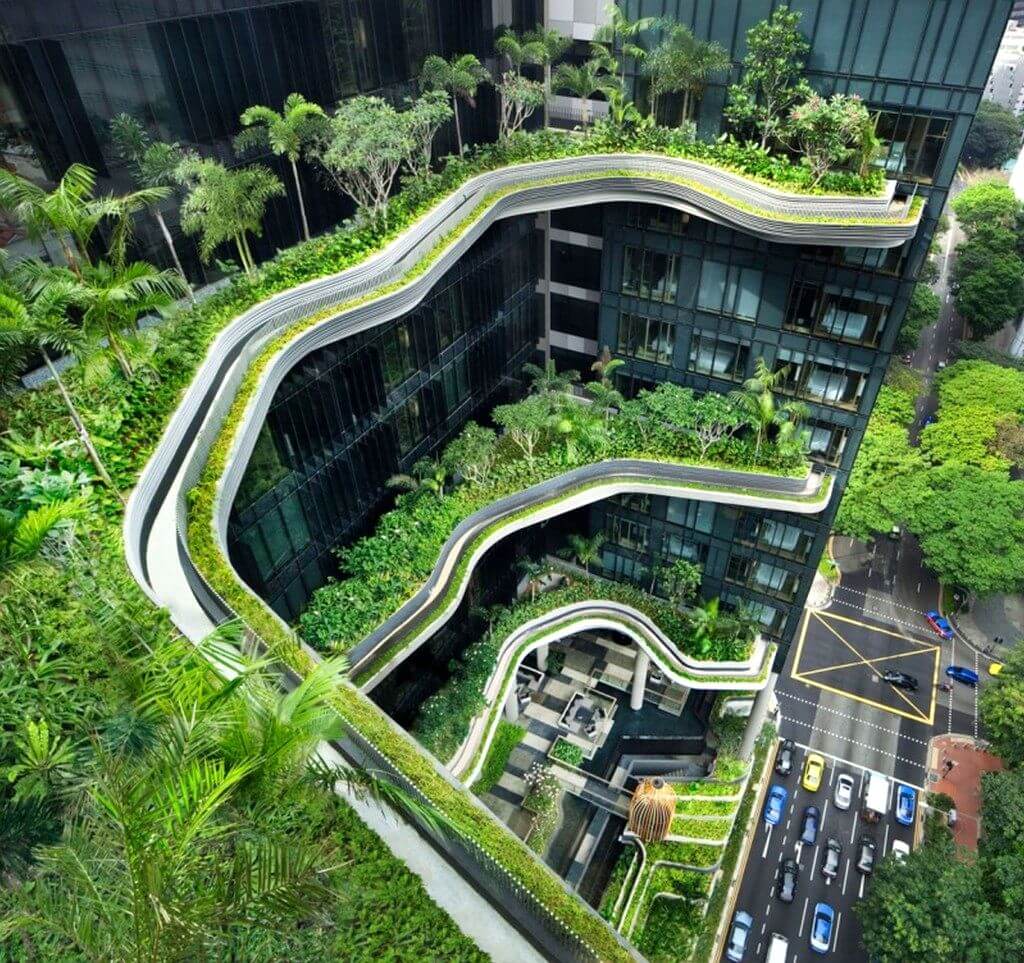 19. Rockery Mini Garden Ideas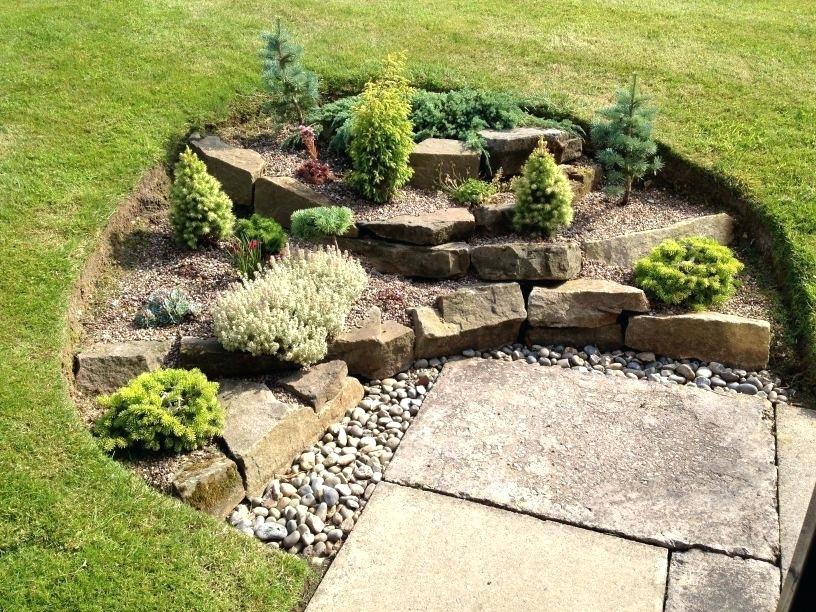 20. Modern Small Garden Layout Design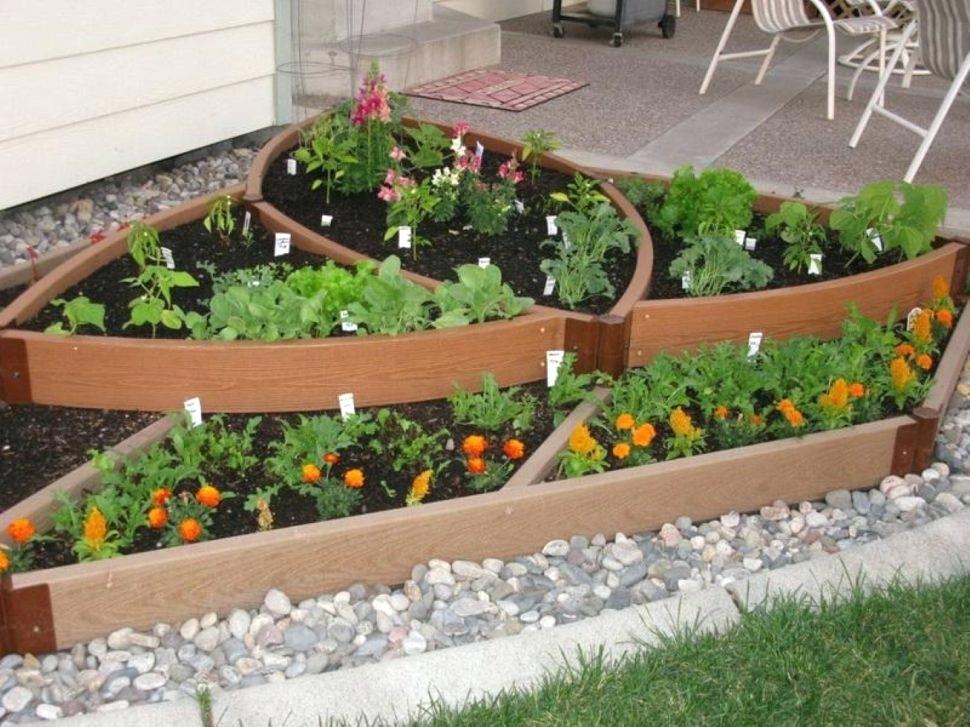 21 Affordable Mini Garden Ideas