The stairs are part of a very important link for those houses that have more than one level in their construction, but also represents an emblem of the personality and style of each of its owners, that is why its construction must be integrated into the General design without problems and grant a visual appeal where everyone is breathless to see it.
Although there are endless designs to use in the creation of that perfect staircase, this time we have brought to you several excellent examples of how creativity and the ability to design without limits can give you a totally personality-filled job that can influence The complete design of your home.
Do you have a house with two floors or more? Or do you plan to build one? So, an element that cannot be missing in your project is the staircase. Forms, designs and materials there are many but we must find the one that best suits the style of the house and our own personality. If you have little space the most recommended are those that have spiral or helical shape, however if you have large amplitude options are numerous. To help you in the best choice we show you 40 photos of staircases that are impressive.
40 Best Staircase Ideas To Make Your Home Look Beautiful And Luxurious

Design, dimensions, use of space, materials, how it adapts to decoration, etc. In addition, safety and functionality are two fundamental elements to consider. These are the tips that you should take into account when designing a staircase.
Parts of a ladder
Step: Formed by the part where it is stepped on, known as footprint; and the height, called riser or tabica. If the step is cantilever, then it is only made up of the footprint. The slope, depth and height of a step must be constant in order to climb up keeping a rhythm and avoid falls or stumbles.
Rest or plateaus: It is the area without rungs used to link the different sections of the ladder; its design must be adapted and be provided to the rest of the stairs.
Starting and Landing: The initial and final steps of the ladder.
Guardrails: It is the lateral structure that follows the perimeter of the staircase and that holds the handrail. Provides protection when climbing the steps of the stairs. It is usually composed of vertical columns made of wood, steel or wrought iron, but it can also be made of glass and without columns.
Handrail: the part of the handrail that is used to hold us when going down or up the stairs.
Support or knob of the staircase: it is a column or structure placed in the initial or final section of the staircase. It is attached to the railing and provides support when going up and down stairs, especially if people are elderly. In addition, it is an element that can be decorative and therefore, in the design of classical style stairs can be a very resorted structure and even a true work of art.
What are the types of stairs for a house?
Lines: built in a linear form, can be of a single section or several, and have or not breaks.
Round trip: staircase designed with one section, rest and another section in the opposite direction.
L-shaped: designed with a section, a rest and then a second section turning in L. Common in medium-sized houses
Snail: built with sections of ascending circular shape.
Imperial design: a section of Ida and two lateral and narrower sections of return. This staircase design is recommended for a large and classic style house or for an outdoor staircase.
Compensated or mixed design: its structure combines curved and straight sections, to join both sections, the step or rest is designed in a compensated, subtle way in order to enhance the aesthetics of the design.
Materials to build a staircase
The staircase is not only a functional structure in buildings, but it can also become a decorative element and part of the architecture of a house. Therefore, deciding the design and materials of the staircase for our home is a task that we must plan carefully and preferably with the help of a professional architecture, design and construction.
Wood: the most used material since it is easy to get, it is resistant and depending on the type of wood it can be economical. In addition, you can add different finishes and varnish tones, depending on the style you want to create. Wood is a perfect material for stairs inside the house or outside.
Concrete: a very resistant material, just as it is heavy you have to make sure that the foundations of your house support this material. Perfect material for indoor or outdoor stairs, one or more sections.
Stone: a material that provides strength and hardness. It is also very durable and requires no maintenance. Using stone can be expensive, so it is better to use it as a coating. An ideal material for outdoor stairs.
Metal or stainless steel: a modern material, ideal for stairs of minimalist or industrial style. It looks great on spiral stairs.
Follow us and discover more of these incredible works.
1. Iron Staircase With Impressive Sculptural Details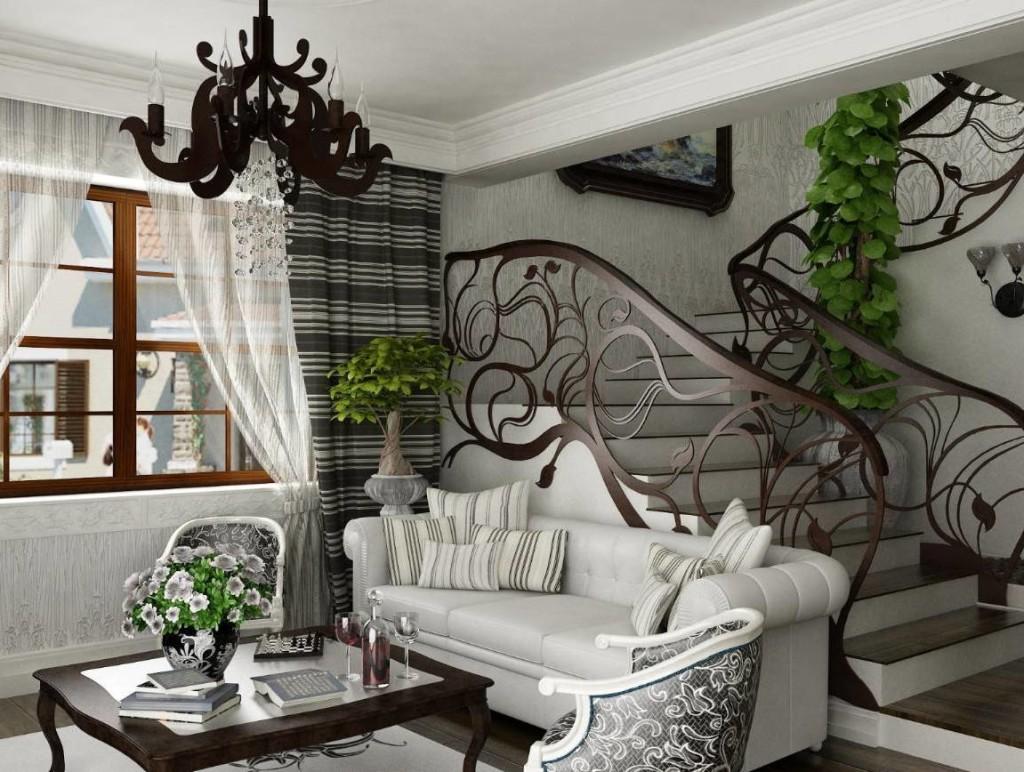 The stairs are an important part of your home. They are like the veins of the body that connect all the parts and deliver messages from top to bottom, and as they are so busy, it is important to keep them beautiful. But beauty has a size that is not measured in meters, but in the times that surprise others, and that makes you fall in love. And we do not need a lot of space to make a good impression. This staircase surely raises a lot of comments when people pass by it.
2. Staircase In Dark Wood Closed With Bars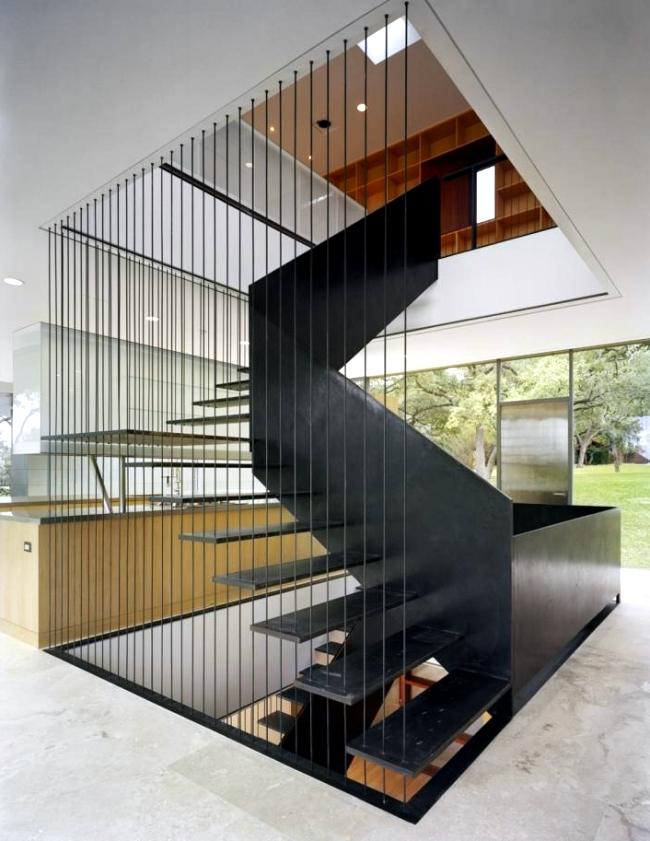 In every interior design project, the stairs are architectural elements of design that usually become the protagonist of the project. You can see it on this example that showcase art.
3. Elegant Staircase With Iron, Granite And Floor Lights With Impressive Detail
The stairs play a very important role in the decoration of the houses and have proven that they can make the interior look absolutely beautiful. The selection of the type of stairs that you want to design will depend on the space in which they will be built and the materials of the area, however, the possibilities are countless. Here you can notice a stunning and very luxurious staircase that completely enhances the house's style.
4. Staircase Featuring Hidden Cabinets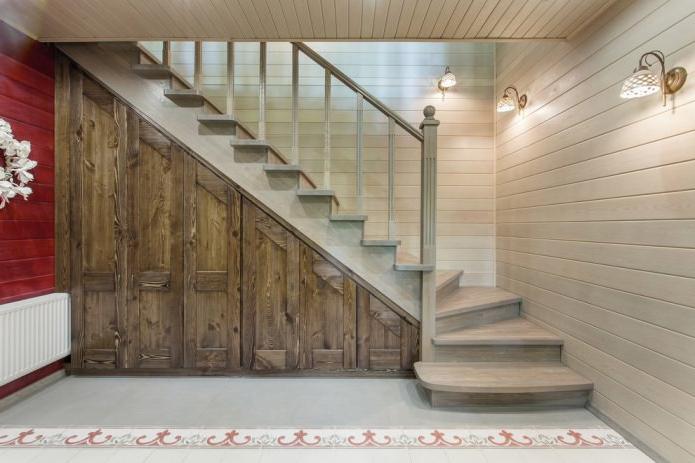 The wood will help you to make the spaces look decorated no matter how simple the design. And if you add some extra features to your staircase, as the wooden cabinets in the image, the result is incredibly beautiful besides from useful.
5. A Staircase That Is Also A Wine Cabinet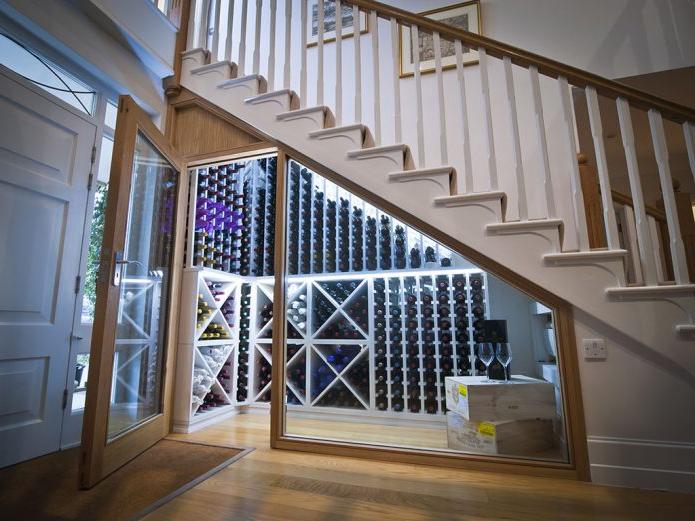 Choosing the staircase design for your home is a task that must go along with the advice and advice of an architect or an interior designer. It is important that the stair design be based on:
Size of your house.
Space with which you have to build the staircase, both along and over.
That the foundations are resistant in order to choose the material.
Style of your house.
This example is a great example of those 4 elements to consider. With the space, materials, and lifestyle of these homeowners, the best possible result for this stair case is that it also works to keep the wine.
6. A Sculptural Wooden Staircase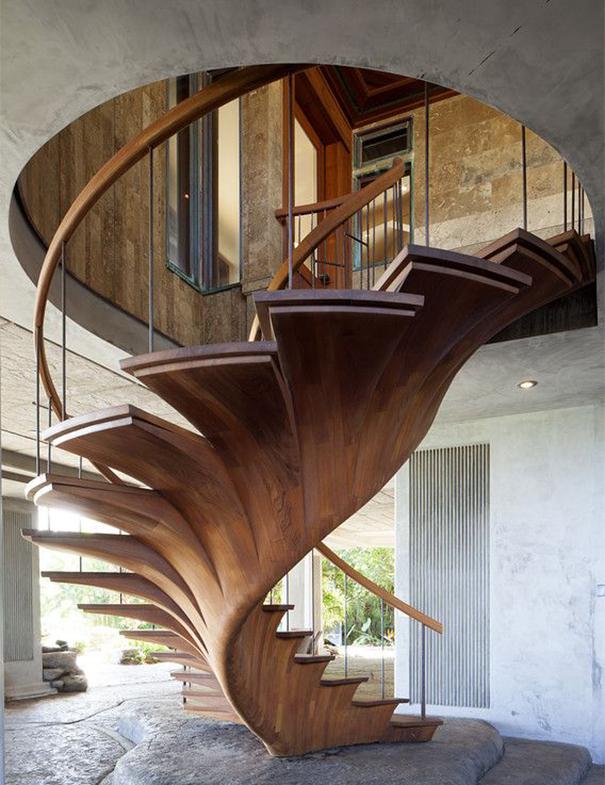 The stairs give personality to the houses and facilitate the circulation of people. That is why they are practical but also decorative, like this amazing one that looks like a living tree.
7. Impressive Artistic Staircase Made In Wood With Stripes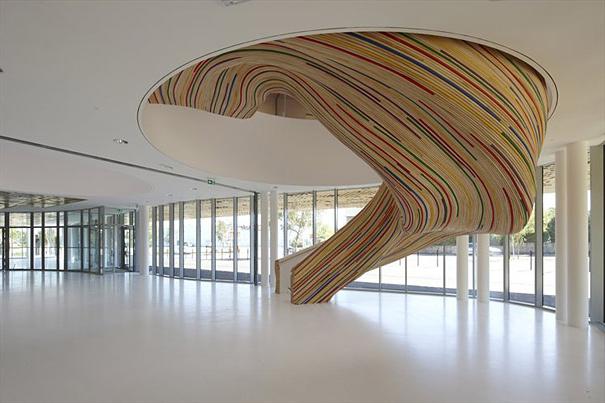 You may not believe it, but many designers always plan to make the staircase a protagonist element, and this is an excellent idea, always taking into account that it complies with the minimum standards and dimensions in its tracks and against traces.
Currently there are a variety of designs and unusual materials but very beautiful that will make your staircase the protagonist of your home. This staircase is very impressive, made in wood of different colors.
8. Stone Staircase For Strong Luxurious Feeling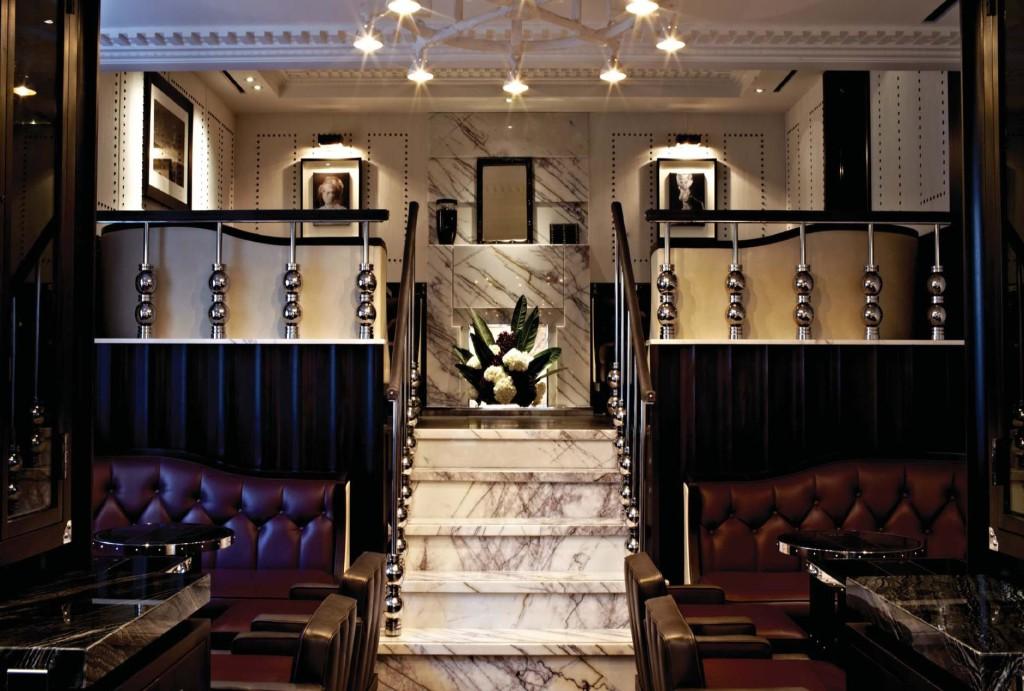 There is definitely no better way to highlight a space than through lighting and brightness. Materials such as marble and porcelain give you all the brightness you need and if combined with good lighting, whether natural or LED, the staircase will certainly stand out. The design is important but the choice of materials will be decisive even to generate sensations of partiality.
9. Staircase With A Hidden Space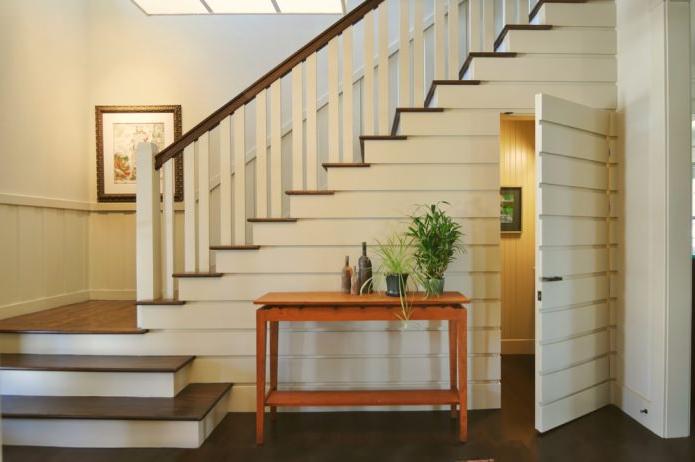 The solution of the design of the staircase of your house does not only depend on the materials but also on the space where it is developed. A staircase in a two-story house is essential, but sometimes the problem is what to do so that it does not occupy too many square meters or even how to take advantage of the space lost under it. In this example, the owners decided to make a bigger staircase to take advantage of the space under it. It can be used as a small office, pantry, winery and more.
10. Interesting Spiral Staircase With Leafy Motifs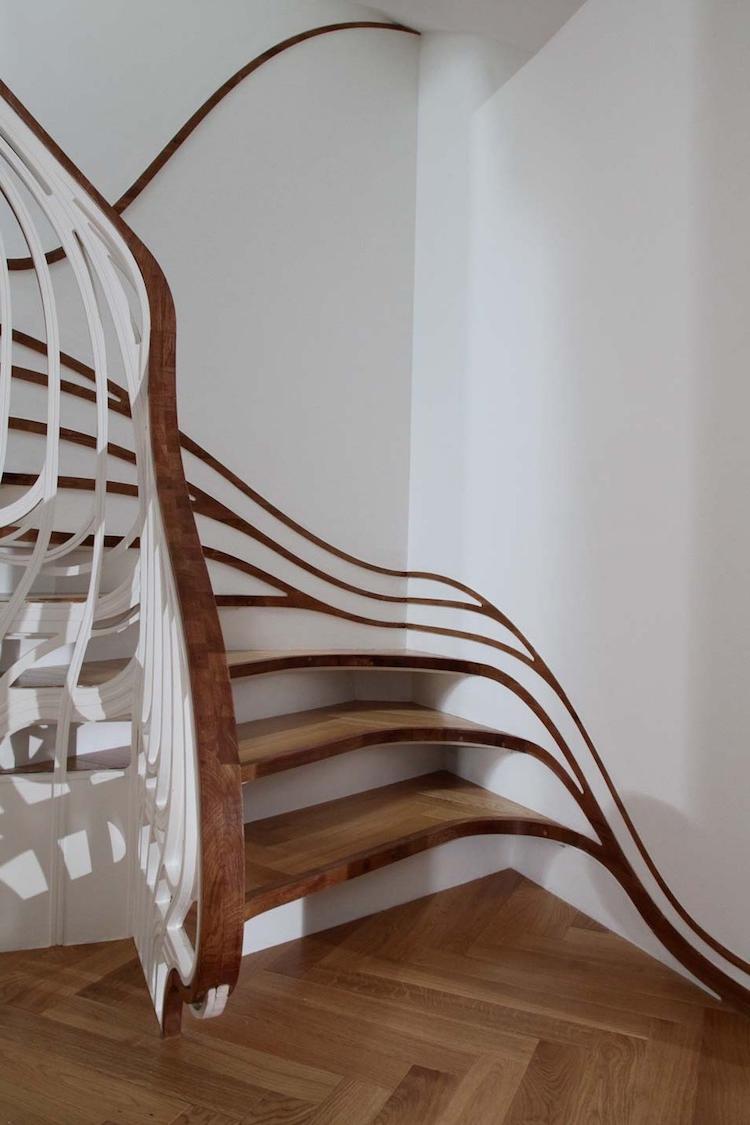 Regardless of the type of staircase chosen, another factor to consider to make this element a unique piece in the design and decoration of your home, has to do with the choice of materials. Customize each of the parts that make up the ladder can help you to give a look of the most original and adapted to all kinds of styles. This one is certainly a customized staircase perfect to make any home look just amazing.
11. Staircase With A Library Under It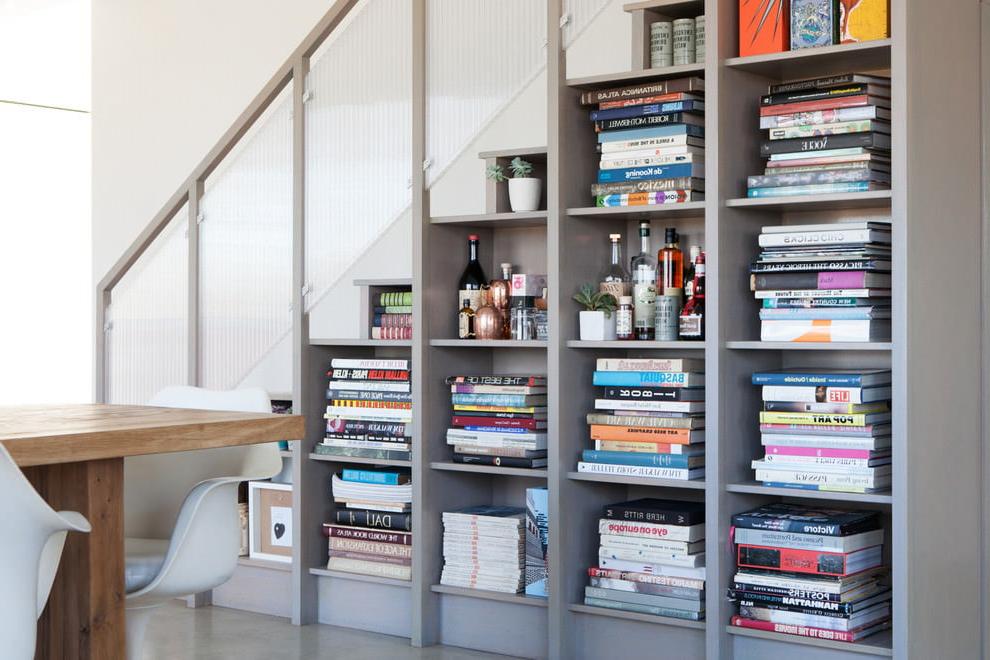 The evolution in the design of the stairs has resulted in highly attractive proposals that play with impossible shapes and materials giving life to incredible solutions adapted to all types of spaces. The location of this type of architectural elements is, without doubt, one of the factors that will mark the choice of the most appropriate type of staircase for you, like this one that was turned into a great space to storage books. An awesome idea.
12. A Staircase That Is Also An Extra Bed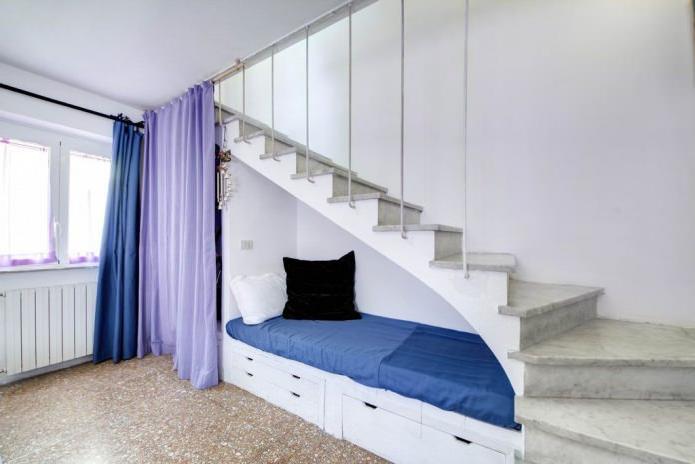 The idea of using tensioners in the design of the staircase is a very innovative idea. The transparencies and the blind effect that they transmit are also part of the decoration. You can see how that looks in this design that also features the great idea of an extra bed. A great way to take advantage of the basement staircase.
13. A Place To Sew Under The Staircase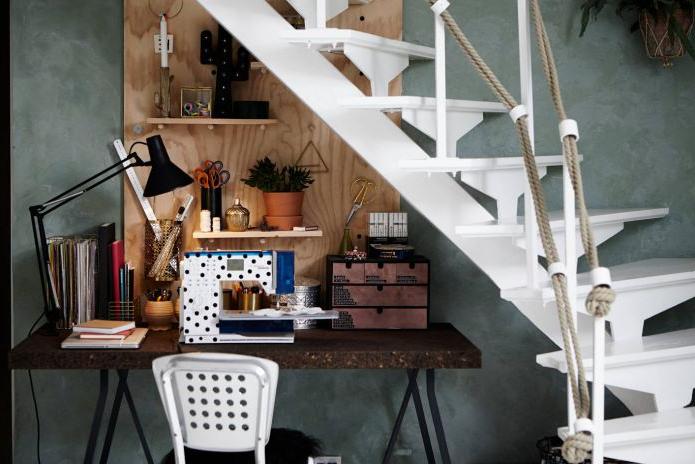 The minimalist style is based on the popular phrase of the architect Mies Van Der Rohe: Less is more. Its application in architecture and interior design has led to excellent results but also to play with the combination of styles that allow having unique spaces with pretty creative and beautiful designs, like this colorful small space under the stairs to calmly sew.
14. A Small Staircase With A Rack Under It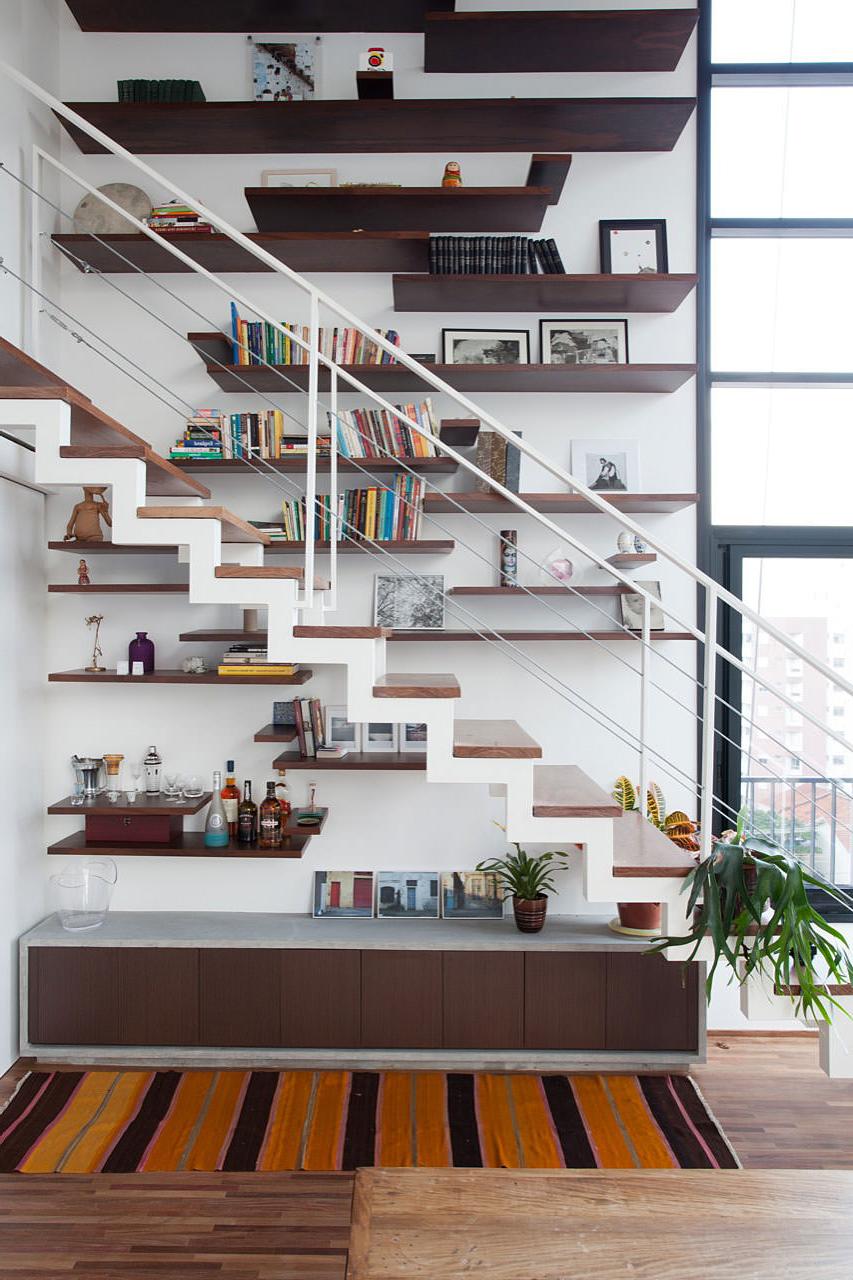 The staircase, in itself, is also a decorative element. You should not think of it as a mere zone of passage. If you choose the staircase well, you may not even have to think about more aspects of its decoration, since it can be a decorative piece by itself. But you can still make the best of the space under it, even in small staircases, like this one that features an interesting and very well designed rack.
15. Beautiful And Modern Made In Oak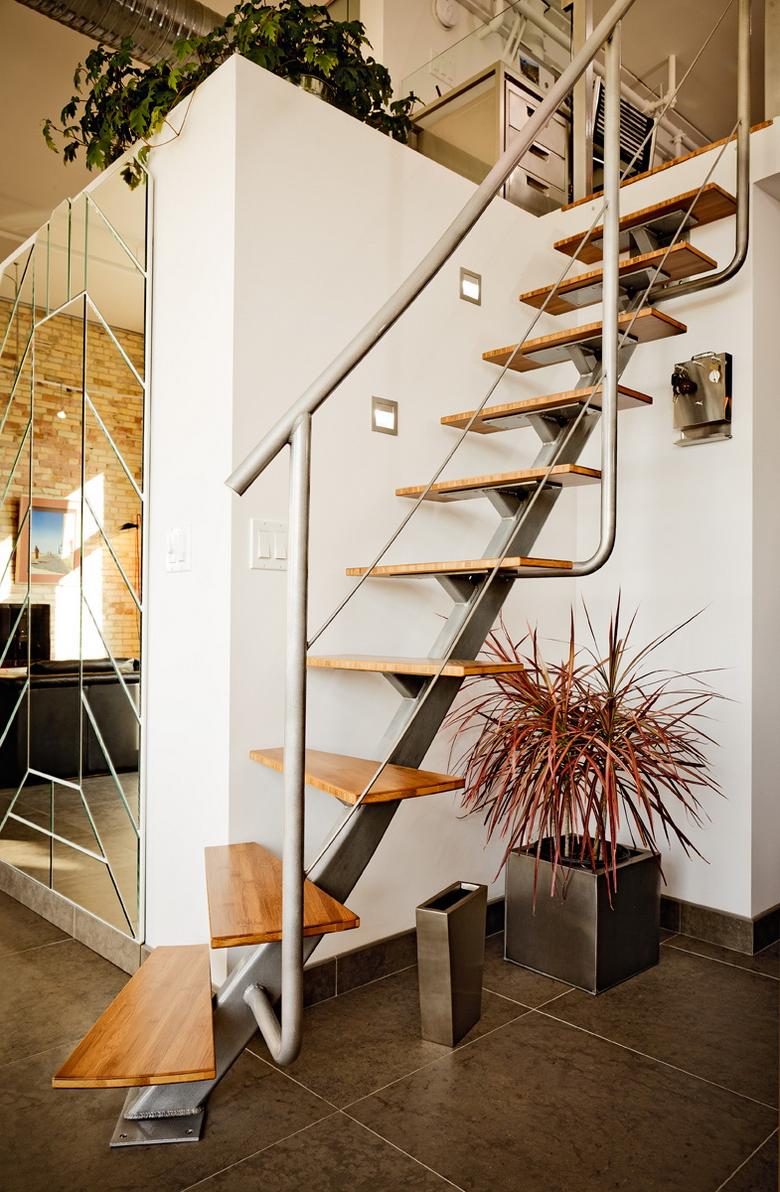 If you have a duplex apartment or a loft with a lot of height, surely you have little space to make a staircase. That is not a problem; there are many options to take advantage of the space and have a nice staircase. Take a look of this oak staircase that uses minimum space and still look great.
16. A Modern Stair That Is Also A Kitchen Space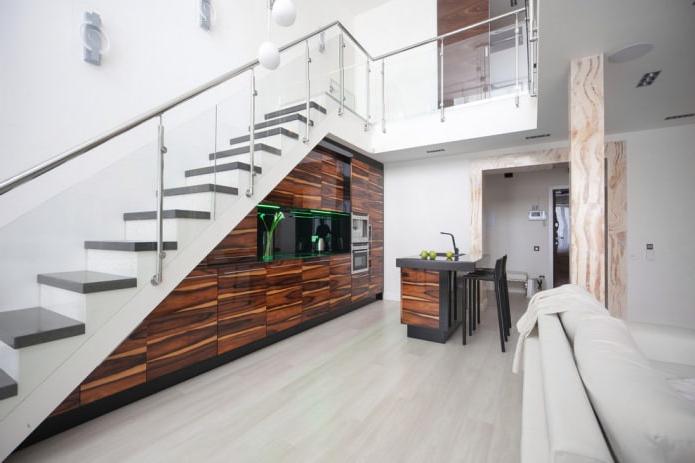 In addition to its functional part, the stairs are of great importance in the design and decoration of the house, and can become the protagonists of the space in which they are located. Just take a look of this design where the kitchen oven and other appliances are a part of the staircase.
17. Modern And Elegant Staircase With An Aquarium Inside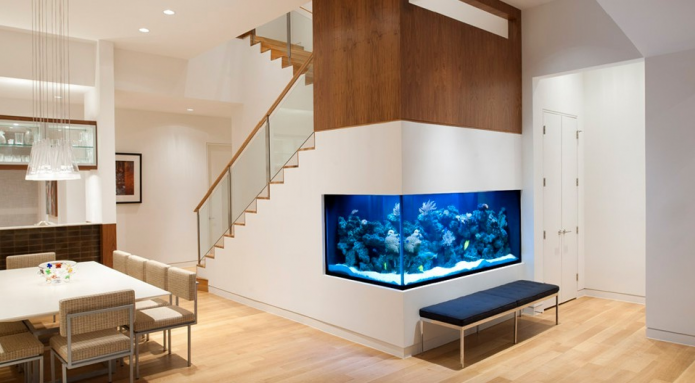 The staircases are not only a necessary step to ascend in the home, but they also represent a very important decorative addition, creating a staircase design provides a lot of freedom to act while performing its main function. It is also important that the ladder can be integrated into the overall interior design of the house or building. Obviously, however, these models are perfectly combined with the environment. In this example, the staircase has worked to build a nice aquarium inside.
18. Elegant Staircase With Mid Century Style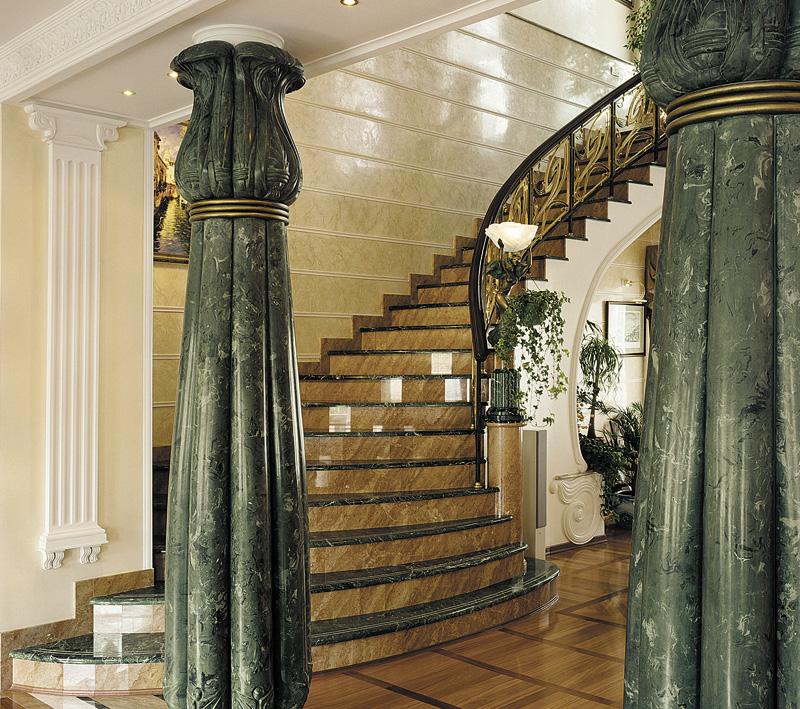 The stairs are an important element in homes, beyond the obvious functional reasons, should also be integrated to the style and decoration of the rest of the house. Many times we overlook the design or decoration of this element, worrying about highlighting other areas, when this can perfectly be the main focal point. In this house, the staircase was very taken in consideration to make it a focus point of this mid century design.
19. Great Looking And Affordable Staircase Design For Exterior Areas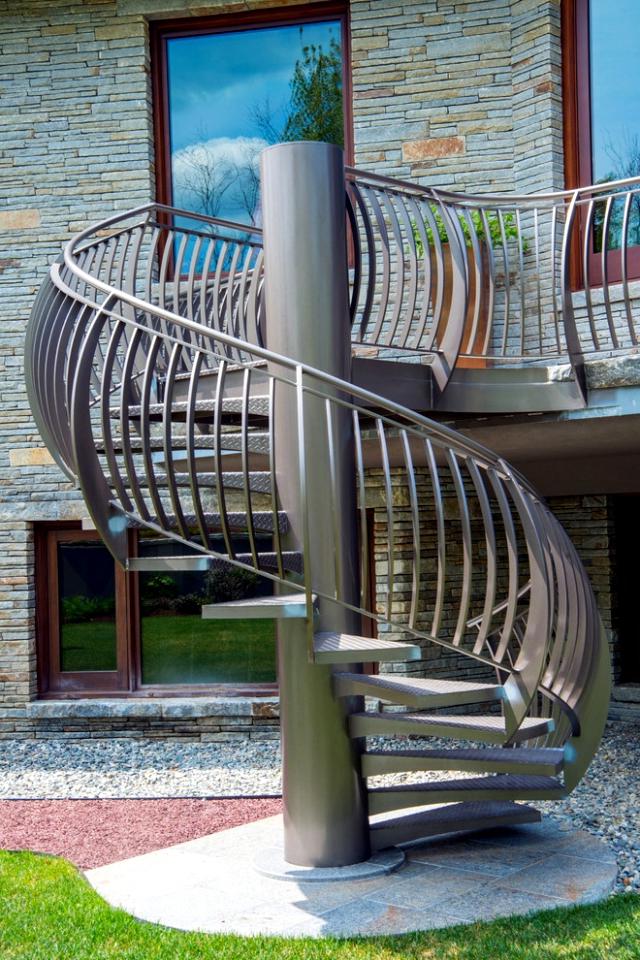 The spiral staircases are aesthetically perfect for homes due to the beauty they provide in the spaces. The relief and movement contribute to recreate a whole decorative concept. They are ideal for minimalist environments, although they are also very versatile and according to the material with which they are made, they can be incorporated into modern, traditional and even classic rooms.
20. An Elegant Staircase On The Entryway

You must never forget that the ladder has to be functional. For that reason, before putting you to value the aesthetic aspects, it is important to be clear about what this element will serve and what requirements it must fulfill. In this way, choosing forms and materials will be easier. That is the thought behind this staircase selection.
21. Elegance And Distinction With A Fountain Under A Staircase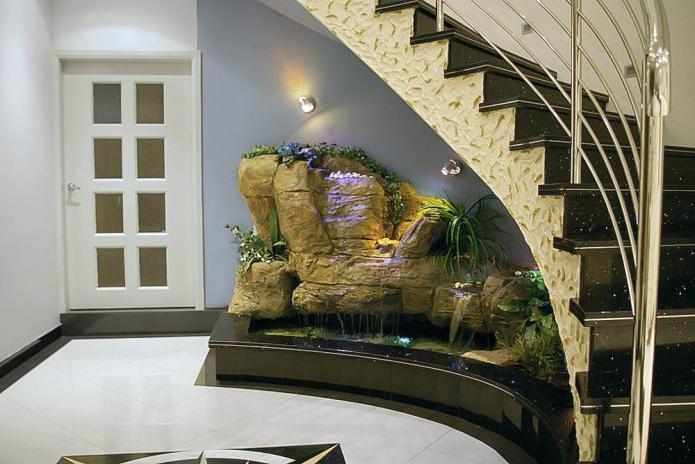 Despite being nothing more than a construction designed to communicate spaces located at different heights through steps, they can also be a decorative element of the first order that takes everybody's attention. This for example, features a great fountain with lights and cascades that definitively will make people talk.
22. A Very Smart Way To Take Advantage Of A Staircase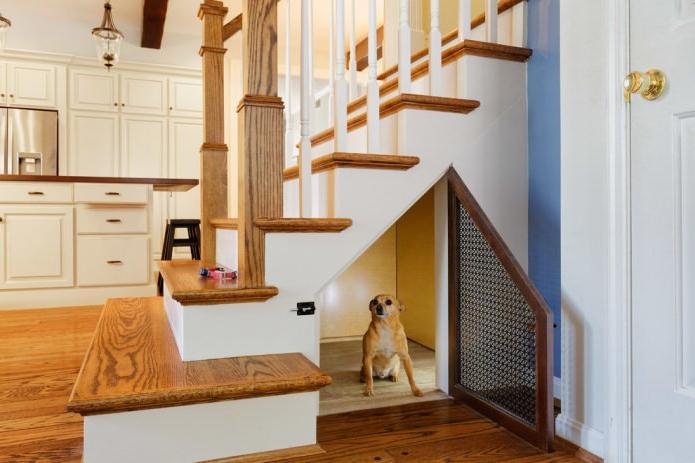 In addition to the utility of the stairs, you can also take advantage of it to use the space below. If your house is small or you live in an apartment and you need some extra storage space, then you can make a small custom cabinet to use the available space. There are endless ideas to use the space, including this one that turned it into a dog's house.
23. Ultra Elegant And Technologic Staircase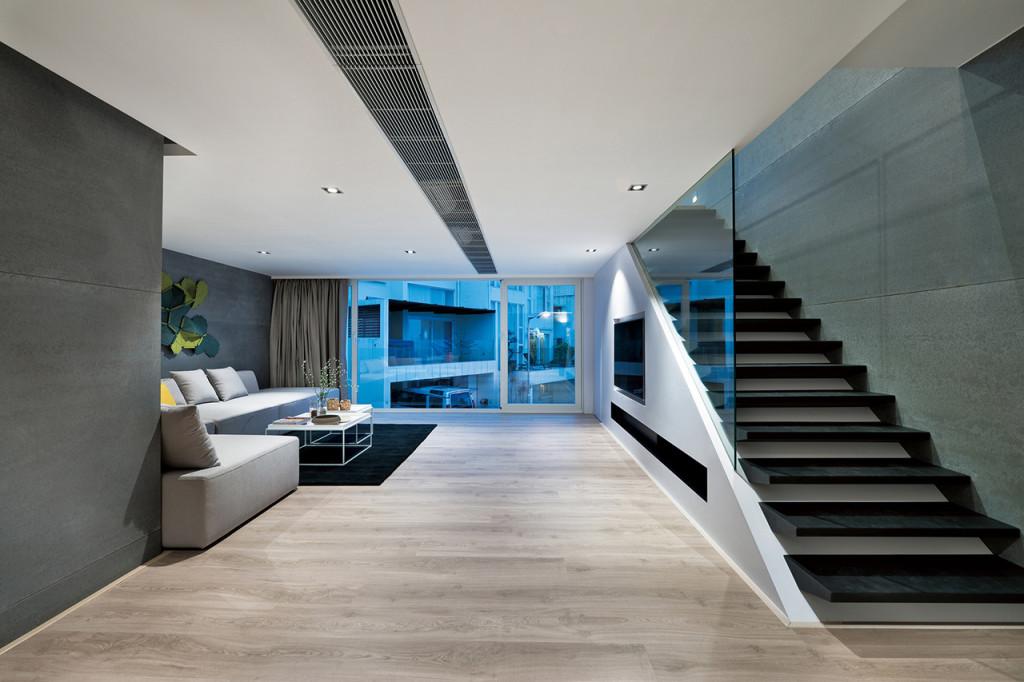 The stairway corridor is essential for day to day, it must be adjusted and integrated to the house's design to contribute as an original element to the environment, while keeping functionality to go up and down from one plant to another in the house. And what is more functional than turning the empty space under the staircase into an entertainment center with a hi tech TV, speakers and more? The perfect way to seize the space.
24. A Minimalist And Serious Staircase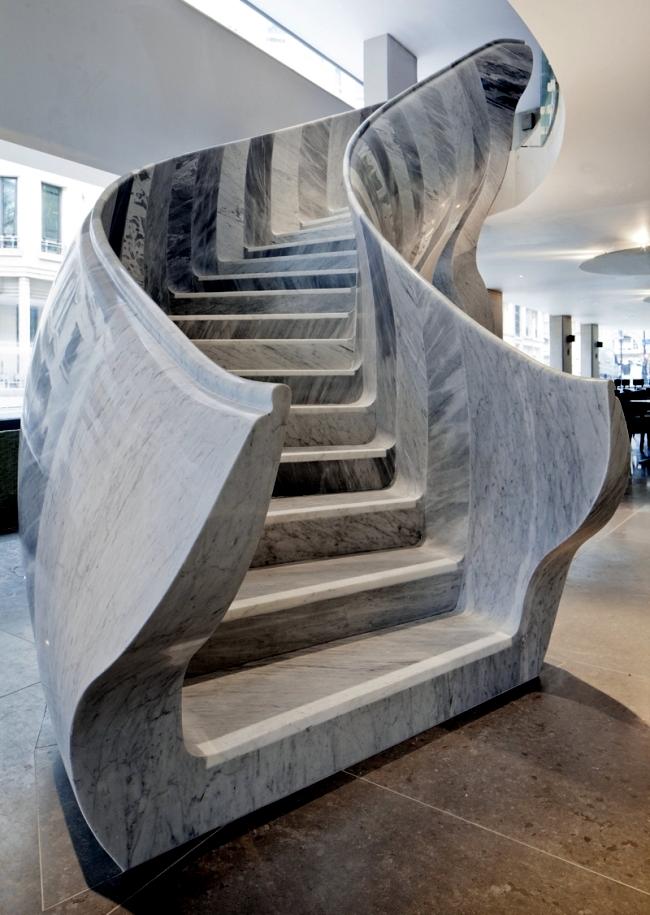 Although it may seem that the staircase is not very important at the time of design of a home, it is not entirely true, since to find the design of appropriate stairs can bring an extra plus to that area. Most of the times we go for the classic forms but we can always give a twist and create authentic wonders that can surprise both for their beauty and for their originality.
25. A Wood Staircase That Imitates Flower Petals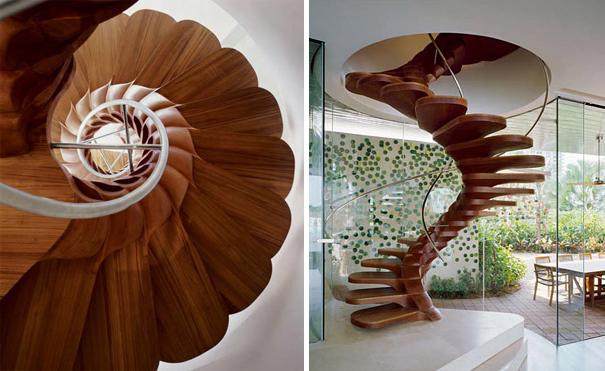 The stairs as an important fixed point in any construction and connector of the different floors, become protagonists and a fundamental part of the design when their image, design and style are impressive. This staircase is certainly impressive, with the flower petals aspect and the metal rails.
26. The Most Stunning Way To Get To The Basement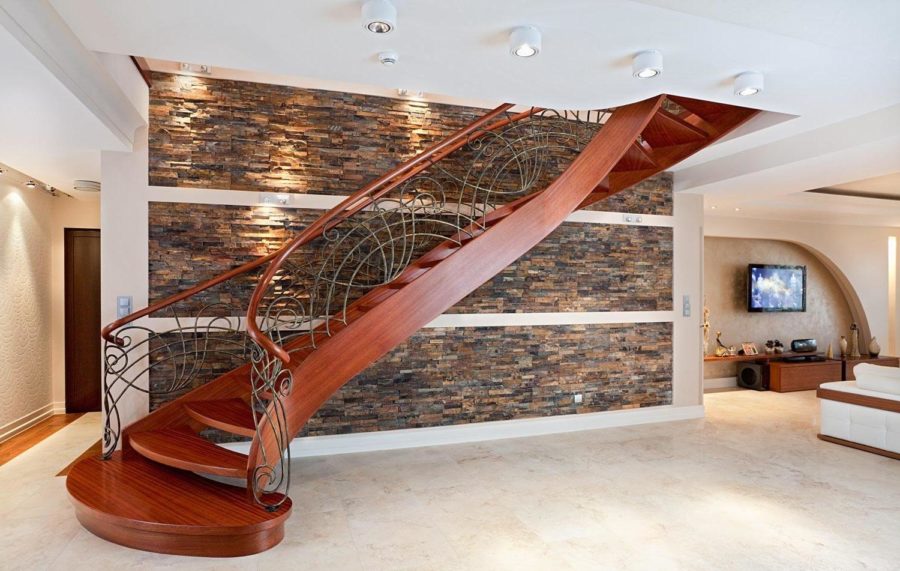 When you are searching for something that will impact your spaces, it is time to focus on the staircase. A unique and striking handrail, can add prominence, personality and above all originality to the interior of your home. This home makes a statement with this staircase that goes to the basement, combining wood and iron.
27. A Cheap Way To Enhance Your Staircase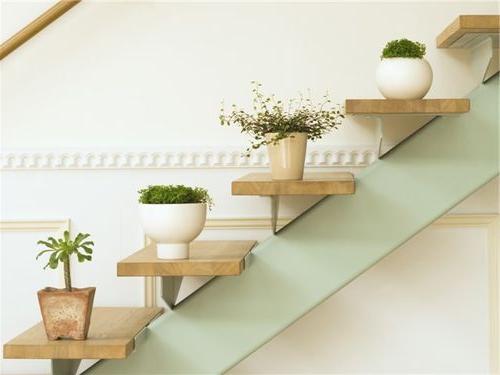 You can feel free to take your creative skills to the fullest by adding asthetic details, such as photographs or paintings. That will add a nice detail for a tiny percentage of the budget.
28. Entrance Staircase Enhanced For Storage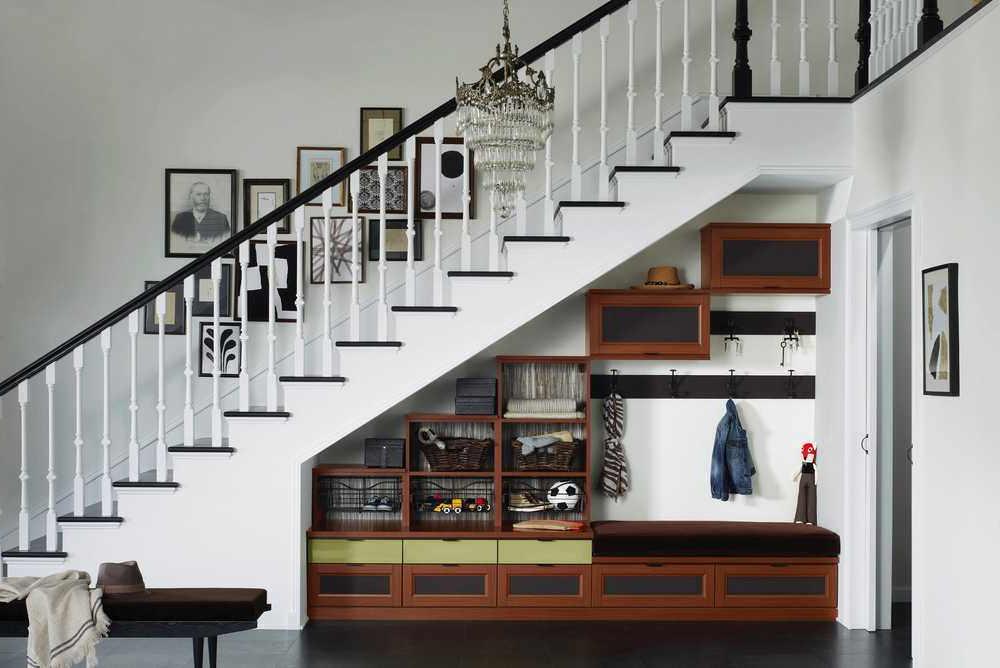 Before you fall in love with one, think about how you will use it: how many people will live in the home? What areas of the house will the staircase lead to? Will it have a lot or little traffic? Do you have small children, or do you have older adults in the family. These are all questions you should ask yourself before designing the stairs of your next home. In addition to the aesthetic, you will have to take safety and functionality into account. Like this very functional staircase, perfect to leave shoes and jackets.
29. Big Staircase Made With Laminated Flooring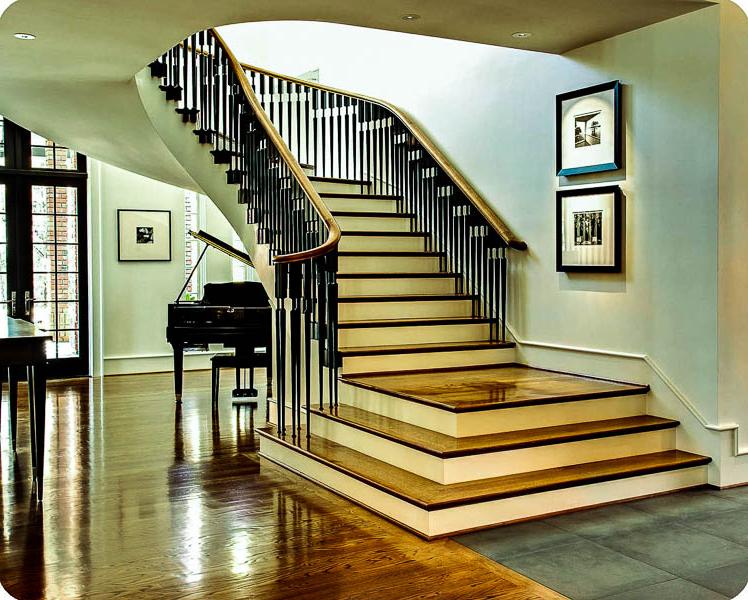 The interior stairs are important pieces of interior decoration Although it seems simple, for the realization of the interior stairs of the house we must pay close attention, as they will help us to pass daily between the living room and the second floor room. This staircase was designed to match perfectly with the overall concept. That is why it uses laminated wood to maintain the same style.
30. Under Staircase Bathroom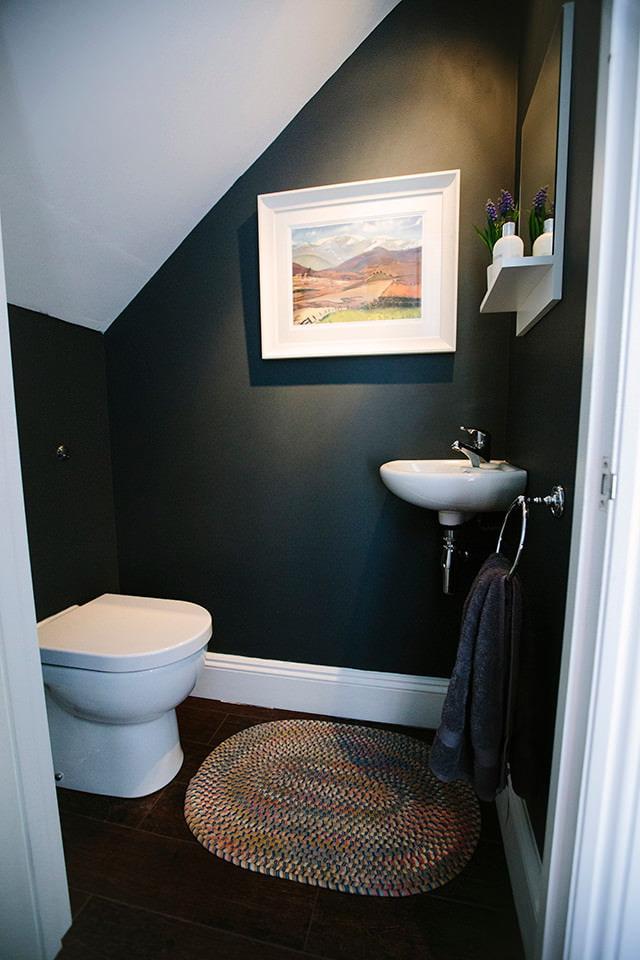 There is nothing good and original if you cannot implement your own ideas in design. If the storage of your house is not enough, you can choose from those that are designed to provide additional space for books, boxes or other items. Or you can think even more out of the box and make a half bathroom under the staircase.
31. Industrial Floating Design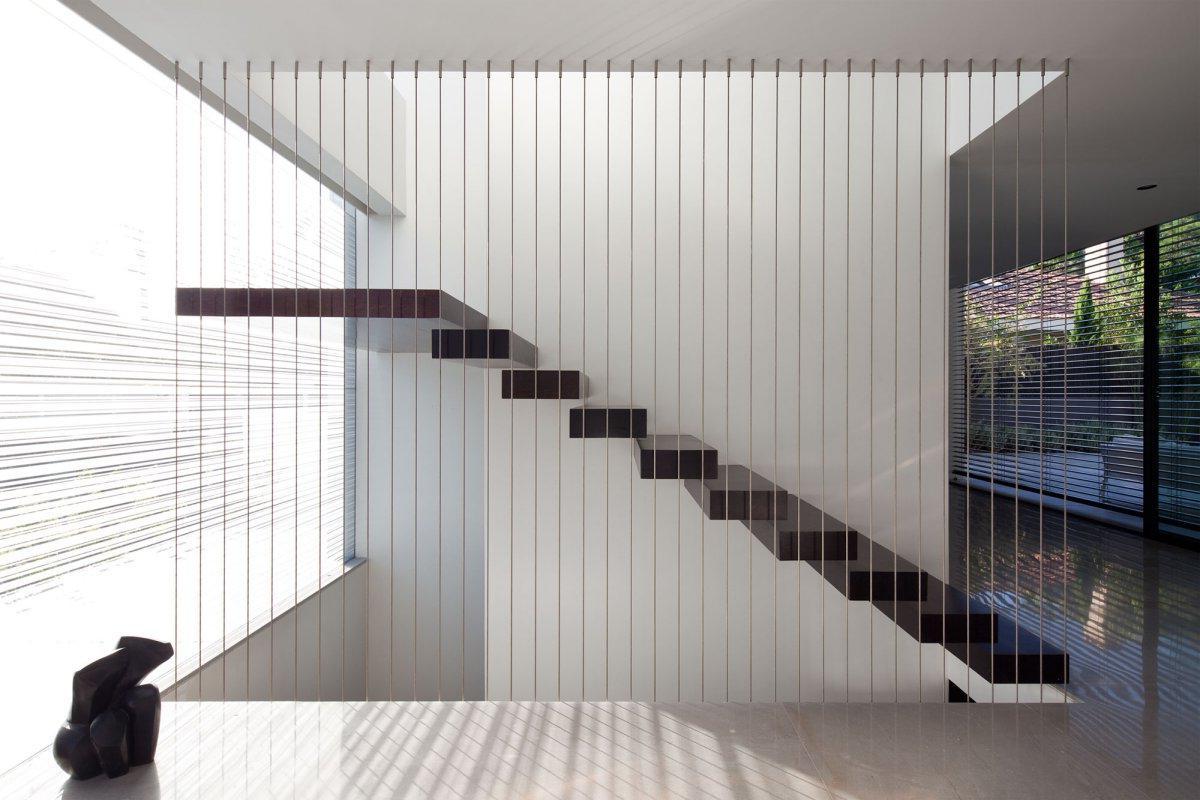 When it comes to a house or an apartment with two floors or more floors, there is always the need to look for ideas for an internal staircase. Break with your ideals and open to non-standard stair models for home and building like this very interesting industrial design that adds elegance to the concept.
32. Amazing Big Staircase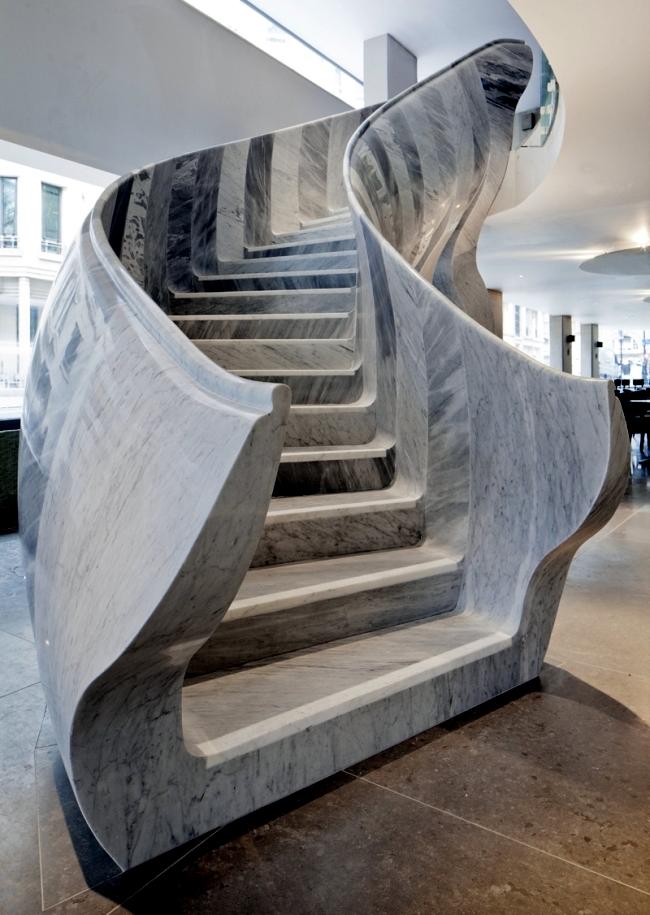 It is clear that you will have your own preferences and that there will be materials that you like more than others. You also know that a "perfect" staircase will give your house a unique and original personality. In fact, for many architects, stair designs for home interiors are the best opportunity to test themselves and show their creativity. You can see the magnificent design that took place in this room, for example.
33. Antique Design Completely Made In Wood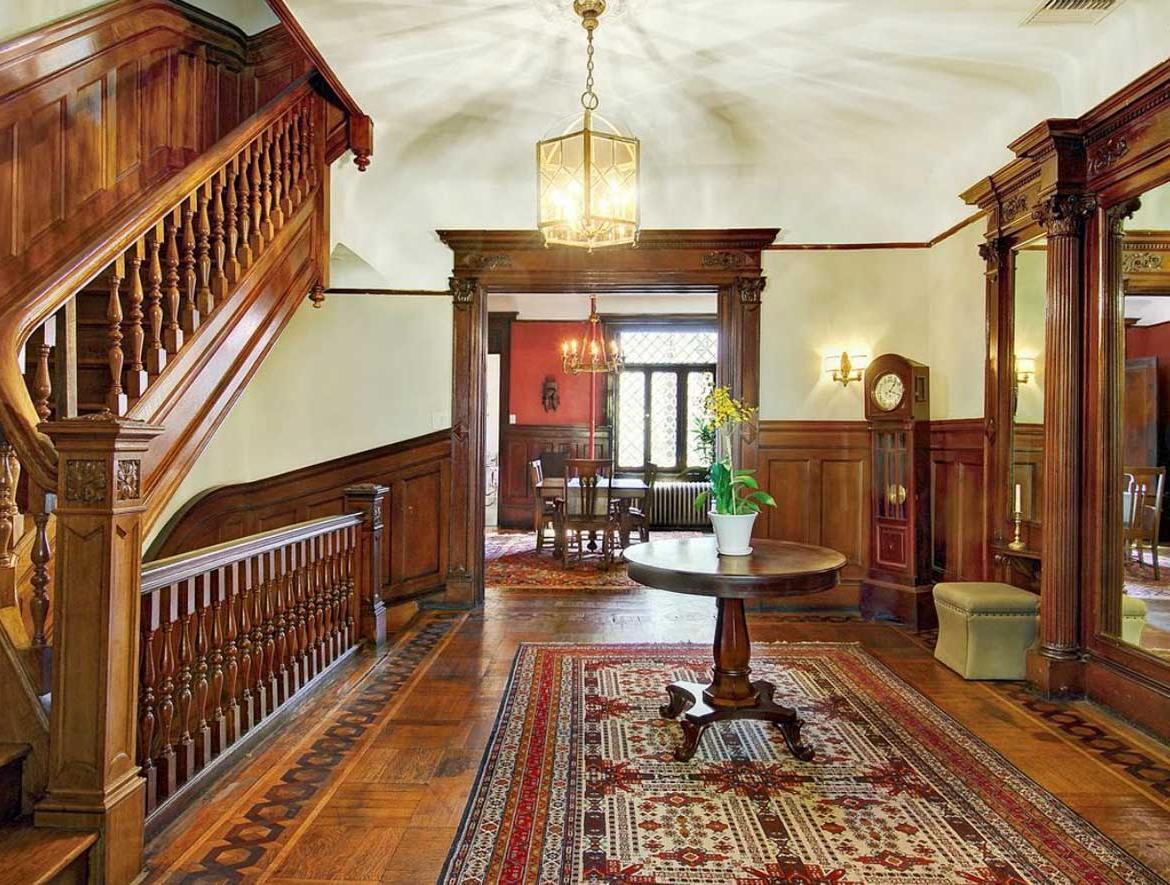 The stairs were formerly a sign of the social and economic status of a family. At present they have gone from being understood as secondary to an aesthetic and technical role and are a reference in the space to help and complete the total understanding of a work. Nevertheless, people still try to give them a sense of style and elegance, like here, where the style denotates distinction.
34. A Staircase Turned Into An Elegant Fireplace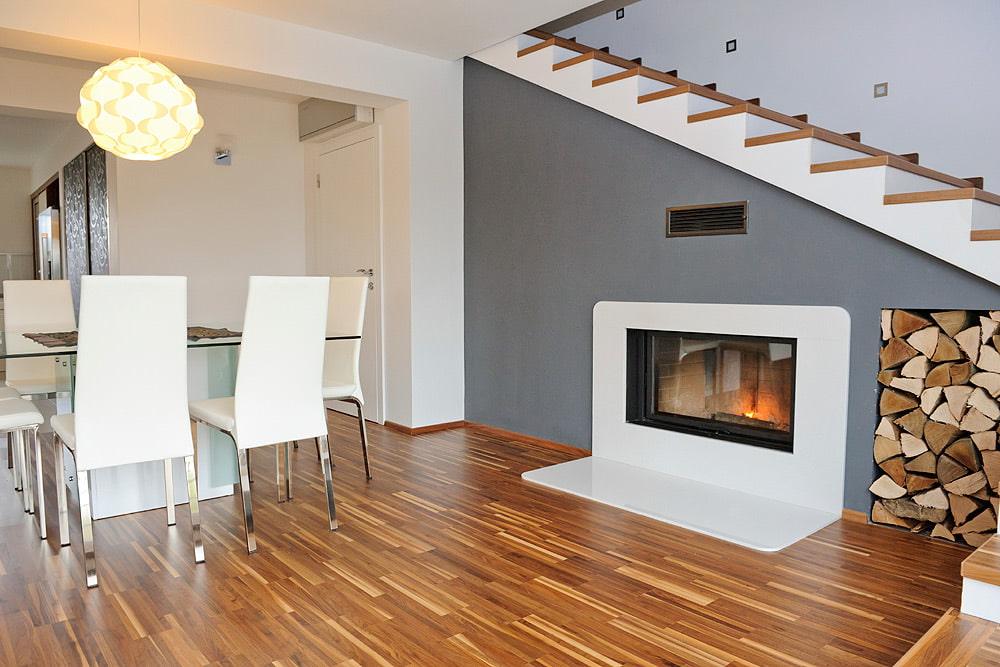 From the shape and design, you can decide on how you want your staircase to turn into the accessory with character that you needed. Obviously the model will depend a lot on space, and the location. In this case, the staircase was taken advantage of by placing a fireplace on it.
35. A Cool, Colorful, Modern, Fun Design For A Home Staircase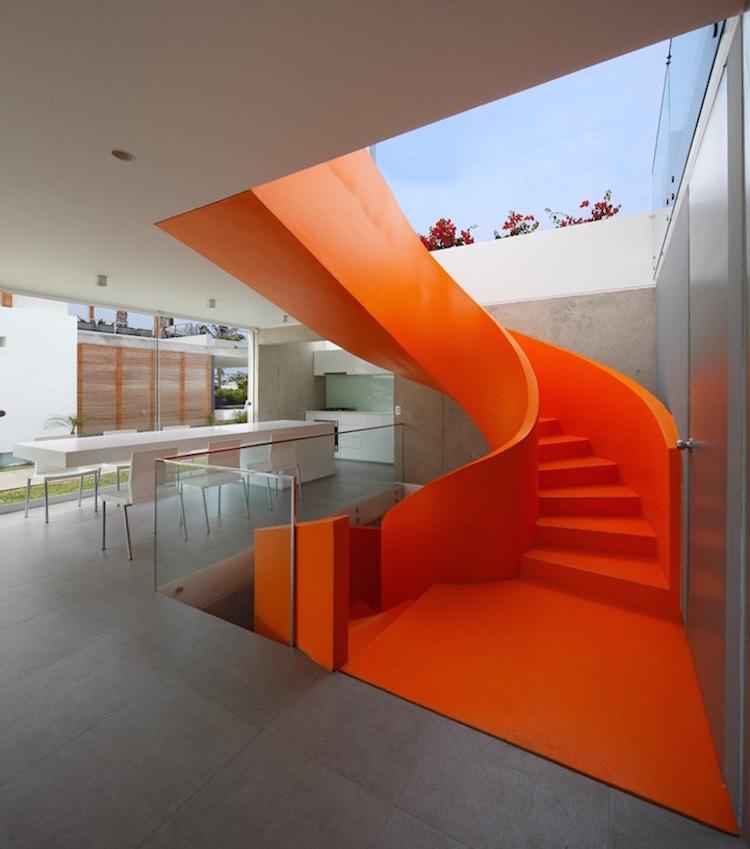 It is very common that the stairs, are only a neutral element in the rooms that often go unnoticed, but if you want to have one that really attracts attention, then go for a lot of color like this one, that with the bright orange breaks the seriousness of the room's design.
36. Modernism And Elegance In One Design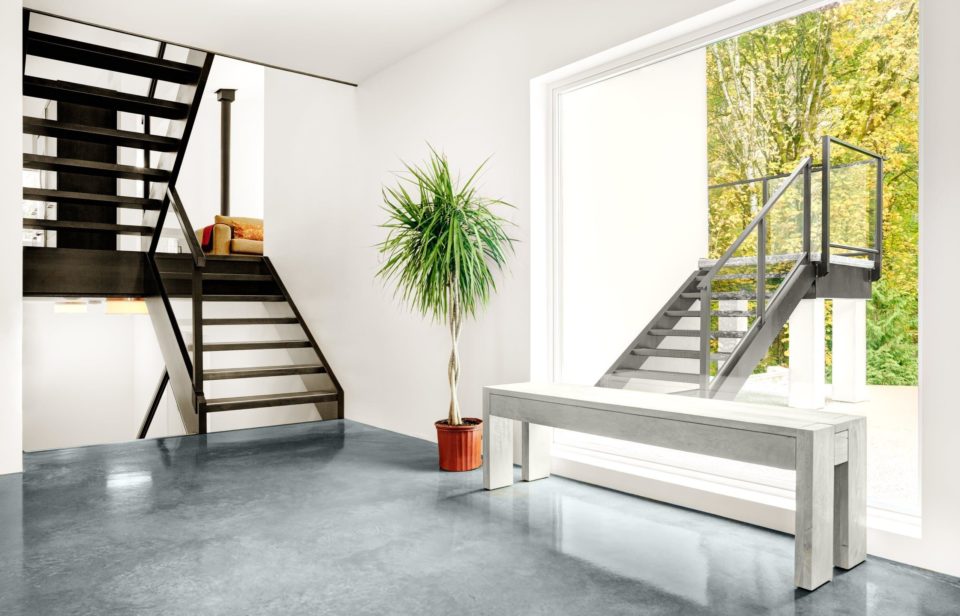 We do not usually think of stairs as a decorative part of the interior of the house, we simply see them as those structures that fulfill their function of allowing us to go up and down from one level to another. We cannot be more wrong! The stairs can become the strong point of the project when we design the interior of our house. Like in this house that features internal and external staircases that with the colors and designs integrates perfectly to the room.
37. A Staircase With A Garden Underneath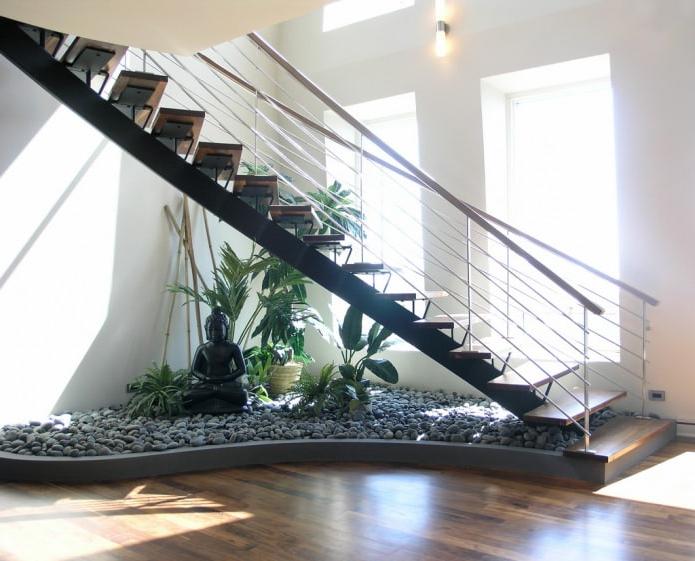 They are not just a place of passage or a more or less effective solution to solve a height. The stairs of our house say much more than we imagine. From the majestic ones we find in palaces to the most inviting idyllic retreats in the countryside, they are more than a simple succession of steps. What about creating a Zen garden under your staircase?
38. A Vintage Wooden Stair For People Who Love Wood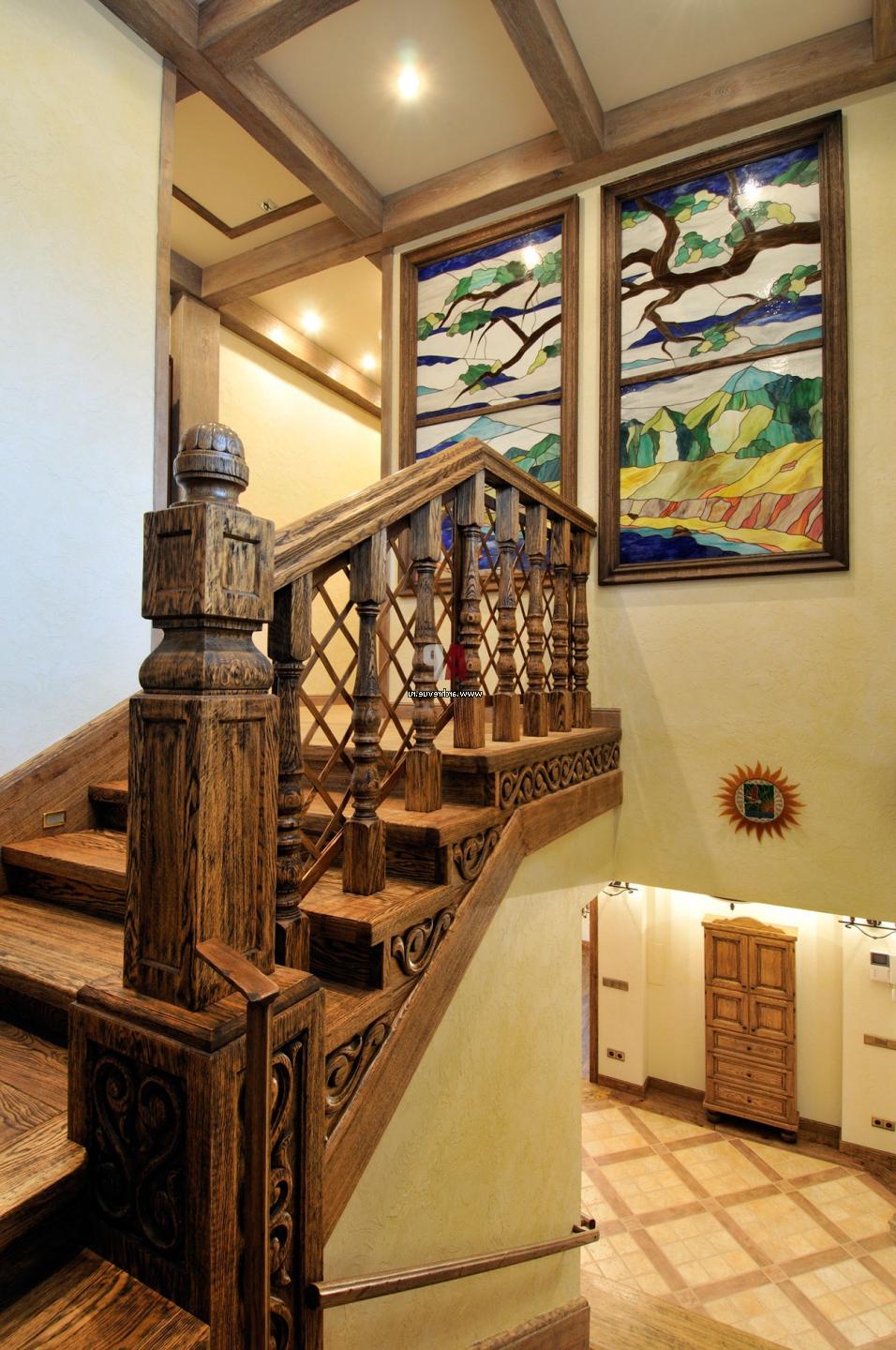 The stairs are an area of constant use where the security of those who transit it must prevail. That's why the handrail is very important. When you design your staircase, think about this element and give it the prominence it deserves. This staircase features a very safe and strong handrail to avoid accidents.
39. A Wide And Bright Staircase Turned Into A Lounge Area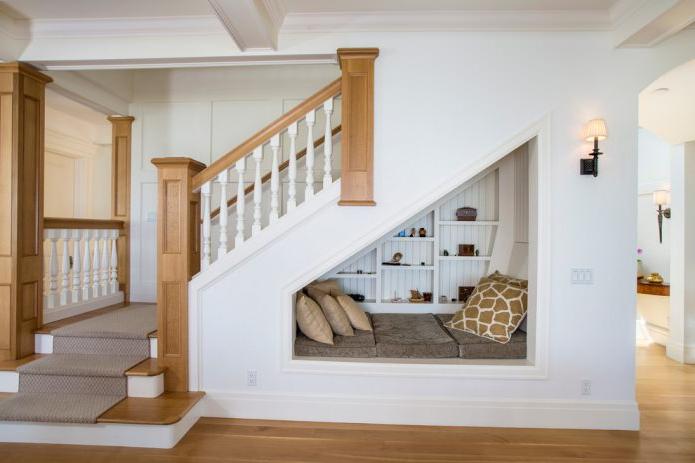 The staircase of the house can be an unnoticed or a protagonic element, of great importance within the home, it is one of the spaces of transition but that can be a zone of admiration and stay depending on the case. In this case it will surely be like that, because the under staircase area was turned into this amazing lounge, ideal for parties and reunions, of for the children to play.
40. Luxurious, Modern and Sculptural Wooden Staircase Design
As we can see, the striking point of this room is the staircase. This element has a bold and innovative design in wood, which makes it striking and different. If you want to recreate a modern and contemporary style in your home, look for ideas like this to have creative panels.
There is no simpler and functional construction than the staircase, there is no certainty of the specific moment in which it was created, however, its use is known from the very first days of architecture itself. Throughout history it has been used for survival, for religious purposes, in scientific experiments and for mobility.
In each moment this structure has evolved according to the time and the trend that marked it, at the moment the stairs have a great variety of styles, designs and materials, in other words, no matter which concept is handled without doubt there is a ladder for each case.
Scholars say that a staircase is nothing more than a "set of steps that link two planes at a different level in a construction". However, its importance transcends its mere role as an element of connection. Considering that they are one of the oldest architectural elements known in the construction universe, the stairs have evolved into pieces with their own entity.
Beyond its unquestionable functionality, its prominence has gained positions over time resulting in designs that are not only attractive aesthetically, but are capable of offering ingenious solutions to enhance the practical dimension of the spaces in which locate.
Find the best staircase for you!