Steel entrance doors have been around for a very long time but often times in the form of huge, chunky solid doors that practically need a team of people to open them. Luckily, years and many innovations later, steel doors have been transformed into thin, lightweight fixtures that can be opened easily without a reduction in their strength and safety.
Steel is the ideal material (specially treated steel more specifically) for an exterior door because it is weatherproof and incredibly durable, which reduces maintenance and household costs dramatically. This material is also inherently strong so you are guaranteed a front door that will keep you and your safe. It can also be finished in many different ways using treatments, paint and embossing among others as well as being combined with other materials such as timber and glass to create a visually stunning entrance to your home.
28 Stunning and Strong Entrance Steel Doors

However the door itself doesn't always have to form the door leaf itself, sometimes it is used in the form of a screen or security door in front of your main door. This both adds another layer of security to your home and adds a permeable layer that provides you the opportunity to adorn the front of your home with a slim patterned latticework that makes your façade that little bit more interesting and detailed.
So if you want to try out an entrance door that is durable, safe and beautiful here are:
1. Tall Striped Entrance Door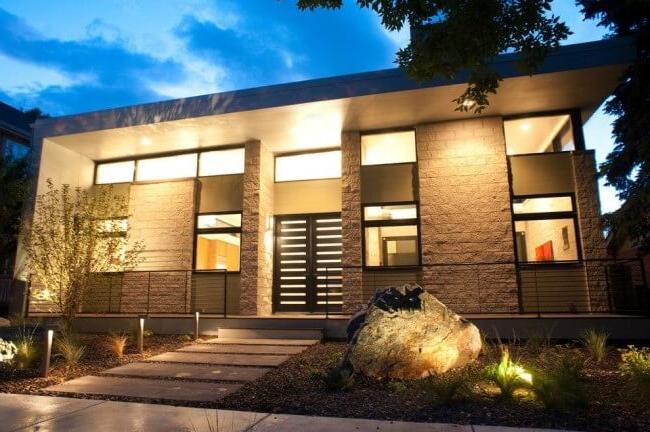 This modern home has a set of tall double leaved steel doors as their entrance. The thin black steel sheets are held within slim black frames that coordinate seamlessly with the black window frames. Thin slats have been cut out of the leaves and filled with glass that creates a strong graphic design but also allows you to see who is at the door before you open it.
2. Delicate Steel Latticework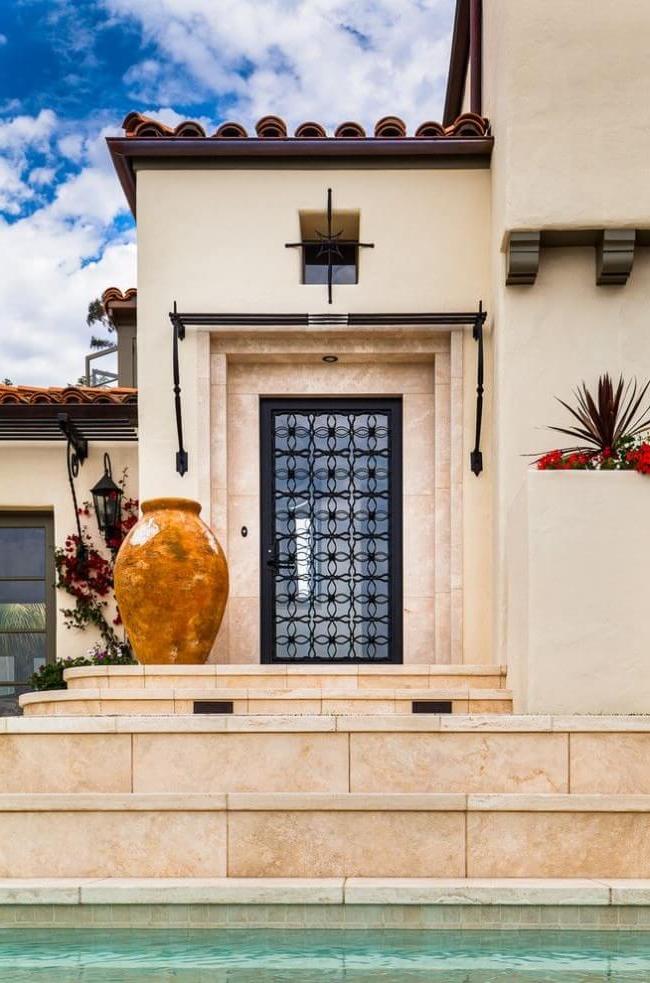 At the peak of this wide marble staircase that leads up from the pool is a gorgeous steel door that shows off how intricate and detailed steel can be. The thick steel frame holds a full sized glass panel that is covered in a geometric patterned steel panel that creates a stunning piece of decorative texture to the back yard to this Tuscan house.
3. Slim Line Steel Entrance Door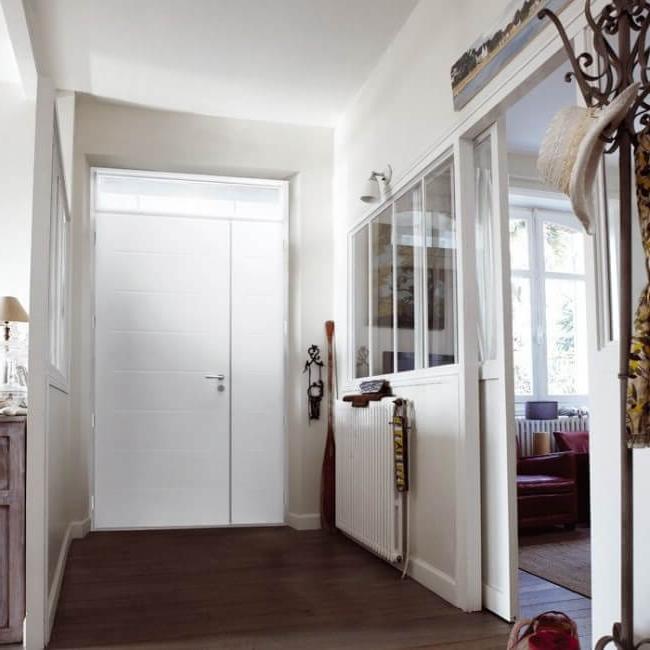 This wide entrance door consists of three sections; the main door, an opaque sidelight and a glass top light window that lights the hallway. The main door leaf consists of thin panels of white steel sheets in horizontal panels painted a bright white, a treatment that is repeated in the sidelight. This large entrance contrasts against the dark wooden flooring in a very contemporary way so it is aesthetically pleasing and highly functional at the same time.
4. Decorative Steel Paneled Door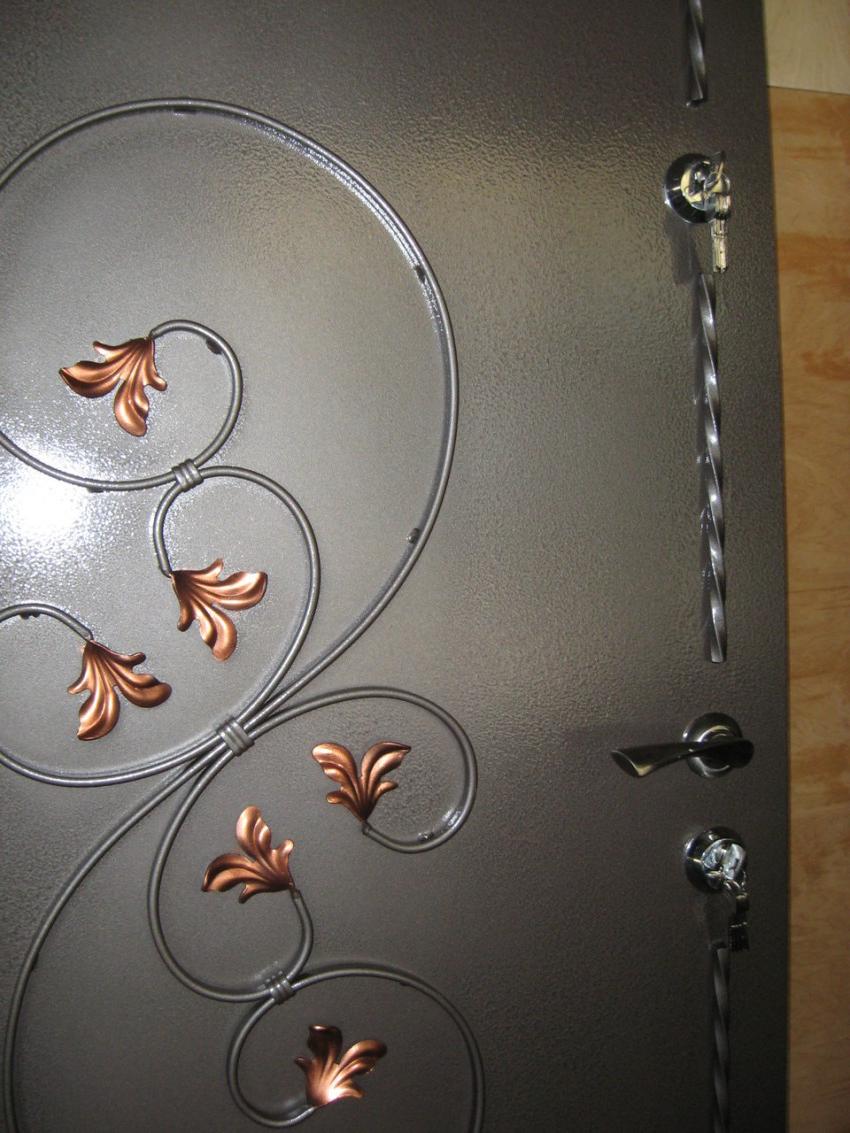 A steel paneled door can be as simple as this mottled grey base or adorned with little details that are welded to the frame to make it more special. The details here consist of twisted rods running between the locks and the handle with curlicues of thin metal rods twisted across the surface decorated by coppery leaves at the end of every curl. This combination is simply beautiful and invites your guests into your home in an elegant way.
5. Modern Embossed Entrance Door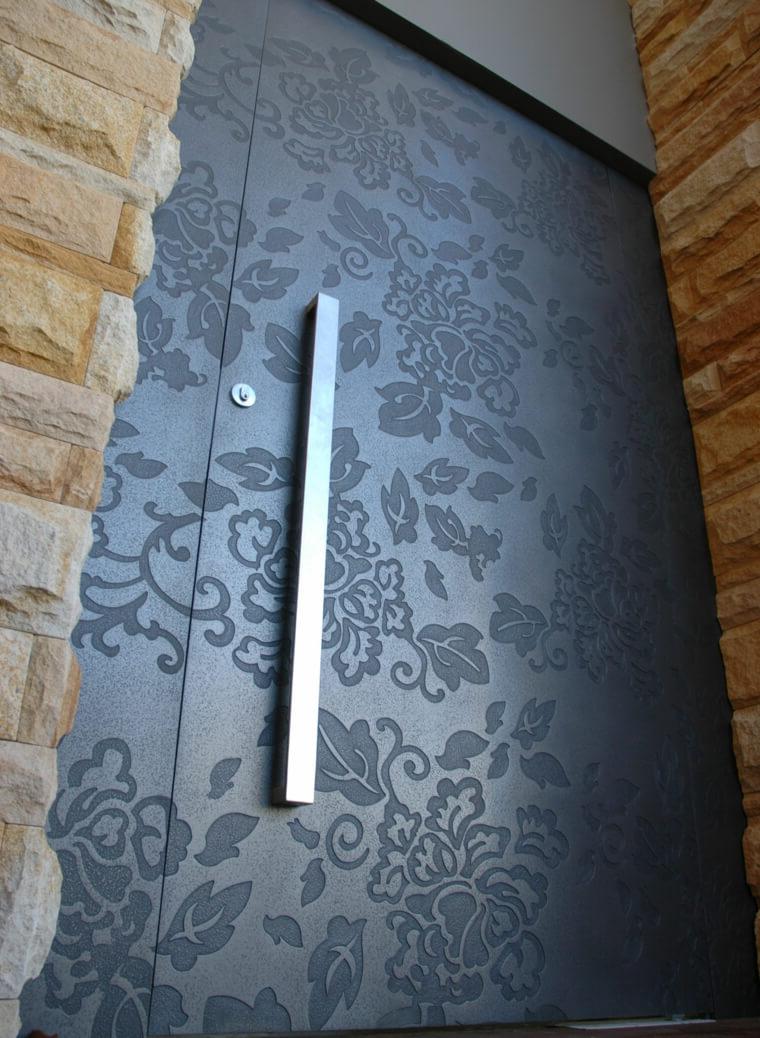 The large wide paneled door at this entrance of this home has a long thin stainless steel handle that runs vertically down the majority of the door and a solid sidelight that makes the door wider and more imposing. What makes this design special is the subtle embossed in a flocked pattern that runs across the door and the opaque sidelight. This delicate pattern is contrasted beside the stone-faced house walls in a stunning juxtaposition.
6. Hammered Copper Toned Steel Door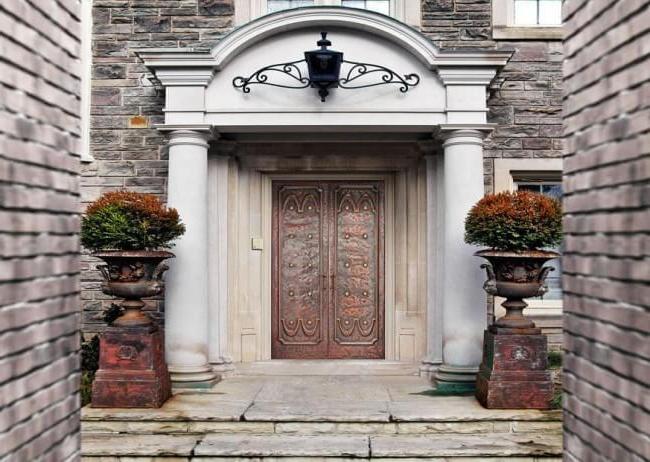 Nestled under a little portico and flanked by two ornamental vases is this gorgeous little double leaved door that welcomes you into this mysterious stone home. Each leaf is narrow and made of steel treated to look coppery and old. On top of the colour they have also been hammered and shaped into some symmetrical patterning with a hammered surface finish.
7. Modern Glass and Steel Entrance Door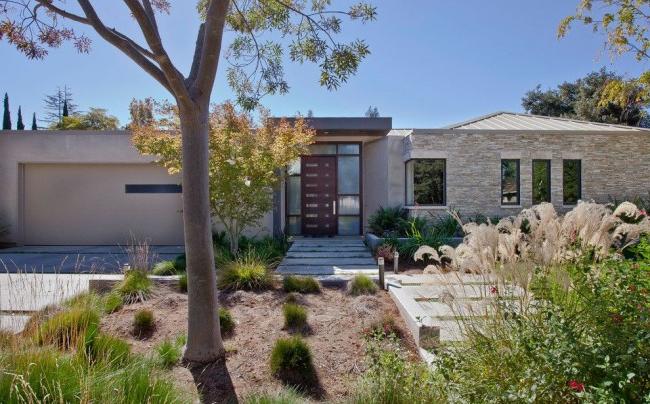 In this quiet suburban location an uneven concrete paver path leads you to the covered entranceway hidden between stone faced walls. The leaf of the door is steel that has been painted a deep brown shade. The simple form has been livened up with a row of little windows in both little circles and horizontal stripes. The whole door is surrounded by windows that run all the way around it in uneven rectangles in frames of the same steel.
8. Rustic Metal Latticework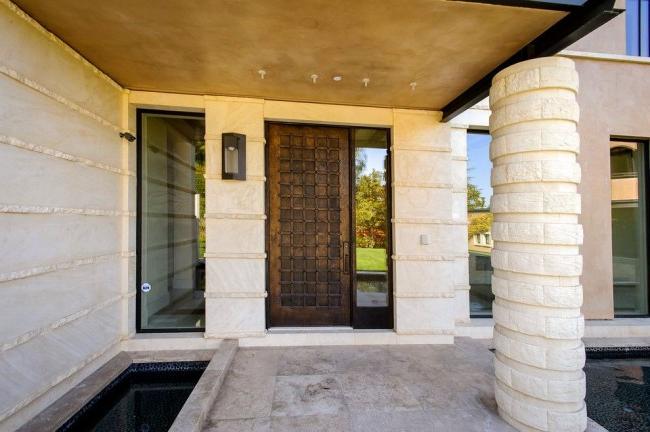 This beautiful metal single leaved door sits underneath a heavy portico with a glass sidelight and ponds running on either side. As if this intriguing approach wasn't enough, the door has been treated to look old and weathered with a welded metal crosshatch sitting inside with a plain frame. This design suits the almost fortress style entrance way created by the stone faced façade and column that makes arriving at this house an event.
9. Futuristic Stainless Steel Front Door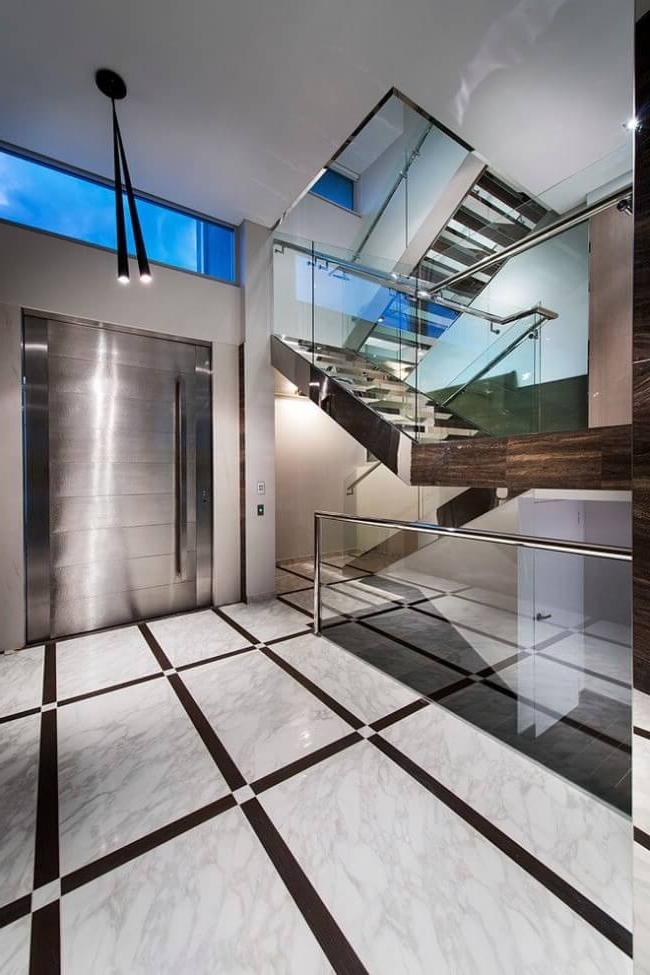 Within this incredible futuristic home this weatherproof and durable door is solely created using stainless steel horizontal panels held in a continuous stainless steel frame. The blue tinted top light above it adds a layer of futuristic style from both outside and in. Inside the house the shining steel reflects the graphic floor, metal staircase and glass balustrades that help to add to the futuristic design.
10. Rustic Pivot Steel Door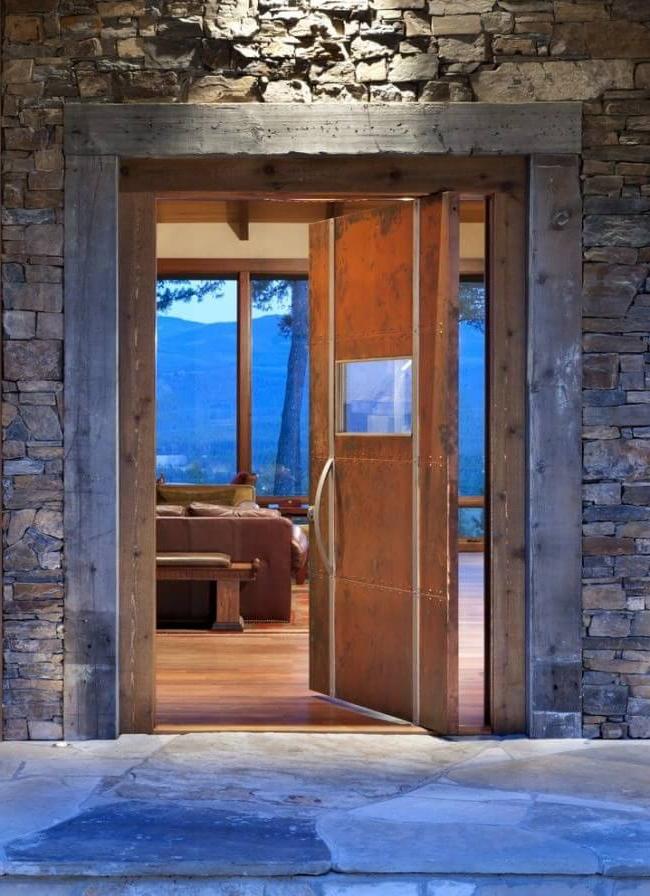 This rugged home is a rustic space that relies on the natural texture of materials to construct this collage of textures. The stone wall encircles a thick timber frame and lintel over the door that contains the beautiful pivot door. The surface finish has a brushed and weathered effect with two polished steel stripes running down the front detailed with a curving handle and little window so you can see who is at your door.
11. Amazingly Thin Geometric Steel Door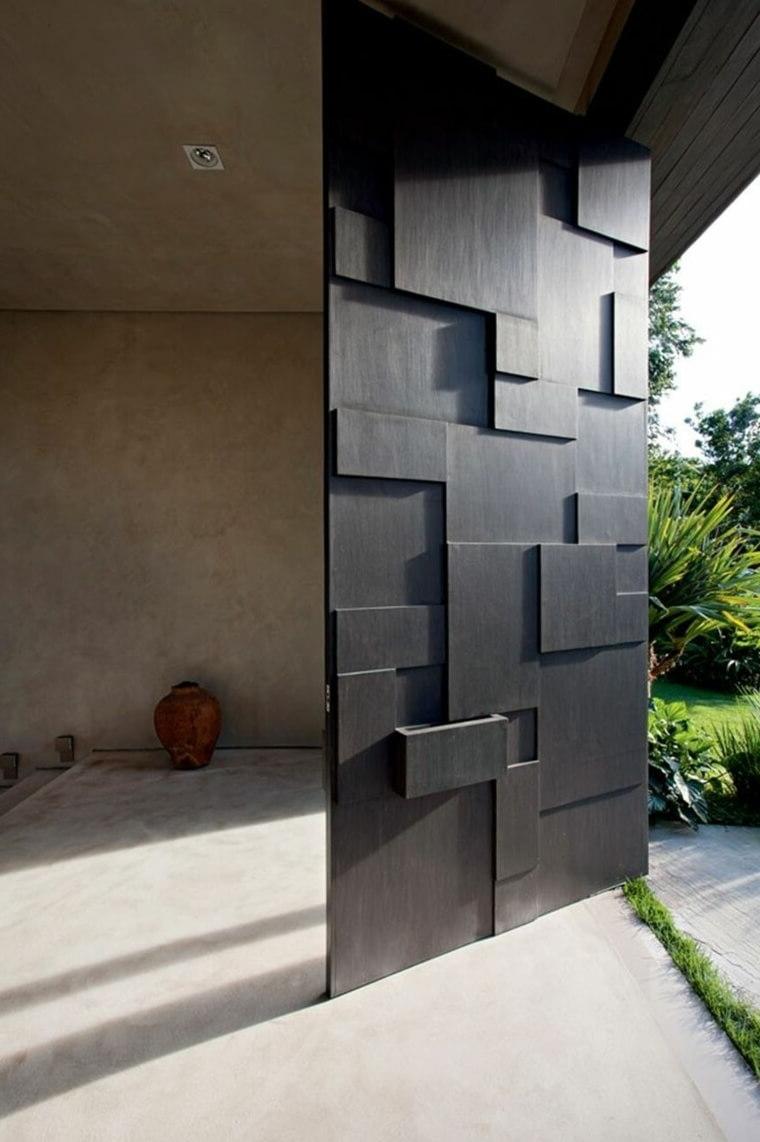 A sculptural masterpiece, this thin steel pivot door is wide but weighs almost nothing due to the lightness of the material. The distinctive layers of this gorgeous design are of made up of different rectangles in a variety of sizes that push in and out at irregular intervals to create this thin sculptural door with no visible lock on the outside.
12. Intricate Steel Door Screen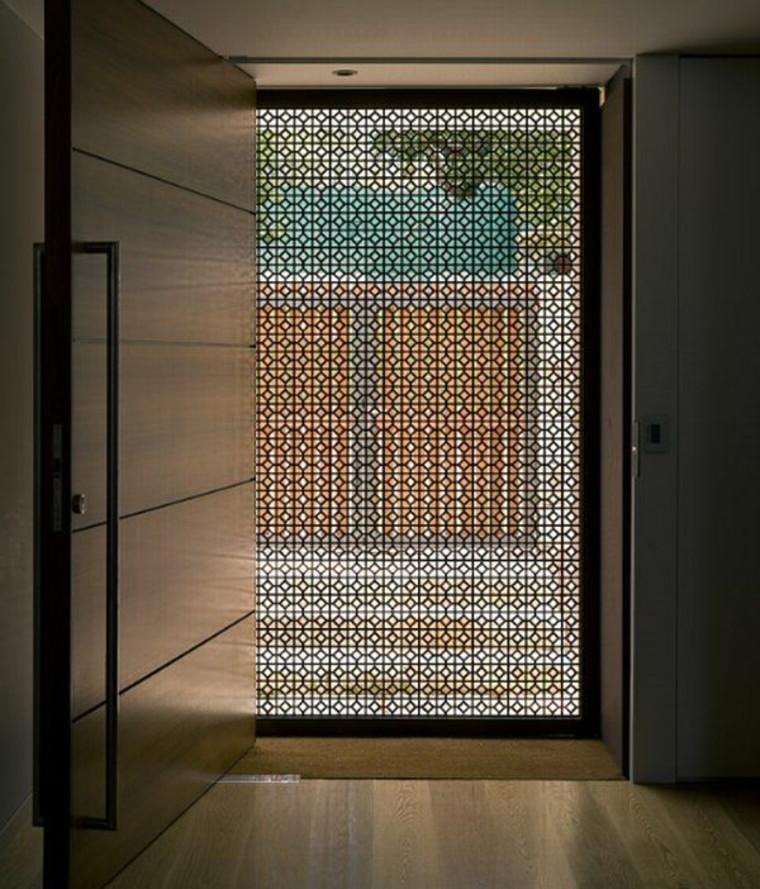 Like we mentioned in the introduction, steel can also be used to create screens that work alongside the door itself. A thin frame holds a steel latticework of geometric shapes that are repeated over and over in this super fine screen that adds an additional layer of texture and interest to the facade. Here this has been used to create a visual barrier between the inside and outside so you can leave the timber door ajar and get some fresh air without strangers getting a look inside.
13. Art Deco Steel Security Gate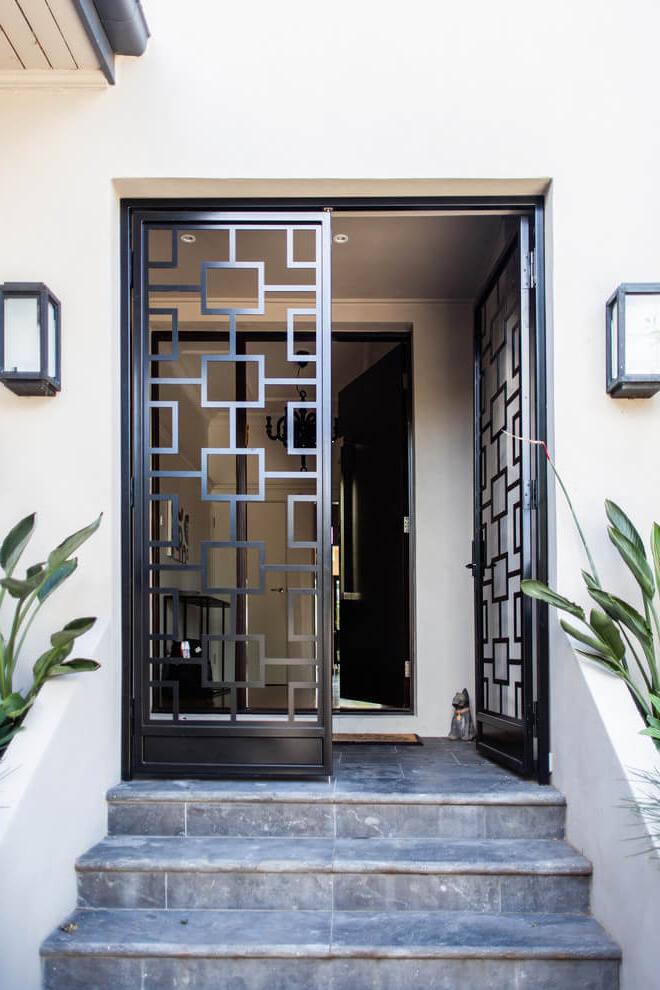 Security gates are sometimes needed but they aren't that great to look at. This example however shows how safety elements can be beautiful at the same time. At the top of grey stone steps the security gate is fitted between the stairs and the large timber front door, creating a porch area between the front door and the street. The gate has two panels with the left staying fixed while the right swings open. The permeable screen is in an art deco style black steel pattern that introduces your home in style.
14. Horizontal Steel Paneled Door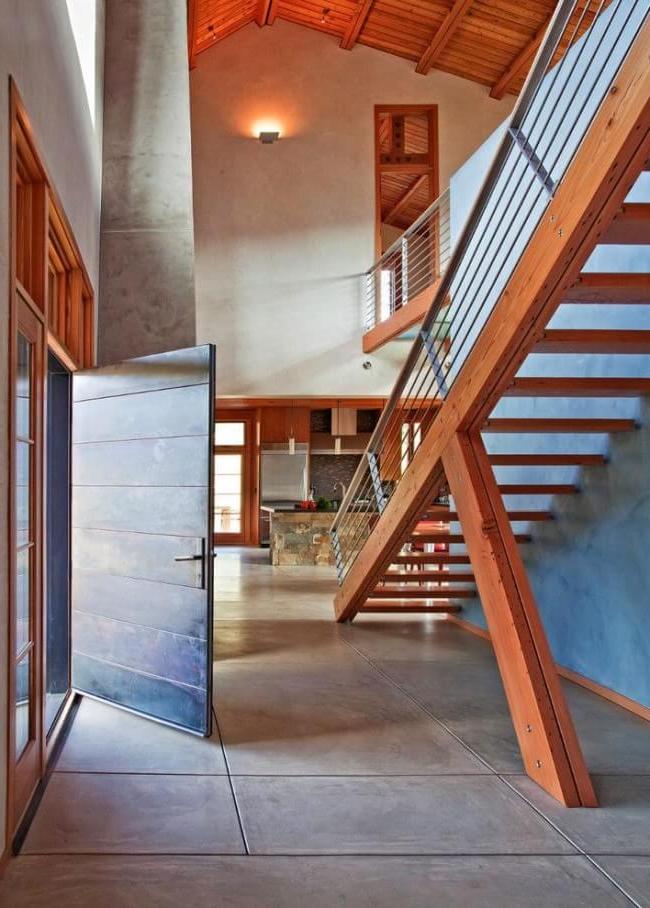 In this carefully designed contemporary home has a large front door surrounded by windows in a warm timber frame that is repeated in the staircase and exposed beams above. The door itself is a slim element sitting in the thick timber frame made up of thick horizontal treated panels that are made to look weathered with a matching handle. The collaboration between the treated steel, timber and polished concrete comes together to form this kaleidoscope of textures.
15. Steel Entrance Door with Frosted Sidelights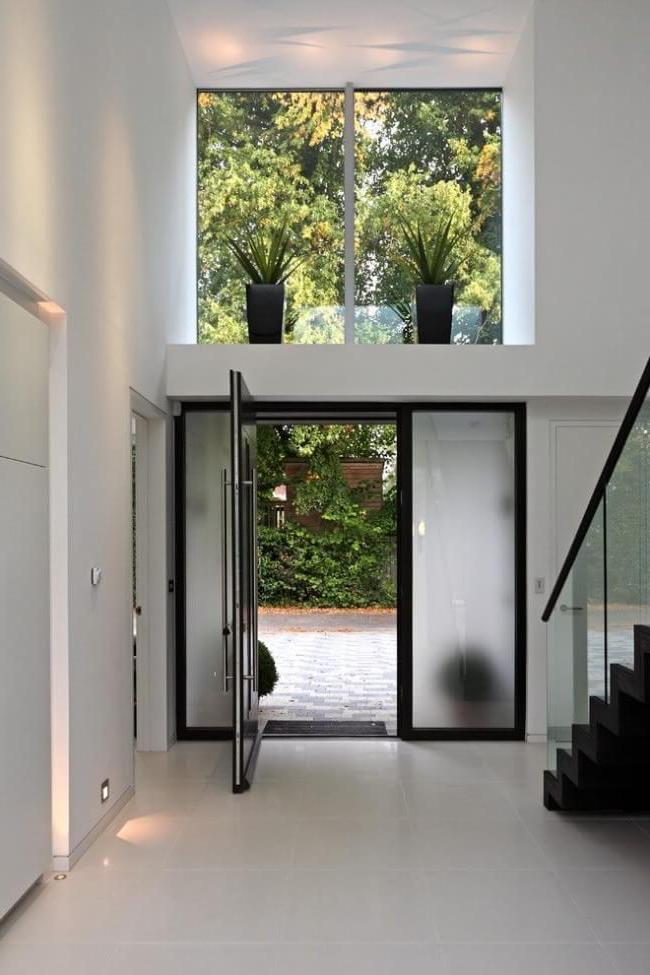 This stunning double volume space is entered through a thin leaf of paneled steel that is super slim and lightweight accented with a long vertical handle that is chic and modern. The design incorporates two sidelights with a tall window above it that makes the entrance wider and more dramatic. The structure is framed by a black steel frame that is the same material as the door in an extruded form that makes it feel cohesive.
16. Square Windowed Sheet Steel Door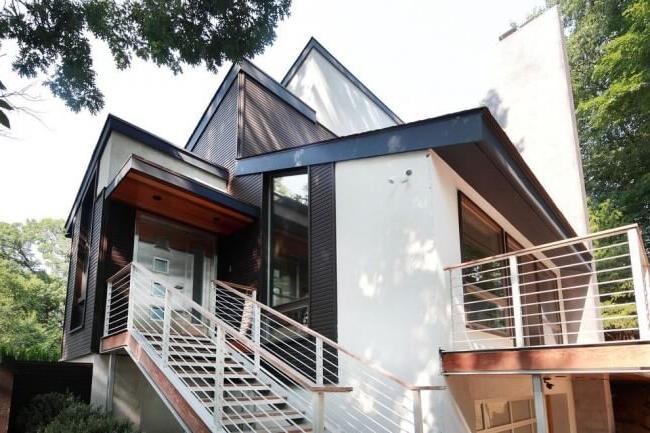 At the top of an elegant staircase that leads up the side of this jagged modern home is a beautifully simple steel entrance door. The sheet metal door has a matte treated finish in a single leaf to on fit the small porch. The door is decorated with a column of square windows in a white frame stacked on top of one another running down the centre of the door in keeping with the minimal geometric facade.
17. Red Modern Steel Door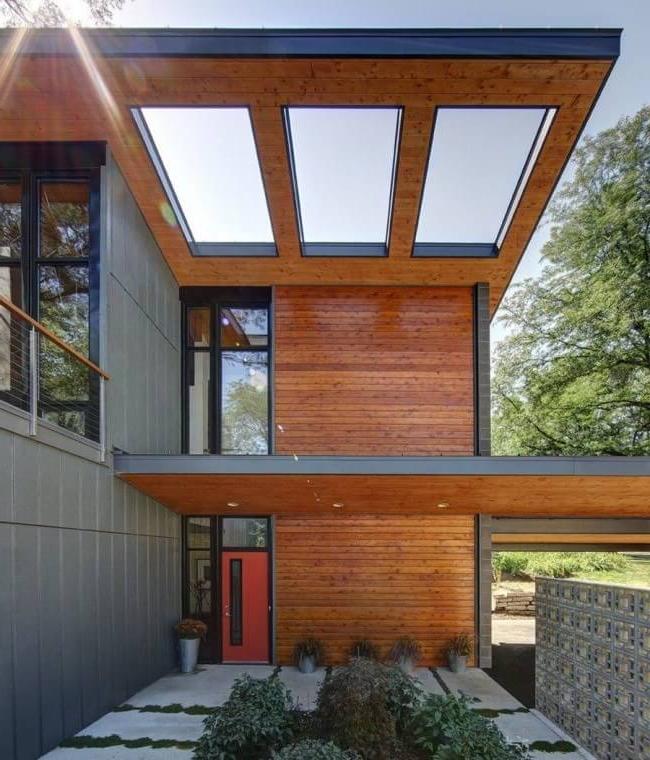 To enter this incredible modern wood paneled house you are lead down a huge concrete paver path, surrounded by ruffled Mondo grass to the bright red front door. The sheet metal is painted a bright crimson that stands out against its neutral setting with a thick black frame and a long thin vertical window running down beside handle. The entrance also features a glazed top light and sidelight that appears to continue through to the next floor separated by the massive cantilevered roof.
18. A Solid Door In a Glazed Wall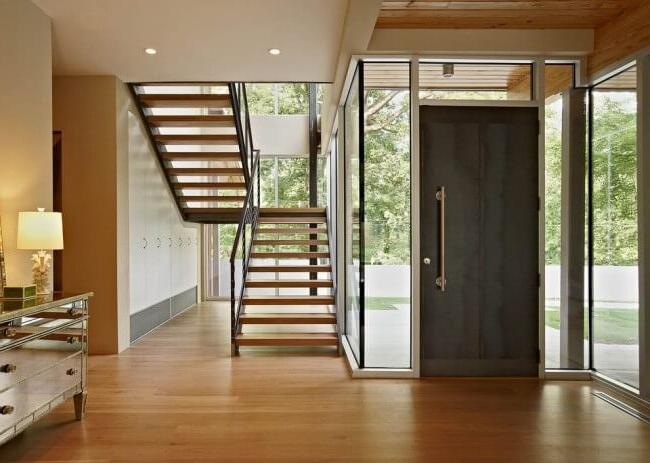 To completely flip an expected house design on its head, the main walls are entirely glass except for the solid sheet of steel that makes up the front door. The steel has been treated to look weathered and chemical stained with a long vertical silver handle that stands brightly against it. The frame of the floor to ceiling windows is stainless steel to add shine while also being durable and weatherproof.
19. Pattern Work Pivot Door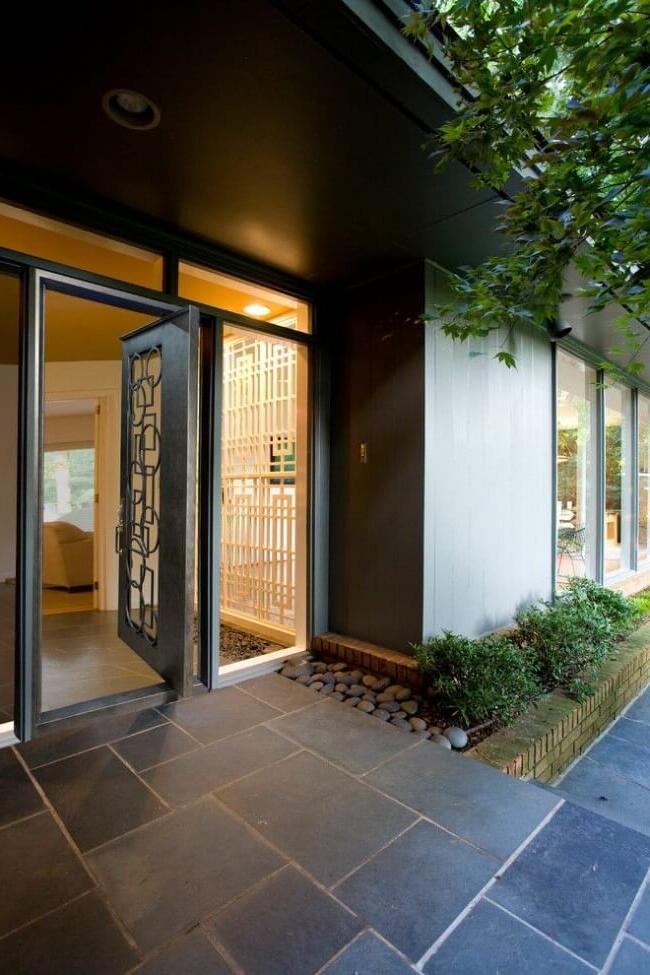 This huge home has a thick steel pivot door in an asymmetrical design with a glass panel in it so you can see who is at the door. The panel is covered over in an intricate weaving of steel rods that wind across it in modern chaos. The whole entrance design is held in a steel frame that runs around the glazed top light and sidelights to keep the façade cohesive. The door is on a stylish pivot hinge makes the door swing inside and out at the same time to add even more interest to this fascinating façade.
20. Steel Entrance Door with Sidelight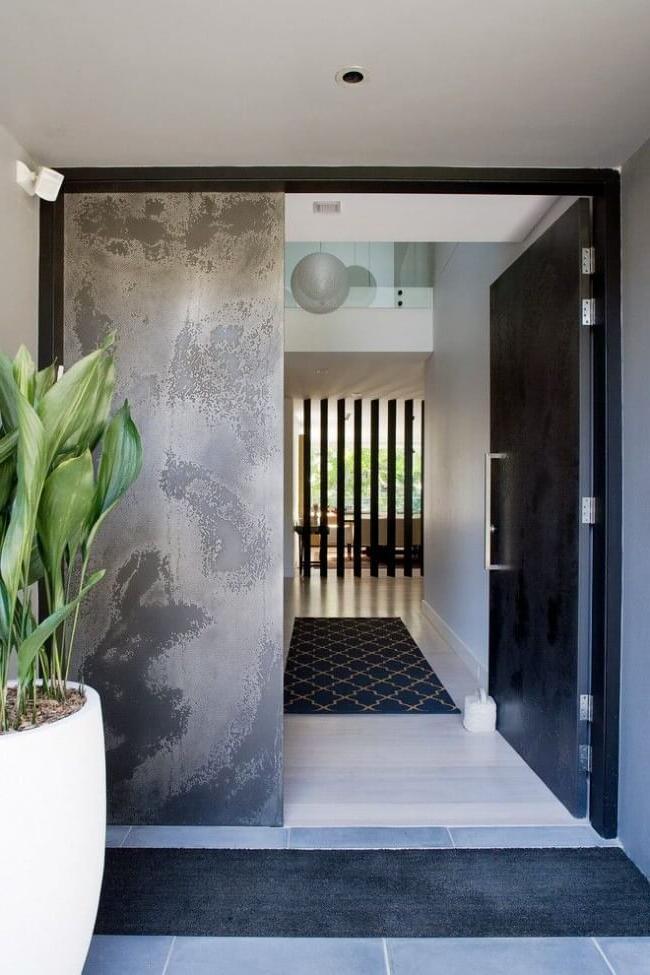 In this wide entranceway steel has been used in two shades and forms side by side that looks incredibly elegant and modern. The steel sidelight is formed from one sheet of steel that has been treated to look weathered and acid damaged. Beside it the black door is a hollow core design with two sides of black sheet metal with small vertical silver door handle. An inky black frame that fuses them together into one cohesive entrance outlines both sides.
21. High Shine Stainless Steel Entrance Door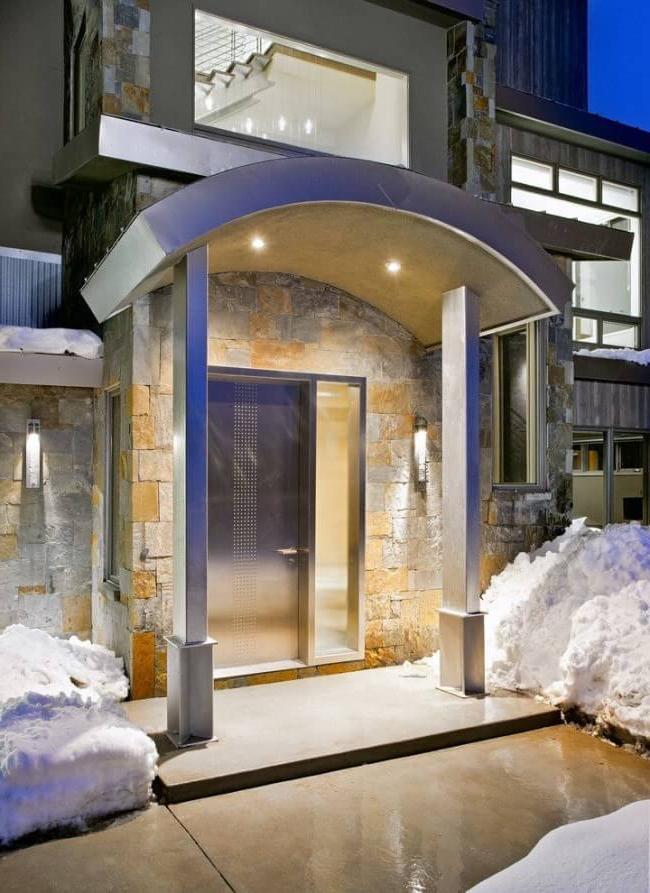 The futuristic metal door to this stone mansion is hidden beneath a dramatic porch with an arching silver roof over it held up by two rectangular silver columns. The actual door is a leaf in a high shine stainless steel finish with a dotted embossed stripe running down the centre of the door. Its accompanied by a thin frosted side light that shares the recessed silver frame around the whole doorway.
22. Weathered Modern Steel Door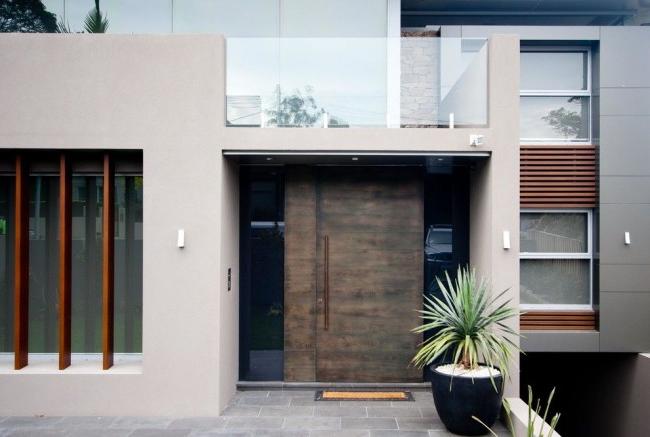 This blocky, minimalistic home features a noteworthy modern metal door in a matte treated finish that looks weathered like its been outdoors for years in contrast to its polished setting. The door is wide with a long thin vertical handle with a slim side light beside it in the same sheeting. This is flanked by onyx windows with one way glass that fits the design into place in this modern setting.
23. Industrial Swing Doors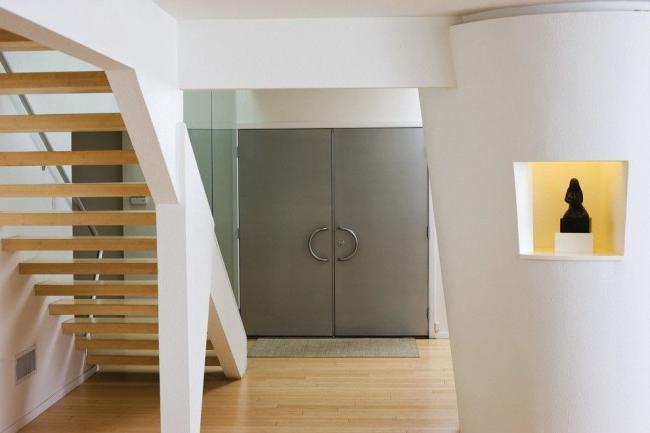 The steel doors to this modern home find themselves in a pristine white interior full of strange angles and a statement staircase. The double leaved doors leaves are made of simple dull silver sheet metal with arched tubular steel handles that open dramatically into your home. The industrial look clashes with the pale minimalism but manages to synchronize with it at the same time. The interesting interior and industrial doors makes it feel like a rich super heroes house.
24. Steel with Frosted Glass and Sidelight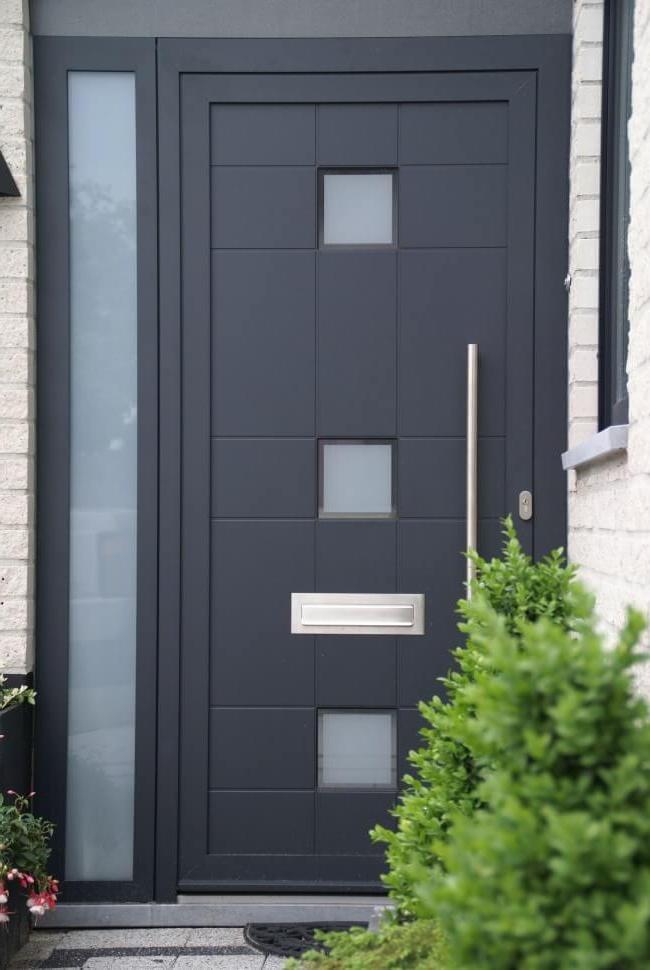 This contemporary slate grey door is an elegant metal design embossed a rough crosshatching with two layers of frame. The door is accented with both frosted glass and silver fittings. The silver fittings are in the long thin stainless handle and the shining postbox while frosted glass has been used in the thin sidelight and in three carefully spaced little square windows. The matte grey finish is continued into in the frame so the whole small entrance feels united.
25. Chunky Modern Door with Horizontal Windows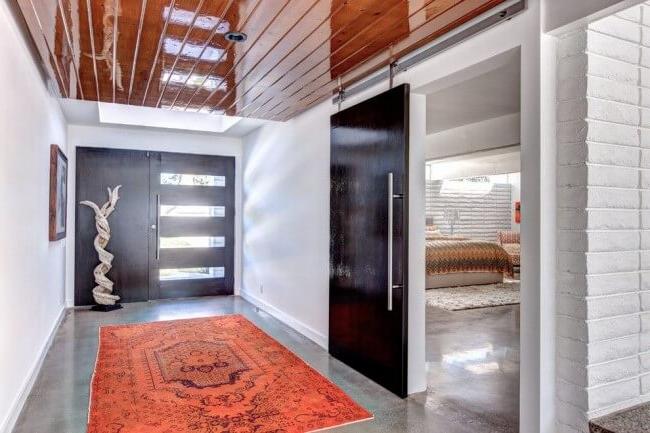 In a house fill of weird textures from the red rug, polished screed floor and wood paneled ceiling the large grey sheet metal doors feel like a beautiful piece of the weird puzzle. One leaf is fixed with a weird twisting sculpture in front of it standing out against the slate grey. The actual door features horizontal panels of glass that light the gorgeous hallway and amplifies all the reflective surfaces. This is a stunning example of how to consider a design on every plane.
26. Chrome Finished Steel Door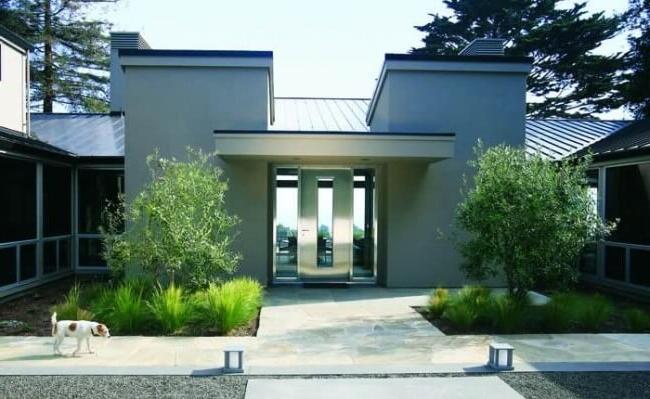 At first glance this house is modern but basic with modern shapes and large corrugated roof but that all changes when your eyes find the intense chrome and glass door. The single leaf metal door has a high shine chrome finish with a vertical window running down the centre. It is accompanied by two floor to ceiling sidelights on either side, which also have chrome frames. The coolest part of this whole design, however, is that it has artfully used windows so you can see the view out the front of the property straight through the front door in a triple striped window.
27. Slim Pivot Door Against Concrete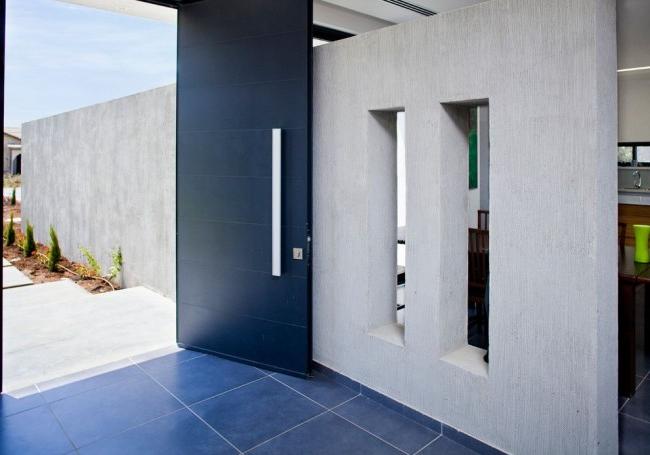 Yet again a metal entrance door has been used alongside modernism in this stylish minimalistic home. The door itself is light and thin made of black metal horizontal panels with a long thick vertical. The door hinges on a pivots mechanism so it can work alongside the raw concrete wall that unusually runs beside the door through from the outside to inside the house to form a screen wall with long rectangular cut outs in it.
28. Deeply Embossed Swing Doors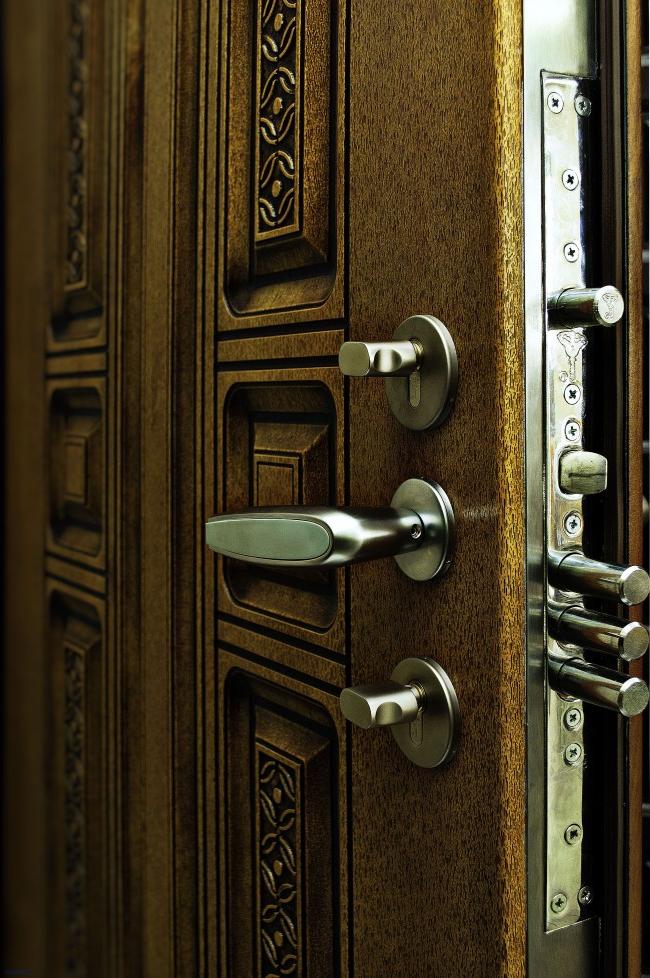 Here we have a paneled, hollow core door made from two layers of sheet metal that have been treated to look gilded and textured. The sheet on either side is embossed with deep geometric vertical panels with shallower pattern work detailing the centre of each that looks luxuriously decorative. The seemingly heavy door has a stainless steel handle with two bolts and an intense lock system in bright steel that ensures that no one you don't let in will be getting through it.
Conclusion
As you can see, steel is an incredibly adaptable and versatile material that can be used to make entrance doors that look just about however you want them to in order to fit your style. From the drama of the faux embossed door above to the thinness and minimalism of our second last door, steel can be manipulated to create a style that suits your home's design and maybe even your interior design.
So the next time you need your front door replaced, take a second to consider steel as your solution so you are rewarded with an entrance that is beautiful and keeps you and your family safe in one foul swoop.