Concrete is not just a building material it's also a sculptural medium that you can use at home to make your very own DIY concrete project designs. Working with concrete takes some practice and mold making is an art form that can be relatively simple and built on as you acquire more skills to make some more complex pieces.
There are a few things you need to know before working with concrete. The material is made up of cement, water and course and fine aggregates. Aggregates are sand and rocks of various sizes that are responsible for concrete's strength. These can be changed up to achieve a certain look by swapping out normal stones for translucent or colourful stones to create a beautiful surface finish. Chemical additives can also be added to the concrete when it is being mixed to change the colour throughout.
25 DIY Concrete Project Designs That You Can Make Yourself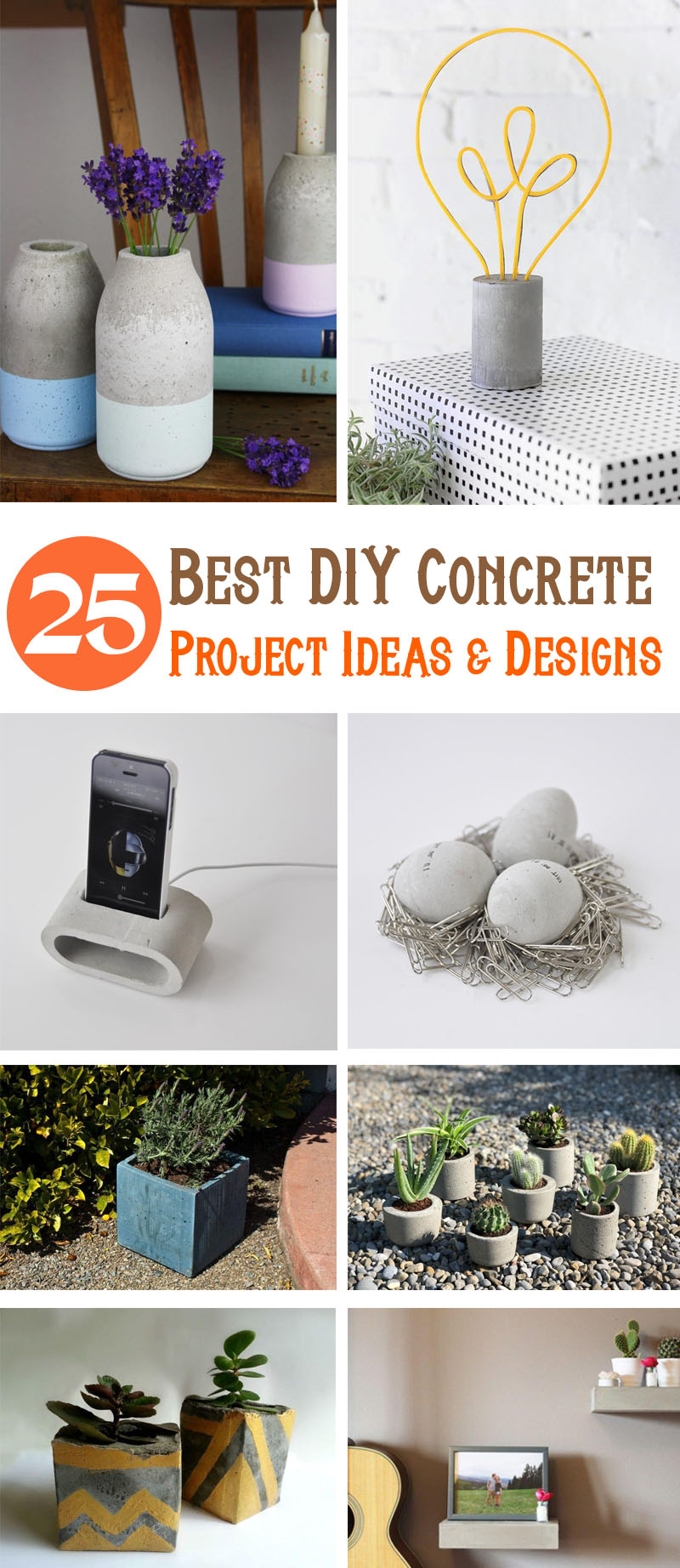 The most important thing to know about concrete however is the safety precautions. Concrete is a chemical reaction so it should always be mixed as per the instructions on the bag and stirred with a stick. It is also advisable to wear gloves while working with concrete to prevent it from burning and cracking your skin if it makes contact for too long.
So if you're up to the challenge here are:
1. Concrete Tripod Stool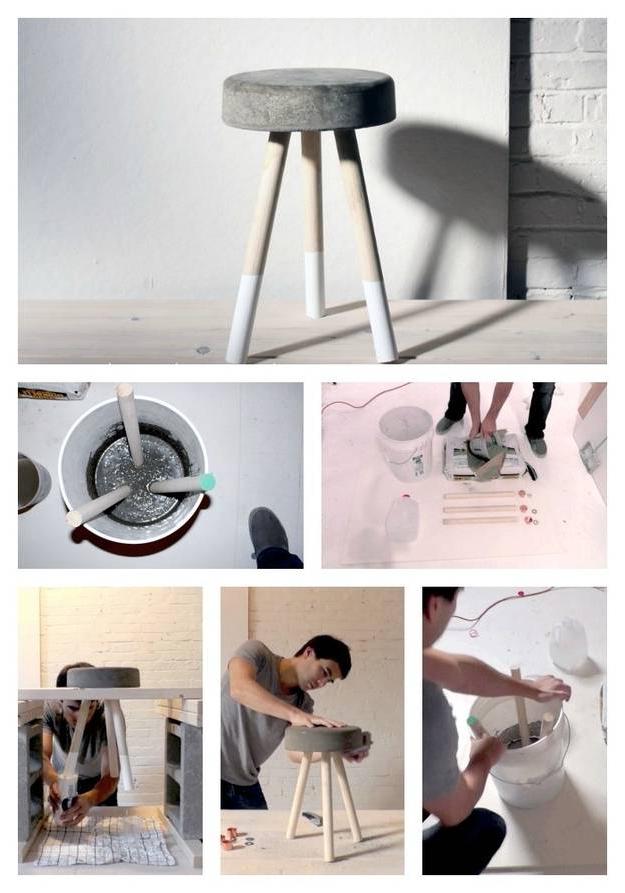 This little stool is the perfect example of how to get away with not having to make an expensive mold, all you need is an everyday item. The bucket will give the stool a flat seat and a smooth finish because concrete takes on the texture of the material its cast against so it will be beautiful and comfortable. The stool will also be sturdy since the legs are cast into the chair itself so you don't have to worry about attaching them afterwards. This sleek design ins simple and relatively cheap to achieve at home.
2. Thin Concrete Coasters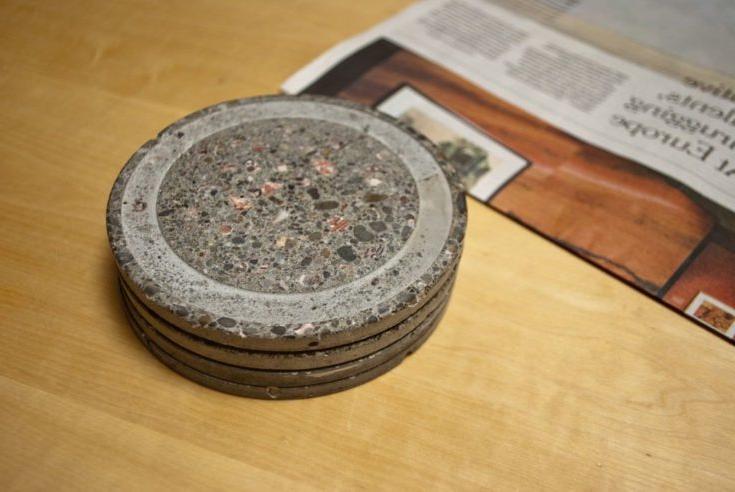 On a smaller scale these little concrete coasters are easy to make a simple mold from household materials. This is an example of how you can chose your aggregate like these shiny, multi coloured stones to create this interesting pattern across the surface. The polished finish highlights the material with one ring of rougher material around the outside as decoration. These coasters are hard wearing and won't stain or break if they are knocked off a surface after one too many glasses of wine.
3. Blue Concrete Planter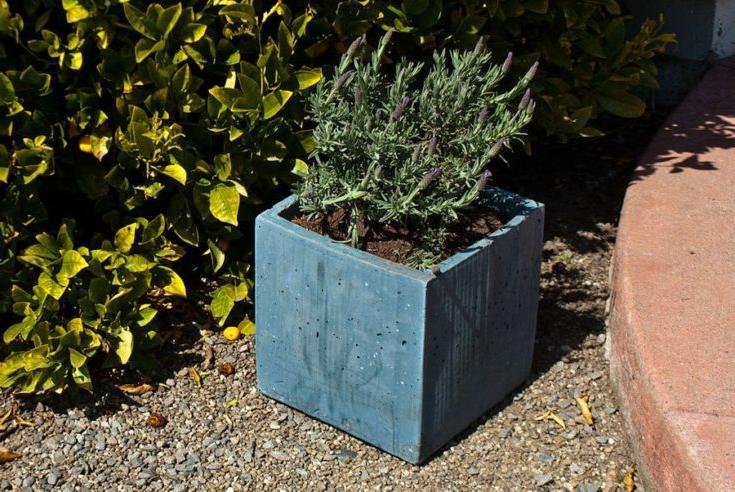 This cube shaped planter is an example of how using additives in the mixing process to colour the concrete without needing to paint it. The thin walled planter needs to be cast in a double walled mold to make the cube hollow for you to fill with soil and a plant. This is a simple design that can be made over and over in different colours to decorate your garden in a cohesive way and bring in some pops of colour.
4. Concrete Faceted Clock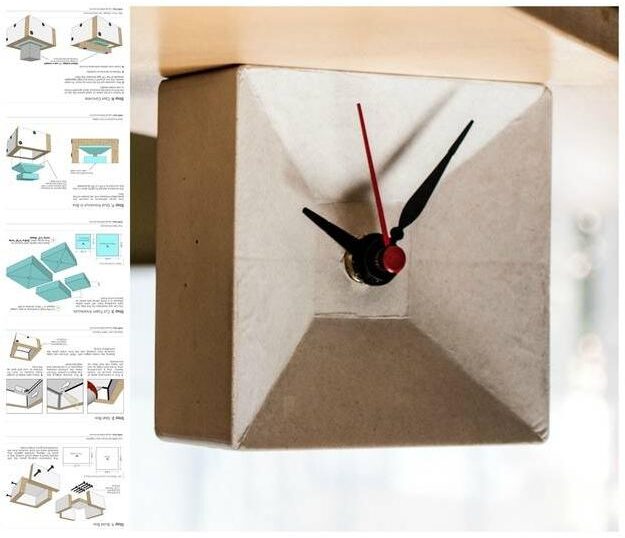 This minimalistic clock with its beautiful clean edges and faceted design is completely unique piece of time telling art made out of humble concrete. This mold is a bit trickier to make but all you need to do is follow the instructions on the right to create you own personalized mold. All you need to add to this simple design is a black clock mechanism and a battery that you can buy at a craft store.
5. Multi Use Concrete Vases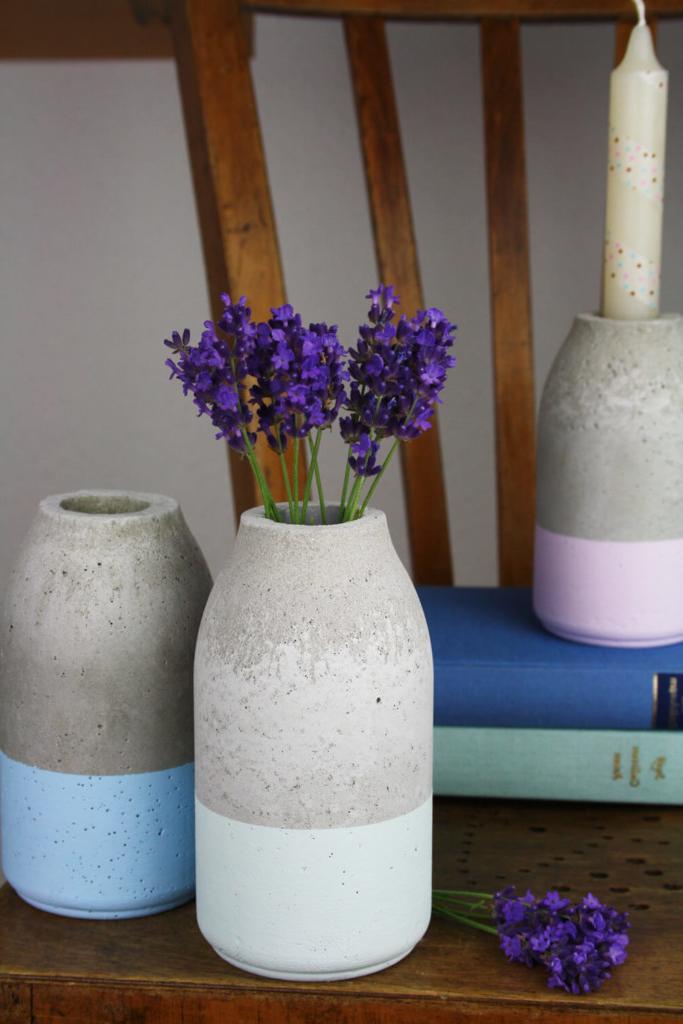 These simple receptacles can be cast using a double walled mold using household items like water bottles to create this distinctive shape. The vases can be changed up by simply painted the bases various colours to create a coordinated set. They can be easily cast using a reusable mould so you can make them over and over and give them to people as a sweet homemade gift.
6. Little Concrete Candle Holder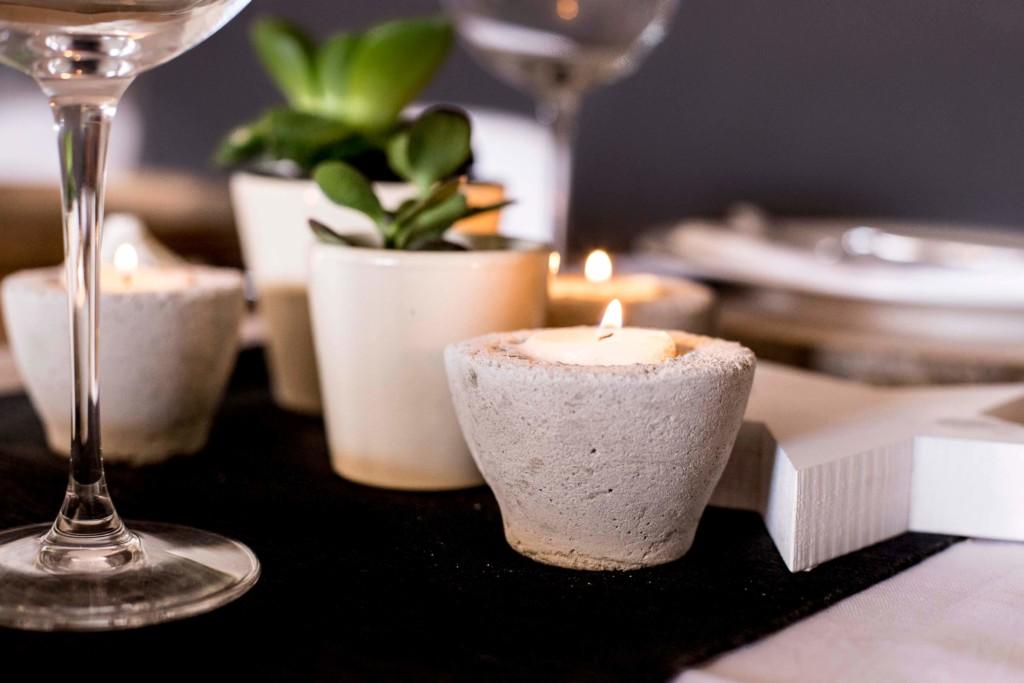 These little tea light holders are a simple diy concrete project that can be made using a small plastic plant pot to create stable based cups that will prevent the candles from being knocked over. The little shallow dips have been cast into the top to hold the tea lights flush with the rough concrete surface. These chunky holders are brutalist inspired as they have been left bare with the rough finish exposed to show the material in its true unmanipulated form.
7. Stacked Concrete Block Planters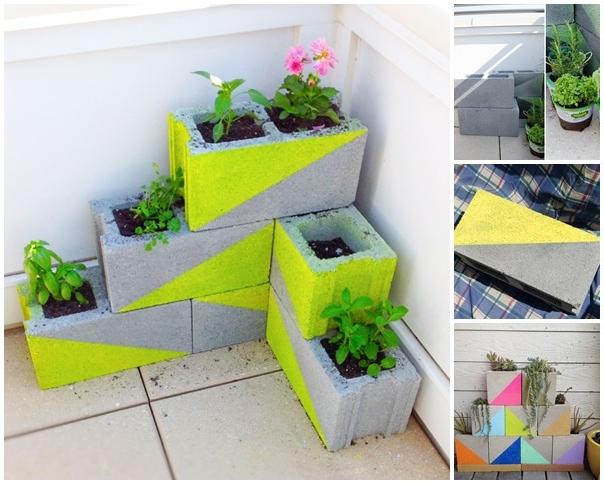 If you don't want to mess around with making concrete yourself and stress about making a mold, never fear you can upcycle some premade concrete blocks to create multi-layered planters like these. Concrete blocks have two convenient holes built into them so all you need to do is set the blocks on a base, stack them in the shape of your choice and fill those holes with soil. You can easily personalize the planter and add some colour to your courtyard with acrylic paint.
8. Tin Can Pencil Holders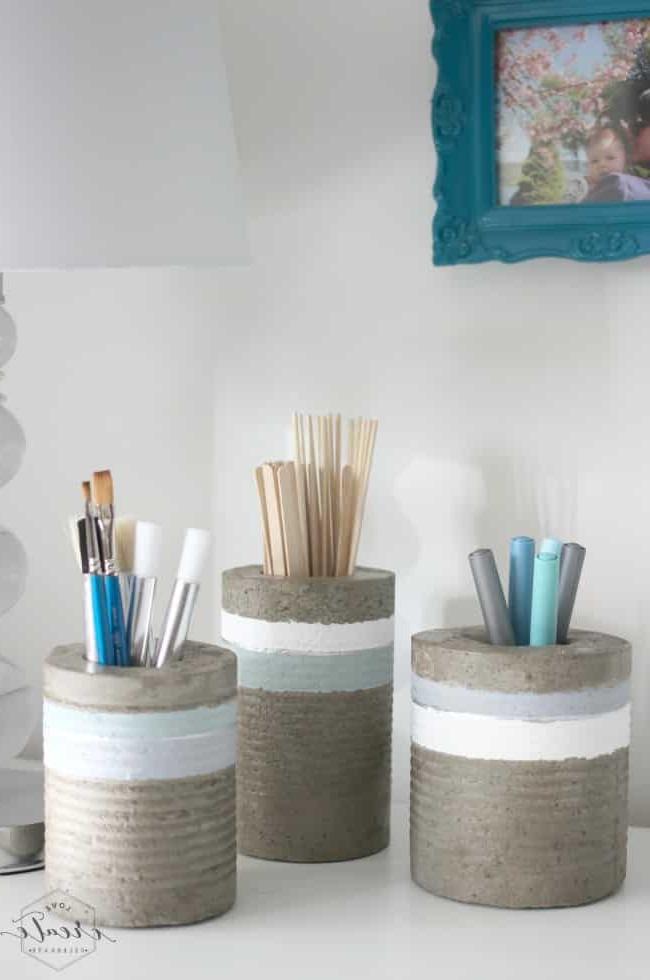 These chunky stationary holders beautifully display how to use a molds built in patterning to create a beautiful surface texture. The molds in question are a variety of tin cans of different widths and heights that have cast the distinct ribbed pattern into surface of the coordinated holders. Paint has been used again as a cheap but effective way of decorating them while still displaying the materials distinct texture.
9. Concrete Jack 'o Lanterns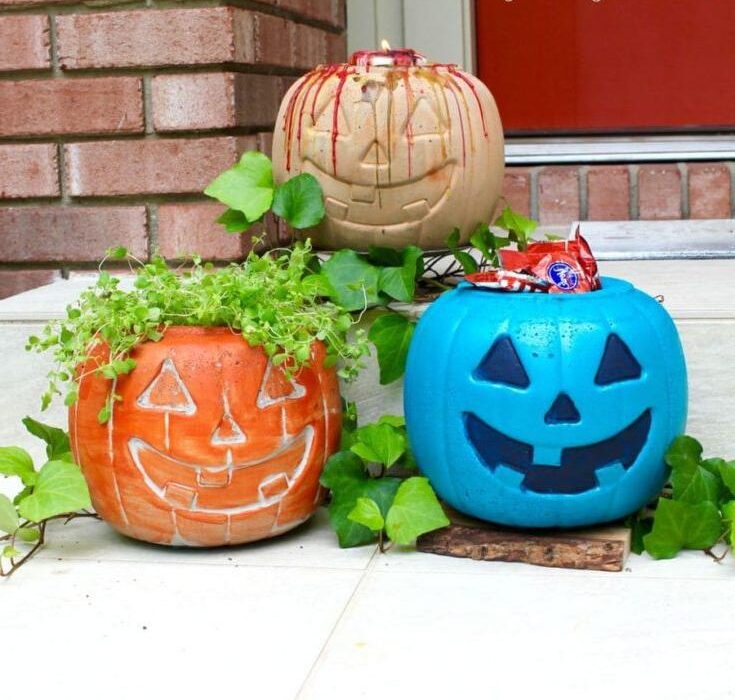 Concrete pumpkins such as these are possible to be made at home but it would require a lot of mold making skills. If you don't have that skill quite yet, don't stress, novelty concrete shapes like these can be bought from home ware stores or nurseries that you can customize at home using simple acrylic paint as a fun family Halloween project without the messy process of mixing concrete.
10. Floating Concrete Shelves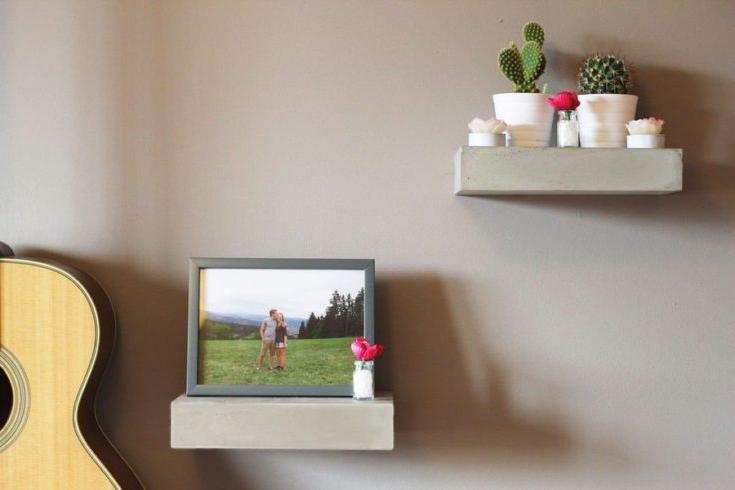 These modern concrete blocks can be cast into the wall and cantilever out to create small floating shelves to display family pictures and other décor. The shelves have been painted to match the wall so the protrusions feel one with the wall. These are blocks can be cast from a simple rectangular mold that can be made from common materials you could find at home.
11. Unique Multi Material Candleholder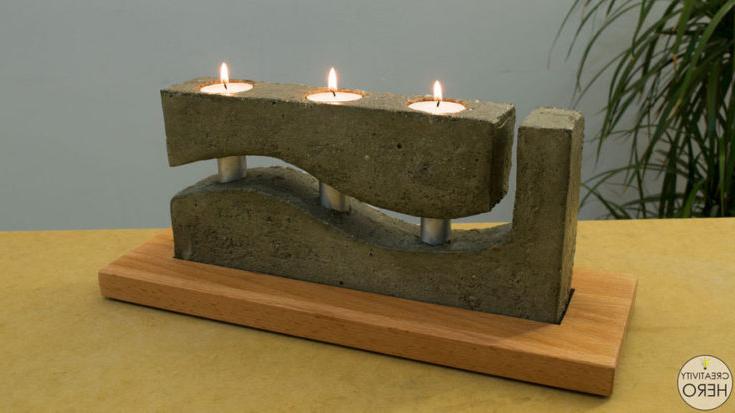 This green hued piece of concrete art takes your regular old candleholder and cranks it up a few notches. The curved concrete shape has been cast with a trio of metal rods cast at the centre to create negative space that makes it appear as if the top layer is hovering over the base. The sculpture has been set on a wooden base to sign off this celebration of materials in one small package.
12. Concrete Tablet Stand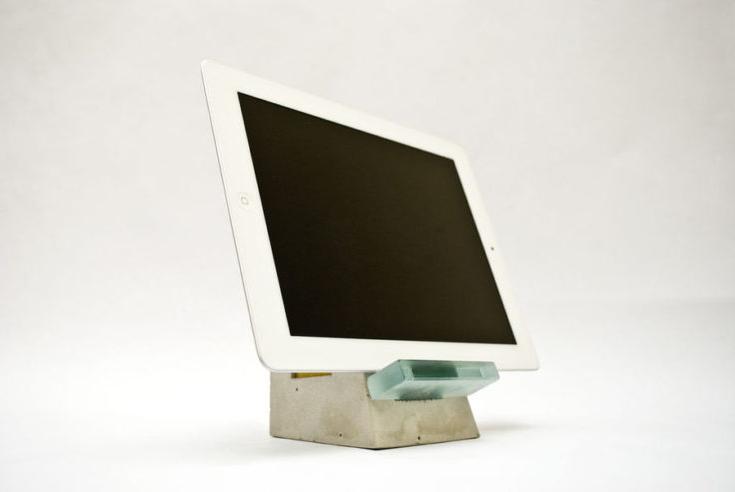 This tablet stand is a real testament to how versatile this material is. The concrete stand has a silky smooth finish, which is sealed to prevent it from damaging your device. A frosted glass support has been cast into the concrete for the device to stand on and add a little colour. This unique stand is very sturdy due to its weight so you can use your tablet with ease.
13. Little Concrete Plant Pots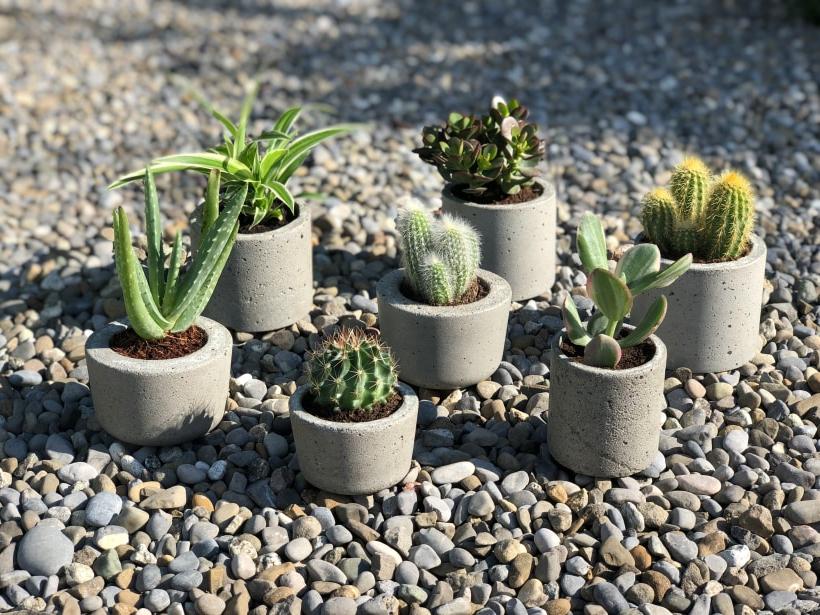 Like a few previous examples these little rounded succulent pots can be made by setting one small container inside a larger one depending on the thickness of the plant pot that you wish to have. You can use a variety of molds if varying shapes and sizes that will result in a beautiful little coordinated set of pots for your little succulent friends to live in.
14. Concrete Eggs In A Paperclip Nest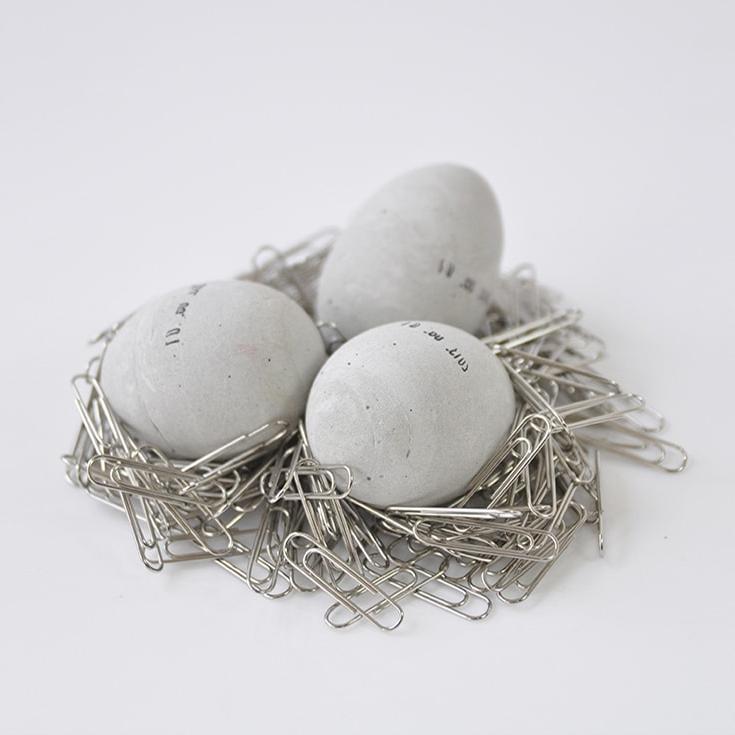 This quirky little sculpture of concrete eggs resting in a paperclip nest is a super unique and humorous way to use concrete and upcycled stationary items. The eggs can be cast out of actual eggshells by making small holes in the egg at the top and bottom and blowing the insides out the bottom, set aside to make scrambled eggs later. Block the bottom hole and pour the concrete in the top hole. Once set just peel away the eggshell to reveal the concrete egg inside that has magically taken on the same texture as a real egg.
15. Concrete Planter On Wheels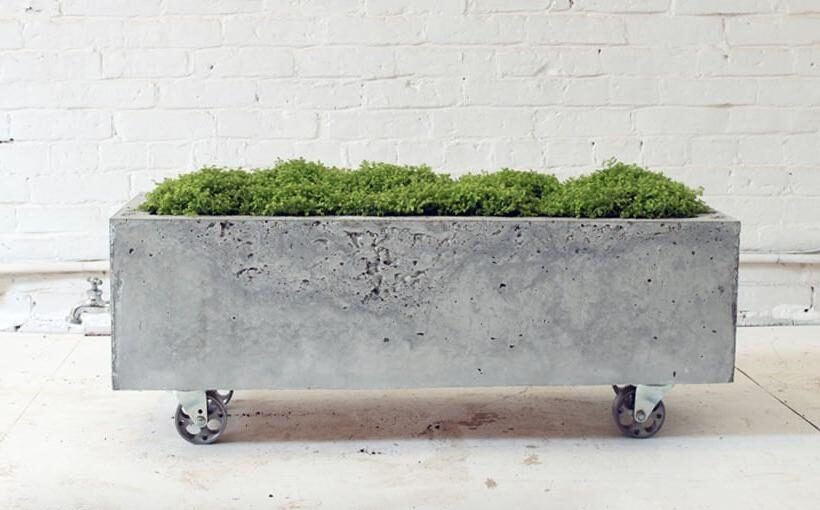 This rectangular box planter is cast using the same technique as the planter in example 3. The concrete's natural texture is left to speak for itself, partially smooth and partially rough in its true colour to capitalize on its natural beauty in a quintessentially brutalist way. This neat little concrete planter box sits on a set of wheels to make it easier to move around so you can change up the outdoor area as you please, setting it above the ground also makes the planter look less heavy and more quirky than your average planter.
16. Rough Painted Plant Pots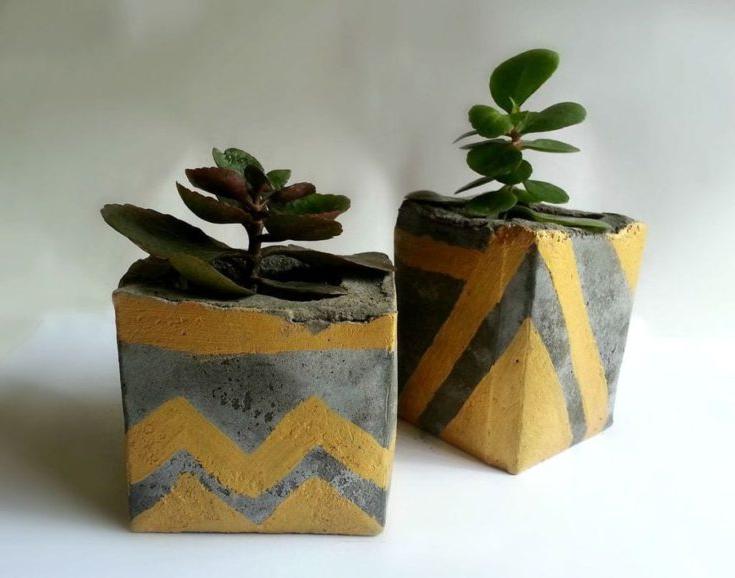 These organic scruffy concrete plant pots require a lot less skill to make because the rustic aesthetic allows the finish to be rough with an uneven rim that requires no straight edges which can be very hard to achieve with concrete. The little pots have been painted with different colours and patterns to personalize and coordinate them to display your cute little succulents in style.
17. Hanging Concrete Platform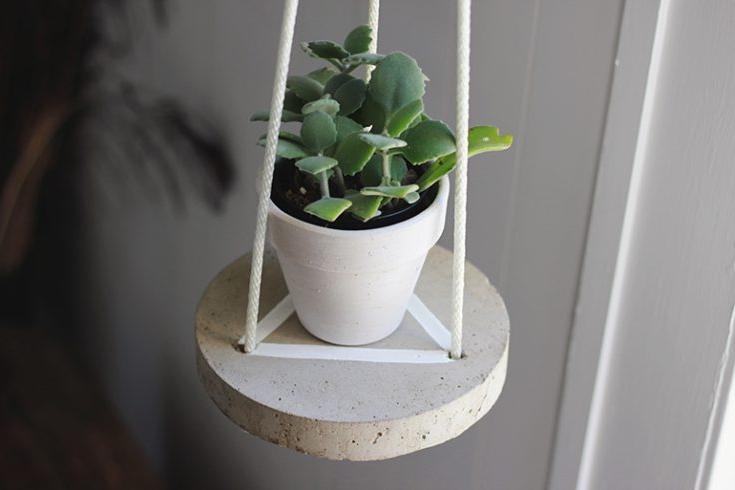 This thick circular concrete platform is a basic shape to cast at home with three holes cast through it. Once set some thick white ropes can be tied together and threaded through the holes and brought together to hang from the ceiling. This minimal design is accented with a simple painted triangle that links the ropes to one another. The hanging platform holds a little plant pot that is painted white to match it.
18. Cones Of Hanging Plants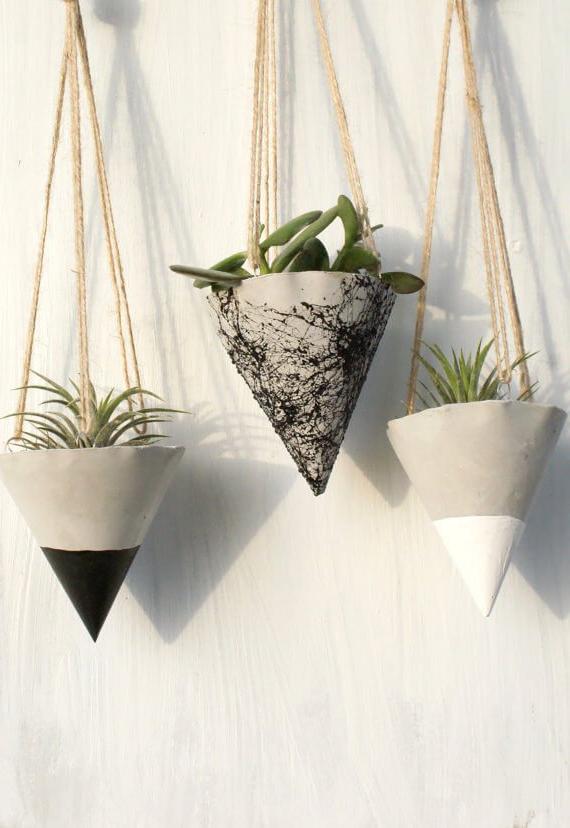 Like the example above, concrete has been used for a hanging pot plant but this time the pots themselves are concrete. The pots have been cast into cone shaped molds made out of fabric so that the concrete ripples and no one pot is the same. Metal rings have been cast into the top of the planter to tie the rough strings to so the succulents can hang against your wall. Each cone has been painted to add colour and beautiful organic patterns to the stark white wall.
19. White Hexagonal Coasters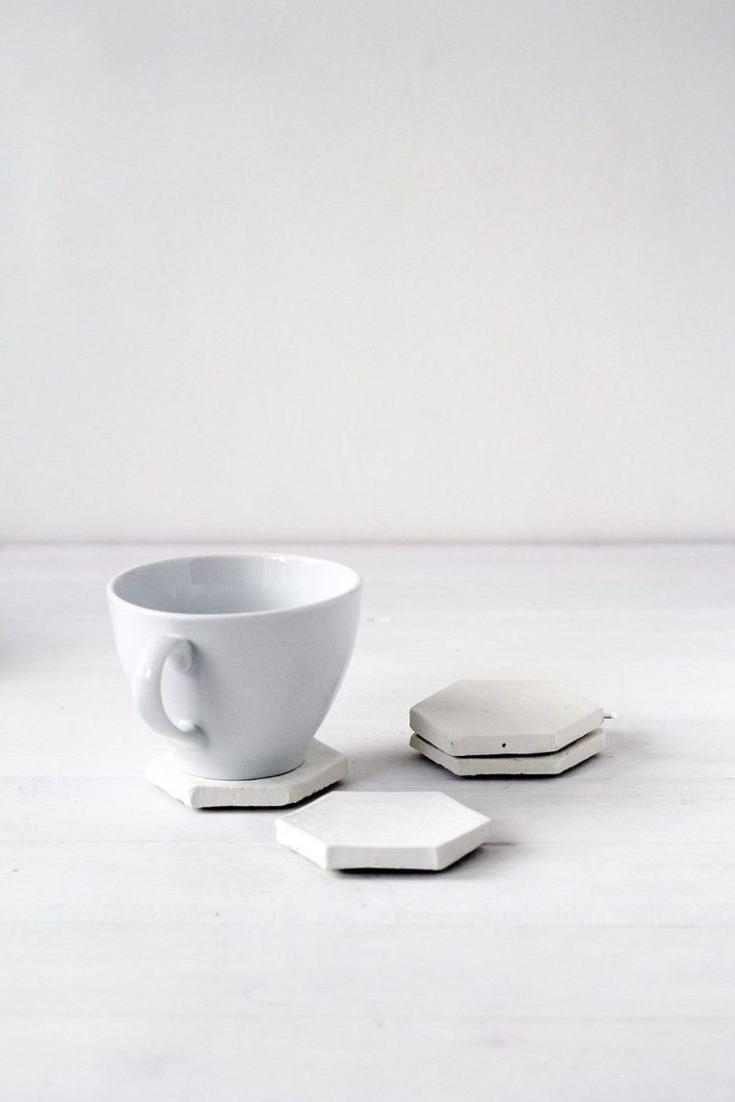 This set of mock porcelain coasters has been made by adding titanium oxide to dye the concrete a pure white. The dainty little hexagons are shallow and easy to cast in a quick homemade mold but be sure not to them cast too thin or they will be brittle and break easily. These simple shapes can be cast in a reusable mold so you can make a whole set from one mold and replace them easily if you ever break one.
20. Concrete and Wire Light Bulb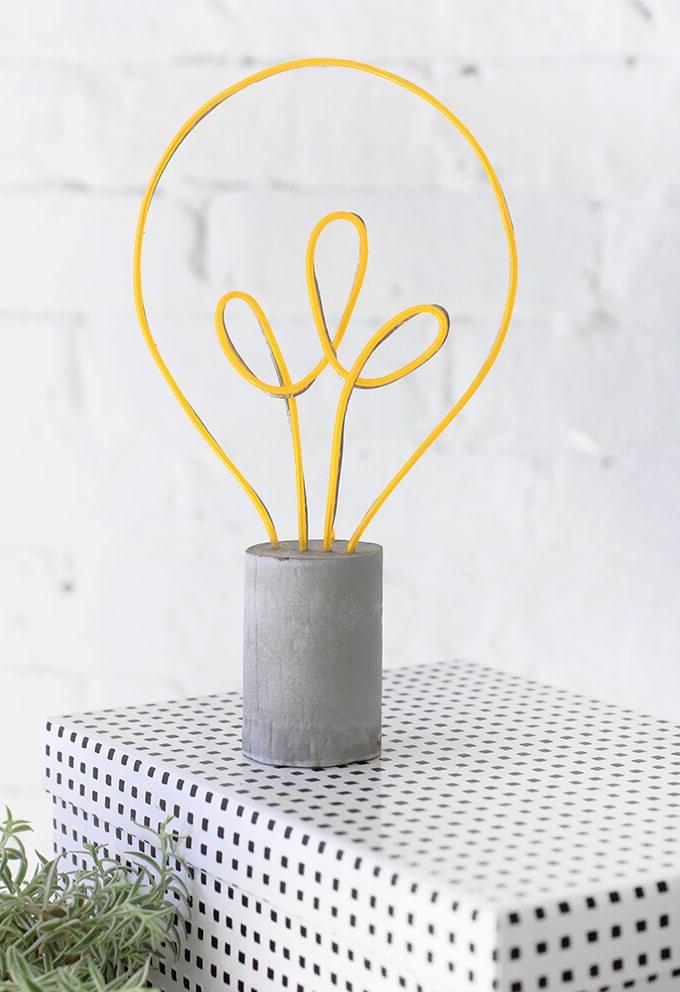 This piece of quirky pop art sculpture is made of a simple combination of concrete and yellow piping. The cylindrical base has been cast using a simple tin that can be cut off afterwards. Two sets of bright yellow piping have been cast into the base and molded into the shape of an oversized light bulb to create a homemade piece of art to decorate your house with.
21. Cylindrical Outdoor Stools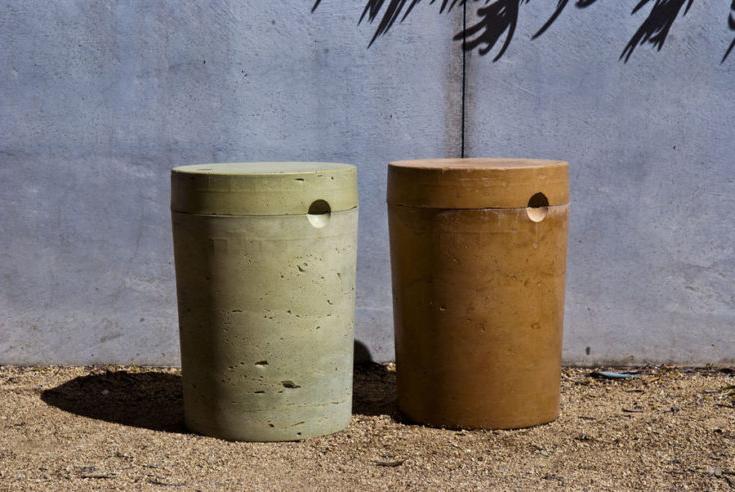 Basic shapes like these cylindrical little stools are a great starting point for a contemporary outdoor seating area, just as they are they do the job. However adding small details and playing with colour can make the basic grow into something far more stylish. A little accent like the half moon set into the front adds a subtle little design element to these matching stools. The subtle construction joint has been left exposed to imply a difference between the seat and base. Another way to change up a simple design is with colour; here you can see how choosing various colours when you have the same chair design adds a lot of visual interest and stops them feeling too matchy matchy. They can be cast simply using a bucket as a mold with a half a bouncing ball glued inside to achieve the half moon recess.
22. Mushroom Like Table Lamp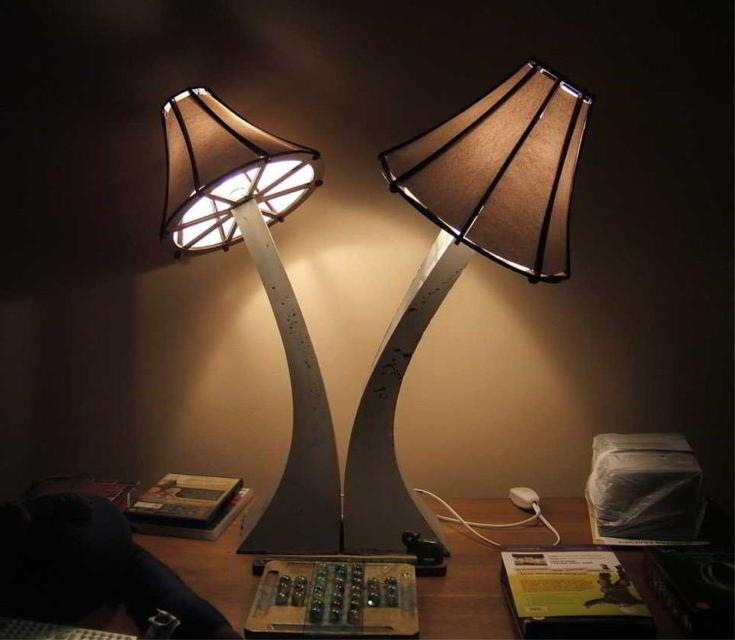 This wacky duo of concrete mushroom lamps lean away from each other on their twisting stalks. This type of mold requires a lot of mold making skill to achieve due to all the undercuts created by the faceted surface. The glowing fungi are joined at a thick base that anchors and counter balances the erratically twisting tops of the stalks. The aesthetic is topped by conical shades that look like mushroom caps.
23. Stylized Pebble Planter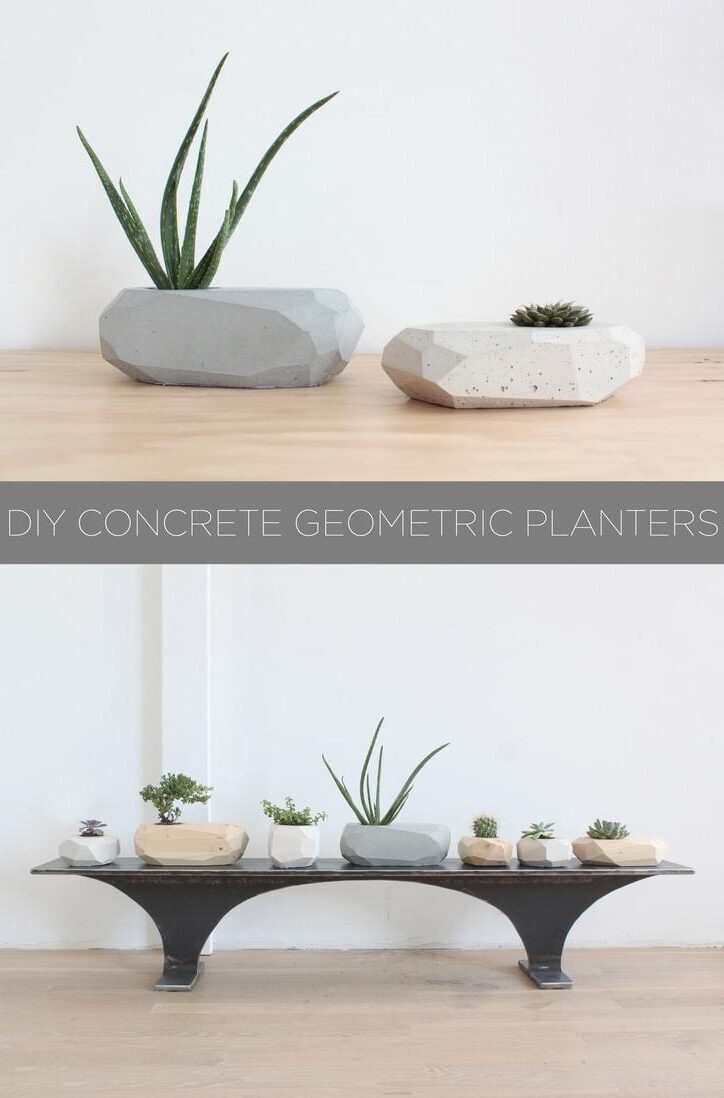 These stylized faceted rocks are another design that requires a bit more skills in mold making. This series is made up of uniquely shaped rock planters that use different additives and aggregates to achieve different finishes. The left planter is a smooth, sanded grey made with a very fine aggregate so it leaves the surface uninterrupted while the right uses titanium white and some translucent aggregate that sparkles in the light. Each features a small round opening at one end of the planters to fit dainty little plants. While beautiful on their own these planters are even more beautiful when viewed as a series all clustered together.
24. Chunky Concrete And Rope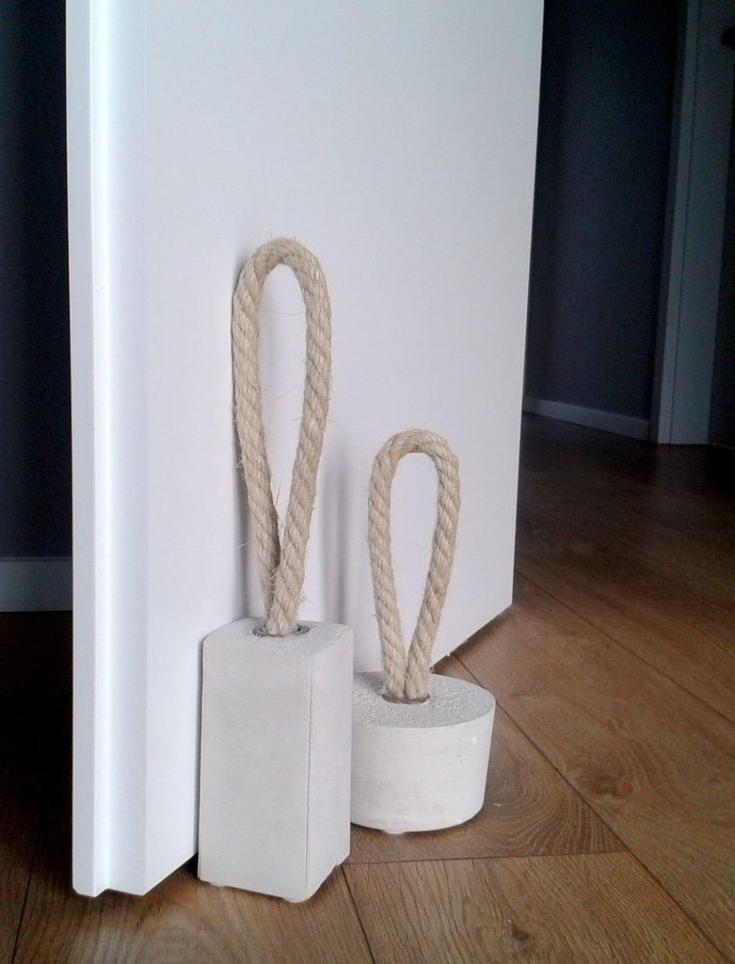 These statement DIY doorstops can be easily at home using a plastic bucket and with marine standard rope cast into it held in place by a metal ring to keep the rope centred. The smooth, heavy doorstops look striking and modern and have the weight behind them that will keep even large doors open in windy weather.
25. Concrete Oblong Phone Holder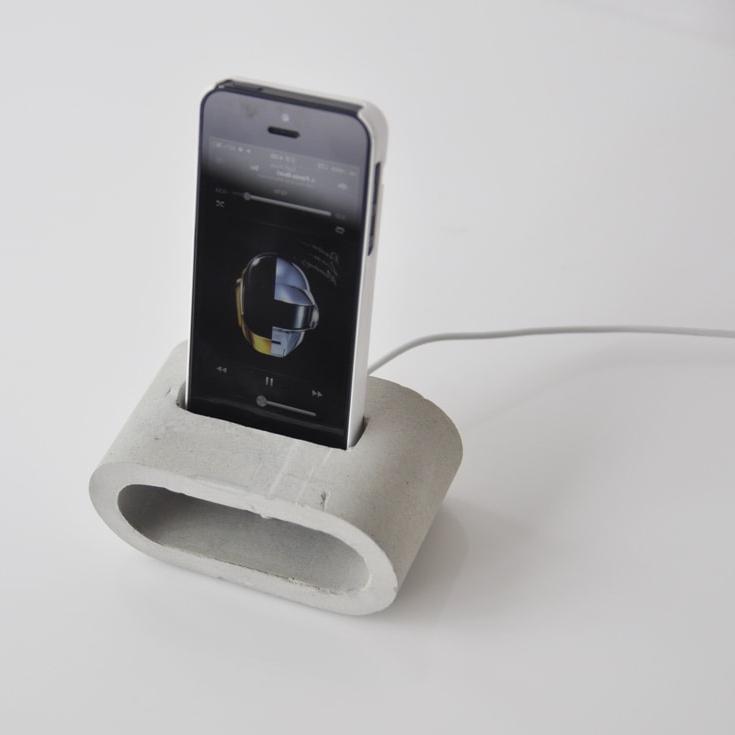 Similarly to example 12 concrete has been used to create a modern phone holder that is attractive while also serving a purpose. The oblong extrusion is cast with a double layered mold upright with a slot recessed into one side. Once its set and lightly sanded for that soft touch finish you can place the phone in the slot that holds the phone upright. The heavy stand olds the phone steadily and leaves space at the base to charge the phone while it sits in the stand.
Conclusion
DIY Concrete Projects, as we've shown you, is a really versatile material that lends itself to the more ambitious DIY projects that can be executed at home with some time and patience.
The material allows you to customize your finishes by casting it against different textures and adding colourful additives or paint to make your piece truly yours. Molds can be make from everyday found items or built yourself from scratch, they can even be reusable if you design them right so you can produce the same piece over and over to create a side hustle or give as handmade gifts.
So if you love DIY and you are ready to tackle a whole new medium, why not give concrete a go?