Sandboxes are a classic piece of childhood play areas that have been around for decades. They are the most simple of objects that have the power to keep your children entertained for hours with just a box of sand and some basic plastic toys.
They can be either bought from a store or DIYed yourself with some sand, wood and waterproof sheeting.
28 DIY Sandbox Ideas To Entertain Children For Hours

The design of these sand play zones can be stripped back and basic or, if you want to get a little more creative, they can be made in novelty shapes to provide an extra level of immersion and fun to help your children expand their imaginary games. Some sandpits have even been built into jungle gyms designs for an all in one multi layered play experience.
So if you're looking for a good way to get the kids outside and away from their screens here are:
1. Sandbox In Natural Surroundings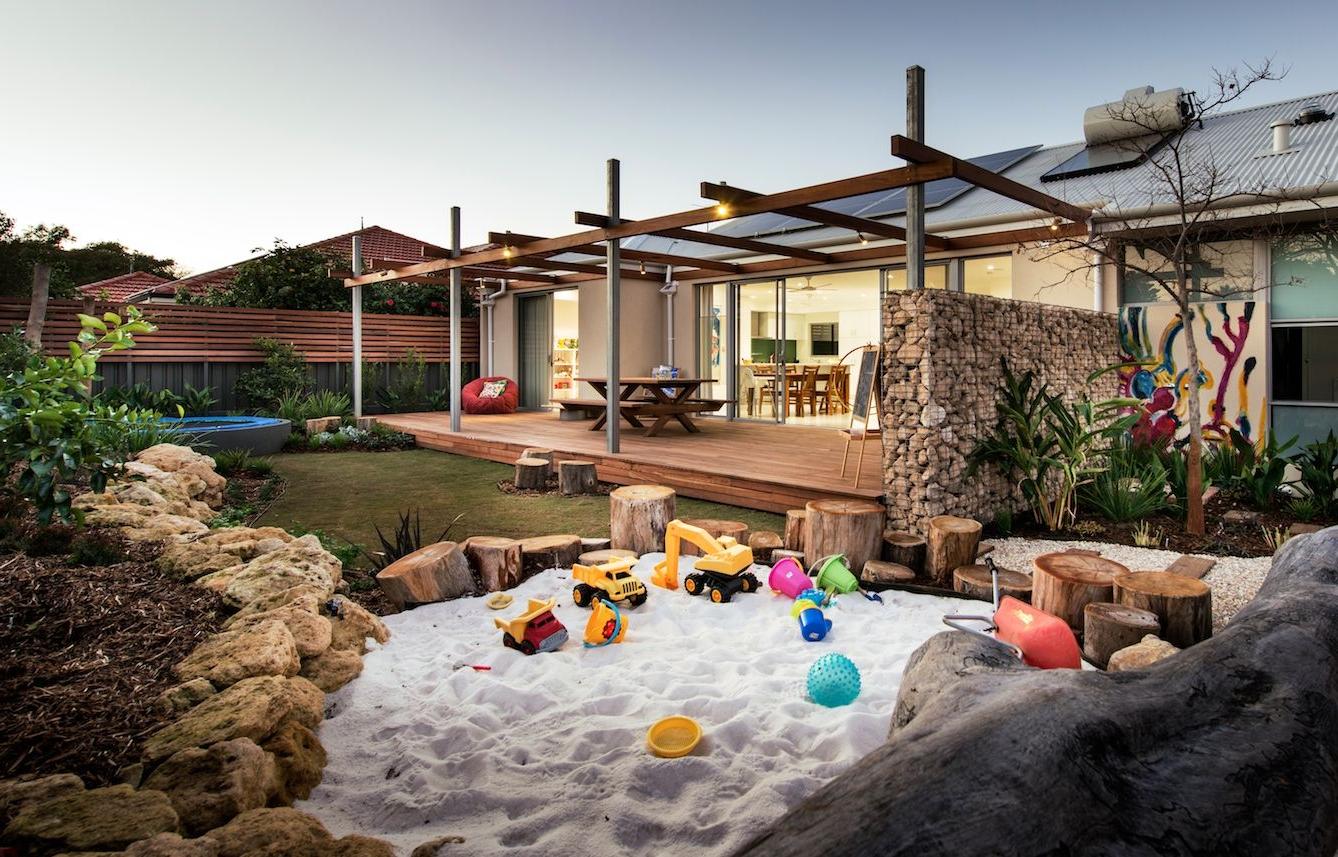 This huge sandbox is a great one that you can DIY using natural materials to create a beautiful feature that your kids can play in. You can build this into the corner of a raised garden bed so the stone planters form one wall while the other two sides are articulated using a series of reclaimed timber stumps at various heights. The only items you will need to buy is plastic waterproof sheeting to line the base and the specialized sandpit sand itself. Constructing a sandbox like this at home makes it easily adaptable so you can make it as big or small as you like.
2. DIY Sandbox Speedway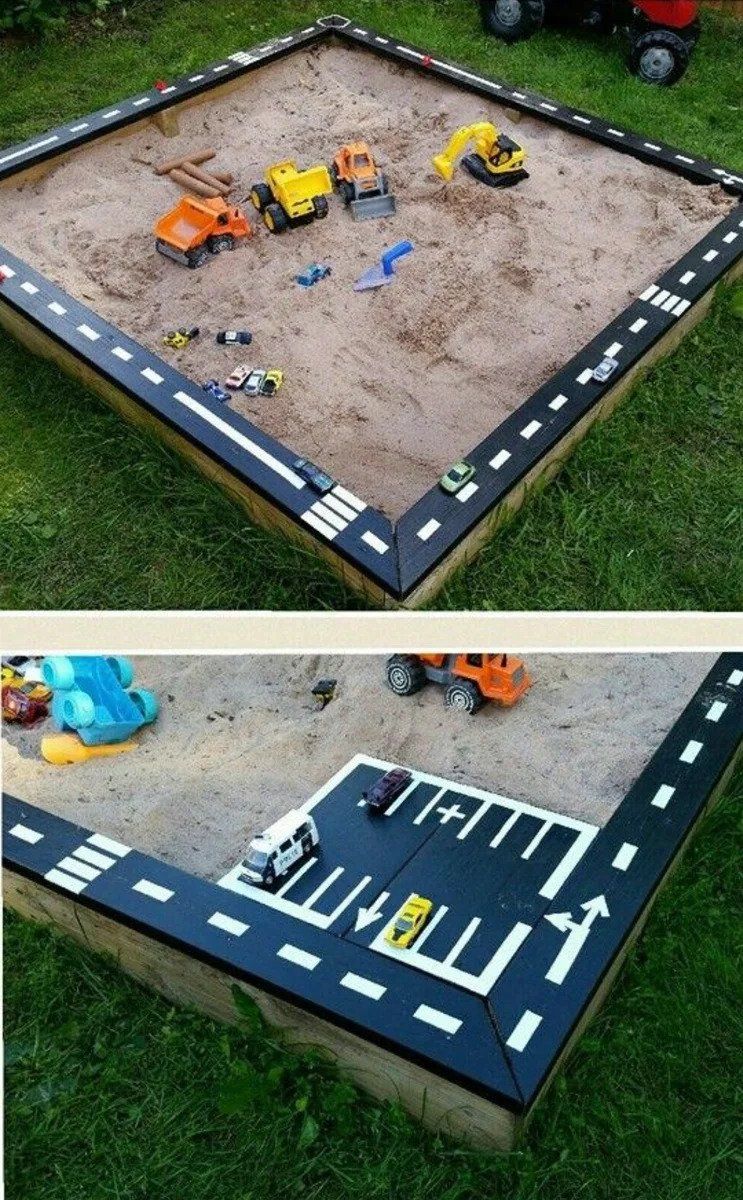 This sandpit appears to be a basic square design with loads of space to play. However, with a little DIY and a lick of paint this has been updated into a sandbox speedway. The thick outer frame has been painted black to resemble a little road with parking lots in the corner and even some striped crosswalks. Combining these two activities means the kids can play with cars and sand at the same time that will keep them occupied outside all day long.
3. Multi Use Lake Side Sandpit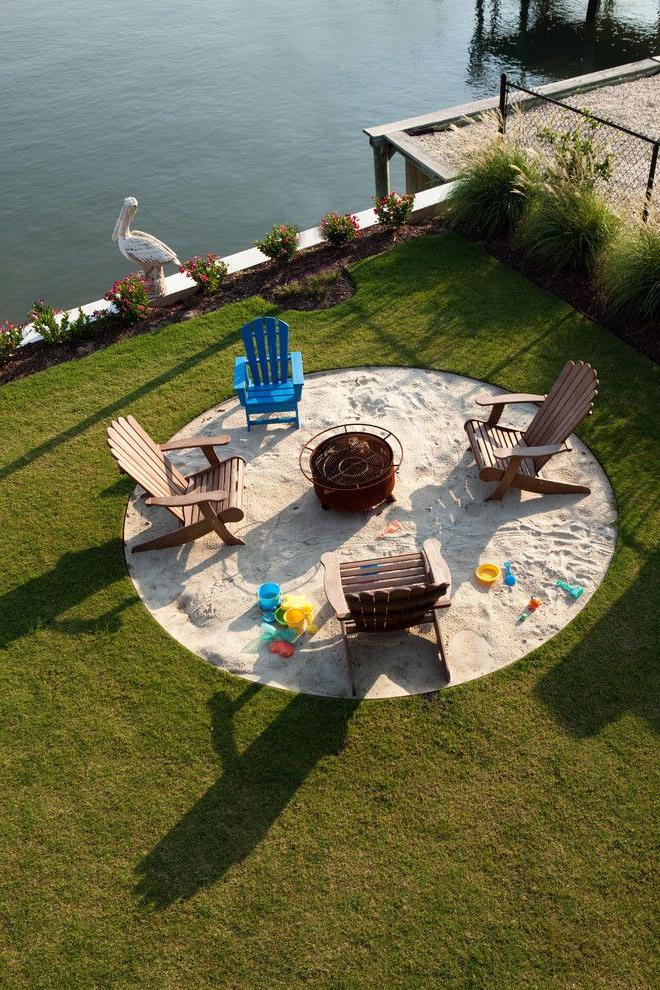 This beautiful lakeside home has cut a circular sandbox cut into the manicured lawn to take full advantage of the stellar location. The unique little spot has a fire pit at its centre ringed by timber deck chairs so the adults can sit and relax around the fire and take in the view of the lake while the kids play in the sand around them. What a perfect way to bring the whole family together.
4. Choo Choo Train Sandbox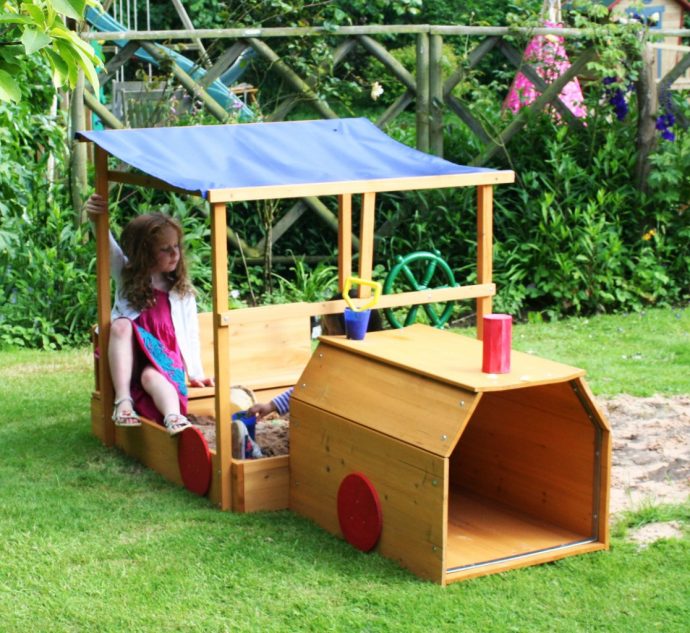 This sweet novelty sandbox that has been made something a little extra special using simple wood panels and round red wheels to transform it into a little train engine. The train's body consists of a wooden framework that surrounds the sandbox that holds up a tarpaulin roof that shades the kids from the sun. A few extra details that make the experience even more enjoyable are the little green steering wheel and the tunnel through the train's body that you can crawl through and land in the sandbox.
5. Upcycled Tractor Tyre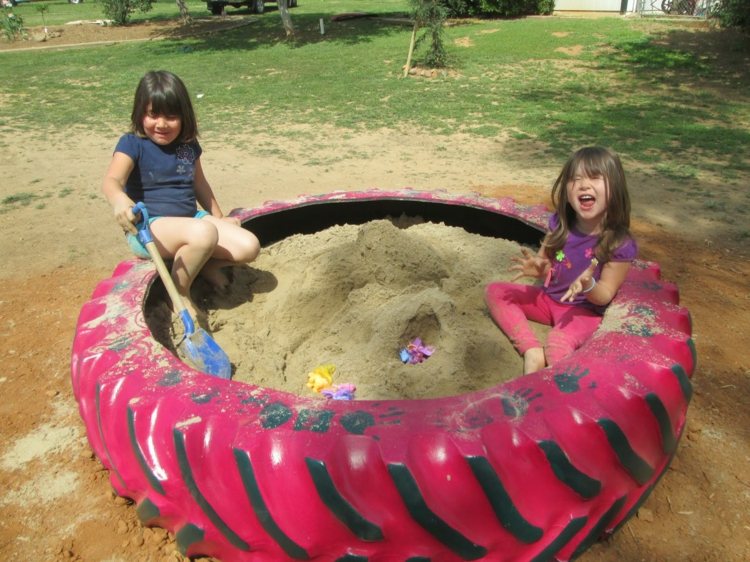 If you want to flex your DIY muscles while being eco friendly at the same time, this tractor tyre sandbox is the project for you! All that is needed to execute this is waterproof sheeting that you can staple gun to the rubber and whatever colour paint suits your personal taste. This example has used neon pink spray paint decorated with little handprints pressed into the wet surface to personalize the design. The massive rubber container results in a nice big sandpit that is also deep so the kids can dig holes as if they were on the beach.
6. Hexagonal Plastic Sand Pit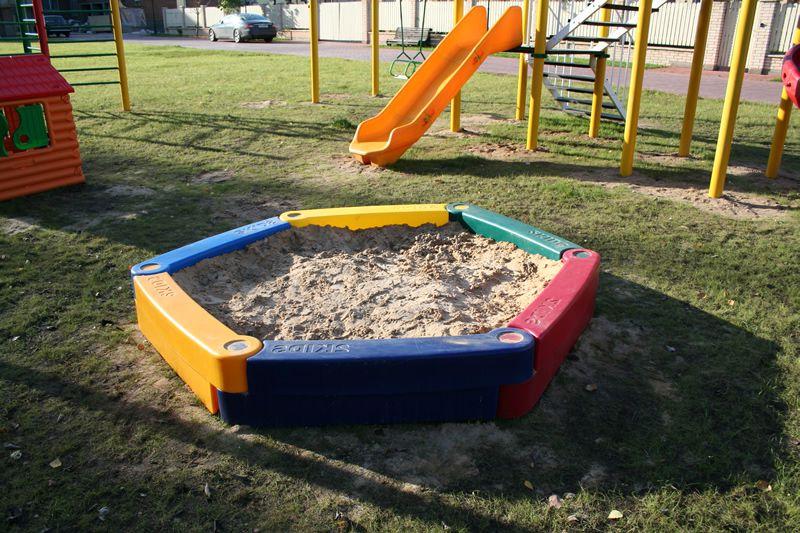 This hexagonal playground sandbox is made of the same material favoured by many plastic click together jungle gyms because of its durability and bright colours. This unit can be bought flat packed with a plastic base included so you don't need to do any lining when you get it home, just click together, fill with sand and enjoy!
7. Little Sandbox Pergola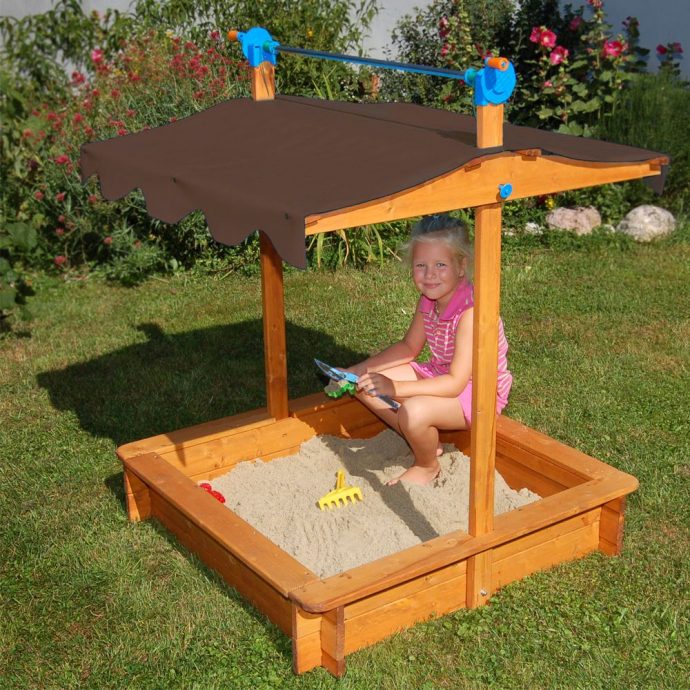 This dainty little square timber framed sandbox is a simple design that you can slot together easily and stain to your liking to decorate your back garden and give your kids a cute place to play at the same time. Two posts on each side hold up a pitched tarpaulin that shades the little ones from the sun and makes the sandbox look like a miniature sand filled pergola.
8. Radiating, Rotating Sandbox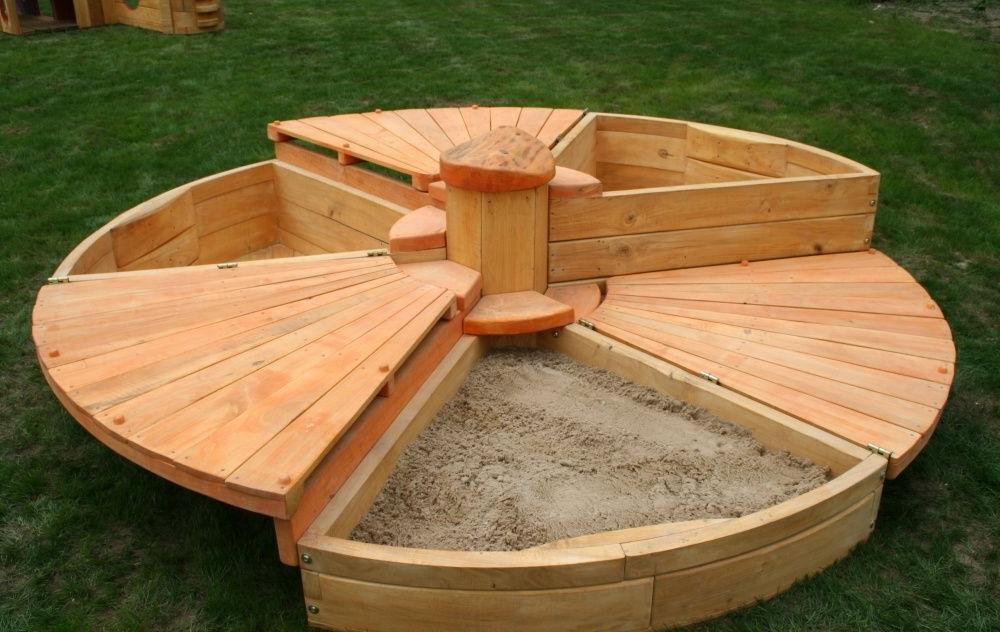 This sculptural timber structure sitting above ground is a multi leveled innovative design that incorporates a sandbox and storage for toys into one beautiful unit. Since the design is all in one it needs to be simply filled with sand, no lining required. What really makes this sandbox stand out is its useful and transformative quality. When the structure is open the slatted wedges and the sand filled portions combine to form a full circle but when they are closed it becomes an elegant timber spiral. The slatted covers protect the sand from rain and animals so your child's play area will always be safe and clean.
9. Smart Picnic Table Sandbox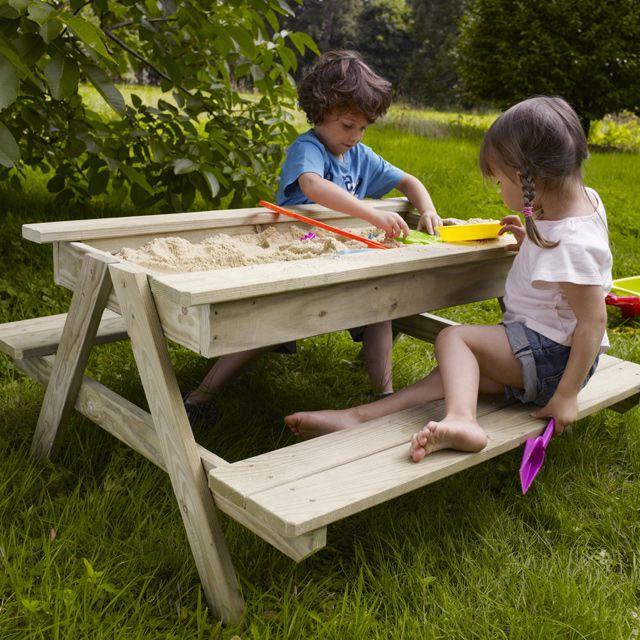 This super smart play area design has taken the form of a child sized picnic table with a sandbox built into the centre so the kids can sit at the table and build sandcastles without getting their clothes all sandy so you have to coax them into a bath afterwards. A slatted cover made of the same timber can be placed over the top when the sandbox isn't being used to keep the sand clean and allow for it to be used as a children's picnic table.
10. On The Good Ship Sandbox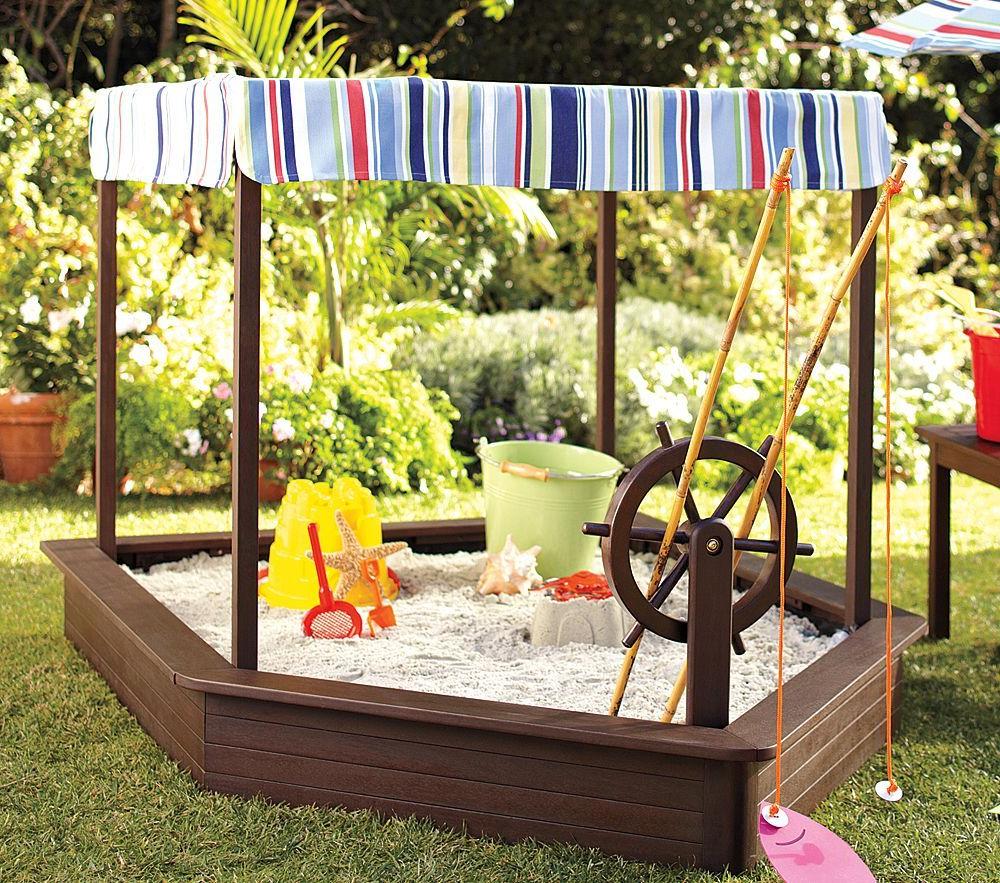 This lively above ground timber sandbox has been subtley pointed at one end and headed by a ship's wheel to imitate a boat. This nautical theme is continued into the striped fabric bunting and set of built in magnetic fishing poles completely with comically large colourful fish.
11. Fabric Covered Shaded DIY Sandbox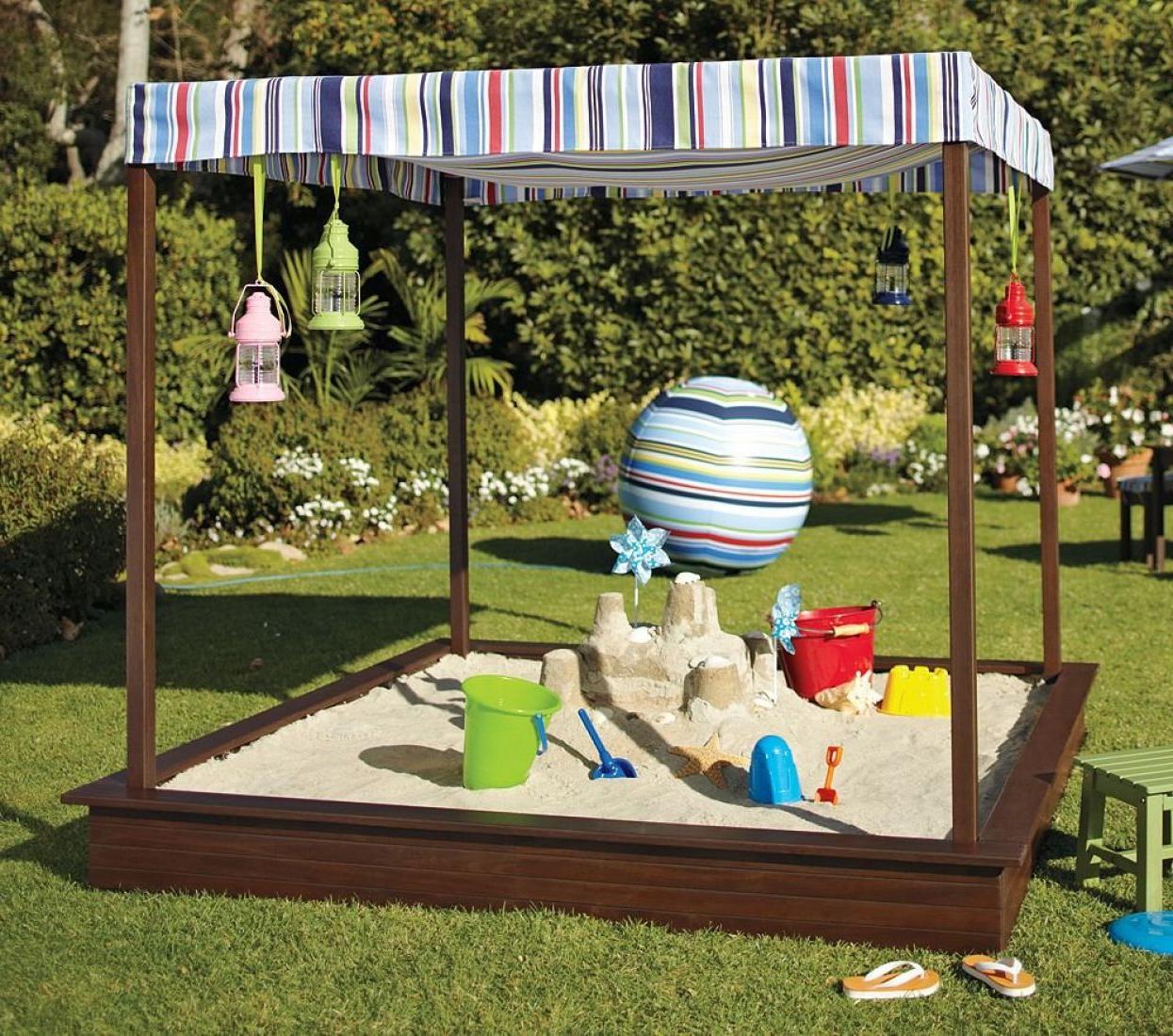 This ready-made sandbox is from the same company as the one above but with a more basic shape. The simple square structure has been constructed out of the same dark timber and covered by the same fabric awning that comes in many colours and patterns so you can choose which fabric you like best. What sets this apart from the boats shaped design is the sheet of fabric that is tied onto each post to cover the sand when it isn't being used to protect it from the elements and animals.
12. Upcycled Little Wooden Boat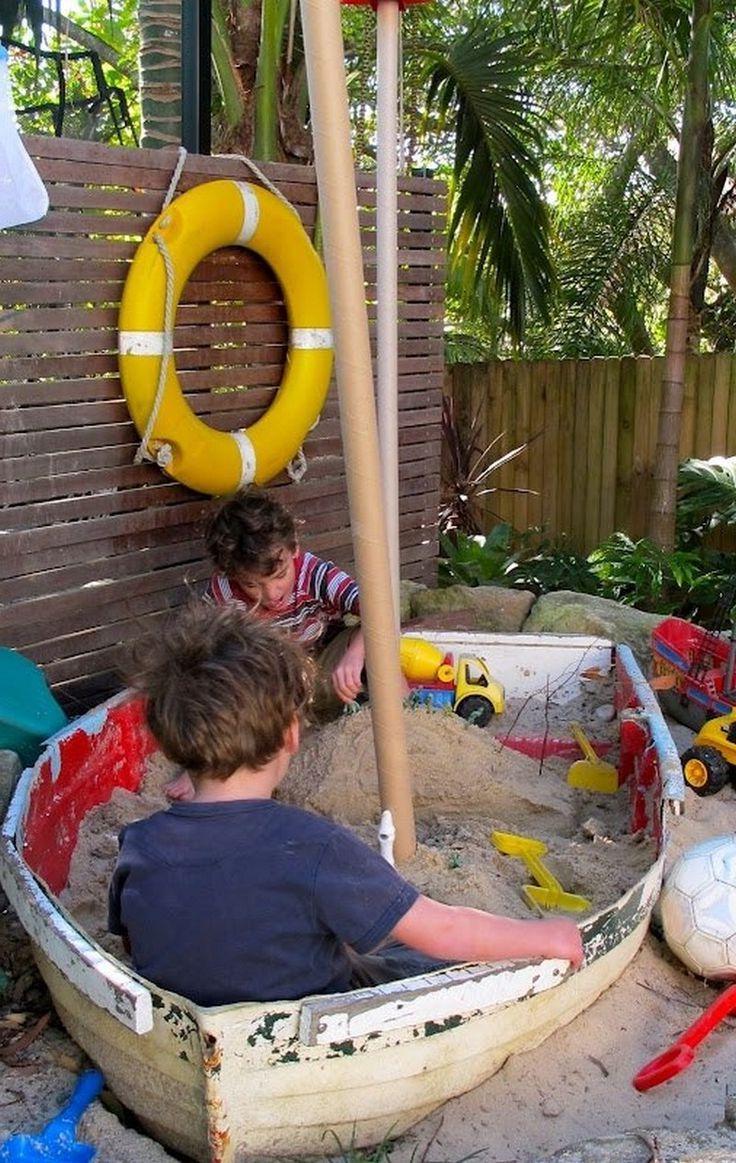 Nautical inspiration seems to be a trend in sandbox design, for obvious reasons, and this upcycled old wooden boat is no exception. Its rustic weathered appearance is really beautiful and comes equipped with a mast and a rubber life preserver that makes playing in this sandbox a fun and immersive experience for your children. This unique feature makes your garden aesthetic quirky which also motivates your kids to want to be outdoors more often.
13. Novelty Crab DIY Sandbox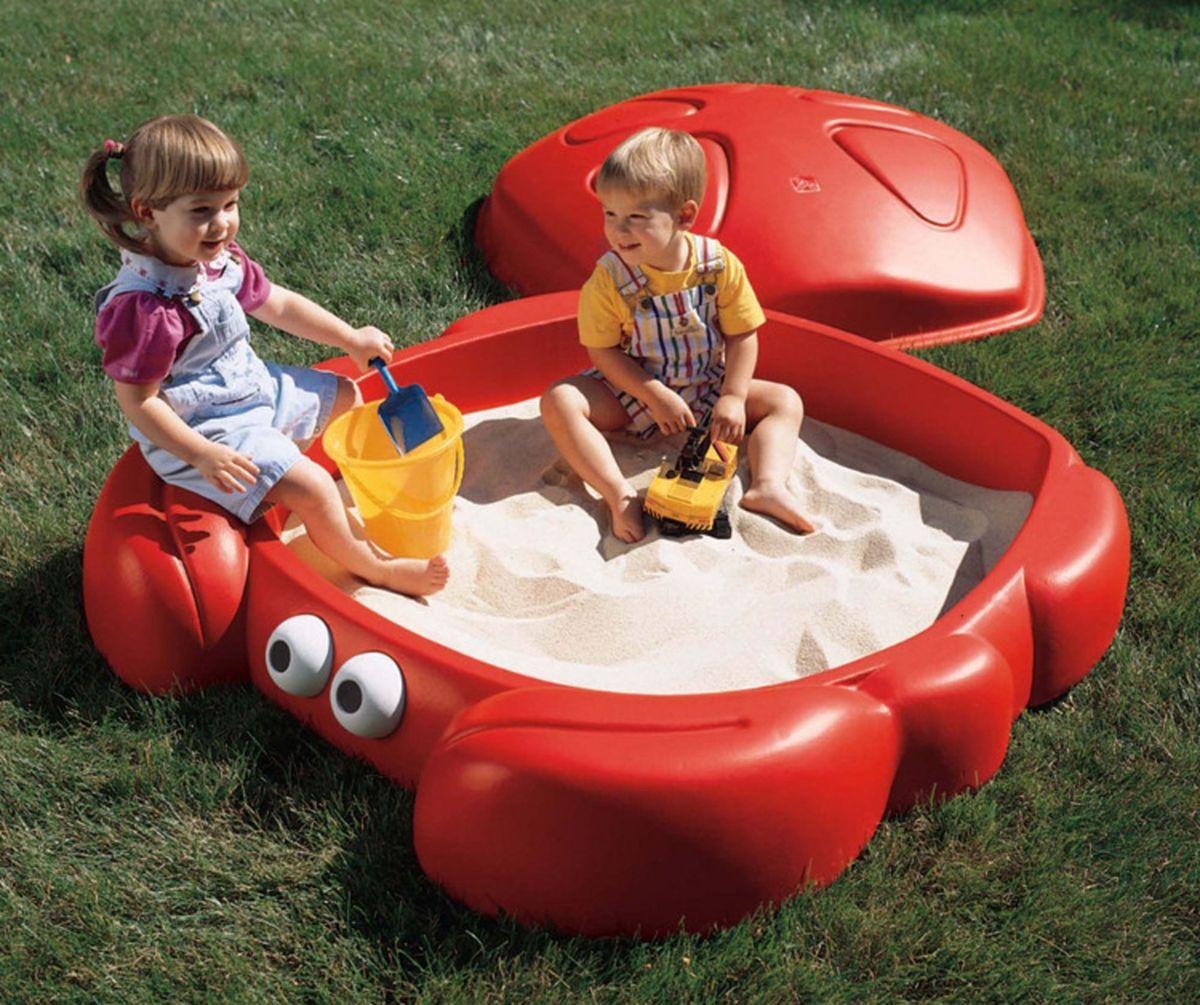 In another sea inspired design this novelty sandbox has been created to resemble an oversized red crab. This unit is freestanding and requires no lining, just fill it and go! The crab shell is removable and seals it to protect the sand from the elements and animals when its not being used. The compact design is ideal for younger children and looks adorable sitting on your lawn as an added bonus. This kind of sandbox comes in the shape of many different animals so you can choose whatever animal your child favours to subtley encourage them outdoors.
14. Giant Tin Can DIY Sandbox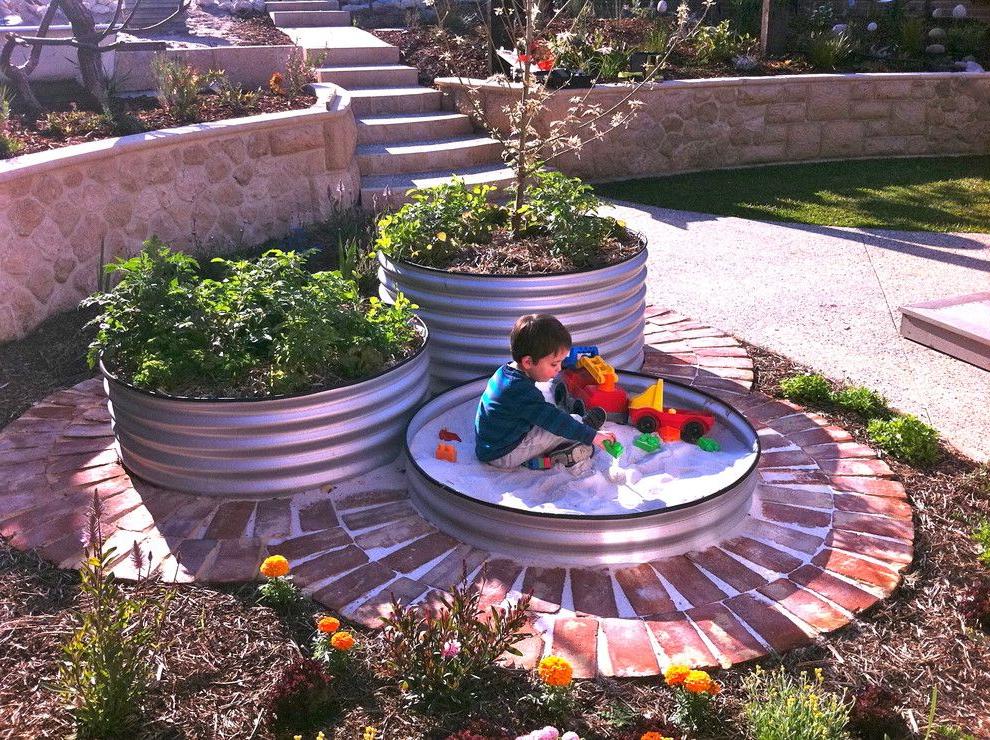 This unique garden configuration combines three levels of giant tin can like planters made of corrugated iron whose lowest level has been made into a little round sandbox. The distinctive round shape is echoed in the brick paving that radiates around them to make this little cluster a real feature. If your landscaping is really important to you this is an example of how to incorporate your child's play area seamlessly into your garden décor.
15. Timber Roll Around Sandbox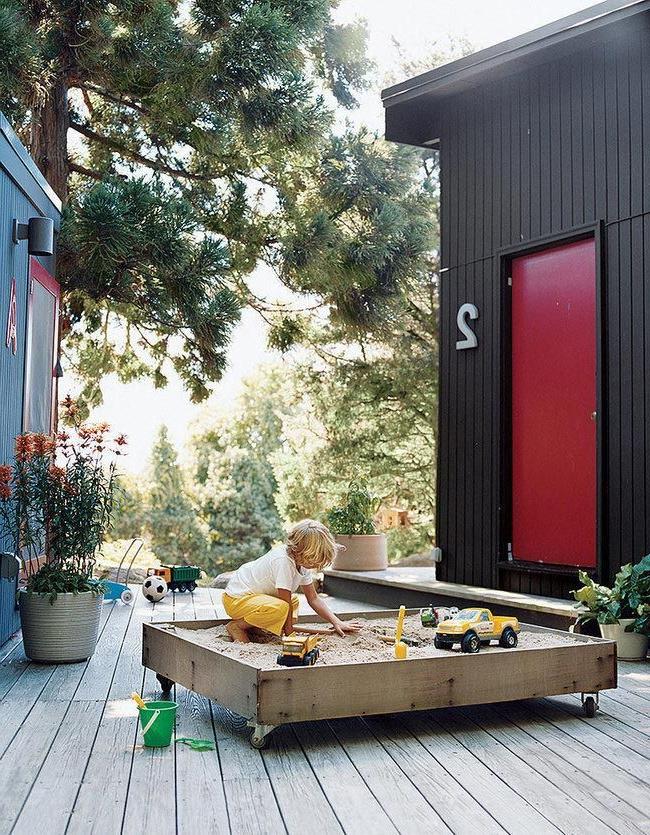 This little timber box sitting on four castors is an easily movable so you can roll this out of the way when its not being used and under cover to protect the sand. This makes the sandbox a less permanent feature so you can adapt your outdoor space day to day or roll it into your eye line so you can get along with what you need to do while keeping an eye on the little ones playing in the sandbox.
16. DIY Sandbox Under The Stairs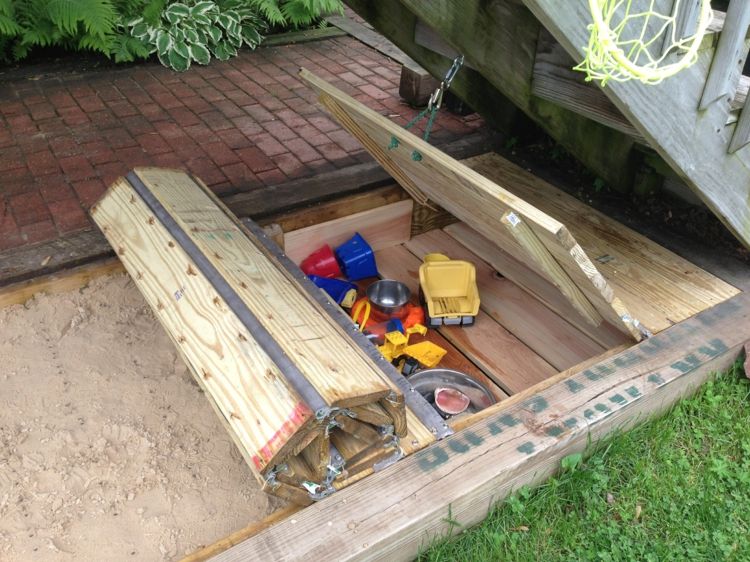 This innovative, reclaimed timber sandbox design has been built into the dead space beneath the stairs that lead to the patio above to maximize on your yard space. When the sandbox isn't being used a clever timber cover that can be manually rolled open and shut protects it from the elements. A storage cubby nestled under the base of the stairs has been constructed out of the same timber to keep the sandbox toys stored away neatly.
17. Innovative Fold Away Sandbox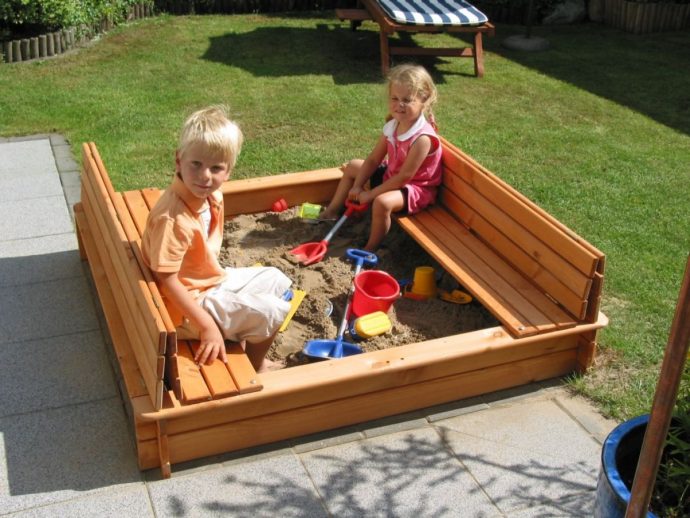 In a step up from the previous example, a hinged lid that is divided into slats covers this innovative sand pit. In this case however instead of rolling up the slats stack on top of one another to create two bench seats on either side. The above ground piece is an above ground all in one system. The smart manual covering system can be closed to protect the sand from the elements when it isn't being used and it looks just as attractive open as closed.
18. DIY Sandbox And Play Space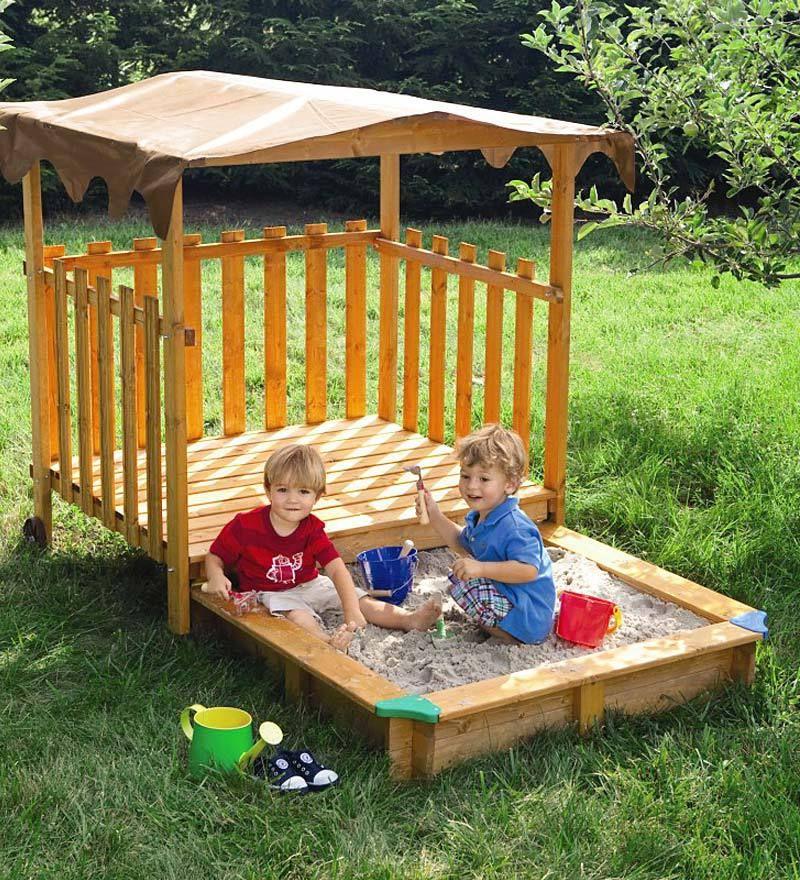 This all in one timber play area incorporates a square timber sandbox accented by colourful rounded corners with a picket fenced raised platform covered in a tarpaulin roof to shade the children while they play. This compact unit allows the kids to move from the platform into the sand and the whole space at once for their imaginary games.
19. Sandbox Pergola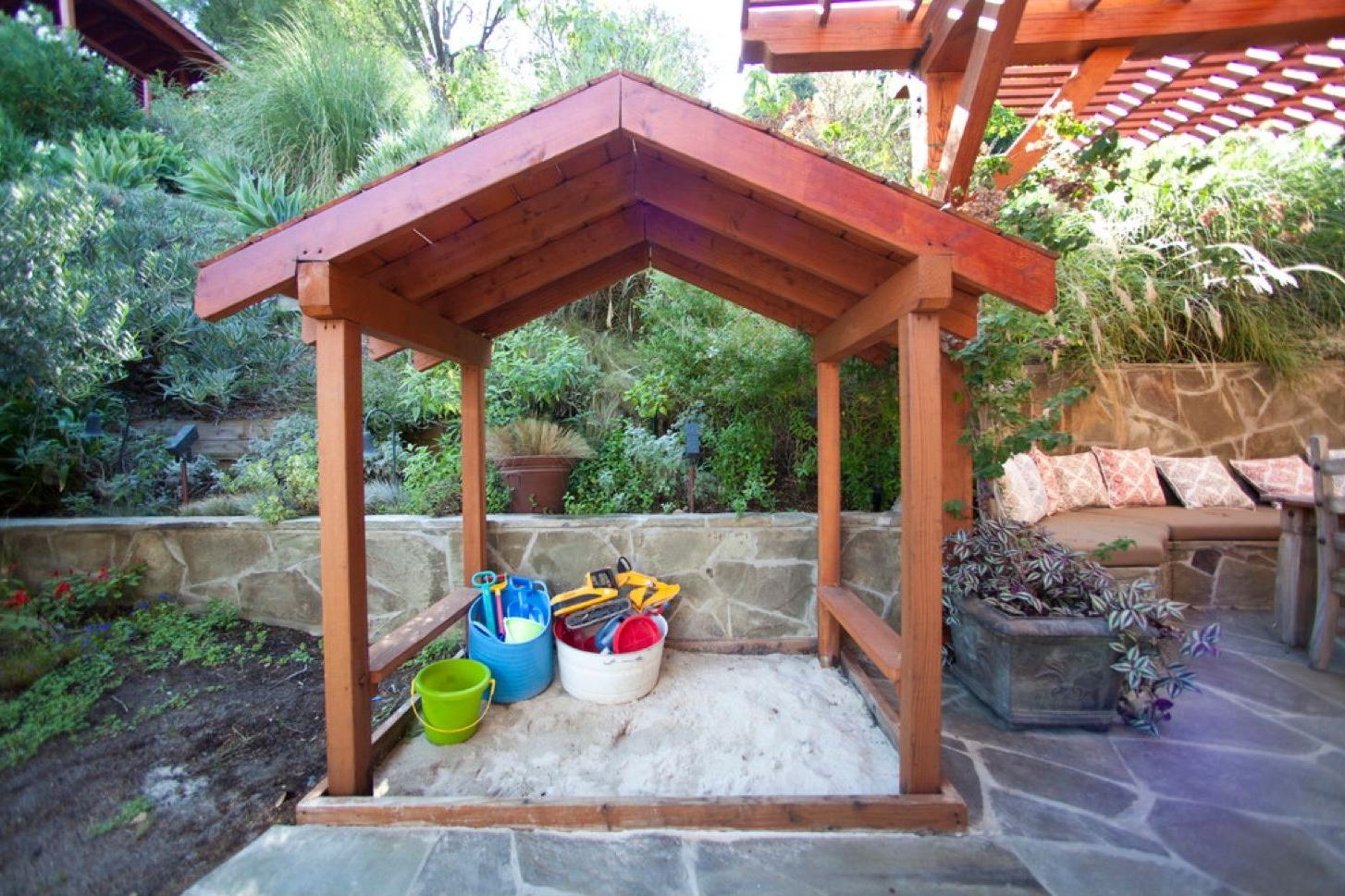 This little sandbox pergola with its little pitched roof shades sits within the stone floor of the large outdoor patio so the children can play while the adults sit outside and relax while keeping an eye on them. The shaded play area and snow white sand is accented with big colourful buckets full of sandbox toys so they are easily accessible and kept neat and tidy.
20. Quirky Boat Inspired Sandbox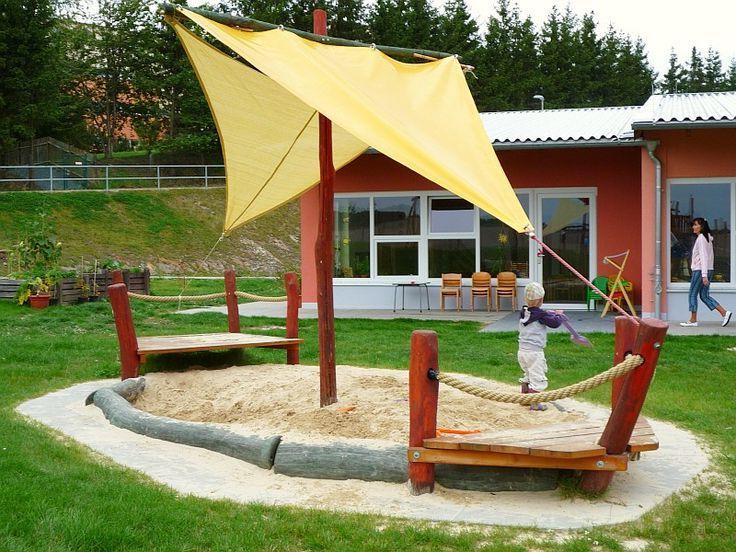 In another version of the nautical inspired sandbox, this ship has been created by an oval of concrete blocks flanked by two triangular timber platforms at either end that act as the bow and stern. Chunky timber posts and thick rope that feel authentic to this pirate ship style accent the whimsical design. A pole with a metal cross bar is placed in the centre of the sand to form the mast whose sails extend out to the bow and stern on either side in a bright yellow.
21. Raised Hexagonal Sandbox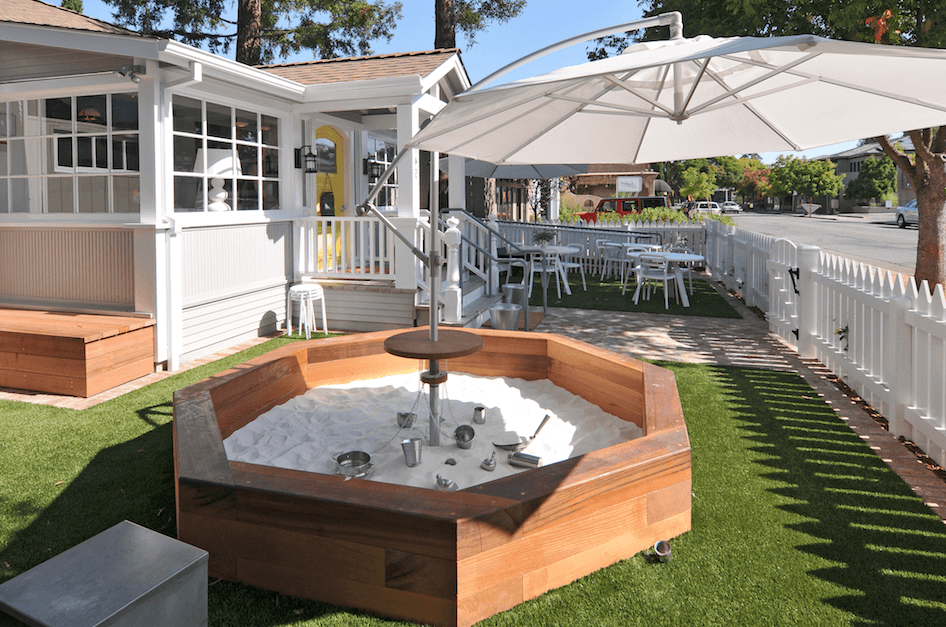 This modern sandbox takes the form of a chunky timber hexagonal structure filled with bright white sand that perfectly coordinates with the decking on the house beside it. A large modern outdoor umbrella grows from the centre of the sand like a big white flower to shade the garden and the children in the sandbox at the same time. This is a modern way to provide your child with a place to play while styling your back yard at the same time.
22. Striped DIY Sandbox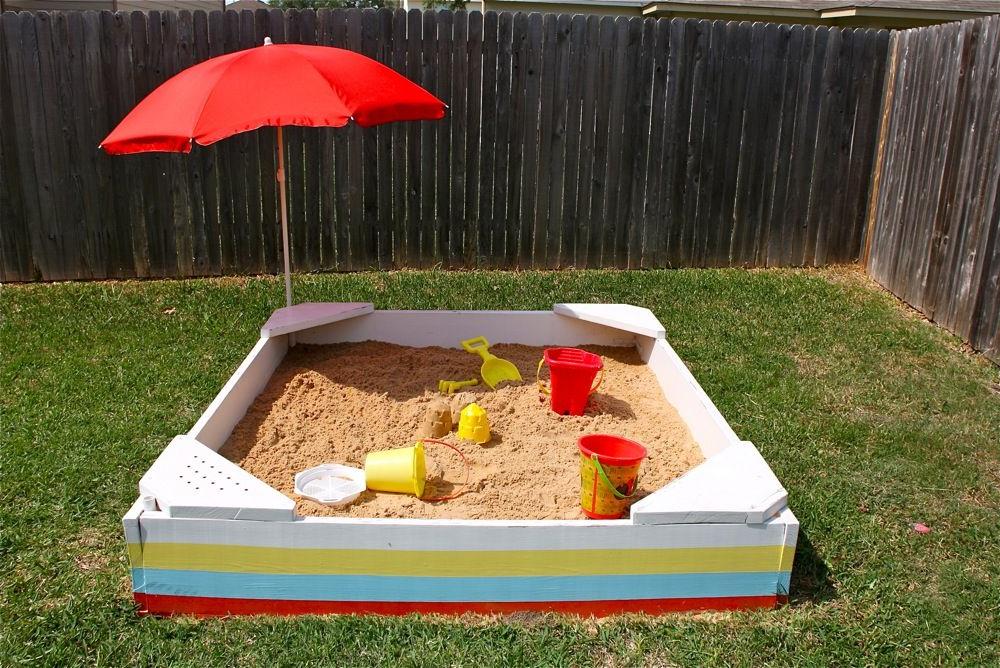 This colourful little sandbox is a style that can be easily be DIYed by hammering four pieces of timber together with a triangular piece of reinforcement on each corner to keep the frame sturdy and act as four built in chairs. Then all you need to do is line the base with plastic and paint with bright acrylic paint.
23. Elegant Timber Sandbox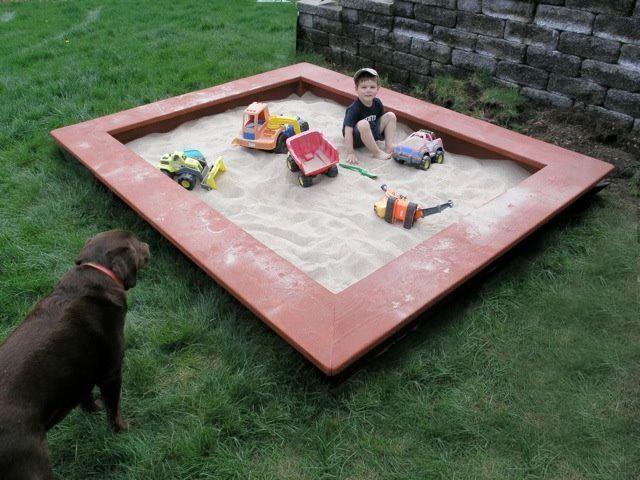 For a more elegant style of children's play area this sandbox appears to float above the grass as the thick rim projects over the base. A sandbox of this size is big enough to accommodate multiple children or older children so you get a lot of bang for your buck with this sleek design.
24. Covered Timber Sandbox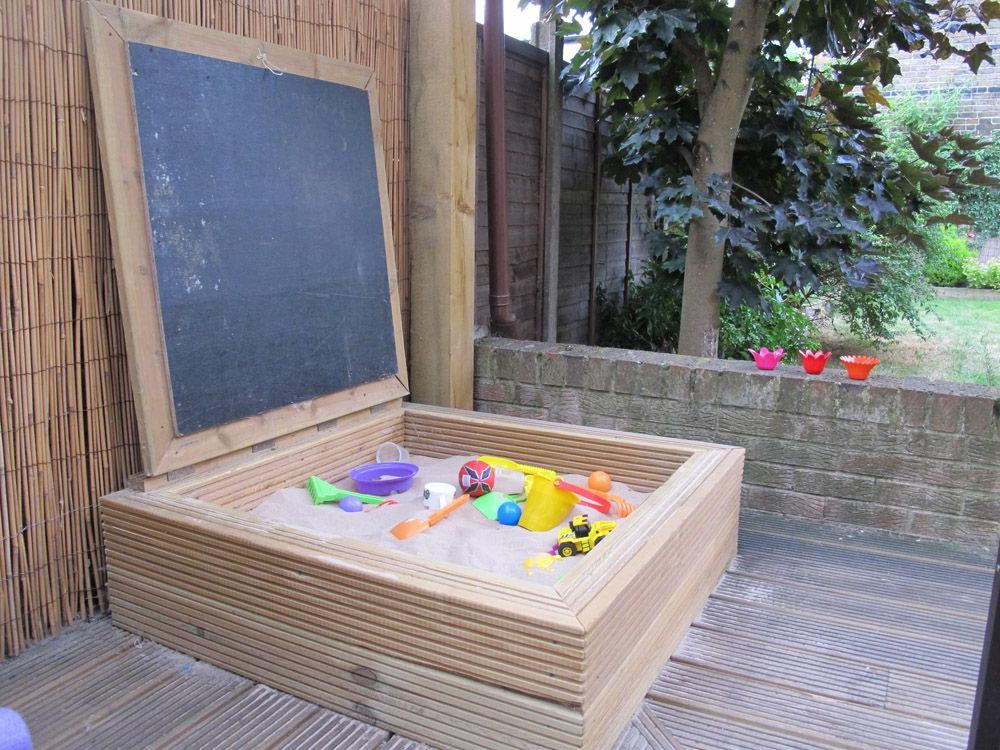 This raised sandbox is faced in ribbed timber that ties in with the wood paneled patio in a manner that is coordinated without being matchy matchy. The large toy box style design has an oversized hinged lid to keep the rain and animals off the sand when its not being used. Underneath the large lid is a secret black board hidden that adds a whole new level of fun to the sandbox appearance. Placing the sandbox on that patio has the added benefit of keeping the children playing close to the house so you can keep half an eye on them while you get on with work or chores.
25. Pick Up Truck Sandbox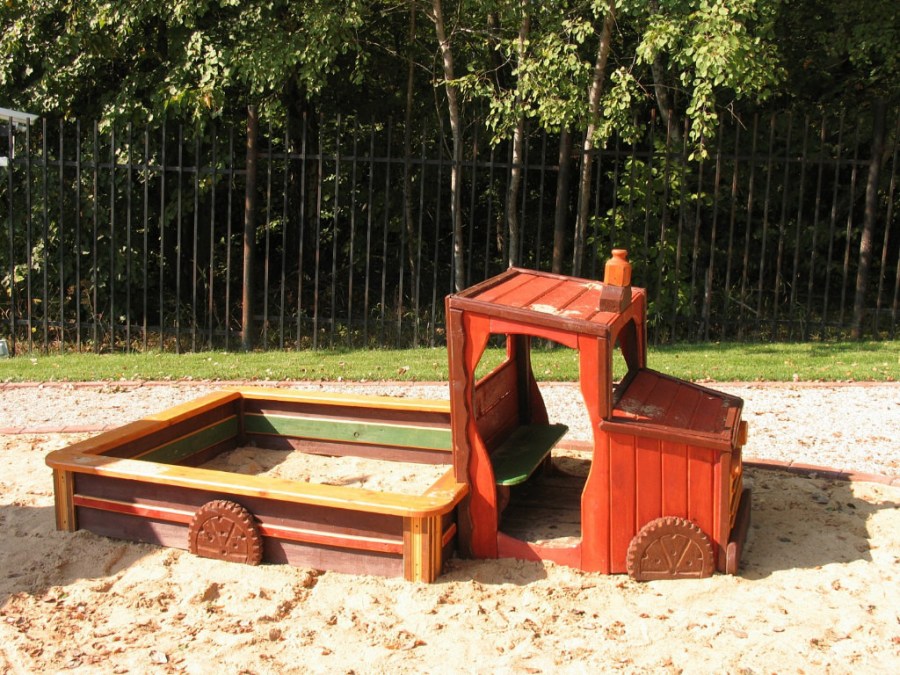 This novelty little red pick up truck is a baseless timber frame that creates a novelty sandbox within a much larger sandbox like it parked there by accident. The brightly coloured truck is a fun extra piece of entertainment to keep the kids occupied in the sunshine. Kids can pretend to drive the truck while they sit in the truck bed and play in the sand on imaginary adventures.
26. All In One Jungle Gym Sandbox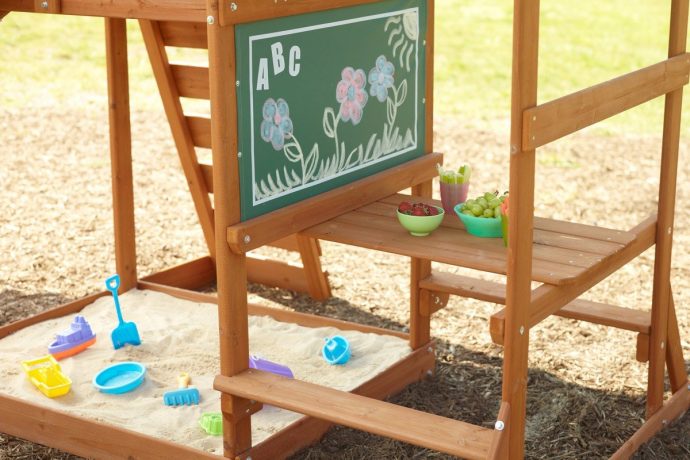 This all in one jungle gym multiple levels of play have been created with a sandbox at the bottom covered by the jungle gym which shades it and protects the sand from the rain. The other levels consist of a stepladder to a raised platform and another incorporated blackboard. Many children can use this style of play zone at once, keeping them all occupied at once within the same space.
27. Bright Blue Entertainment Station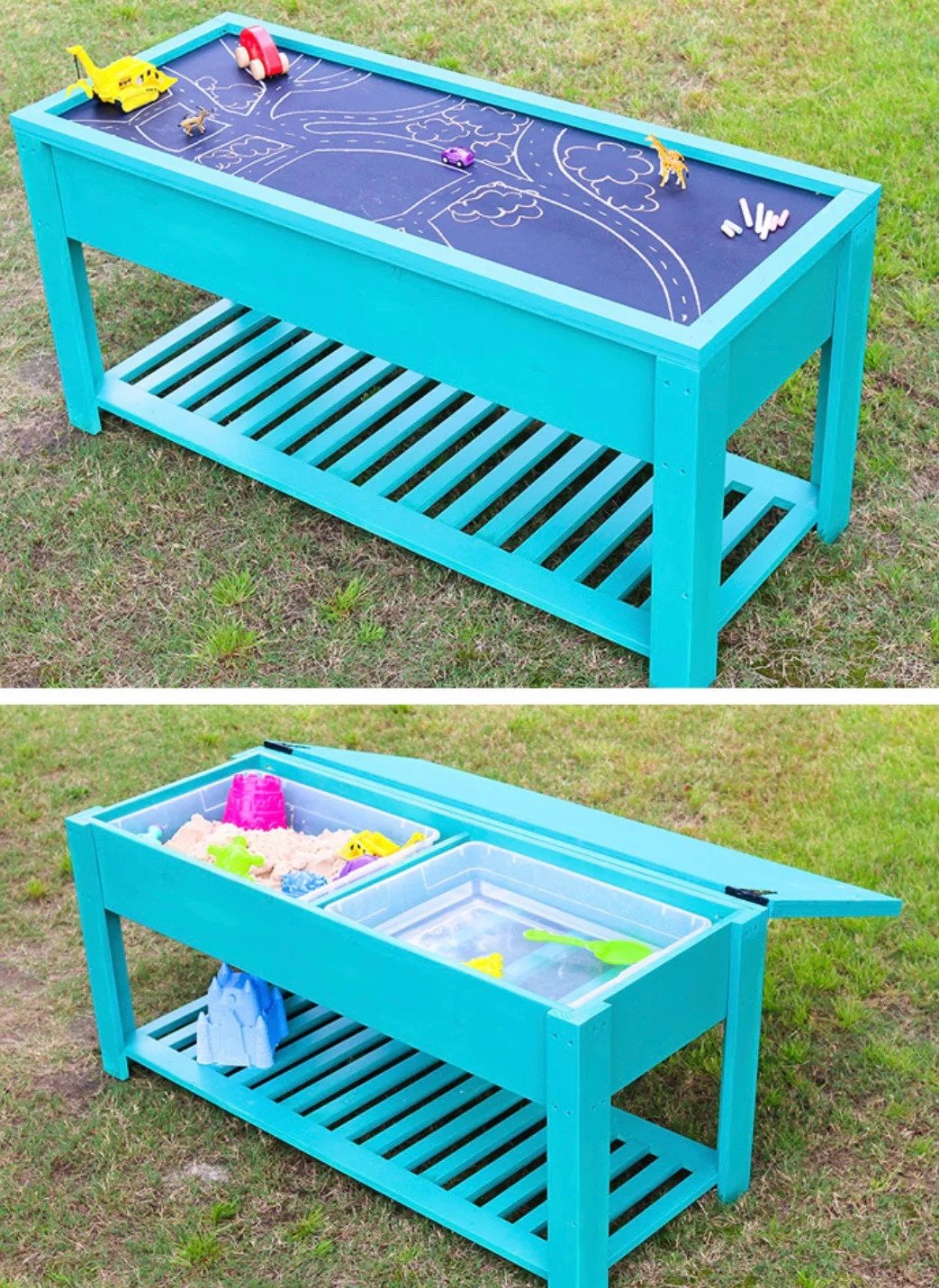 This bright teal little table unit can entertain a child in multiple different ways in one small area that minimizes the spread of kids' paraphernalia across the whole house. The lid that can double as a tabletop features a blackboard to scribble all over. The blackboard art can also open up to reveal two plastic containers one for water play and one that acts as a mini sandbox. This little bench can occupy multiple children at once without the possibility of them becoming bored.
28. DIY Sandbox Kiddie Pool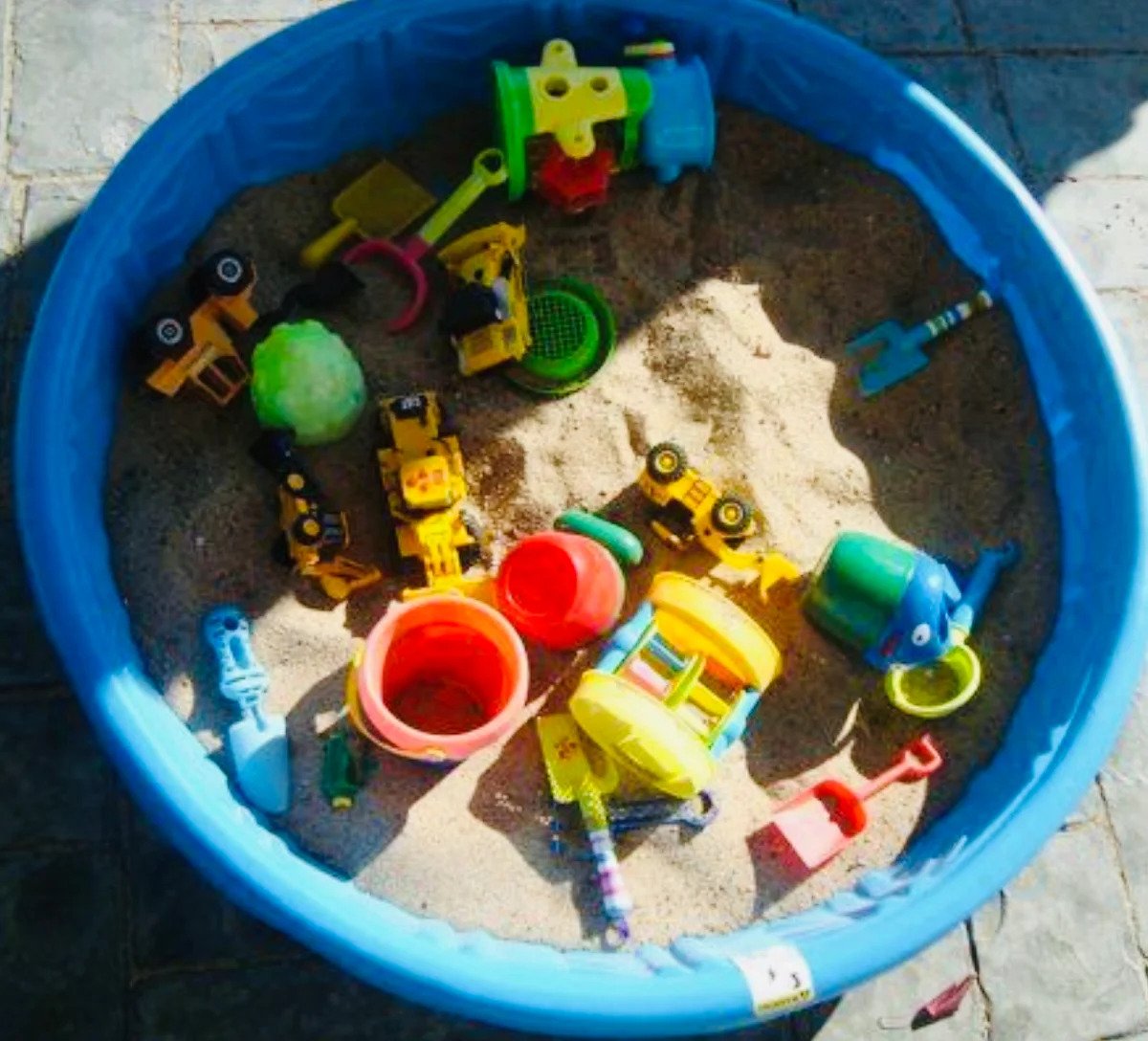 This is an upcycled DIY projects that even those with no creative skill can pull off. All you need is sandpit sand and an old kiddies pool. Even pools that may have a hole or two that prevent it holding water can be used to hold sand with no problem at all. Taking advantage of items you may have otherwise thrown away is an ecofriendly way to cater for children without having to fork out loads of money for low quality children's toys. The resulting appearance is really cute, creative and a little unexpected. The soft plastic sides of the kiddies pool makes this perfect for younger children who aren't independent mobile yet to prevent from bruises and bumps that could be caused by wooden framed sandboxes.
Conclusion
As you can see these little boxes of sand are a great way to infuse your garden with a burst of fun and give your children some incentive to go outside and play. Their simple beginnings can be crafted into something more unique, not just by your child's imagination, but by the way you design the sandbox itself too.
Children have very delicate skin so a lot of these sandboxes have cleverly built in shades to protect them from the sun while they play outdoors. They have also incorporated covers that keep the sand from getting water logged or sneaky cats from using your kid's play zone as a bathroom.
Sandboxes have managed to stay around for so long for a reason and these examples are the perfect way example as to why they are a staple in children's entertainment. So why not encourage your children into the outdoors with your own gorgeous sand pit.