Vintage Chest of drawers are a humble piece of furniture found in almost every home. Most commonly found in bedrooms they are an efficient way to store clothes and other bits and pieces all in one neat unit. However, they aren't just reserved for the bedroom or limited to just a functional item. Drawers can be used in the living room, bathrooms and even hallways to not only provide you with loads of storage space but enhance your interior design too. These solid monolithic objects take up a lot of space so why not choose one (or refurbish one yourself) so that it fits in with and augment the aesthetic of whatever room you place it in.
24 Vintage Chest Of Drawers To Solve Your Storage Woes In Style
Trunks on the other hand are a less common item that are also used for storage. They are known for their vintage style and rustic aesthetic that can contribute not only storage but also a visual feature in any room. They can sit on their own or even double as a coffee table to help you get a little more bang for your buck. These beautiful trunks can be bought new, renovated yourself or thrifted to find or make the perfect one to suit your style.
For some beautiful examples of how to use these common pieces of household furniture to enhance your interior design here are:
1. Vintage Chest Of Drawers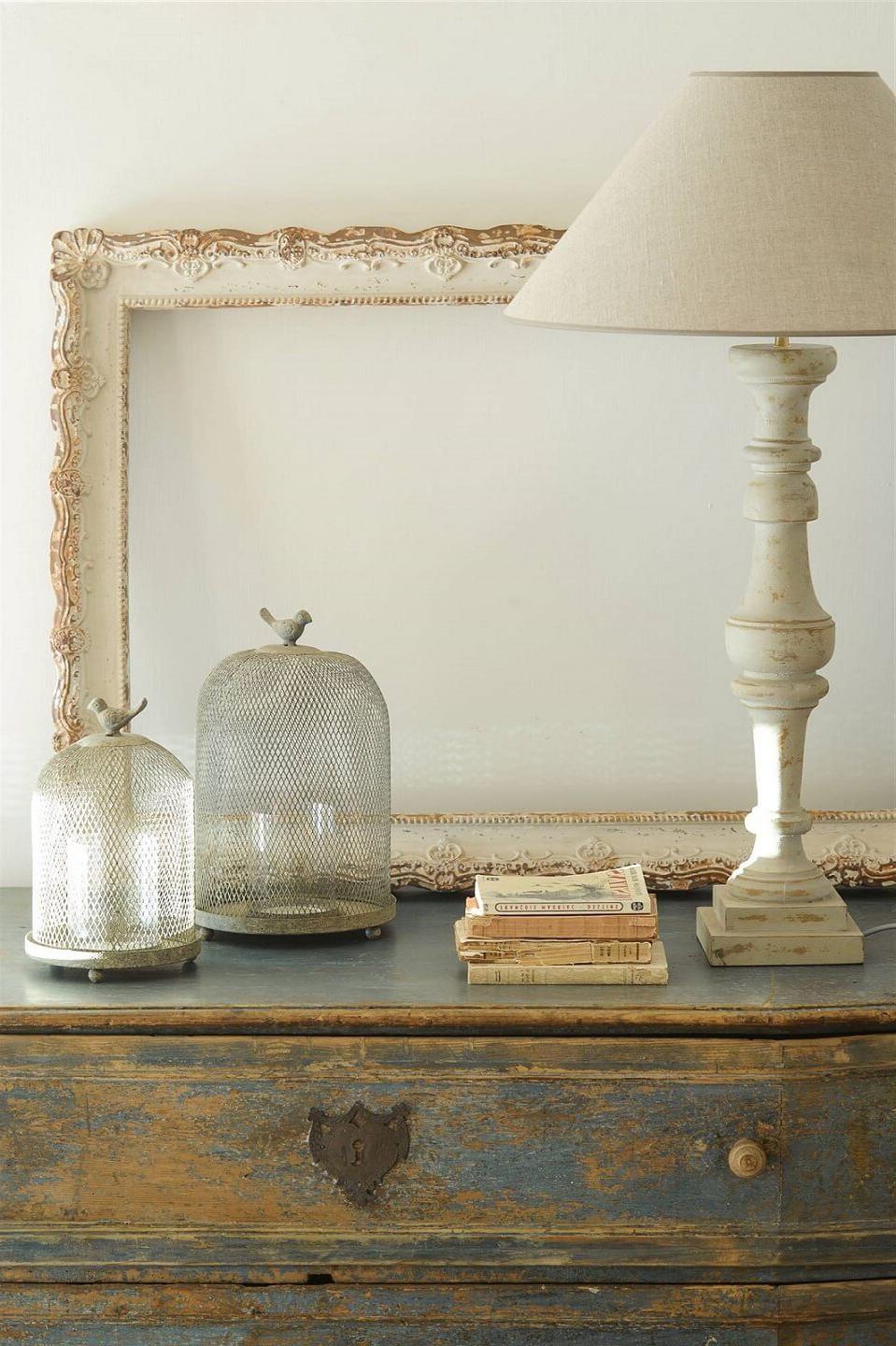 If you enjoy a vintage look this vintage chest of drawers is right up your alley. The chest appears to have been previously painted a deep blue which has weathered over time to produce this beautiful mottled finish. It is detailed by the original metalwork keyhole and tiny little circular handles. This kind of piece can be decorated with miscellaneous items that add to the vintage aesthetic like the lathed table lamp, empty embellished frame, some old books and mesh covered candleholders.
2. Rustic Trunk With A Surprise Inside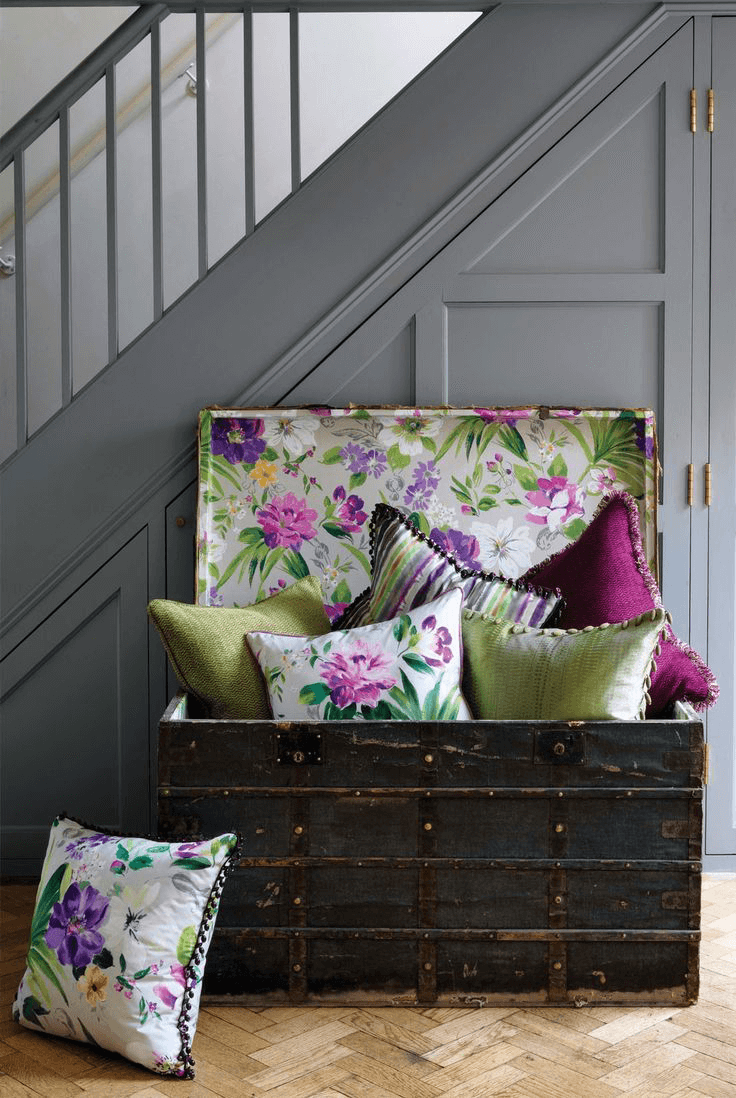 This large vintage trunk with its dark, weathered exterior adds texture and rusticity to this contemporary grey hallway. When you open the chest it surprises you with a bright floral interior lining that matches with the colourful array of pillows that it stores inside. The trunk could be displayed closed for simplicity or open to use the lining and the cushions as a pop of colour and texture into a relatively unassuming space.
3. Bathroom Chest Of Drawers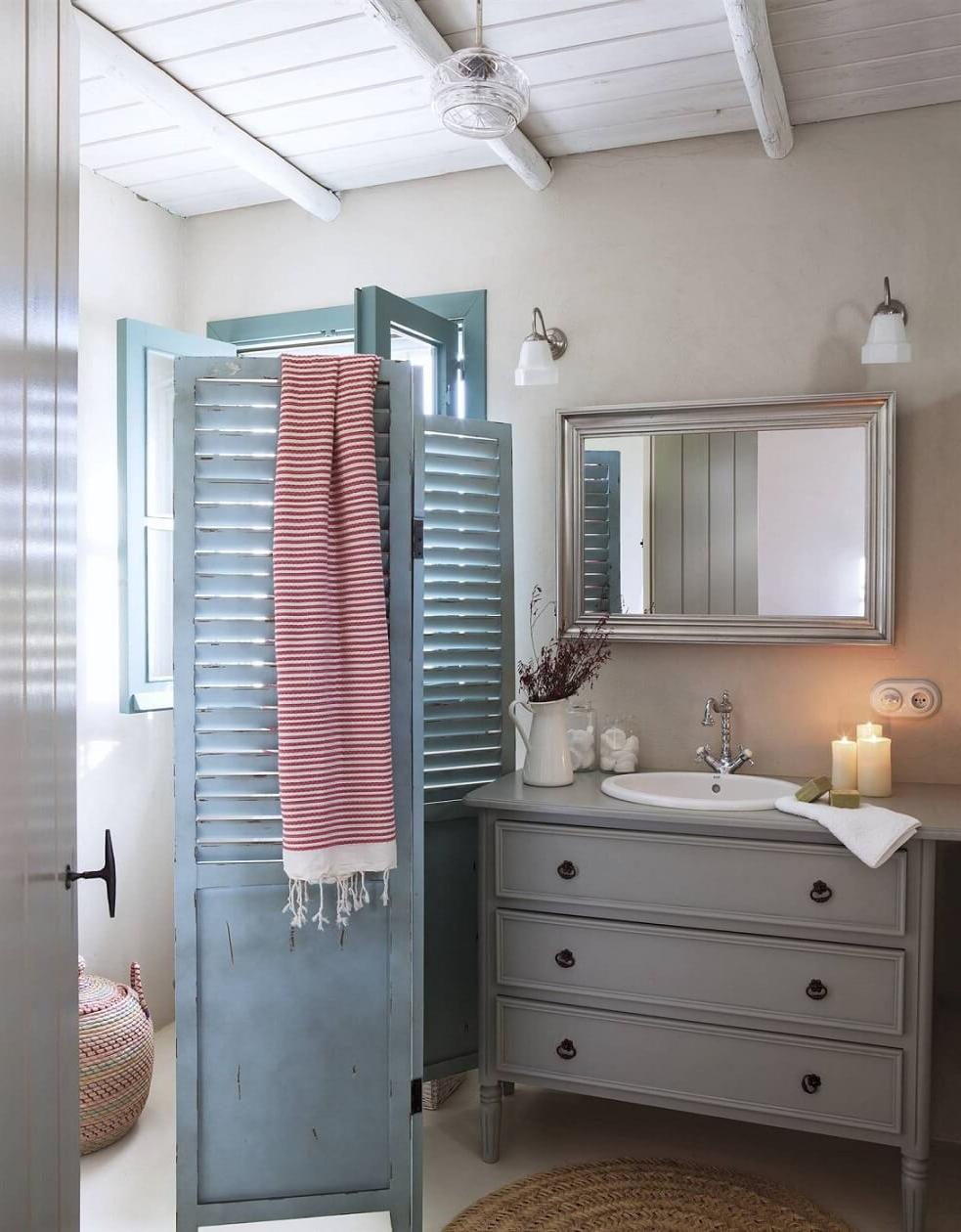 As an example of how drawers can be used in any room in the house this cool grey vintage chest of drawers has been outfitted with a built in basin and countertop to decorate this rustic bathroom. The large wide drawers can fit all your bathroom paraphernalia and hide them away neatly so you can create the Pinterest worthy bathroom of your dreams without compromising its usefulness.
4. Beautiful Bedside Drawers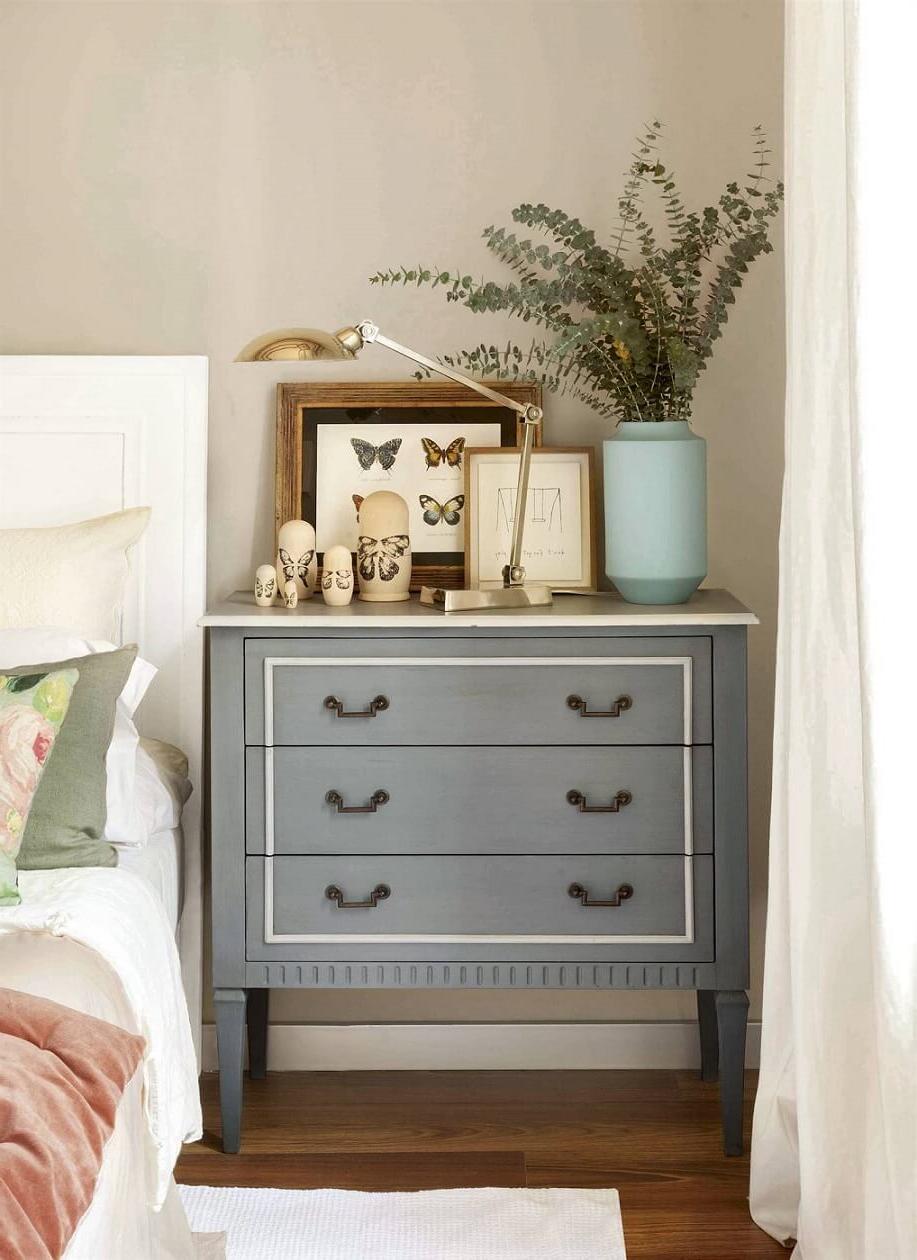 Although these drawers are in their traditional habitat of a bedroom, they have been cleverly placed next to the bed to double as a bedside table. This cute little set of dusty blue drawers is outfitted with vintage metal handles and a painted white frame that ties in with the white tabletop, an understated backdrop for the a leaning gold bedside lamp and a collection of decorations and plants that sit upon it. The drawers sit on little pointed legs that aren't only elegant but also make cleaning much easier.
5. Quirky Painted Drawers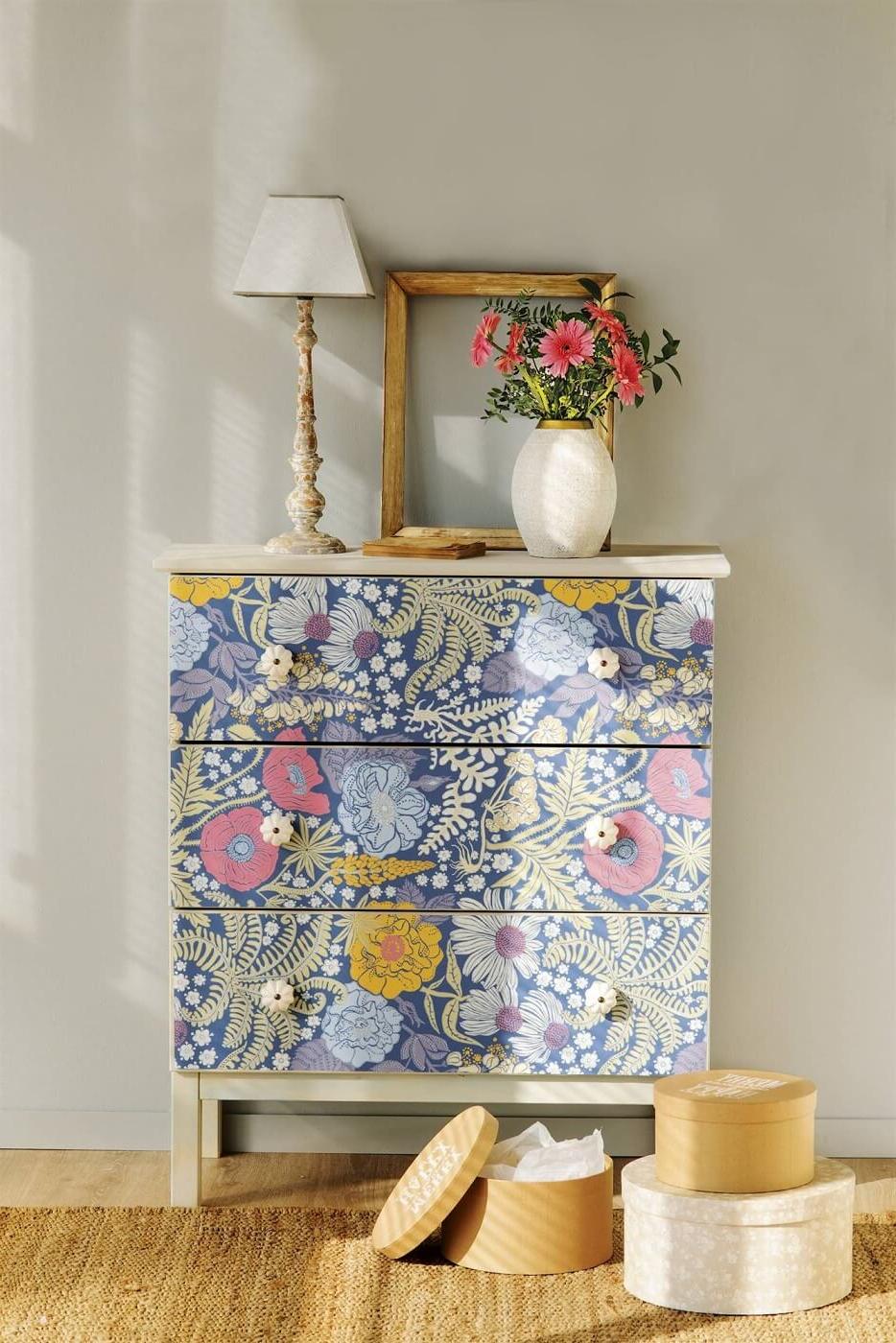 It's a rare occasion when a piece of furniture is what brings colour and pattern into your living room but this chest of drawers does just that. The gorgeous hand painted floral design is set on a blue background that flows from drawer to drawer seamlessly so they read as one image. The drawer faces are held in a pale timber frame with little wooden flower shaped handles to tie into the painted design. The top of the drawers features by some carefully chosen décor like freshly picked flowers, an empty timber picture frame and vintage wooden table lamp that all work perfectly with the structure they sit on.
6. Dusty Pink Chest Of Drawers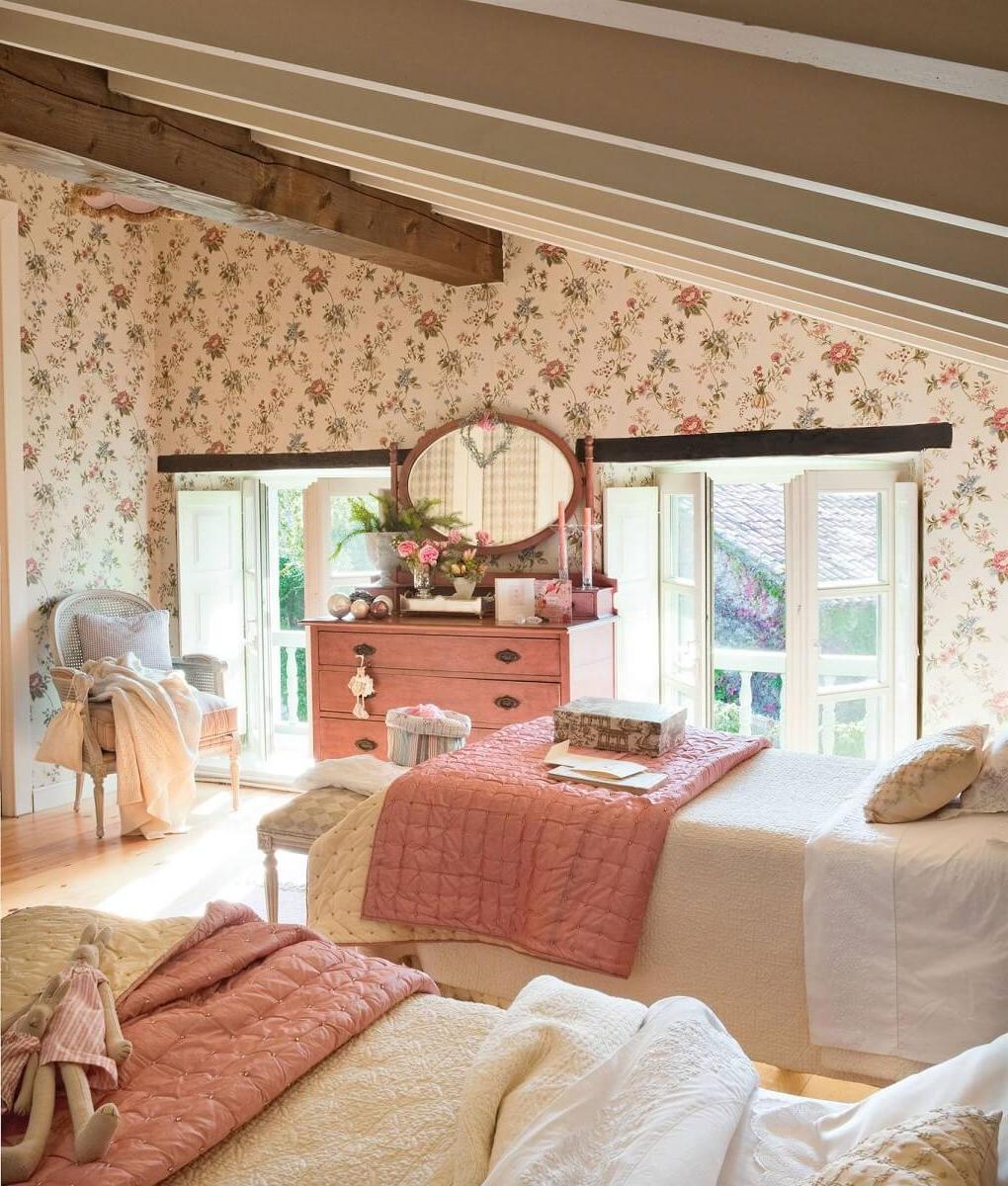 This dusty pink vintage chest of drawers looks right at home in this sweet, whimsical children's bedroom wallpapered in a floral pattern. The wide monolith sits between two sets of French doors that lead to the balcony and light up the tall, pitched room. While providing plenty of room to store your kid's clothes and doubles as a dresser with an oval mirror sitting above it.
7. Trunk At The End Of The Bed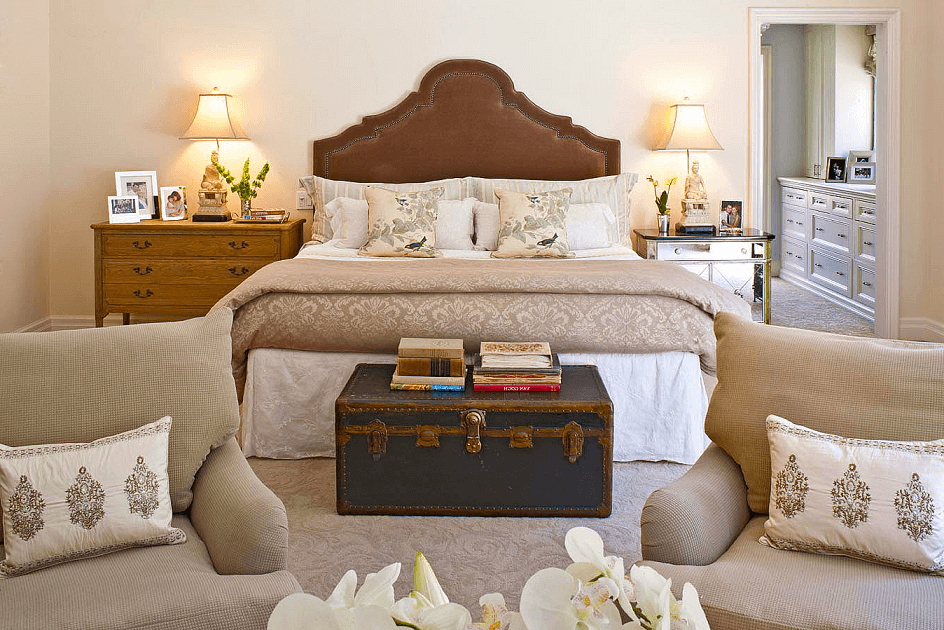 In a classical manner, this vintage trunk sits at the end of this luxuriously large bed. This piece with its original copper metalwork is beautiful just as it is but it is more than just a pretty face, it is also a useful storage space that you can extra blankets and linen that come in handy in a bedroom setting. The bedroom also features mismatched chests of drawers on either side of the bed which gives this traditional bedroom a little eclectic flair.
8. Rustic Painted Chest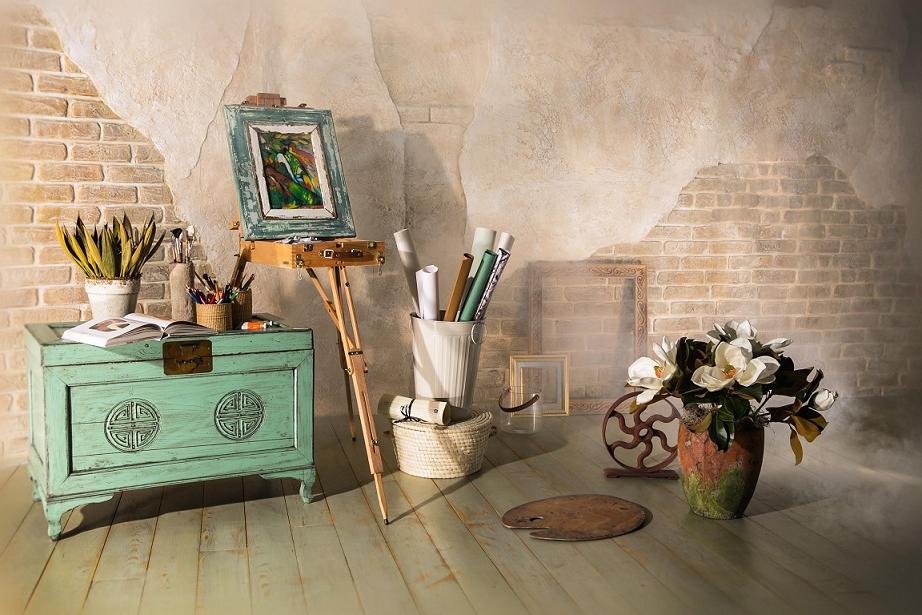 This Asian inspired weathered trunk painted a bright teal and carved with a pair of circular design is being used as a table to hold all the painting supplies you may need while sitting at the easel creating your art. The bulky prism sits on a quartet of dainty little legs in a very rustic setting surrounded by eclectic décor, the perfect environment to inspire you while you paint. Since the surface of the trunk is well used the inside is a good spot to store art supplies that you don't use on an everyday basis.
9. Eclectic Dark Wooden Vintage Chest Of Drawers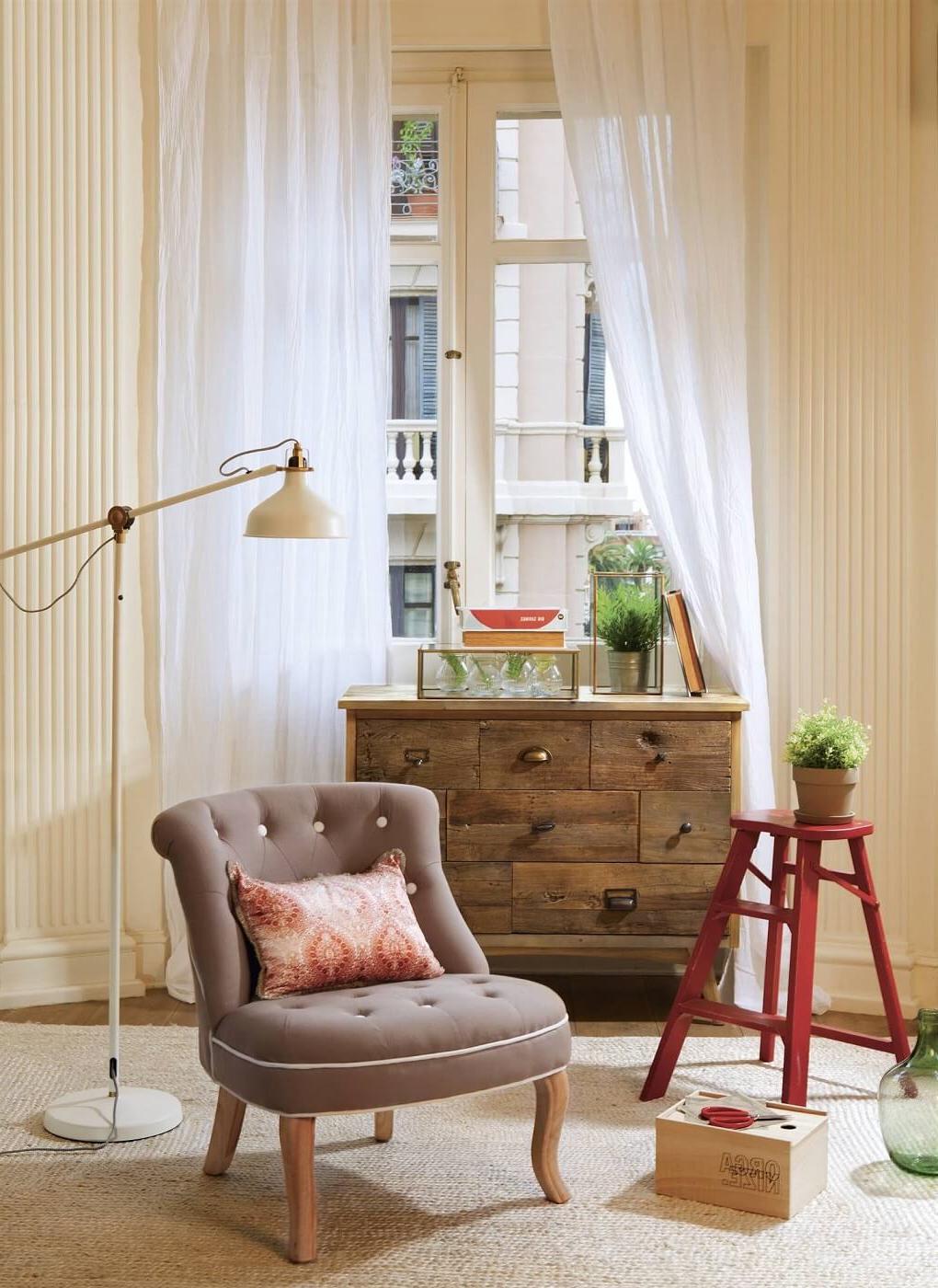 Sat beside an open window, this unusual vintage chest of drawers is an eye-catching feature within this living room. All the drawers are different sizes with a different handle on each that makes the piece more visually interesting and allows you to use each for a specially designed purpose. The dark stain of the drawers within a light room could make it stand out like a sore thumb but this is not the only unusual piece of furniture in the space. A red stool come stepladder sits next to it holding a plant with an oversized vintage standing lamp next to the chair which all come together to create this eclectic aesthetic.
10. Striking Set Of Painted Furniture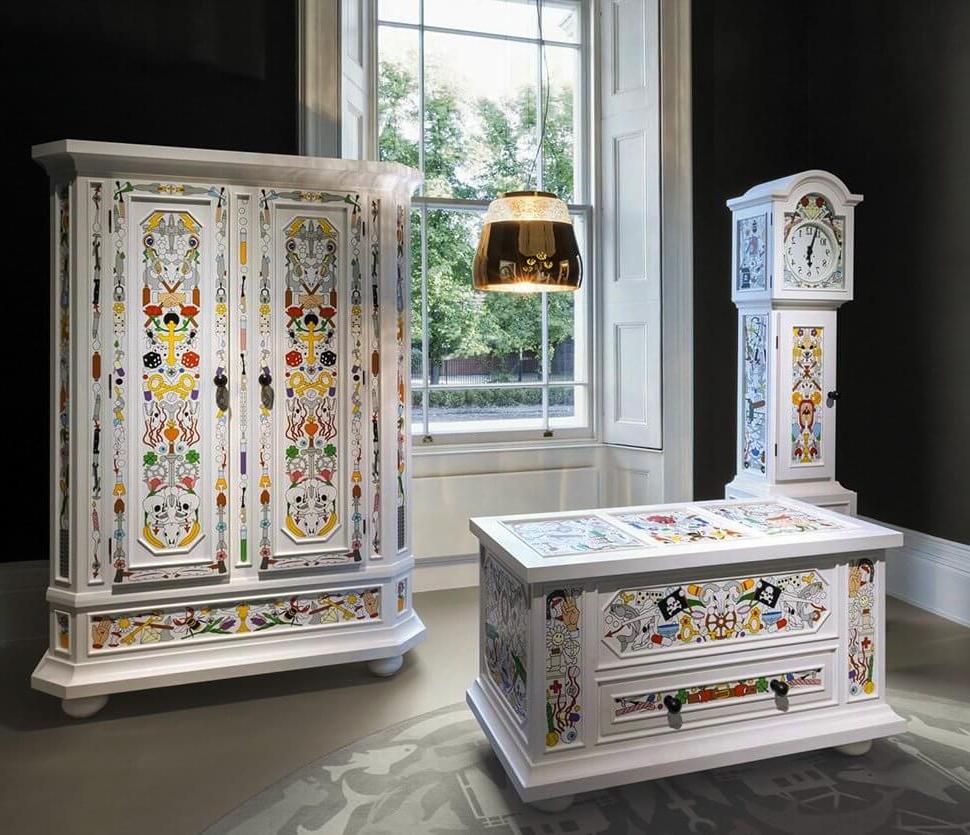 This iconic set of furniture features a freestanding closet, grandfather clock and large chest that have been meticulously designed to be displayed together for the most visual impact. The bright white structures have been intricately hand painted with a brightly coloured pattern across the panels of the furniture that results in a bespoke designer set that feels expensive and exclusive. The chest is a piece of art all on its own, let alone when paired with the other two but it also provides you with plenty of space both in the body of the piece and the small drawer built into the base.
11. Literal Chest Of Drawers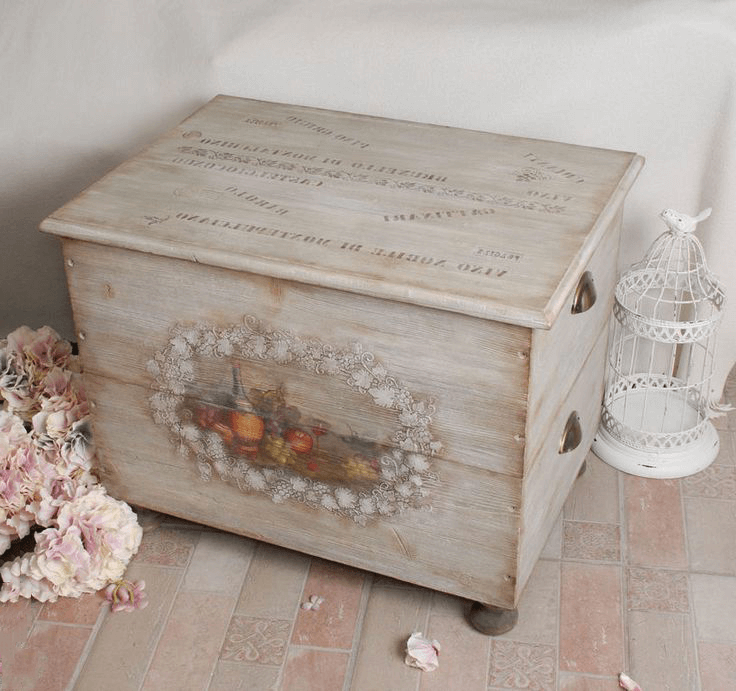 This sneaky little piece of visual trickery appears to be a simple trunk but when you look a little closer it is in fact a set of drawers built into a trunk's framework with little half moon handles. This is a really simple shape that can be easily refurbished yourself with some weathered style paintwork and stenciled words scattered across the top and a hand painted still life on one side that can be executed cheaply with acrylic paints.
12. Asian Inspired Wooden Trunk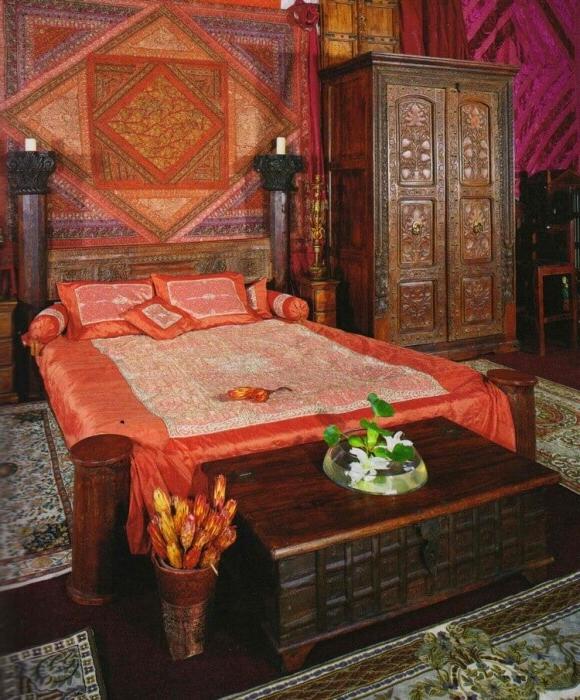 This Asian inspired dark timber chest sits low to the ground with a timber mesh on the front sitting at the end of the bed in a classic fashion. The deep wood texture coordinates beautifully with the imposing cupboard and the dramatic Corinthian columns on either side of the bed. The abundance of dark wood contrasts beautifully with the rich orange bedspread and tapestry that warms up the space and makes it feel comfortable and luxurious.
13. Little Wooden Toy Chest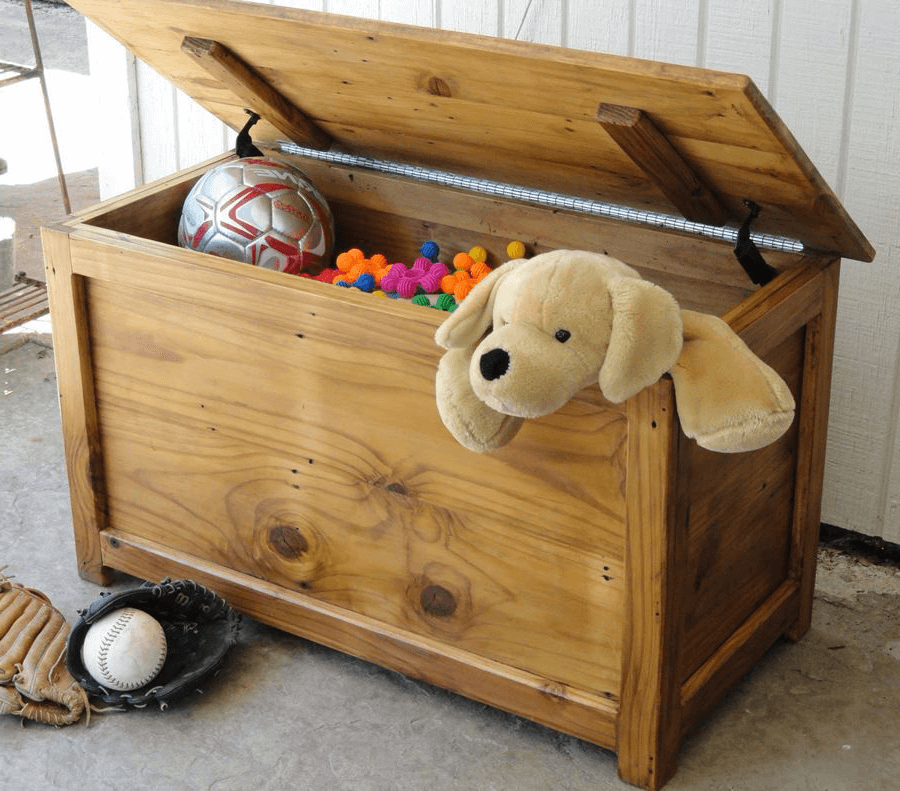 This rustic little wooden trunk the ideal place to store away all your kids' toys to keep your their bedroom neat and tidy that happens to look attractive at the same time. The traditional design is hardy and looks great alongside the chaotic colour that are most children's bedroom and can double as a seat while helping you solve your storage woes all at once.
14. Chunky Vintage Travelling Trunk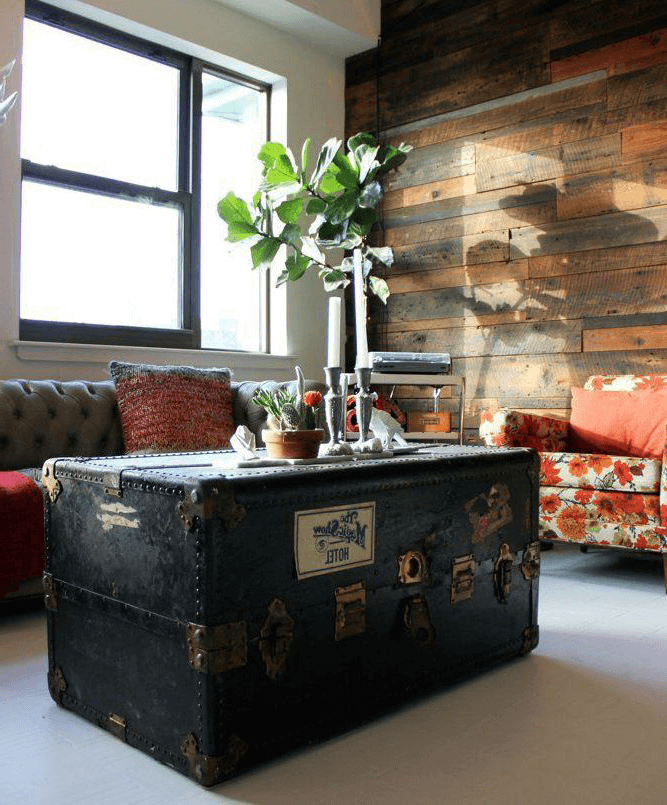 This massive vintage travelling trunk has been cleverly used as a coffee table in this rustic lounge. The solid black obelisk is accented with gorgeous metalwork along all its edges and detailing each corner with a big lock feature and hinges. The quirky choice of coffee table fits well within this space that features other unusual design elements like the floral orange couch and wood paneled wall. The trunk has been decorated with a few small ornaments but could still be used as storage for things you don't use on an everyday basis.
15. Dainty Painted Trunk Coffee Table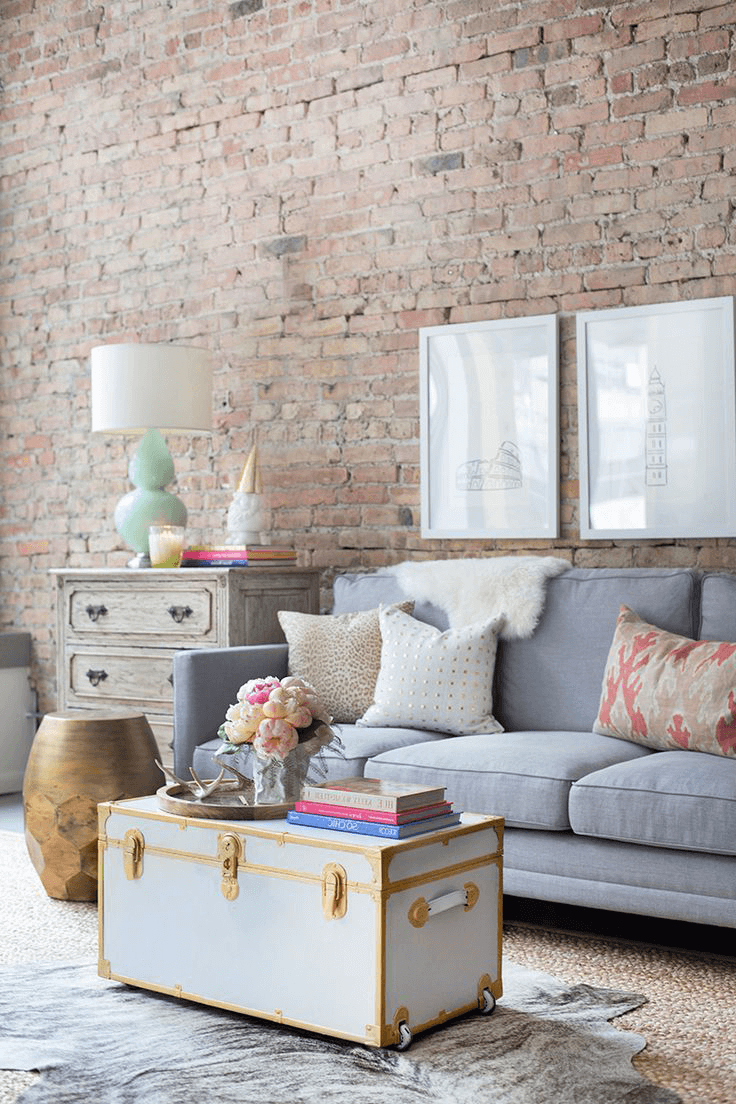 This beautiful gilded trunk has found its home in another rustic dining room with rich textures: exposed brick walls, weathered timber chest of drawers beside the couch and layered rugs underneath the trunk. Like the previous example this trunk doubles as a coffee table with storage inside and space to decorate on top. Its design is lighter than a lot of trunk designs we've seen so far, painted a pale blue with gold detailing around the edges and in the hinges and latch that updates it into a more contemporary setting.
16. Modern Bathroom With Traditional Drawers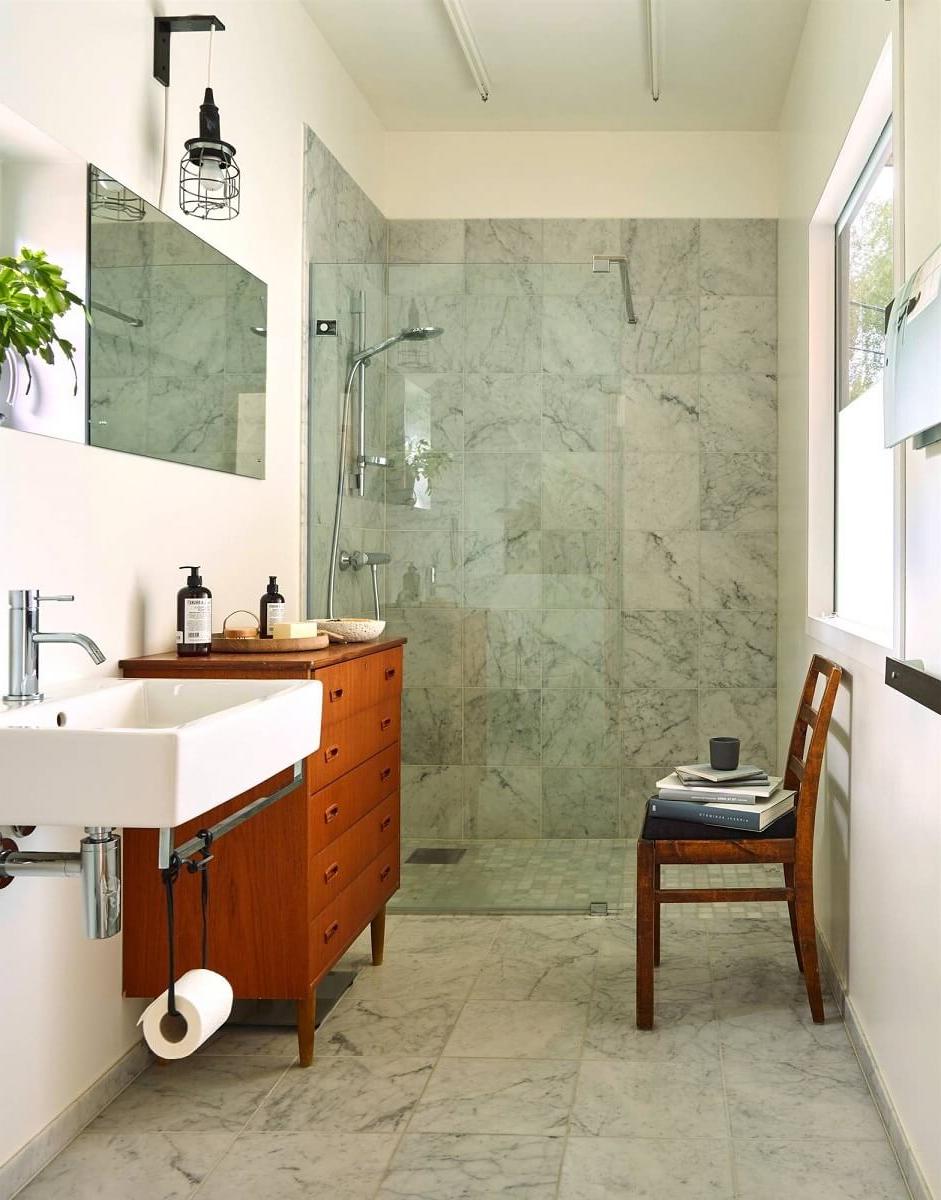 This luxury bathroom is very modern and clean with a sleek sink encapsulated by marble tiles with cream walls and glass shower door. This style is broken up by the classic set of wooden drawers that provide storage in the minimal bathroom. Along with the little wooden chair they warm brown hue breaks up the clinical look of the space and makes it feel more comfortable.
17. Stained Oak Vintage Chest Of Drawers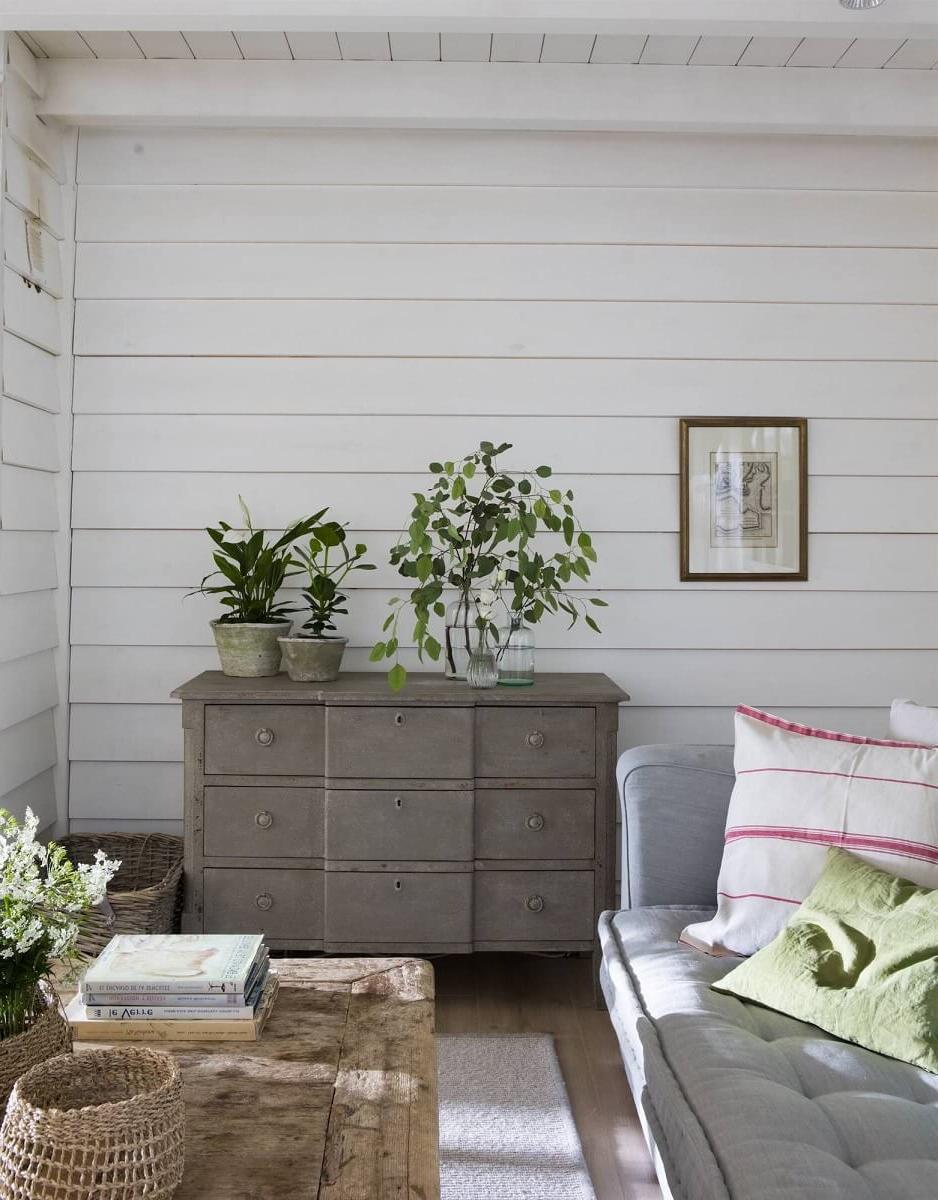 This bright yet rustic wood paneled lounge is the perfect backdrop for the grey chest of drawers contrasted against it. The chest is made up of three chunky drawers with an offset centre with small round handles. The surface of the drawers has been used to bring nature into the rustic space through a series of pot plants.
18. Large Weathered Drawer Unit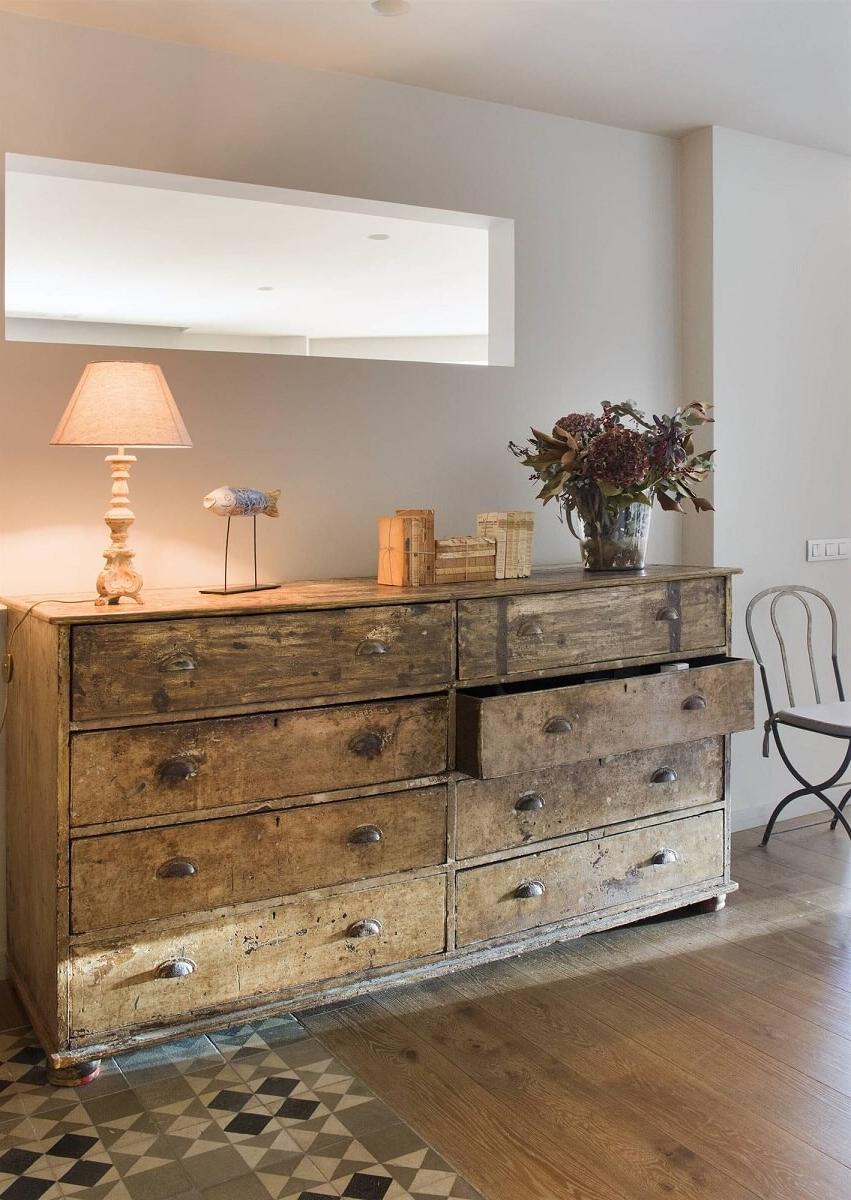 This expansive chest of drawers features two columns of drawers. The vintage weathered looking unit has two small half moon handles on either side of the large drawers. Its finish is really beautiful and provides you with loads of storage space and a wide surface area on top to display plants and other décor.
19. Small Leather Bound Trunk
This cute little trunk is a new item that has been DIYed and made to look like an old trunk by using a deep green stain that accentuates the wood grain wrapped up in a pair of leather straps that are held in place by large gold fastenings. The small metal catch that keeps it closed has been painted darker to coordinate with the straps. Although this is a smaller version of the trunks we've seen previously it has just as much character.
20. Teal Upholstered Chest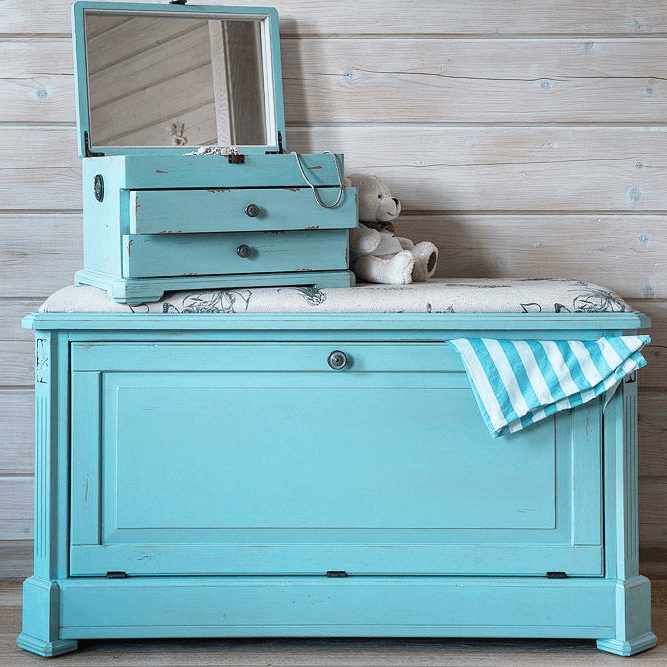 This large traditional looking chest has been painted an eye-catching teal to bring colour into the room in an unexpected place. Instead of opening at the top this unique trunk opens on the side, which allows the upholstered top to double as a seat. The statement colour stands out against pale wood paneled walls and matches with the jewelry box on top of it to make a true feature of this modest piece of furniture.
21. Restored Old Suitcase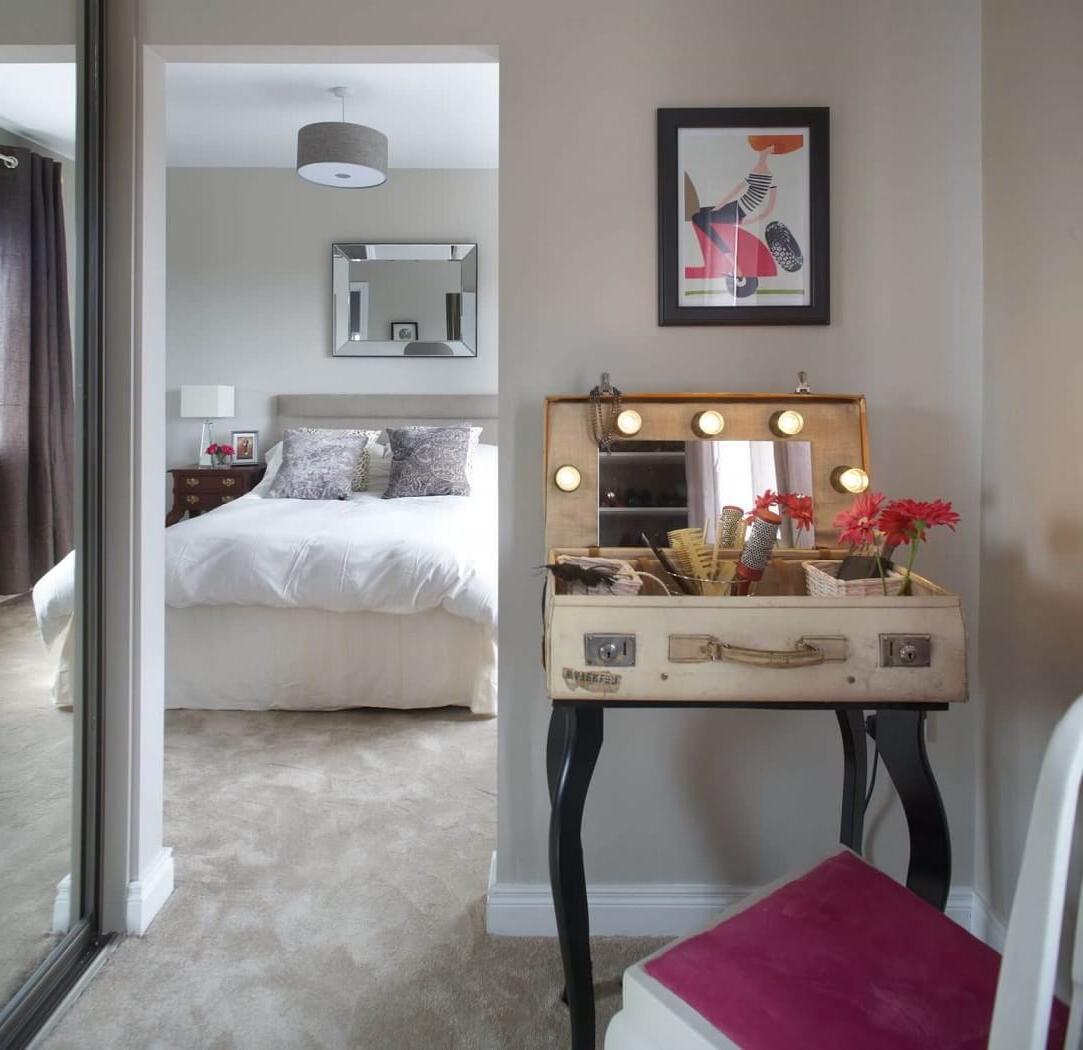 The upcycled vintage suitcase has been transformed into a combination of a drawer and chest sitting on bowed wooden legs. The thrifted beauty of the original suitcase and the space it provides has been maintained and left open while a mirror lit by Hollywood style lights have been added so it can double as a vanity table.
22. Gothic Undulating Drawer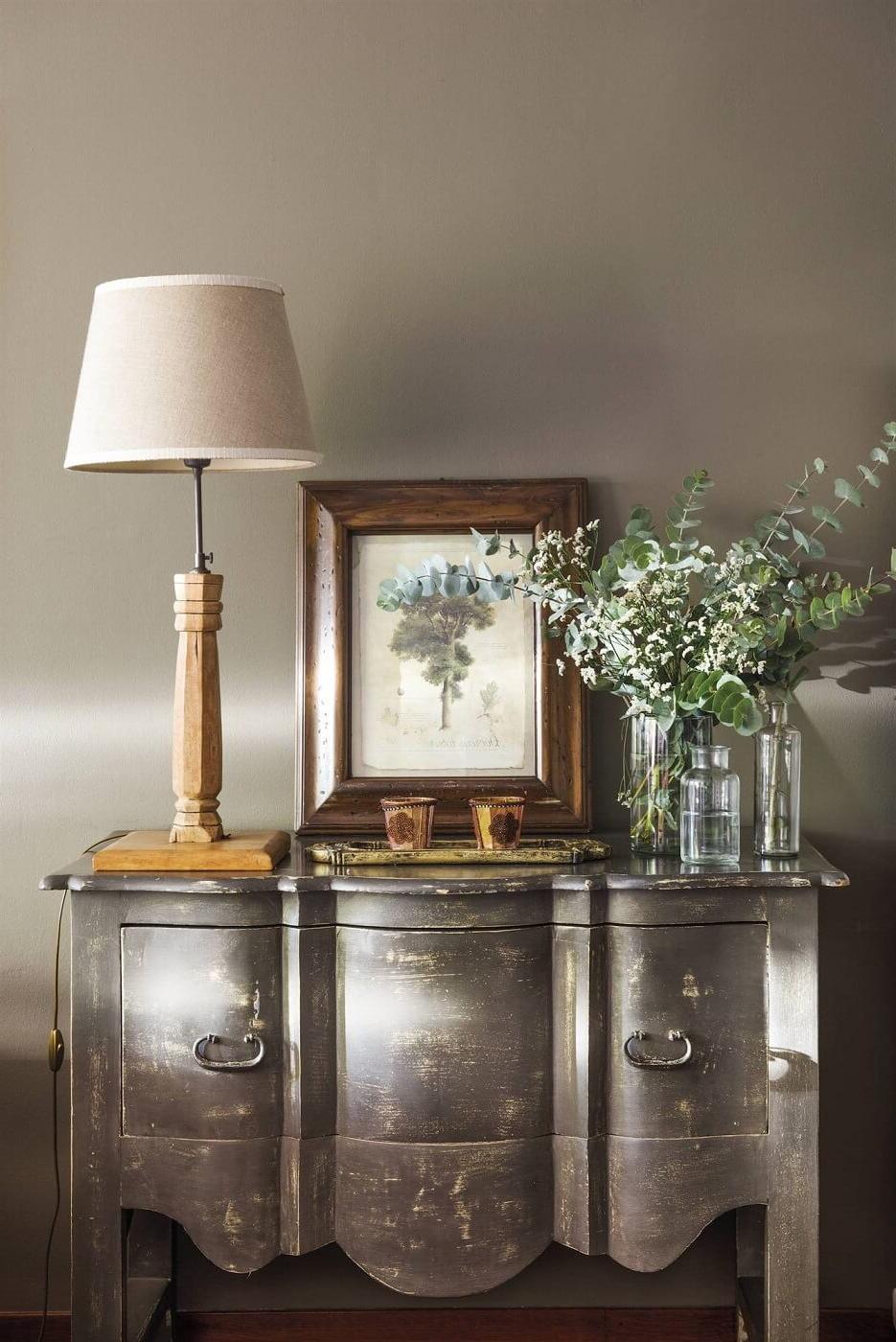 This gothic piece is made up of one big drawer with a rough grey finish that ripples in three curved waves across its surface, interrupted only by two oval metal handles. The deep drawer means that there is lots of space on top for décor that enhances the aesthetic like the table lamp, spray of wild flowers and a propped up framed botanical print.
23. Elegant Vintage Drawers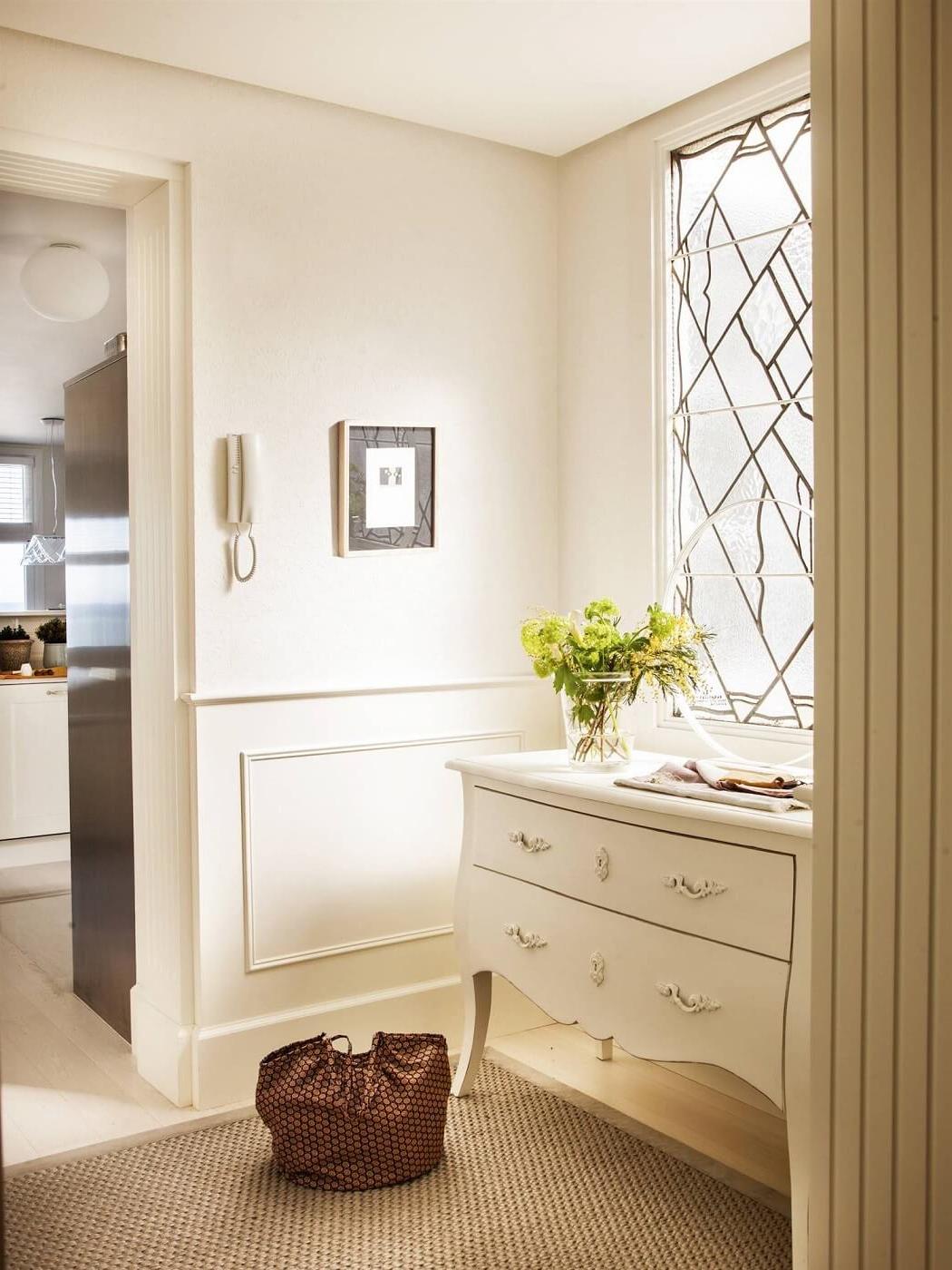 This ivory chest of drawers is a classic style that you could picture sitting in a glamorous manor house. The elegantly curving shape is rendered in an all white finish with decorative white on white handles that add surface texture. The simple two drawer unit is not very tall and sits on delicate legs which feels right at home in the white, minimally decorated room.
24. Wood And Metal Coffee Table Trunk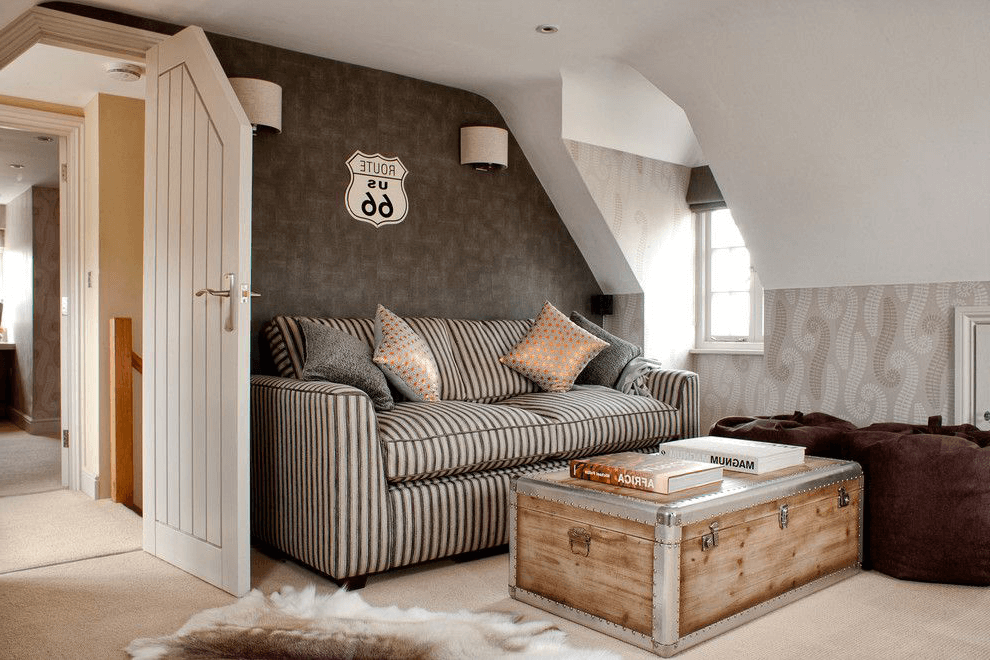 This is another beautiful example of how to use a trunk as a coffee table. The wood grain finish has with little metal on either side encapsulated by a thick metal reinforcing along all the edges. The lounge it has been placed in is a pretty traditional room that the trunk elevates to something a bit more special as it is being used in such an unusual setting. The large trunk would be perfect to store board games and other forms of entertainment you might partake in in the lounge with friends or family.
Conclusion
As you can see from this list, vintage chests of drawers and trunks are so much more than just a place to shove your clutter out of sight. These beautiful multi purpose items of furniture can vary from exposed wood structures to sleek, highly designed pieces that can become a stand out feature of the room in their own right. They can be acquired from a stylish home store or thrifted and revamped with a little extra love and care to make it truly your own.
So don't underestimate these modest creations and let them help you make your home feel united around your design style while keeping it clutter free in one foul swoop.