A kitchen is one of the most fertile playgrounds when it comes to interior designers. While designing the aesthetically look of your cooking place, you will come across endless possibilities. The driving force for this diversity comes from orthodox homemakers, who always use to strive to make their workplace look exquisitely attractive. Breakfast nooks have remained an essential part of the modern kitchens. They present a perfect place to get your day going; serving breakfast to your kids before school or reading newspaper while sipping in an obligatory cup of morning coffee or tea. Being a casual version of the dining room, they can be structured in the corner of your kitchen or near your kitchen with a window nearby. Unlike the dining chambers, they do not follow the cliche "the bigger, the better." A smartly designed, sophisticated and cozy nook makes perfect aesthetic sense. The idea should be to impress upon the meaning of closeness among the diners whether it be a sitting for two or large enough to seat a family of six.
To stir your imagination and get you inspired you towards creating aesthetical magic, we bring to you 50 amazing breakfast nook design concepts.
1. Naturally Elegant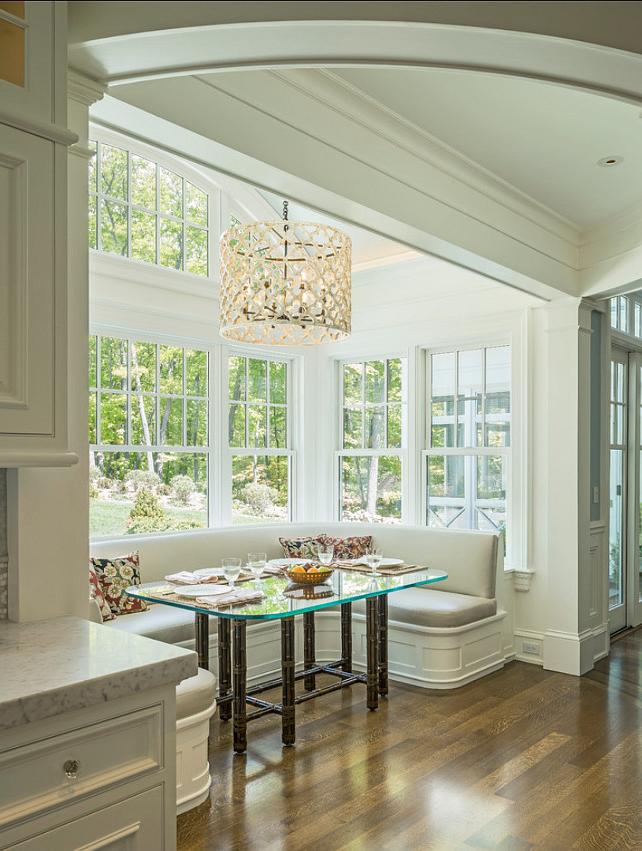 The concept in this design is quite simple yet elegant. Seating arrangement has no lavish coloring scheme, yet it complements the soothing view of the locale. The large windows ensure ample daylight penetration while vaulted ceiling adds to the beauty. The quatrefoil light fixture gives the place a unique look, lighting a simple bamboo structured glass top table. With external view being the standing out feature, you can enjoy the view while taking a meal with your family or doing official work. Space is well equipped to accommodate five to six people.
2. Waterside Diner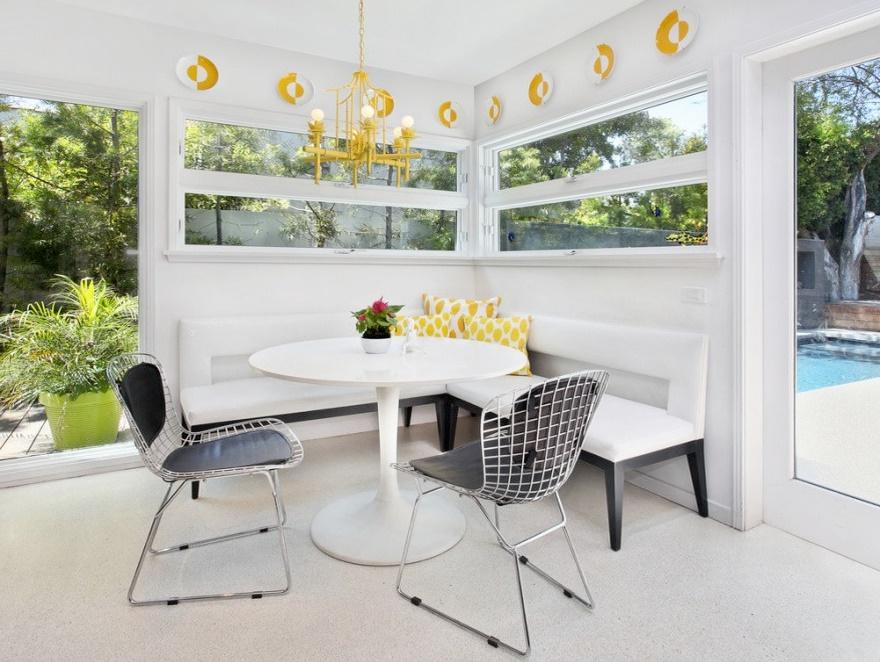 Being one of the most exquisite modern designs, poolside seating is a luxury that should regularly be experienced. The central theme based on white color is necessary to add charm to the location of this nook. The exquisite combination of black and yellow makes the environment livelier and youthful. A solidly build chandelier in gold color is just to complement the simple plain ceiling, as lighting such an open place should not be a worry.  You can experience breezing of cool and refreshing air through the area by opening up the windows.
3. Far-East Modernized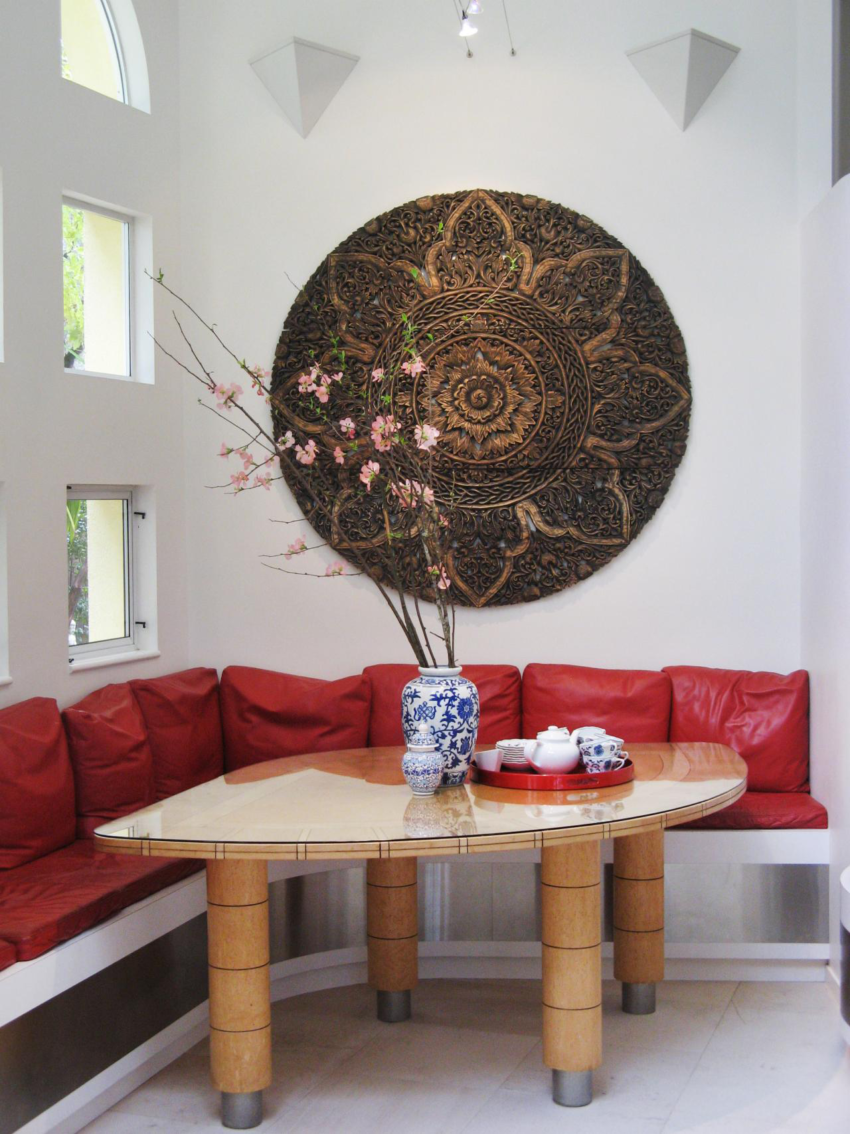 If you want to incorporate the flavor of Far East in your home interior, this nook will satisfy your requirement. This corner nook is the best option if you are planning to invite your friends to a Japanese tea ceremony now and then. The triangular table with rounded corners gives a modern look and accommodates more people at a time. The maroonish red seating covers and cushions lift up the mood, while you get a feeling of being in a Zen when you have a look at a large hanging mandala.
4. Sitting Around Tulip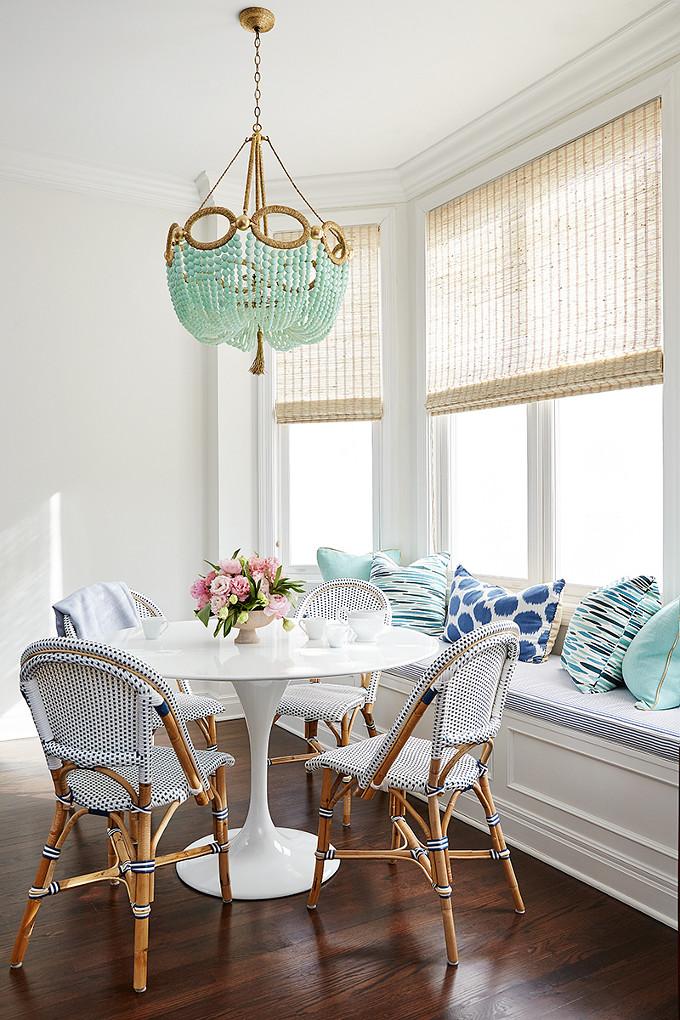 This French themed nook will save you from getting squeezed into a tight space; there is a strong emphasis on openness in this design. A beautiful window bench with attractively colored cushions is perfect for sitting. But it is not the only choice; four chairs are accompanied to keep up with the comfort and preferences of your guests. The simple yet elegant white table contrasts mesmerizingly with a dark wooden floor, while turquoise beads in the chandelier provide a unique lighting solution when necessary. The overall white background lightens up the environment when illuminated by daylight.
5. Pocket Sized!
If you are tenant to a small living place or you don't have a lot of places to spare, you must be finding this tiny little nook for breakfast. The ideal location for such fun-sized beauty is the space behind the door. Just attach the table to the wall and place a couple of stools underneath so that door may be operational when nook is not in use. The mats put on the table define it to be an eating place, while the coral color attracts the attention. This marks the climax of casualness of nooks in general.
6. Sunshine Amplified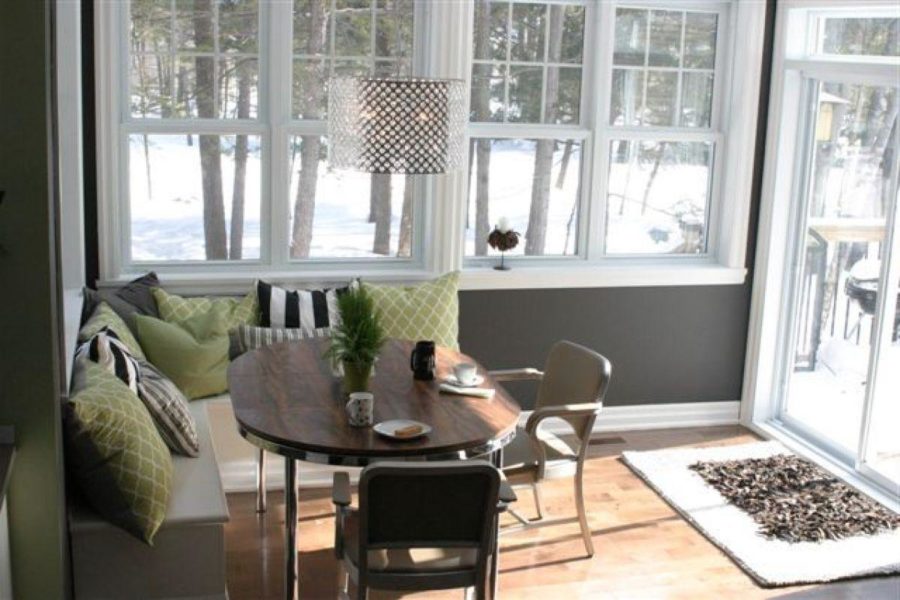 If you are among those, who feel enthusiastic by spend most of their time in daylight and get maximum benefit out of this precious gift from Mother Nature, go for this nook. You will feel sitting outdoor and savoring your meal while enjoying the protection and safety an indoor space possess. This nook offers an incredibly catchy coloring scheme, amalgamating to result in a beautiful sight. Pale green cushions on a plane bench, having white windows along with margins above dark gray walls in the background, exhibits a lovely view on a sunny day.
7. Getting "Rugged"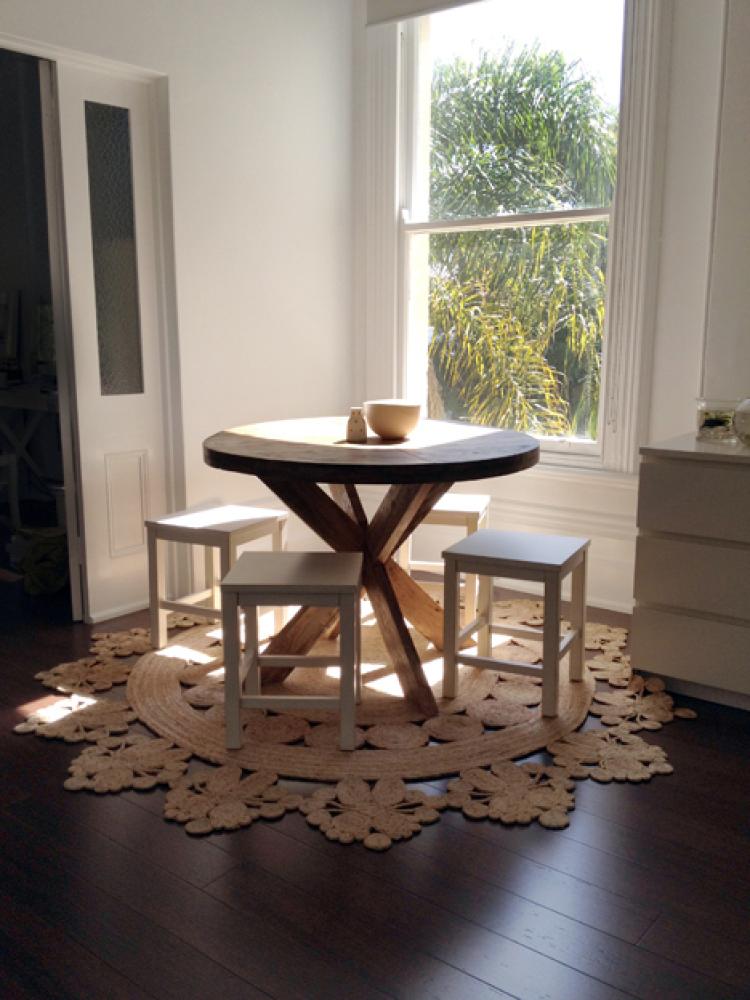 Placing a rug underneath you breakfast table demarcates the boundaries of your sitting space and gives an imperial look to your nook. This innovative concept is smartly employed in this design. For smaller corners in your house, this nook is compact enough to gorgeously occupy the place and provide you with a regal seating area. Your kitchen corner will stand out with the golden rug design underneath. The rust colored round table and simple wooden stools offer a crude glance of your dining space. A skin colored bowl on the tabletop symbolizes the simplicity.
8. Dark Fantasy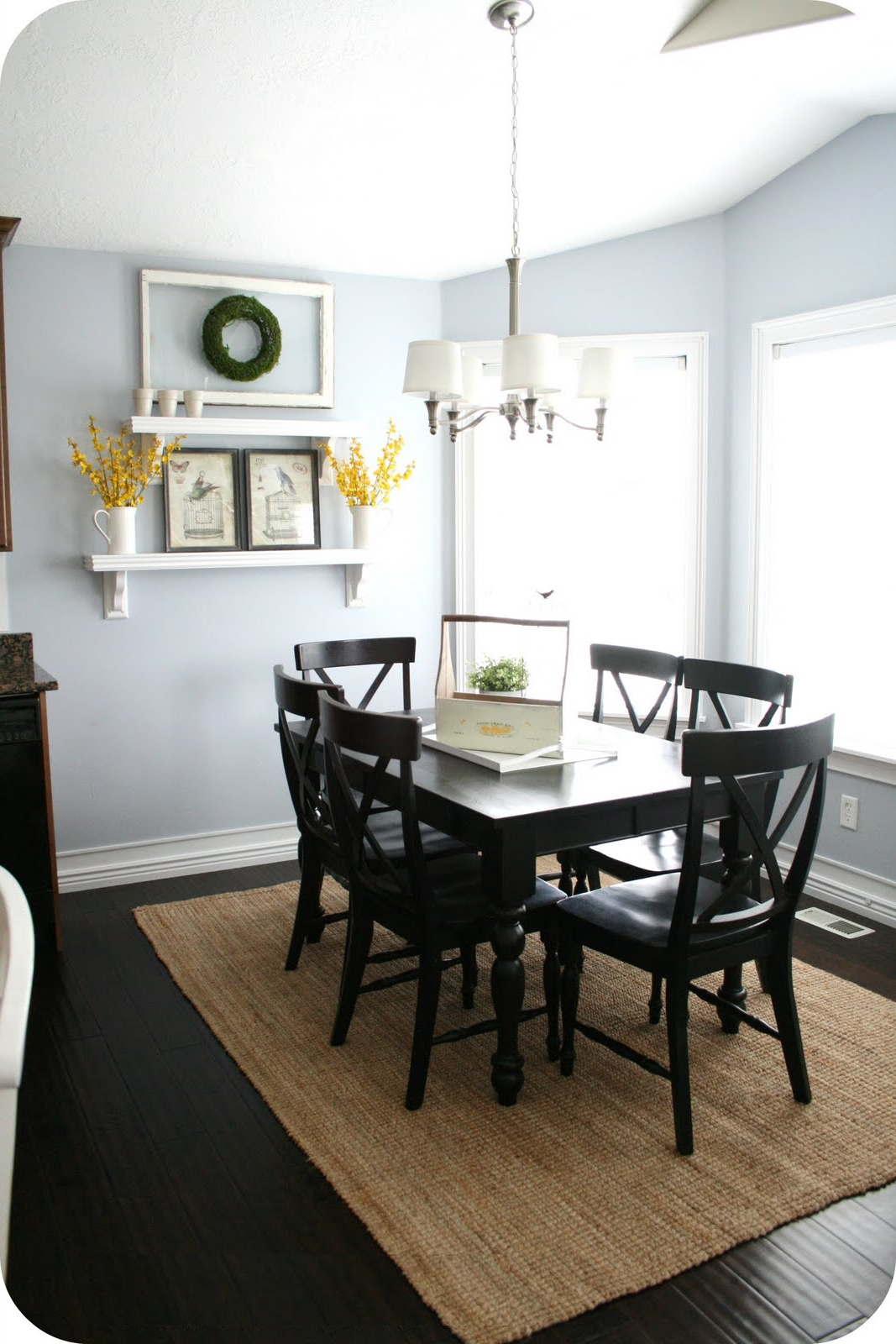 The non-illuminatingly dark brown flooring and pitch black furniture, mesmerizingly contrasting with shining bright paint of window, walls and roof instantly attract the eyes to appreciate this beautiful nook. To sprinkle some color into the scene, a couple of vases are added. The golden plant shoots are enhancing the arrangement, while the simple and elegant rug placed under the table is a testament to a charming and fulfilling place for your daily meals. Medium sized windows and a more than decent chandelier beautifully complement each other.
9. Irresistibly Adoring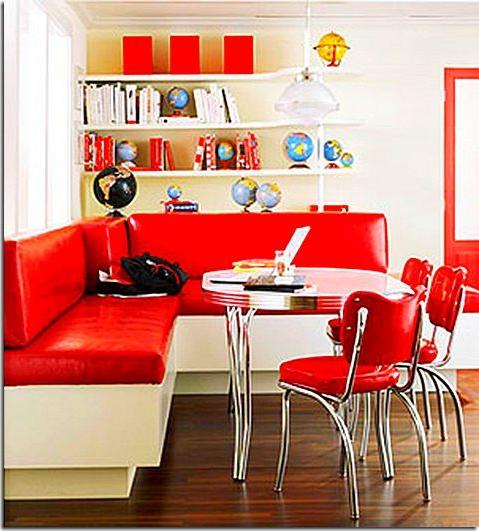 To enhance your small sized kitchen with an adorable breakfast nook, you must take inspiration from this design. This great and cozy nook will add to the beauty of your kitchen without occupying much space out of the limited area available. The oval shaped table and L-shaped bench combine exquisitely resulting in an incredibly fulfilling corner of your kitchen. With extra space available with table, you can always add a chair or two to take in more diners. The decoration accessories on the wall and plain sailing print of pillows make it a perfect place to eat, drink or read.
10. Red Flurry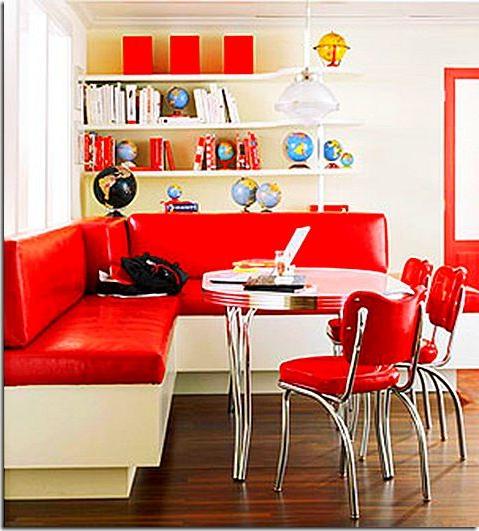 Having the seating area themed with shocking red color, this breakfast nook catches the eye with its intimidating hue. Red is taking the place of black, whether it is clothing fashion or interior designing. The brightness of this color cheers you up and induces activeness, an added advantage of this color. The circular silver table and red colored chairs add up correctly to the bench, offering an extended room for your friends and guests. The bookshelf adds to the utility of the nook, where you can read a book while sipping coffee or tea.
11. Childlike Casualness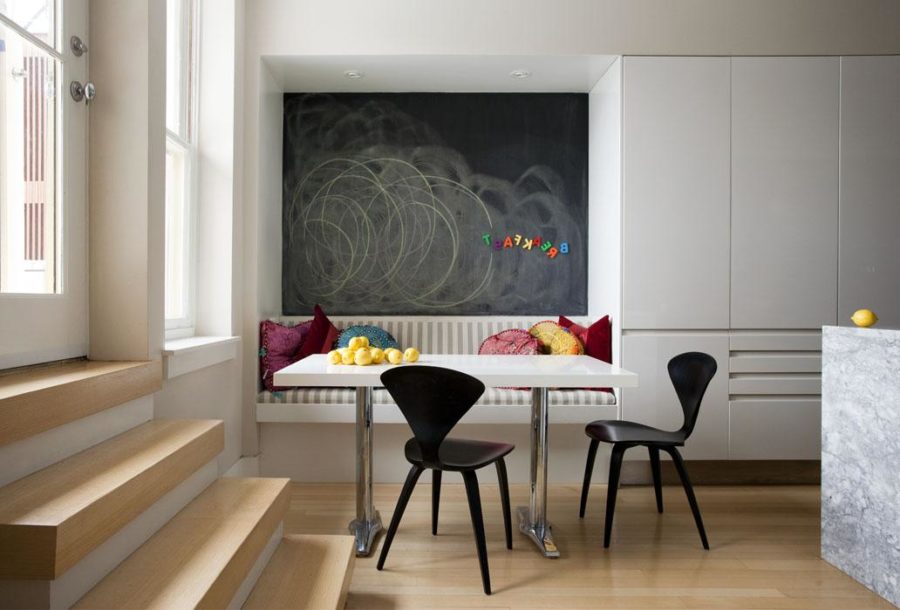 If you are looking to treat your kids with a breakfast nook, this design is what you must be looking for. This is a fun idea for a nook with the casualness and stylish aesthetics amalgamated with true mastery. Suitable to be built in the living room, this nook will portray a stylish outlook of your house. The blackboard lets your kids sketch their ideas by simply using chalk, while you can perform your daily chores without any worry. The modishly curvy design of chairs along with a sturdy rectangular table adds to the sophisticated seating area.
12. Sumptuously Curvy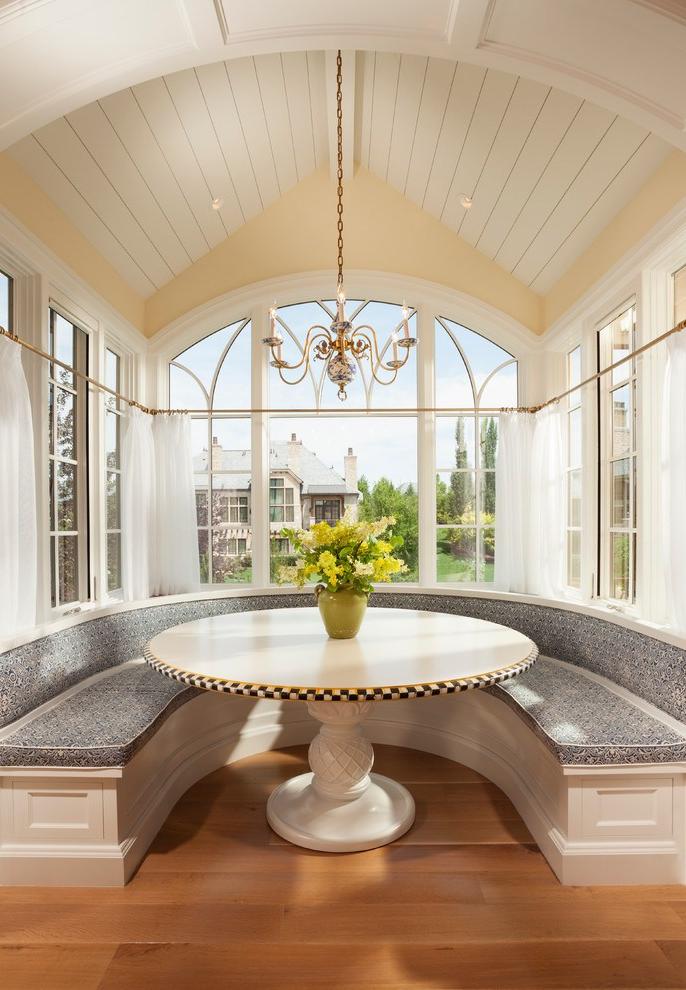 This curve-themed breakfast nook is a symbol of glamor and elegance. The table, seating bench, window top, ceiling, chandelier, all has beautiful curves. The sprinkle of gold color gives a luxurious feel to the setting, while an olive colored vase on the table top intensifies the opulence of the nook. Space is majorly lit by natural luminescence, while the chandelier increases the appeal of the area. This design solves the problem of table usability and accessibility often encountered with rectangular shaped benches and round tables.
13. Yellow Rush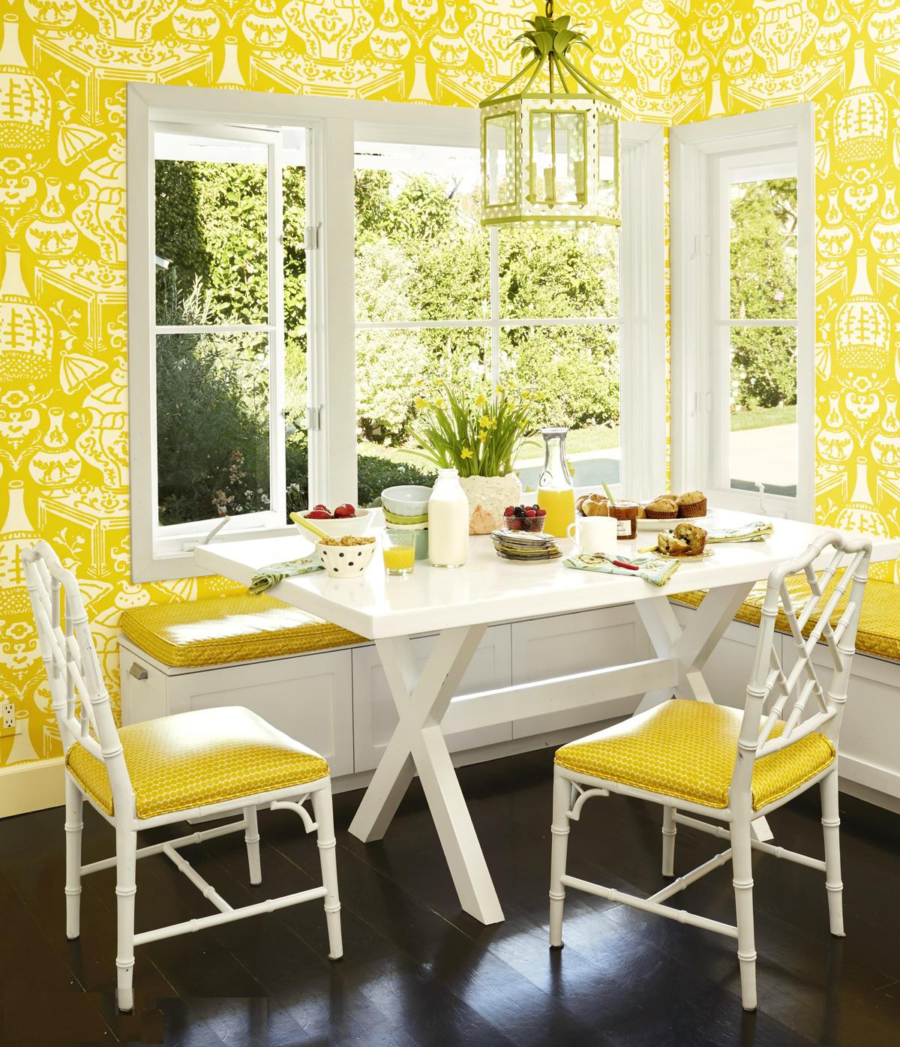 When it comes to the color choice, yellow is not the color to be considered as widely likable. People, choosing this color, feel the pressure of taking a bold decision, especially the bright and sparkling variant. But when you look at this breakfast nook, your mind can incline towards an increased liking of this hue. The color set up correctly to result in a charming and lively nook. The wallpaper design can be considered as over ornate, but the simple furniture complements it perfectly. So if you find the conventional designs boring, this one is especially for you.
14. Comforting Utility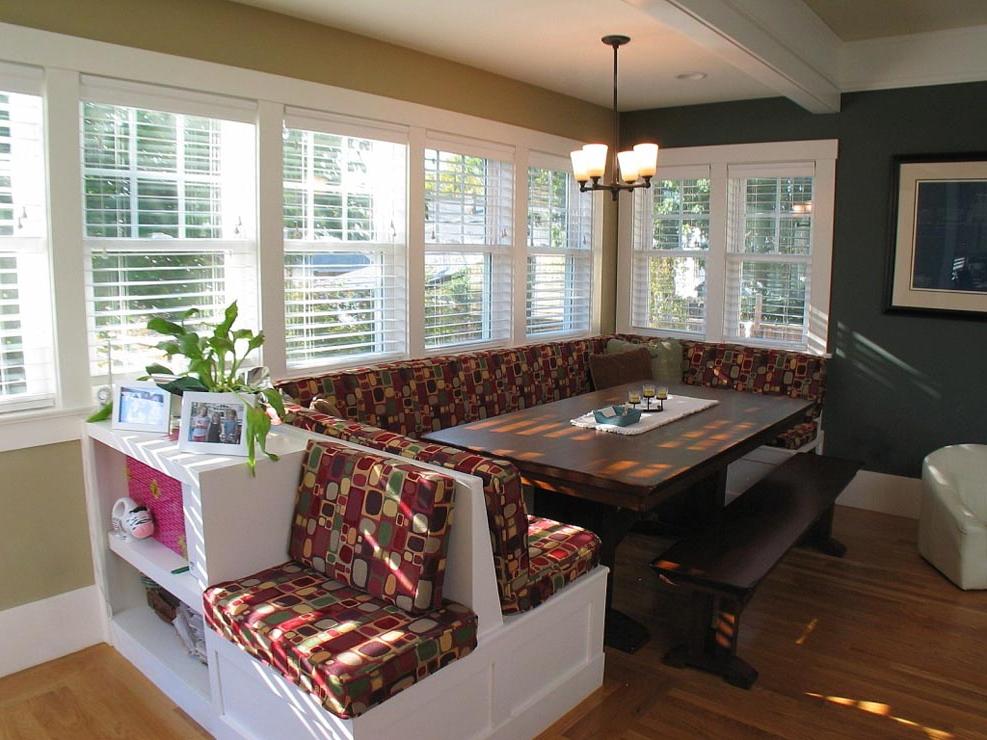 This breakfast nook gives a restaurant look to your household dining space. It can accommodate a large number of people at a time. Although the back bench may be an inconvenience for some people, especially when not eating a meal, it can be of great utility if a television is placed in front of the central bench. The dark colors of the table and bench cushions are well balanced by the incoming sunlight. The smart seat and bookshelf uses the space intelligently and increases the usefulness of this beautiful breakfast nook.
15. A Silver Classic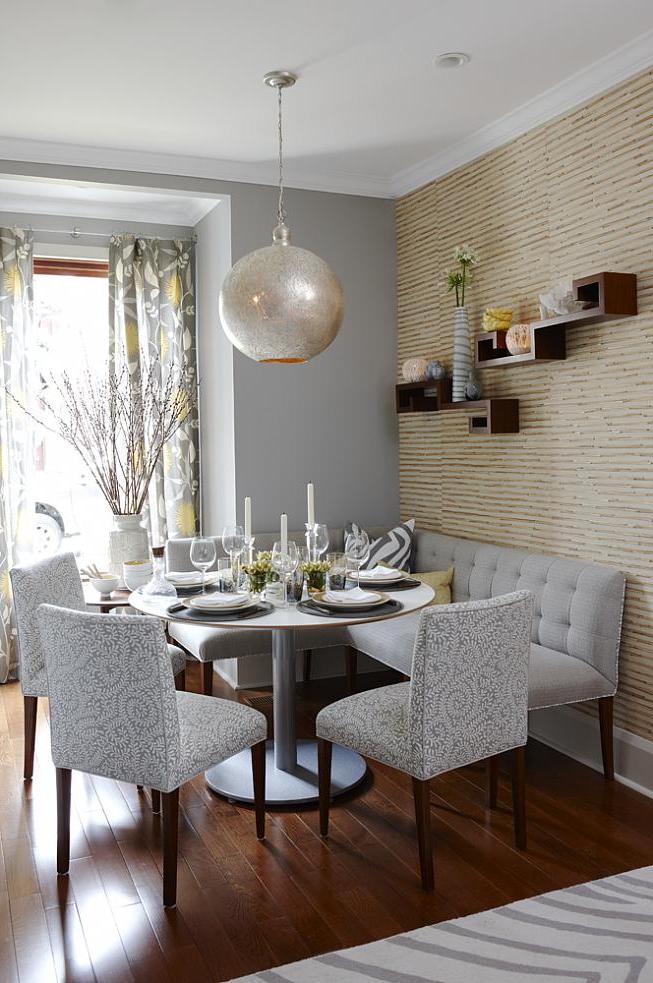 For those who want to get the breakfast nook which exhibits class and still is different and eye-catching, this design must exceed their requirements. The main theme colors being silver and light gray, the emphasis is on the decency and calmness. A simple round metallic table and a gorgeous chandelier made up of a silver orb will look awesome, especially in the bright daylight. The shelving on the wall offers multiple possibilities regarding decoration items and ornaments, and there remains no requirement of a painting.
16. For a Little Artist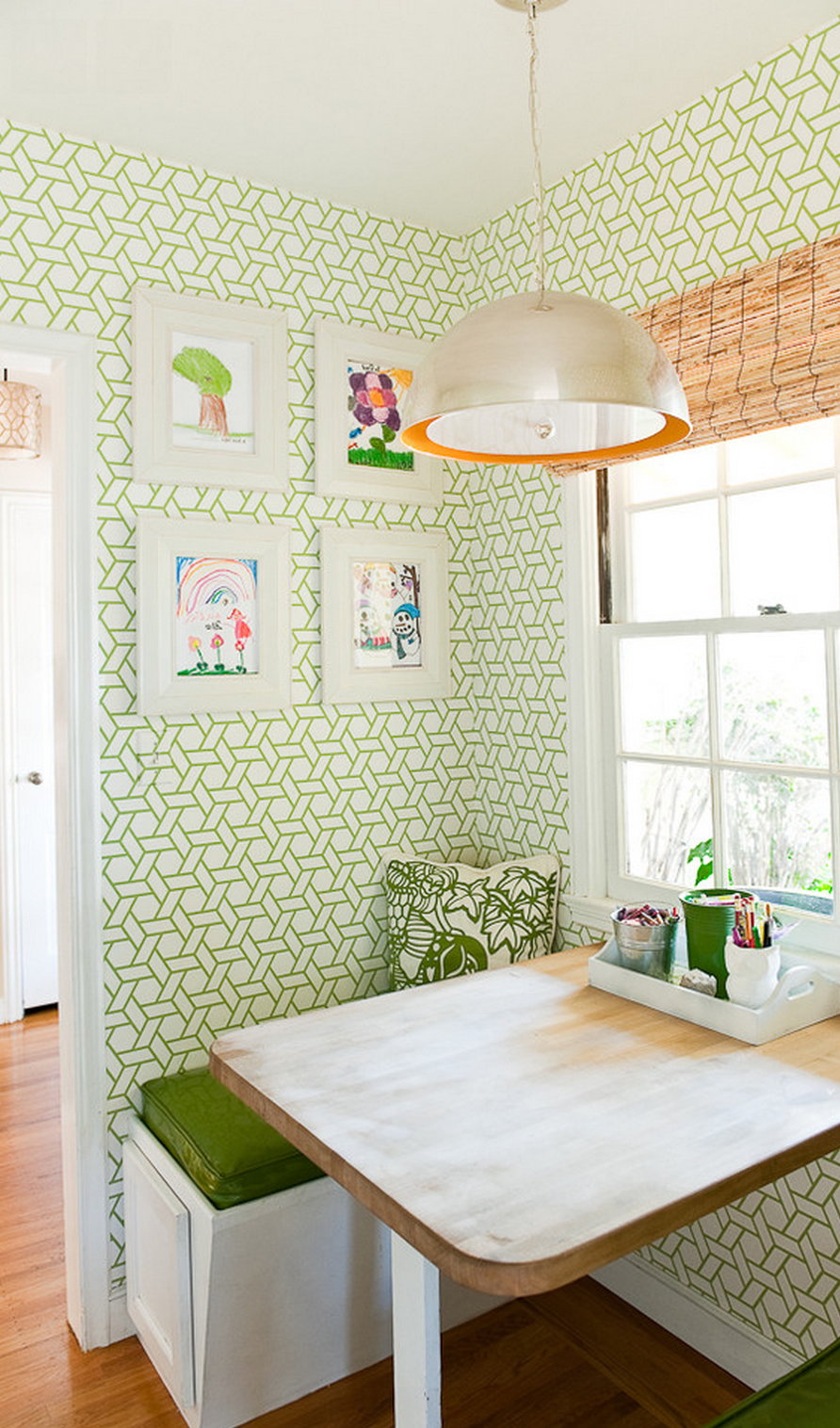 Another masterpiece for kids, especially those with artistic qualities, this breakfast nook is a wonderful gift for your children. This design negates the perception that a breakfast nook is a place only used to eat the morning meal. You can provide this nook as a place for your kids to show their creativity. You can encourage them by framing and displaying the best among their drawings. All this activity makes this place a favorite place for kids and makes their morning meal a fantastic experience.
17. Home Cafe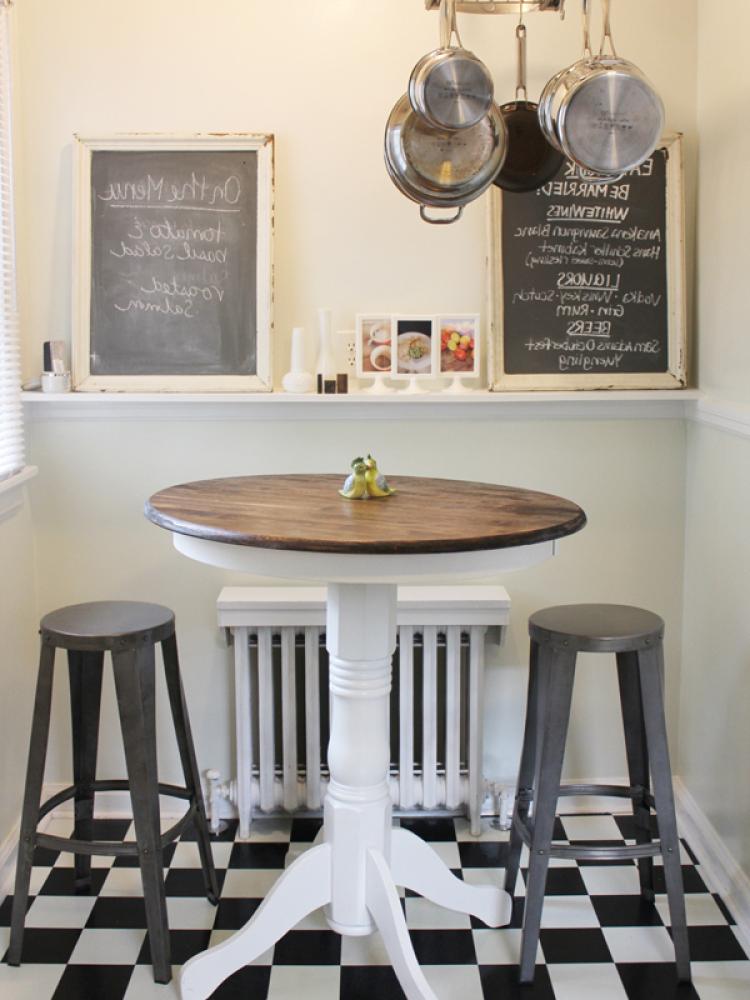 If your family consists of a lot of café lovers, this casual nook is the best place to serve them breakfast. This belongs to the class of casual breakfast nooks with a simple but attractive design. This café style nook will fit in nicely in an apartment size kitchen. Also, you can place it on your balcony in case you want your meals in open air. A simple wooden table with café style stools spreads casualness in the air. The checked floor and chalkboards add to the flavor.
18. Table for Two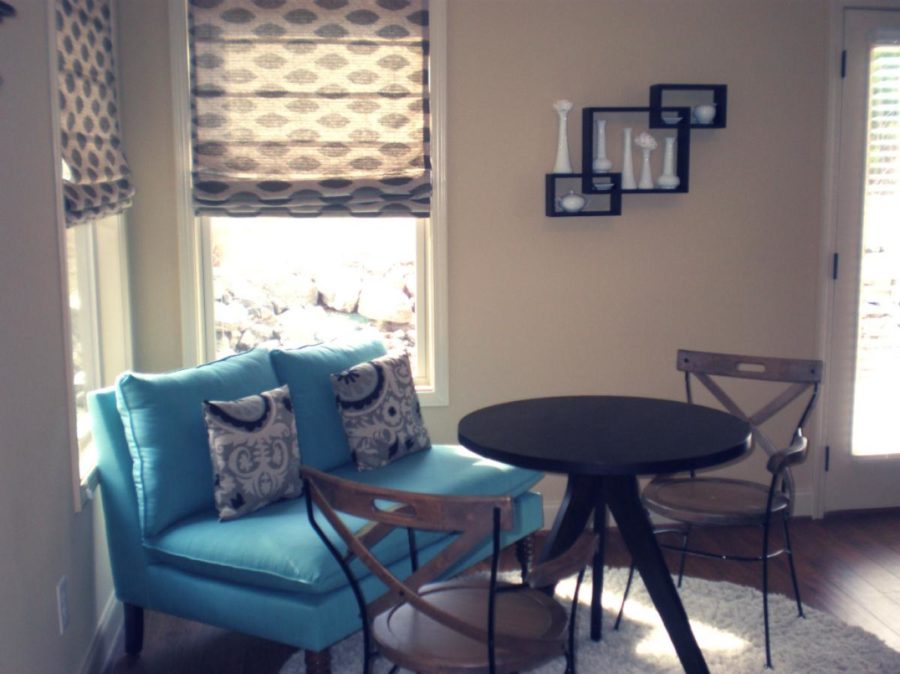 Essentially designed for couples to enjoy their morning coffee, a cozy love seat is added to increase the accommodation. The sea blue color of the seat looks lovely in sunlight, while the roman shades on the windows are simple and give a soft look to the place. The dark colored wooden table placed on a simple light colored rug provides the necessary contrast to this decent setting. The free space around the table gives options to the users of this nook. The square shelf with milk vases on the wall adds to the calmness and serene environment.
19. A Modest Delight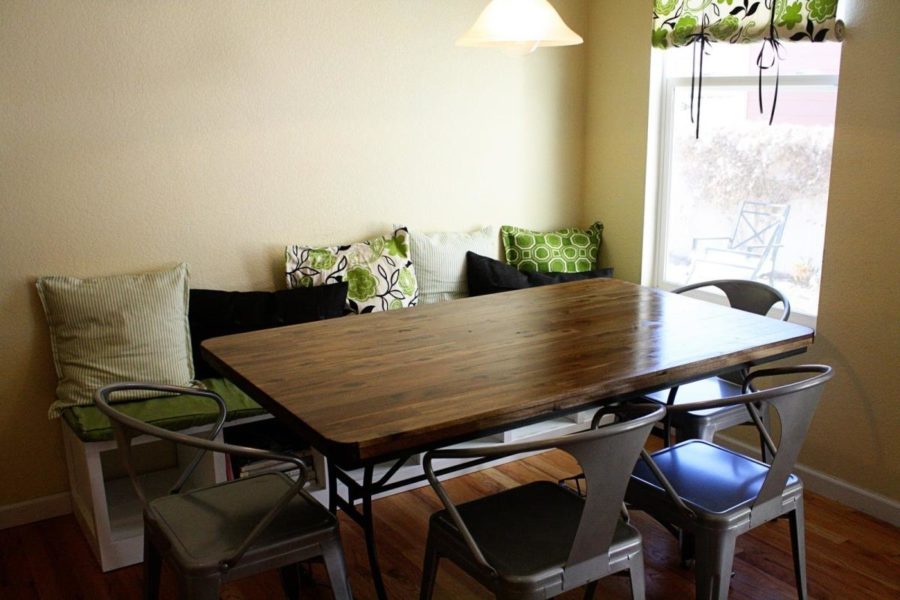 For a low-budget purchase, this breakfast nook is the perfect choice for a small space in the corner of your kitchen or living room. An inexpensive metal structured table with the wooden sheet on simple wooden flooring impresses simplicity. The comfortable bench with cupboard underneath ensures utility in given budget. The green colored cushions and beautifully printed roman shades fill the necessary colors in the package. They are contrasted by industrial metal chairs, which along with the bench enhance the sitting capacity of this breakfast nook. A simple cone covered light complements the sunlight.
20. A mischievous Cuteness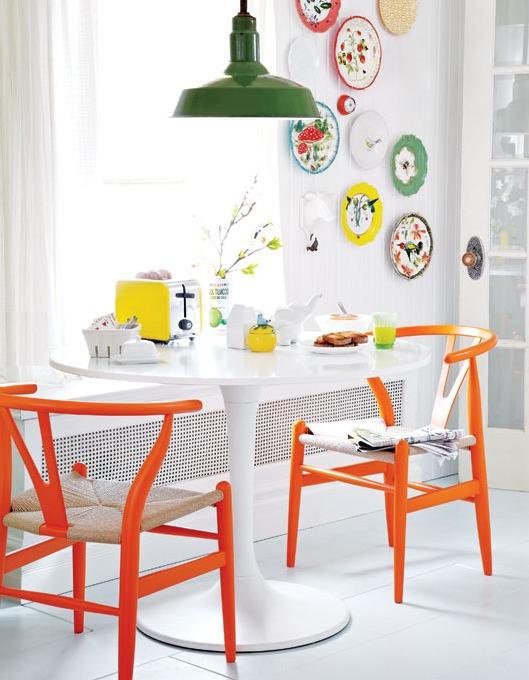 This breakfast nook, designed for two people only, has cuteness and playful outlook. The bold colors of the chairs instantly grab your attention and activate your mind. Having said that, it is not a big deal at all when it comes to item count. This gorgeous nook consists of a docksta dining table, a couple of chairs opposite to each other and a few plates for decoration hanging on the wall. With white flooring, walls and window, the striking colors are more visible.
21. Going Vintage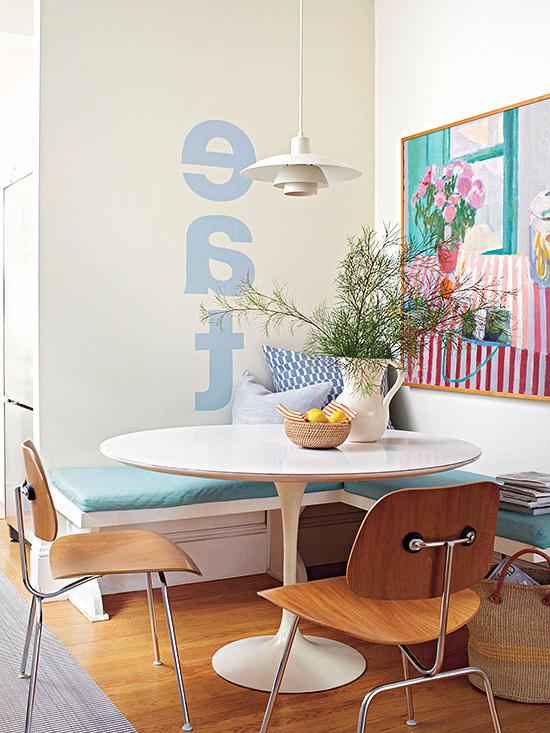 This amazing idea for breakfast nook designs falls under the category of the vintage theme. The gorgeous outlook of this nook reflects the old style seating arrangements. The light blue décor and bench cushions exhibit a fresh look, while the classy chairs and a perfectly round white table add to the nostalgic view of this excellent design. The light colored vase and hanging light make the place more pleasing and happier. The old styled painting on white painted wall also adds to the ideal location.
22. A Romantic Setting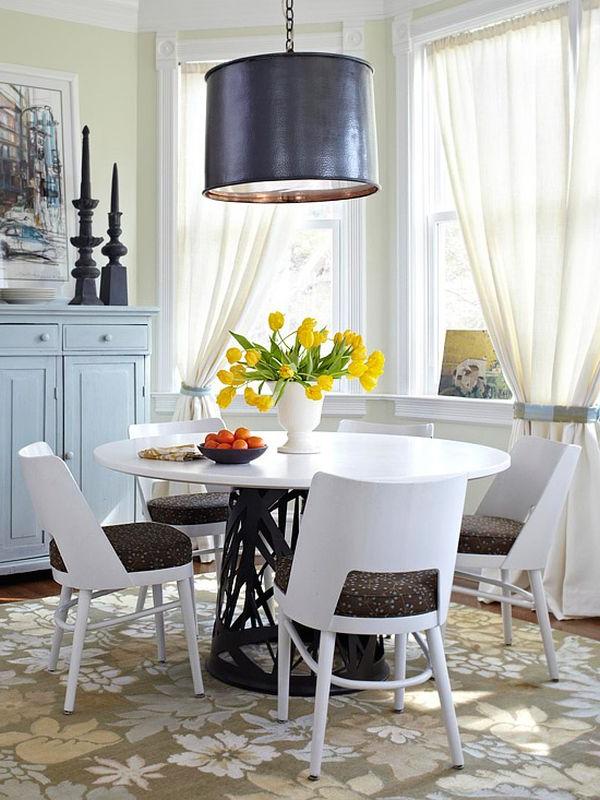 Can breakfast nooks be romantic? Well, the answer is yes. This design idea looks romantic right on the first glance. A perfect place to get engaged with your partner in a talk, where you can to gather have the morning meal, or a cup of coffee with some snacks. The most romantic part of the setting is the gorgeously tied beautiful white curtains. White chairs and white table with dark stand underneath and white vase on the top present a lovely sight. The black chandelier adds to the amorous design idea.
23. Being Coral Hued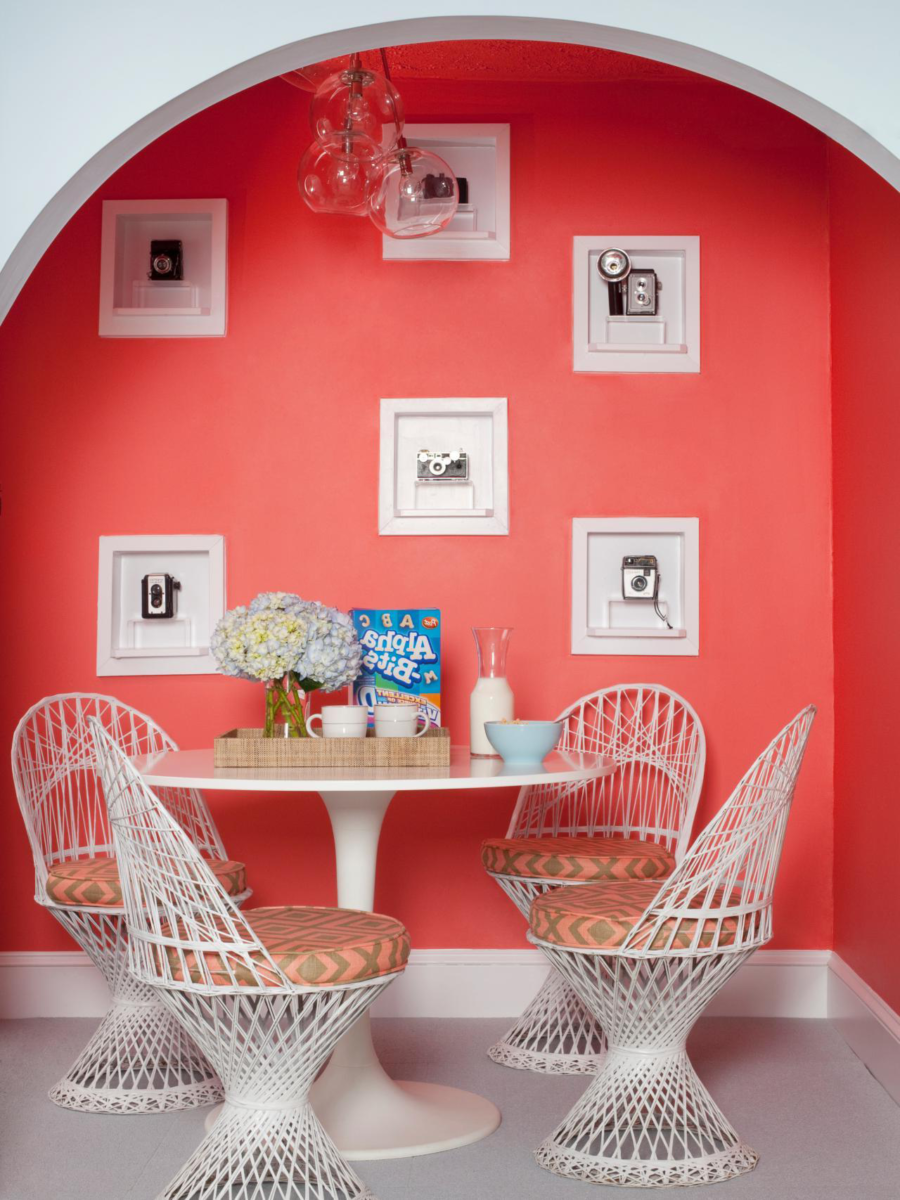 Unlike the prevailing perception, coral is much more than just a seasonal shade. Being a warm and summery color, coral painted wall in your breakfast nook will provide a constant relaxing feeling. At the same time, the outlook of the place is sharp and clean. The light colored table and chairs have a perfect visual appeal, while the seat cushions are well patterned and comforting. Multiple shadowbox frames in the wall can be decorated with anything you consider to be meaningful. Vintage cameras used in this setting are a good example of this. A transparent vase with white flowers adds to this simple and beautiful nook.
24. Flowers Everywhere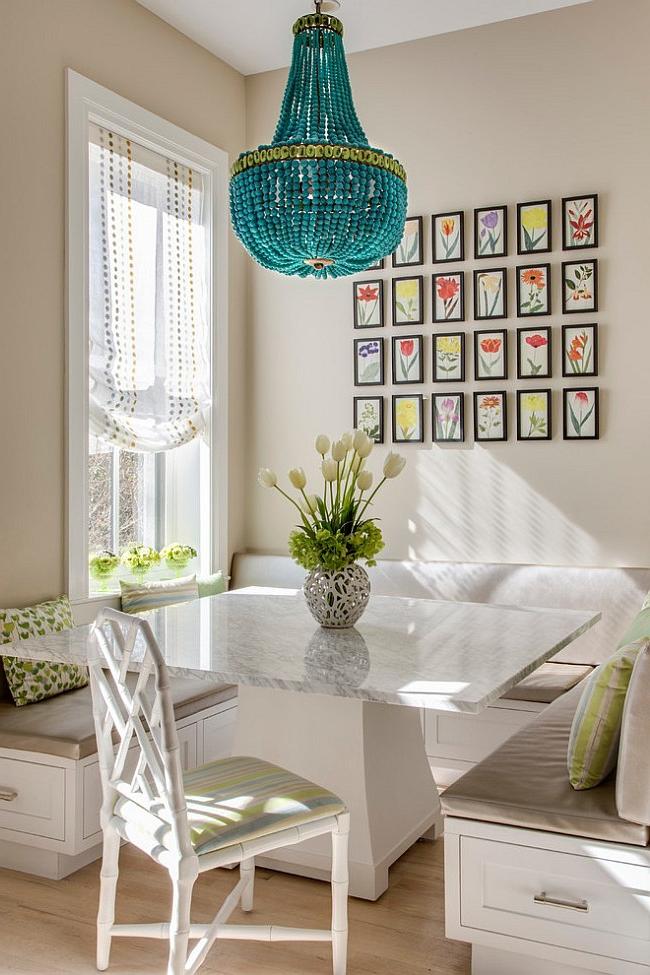 This flower themed breakfast nook design idea is more appealing for females. Space is well versed with real flowers as well as the images of the same, resulting in a refreshing surrounding perfect for having your meal in the early morning. Other than flowers, a three flanged bench and the rectangular table with marble top in the middle provide an overwhelming view. Along with this, it can accommodate about eight people with extra room for chairs on the fourth side of the table.
25. Modernism with Attitude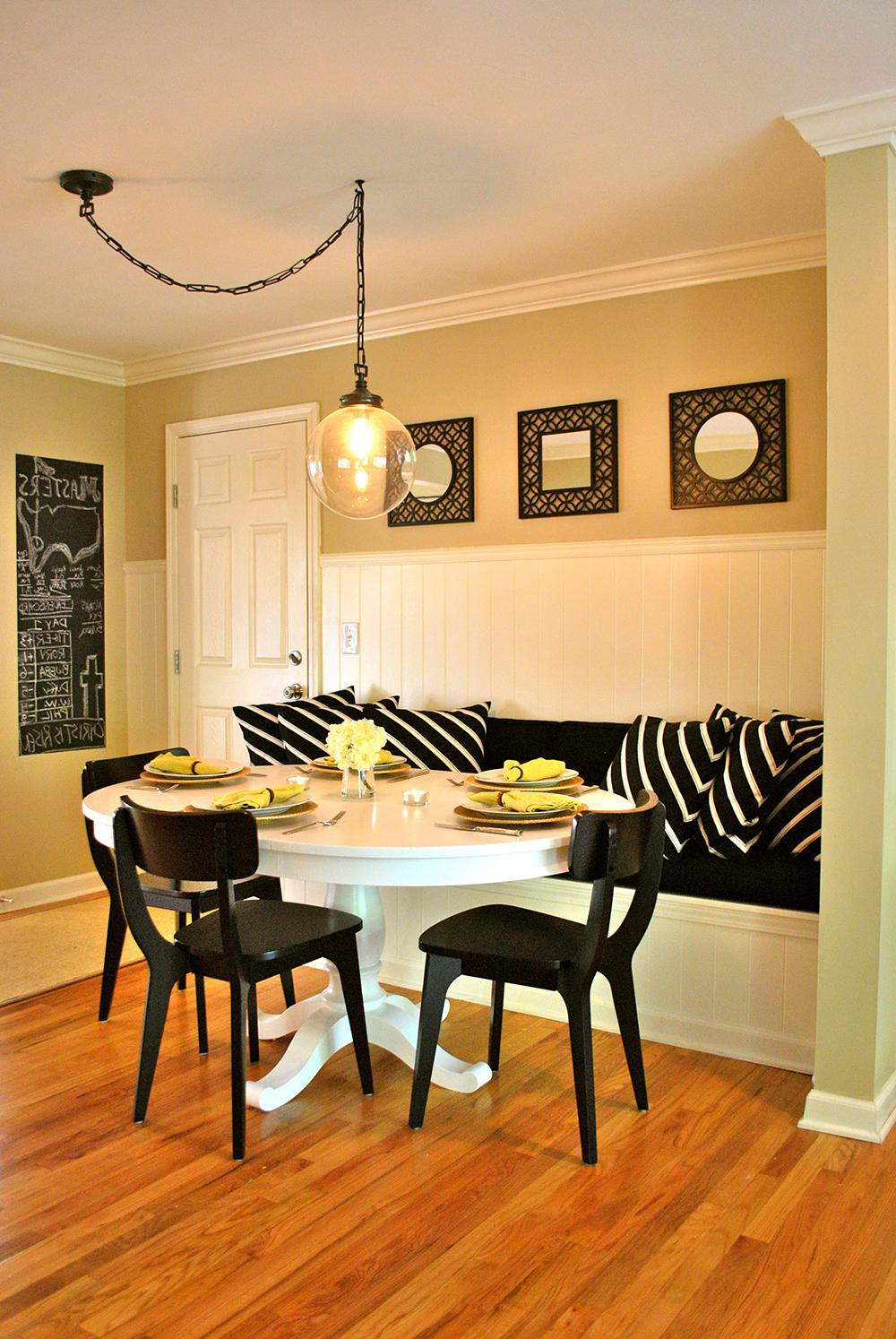 The prominent feature of this entirely modern design idea is the unique chandelier. It emits a certain swagger and takes the whole breakfast nook setting to a new level of voguish feel. The color combination used here is evergreen; black and white is always a popular choice and nicely amalgamates here to give this nook an exquisite look. The completely contrasting color scheme of chairs and tables placed on light brown wooden flooring make you feel the contemporary flavor. The chalkboard adds to the practicality while the ornate mirrors magnify the space.
26. Playfully Elegant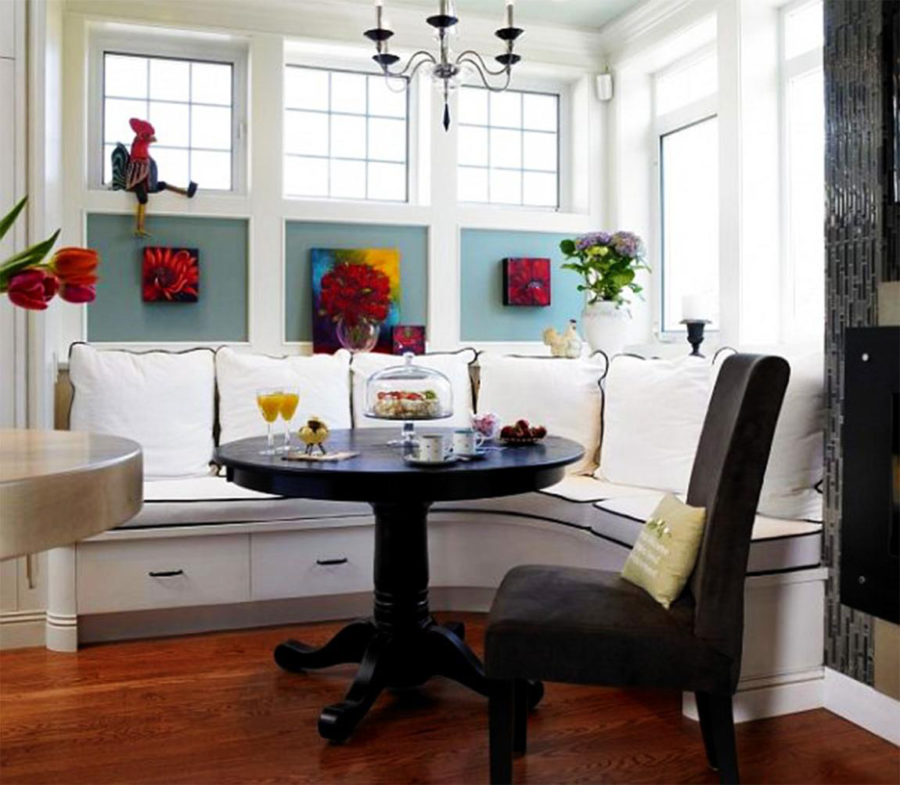 It is not elementary to find a perfect balance between fun and class when it comes to home décor. This breakfast nook is such an option for those who want their breakfast area to be elegant as well as cheer them up with the lively air about it. Placed in a corner, there is another beautiful example for contrasting black and white; cozy seating bench and sleek cushions are lightly hued while the wooden table, chandelier and outer piping on cushions are dark. The outlining of the windows behind is also black to match the color scheme of the cushions and look adorable.
27. Simplicity Epitomized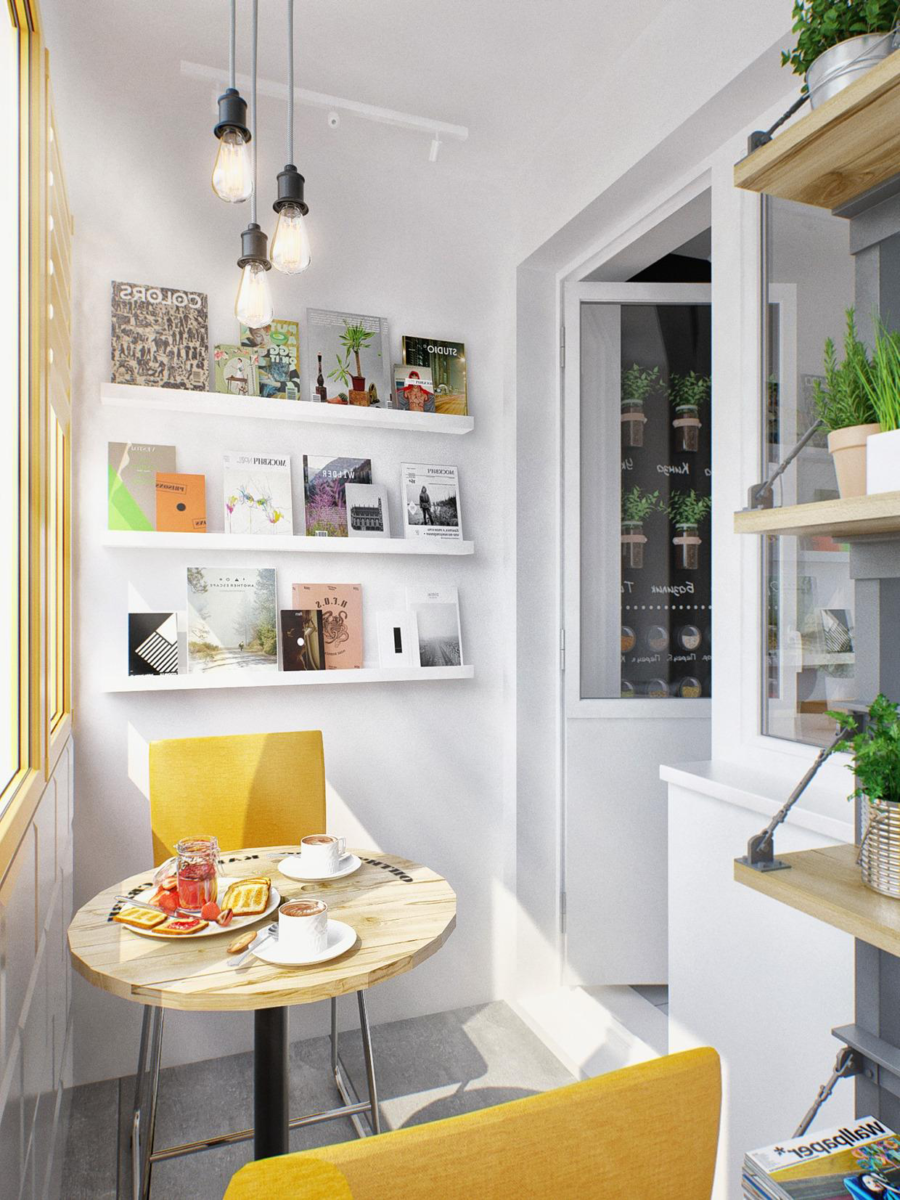 If you want to set up a breakfast nook which exhibits as well as sets up with ease and simplicity, then go for this design idea. A small unfussy table with two simple and cozy chairs is a perfect setting for you to enjoy your morning meal or a cup of cappuccino. The book shelves, accommodated in such a small place with craftiness, can be used to place books of your choice. You can read them in natural light while having a cup of tea.
28. Sailing in the Ocean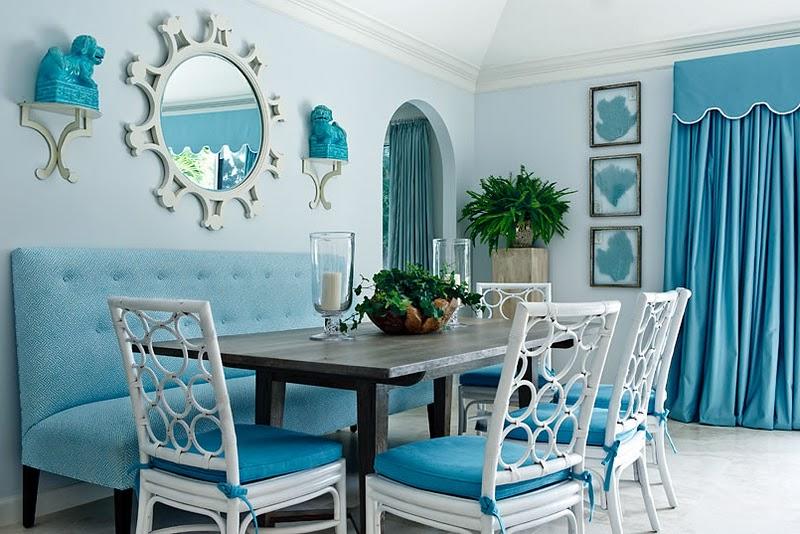 Entering this breakfast nook will indulge you into feeling of floating in a sea. Cool blue being the theme color of this nook, it will make you feel sitting in an underwater world. The color is generously used, yet it combines gorgeously with white and dark brown. For those who don't want to sink into the sofa while sitting on it, a high backed sofa bench is the best alternative placed in this nook. A large round mirror with ocean blue dragon decors on both sides on the light colored wall presents a splendid sight.
29. An Unobtrusive Pleasure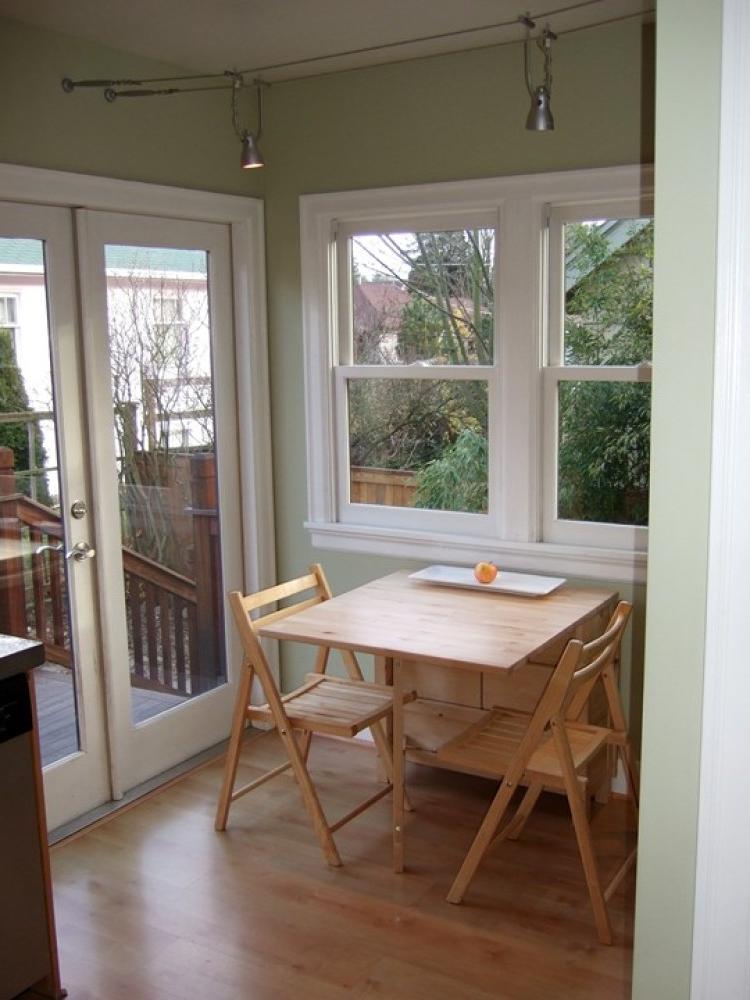 You don't need to spend big or go exceedingly fancy while choosing or building your breakfast nook; a simple and calm setting can be as pleasing and fulfilling as a lavishly designed space. A plain wooden table with matching chairs exhibits the clarity and cleanliness at the same time, while the wooden flooring enhances the sense of modesty and purity. The studio lights and large windows provide the necessary lighting so that you can enjoy your breakfast in such a fresh and uncomplicated setting.
30. A Little Beauty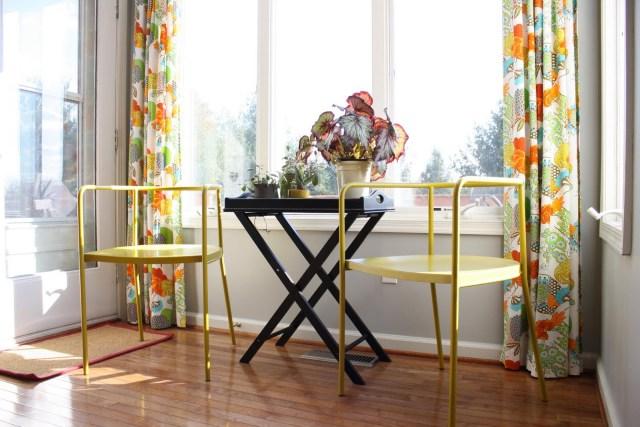 For a small place with a large window, this breakfast nook is the perfect design idea for your morning meals. The unusual yet creatively crafted set of chairs is the hallmark of this adorable sitting corner of the house. They are colored with sunny yellow paint which makes them more prominent and further beautifies the setting. The colorfully printed curtains make the place more inviting for you and open it up for a relaxing eating experience. The dark wooden table maintains simplicity and offers the much-needed contrast in a setting with colors oozing out of it.
31. Simply Efficient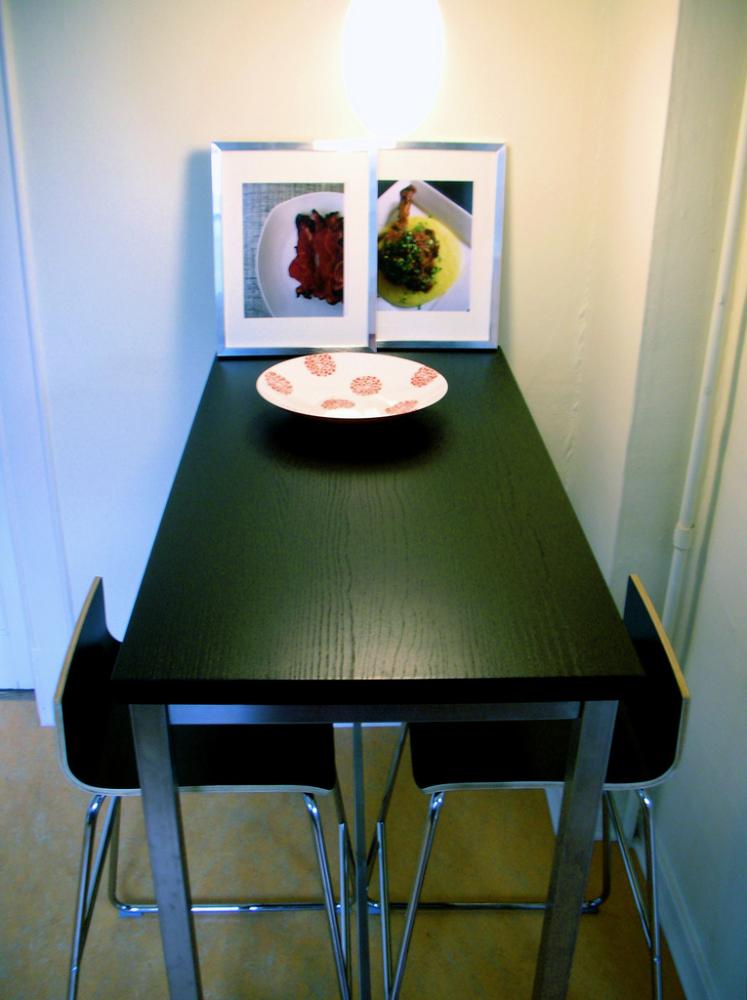 Sometimes you have a small and awkward space at your disposal for building a breakfast nook. To make it more palatable while keeping the setting unembellished at the same time, you can opt for this elementary design idea for a nook. It offers a great way to fill the place with something offering utility in an efficient way. A simple dark table with a couple of matching chairs is perfect for a couple, while a décor plate and frame completes the unfussy setting for your morning meals.
32. Flurry of Colors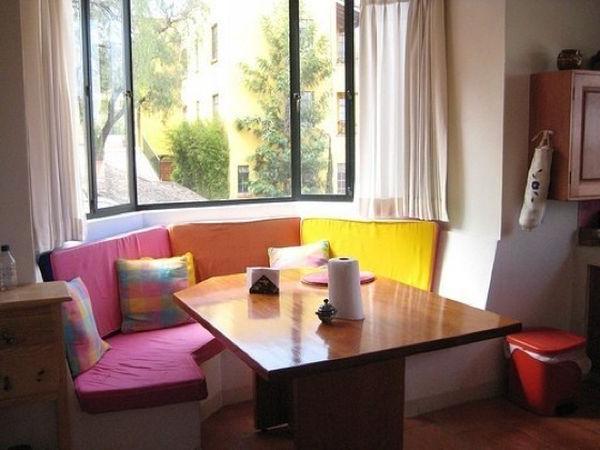 It 's hard to get bored when you are surrounded with such exciting and lively colors. It will make you feel happier, more active and cheerful while you are having your breakfast on this nook. You can get this beautiful feeling by playing with some colors of your choice and then see the magic unfolded. It will stand out whether the nook is built inside the kitchen or in your living room. The simple yet unusually shaped table concludes this crazy ride.
33. Awesomely Harmonizing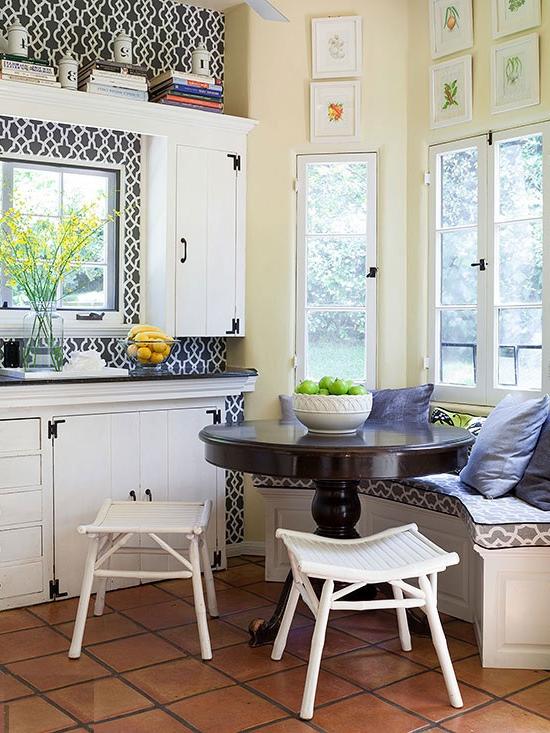 Breakfast nooks have their very own design identity and theme. They are designed and build separately from its surroundings, be it a kitchen corner of part of your living room or even an outdoor. This design idea breaks the monotony by matching the seating area of the nook with the kitchen décor, a rare sight indeed. The spot for building the Nook is also chosen masterfully, as the Nook is looking like an integral part of the kitchen. The brown coffee table and two white stools complete the picture with cress.
  34. The Cottage Design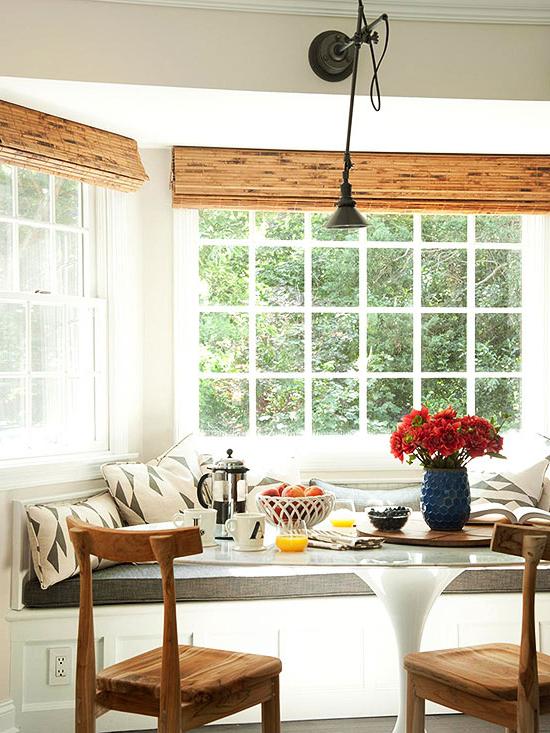 This breakfast nook gives the cottage feel for those who want their interior to be themed as a little raw and undercooked rather than fancy and voguish. The chairs design and matching color with the shades portray an excellent feeling of unfinished wood. The round table with white stand and glass top provides the necessary sophistication and glamor. A simple ledge for enhanced seating area and an artificial flower vase give the final touches to this tranquil masterpiece. The cottage themed light adds to the décor in a stylish way.
35. A Sea of White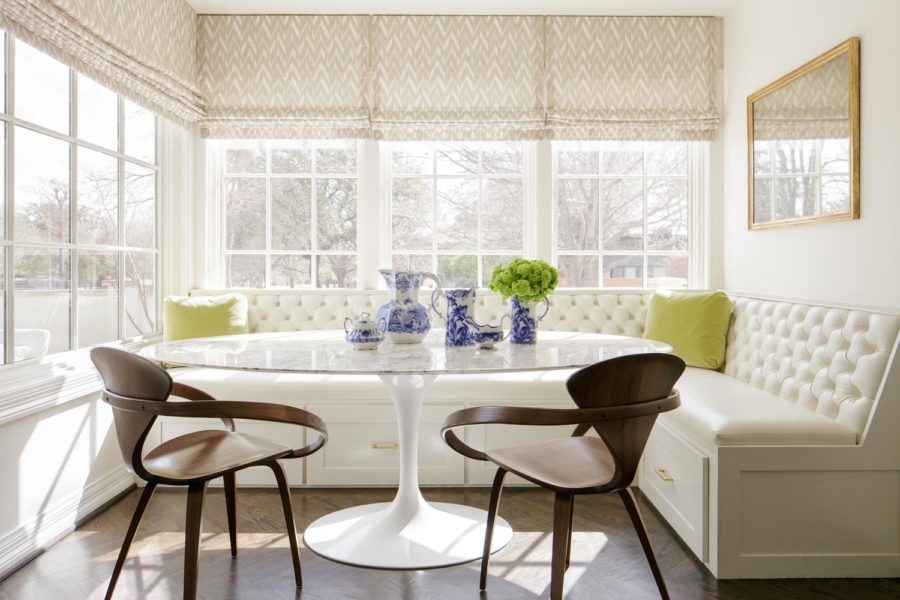 To make a smaller place look like a large space with plenty of room, this breakfast nook can be used. For the purpose, you must have a large window to allow extra light into your nook, whose white theme color will enhance the openness of this nook and make you more relaxed with a feel of sitting in a large room. The wooden chairs and ornaments along with sea green pillows fill some color into the picture. Otherwise, you will be having the morning meal in an ocean of milk, especially when the sunshine is piercing through your windows.
36. A taste of South Western States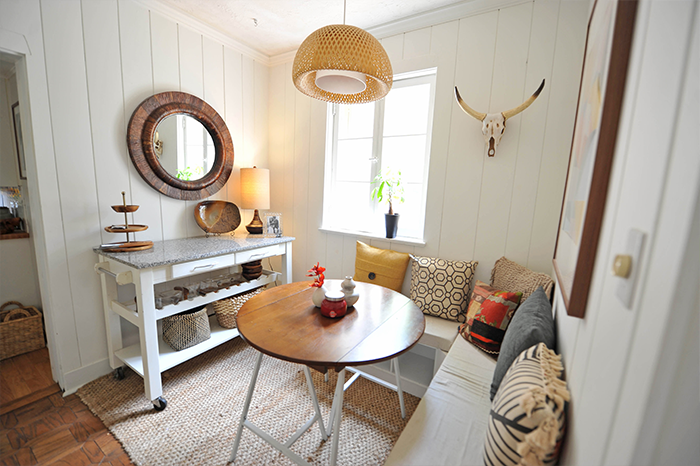 If the walls of your house are paneled with wooden work, this marvel of simplicity from southwest of US can be the breakfast nook for you. To eliminate the darkening effect of the wooden paneling, the reason why people avoid this type of interior décor, you can paint it white or with any other bright color. The rug gives a warm feeling to the room, while each pillow is separately patterned to induce casualness. The ornaments on the wall symbolize the flavor of South West, while the simplicity oozing out of benches and table represents the cultural norms of the region.
37. The Bohemian Touch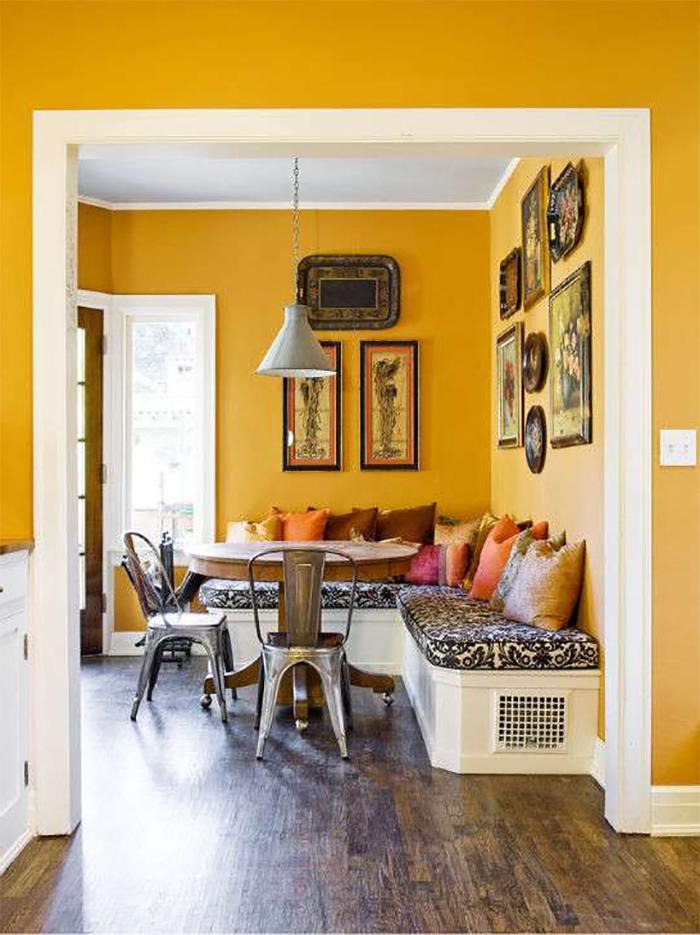 Do you want to have your breakfast with the feel of boho culture in the air around you? An affirmative answer will lead you towards this magnificently designed nook. Another adaption from the cultural library of western history, this breakfast nook has a few things like a collection of colorful, cozy pillows for reclining purpose to represent Bohemia. The yellow-orange wall color and some paintings on them set the tone, while simply designed black and white bench cushions provide comfort and stability to this otherwise full of hue scene.
38. Indigo Symbolizing Navy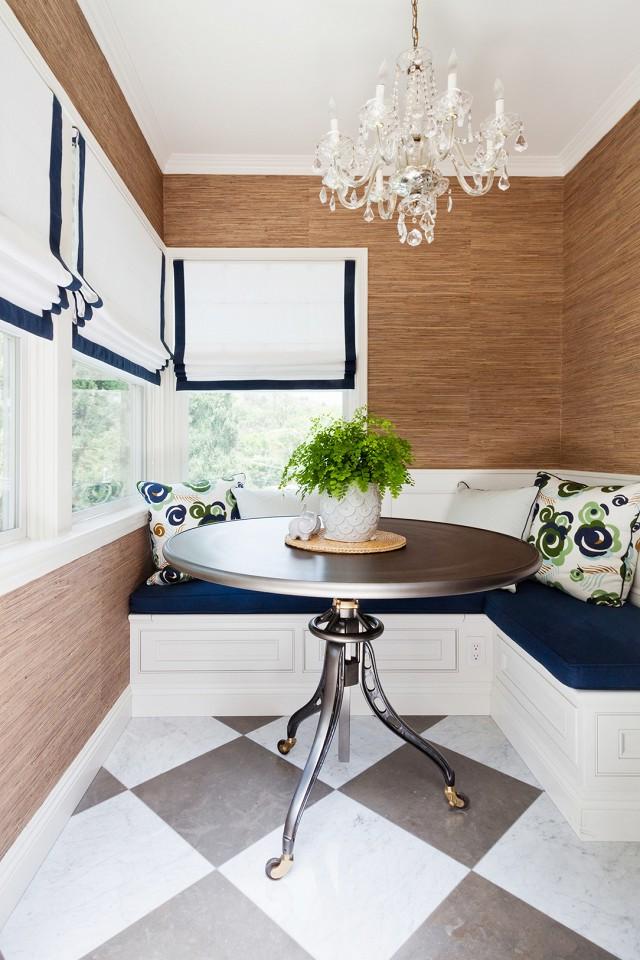 This breakfast nook has the coloring scheme which can be termed as nautical due to the indigo or navy blue theme color. The Roman shades having white color and navy blue borders give a dominant beach feel which is relaxing in its way. But it is not all that navy, the checked floor and a mainstream designed seating bench set a different tone all to gather. To supplement them, a graceful chandelier, a couple of fun patterned pillows and modernized wooden themed wall papers make up this unique place for enjoying the morning meal.
39. Not Finalized Yet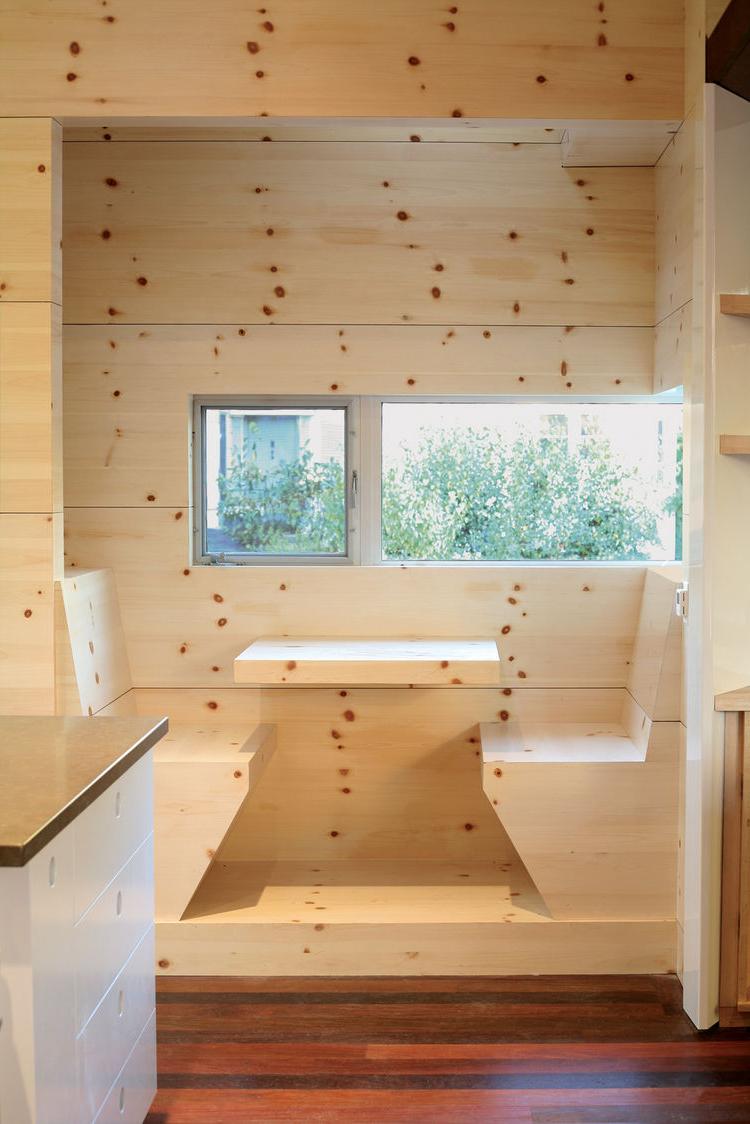 The first look of this stunning breakfast nook, strictly for no more than two, gives a feeling that there is work in progress. It looks like raw timber is just fixed and finishing work is yet to be done. Other than that, the design of the nook resembles the kitchen seating arrangements from the old school. For those enthusiasts who love to go green in every aspect of life, this natural raw pine wood furniture will exceed their requirements. If it is too simple for your liking, you may add a couple of walls ornate and fancy cushions.
40. Decency Maximized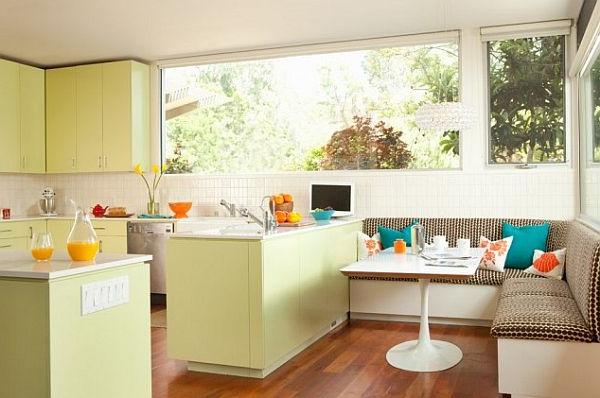 If you the theme of your breakfast nook to be decorous and modest at the same time, then this one is for you. You may hardly find a breakfast nook more sophisticated than this one. The extraordinary decency is aimed by using a square white table. Other than that, the checked patterns of the bench cushions and colorful pillows complement this plain themed nook. You can chill out with your family as extra space for chairs in also available.
41. Set Your Imagination Free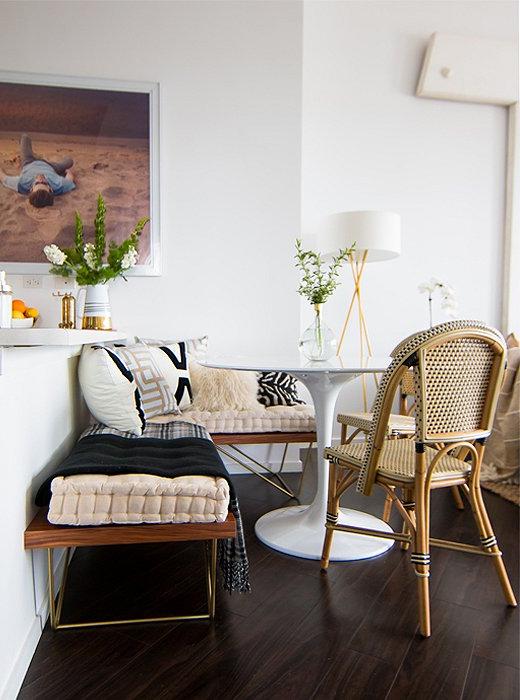 Rather than going for the orthodox pattern and mainstream design ideas for the breakfast nook, you create a pattern of your own. The setting may be entirely unique depending on your taste, preferences, convenience and budget. Like in this nook, a straight bench is used with a decent mattress for comfort and coziness. The bench may be spare or exceeding your routine need, but this way you can put that to use in a creative way. So rather than buying for a particular design, you can still customize your breakfast seating.
42. A Style Statement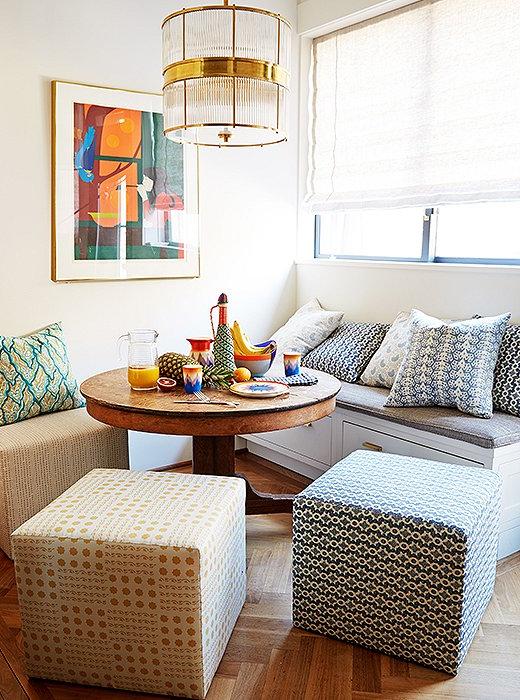 There is no yardstick to measure the quality or quantity of style, but the overall feel at the very first sight can tell you how stylish something is. This applies perfectly to this voguish breakfast nook. Like any other excellent design idea, this nook is built beside the window. Other than the formal bench with cushions and pillows, cube-shaped stools make a perfect style statement in this casual setting. The round wooden table and an exquisite chandelier add to the urbanity of this nook.
43. Emphasized Decor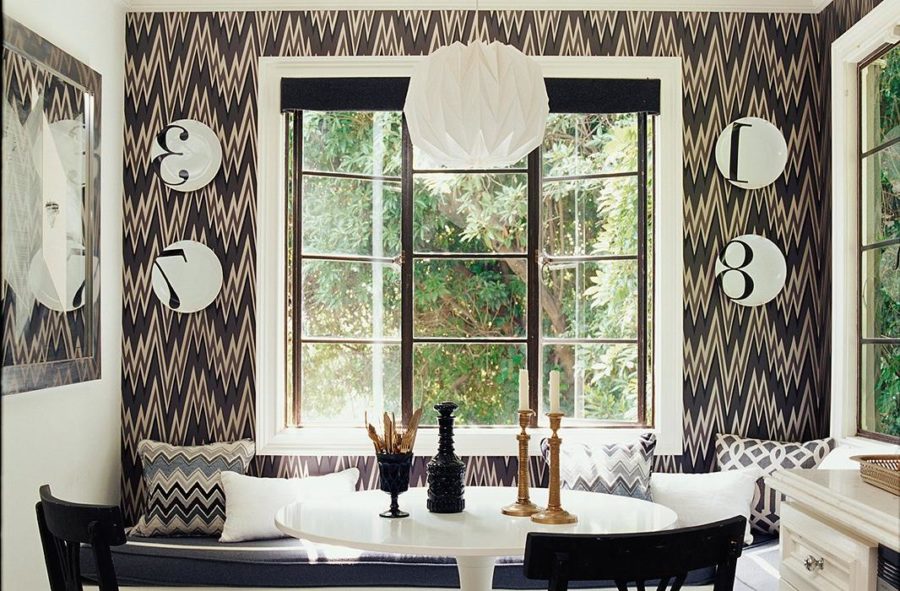 The decoration is part and parcel of interior design. Focusing on this can result in a unique and mesmerizing design idea as the case is in this breakfast nook. You can intensify the décor by customizing it rather than selecting a pattern. The theme, in this case, is black and white contrast, which is used to enrich the whole place, making it larger than life. Other than the furniture, the patterned walls and pillows, and a quirky chandelier formulate the inspiration for an overwhelming breakfast experience.
44. Strikingly Unconventional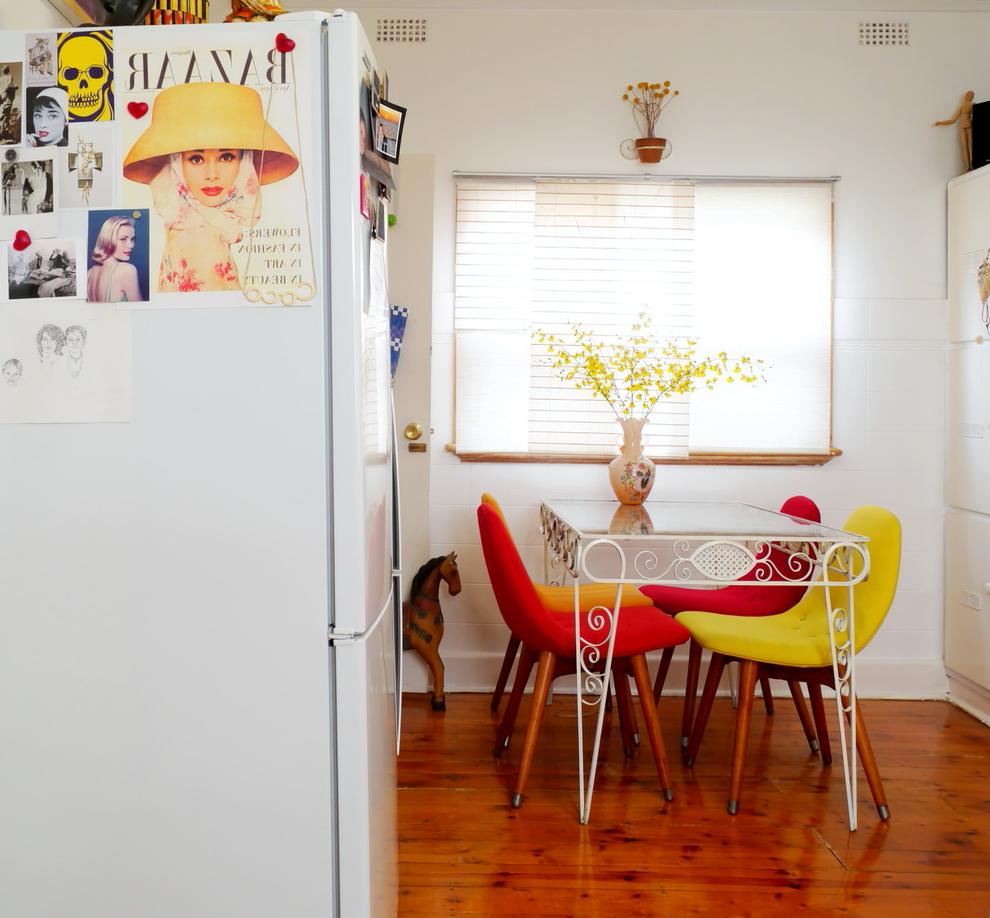 It is not a must to have a proper heavy dining table and expensive chandelier to make your breakfast nook perfect for you. Sometimes, a deviation from conventional monotony can create beautiful design ideas. For a small kitchen, this design fits perfectly. The white painted bent iron table with glass on the top gives a fresh look to your nook, while bright colored chairs add a funky look to the otherwise plain white set. A simple vase on the table and one on the wall decorates the nook in a serene way.
45. The Dark Chic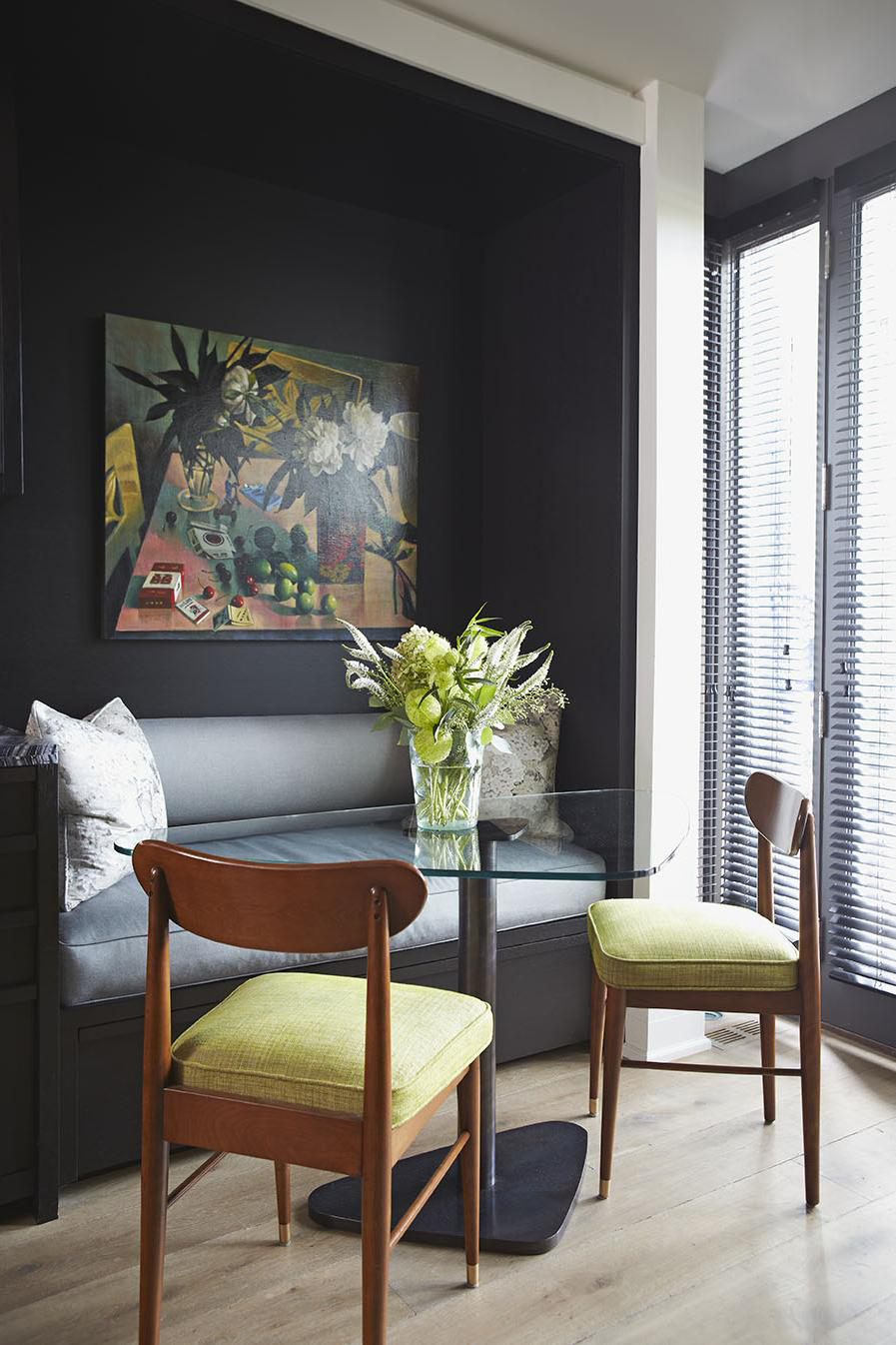 Getting away from the usual light and bright colored breakfast nooks, this dark, and modish design idea is surprisingly delightful. The artwork on the wall is no different to the original theme and is dark and dull, but it supplements the setting. To lighten up the environment, the tall doors are used to let a plenty of sunlight into the nook. The triangular table offers more table space to the diners on bench as well as on seats.
46. In-House Restaurant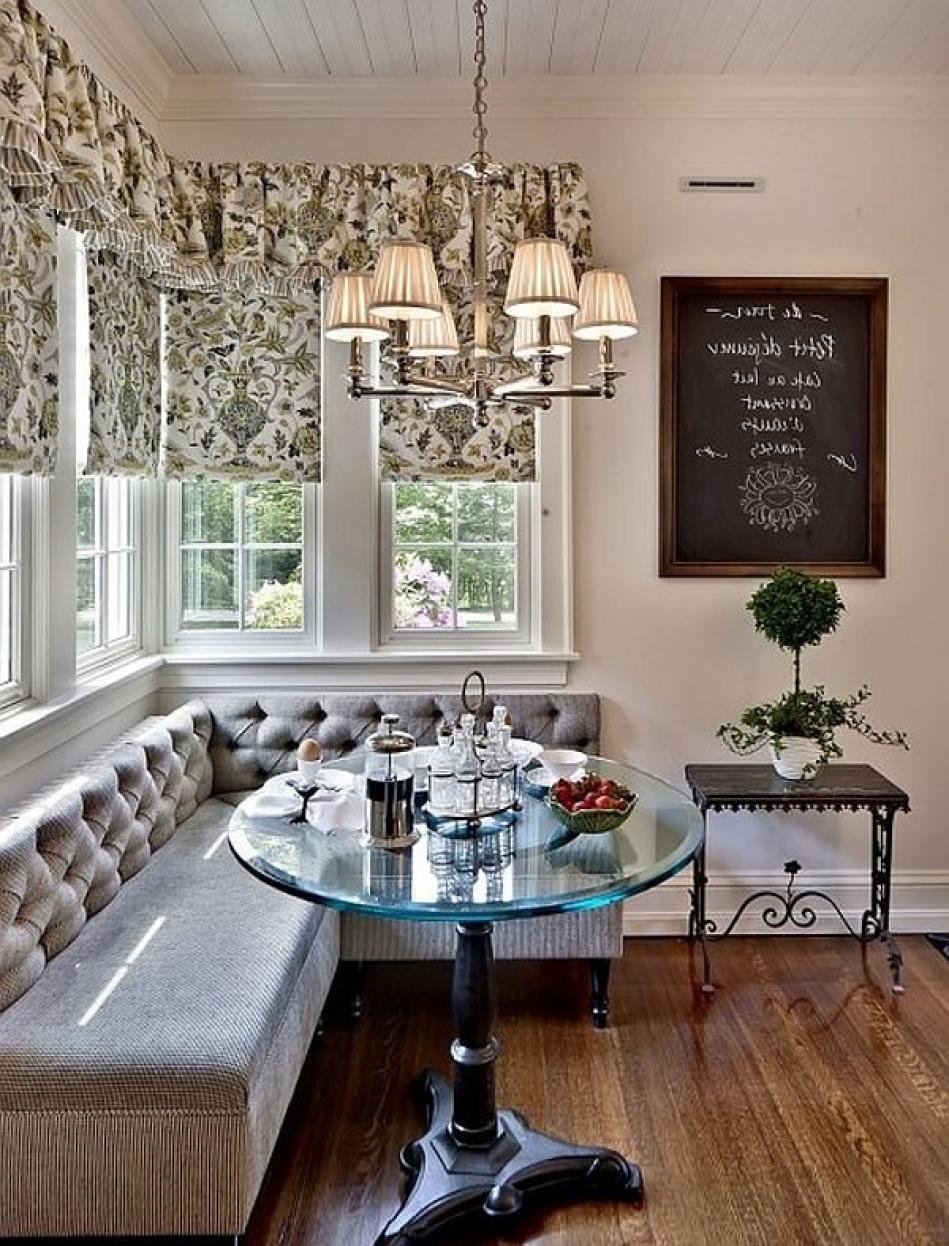 If you love to eat in restaurants and got addicted to the environment and locale, build your breakfast nook on the same patterns. This stunning nook design is a perfect portrayal of an upgraded bistro which you can bring to your home. An elegant seating arrangement and table well complemented with beautiful shades on large windows will make your meals a unique experience. The lamp shades on the chandelier provide with the mood lightening effect when you are dining with your family after the sunset. The chalkboard has many practical uses such as menu write out and listing things to do.
47. Focusing on Essentials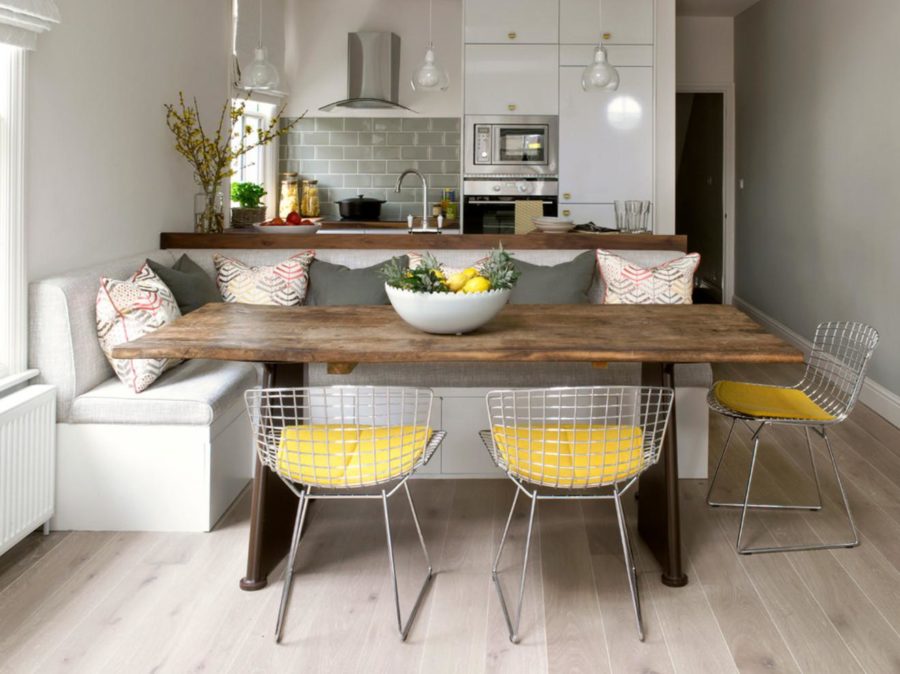 When choosing an idea for your breakfast nook, you may notice that simplicity is the best policy as sticking to the basics should be convenient. This nook looks like an extension of your existing kitchen, where the seating bench is attached to the cabinet. It may not be fashionable enough for the cover of a magazine, but it can accommodate a large family enjoying to gather the first meal of the day. A simple table and cushions along with the combination of gray and patterned pillows give a calm and collective look to this setting.
48. Elegantly Curvy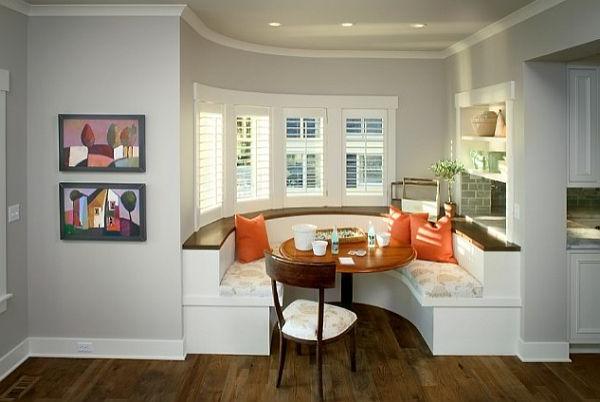 This is a great idea for breakfast nook which is simple yet elegant. The curved wall, U-shaped seating bench, and a circular table give it a unique and unconventional look but remains sophisticated. The medium sized window behind makes it looks more attractive, while simple ceiling torch lights replacing conventional chandelier ensures the provision of illuminating the nook after sunset. Orange red pillows hues up to the setting with subtlety.
49. Purple Pink and More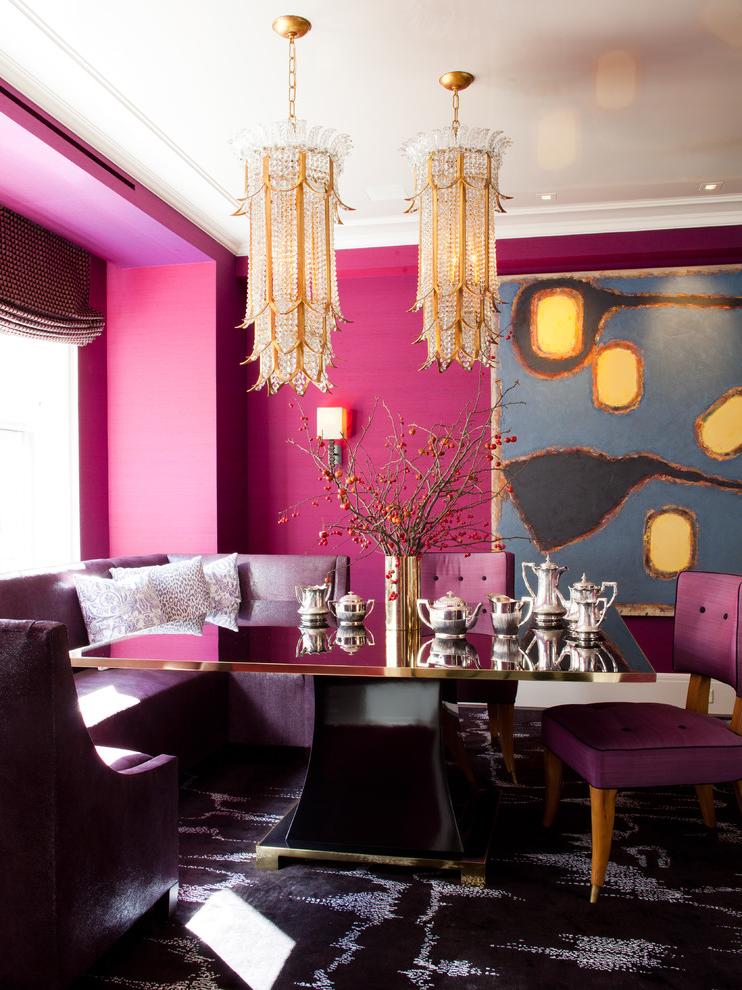 As the name suggests, this breakfast nook gives you a hefty dose of pink and purple, which induces modish and intense feeling at first sight. Other than the indulging colors, you may notice a large table with glass top. Unlike conventional compact nook tables, this design supports a much bigger table which can accommodate 8-10 people at a time. An extremely fancy chandelier, abstract art on the wall and golden vase holding shrubs make this stylish nook an out of the world experience.
50. Wood Dominance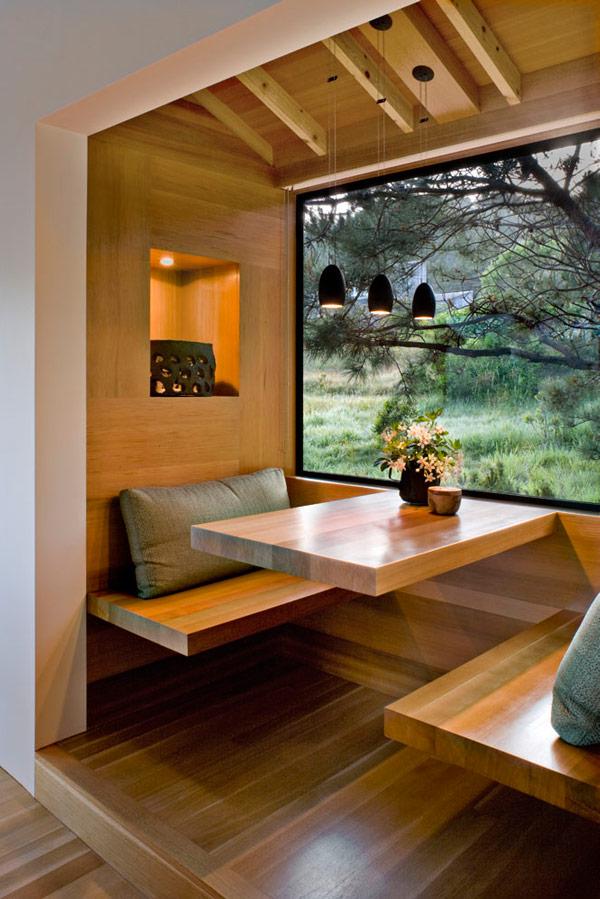 For those who love to introduce woodwork in their kitchen or living room, this breakfast nook will fulfill their desire. The all wood work nook looks exceedingly decent and make the place look larger than it is, especially with the smaller size of the setting. Large cozy pillows and hanging lantern lights make you feel relaxed and contented; while the outside view helps you enjoy your meals and coffee times. The built in shelf with light makes it a perfect space to display an artifact.
A breakfast nook is a special place in a household, especially when it comes to quality time with family. It is a multi-purpose space which can be customized according to the taste and convenience of the home owner. You can enhance the look of your kitchen or living room by smartly choosing the furniture and décor for building the nook. So you shall choose the Nook which is likable enough to bring your family closer and make memories during meal times. Hopefully, this collection will help you in selection and design a fantastic breakfast nook for your home.
Check Out The Video Portrait of Stunning Breakfast Nook Ideas