The closet has always been an integral part of an individual household. The man has always used to dedicate a corner of his room or house for the belongings, especially clothes. The sizes and shapes of such storage spots have evolved over the centuries; from wooden boxes to metal trunks to proper shelves and closets, it has always been part and parcel of living place across all the cross sections of the society.
When it comes to especially designing and customizing your very own closet, it was thought to be the forte of those people who are obsessed with organization. And such people can channel their obsession by applying different techniques to place their belongings in an efficient and effective way. But modern studies show that chaos of a disorganized and messy closet can emotionally irritate you and cost you time. So with a lot of new designs and ideas for closet organization available, you must make your closet a smart storage of your accessories with a refreshing outlook.
50 Best Closet Organization Ideas for an Adorable Home Decor Style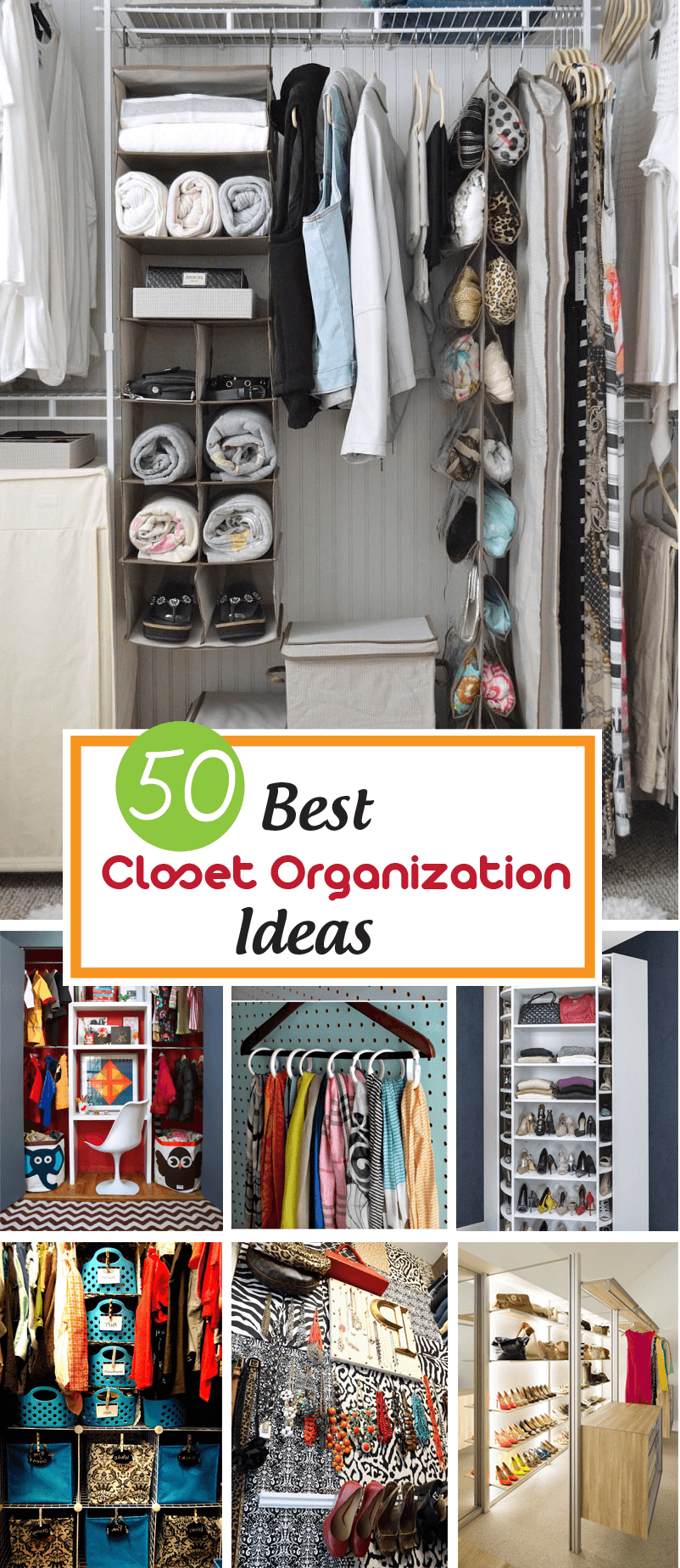 For many modern day women, a crisis they go through now and then is the thought or feeling that they have nothing to wear. This common emotional irritant is in most cases due to badly organized or disorganized wardrobe; although your closet would be full of clothes and stuff, you cannot visualize your options effectively. So the proper display of your clothes is essential to solving this mysterious calamity faced by the modern woman.
Gone are those days when a well-fashioned storage room is specifically associated with the ladies; new fashion trends are encouraging stylish men to maintain a glamorous walk-in closet with each, and every one of their tie, blazer, belt, shoes and other clothing stuff can be homed to give a mesmerizing look.
For designing a closet, you must have the measurement of the room available to develop and customize. Otherwise, you may end up choosing a pattern not suitable for the space you have. Also, it is not necessary to copy paste a closet design; you can always use a design of your own, or just incorporate small ideas and adjust your wardrobe according to your taste and liking. In this article, we present to you some structuring ideas and arrangements for your suiting cabinet.
1. The Darker Shade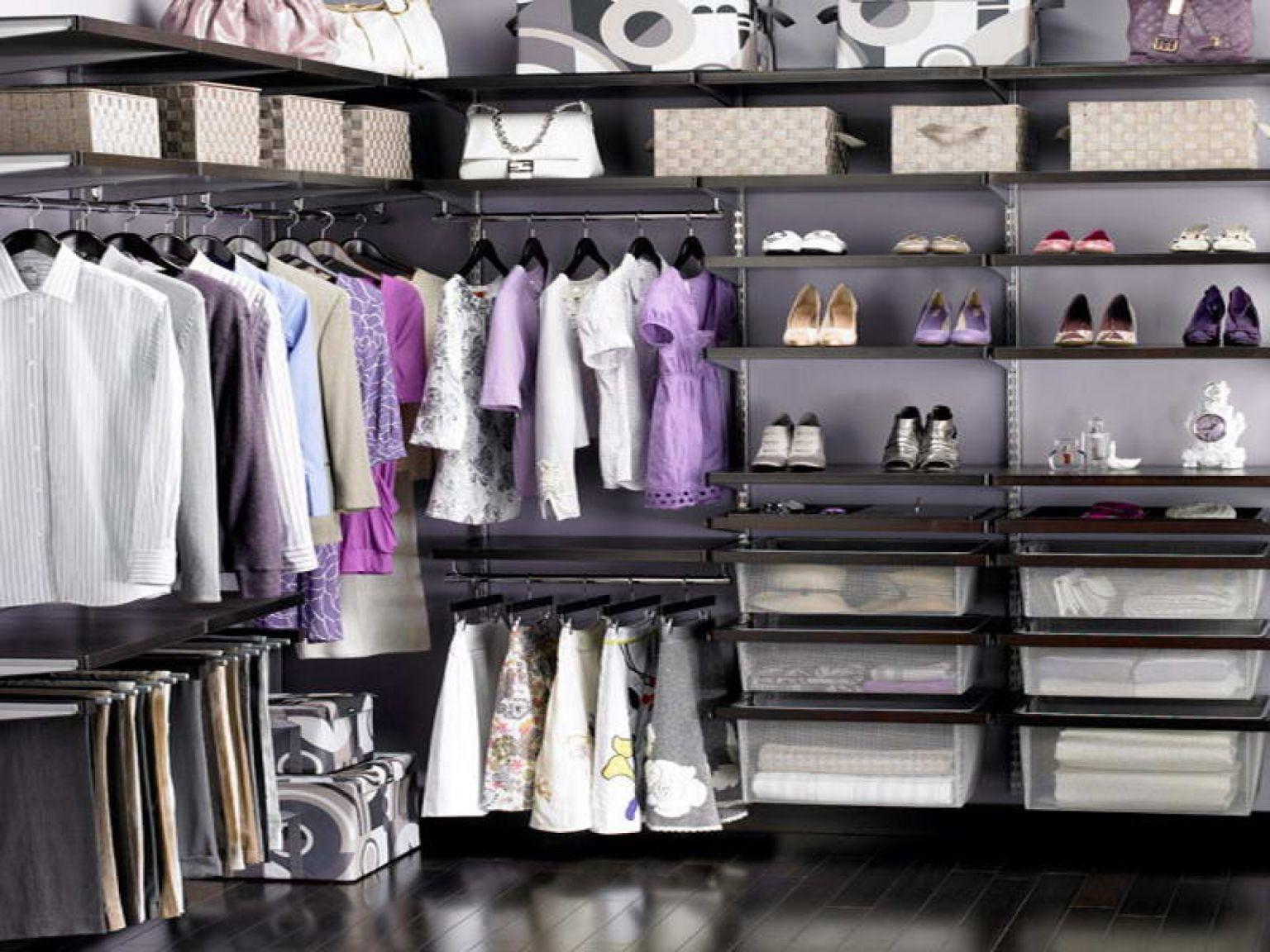 If you prefer black while choosing for your home interior design and want your closet space to give a luxurious look, this design can satisfy your needs quite nicely. The smooth and polished look exhibited in this display is only because of sleek black finish. The gray-hued walls are creating beautiful color combination while the sprinkles of lilac are enhancing its beauty. Pull out drawers and shelves along with ample space for hanging clothes amalgamate efficiently to provide for all of your requirements. The overall impression is graceful and fits well for both men and women.
2. Improve Storability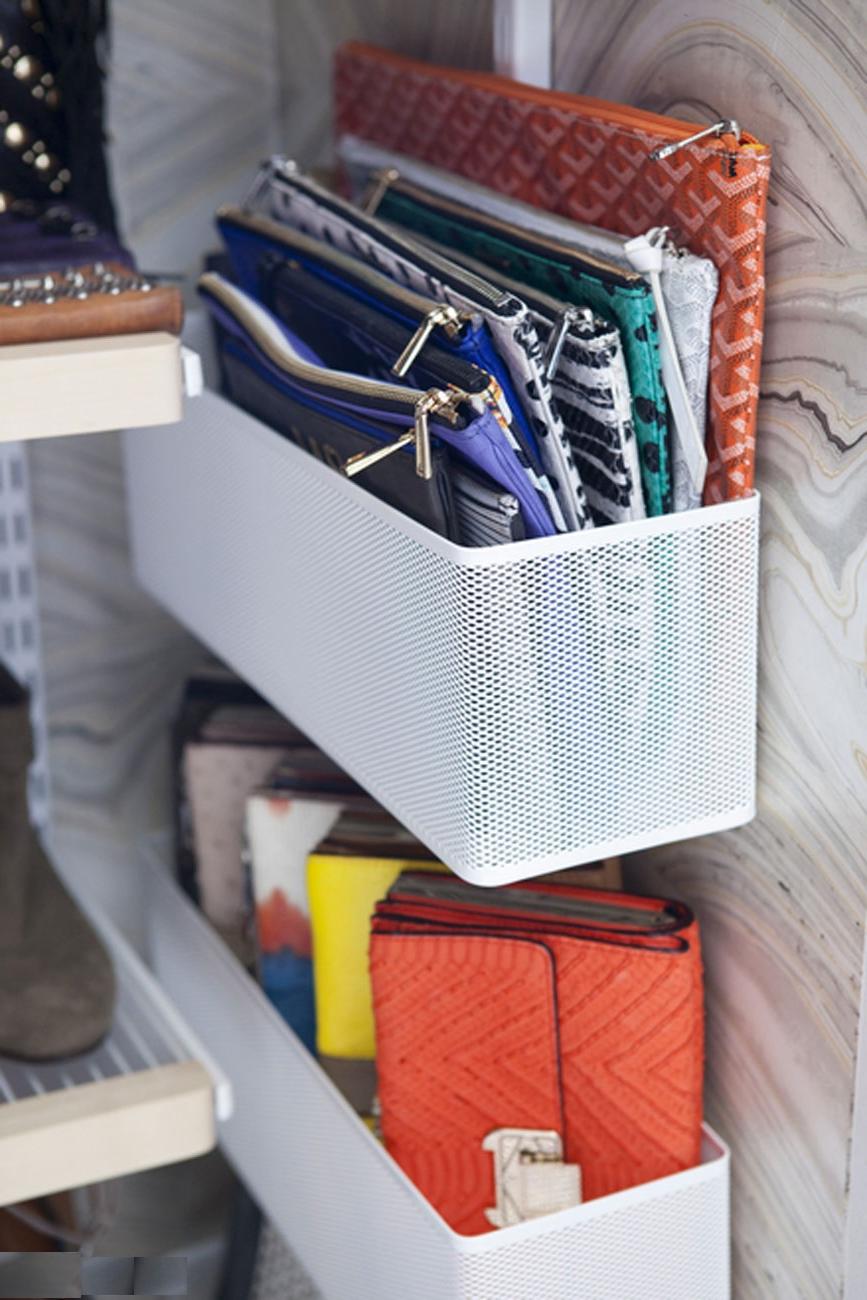 You will always encounter small but significant items to be stored in your closet, which pose a design challenge. Such items may include wallets, small toys, charging cables and alike. They can be awkwardly shaped and sized in different categories, creating problems for you when you consider storing them. This issue can be adequately addressed by hanging small bins for storage inside the closet as shown in the picture. This idea offers a surprisingly elegant solution to your everyday storage problems. It not only stores significant amounts of such accessories but makes them easily accessible.
3. A Temporary Wardrobe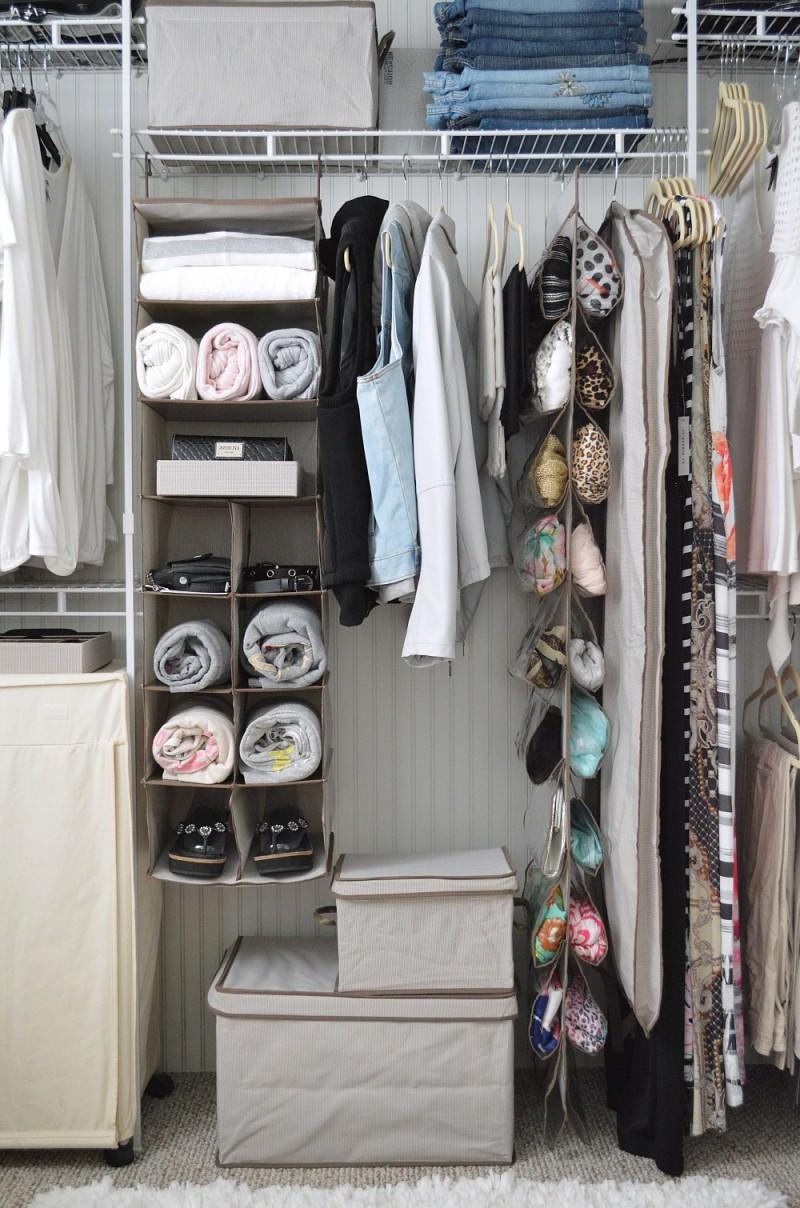 If you are living temporarily at a place for a limited period, then a more non-permanent storing solution may be well suited for you. Also if you need to change the location or position of your clothing cabinet now and then, this design is custom made for you. The collapsibility of this closet is the primary feature which distinguishes it from other fixed solutions committed to a place or a specific corner of your room. Although this design is primarily short term, yet it offers all the options of a closet with hanging shelves and collapsible boxes of various sizes.
4. A Dual Purpose kids closet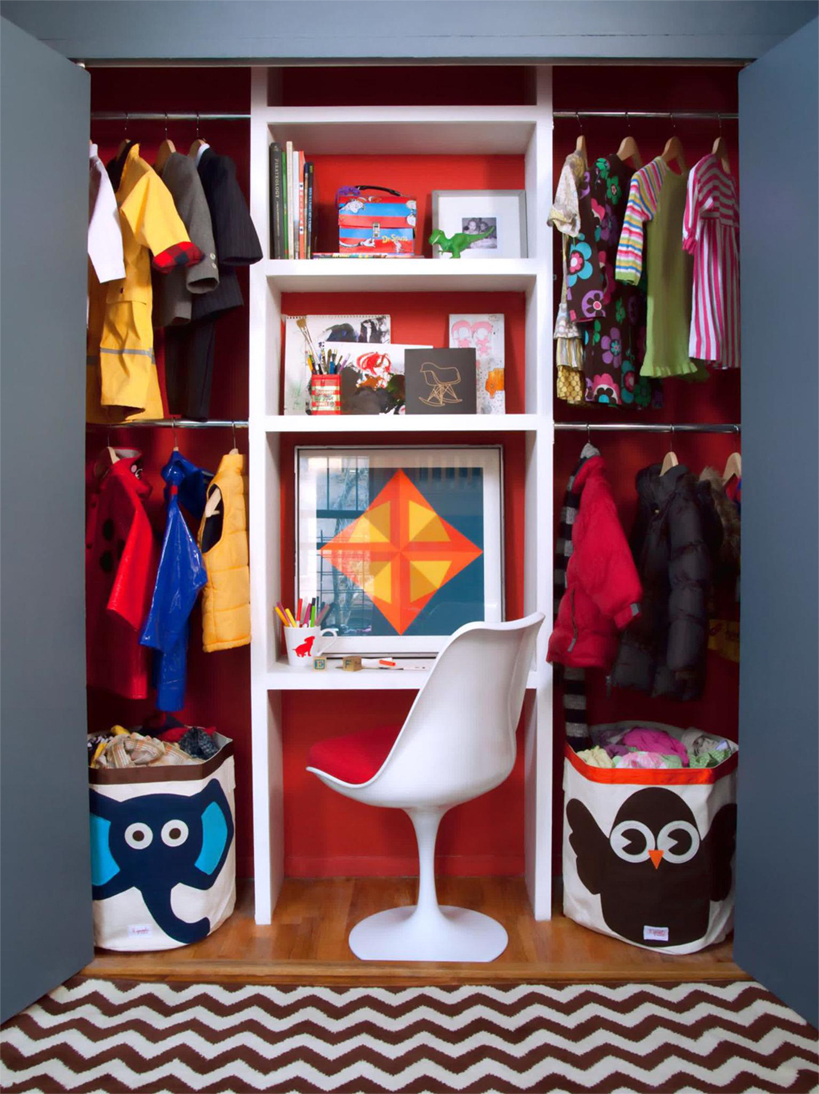 This funky closet design is the best choice for your children's bedroom. Along with the wardrobe, it offers an in-house workstation for the kids in the most creative yet simple way. To make this little office for the future officer, you just need to clean out some space in the closet and make its functionality doubled up. The color scheme used to design this closet makes it more fun along with its inbuilt dual functionality. Closet floor and wall color combination along with a stylish chair and beautiful animal faced storage bins makes this cute design a perfect idea for your kids to teach them wardrobe organization.
5. Cover it with Pink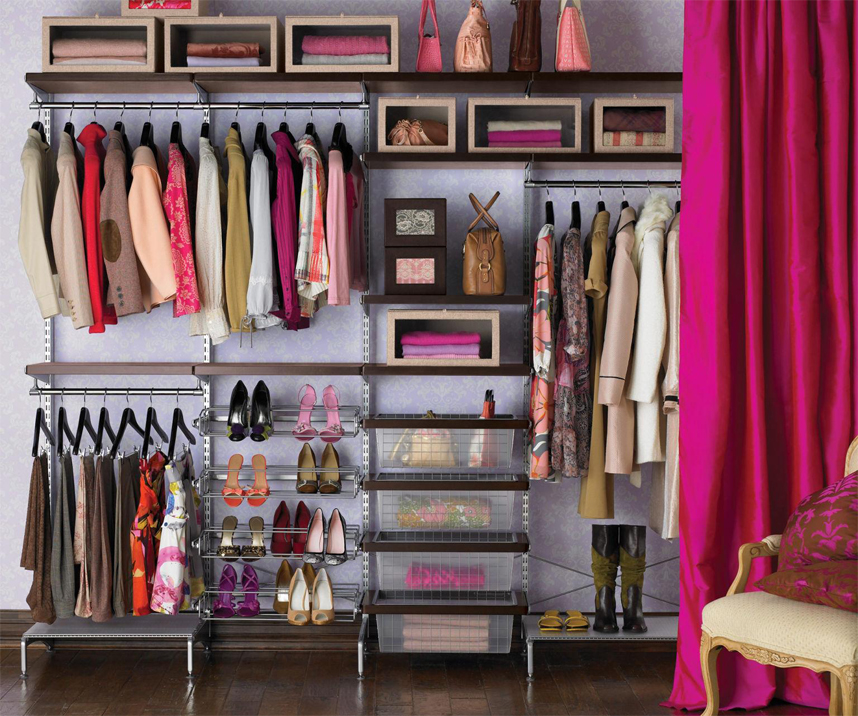 Who says closet designs need to be plain or dull? You can make them as extravagantly catchy as you please. This closet design not only provides the element of beauty and a modish look to your home interior but also fills it with lively colors. The shade of pink used in the curtain stands out in this setting. The color of the wall is darker gray with a light colored print on it, which contrasts nicely with the bright color of the screening shade. Overall the closet offers a voguish feel, but it still keeps it simple to implement in your room.
6. A Futuristic Approach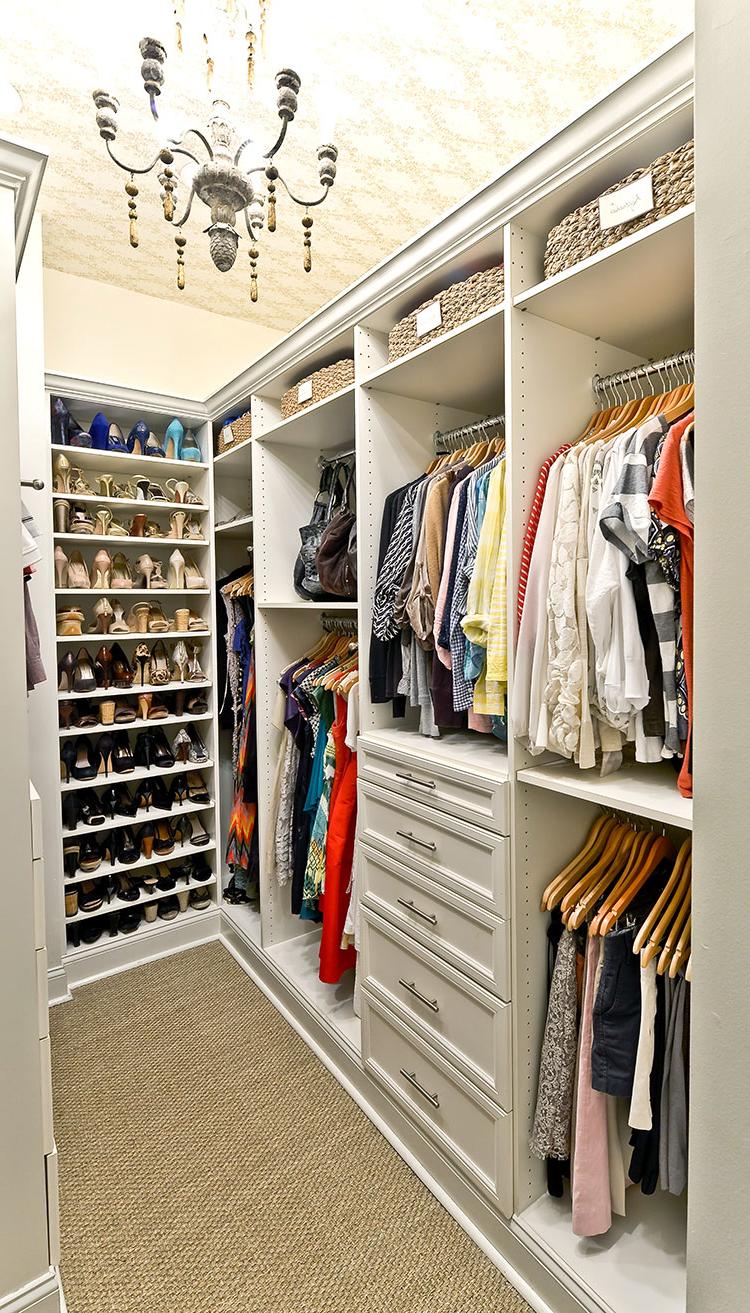 Modernizing your wardrobe does not necessarily means that you need to spend lavishly and give an outrageous look to the storage. A smaller closet which is nicely designed and perfectly organized can be as sophisticated and up to date as anything. This closet is getting the maximum out of the available space by smartly designed architecture. The beauty of such simple and sophisticated design can be enhanced by the use of an exemplary lighting fixture as shown in the picture. The chandelier supplements this smartly designed wardrobe with the necessary elegance.
7. A Collection Showcase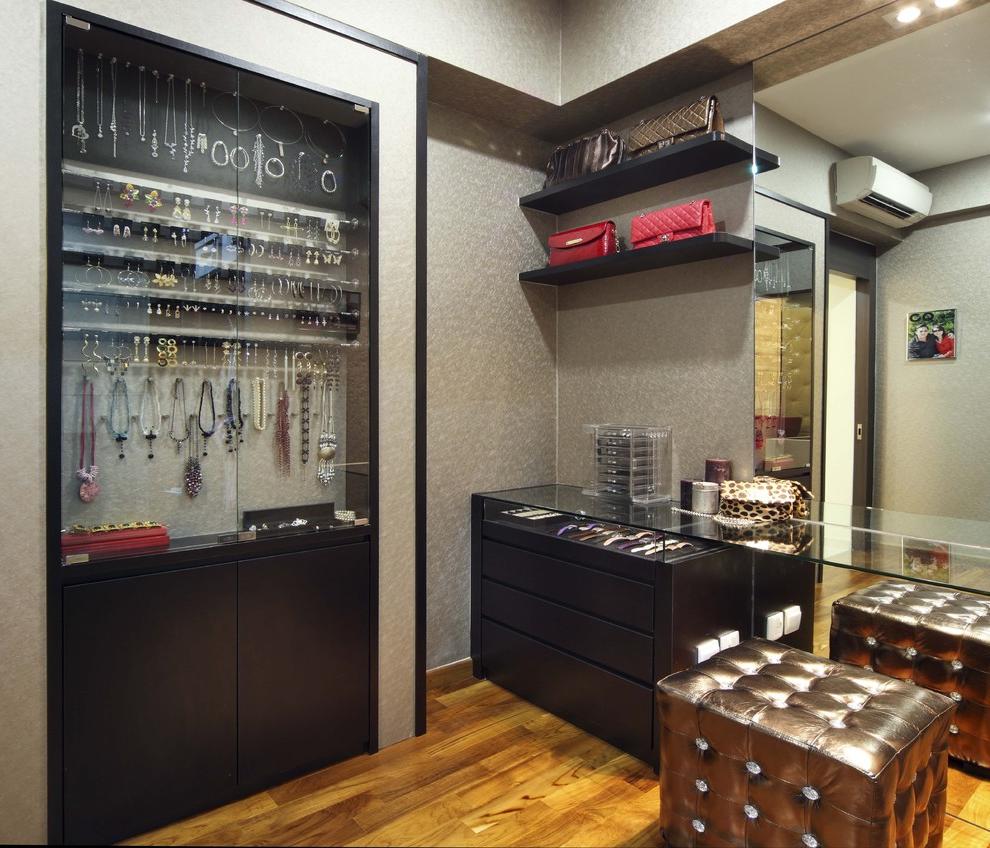 Your closet can be much more than a mere storage of your clothes and other belongings. You can design the closet to be a place to display your splendid collection of designer goods. You can integrate a beautiful display case in your wardrobe to improve the usability and get an aesthetically pleasing setting. Also, your precious items will get the royal treatment they deserve as if they are up for sale in an expensive showroom. So this design not only protects your jewelry and stuff but also organizes it in a much better way for you. So you may find the perfect match with your dressing in the first look.
8. Elegance Magnified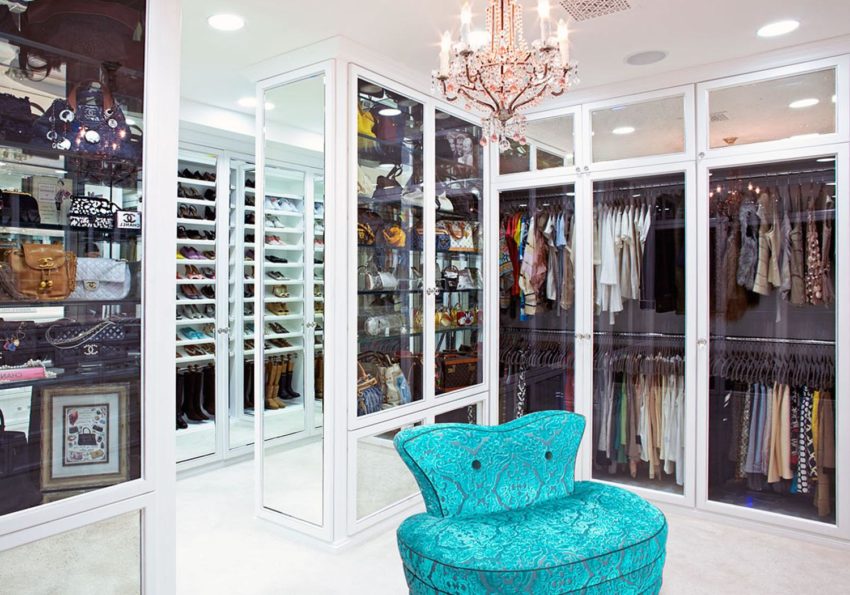 Sometimes you need to broaden the look of your closet to make a small space look larger than it is. This closet design is the perfect remedy for such cases. With the white color of floor and roof and an extensive use of mirrors, this wardrobe seems to be built in a prodigious room. The openness of this setting is supplemented by the glamor added by an exquisitely beautiful chandelier and an adorable cozy seating arrangement just beneath it. The design is oozing with artistic refinement, and you can feel like elegance being splashed on a canvas.
9. Store With Versatility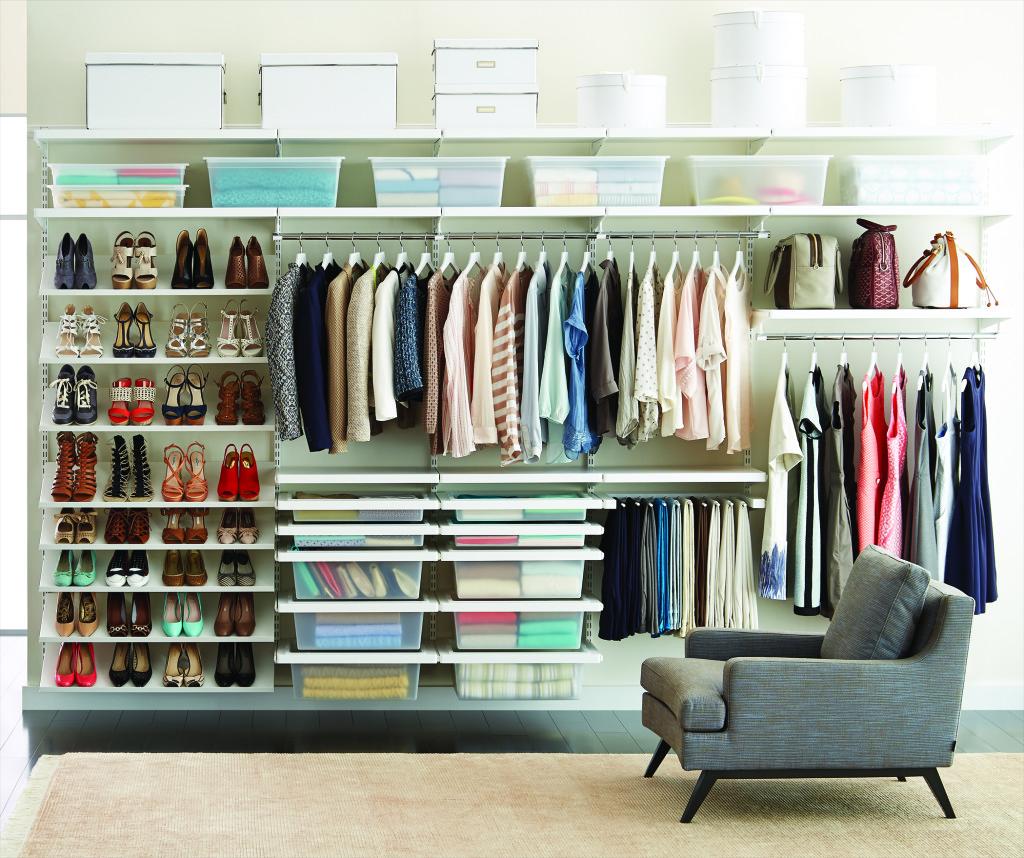 If you want your closet to offer a multifunctional storage solution to you, then you can get inspiration from this fantastic design. This lustrous and modishly designed closet gives your interior a modern yet uncomplicated look. At the same time, it offers a complete solution for the home organization for your storage issues. The opaque boxes on the top are for rarely used unsightly belongings of yours, while the clear boxes are more accessible and can store items used more often. The hanging space, shelves, and shoe display offer all in one type of design for your room closet.
More Closet Design Ideas On The Next Page…