A kitchen is one of the most fertile playgrounds when it comes to interior designers. While designing the aesthetically look of your cooking place, you will come across endless possibilities. The driving force for this diversity comes from orthodox homemakers, who always use to strive to make their workplace look exquisitely attractive. Breakfast nooks have remained an essential part of the modern kitchens. They present a perfect place to get your day going; serving breakfast to your kids before school or reading newspaper while sipping in an obligatory cup of morning coffee or tea. Being a casual version of the dining room, they can be structured in the corner of your kitchen or near your kitchen with a window nearby. Unlike the dining chambers, they do not follow the cliche "the bigger, the better." A smartly designed, sophisticated and cozy nook makes perfect aesthetic sense. The idea should be to impress upon the meaning of closeness among the diners whether it be a sitting for two or large enough to seat a family of six.
Check Out the 50 Best Breakfast Nook Ideas and Designs For Your Dream Kitchen

To stir your imagination and get you inspired you towards creating aesthetical magic, we bring to you 50 amazing breakfast nook design concepts.
1. Naturally Elegant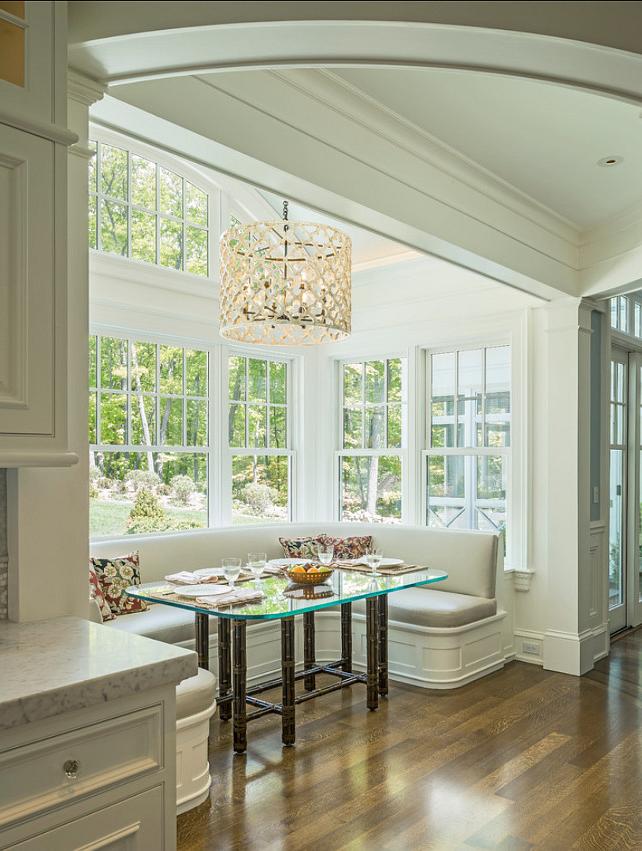 The concept in this design is quite simple yet elegant. Seating arrangement has no lavish coloring scheme, yet it complements the soothing view of the locale. The large windows ensure ample daylight penetration while vaulted ceiling adds to the beauty. The quatrefoil light fixture gives the place a unique look, lighting a simple bamboo structured glass top table. With external view being the standing out feature, you can enjoy the view while taking a meal with your family or doing official work. Space is well equipped to accommodate five to six people.
2. Waterside Diner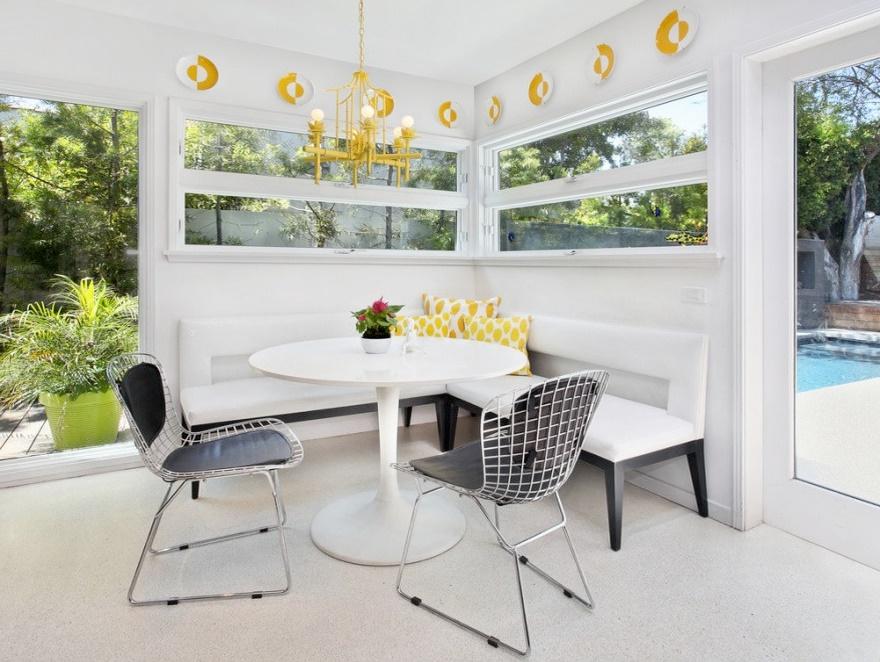 Being one of the most exquisite modern designs, poolside seating is a luxury that should regularly be experienced. The central theme based on white color is necessary to add charm to the location of this nook. The exquisite combination of black and yellow makes the environment livelier and youthful. A solidly build chandelier in gold color is just to complement the simple plain ceiling, as lighting such an open place should not be a worry.  You can experience breezing of cool and refreshing air through the area by opening up the windows.
3. Far-East Modernized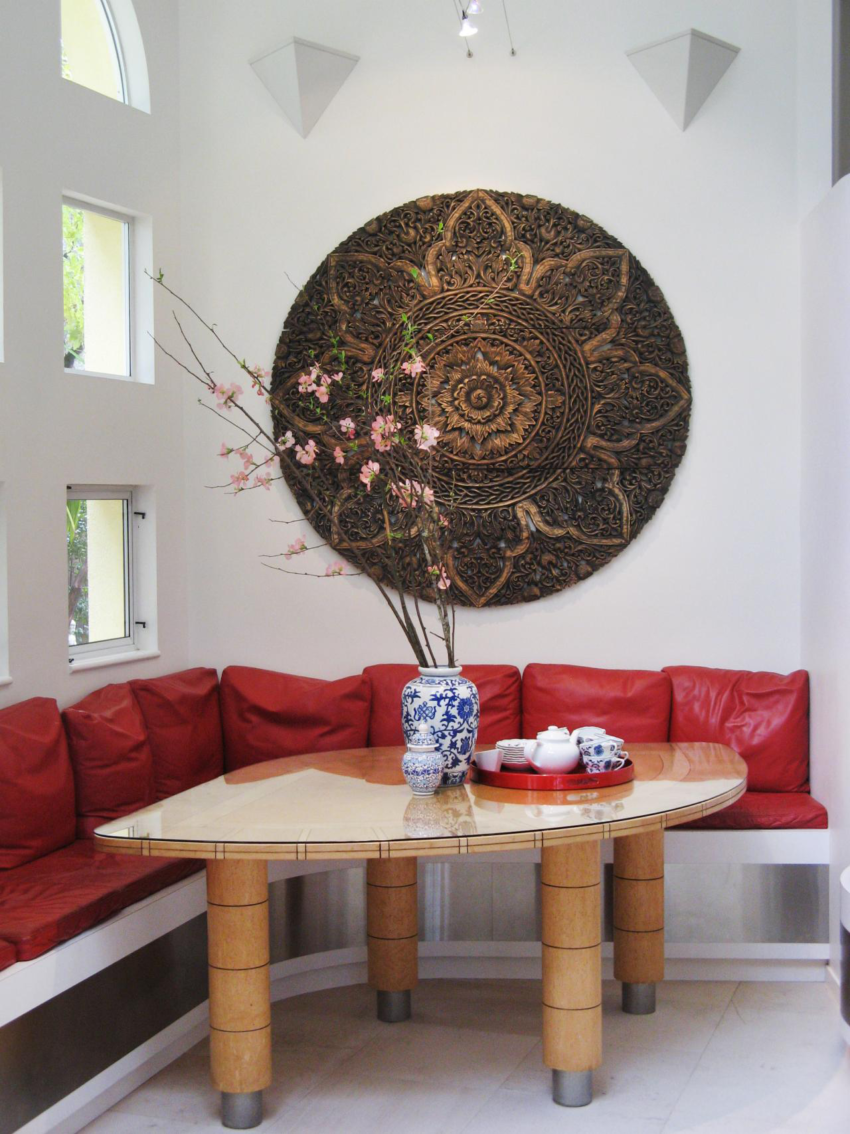 If you want to incorporate the flavor of Far East in your home interior, this nook will satisfy your requirement. This corner nook is the best option if you are planning to invite your friends to a Japanese tea ceremony now and then. The triangular table with rounded corners gives a modern look and accommodates more people at a time. The maroonish red seating covers and cushions lift up the mood, while you get a feeling of being in a Zen when you have a look at a large hanging mandala.
4. Sitting Around Tulip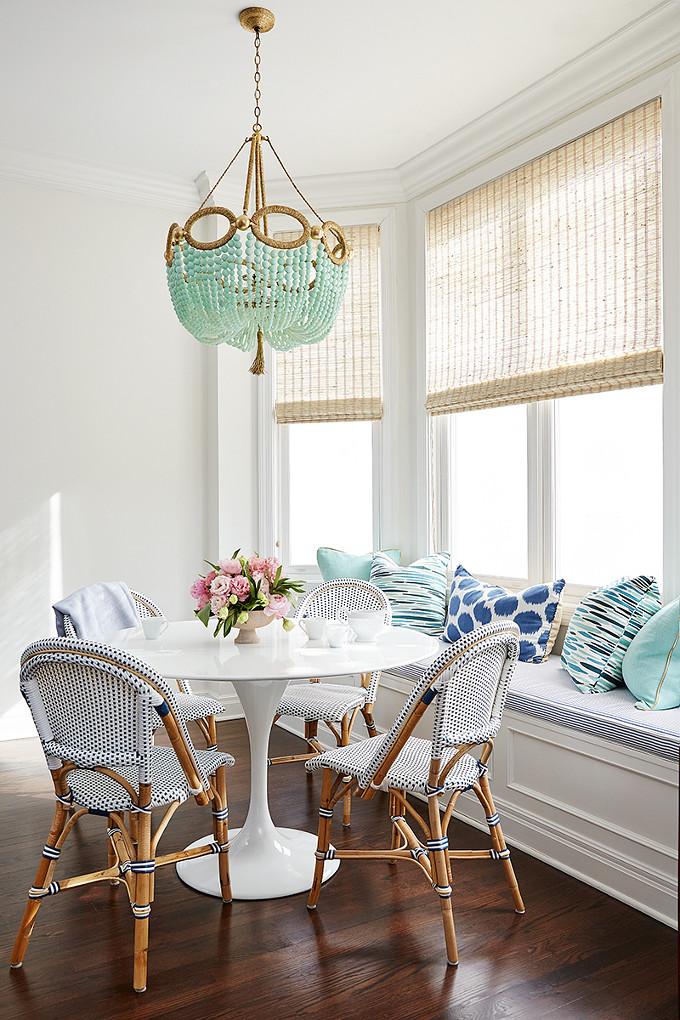 This French themed nook will save you from getting squeezed into a tight space; there is a strong emphasis on openness in this design. A beautiful window bench with attractively colored cushions is perfect for sitting. But it is not the only choice; four chairs are accompanied to keep up with the comfort and preferences of your guests. The simple yet elegant white table contrasts mesmerizingly with a dark wooden floor, while turquoise beads in the chandelier provide a unique lighting solution when necessary. The overall white background lightens up the environment when illuminated by daylight.
5. Pocket Sized!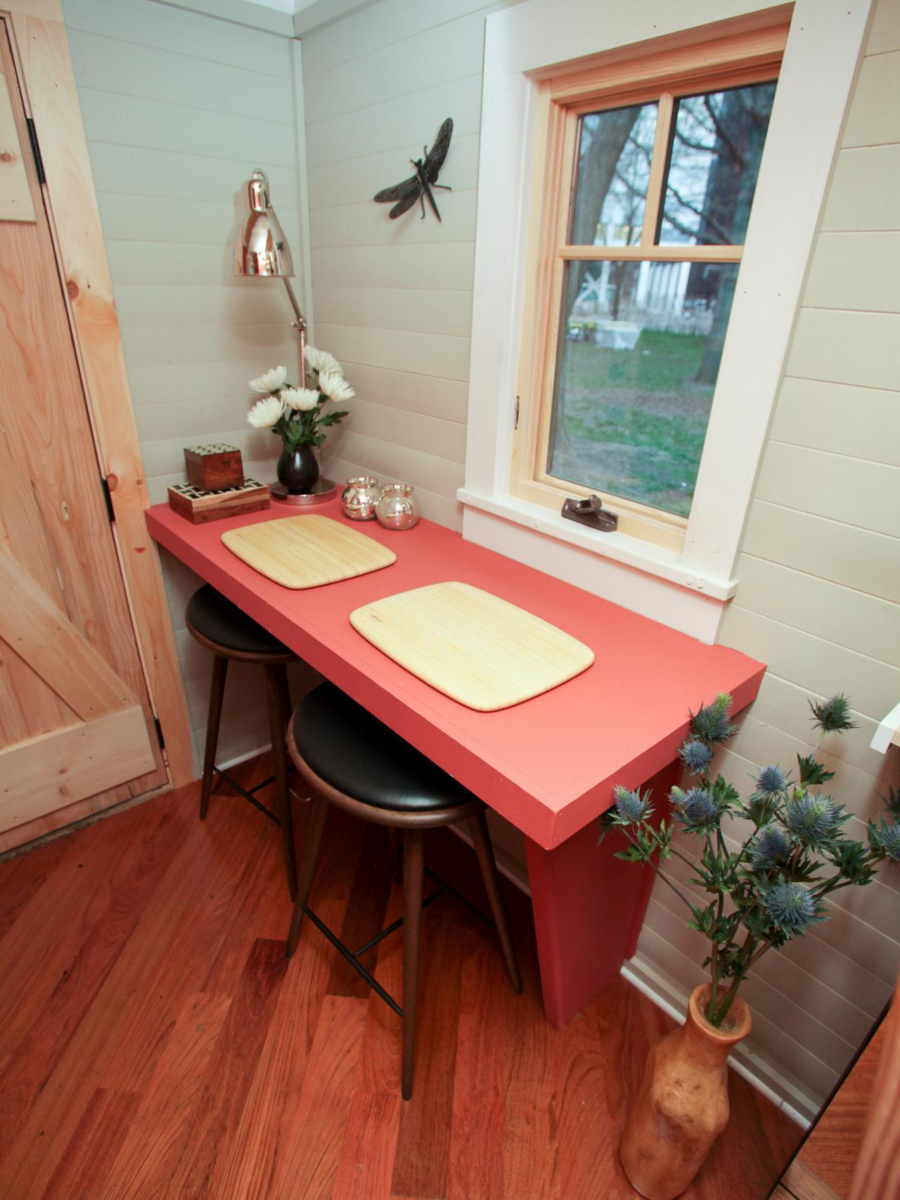 If you are tenant to a small living place or you don't have a lot of places to spare, you must be finding this tiny little nook for breakfast. The ideal location for such fun-sized beauty is the space behind the door. Just attach the table to the wall and place a couple of stools underneath so that door may be operational when nook is not in use. The mats put on the table define it to be an eating place, while the coral color attracts the attention. This marks the climax of casualness of nooks in general.
6. Sunshine Amplified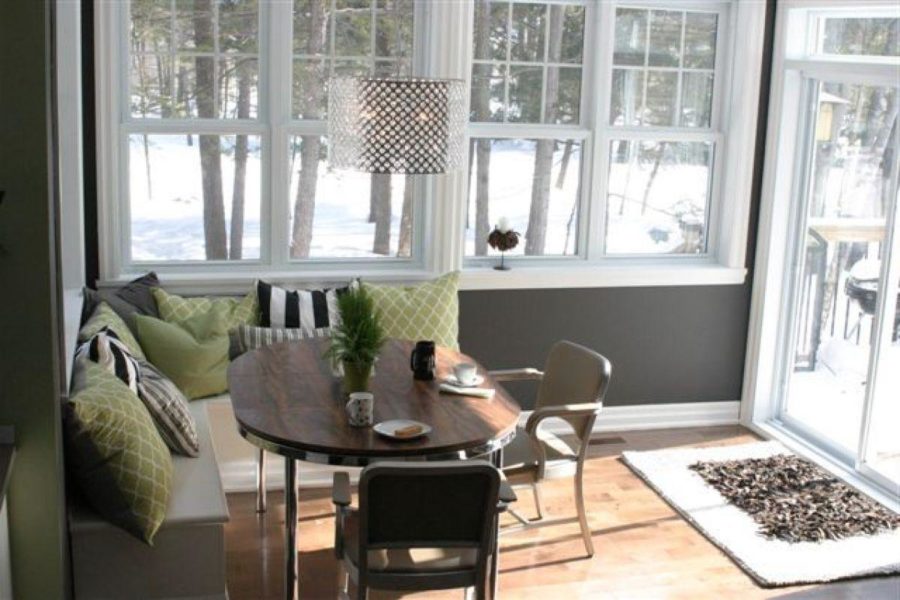 If you are among those, who feel enthusiastic by spend most of their time in daylight and get maximum benefit out of this precious gift from Mother Nature, go for this nook. You will feel sitting outdoor and savoring your meal while enjoying the protection and safety an indoor space possess. This nook offers an incredibly catchy coloring scheme, amalgamating to result in a beautiful sight. Pale green cushions on a plane bench, having white windows along with margins above dark gray walls in the background, exhibits a lovely view on a sunny day.
7. Getting "Rugged"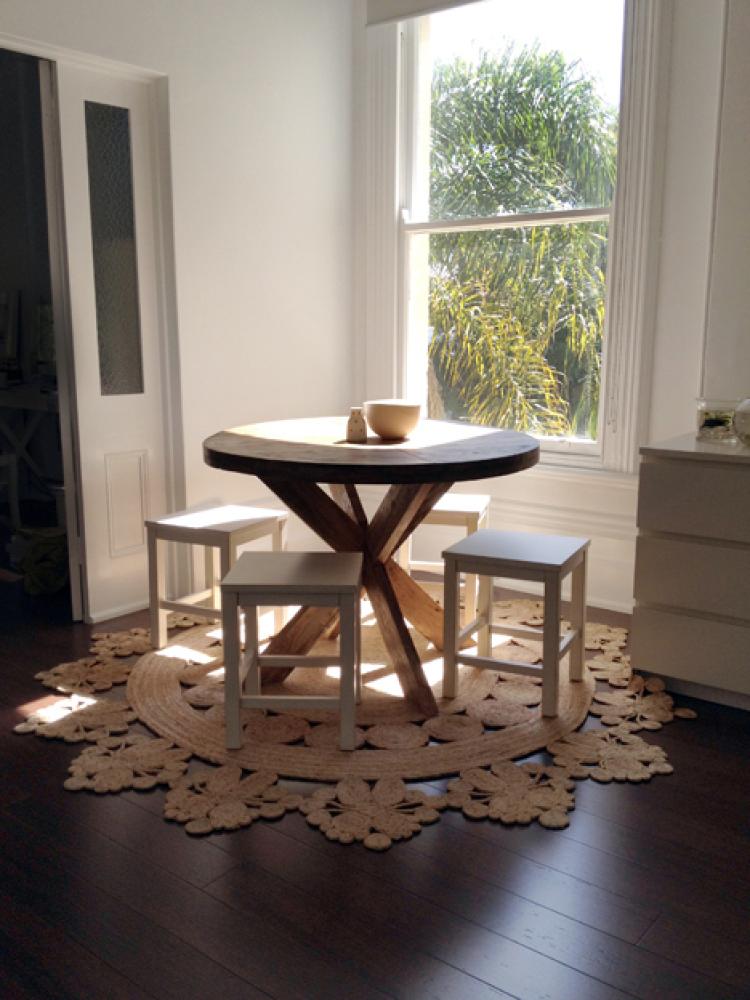 Placing a rug underneath you breakfast table demarcates the boundaries of your sitting space and gives an imperial look to your nook. This innovative concept is smartly employed in this design. For smaller corners in your house, this nook is compact enough to gorgeously occupy the place and provide you with a regal seating area. Your kitchen corner will stand out with the golden rug design underneath. The rust colored round table and simple wooden stools offer a crude glance of your dining space. A skin colored bowl on the tabletop symbolizes the simplicity.
8. Dark Fantasy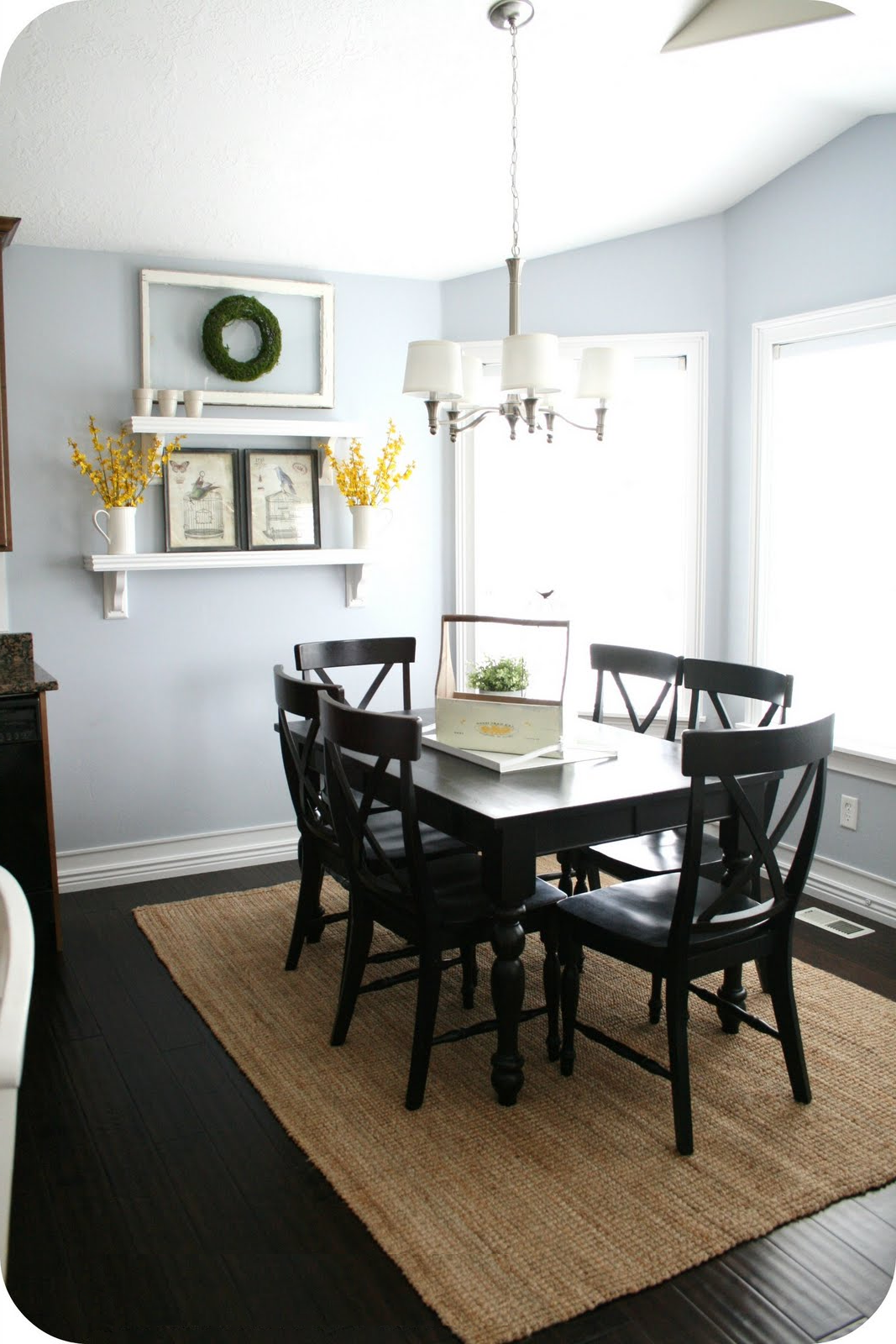 The non-illuminatingly dark brown flooring and pitch black furniture, mesmerizingly contrasting with shining bright paint of window, walls and roof instantly attract the eyes to appreciate this beautiful nook. To sprinkle some color into the scene, a couple of vases are added. The golden plant shoots are enhancing the arrangement, while the simple and elegant rug placed under the table is a testament to a charming and fulfilling place for your daily meals. Medium sized windows and a more than decent chandelier beautifully complement each other.
9. Irresistibly Adoring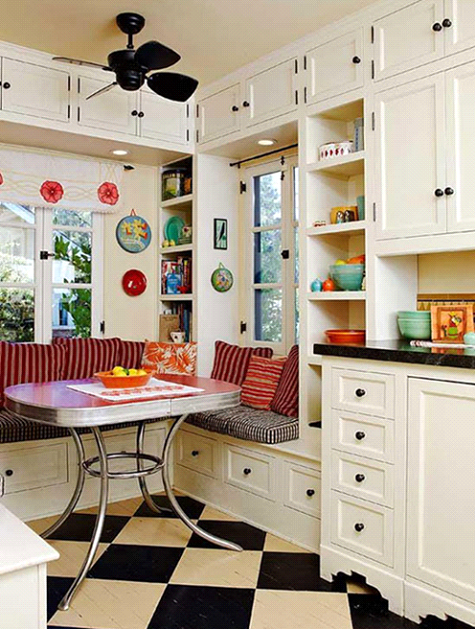 To enhance your small sized kitchen with an adorable breakfast nook, you must take inspiration from this design. This great and cozy nook will add to the beauty of your kitchen without occupying much space out of the limited area available. The oval shaped table and L-shaped bench combine exquisitely resulting in an incredibly fulfilling corner of your kitchen. With extra space available with table, you can always add a chair or two to take in more diners. The decoration accessories on the wall and plain sailing print of pillows make it a perfect place to eat, drink or read.
More Breakfast Nook Ideas On The Next Page…