The closet has always been an integral part of an individual household. The man has always used to dedicate a corner of his room or house for the belongings, especially clothes. The sizes and shapes of such storage spots have evolved over the centuries; from wooden boxes to metal trunks to proper shelves and closets, it has always been part and parcel of living place across all the cross sections of the society.
When it comes to especially designing and customizing your very own closet, it was thought to be the forte of those people who are obsessed with organization. And such people can channel their obsession by applying different techniques to place their belongings in an efficient and effective way. But modern studies show that chaos of a disorganized and messy closet can emotionally irritate you and cost you time. So with a lot of new designs and ideas for closet organization available, you must make your closet a smart storage of your accessories with a refreshing outlook.
For many modern day women, a crisis they go through now and then is the thought or feeling that they have nothing to wear. This common emotional irritant is in most cases due to badly organized or disorganized wardrobe; although your closet would be full of clothes and stuff, you cannot visualize your options effectively. So the proper display of your clothes is essential to solving this mysterious calamity faced by the modern woman.
Gone are those days when a well-fashioned storage room is specifically associated with the ladies; new fashion trends are encouraging stylish men to maintain a glamorous walk-in closet with each, and every one of their tie, blazer, belt, shoes and other clothing stuff can be homed to give a mesmerizing look.
For designing a closet, you must have the measurement of the room available to develop and customize. Otherwise, you may end up choosing a pattern not suitable for the space you have. Also, it is not necessary to copy paste a closet design; you can always use a design of your own, or just incorporate small ideas and adjust your wardrobe according to your taste and liking. In this article, we present to you some structuring ideas and arrangements for your suiting cabinet.
1. The Darker Shade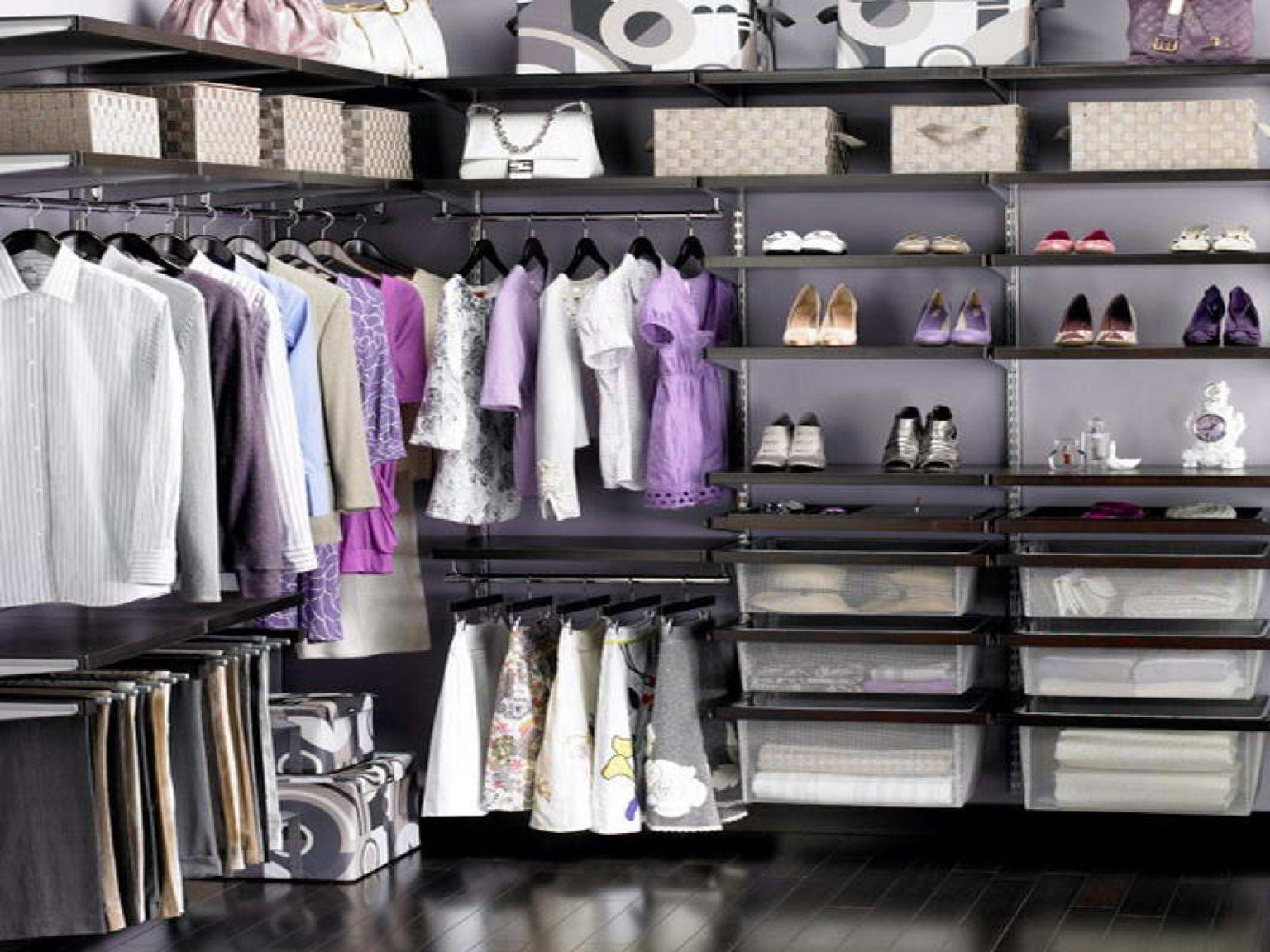 If you prefer black while choosing for your home interior design and want your closet space to give a luxurious look, this design can satisfy your needs quite nicely. The smooth and polished look exhibited in this display is only because of sleek black finish. The gray-hued walls are creating beautiful color combination while the sprinkles of lilac are enhancing its beauty. Pull out drawers and shelves along with ample space for hanging clothes amalgamate efficiently to provide for all of your requirements. The overall impression is graceful and fits well for both men and women.
2. Improve Storability
You will always encounter small but significant items to be stored in your closet, which pose a design challenge. Such items may include wallets, small toys, charging cables and alike. They can be awkwardly shaped and sized in different categories, creating problems for you when you consider storing them. This issue can be adequately addressed by hanging small bins for storage inside the closet as shown in the picture. This idea offers a surprisingly elegant solution to your everyday storage problems. It not only stores significant amounts of such accessories but makes them easily accessible.
3. A Temporary Wardrobe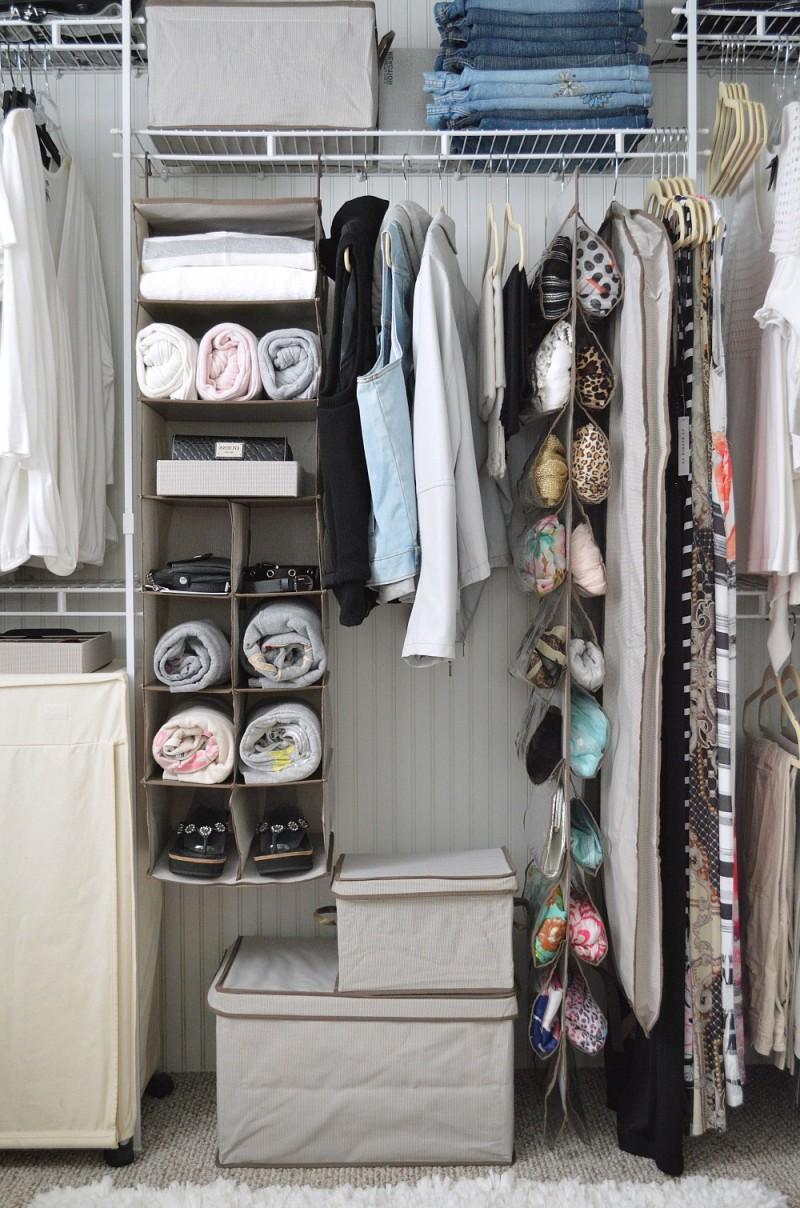 If you are living temporarily at a place for a limited period, then a more non-permanent storing solution may be well suited for you. Also if you need to change the location or position of your clothing cabinet now and then, this design is custom made for you. The collapsibility of this closet is the primary feature which distinguishes it from other fixed solutions committed to a place or a specific corner of your room. Although this design is primarily short term, yet it offers all the options of a closet with hanging shelves and collapsible boxes of various sizes.
4. A Dual Purpose kids closet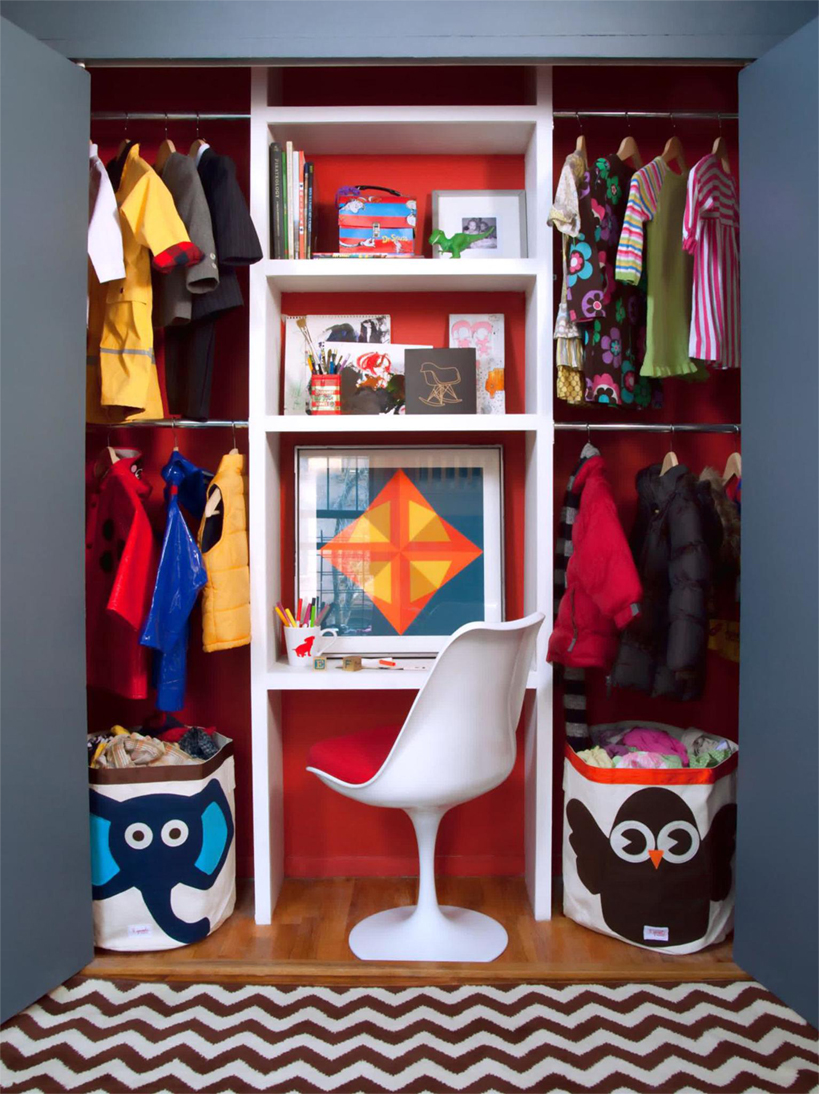 This funky closet design is the best choice for your children's bedroom. Along with the wardrobe, it offers an in-house workstation for the kids in the most creative yet simple way. To make this little office for the future officer, you just need to clean out some space in the closet and make its functionality doubled up. The color scheme used to design this closet makes it more fun along with its inbuilt dual functionality. Closet floor and wall color combination along with a stylish chair and beautiful animal faced storage bins makes this cute design a perfect idea for your kids to teach them wardrobe organization.
5. Cover it with Pink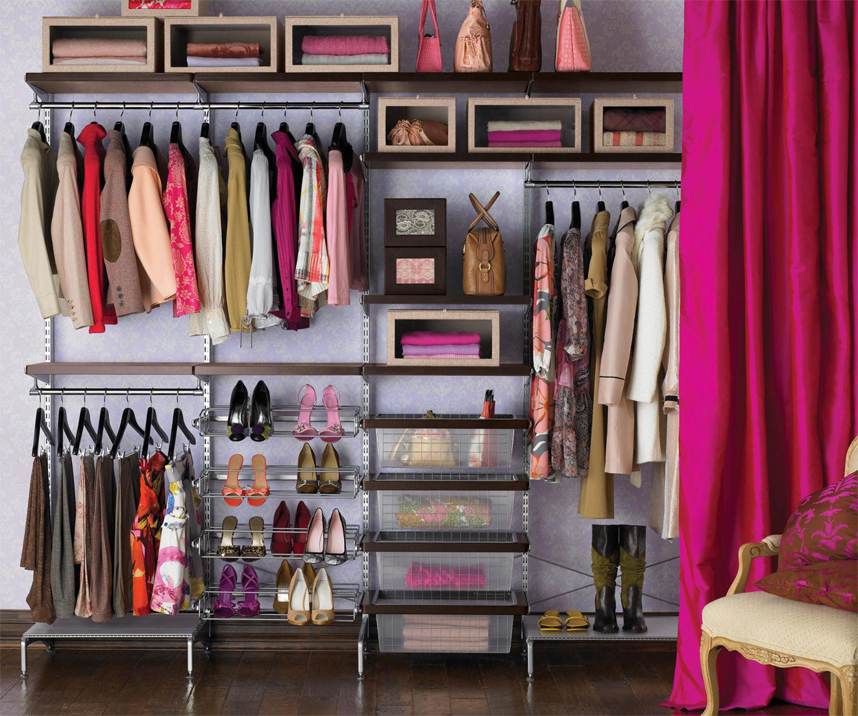 Who says closet designs need to be plain or dull? You can make them as extravagantly catchy as you please. This closet design not only provides the element of beauty and a modish look to your home interior but also fills it with lively colors. The shade of pink used in the curtain stands out in this setting. The color of the wall is darker gray with a light colored print on it, which contrasts nicely with the bright color of the screening shade. Overall the closet offers a voguish feel, but it still keeps it simple to implement in your room.
6. A Futuristic Approach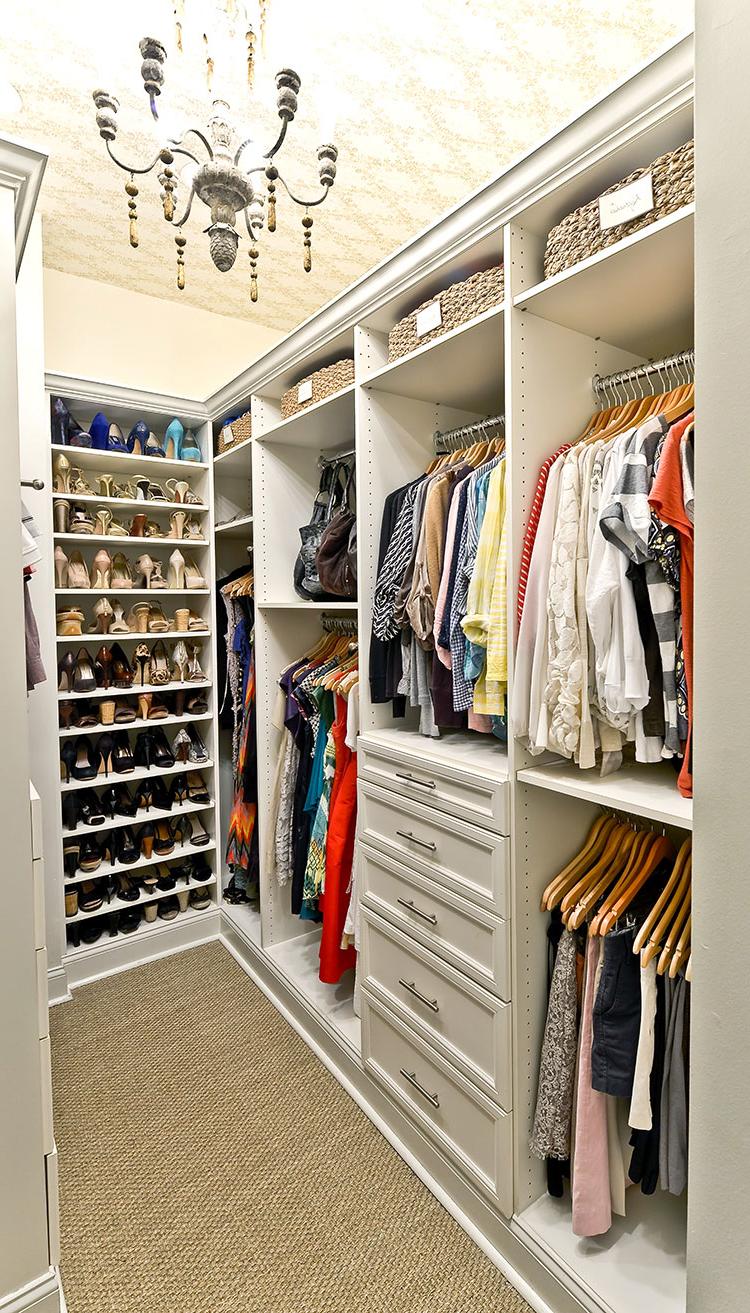 Modernizing your wardrobe does not necessarily means that you need to spend lavishly and give an outrageous look to the storage. A smaller closet which is nicely designed and perfectly organized can be as sophisticated and up to date as anything. This closet is getting the maximum out of the available space by smartly designed architecture. The beauty of such simple and sophisticated design can be enhanced by the use of an exemplary lighting fixture as shown in the picture. The chandelier supplements this smartly designed wardrobe with the necessary elegance.
7. A Collection Showcase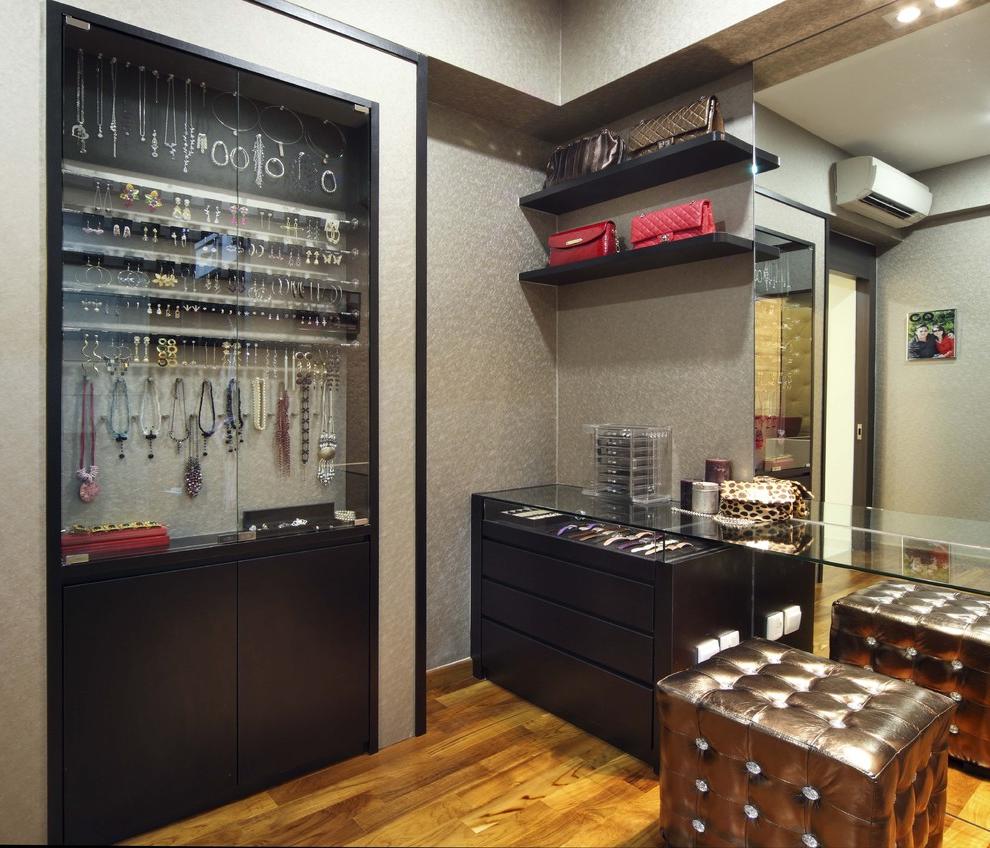 Your closet can be much more than a mere storage of your clothes and other belongings. You can design the closet to be a place to display your splendid collection of designer goods. You can integrate a beautiful display case in your wardrobe to improve the usability and get an aesthetically pleasing setting. Also, your precious items will get the royal treatment they deserve as if they are up for sale in an expensive showroom. So this design not only protects your jewelry and stuff but also organizes it in a much better way for you. So you may find the perfect match with your dressing in the first look.
8. Elegance Magnified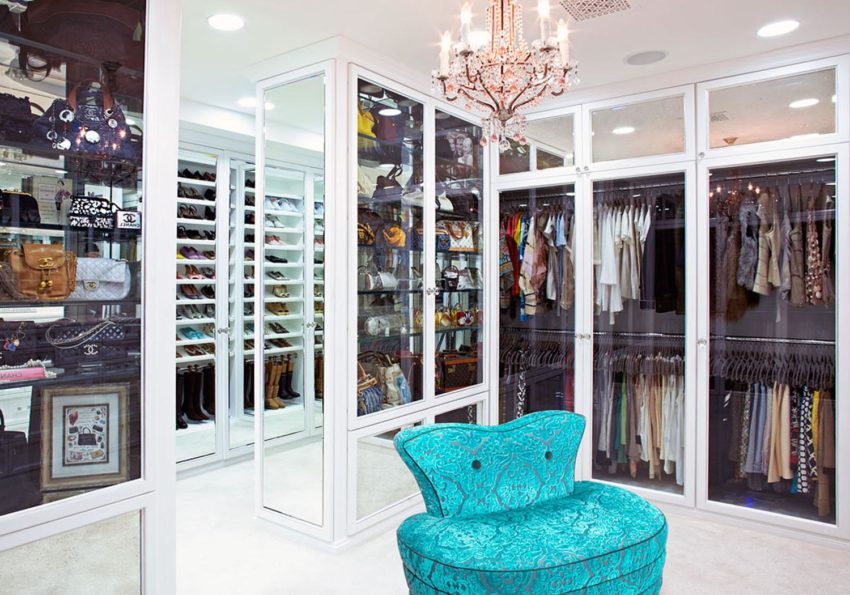 Sometimes you need to broaden the look of your closet to make a small space look larger than it is. This closet design is the perfect remedy for such cases. With the white color of floor and roof and an extensive use of mirrors, this wardrobe seems to be built in a prodigious room. The openness of this setting is supplemented by the glamor added by an exquisitely beautiful chandelier and an adorable cozy seating arrangement just beneath it. The design is oozing with artistic refinement, and you can feel like elegance being splashed on a canvas.
9. Store With Versatility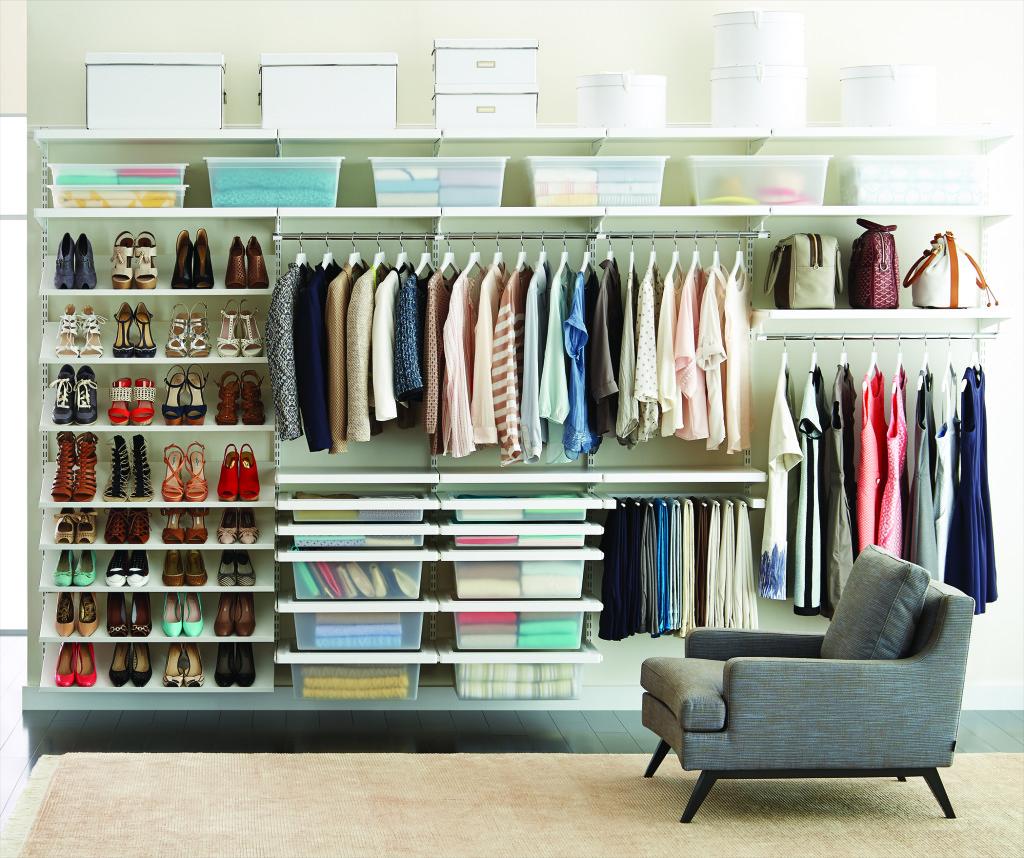 If you want your closet to offer a multifunctional storage solution to you, then you can get inspiration from this fantastic design. This lustrous and modishly designed closet gives your interior a modern yet uncomplicated look. At the same time, it offers a complete solution for the home organization for your storage issues. The opaque boxes on the top are for rarely used unsightly belongings of yours, while the clear boxes are more accessible and can store items used more often. The hanging space, shelves, and shoe display offer all in one type of design for your room closet.
10. Just for Men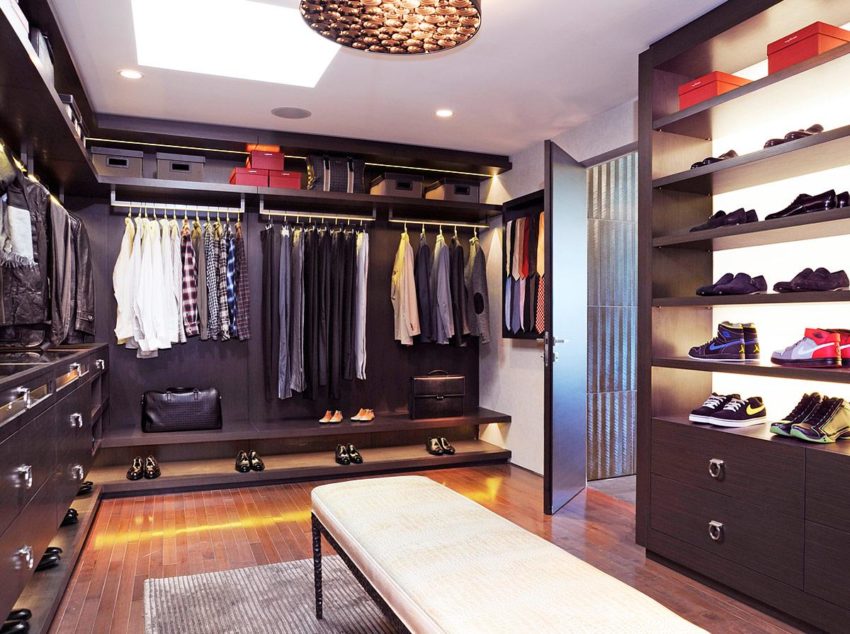 With an opening of only one door in this whole room closet, it gives a feel of a stylish modern cave. Specially designed for masculine gender, this man cave has nothing like conventional man caves, which lack considerably in style and are more rugged. The smart men now a day completely understand the importance of an up to date, sleek and stylish place where they can store their wearables in an organized way. The dark wood paint in this walk in closet supplemented by a uniquely designed chandelier is all that a man can ask for.
11. Hanging Storage Hack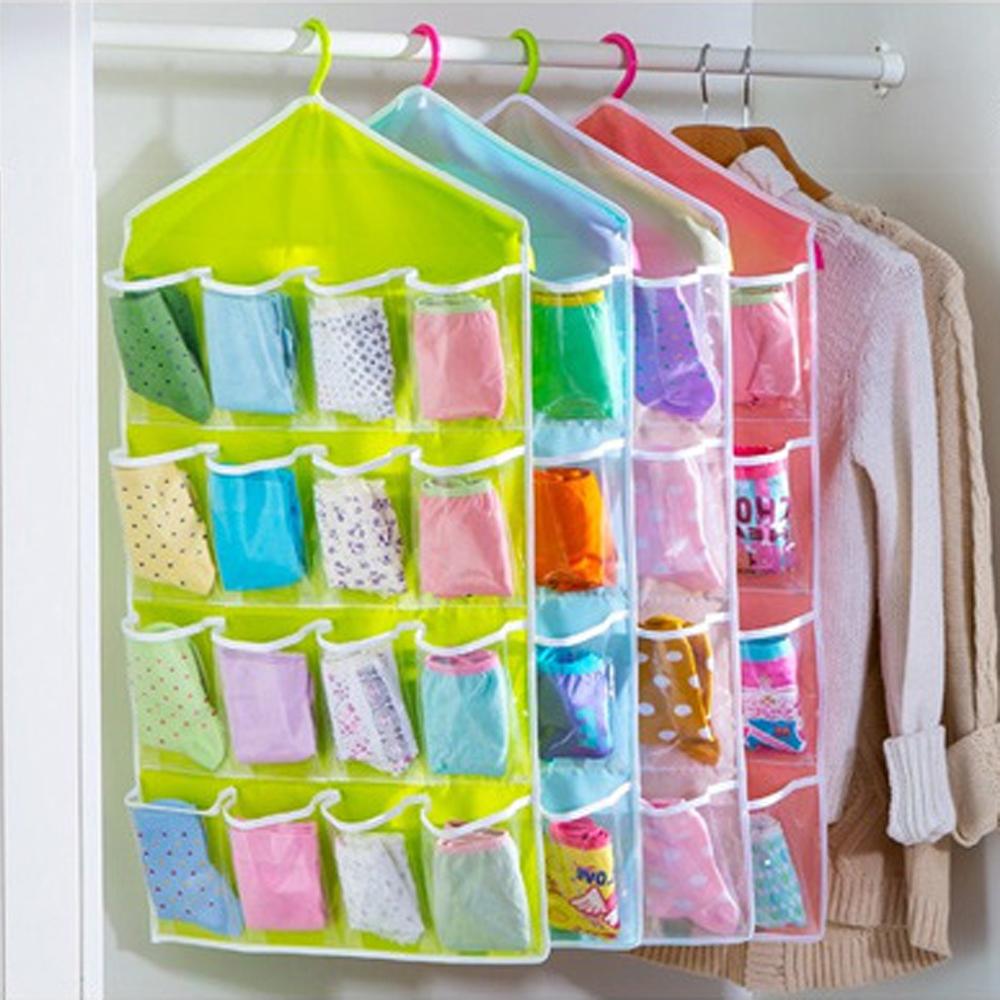 If the storage of your closet has fallen short of your ever exceeding possessions, then you should look for increasing capacity rather than increasing the space of your cabinet or designing the whole setting all to gather. This is one such idea which enables you to get more storage room. These vertical hangers can digest many of your smaller wardrobe items such as neckties, underwear, shoes, belts and handkerchiefs. So your small closet can hold a large number of articles in an extremely organized and smart way. Most importantly, Most importantly, you don't need to spend big to get this luxury.
12. Complementing Hue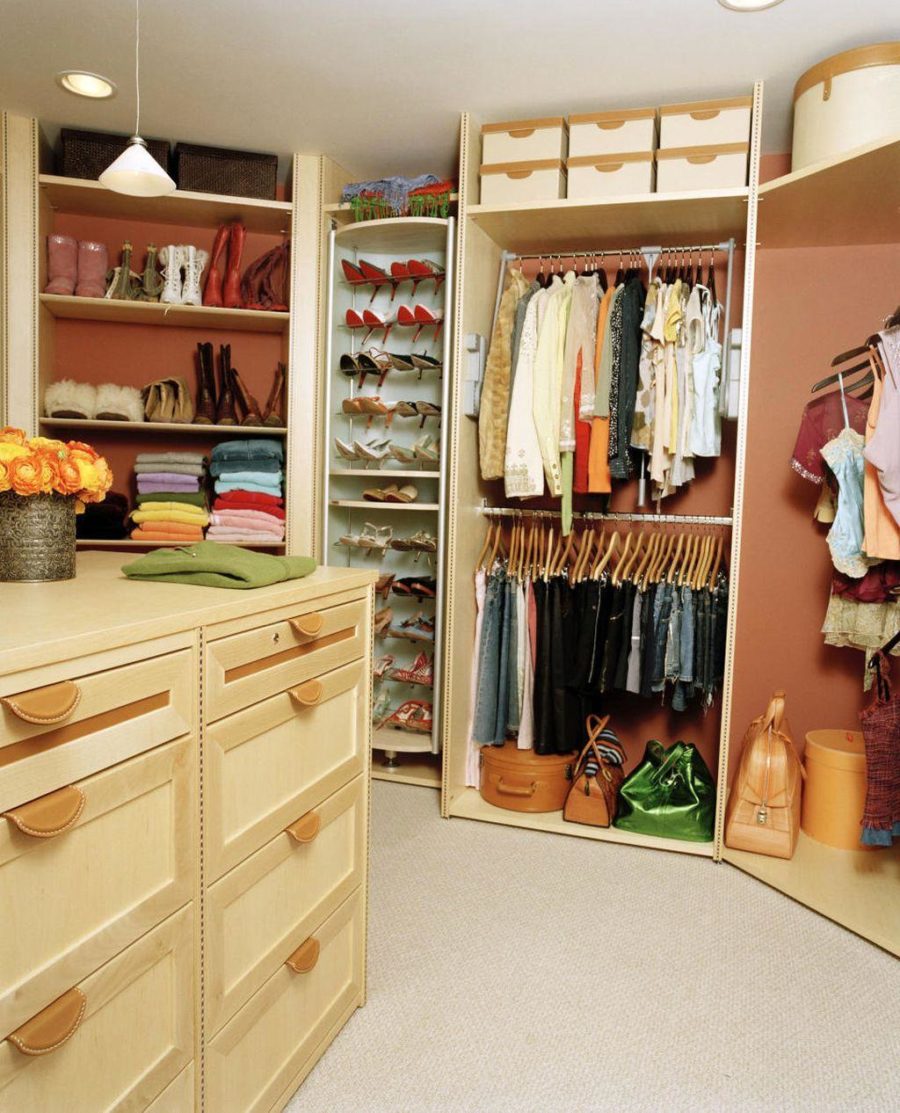 This design incorporates a conventional dresser to a walk in closet with unprecedented success. Along with an improved utility, the added advantage of this design strategy is that your dresser is well matched in color and appearance with your closet. So a sense of cohesiveness and uniformity prevails which beautifies your wardrobe storage space. The white boxes on the top shelf complement the dresser by keeping those less often needed items, while a sufficient hanging space and different types of shelves add to the utility of this efficiently smart closet.
13. Innovative Displays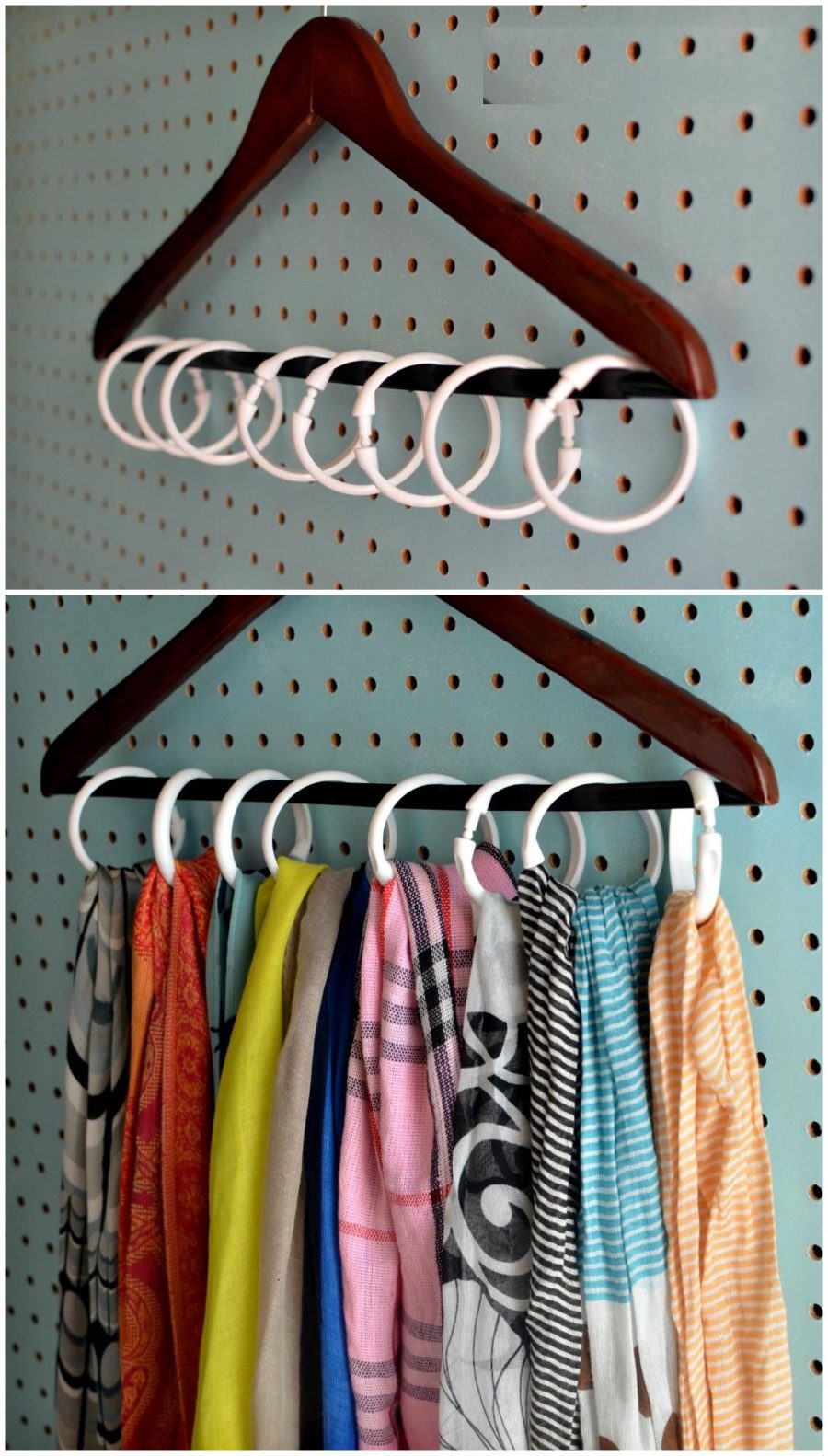 Scarfs can give you a tough time when it comes to organizing them in your closet. They need a lot of space if you want them to be displayed correctly. On the contrary, if you fold them and place in a drawer or box, you will spoil the setting every time you would be looking for an entirely matching scarf. This problem has a unique and creative solution; use curtain rings attached with a hanger and enjoy this fantastic and adorable hack. Your scarfs will be well sorted out, occupy lesser space and are displayed completely. You can use this idea to store neckties, belts and other items suitable to be stored vertically.
14. Nothing to Hide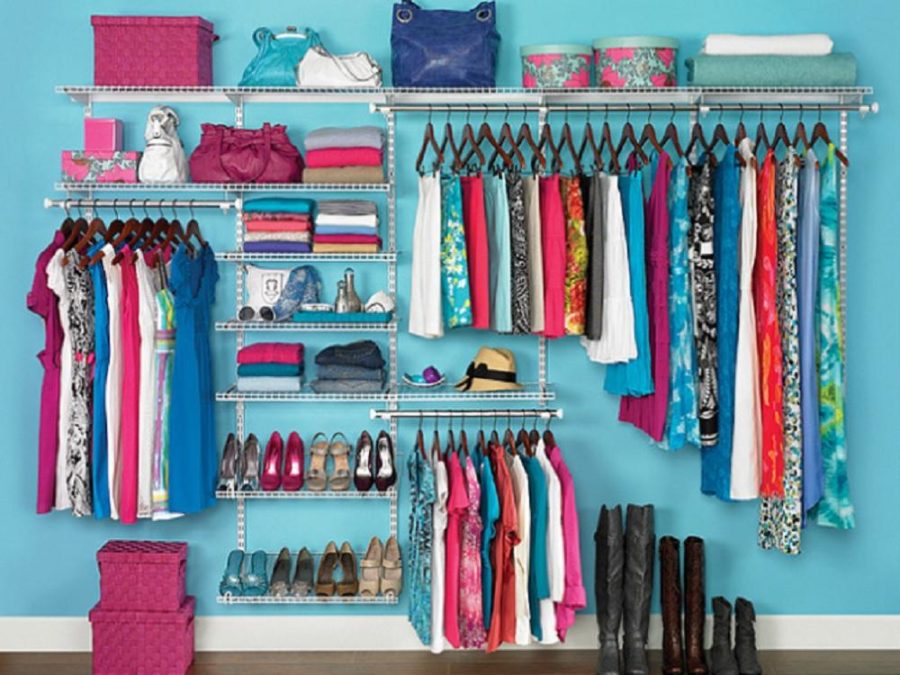 When you have a fabulous wardrobe with beautiful accessories, then there is no need to keep them behind doors. You can just show them off in an exquisitely modish fashion. This idea can inspire you in doing this; a perfectly organized closet with nicely sorted out belongings of yours can act as an attractive décor inside your home. The primary ingredient of this splendid sight is the placing of like items to gather; it helps you saving your time while selecting what to wear and also looks beautiful when the open closet is seen as a whole.
15. A Compact Shoe Closet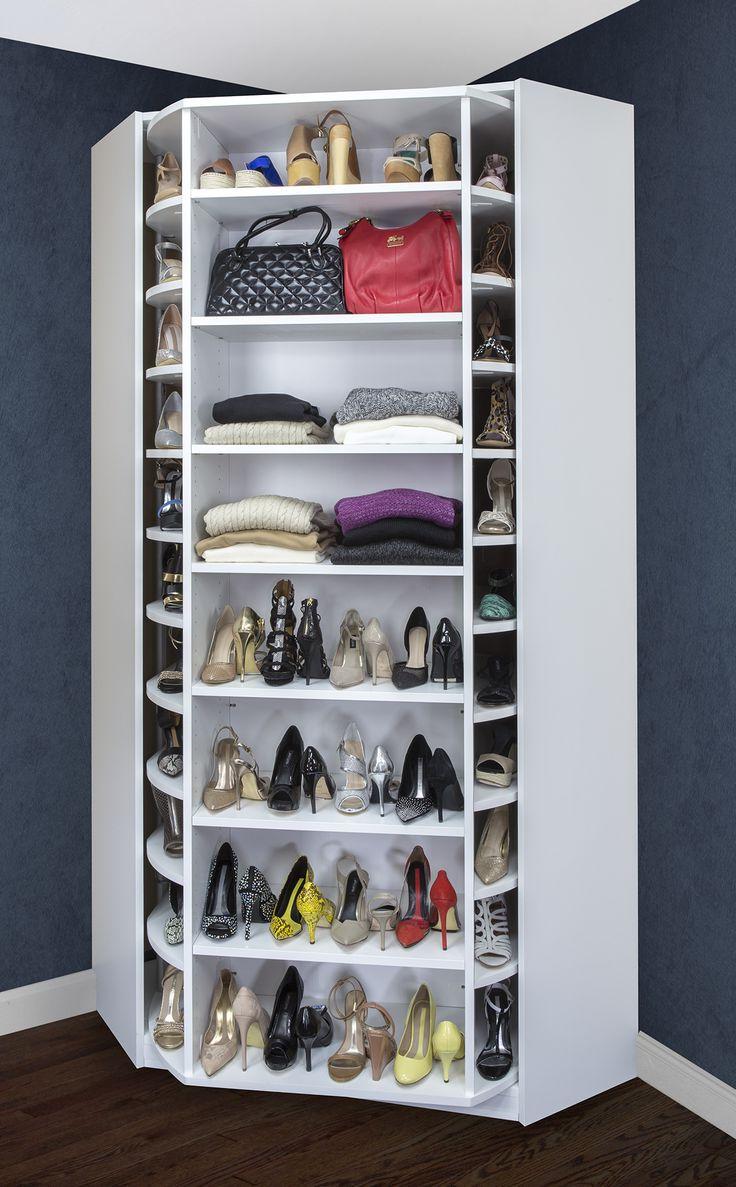 If you have an exceedingly large collection of foot ware but a limited space for their storage and display, this design idea can help you solve your problem. You will get rid of shoe piling on your door offering more than required display or place them in boxes and store them not letting you know what you have when choosing one. This built in shoe rack is rotatable, so the storage area multifold. Due to the vertically oriented structural design, you need a small floor space to accommodate this excellent design idea.
16. Well Ventilated and Comfy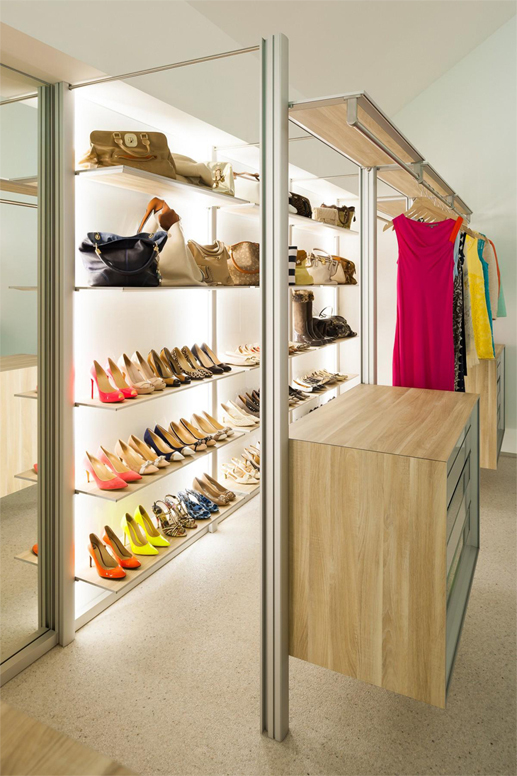 Some people want their closet to be open and airy rather than made airtight and closed by doors and walls. This simple yet stylish closet design can satisfy the needs of such people. The closet is well lit using a backlight which is key to an incredible display and enhances the visibility of your belongings. With an ample display space for shoes and bags, this closet idea is a perfect for modern female stylists who own an extensive collection of purse and foot ware. The drawers are floating in the midair creating a beautiful sight, while stylishly designed hangers offer ample space for displaying your precious wearables.
17. Inside the Bathroom
Building a complete closet inside a bathroom is not a new idea; modern home interior designing techniques introduced this idea a couple of decades ago. For such a venture, you need a large bathroom so that the closet can be accommodated conveniently. You can alter your house's floor plan by removing the wall between your closet area and the bathroom to get this design implemented. This design gives you a feeling of spacious interior mainly due to the use of large mirrors and white walls and ceiling. A decent flooring and simply designed cabinet enhance this lovely dual purpose area.
18. Labeled Organization for Kids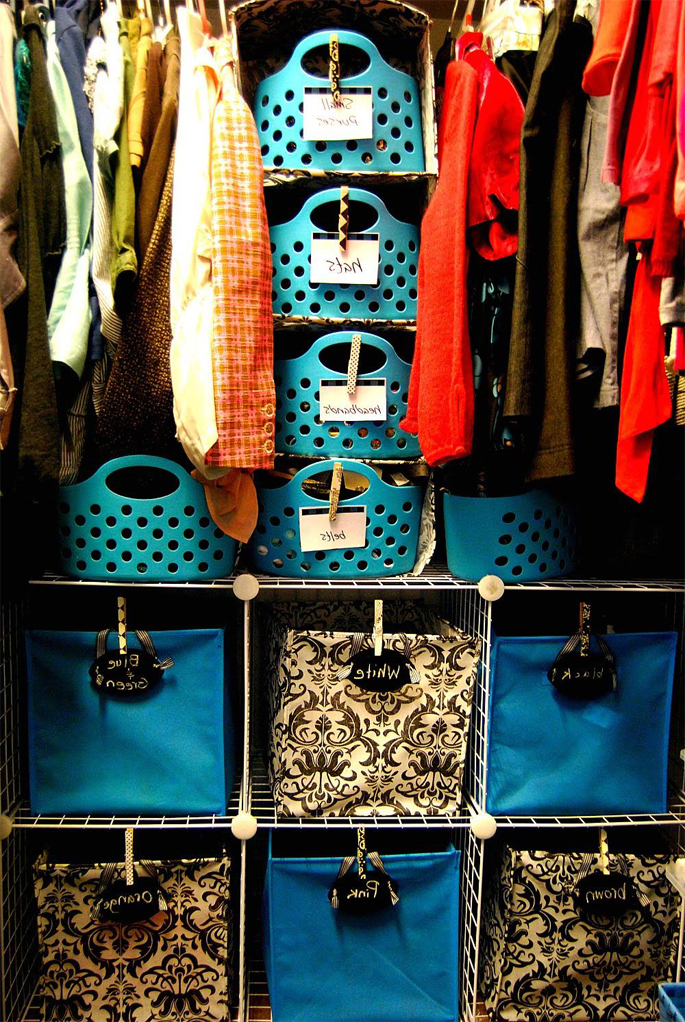 Kids are not so used to the organization of their cupboards and cabinets, rather most of them can create a mess of an already well sorted out closet. Also, closets for children are smaller in size and organizing them is a little harder. All such problems can be comprehensively addressed by using this kid's closet organization idea. You just need to put a label on each and every collection. The name classification can be done by type or accessory or color of the wearables. Such a smart and creative layout will help your children in the selection of their clothes to wear and knowing where to find them and place them after usage.
19. Customized Layout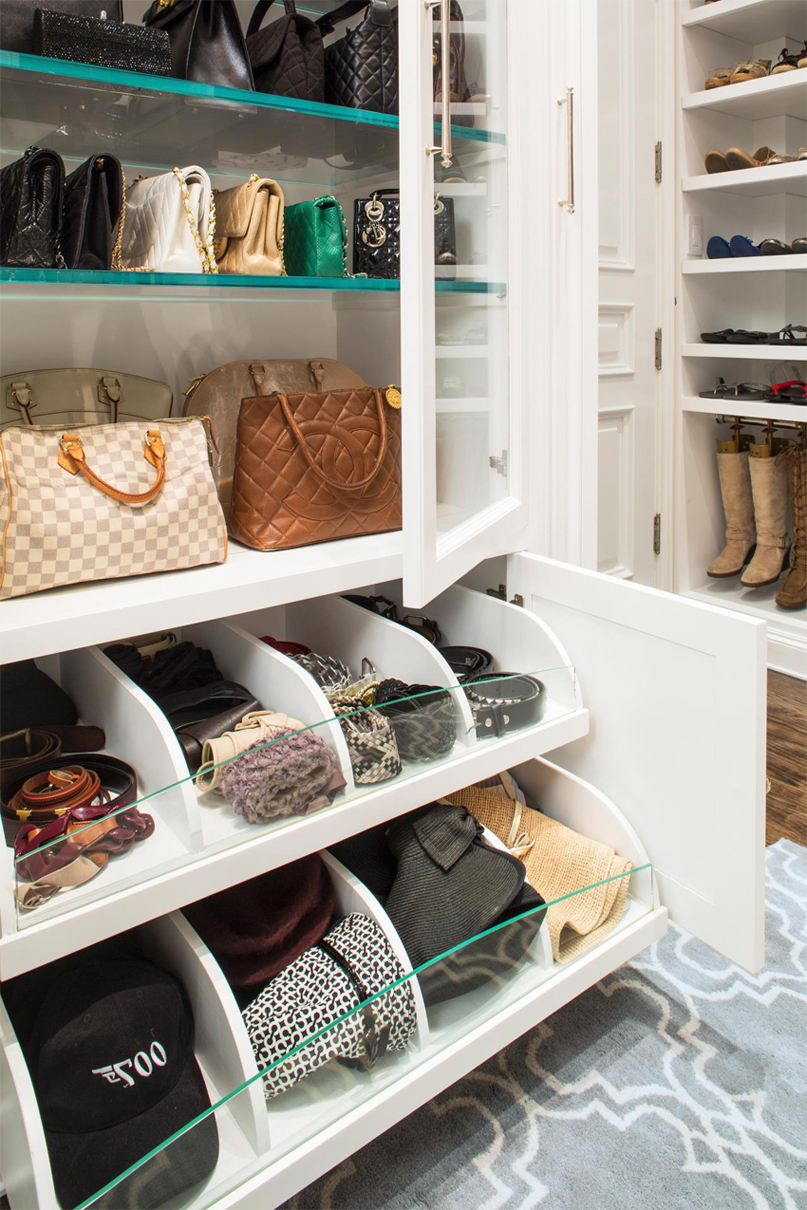 Sometimes cabinets with the same design and uniform shape and size can be wasteful regarding space and confuse for the one organizing the closet. This closet makes it easier for you to find your intended accessory. The pull out drawers is smartly designed to place various types of accessories with an ultimate convenience. The area wise division of these drawers allows you to put different items, such as belts, scarfs, hats, separately. Also, variably sized shelves enable you to fit in your belongings according to the size and shape. This simply designed closet offers you ease of usage in small and inexpensive closets.
20. Do IT Yourself with Simplicity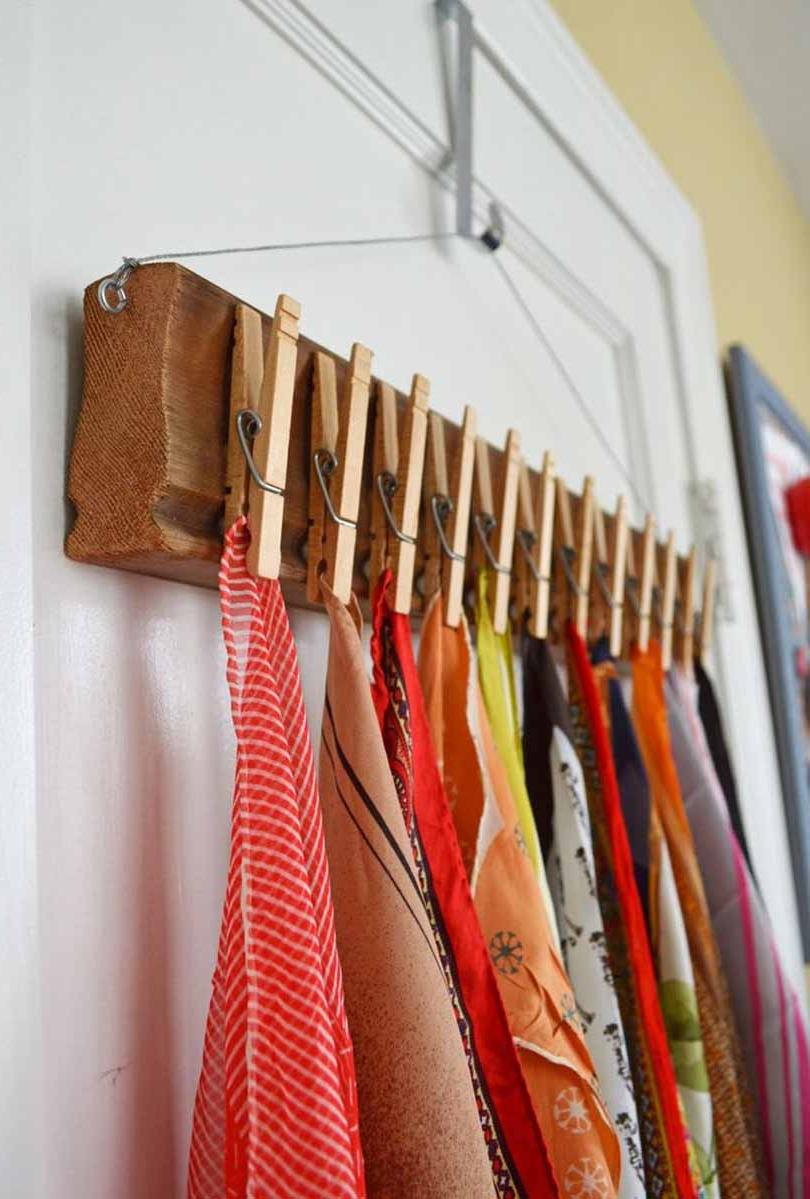 Another smart homemade solution for a closet organization is shown in this graphic. You can hand your ties, belts scarfs and other such accessories with this simple DIY project. You just need a simple wooden board, some clothespins and a couple of nails to create this adorable piece of art. This, along with utility and convenience, gives your closet a refreshing look. This hanger can be installed inside your closet or cabinet, but it will be more suitable to make this lovely looking craft on the inside of your bedroom door or dressing room door, as it will serve as home décor.
21. Inexpensive Yet Fantastic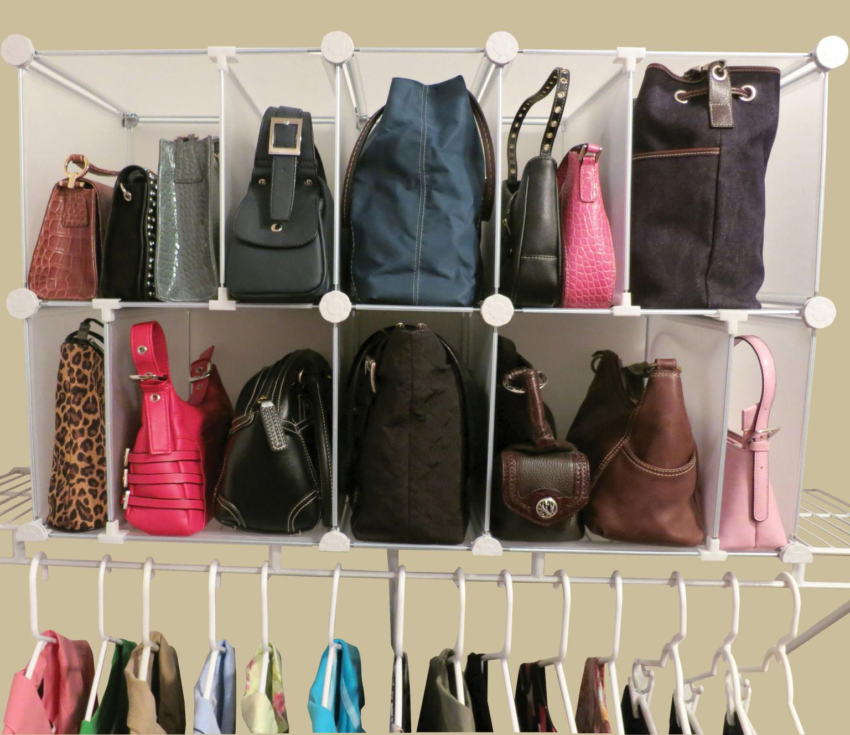 It is not an obligation to spend relentlessly to get a useful closet with decently good aesthetics. Sometimes an easy and economical idea can create a marvelous space to store your clothes and stuff. The picture above is showing the same. This closet design is perfect for those who have a small space and limited budget to spare. Just reusing an old crate or changing the perspective of looking at a storage system can work wonders. The boxes in this closet can be resized by just moving the separations. This closet is easily movable and can be installed anywhere.
22. Kitchen Like Cabinets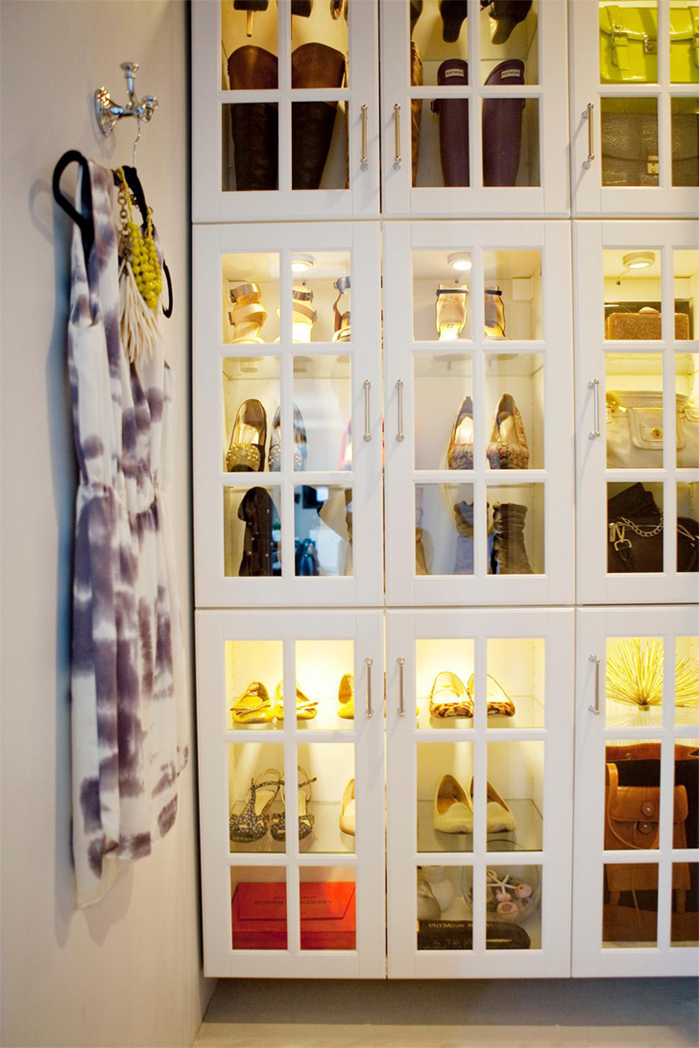 Conventionally, the glass faced cabinets are mostly associated with the kitchen. But this closet design uses the idea to create an adorable storage for your belongings other than the stemware. The internal lighting is creating an aesthetically pleasant look, while the white colored structure of the cabinets is making it look larger than its size. They can be added to an already built closet to enhance the beauty as well as multifold the functionality of the space by holding purses, shoes and other accessories. If you are operating on a lower budget, you can look for repurposing an old kitchen cabinet from a refurbished cooking place.
23. Consume Every Inch Of It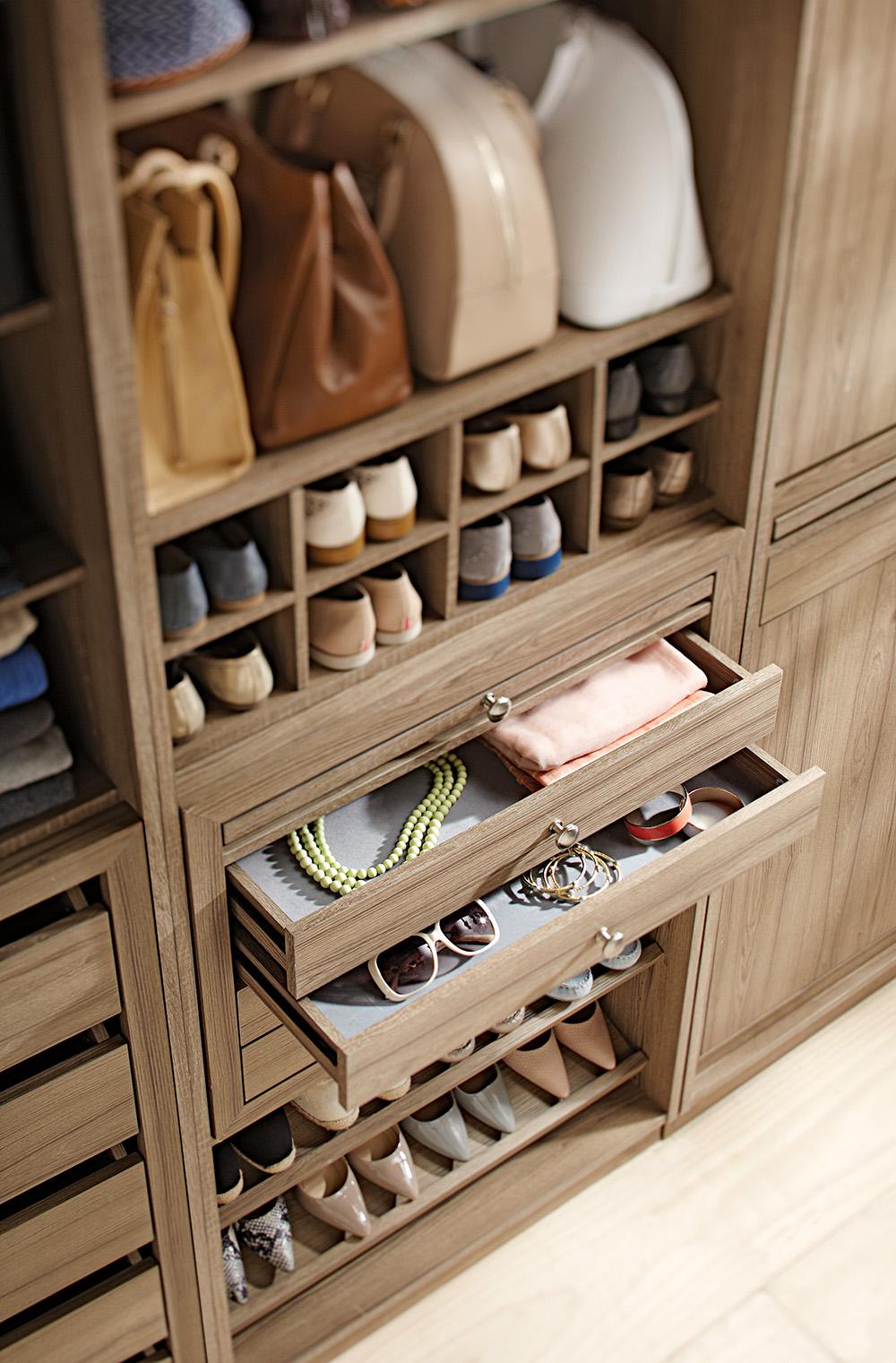 There are times when you possess a large collection of a variety of accessories, but your closet does not offer the sufficient space to store all your possessions. In such cases, you need to make use of each and every millimeter of space at your disposal. This design is a perfect example for those cases, offering a simple solution for a small closet space. The drawers are custom made for different wearables and accessories to avoid space wastage. Also, the items are tightly placed and well organized so that you can get the desired item when required.
24. Quandary Related To A Hallway Closet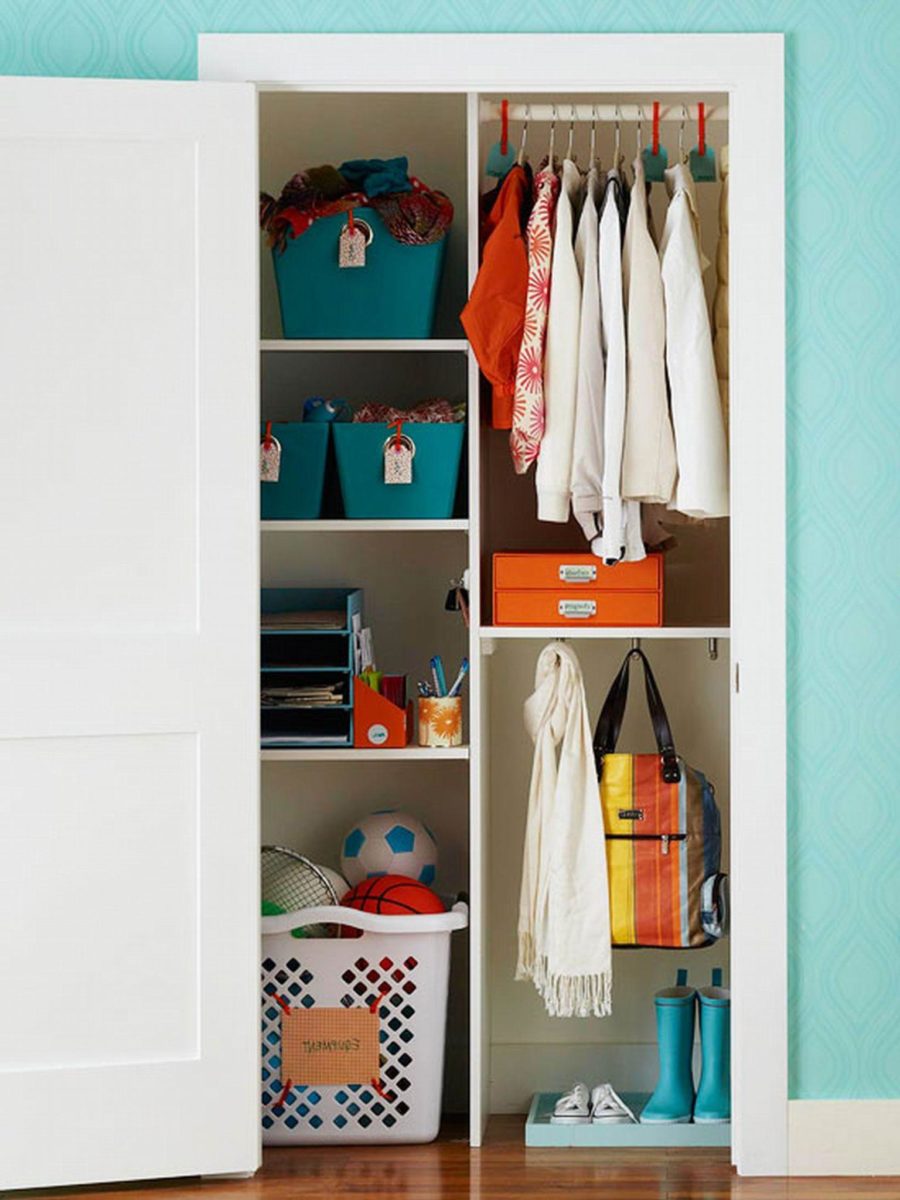 The utility and convenience offered by a hallway closet need no introduction. With an ease of access and relatively larger sizes, these storage spaces provide a fantastic option to keep your items safe. But the dilemma you may face is that hall closets can end up being a catch-all for everyday items of your home. With convenience to approach, everything that you need to store or make disappeared would be later found there. So to better organize, you need to re-clutter the closet and remove unnecessary things. Then you can introduce the shelving system for better storage capacity.
25. Supplementary Storage Baskets
It is always fulfilling and satisfactory to have extra space for keeping your accessories. With ever expanding wardrobe collection, you need to find new ways and ideas to make sure your closet holds all you have got. One such hack is hanging baskets to your closet door or a wall. It can hold a lot of your accessories, such as clutch bags, scarfs, and other smaller accessories. The color of the wires used to make these bins can be matched with your closet to create an aesthetically pleasing display, while the extra storage it offers adds to your closet's capacity.
26. Labelling Weekdays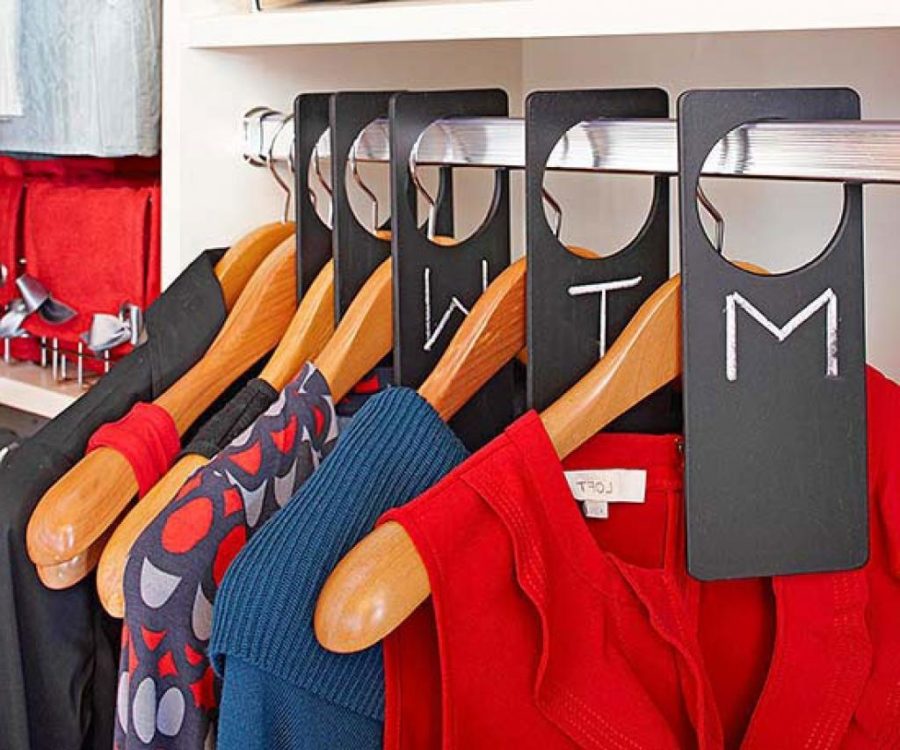 Sometimes it becomes an irritating exercise when you get up in the morning to go through the whole wardrobe and still confused about what to wear today; the pros and cons of every choice just keep fizzing past your mind. The situation worsens if you have a little time to spare. Such situation can be dealt with by designating each and every dress of yours a day of the week. In this closet, the clothes are separated by smart wardrobe separators. It saves your time early in the morning and gives you the permanent peace of mind.
27. An Elegant Fashion Statement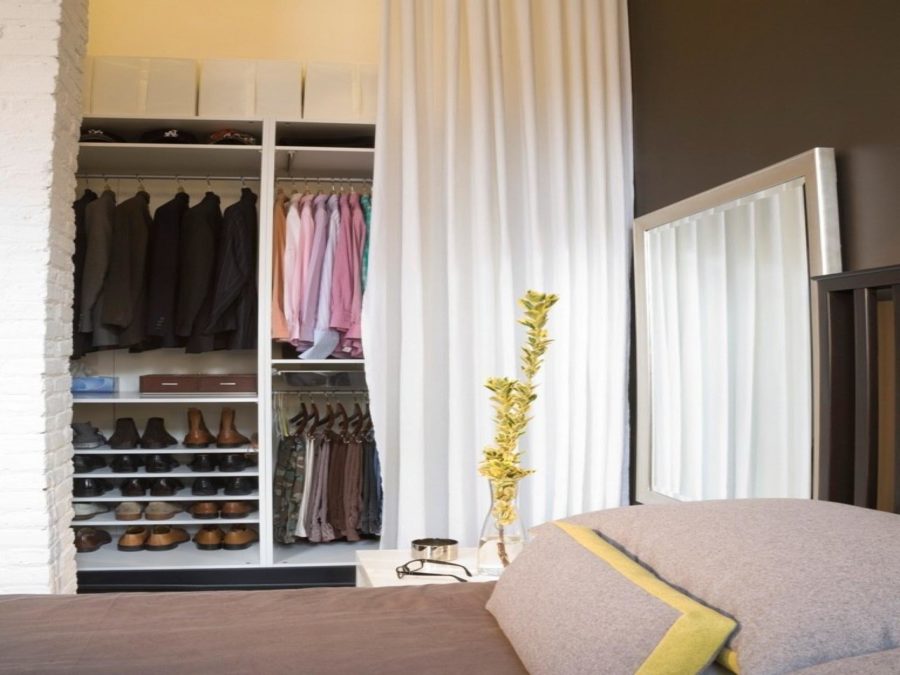 Sometimes, simple and decent things add up to bring a splendid sight which exhibits elegance as well as a dramatic touch. This closet design is in sync with the interior design of the room it is in. The closet is covered with a long white curtain falling from the ceiling, creating an awe of its kind. Behind that towering curtain is a nice, sophisticated closet, consisting of smaller shoe shelves and concisely build place for hanging clothes. Shelves for hats and white boxes on the top enhance the utility of this very personal closet.
28. A Lot Of Boxes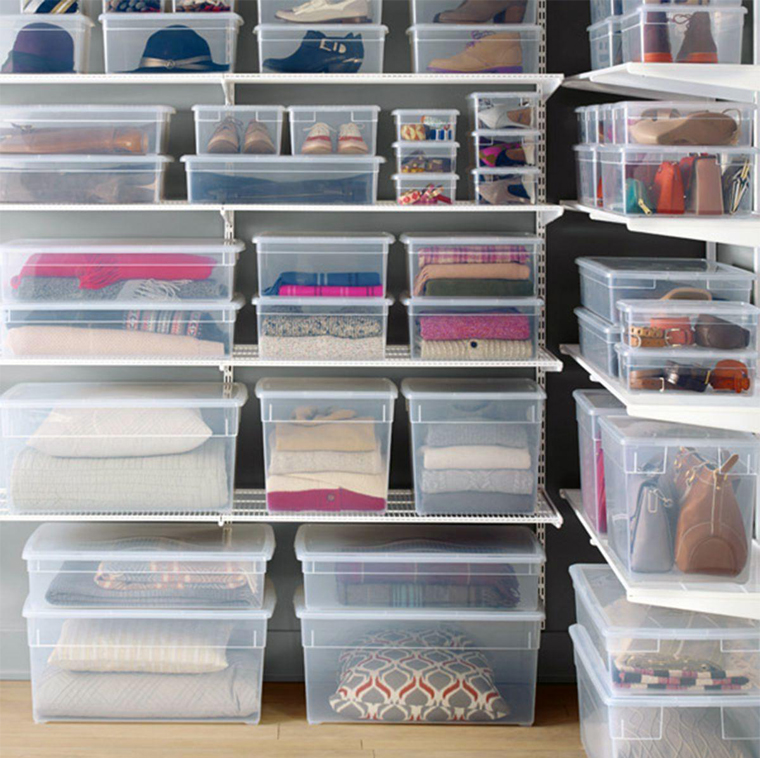 The building block of this innovative closet design is the clear organizational box which is consumed here as a multipurpose storage solution. In most of the closets, you may see two or three such boxes holding various items. But building your closet with these will give you a modern perspective. As you can place anything inside them with a feeling of safety and organization, these plastic bins are a good choice none the less. For more convenience and better organization, you can label these boxes with names of the items stored in each of them.
A Rush Of Peach Color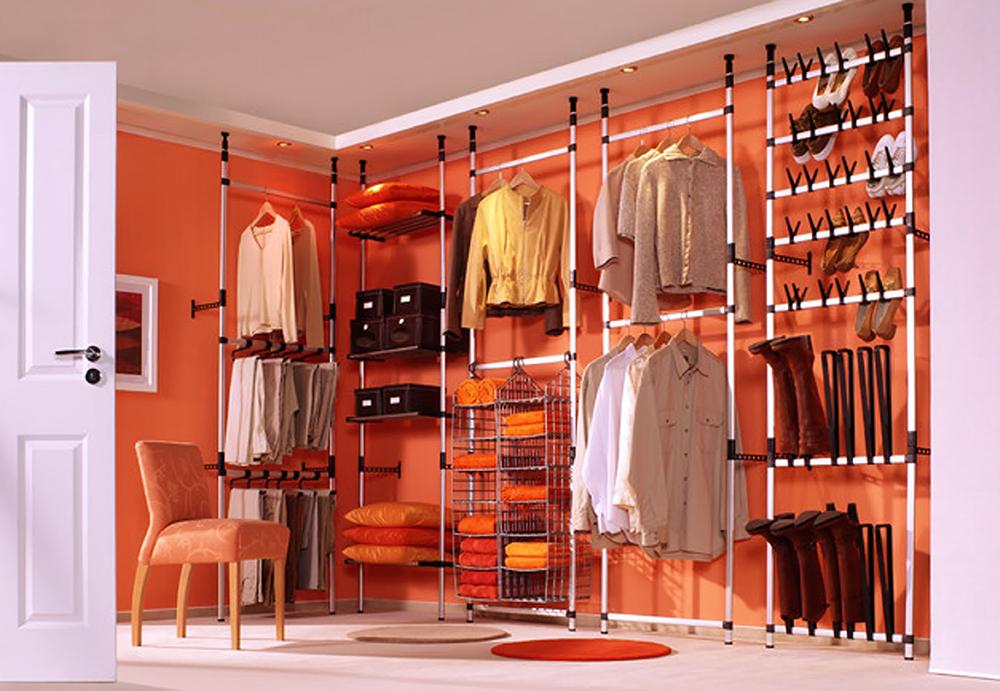 If you have a spare bedroom or a medium sized unused space at your disposal, then you can implement this closet design and get the perfect storage for your wardrobe that you have always dreamt for. This closet can be removed with convenience as it has temporary shelves and closet units. The highlighting feature of this design is the lively and youthful peach color, which gives this design an excellent theme. The spot lights in the ceiling on the top of the shelves give it a formal touch in an overall casually built theme.
30. A Rustic Charm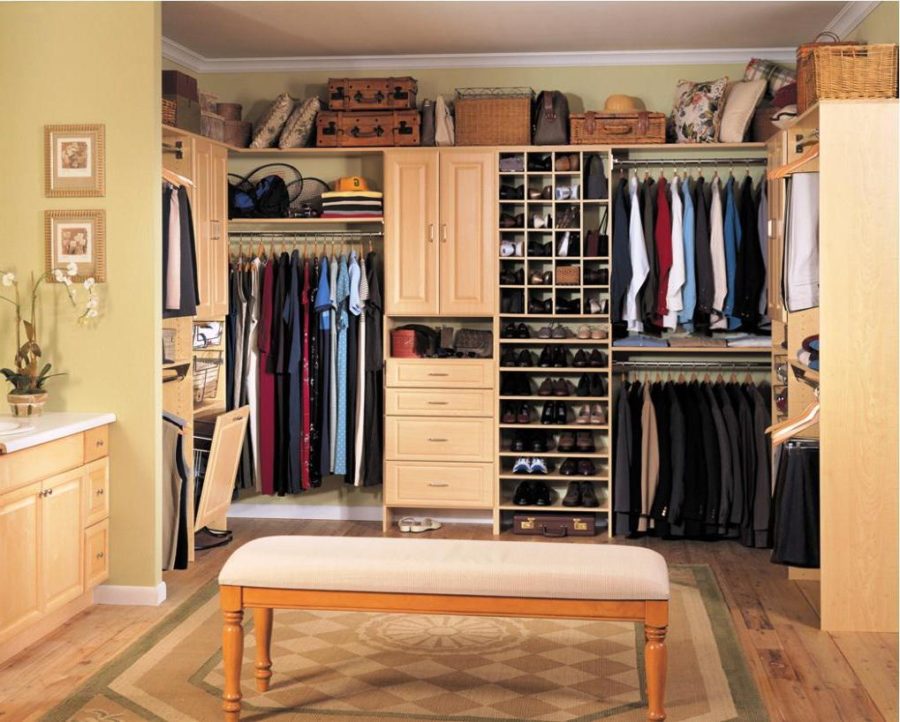 The pleasantly old-fashioned theme of this closet design brings you the nostalgic feeling of the historical times. The elegant beige color of the drawers and shelves gives you a sober and decent look. The simple rug on the wooden flooring combined with a tan bench exhibits a feeling of serenity and calmness, while not so traditional wicker baskets on the top of the closet match nicely with the setting. This closet is designed in continuation of the interior home theme so that it can gel in nicely.
31. An Inexpensive Dramatic Luxury
If you are a fan of the drama themed interior designs, you can get one for your closet without massive spending. This closet is perfectly organized from inside and exhibits a dramatic look from outside. The only visible wearables i.e. clothes and shoes and clothes are arranged in color schemes along with matching shoes beneath them. The cabinets are gracefully designed in plain white and golden handles. All this is topped with a showy, contrasted in black overall and white border, large covering curtains which eliminate the need for a door.
32. Floating Wardrobe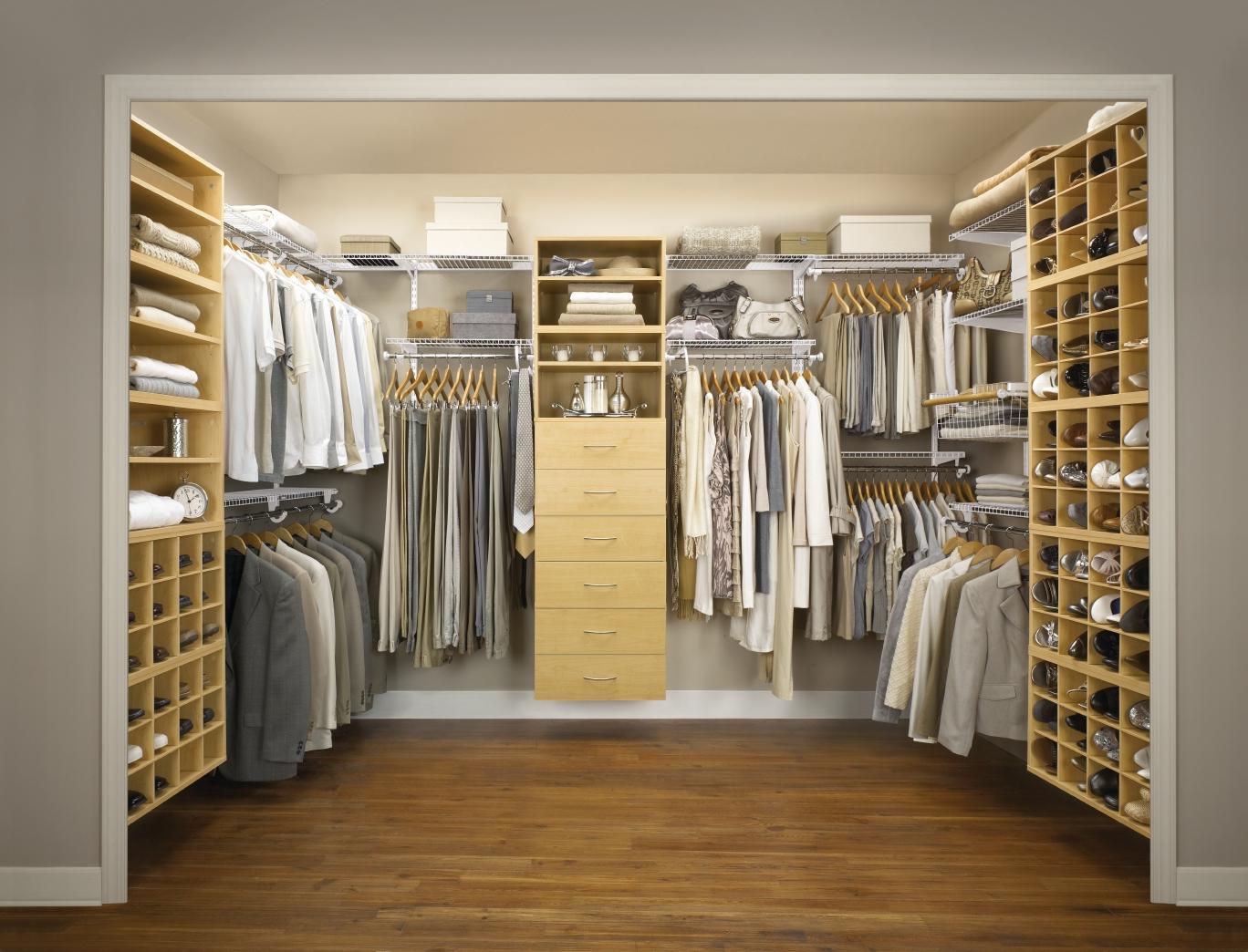 For an out of this world look of your wardrobe storage area, this closet design in a perfect choice. From shelves to shoe racks, from drawers to hanging blazers, everything has maintained a distance from the wooden flooring. With this floating outlook, the voguish and modern touch is pleasantly incorporated in this design. With such a splendid sight at your disposal, there is no need to cover it up with a door or some curtain. It rather adds to the home décor with its heavenly looks and gray, white and tan color scheme.
33. The Wall Of Jewels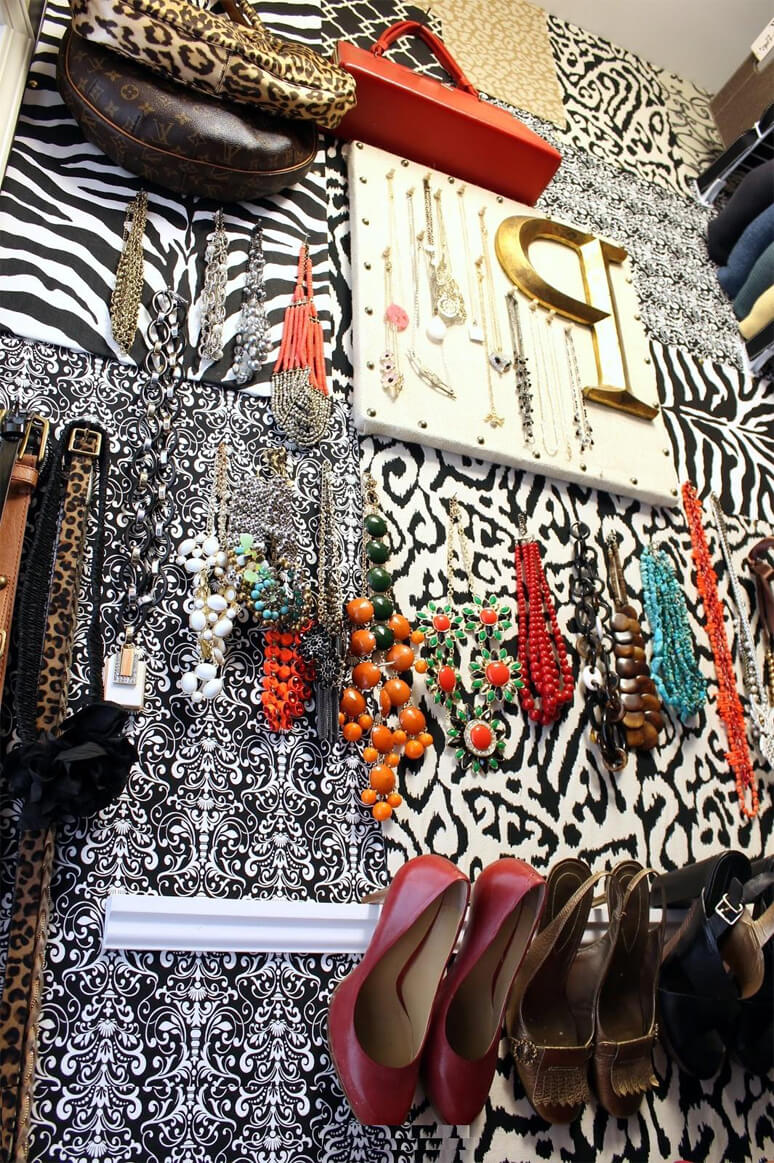 You may find some different ways to store and display your jewelry and other accessories. But this closet wall stands out with a unique fashion statement; a contrasting black and white themed animal print combined with a beautiful pattern makes it a stunning sight. This highly designed wall is mainly decorated by jewelry, but other wearables and accessories such as handbags, shoes, and belts also found their way onto the wall.
34. A Statement of Style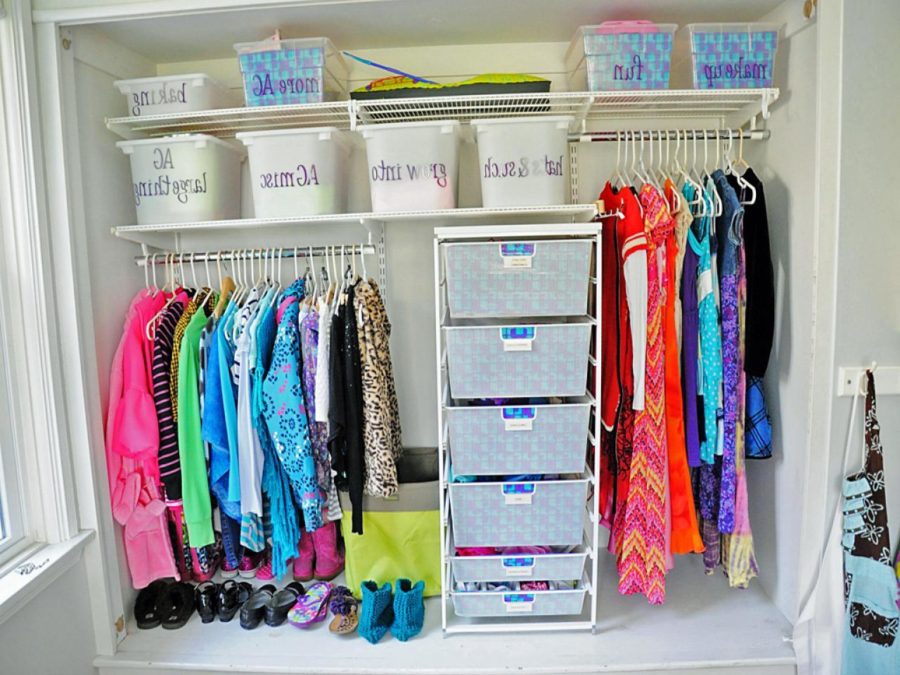 It is not necessary for you to follow a typical pattern while designing your closet. You can improvise and let your imagination go wild. For those style enthusiasts who want their closet to be appealing, this design offers an excellent alternative to the boring, dull bins. Drawers are patterned with a cute, funky design and the opaque containers with clever references as labels written on them lighten the mood on very first sight. The overall theme is casual, yet the closet is well organized and offers a perfect solution for the youth.
35. Sophisticated Luxury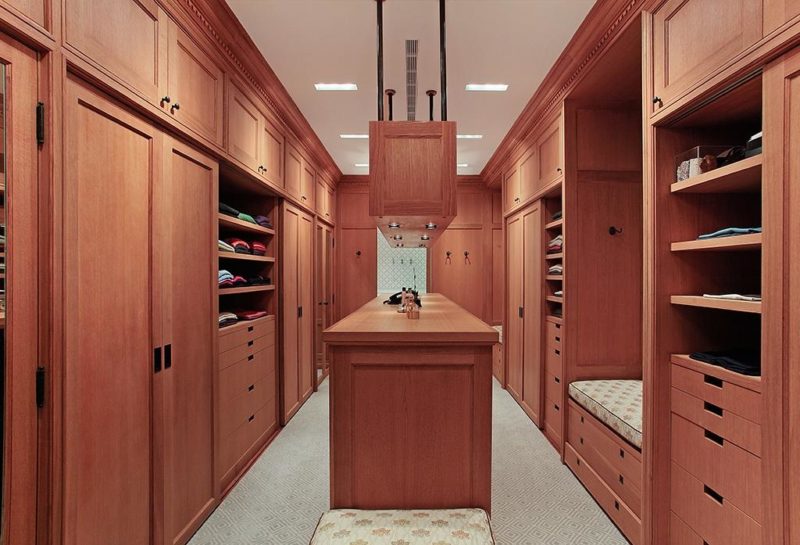 If you want your walk in closet to be exhibiting royal decency, then get some inspiration from this design. This executive looking wardrobe storage occupies considerable space and justifies it in an exquisitely beautiful manner. The Oak shelves are creating magic in this comfortable looking space, and the magnitude of shelving capacity cannot be overlooked. The matching drawer in the center along with the seating options gives you a feeling of boutique atmosphere. The ample amount of raised seating makes it an inviting space for your friends.
36. Dark Fantasy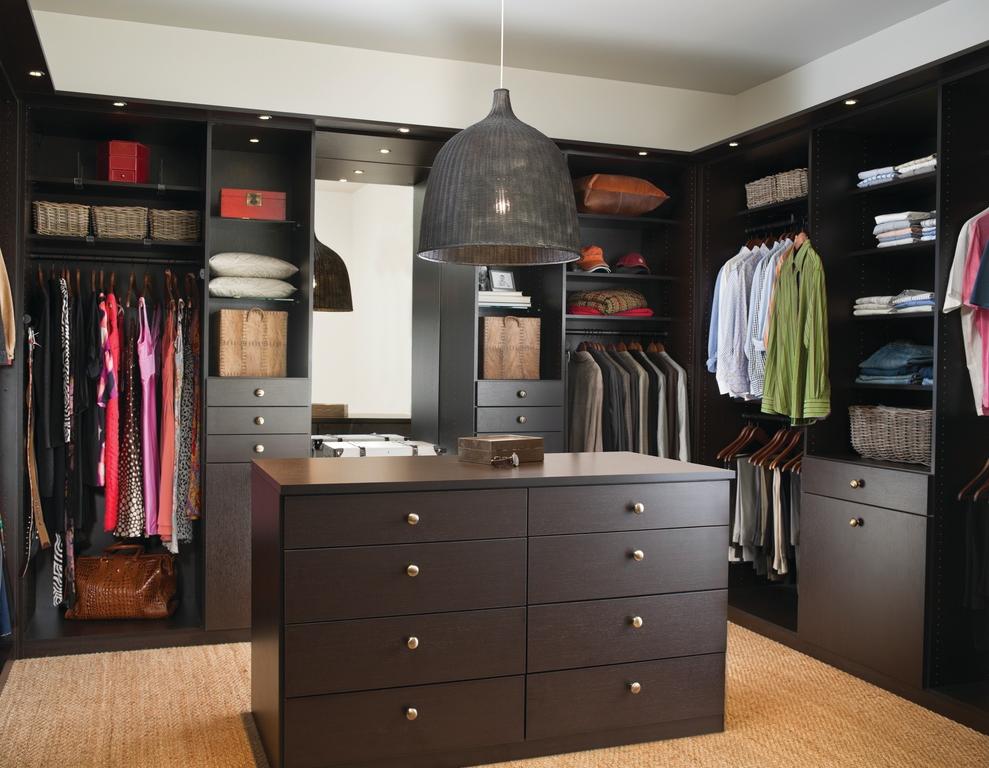 Dark colors are always in fashion when it comes to interior designing. This walk in closet rightfully takes advantage of that fact. The drawer and shelving are hued in rich mahogany, turning the overall theme into a dark chocolate look. The atmosphere is lightened with soft colored rippled flooring, contrasting with the cabinetry in an intimate way. A contemporary chandelier and spot lights over the shelves provide the necessary lighting arrangement. The storage space is large enough to accommodate belongings of a couple as the case is in the image.
37. Shades Of Purple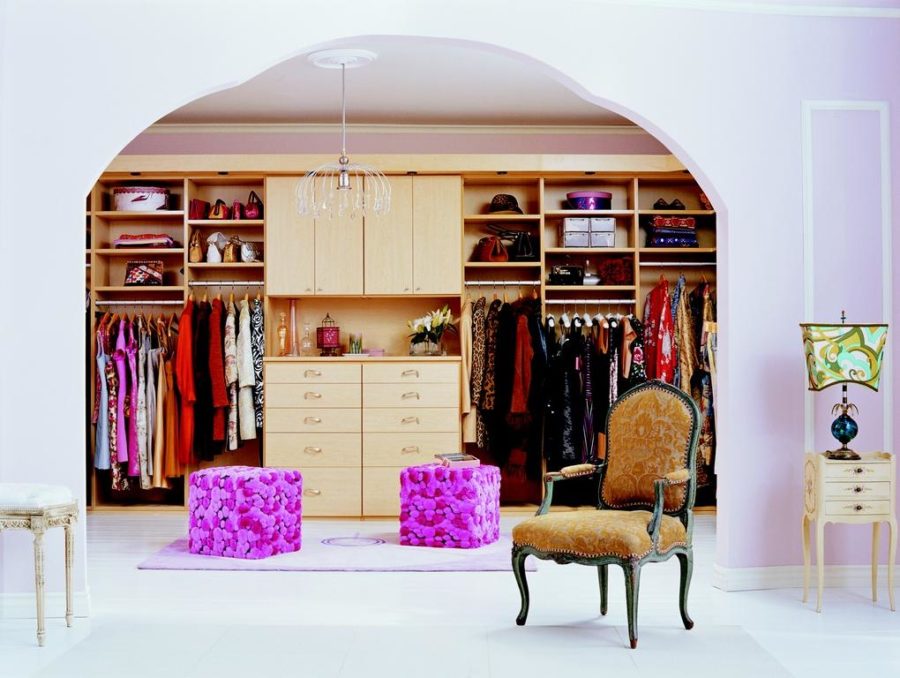 This beautiful walk in closet has no proper covering of a curtain or a door; rather it gels in quite nicely with the bedroom and enhances the overall aesthetics by functioning as a home décor. The birch cabinets and simple white flooring are beautifully contrasted with some different shades of purple. The brightest shade of fashionably designed cube-shaped stools with adorable print is the eye catcher in this closet layout. The inner and outer walls have lighter and calmer shades of the theme color, creating a splendid sight.
38. Openness Glorified
Most of the conventional walk-in closets have a drawer in the center of the room. This design is void of any such furniture. The absence of the central drawer gives it a by default touch of openness and feeling of spaciousness. You may not consider space and light to be the deciding factors while choosing a closet design, yet they play an integral part when it comes to usability and aesthetics. The overall milky white theme gives out a serene feeling without putting much load on your eyes.
39. Innovatively Fashionable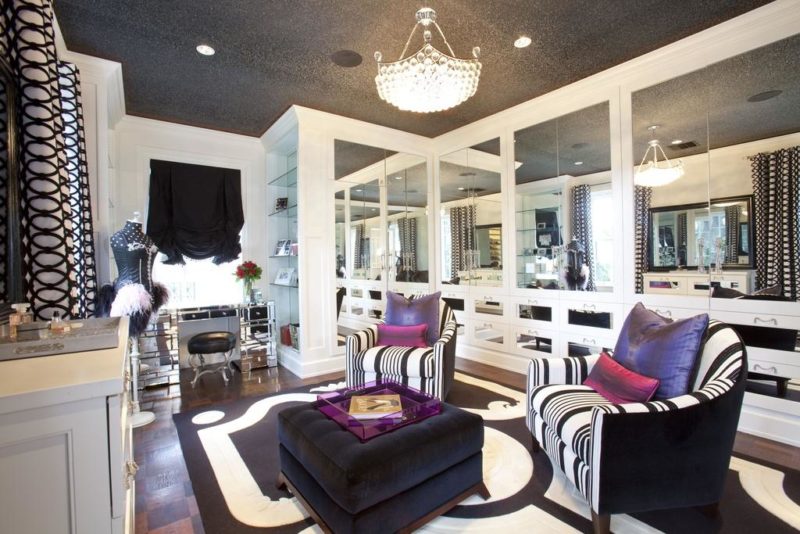 This walk in closet looks more like an interview place for a fashion intensive program. The voguish seating area and a modern vanity give your closet a mesmerizing look of a den. The overall theme is dominated by an eye-catching color contrast of black and white. The sprinkles of lovely shades of purple and pink enhance this modishly designed closet design. An exquisite chandelier on black ceiling combined with extensively mirrored white cabinets displays a perfect sight for a lavish closet.
40. Heaven for Shoe Collectors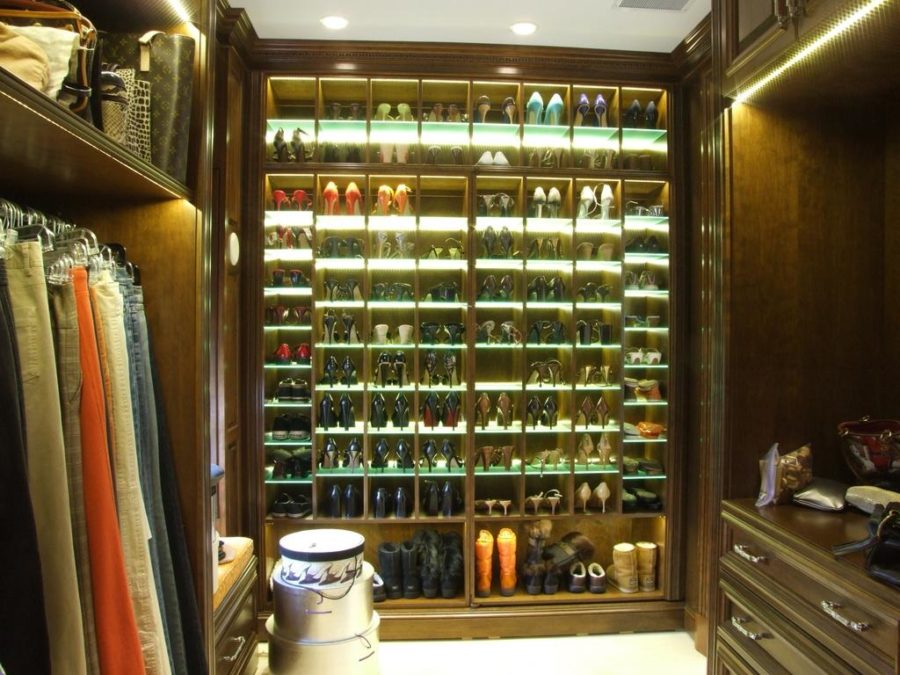 This closet has one of the most well sorted out and executively styled shoe storage. Highly organized with an excellent lighting arrangement, the small shelves are designed in different sizes to accommodate all types of shoes you possess. The "wall of shoe" is the highlight of this beautiful closet design. The dark brown cabinets and drawers are nicely lit with an array of concealed LED lights, while the torch lights installed in while ceiling supplements the luminous environment of the room.
41. Elementary Simplicity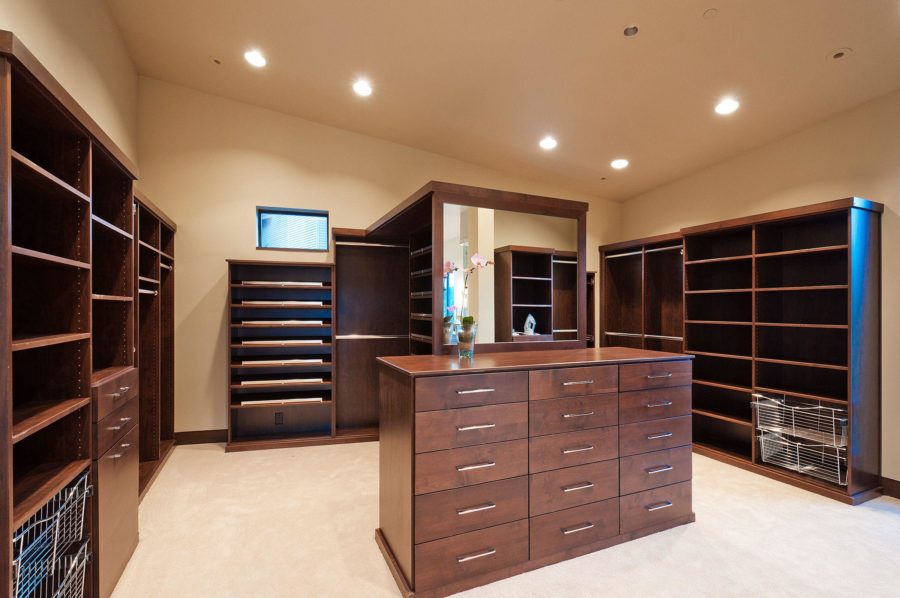 Simplicity has its beauty and charm. The combination of simple fixtures and items can result in an incredibly fulfilling sight. This closet design is an excellent example of that concept. The shelves and cabinets are exhibiting the look of rich oak furniture, and the plain ceiling with simple torch lights add to the simplicity of the locale. A vase with a flower on the central drawer and painting on the wall are the only décor this closet has. The mirror attached to the drawer adds to the utility and make it usable as a vanity.
42. Exquisitely Angled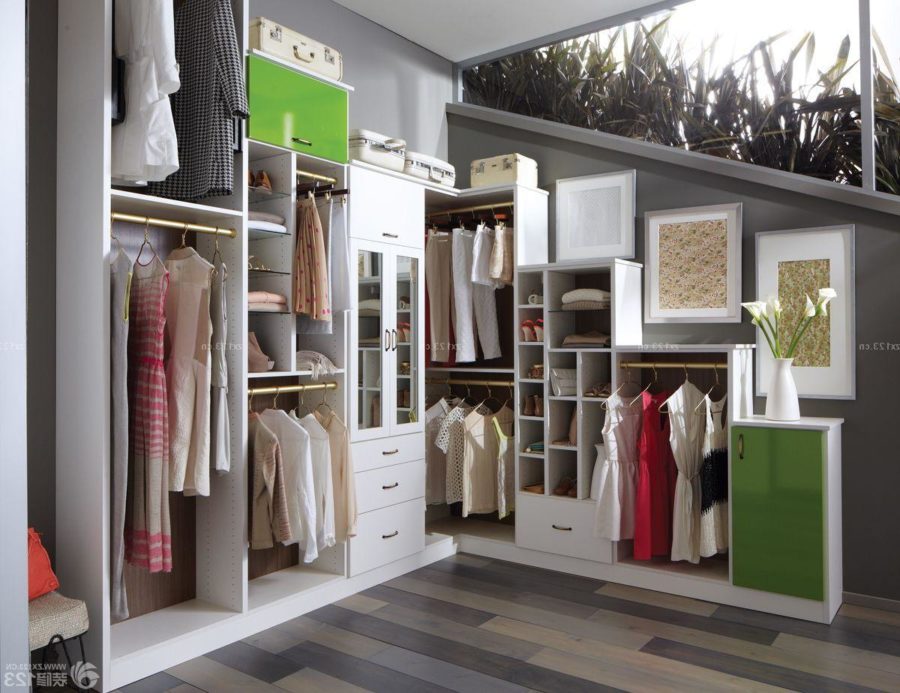 It is not necessary to attach your closet with your bedroom or restroom; you can always find some corner in your home and decorate it with a beautiful closet design. This closet catches an eye with the angled glass window on the wall just below the ceiling. It works as décor as well as the only source which lights this fantastic closet. Built in a relatively small space, the cabinet design makes the best of the available space. The multi-hued floor paneling along with a white color theme of the furniture is well contrasted with a delicate shade of green sprinkled sparingly.
43. Elegantly Artistic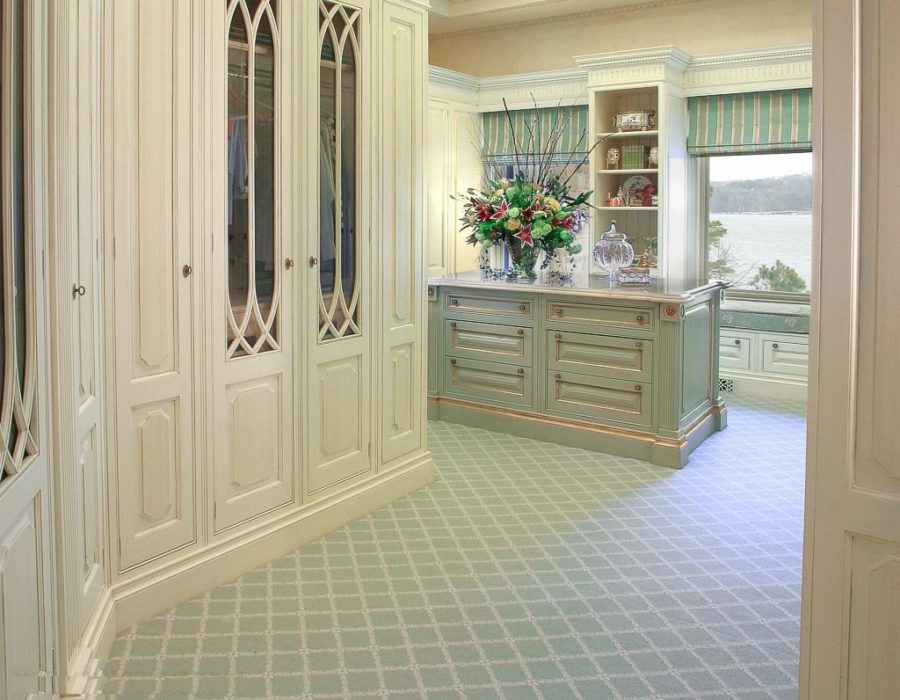 Gone are those days when closets are bound to be in closed quarters of your home. This revolutionary closet design idea introduces a full sized window with a lovely view of outside. This gives your closet a refreshing look along with the benefits of natural light. The closet is airy and spacious with a lot of opportunities when it comes to applying different techniques to modify this design into one of your brain children. The design theme is predominantly Victorian styled, while the light colors used in this space add to the traditional outlook of this closet.
44. A Welcoming Warmth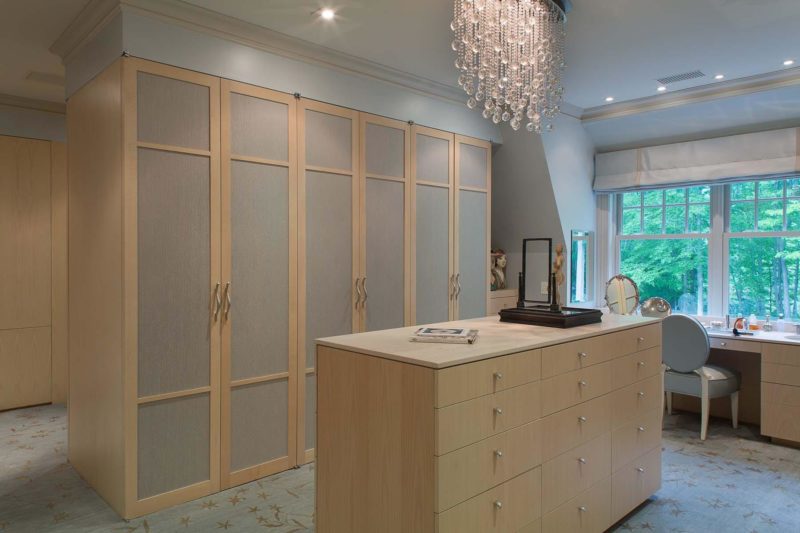 There is always room for innovation and creativity in home interior designing. While designing a closet of your dreams, you can experiment with different combinations which could add to the usability of the space and look aesthetically pleasing. One such design is shown in this picture, where a dressing room is combined with the closet in an astounding way. The soft colors used in this amazing closet are complemented by the breathtaking outside view which you can see through a large sized window.
45. The Calmness of Blue
The color scheme is arguably an essential part of the home décor, be it any part of the home interior. The closet is no exception. This design is beautifully themed with airy blue color phenomenally combined with milky white color. This color combination exhibits a soothing feeling due to the cleanliness and tranquility of the locale. The sliding door closure and innovatively designed layout of the cabinet give this closet a fun factor.
46. An Alluring Transition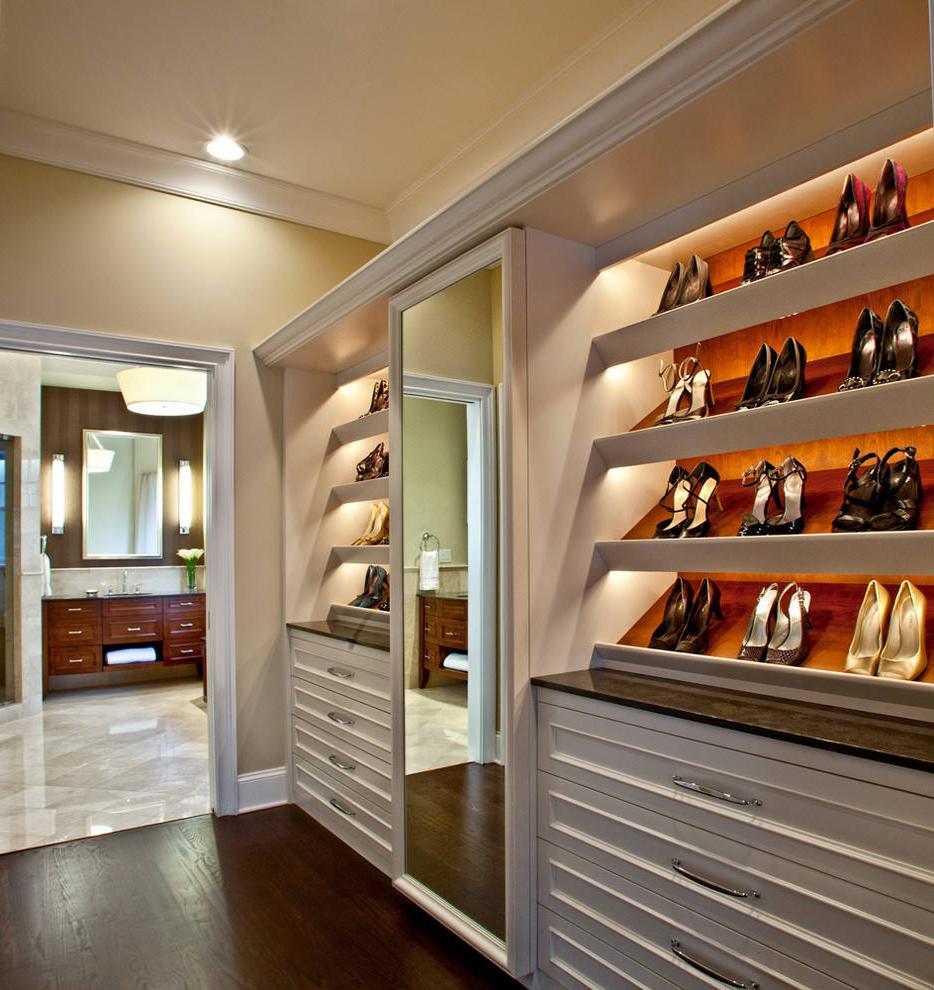 Building your closet room alongside your bathroom results in convenience and enhanced utility. This closet design implements this idea in an exquisite way. The closet room gels nicely with the bathroom and looks like a part of it. Only the flooring differentiates the spaces. The spacious floor area is supplemented by the large vertical cabinet sized mirror, while the graciously lit shoe shelves give a royal treatment to your footwear.
47. Walk In Vogue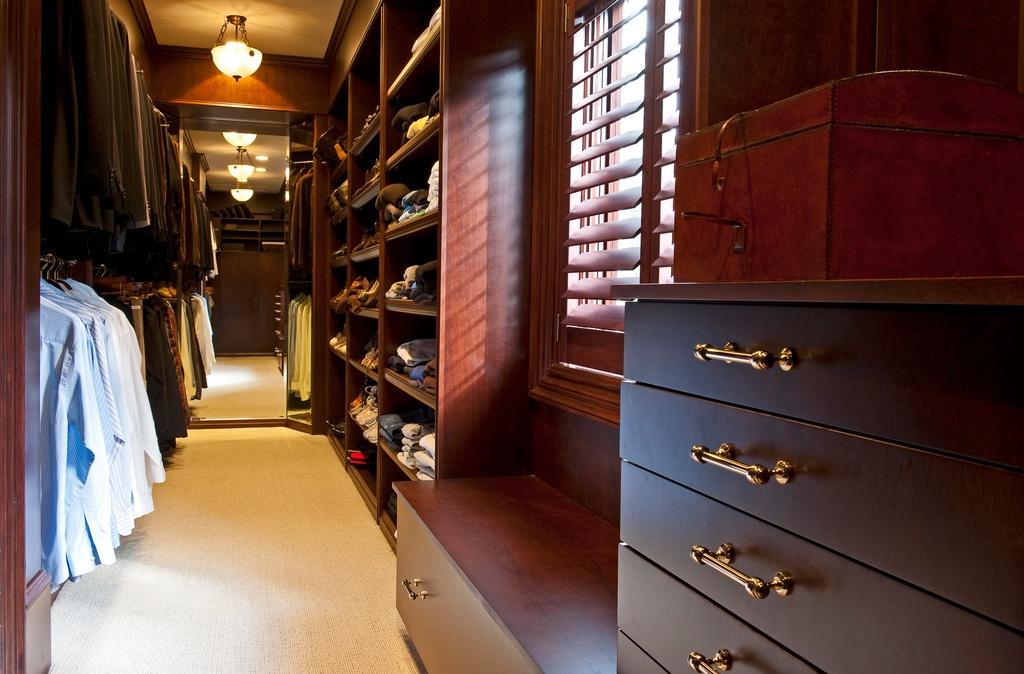 After having observed a lot of spacious and vast closet rooms, this design may bring a feeling of narrowness. But that does not mean that there is any lack of space; There is ample storage for your wardrobe and enough room to walk through your modish collection of wearables. Maple cabinets and birch flooring gives this setting an executive touch and exhibits a mature feeling in the atmosphere.
48. Modishly Tinted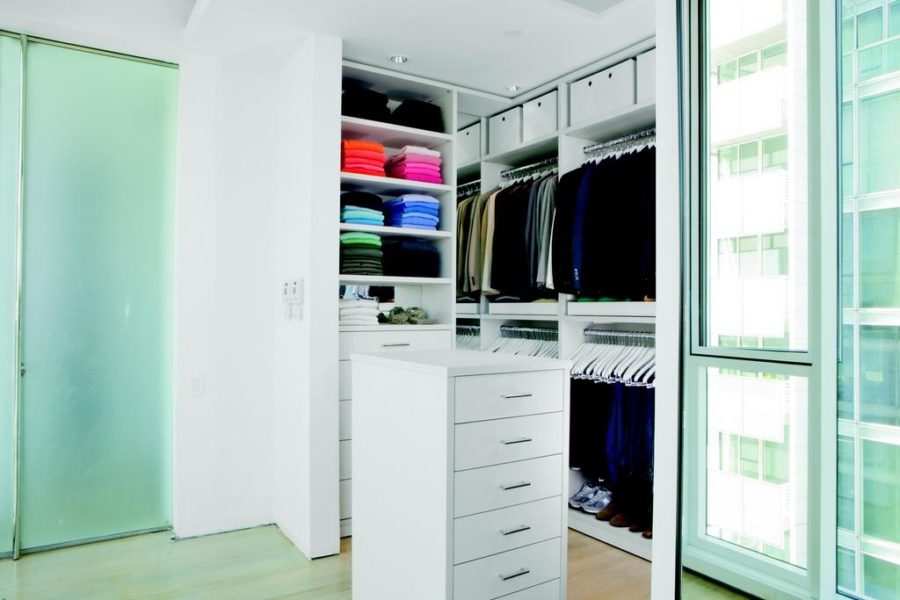 Tinted glass in this uniquely designed closet brightens the locale up. The natural light dispersion due to this glass along with the milky white walls and ceiling gives this closet a sparkling touch. So this makes a smaller storage space look like a humongous closet. The cabinet looked cornered and reduced yet it can accommodate a lot of your belongings.
49. Literally Wondrous Continuity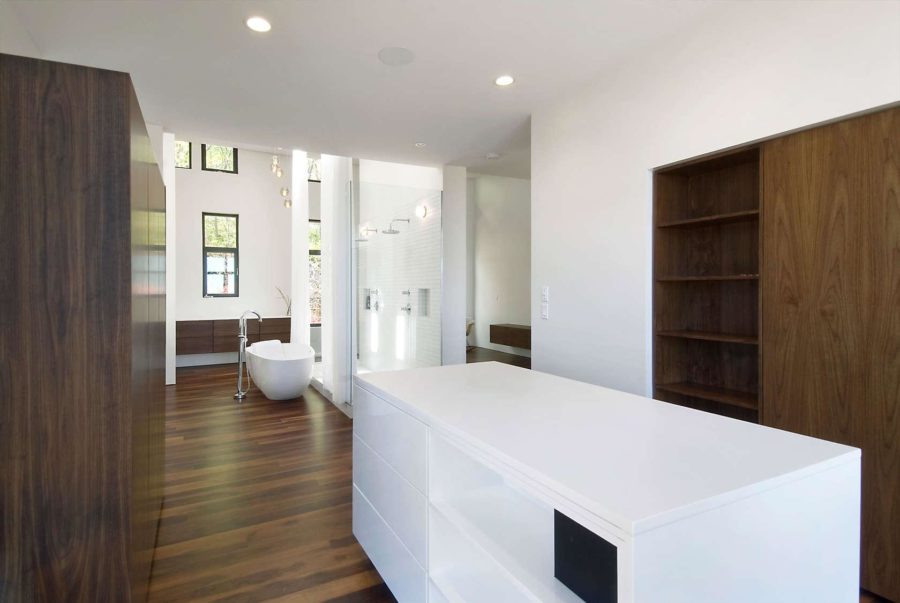 This closet is actually in a room separate from the bathroom, but the uniform flooring gives it an amazingly prepossessing perspective. The otherwise elegant and sophisticated closet is well matched with the bathroom interior design. A smooth, white drawer in the middle of the closet marks the unbounded area of the wardrobe storage, while the maple shelves ensure the continuity of the extended flooring.
50. Wooden Rush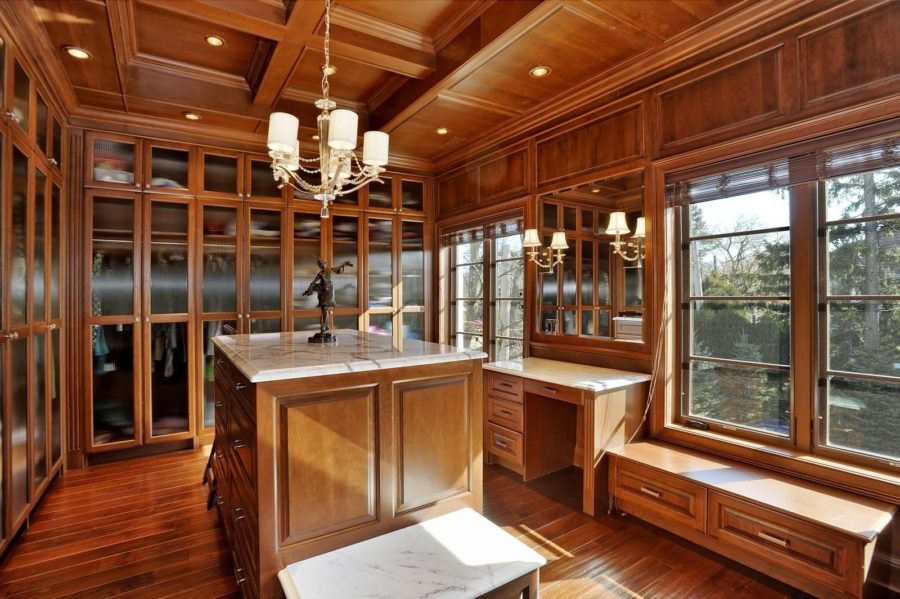 For those people who love the wooden interior, this closet is a priceless gift. Cabinets made up of teak along with long vertical glass doors produce an environment of elegance and sophistication. The marble top of the central drawer and attached seating arrangement adds to the decency and exhibits a sense of serenity. From flooring to ceiling, from windows to drawers, you will find a consistent, elegant theme of the perfectly finished woodwork. It all looks more decent in natural light pouring into the closet from large windows.
Check Out The Video Portrait of Best Closet Organization Ideas and Designs