Front yards are basically the foregrounds of our homes – a natural photo frame feature that depicts the first outlook of any, and all homes. Scaping the front yard immaculately is an important endeavor, as it reflects on the facade, and spatial quality of our homes. The front lot is unanimously considered an experimental ground for the house keep; variating from one home to the other, in terms of the quality of grass, the height of the trees, and the swerve of the flowering beds. Aside from the front elevation, the front lot is the basic affectation of what to expect from the interior of the home, so it is important to make it up. In this article, we would be discussing ten stunning front yard landscaping ideas, which would enhance the exterior veneer of your home.
Fixing up your front yard may seem like a complete and total chore, but if you know the right hacks, and know the right tricks, then it could be as easy as planting the right grass, and designing on the right format. Landscaping is not only a hobby, it is also an art – the art of putting the right things in the right place, of choosing the right material to complement the overall color scheme, of planting the right plants in the perfect spot, and coordinating all the aesthetics with the natural sun path, and interventions. If you're a newbie who wants to take on landscaping for fun, then we suggest you look up some gardening techniques before actually venturing out for some hands on experience. For this purpose, we would like to offer nine brilliant front yard design hacks that might surprise professionals, and amateurs alike.
Check Out the 54 Amazing Front Yard Landscaping Ides For Your Inspiration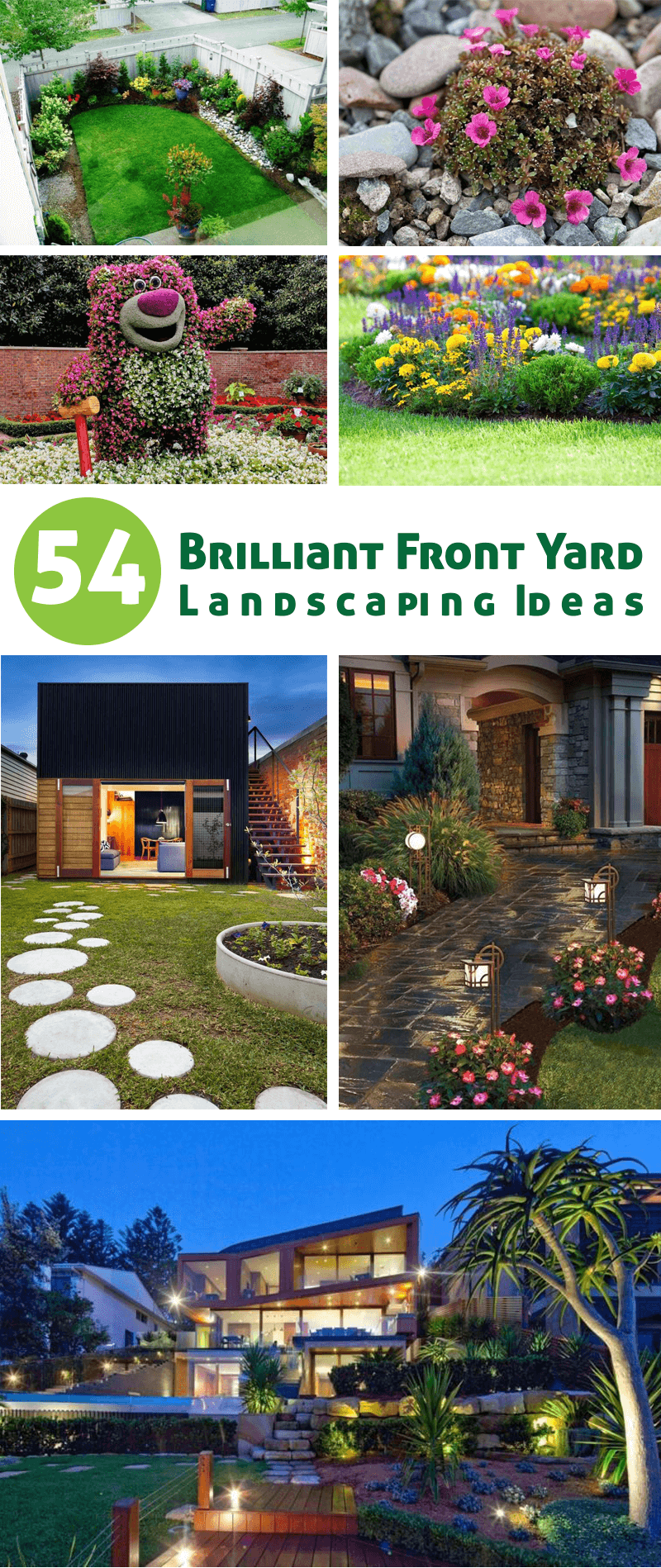 1. Create Tracks
The first thing you do after parking your car in the lot, or driveway pad, is pick your way to the front porch. More often than not, this pathway is innocuous, and waylaid to the side, so that it won't disturb the green of the lawn. A better, more effectual way of handling the design on this frontier, is to create a track, that wind right through the garden, so that the user may appreciate the quality of the open space – make the space functional, as well as effective. For this purpose, you can design tracks from flat stones, or pebble stones, with a contrast in material that stands out against the surrounding greenery.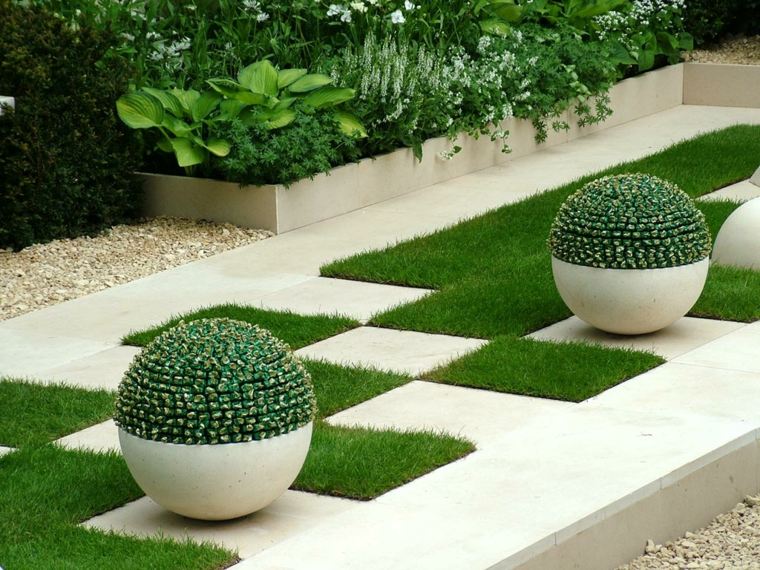 2. The Fairy Tale Effect
The fairy take effect is one of an overstated variety, and quite possibly, the easiest one to achieve – all you have to do is implement all the gardening cliches that apply on traditional convention, and you would have got yourself an enchanting little fairy tale garden. Flower boxes in the windowsill are one of the greatest, and overly used tropes of this genre – and aside from being alluring, they are eye-catching, and popping in colors, creating a much needed contrast against the verdant of the grass. Grass is another important feature; to be rolling, and immaculately manicured, would be the time honored tradition of the fairytale effect landscape.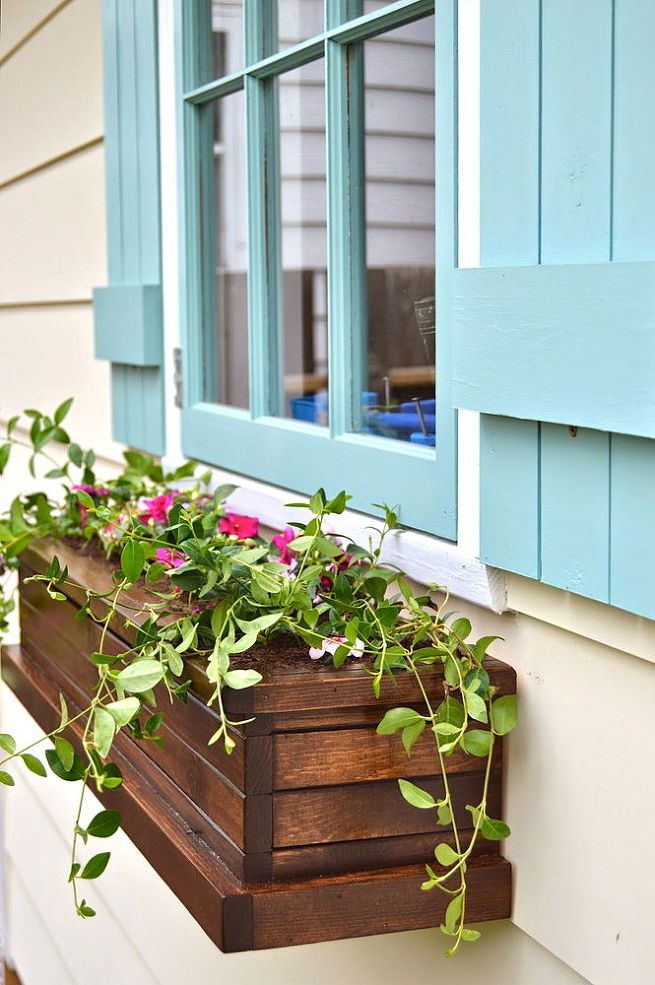 READ ALSO: Best Flower Garden Ideas For Your Landscape
3. Contours
If you want to play on the drama of your given space, than you can apply the concept of artificial contouring, which would create terraces, that would climb high, in tiers, to create a playfully alluring aesthetic. Each terrace could be landscaped according to its given length, breadth, and shape – wild, ornamental grasses on one, hardscaped flats tones on the other, and an open seating space on the very top, to create an effect of elevated gratification.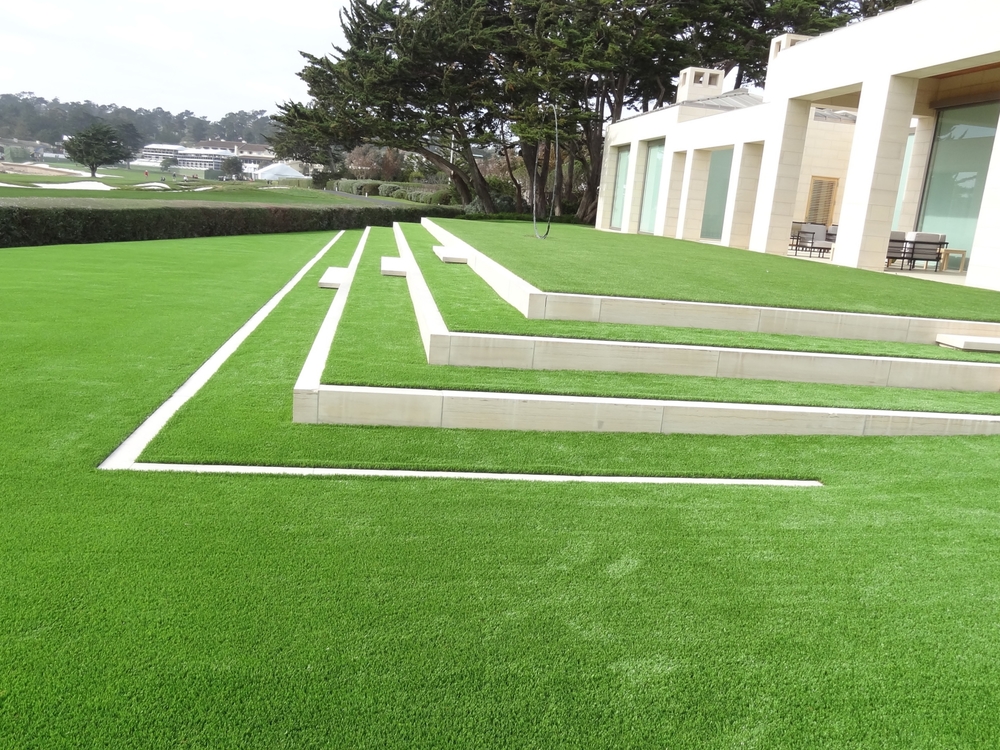 4. The Picket Fence Look
Another cliched idea, but an effective one. Every suburban front lot tries to emulate the white picket fence look – from the pointy, slats of wood, painted in an immaculate white, to the popping of colors – green, red, pink, purple, and yellow, against the washboards. Since white is essentially a blank canvas of a color, anything bright pops against it, and the lot, with its ample greenery, and abundance of flowers make a perfect backdrop to that.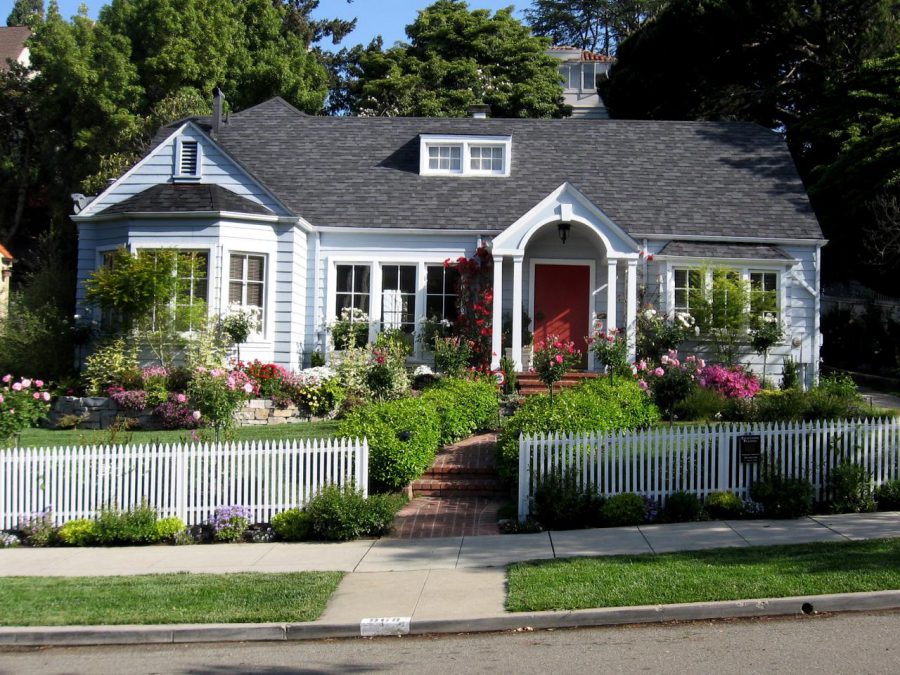 5. The Rock Show
Using ornamental rocks as a landscape feature has been an advent of the modern contemporary movement. The dramatic rise and fall, the discrepancy in color, and texture, combined with the allure of a group formation makes an interesting sight, which is uncannily pleasing in an overall aesthetic. Combined with the pavers, the grass, and the flowering plants, the rocks make a picturesque formation that adds a certain panache, and weight to the entire scenery.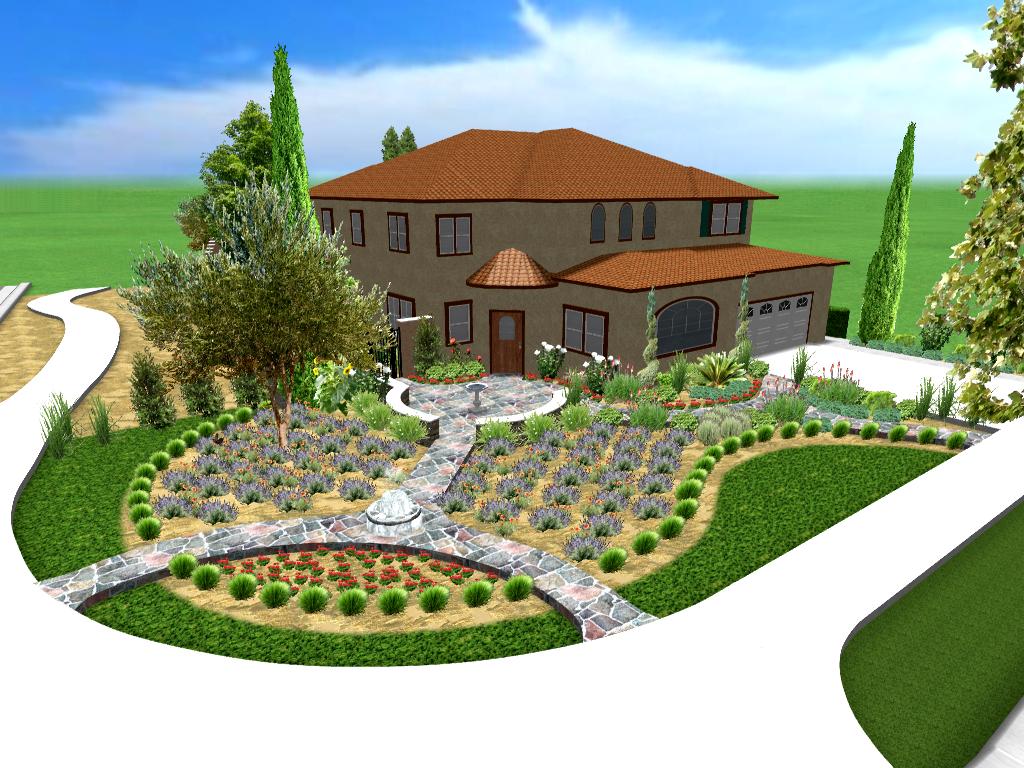 6. Paving Cover
Creating geometric, or organic patterns inside the lot is another idea that could amplify the look of your front lot. If you don't want to go for the conventional twisty track, then there are a whole lot of other options that would make for interesting patterns – from terra cotta tiles, to the jagged edged flagstones, hardscaping with this landscape could make a clever formation for a terrain that is part green, and part ground.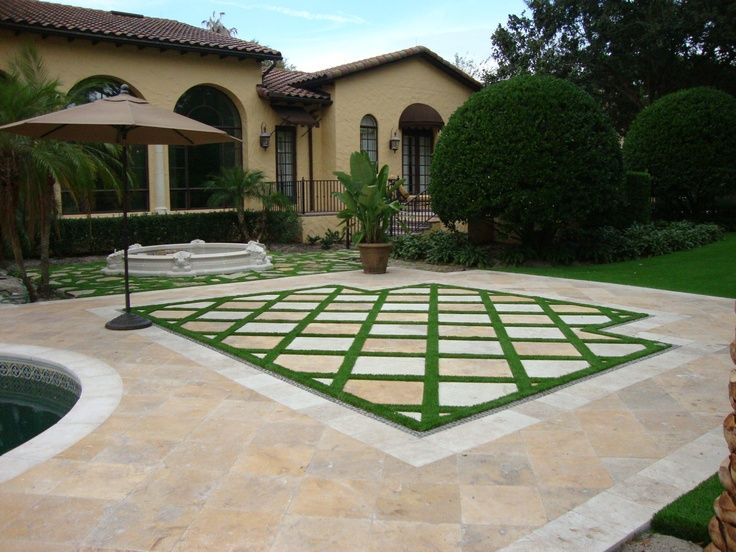 7. Hedging
On overrated, and overstated style, but effective nonetheless – hedging makes for a neat borderline, and the plant – septum serpensotea – comes in many different varieties, which vary in color, texture, and contrast. You can decide what height suits you best, and if you want to add a little something different to the mix, you could always make a topiary out of a good, neatly trimmed, appropriately raised hedge.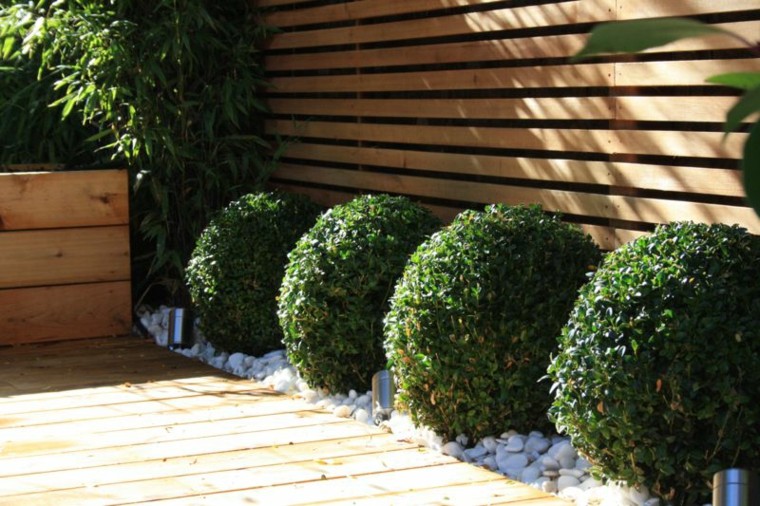 8. Potting The Planters
Planters are the building blocks of any garden, and without a neatly fitted fat bottomed, or square jawed piece sitting neatly on either side of a door frame, any front yard would seem incomplete. Pots for planters could be bought from any gardening hardware shop, and come in a variety of sizes, shapes, and designs; what you choose, depends on your aesthetic.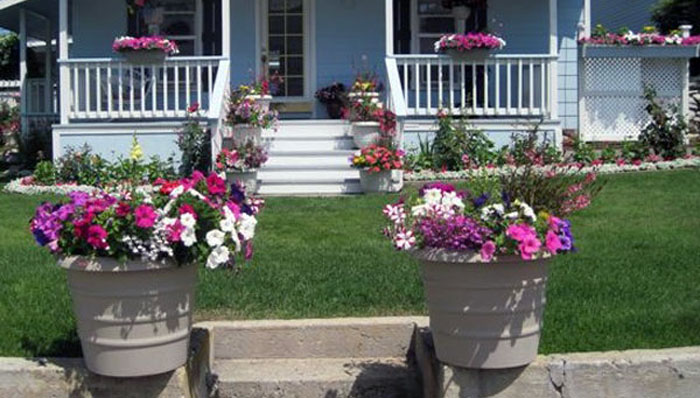 9. Flower Beds
Flower beds are a landscape essential, and complete the landscape genre of any beautifully scaped front lawn. It could be straight laced, or winding, curvilinear, or jagged; all depending on the placement, and aesthetics of the user.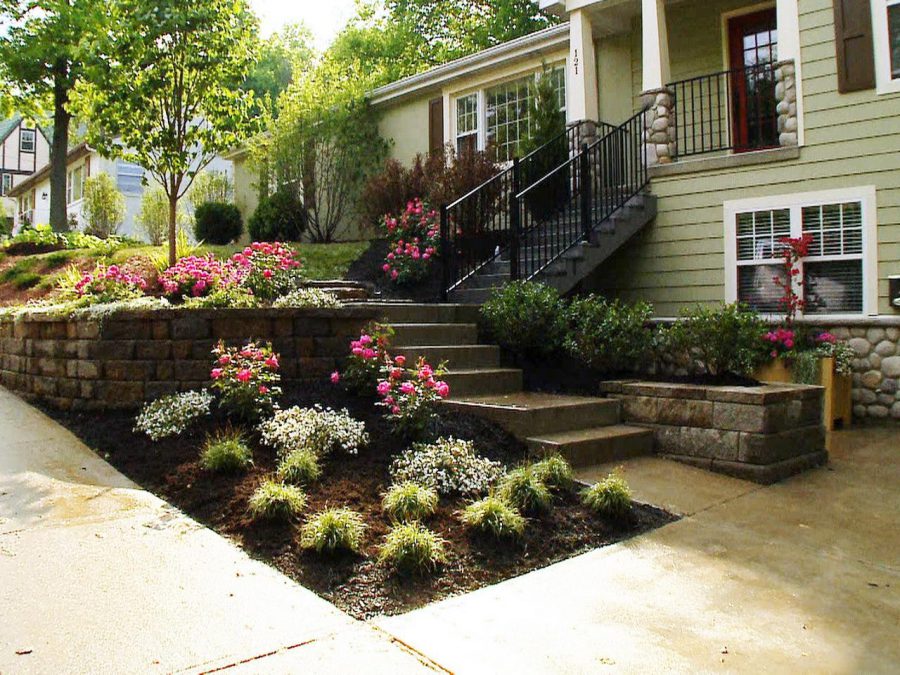 10. Edible Ground Cover
Plant a small herb garden in your lawn, and make an edible ground cover. You could also replace small areas of your grass cover with a variety of herbs that could take a relatively high foot traffic. Not only would it provide a contrast in the color and texture of grass, but would also add an element of resilience to your lawn.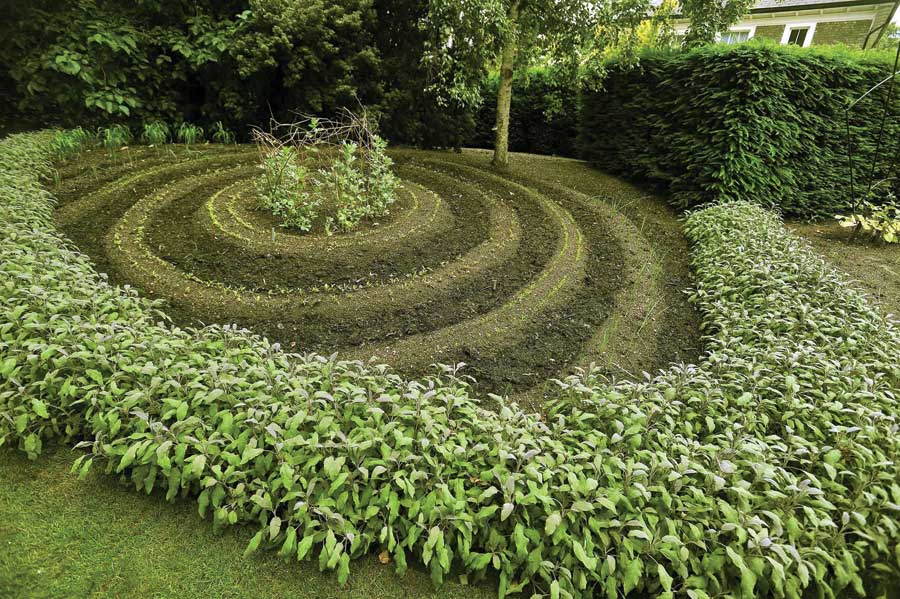 11. No-Mow Grass
Tired of having to mow the grass on a regular basis? Well, there is now a solution to that. You could always alternatives like 'no mow' grass, clover, or blend. One handicap of using these alternatives is that they do not give a golf-course like outlook, but they do cover a large area, providing an uninterrupted green cover, and need less maintenance.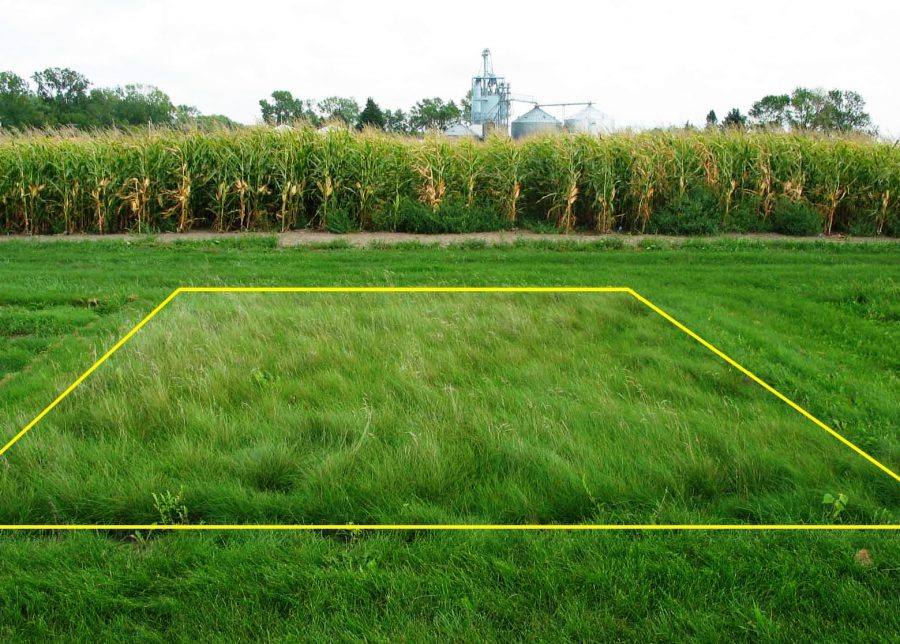 12. Solid Groundcover
Solid ground cover is one way to counterfeit the budget of regular grass mowing, and maintenance. It is, in the language of professionals, known as hardscaping. Hardscaping may include the use of flat stones, which could be stacked to form attractive features, or pave tracks, or it may include the use of concrete, flagstones, and pebbles.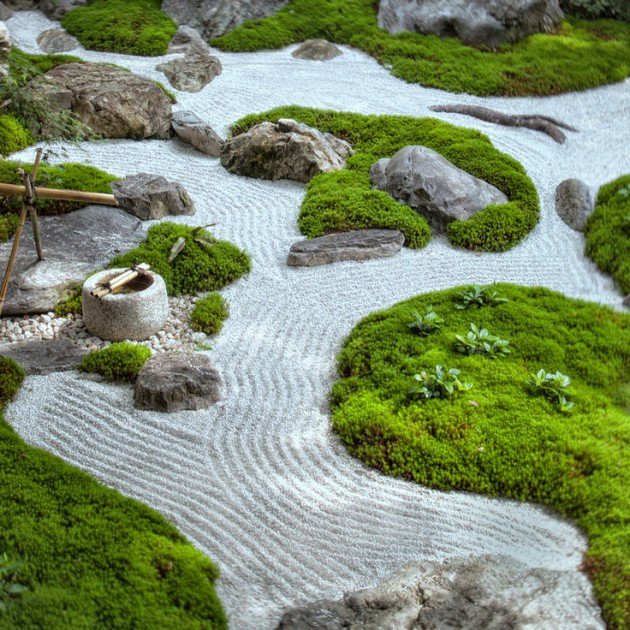 13. Low-key
An easy way to make your ground cover attractive would be to remain low-key – there is a certain charm in incorporating simplicity. If you go overboard and try to amalgamate all various style into the essence of your one, small lawn, then the result could become hodge podge. It would be better to go low-key when it comes to gardens – you could always combines some understated flower bushes with a bunch of rockery, to create that effect.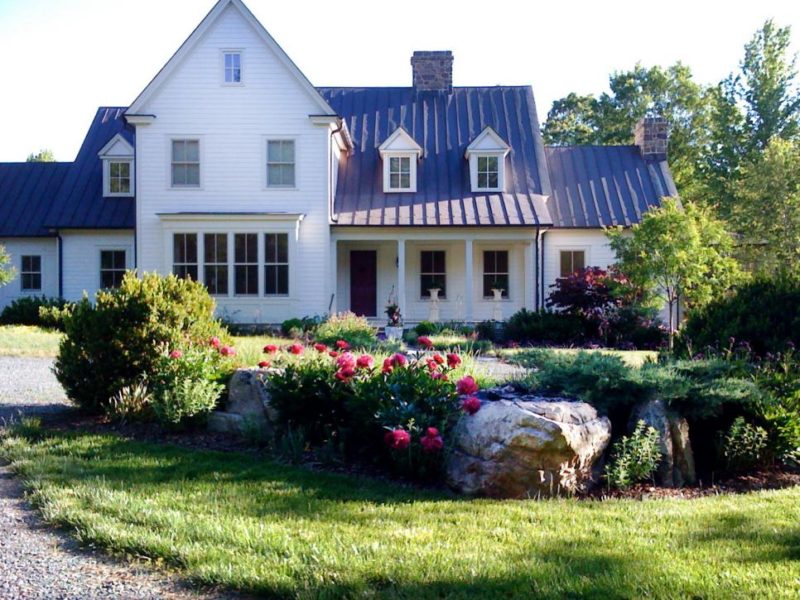 14. Elevation
The elevation of your home is an integral part of the landscape design – the style you incorporate in your façade determines the kind of concept, or ideology that you must implement in the landscaping of your front lawn. If it is a Dutch style gable home, then the landscaping would be completely different from what it would be if your faced is a straight laced modern monstrosity. Each landscape feature would further enhance the quality of your elevation, so make sure that each and everything in the landscape matches the facade of your home.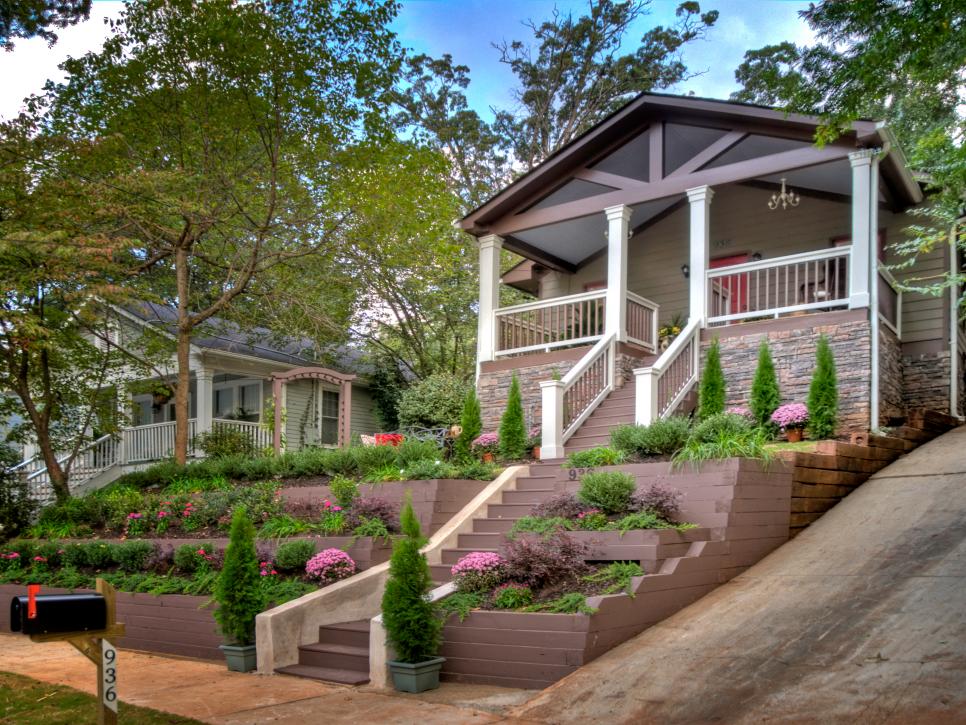 15. Wisteria Salks
Maybe one of the most cliched effects of the fairytale garden genre, wisteria walks are the best way to create an aura of phantasmagoria – its long, beautiful tendrils falling down in waves make for an enchanting experience. Most front gardens aren't big enough to accommodate the formidable construction of an actual wisteria walk, so a nice alternative to that, would be planting a wisteria tree on the very edge of your lawn, so that its branches may frame the elevation of your home.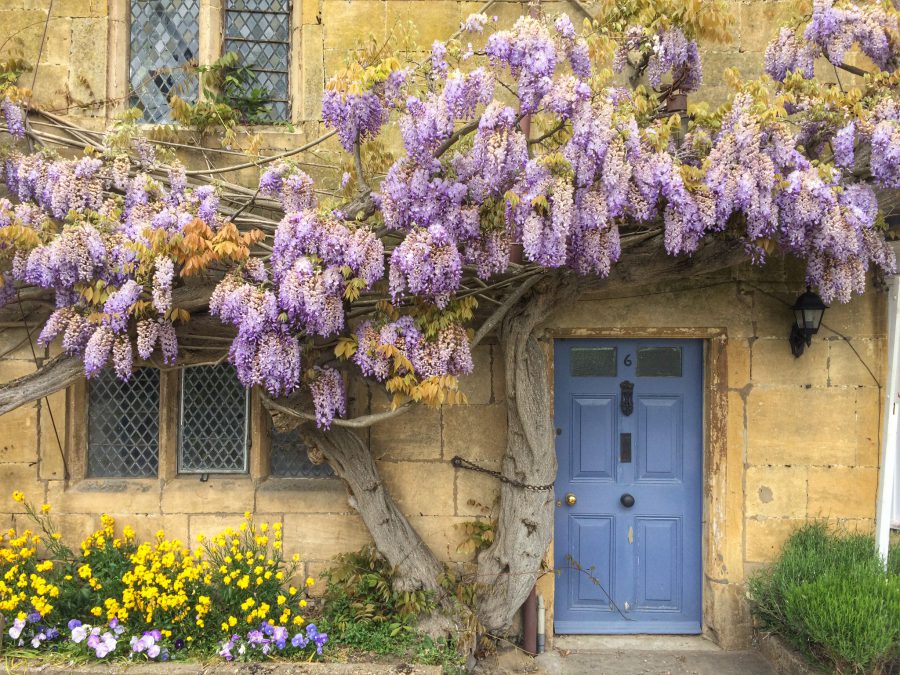 16. Whimsy In Small Spaces
The smallest places the key elements while designing any and all landscape features; they provide a limited amount of options that could be merged together to form the most whimsical of designs. An example would be a tiered formation of planter pots in a secluded corner, or a small, intimate water feature slowly guzzling out a steady stream of water. These small touches in cornered spaces create an element of surprise – belaying on the unexpected, and create an aura of whimsy, and a dapper quality.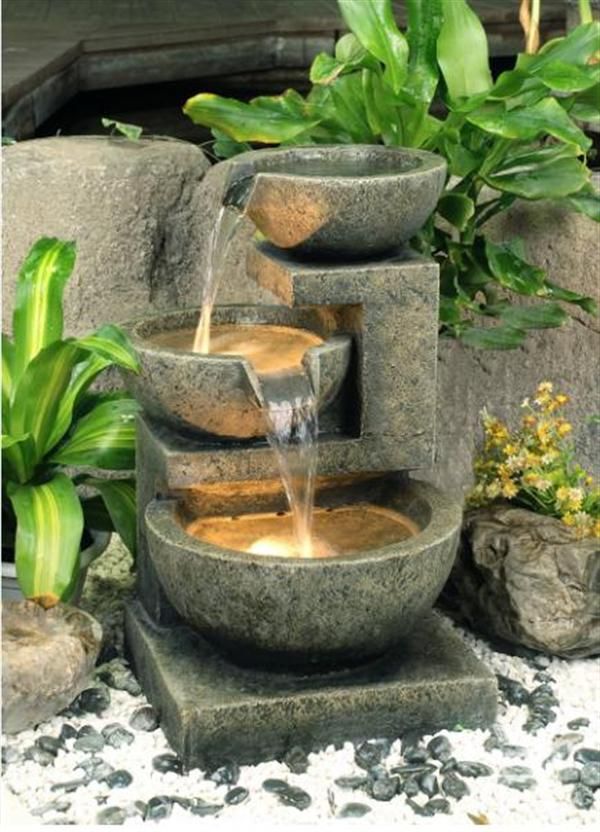 17. Solar Accent Lights
Many of you might already be aware that accent lighting is an integral part of nightscaping any lawn, but for the front yard, it becomes an inherent part of your elevation. For this purpose, there are a variety of night lights to choose from, but the best ones would be the solar accent lights, which are small in size, and easy enough to install. Each light should be strategically placed in an area where it would accentuate the best parts of your landscape features. You could always up-light your planters, or you could hide the actual lights in the rockery – the choice is always yours.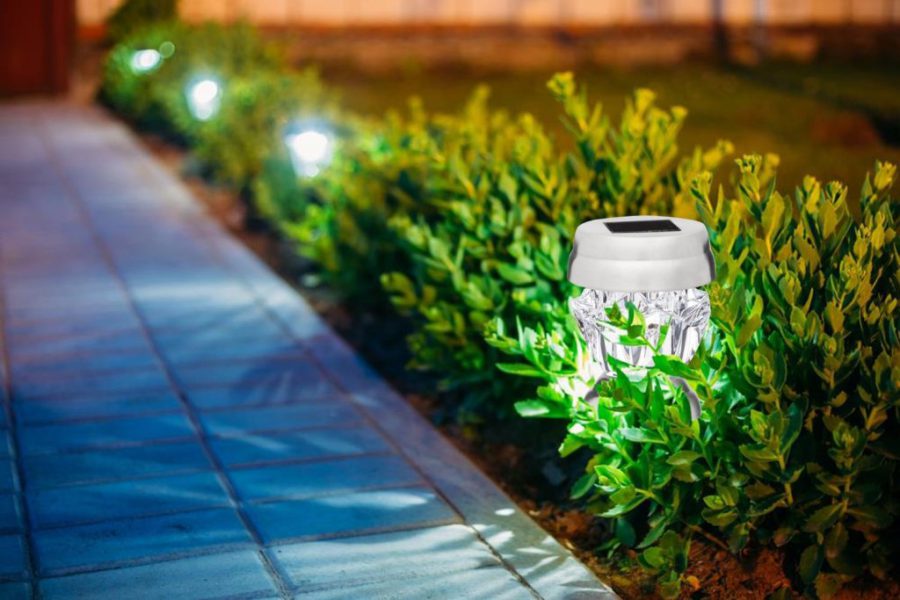 18. Flank The Entryway
If you think that your main entrance is a bit to dank, a bit too basic, or a bit too insubstantial to be overstated, then you could always take matters the way of the landscape genre. The front door, is basically an element of the landscape genre, and therefore, you can pick and choose from elements of this trope according to what would suit your tastes, and the overall aesthetics of your house. You can choose to frame the doorway underneath a small pergola, and plant some creepers onto it to give off the fairy tale effect or you could do something simple, yet effective; like flanking the doorway on either side by tall, or medium side planters.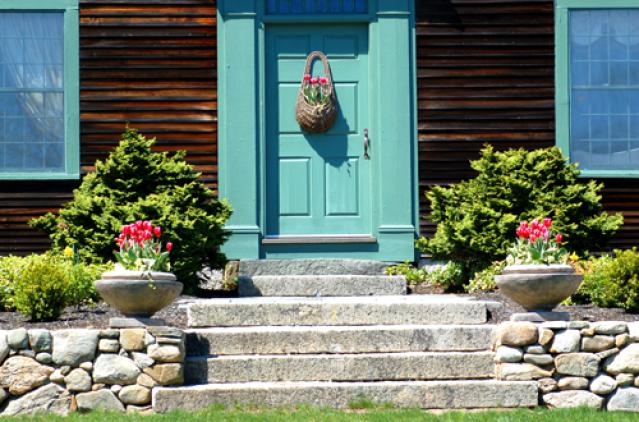 19. Simple yet Amazing Idea for Decorating a Front Yard in Nature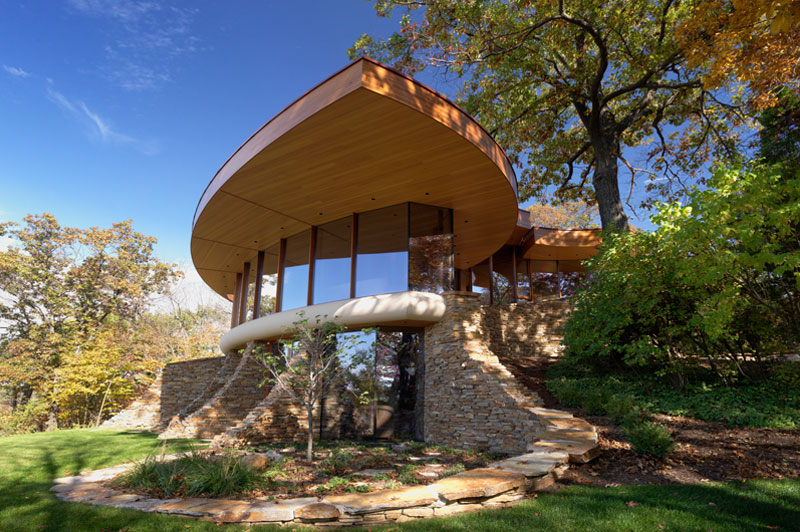 For those who have a home situated somewhere in nature, we recommend you decorate the front yard by matching it with the environment and keep its natural tone. There isn't a place more beautiful and inspiring than the one symbolizing nature and its beauty. All you have to do is plant more trees and plants in front of your home, add some decorative stones around and let nature do its thing.
20. Cheap Front Yard Idea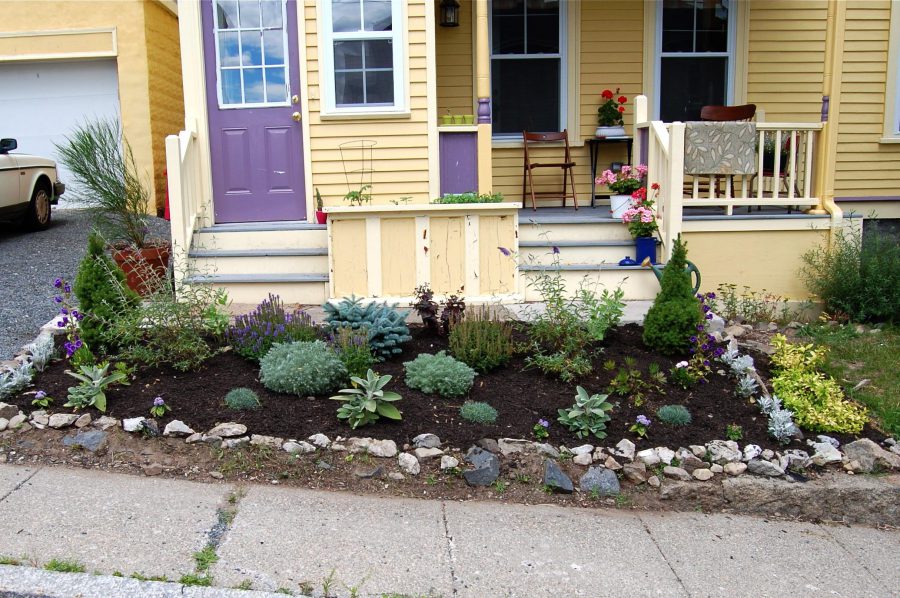 Do you want to decorate your front yard in a simple yet beautiful manner and save some money? If yes, why not use our cheap decorating idea and turn your front yard into a delightful small garden filled with low-growing flowers and different types of plants bracketed with decorative stone? You can also add some flower pots on the stairs of your small porch and embellish your home in a beautiful manner.
21. DIY Landscaping Idea on Budget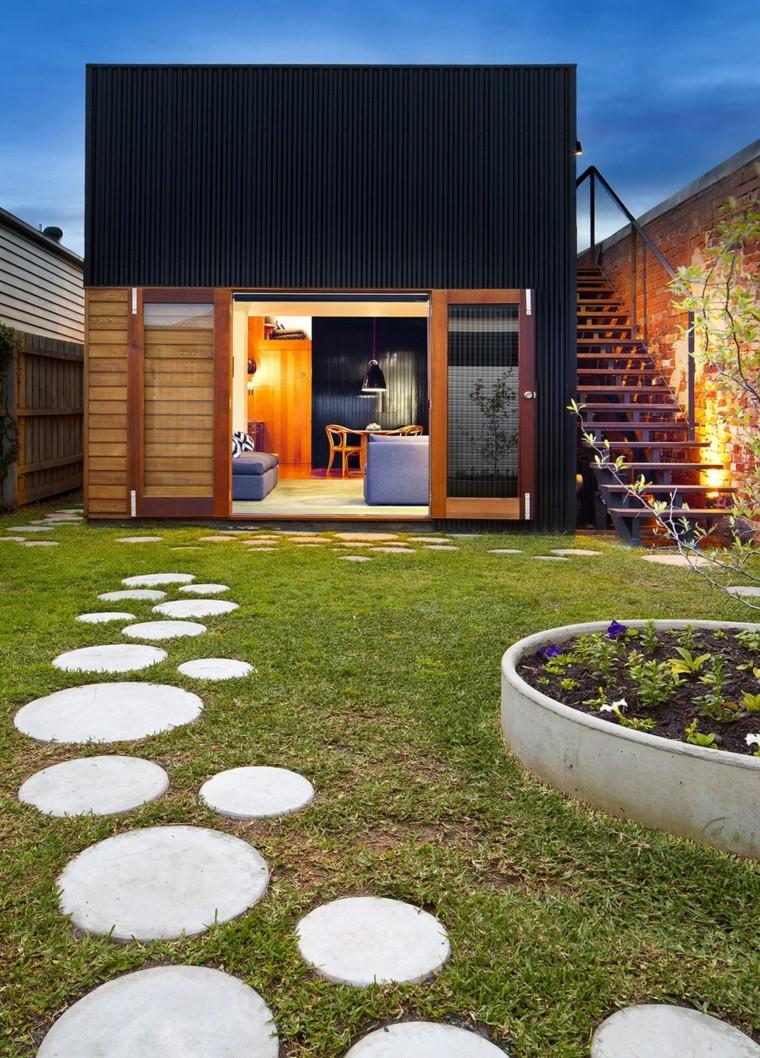 Why spending money on decorating your front yard when you can do it yourself with choosing this creative idea and stay on a budget? Create your own cobblestones that will link the home entrance with your front yard and give your entire house a sophisticated appearance. Building a cobbled is easy, you just need to let your creativity take over and decorate your space alone in a unique manner.
22. DIY Pots for Your Flowers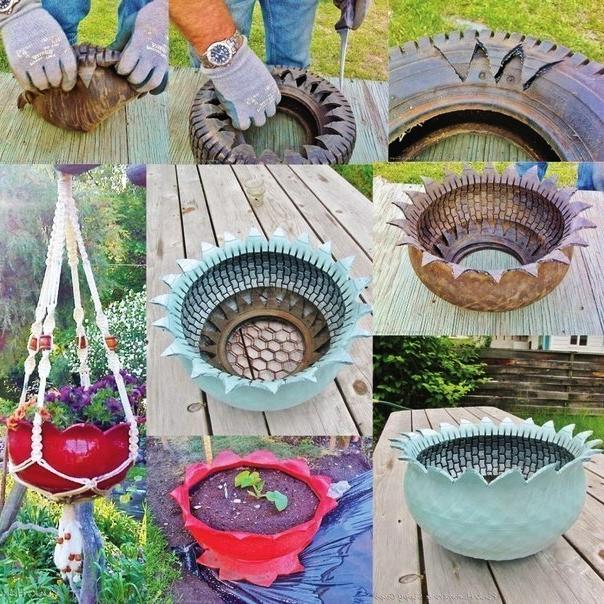 Our favorite part of decorating front yards are pots, especially those we can create from everyday items we don't use anymore. Today, we've got a few ideas about your new DIY planters that include an old tire. Just follow the example on the picture and enjoy your new creative flower pots where you can plant your favorite flowers and decorate your front yard in a creative manner. Your neighbors will be wondered by your creativity and probably ask you to tell them your secret on how to create a pot like this one. After you create one or maybe few of these tire flower pots, you can hang them or just place them in your front yard. The tire planters will not only embellish your yard but also decorate it in a creative manner.
23. A Giant Extraordinary Flower Bear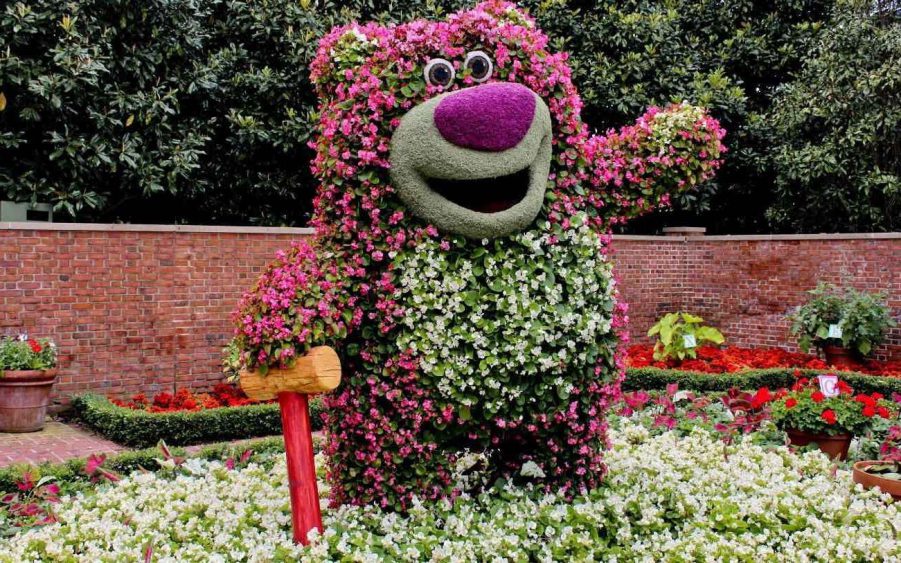 Your kids are going to love this giant extraordinary flower bear in your front yard. However, this idea of decoration will suit you only if you have a wide front yard filled with flowers that will match the freestanding bear. Place it in the middle of your favorite flowers or near the entrance, so the colorful flower bear can welcome your guests everytime they come to visit.
24. Fence Wood Gray Pebbles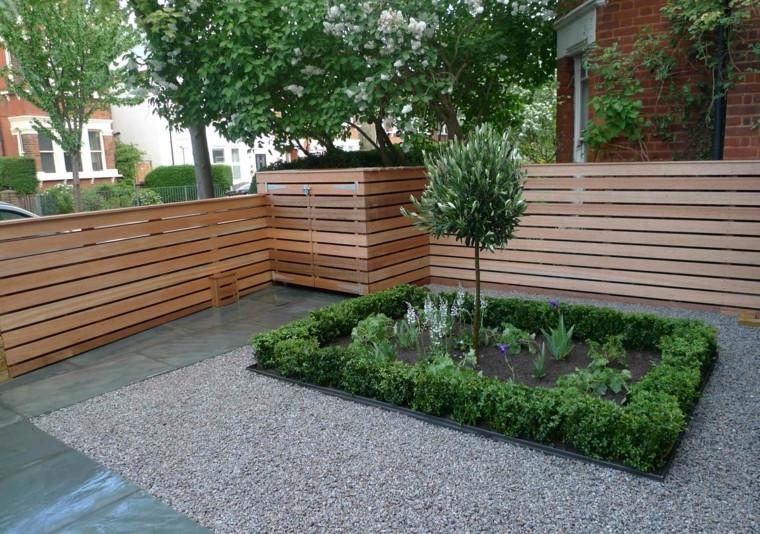 If you're not into flowers but more orientated toward plants as your front yard decoration, try creating this tiny green garden in quadrangular shape, enclosed with gray pebbles. You can plant some low-growing green plants inside and a small tree to embellish the garden and give your front yard a more sophisticated and natural look. Besides the perfect small garden, you can also add a wooden fence that will keep your privacy and allow you to enjoy to keep the beauty of your front yard only for your eyes.
25. Flower Bed Combined of Different Type of Flowers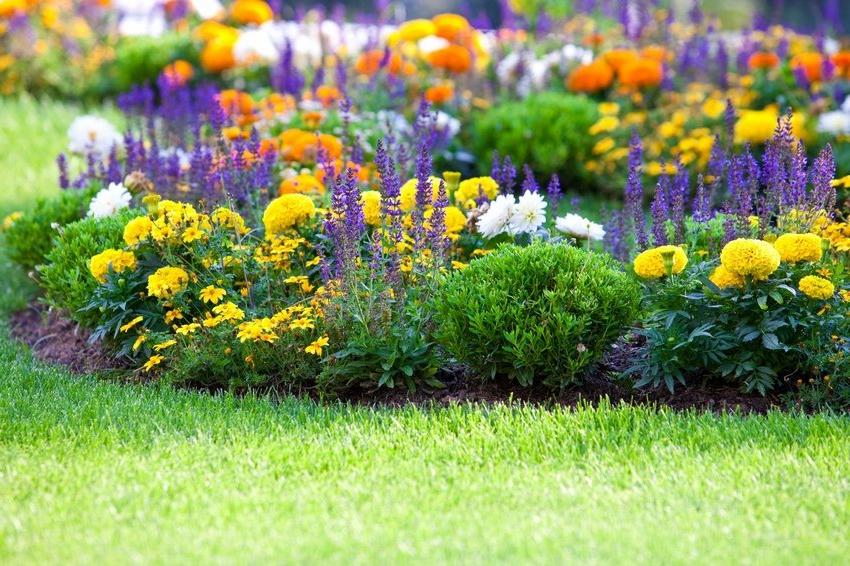 If you want a simple, colorful and creative decoration for your front yard, chose the flower bed combined of different type of flowers in different colors. Having a flower bed in your front yard will impress the passersby and definitely make your neighbors jealous. Just pick your favorite flowers, plant them in a shaped bed and enjoy your new creative self-made decoration.
26. A Creative Idea for Decorating the Front Yard of Your Brick House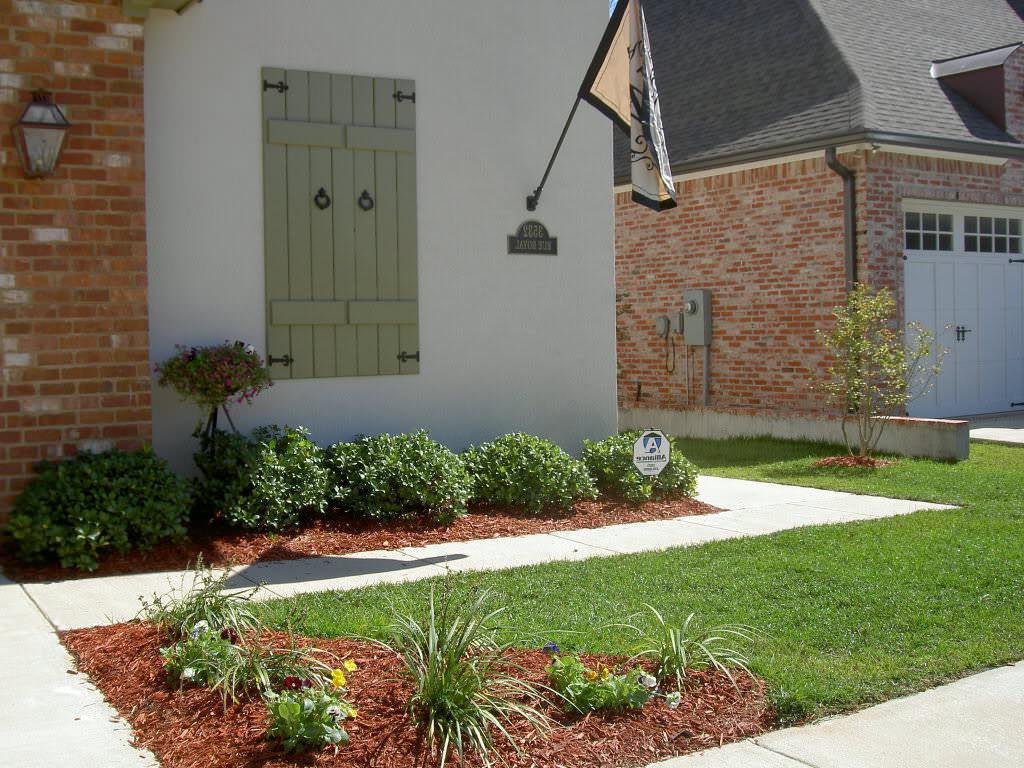 If you own a brick house a decoration like the particular one on the photo is the perfect choice for your front yard. Matching the color of the bricks, the garden materials surrounding the corner low-growing flowers give the entire yard a sophisticated and perfect outlook. Feel free to 'steal' this idea and start decorating the front yard by matching your brick house design today.
27. Marvelous Decoration for Your Ranch Style House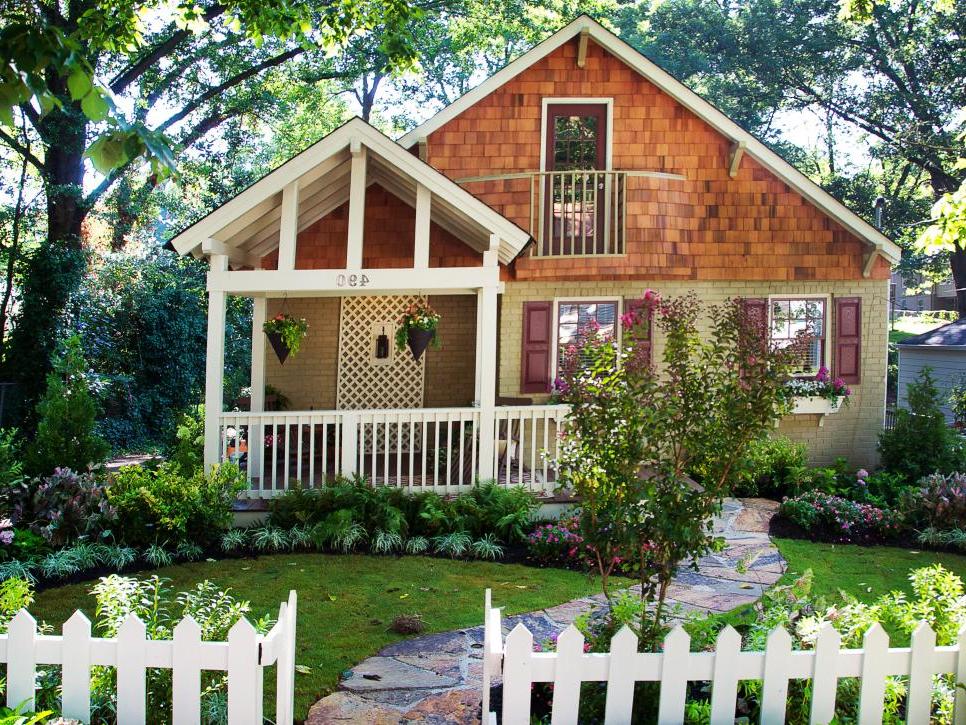 There isn't something more beautiful and admiring than a small house in ranch style with a perfectly arranged front yard. The small white wooden fences that match the porch fence, give the entire house a warm tone, while the small yard filled with grass and tiny pink flowers create a marvelous environment that will definitely leave all passersby amazed and jealous. Don't hesitate on using this landscaping idea and turn your simple yard into a place that will represent your home in a beautiful and classy way.
28. Minimalistic Decorations for the Front Yard of Your Small House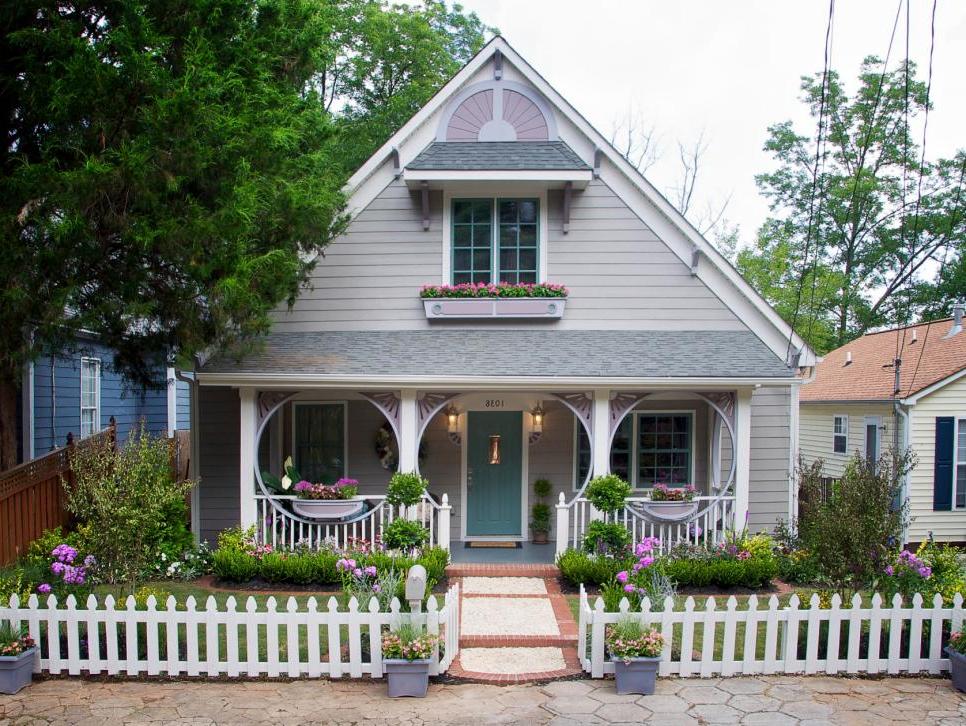 Minimalists, we've come up with the perfect minimalistic decoration for the front yard of your small lovely house. As you can see in the photo, the decoration includes white wooden fences matching the porch fence, small pale gray pots with tiny flowers matching the house color and a perfect space filled with grass and more flowers that embellish the front yard even more. If you're looking for the ideal minimalistic decoration for your small yard, you're currently looking at it. Steal our creative idea and start decorating your front yard in a creative manner.
29. Garden Decoration with Stones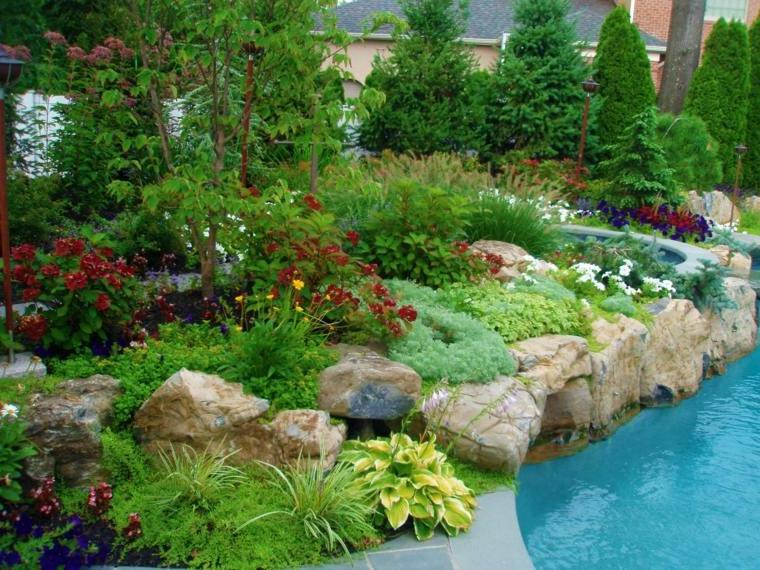 Stones are always a good idea when it comes to yard decoration because they're easy to combine and provide a unique appearance, especially if they're arranged the same way like the ones in the picture. Surrounded with your favorite flowers and low-growing plants, the stones can embellish your front yard in a creative manner like no other decoration before. Just pick the right spot where you can place them and let your creativity and imagination do the rest. We promise you'll be satisfied with the outcome.
30. Garden Decorated with Concrete Sculptures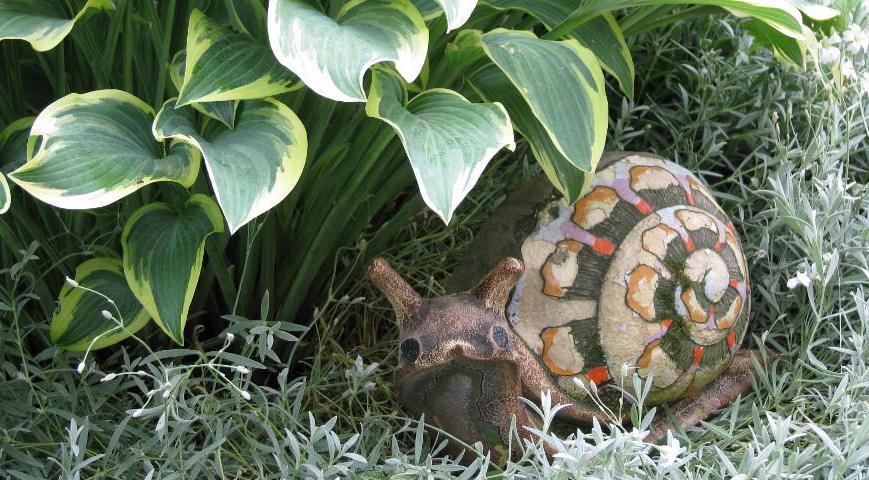 Whether you chose a leaf marble, concrete mushrooms or concrete tiny animals, you won't make a mistake because sculptures like this are always a nice way to embellish your yard and keep its natural tone. Animal lovers, you can also find some other more ordinary sculptures and place them on your porch, such as dogs, cats or chose the most popular sculpture used in yard decoration – elves. People love them because they are representatives of hard work and embellish the yards on a specific manner.
31. A Homemade Fountain
Everyone wishes for a homemade fountain in their front or backyard where they can relax nearby after a long by day. Listening to the flow of the water sometimes can have a calming effect on us and it's always a good idea to situate or build a fountain if you have a larger available space in your yard, however, you can also install a small one if your yard is smaller. Either way, you will enjoy the appearance of your yard with the fountain in sight because besides calming you down, the fountain will also embellish your home and make your yard a more pleasant place for hanging out.
32. A Front Yard with Full of Grass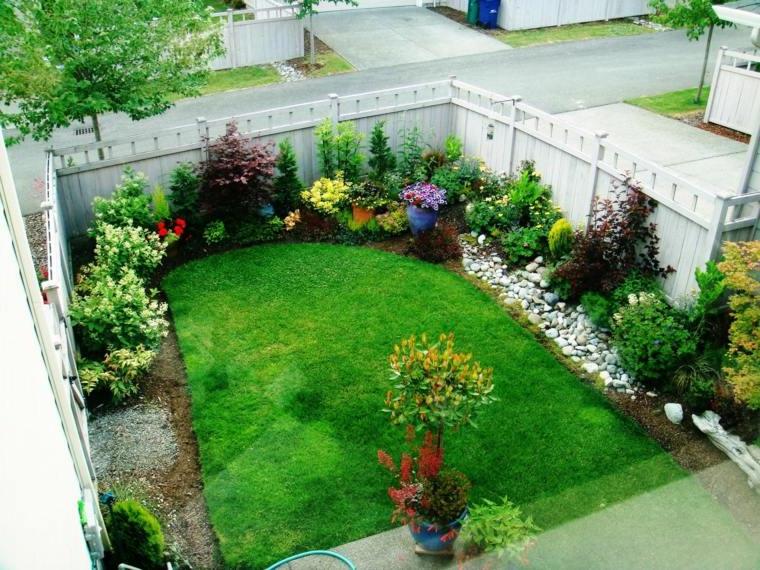 Who doesn't want the typical grassy yard like the one we always see in movies? If you wish for something simple and classy, the grassy yard is the perfect choice for you. Just plant some grass, maintain it properly and after it grows, you can enclose it with decorative stones, plants, and flower pots. Just take a look at the photo we provided and you'll get the picture on how to do it alone.
33. Landscaping Garden with Many Plants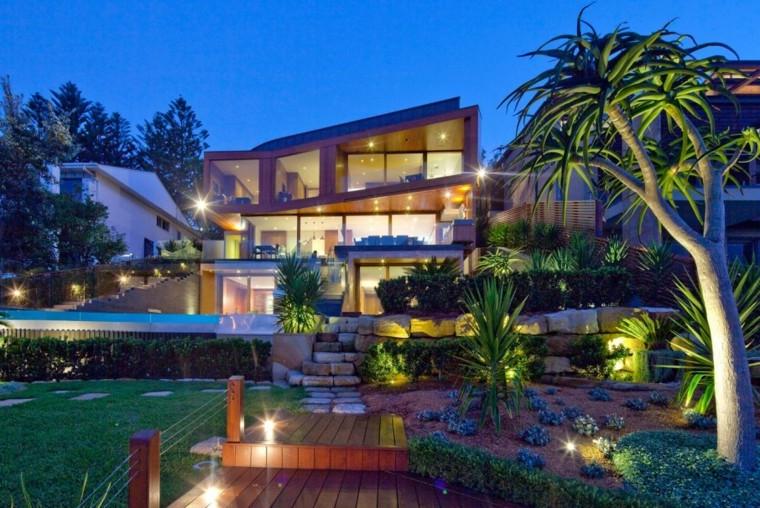 If you're a plant and flower lover than the landscaping garden with many plants will perfectly meet your taste and desires. Do you already have a lovely large front yard that needs a little decoration? If yes, then hire a gardener that will plant and maintain your new plants and trees or DIY. By choosing this extravagant idea, you'll provide your home with a new exotic look and impress all your neighbors. Adding a lighting in blue or some other color that matches other details or items in the yard will definitely emphasize your home in the best light.
34. Landscaping Idea for a Small Garden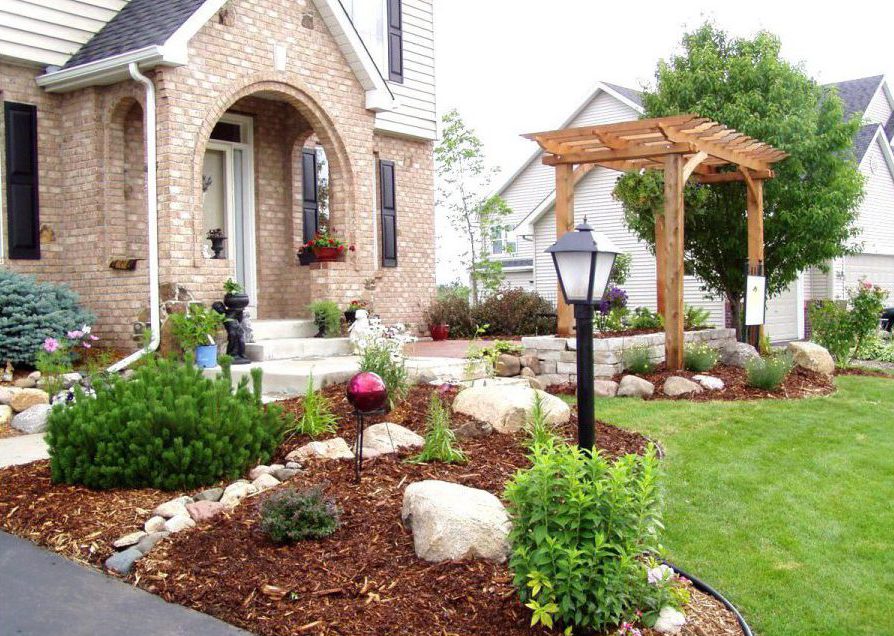 Small gardens can be beautiful too, especially if they're well-organized and adorned with some of the classical garden ornaments, such as concrete sculptures, well-maintained grass, and plants, decorative stones and flower pots or the typical wooden fences that can give any yard a warm and classy tone. If you own a smaller house and your front yard is also small, then adding some of the listed details and items would embellish your space and turn it into a great representation of your lovely home and lifestyle.
35. Landscaping Idea with Patio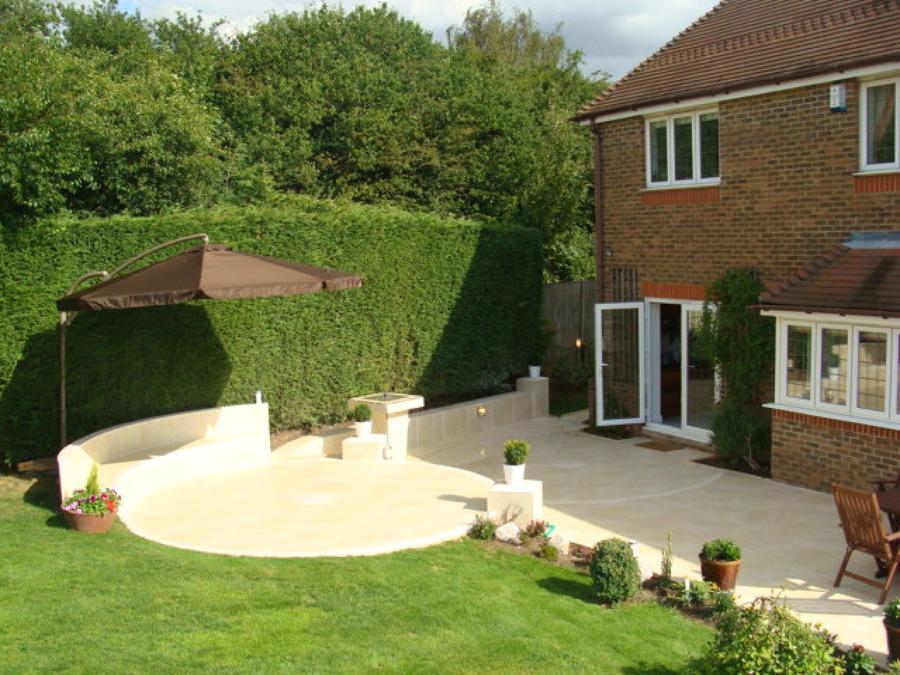 Sometimes front yards don't have to consist of the typical items and remain only as a representation of the house but a place where you can relax, organize family gatherings or hang out with friends. This landscaping idea of a front yard with patio allows all of that, only if you have space that's large enough to be arranged in a particular manner. Adding a sitting place and a large sun umbrella will turn the place into the perfect place for hanging out and having fun.
36. Low-growing Varieties of Flowers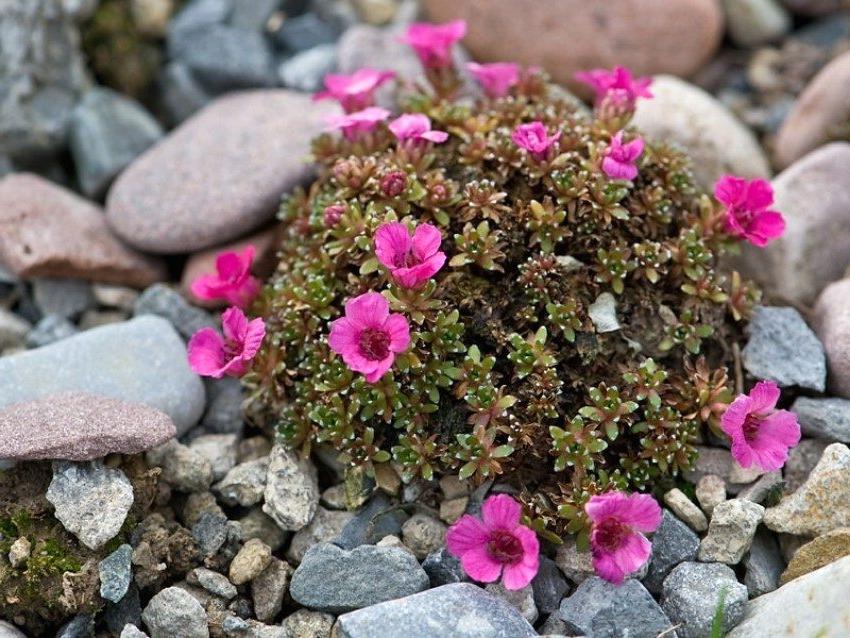 The low-growing flowers are probably the most cut thing ever! Their captivating crawling appearance can embellish every front yard, only if you pick the right color that matches or goes in contrast to the other items and details of the yard. However, after choosing varieties of flowers and planting them, make sure you surround them with some decorative stones that will give the 'crawlers' a striking appearance.
37. Magical Front Yard with Landscape Lighting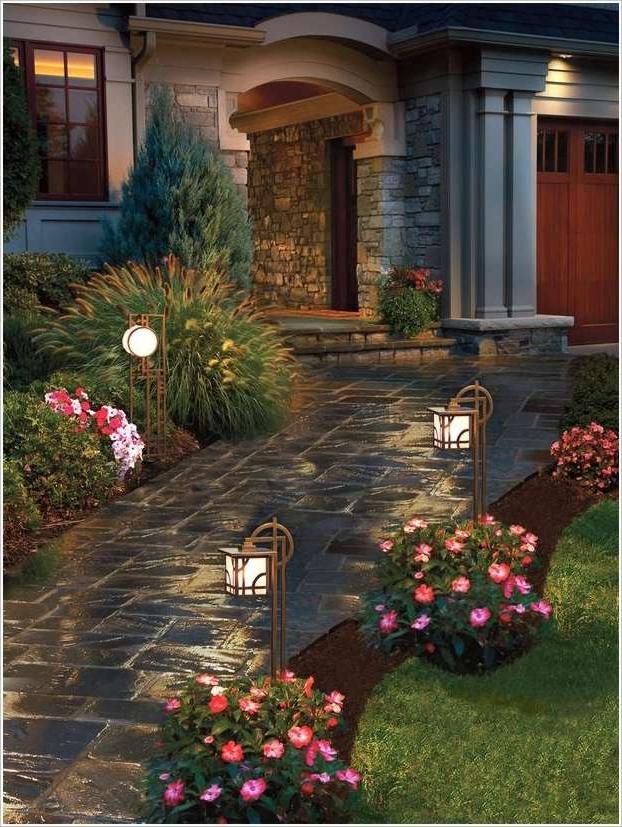 A simple yet magical front yard that's perfectly clean and arranged will match every house and leave an impression. However, owning a front yard like this one needs maintenance. The grass, the flower pots that show you the way and the perfect lighting are what makes this landscaping perfect for those who wish to turn their yard into something more sophisticated and classy.
38. Mixed Orders of Flowers and Fence Decoration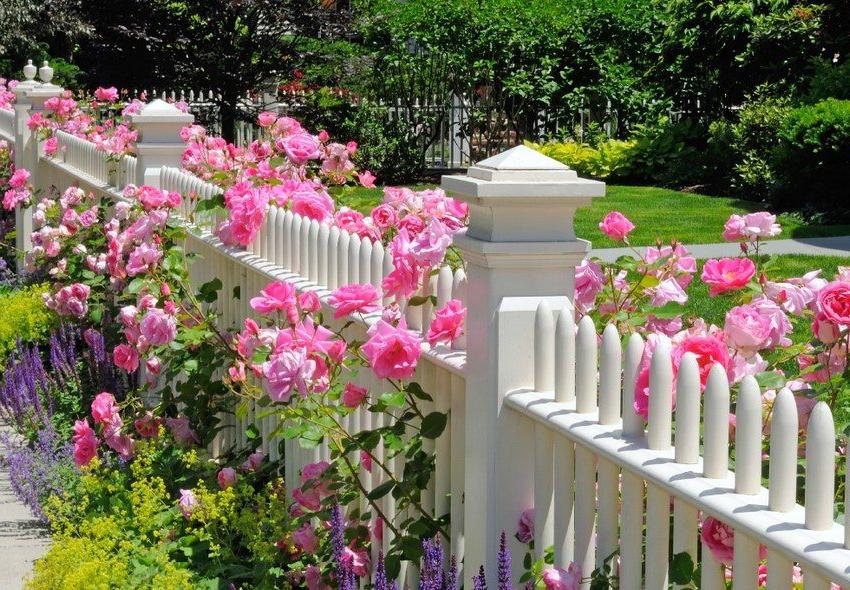 Owning a front yard with a fence like the one decorated with mixed orders of flowers will definitely make you feel like walking into the woods every time you walk into your yard. Ever dreamed of the perfect colorful fence? Stop dreaming because your dream just came true – pick some of your favorite flowers and plant them near your fence. The result at the end will be magnificent and will definitely embellish your front yard in a simple yet unique manner.
39. Modern Front Lawn with Wood Fencing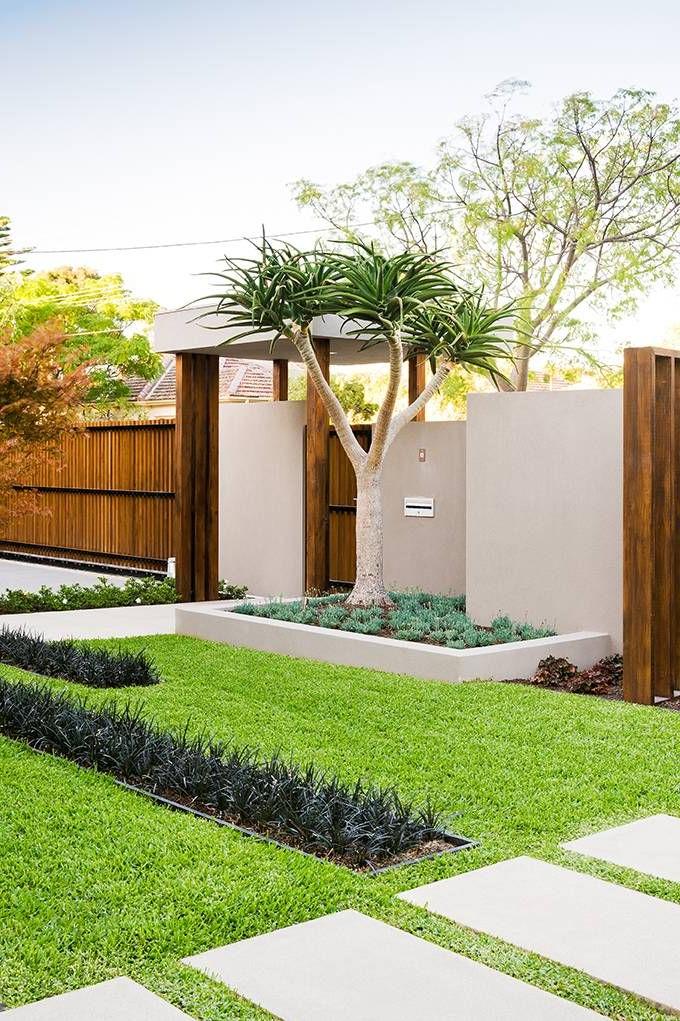 Wood Fencing became really popular lately due to the large selection of styles and designs. However, people usually chose to install this kind of wooden fences because of the privacy they can provide. Although the front yard is open in many cases, some people like to keep their yard closed and enjoy out of the public eye, especially if they own a large yard arranged for relaxing, like the particular one on the photo. If you wish to do the same, just 'steal' this lovely idea and decorate your front yard in a modern manner. We leave the rest of the decoration behind the wooden fences to you – you can plant some trees, grass, flowers or let your imagination help you create something more unique and unordinary.
40. Modern Front Yard Landscaping Idea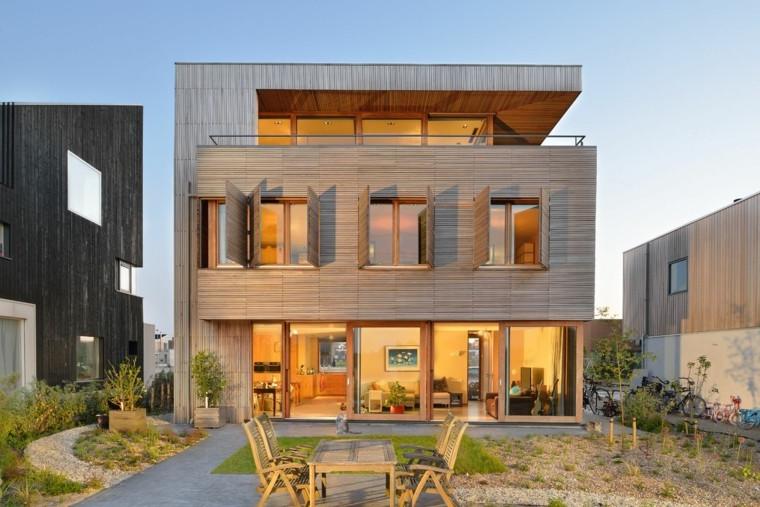 Another modern landscaping idea for decorating a larger front yard that seems more like a patio. However, a larger space like this can be organized and decorated in many different ways, aside from the fact that many people decide to leave their large front yard lonely and unorganized. Anyway, the particular idea we're presenting on the photo includes a wooden table and wooden chairs that match the entire house design and style. Although space seems empty, imagine the entire free area planted with grass, low-growing and giant flowers and a small fountain nearby the table – outstanding and magical! Don't hesitate on stealing this idea and turn your large space into your new favorite relaxing spot.
41. Old Vintage Bike Painted in Your Favorite Color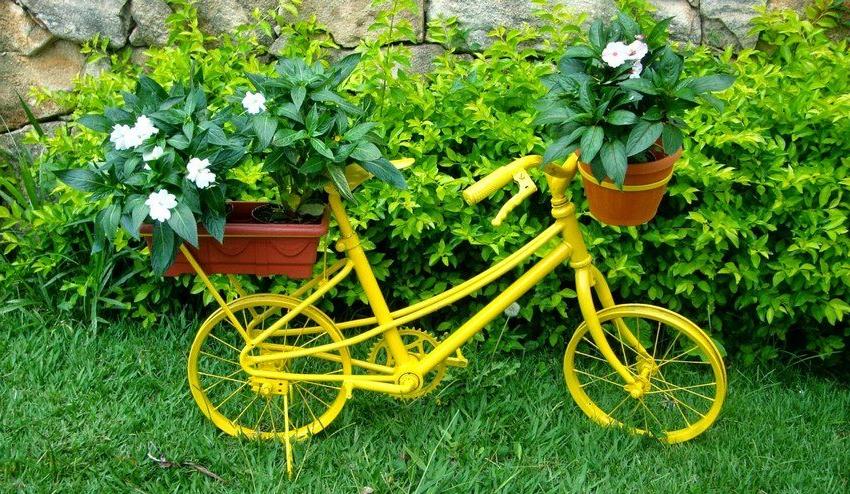 Do you own an old vintage bike you were willing to throw away? Stop!  We've come up with the creative idea into turning your old bike into a planter in your favorite color. Just paint the bike in your favorite color or some bright one and fill up its front and back baskets with your favorite flowers. You'll get a vintage ornament that will embellish your front yard with its harmful and appealing appearance.
42. Outstanding Front Yard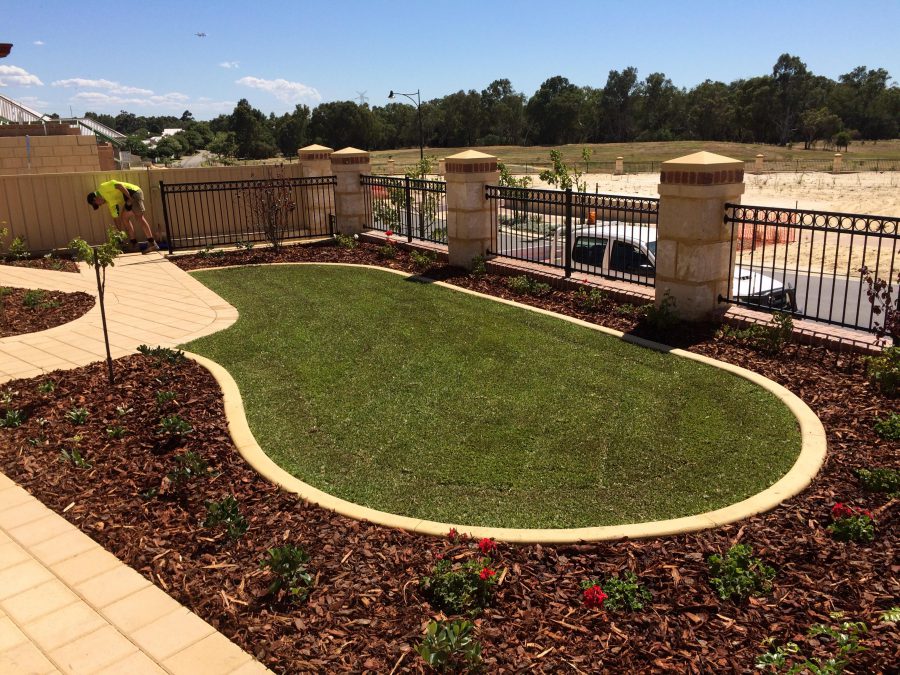 'Outstanding' is definitely the right word to describe this beautiful front yard because it's really something special that's perfect for a big house. Its striking appearance will make every passerby turn his head and admire your front yard if you decide to decorate and arrange your yard by using this idea. You'll have plenty of space for cultivating your small garden, plants, flowers and also put a table in the center of the lawn where you can relax and enjoy the sunny days. Turning that lawn into a swimming pool is also a good idea you can use if you want to create something even more extraordinary and appealing.
43. Pallet Front Yard Landscaping Idea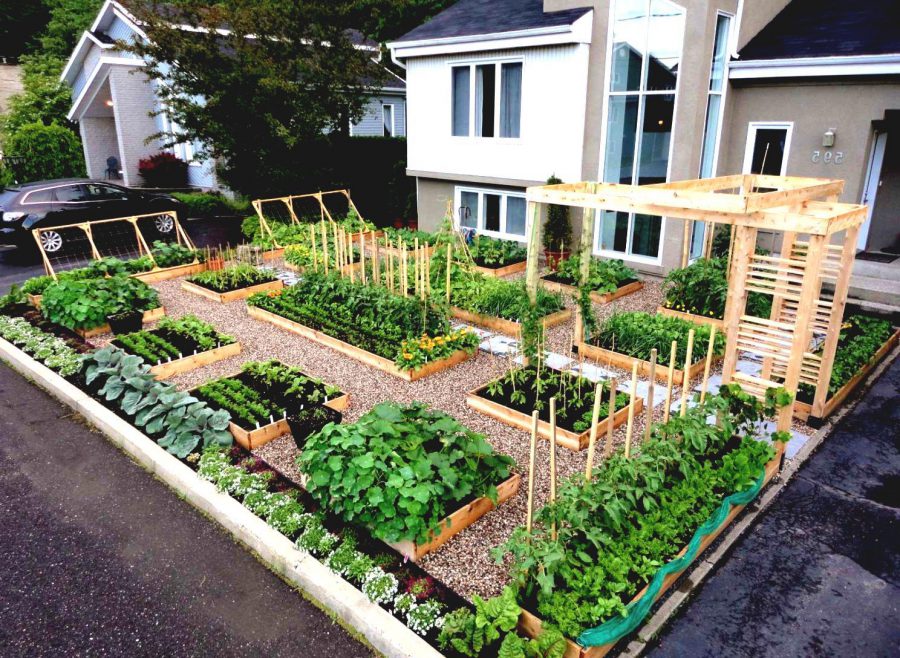 A front yard like this one is perfect for those who want to cultivate vegetables, fruits or some plants in their home. A pallet with different kind of plants, flowers, vegetables, and fruits will not only provide you food but also embellish your space in a unique and practical manner. However, if you chose this landscaping idea, be careful with your pallet and consider protecting it with a wooden fence in future.
44. Plasticizers as a Substitute for Cement Figures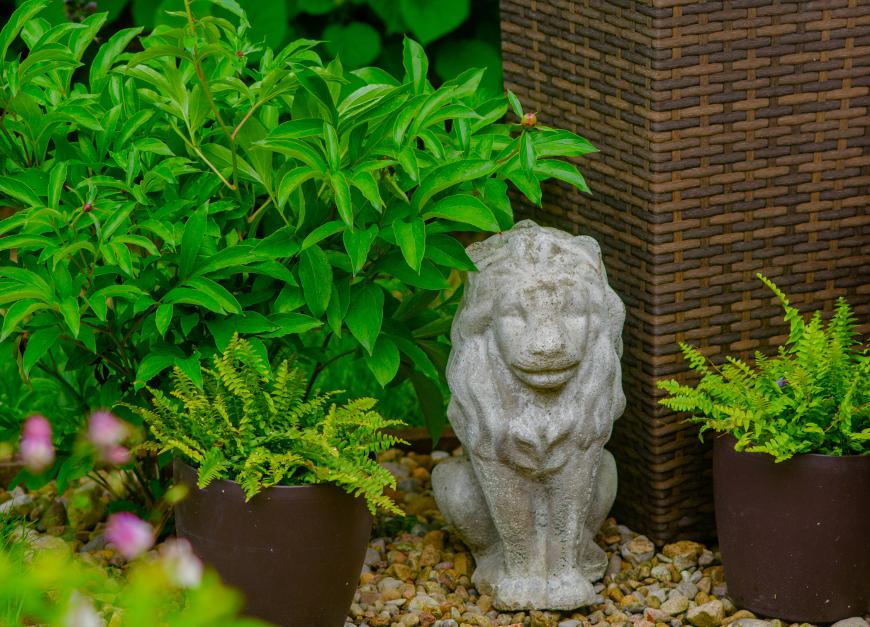 If you wish to decorate your front yard with something beautiful and elegant but stay on a budget, try using the plasticizers that became a popular substitution for cement figures recently. Although many believe that the difference is obvious, once you place the figures in your front yard, you'll see that it's not. Embellish your space in a unique manner and keep the money in your pocket for adding some other decorations and ornaments, such as dwarfs, fountains or something else that meets your taste.
45. Pretty Front Yard Filled with Flowers and Grass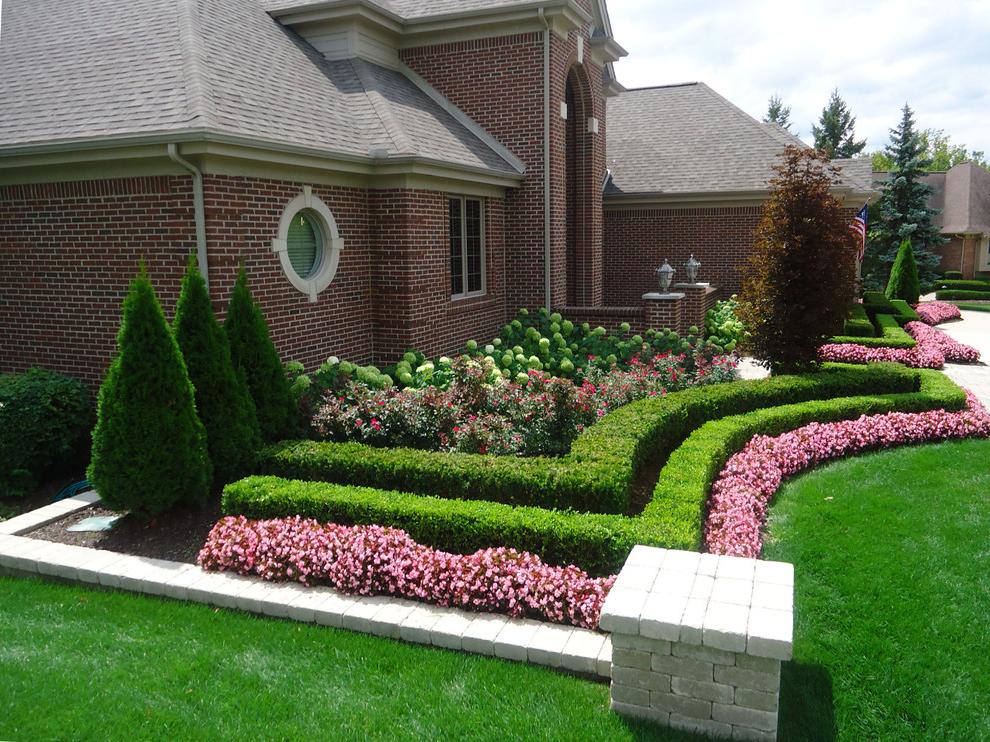 Who doesn't want the pretty front yard filled with flowers in their favorite color and perfectly maintained grass? If you want it too, just take a look at our landscaping idea and start decorating your yard in your own way. Plant some flowers and grass, however, don't forget to maintain them in order to keep your new pretty appearance of your front yard and make your neighbors envy your decoration and devotion.
46. Small Front Yard with Creative and Simple Decoration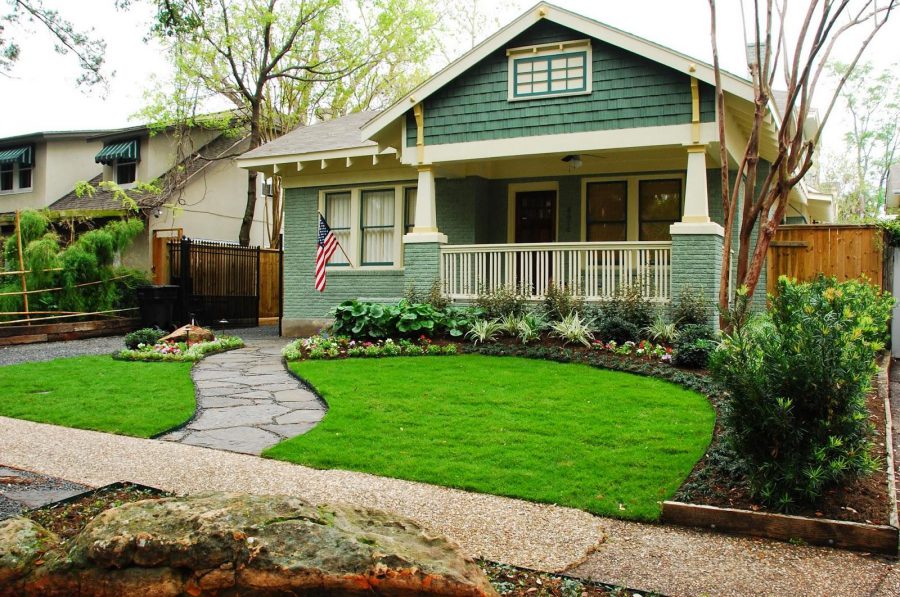 Another cute grassy front yard arranged with a simple and creative decoration that will embellish your house and leave a striking appearance. Don't hesitate on decorating your yard in this simple yet unique manner and keep your lawn green and well-maintained. The cobblestones will only add a more sophisticated look to your yard expressing your creativity and simple lifestyle.
47. Small Garden with Wooden Platform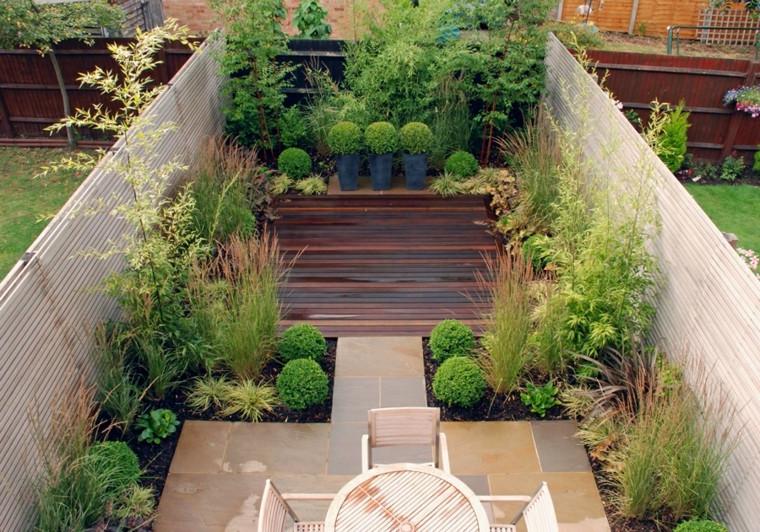 If you own a smaller house and have a small yard turned into a garden, why not add the wooden platform and give your yard a more sophisticated and warm look? This way you can always place a wooden table and chairs and relax in your tiny and beautiful yard. The high wooden fences will keep your neighbors and passersby intrigued and you can enjoy your privacy without someone bothering you or constantly observing your activities in the garden.
48. Small Modern Landscaping Idea for Closed Front Yard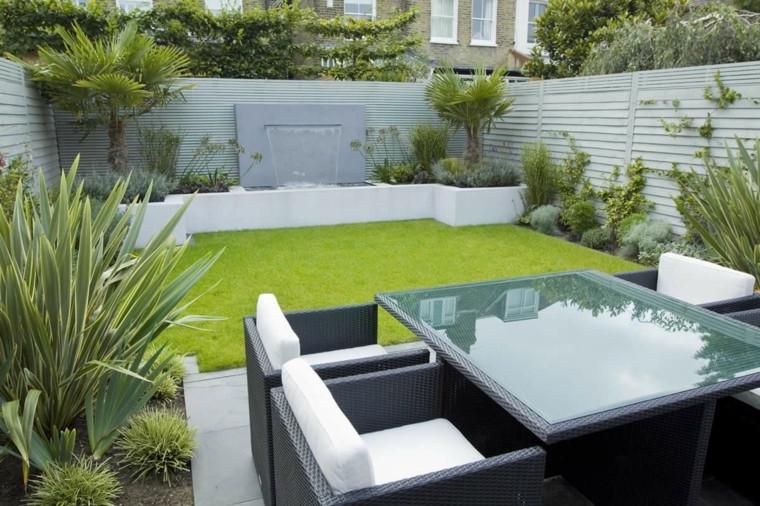 Another closed front yard with modern tall fences that provide privacy. However, these fences will suit a larger yard and turn it into a private relaxing spot decorated with comfortable chairs and table matching the entire space. Surrounded by trees and plants, this type of front yard is the perfect place where you can organize a family gathering or invite some friends over and relax.
49. Smooth Inexpensive Landscaping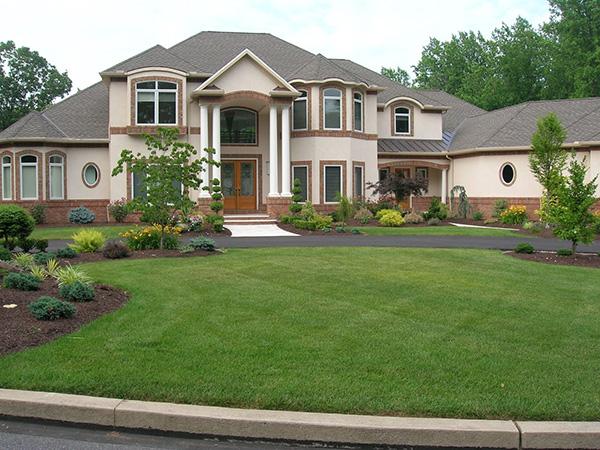 A large smooth landscaping for your front yard that will cost you little. You can have it by only planting grass and turn it into a lawn where you can place your table, chairs and big sun umbrella and enjoy the sunny days. Planting some flowers and small trees will only embellish the space and keep the natural warm tone of your house. Don't hesitate on choosing this simple and inexpensive landscaping idea and turn your yard into the perfect relaxing spot with a striking appearance.
50. Unique Front Yard decorated with Chessboard and Chess Figures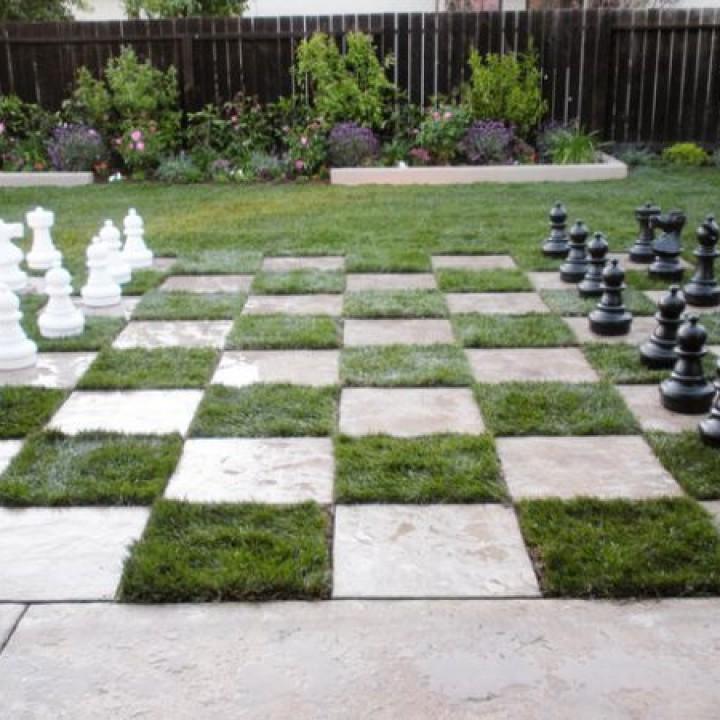 Unusual and unique, this yard decorated with chessboard and chess figures will definitely draw your attention. If you want something other than the usual landscaping, try decorating your front yard like this by only planting the grass and cutting it in the way of the chessboard table. After, add the plastic figures and enjoy your new yard decorate in a unique manner that will definitely impress the passersby and keep your neighbors wondered by your creativity.
51. Unused Wood Turned Into a Creative Pot for Your Favorite Flower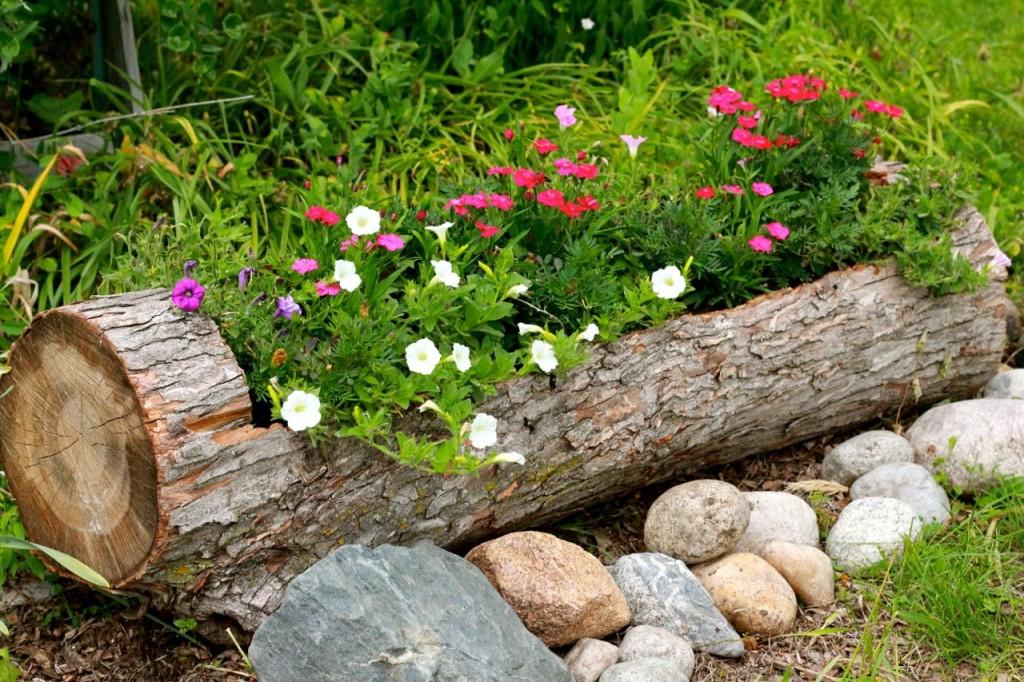 Creative DIY flower pots are one of the most common decorations for every yard, however, not all of the people come up with something unique and out of the ordinary cans turned into planters. If you were seeking for the most beautiful and unique flowerpot, this is the one – an unused tree turned into a creative flowerpot where you can plant your favorite flowers and plants. Don't hesitate on choosing this type of decoration for your front yard and 'steal' this idea right now. We're sure you won't regret your choice once you see the outcome.
52. Urban Front Yard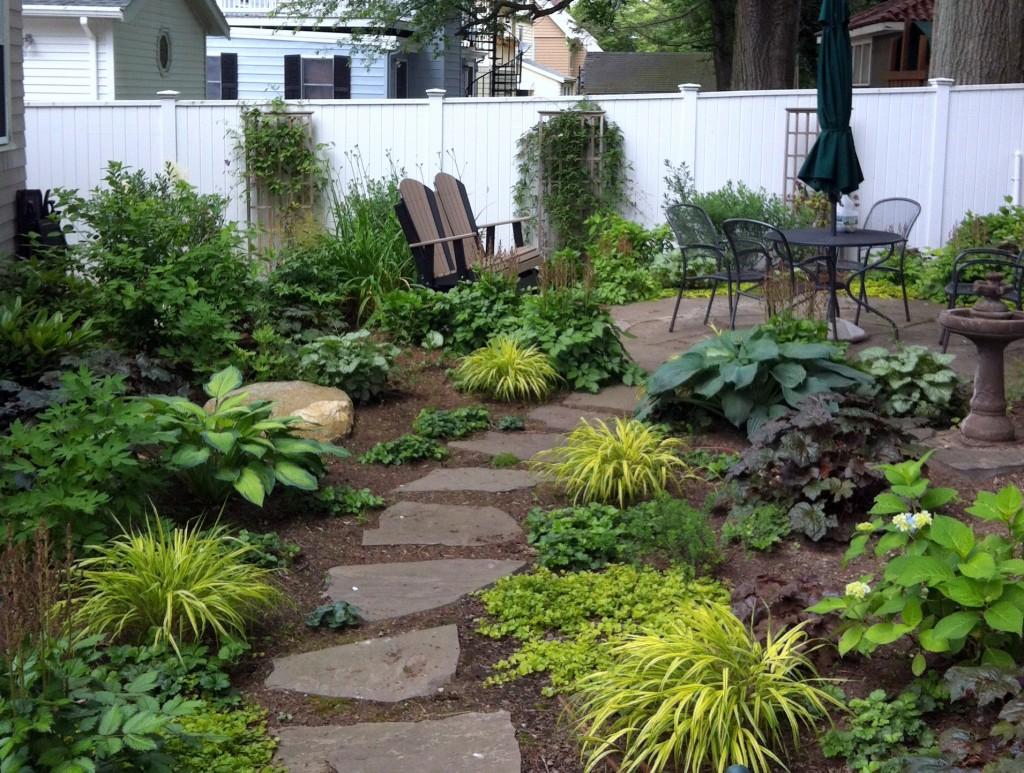 This chilling urban ground is just one more of our creative ideas on how to create an appealing front yard where you can spend some quality time with your family and friends. A yard like this one is easy to create. You just have to plant low-growing plants and built a simple stone path that will link your house entrance with your lovely yard. Add a table, chairs and big sun umbrella in the center of the yard and spend your spare time, enjoying the sun.You can also consider enclosing your space with a modern fence that matches the entire space and saves your privacy.
53. Veg Garden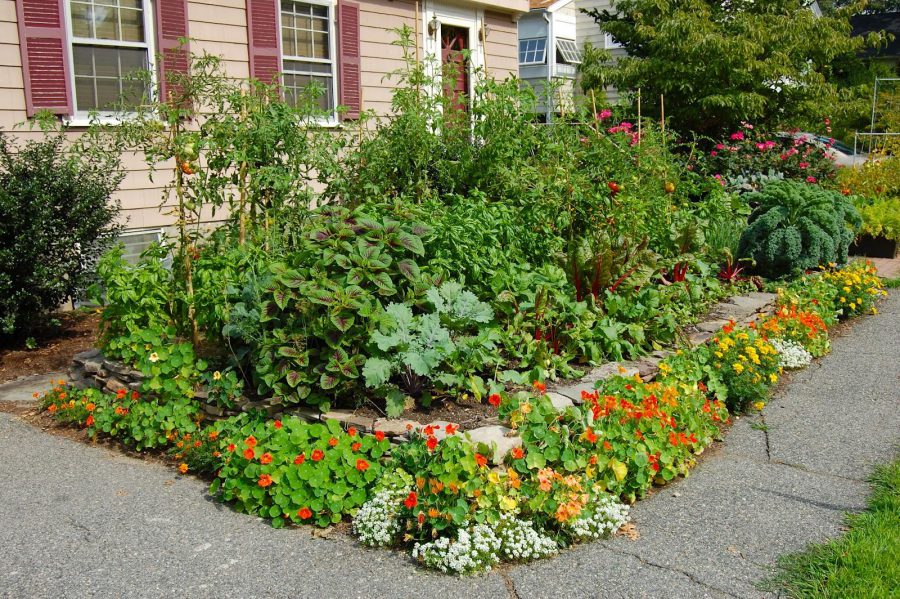 Definitely not your typical garden or landscaping idea for your front yard – veg garden. For those of you who love vegetables and want to cultivate them alone, this is the perfect idea on how to turn your usual garden or yard into something more useful and practical. Just pick a wide spot where you can plant your veggies and enclose the area with decorative stones and low-growing flowers resembling as guardian to your new veg garden you'll absolutely adore. Although it needs to be maintained more often, having a garden like this at home is always a good idea.
54. Adorable Wooden Cart Planter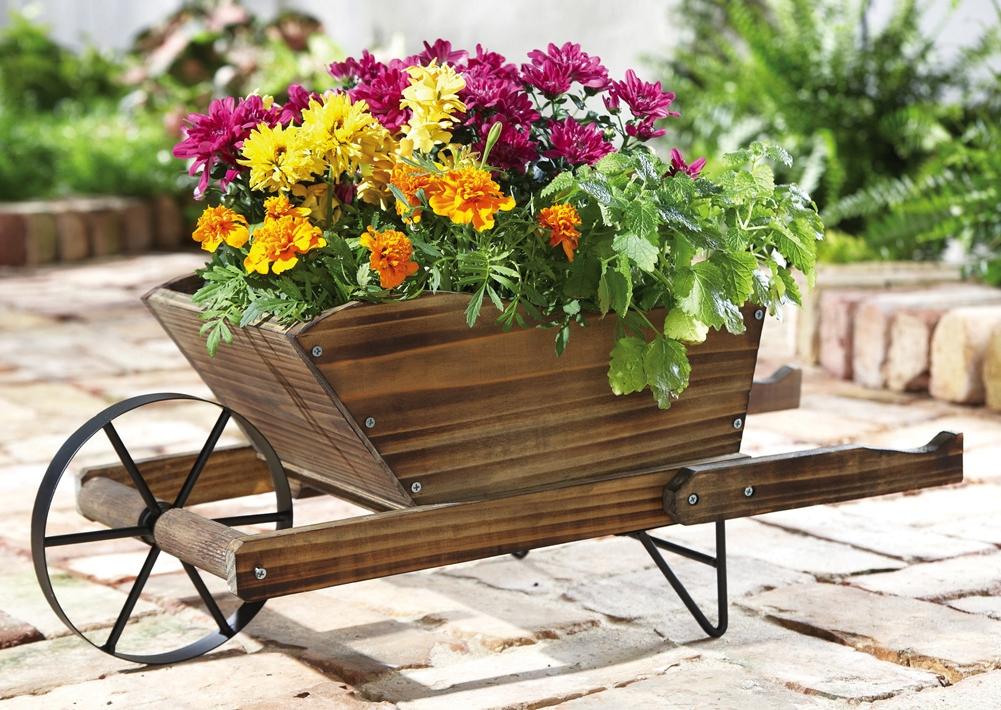 We saved the best for last or better said, the most cut for last – a tiny wooden cart that can serve you as a planter. Adorable at first sight, the cart can be a very useful decoration in your front yard. You can plant your favorite flowers inside and place it near a fountain or at some other available place near your home entrance. One of these will embellish your space but a few of them will definitely turn it into a ferry garden or front yard and impress the passersby. Don't hesitate on choosing this idea and combine it with some of the previous we suggested. We promise you won't be disappointed with the outcome. No matter which one you 'steal', you won't regret the choice because each of one them is unique in its own manner.