11. Abstract And Colorful Group Of Framed Paintings For The Walls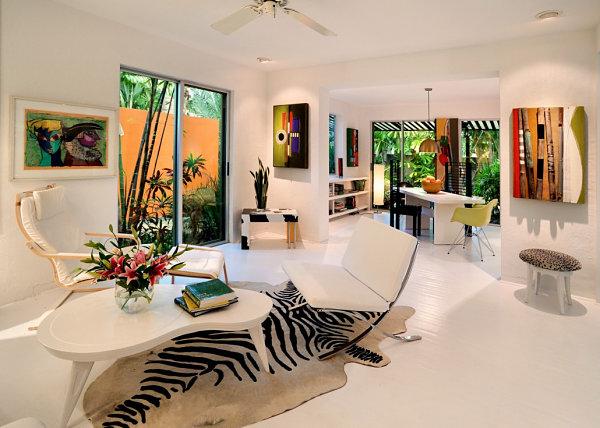 This room looks almost like an art galley. The modern art decor room features pieces of art in almost all of the walls. These paintings have a wide range of sizes, colors and styles. They all share one characteristic, though: all paintings use bold, bright, strong colors; and that is the way to go, since the whole room is white, from top to bottom, as well as some of the furniture. The splashes of color provided by the paintings, and also on flowers and other particular elements, give a lot of life to an otherwise too serious room.
12. Fun And Colorful Small Cubes To Fill A Wall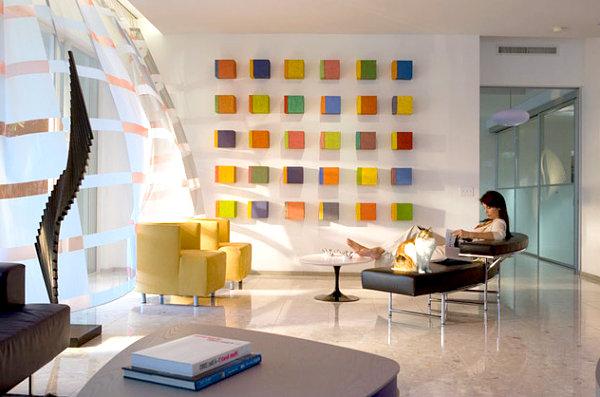 This living room has a very retro style. From the floors to the furniture, passing for the sculpture, all in this room is vintage. The wall does not fall behind and presents 30 small cubes in different colors, filling all the wall. The color scheme stays more on the warm colors, each cube has 2 colors with shades such as yellow, pink, orange and more. This art wall is very simple and it can even be done as a DIY job
13. Colors, Grey Scale And Black & White For The To Enhance Spaces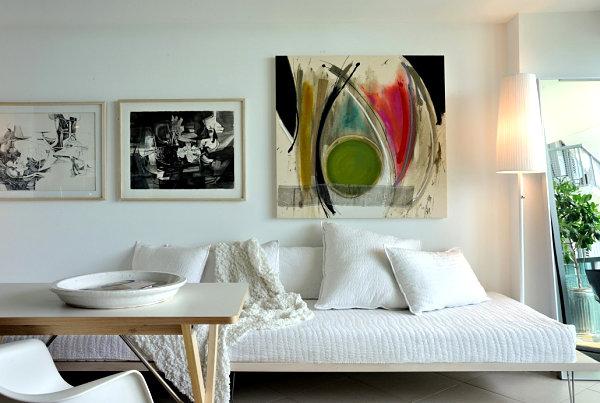 When creating your own wall art ideas, consider combining different types of art, such as photography with paintings, and colors with gray scale or black and white. In this wall you can see all these suggestions and how they work great together, regardless the difference on styles and colors.
14. Colors And Creative Pastel Tones Wall Oil Painting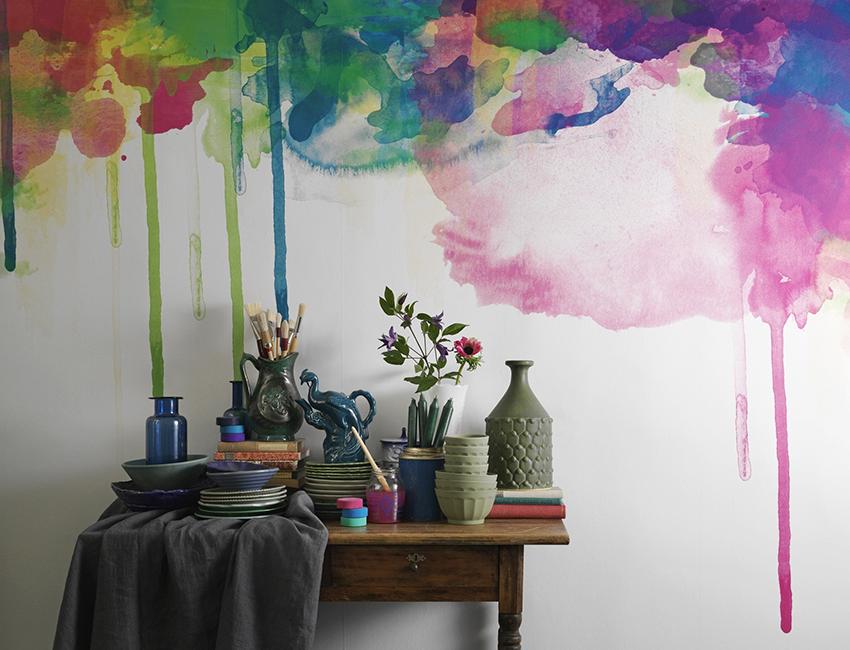 If you are an art enthusiast you will sure love this proposal where the splashes of pastel tones that drains over the wall in pink, blue and green. The combination of colors and their texture makes this style perfect for an inspirational room such as the kitchen.
15. Art Work Easy To Do By Yourself On Any Wall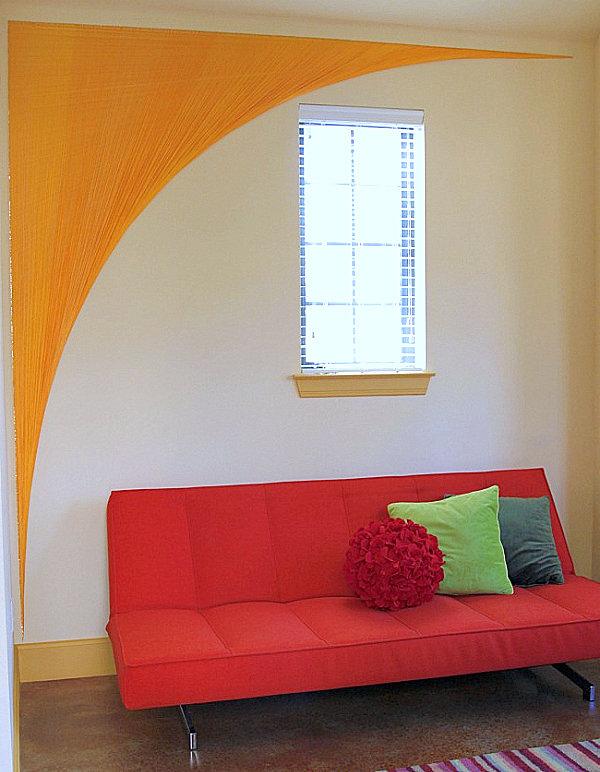 To create original, interesting art work on your walls, it is not necessary to get many things. As a matter of fact, a bucket of paint can do the trick. Like I this living room, where a half of an arch was designed and then painted on the wall in a warm bright orange color. The paint is texturized, which increases the beauty of the piece, and creates layers of art in the wall. This style is the perfect match for the whole decoration. You can see how it goes really well with the red couch and the pillows.
16. Make Your Own Paintings By Yourself To Beautify Your Rooms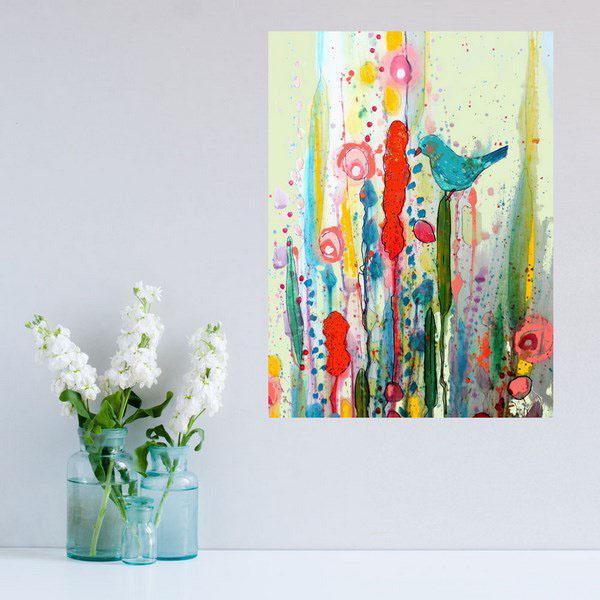 A piece or cardboard, a few brushes and paints, and a little bit of artistic talent is all you will need to make an art piece like this one, that really brings the space up, an complements the flower vase. A little trick: you can first draw in the canvas with a pencil and then, paint it with the brushes. In this way, will be sure that the silhouette will be right and applying the colors will be easier.
17. DIY Art Work With A Wicker Rope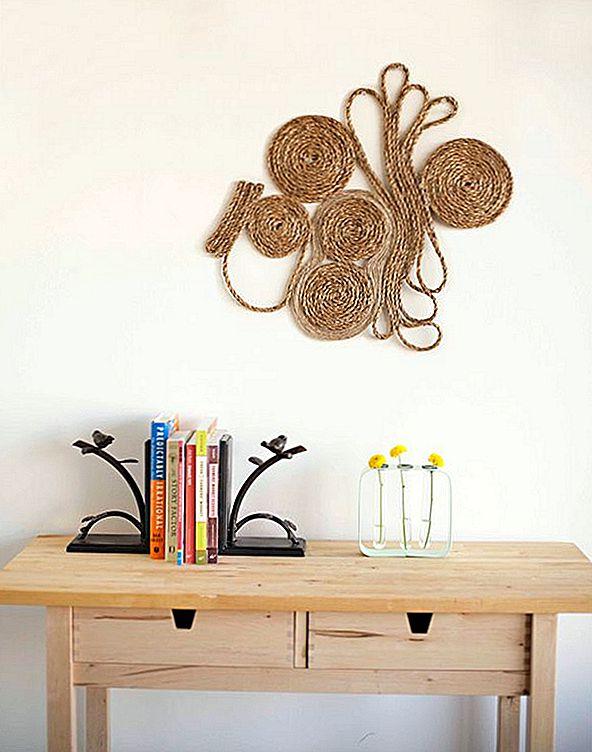 With just a few yards of rope, wicker string, or many other different types of fabrics, you can create a magnificent and interesting piece of art like this one: what it is left to each person's interpretation. But the point is that creating art for your walls is easier, and cheaper than what you had thought.
18. Wall Art Ideas You Can Do By Yourself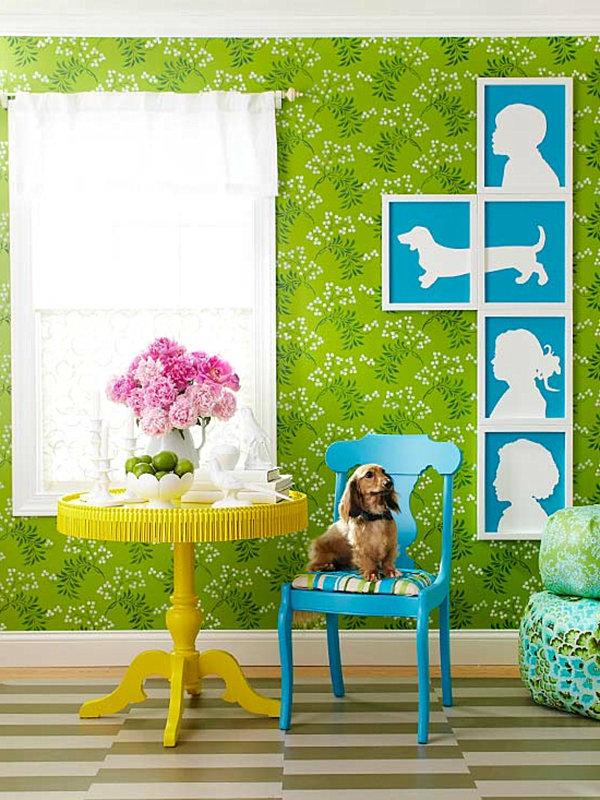 This cute little room is evidently made by people who love dogs, and for whom their pet means the world. The original and bright wallpaper and the cutout photos on the frames –including the fun double sized one to fit the sausage dog- makes this room very original and fun. Note how the wall elements match with other room's aspects such as the floor and the furniture
19. DIY Wall Art Ideas Using Recycled Items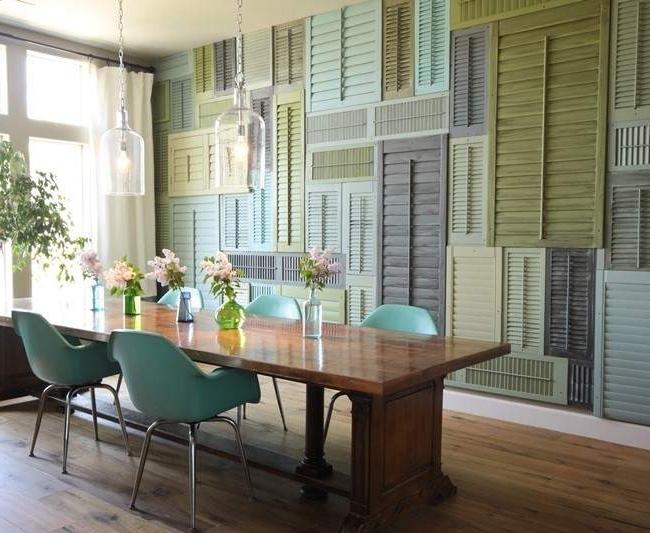 Today, one of the most used trends in decoration and interior design is recycling. Using old things to turn them into something else with just a couple of tweaks, renovating old furniture, and more, are just a few of the many, many ways that you can renovate your home without breaking the bank. In this example, lot of wooden blinds have been recovered from the trash, then cleaned, painted and places carefully on this dinning room's wall using a autumn color scheme with greens and greys, and even soft blues. The sunny room lets all that light in thanks to the large door that is also a picture window. A sample of country style on a little city place.
20. Wall Art Ideas You Can By Your Self Easily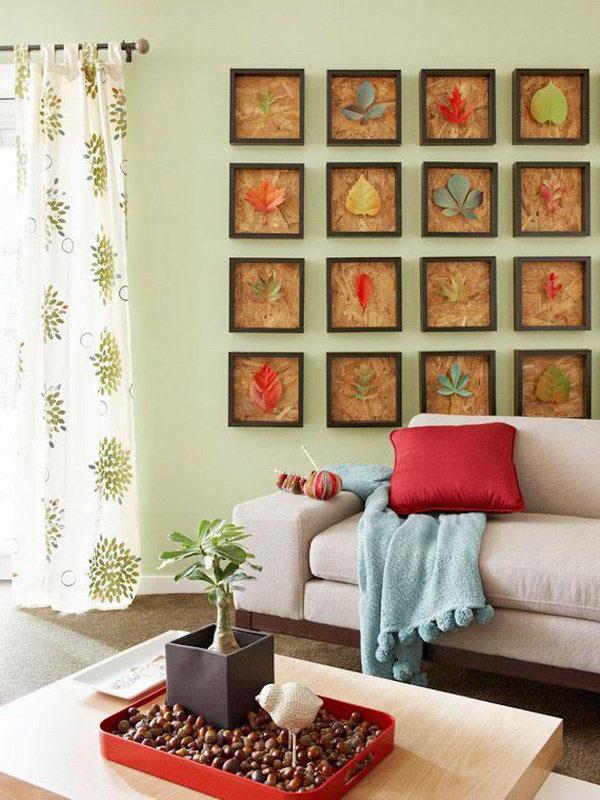 Have a few recycled items and do not know what to do with them? With a few old frames, or buying some for really low prices; cork, and some paper shapes in different colors, you can come up with a theme like this. The cutout leaves shapes have different colors and textures. They are pasted on the pieces of cork, and then the cork is framed. In this example, the wall fits 16 of these works of art, complementing the natural air of the room, which features a plant and window curtains with nature theme. This aspect is very affordable, easy to do and event a point of conversation when you have guests and they ask you about that wall.
More Wall Art Design Ideas On The Next Page…