A simple board with holes and wooden pegs opens up a world of infinite possibilities.
Have you heard about pegboards? It is a vertical perforated board (or with holes) where you can be locate pegs or hangers and that has a lot of practical applications.
Although they seem very simple at first glance, considering that they are only wooden boards with holes in which you can fit short wooden pegs, they are one of the most flexible and adaptable elements you can have in your home. Using the pegs as hangers or as supports for shelves, you can make the combination that best suits your style and your space.
The pegboards are a great and very practical material that have a lot of applications and uses. In addition to help you organizing things in offices, people have started to turn these boards into very practical decorative elements for their homes.
Whether to organize your things, entertain the little ones or improve your fitness, pegboards are the perfect solution. These perforated panels are useful, practical and versatile. We have put together some ideas to inspire you.
20 Pegboard Ideas To Organize And Decorate Your Home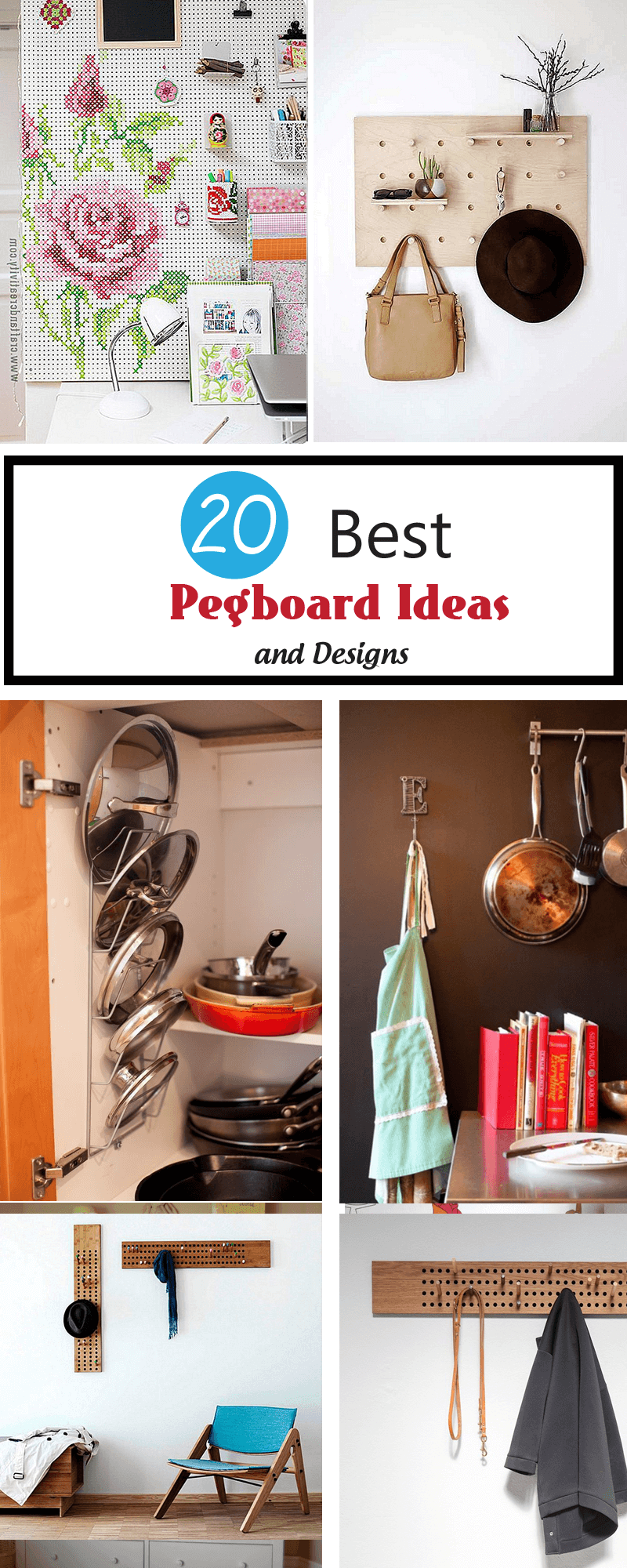 A pegboard is a panel or plank whose main feature is that it is perforated. The size of the holes and panel will vary depending on the use or destination that will be given to the board.
The materials used are a key part of the hooks or pegs for wall shelves. For example:
Wooden sticks: they are very typical in perforated wooden planks, for practicing climbing.
The plastic tubes: they are perfect for Hama beads.
Iron hooks: they are resistant, and perfect for hanging wall tools on the wall.
The main feature of this perforated panel is its versatility, having different functionalities:
Pegboards to Organize: You can have everything in order in the same place and in sight, can you ask for something more in the DIY project? It has your workspace perfectly organized and always ready for you to use it.
Decoration Pegboards: No matter what style you choose, modern, minimalist, Nordic, vintage or retro, the pegboard is fantastically suited to them. Many brands know this, and have these items in their catalog. Get inspired!
Pegboards for Cross fit: This climbing board has become part of this sport, and it is gaining more and more followers.
In addition to this, its materials, prices and designs vary greatly, because each pegboard adapts to the needs for which it was designed. This fact does nothing more than highlight the wide range of possibilities that it offers, a tool as useful as this one. They are an authentic Swiss Army tool for decoration.
Most of the pegboards are built in wood, but they are not the only material used in their construction. We can also find this wide range of construction materials:
Wood
Crystal
Metal
Aluminum
Polyurethane
Methacrylate
Steel
Depending on its use, one or the other will be chosen. The price of pegboards will also vary depending on the material chosen. Obviously lower quality in material, the cheaper the pegboard will be.
Here we show you some examples of how they can be used in different spaces in your home so you can find the one you need:
1. Creative Pegboard Ideas For Your Dream Home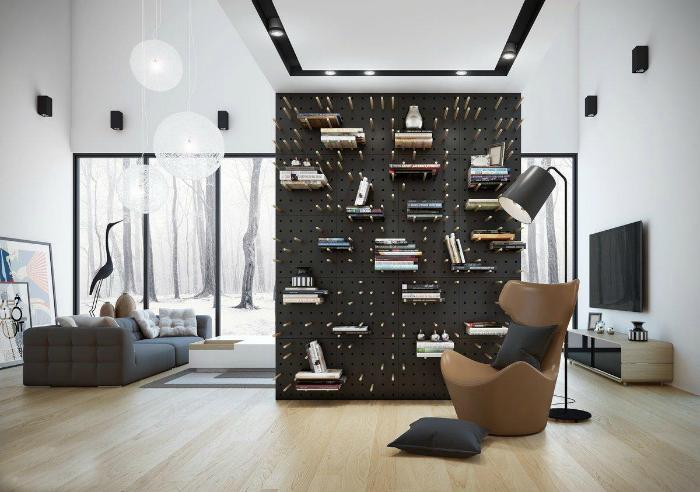 Pegboards are great as organizers: Do you want your tools to hang on the wall, so that they are visible and well organized? The solution is to use one of these versatile boards that will allow you to keep everything organized without losing style in your decoration.
2. Pegboards  Ideas To Organize And Decorate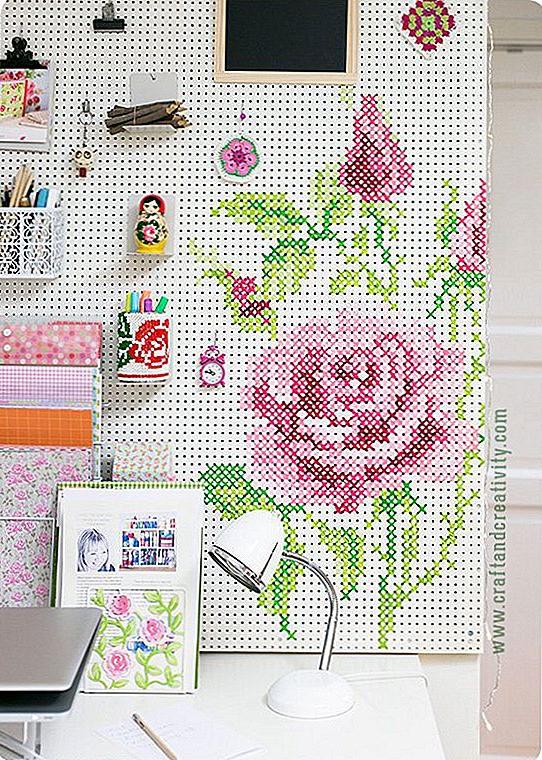 Pegboards have multiple functions, among which you can even turn them into a toy: do you know the Hama Beads? With them you will build and design thousands of things, as in this model that combines order and fun and that you can change at your whim.
3.Pegboards Ideas For Your Craft Rooms To Get Ideas Easier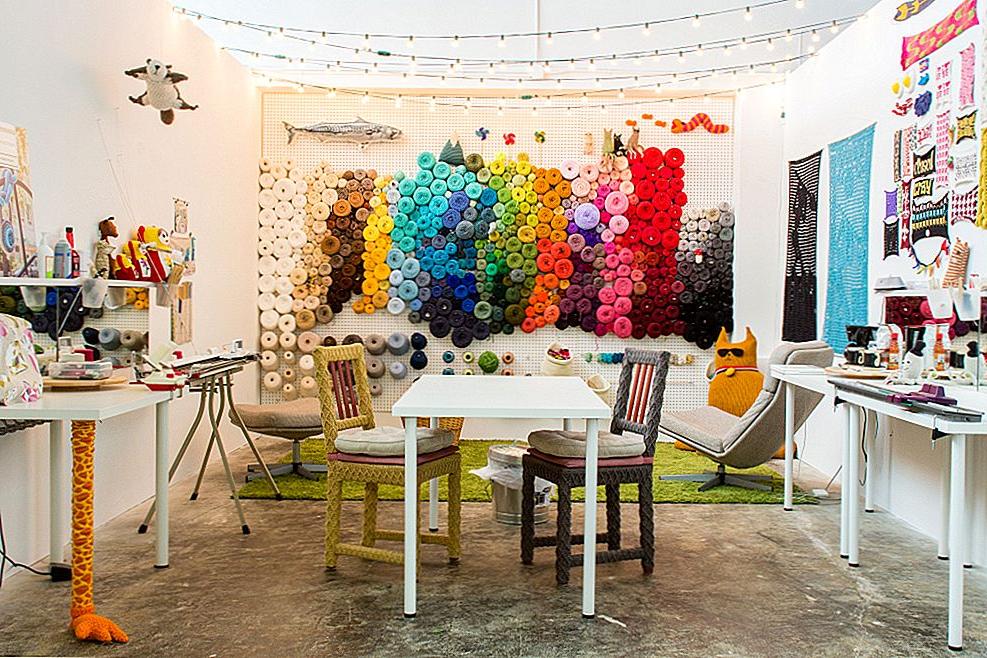 Pegboards are ideal for organizing a workshop, as in this example where this pegboard greatly helps in locating work materials for creation. A pegboard allows you to quickly look at things so that creativity flows easily.
4. Pegboard Ideas For Your DIY Projects In The Garage

Pegboards are perfect for any area of the home. Here you can see how they are an ideal help to organize the working materials of a garage. so you can have easy access to any work tool, paints, varnishes and more.
5. Pegboards That You Can DIY For Cabinets In The Kitchen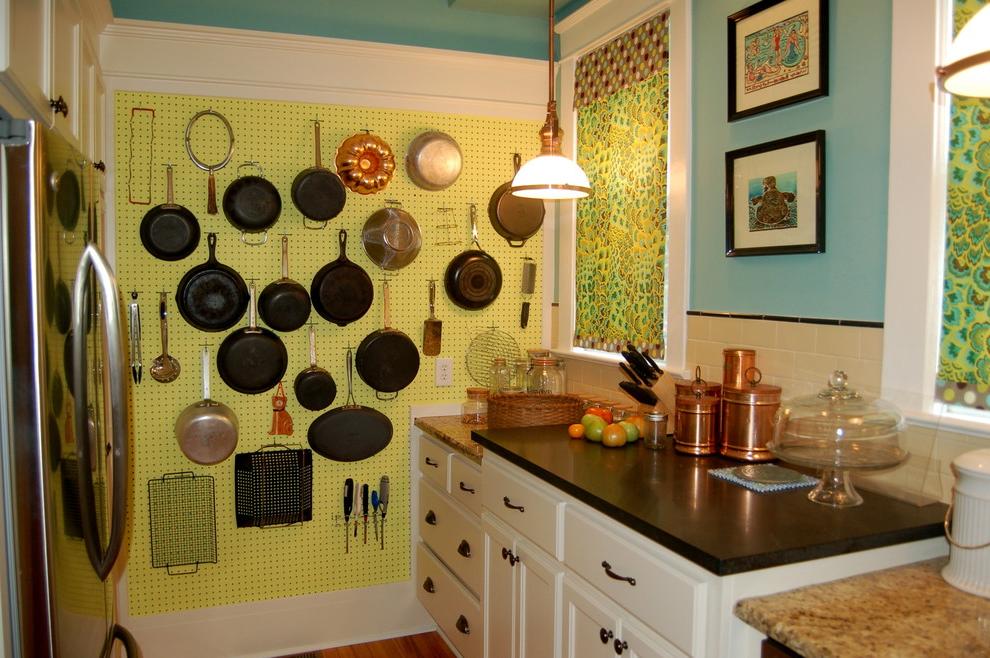 If you have a kitchen with little space, the pegboards are ideal for organizing some items such as pots and pans. They will save you tons of space allowing you to move around your kitchen more easily.
6. Do Your Own Entry Way Rack With A Pegboard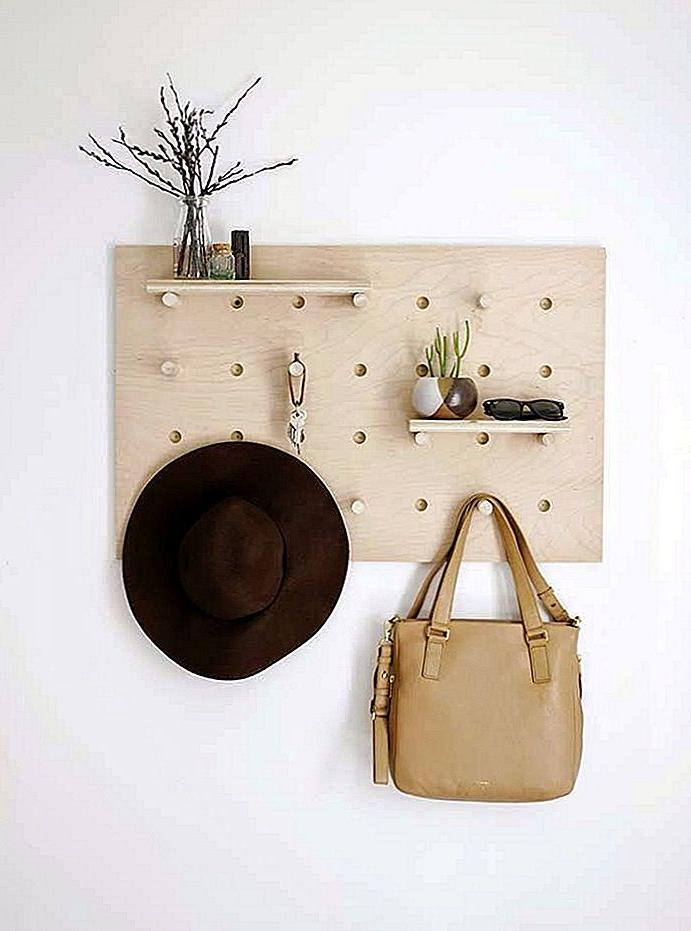 Pegboards are good for organizing, but they are also a decorative element: do you want a nice organizer for your room or home entryway? With this pegboard, you will be able to hang your coat, your hat, your keys and more to have them in the same place.
7. A Pegboard Holder For Kitchen Utensils That You Can Craft Yourself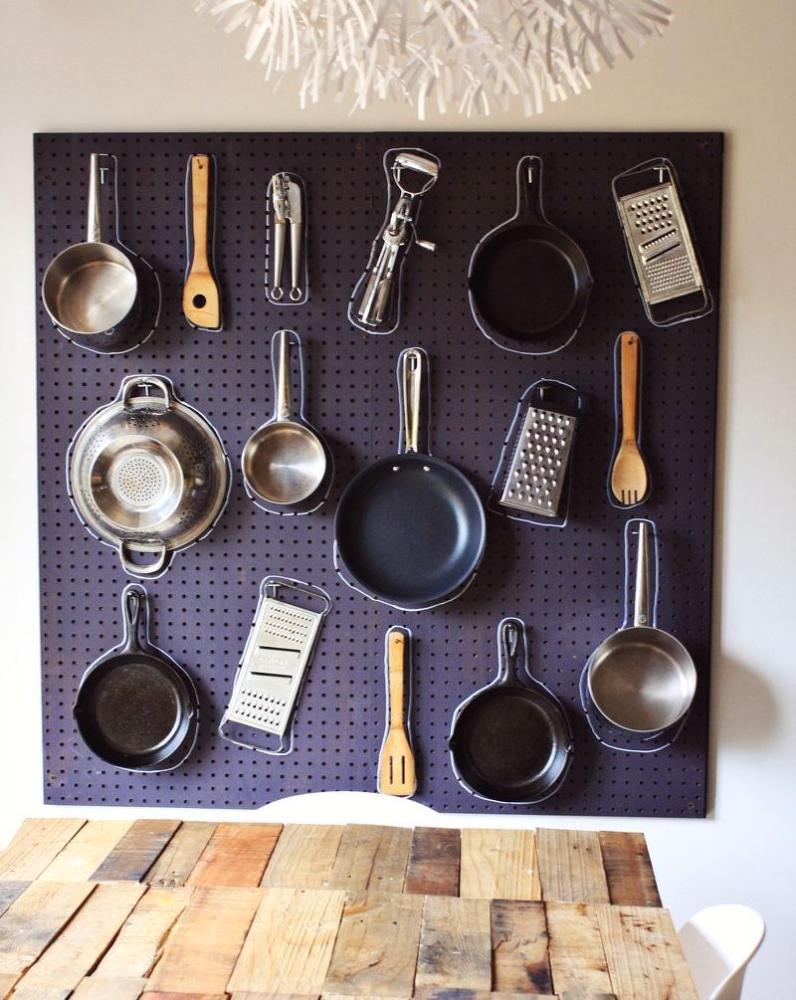 A pegboard is the ideal ally, indispensable for any small kitchen. See how in this case it is used to perfectly organize some kitchen implements. It even has the markings so you know what goes where without any difficulty.
8. Pegboard Organizer For Your Kitchen To Make The Most Of Any Space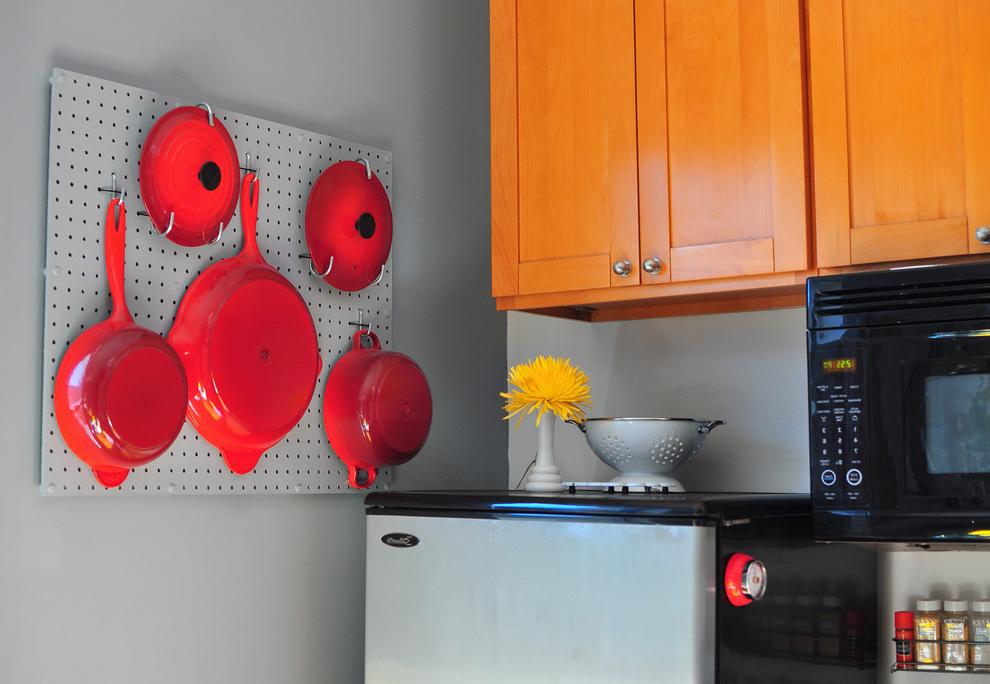 Another wonderful example of how pegboards help in the kitchen. This is small and its colors adapt to the decoration of the kitchen. As you can see, they are so versatile in terms of sizes and colors, that you can literally put them anywhere.
9. Make Space With Your Pegboards Anywhere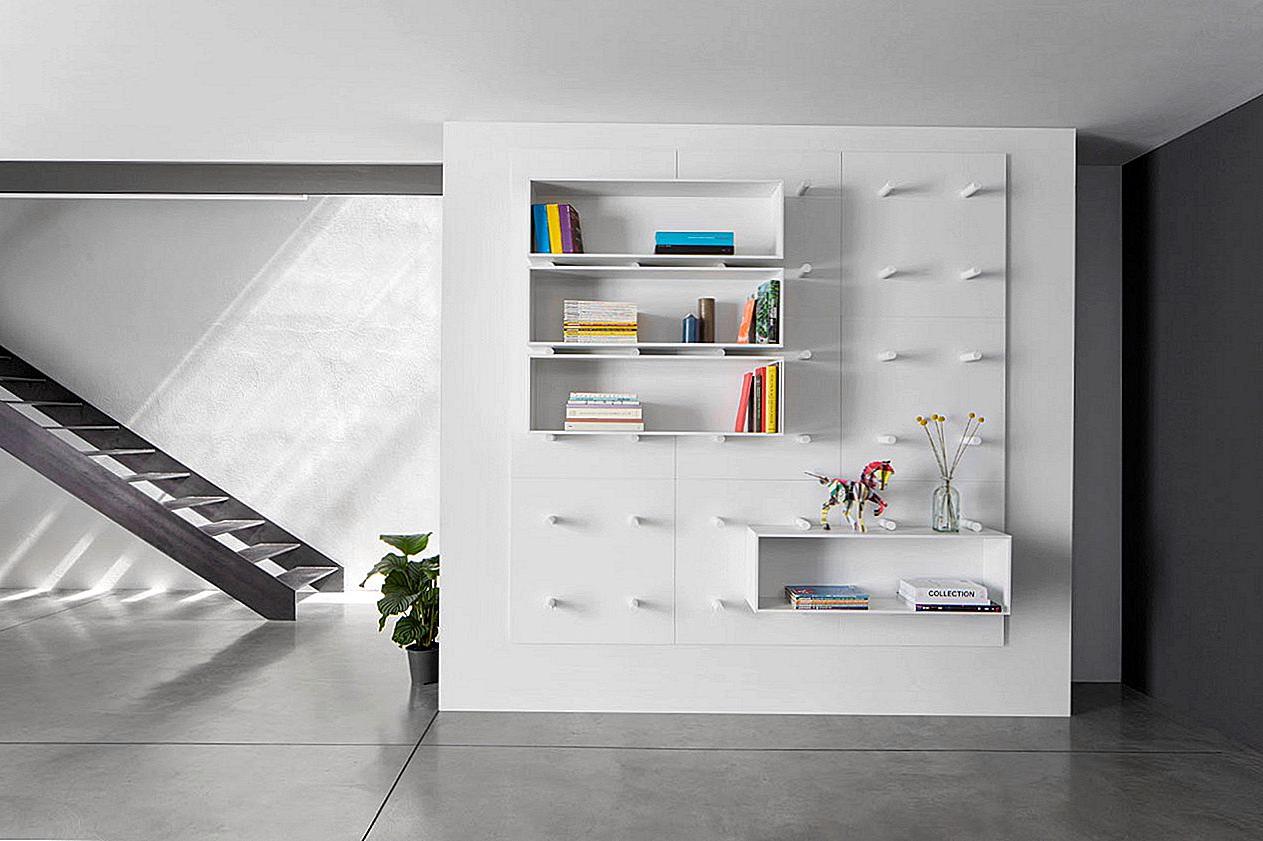 What about this jumbo size pegboard? Nobody would notice that this beautiful shelf is placed there thanks to the presence of this now essential element of decoration and order. With a pegboard you can not only hang things directly on it, but you can also place shelves like these that you can then use to place your books and more.
10. A Pegboard Organizer As A Tool To Improve Space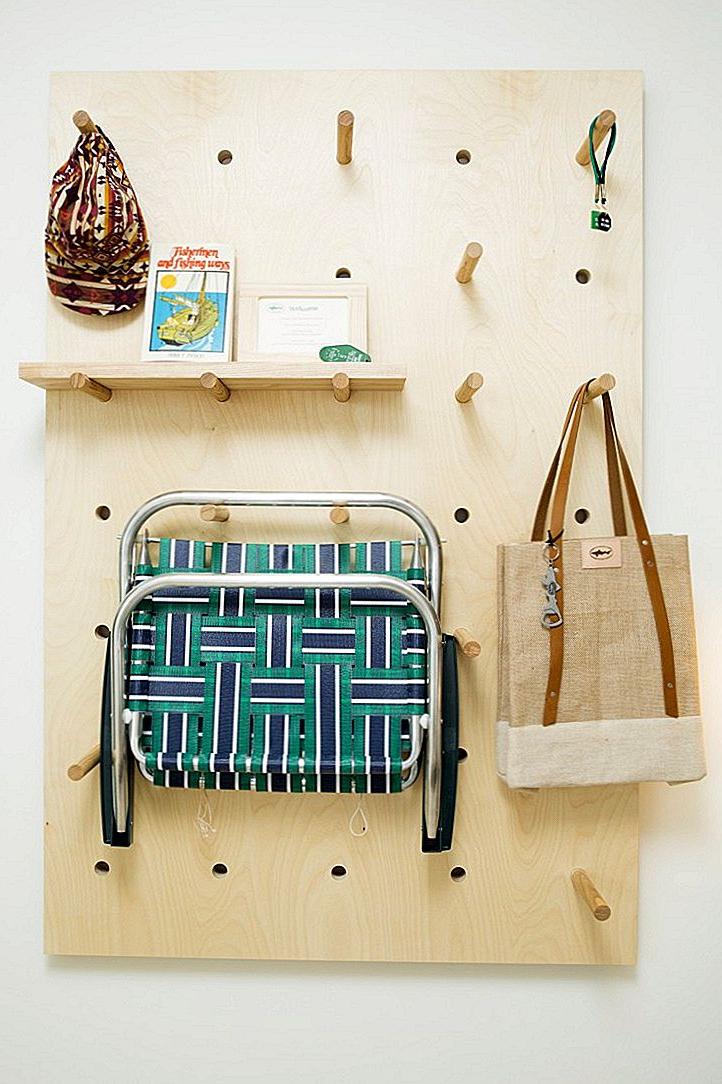 Depending on the size of the pegs and holes on your pegboard, you can do many things with them. You can even hang very large things, like this folding chair that you can easily locate next to the pool or at the garden.
11. DIY Pegboard Ideas For Sitting Area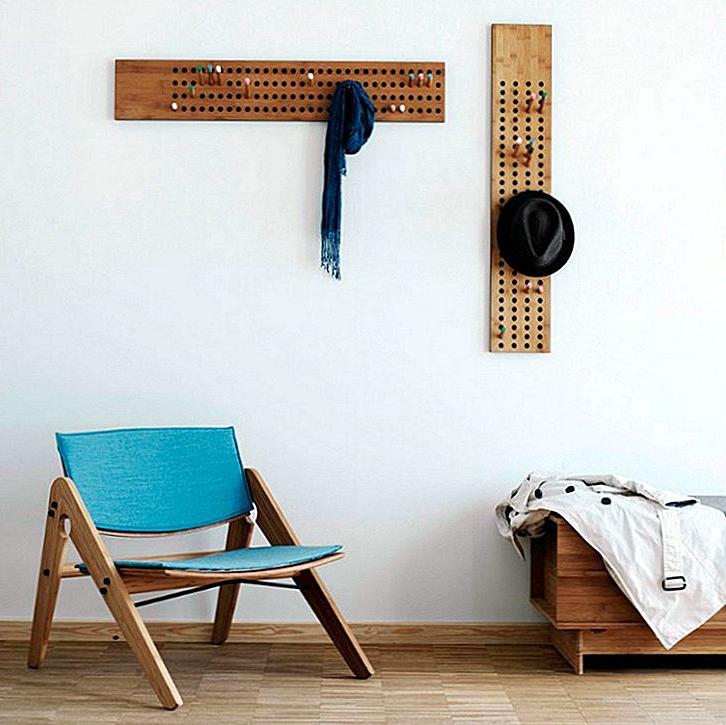 The pegboards adapt to any decoration, thanks to its variety of colors and styles. These are made of wood to match the decoration and style where this material is predominant.
12. Pegboards To Be Used As A Maxi Rack In Walls To Make The Best Of The Space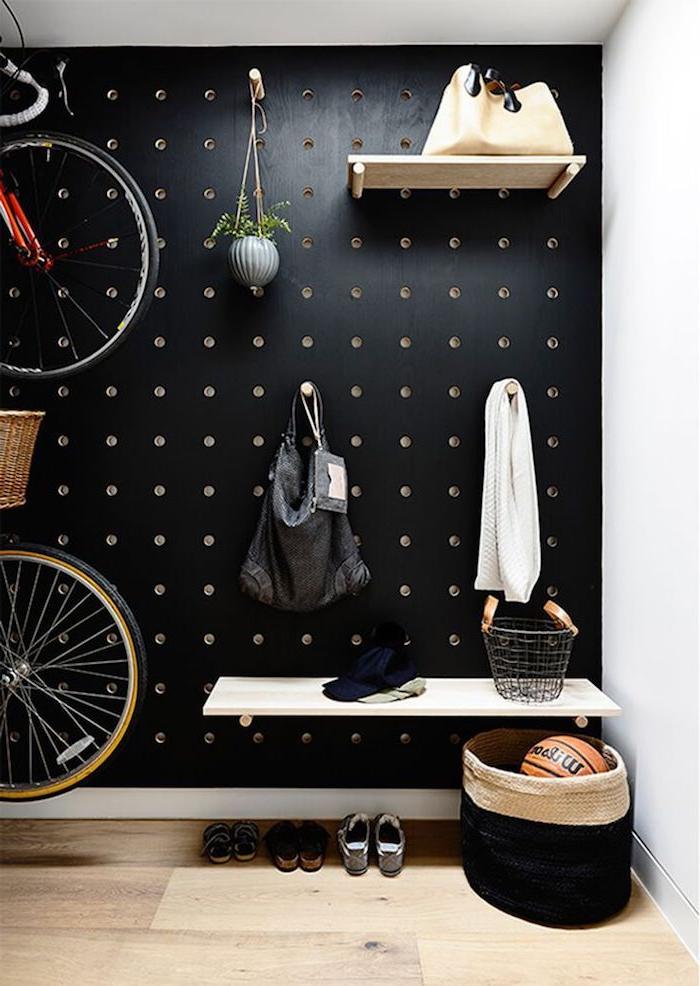 Being of many sizes, colors and materials, pegboards have become a basic in the organization and design of many spaces. also their prices are very cheap so you can find several and use them at various points in your home. The one in this photo is so wide and strong that it can help to locate sporting elements, even a bicycle!
13. DIY Pegboard Ideas To Hang Kitchen Tools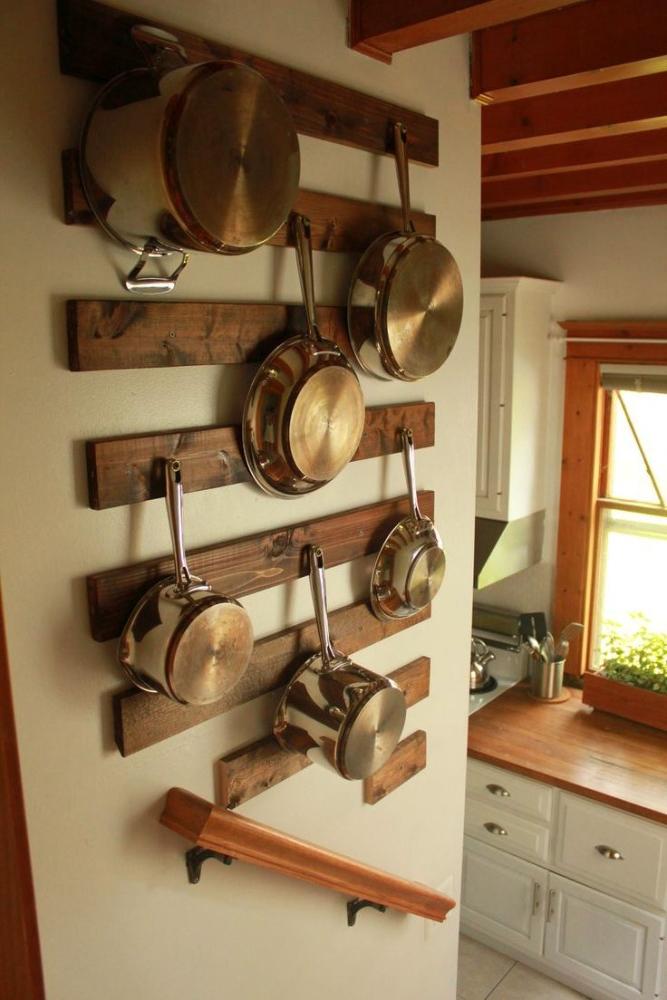 This style of pegboard is much more rustic and is ideal for any kitchen. Pegboards can even be DIY projects made by yourself at home. a few wooden planks, hooks and a lot of imagination are enough, it's simple.
14. A Different Style Of Pegboard Ideal For Any Kitchen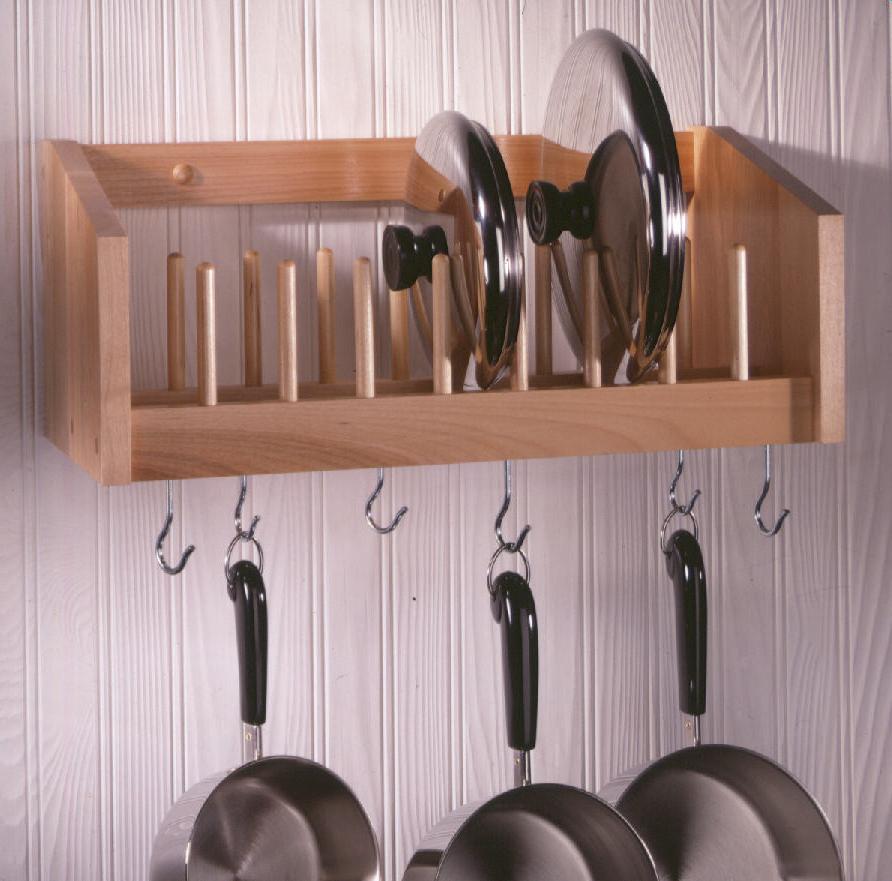 This pegboard has a slightly difference with most of the models you see around, but it is a version just as functional. With the wooden pegs positioned vertically, you can accommodate plates or pot lids. And on the hooks you can put some pots or pans. Simple and practical.
15. A Great Pegboard Idea For Any Kitchen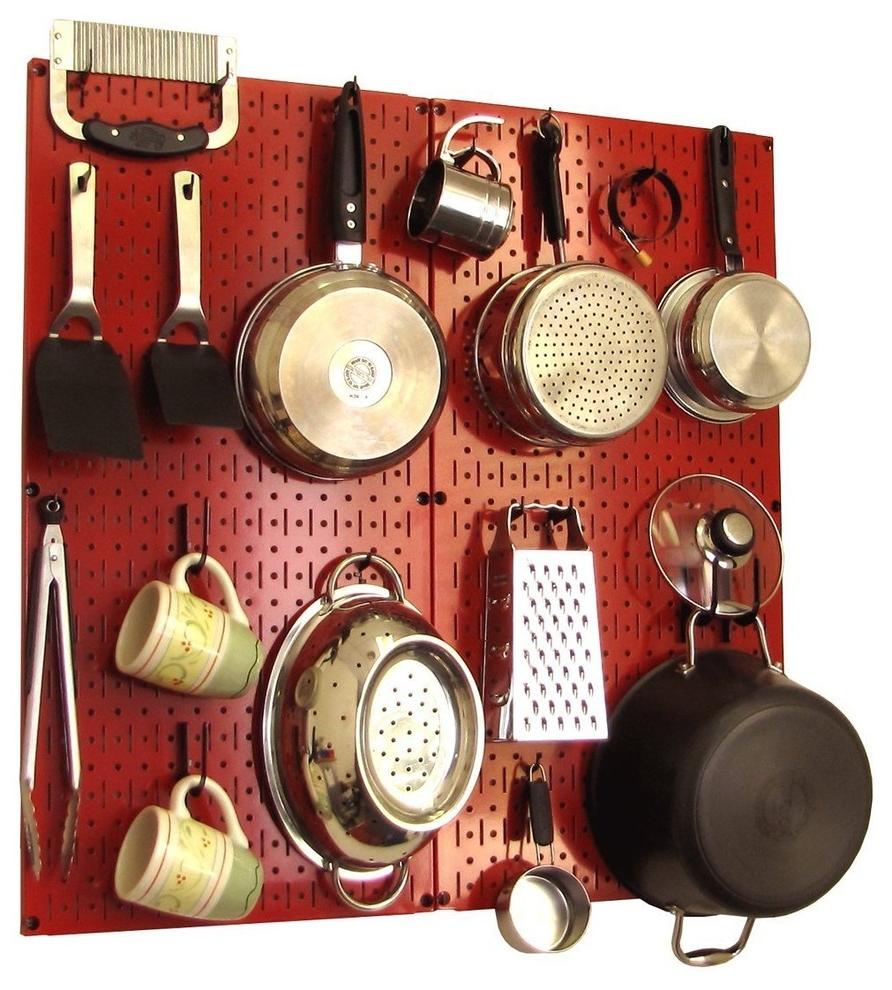 As we have already told you, pegboards are ideal for any area of your home, but one of the favorite places to use them is in the kitchen. And how can it not be so, if they allow you to have many of your kitchen implements in sight and at hand? Whether they are pots, utensils or cups, on these boards you will have easier access to many things.
16. Metal Pegboard Ideas and Designs For The Kitchen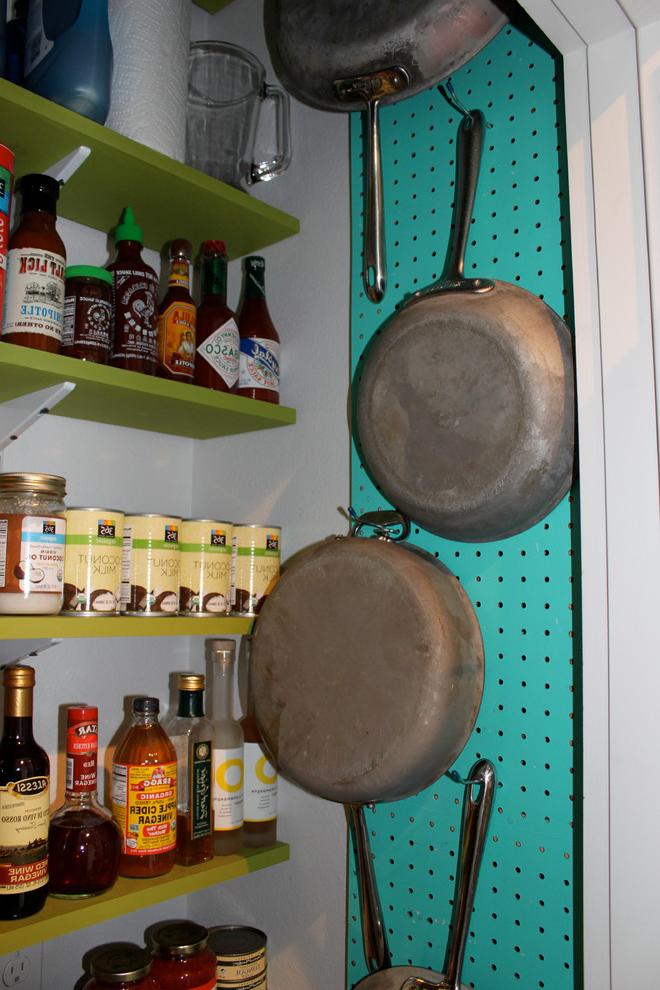 See how this pegboard not only helps organize, but adds a great pop of color to this kitchen that would otherwise look sad and lifeless. Thanks to its multiple holes and adjustable hooks, you can configure it the way you want.
17. Painted Pegboard For A Working Station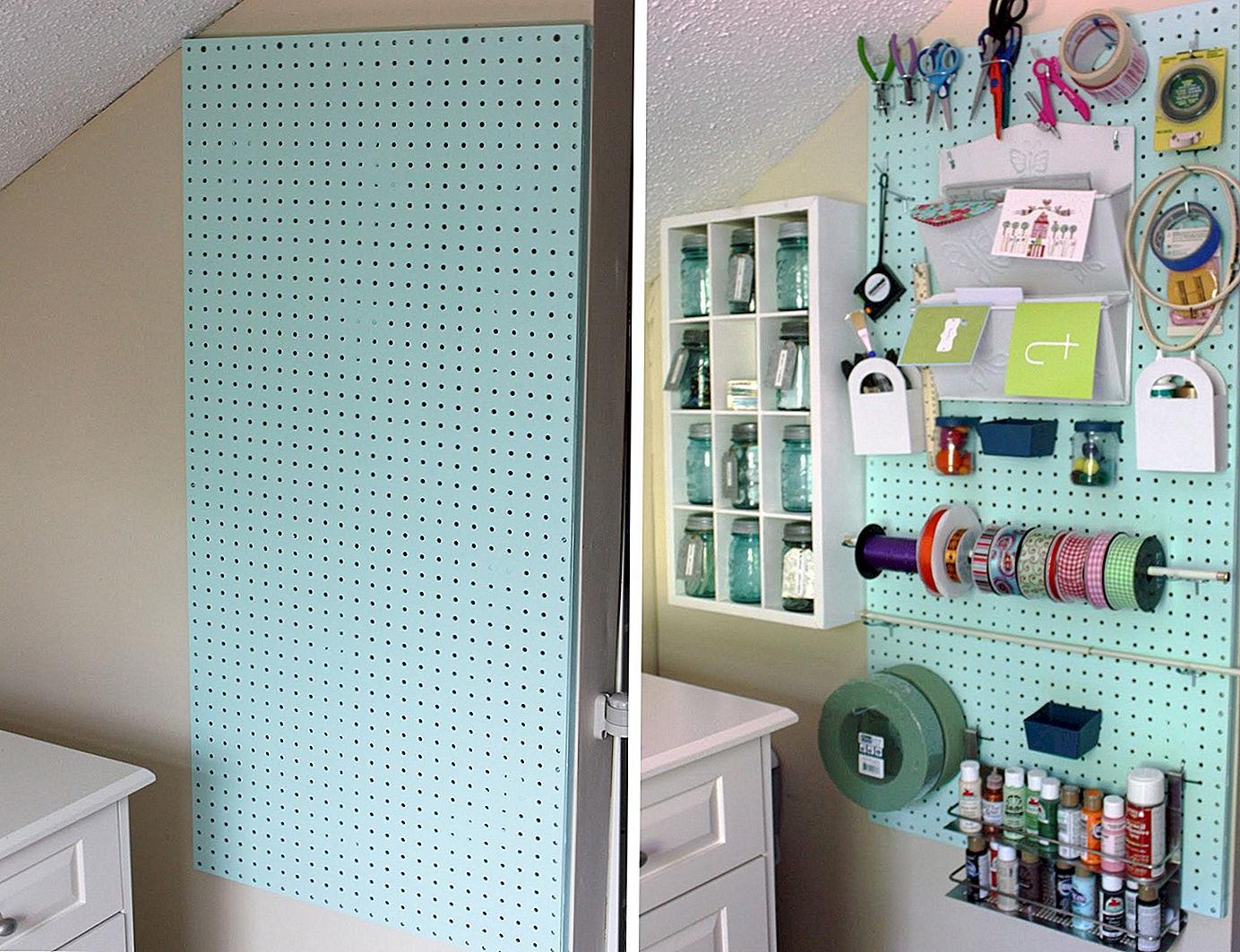 How about using a painted pegboard to organize a nice and simple gift station? You'll have easy access to scissors, ribbons, wrapping paper, glue tape, bows, and more.
18. Pegboards For Hanging Your Coats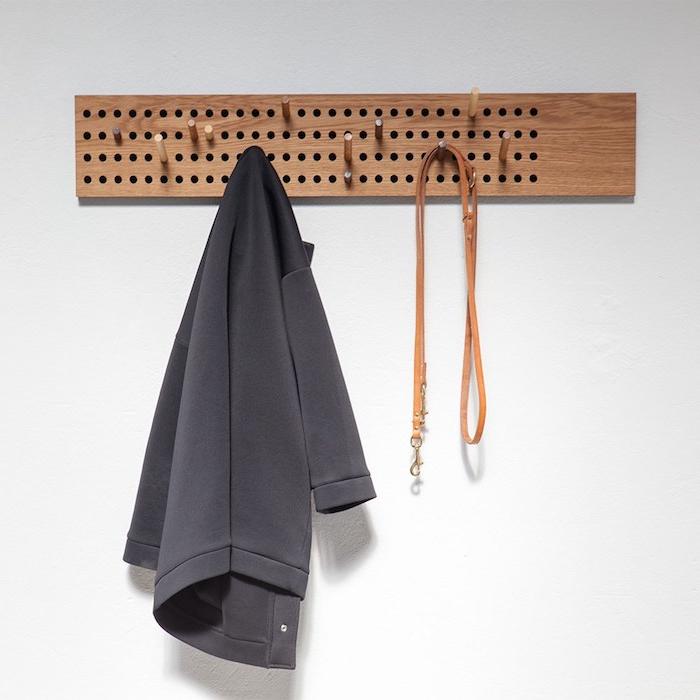 A compact and beautiful pegboard like this is perfect to place in the entrance of your home. This way you can place elements such as your coat, the chain for your friend the dog and much more.
19. A Pegboard To Display Utensils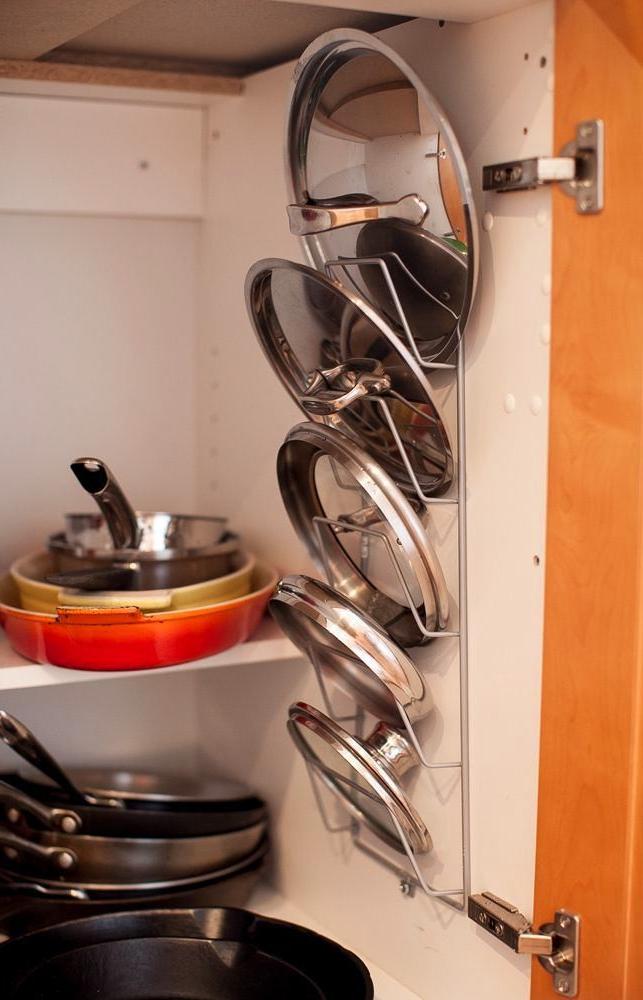 This pegboard allows you to locate some hooks on which you can put the lids of your pots and pans, which sometimes is not found where to locate them easily.
20. A Cute Pegboard Ideas To Hang Utensils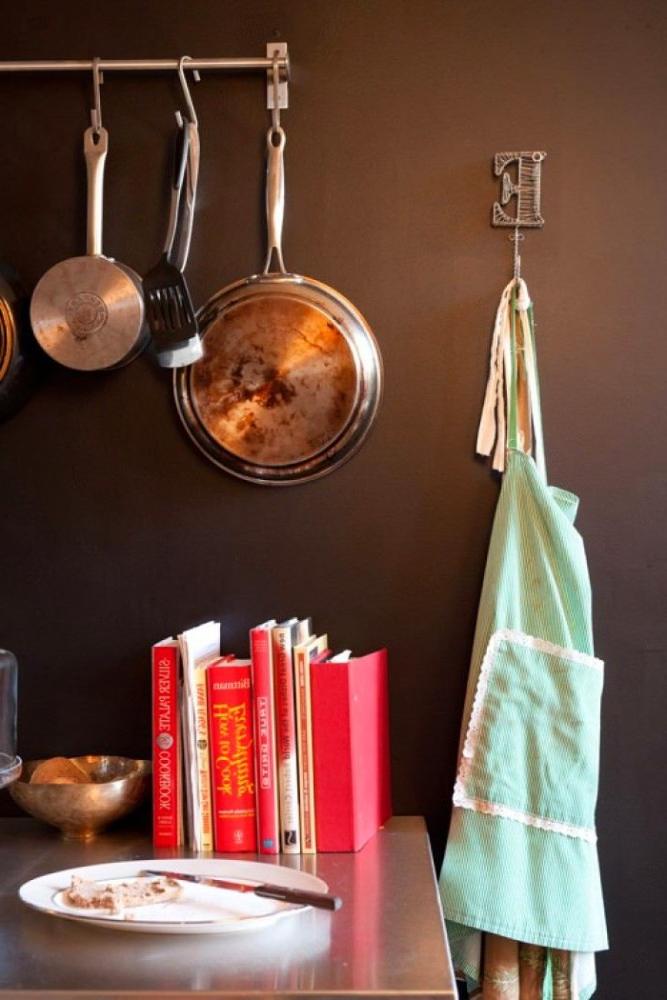 A pegboard-style perforated wall will allow you to use it the way you want, which is one of the best features of this element of organization and decoration. You locate the hooks where you prefer and locate the elements to your liking. Simple and practical!
Conclusion
In the field of organizing boards, the pegboard is the perfect companion. They are cheap, resistant, large, small, clamp-shaped … they are as diverse as there are panel models. And it is that to be the perfect partner you have to know how to adapt.
Such is its versatility, that they are used, both in decoration, as in games such as Hama beads or even to train Cross fit.
Many stores are strongly committed to a wide range of pegboard models. They know their potential and they do not skimp on offering them at very cheap prices, with discounts or free shipping, because they know their customers will be largely satisfied. People who buy one usually buy again, due to the great benefits it brings.
But to choose the right pegboard for your home or office, there is no exact answer. It will depend on what you want, because if we love these perforated panels for something, it is because of their great adaptability.
Do not forget to take into account these elements when you want to buy a pegboard:
Robustness: if you are going to use it to hang the tools in your work case, a very flimsy panel will end up yielding to the weight of your tools.
Size: a panel for the entire wall of a garage is not the same as one for hanging house keys.
Materials: if you are going to use the board to decorate a part of your home, metallic white perforated panels are usually a good choice.
Hole Size: The hooks you need for the final purpose of this board will determine what the hole should look like.
There is no doubt about the great versatility of these panels. Thanks to this feature, you have the opportunity to use them, as you have never done before. Still don't have one? Do not wait more!