31. Interesting Wall Art Idea For The Bedroom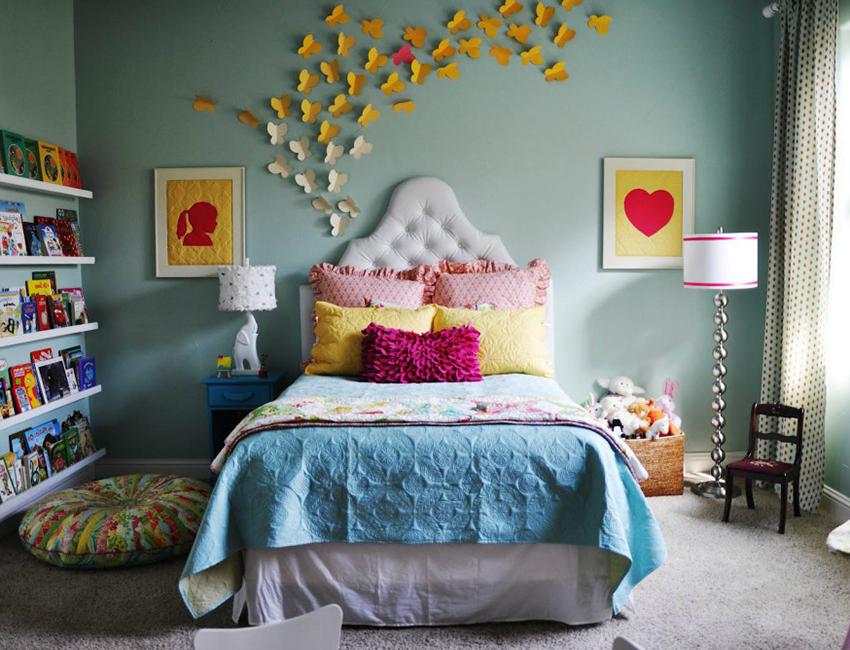 Frames with photography or paintings are not the only art you can place in your walls. With a little bit of imagination and recursion you can create the most magnificent art pieces in any room. In this example you can see framed images, but the real show stopper is the bunch of butterflies pasted on the wall that looks as if they were migrating all together. Is a perfect fit for a bedroom.
32. Great Wall Art Ideas That Work Perfect In The Living Room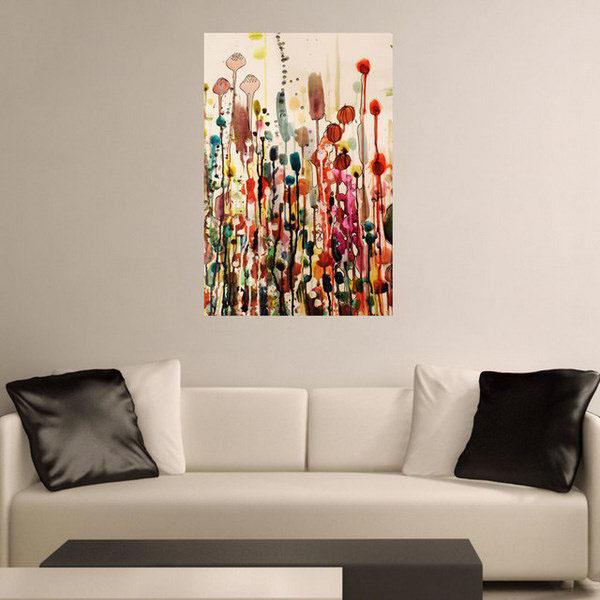 You do not need to have a gigantic art piece to make your walls outstand. In this example you can see how sometimes less is more, with a very bright, medium size painting in the middle of this modern, minimalist living room. The painting cheers up the room that is completely black and white, putting that splash of color that it needs so much.
33. Wall Art Ideas For Offices And Dens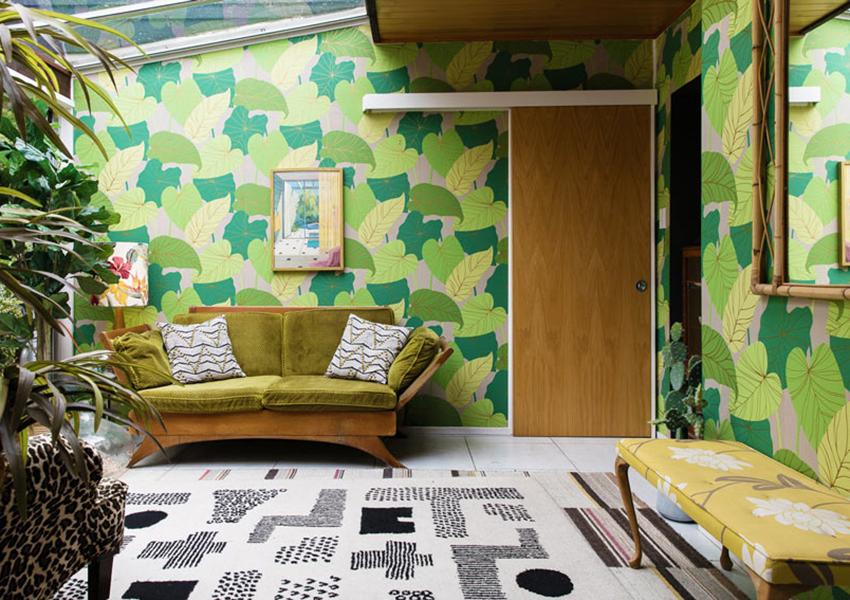 An interesting idea to turn your walls into art is to use them all as a canvas. Like in this example, where all the walls are covered by a leaf motif wallpaper that works perfectly with the overall decoration with plants everywhere and a transparent roof. A simple mirror and a framed poster finish the style with a light retro vibe.
34. Portrait Paintings As Wall Art Ideas For Eclectic Style Decoration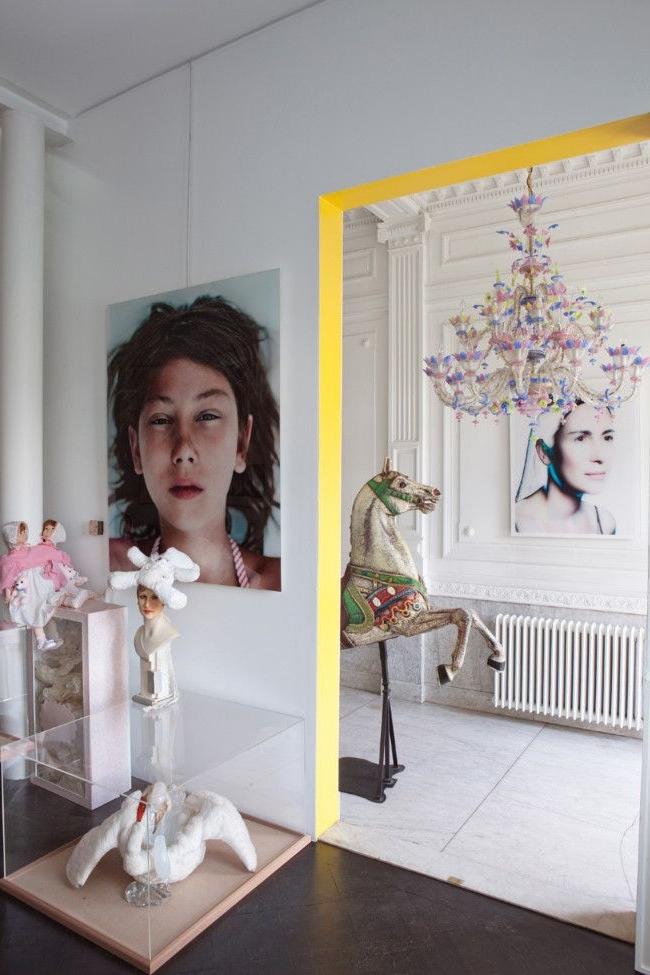 This is an ultra artistic space designed to showcase several items, such as dolls and other things. The art in these walls have to be just as shocking and interesting: large close up photography with no frames complete the room that is, to say the least, interesting.
35. Wall Art Ideas To Place On Top Of The Fireplace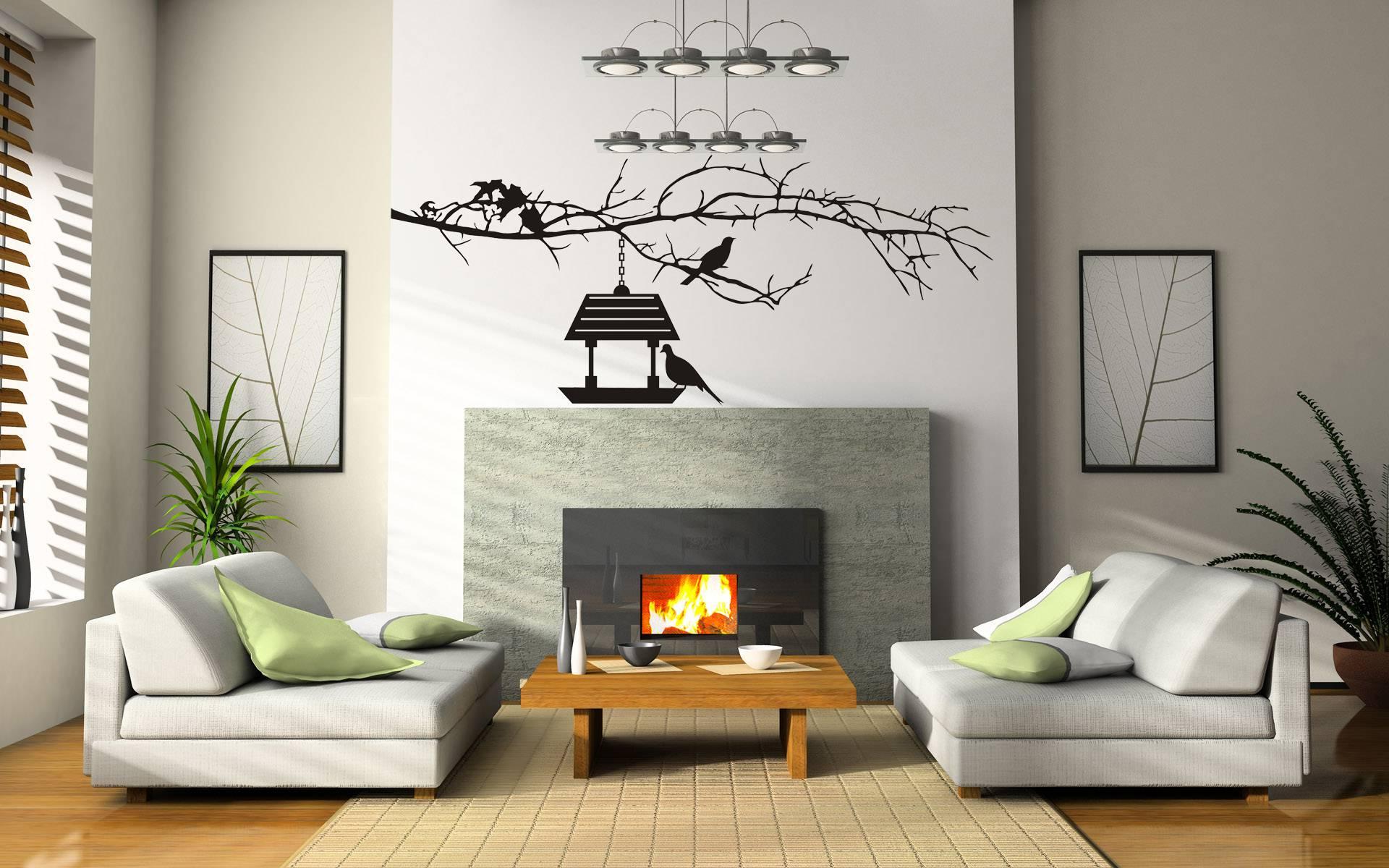 What seems as a complex, large sculpture on top of the fireplace, is in fact a sticker made in vinyl that seems like the continuation of the 2 paintings placed on each side of the fireplace. This design is clean, modern without being loud. It is ideal for a family's home.
36. Cheap And Clever Wall Art Ideas Made With Paper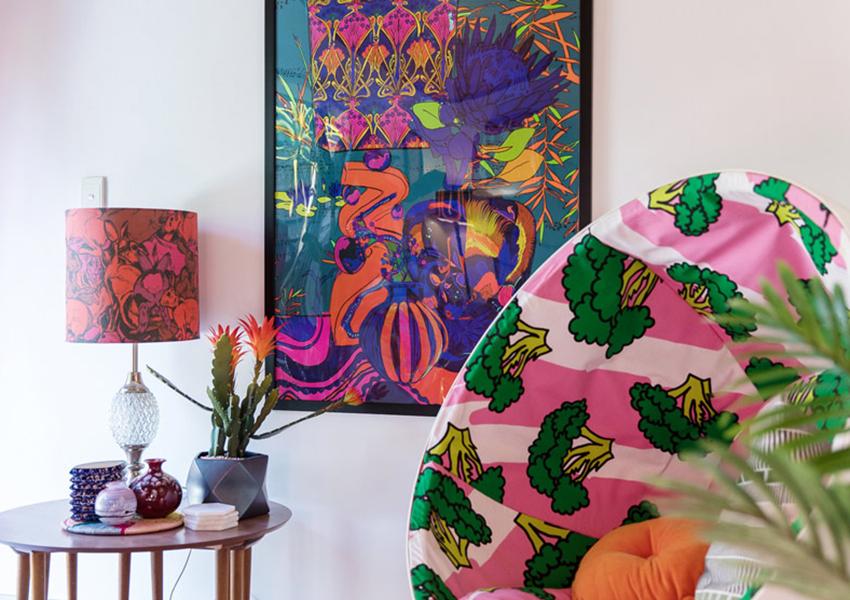 Wrapping paper and a frame is all that you need to create a style like this one that is full of color and very modern. In this case, the theme is oriental, but you can easily change it for the theme you prefer. This example works for you to see how easy it is to create amazing art with almost no money.
37. Decorations Made Of Paper To Use As Wall Art Ideas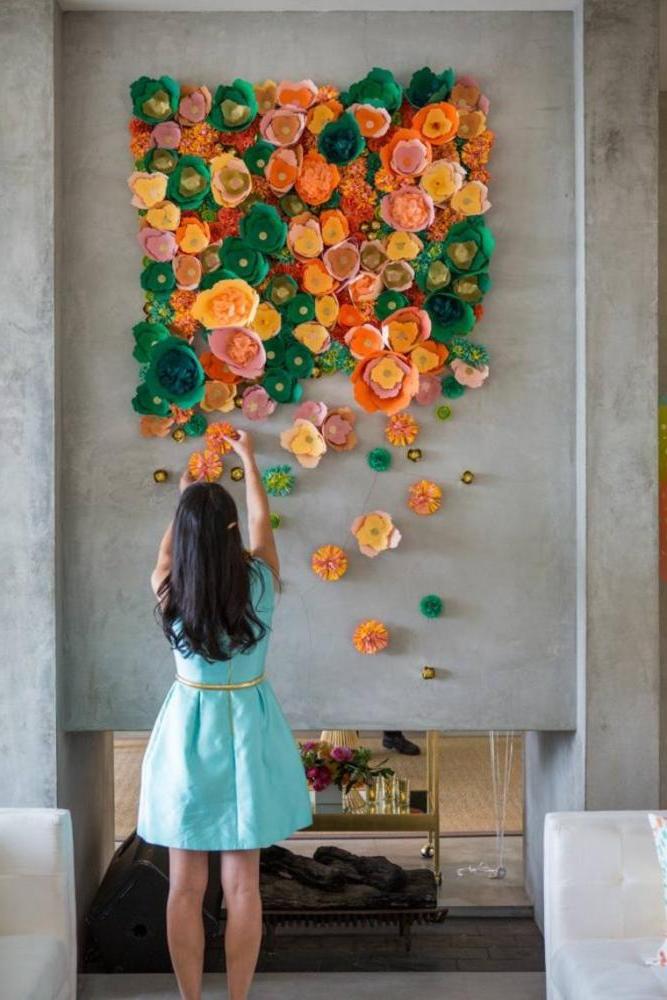 See how easy it is to make a magnificent work of art only by using paper to make flowers in different colors. All you need to do is take a few pieces of paper and have a little art craft expertise in order to create this interesting and cute design. This style is cute, affordable, and the best part is that if you fail, all you have to do is take the flowers down and start again.
38. A Mirror As The Center Piece Of Wall Decoration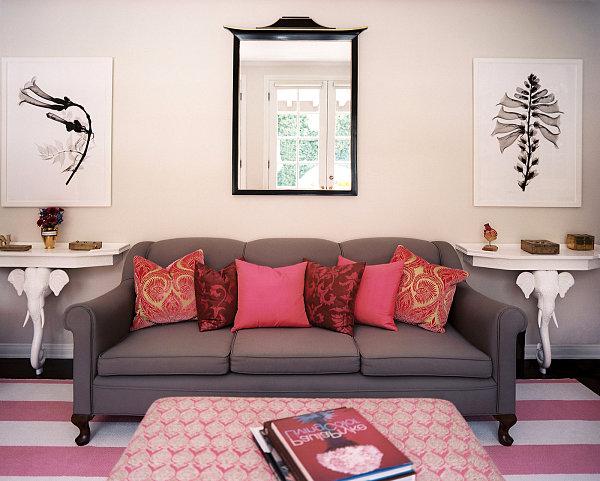 Mirrors are a great choice to decorate a wall a well. This mirror has an oriental design, and placed on top of the couch, is an impressive piece of art. The couple of paintings on each side of the mirror also has the same oriental style, and complement very well the set of side tables with elephant shape.
39. Interesting Wood Cut As A Wall Art For The Living Room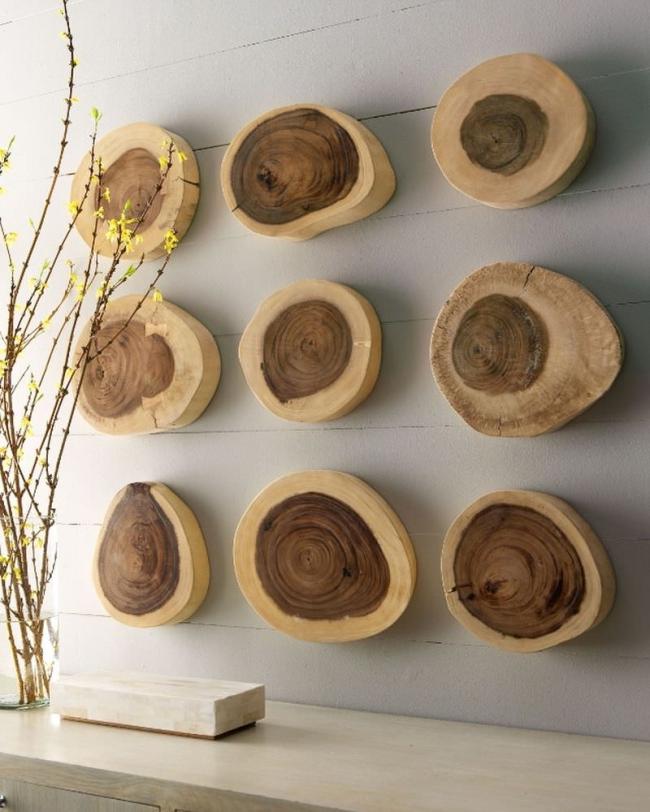 If you want to give a great style to your rooms, but you do not have a lot of money to spent, you can go any woodworking place, where they have different remaining wood pieces that you can use to create modern concepts such as this one that features wood stumps with different forms, vets and even sizes, always remaining an overall aesthetic. This design is very cheap and also very tasteful and modern.
40. Wall Art Ideas Using Images With The Same Tones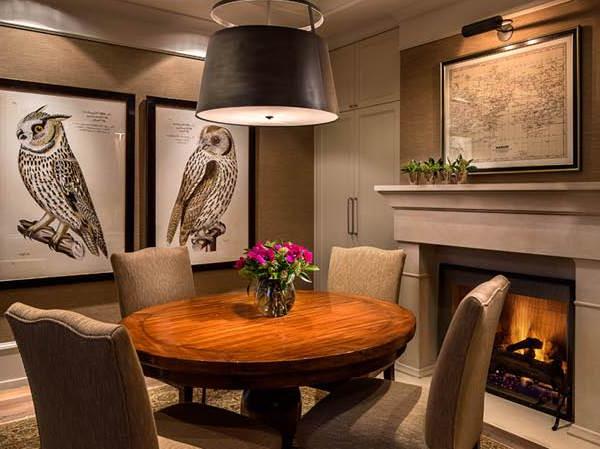 For this room, the owners decided to go for gigantic paintings in similar color schemes, in this case a gray scale with a tat of brown, to complement the dining room that uses a wide variety of browns and beiges. The choice of the colors on the paintings may have something to do with the lamp's color, that is the same as the paintings.
Decorating a house includes too many things: furniture, floors, appliances, and utensils … The list seems endless and the budget always ends up skyrocketing. But the thing does not end there, because then comes the phase in which we give personality through decoration.
Too many details and sometimes few ideas. But did you know that decorating the walls of your house could give you that focus point you need?
As minimal as you are, they say that decorating the walls is like dressing your house, and this is totally right. It is not about hanging pictures, plates, ornaments, painting them and putting vinyl at the same time, but also not leaving all the walls blank.
The options are endless and the best thing is that there are options from merely decorative, to some much more practical. And the same goes for budgets; you can give any room a very personal point, adding a little color or some pictures.
With the resources we gave you today, the walls of your house do not have to be boring, you can achieve an impulse of your imagination to turn your walls into pieces of art.