Whether you need tool storage or just a little backyard escape, sheds are a great avenue to go down for an efficient and beautiful garden feature.
Sheds are a multi use and come in so many shapes and sizes that you can easily find one that fits your garden size and personal style. Traditionally they can be used to store tools and other garden paraphernalia but they can re-imagined into so much more! They can be made into a garden oasis for relaxing in an inside/outside space in the summer, a home office away from home or even a garden cottage for a grandparent or older child. A small backyard shed is also ideal for a child's play area for them to play house.
25 Backyard Storage Sheds To Enhance Your Garden Experience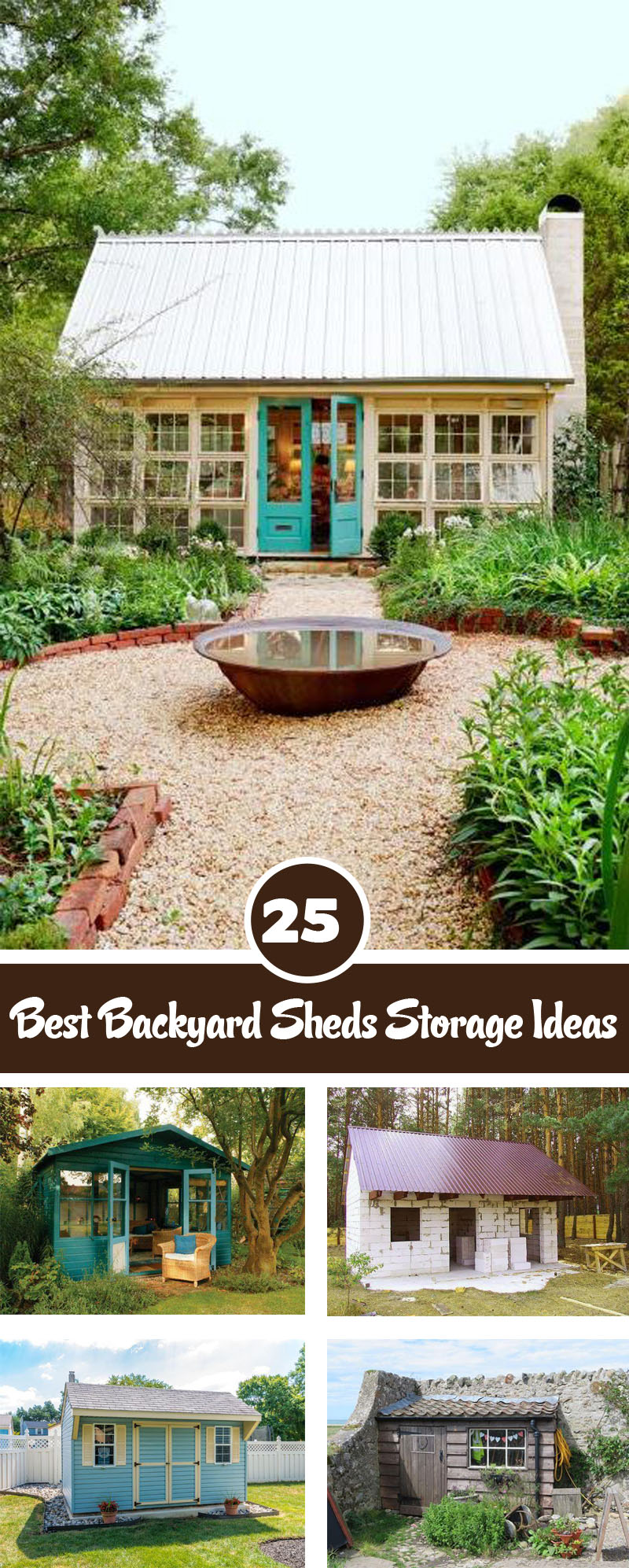 Their quaint aesthetic can be used to bring some whimsy into your garden with decorative elements like cute window boxes full of flowers and fun colours. They also lend themselves very well to more unusual and eco friendly building materials like foam blocks and recycled timber that you can build with yourself.
If you think a backyard storage sheds could help you breathe new life into your garden here are:
1. Backyard Barn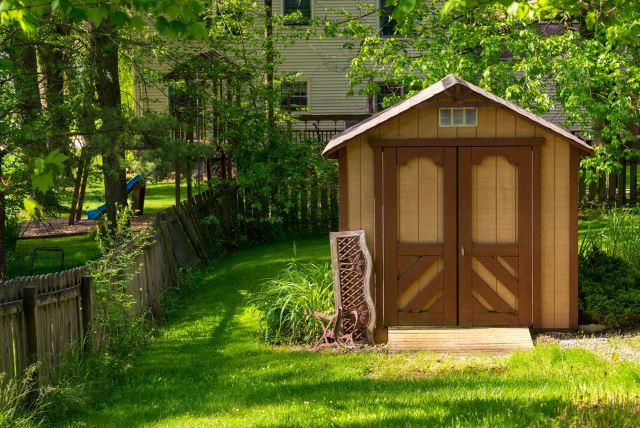 This rustic little storage shed has been modeled to resemble a miniaturized farmyard barn. The timber structure in two shades of wooden stains brings a peaceful, rural ambiance into the suburbs. The barn style design marries the beautiful and useful altogether in a structure that looks attractive sitting in your backyard while providing you plenty of space for storing anything you need for your gardening or can't fit inside your home. This all comes together in an idyllic backyard aesthetic
2. Large Backyard Summer House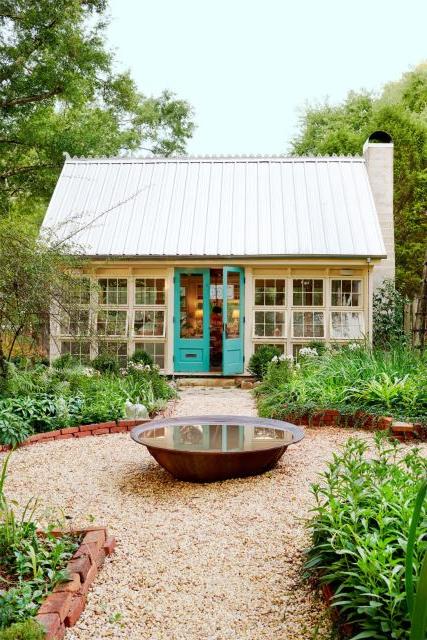 A summerhouse tucked away inside a large garden creates a little getaway for outdoor dining or summer entertaining. To reach it you are led down a pebbled garden path and around a water fountain while surrounded by lush greenery, a fitting journey that culminates in this unusual little dwelling. The design is relatively traditional until you come to its main facade which features a full wall of cottage style windows stacked on top of one another with bright teal doors to beckon you inside.
3. Big Blue Wendy House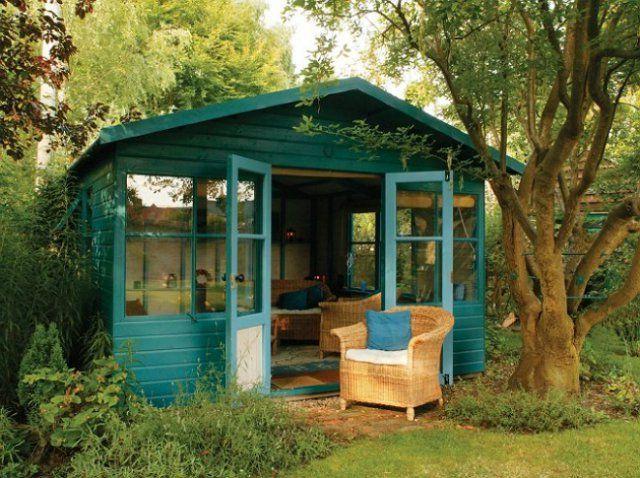 At the foot of a verdant garden sits a blue stained timber shed nestled behind the trees. The function of this azure structure is pure relaxation. The glazed French doors create an inside outside space that is perfect for entertaining in the summer or just curling up with a good book in the comfortably rustic blue interior.
4. Country Garden Shed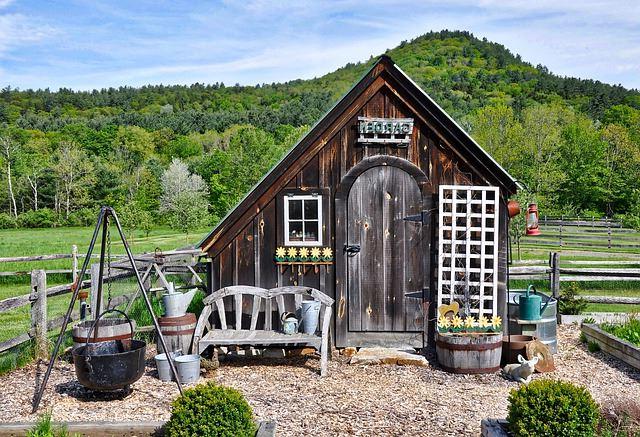 The country garden shed embodies the mantra of; storage, but make it cute. The rustic little garden shed feels right at home in its tree filled surroundings with its dark reclaimed timber cladding and pebbled entrance way. A white trellis enhances this quaint design with creeping plants climbing its frame, the little white cottage window and decorative daisy decals peppering its facade. The little bench and tripod barbeque area creates a little outdoor gathering space away from your home and lets the shed act as a pretty backdrop to social gatherings and not just a place to store your garden shears.
5. Miniature Farm House Shed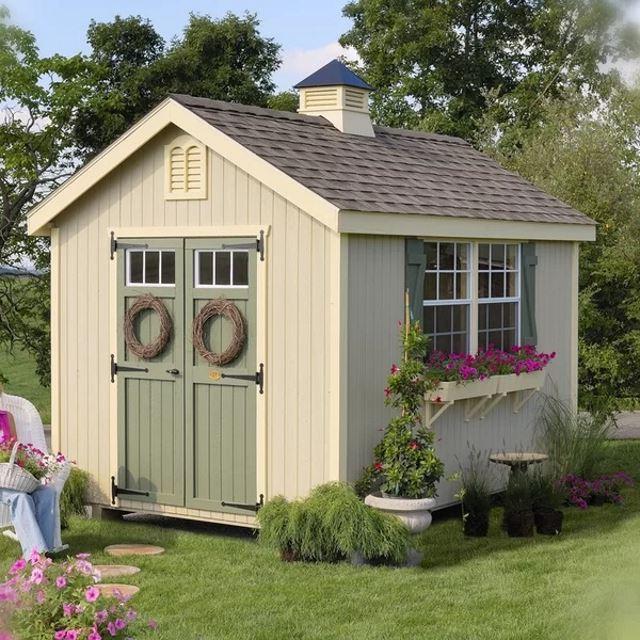 Here a classic farmhouse has been shrunk down to fit right in your back garden. This dainty timber structure has a distinctly homey feeling that is predominantly created by the little details like the rambling path leading to the shed and the window boxes filled with colourful flowers. The muted green barn doors, shingle tiled roof with little chimney at its centre is the cherry on top of a garden shed that is cute, fun and very useful.
6. Forest Dwelling Foam Block Shed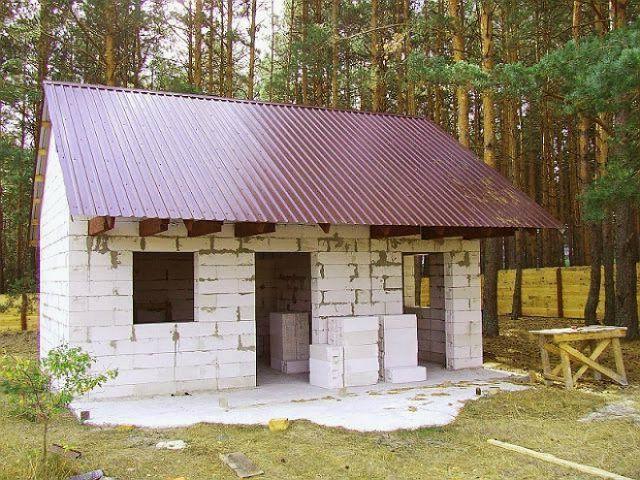 This big rustic storage shed surrounded by a dense forest is being constructed to fit in with its setting; not only with the colours like deep red corrugated iron roof but also with its eco friendly construction. The shed walls are built out of concrete foam blocks that click together like Lego blocks; which makes its lightweight and simple to build with. Once the blocks are stacked they are filled with concrete and left to harden. Foam block are perfect for building in an outdoor rural settings because they are robust and long lasting regardless of weather. This material is eco friendly because the material is non toxic, recyclable and energy efficient.
7. Country Shed With A Living Roof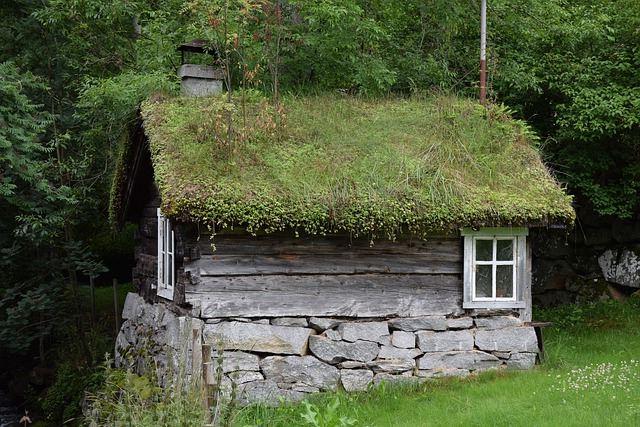 Reclaimed materials are both an eco friendly building technique and an easy way to create a rustic aesthetic. The shed at the bottom of this rural garden uses a living mossy roof and reclaimed timber walls on a rough stone wall base, all of which allows it to blend in with the dense vegetation around it. The quirky little cottage style windows allow little peeks of light into the cozy space, which is warmed by a fireplace creating a space of pure rustic country bliss.
8. Timber Garden Work Space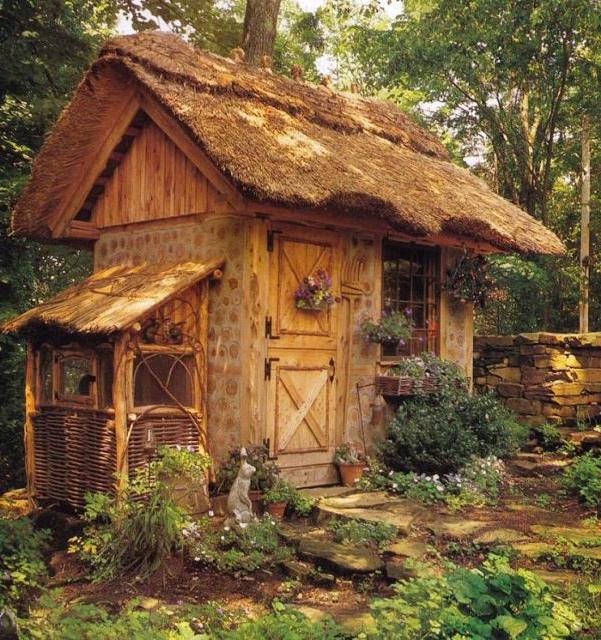 This gorgeous timber shed is rustic to its very core. From the warm timber roof supports to the terracotta stone walls and thatched roof; this is the quintessential country home office. Careful consideration has been put into choosing the details that make this a comforting space that you want to return to everyday. The stable door, window boxes filled with flowers, hanging plants are elements that are very popular is shed design because of their ability to completely transform the feeling of a small space. A mossy stone path leads you from the main house to work every day in a calm space that allows you to create a healthy work life balance while being surrounded by nature on all sides.
9. Grey Timber Garden Cottage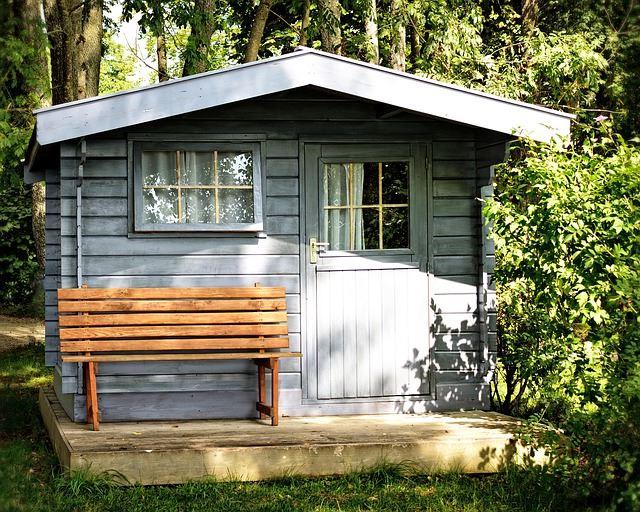 A spacious shed such as this is the perfect opportunity create a separate residence on your property for a family member or to rent out as a passive income. The whole structure from roof to floor made of cool grey timber on a concrete floating foundation, which makes it very beautiful yet inconspicuous. The warm wooden bench sitting on the porch forms a stark contrast against the cool timber siding and provides its resident with a place to sit outside and relax in the summer.
10. Luxurious Garden House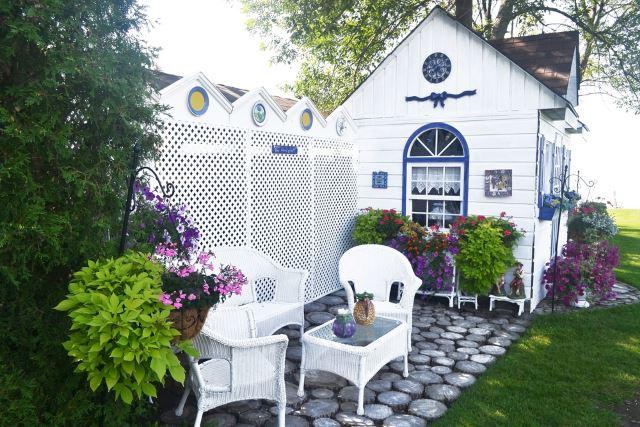 This is not your average garden shed. This alabaster creation is a compact but luxurious secondary residence with its own outdoor area to make it truly independent from the main house. The house itself and the cobbled patio are seamlessly coordinated area with the use white fencing, white wicker chairs and the blue accents throughout the design. Overflowing pot plants and window boxes add much needed colour and texture that ties this whole design together.
11. Shabby Chic Garden Shed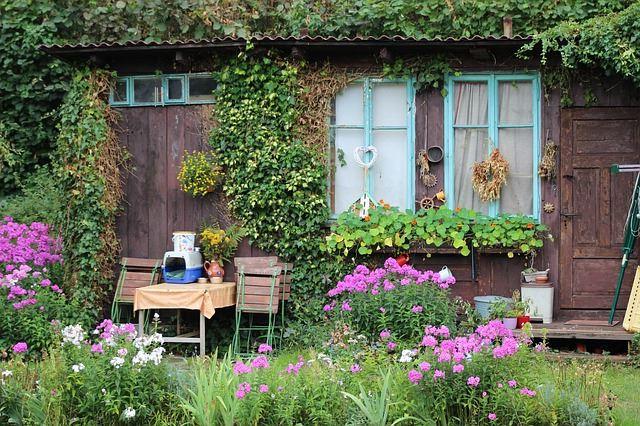 This wild flower strewn garden has been allowed to grown wild and free, letting nature dictate its form. At the very end of the wild, unstructured garden a reclaimed timber shed has secreted itself amongst the foliage. These two aesthetics work perfectly had in hand with the shed even allowing the plants to take over with window boxes full of fragrant nasturtiums and creeping plants draped off its walls. The nature inspired look is broken only but the bright pop of turquoise in the window frames that contrasts beautifully against the feral greenery.
12. Covered Outdoor Work Space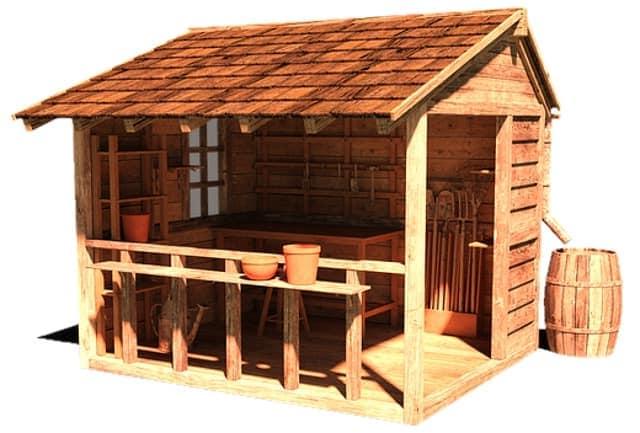 Some sheds can be purchased as a kit from a hardware store or online like this timber country style lean to with small storage shed. It even comes with a rainwater collection barrel that you can use to water your garden in a water wise manner. This covered outdoor space is well ventilated to protect you from inhaling dust and lets you see the sun while you work. The pitched room and two and a half timber walls provides storage that is technically outside but keeps tools and work bench from the protected from the elements.
13. Miniature Shipped Lapped House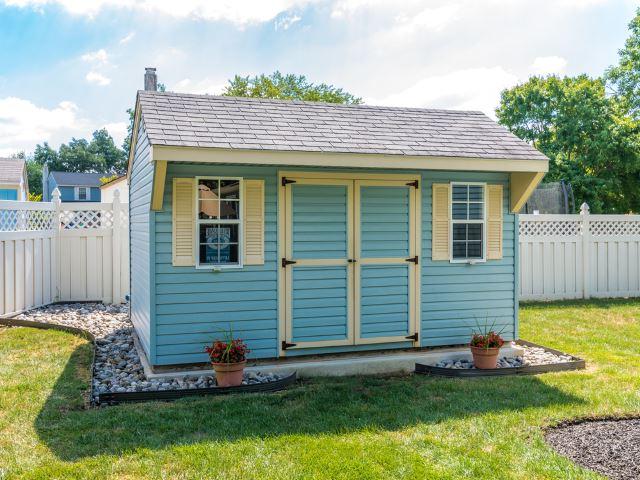 This dainty shed in ice cream hues is designed to resemble a classic ship lapped house but rendered in miniature. The buttercup yellow shutters, jewel toned walls and pitched slate roof lets it fit smoothly into the design style of the surrounding houses. This shed with its charming barn doors would be perfect for a children's playhouse or a novel guest room.
14. Flat Packed Lightweight Shed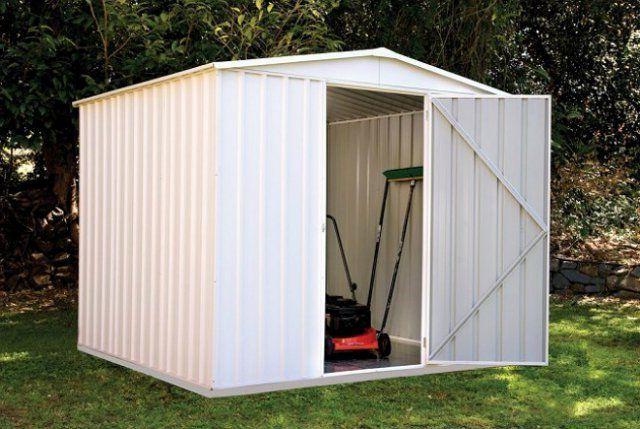 If you need a shed that is purely about creating space for storage that is watertight this style of premade shed is ideal. Ready made sheds can be bought from a hardware store and delivered to your home in a flat pack. This is a temporary, lightweight and easy to put together option that is convenient and comes in many sizes.
15. Rustic Timber Shed And Fencing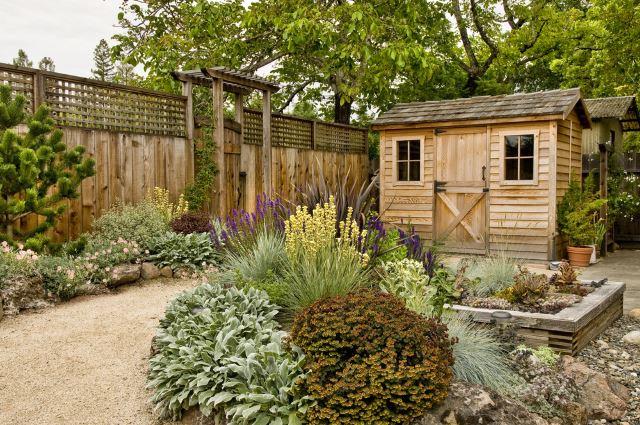 In this large, tree lined garden there is a light pebbled pathway that's leads you down a winding route through a rock garden culminating in this rustic tool shed. This design feature many elements that we have seen so far that seem to be a staple in shed design: timber paneling, cottage style windows and a stable door. The pale timber storage shed has been paired with a slightly rougher timber fence that matches the wooden roof tiles perfectly.
16. Tiny Timber House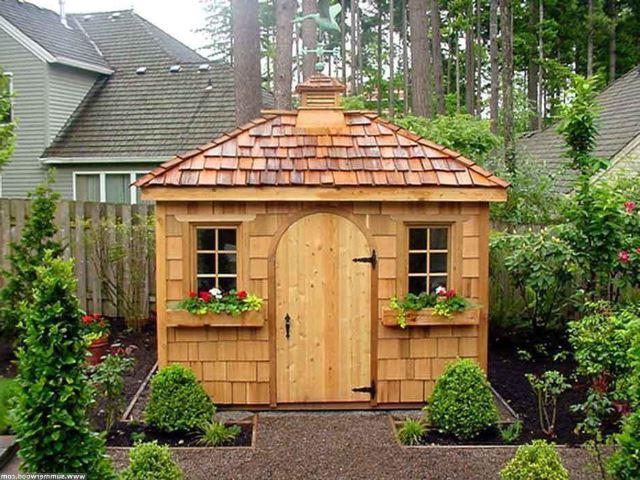 Squared off in its own manicured flower beds, this dinky little house would be perfect for a child's playhouse. The gingerbread house style is achieved through the artful use of various hues and textures of timber across the whole design. The curved castle door, weather-vane and overflowing window boxes manage to seal the seal on this idyllic little house.
17. Backyard Home Office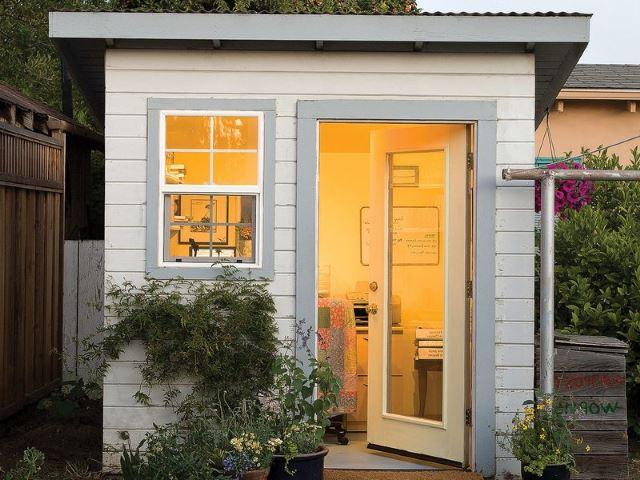 This simple contemporary design strays away from rustic raw timber shed that we have seen so far, however it is just as effective. The compact room with painted timber siding sits easily into a small backyard and has the added bonus of being attractive when viewed from your house. An outside home office like this gives you all the comforts of home but in a space all your own. This allows freelancers and other people who work from home to establish a work life separation without the commute.
18. Seaside Cottage Shed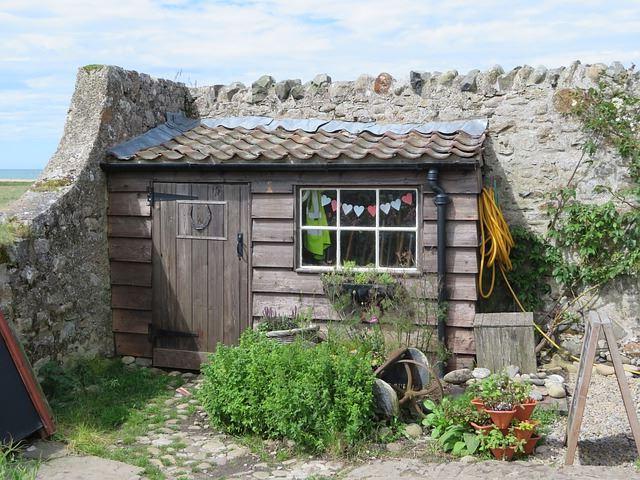 This seaside shed has been cleverly incorporated into the back courtyard by using the corner of the stone perimeter wall to form two walls of the shed. This is a cheap and easy option that you could even build yourself. The rippled roof tiles mimic the waves in the distance while the weathered reclaimed timber blends into the stone setting easily. It's diminutive size makes this great for storage or as a really sweet child's playhouse.
19. Plastic Ready Made Tool Shed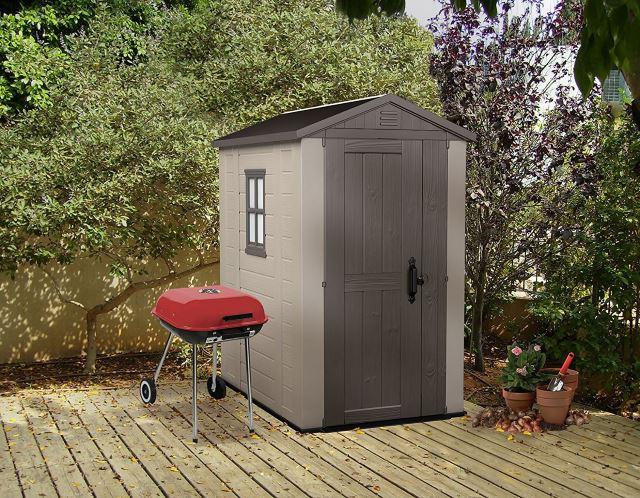 This is another version of the ready made shed, this time made of a hard-wearing durable plastic. You can buy them ready made from a hardware store, like the others, and simply click together a few light plastic pieces. This style has many advantages including the fact that it takes up very little space fit and the material is completely waterproof to prevent your tools from rust. The plastic structure mimics the style of many of the sheds we've seen previously with wood texture and cottage style windows moulded into the plastic walls.
20. Compact Teak Tool Shed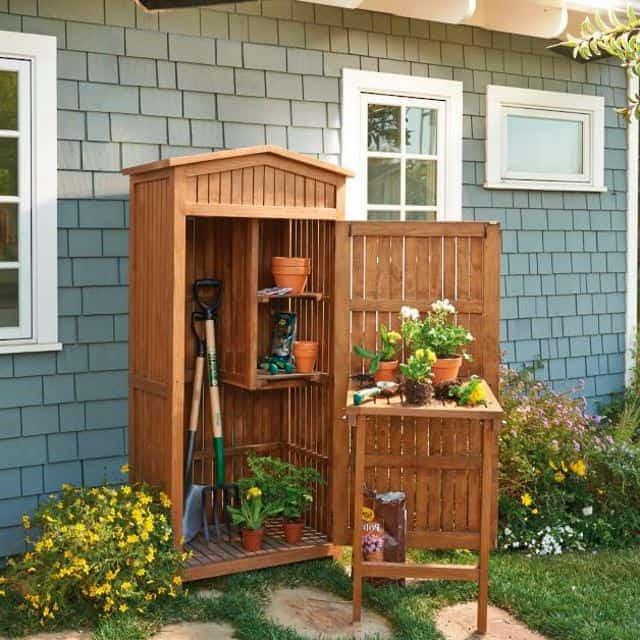 Another tool shed that can fit in a small space is this cupboard style teak design. It is both beautiful and slim line with shelves and upright storage that perfectly fit your tools and gardening equipment. When the shed is closed up the rich teak against the deep teal painted brick is a cohesive and delightful piece of garden decoration.
21. Pitched Forest Wood Shed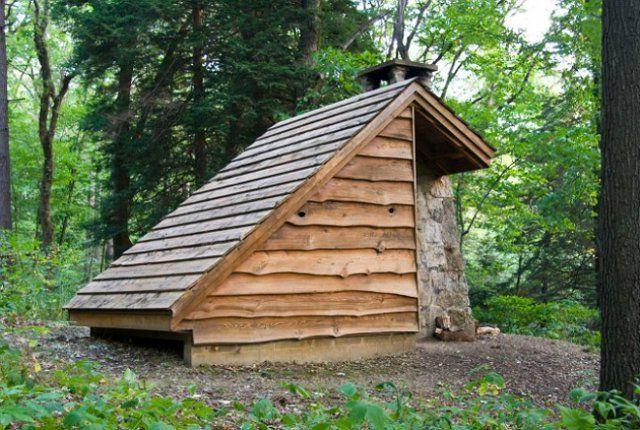 This pitched wood shed fits in with its forest surroundings both outside and in! The wooden planks that make up the wall, roof tiles and support structure are rough and knotted so they speak not only to the logs protected inside it but to the trees around it. The small pitch on one side provides cover and keeps water away from the shed to keep the firewood nice and dry so you can stay warm all year round.
22. Futuristic Outdoor Courtyard Shed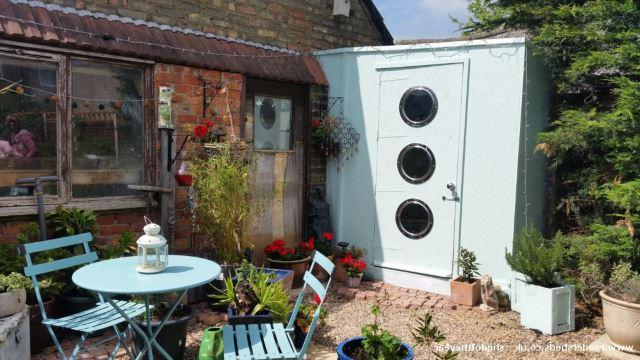 This highly unusual shed is another design that works well in this small open courtyard. The porthole windows and bright white exterior makes it look like a vintage time machine that has crash-landed in this rustic setting. This quirky monolith creates a statement backdrop to this little outdoor area recreation area.
23. Faux River Side Shed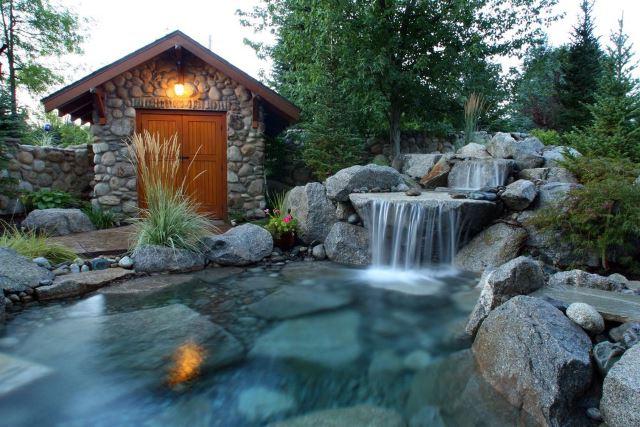 This lavish outdoor swimming pool filled by tiered waterfalls makes it appear as if this lucky owner has a mountain stream running through their property, ending in a vast stone pool. The stone runs onto the walls of the shed, making it appear as if it has been hewn from the rock that surrounds the pool and blends it in effortlessly with the surroundings. This shed would be perfect for storing any pool paraphernalia from toys to cleaning tools.
24. Veggie Garden Shed And Wood Store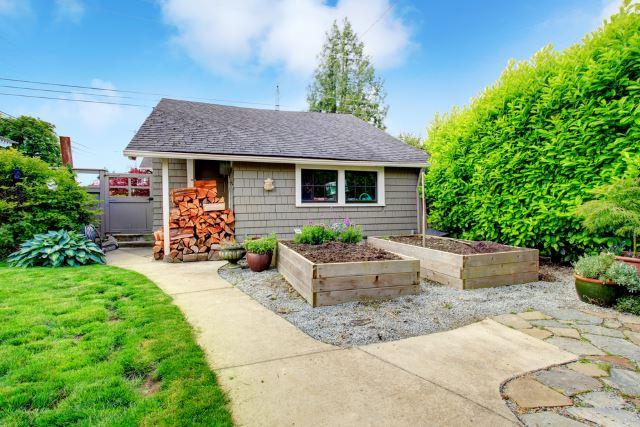 This large garden provides the opportunity for a sizable shed that has space for all kinds of storage needs. The cool grey ship lapped walls is a look we have seen often at this point but here it has been juxtaposed by its built in wood store that adds a beautiful texture and warm hue to the facade. The tall shed and lush hedge create a comforting feeling of privacy around the raised vegetable garden beds.
25. Stable Style Garden Cottage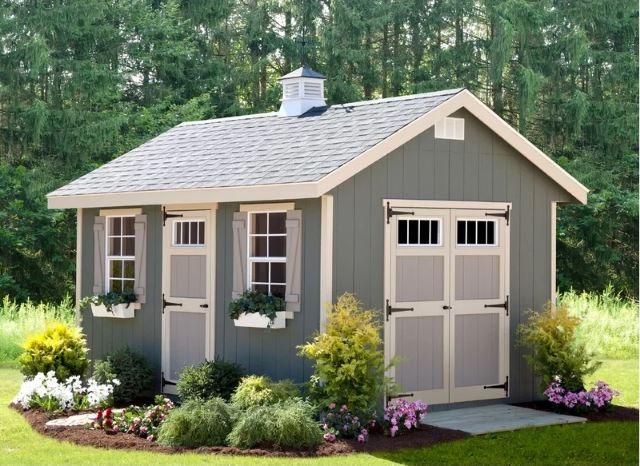 Like many of the examples we've seen thus far, a barn has inspired this large shed in a spacious forested backyard. The large doors on one side mimic rustic stable doors, while from the front it resembles a quaint farmhouse. The design has been given a contemporary twist by painting the exposed timber facade in various shades of grey throughout the elements with cream accents for a very chic appearance. The manicured garden surrounding it with the classic shed window boxes add the much needed natural texture and colour to make this shed a cozy little space for grandparent or older child to live on the property while still maintaining some independence.
Conclusion
So, as you can see, backyard storage sheds are more than just a place to keep the lawn mower. These charming little houses can contribute to your garden's design by merely using their exterior appearance to create visual interest and a feel of homey nostalgia. Inside their uses can range from the utilitarian to the luxurious; a miniature tool shed to a full-blown garden cottage and everything in between; sheds are the gift that keep on giving.
If you've been looking for a solution to your storage woes or need to spice up your garden with an outdoor space away from your house, look no further than a backyard shed.