11. Economy Friendly Ideas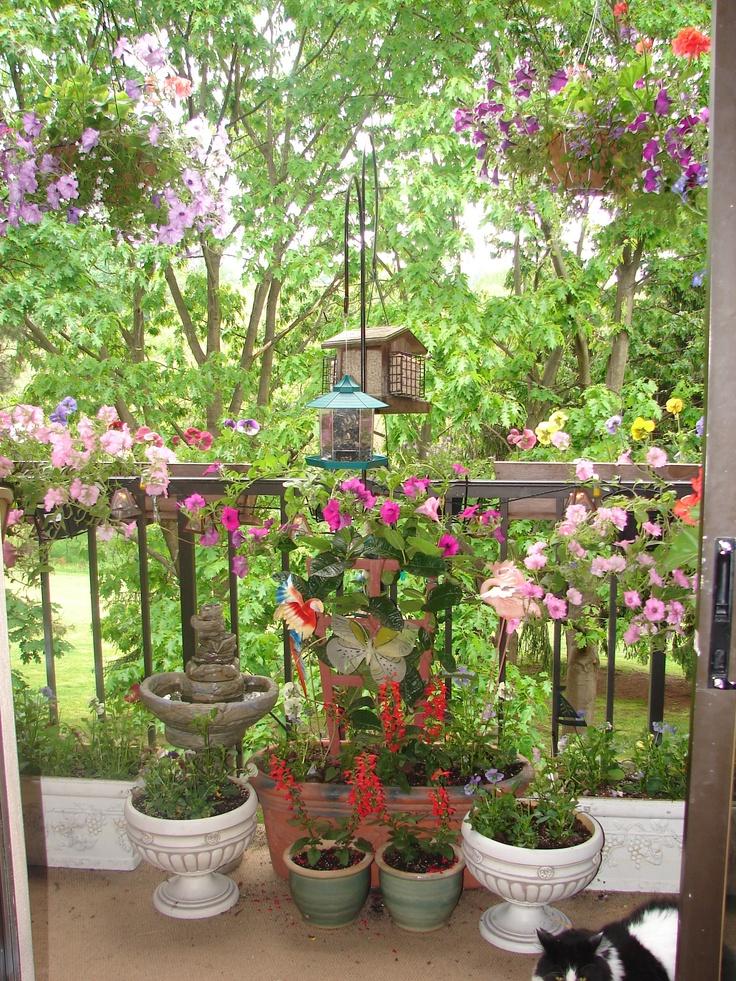 Take your big outside garden and translate it into your inside space. How? Very easily, you only have to find pots you like, a fountain, maybe a little bird's house, maybe a vintage oil lamp, planters to be hanged in the fence of your balcony, decoration elements such as birds, butterflies and others to create a nice design inside your balcony. When you stand in your balcony, it will be hard to see the difference between the inside and the outside.
12. Flat Gardening Balcony Ideas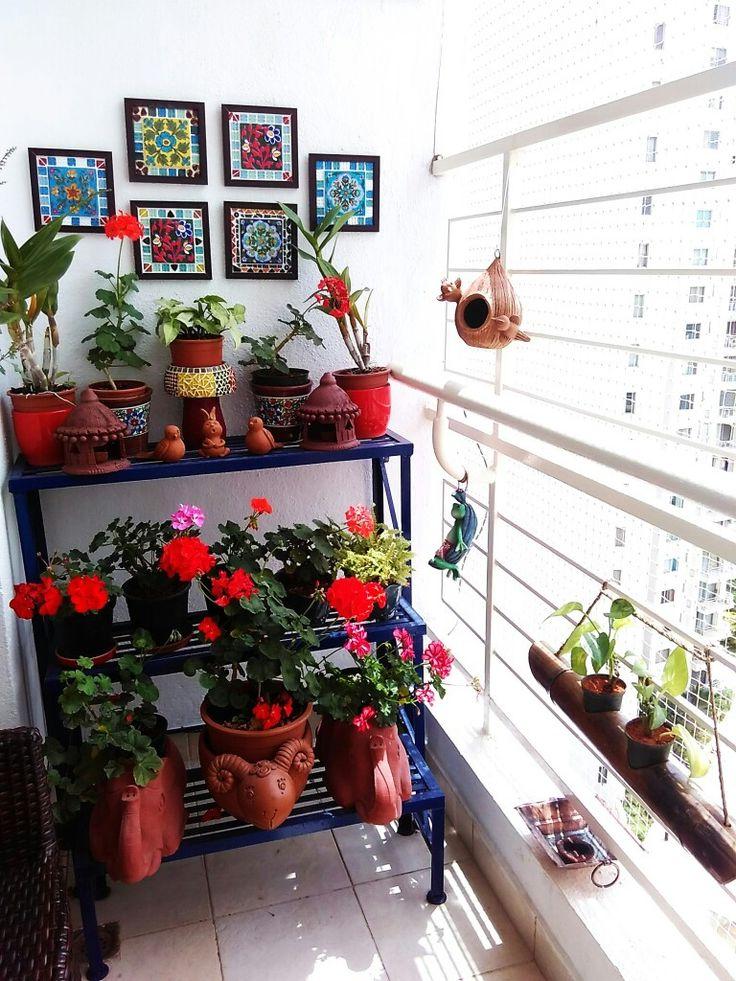 Living in an apartment does not mean you cannot have a garden. If you plan it thoroughly, you can set up a nice small garden to have a little outside feel even if you are 20 floors above the ground. Shelves are the best way to go for these kinds of spaces. Combine your plant's colors with the plant's pots, add some decoration elements like paintings and create a unique apartment garden.
13. Modern Gardening Ideas For Apartment Balcony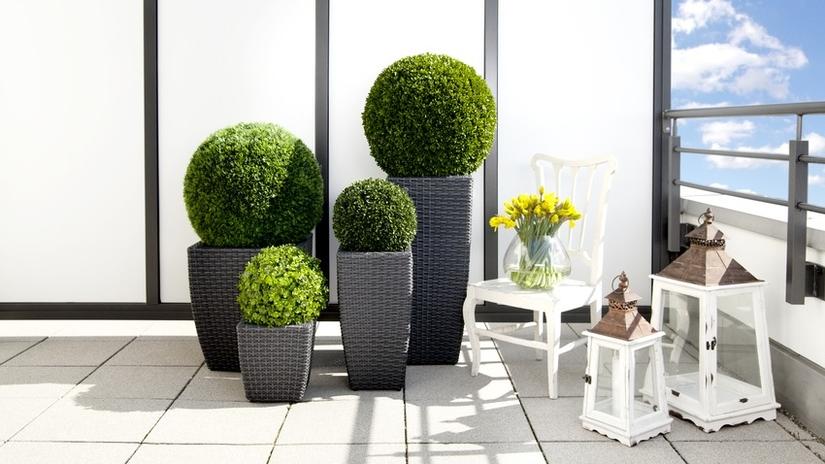 Even in an apartment with non – outside balcony or terrace, you can still have a garden feeling by setting some tree pots in different sizes near to the windows so they can receive sunlight to develop correctly. Use other decoration elements like lamps, stones or any other that contributes with the overall feel. The will add brightness and freshness to any living room. In this example, the owner gave his plants a very trendy, urban style, by shaping them roundly and using very modern plant pots.
14. Outdoor Space For Breakfast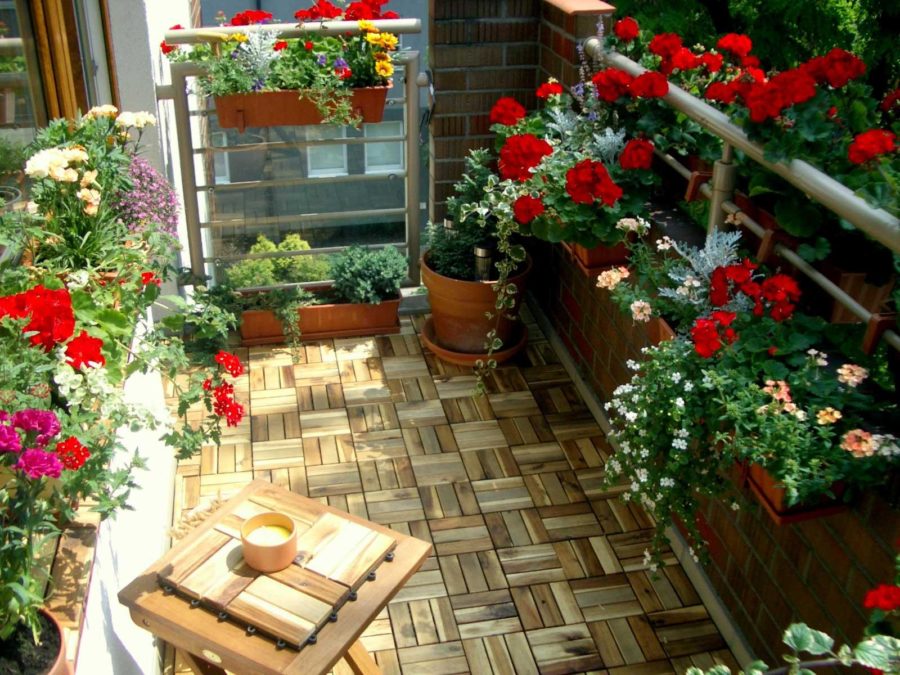 Flowers can bring a lot of color and add freshness to any outside space. A deck with wooden floors works great with brick colored pots full with wide flowers in bright and shiny colors. Combine shapes, colors and sizes on your flowers and pots or vases to make the space look more like an outside garden. You will forget you are standing on a deck and you will feel like walking a flowers field.
15. Pallet Herb Garden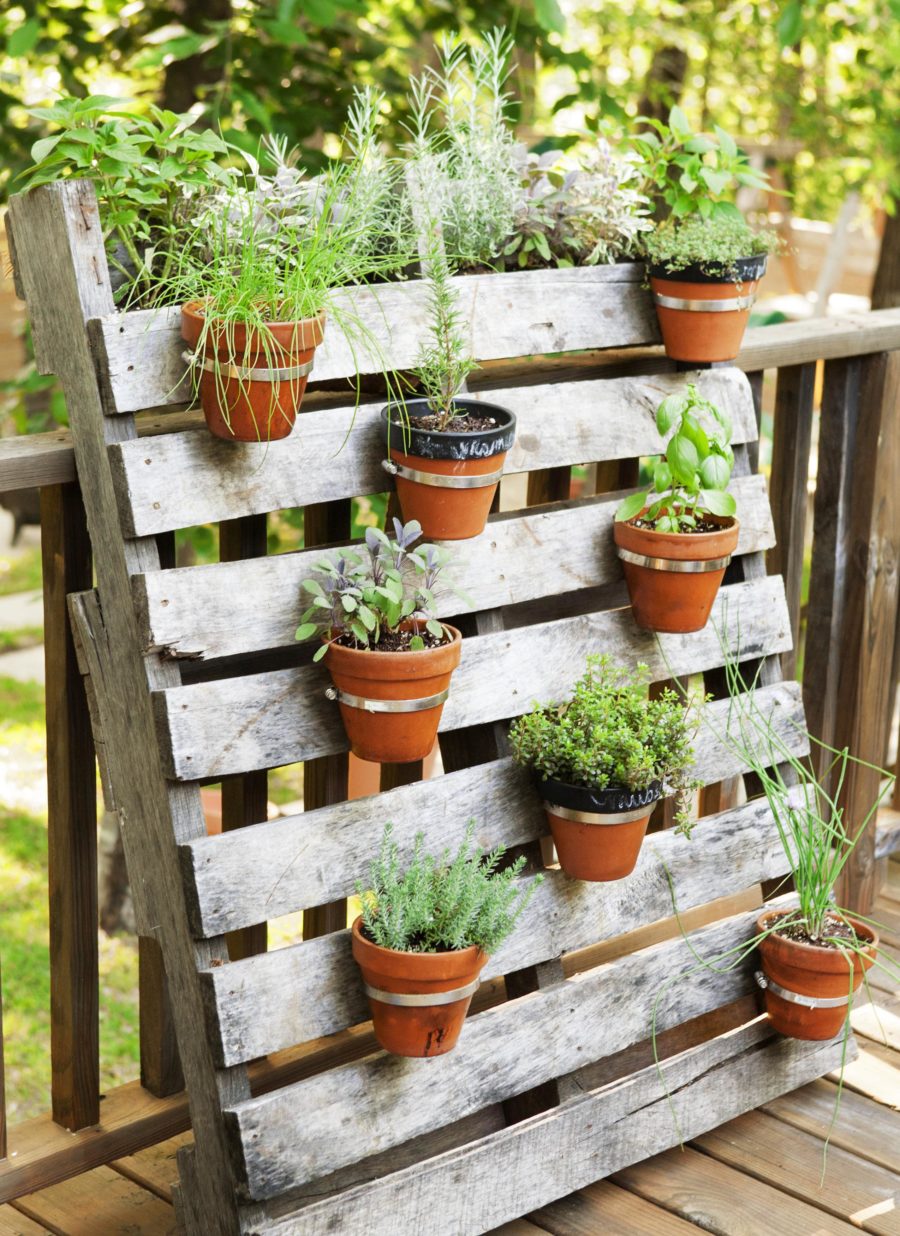 The pallets normally used to stack products can be reused for decoration purposes. You can set it vertically against any gate of your balcony and hang some plants pots in it. This is a great way to grow herbs like basil, green onions, rosemary, dill, cilantro oregano or any others that can easily grow in small spaces. What a great way to learn about farming, making your balcony look good and harvesting some food. Besides, most herbs are great to repel insects.
16. Mini-Garden Design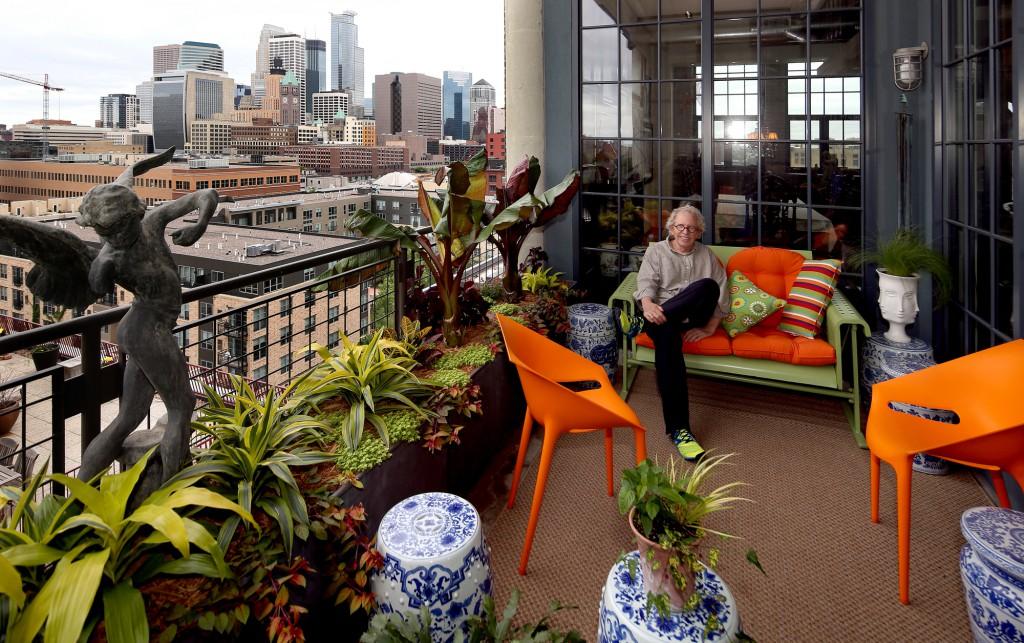 If you live in the city but you still want to have the best of both worlds, why not to create a nice terrace in your apartment deck? All you need to do is use some chairs, maybe a small coffee table and lots of bushy plants to give you the jungle feel in your own apartment. If your deck is big enough, you may even want to put a small fountain or a stone sculpture. Contrast the green plants with vivid and bright color furniture to create a beautiful style.
17. Small Balcony Garden Design Ideas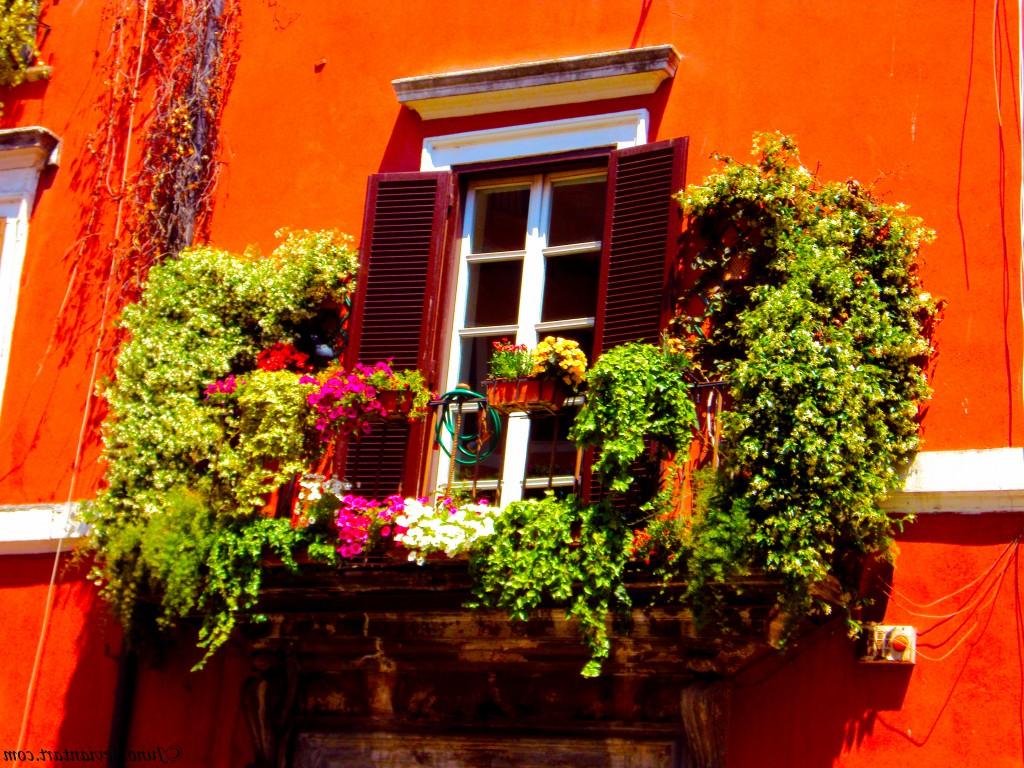 Who said that just because you have a tiny window you cannot have plants on it? In this balcony you can see how the space was very well used by locating the plants in the whole balcony's extension. For this kind of balcony, hanging plants will always do the trick very well, making your house look blooming all year long.
18. Traditional Balcony Gardening Ideas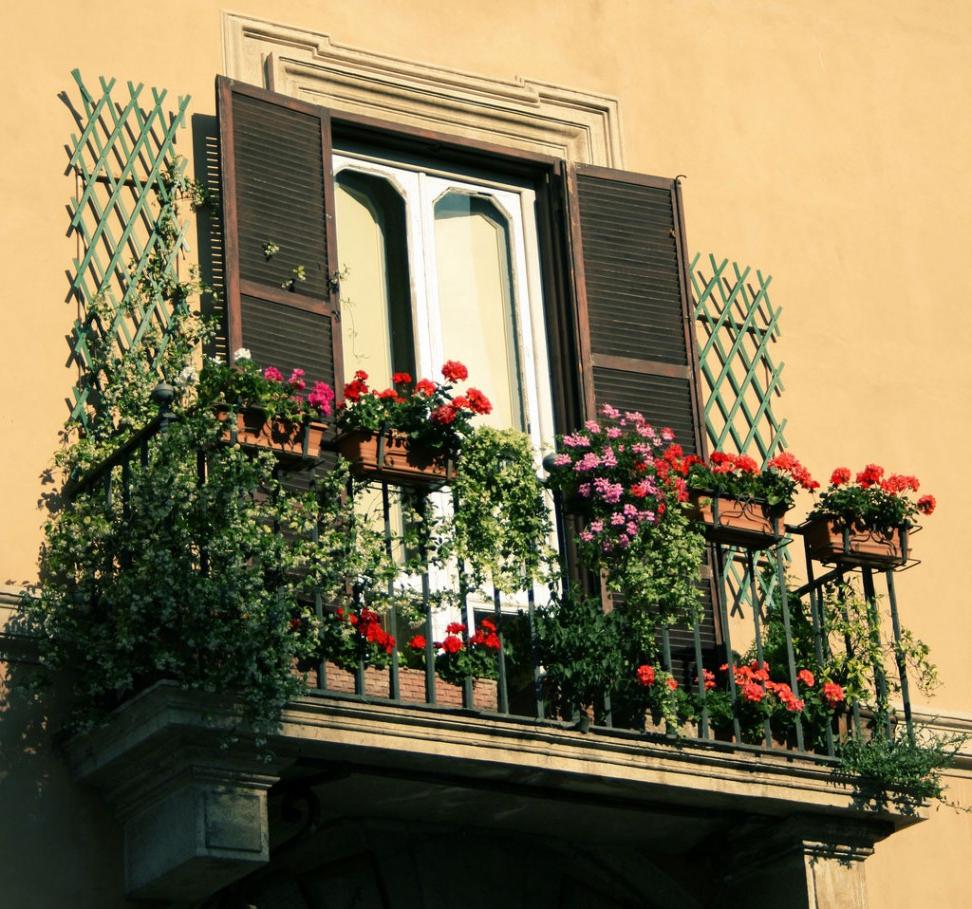 Another great way to use the space wisely is by using structures for the plants to climb, like this rack on each side of the window. With this, you can grow plants that need to "climb", like some ornamental, or even foods like cucumbers, beans and others. Fences can also contribute with this task of hanging plants. This kind of balcony is perfect for a mix garden, with flowers, ornamental and foods.
19. Trendy Apartment Balcony Garden
In houses with big balconies you have the opportunity to set up a great looking and varied garden. If the balcony is at the top floor of the house, you can use it for plants to climb on the roof and even the walls, this will give the house a cabana feeling. And for the down side of the balcony, use bright and small flowers to give the sensation of a grass, flower field. For a country house, this is a great way to decorate.
20. Terrace With Small Trees and Plants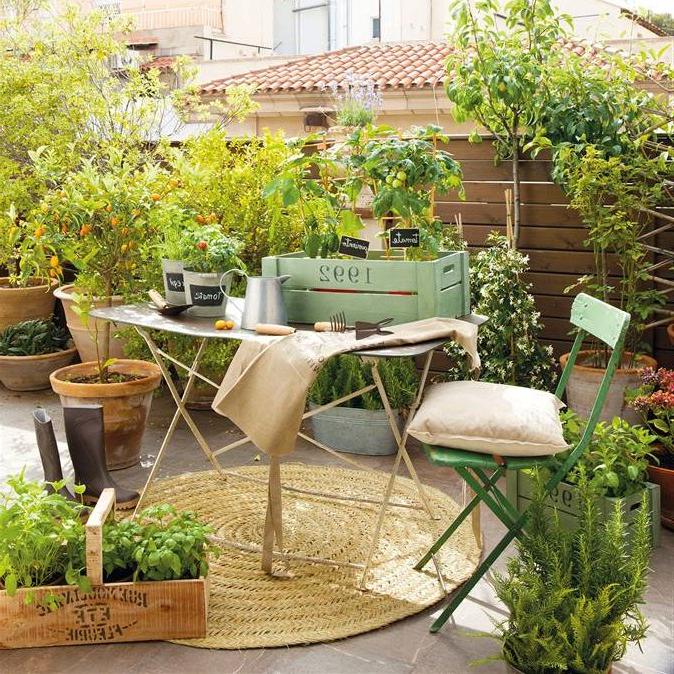 When you have a large deck or terrace you have the opportunity to create a very nice garden like this one that even include small trees that are planted in large pots. This vintage style also includes wooden boxes recycled into tomatoes and herbs square pots. These decks give you a real chance to experience the farmer life style, even for a few hours every day. Growing plants is a great way to spend time and release from stress.
More Balcony Garden Design Ideas On The Next Page…