A pool in the house? What a spectacular moment it would be! Who has not had this idea in their heads, build a pool in the yard to share with the family, enjoy a day of relaxation under the sun, enjoy a bath in fresh water to reduce heat, and why not, try to win a wonderful tan resting on a lounger next to the delicious water.
Currently, materialize this desire to own a pool at home may be difficult and expensive, but it is not impossible, there are many ways that go according to space, budget, time and materials used, here we are going to show you best backyard pool designs ideas which can inspired you. Check out this best backyard pool designs ideas and copy the suitable designs for your dream home.
25 Best Backyard Pool Designs Ideas to Set Up a Pool In Your Backyard

1. Amazing Backyard Pool Designs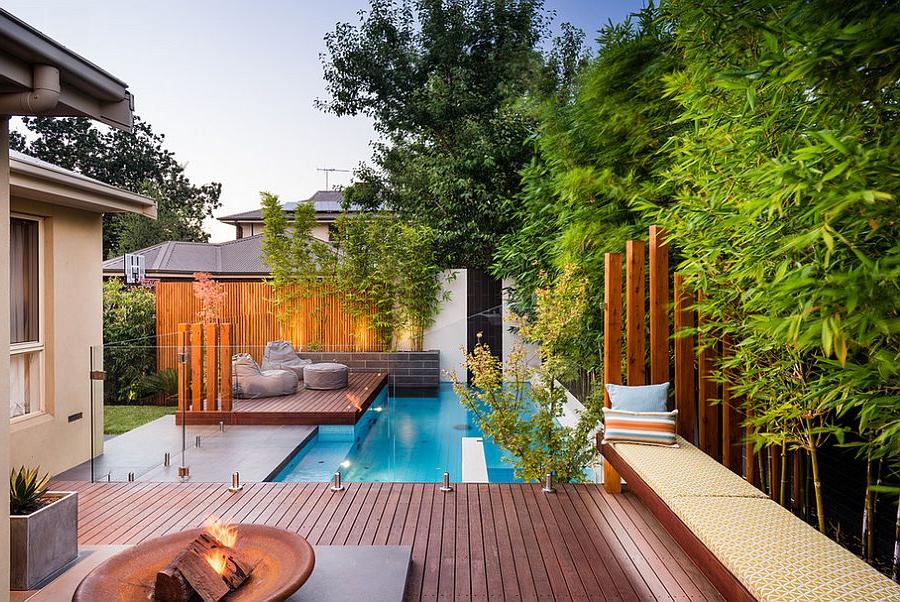 Whether you have a big, medium or small space, if what you want is to have a pool in your backyard, it is just a matter of planning well to make the dream come true. Come with us while we show you the best ideas to create a pool area in your backyard.
2. A small pool inside the ground of your backyard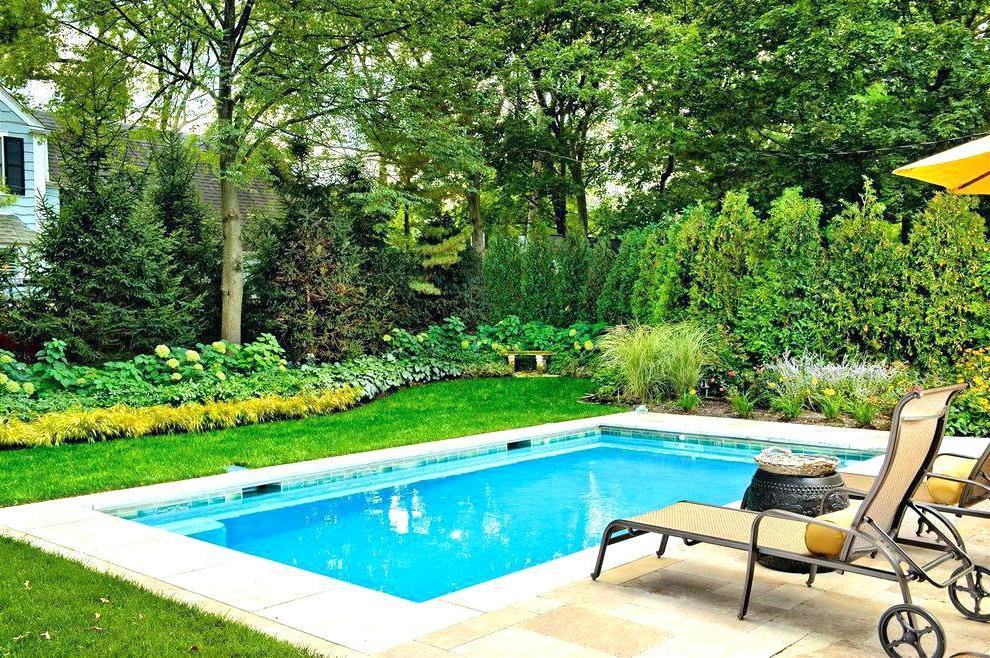 Having a small pool will allow you to have a nice garden to grow plants and flowers. In this design, the small pool is built inside the ground to merge even more with the landscape, that features a beautiful garden with trees, bushes and flowers. This is a very nice combination that evokes the feeling of being at a river.
3. Dreamy and Luxurious Patio Pool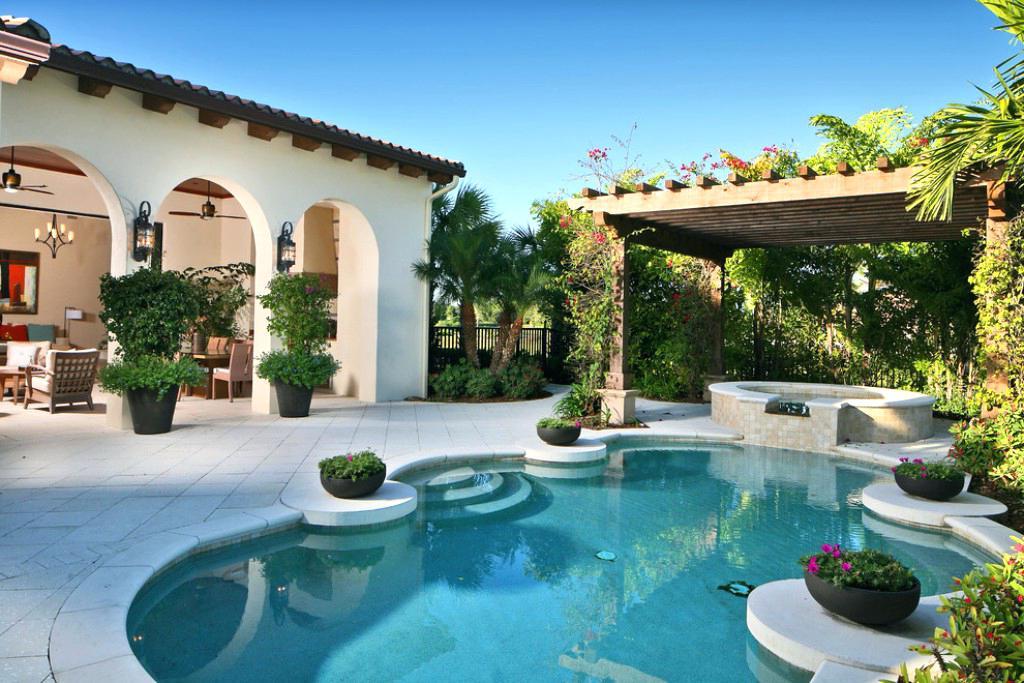 Big houses normally features big size patios, where you can design and entertaining area to host parties or have a relaxed family weekend. And having a pool like this large one is the ultimate fun activity for all ages. This patio also features a hot tub under a nice gazebo that can be used in the colder days. This patio lets you enjoy a splash in a luxiorious way, and with the tall and bushy plants, lets you have just enough privacy to relax any way you wan. This is the kind of backyard pool to have when space and budget are not a problem.
4. Above the Floor Pool For Time, Money and Materials Savings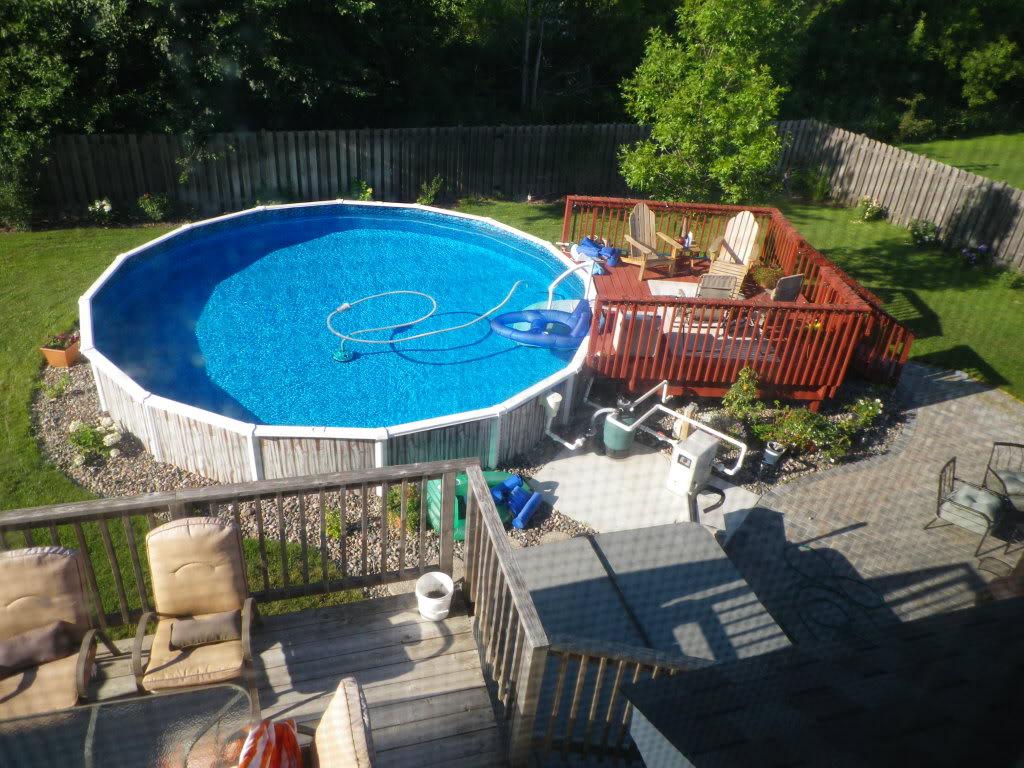 Having an above floor pool like this one will save you a lot of money and time, not to mention it could be safer for houses with kids. They are also a good idea because they are an easy and fast way to build a pool in a backyard of any size. In a big backyard you could add a nice deck to take a quick sun before soaking for a while. The rest of the yard has several sitting areas, as well as a wide yard with grass to play for a while.
5. Backyard Pool With a Grill to Entertain Guests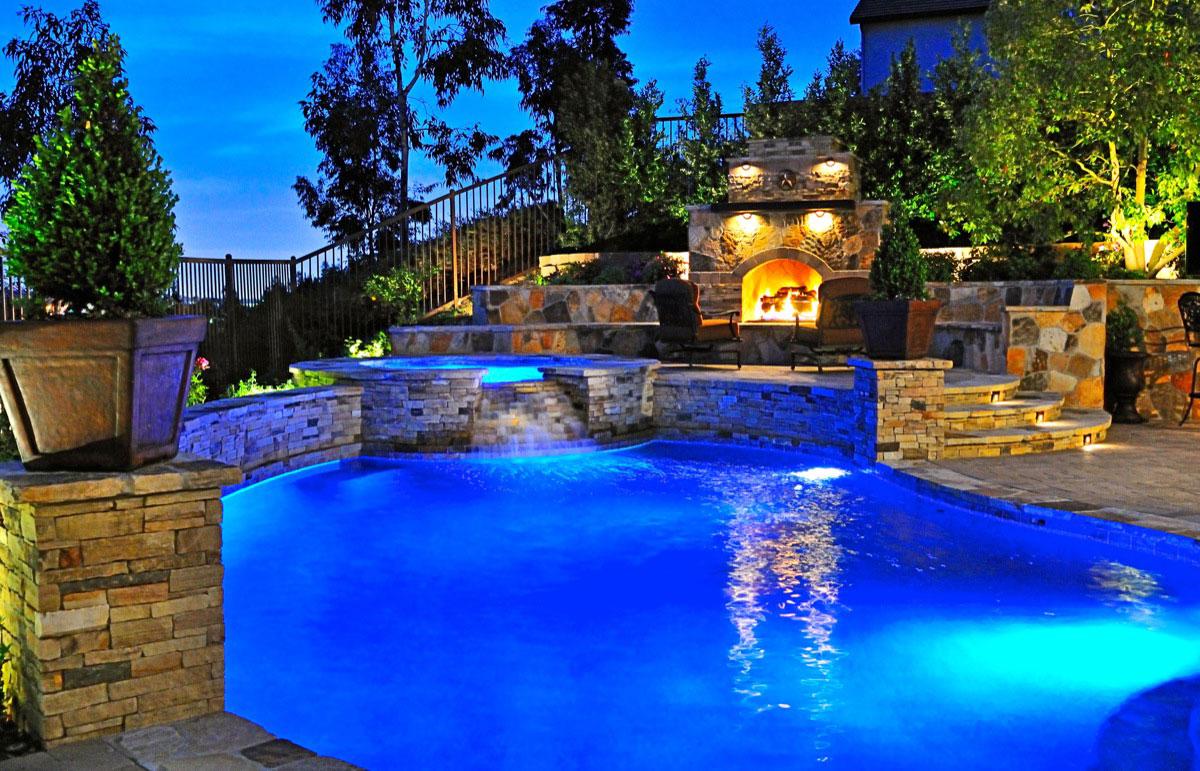 Build a fancy pool in your back yard to entertain people any time of the day. This backyard pool has additional features to create the perfect space for entertainment. Extras like the grill gets you half way done with the barbecue, and the stairs and sitting areas with tables made in stone and brick makes the space even more comfortable. This design also features lights inside the pool for a dramatic and very elegant look. This design screams pool party all over.
6. Backyard Pool With Extras for Complete Entertainment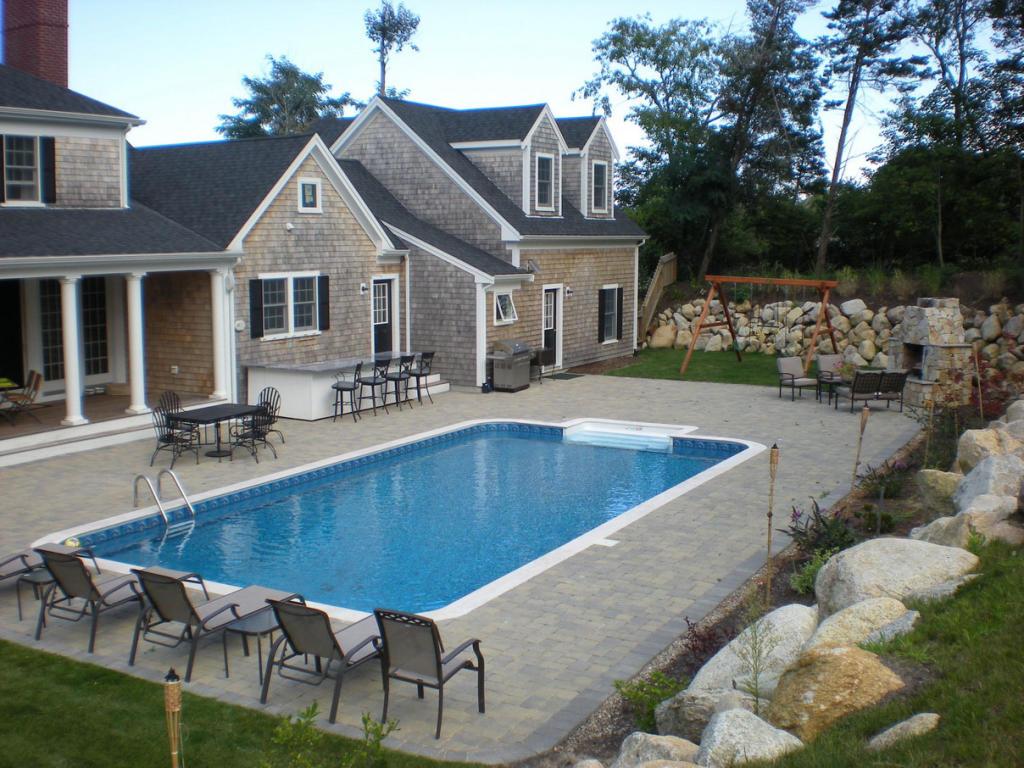 In most traditional design houses the backyard is meant to be used with fun purposes. These backyards are often large and can host a big pool like the one we see in this design, that also incorporates swings for kids' fun, a grill to avoid trips to the kitchen, a bar to create drinks, an eating area and even a loungers area to chill out and take sun. It is a very complete space to enjoy weekends or holidays with the loved ones.
7. Fun and Design Complemented Well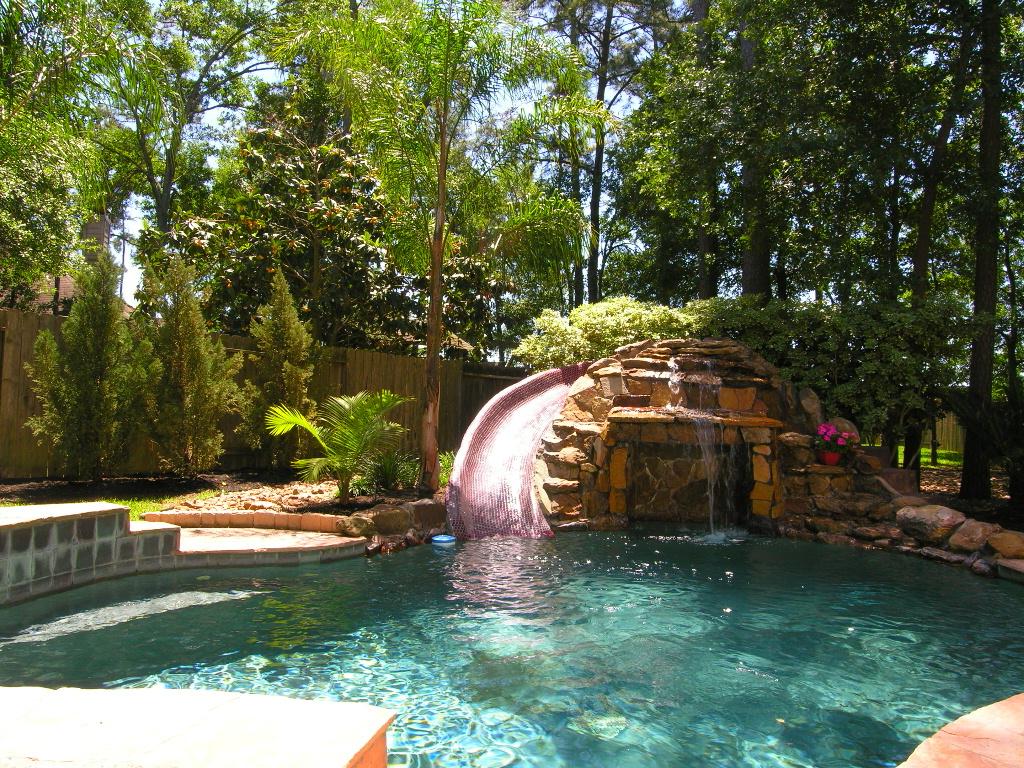 Make a theme out of your backyard pool and turn it into a rustic cave with waterfalls, slides, and even a small cave to play games. This backyard pool is made with materials like wood, stone and brick, and perfectly matches with the vegetation that surrounds the property. This space is very creative space for fun and relaxation.
8. All In One: Entertainment and Adventure Right In the Backyard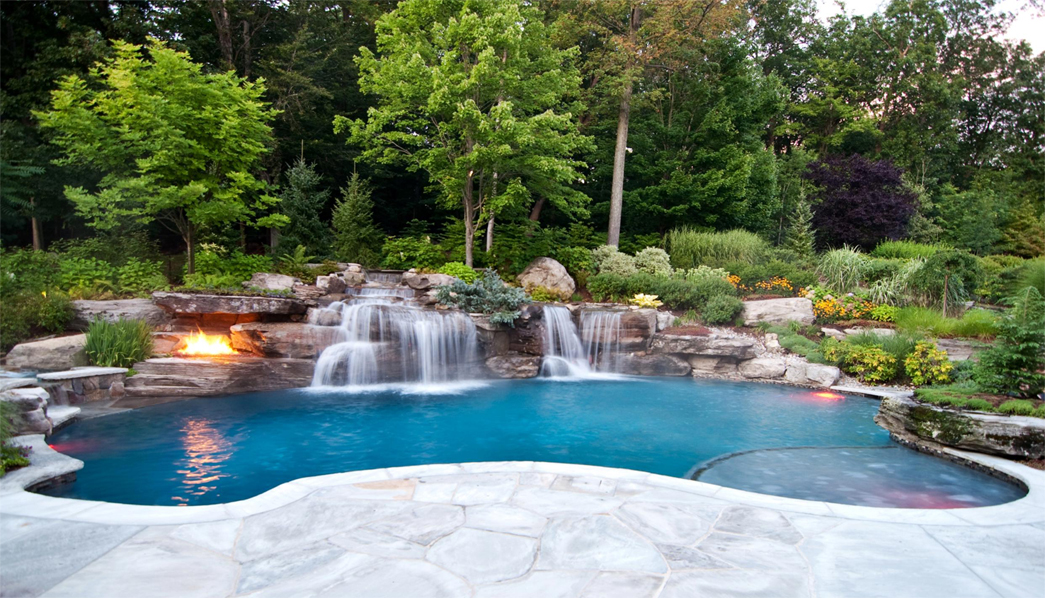 When you have a big back yard that goes into the forest, incorporate your pool in the overall design that includes interesting features like a fire pit to roast marshmallows or a piece of steak. The fire will also help you with lighting at night, but you can also incorporate some lights into the pool. The waterfalls make a relaxing and zen element and seem to come naturally from the woods. The white stone floor finishes the relaxing sensation that you feel when you visit this pool.
9. A Comfortable Resort Right In The Backyard Deck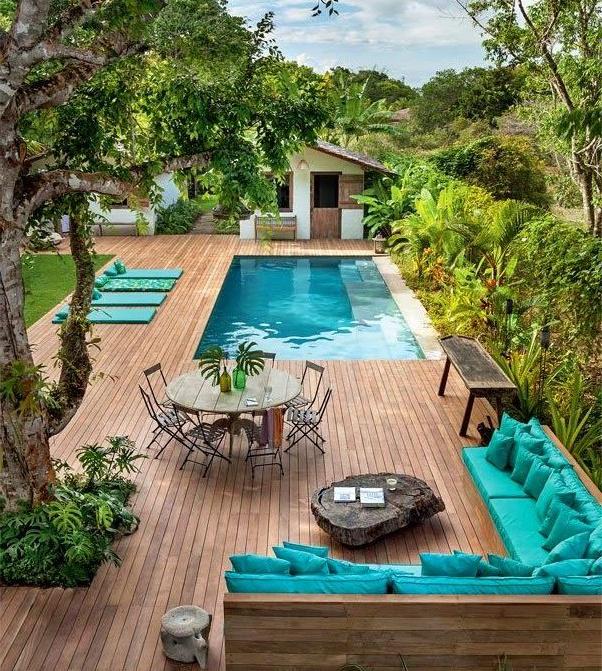 If you have the resources, consider building something luxurious like a resort style pool. With this design, you can spend your whole day relaxing in the pool thanks to its amenities such as the comfortable and large furniture with a wood coffee table to put your favorite books or your tablet, loungers to laid on the floor, a dining set to take your meals, a grill, and a little cabana bar to cook or to make drinks. No reason to go anywhere else.
10. Big Swimming Pool With a VIP Area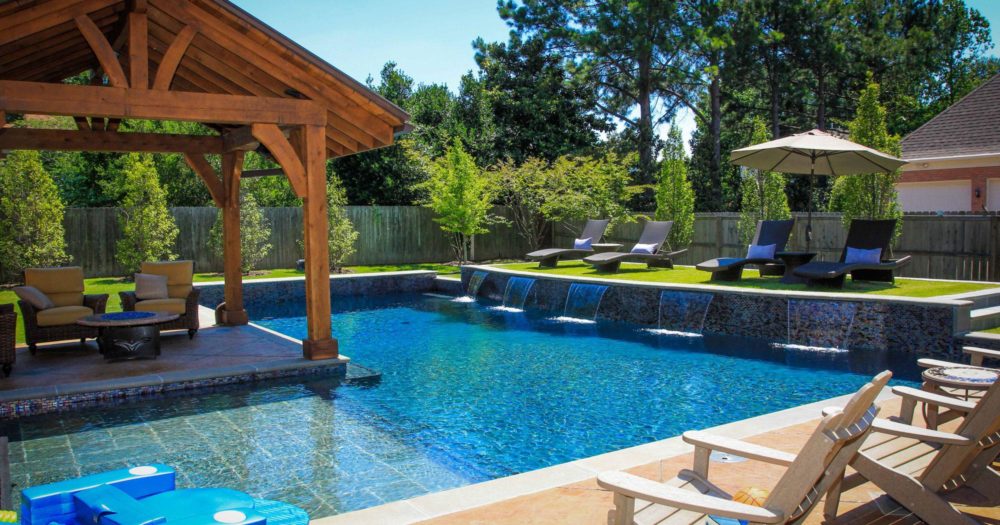 This big pool features the wow factor of an elegant gazebo right in the middle of the pool. This VIP area offers shade when the sun is too strong. This idea that will have all of your friends wanting to visit you every weekend also features a lot of space for sitting thanks to the loungers that are placed all over the yard.
11. Canopy Style Pool to Resist The Elements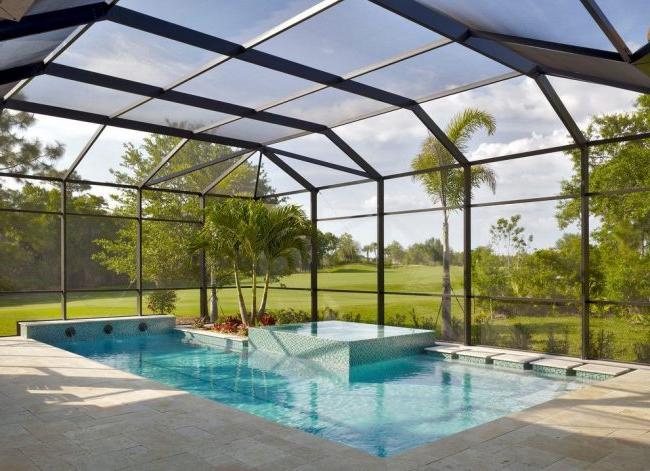 When you want to take a swim in your pool but there is bad time outside, it could come handy to build a crystal canopy to take advantage of the lights and be protected from the elements. This design lets you use your pool and take a swim anytime you want.
12. Backyard Fun at Low Price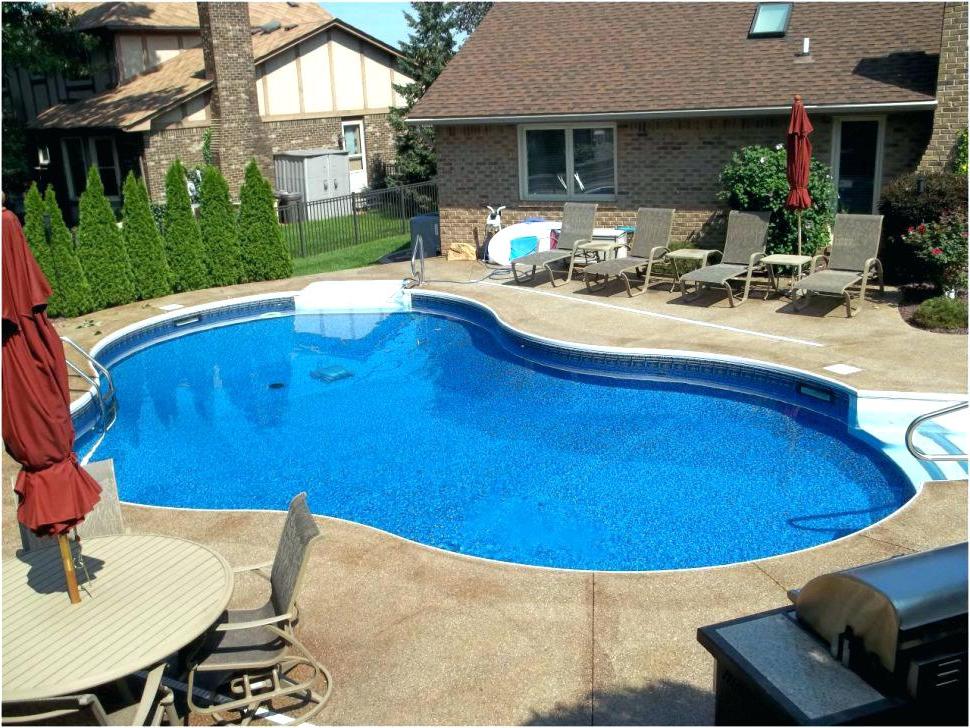 Building a backyard pool can seem an expensive project, but you can create a simple design like this that is also very cheap thanks to its basic materials and furniture. Besides, having your own backyard pool will make you save money on the long run. Barbecues, pool parties, gatherings, birthdays, can be celebrated for a fraction of the money you would spend going somewhere else. Think about it, having a pool can actually be a saving money strategy.
13. Small and Private Pool Ideal For Suburban Areas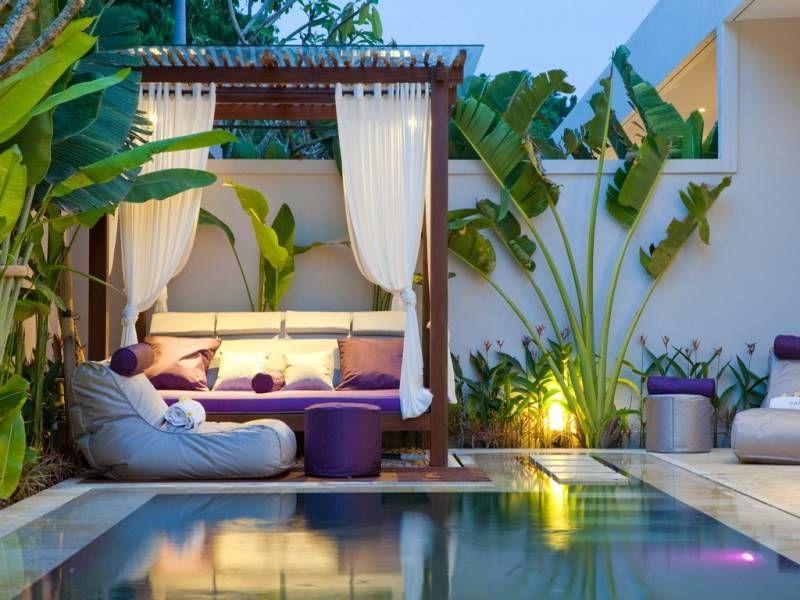 For suburban areas with small backyards, building a pool can seem impossible. But with the right design – and budget – you can create something like this private, small, Zen style pool, perfect for relaxing under the moon light, having a candle light dinner by the poolside, or just reading with a cup of wine any time of day.
14. Modern Pool to Enjoy the View
If you have a big land on the hills, you may want to consider creating large pool inside your backyard to make the best view for when you are swimming. In this design, the pool give the sensation of being on a lake, surrounded by amazing natural views, to enjoy the nature's wonders without leaving the pool. This space is also great to have visits and entertain thanks to the different sitting areas, the gazebo and a grill to barbecue anytime. Once you are in this pool area, you will not want to leave.
15. Inflatable, Easy, and Affordable Fun For All the Family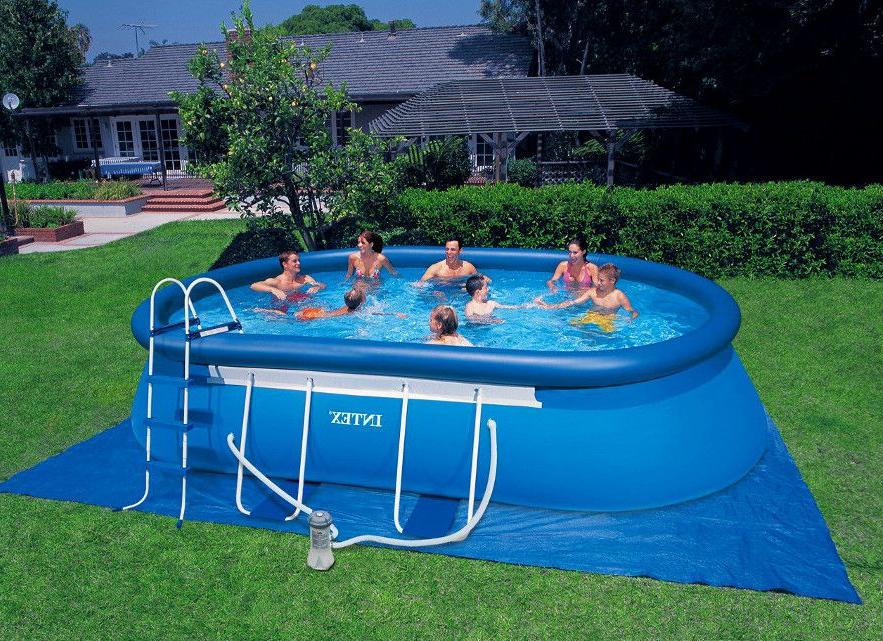 Nowadays you can find inflatable pools to fit a whole family. They are made of very resistant plastic and are perfect to install at any side of your house, being a great alternative for a house with a backyard of any size. These kinds of pools are a good idea because they are less expensive, they can be assembled and disassembled very fast and easy, they are really easy to clean and take care of, and if you take good care of them, they can last for lots of years. These kinds of pools are often the first step before facing the project of the construction of a pool area in many houses.
16. Custom Made Pool With an Interesting Shape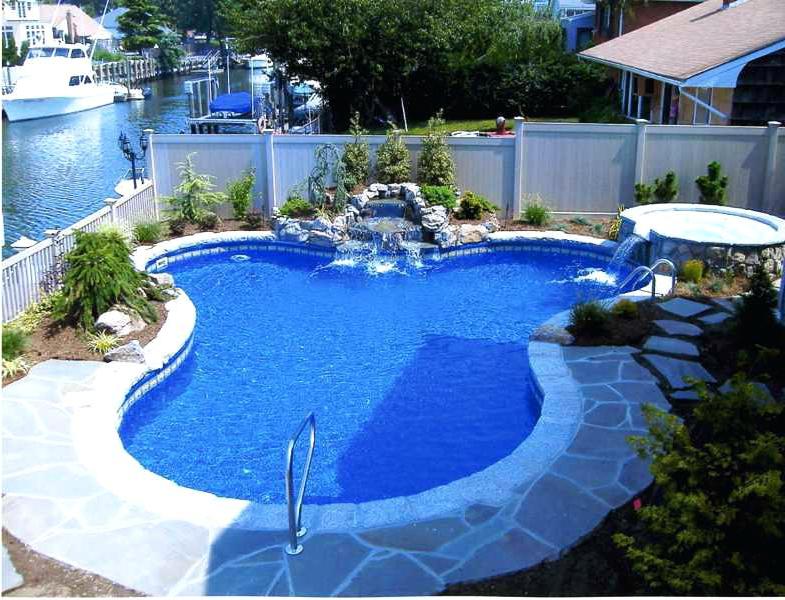 Step away from the conventions of squared and rectangular pools creating your own pool with a shape to stand out from the crowd. With creative thinking you can design a special and different space to relax and take sun. This backyard features a creative shape, a cascade detail in the center and a hot tub. The combination of materials and color works very well with the ornamental plants that surround the pool.
17. Large Backyard Pool With Extras and Decoration Elements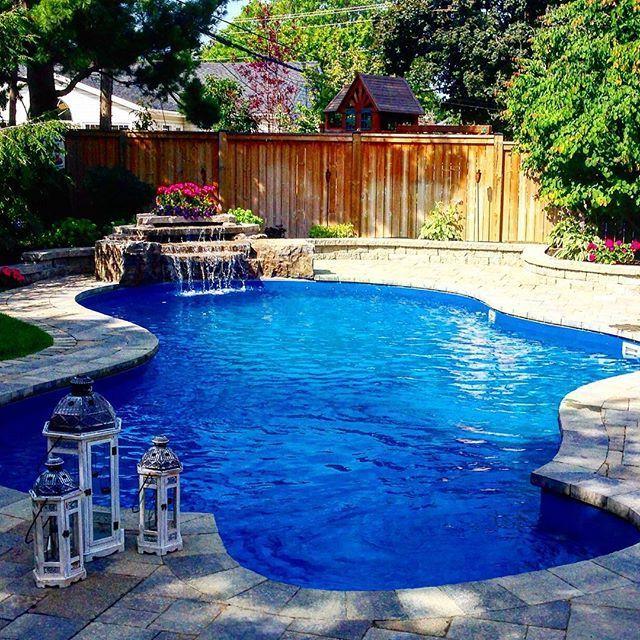 Even the pool is the main feature in the backyard, that does not mean you cannot compliment it with other details to enhance the design. This is an upscaled design, with ornamental plants, brick flooring, a custom shaped pool, a fountain that falls into the pool and other decoration elements.
18. Backyard Pool for Outdoor Fun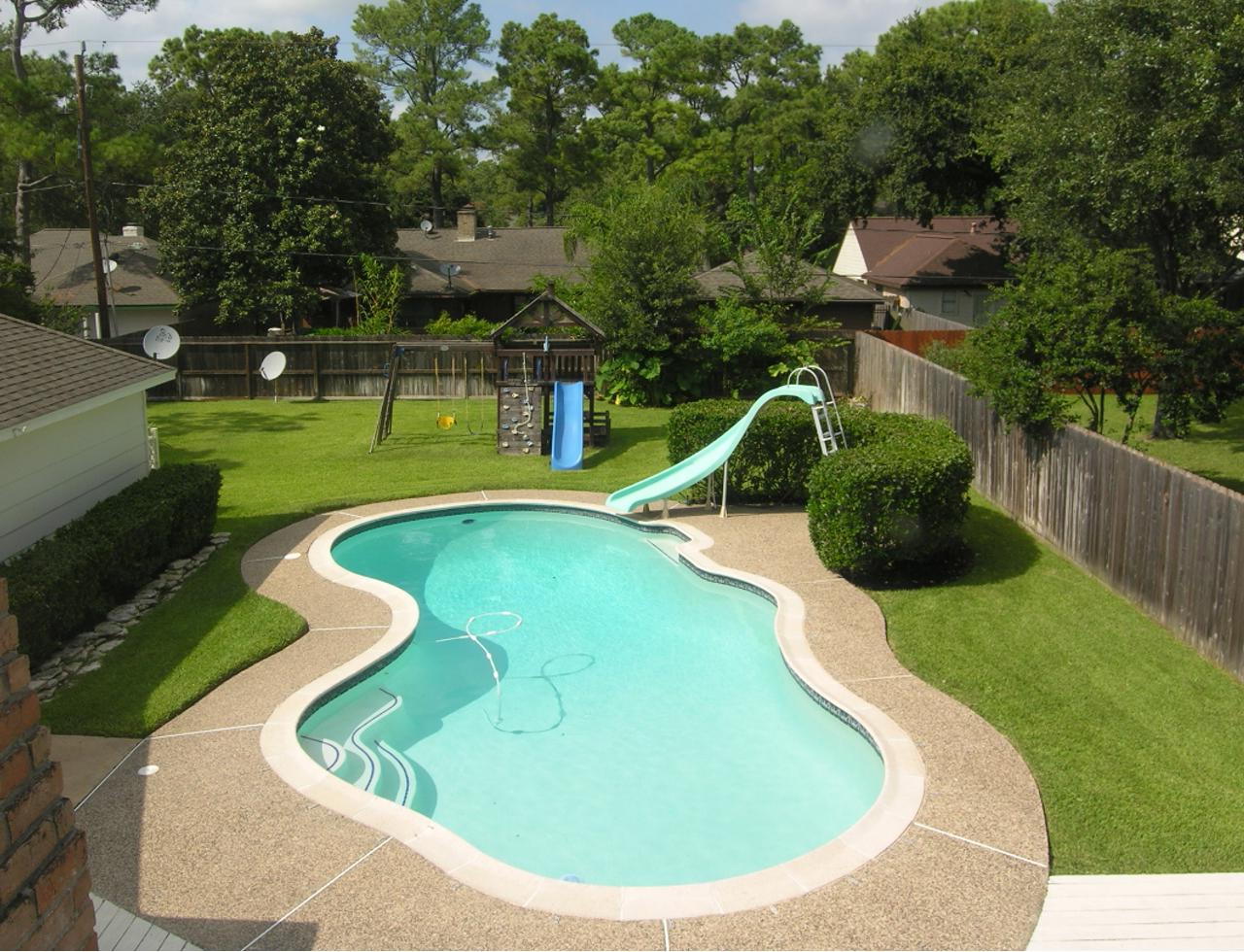 A backyard pool can be adapted to the size of the land. The larger the land is, the larger your pool can be. And you can also create the perfect outdoor fun space by adding some features to increase the entertainment. Here, a little park with swings and a slide and the big yard to run and play, complement perfectly the big pool that includes a slide. In this design the fun was part of the thinking process from moment one.
19. Big Outdoor Space For Family and Friends Entertainment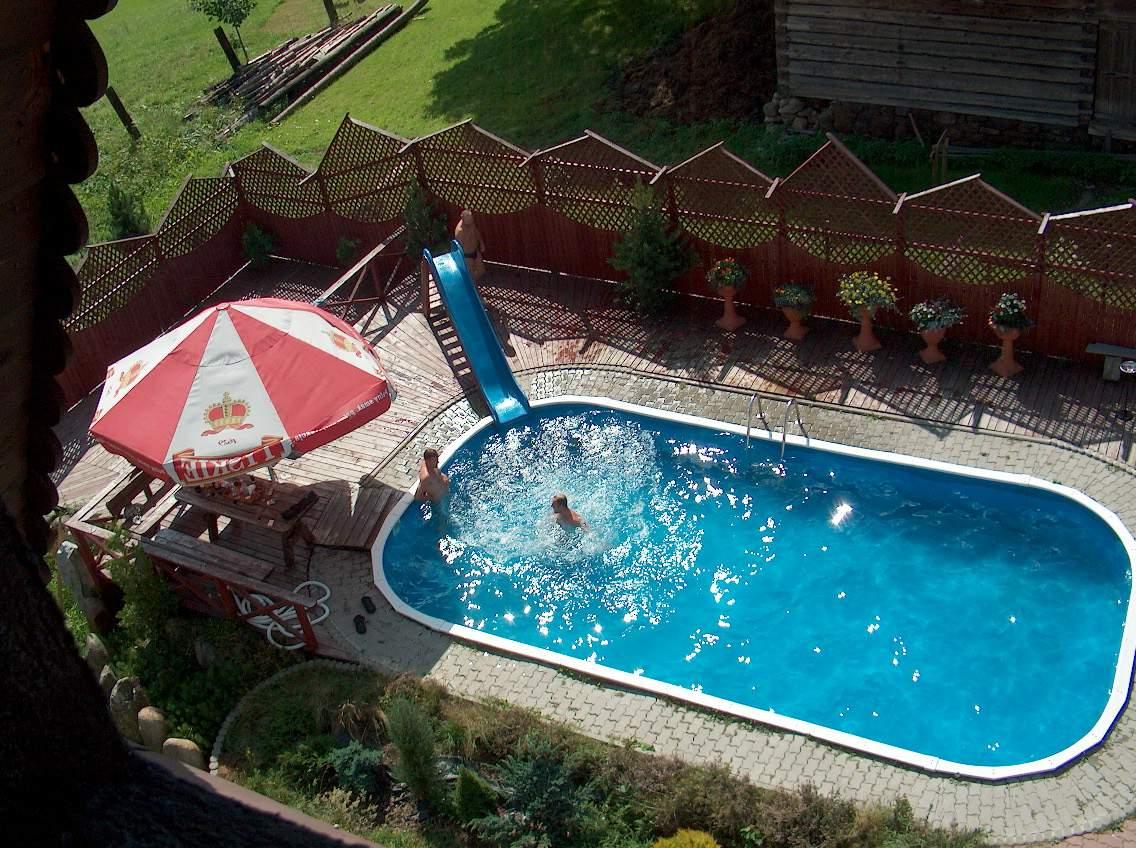 If you know that you want your backyard to have a big pool because you plan to constantly have gatherings, you can do something like the owners of this house did, by building a large rectangular swimming pool that features a slide to increase the fun. This space also has an eating area that fits quite a few people and that is protected by an umbrella. The design is complemented with a nice small garden to keep enjoying nature.
20. Swimming Pool in Backyard Made For Socializing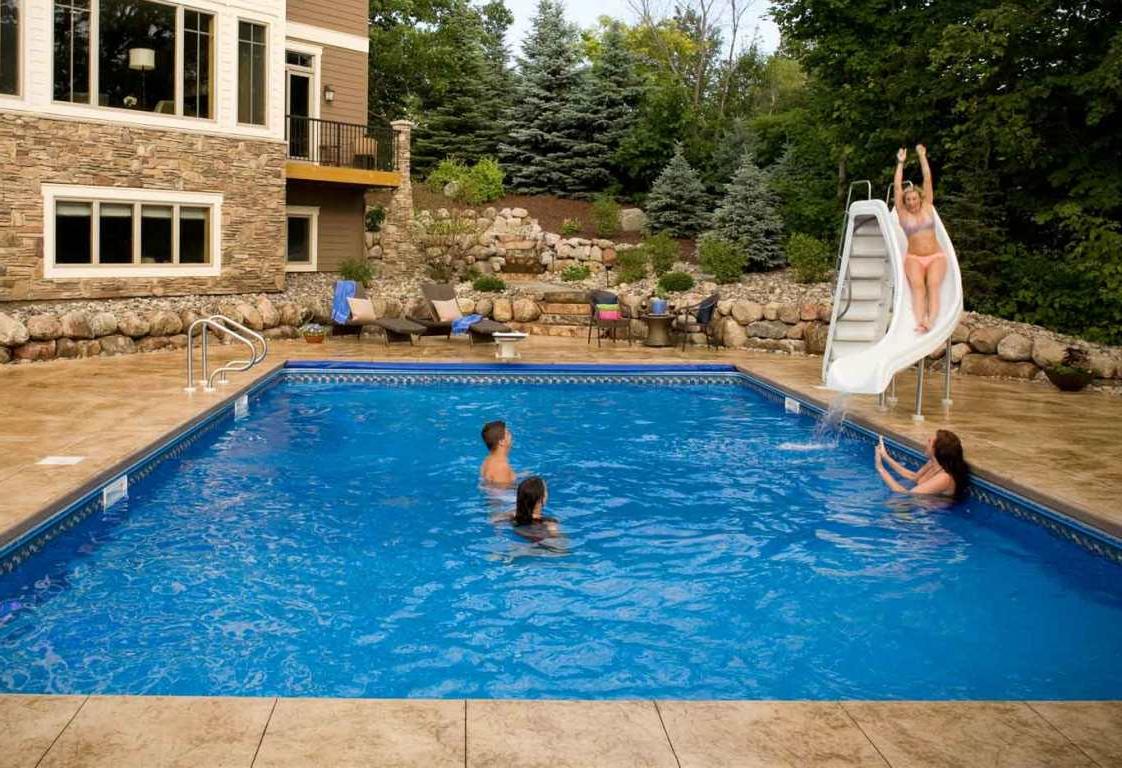 This large swimming pool is the focus point of the back yard, which was planned to be a pool area instead of a backyard. In this design the floor is made of anti-slipping tiles to avoid people from falling after leaving the pool. Sitting and dinning areas encourage people to spend the day relaxing by the pool and the nature surroundings give the exact touch of privacy that a house with a big pool just needs.
21. Backyard Design With a Small Lake Style Pool Surrounded By Plants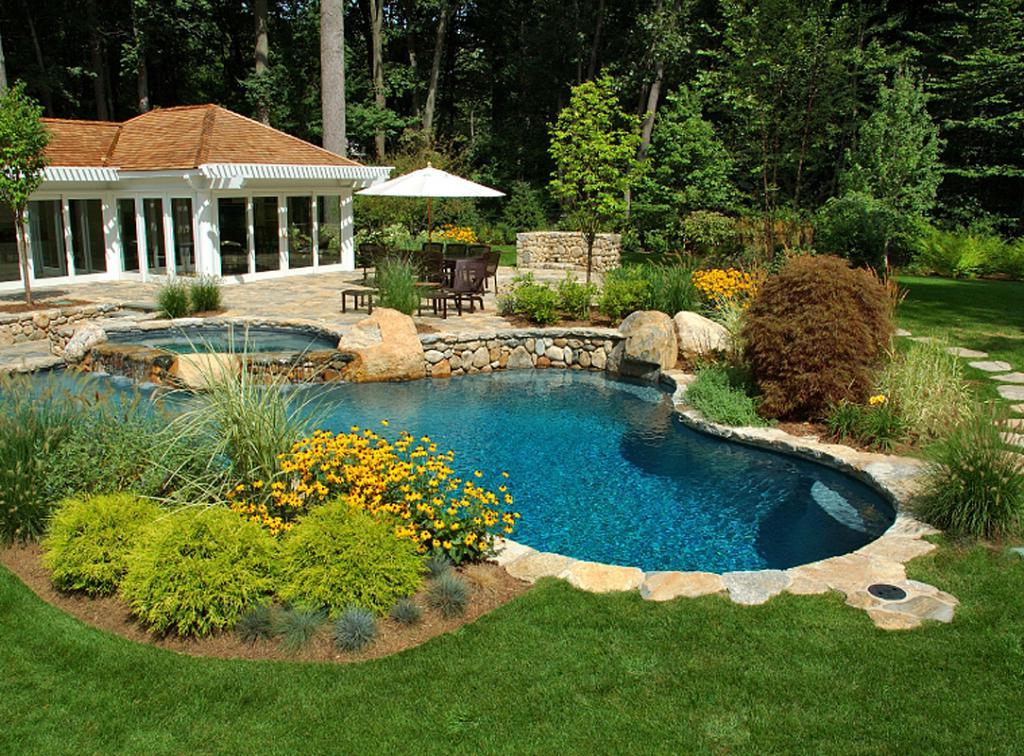 If you think about the design from the first moment, you can make your pool a part of the landscape. In this design, the pool fits perfectly between the plants and bushes of the garden, looking a little lake inside the woods. This pool features a hot tub right beside the pool and a dinning area to enjoy around the small but beautifully designed pool.
22. Small and Inflatable Pool With a Caribbean Feeling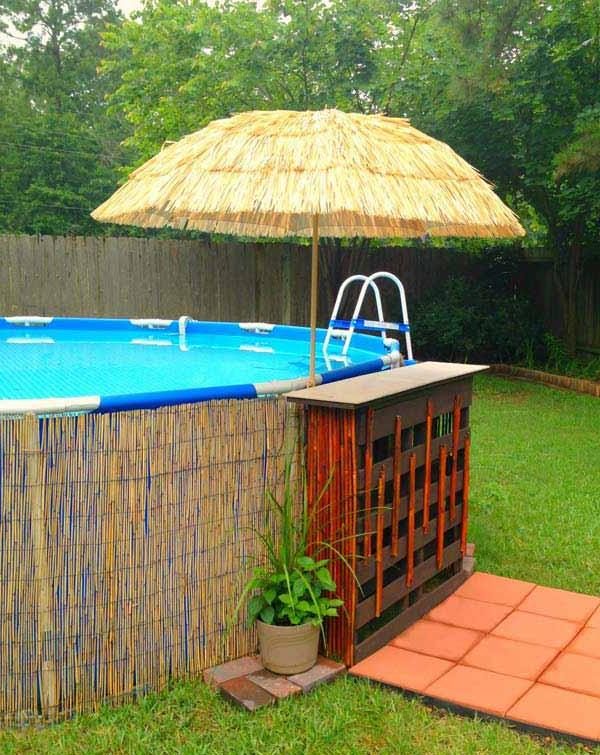 This kind of design is perfect for those who went for an inflatable pool but would like to change its appearance into a more appealing style. This is a very easy DIY project that you can use to add some style your small inflatable pool. You just need to line the pool in the outside with sticks that can be made of bamboo, wood, or any other natural material of your choice. This design also creates a rustic tiles path on top of the lawn to increase the appealing of the pool. Finally, the umbrella made of straw is a double purpose element for the design. Decorative to make it look more Caribbean and comfortable to add a space to step away from the sun without leaving the pool.
23. Easy and Safe Inflatable Backyard Pool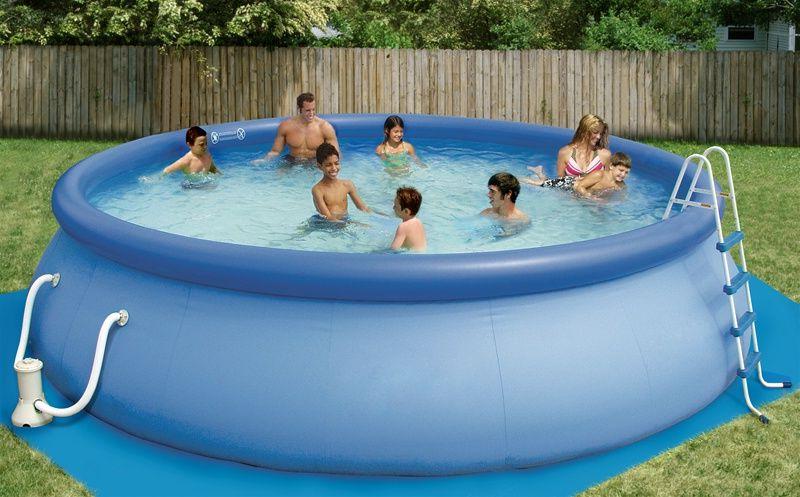 There are several reasons we people do not want to have a pool in the back yard. Probably they have small children and have concerns about safety. Maybe building a pool in the right size for the land is an expensive project. Or maybe they do not want to compromise half of more of their back yard to create a pool. You can solve this problem by setting up an inflatable pool in your back yard that will make you have a great time outside time for as long as you want. This type of pool has a ring that can be used for support and flotation. With this big pool you just have to inflate it for the day, spend at the pool with your family and friends, and after you are done, deflate it and store it anywhere you want till next time. You have comfort, fun and security all in one with the inflatable pool.
24. Backyard Pool With an Outside Kitchen For Parties and Gatherings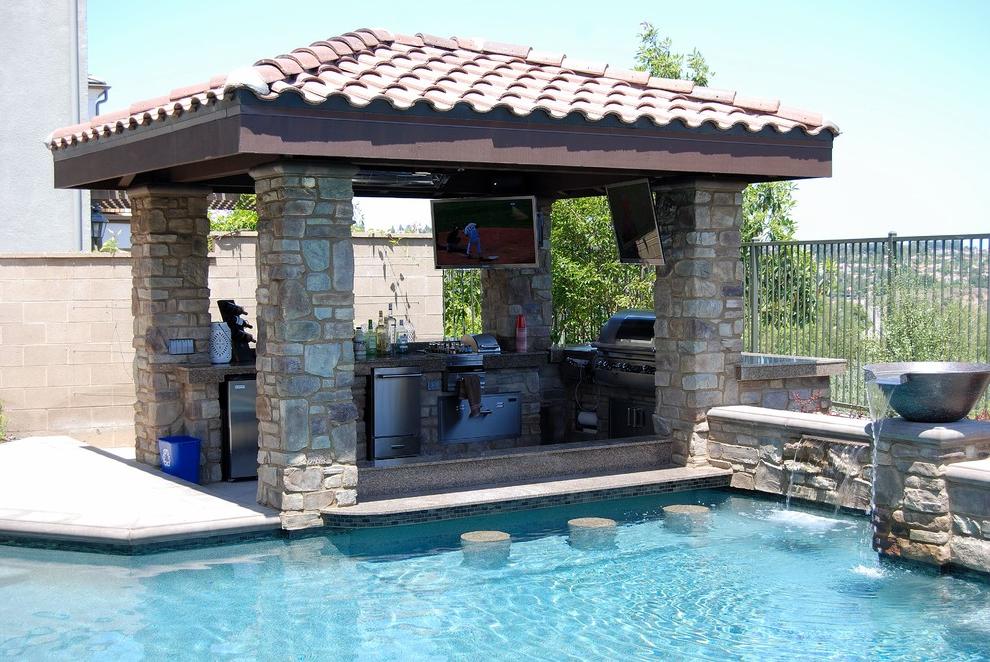 Create unforgettable moments every time you have a party, reunion, or any activity with design that was created to entertain guests and local everyday, no matter the time. This design features all you need to throw the best party: the pool is large and takes a good part of the backyard, being able to contain lots of people. A side gazebo features all the necessary gear to create the most varied kinds of foods, with a grill and a few stoves, as well as fridges, a sink and of course a grill. The big LCD giant screens complete the entertainment being able to play music and video with great quality. With this space your house will never be alone any weekend.
25. Inflate the Fun For the Kids and Test the Wonders of a Backyard Pool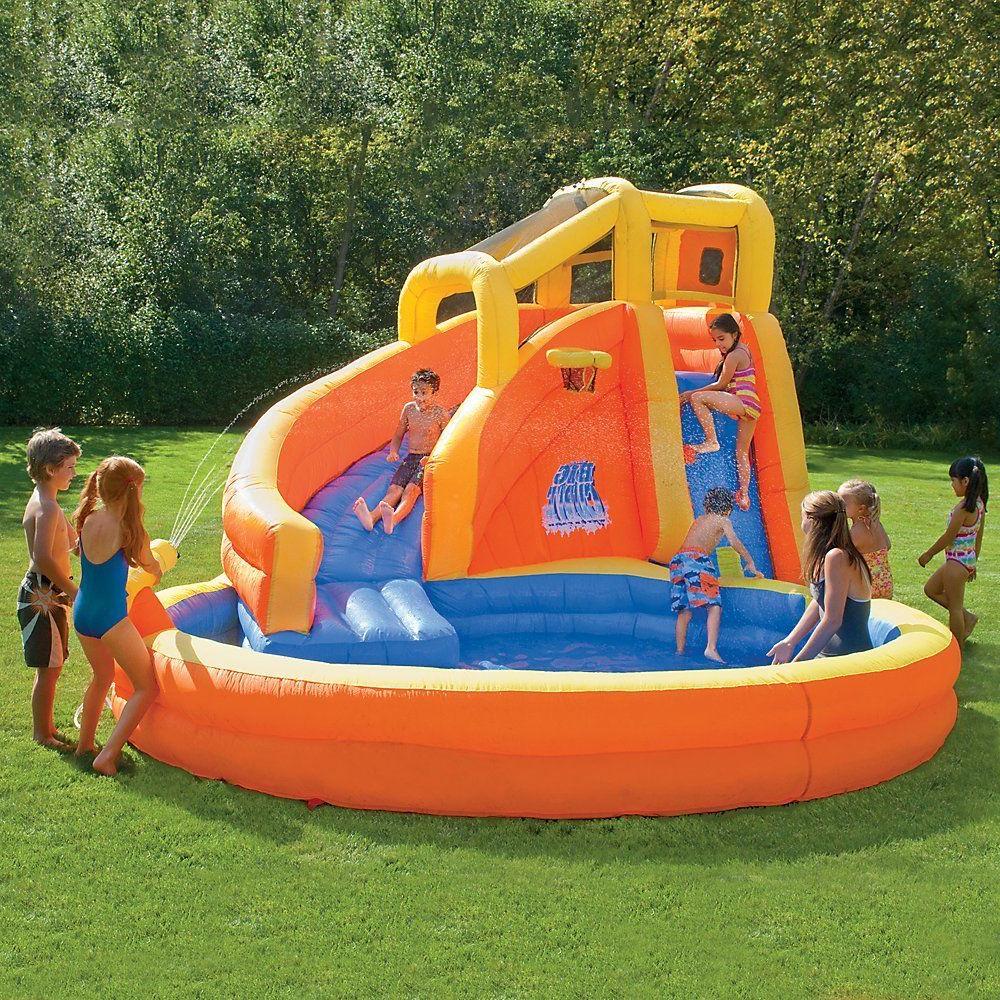 Especially when having kids, you want to please them and give them what they want. And most kids want a back yard pool. Maybe you hate the idea of having a backyard pool, or you just do not have the money for any of the alternatives mentioned before. What to do then? Set up a kid's mini water park and let them have all the fun of a weekend with their friends. After seeing their happy faces and hearing their laughter, you will surely try to find the way to build a pool for the whole family. After all, we do anything for the people we love, right?
As you could see with these ideas, it is not so hard to have a pool in your backyard. No matter the size of your yard, you can find the way to beat the heat and create your own private oasis, regardless of your budget, time and particular needs and tastes. Make the choice today and set up a pool area in your backyard!