Home and hearth have been intertwined concepts for the better part of existence – still are, even though times are constantly changing, and so are the compatibility of both these ideas. A house, as a single residential entity has seen so much evolution when it comes to design bases, styles, elevations, and anatomy. Similar is the case with the concept of hearth – which, first evolved to a fireplace, and then varied in the styles of those fireplaces. As a modern society, we're used to modern conveniences, and a nice, innovative fireplace certainly fits the category of these fireplaces. A bio ethanol fireplace is relatively smokeless, and comes with a vent-less set up. It is a uniquely modern intervention in modern contemporary houses, and comes in various shapes and sizes.
25 Amazing Bio Ethanol Fireplace Ideas and Designs To Try at your Home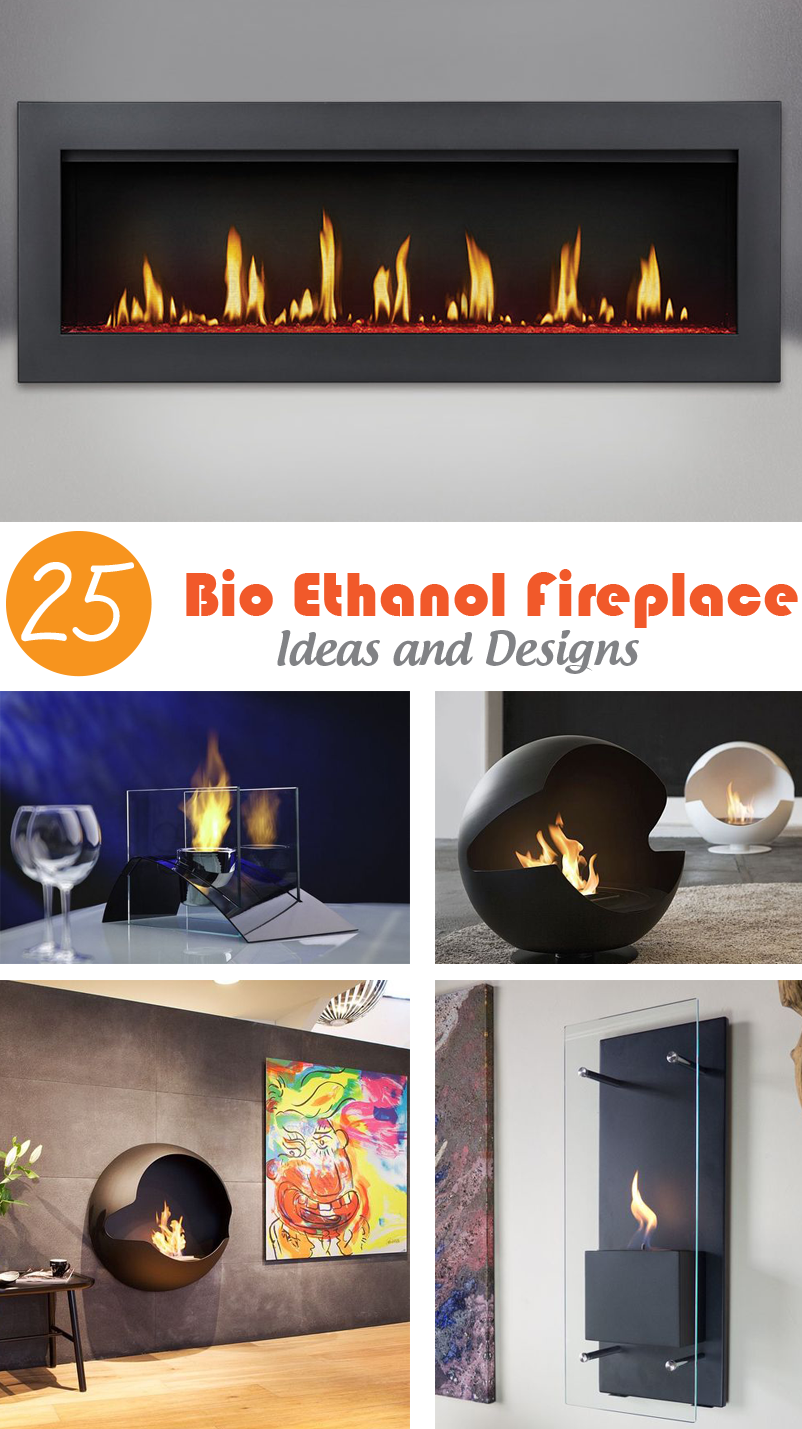 When it comes to living room essentials while laying out plans for your home, the fireplace is always a must. Previously, fireplaces always has attache elements that had to be inbuilt in the house prior to the installation – a chimney, vents, gas connections, etc – but with recent innovations in the design world, especially after the industrial revolution, the fireplaces have taken a huge turn in design formation. Where the very first ones used to run on firewood, the latest ones run on gas – and now there is a new genre of fireplaces that do not need external interventions and intricate installments at all. Smokeless, or vet free fireplaces have been slowly climbing up the interior design trend scene for more than a few years now. Since they run on low emission fuel that has an inbuilt system within the fireplace, these fireplaces are available in various sizes and shapes. Here, we would present our 25 best bio ethanol fireplace ideas and designs.
1. A la Mode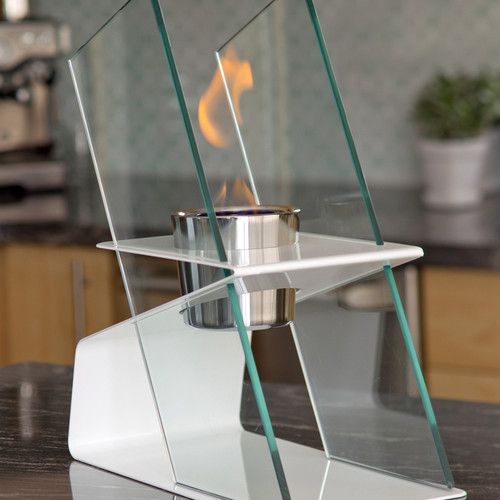 A clean cut design with straight lines, and distinctly modern materials, this ethanol base fireplace is small enough to be carried around and put on tables. Its portable nature makes it an easy object for a household – both functional, and pragmatic while being aesthetically pleasing.
2. The Slab Effect
A single slab of deceptive looking concrete that hides a fireplace within – this bio ethanol based fireplace would be a swanky addition to any home. The fire that is lit between the opening cracks just adds to its chic elegance, and when attached to an appropriate setting, it would definitely bring out the best of your home interior.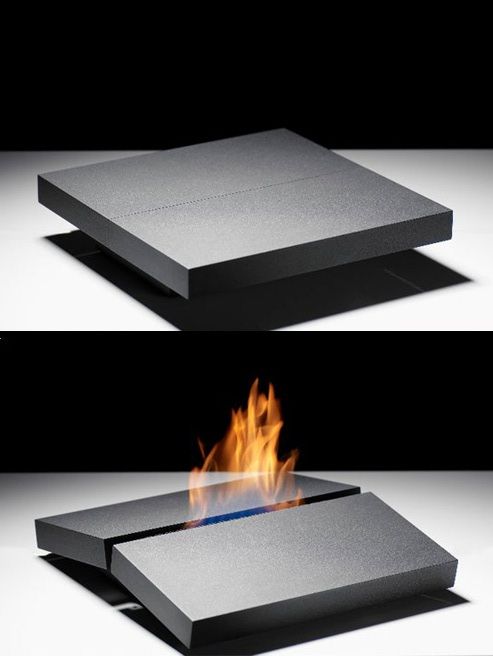 3. The Hanging Fire
This one is perfect when you want a definitely modern corner fire seating that is isolated, yet modish. The round physique, the hanging element, and the sleek, dark coloring only add to its charismatic appeal. Though small in size, the placement of the fire is perfect to get the right amount of warmth to the seats set beside it.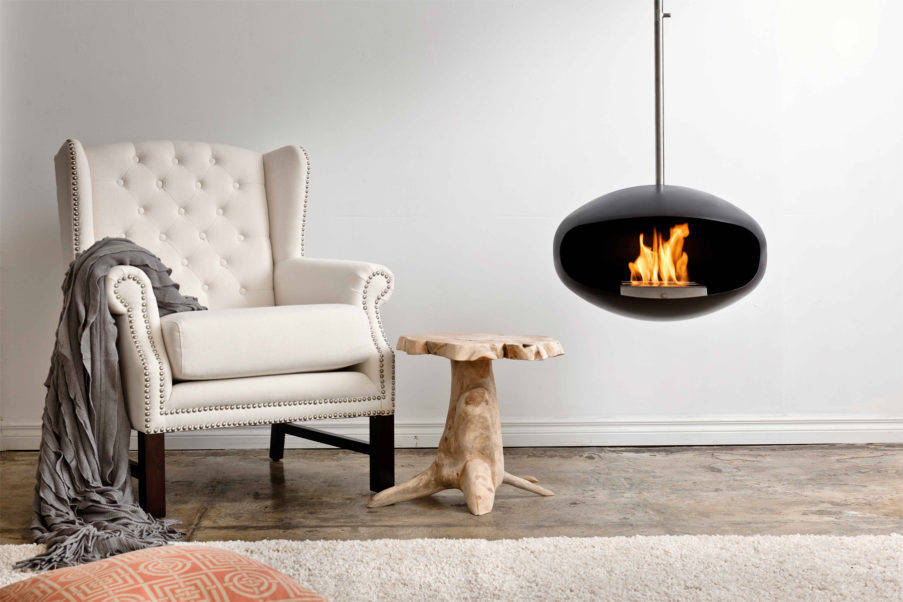 4. White Hot Flames
There is a special appeal to white hot fire that is licking long and hard towards the roof of your room. It seems especially scalding, and adds an element of fanciful whimsy to the entire setting. This bio ethanol based fireplace boasts these white hot flames, and combined with the rustic, almost industrial atmosphere that is stark, but not completely austere, the overall outlook comes across all elegance and chic.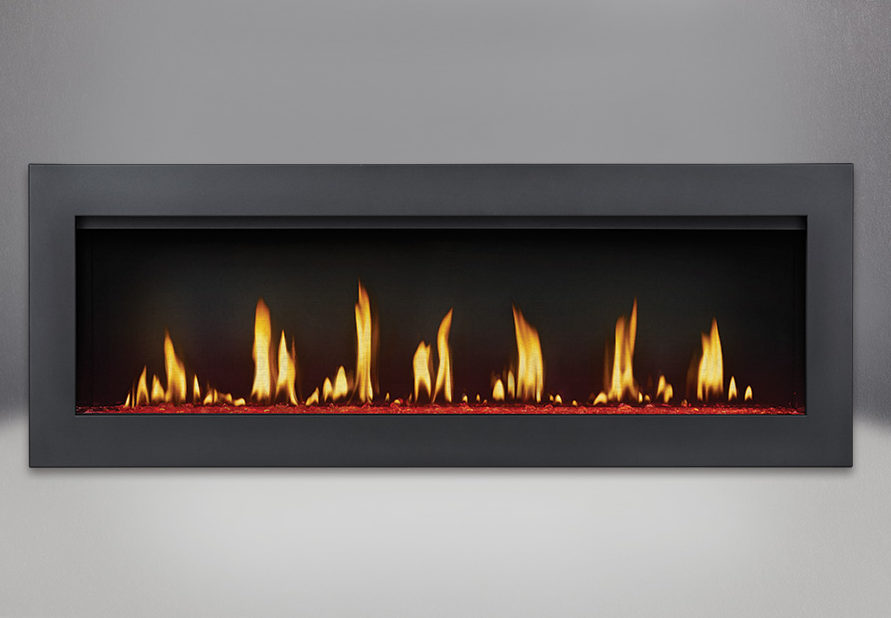 5. Conventional
We all know that the oldest fireplaces burned logs and firewood, let out plumes of smoke, and had to be cleaned up tirelessly. Well this bio ethanol based fireplace is a nod to tradition, where without all the past hindrances, the fire burns hot and warm, giving off a cozy golden halo that is so reminiscent of the warmth of past fireplaces.
6. Wall Mount
A simple, yet uniquely modern concept – where fireplaces have been known to convert into wall mounts, there has been a distinct lack of diversity in the shapes and sizes. This one breaks convention, even in the modern design genre, by being round and firm, not clean and straight, with a modish build, and a chic elegance that is only enhanced by the fire burning in its belly.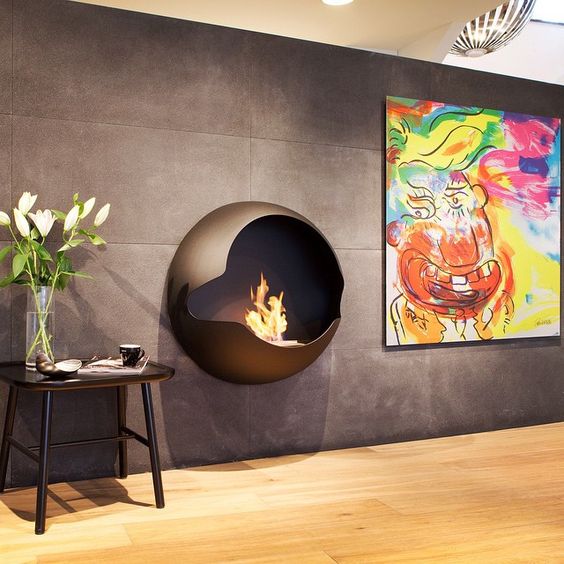 7. Retro
While most modern fireplaces have been known to adorn the simple, unembellished look with a monochromatic scheme, this one takes the helm in breaking that tradition by adorning a decidedly retro color scheme – red; which sets it apart from most bio ethanol fireplaces, these days.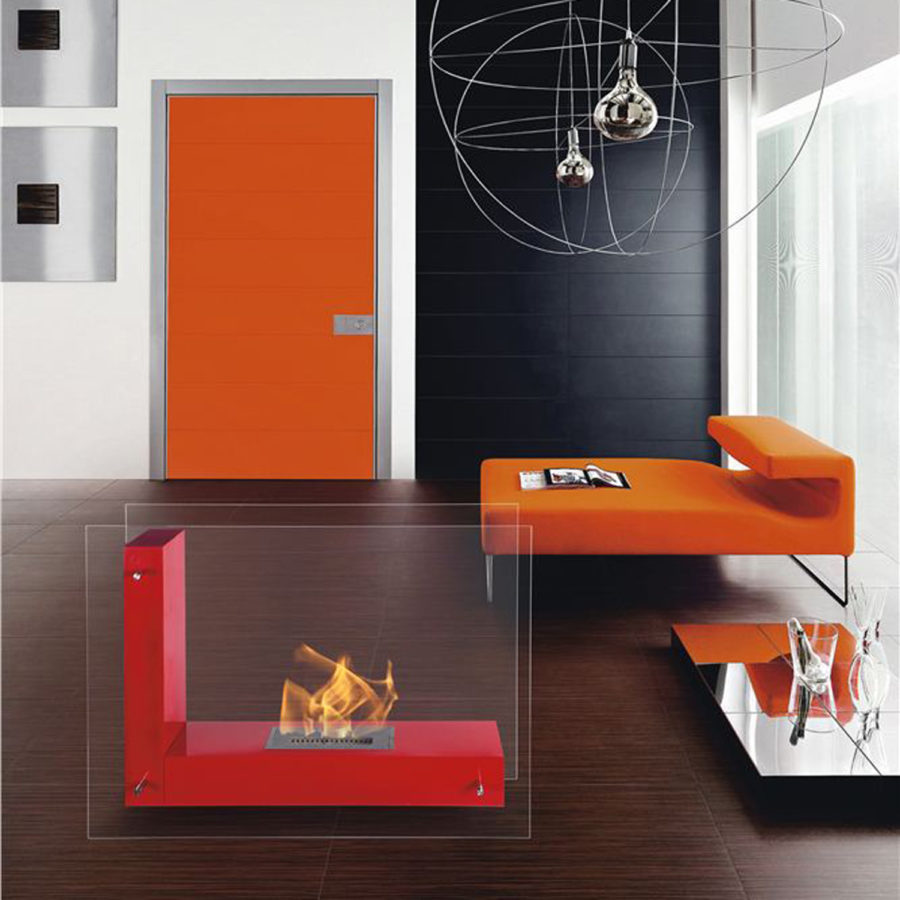 8. Classically Modern
No matter how much we embrace modern design; there would always be a certain charm, and quiet quaintness in the designs of the past. Classical, and neo-classical design is all elegance and charm, and this bio ethanol fireplace combines these two design diversities to create a beautiful masterpiece.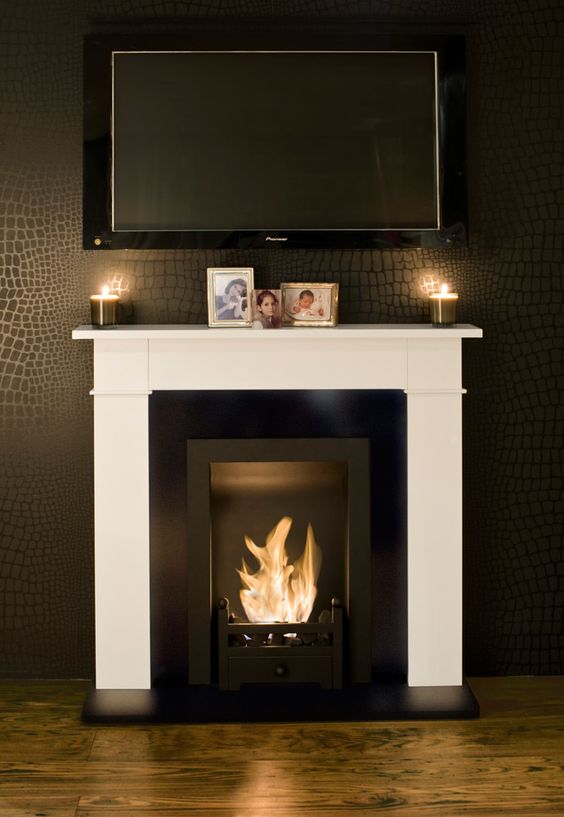 9. Portable Floor Space
Where wall mount is a unique concept for a fireplace, so is it being portable. This big bellied,, round faced fireplace is a testament to contemporary design, and an ode to an advent in new materials and construction technologies.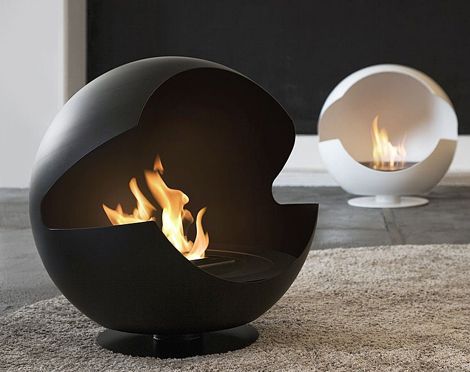 10. A Glassful of Fire
This square chalice would be a perfect addition to your dinner table – adding warmth to the setting with style and allure. Small in size, but big on the fire, this bite sized fireplace is as portable as they come.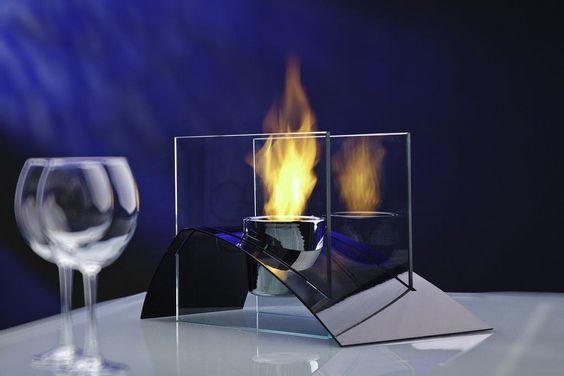 11. A Vase of Rock Fire
This one would make your fireplace not only a functional entity inside your interior, but also an ornamental piece that could stay burning while you enjoy the ambiance of the space. You could put it atop a solid coffee table, or even in a landscape design.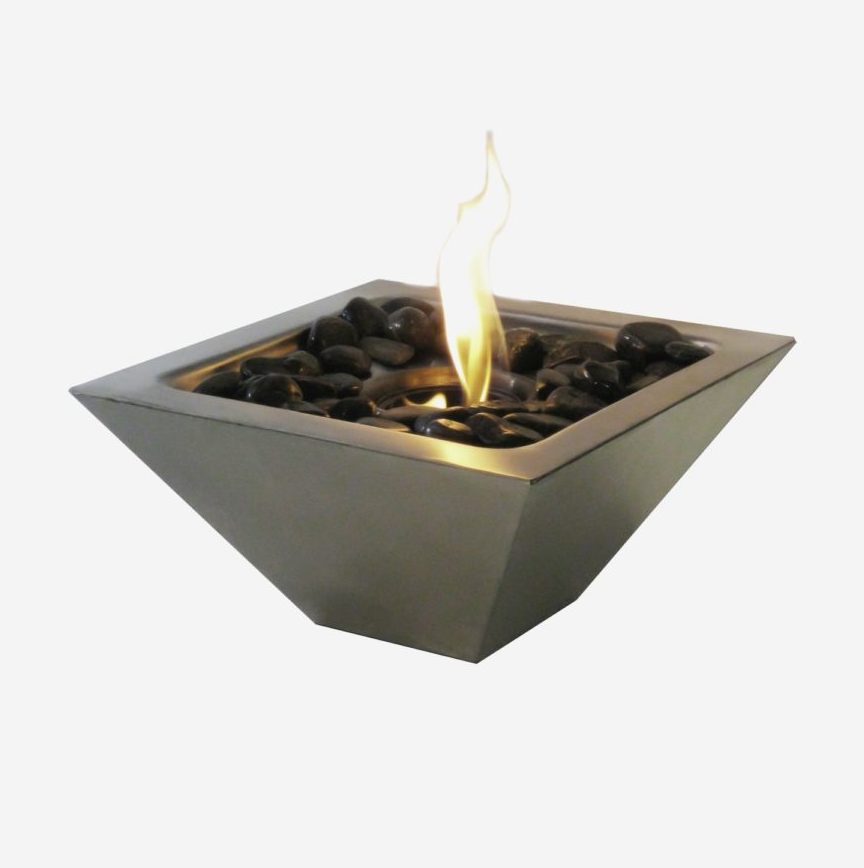 12. Poolside Fire Bollard
This elongated fixture has a passing resemblance to a sconce, and offers great aesthetic beauty. Lines up beside the pool, this bio ethanol fireplace design adds a charm, and gives of warmth at the same time. Pool parties would never be the same with these as a main attraction.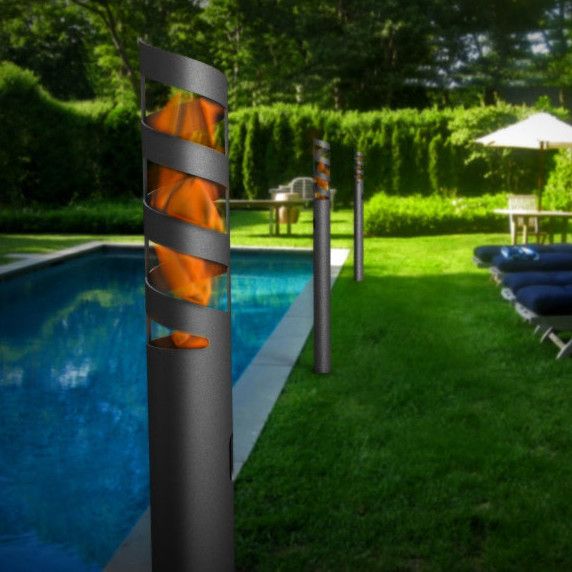 13. The Tabletop Treatment
Attached to the side of a trendy coffee table, this ethanol based fireplace design is charismatic in its unique juxtaposition of mixing styles – contemporary, modern, and classic. Though the straight edgy lines manage to stand out, the rest of the design is all warmth and dark colors.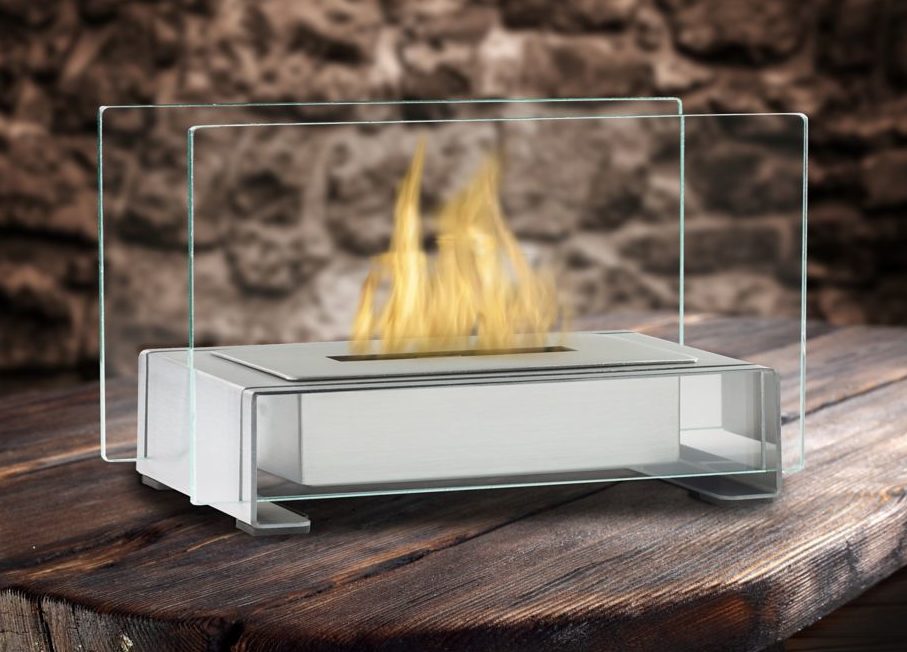 14. The Long Roar
This bio ethanol based fireplace gives off a roaring fire that would make your winters both functionally, and psychologically – absolutely – warm. The modern design fits well with the spread of the fire, and is an alluring piece overall.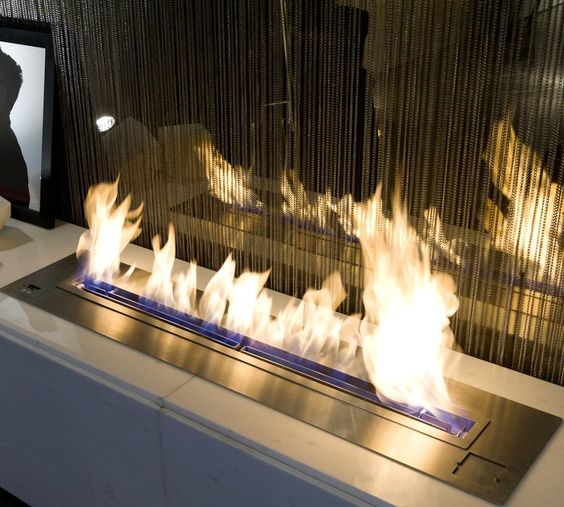 15. The Log Cabin
Another modern ode to the fireplace of the olden days, this one makes the logs not an integral part of the design, but definitely a showcase element.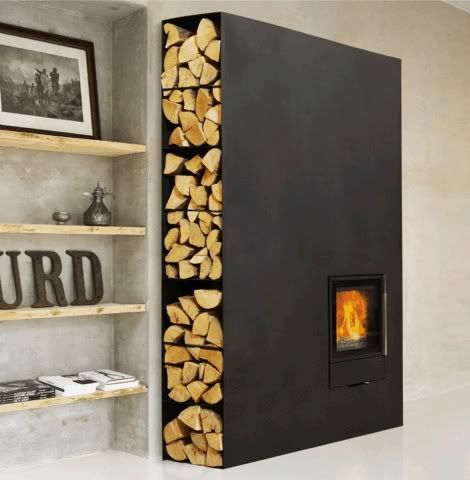 16. Part of That Wall
Fireplaces are usually connected with media walls nowadays. While most traditional ones need an exterior wall outlet or a chimney, now you can attach your fireplace to any wall – be it a partition, or an interior wall, sans the chimney or connections to gas or electricity. A bio ethanol fireplace is free of exhumation, and its fire is artistic enough that it can be used as an interior design element rather than a purely functional entity to keep you war. Now combine this ideas elongated form with the simplistic outlook, and you need no other ornamental element, except for the television.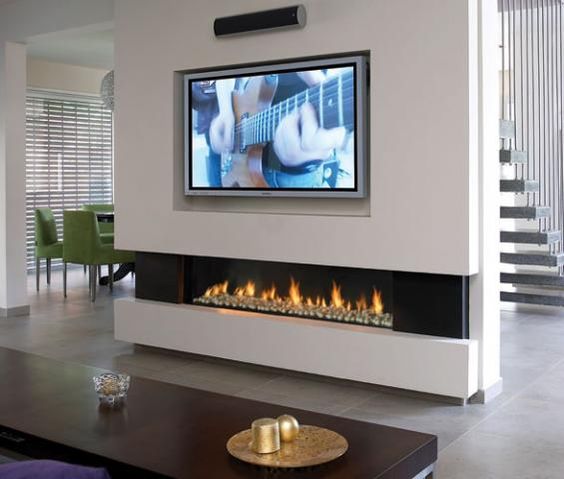 17. The Photo Frame Effect
This idea is quite novel in its application. Fireplaces in a conventional sense, come with a mantle and a hearth – and if you want to break convention, then this assorted fireplace would be the perfect choice for you. Attached to the wall in a sleek formation in a modern sconce like fashion, this fireplace is neither elaborate, or extensive – just beautiful in its simplicity.
18. Follow the Trail
If avante garde is not for you, then this idea for an ethanol fireplace is rather conventional, yet manages to retain its modern integrity by avoiding all things elaborate or ornamental. The log pieces on the side are a nod to the very first fireplaces ever to have been made, yet the retro style heater inside the simple niche is splendid in its quiet simplicity. The color scheme is also very interesting – a clever mix of dark and light, alternating beautifully.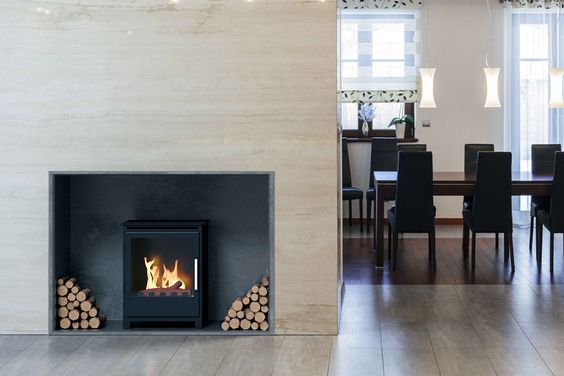 19. Fire-Scaping
Ever thought about combining a bit of fire with landscaping? It's not exactly a completely fresh concept – remember the tree lined sconces of the past? But in recent years, not much has been thought upon combining these two elements, as foliage tends to catch fire rather quickly. But with the bio ethanol fireplaces, the flame is so controlled you can capture it in almost any formation – long or short, large, or small. Taking advantage of this, and the advent in landscaping, the two concepts can be combined to create breathtaking styles and aesthetics.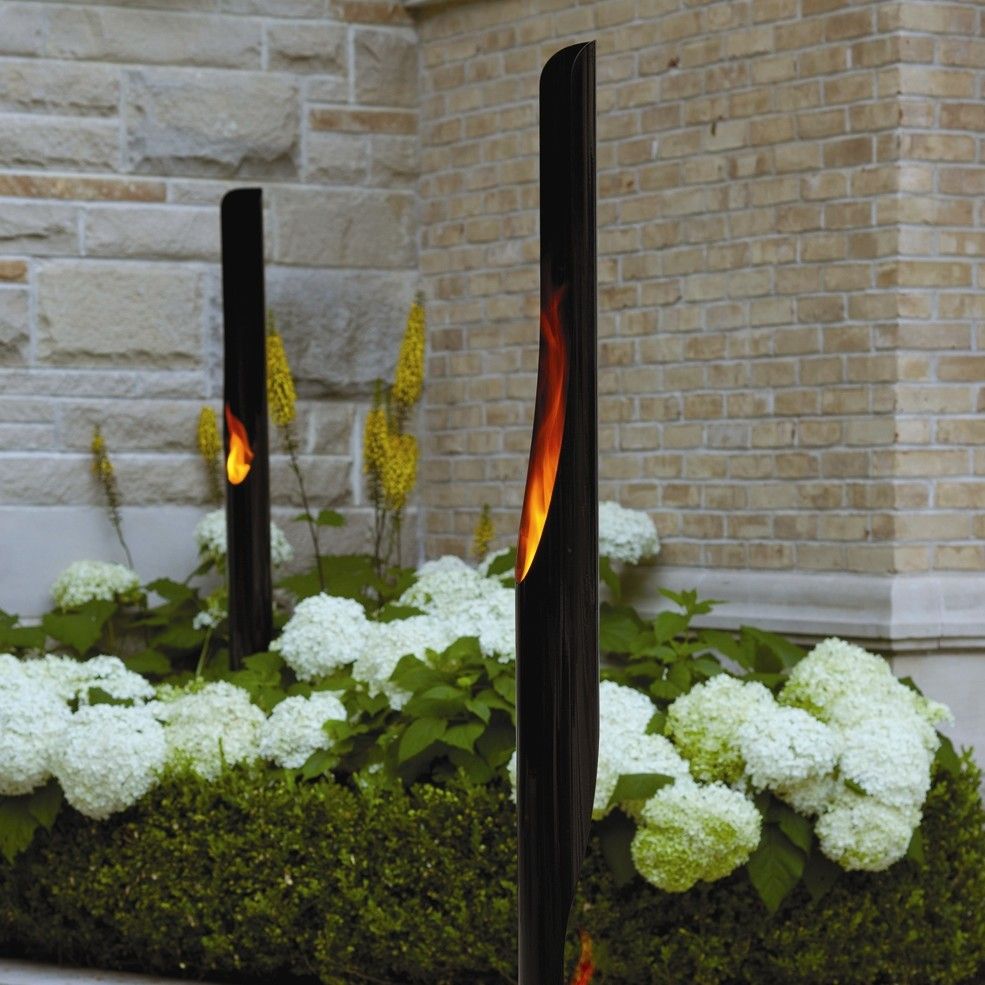 20. The Flame In The Bin
Tired of a single conventional fireplace? Well, if you want to spread out the warmth of the fire in a controlled environment, in an elongated corridor, especially a corridor, then this idea could be a great addition to your repertoire. The bio ethanol flame trapped inside the planter like structure makes for an interesting juxtaposition of overall outlook – it seems to represent flora in a planter; only the flora is a flame, and the planter is its physical extension.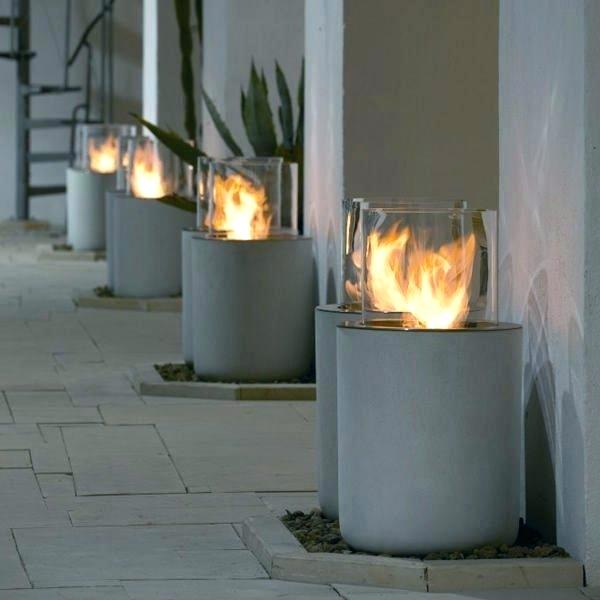 21. Freestanding
If you want a free standing object as a fireplace then here is an idea for that – developed in a rather rigid cottage come prairie style, this one sets up an intimate atmosphere that you might enjoy in an ambiance that relates to the authenticity of its style as well.  The wicker furniture, the stone clad walls, and the gold light of the flame is all makes the atmosphere come alive.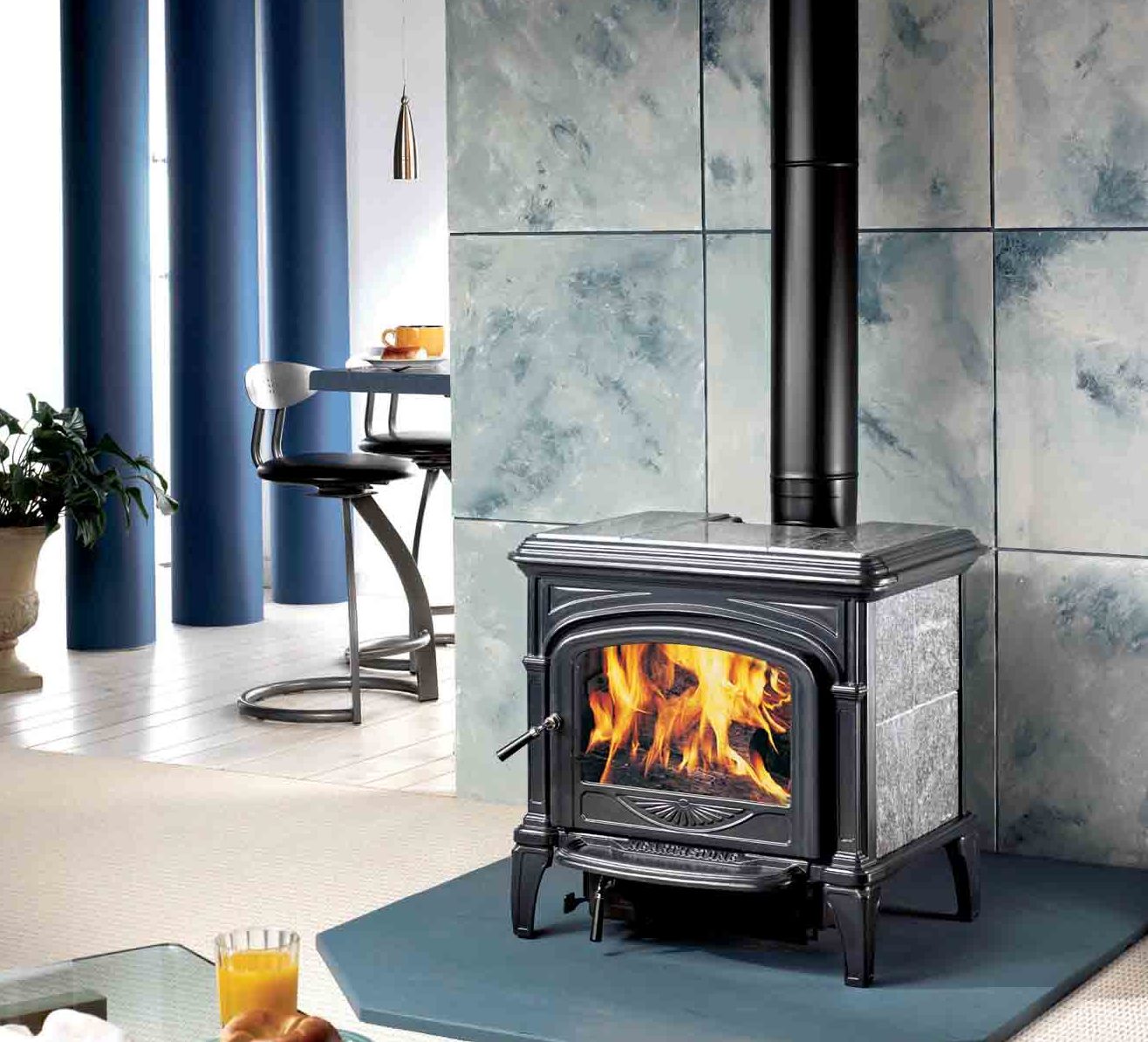 22. Hanging
Want to hang your fireplace to the ceiling, then it is possible to do that now, with the handy portability of the bio ethanol fireplace extensions. This one is sleek, but definitely not rigid. Its smooth formation, and swanky style would be a perfect fit for a modern contemporary genre style interior setting.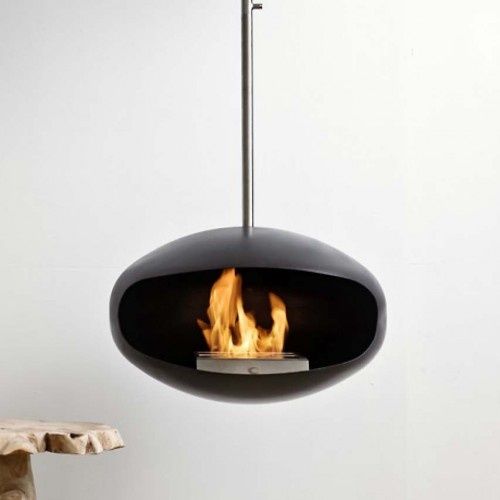 23. The Table Top
A tabletop formation, this bio ethanol fireplace could add a stray bit of warmth to any setting that it is put up in. it could be used as both a freestanding object, and a centerpiece table – just without the top – but when lit up in that setting, the ambiance would turn out to be unparalleled.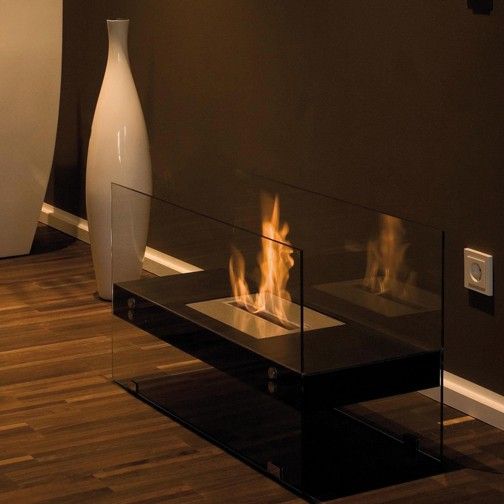 24. Portable
If you want a fireplace that you might carry around from one room to another – then this little bio ethanol based sweetheart would be the perfect fit for that. Small enough to be carried around, and large enough to provide a sizeable flame, this candle shaped fireplace would be an amazing addition to any designer home.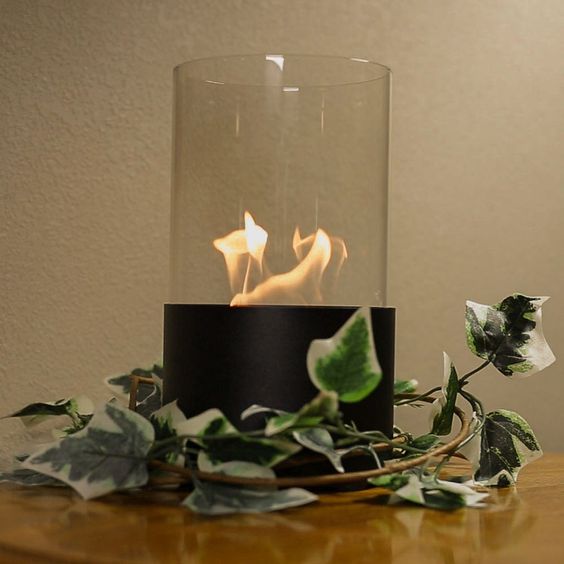 25. The Sconce
This long linear formation of a fireplace looks like an age old sconce set up against the wall of an underground cave. Light enough for a contemporary design interior, this fireplace is a study in design and materials. With its sleek, elegant design, it would look perfect in any modern setting.