Corner computer desks are a stylish addition to any home or workplace office that maximizes on your space and can be adapted to suit any layout you've got to work with. They give you plenty of room for your chair as well as sneakily hiding a bulky computer box underneath for a more seamless look. The large desk space it creates allows for ample amounts of under counter storage which is sleek and blends seamlessly with the rooms layout without taking up any extra real estate in the room at all; no bulky filing cabinets or draws to maneuver around in here! When used creatively corner desk can become multiple items of furniture in one, which not only saves money but space too.
30 Ideas for Space Saving And Corner Computer Desks To Jazz Up Your Work Life

Even if you have ample space to work with and 'L' shaped or corner computer desks can be an elegant way to incorporate storage and provide space for often used items to be easy to reach without being on display and cluttering your desktop. We also have some smart examples of computer areas that aren't necessarily corner desks but they share their principles of being multi-purpose and becoming a legitimate design feature at the same time.
So if you're in the market for an innovative and nifty solution to your computer desk needs here are:
1. Slim Line Minimalistic Corner Desk With Storage
This super thin wooden desk flows around two full sides of the room incorporating storage underneath one side. The polished wooden desktop without storage is held up with 'L' shaped brackets so you have free reign to move around without table legs getting in the way. The wood details of the floor and desk are the only dark accents in an otherwise neutral, minimal office design which makes the small room seem much larger.
2. Beveled Solid Wood Desktop with Pops of Colour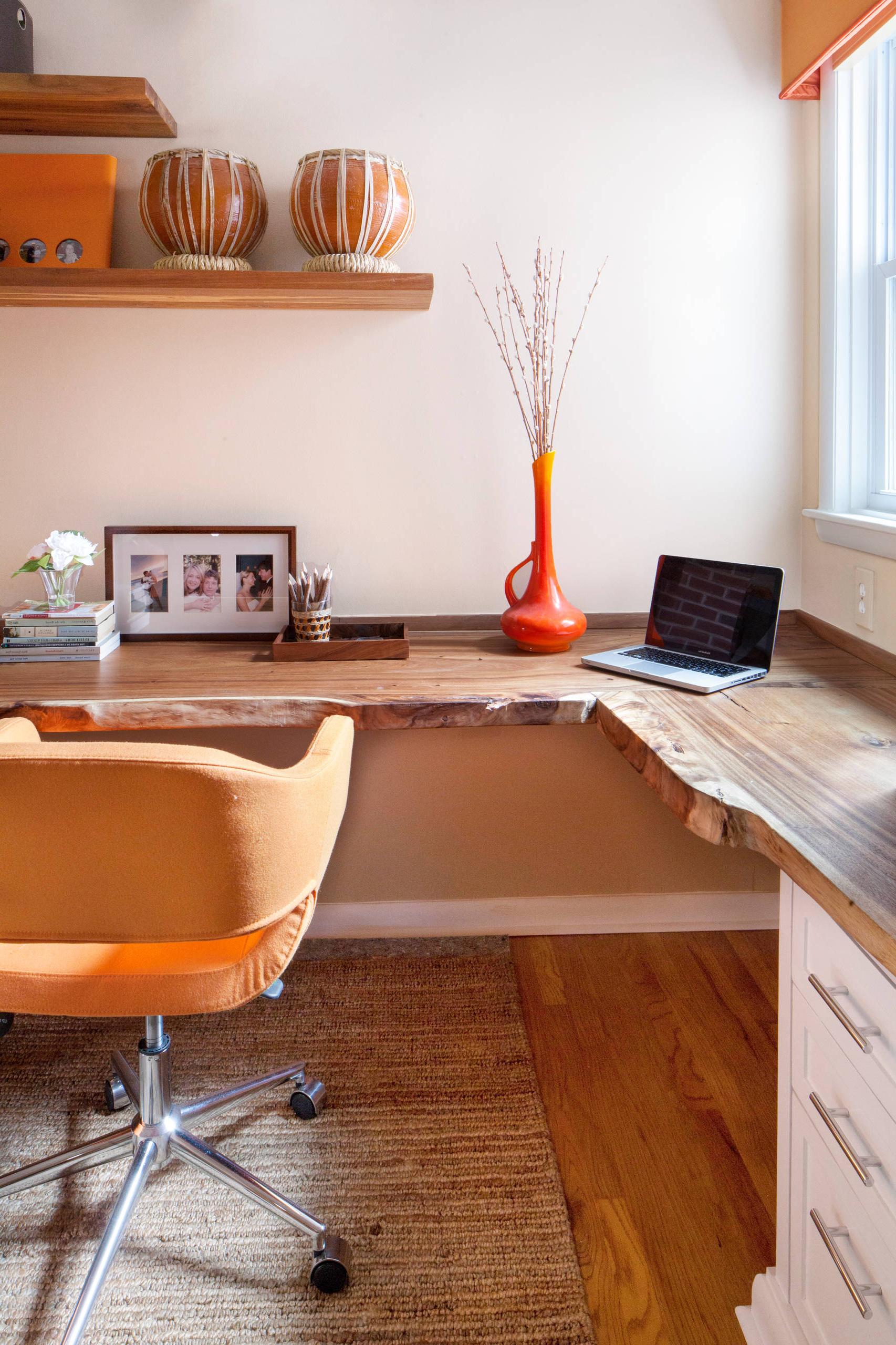 Just as in the previous example the white draws fit snuggly under the surface of this corner desk and the legs have been done away with completely. However this dark wood desktop has been highlighted as the rustic cornerstone of this office with its beveled edges and thick chunky presence. The repeated wooden elements of the floor, desk and shelves are broken up by bright pops of orange throughout the room to break up the heaviness and bring this warm, homey design together.
3. Desk, Shelf and Window Seat Combination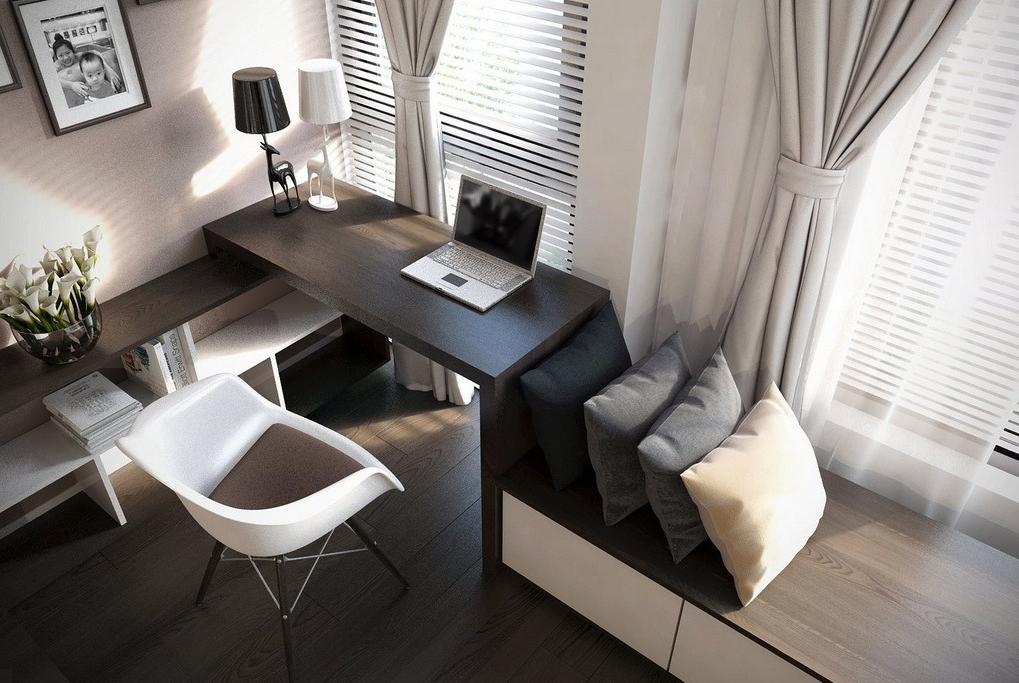 This sleek contemporary design makes its way around the corner, flowing from bookcase to desk to window seat in an incredibly elegant way. Combining many elements of furniture together is a great space saver in a small room and provides storage not only on the shelves but under the window seat too. The dark wood of this serpentine structure matches the laminate flooring allowing white accents to pop. This kind of design thinking shows how easily a small space can be transformed into something chic and useful.
4. Multi Use Compact Corner Desk Unit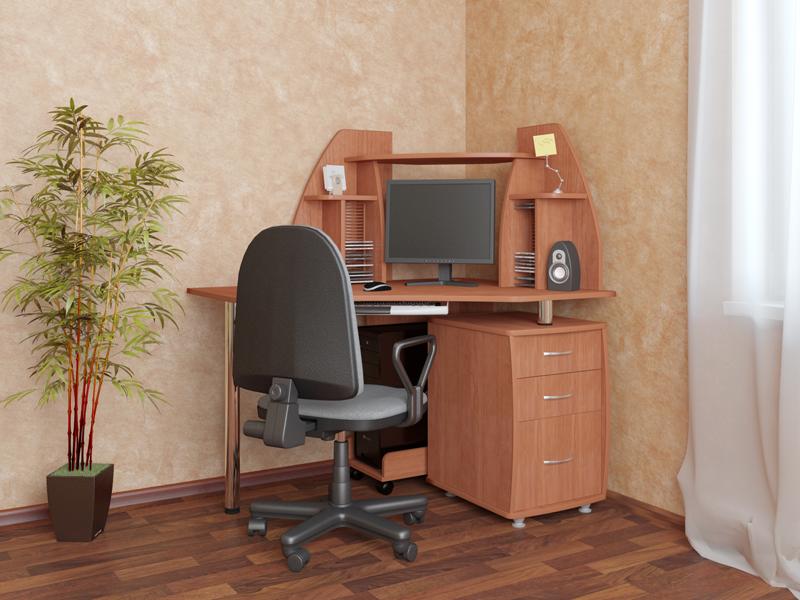 Retro work pods like this provide a comfortable place to work at your computer while contributing a large amount of storage and space to tuck the computer box away inside. Your speakers have a little recess all to themselves and the keyboard even has the ability to slide under the desktop to hide away while it isn't being used. This whole set up allows for everything you need to be in one place while taking up very little floor area.
5. Cute Castle Inspired Kids' Desk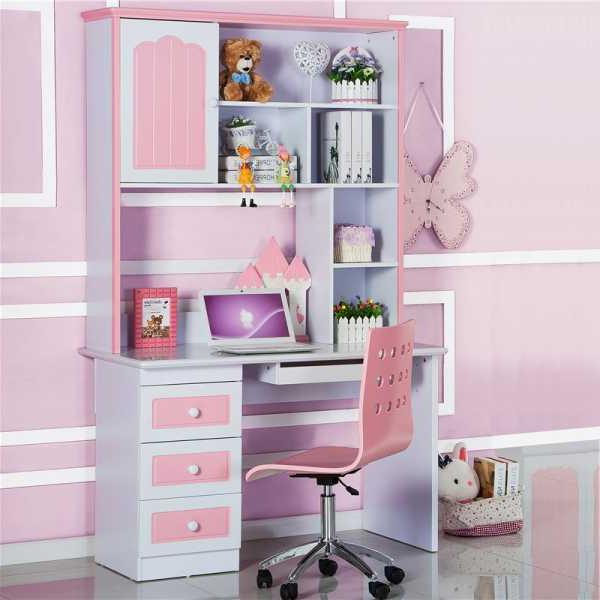 Let's face it; it takes a lot of persuading to get your child excited about doing their homework, but we have a solution for you. This cute little castle inspired desk incorporates drawers to store their stationary and shelves to decorate with their favourite things and make the whole design seem more appealing to reluctant little ones. Painting the desk unit to fit in with with the room's overall colour scheme helps make it feel like part of the whimsical design. Throw in a matching chair and you've got a little desk space that any child will want to spend time in and maybe even do their homework!
6. Tucked Away Vanity Desk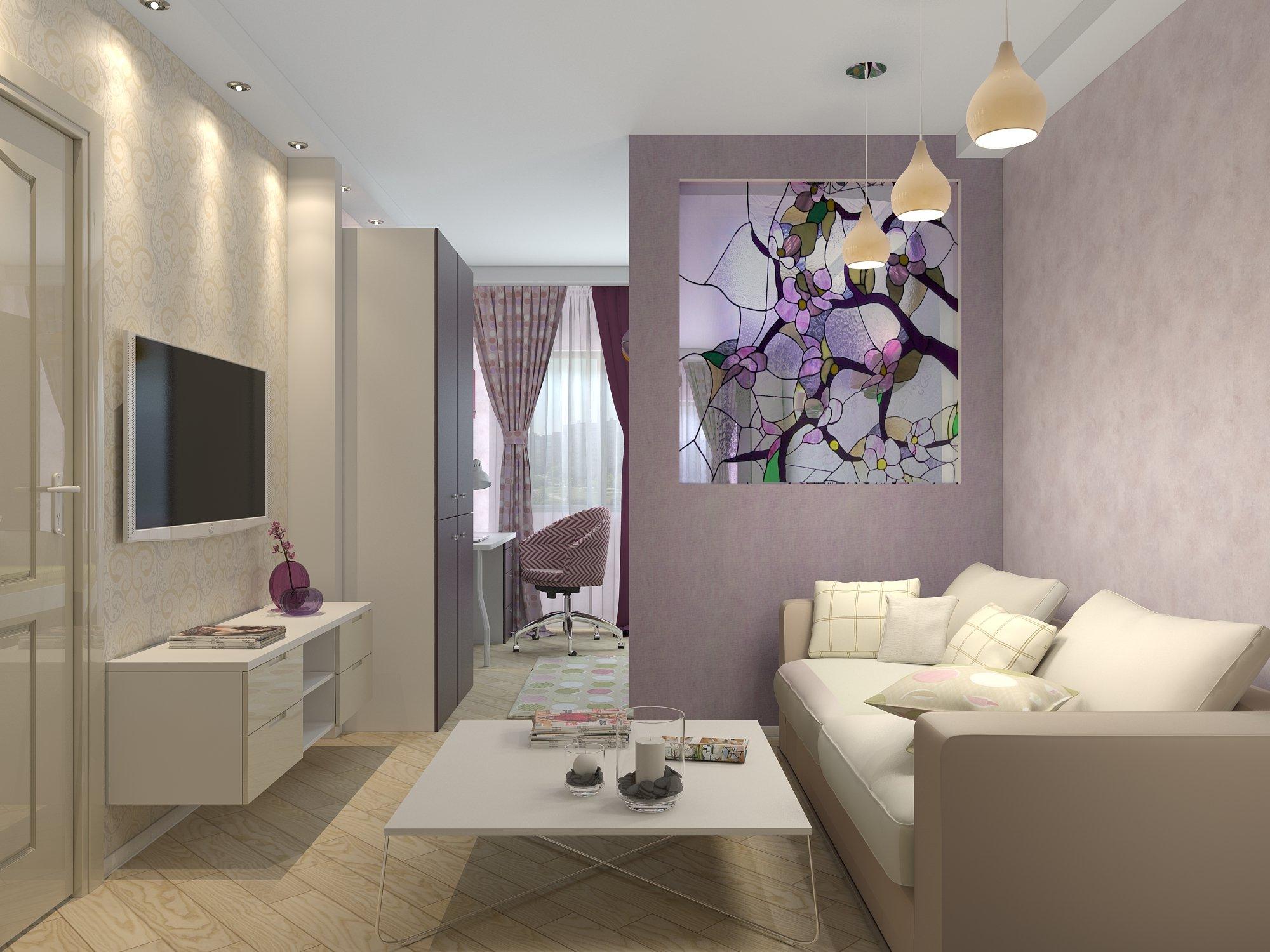 This luxurious micro apartment is extravagantly decorated and styled to exude the feeling of comfort. The problem that often occurs in small apartments is the inability to disconnect your body and mind your workspace into a place of relaxation. Re-appropriating a recessed vanity table into a computer desk like this creates a little work nook that is concealed from your living space and doesn't interrupt the flow of the room in the slightest. Coordinating the chair with the helps tie everything in with minimal effort.
7. Cross Legged Modern Corner Computer Desks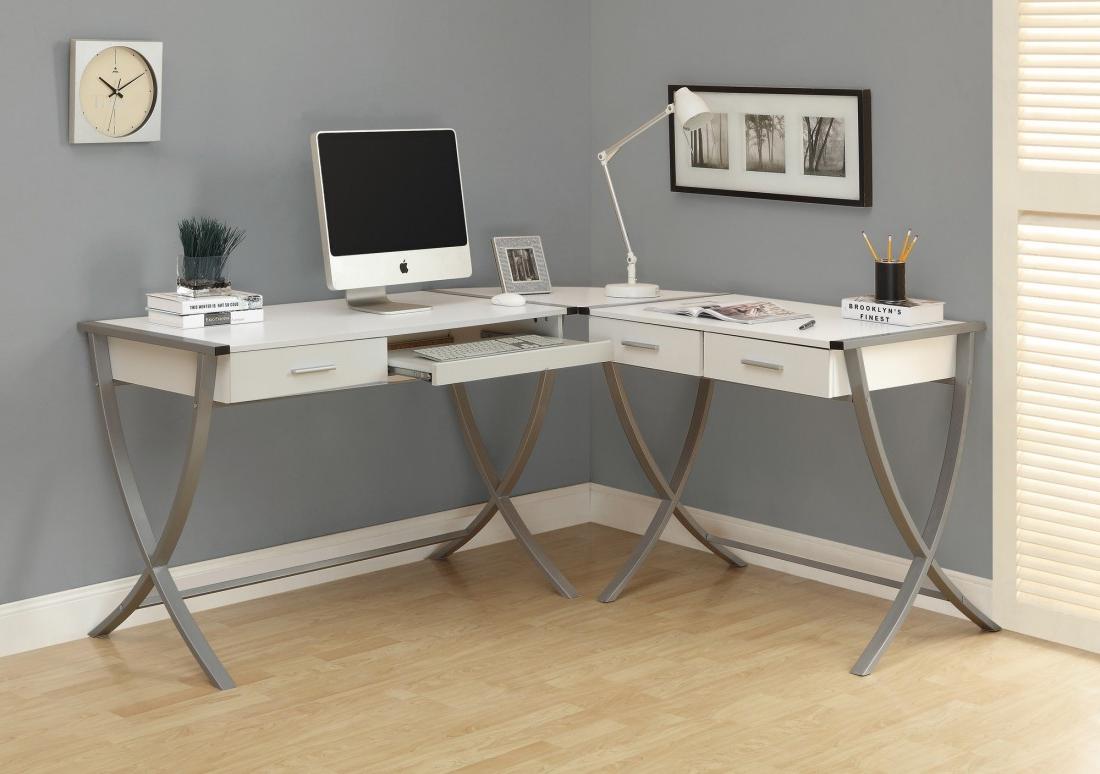 This slim-line corner unit is a simple space saving design made that little bit more special with the elegantly crossing legs that support it. Storage has been incorporated with shallow, sleek white drawers and a cohesive keyboard hideaway for it to slide into when you're done. The white and grey colour scheme suits the clean, contemporary interior design and assimilates the workspace into the rest of the room in a super stylish manner.
8. Desk and Filing System All In One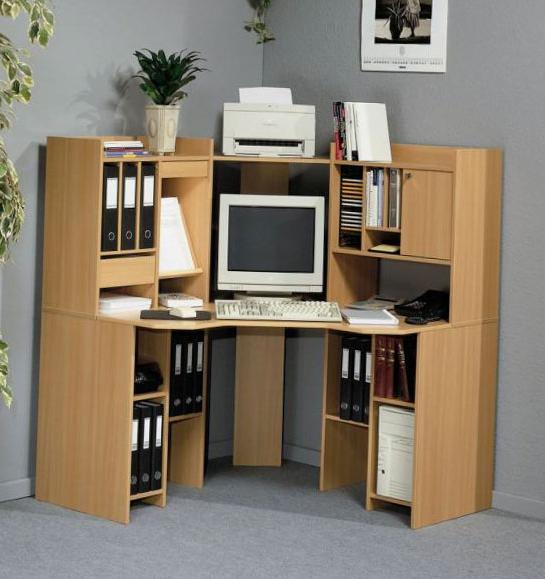 This compact desk unit is perfect for a small space where you want to keep everything to do with work in one limited area. The computer placed right in the corner provides plenty of space on either side and underneath for filing paperwork and any other storage needs. Even the printer location has been considered with a little shelf above the screen which ideal place to house a printer that is also very easy access.
9. Treetop View Office With Wooden Corner Desk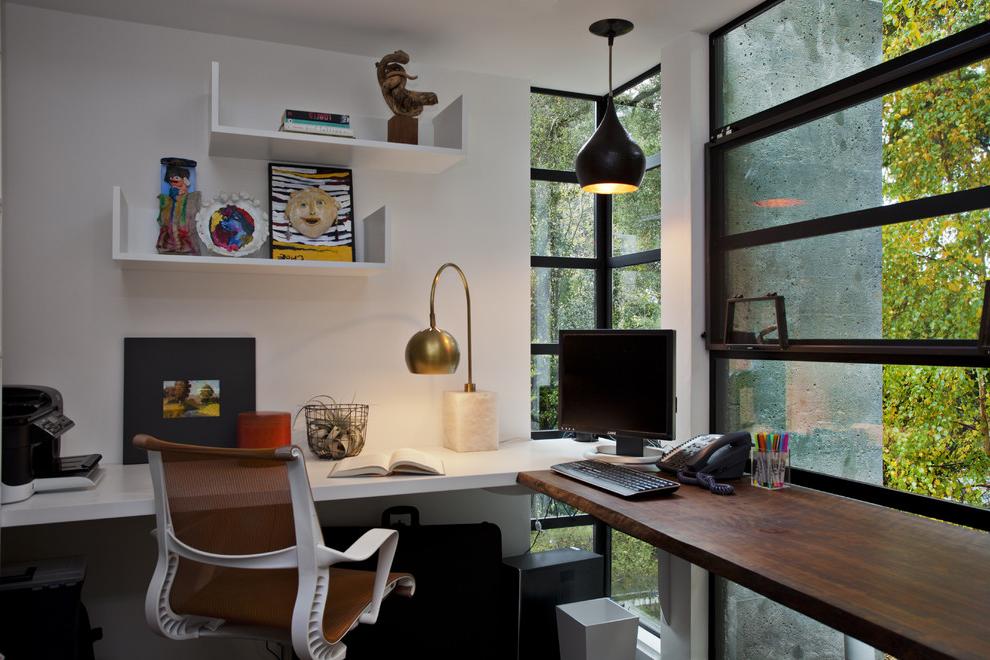 This luxury home office already has a lot going for it so adding a seemingly floating corner desk needs be right. The wooden side of the mixed material desktop speaks to the treetop view through the floor to ceiling windows while the white side blends seamlessly with the white wall and shelving. The view remains relatively uninterrupted and you have a chic, useful and inspirational place to work.
10. 'Power Move' Free-standing L shaped Desk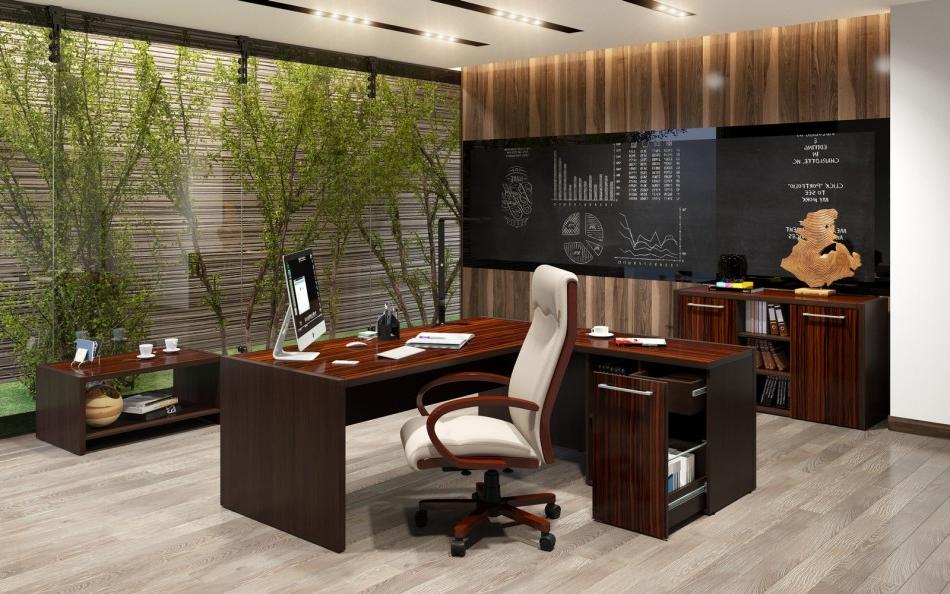 An 'L' shaped desk is perfect for a large office space that wants to show off a little while being practical at the same time. Dark wood furniture elements give a nod to the Mad Men era of office design, evoking an air of power and superiority. Bringing the desk away from the corner allows space for the large screens, which are obviously an essential part of the work done in this office, to be mounted across the wall's length. An eye-catching feature wall like these floor to ceiling frameless windows and the creeping greenery beyond them is an unnecessary but extravagant added extra that gives you an office that's tells people know you mean business.
11. Modern Floating Desk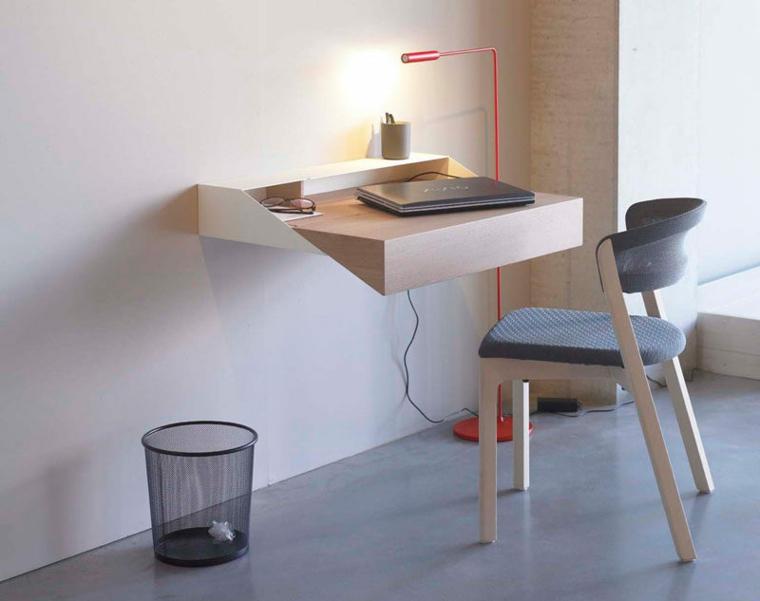 An elegant and modern space saver is a floating desk like this one. It provides the perfect amount of space to set up and work on a laptop; all that's needed is a comfortable chair, a plug socket and a simple standing lamp. The basic combination of clean white and the warmth of the wood has been turned into a geometric piece of abstract art hanging weighless off the wall. In a room where the materials have been left relatively raw with the focus of crisp, clean finishes this kind of innovative design fits right in.
12. Retro Drafting Table Inspired L Shaped Desk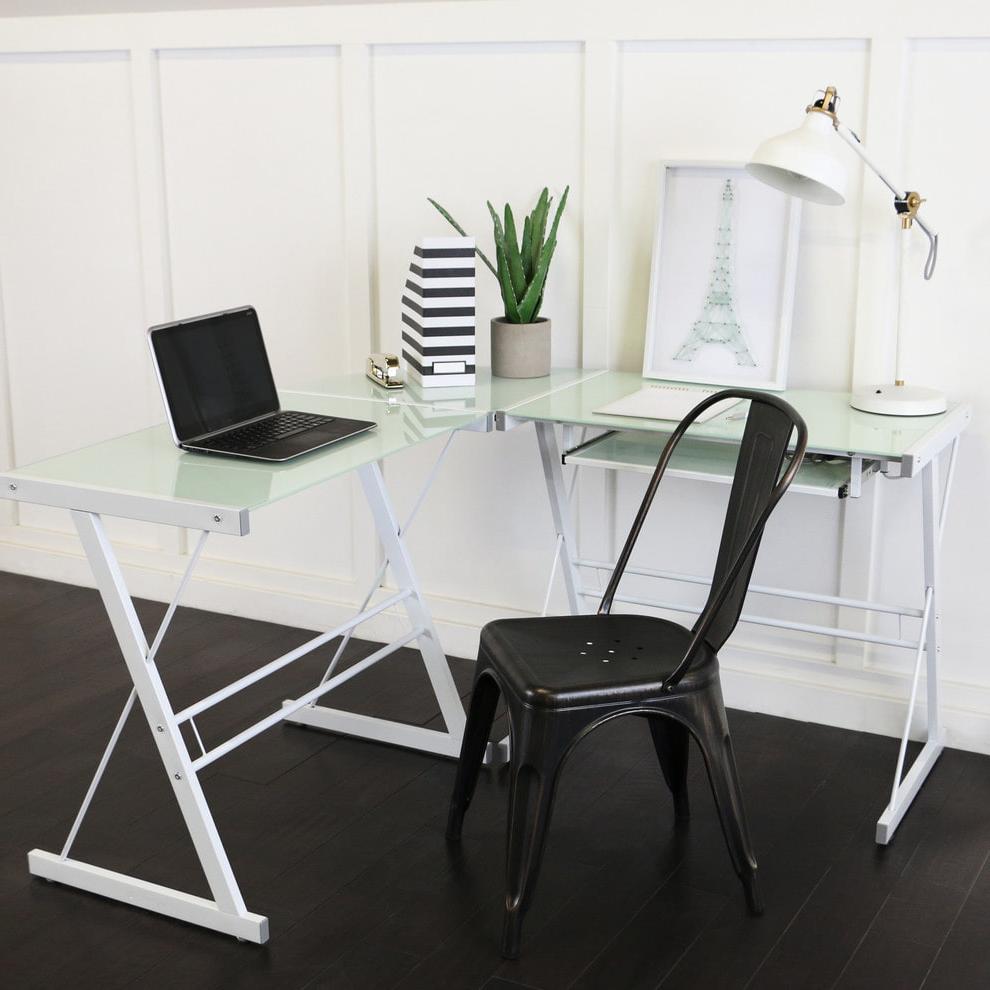 If your aesthetic is on the industrial this architectural drafting table inspired design with metal hardware and frosted tabletop may interest you. Back before computers, architects would use tables that could be adjusted and used at any angle to draw up their plans. These tables probably don't move (or your computer would be at risk) but they have included the classic hardware that's a throwback to a bygone era brought into a new age by painting it white and using an unusual desktop material to make it unmistakably contemporary.
13. Light Timber Corner Desk Unit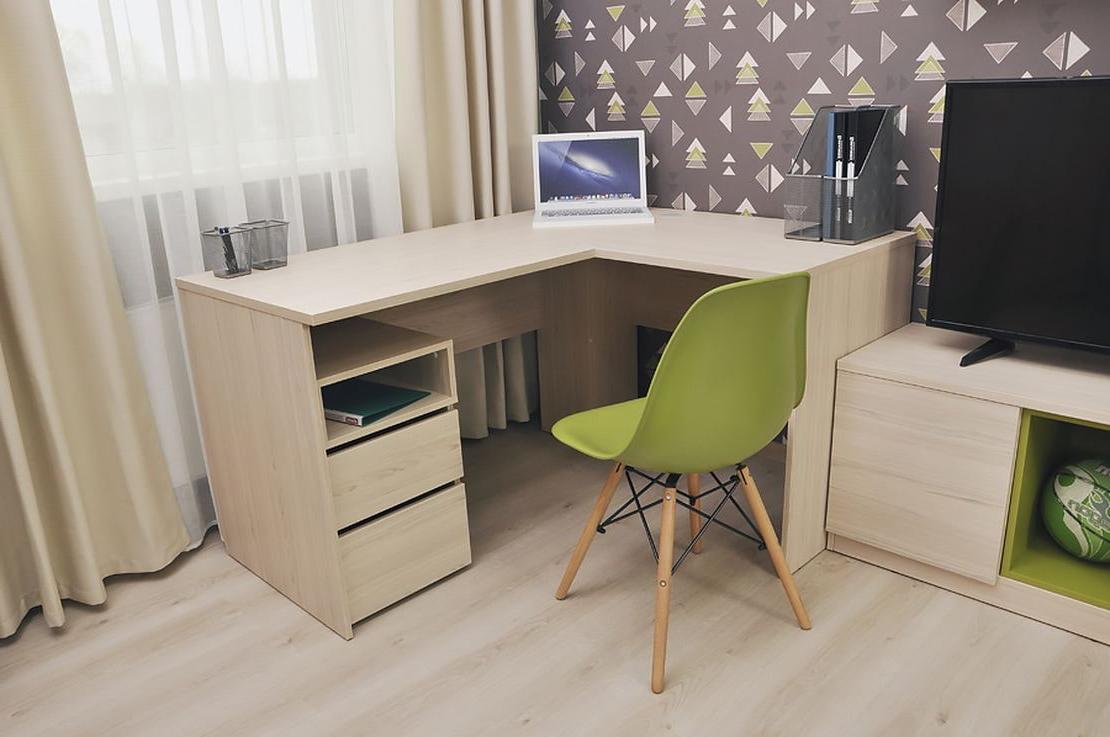 Sometimes its necessary to combine your living and working spaces; doing this is easy with this simple corner unit that can be easily incorporated into a slightly retro inspired space. The light thin timber desk coordinates with the TV stand, the floorboards and even the curtains, which provides a canvas for some bright eye-catching elements. Bright green accents in the chair and TV stand along with the 70's style purple geometric wallpaper makes this monotone space fun and interesting without having the desk infringe on your Netflix relaxation time.
14. Three Person Spacious Wrap Around Desk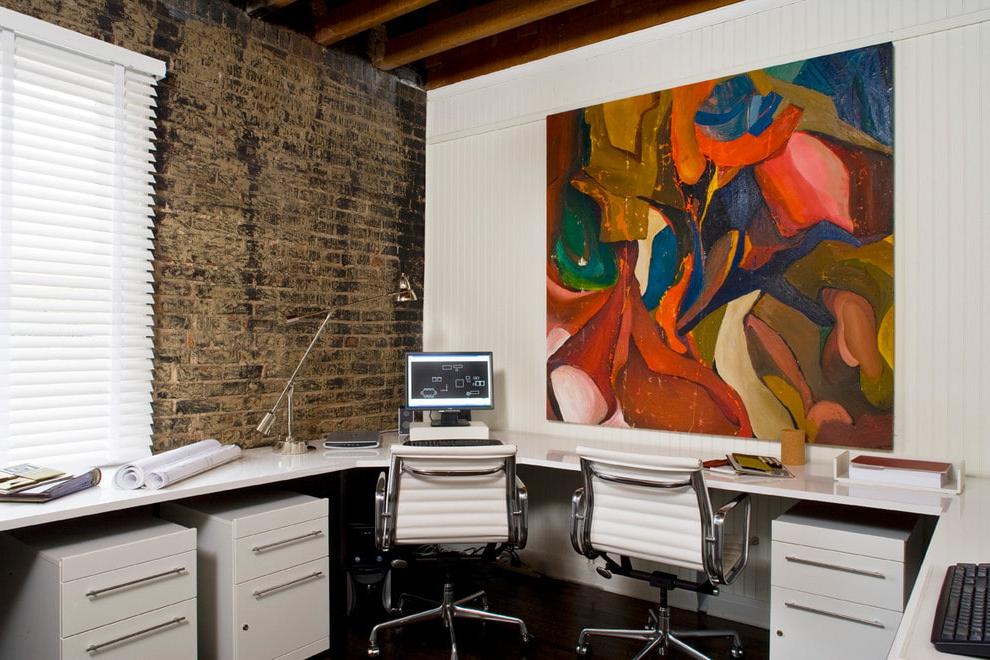 This shining white desk wraps around all three walls and maximizes on space with neat, matching under counter storage units. Utilizing a wrap around desk in this case provides a space that is comfortable for three people to work in while including ample storage. If designed differently this space could even feel cramped for a single occupant. Extra design elements like the exposed brick and large artwork stand out against the all white workstation for a really contemporary look and a pleasant space to work in.
15. Minimal Work Place Design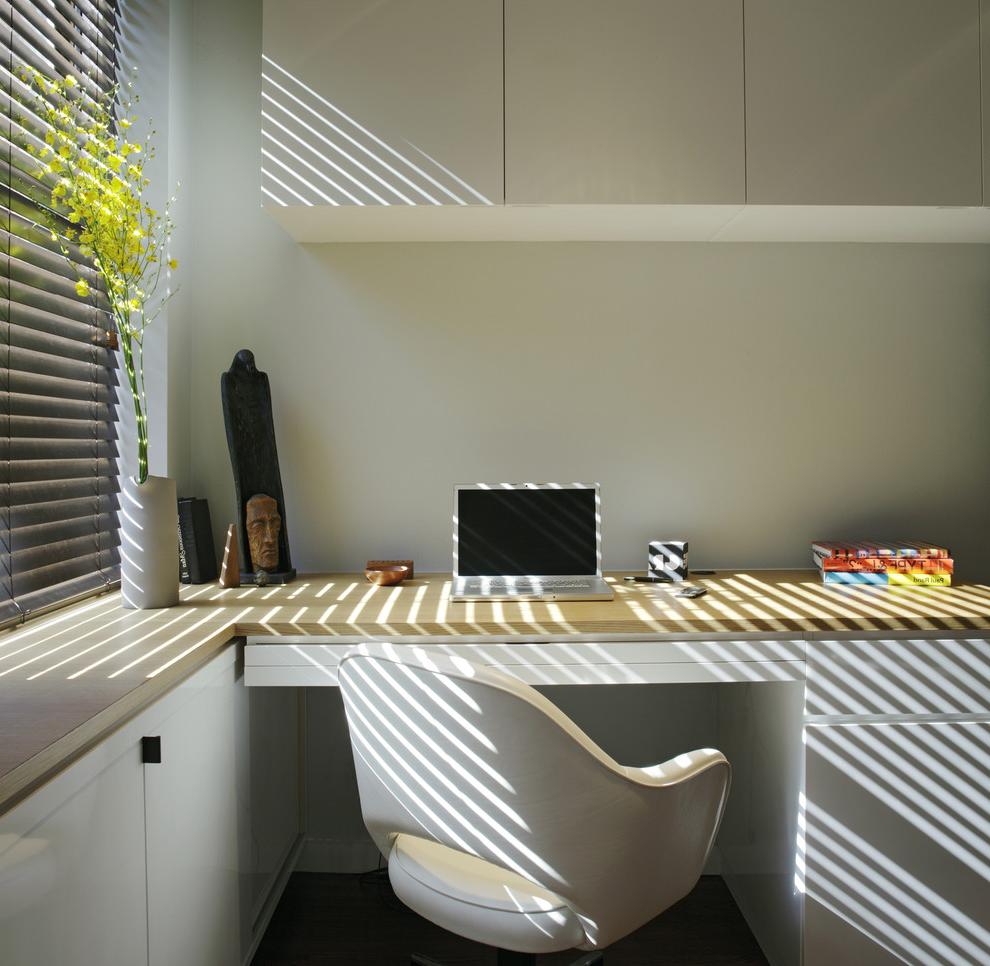 Storage is the main goal of this small office space and this corner desk is absolutely perfect for that. A little work pod gives you space to work comfortably while being surrounded by under counter storage space. The clean pale wood countertop extends out on either side and provides plenty of space for working and organizing away from your computer.
16. Corner Desk With Integrated Shelving Unit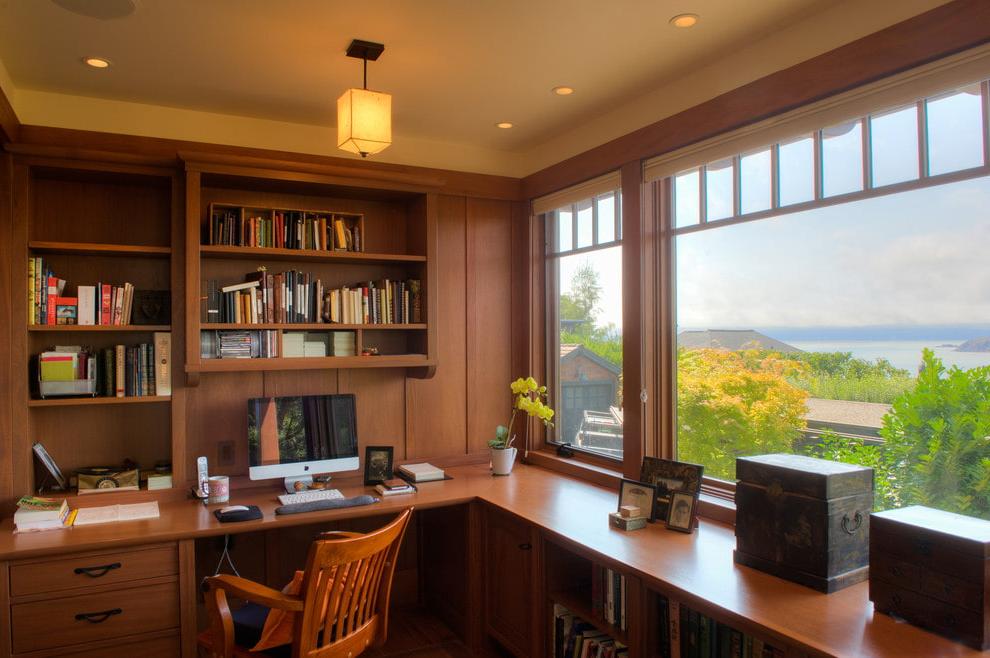 The main focus of this home office is the breathtaking view and it is brought into the room with the natural wood finishes lit by large windows. The huge corner desk even combines a shelf system along with the under counter drawers that we have seen in so many of these examples.
17. Retro Semi-Circular Corner Desk
Corner computer desks don't always have to be a plain old right angles like we've seen before. This wacky 70's inspired workspace has an unusual curved shape with a rounded end held up by a round ended leg. Bringing in really bright pops of orange only serves to make the space more retro and more quirky.
18. Futuristic Floating Computer Station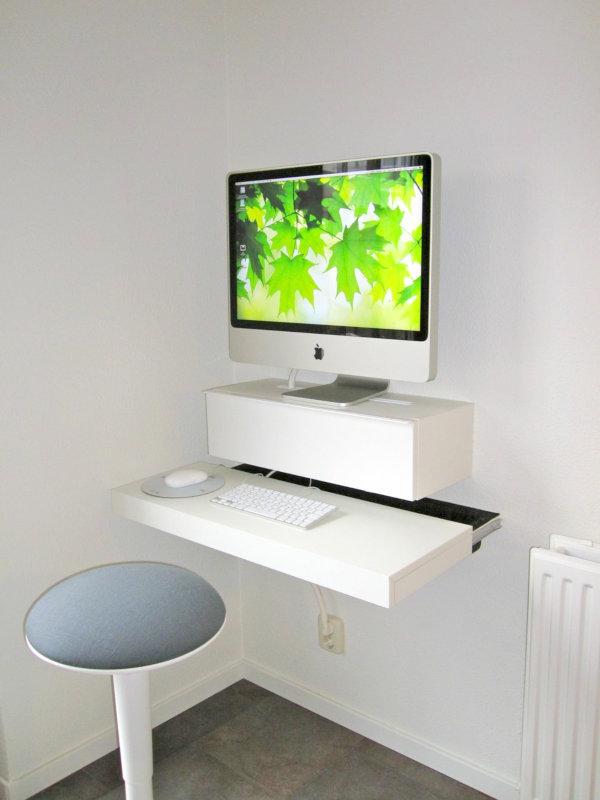 A minimalist's dream, this all white floating desk looks straight out if the new Star Trek movies. The white on white hovering design blends into the white walls so the workspace is unobtrusive within the living area. The desktop background can also be changed up to influence the rooms decor.
19. Stairwell Corner Desk Nook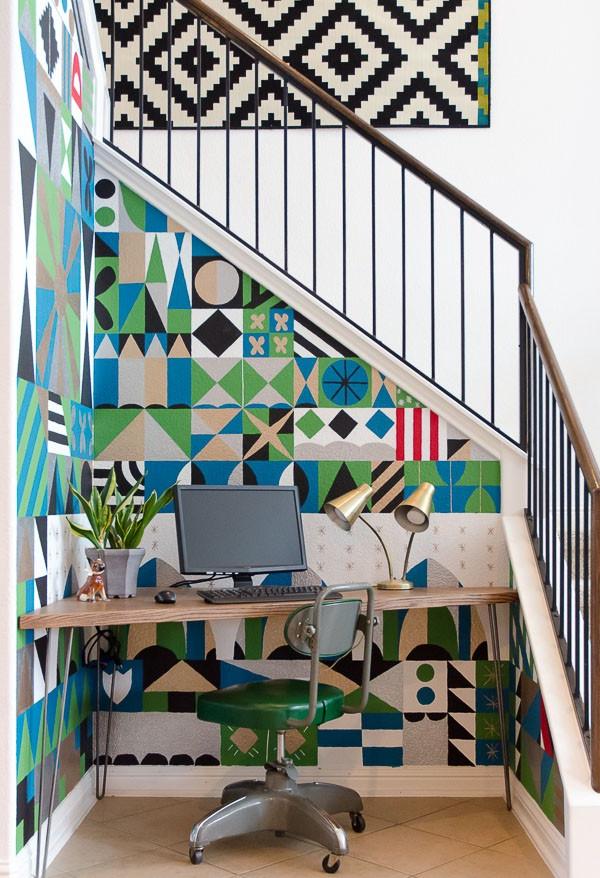 When you live in a small place taking advantage of every little bit of space. This corner of dead space created by the stairwell is the perfect spot for a little corner desk. The multi coloured mixed patterned wallpaper highlights the area in a way you can't miss and make its part of the decor, even making the thin desk legs seem to disappear. Vintage accents like the chair and lamps contribute to the character even more.
20. Many Shades of Wood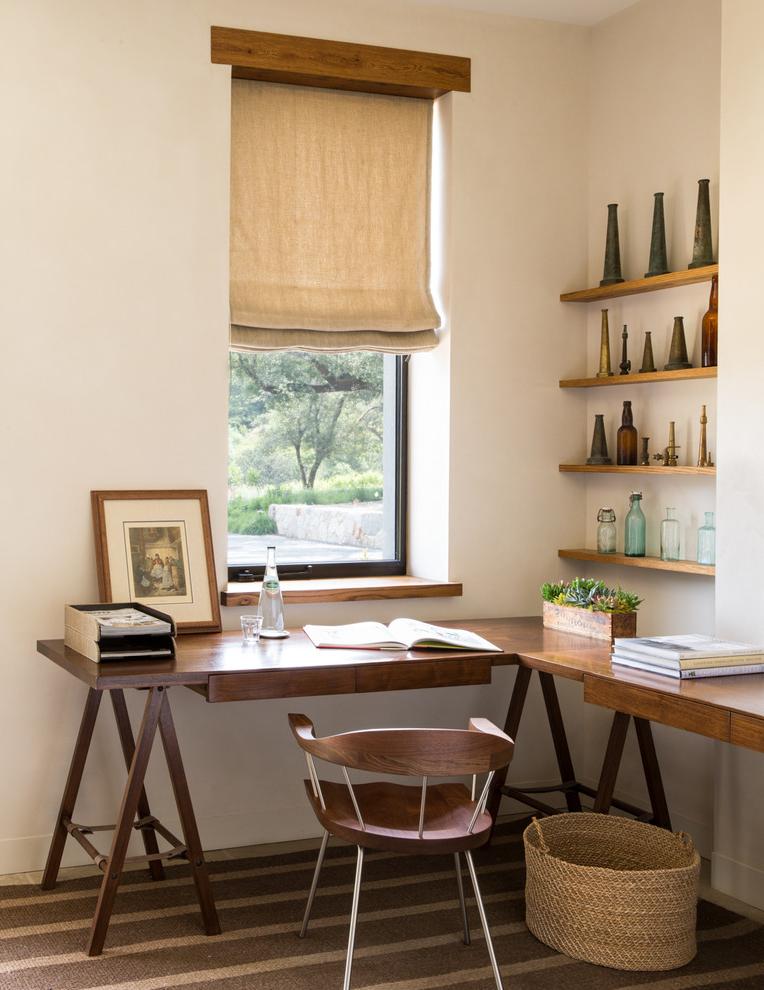 The time honoured A frame supports on this corner desk goes perfectly with this country home style office. Different wood finishes in the floorboards, chair, desktop, shelves and blinds are contrasted and contrasted with one another, accented with natural textures to produce a feeling of homely comfort. You even get little slice of the nature through the tall window.
21. Contemporary Office with Wood and Steel Desk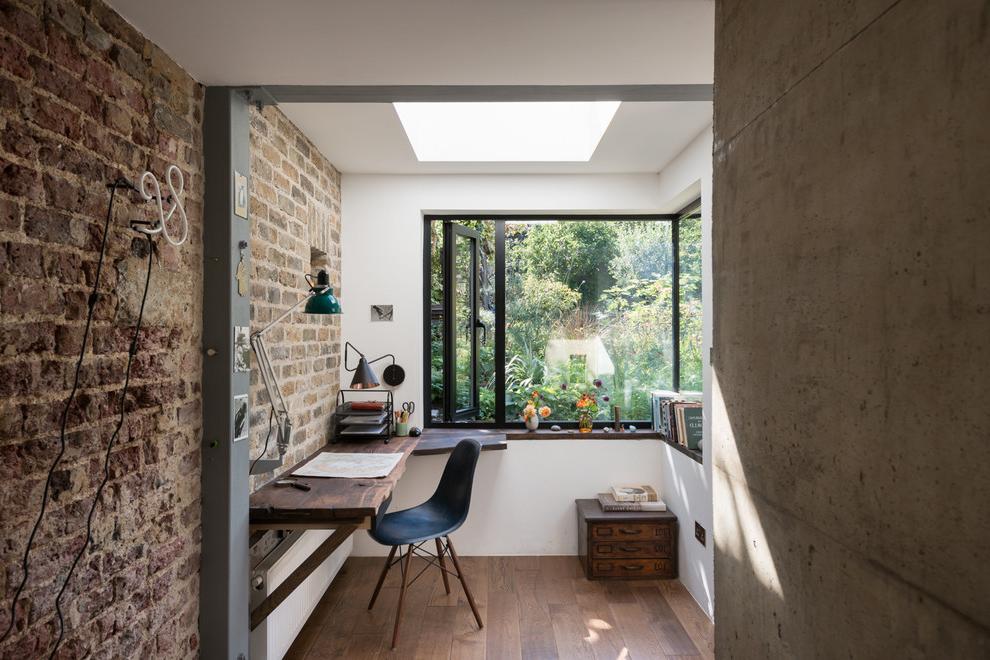 This office has let the raw materials do the talking. Most the materials have been left exposed; a concrete wall, exposed brick, hardwood floors and steel beams; and the desk expresses that as it's made of steel supports and thick dark wood. White walls frame the gorgeous garden view through the window and tie the whole look together perfectly.
22. Brightly Coloured Desk and Bed Collaboration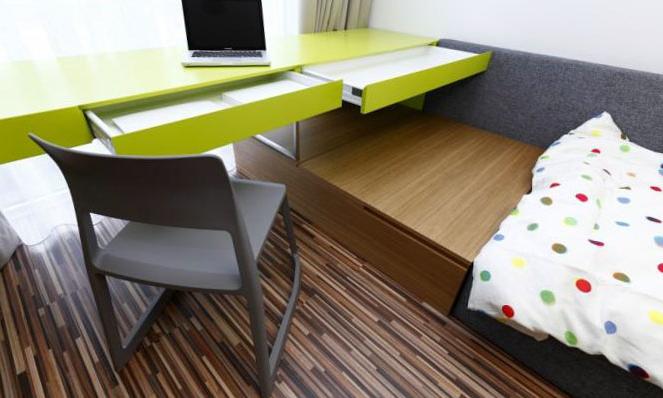 Micro apartments or dorm rooms are spaces where work and rest are usually uncomfortably squashed together. This innovative design tucks the bed right under your desk to create a sleeping nook while still having a desk with a usable amount of space. This is the ultimate example of maximising on space in a comfortable and modern way. The eccentric striped flooring and the desk becoming your pop of colour makes the room more fun and visually interesting, proving that you don't need masses of space to make something beautiful.
23. Black and Blue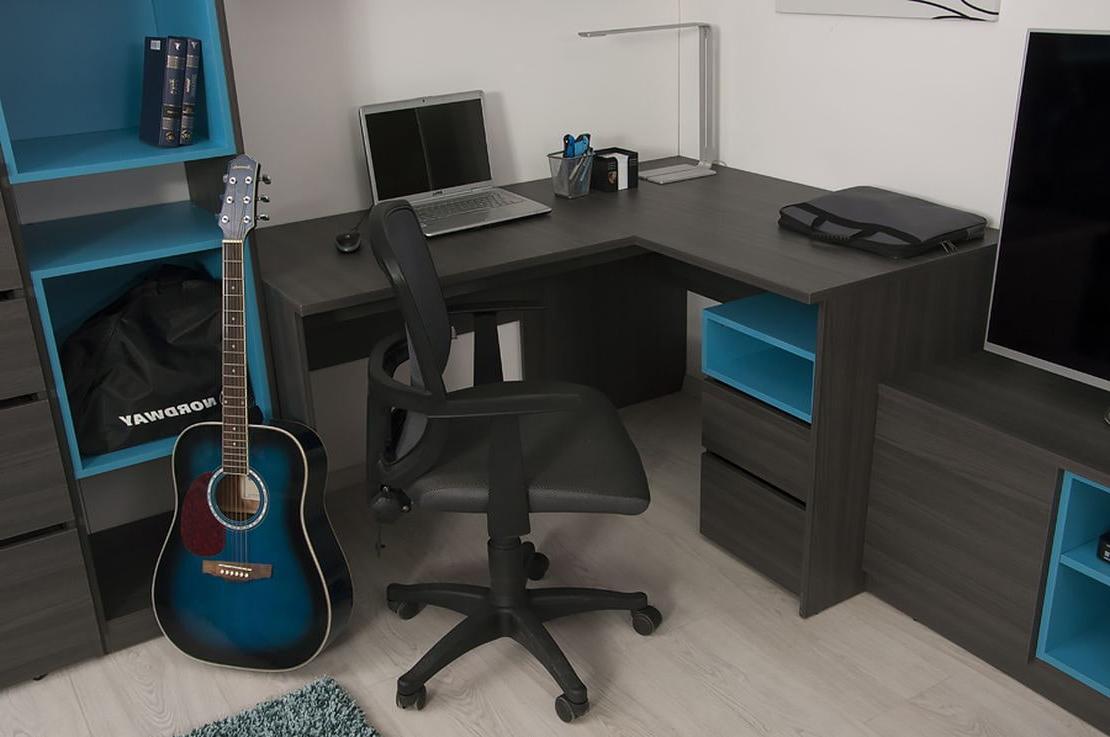 This simple corner desk has been synchronized with the rest of the room with the purposeful choice of a predominantly black design with unexpected accents in bright blue carried throughout. The corner desk, TV cabinet and shelves come together harmoniously so your work area doesn't glaringly stand out within your living area. The little blue pockets in each piece of furniture stops it from becoming one big dark void to great effect.
24. Tiny Floating Corner Computer Desks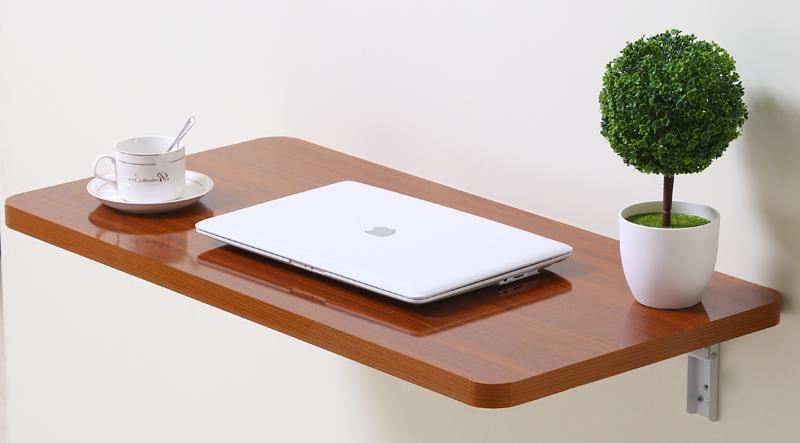 This little guy is the ultimate space saver. A shiny and sleek design with rounded corners prevents this tiny laptop desk from becoming utilitarian and boring, it just makes a little extra care. This style of desk can also come in versions that fold away to maximize on a small space even more when its not in use.
25. Vintage Computer Desks in A Corner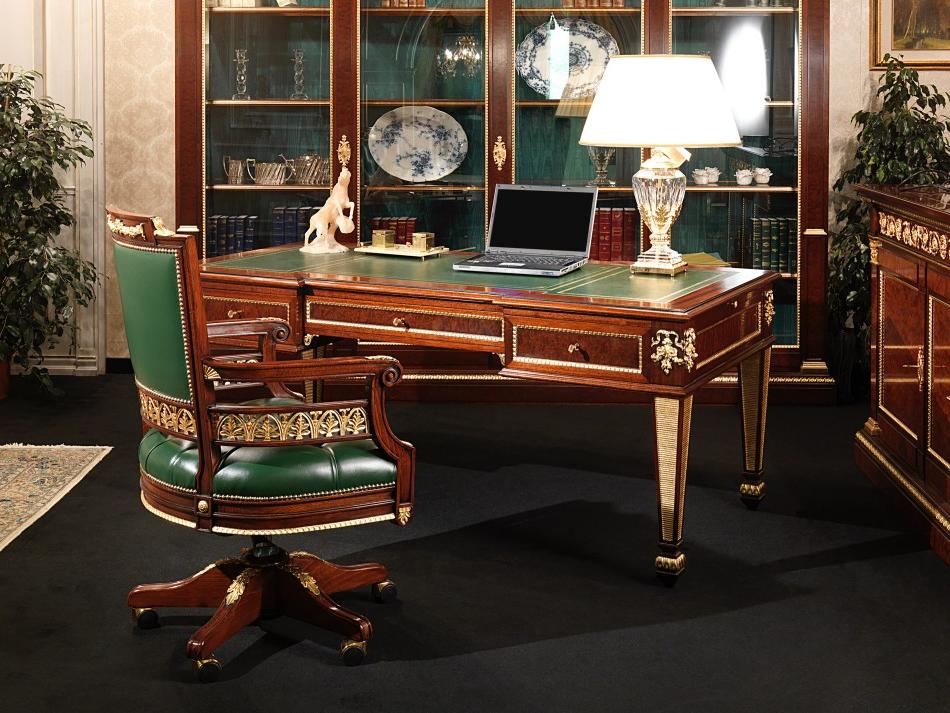 This vintage desk and chair set that wouldn't look out of place in some manor house in rural England owned by someone with a fancy title. If you have plenty of space and elaborate old money extravagance is your thing, this is the perfect desk for you. Instead of being L shaped like most our previous examples just locating the desk in the corner creates a little workspace within a much larger room. If you're coveting this aesthetic antique stores are a good place to start to get the real deal.
26. Wall Mount Desk With Slide Out Keyboard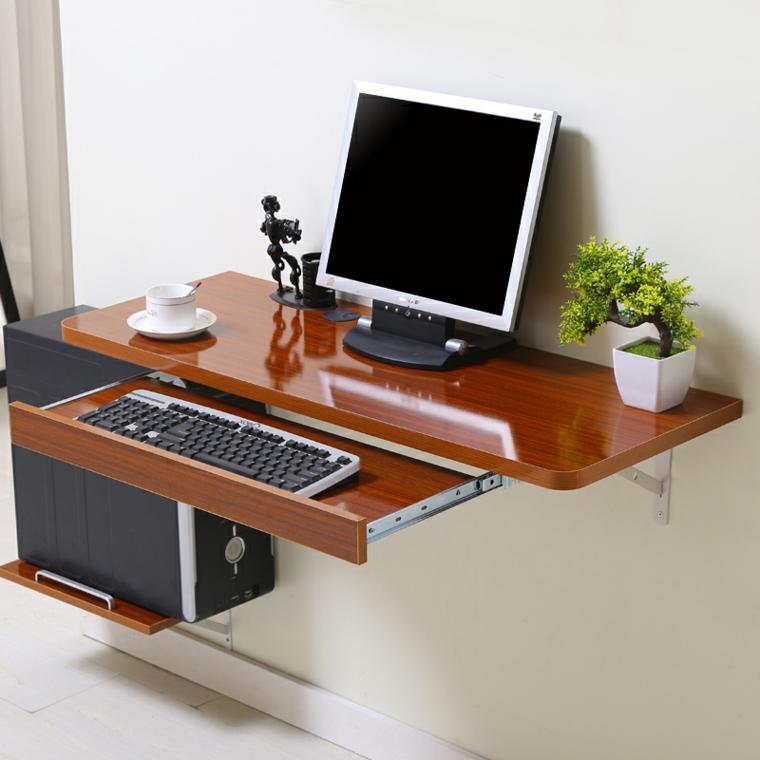 Similarly to example 24, this elegant floating desk is perfect for saving space. This shows how it can be adapted to suit a desktop computer as opposed to a laptop. A similar floating platform has been added lower down to lift the computer box off the floor. The keyboard is on a separate mechanism that slides away easily when not being used to keep the design nice and compact.
27. Contemporary "A" Frame Desk with Storage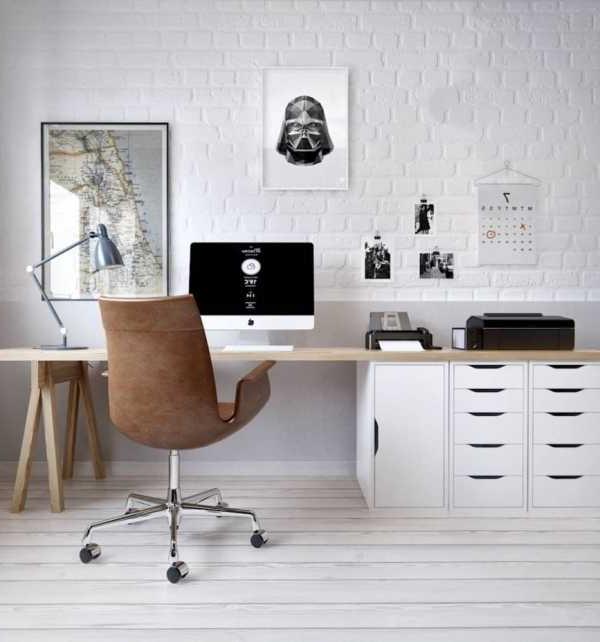 The A frame desk set in a corner cleverly uses standard Ikea units as storage as well as support for the pale wooden desktop on the other side. A very contemporary mix of materials; painted brick, wooden floors and a leather chair; makes the space feel rich in texture while being limited in palate. A predominantly white design against brown accents with a nod to personal interests in the framed prints comes together in a very pleasing place to work.
28. Corner Computer Desks with Wrap Around Storage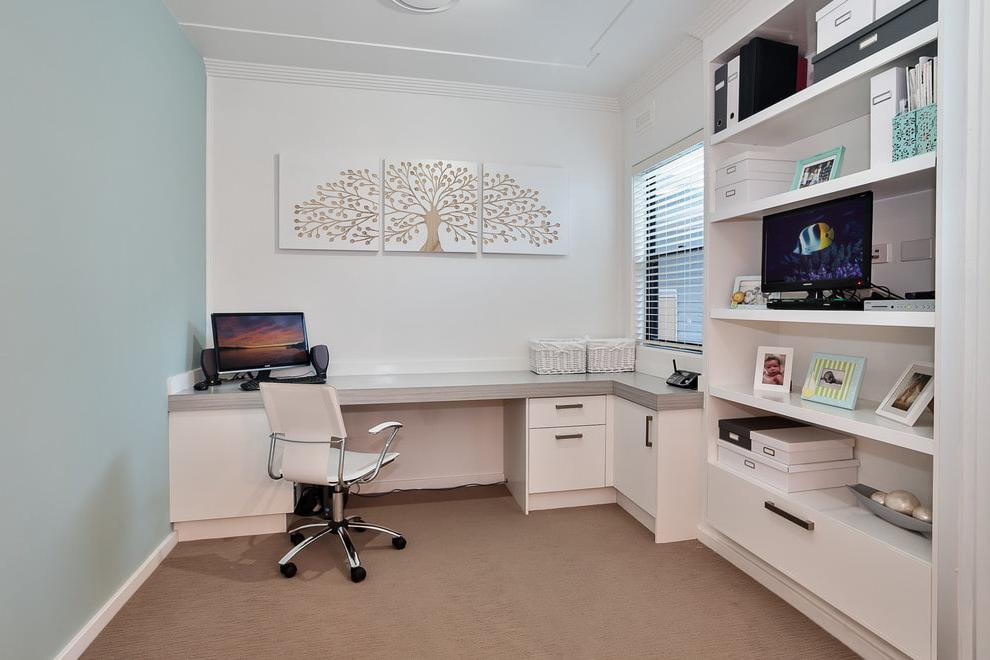 This home office has been designed with the upmost cohesion and efficiency. The seating area is framed by a cupboard on one side and storage that wraps around the corner on the other, leaving you plenty of chair space so don't feel too cramped. The design of the desk flows up into the large shelving unit seamlessly to bring the space together. You even get the bonus of a little view as you look up to the left.
29. L Shaped Desk and Shelving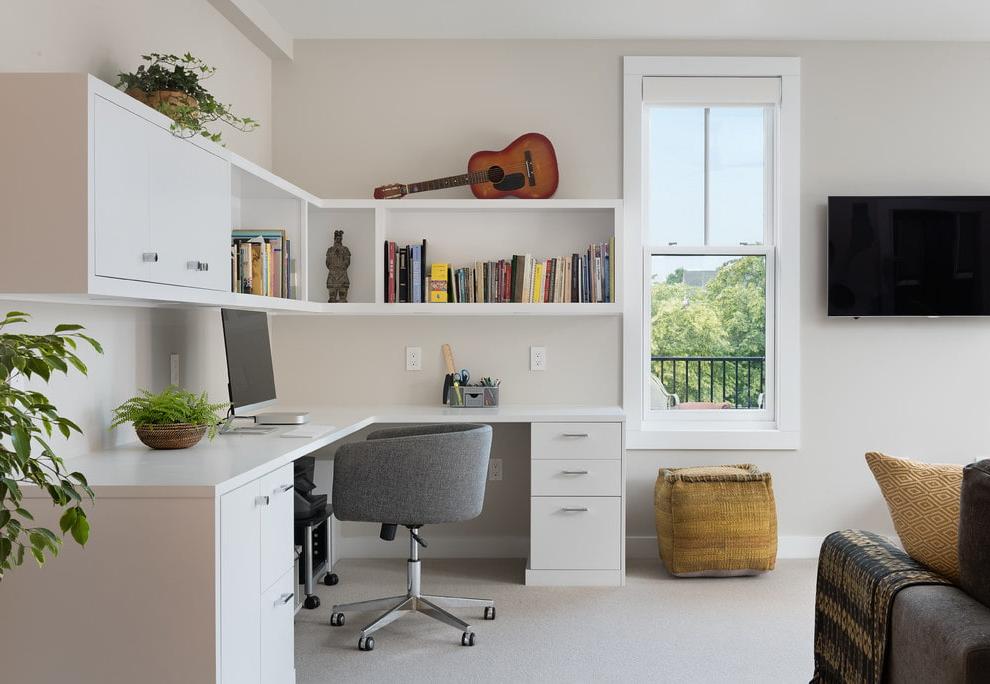 This white on white corner desk design not only has the storage under the desktop like many others we've seen, it has it above your head too. The shelving unit, made with the same design features as the desk, mirrors its wrap around shape in a very elegant way. The shelves give you the oppourtunity to have items close to hand without taking up any desk space too. Personal knick knacks on these shelves provide the colour and texture back into this all white office set up to add your own personality into the mix.
30. Work Station in the Living Room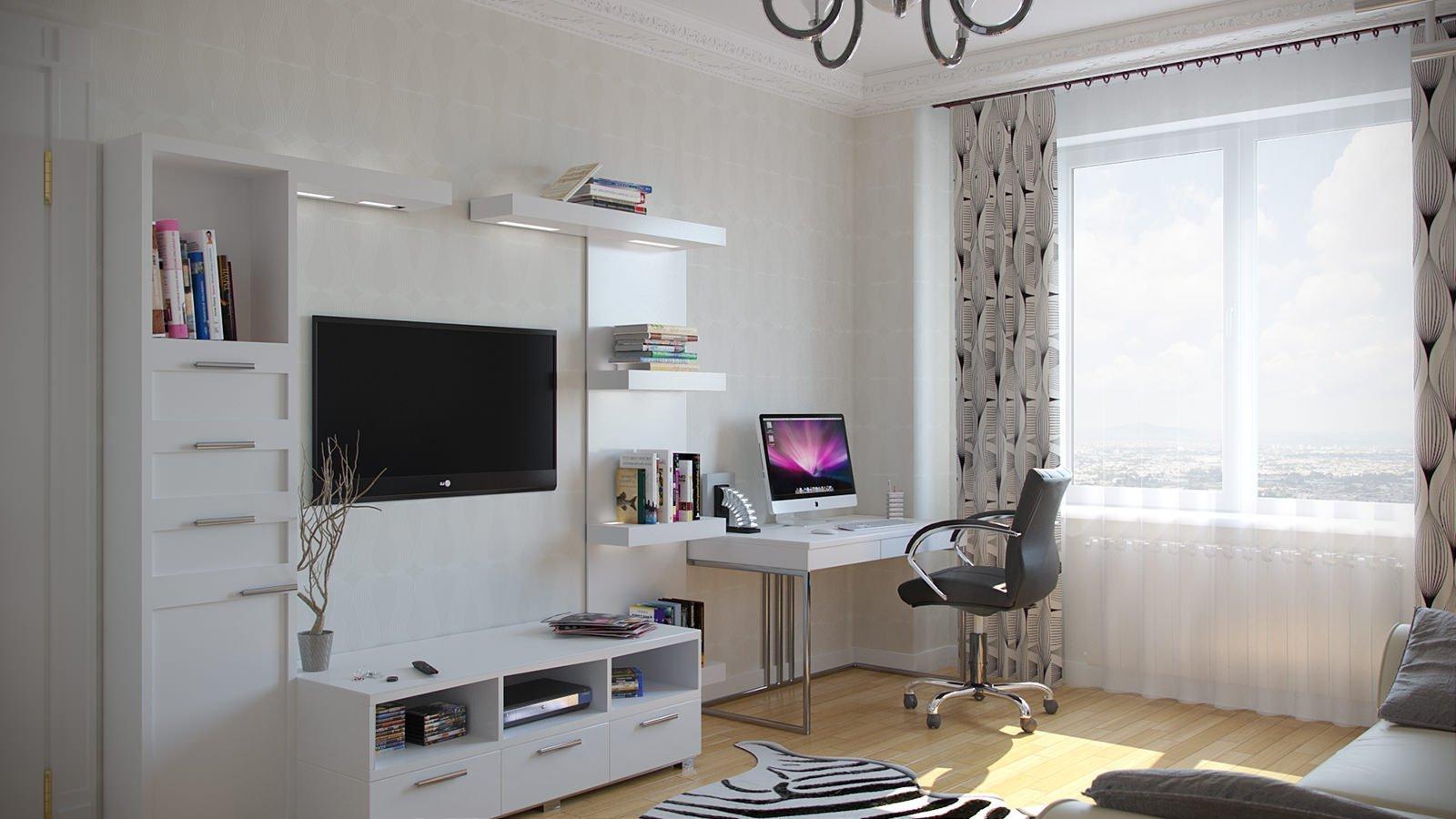 Having a workspace in your living room isn't ideal and can sometimes mess you're your work life balance but a small and unobtrusive design like this makes the desk part of the decor. Tucked away in a corner the chic white and silver desk coordinates with living room furniture perfectly and doesn't feel out of place. Another trick used here for when you have to make one room multi-use is the using light colours to make the room feel bigger.
Conclusion
From corner desks units and work pods to floating/ fold away desktops; there is an option for all your workplace needs. Creative thinking and strategic design can allow you to take advantage of appropriating existing spaces to make them something new or combining multiple items of furniture into one unit to maximize on space in micro apartments. The key is to make use of whatever space you have to create an efficient area to work that doesn't feel cluttered or encroach of your living space.
Playing with colours, materials and your personal design spirit can result in a personalized and aesthetically pleasing work area that actually makes you excited to go work.
I hope this list as shown you that can you have a functional and appealing workspace that makes you feel comfortable and productive without taking over.