Dining in the outdoors is a quintessential summer experience and if you're lucky enough to have a nice big garden you can create this experience for yourself with an outdoor dining tables.
It is essential that outdoor dining tables are made of the right material; your average indoor wooden table just won't cut it against sun damage, rain or snow. This can easily be remedied however by using carefully chosen materials or treatments to prolong the life of your outdoor furniture. Wrought iron is an ideal material as it is rust proof and incredibly durable so it can withstand the elements as is concrete for the same reason. Wood is also a popular material because of its natural beauty and warmth in comparison to the previous two materials; which need added cushions to make them more comfortable. Timber being used outdoors must be treated with special varnishes, which need to be reapplied every few years to keep the wood safe from moisture.
29 Outdoor Dining Tables For Eating Surrounded By Nature

Depending on your garden layout you can place these tables out in the open, nestled within the garden with just the sky above, or under a covered patio or pergola so they can be used even in slightly inclement weather.
Whatever material, positioning or style suits your fancy, you can tailor the perfect outdoor dining experience for you. So if you like mixing up your dining experience here are:
1. Dining Area Under Wooden Gazebo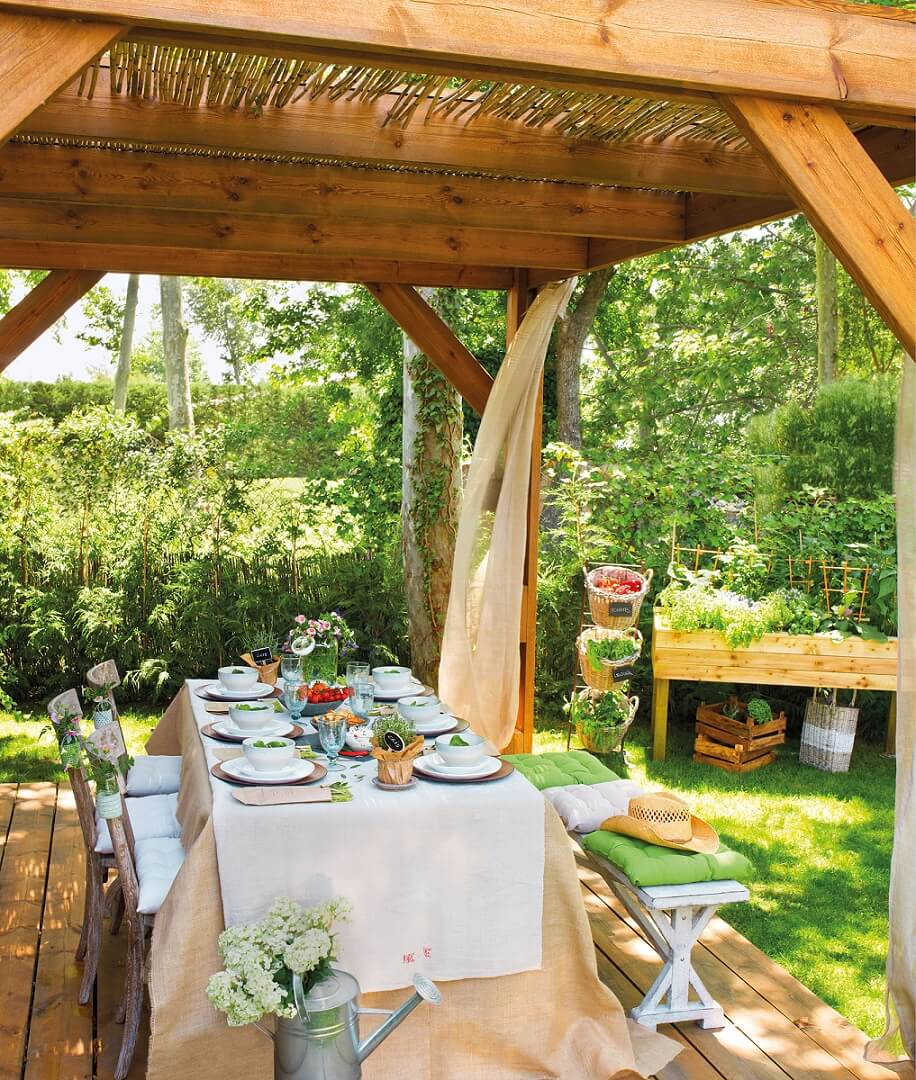 This rustic family dining table is situated underneath a timber gazebo with treated wooden decking that shades you from the sun, or rain, while you enjoy a meal outside. The gazebo is positioned within a lush green setting decorated with flowers, letting greenery become your living interior design. The table has been covered by a rustic hessian tablecloth for easy cleaning as well as an added textural element. Chairs made of reclaimed wood have been paired with a little timber bench seat; which allows you to fit more people at the table if needed.
2. Wrought Iron Romantic Dinner Table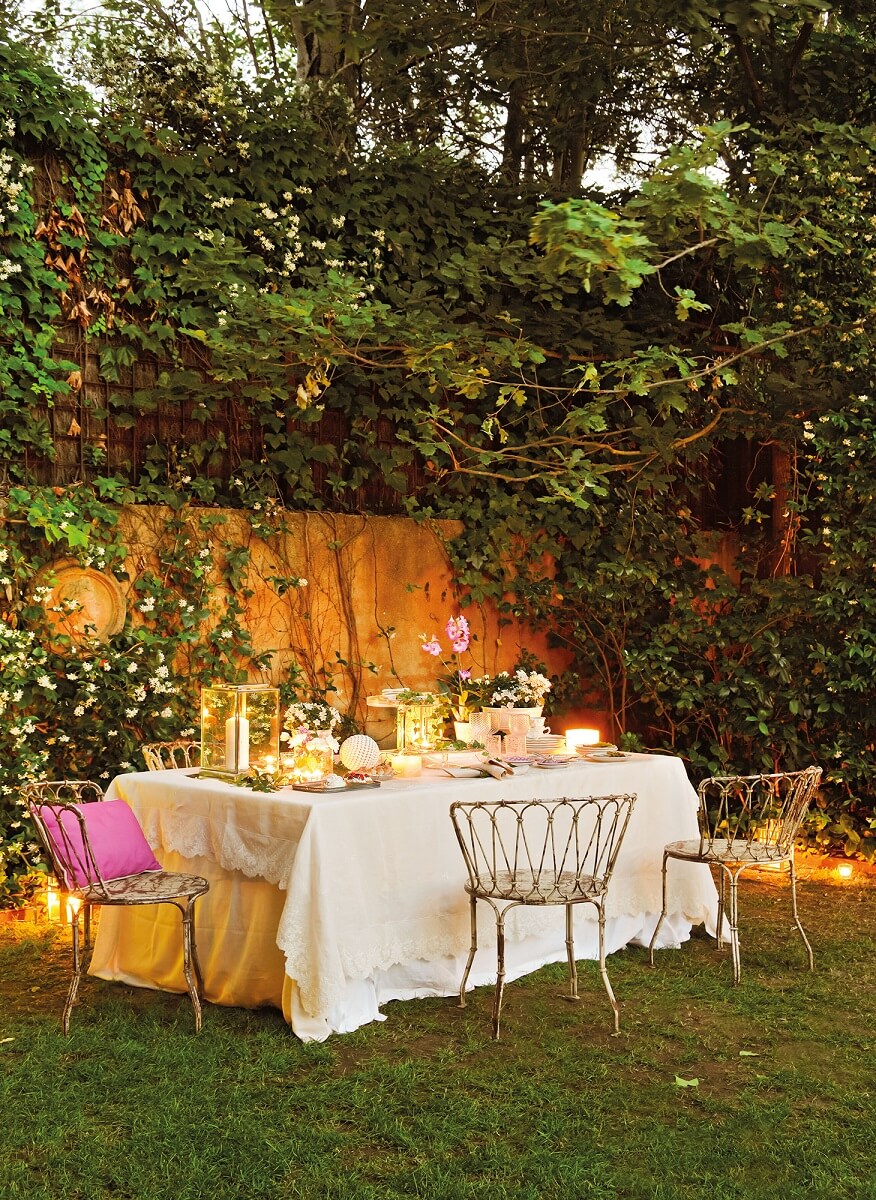 This delicate wrought iron dining set creates an idyllic romantic dining space that can be left outside because of its durable material. The round chairs are encircled by a high back of beautiful teardrop patterns and spindly legs; which add a decorative accent to the natural space. The plain wrought iron table can be jazzed up easily for a more romantic appearance with the addition of a tablecloth and mood lighting to suit the occasion. The intimate dining experience is set against a backdrop of a creeper covered wall with a trellis above head covered in ivy that really help set the scene.
3. Fantasy Lean To Dining Table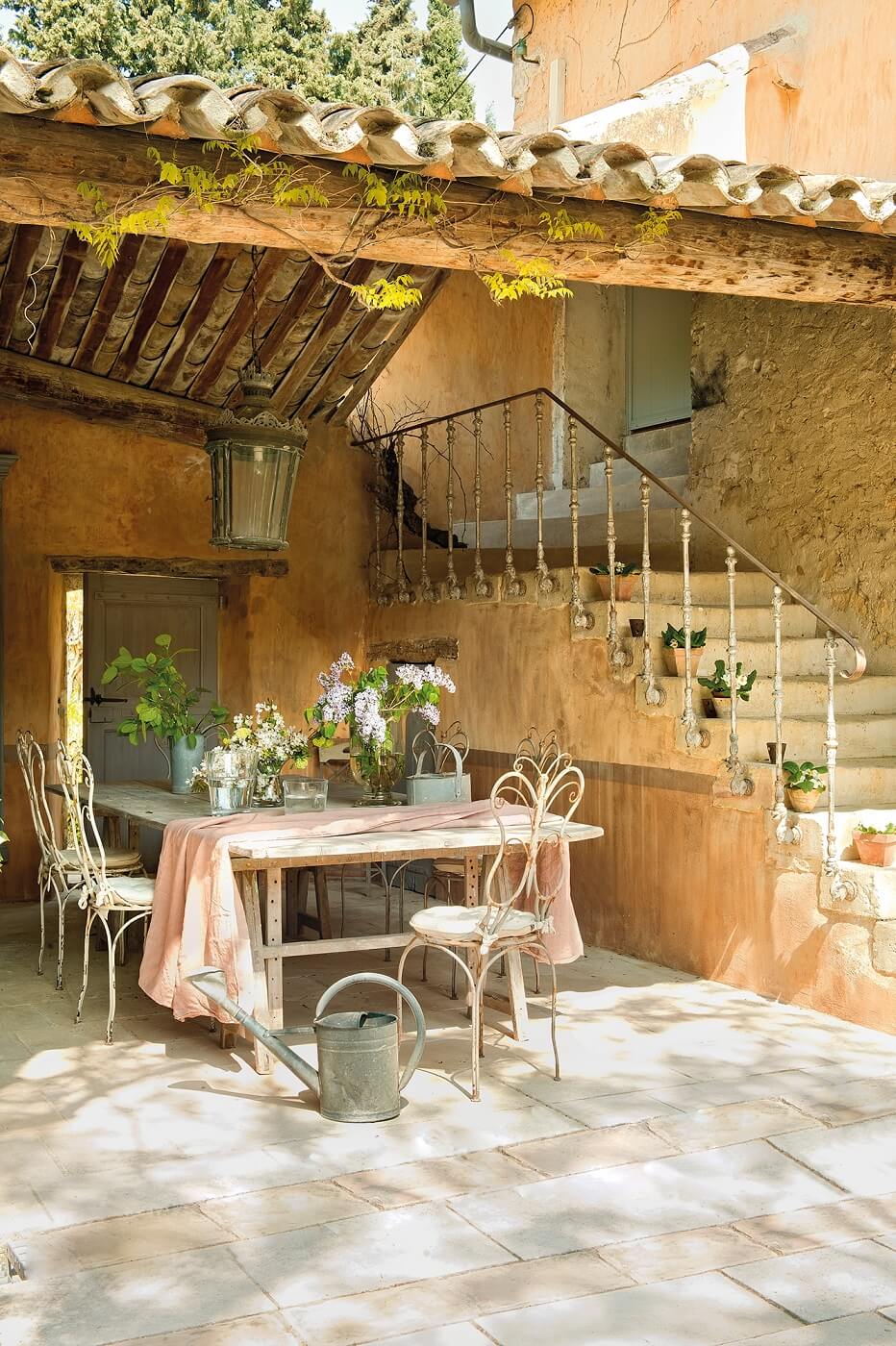 A covered courtyard space at the foot of a delicate staircase such as this is the perfect space for rustic outdoor dining. The thin reclaimed timber table is decorated with a variety of receptacles filled with wild flowers, the epitome of an ecofriendly, upcycled design. The little wrought iron chairs add an extra decorative component with the metal work butterfly motifs that adorn the back of chairs. The stone pavers that the table sits on and the blue farm style door behind help to further the rustic narrative.
4. Vine Covered Wicker Table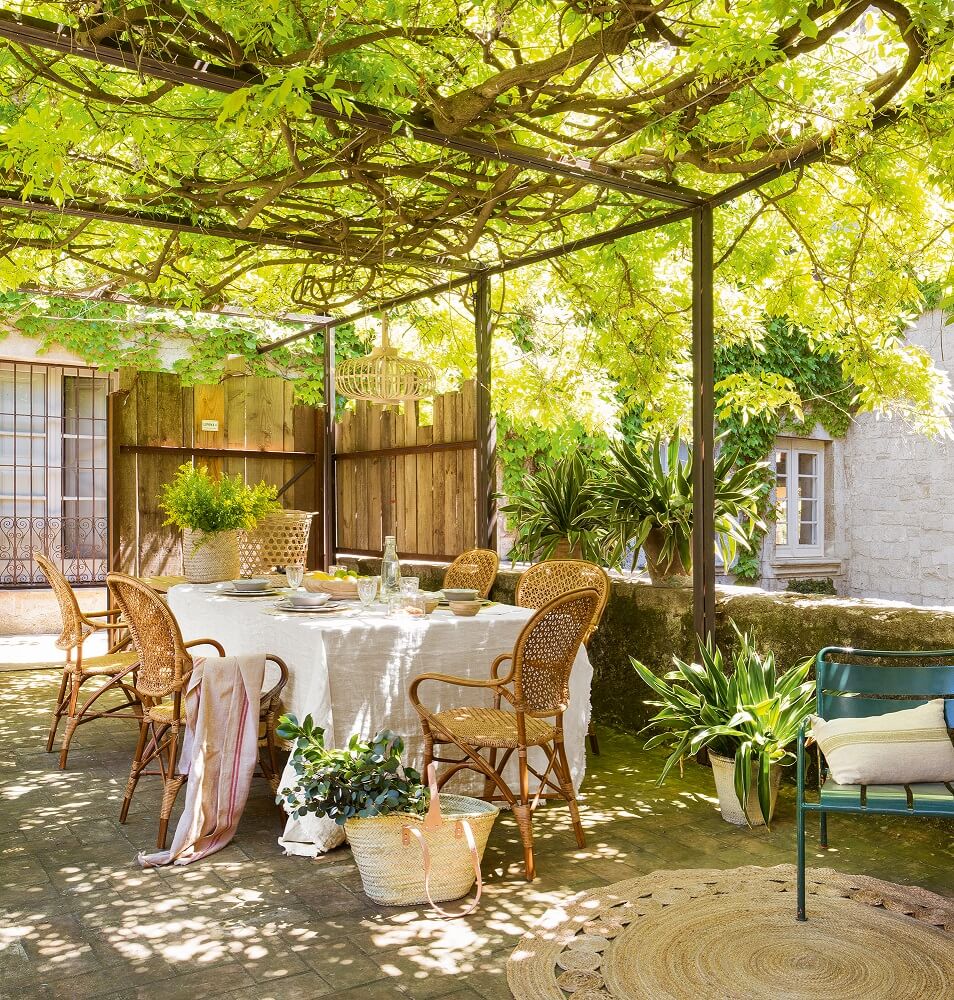 This simple rectangular table covered in a crisp white tablecloth with wicker armchairs is a simple look made into something special by its position beneath the twisting grape vines growing overhead. Wicker is another good material for the outdoors because of its resistance to the weather but its preferable for them to be kept out of under cover as they can be damaged if they are rained on consistently. The table is kept private from the house by reclaimed timber screen in the corner to shape this into a comfortable space for outdoor dinners in summer.
5. Food With A View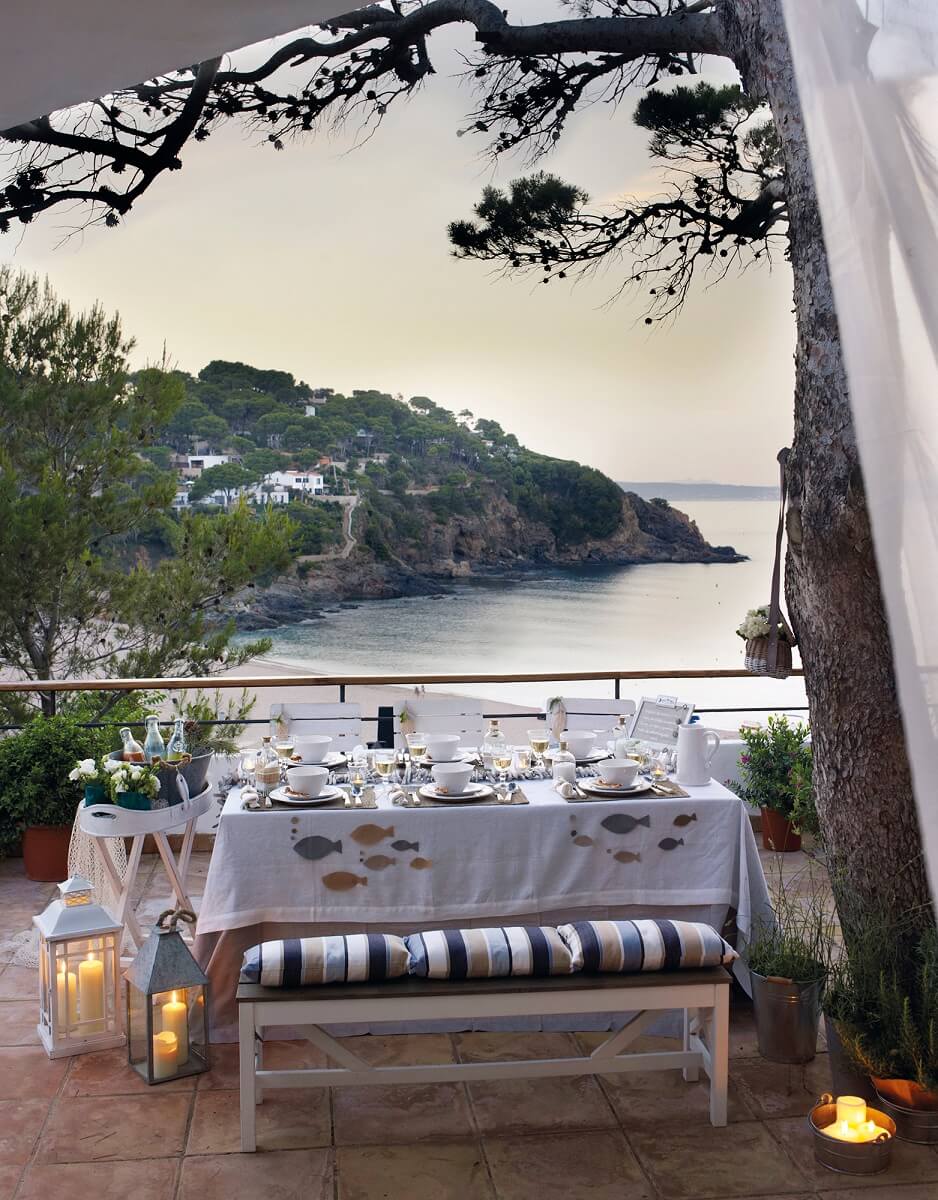 This white washed wood dining set with cushioned bench seating takes full advantage of the gorgeous view of the little seaside inlet and the cliff side opposite. In keeping with the setting the space has been decorated with a nautical colour scheme of white, beige and blue with graphic fish decorating the white tablecloth. To inject the space with an even more magical atmosphere the terracotta pavers have been decorated by metal lanterns full of candles that cast a soft glow around the patio.
6. Lakeside Wrought Iron Table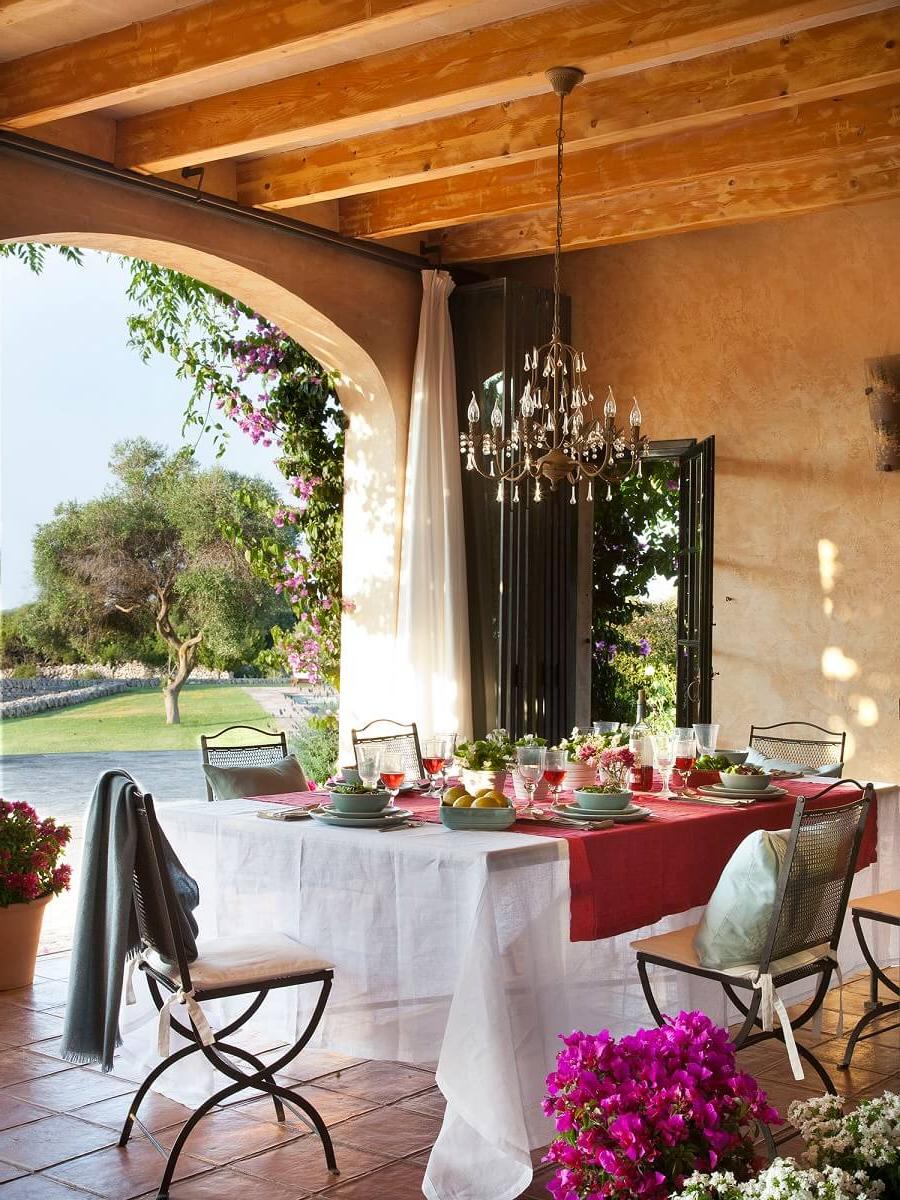 This covered patio exudes a rustic style of glamour through its exposed beam timber ceiling, imitation candle chandelier and lakeside setting. The large square table with matching wrought iron chairs can seat lots of people so you can host some iconic dinner parties with a unique view of the lake and opposite shore.
7. Rural Timber Table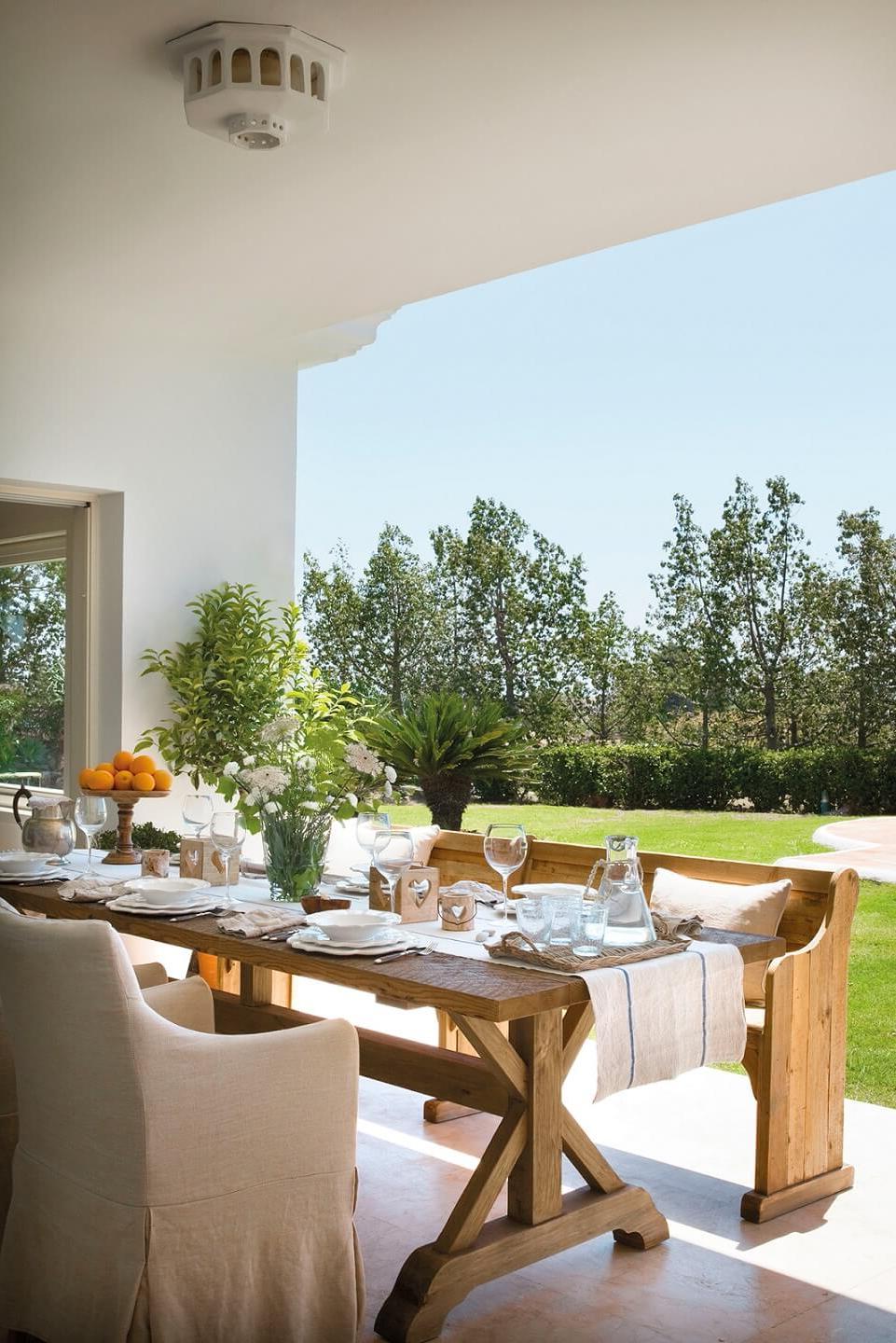 This rough wood table with a rustic X shaped leg configuration is the perfect space to take in the stunning view of the large lawns and tree-lined perimeter of this rural property. The table has been decorated with a simple table runner that is a quick and easy way to bring colour and texture to a wooden table. Like many of our other examples this dining set has combined chairs with bench seating covered comfy cushions for a more adaptable seating set up.
8. Long Outdoor Table Under A Grass Covered Patio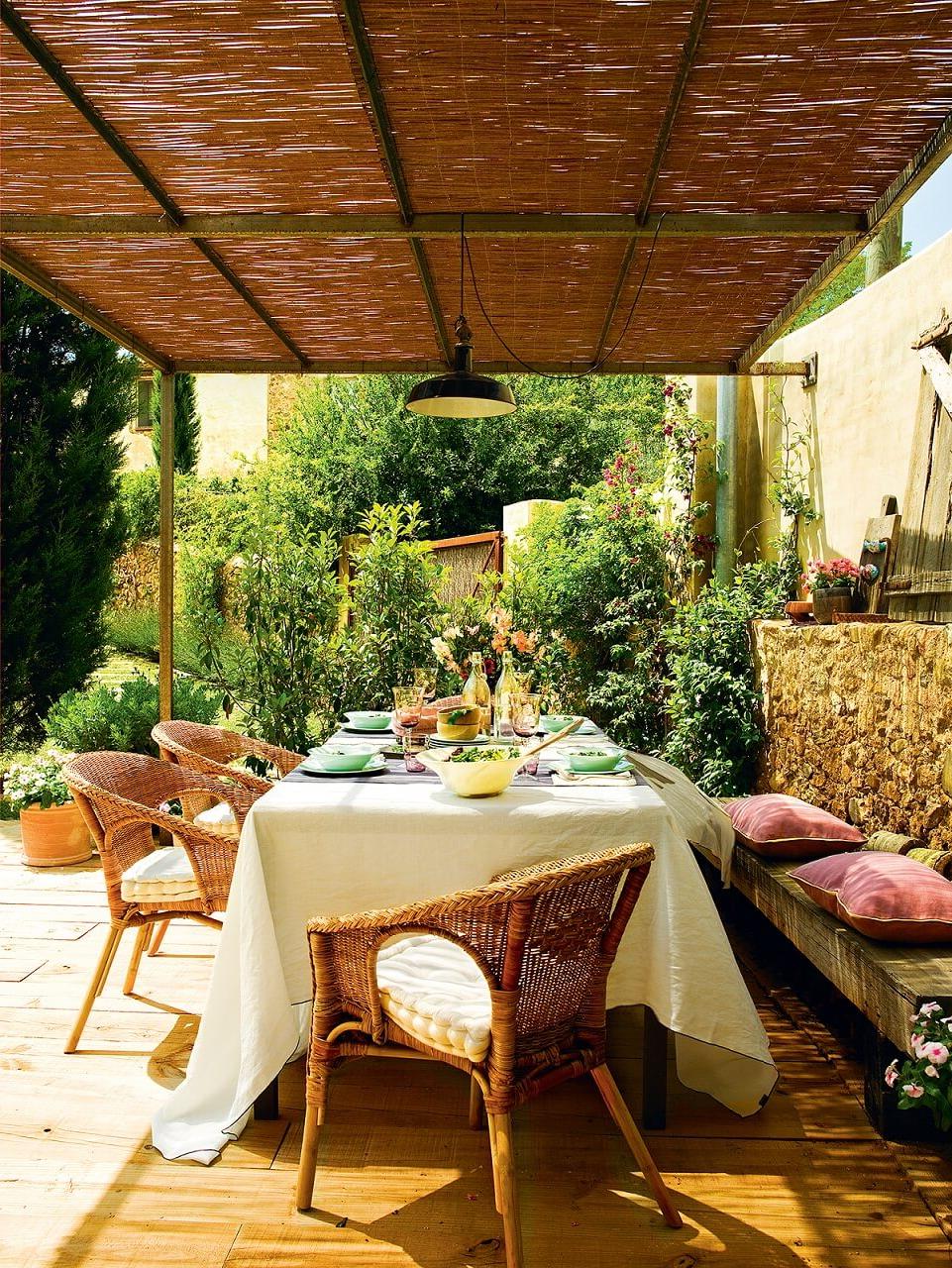 This simple rectangular outdoor table has followed the trend of using wicker armchairs that also tie in with the grass roof covering overhead that keeps you shaded from the sun. Additional seating is built into the rough stone boundary wall in the form of a cantilevered stone bench. This wooden platform acts as an oasis within a luscious green garden for peaceful outdoor meals.
9. Wrought Iron Outdoor Dining Tables Under a Timber Pergola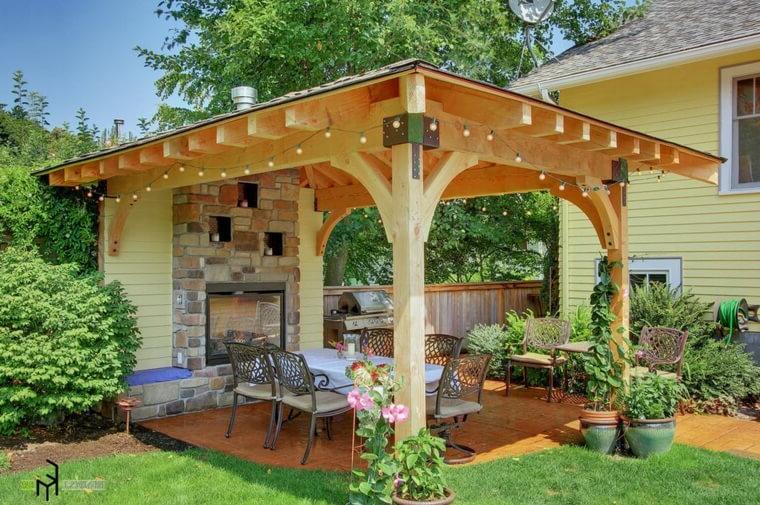 This six seater wrought iron table on warm paving sits underneath a gorgeous chunky timber pergola decorated with strings of round lights and plants that creep up the wooden columns. The rough exposed stone fireplace that is featured at one end makes this space useful all year round so you can dine outside in all weathers without getting cold.
10. Poolside Outdoor Dining Tables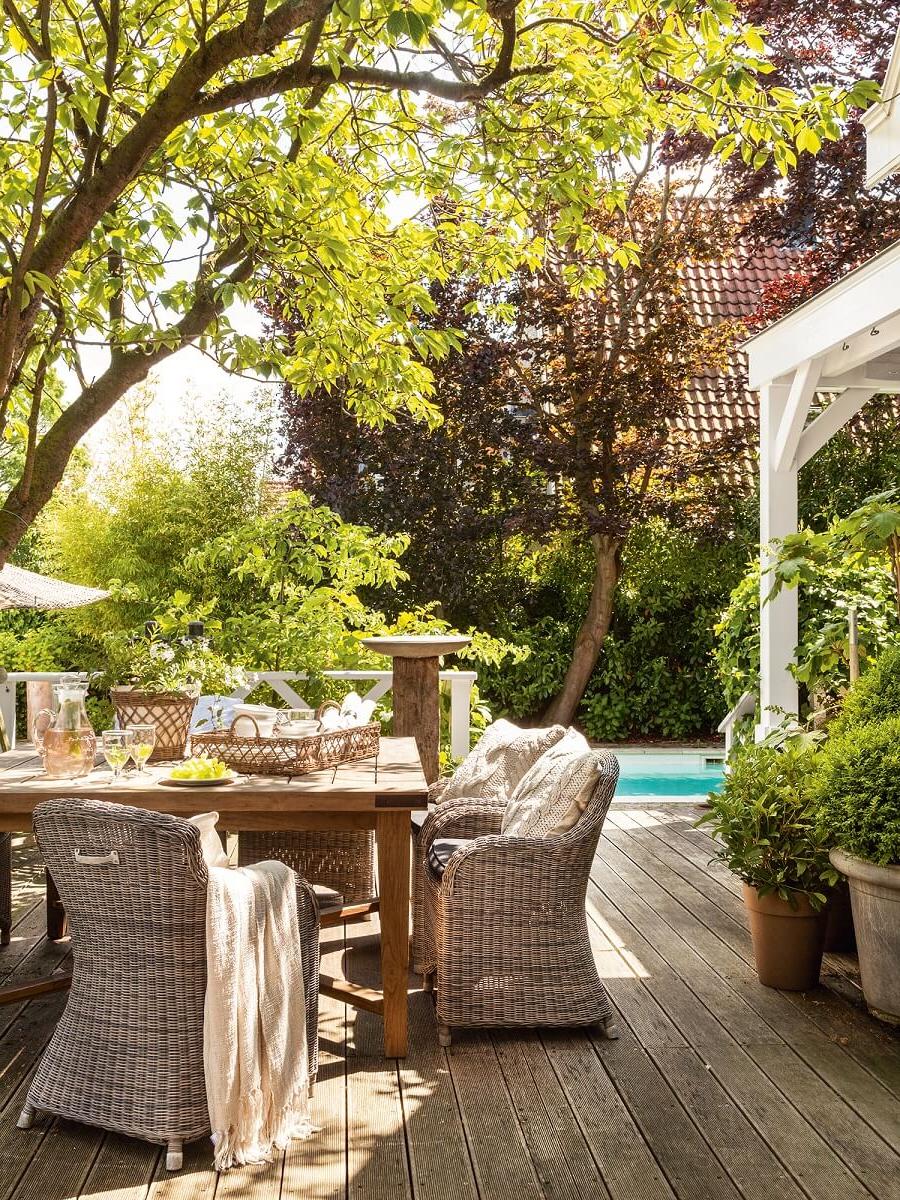 A wide timber table with big wicker armchairs sitting under a huge tree that shades you from the hot summer sun is the ideal poolside dining space. The traditional pool paving has been replaced by treated wooden floorboards that make the space feel more rustic and approachable. All these factors combine to create the idyllic summer experience; eating and swimming in the sun.
11. Statement Tree Stump Table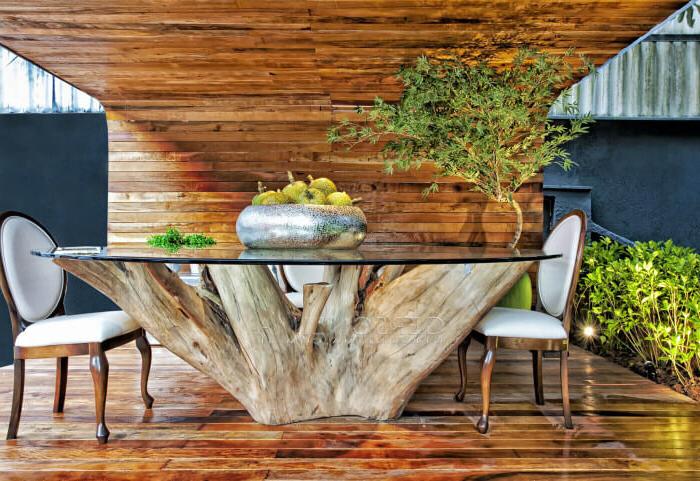 The base of this stunning table has been made from a reclaimed piece of a tree that has been chopped down and given a new life. Instead of using a piece of the trunk, which is far more common, they've chosen to use the part where the trunk ends and the branches begin, reaching out to support the tabletop. The oval glass top is used to let the base do all the talking. The austere vintage chairs have been used to work in stark contrast to the natural surroundings. The whole dining area is wrapped on three sides by wooden floorboards highlighting the material that makes this space special.
12. Inside / Outside Patio Dining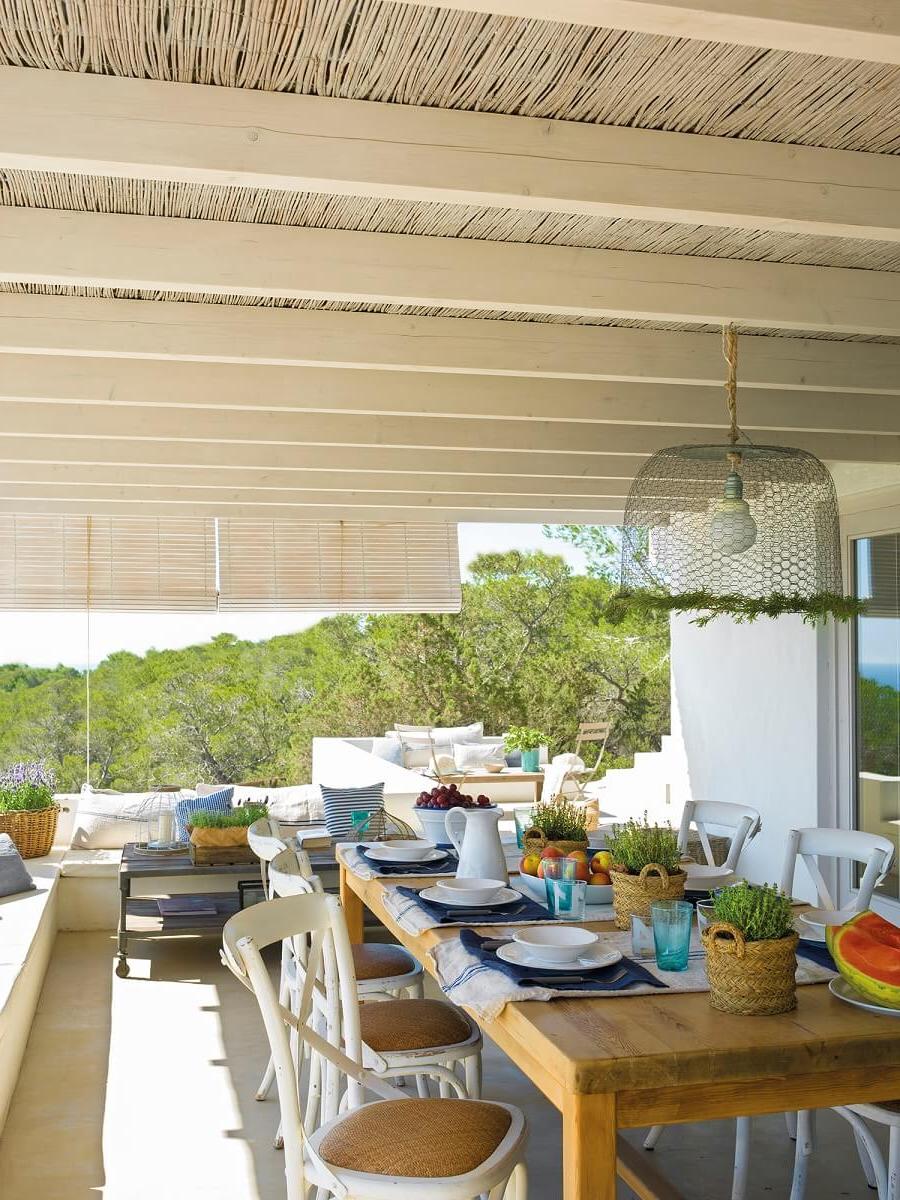 This huge outdoor patio features a long timber table, perfect for big family dinners. The simple wooden outdoor dining tables has been teamed up with some white chairs with woven fabric chair seats. A low wall that doubles as seating for larger outdoor gatherings rings the patio with an uninterrupted view of tree covered hillside beyond. The summery vibe of this space is helped along by the white exposed beams and painted grass roofing. The elements, whether it be harsh sun or rain, can be kept at bay by grass rolling blinds so this space is useful at all times of year.
13. Round Wrought Iron Curlicued Legs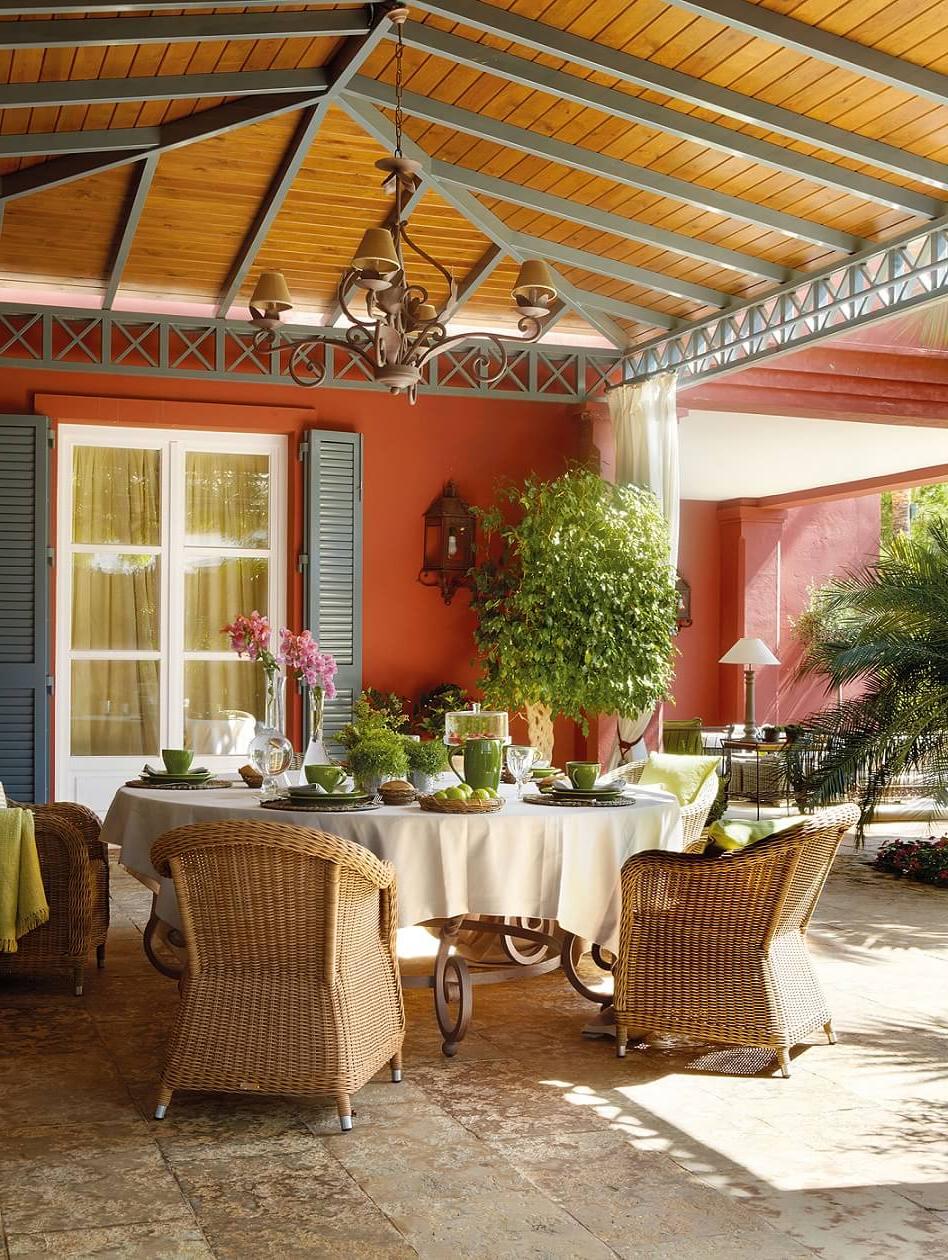 This large covered patio with red walls and blue shutters on rough pavers make a beautiful place to situate an outdoor dining area. By using a round table you can fit more people around it in comfort; which is ideal for dinner parties are family gatherings. The wrought iron table is covered by a clean white tablecloth that lets the curling wrought iron legs peek out from underneath.
14. Rustic Outdoor Table With Outdoor BBQ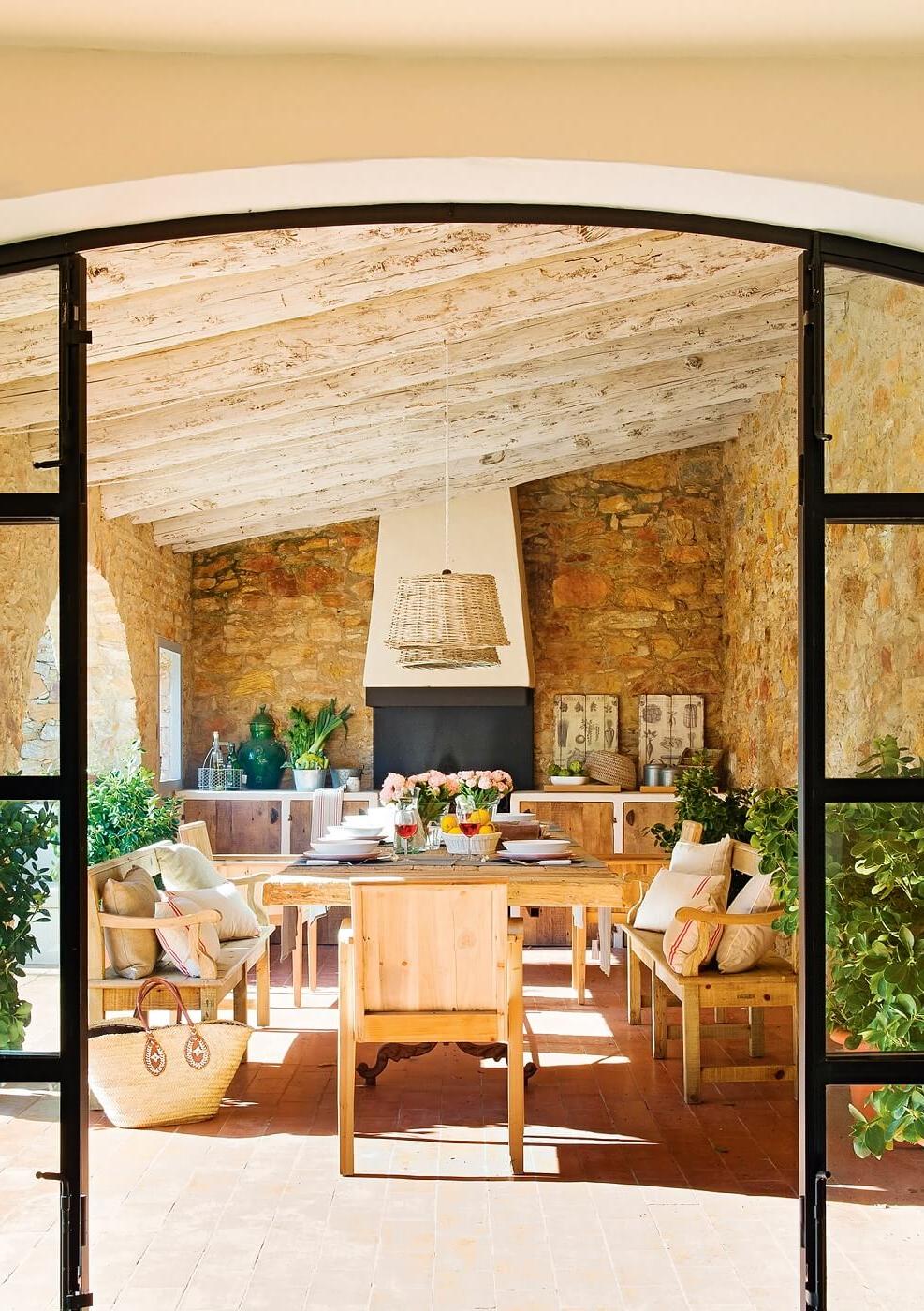 This rustic setting has been created by exposed stone, terracotta brick pavers and exposed roughly white washed beams; which all work in harmony with the timber table. The long table has chairs at either end with wooden bench seating running along the long ends decorated by comfy cushions to fit as many people as possible in comfort. The outdoor barbeque can be used as a fireplace so you can eat in this rustic space in all weathers.
15. Mediterranean Dining Experience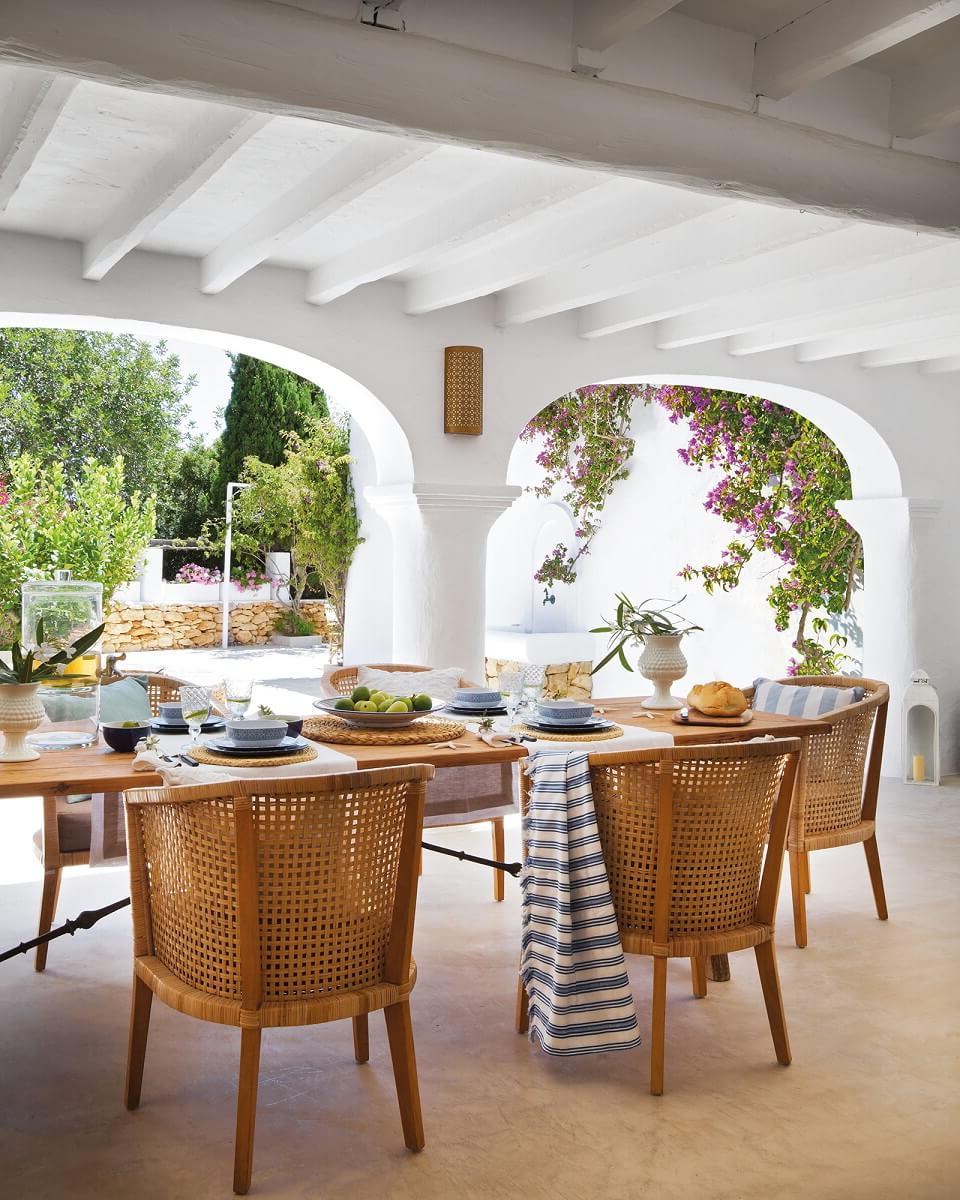 The Mediterranean has been as the inspiration for this bright patio, a feeling evoked by the white columns, archways and exposed beam ceiling with a light ceramic tiled floor. The table itself is a thin timber with wrought iron supports surrounded by the classic wicker and timber chars that we have come to know and love through this list. The creeping flowered plants on the wall beyond and the dense foliage of the garden beyond creates a pleasant view while you eat. To add to the look accents of blue and white in the soft furnishings to emphasize the Mediterranean aesthetic even more.
16. Chunky Wooden Table With A View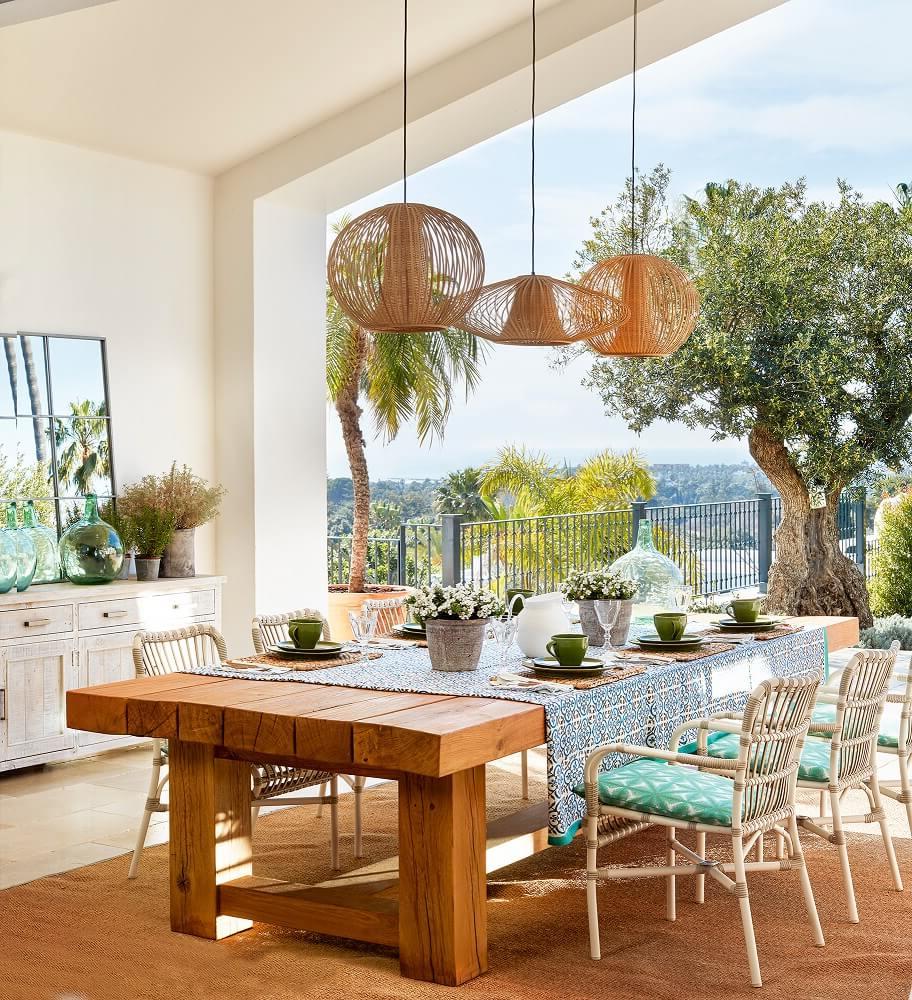 Just as we saw above this, is a Mediterranean inspired open patio but this time with an actual sea view. The table is made of chunky planks of wood that solidly places it as the focus of the patio. In contrast the chairs are made of thin bamboo with blue cushions; which is a feature colour dotted through out the outdoor dining area.
17. Casual Garden Outdoor Dining Tables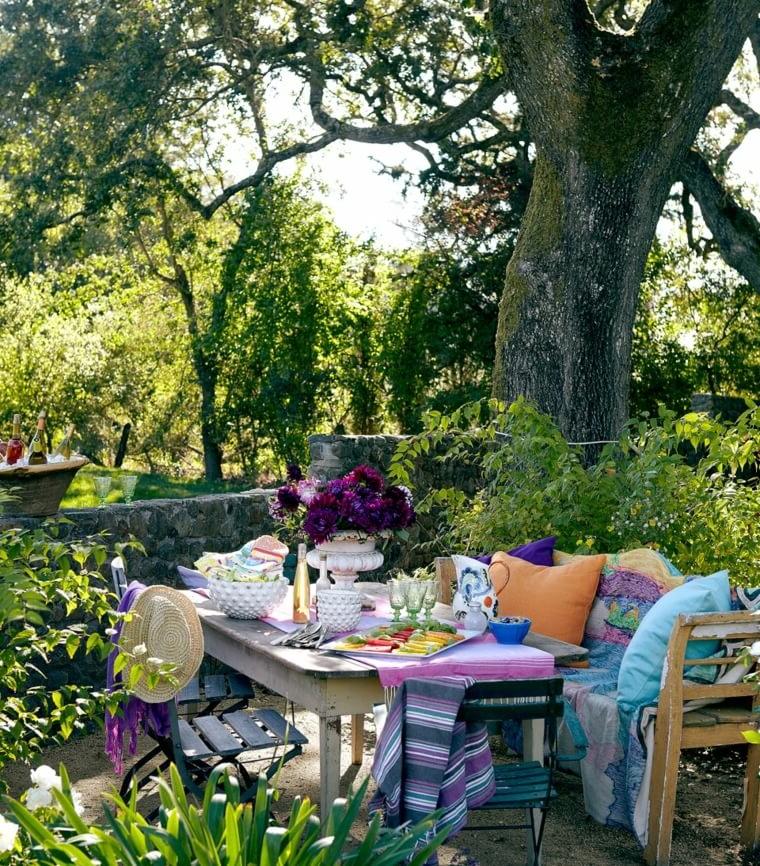 This little garden table and bench secreted behind a low stone wall creates a cozy little spot to eat away from the house. The wrought iron tables in a traditional shape uses a permanent garden bench as seating on one side which can be decorated with quirky multi coloured cushions and blankets whenever you need to use it. On the other side of the table are a set of fold away metal chairs that can be easily stored away when the table isn't being used. This intimate little spot is completely surrounded by greenery which makes it the perfect spot for an afternoon tea in the garden.
18. Outdoor Concrete Table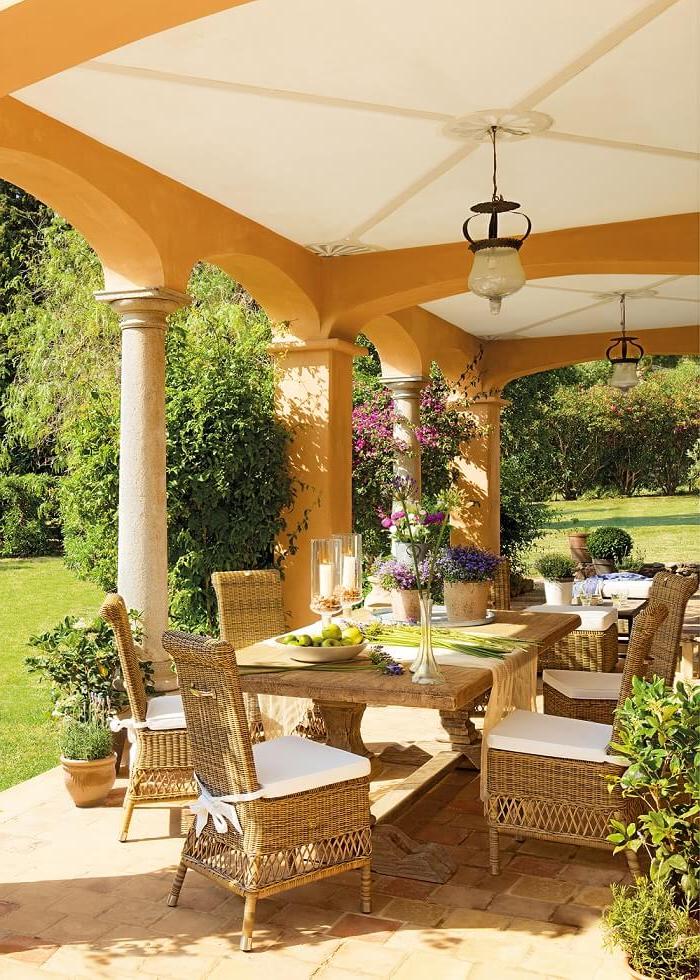 A solid concrete table, such as this, is perfect for an outdoor setting because it can be out in all weathers without getting damaged. The wicker dining chairs that we have come to expect have made another appearance, this time with tied on cushions that can be changed out depending on the look you want to achieve. The raw concrete tabletop can be smartened up with a tablecloth or a simple table runner. What makes this dining situation really special is the raw sienna arched patio it sits beneath and the view of the lawn and generous garden.
19. Reclaimed Timber Table Under A Fan Vault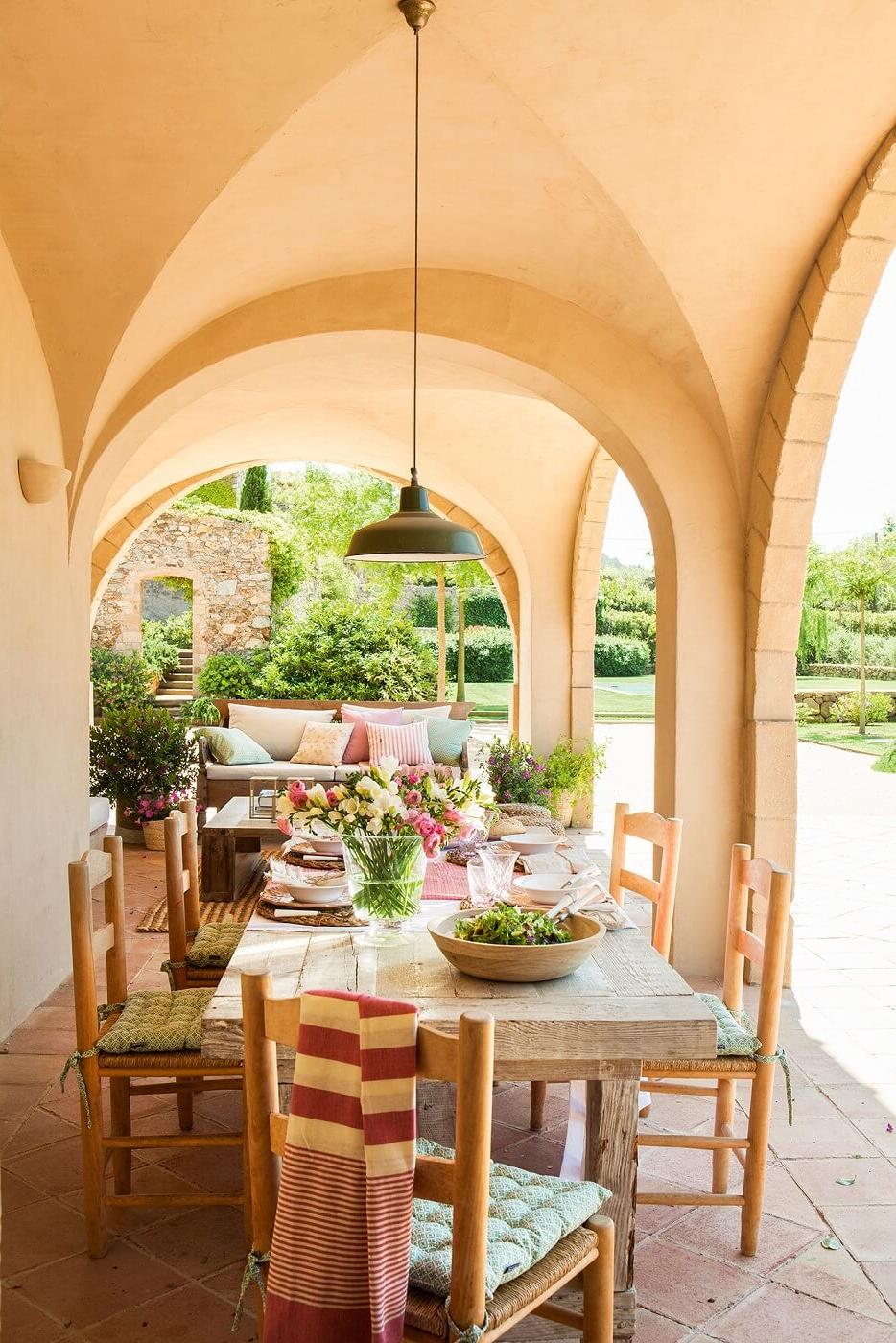 This reclaimed timber dining table has been placed strategically to takes advantage of the stunning exterior patio of fan vaults that run all the way around the large house with a view of the beautiful grounds. Again, the timber has been paired with wicker chairs because they are so good for outdoor settings.
20. Intimate Outdoor Dining Tables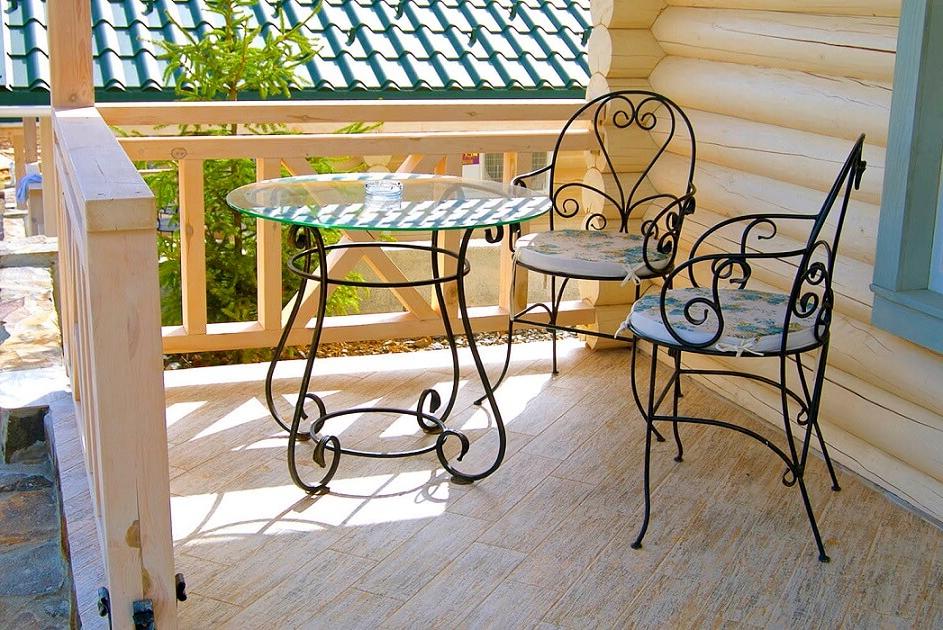 This cute little outdoor dining area sits on the wooden front porch of a painted log cabin. The thin ironwork that makes up both the table and chairs form delicate swirls around a round framework for the table and gentle curves for the chairs. Patterned circular cushions make ironwork more comfy to sit on for long periods of time. The simple, round glass tabletop allows you to see the beautiful legs belong and provides enough space for two for a coffee date or an outdoor dinner for two. This little outdoor set up is the perfect place to relax and watch the world go by.
21. Gothic Oval Dining Table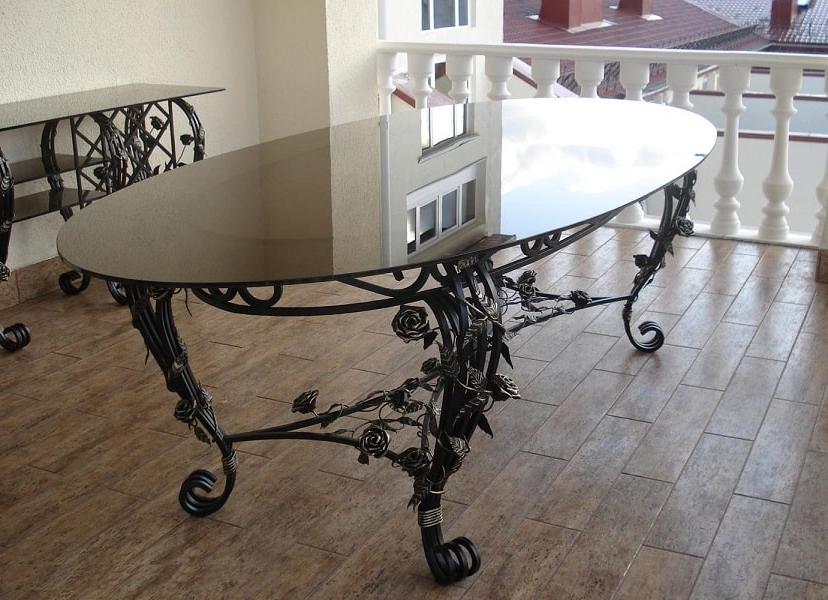 This statement table on a covered patio features an immense black tinted glass oval tabletop that allows you to look down at the statement legs on rectangular wood effect tiles beneath. The black claw footed table legs are entwined by black wrought iron vines and roses that look like something out of a gothic fairytale. The look is completed with the matching side table with square black top off to one side.
22. Vintage Oval Painted Table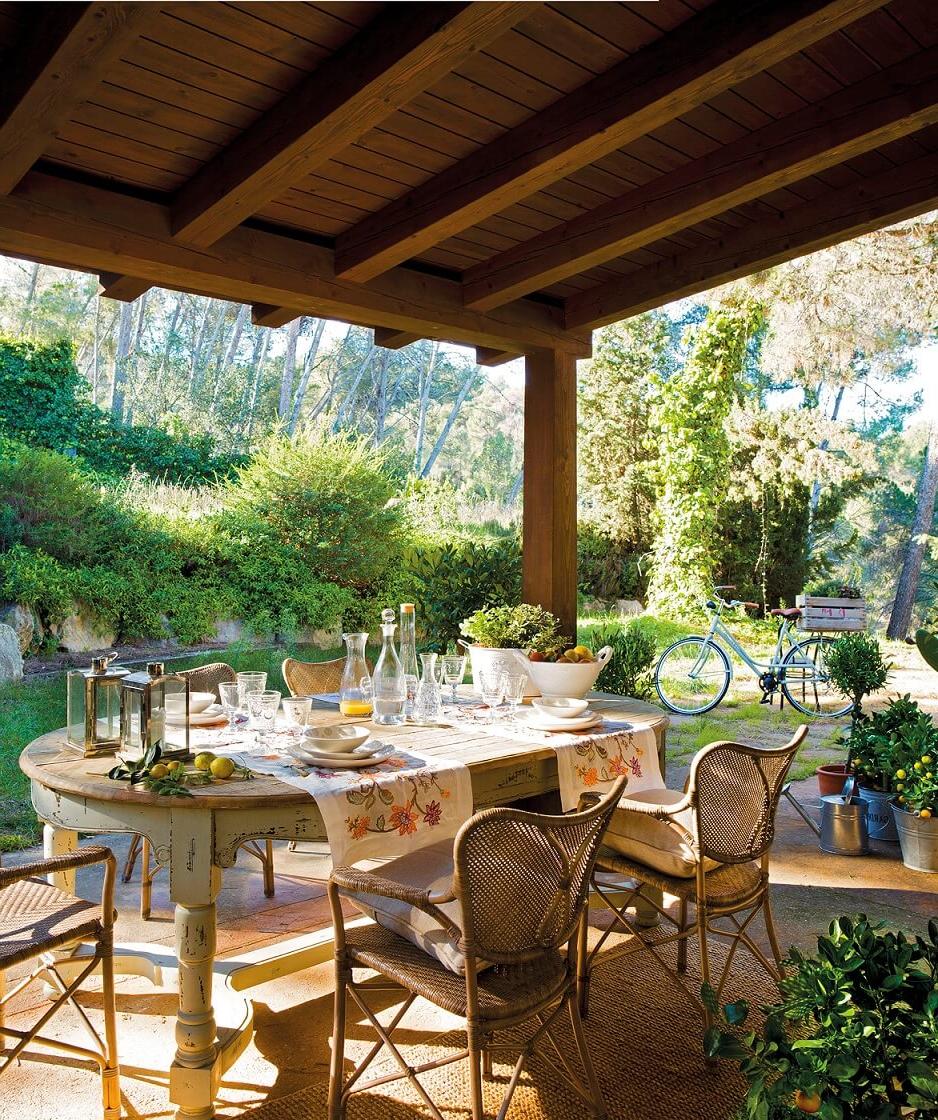 This rural house has created a rustic outdoor dining area under a covered patio with an exposed timber lean to roof. The table itself is an oval vintage piece that has been washed a pale teal paired with some elegant wicker chairs. The vintage, rural style is emphasized in this beautiful garden with an abundance of pot plants and vintage bicycle in the background. The experience is tied together with beautiful lawn with layers of hedging and a forest beyond.
23. Reclaimed Timber Table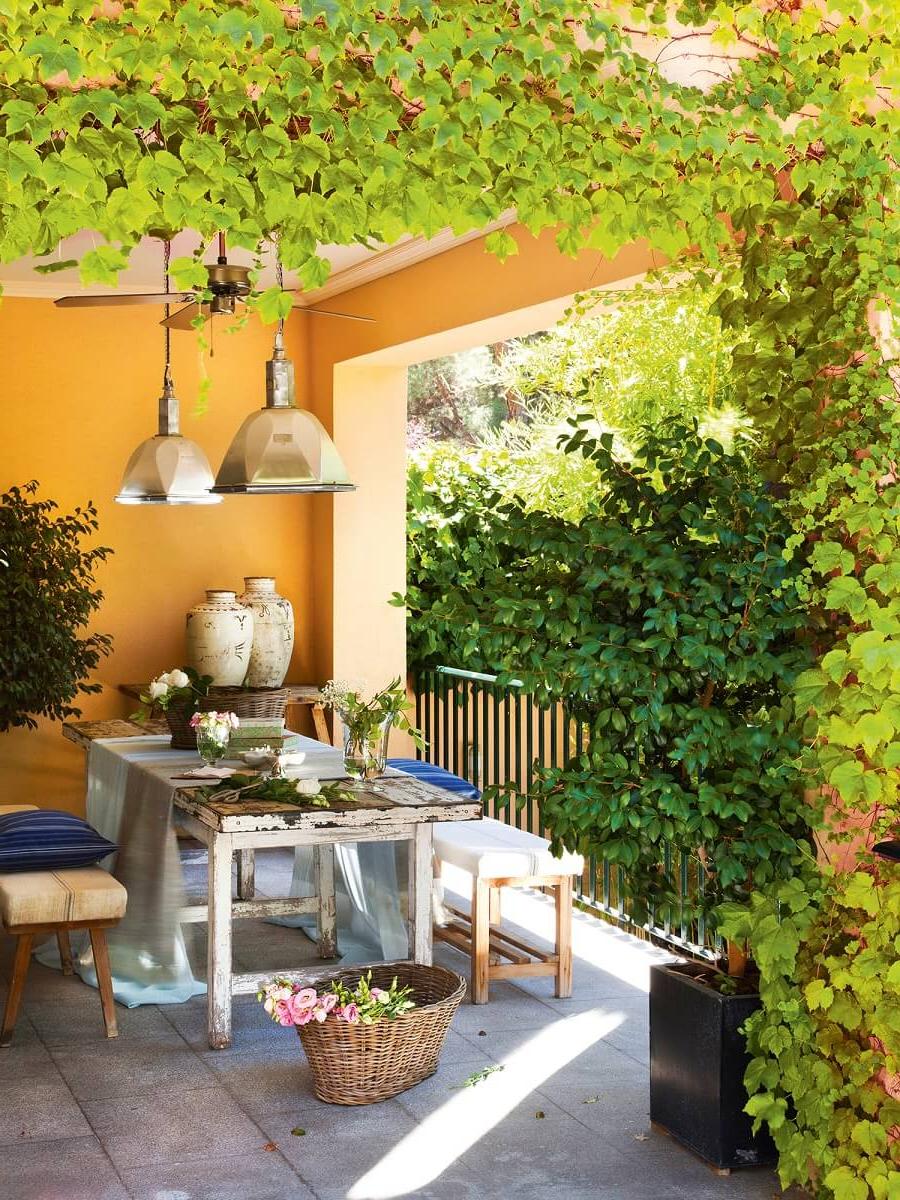 This cozy covered balcony dining space is framed by swathes of creeping ivy and mustard yellow walls; which creates a rustic setting for the eco friendly dining table. The table and benches are made of mismatched reclaimed timber that has been upcycled and given new life. Large bushes in pot plants in either corner finish off the intimate dining space.
24. Teak Crossed Tables Surrounded By Flowers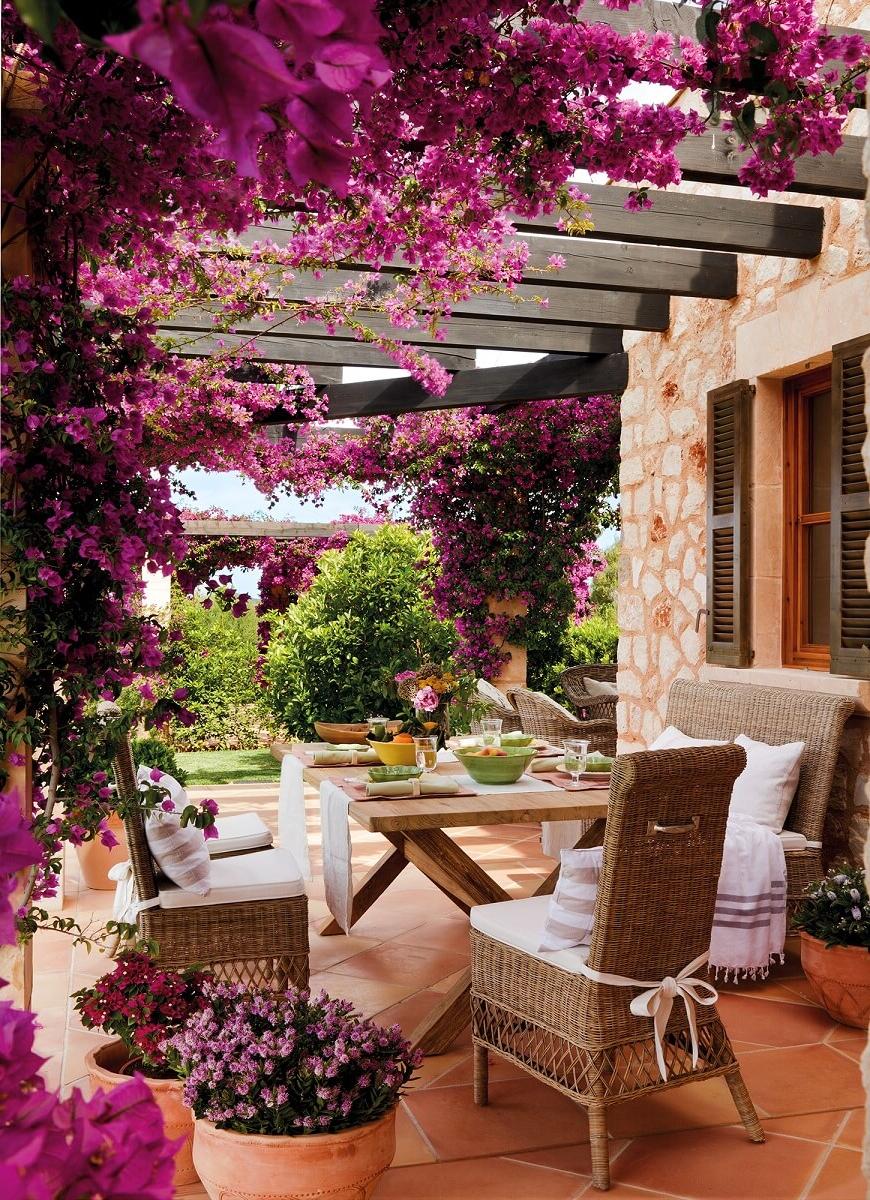 This exposed patio is another example a rustic outdoor dining space that uses nature as its main feature. Big square terracotta tiles support an elegant cross-legged teak table with more classic wicker outdoor chairs with interchangeable cushions. Above head dark, wooden beams on exposed stone columns act as the framework for drooping branches of fuchsia bougainvillea that brings the beautiful space to life.
25. Huge Outdoor Dining Tables In Patio With A View
This huge patio with a gorgeous view is a rustic space with a mix of natural materials with pops of teal throughout. The patio dining table is made of a slender wooden tabletop draped with layers of tablecloths for added texture. The teal wicker chairs with bamboo legs add both colour and texture with two hanging woven lamps above that mimic their grass construction.
26. Large Outdoor Dining Tables in An Entertainment Area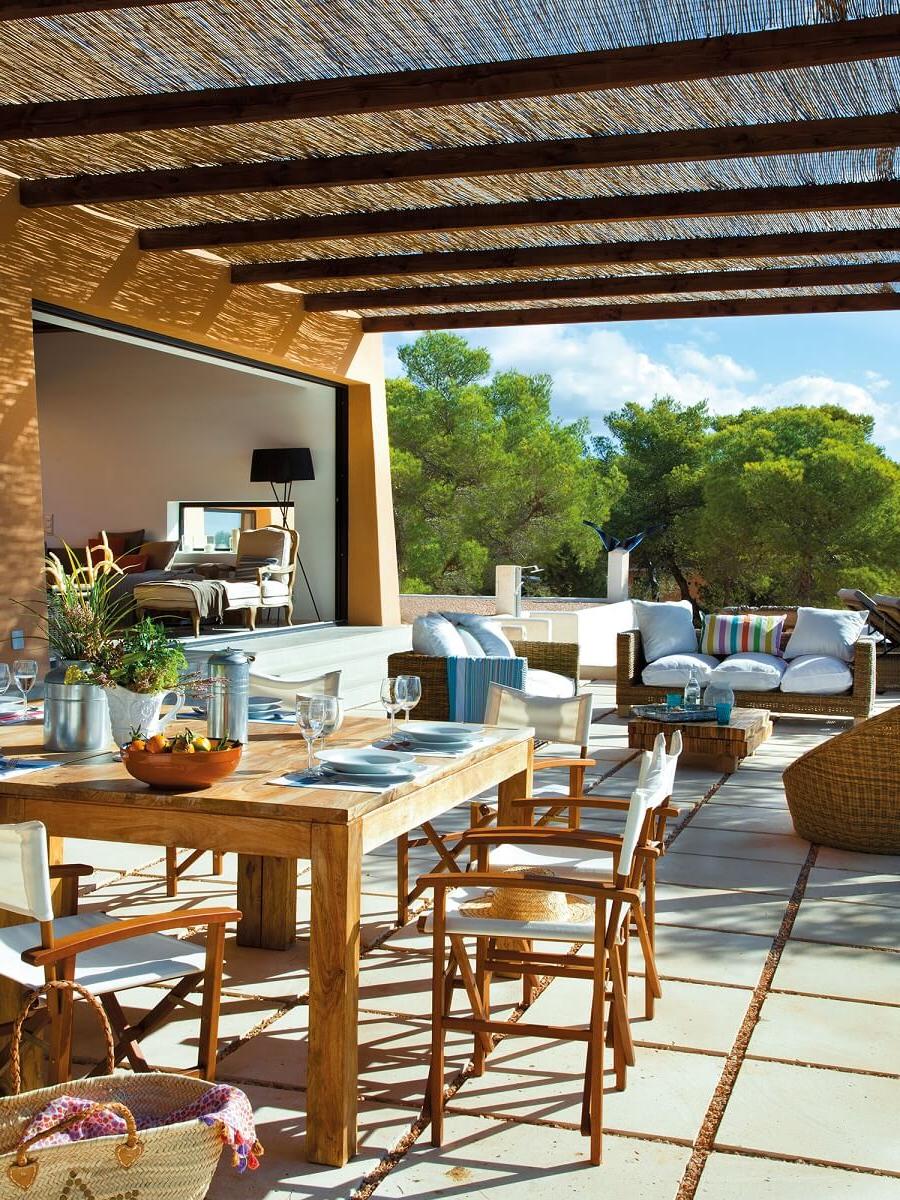 This outdoor dining table forms one part of a vast entertainment area connected through the large concrete paving. This simply elegant wooden table is big enough to fit two people at the short end so it has more than enough space for large meals outdoors. The chairs are simple director style foldaway timber frames that are easy to store away for when they're needed/ The grassy mesh covering the exposed log ceiling shades you from the harsh sun while you eat on a summer afternoon.
27. Wisteria Draped Pebbled Dining Area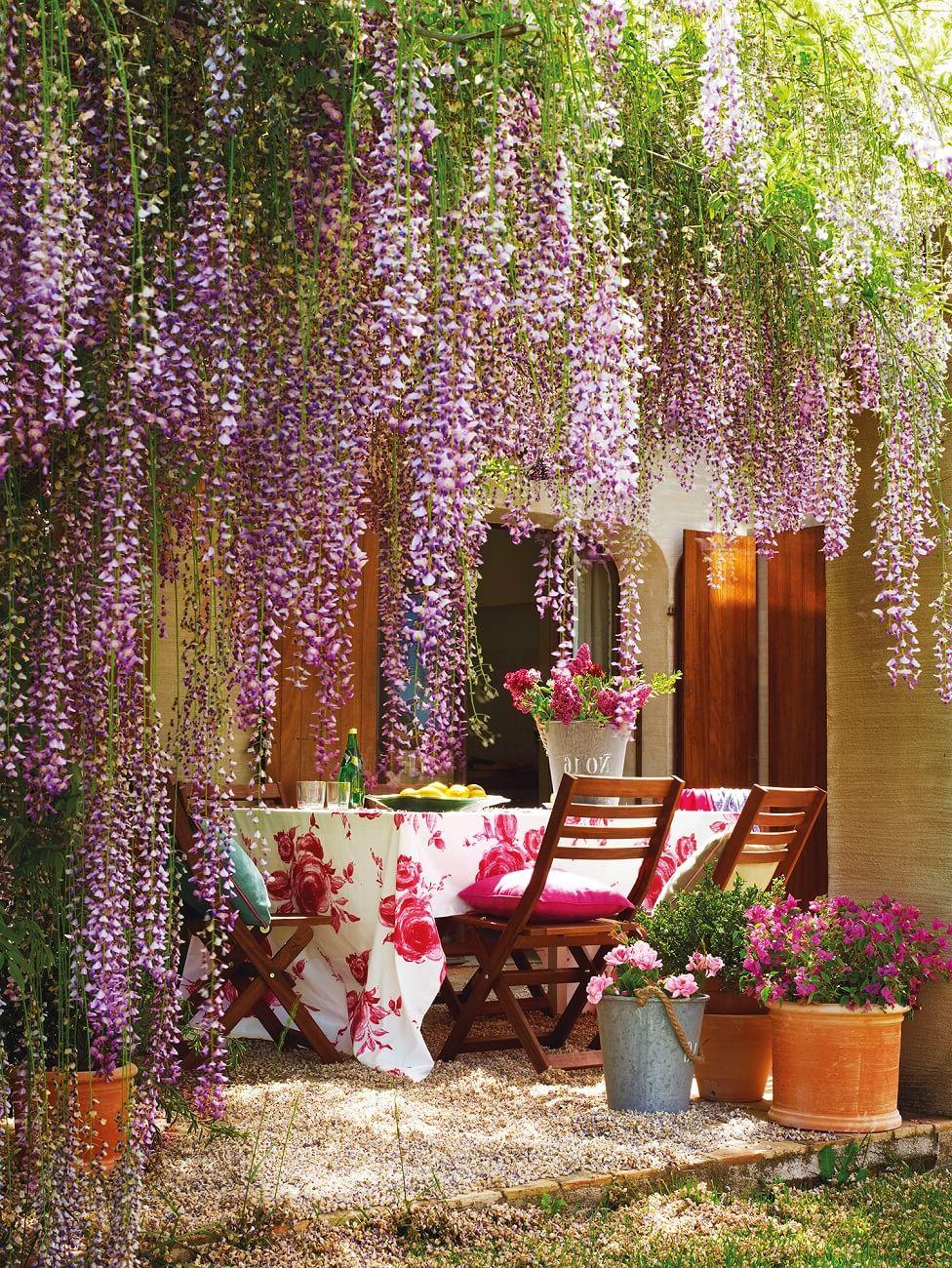 Draping purple wisteria frames this beautiful rural garden dining table. The brick lined patio is filled with small pebbles that the dining set is placed on top off. The wooden table and fold up wooden chairs match in both material and legs style which are also made of the same wood as the shutters beyond for a really cohesive dining area. The floral tablecloth, big vase of flowers and pot plants contribute even more floral layers to this space what has become a celebration of floral beauty.
28. Circular Tabletop Fireplace And Chairs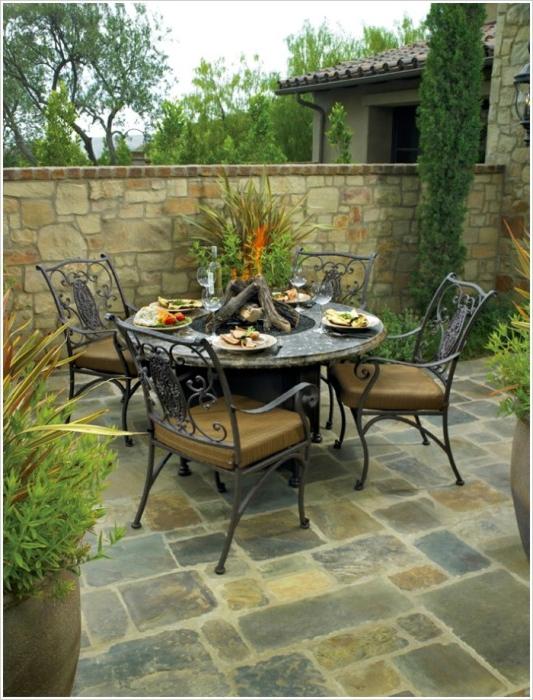 A small but unique outdoor dining nook has been created by an area of rectangular stone pavers and exposed stone wall with surrounding pot plants. The curlicued wrought iron chairs sit around a circular table with a unique surprise in the middle. The table's surface runs around the circumference of the table with a fire pit at the centre for a completely unexpected twist that could even double as a cooking method for your dinner. The warmth means that this dining table can be used at any time of year so its well worth the novelty.
29. Really Delicate Wrought Iron Table And Chairs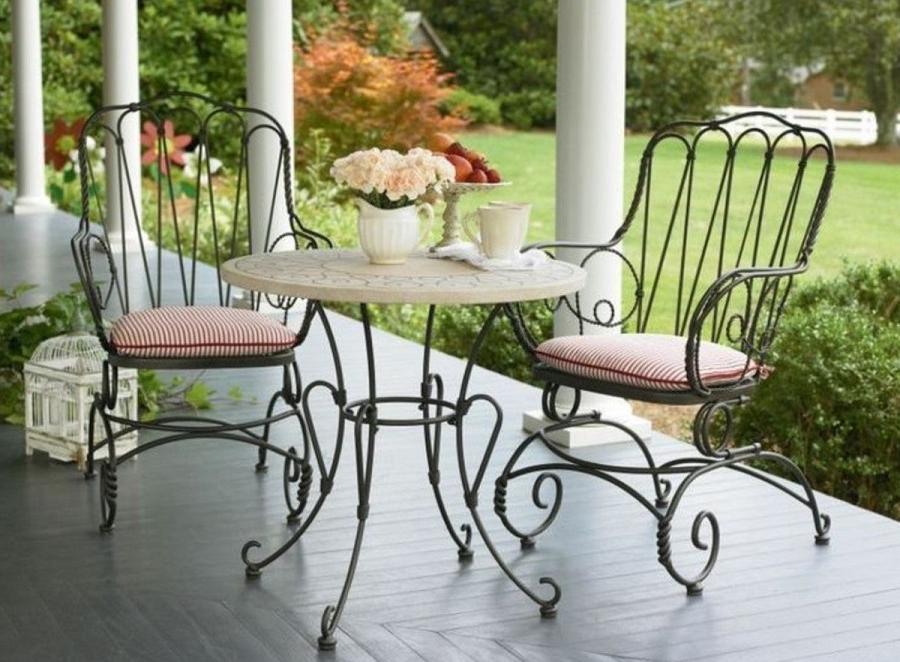 This supremely elegant black chevron raised patio lined with flower bed and white Doric columns is the perfect space for an intimate outdoor table to sit an enjoy a cup of coffee in the morning, or even a glass of wine in the evening. Wrought iron has been used once again in its most delicate form to create really intricate chairs of swirls and teardrop shapes and a four legged circular table with thin stone circular tabletop. This gracefully elegant design is the perfect fixture in this generous sophisticated space.
Conclusion
As you can see from these beautiful outdoor dining spaces gardens and patios can be transformed into a new form of alfresco dining room. They can sit by themselves or be integrated into part of a large outdoor entertainment experience with lots of your friends and family. Your interior design has been replaced by plant life or, if you're lucky enough, a stunning view of your surroundings so you can experience nature in all its glory. There is nothing more calming than being surrounding my natural beauty especially over a nice family meal or a dinner date at home with a glass of wine
So maybe the next time summer rolls round, why not try for a change of scene and take your meals outdoors to commune with nature.