Ponds are a common garden feature that has been around for years but never gets old.
The sweet little pools, in every shape and form, are a whimsical feature that brings the water element into your garden with pleasingly calming results. The man made basins can be blended into the garden and made to look natural by incorporating plants, rocks and even small waterfalls, which have the added benefit of bringing the peaceful sound of running water into your garden.
25 Garden With Pond Ideas That Imbue Your Home With Tranquility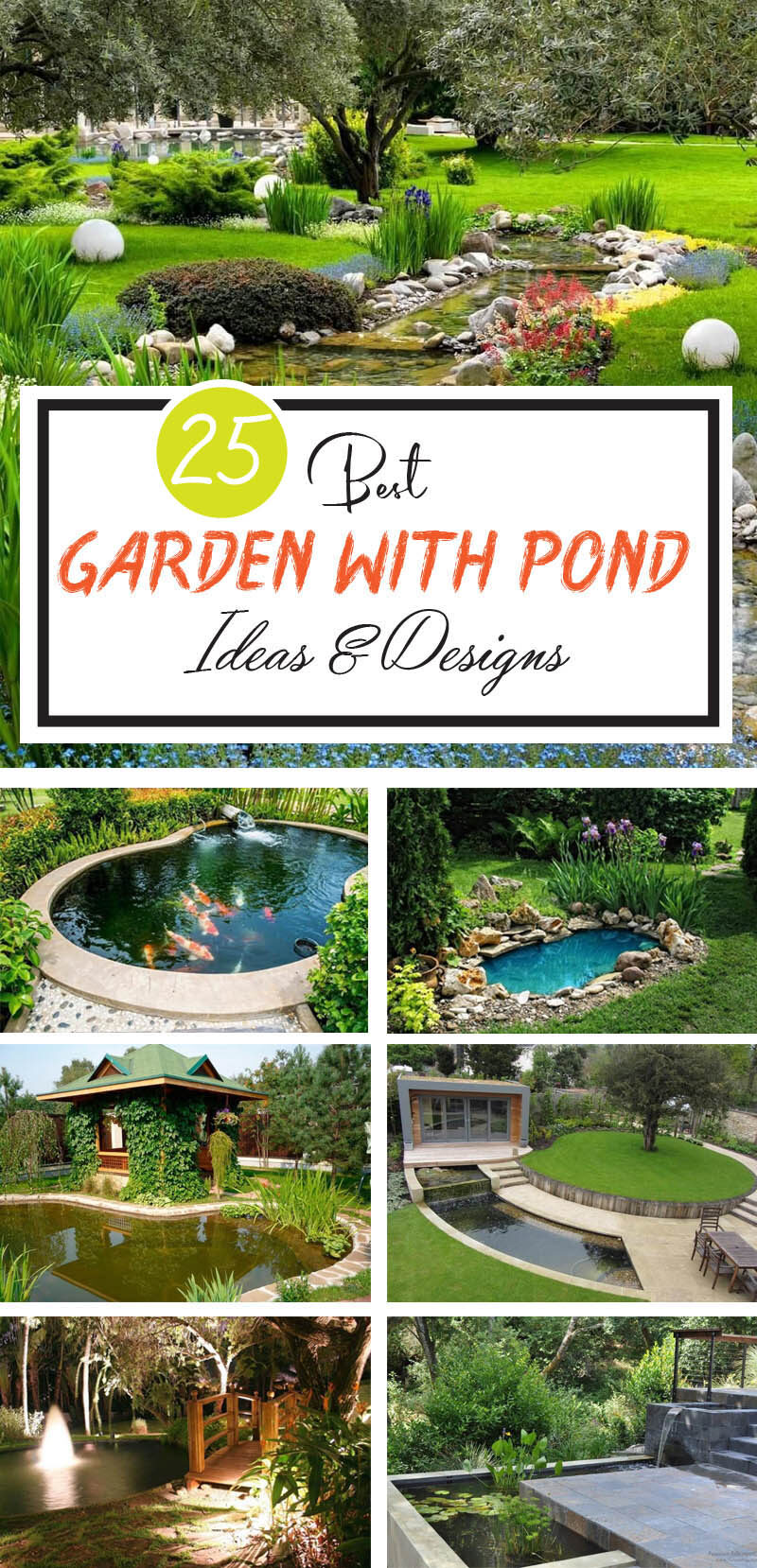 If your style is a bit more on the minimal modern side ponds can be easily updated using strict geometrical shapes and clean lines so you can enjoy all the benefits of a pond without the rusticity.
These little pools of water come in so many different styles so, for some inspiration, here are:
1. Seemingly Natural Huge Pond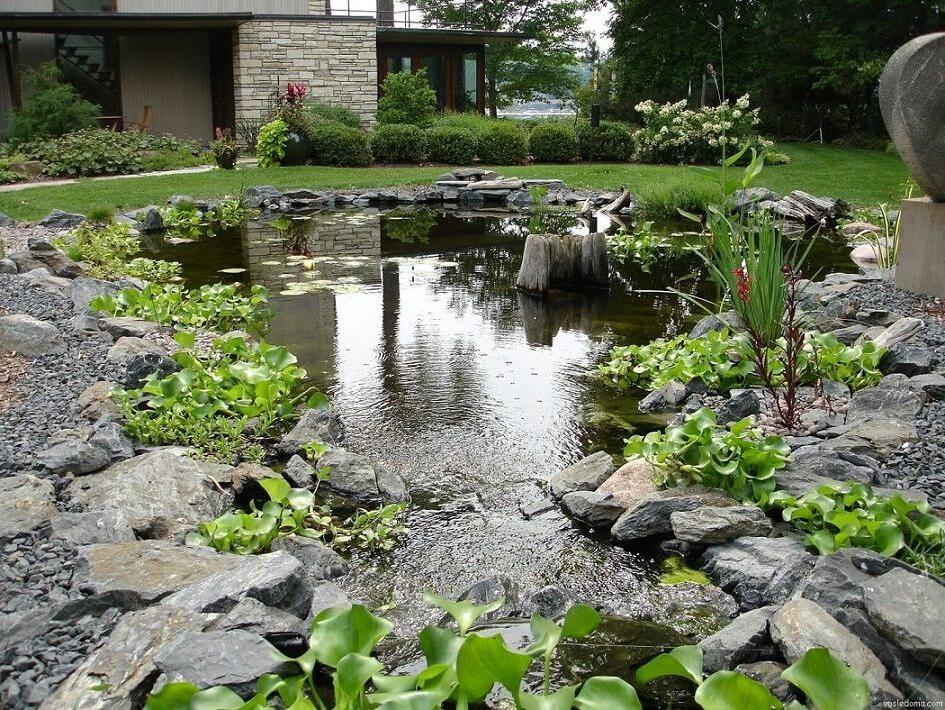 This stunning large pond sitting within a huge garden features a waterfall that gently trickles into the body of water. The sprawling shape makes the pool look like it could have been formed naturally, which is helped along by the surrounding rocks and pebbles along it's edge. These have been interspersed with water plants inside and outside the pond to reinforce the natural appearance.
2. Layered Strategically Lit Pond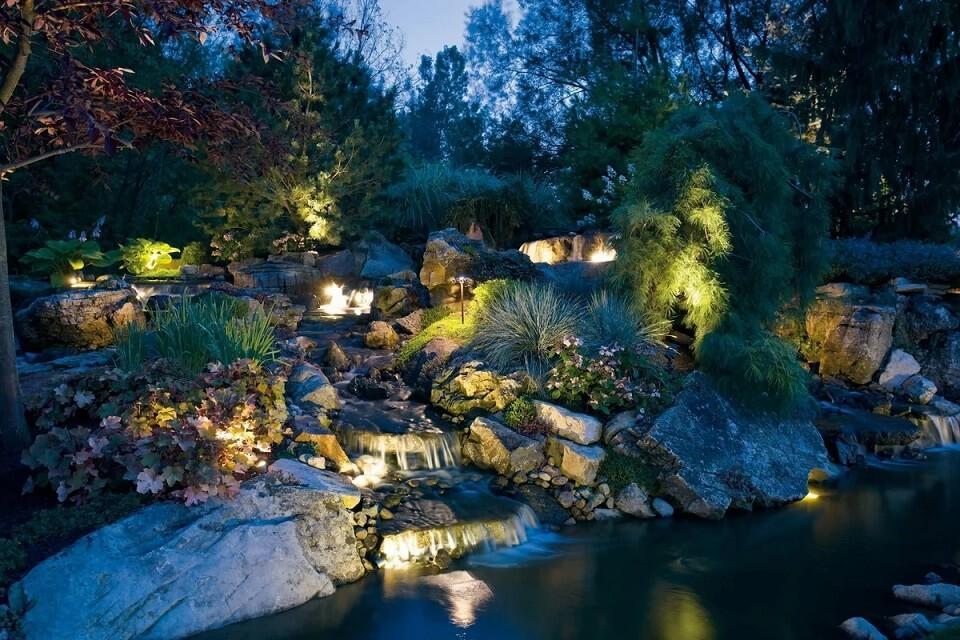 This dramatic pond has many levels created by a rockery that looms over one corner of the garden. A little stream runs down over the rocks in a series of low waterfalls that culminates in the naturally shaped pond underneath that runs around the rock formation. The rockery has been adorned with plant life, which is the factor that really makes this feel like it has been formed by nature. However it's the lighting that really sets this design apart, well placed lights reflect off the pond's surface, the cascading water and the plant life to display the pond's true beauty even at night.
3. Little Oval Pond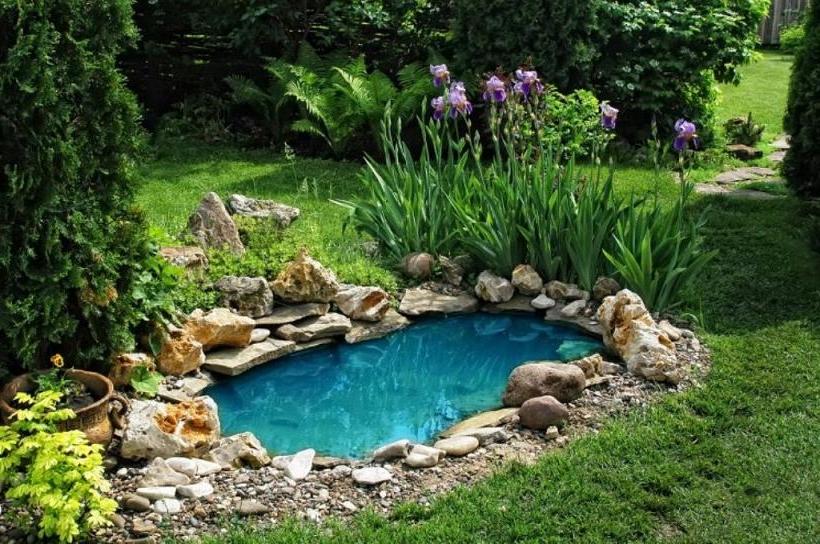 This small pond has been hidden away in a private nook within a larger garden surrounded by hedges, a treasure to discover within the garden. Pebbles and rocks that have been collected from around the garden, making the pond feel like a natural part of its environment. A row of purple irises decorates the edge of the azure water to finish off this dainty little design.
4. Small Pond With Mood Lighting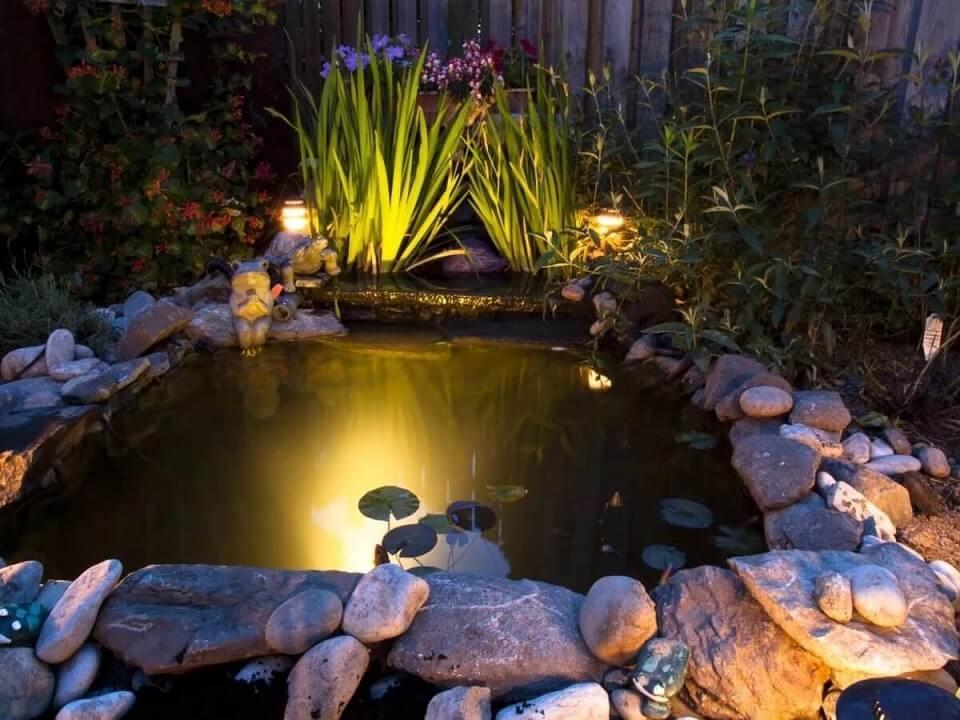 Pebbles and rocks surround this small pond with a variety of foliage growing along its circumference, a classic pond decoration style. However the quintessential piece of pond décor that this shows off are the floating lily pads. To evoke a feeling of mystique the pond has used strategic lighting in amongst the plants and under the water's surface. The whole design is topped off by a quirky over sized fishing frog relaxing on the shore.
5. Modern Koi Pond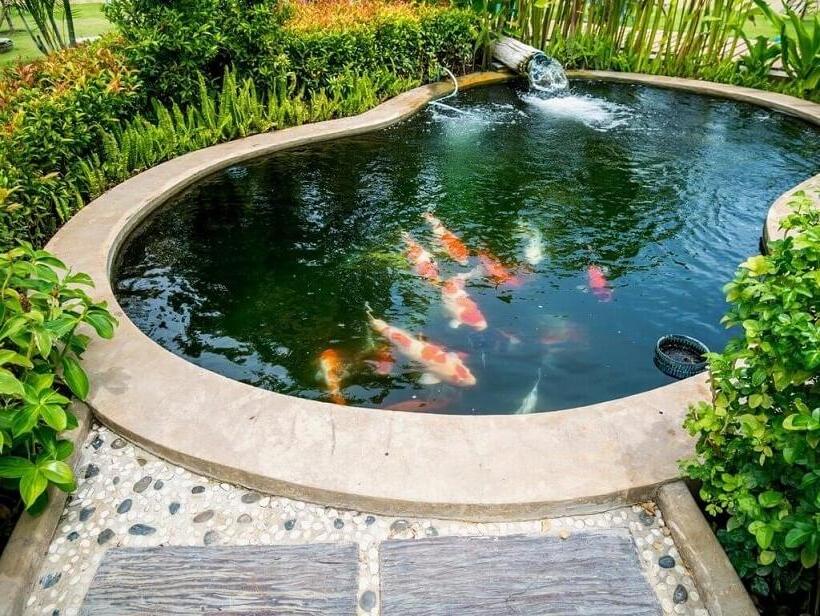 This amorphous deep pond is perfect for large koi fish to call home. The bottom of the pond has been painted to give it its distinct dark green hue that is associated with natural ponds. The water flow that is essential for aquatic life is facilitated by what appears to be a hollow log that spits water into the pond in a cheerful sounding stream. This pond is a modern style with a thick, smooth rim surrounded by carefully laid out foliage and approached by a pebbled stepping stone pathway.
6. Swimming Pool Inspired By A Pond
A garden pond has inspired this luxurious swimming pool with matching hot tub. This inspiration has resulted in this beautifully elegant shape surrounded by rocks and layers of plant life that has even incorporated a waterfall made of large rocks that fills the pools with water. In order to enhance the natural appearance the pool floor has been painted a deep teal to make the water appear less fluorescently chlorinated.
7. 'Natural' Pond With Waterfall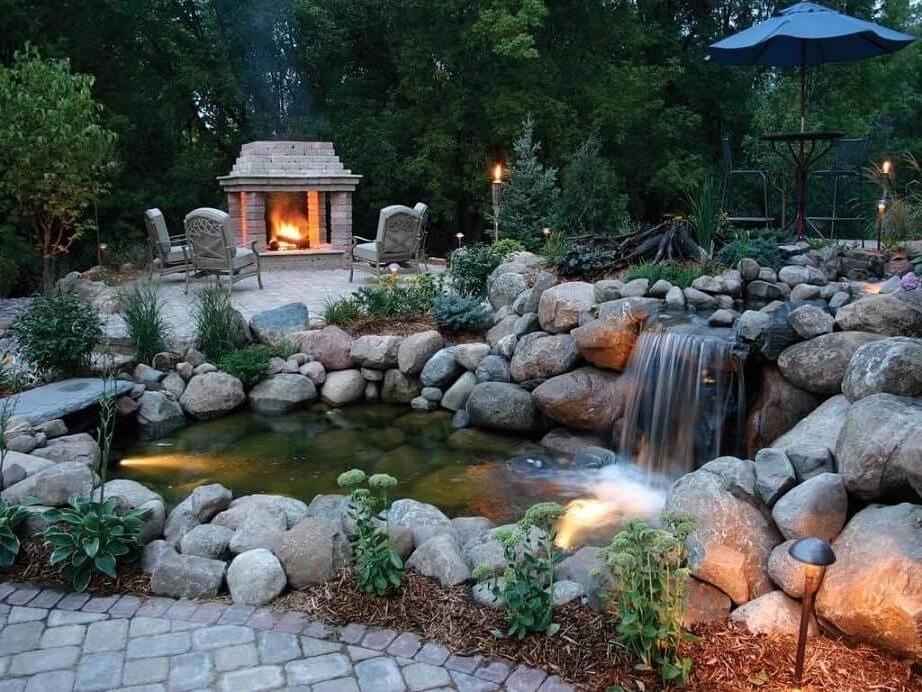 This generous pond is an essential decorative feature to this outdoor gathering space. As you sit by the fire you can hear both the crackling of the flaming logs and the calming sound of running water from the waterfall, falling freely instead of over the rocks in your own auditory paradise. The goldfish inhabited pond is decorated, as we've come to expect, surrounded by small boulders interrupted by plants and lit by underwater lights.
8. Modern Arching Pond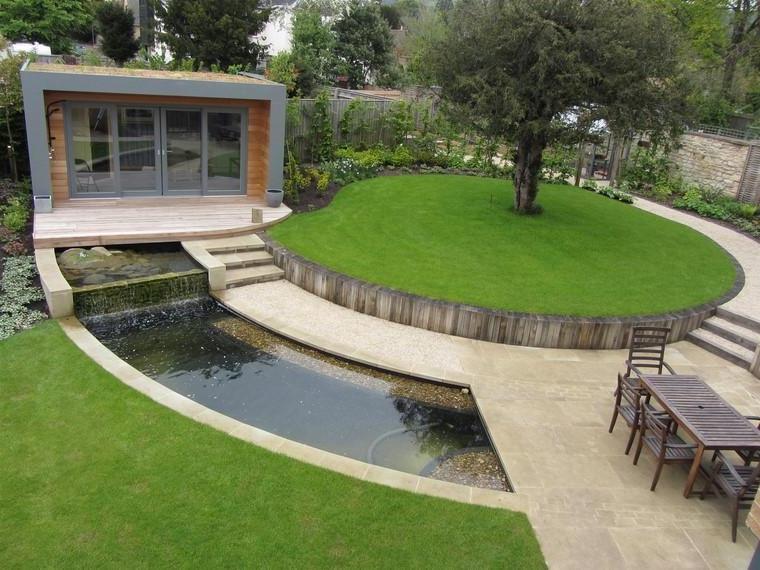 This sleekly modern setting is based around the circular lawn with a tree at its centre that dictates the shape of the surrounding landscaping. The curving stone pathway is no exception, which incorporates the pond in its flowing shape. Clean, beige tiles on two levels ring the pond with a waterfall between them. A speckled mosaic and submerged rocks on the highest tier add some texture to the design without breaking the modern style of the guest cottage.
9. Little Garden Oasis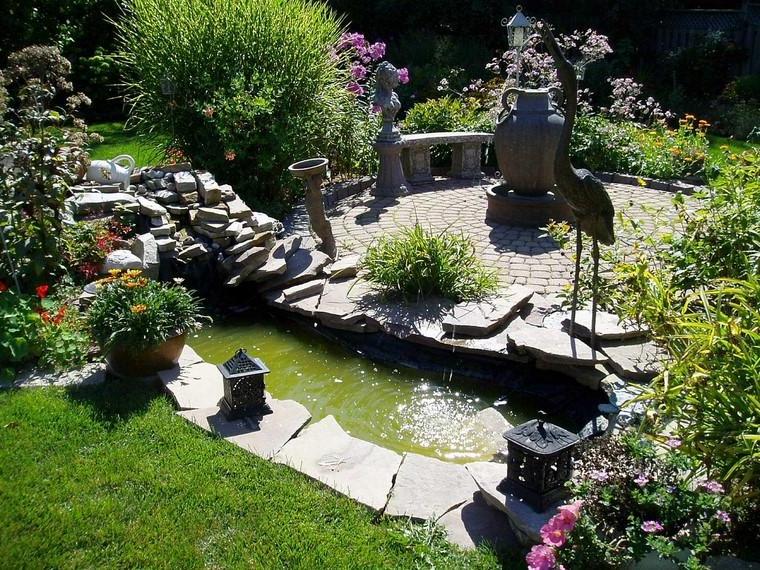 This long garden pond is part of a restful space within the larger garden that runs alongside the circle of paving with a bench where you can sit and have a peaceful moment of solitude surrounded by nature and the sound of running water. Broken up pavers have been used to surround the little pond that stack up at one end to form a waterfall that flows over the layers of flat rocks. A tall, metal bird at the water's edge finishes off this whimsical little garden oasis.
10. Peek A Boo Pond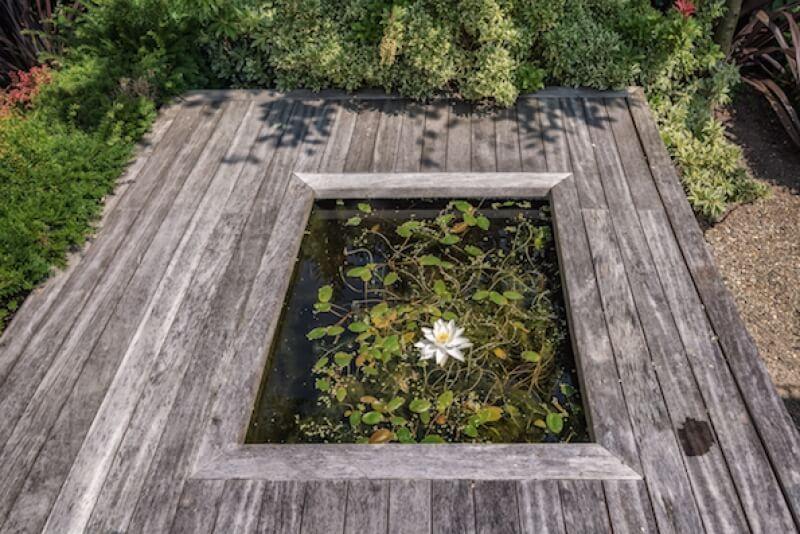 This small, rectangular pond has been placed in an unexpected spot within a raised platform of weathered timber decking. A lotus and other water plants that float on top of and growing beneath the surface of the pond inhabit the water. This mosaic of plant life framed by timber is a novel and interesting design that manages to be impactful despite its diminutive size.
11. Corner Patio Pond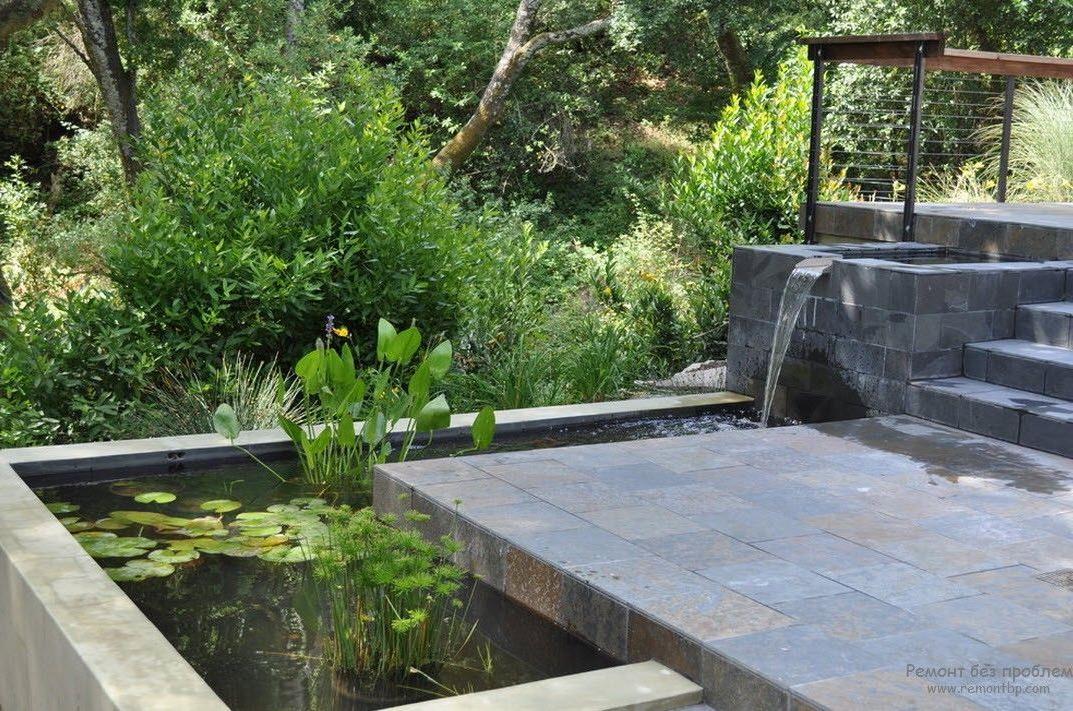 This modern raised pond surrounded by a concrete retaining wall is wrapped around the corner of this large patio as piece beautiful natural décor. The cool grey patio tiles run into the pond and form the secondary pool from which the waterfall flows in one smooth outpouring of water. Floating lily pads and other water plants that break the surface of the pond, which synchronizes the modern patio with its rugged garden location.
12. Indoor Greenhouse Pond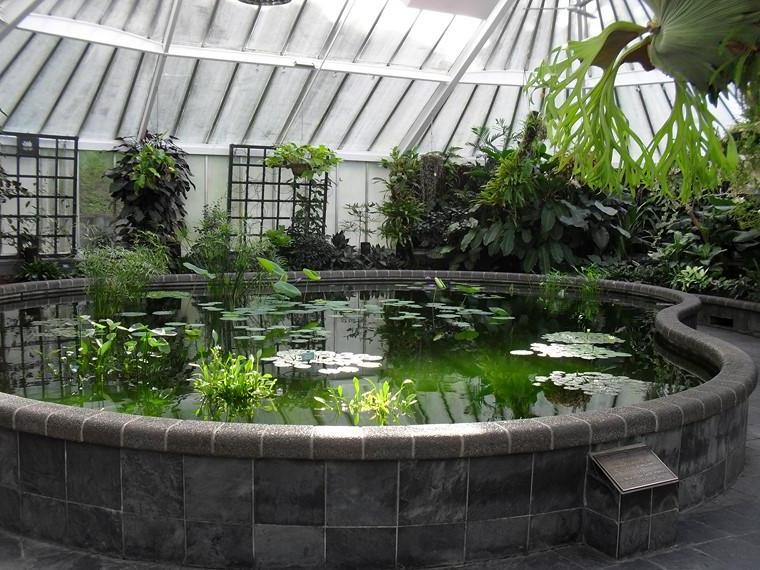 This lush green, humid greenhouse with its beautiful frosted glass roof has been designed around this large amorphous raised pond. The square grey floor tiles run up onto the pond walls and forms a neural backdrop for the lush plant life throughout the room. Plant life can also be found in the pond itself, floating on top and growing from beneath. When the soft light filters through the glass greenhouse roof it illuminates the bright algae and thick clumps of water grasses that shine through from the bottom of the body of water.
13. Pond With A Jetty
This little pond with its waving jetty looks like a real lake that has been shrunk down and plopped in the middle of this large green lawn. A variety of rocks ring the green pond water that has been tinged naturally with algae. Lily pads are scattered across the surface with little bushes and trees around its circumference to anchor it in place. The pond is sufficiently deep to play host to many fish and provides you with a beautiful spot to sit on the weathered timber jetty with your feet in the pond taking in the sunshine.
14. Natural Pool At The Bottom Of The Garden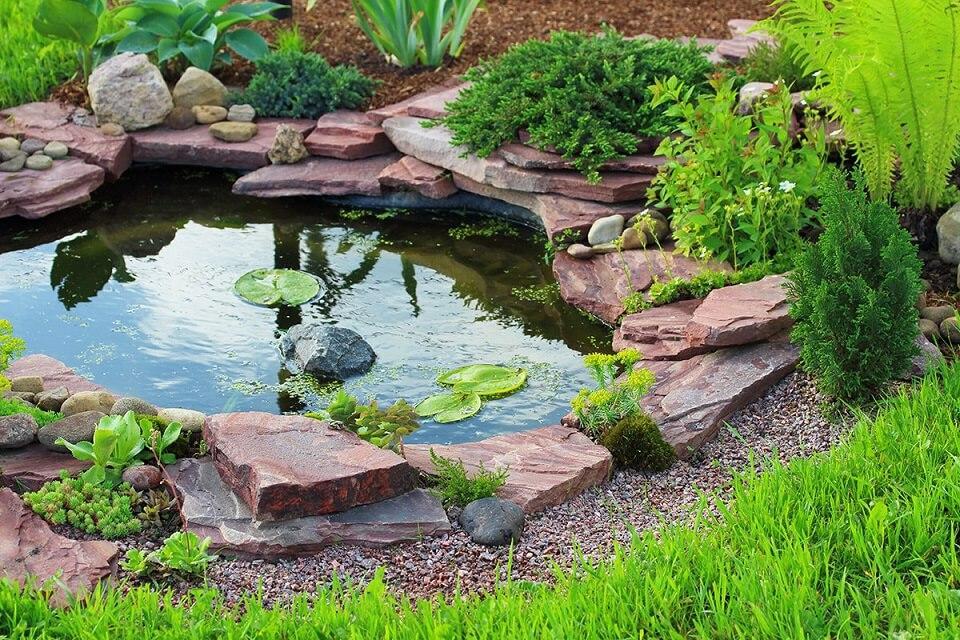 This sweet little pond is the most convincing natural looking pond we have seen so far. A small clearing has been made in the lush green lawn that gives way to flat rocks that project from the bank over the water surrounded by plants. The pond is adorned with floating lily pads, natural algae and partially submerged rocks. The pond is home to a host of little fish, which is the cherry on top of this cute little spot in the garden.
15. Tranquil Garden Pool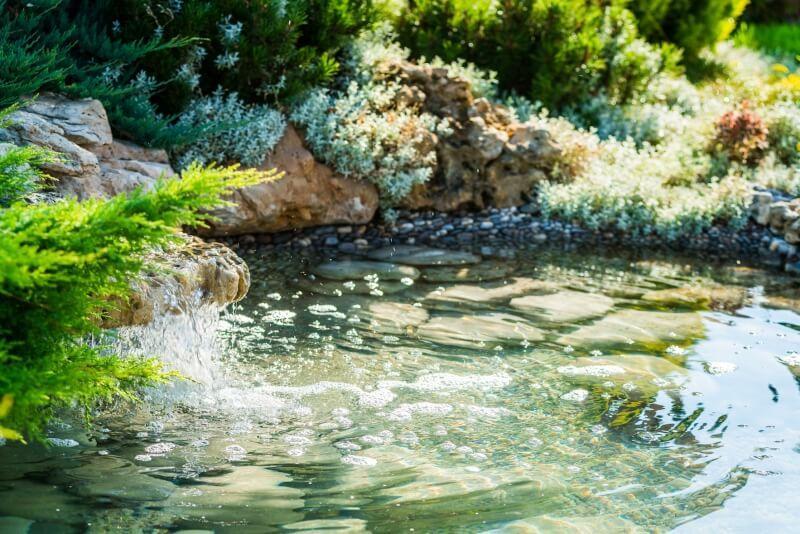 This absolutely heavenly pond is the embodiment of tranquility. The deep crystal clear water is surrounded by gorgeous rock formations with water flowing over them in a cascade into the pond below. The spacious pond has a sandy bottom littered with large rocks and can easily double as a small pool to dip in or as a really lavish fishpond. The lush flowering bushes that grow around the shore finish off this idyllic picture in a floral explosion.
16. Small Plastic Pond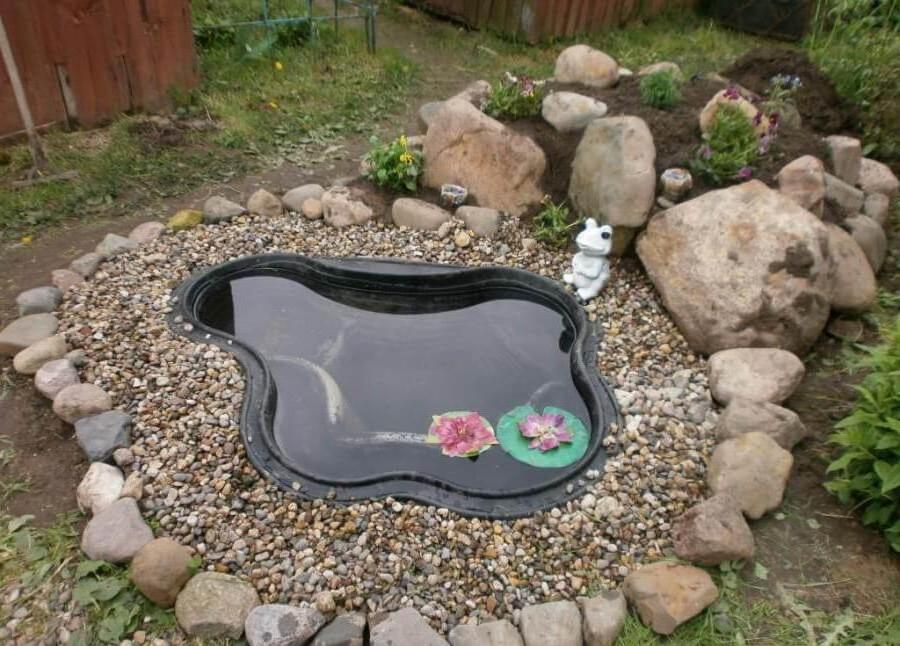 This simple, hardware store pond is a moulded watertight pond that is relatively simple to sink into your garden. The quirky shape is encapsulated by concentric circles of pebbles and boulders and simply decorated with a plastic frog with floating plastic lilies. If you want to go for a more natural look the black edge can be obscured with other plants or rocks to make it look more realistic.
17. Huge Pond With Fountain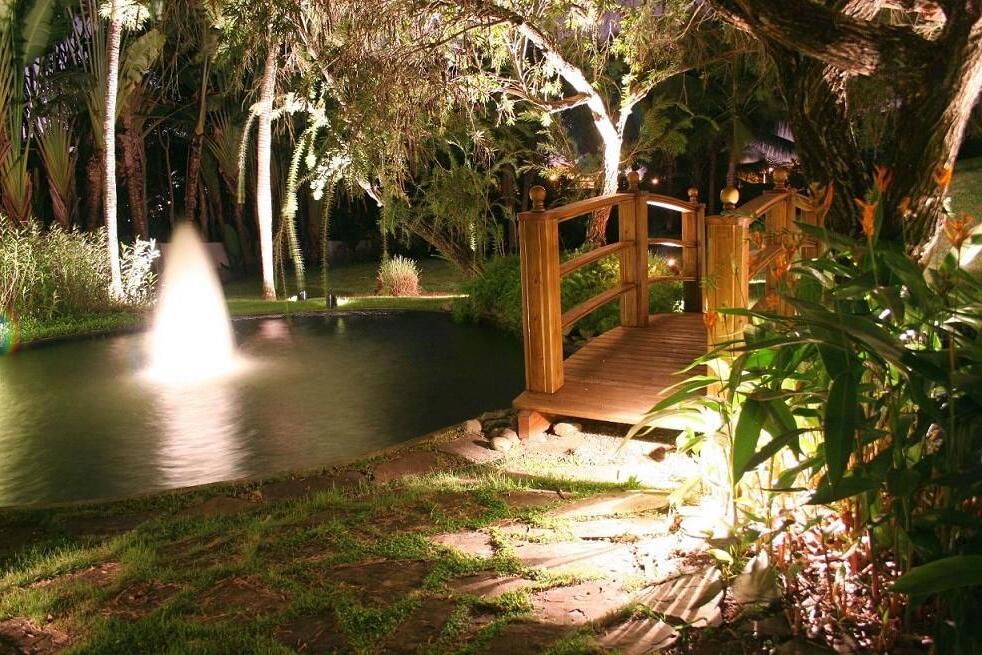 This huge statement pond is a perfectly circle that has been cut out of the pristine lawn with a fountain at the centre. During the day the fountain produces the peaceful sound of running water but at night this effect is kicked up a notch with a bright light that glows at its core. To view this magical garden feature a little stone pathway filled in with grass leads you up to a little bridge that spans over the very end of the pond where you can take in the fantastically lit up atmosphere.
18. Fantastical Garden Screen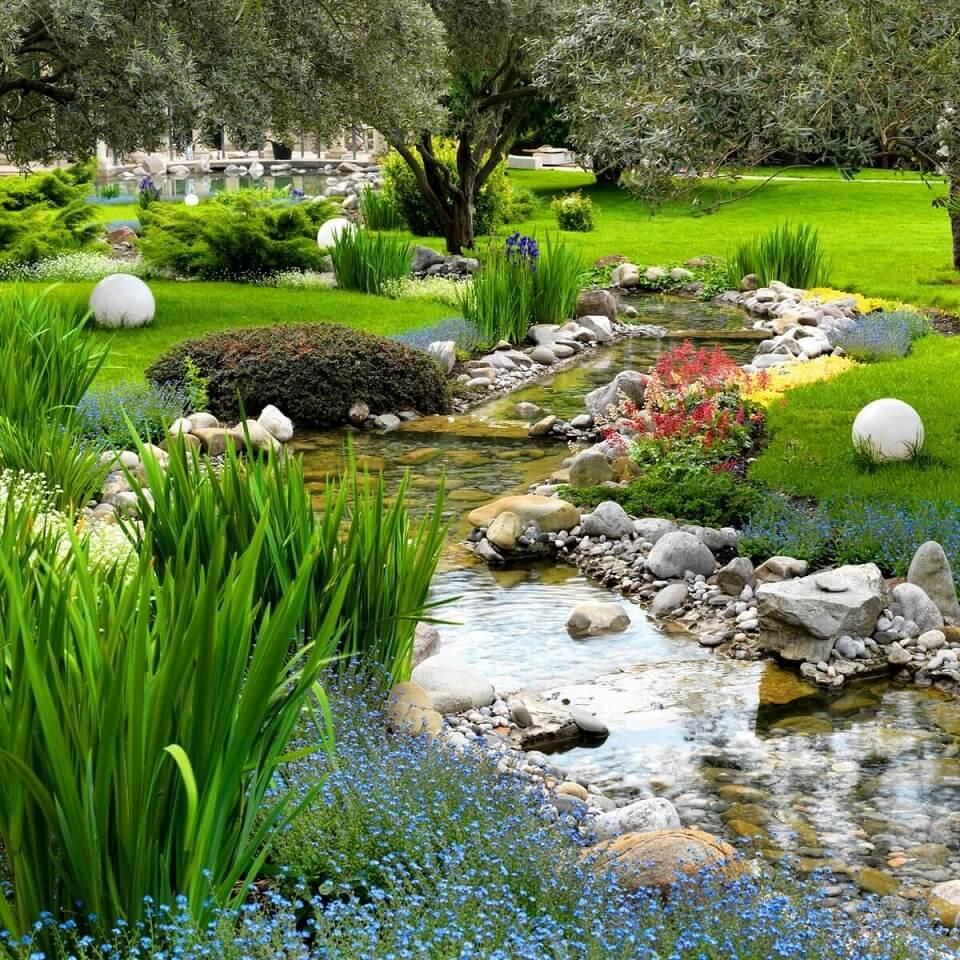 This enormous pond sits within a massive garden with a stream running off it that meanders through the whole property. The clear sparkling water runs downhill over the pebbled streambed with a plethora of plants running alongside the whole stream that makes this look impossibly realistic. This feature is a celebration of natural beauty that provides your home with soundtrack of running water throughout your home day and night.
19. Pond Side Garden Pergola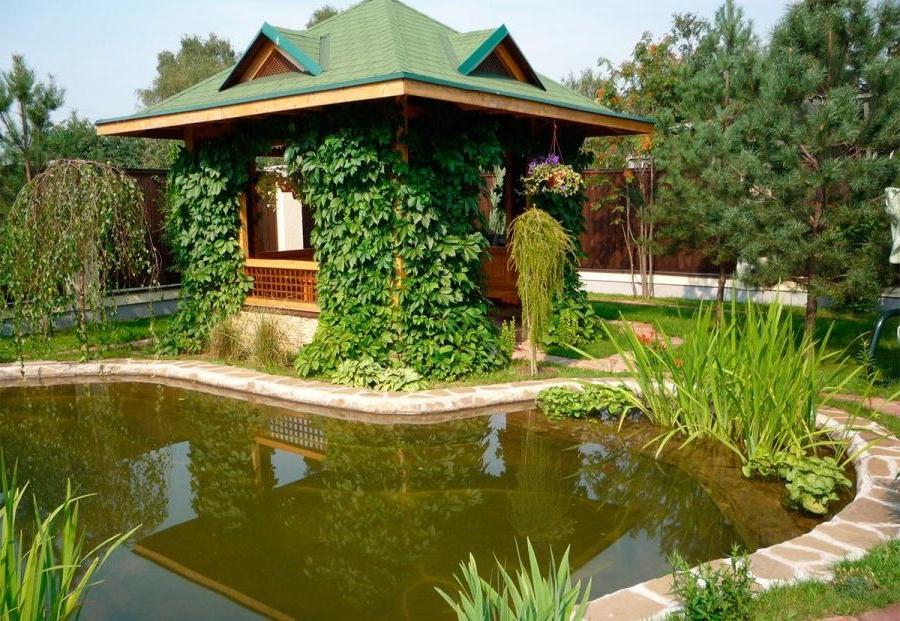 This little timber, green roofed pergola covered in creeping ivy creates a little garden getaway beside this undulating green pond. Submerged steps placed at irregular intervals provides a space for potted water plants to grow from beneath the surface and decorate the ponds beautiful shape. The amorphous body of water flows around two sides of the pergola and provides a beautiful view for this little haven away from home. The edges are lined with natural stone filled with white mortar that frames the forest green surface perfectly.
20. Magically Lit Pond Fountain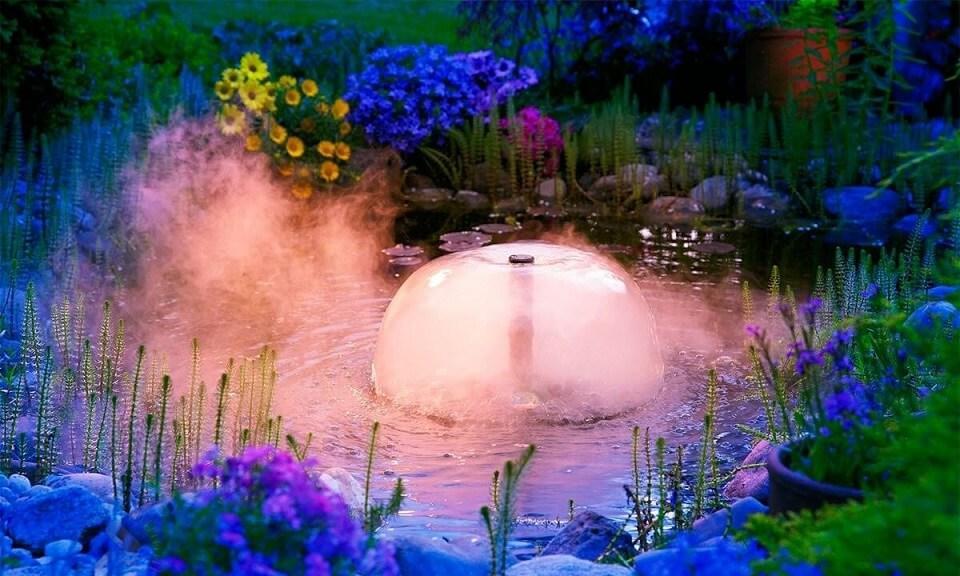 Creating a magical effect inside any pond is simple with this fountain anchored underwater that sprays a fine dome of water around is central point. The faint mist given off by the fountain creates a smoke effect that looks otherworldly especially when paired with coloured lighting. The fountain manages to look pretty during the day and ethereal at night so your garden's ambiance is forever changing. This effect is helped along by the myriad of flowering plants that can be planted around the edge to pick up the light and be washed over by mysterious mists.
21. Gorgeous Lily Pond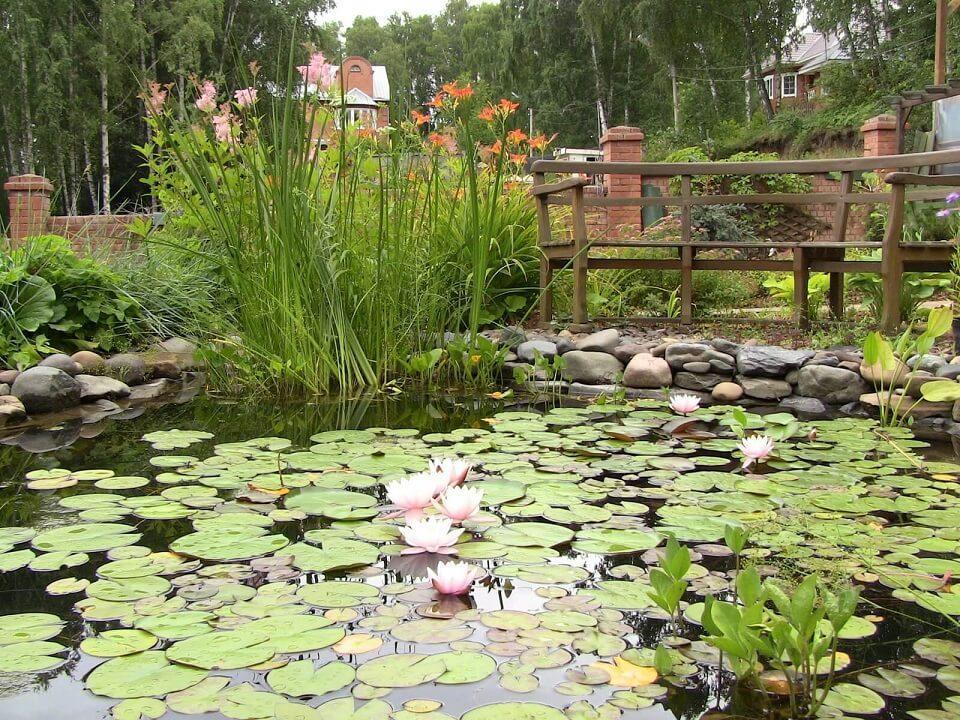 Like something out of a Monet painting the whole surface of this ample pond is covered with lily pads and lotus flowers. The plant life continues onto the banks where reeds and tall flowering plants encircle the water's edge. A curved timber bench wraps around one end part so you can sit and relax with a cup of tea and take in the view of your stunning garden.
22. Steel Above Ground Pond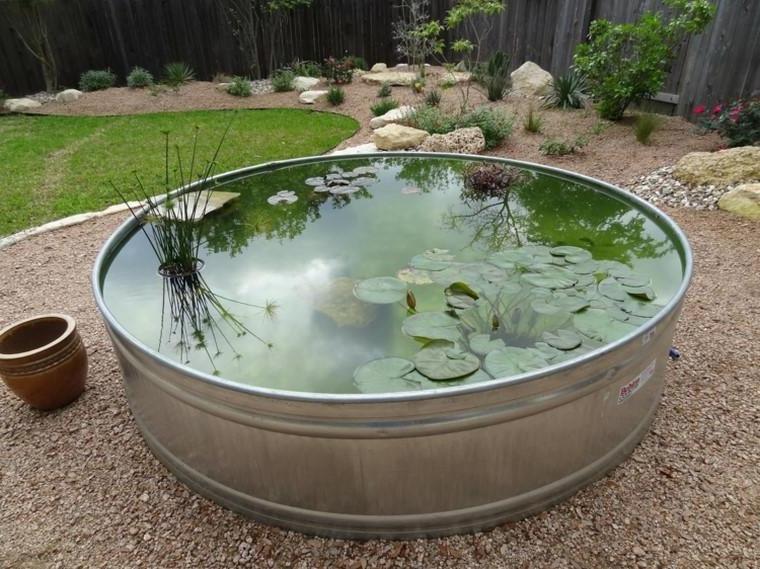 This pond is an innovative design that is formed by a steel barrel sitting above ground in a pebbled garden bed. The still body of water is a lush green from the natural algae and microorganisms inside that makes this a great environment for fish. The crystal clear surface is permeated by lily pads and submerged plant pots whose reed like stems break through the surface at uneven intervals. This novel pond also acts as a beautiful feature for guests to gather around when you host social gatherings.
23. Water Lapping At The Shore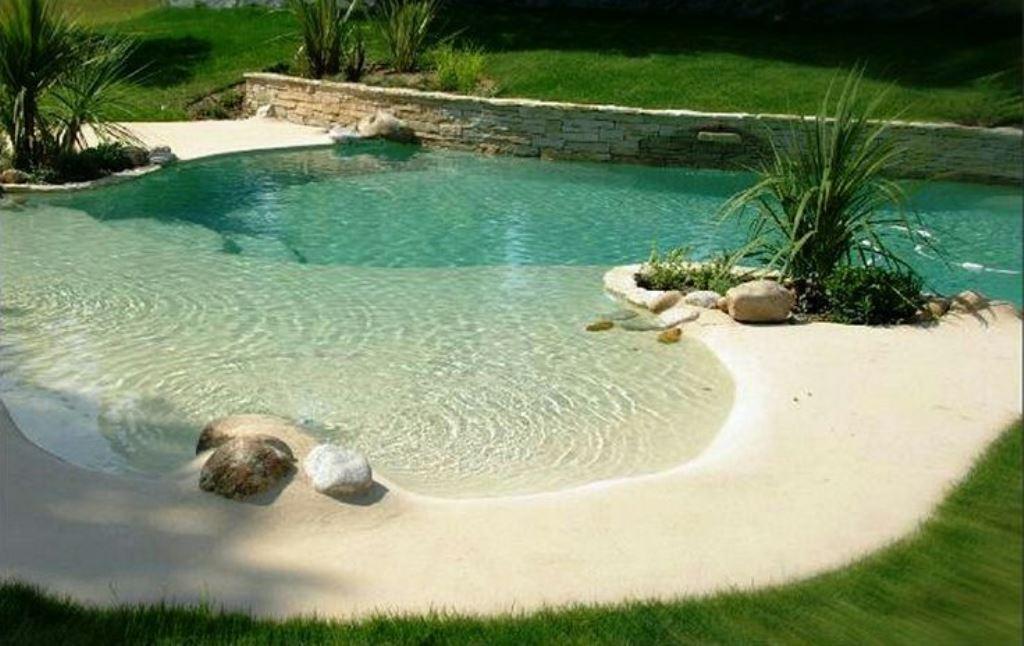 This stunningly unique style of pond mimics a beach rather than a lake or dam like many of the other examples. The pond is anchored at one end by a stone retaining wall from which the white base curves gently up to the sandy shore on the other side. The azure water that resembles a tropical ocean helps strengthen this aesthetic along with the vivid green plant life and rock that appear to have washed up on the coast. Due to its colossal size this pond can double as a really unique swimming pool too.
24. Triplet Of Joined Ponds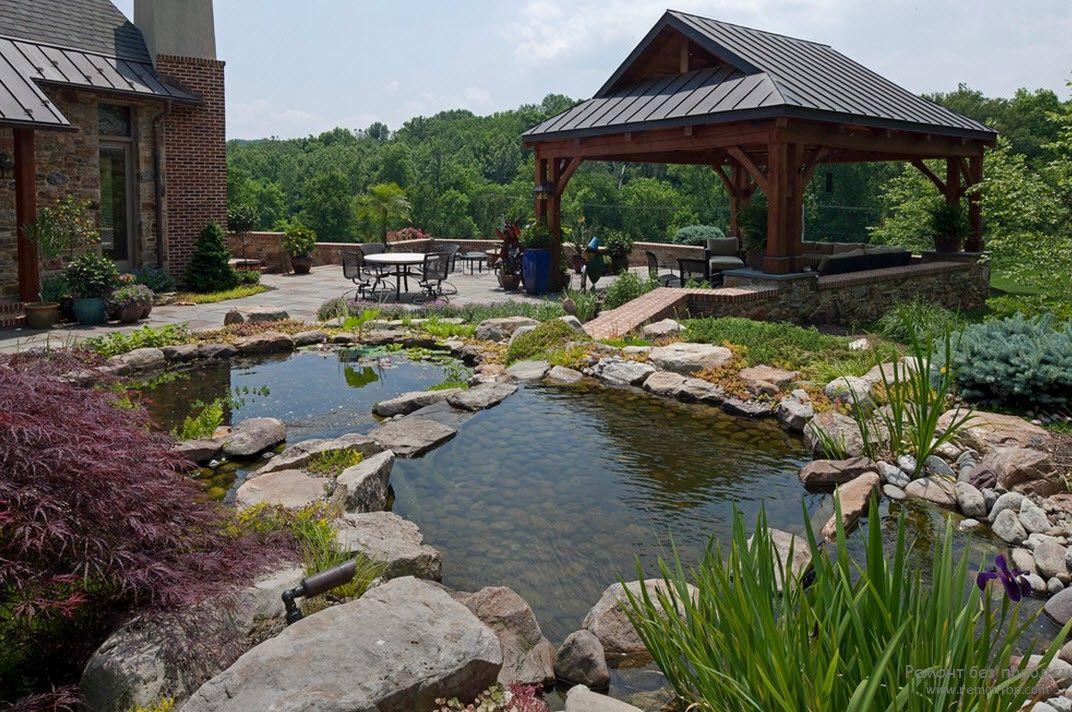 Sitting high up on a hillside this house has taken advantage of the 360 degree views of the treetops with this spacious patio. The outdoor space incorporates an outdoor dining space, a timber pergola and a triplet on natural looking ponds. The three little pools are raised above the ground in a natural rock formation and sit one beside the other divided by partially submerged rocks that you can walk over rocks surrounding it to make it look natural and fit in with the rural surroundings. This pond could be used as a really statement fishpond and a great place to sit and dip your feet in on a hot summers day while you take in the view.
25. Rocky Pond With Tiered Waterfall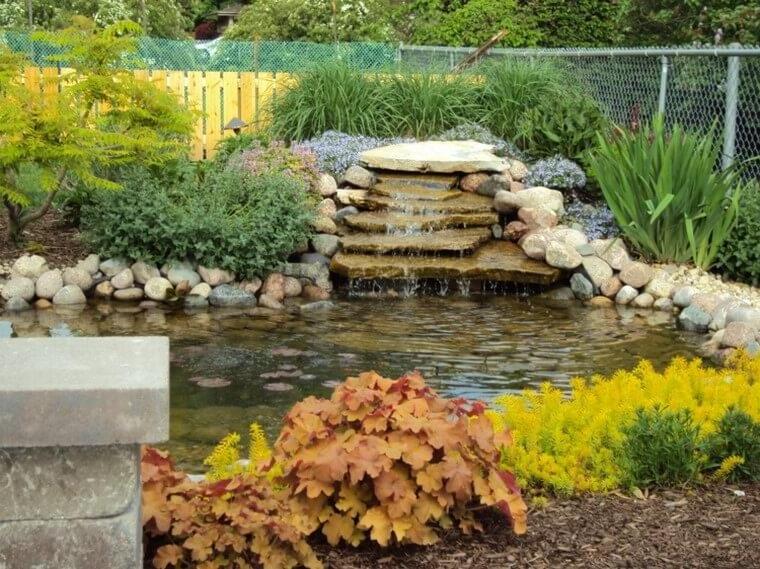 The corner of this spacious rustic garden has been filled with a gorgeous rockery that transforms into a huge pond lined by round rocks. At the height of the rockery large steps have been created by offset layers of flat rocks that a waterfall runs over and down into the pool, which creates a pleasantly calming sound throughout the beautiful garden. The whole environment is surrounded by plant life the whole way round the circumference in different textures and colours that form a natural mosaic that frames the expansive pond.
Conclusion
Ponds have been a staple in garden design for decades for very good reason. They are visually beautiful, pleasing to the ears and imbue your garden space with an air of whimsy. They are also a gorgeous way to bring living creatures into your garden with some fish that you buy yourself or tempt in wildlife like frogs and dragonflies.
If all of those things don't tempt you to build your own pond I don't know what will!