Walk-in closets are one of the new emblems of home comfort and design. They are great allies of practicality and order and have become the ideal space to store clothes, accessories and shoes in a super organized way, having everything at hand.
It is an ideal space to have your clothes tidy, with everything at your fingertips. You can plan it inside the bedroom or separately. Should We tell you some options to plan how to make a dressing room at home and join a trend that is here to stay and is the latest in decoration?
If the idea seduces you, you are in the right place, and in this article, we have selected for you 42 fantastic wardrobe rooms ideas to incorporate a dressing room in the bedroom. Are you ready? Make sure to take notes!
42 Awesome Wardrobe Rooms To Enhance Your Bedroom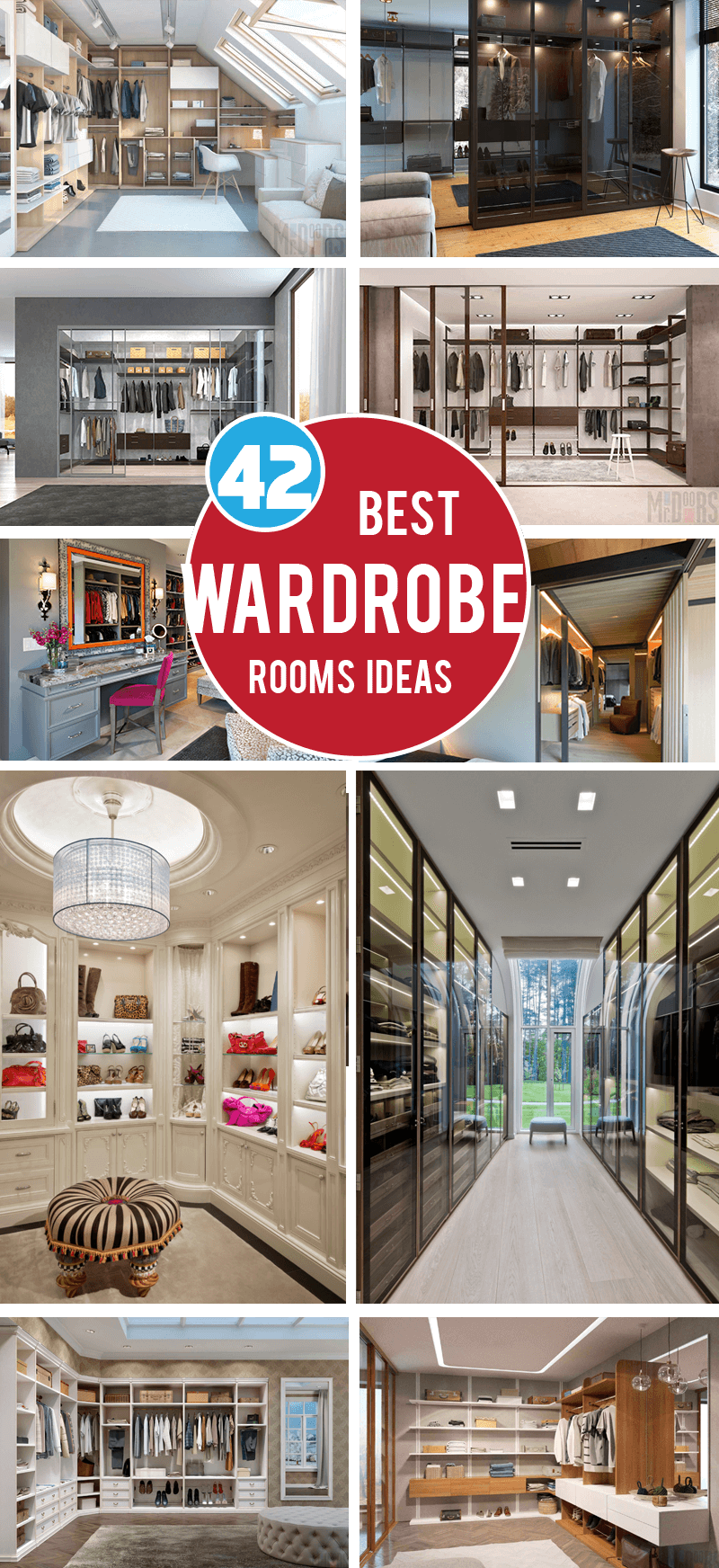 The perfect walk-in closet combines dresser and closet elements, as well as space to put on and take off your clothes. It can be a room where suits and shoes are placed in a well-ordered space; a place where homeowners can pamper themselves and plan their outfits. However, a dressing room can be more than that, it can also be a refuge from the hustle, a place to make private calls and enjoy a moment alone or a place to share a drink or a glass of champagne with friends before going out to the street.
Therefore, it is not surprising that more and more homeowners are transforming bedrooms or bathrooms that they do not use, in their dreamy and fantastic dressing rooms.
One of the most effective formulas to improve the attractiveness of a bedroom is to equip it with a practical wardrobe room. Apart from incorporating an extremely useful element in maintaining the organization of the home, its presence pleasantly contributes to the aesthetics of the room in question. Large, small, independent, integrated into the room … The possibilities are most varied but, in practice, they are embodied in the provision of a space capable of making clothing, accessories and accessories always at hand.
The first thing you should know is that there is not only one model of wardrobe room but many, and that it is not necessary to have a lot of space to decide to build a wardrobe room at home. In turn, it is not necessary to have a large room because it can be perfectly in another space of your home.
Today there are different materials and accessories to design a comfortable and practical space to store everything related to clothing. We share some tips to condition some sector of your house and make it the ideal wardrobe room.
Open or closed?
When carrying out the project of designing a wardrobe room, the first thing we must resolve is whether we want an open or closed wardrobe room. It is something that has to do with various things, such as space, budget and your ability to order. It is quite common for messy people to assume that they will solve the problem with more space, but the reality belies it: more drawers and shelves will not solve things. In other words, it is not a question of available square meters, but of precise criteria of order and design and of the qualities and needs of the homeowner.
If you are not good for order or runs prevent you from having the wardrobe room worthy of any visit, the ideal is that it has doors or some form of enclosure. Those that are open demand to have everything impeccable because they ruin the decoration.
Dressing room size
Another issue to consider is size and materials. Today there are many options, from wood and iron to melamine and acrylic. And there are also very different proposals depending on the space you have: if it is small, there are very practical designs and accessories to make inexpensive wardrobes.
The least we need to hang is 24 inches deep and at least 36 inches to circulate, so you will need a minimum of 1.40 m wide and a length that may vary depending on whether you distribute it online, in L or in U.
If there are no space problems, you can also place an island and organize the storage around it. These islands, in addition to allowing us to keep special garments (underwear, scarves, accessories), serve as a support plan when we are choosing garments and trying clothes.
Take advantage of every corner
When thinking about the wardrobe room model, it is key to plan to make the most of the corners and corners with small or L-shaped modules. You can also use the angle to hang less frequently used clothes, and continue the L with folded clothes rack, drawers or shoe rack. The upper shelves can be passed over the doors and windows using bridges. Here it is convenient not to have divisions to make the most of the space, and to keep bags, suitcases, and boxes.
Where do I locate the wardrobe room?
Ideally, the wardrobe room is next to the bedroom and, if possible, connected to a bathroom. It is key to avoid that the wardrobe room is continuous to the shower space, since the steam is not a good companion of the clothes. It is also convenient to avoid having to access the bedroom to enter the wardrobe room, especially if one shares the room.
How to distribute the wardrobe room?
Due to its spaciousness, it competes with the closet in which they function as a multipurpose room or corner with various storage systems that offer clothing, accessories, accessories, shoes, etc. to be close at hand. It is essential to structure your interior very well, considering the storage needs.
A good idea is to classify your content by criteria: size, color, type of garment, etc., but always and in any case it is advisable to take standard measurements as a reference.
When the bedroom is spacious or has a closed space, the most practical solution to keep everything in place is to make a wardrobe room to establish a more precise and flexible order than the conventional wardrobe, with the advantage of being able to use it to dress and undress.
The planning of this environment depends on the available meters, the structure of the room and the use – individual or shared – that is made of it
How to decorate the wardrobe room?
Using a nice fabric, you can also make a pouf of the measures that the central space allows, which will serve as a shoe trying zone sometimes and other times to support the clothes or accessories.
The pouf is an auxiliary piece of furniture that is currently trending. In the wardrobe room you can place a decorative and very practical element in the central space or in the background. They come in various shapes, round, square, large or medium.
Tricks for dressing room designs
The way we structure a wardrobe room can be very varied. The custom-made carpentry is the one that best takes advantage of each space. But, if it is not possible, there are many things that we can buy and assemble at home.
A very basic option for small walk-in closet that does not involve large structures or closets is to hang a bar from the ceiling or buy a simple homemade one. This will allow shoes, boxes, baskets to be placed underneath, and the upper part can be used to place shelves.
A good option, if you have space, is to reserve a corner for makeup there. It can be solved with a small table against the wall or even a walled shelf where all the feminine coquetry accessories will be arranged. The important thing is to place a good mirror on top of that board, which must have very good lighting. To achieve this, it is convenient to build a front with white light lamps above the mirror and on its sides, at face height.
The wardrobe rooms today are nourished by a lot of super practical accessories to organize clothes and shoes. It's important to know about them to make the most of smart storage solutions. Slotted boxes under the shelves, for example, allow efficient ordering of spaces.
There are many ways to pack clothes and accessories in a wardrobe room. A good idea is to choose storage boxes lined with modern design paper and acid-free to protect favorite fabrics, or keep underwear in cotton storage bags, hanging on the door.
Shoe racks are auxiliary furniture that can be placed anywhere in the wardrobe room and that in turn allow things to rest on it, giving them more room to order objects or clothes. Now if what is intended is to have the most used shoes in sight, you can use metal bars on which to accommodate them. This can even be done inside a cabinet without doors.
A chair, small armchair or occasional seat (whatever your style) is another practical item that can always be added to the layout of a sector that works as a wardrobe room. It will provide a place to sit while you put your shoes on, and a surface to put your clothes on as you dress.
It is also nice to lay a cozy rug. It will provide underfoot comfort and protect your floor from scratches caused by heels and hard soles. A rug will also enhance the space and help define the area of the rest of the bedroom.
Some houses, especially the older ones that were designed with large rooms, do not give us the possibility of using one of them exclusively as a wardrobe room. However, since the bedroom is generously sized, we can consider turning a section of the room into a dressing area. For example, a separate clothes rack offers practical storage and separates the dressing area from the rest of the room.
Another way to take advantage of the space in a large room to create a modern wardrobe room model that allows us to keep our clothes tidy is by repositioning the bed. Instead of placing it against the wall, you can slide the bed forward and put a high headboard that works as a room partition: this dividing element can also be used for a double purpose. It can be a library, for example, looking towards the bedroom and a place to store clothes behind. This demarcates two areas of use, creating a private corner where someone can dress in peace and out of sight.
Compact and practical, folding screens are usually a great solution for those who want a dressing area, but don't have much room in their bedroom. Folding partitions can be used to create a closed room where someone can change, without taking up too much space and without visually overloading the space.
In the case of walk-in closets generated from a subdivision of the bedroom, it is always a good idea to fit some large full-length mirrors. They will come in handy when you get dressed, but they will also bounce the light around the room and create the illusion of spaciousness. It should be borne in mind that the divider screen or screen can be placed in a place that does not interrupt the flow of traffic.
Now don't miss all these ideas that you can use to copy or get inspired:
1. Wardrobe Room Using One Bedroom Wall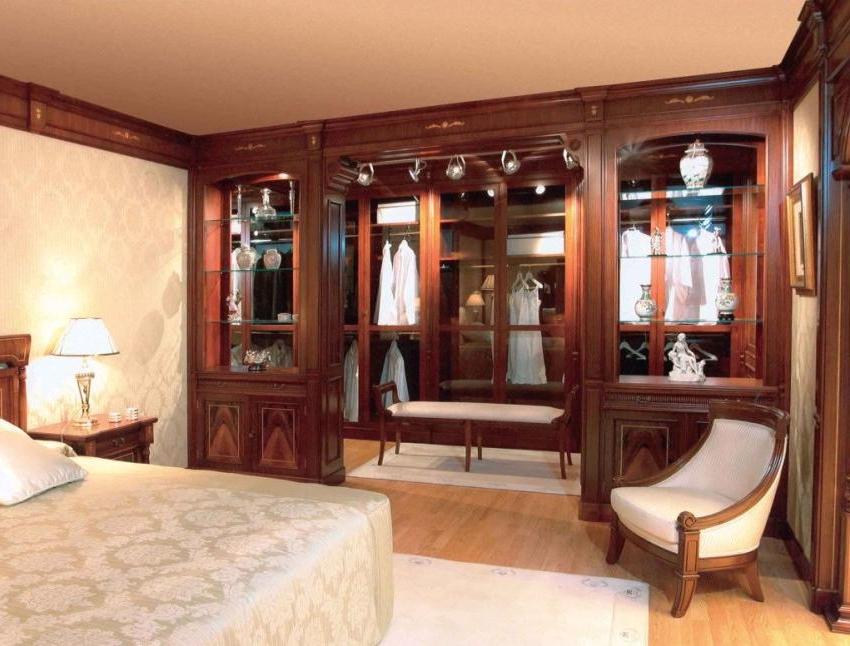 Classic walk-in closets offer smart, cosmopolitan decor, like you'd expect to see in a luxury hotel. Appropriate for both men and women, this style of decor often employs dark woods and shades of gray; light blue, or dark browns on tapestries and walls for a timeless and luxurious appearance. It is a style compatible with a wide range of properties and has a broad market appeal, something to consider for those who are renovating in order to resell the property. This one uses one of the walls in the room.
2. Built In Wardrobe For A Bedroom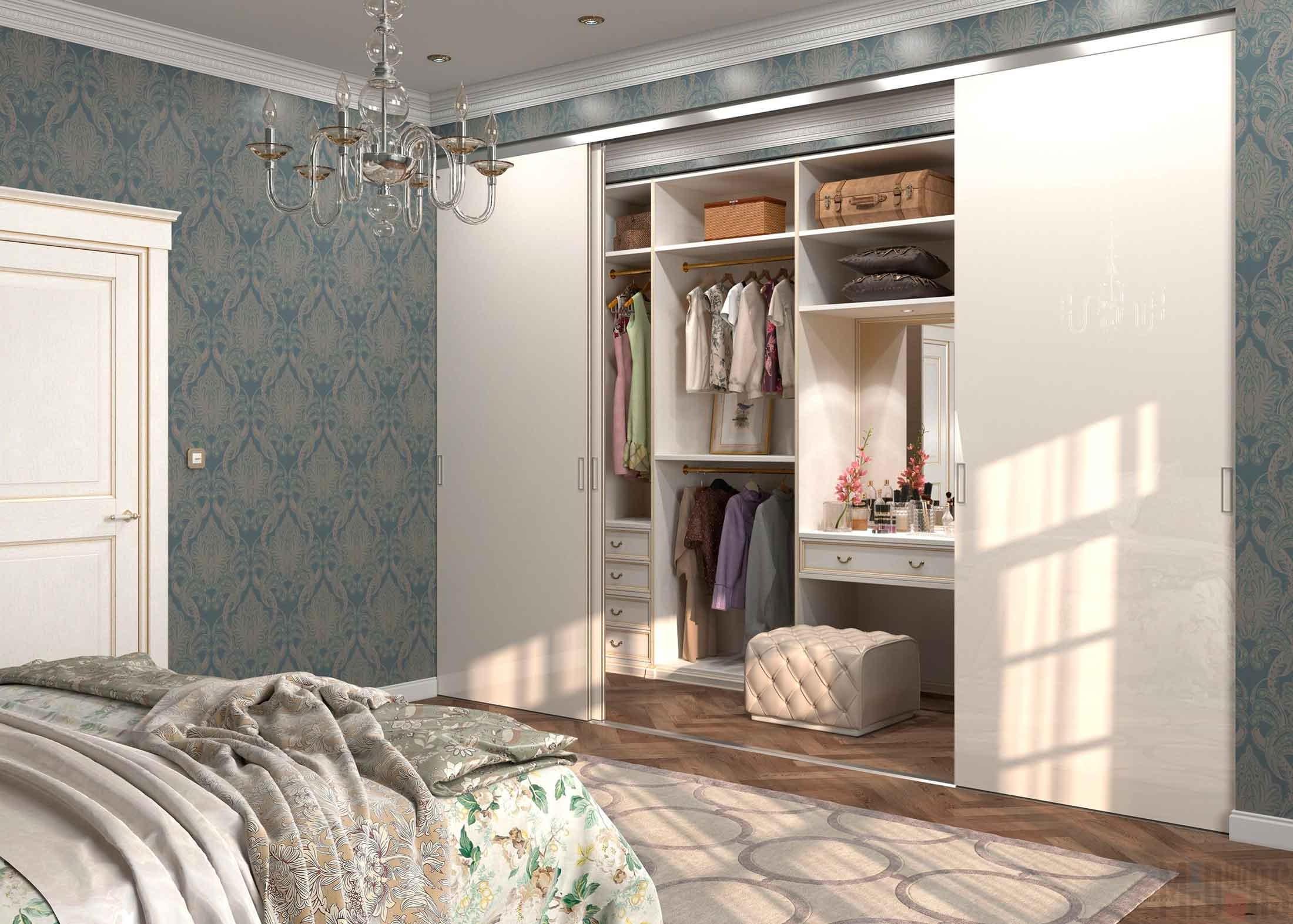 It is possible to be creative with a small wardrobe room, the size does not matter! One way to compensate for the lack or limitation of space is to opt for simple decoration, bright furniture and original, high-quality carpeting. It is important to use every inch of storage space by installing tall shelves and taking advantage of niches under the seats. In these clothes can be stored out of season, which can be wrapped in acid-free paper and accommodated in ventilated bags or boxes to keep it in good condition.
3. Built In Wardrobe With Mirror Wall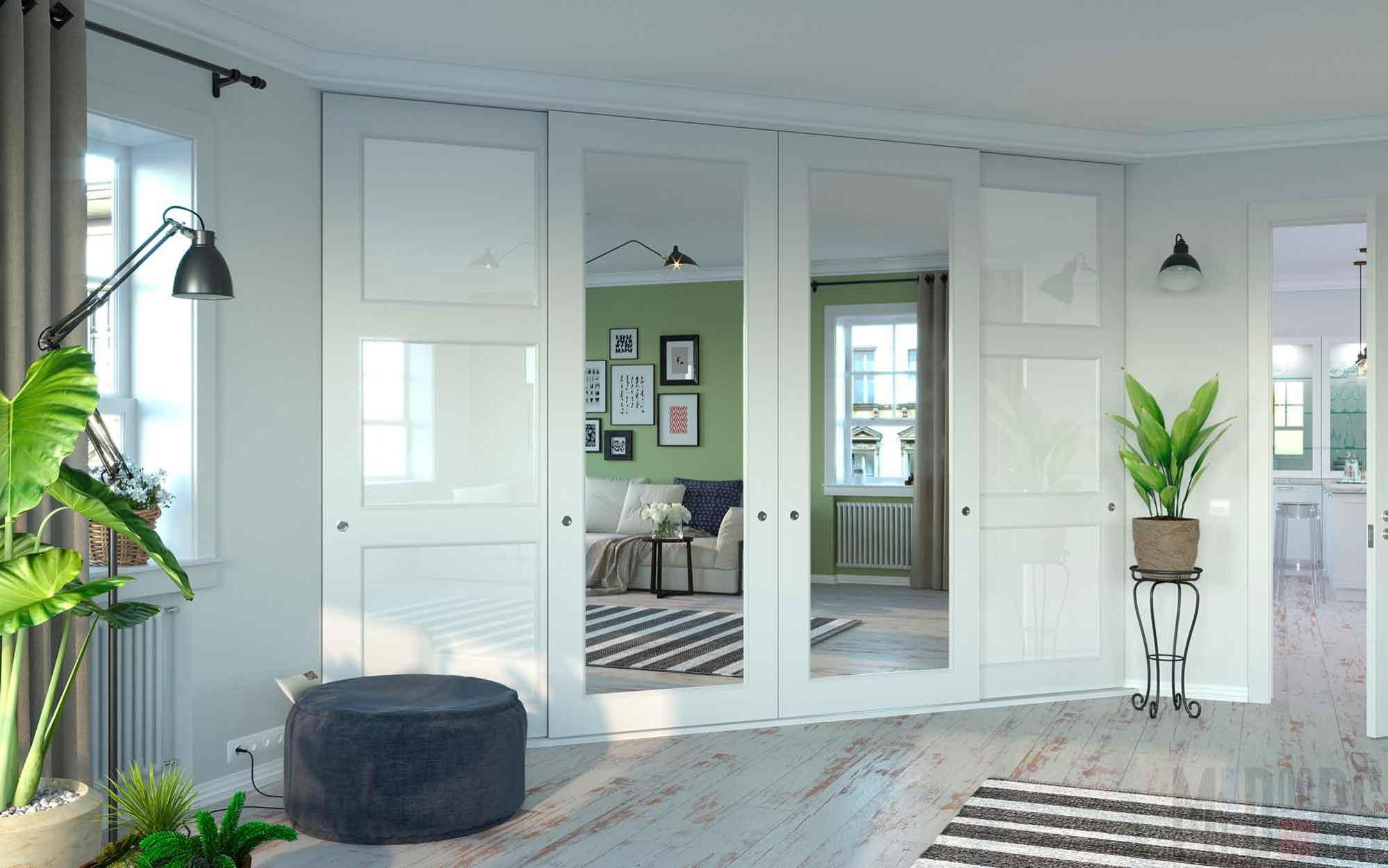 Carefully studying the surface we have and optimizing the surface of this room, is the best way to make the space profitable and keep the bedroom in perfect order, especially when the meters are scarce because we do not want to have a small room at the expense of a wardrobe. This wardrobe room is hidden behind mirror doors that also visually expand the space.
4. Built In Wardrobe With Sliding Doors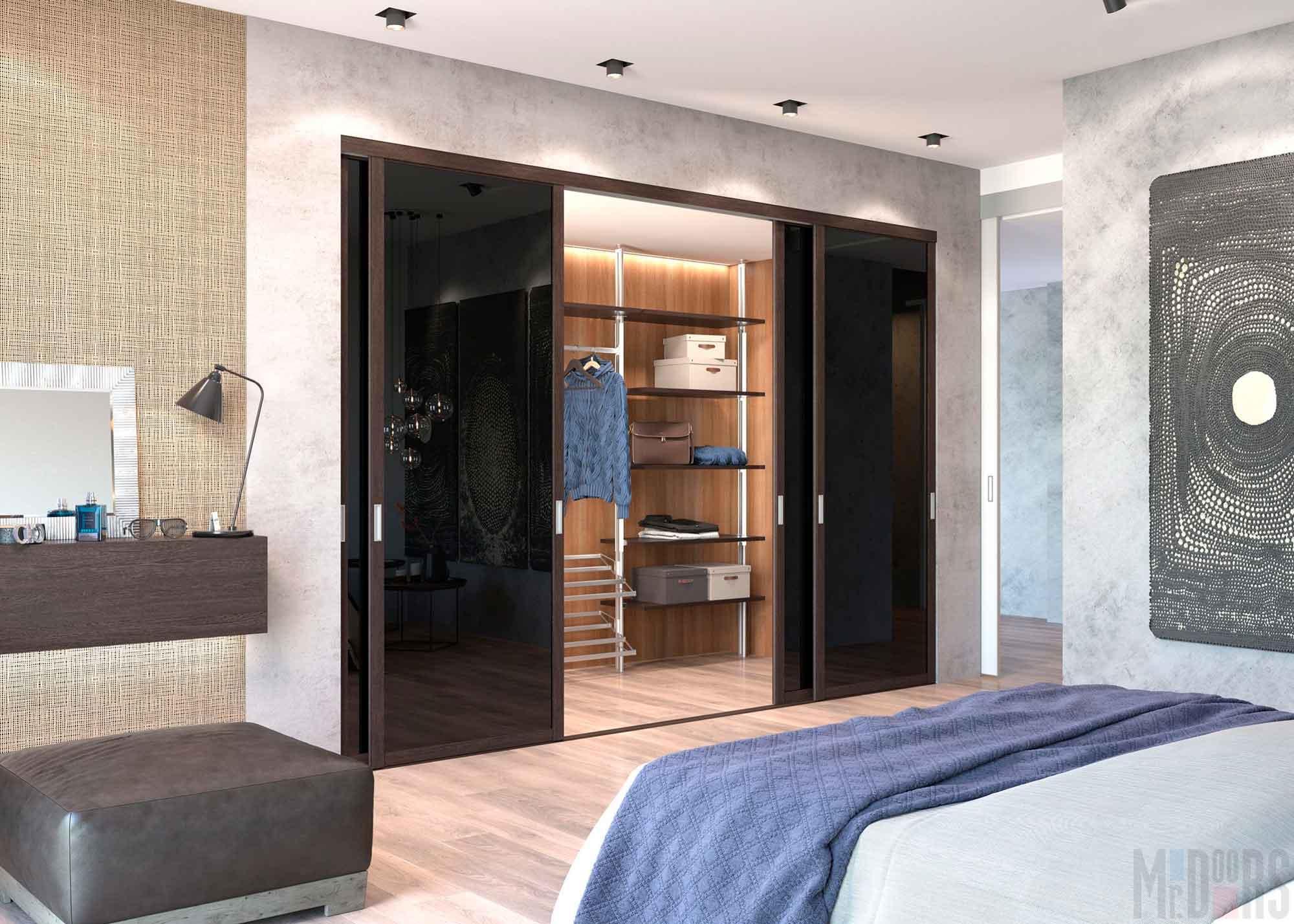 The most important feature on a wardrobe is that it allows you to try different outfits, and in this case, even the wardrobe is small, it is still spacious enough to let you try a couple of combinations before you go out.
5. Clever Idea For A Wardrobe In A Small Room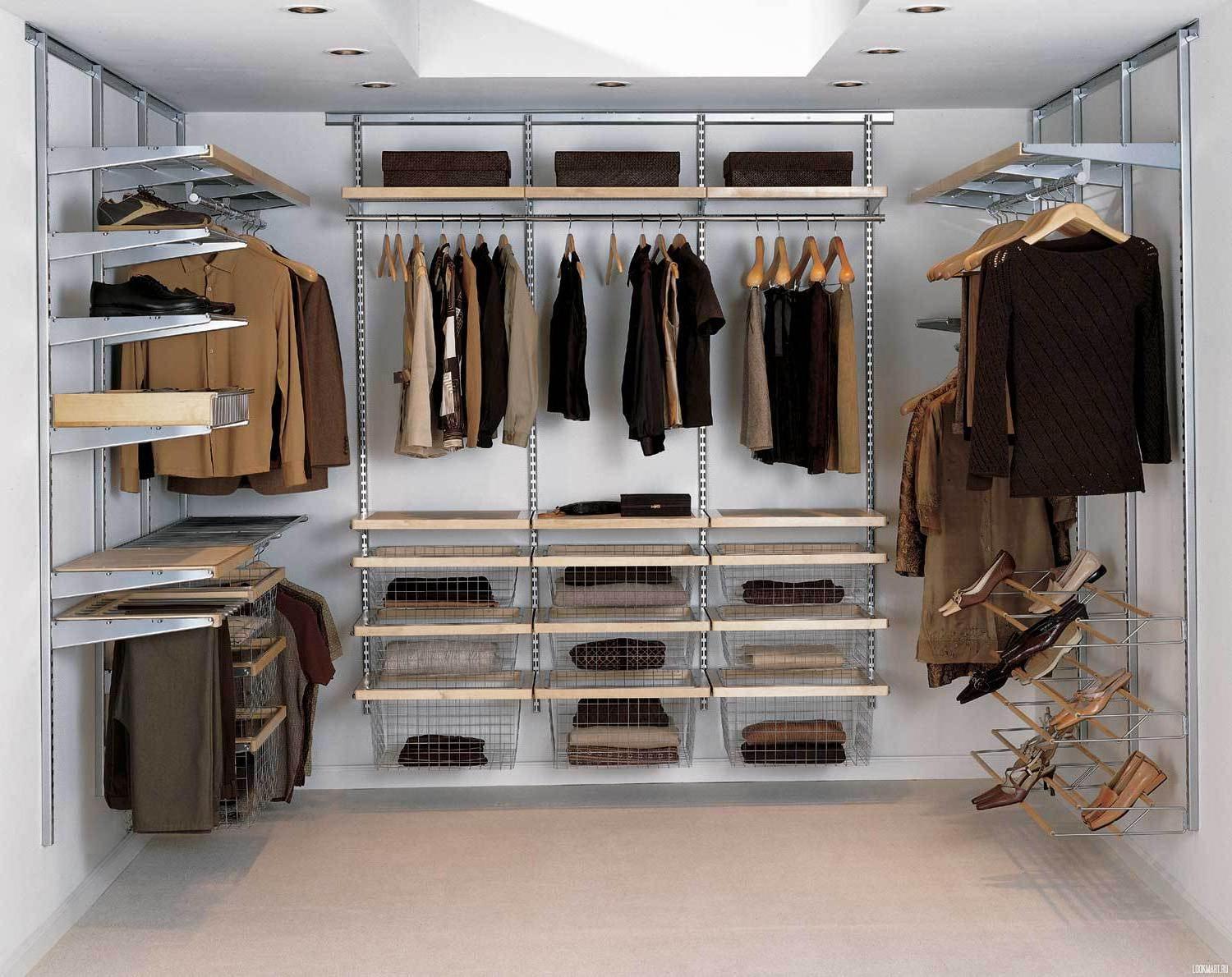 Even the room is small, it is possible to build a small wardrobe to keep your belongings and try close. This wardrobe was very well used by placing shelves and racks and shoe storage. The use of soft colors such as white and light grey can help to make the space look a little big than it is.
6. Modern And Different Wardrobe With Different Distinctive Elements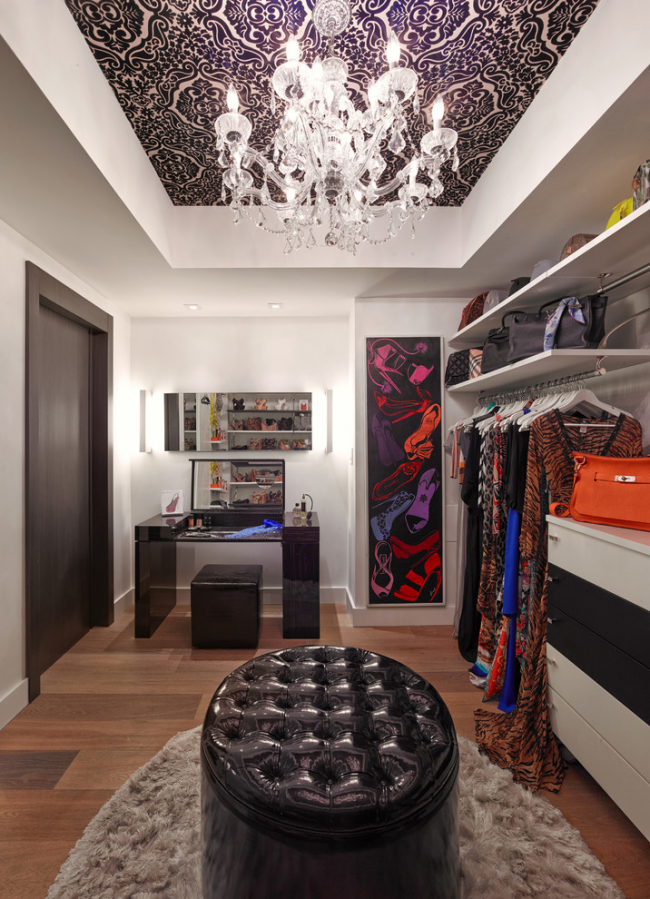 It goes without saying that different wardrobe designs are for different people, depending on their individual priorities. For example, a couple who wants a closet for both of them will probably want to avoid an overly feminine style and go for something that makes them both feel at home. For a fashion lover who wants a place to display their collection of designer clothing, an unadorned dresser with plenty of storage space is probably best. If the homeowner has a particular fondness for shoes, then perhaps these are the main focus in dressing room design, with different sizes of shelves for heels and high boots. Alternatively, for a very social person who likes to party, nightclub-inspired decor with neon tones and eye-catching wallpaper might be more appropriate.
7. Wardrobe In Dark Wood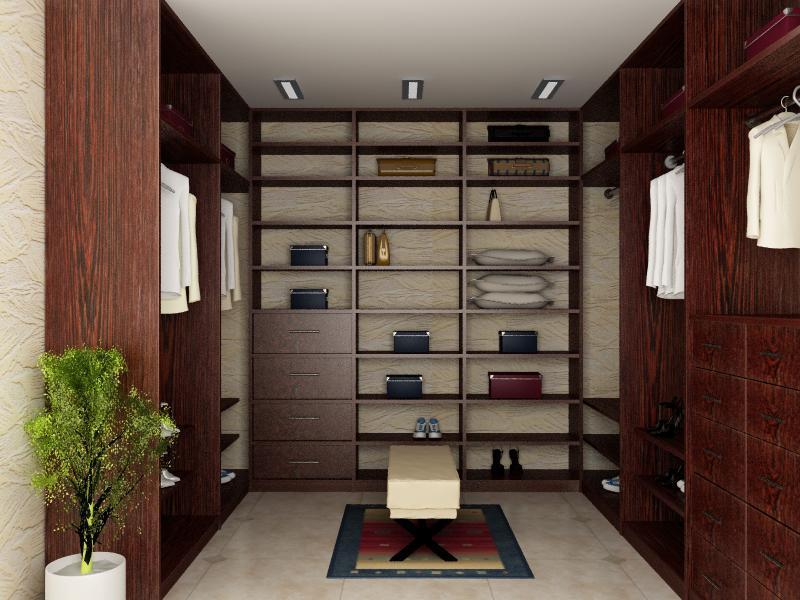 There are tons of touches that can be incorporated into a walk-in closet for pleasant use, such as behind-the-shelf lighting, angled shoe shelves, and a grid for storing handbags and other smaller items, as in this example made in dark wood. Also, remember to include a dresser, a full-length mirror, and some kind of compact and versatile seating to try on your shoes.
8. Dressing Room For A Small Room Minimalistic Style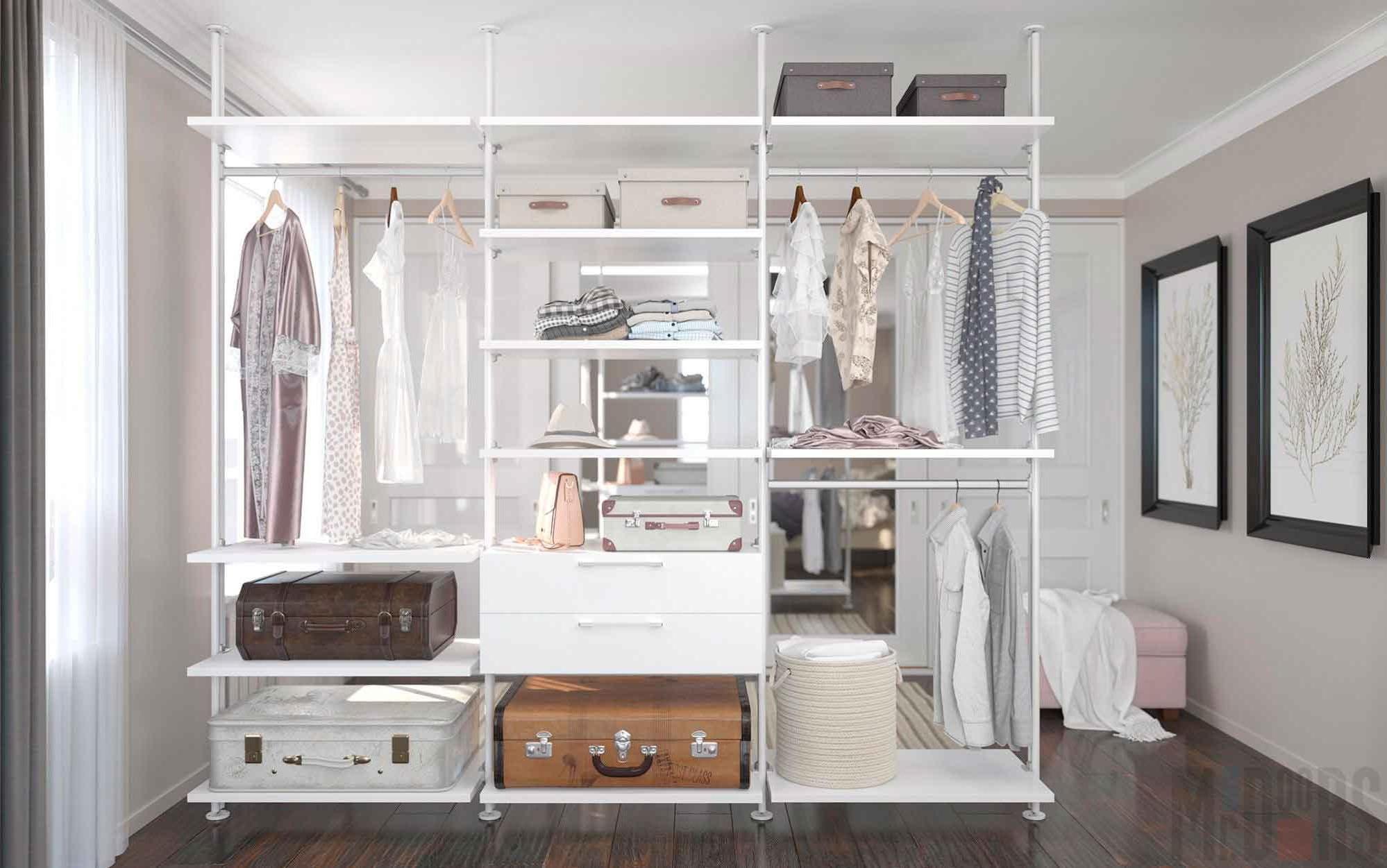 Minimalist style walk-in closets are usually simple and functional, designed to maximize space, achieve order, and make it easy to cover the entire wardrobe at a glance. With clean and simple lines, ranges of whites, grays and blacks, it is a style that is perfectly suited to modern properties of all sizes and achievable relatively inexpensively
9. Spacious Dressing Room With Glass Doors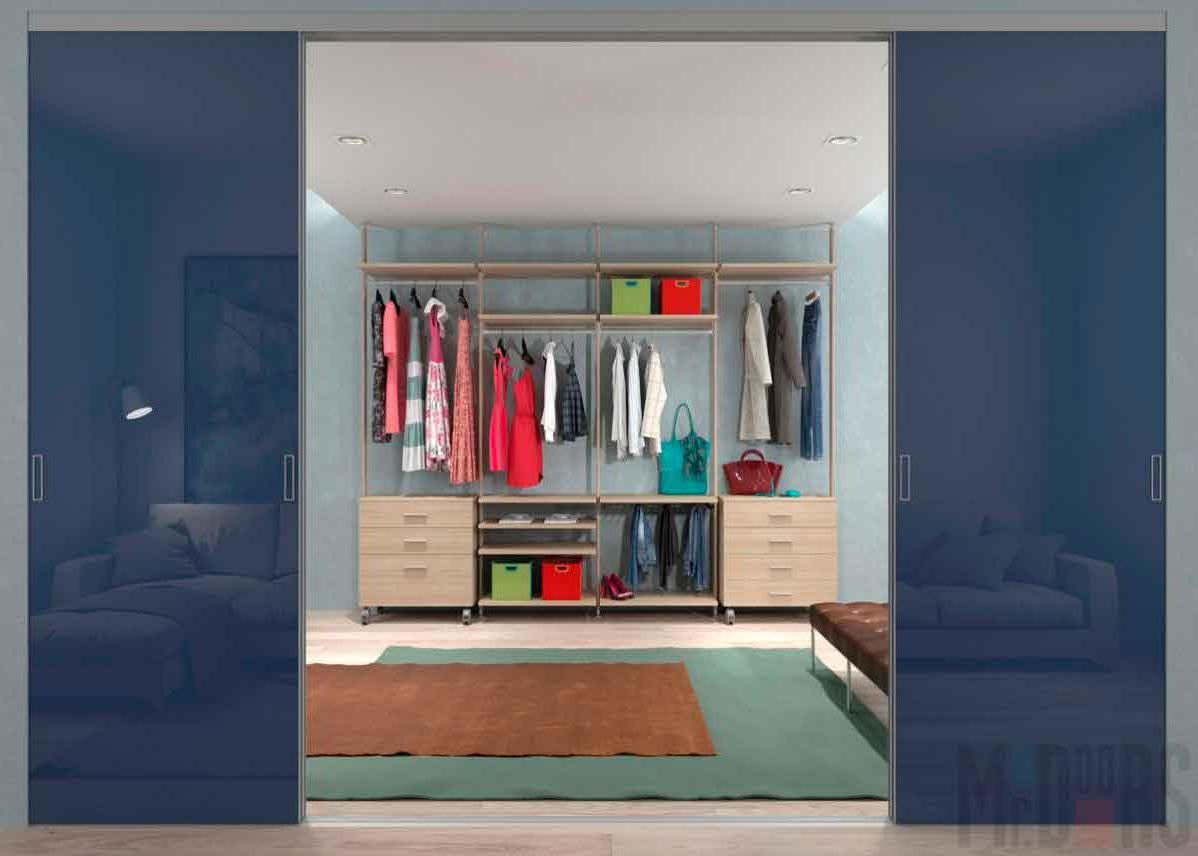 This wardrobe room is separated from the bedroom thanks to its large blue glass doors. The doors are sliding so they take the minimum amount of possible space. Inside the wardrobe room, a plus size rack of hangers, a bench for trying shoes up and much more. the color selection for this design is in the modern gamma, with bold, cheerful colors that invite you to wake up.
10. Wardrobe Room For A Country House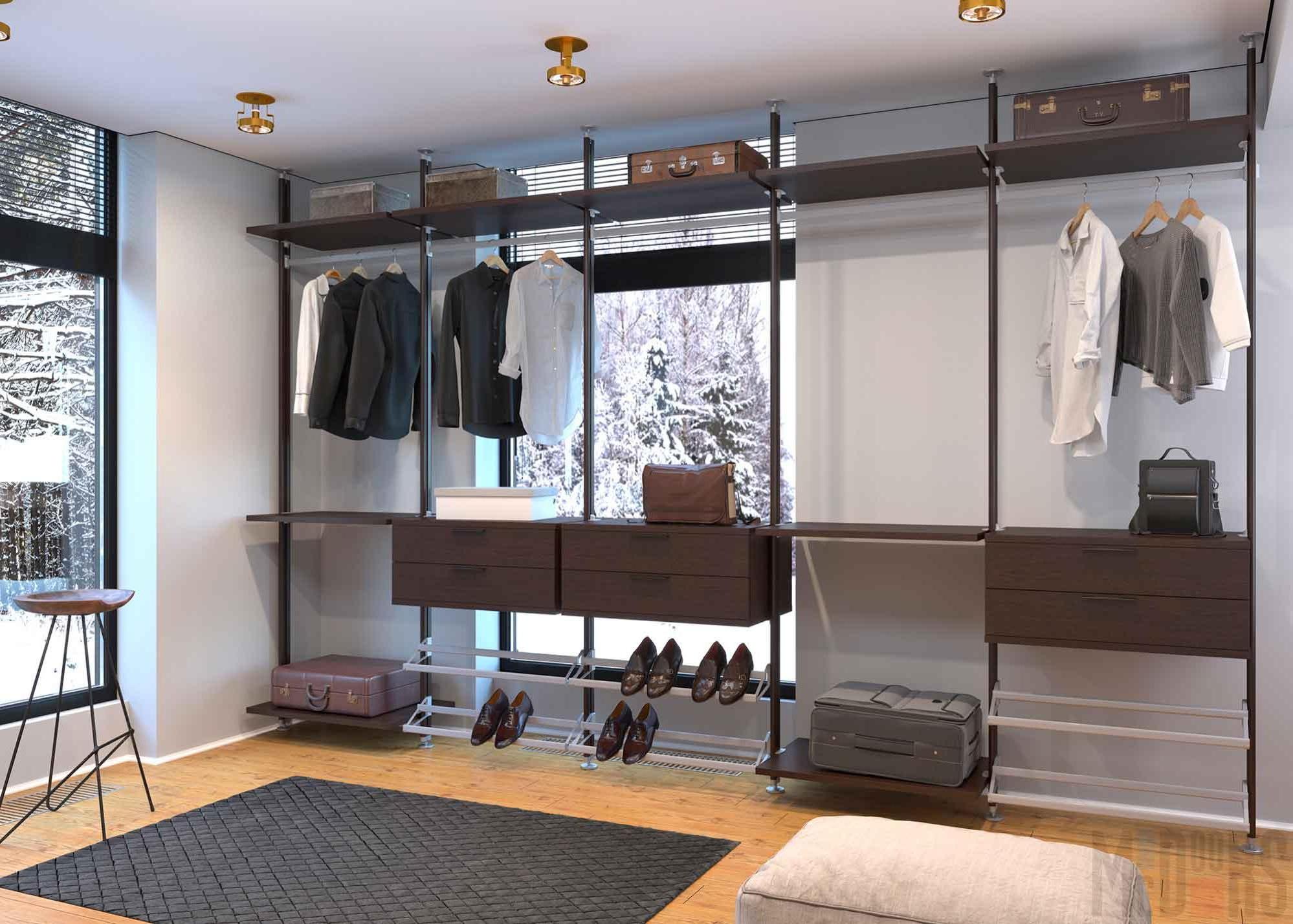 Wardrobe rooms can be built in any type of house, regardless its style, or decoration. In this country house, the owners have chosen a room with a view that also lets light in. with a simple structure and some drawers that also act as shelves, this room also has a sitting area to enjoy the view while getting ready.
More Wardrobe Rooms Ideas Ideas On The Next Page…